Crate of Good is a quarterly subscription box whose aim is to have an effect on social change, every 90 days. Subscribers even get to choose who to support with a percentage of profits from the sale of each box going to a non-profit organization. Specifically, the mission is to help animals, children, the environment, and people living in poverty. Each box will have an item representing each of those 4 categories, plus an exclusive item. Crate of Good is $59.99 a quarter. The box is unisex and you get to choose your size (XS through 2XL) and your impact area at sign up.
The idea for Crate of Good was born when we looked at the subscription box space and saw it was missing products and content that created a true impact. While there are boxes out there donating a percentage of profit to charity or using sustainably sourced and socially conscious products, we still felt there were two important things missing: transparency and choice.
DEAL: Get 20% off your first box! Use the coupon code Hello20 at checkout.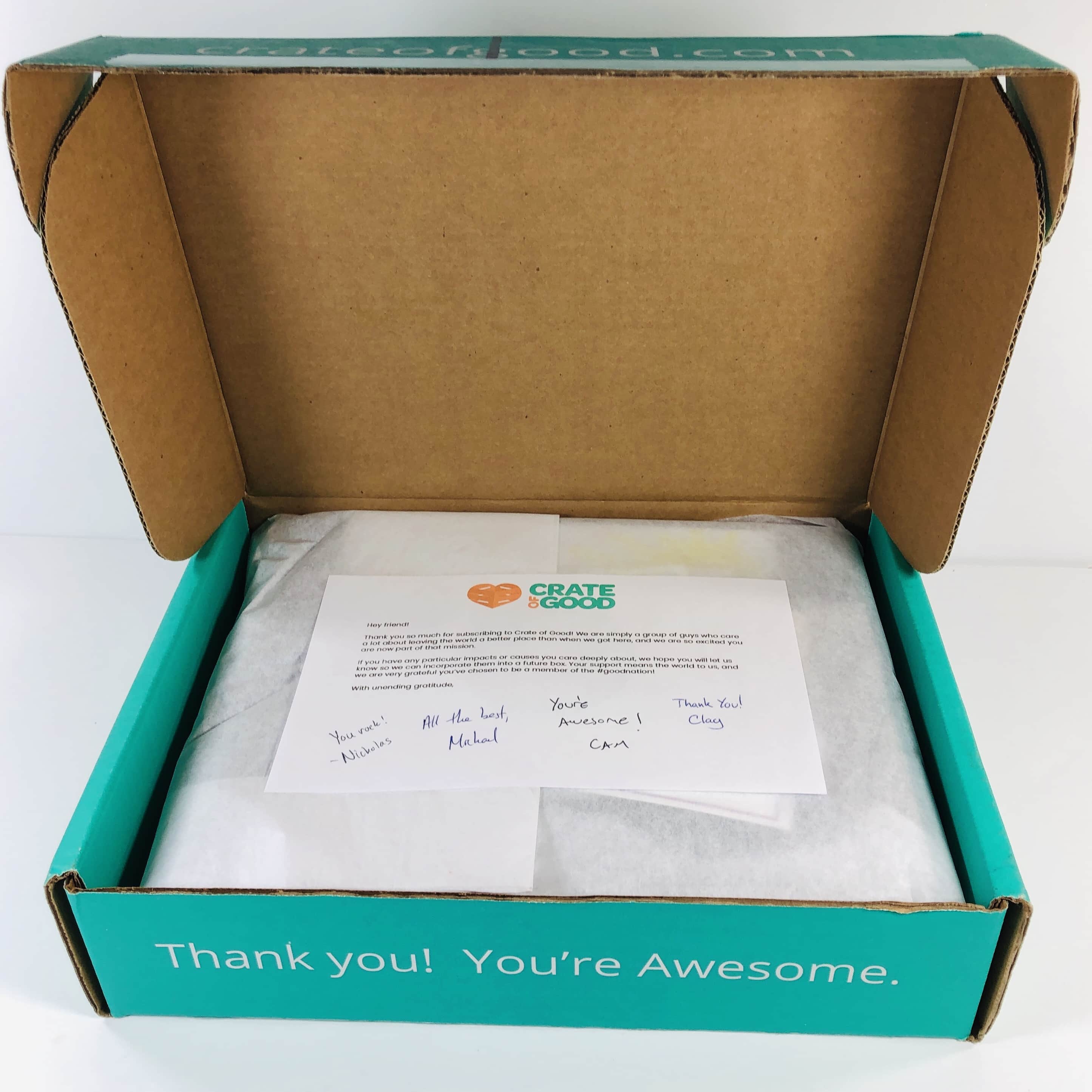 First look!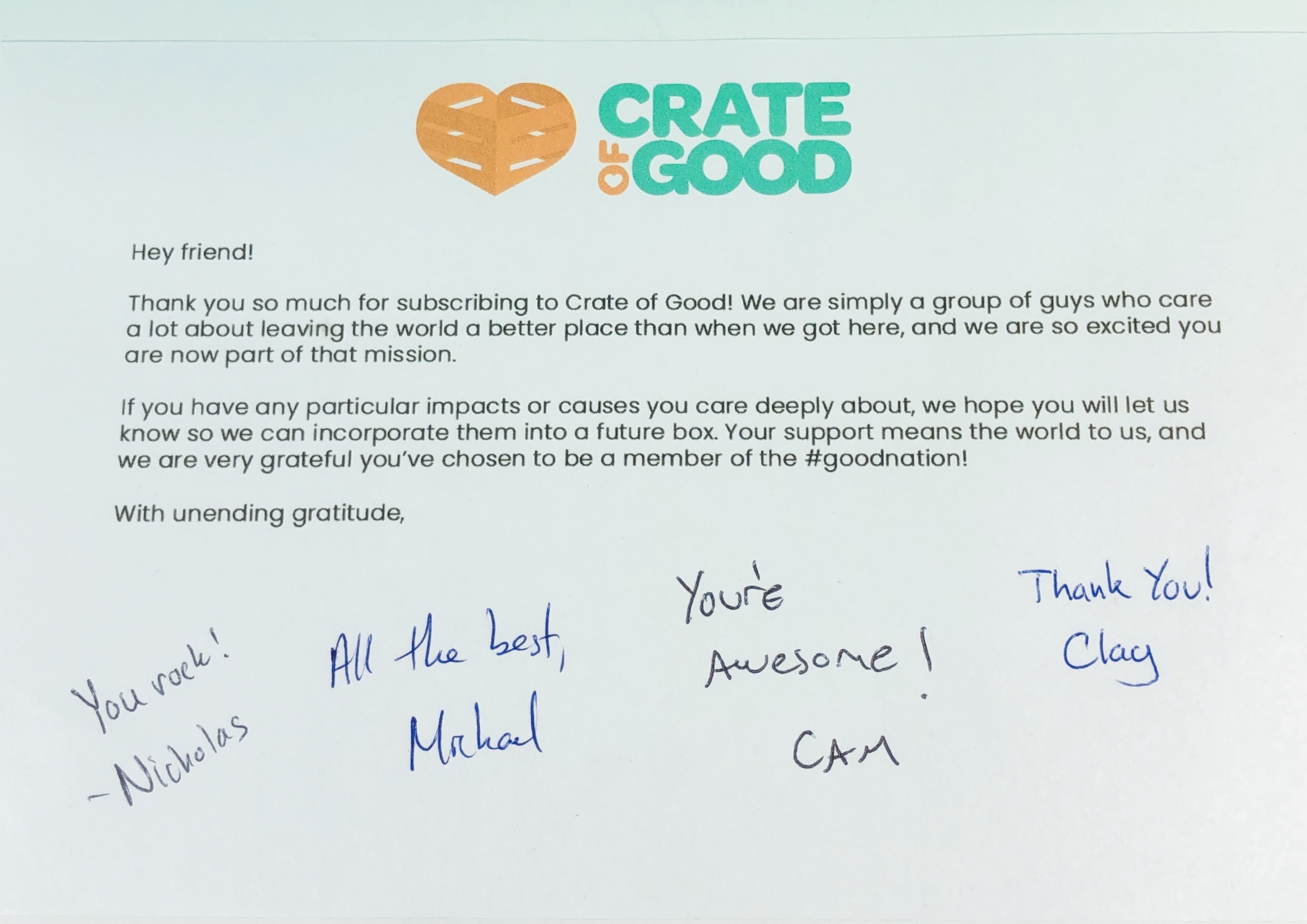 There was a thank you letter on top that was signed by each of the members at Crate of Good.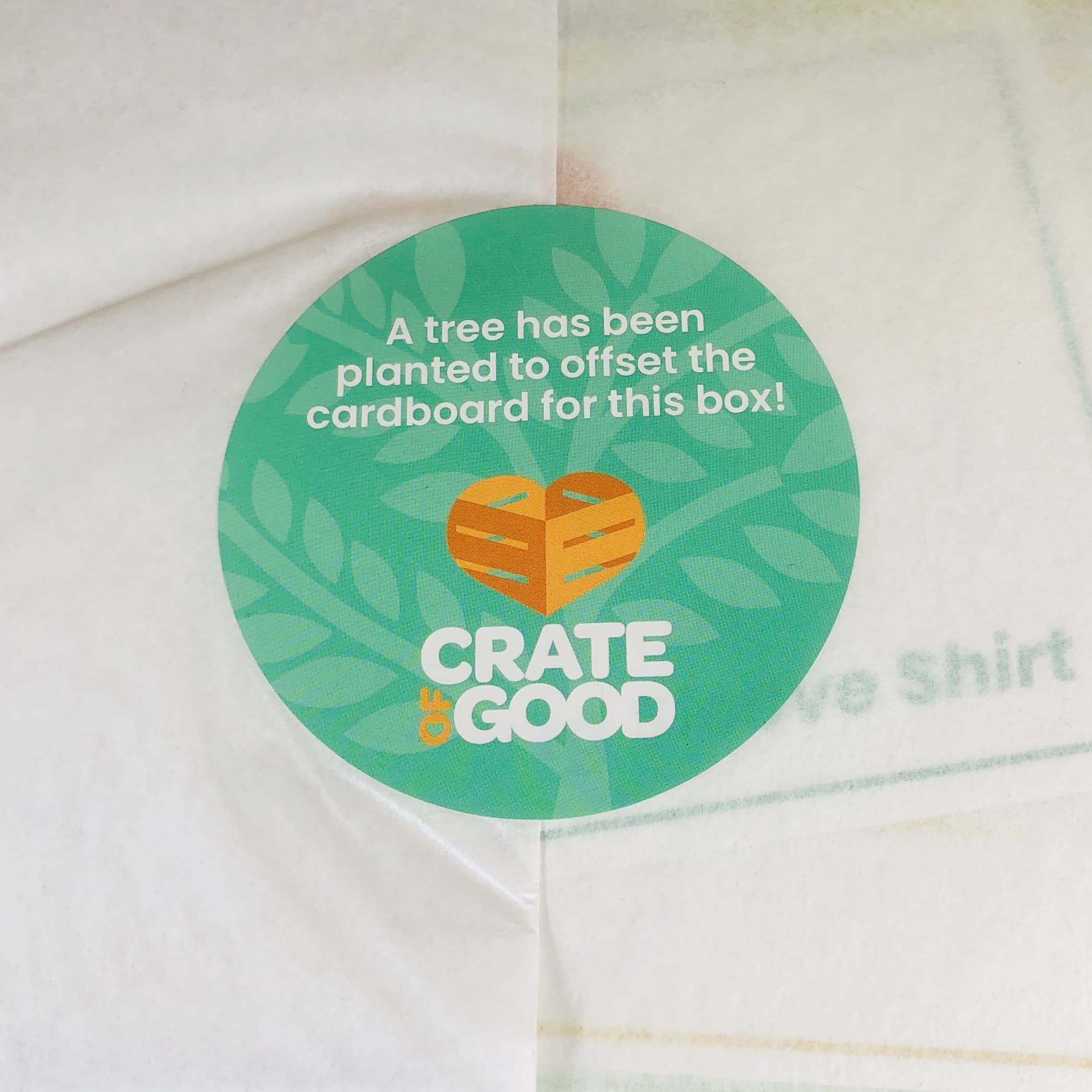 The items were wrapped in tissue paper and sealed with a sticker that says a tree was planted to offset the environmental impact of the cardboard shipping box.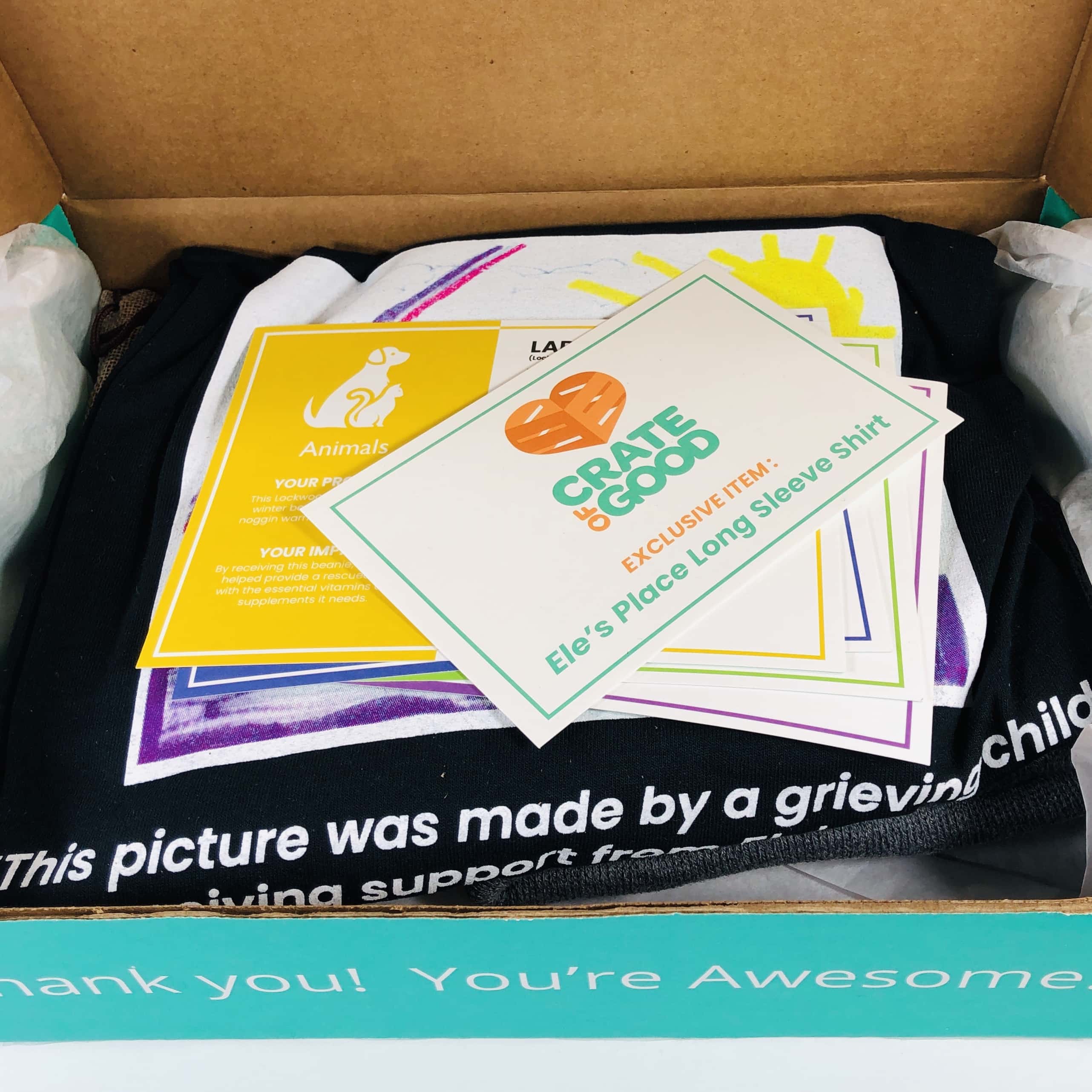 I found some product info cards on top and no extra packing materials were needed, the t-shirt provided plenty of cushioning.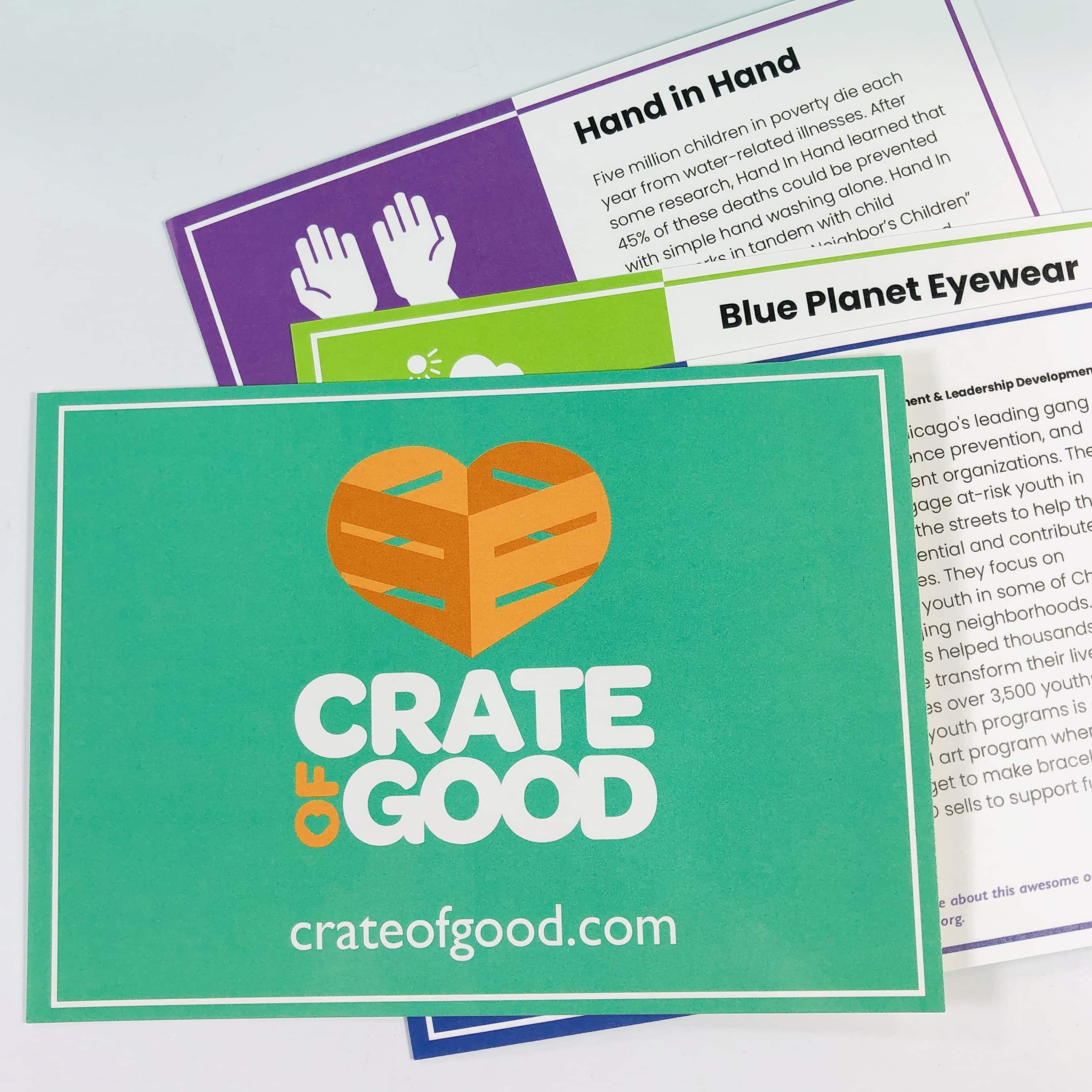 There was a card for each item that told of its impact.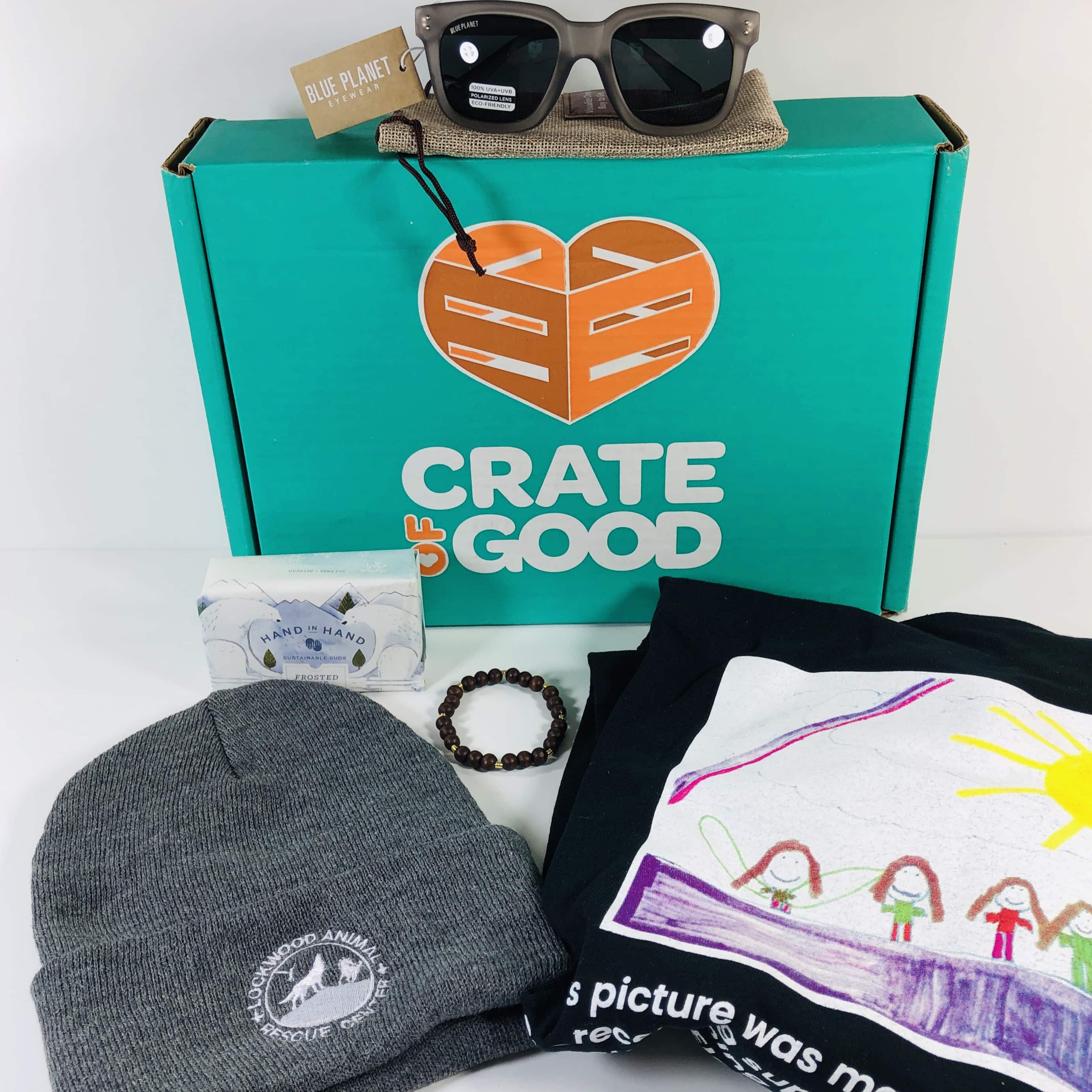 Everything in my box!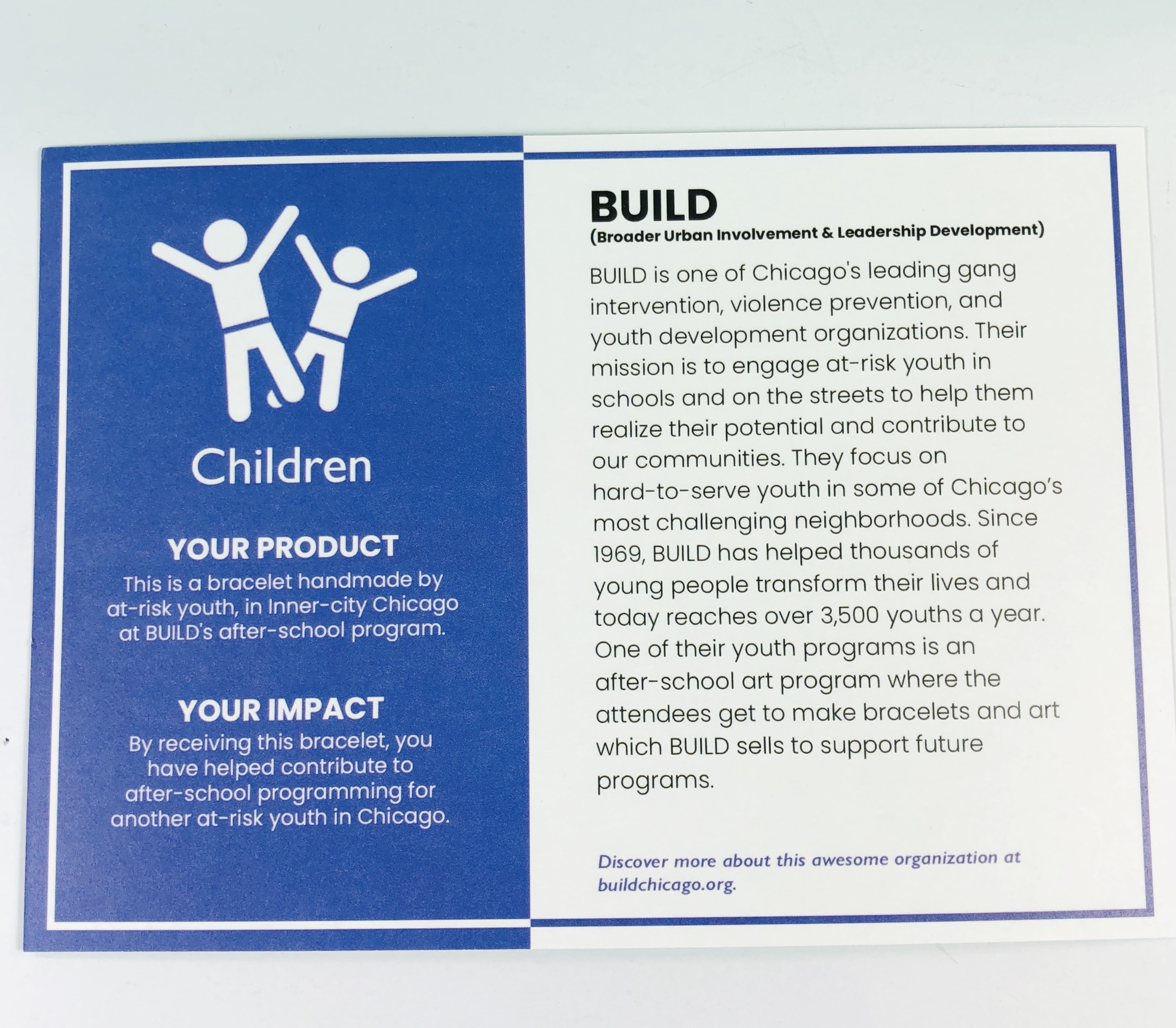 The item sent in support of "Children" this month will help at-risk youth in Chicago participate in after-school programs.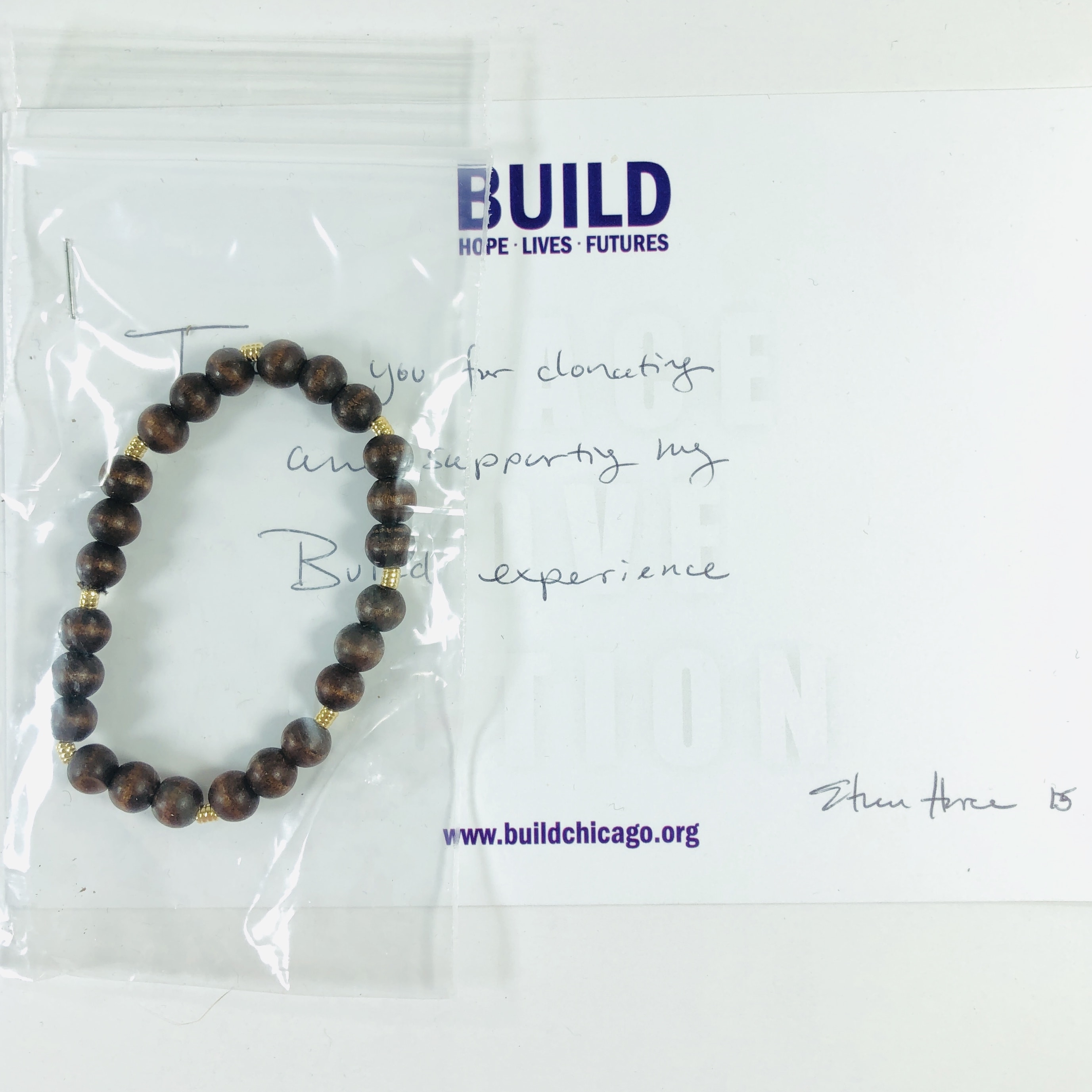 Build Chicago Beaded Bracelet came attached to a card that looks like it was signed by the youth who made it! It says "Thank you for donating and supporting my Build experience."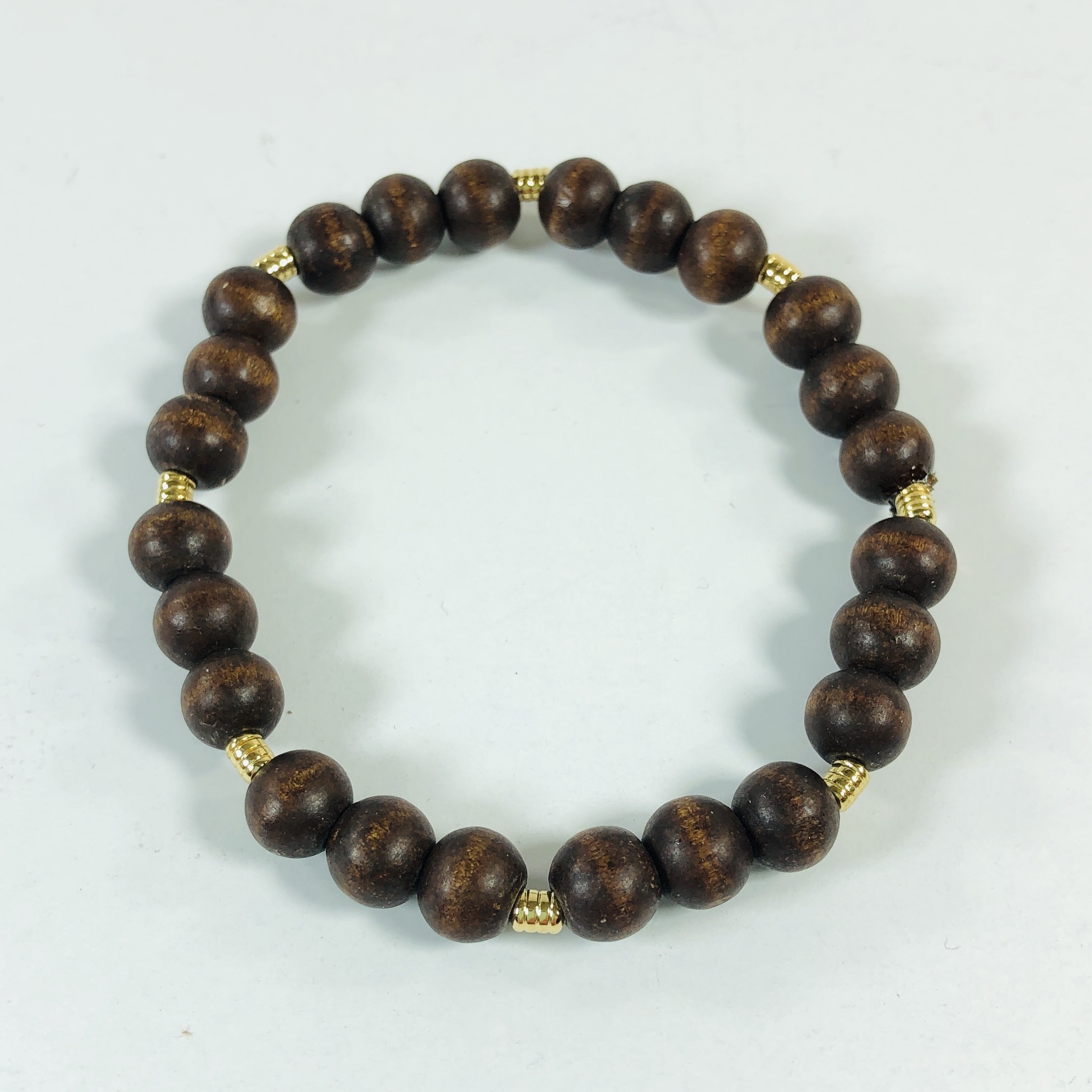 I'm pretty sure these are made of wood, although I'm not sure which type. There is a gold colored bead between every three wooden beads. I believe the wooden beads are 5mm.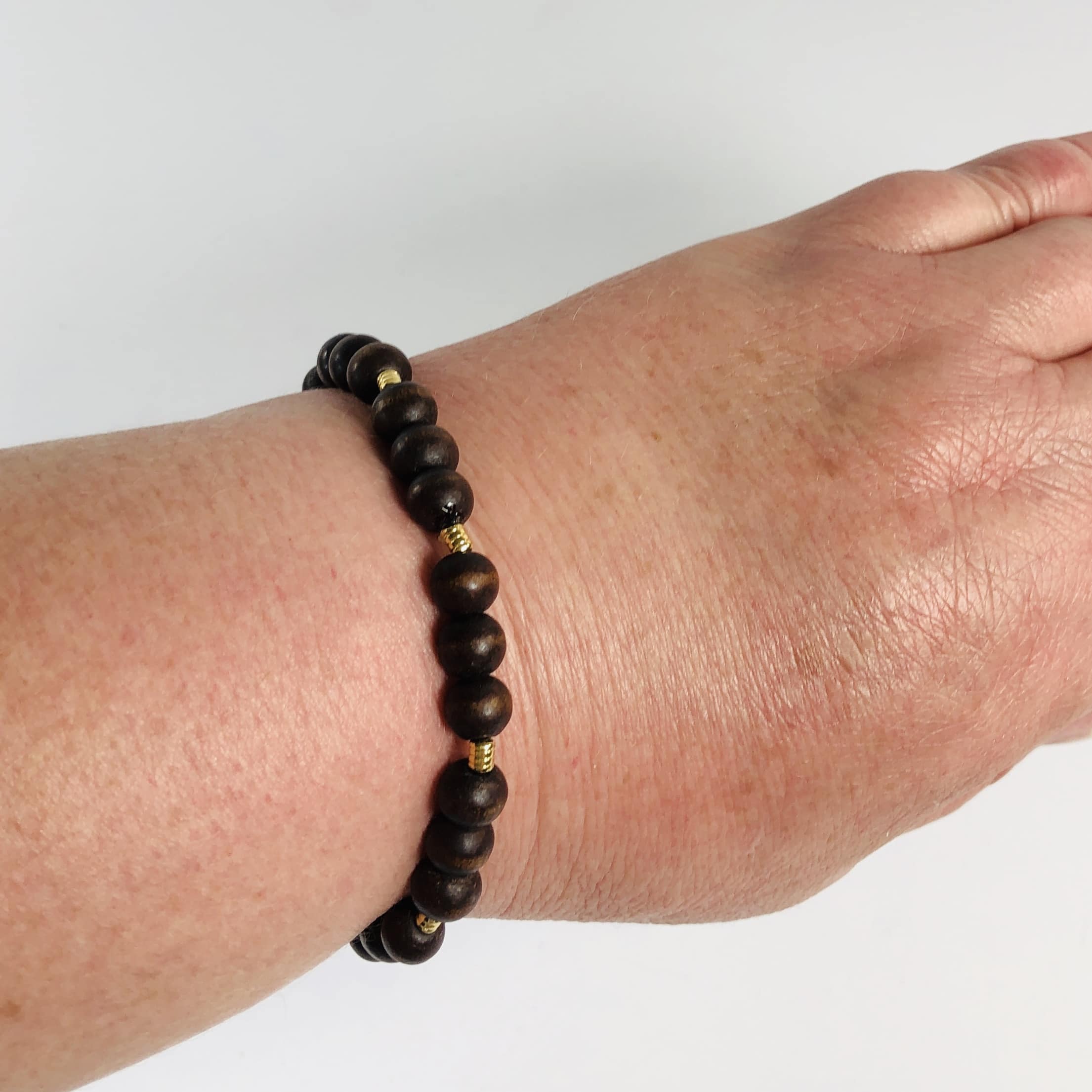 It is on stretchy elastic cord and fits my large hand and wrist with no problems.
The item sent in support of "Poverty" this month will provide a bar of soap and 30 days worth of clean water for a child who would otherwise go without.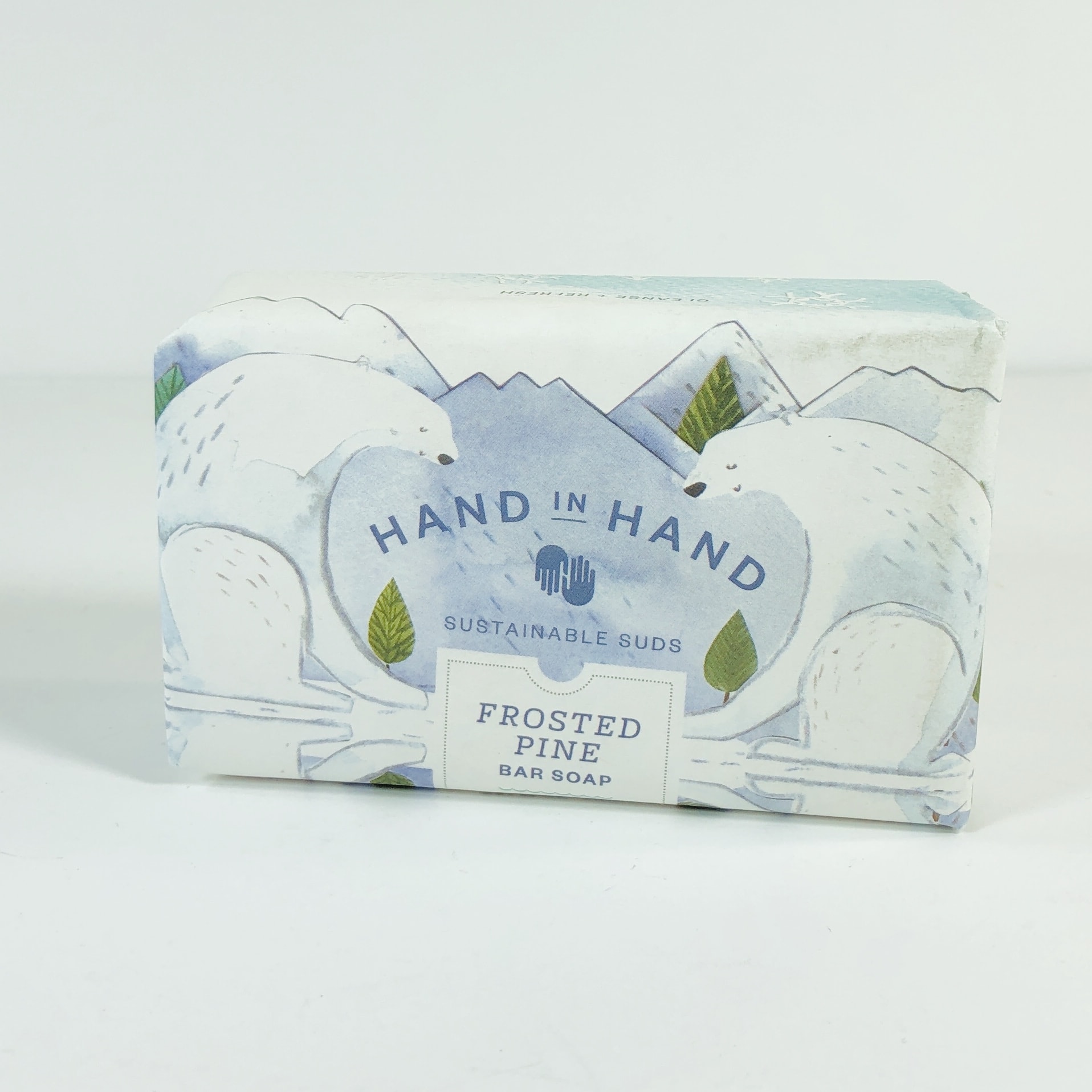 Hand In Hand Frosted Pine Bar Soap I have received products from Hand in Hand before, and they only have about 4 different scents in their online shop. It looks like this scent was a limited edition holiday fragrance.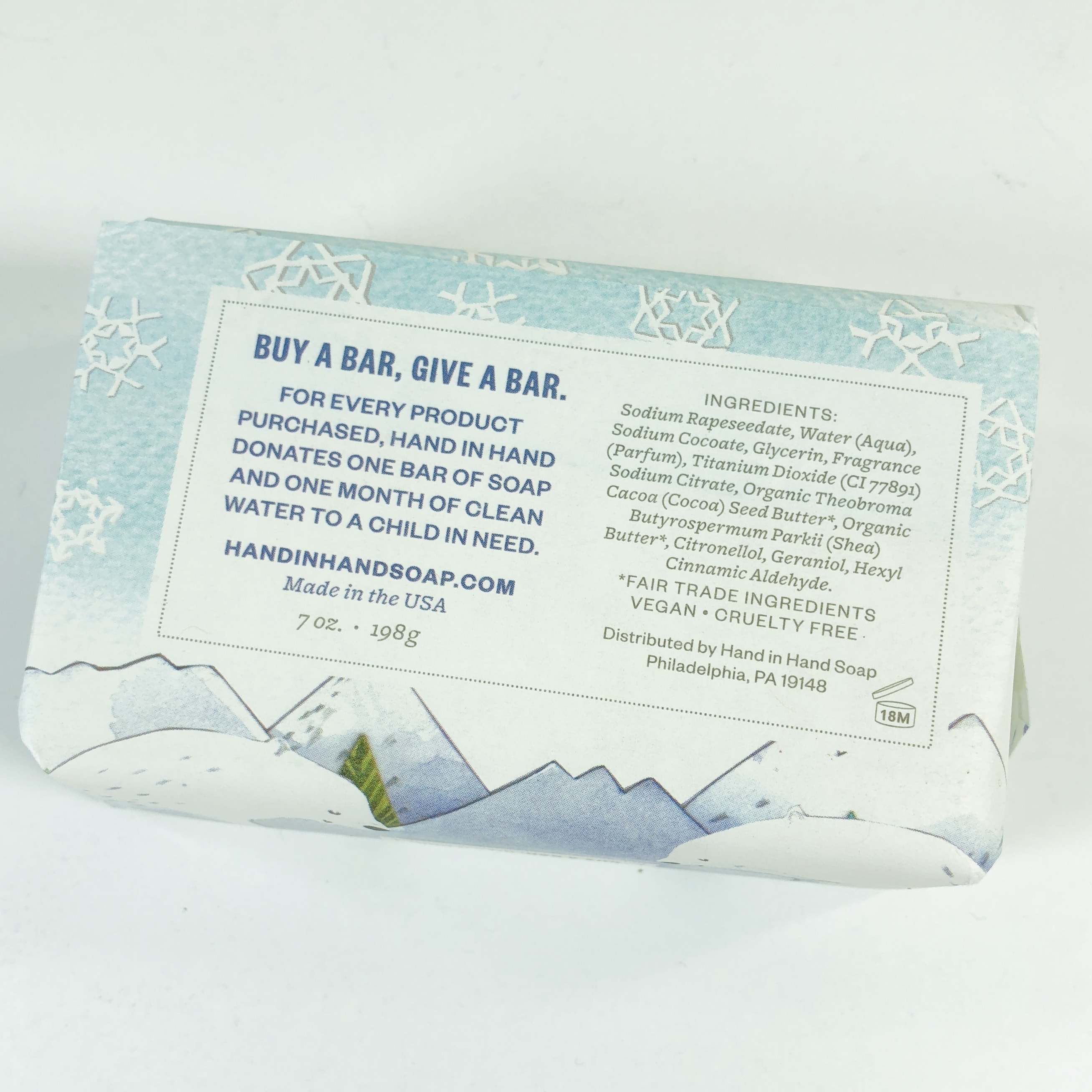 Ingredients were listed on the back of the wrapper and I see shea butter and cocoa butter listed.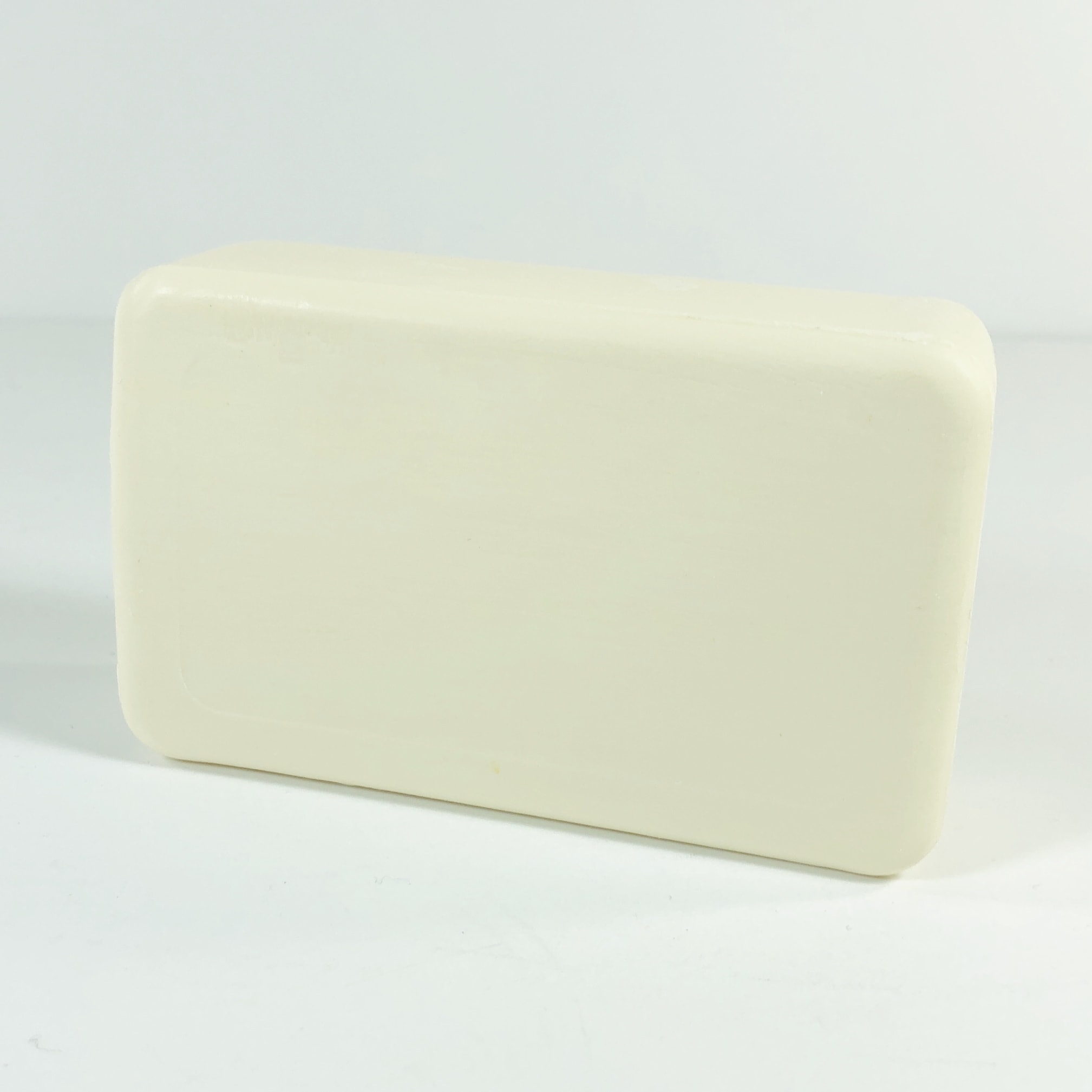 The scent is bracing and fresh, and smells clean with a hint of evergreen. I haven't used this bar yet, too many opened bars right now, but I look forward to using it next month, when the temperature soars and I need something to keep me smelling fresh.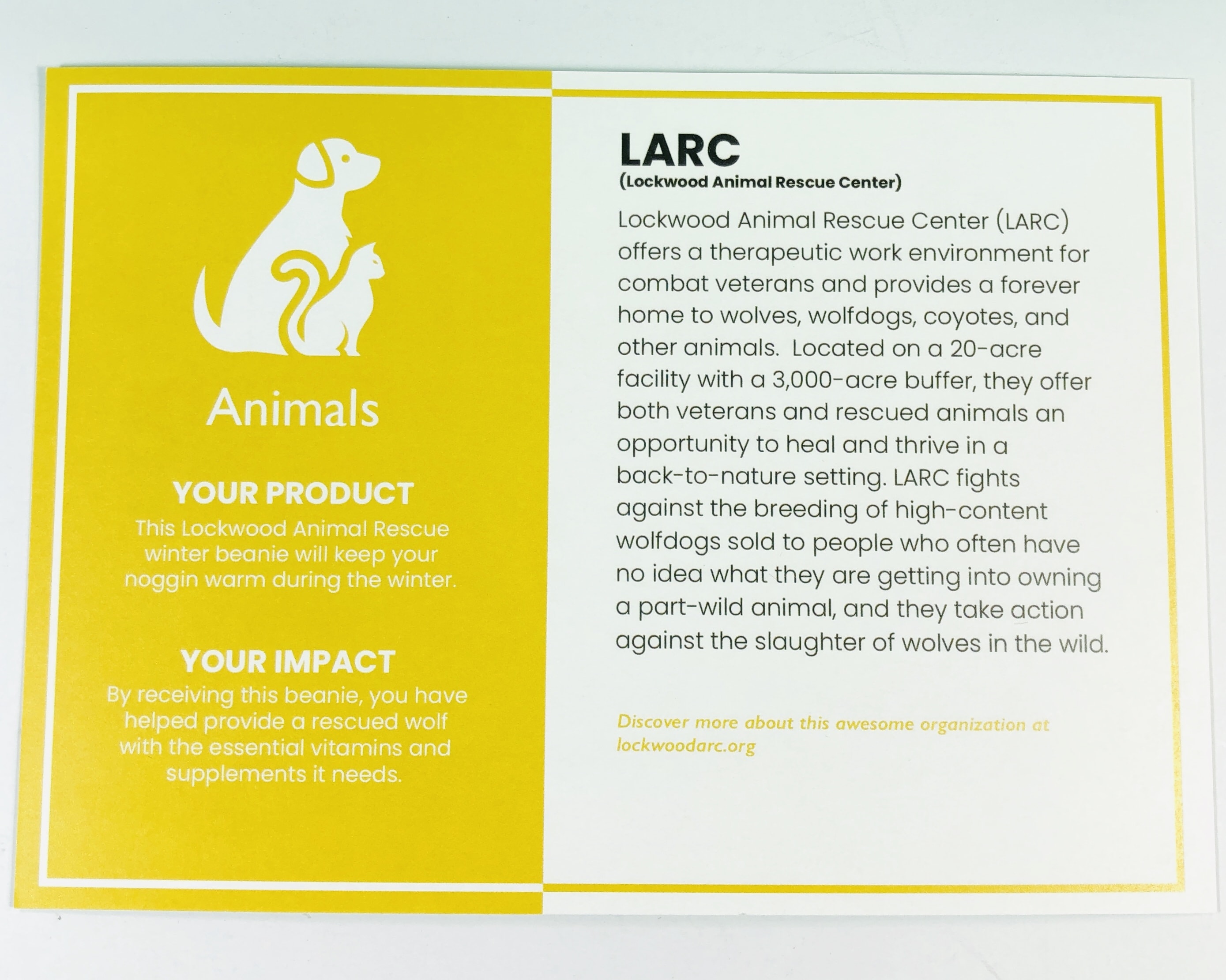 The item sent in support of "Animals" this month will provide nutrients for a rescued wolf.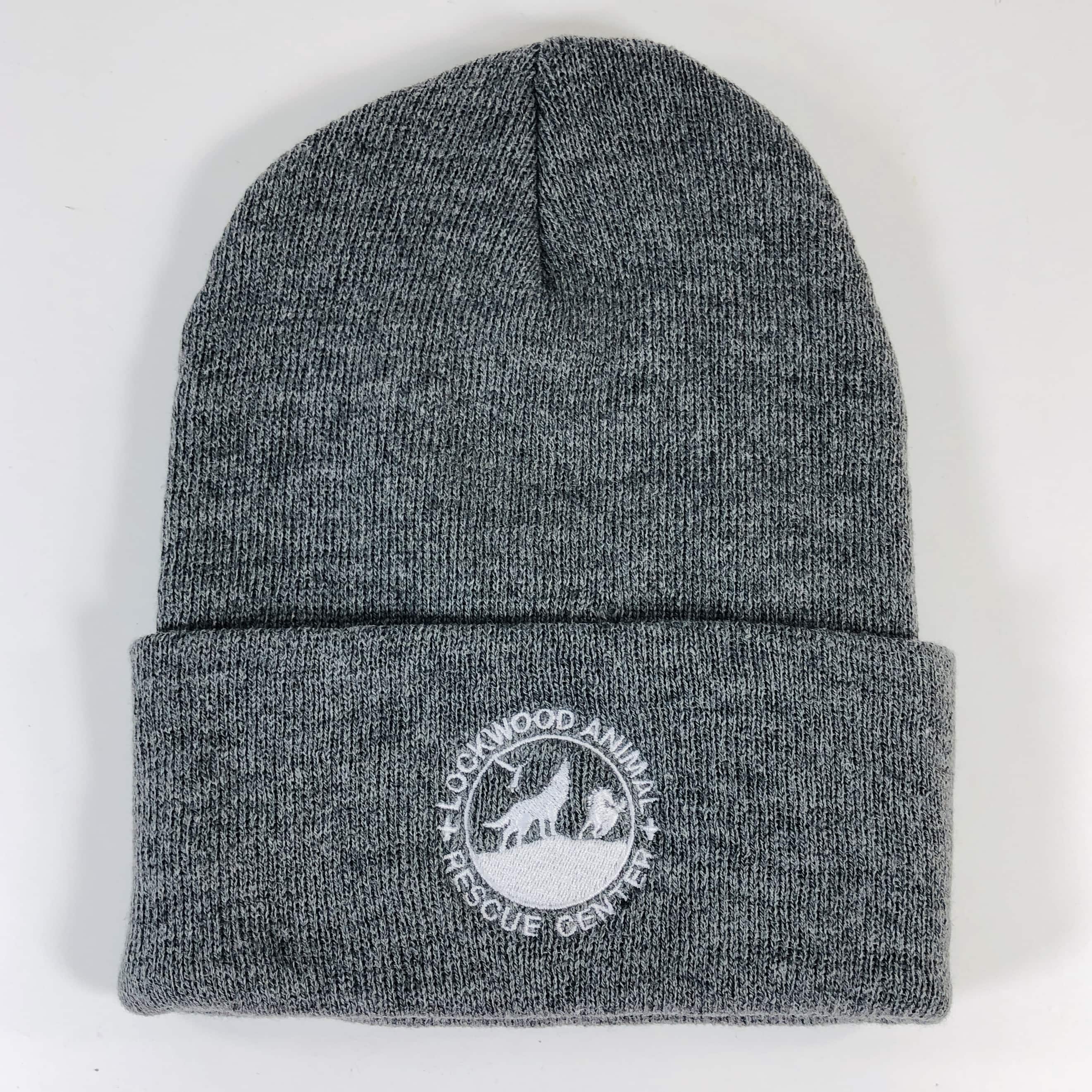 Lockwood Animal Rescue Center Beanie has the LARC logo embroidered on the front. The beanie is made of 100% acrylic and is machine washable.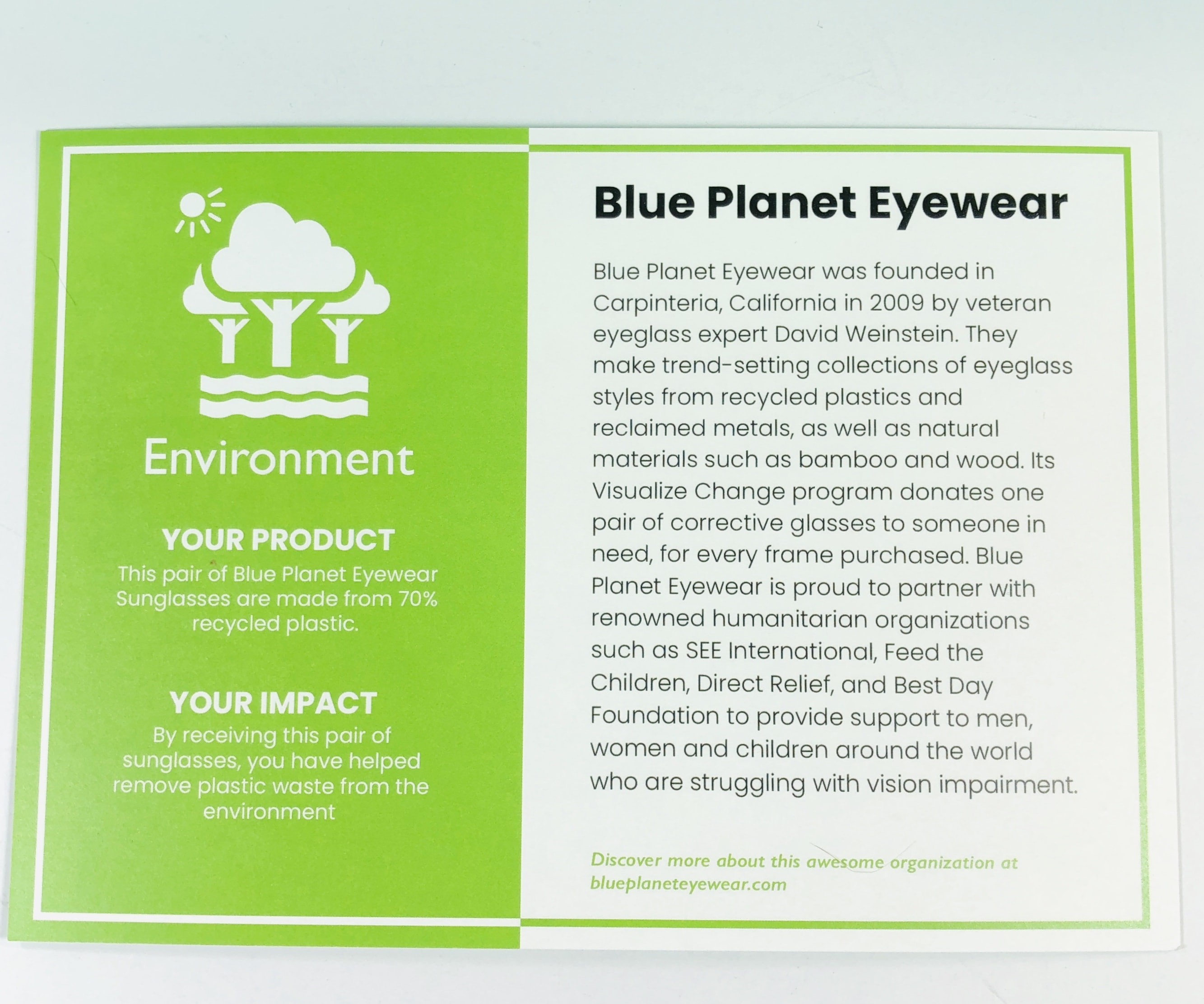 The item sent in support of "Environment" this month is made of recycled plastic waste.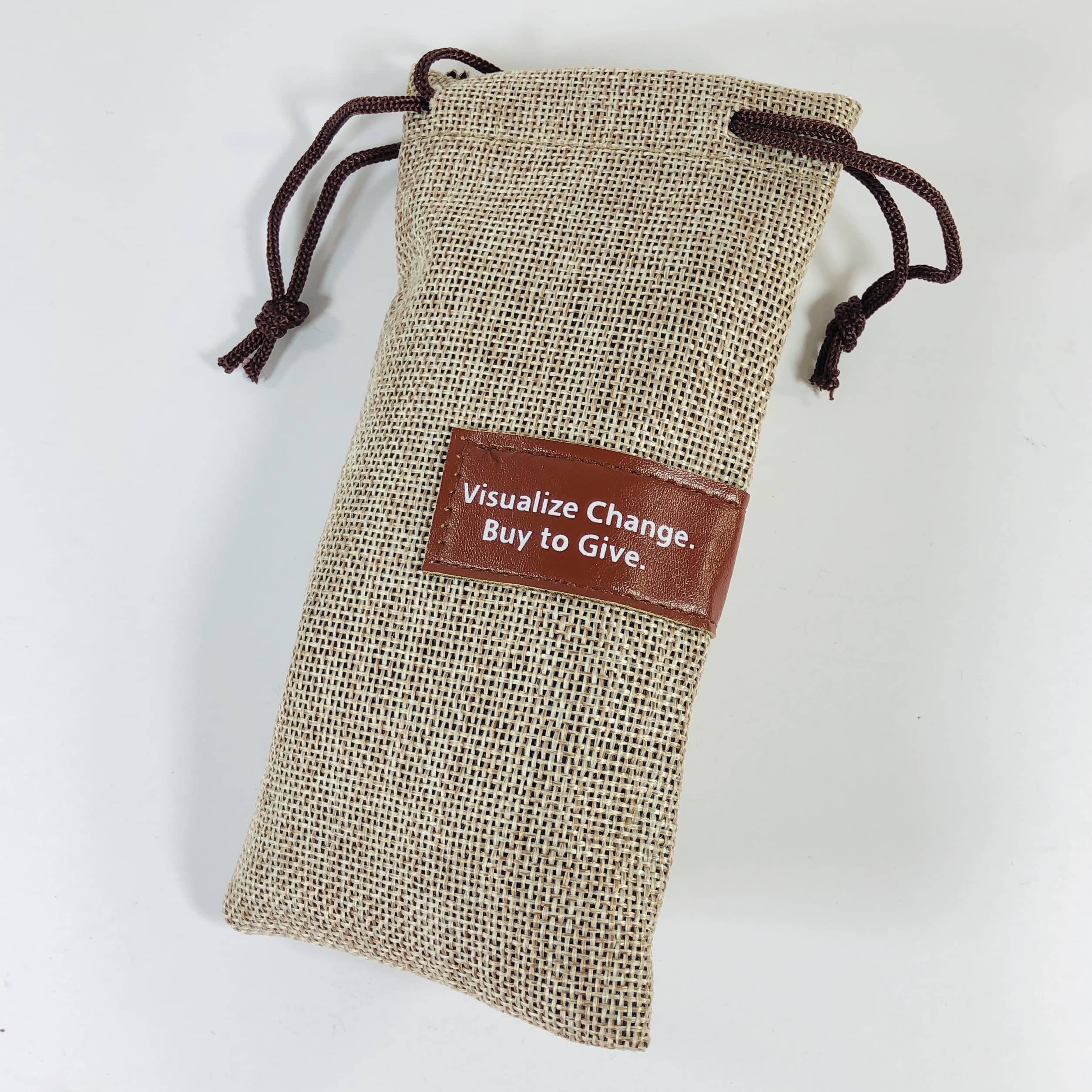 Blue Planet Eyewear Watson Sunglasses I linked to the "Watson" style but it is only available online in two other colors. The glasses came in a carrying case and I found a lens cloth inside the bag.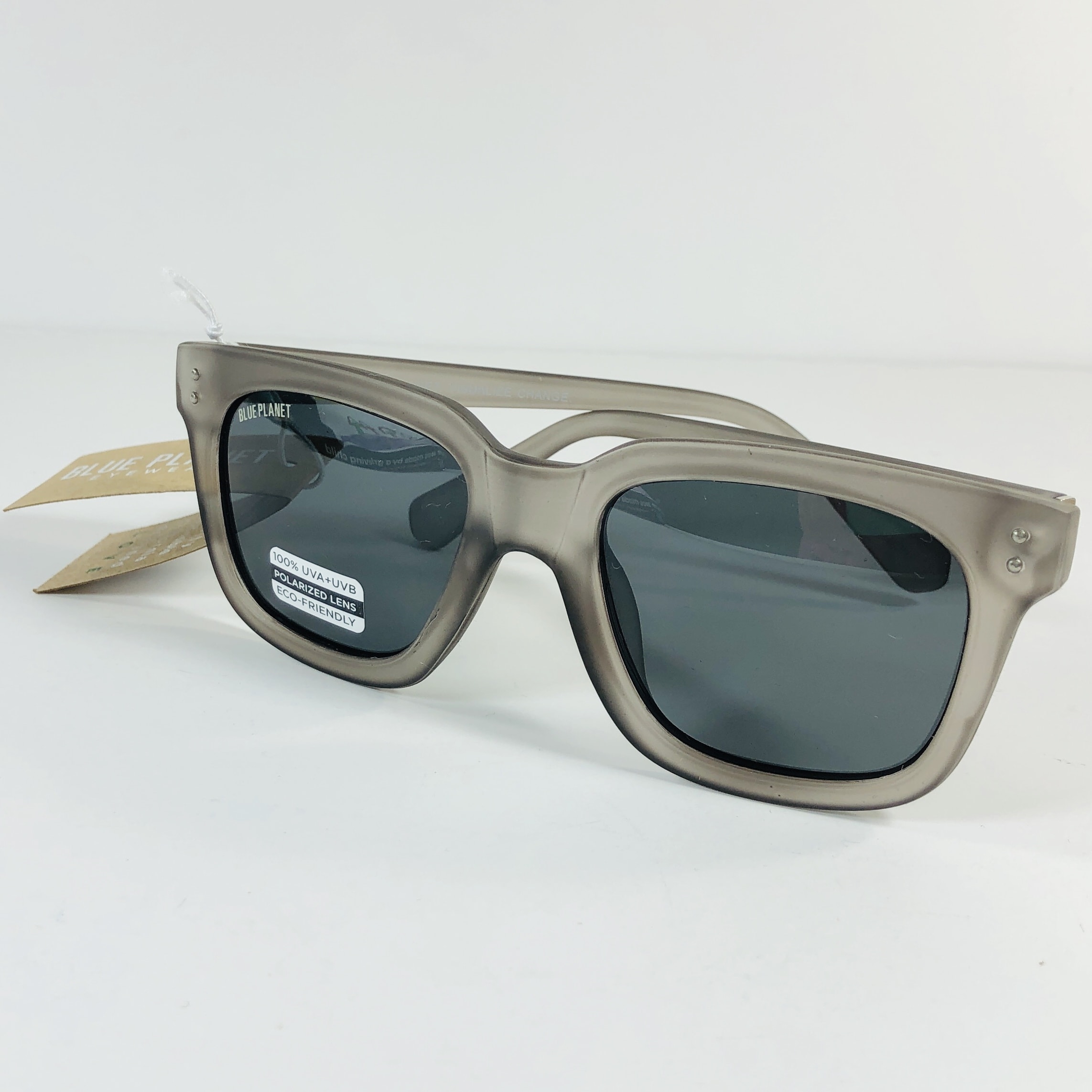 I believe this color is called "Smoke" and looks like a grayish brown. The lenses are polarized and the frames are made of an Eco-Process™, which means they are made of recycled plastic and metal. They also offer 100% UVA/UVB protection.  
The next item is the exclusive item.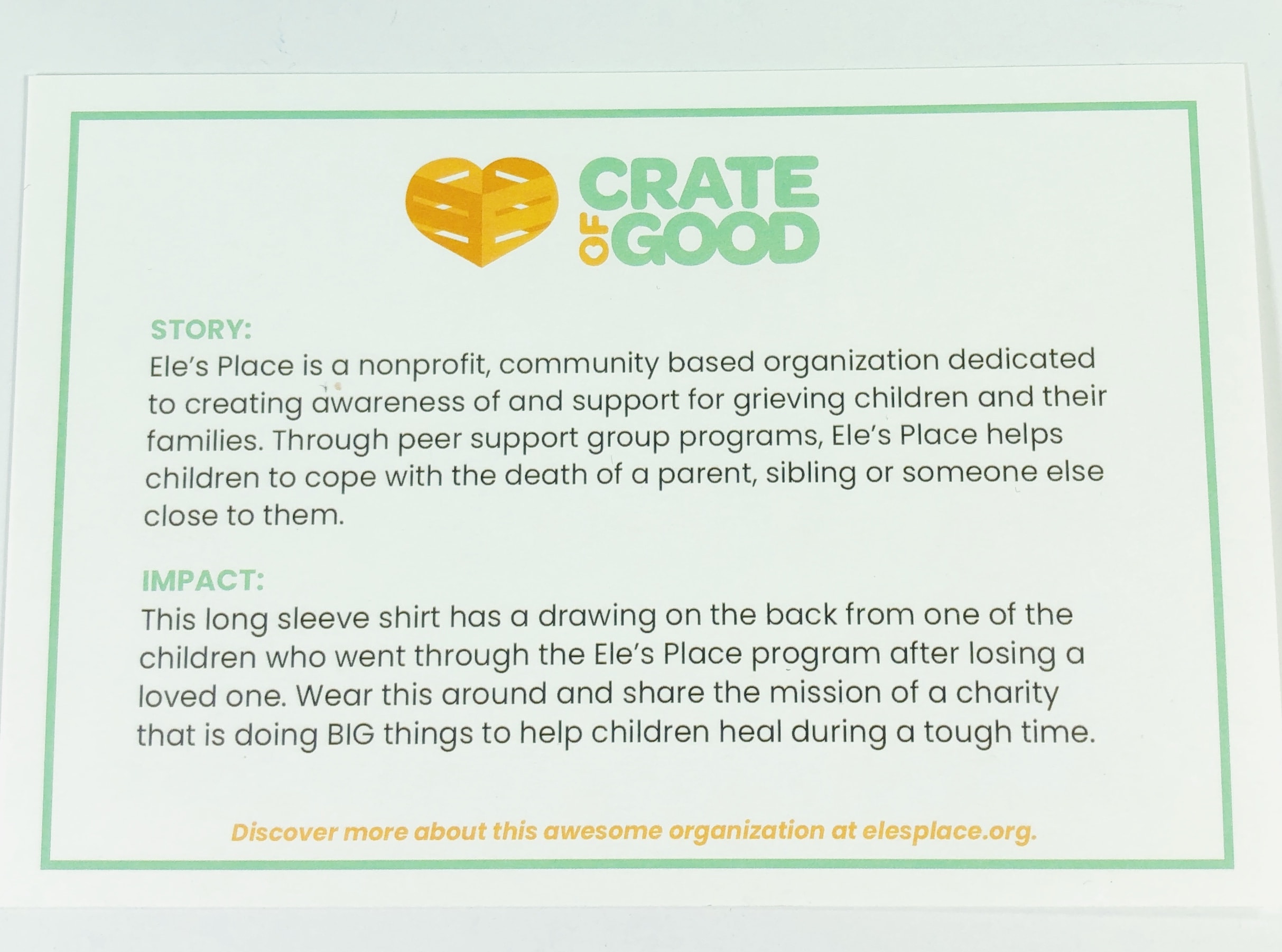 Wear the shirt to help bring awareness to the issue, which in this case is grief counseling for children. Maybe someone will be moved to make a donation to this or a similar charity. It has inspired me to look for one in my area.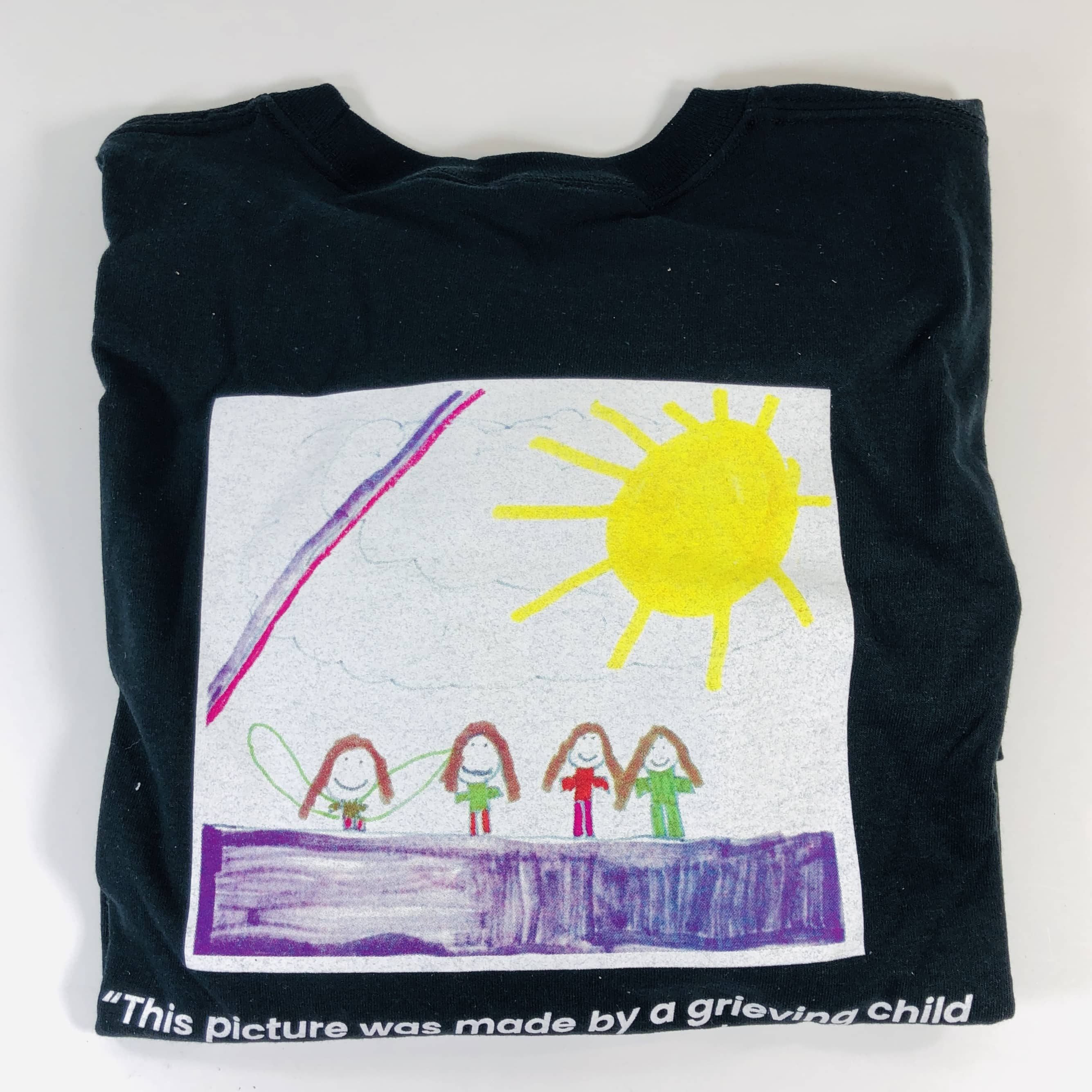 Ele's Place Long Sleeve T-Shirt This drawing is actually the back of the t-shirt, and it was drawn by a child who received services at Ele's Place.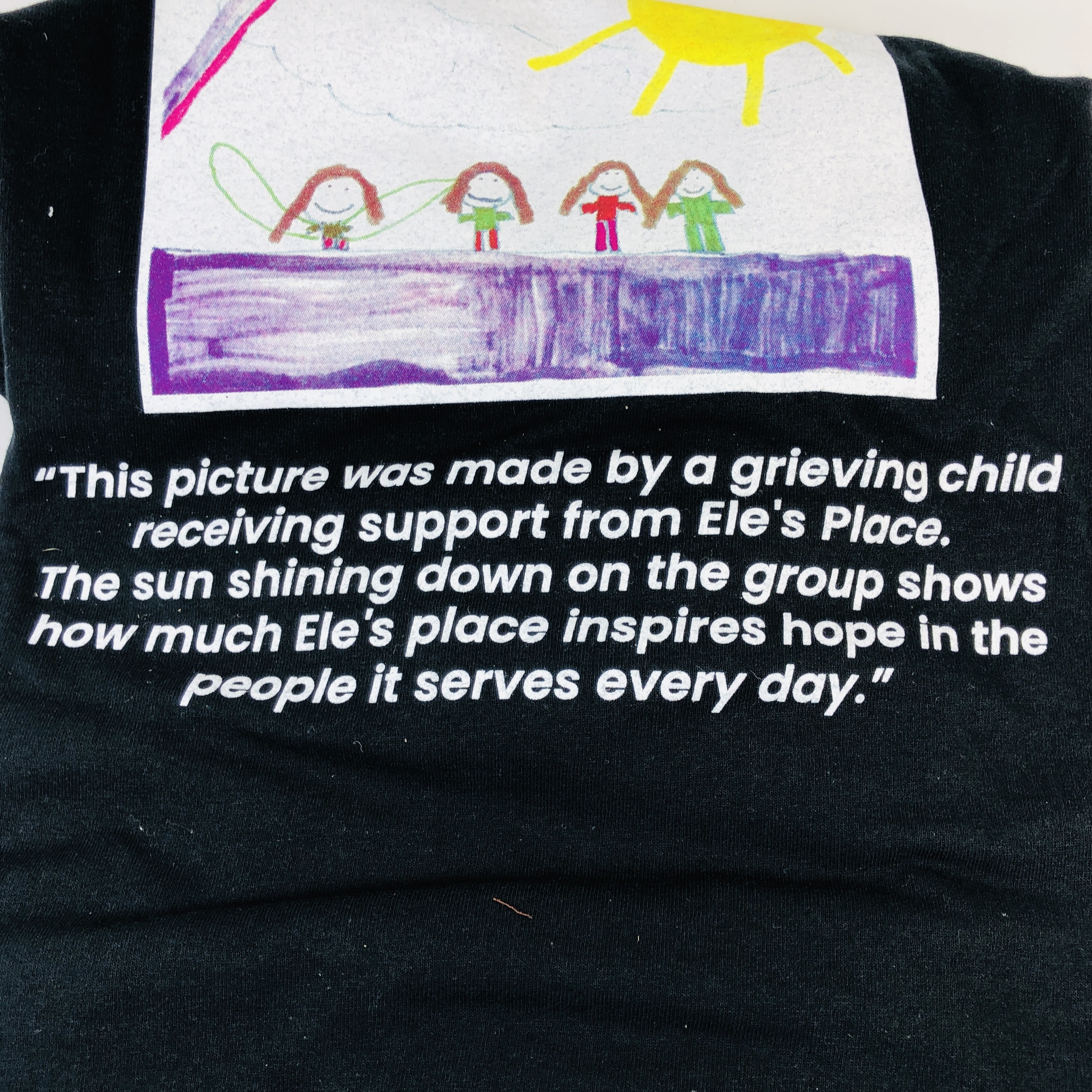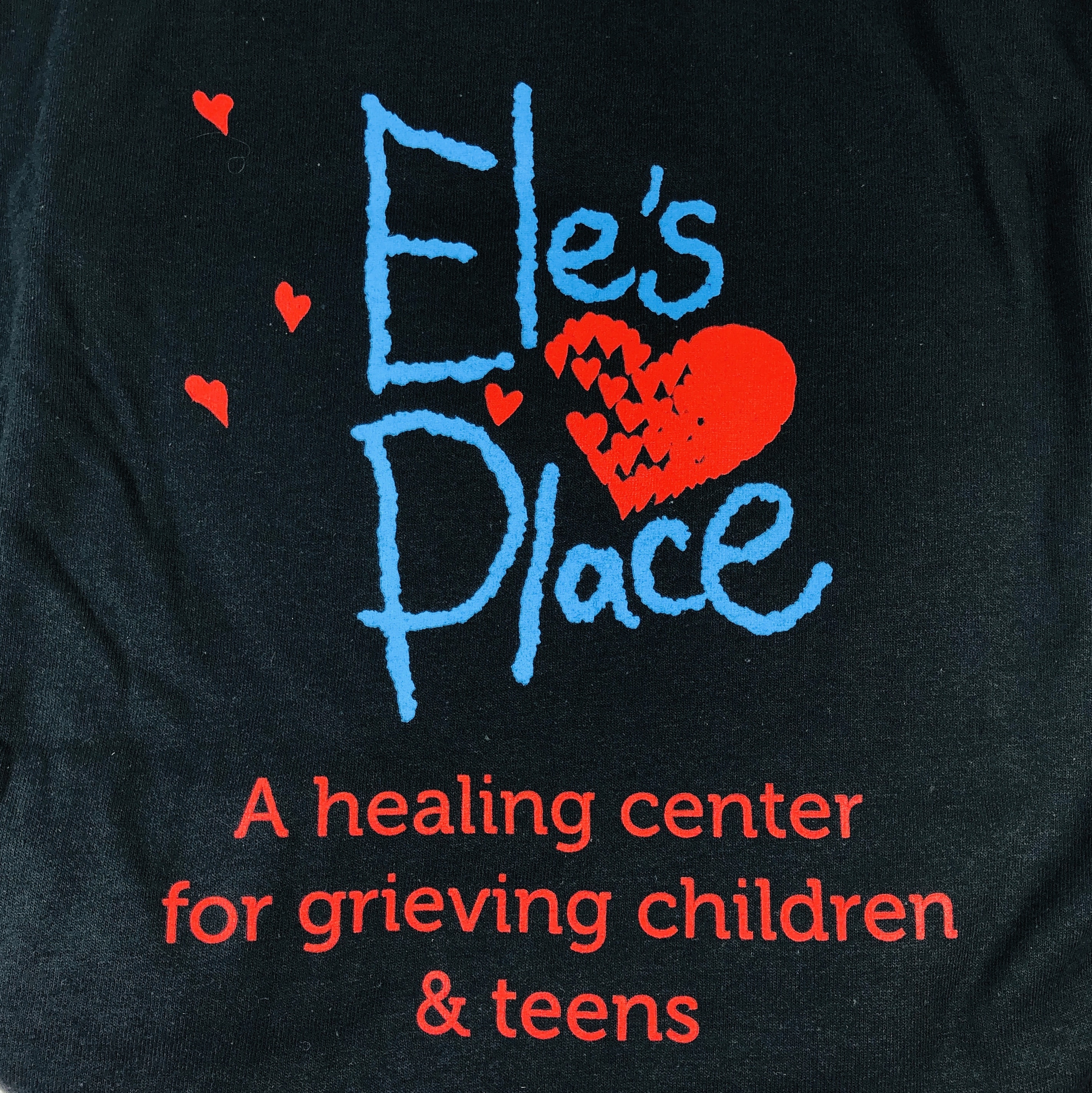 The front of the shirt tells you all about the mission.
#crateofgood is down the side of one arm. The shirt is made of 100% cotton and I tried it on before and after washing and it did shrink some (it is made by Gildan if that helps). No one was around to take my picture but it's a typical long-sleeved shirt. I applaud the effort Crate of Good is doing to bring awareness to issues that are important to them and to people in general. I can certainly get behind causes such as children's issues, animal conservancy, recycling, and helping others. The products all are of very good quality and were in perfect condition. I couldn't place a value on any of them since I couldn't link to the exact products. Of course, part of the value of the box is in helping others, with donations going to the various charities! What do you think of this month's box?