Charm With Me Club is a monthly subscription box that brings the most amazing fandom charms! With your first month, you'll be sent a starter bracelet, and then you can build your own bracelet with themed fandom charms that fit on Pandora bracelets each month. The subscription costs $19.99 per month and ships in a cute little mailer box.
Note: once you're a member you'll need to watch for the theme announcements. If you don't like the theme you can switch your subscription to "surprise me!" Also note – this subscription sells out!
DEAL: Save 10% on your subscription! Use coupon code HELLO10.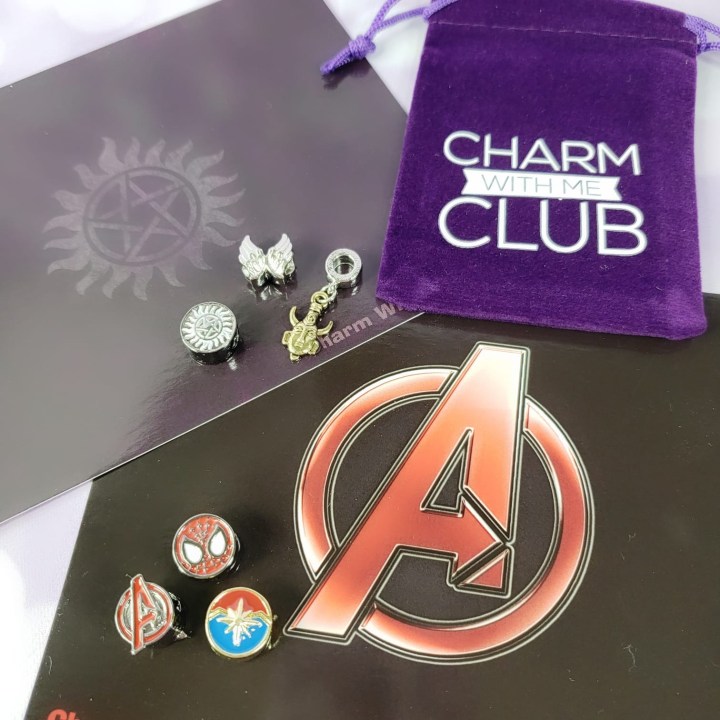 This month we could choose between Supernatural and the Avengers! They sent an email for us to select which one we wanted however if someone signed up with your link you and your friend were both sent both collections!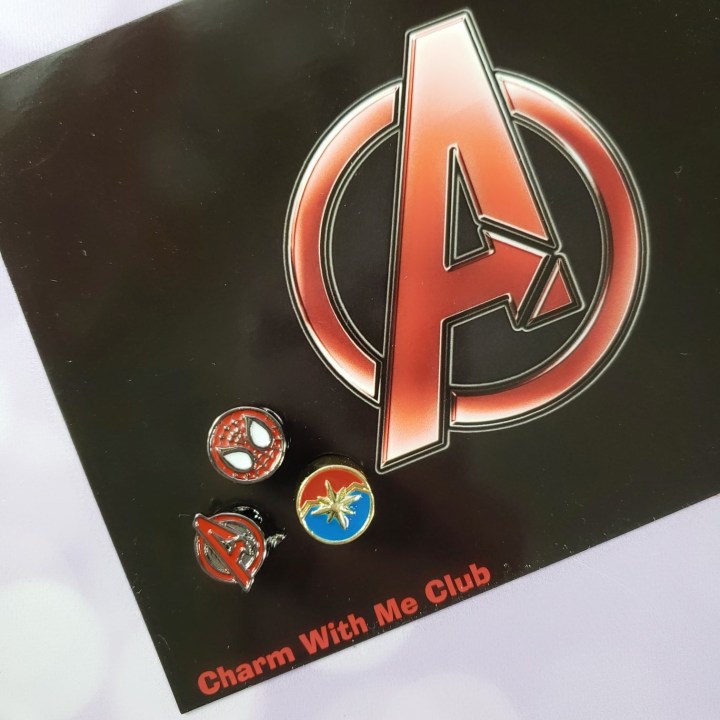 First up this month is the Avengers.  I'm a huge Marvel fan and I've seen all the movies so I can't wait until Endgame is here. My boys and I usually go during the week so I'll have to try to stay away from spoilers for a bit.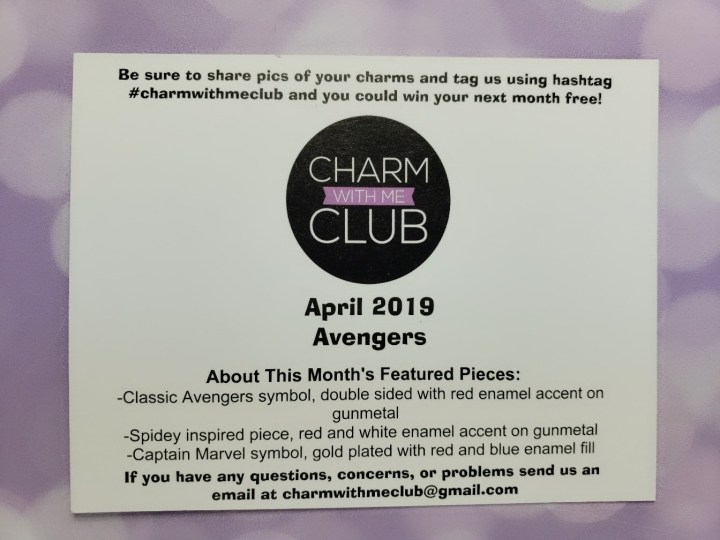 The back of the theme card has a list of the charms included for the theme. With the Avengers theme we got three inspired charms.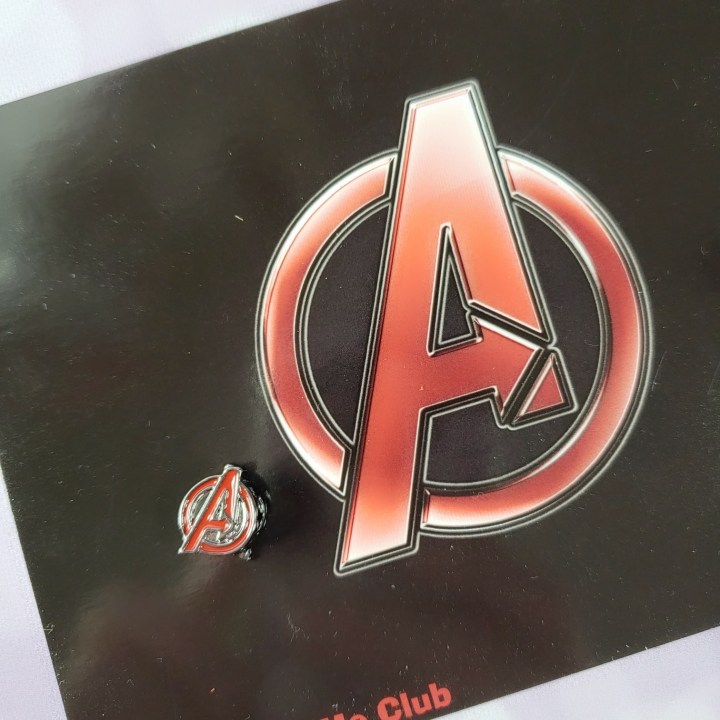 Let's start with the classic Avengers 'A' symbol. This is an iconic image and really sums up the whole team. It is double sided with red enamel accents on gunmetal finish.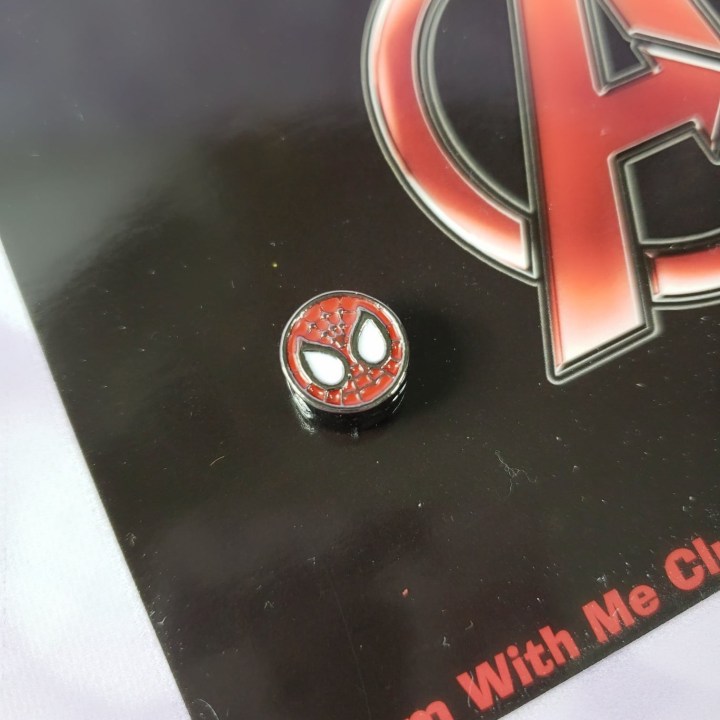 The second piece is Spiderman inspired with the Spidey face on one side and the Spider symbol on the other. (shown below)  Both sides have red and white enamel accents on a gunmetal finish.  While I love the new Spiderman in the movies did any of you see Spiderman: Into the Spider-verse? My boys picked it and I was skeptical but it was so good.  The whole look and feel and story is not to be missed.  If you haven't seen it I highly recommend a viewing.
The back of the charm with the classic spider image.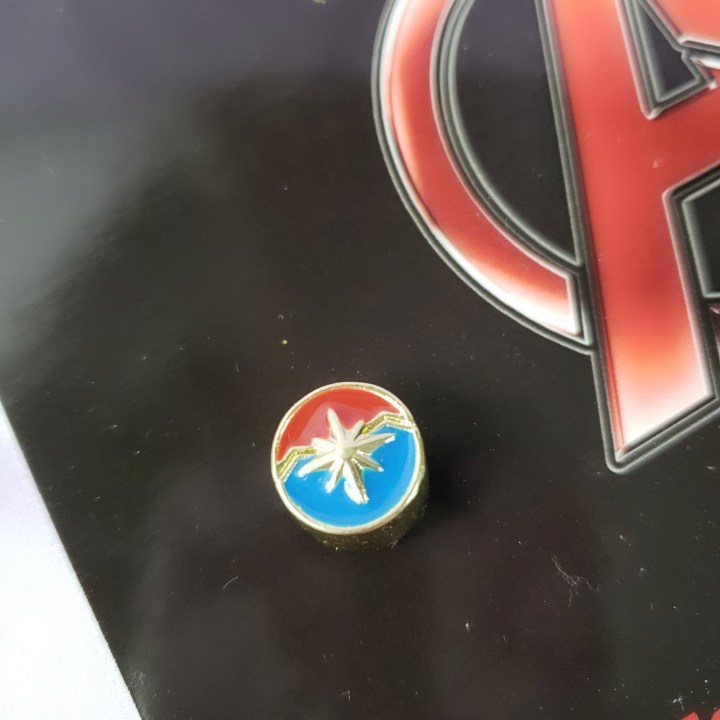 Our final charm in the set is a Captain Marvel inspired double sided charm that is gold plated with red and blue enamel fill.  Another movie that I really enjoyed. I can't wait to see how she fits in with the Avengers we already know and love.
The second theme this month is just one of my all-time favorite TV shows: Supernatural! I've been a fan since the beginning and am I'm sad that next season will be the last. While I do understand it will feel odd to not have my boys to watch each week.
Again the back of the themed card has the information on the charms.  The Supernatural theme also included three inspired charms.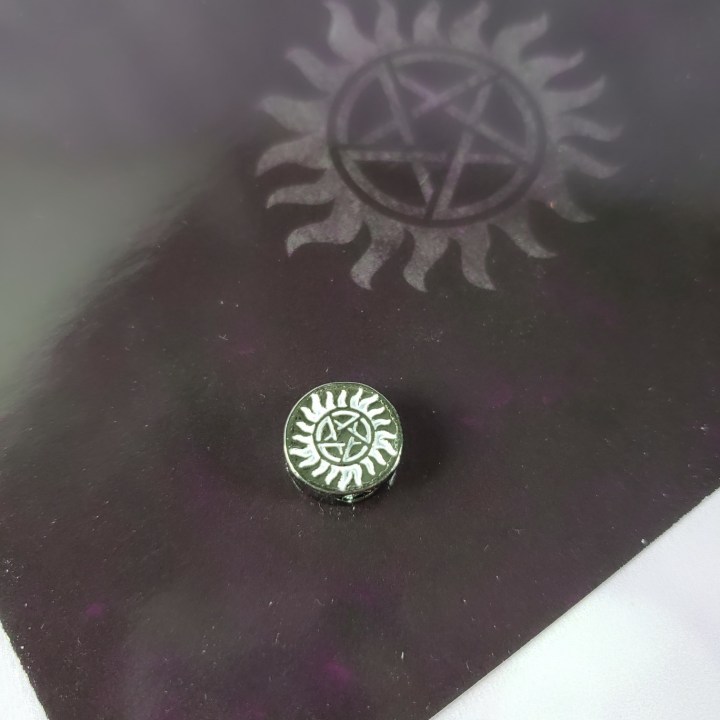 One of the most known symbols in the Supernatural universe.  This is the Anti-possession symbol that is double sided with white enamel fill on a gunmetal plate. The symbol is tattooed on the boys chests and while they don't show them as often anymore I'm always up for a viewing.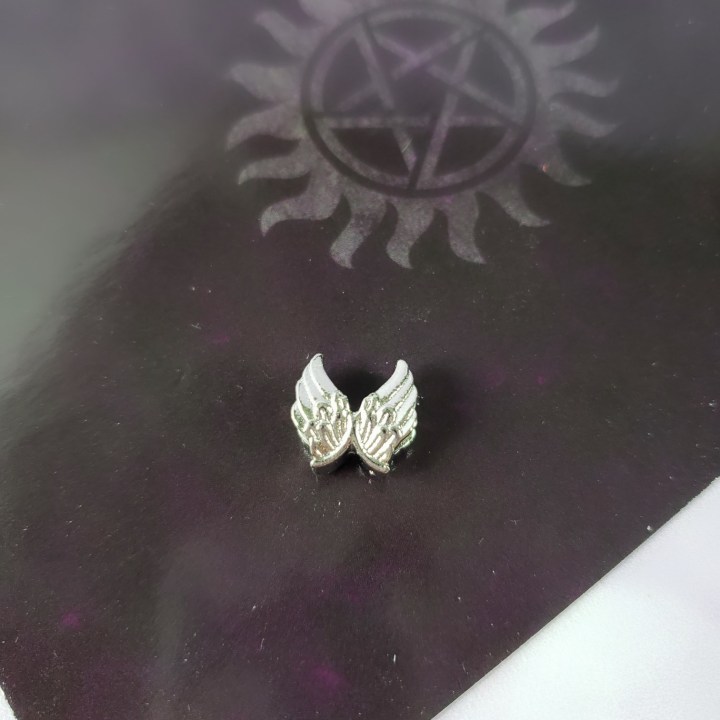 Our second charm is a hand carved Angel Wings. With the introduction of Castiel angels have played a large part in the universe. In Supernatural not all angels are good and they have really explored that whole realm of being. This is a gorgeous charm and so detailed.
The final charm in the set is a "God" detecting amulet dangle charm. I'm all about a dangle charm and the gold on this one is so perfect. Aren't all amulets supposed to be made of gold?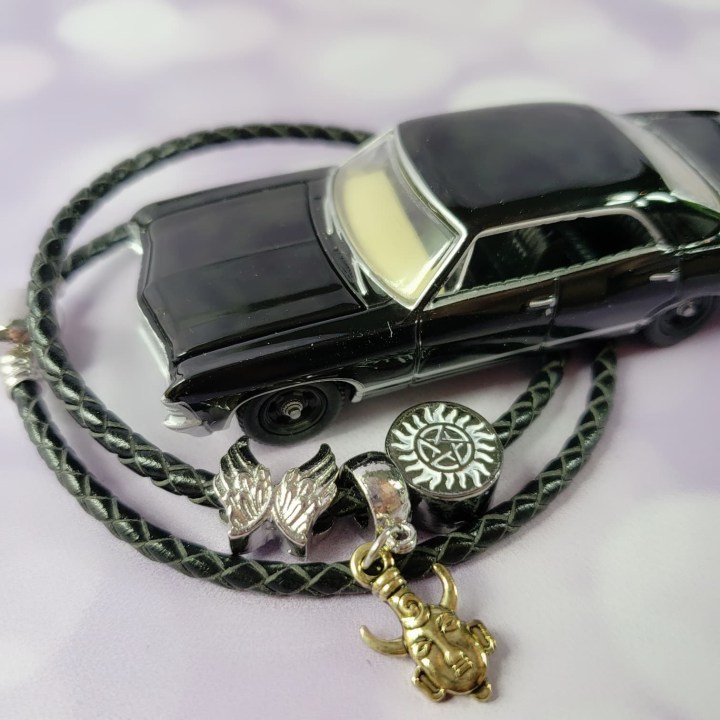 Just look how great all of these charms look with Baby!
Another super-rific Charm With Me Club box this month. Both of these themes are perfect for me and I'm so glad I did not have to pick. Avengers is going to be the biggest movie this year but I might be a little partial to my boys and Supernatural.  All six of my charms are so expertly spot on and just the perfect inspiration. I'm always so impressed with the quality and designs of the my charms each month and I can't wait to get them each month.
After the subscription has shipped, you can go on their site and normally order the beads themselves. However, the monthly sets go for about $29.99, so getting the subscription is the better deal. You can always go and check out the past months and see if there are any that you missed and want to add to your collection.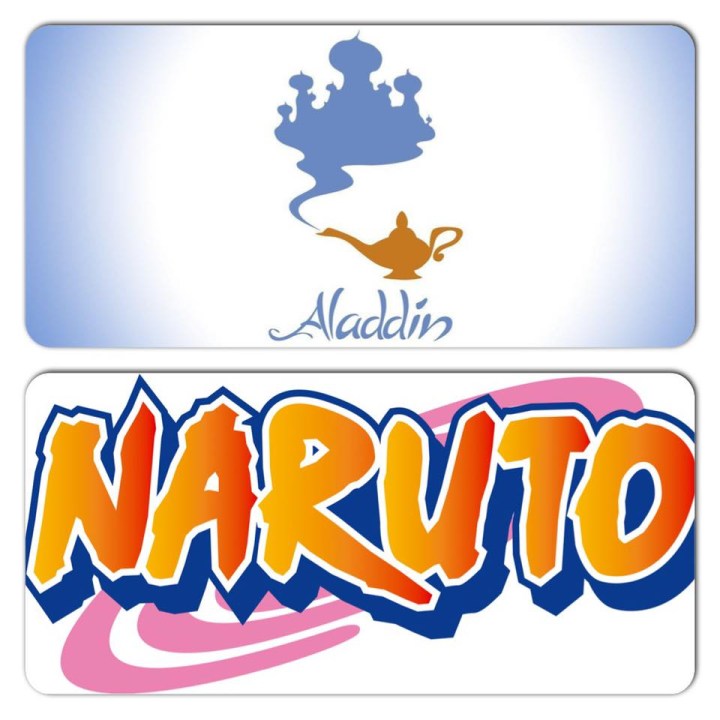 In May we get to choose between the Naruto and Aladdin (based on the cartoon movie version) And again if you refer someone new to the subscription both of you gets both themes.
What did you think of the Charm With Me Club charms this month? Are you a fan? What fandoms would you like them to feature?