Candy Club is a premium candy subscription box. They bring the old-fashioned candy store (with candies both old and new) to your front door. They promise that their boxes will have an amazing variety of different candies for your snacking enjoyment.
Candy Club recently updated their box – now each box contains 6 containers of candy in smaller twist-lid jars, all with weights and printed nutritional info right on the jar.
The Candy Club Subscription Box is now $29.99 + $9.99 shipping per month. The Party Box size is also available for $49.99 per month + shipping.
DEAL: Save $12 on your first box! No coupon code required, just use this link!
Inside the box, the candies are securely packaged in round plastic containers.
The containers are set inside a cardboard stand with holes cut out to hold them in place. It really makes for a nice display when you open the box. Also, the lids of the containers now have a solid aqua blue color, plus they're reusable.
You can now choose between Mostly Sweets or Mostly Sours for your taste profile, but you can no longer select particular candies. Our choice is Mostly Sours!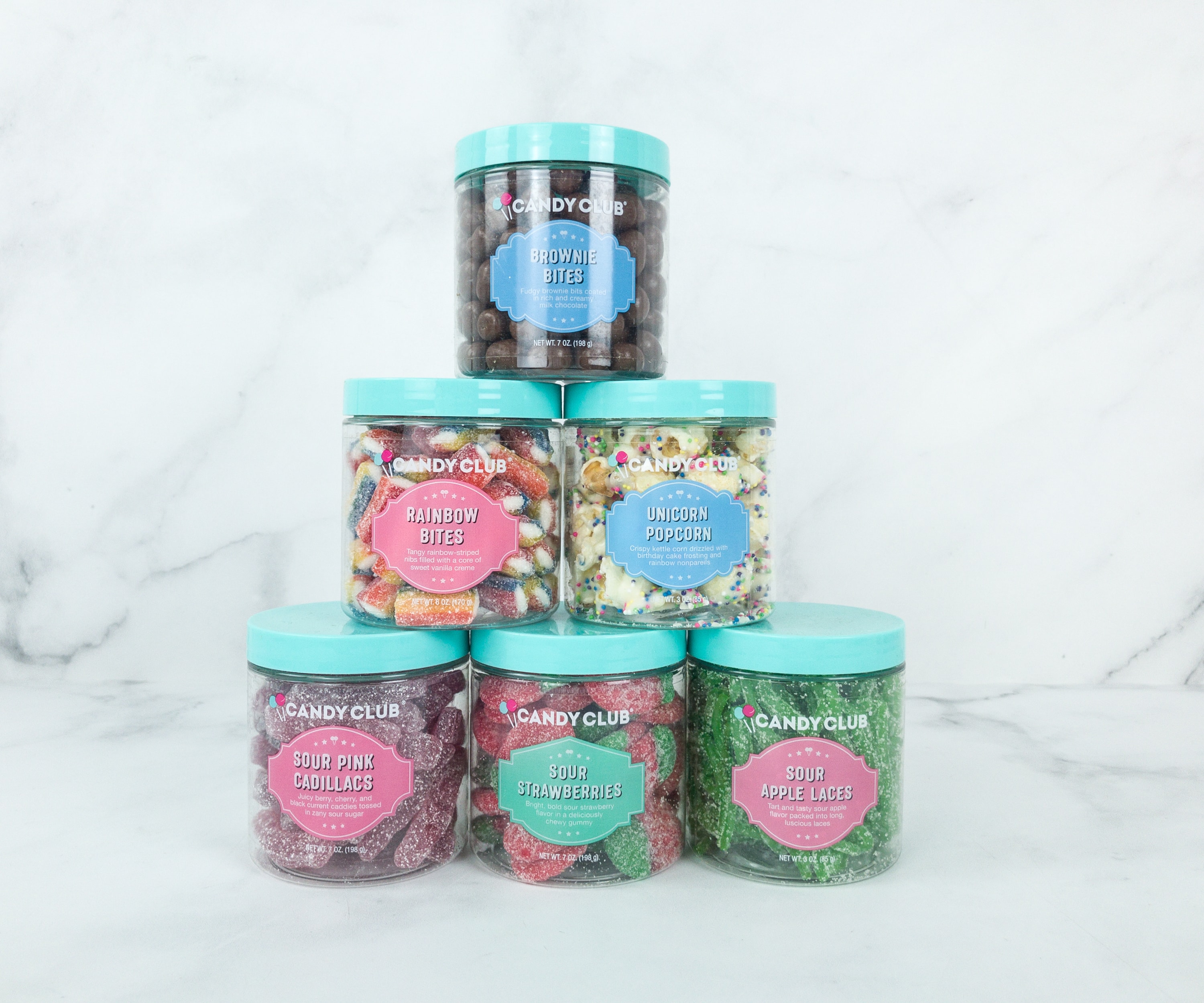 Our candies arrived in perfect condition.
Everything in this month's box!
Candy Club brings the best candies in a resealable plastic jar for easy gifting and snacking.
Each jar is carefully sealed to keep the candies at their freshest state.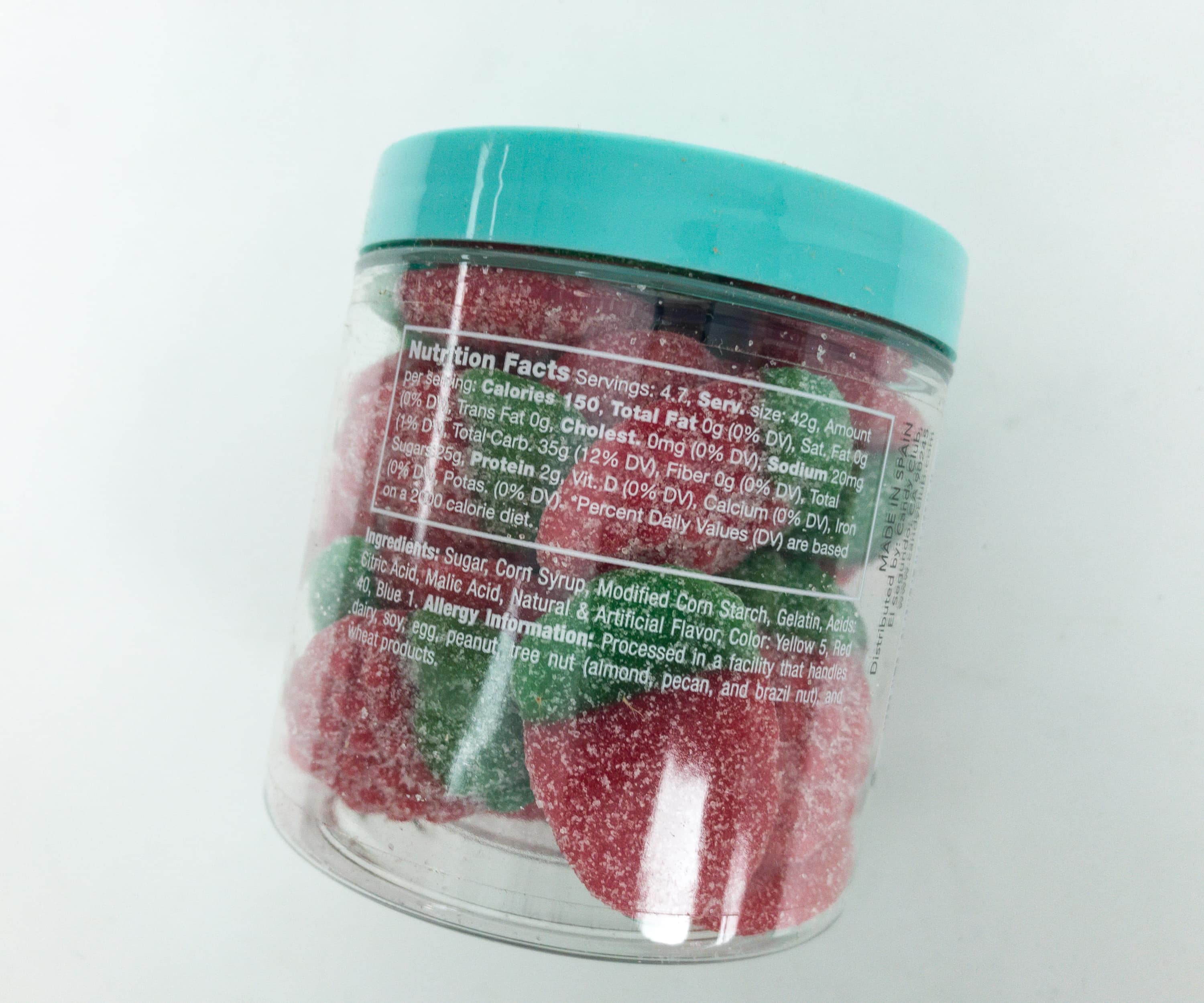 All we need to know about the nutritional facts and ingredients are on the jar label.
Sour Pink Cadillacs. This pack of Cadillac-shaped sour gummies is a delightful mix of strawberry, black currant, and cherry flavors. The fun shape and the sweet-sour taste were a big hit with my kids. They will surely add life to the candy corner at car-themed parties.
Sour Apple Laces. It's a twisted kind of cheer! Every strand of these gummy laces gives that wonderful taste of apple sweetness with a punch of sourness. We couldn't stop chewing!
Sour Strawberries. These beautifully colored chewy candies are a regular in our Candy Club curation. Because of their inviting bold sour strawberry flavor, they have become our family's favorite!
Rainbow Bites. They're so colorful and oh so flavorful! Each tiny piece gives that explodes-in-your-mouth fruity outer layer and a tart cream center. We super duper loved its scrumptious combination!
Brownie Bites. These bite-sized delights are made of fudgy brownie bits and dipped in creamy milk chocolate. They make a great after meal dessert or just a source of extra fill of happiness.
Unicorn Popcorn. These treats made us love popcorn even more! It has the chunkiness of caramel popcorn drizzled with the creamy goodness of cake frosting and made more exciting with the bits of rainbow dots!
This month, they featured the cutest, most colorful, and tastiest treats, which are perfect for Easter celebrations. Our selection of mostly sours made our mouths pucker up in an enjoyable way yet again. The unicorn popcorn and the rainbow bites are our new favorites! Now, all we have left are empty jars and I am glad that they are reusable!
Have you tried Candy Club? Are you thinking about trying the new version?