California Found is an awesome monthly subscription box that delivers the best of The Golden State, directly to your mailbox! Each box is $49, but has a value of $90+! What will you find in your box?
Once a month, our subscribers experience the California lifestyle through a box filled to the brim with natural spa & beauty products, locally sourced gourmet treats, beautifully crafted home goods, and infinitely wearable jewelry. Each box tells the story of five to seven California makers through their products and an individual notecard dedicated to each one. Every beautifully packaged delivery reflects the laid back, stylish, uniquely chic attitude that is California.
DEAL: Save 20% off your first box with coupon code HSGET20.
Hello, sunshine! 
The presentation is always on point with this box and this paper is embedded with wildflower seeds! I found a set of cards – one with an introduction to the current box, and one for each of the vendors featured in this month's box. The bundle was secured with more seeded paper.
California Found has The Golden Ticket, which is perfect for a box coming from The Golden State! One box each month will contain a special ticket that will entitle the subscriber to a free box for themselves or for a friend. Also, California Found gives 10% of their profits to charitable organizations and this month proceeds will go to No Kid Hungry: California.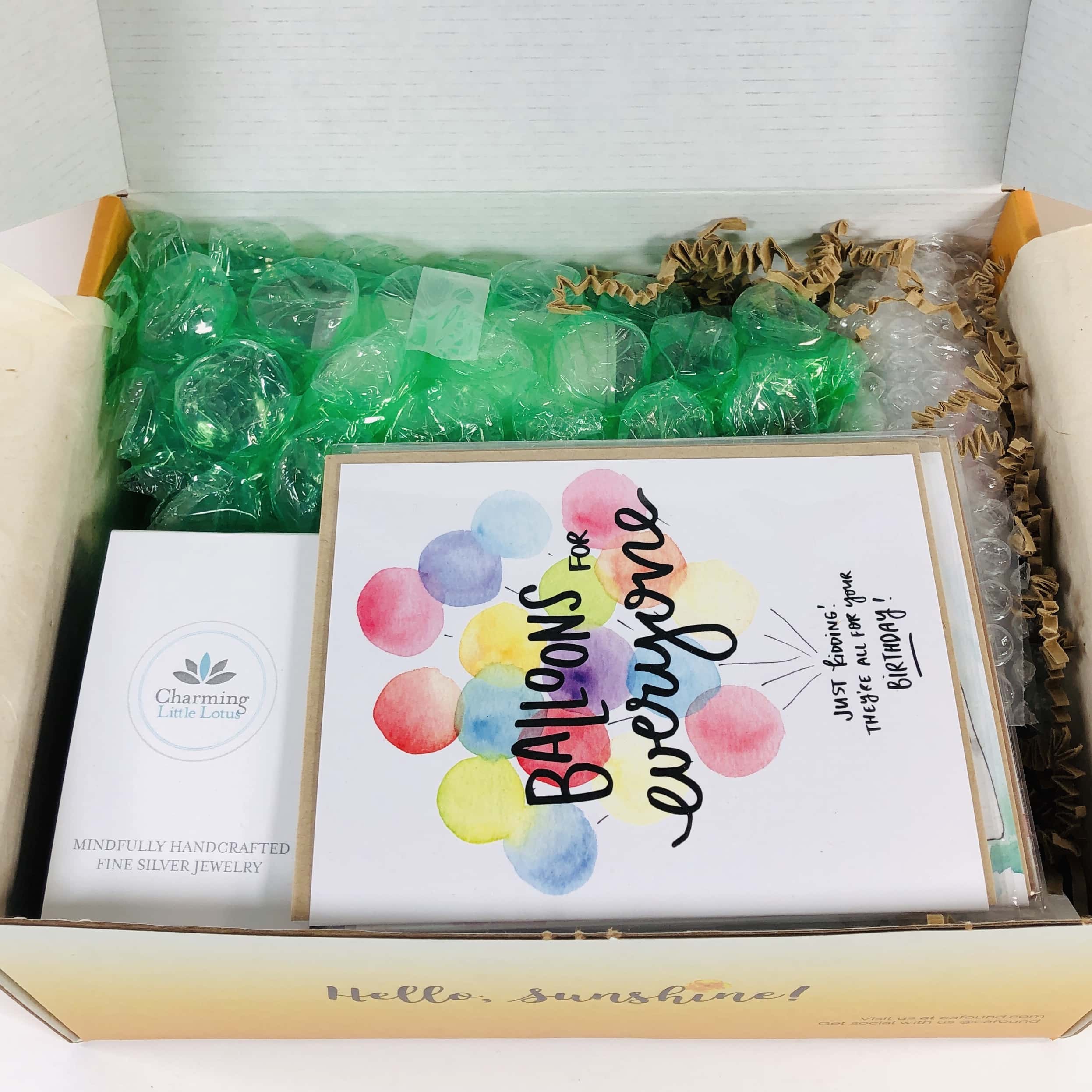 My items were tucked into shredded paper squiggles and a couple of items were wrapped in bubble wrap.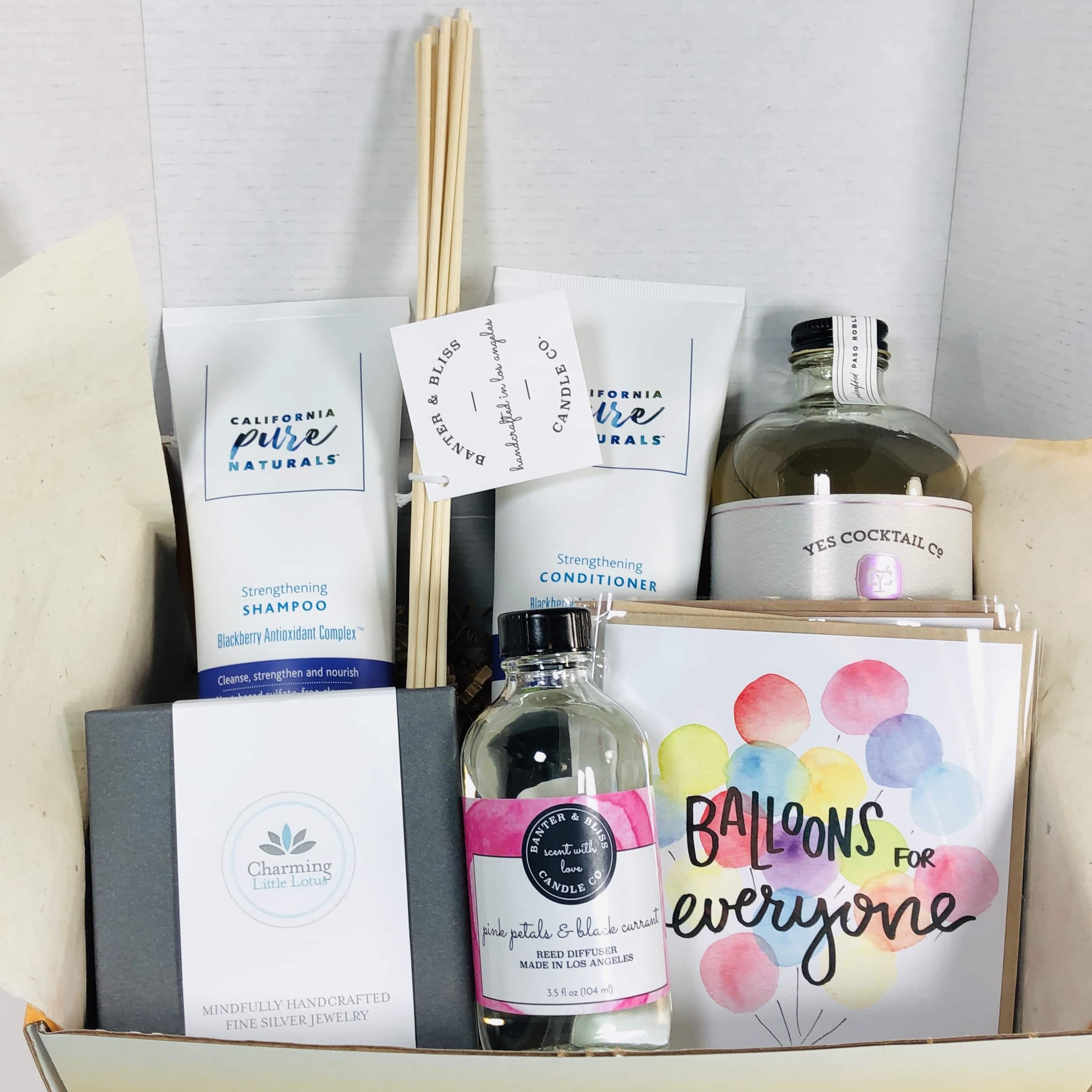 Everything in my March 2019 California Found box!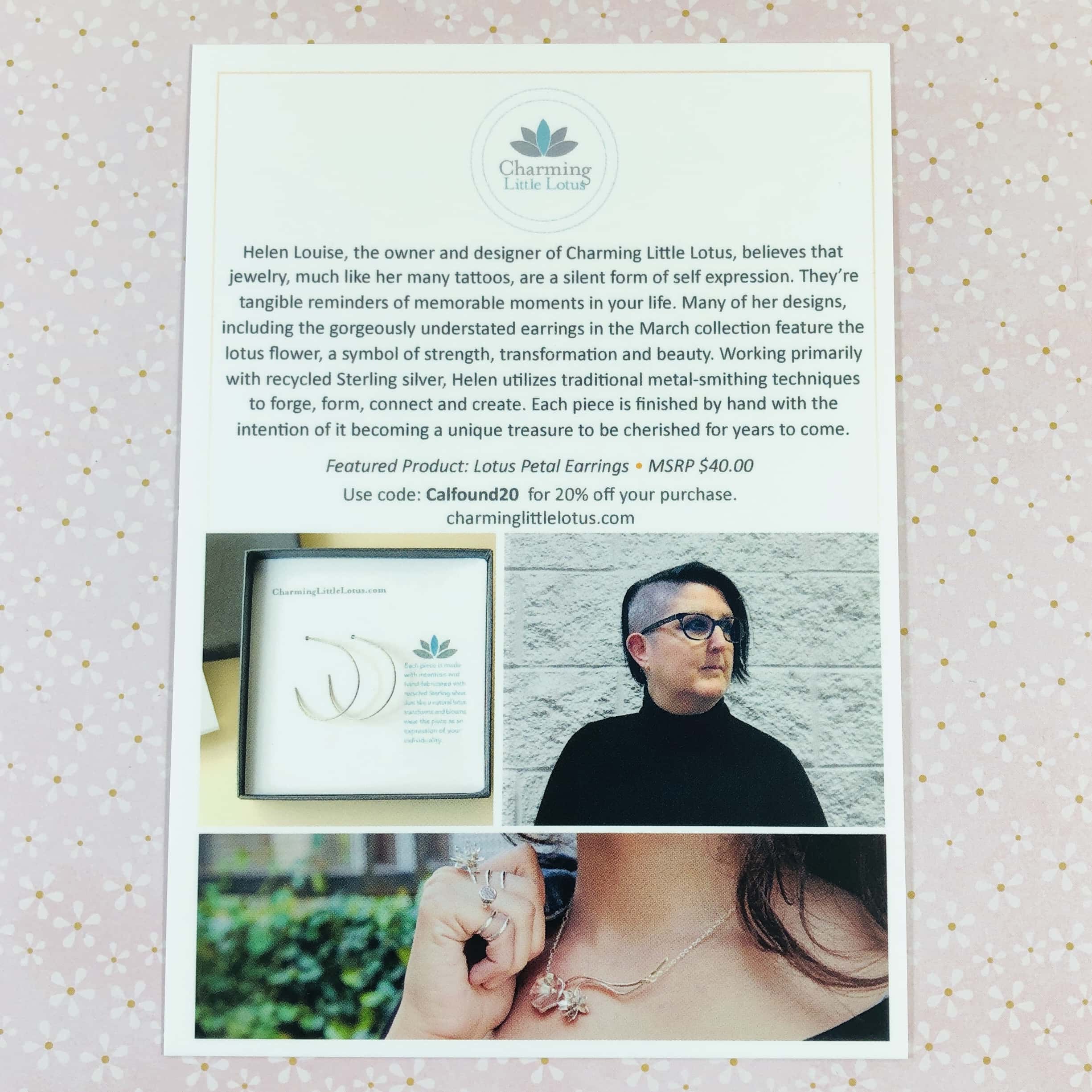 Charming Little Lotus Lotus Petal Earrings ($40) came packaged like a little gift.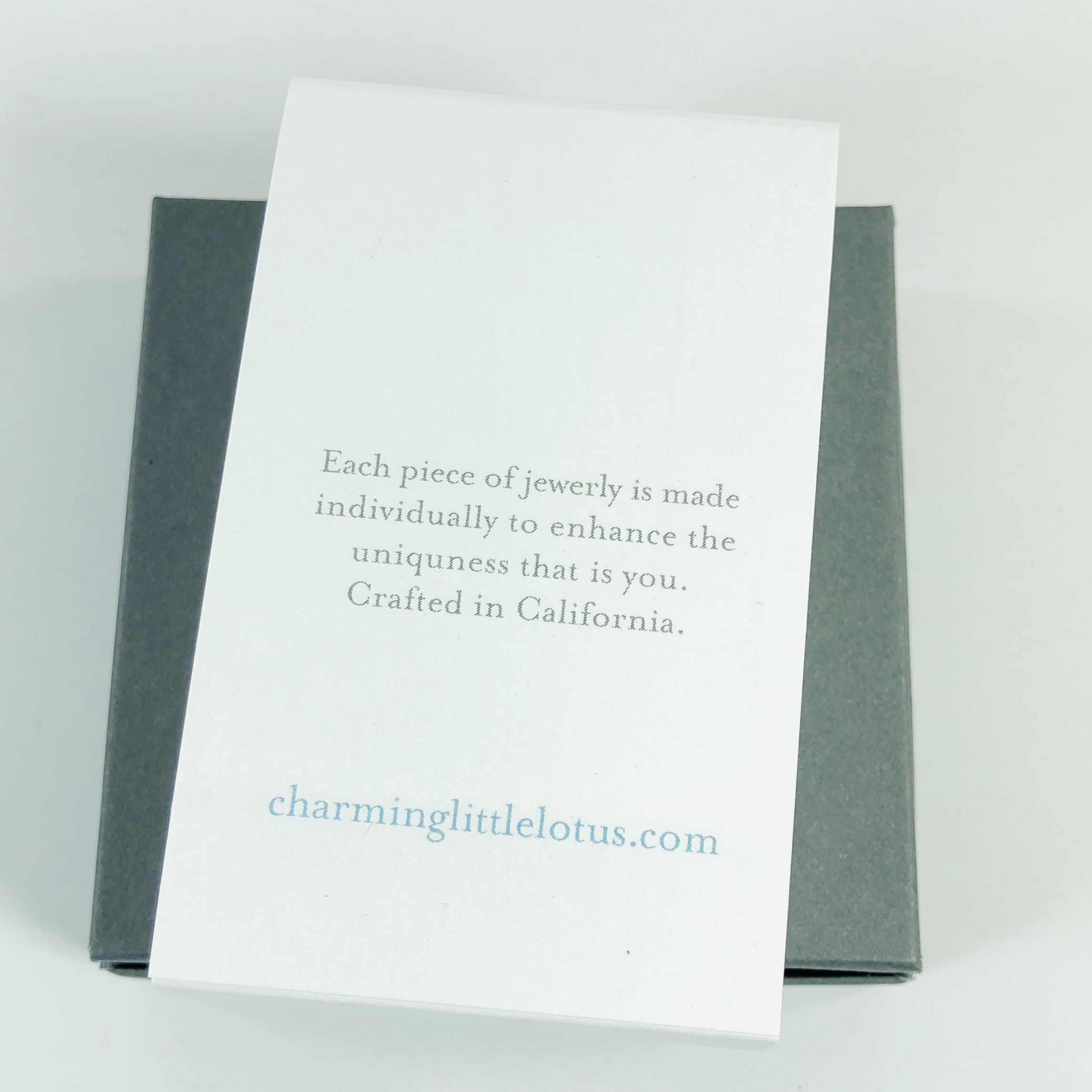 It is a hand-made item so each piece may vary slightly.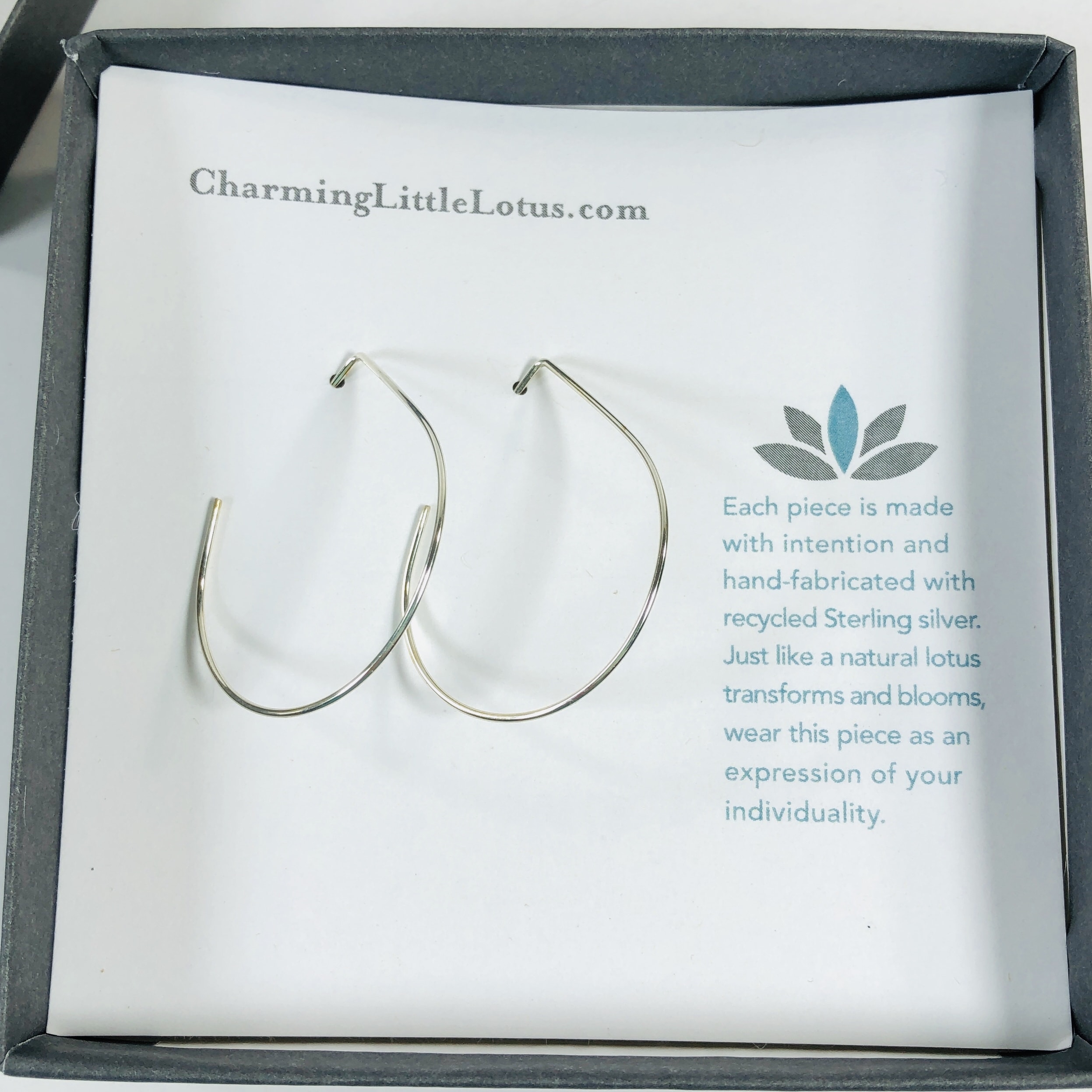 The earrings are made of a piece of recycled sterling silver formed into a loop and is supposed to remind one of a lotus petal.
I do not have pierced ears but these feel lightweight in my hand so I imagine they would be easy to wear.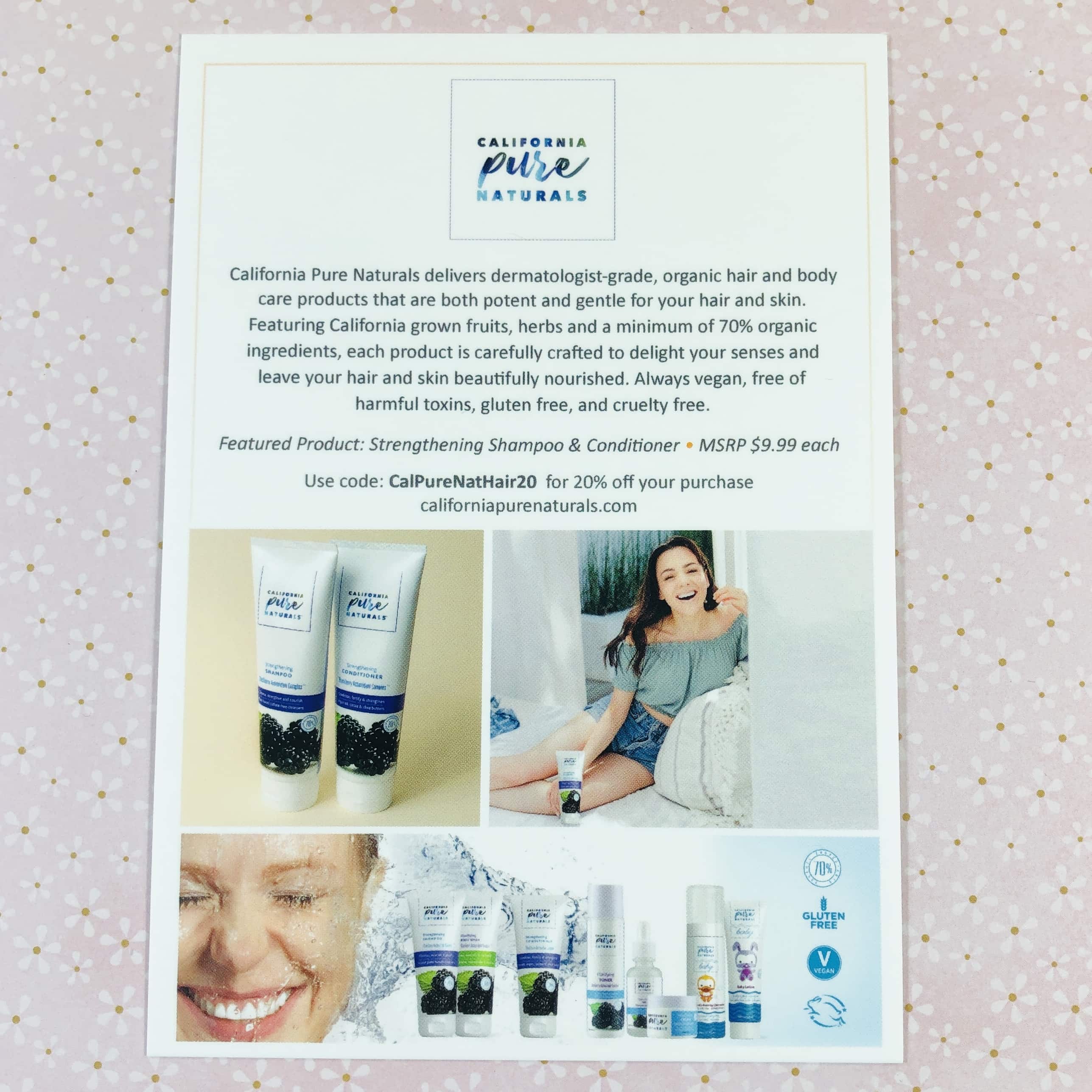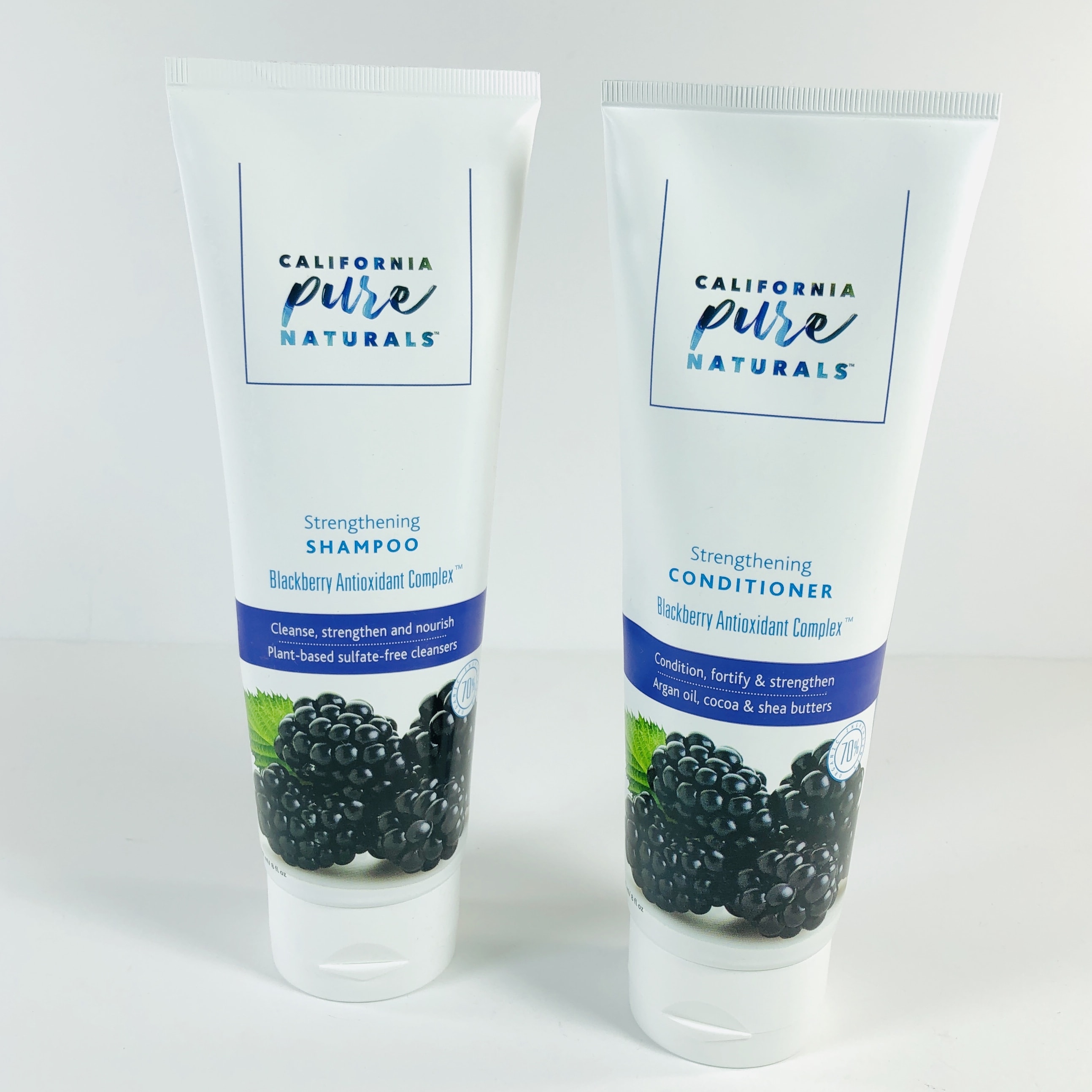 California Pure Naturals Strengthening Shampoo ($9.99) and California Pure Naturals Strengthening Conditioner ($9.99) I wasn't expecting a hair care duo! The products are made of 70% organic ingredients, are sulfate-free, and are vegan + cruelty-free.
The shampoo worked well to get my hair clean. I have fine hair and wash it daily and I felt like this shampoo lathered well. It had a very light fruit scent, these are not perfumed like the stuff you find at the grocery store. That is a plus for me since I have a very sensitive scalp.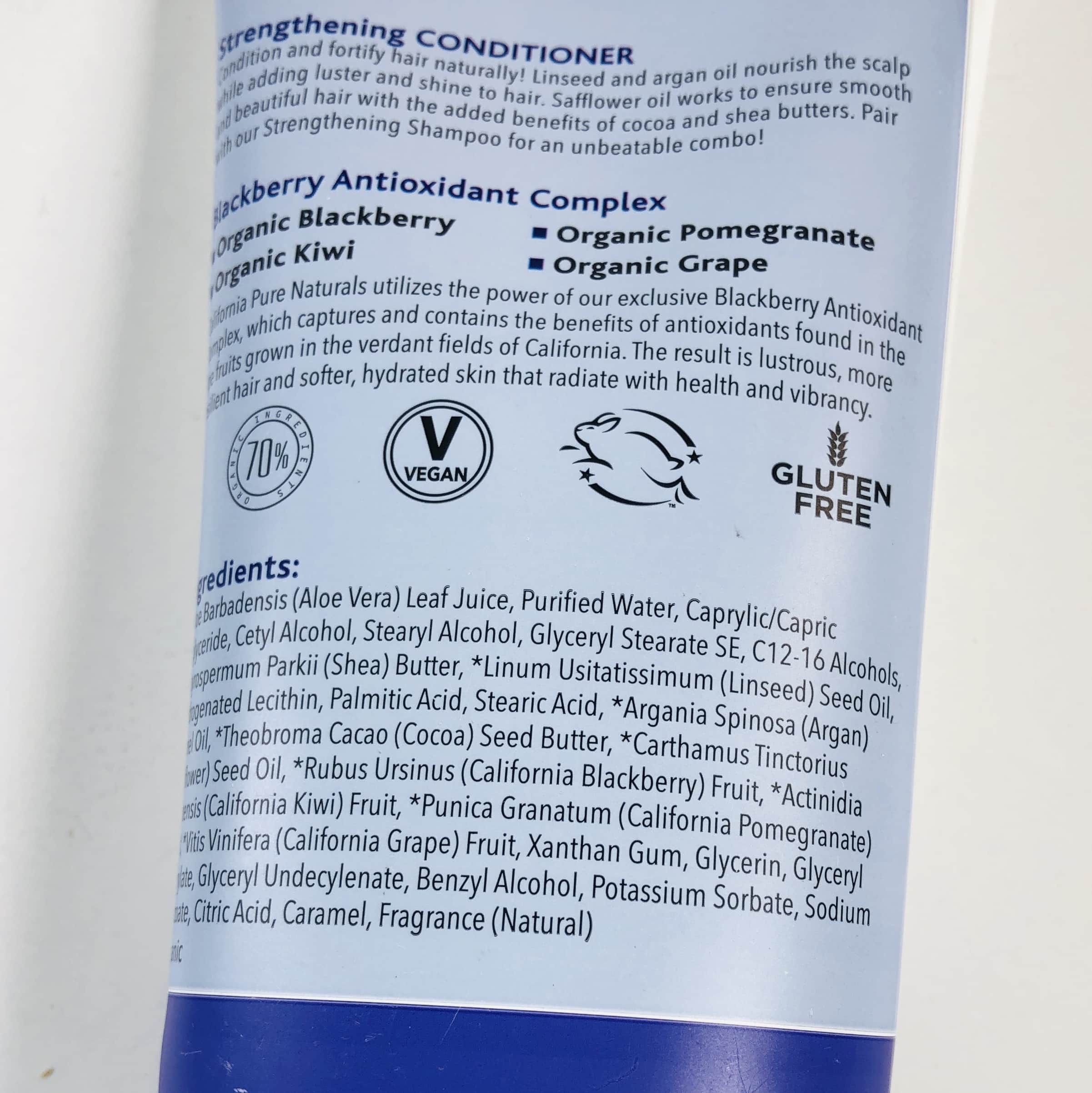 I worry about my hair being weighed down by heavy conditioners but this wasn't heavy at all. My hair was easy to comb after I rinsed it out and I styled as usual and my hair didn't fall flat. I think these two products are good for every day use. It doesn't say if it is safe for color treated hair and my hair isn't dyed so you may need to reach out to the company for confirmation but the lack of sulfates makes me think it might be ok.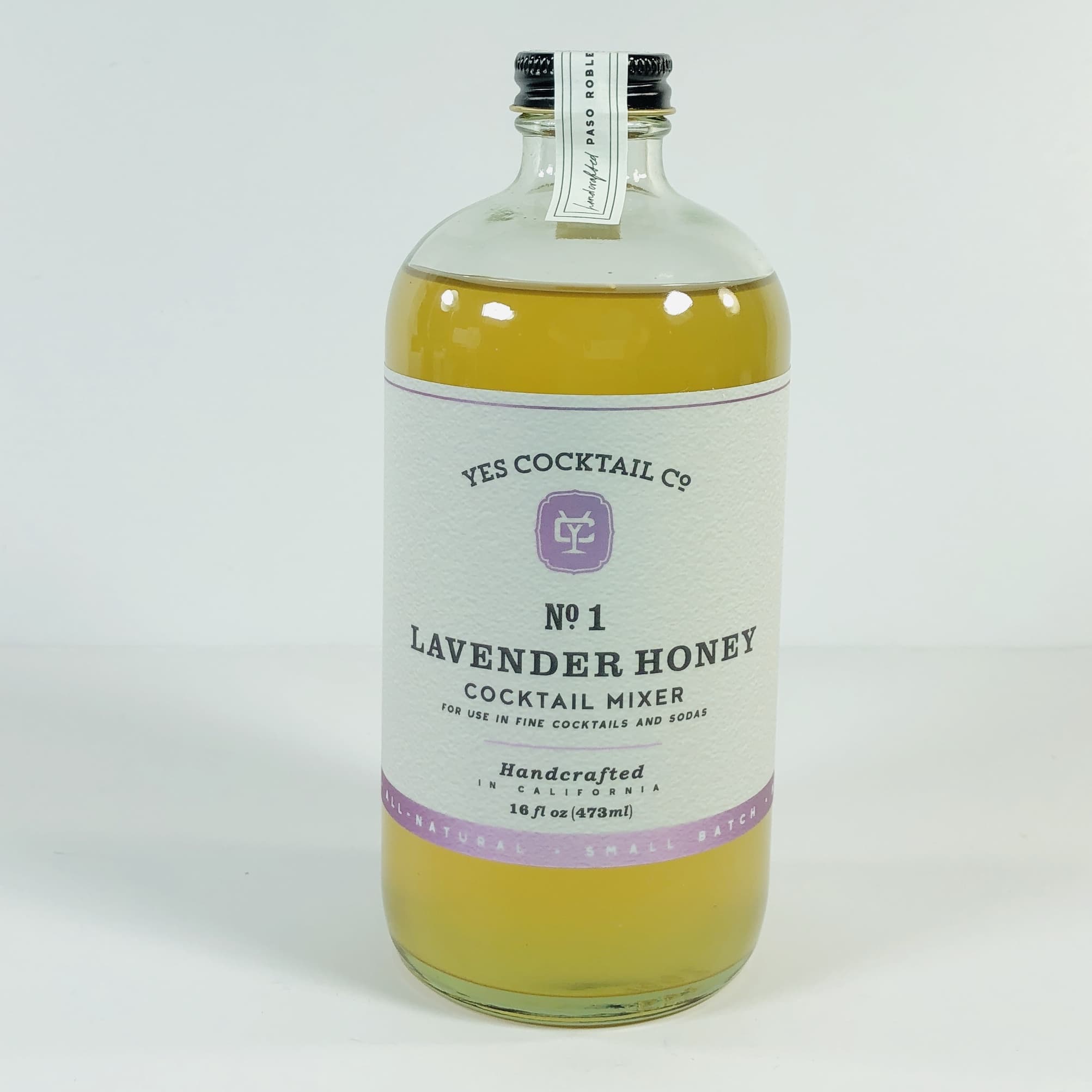 Yes Cocktail Co. Lavender Honey Cocktail Mixer ($15) At first I wasn't sure I could use this product, which is a natural mixer for cocktails, and I rarely drink. Then I discovered it has other uses!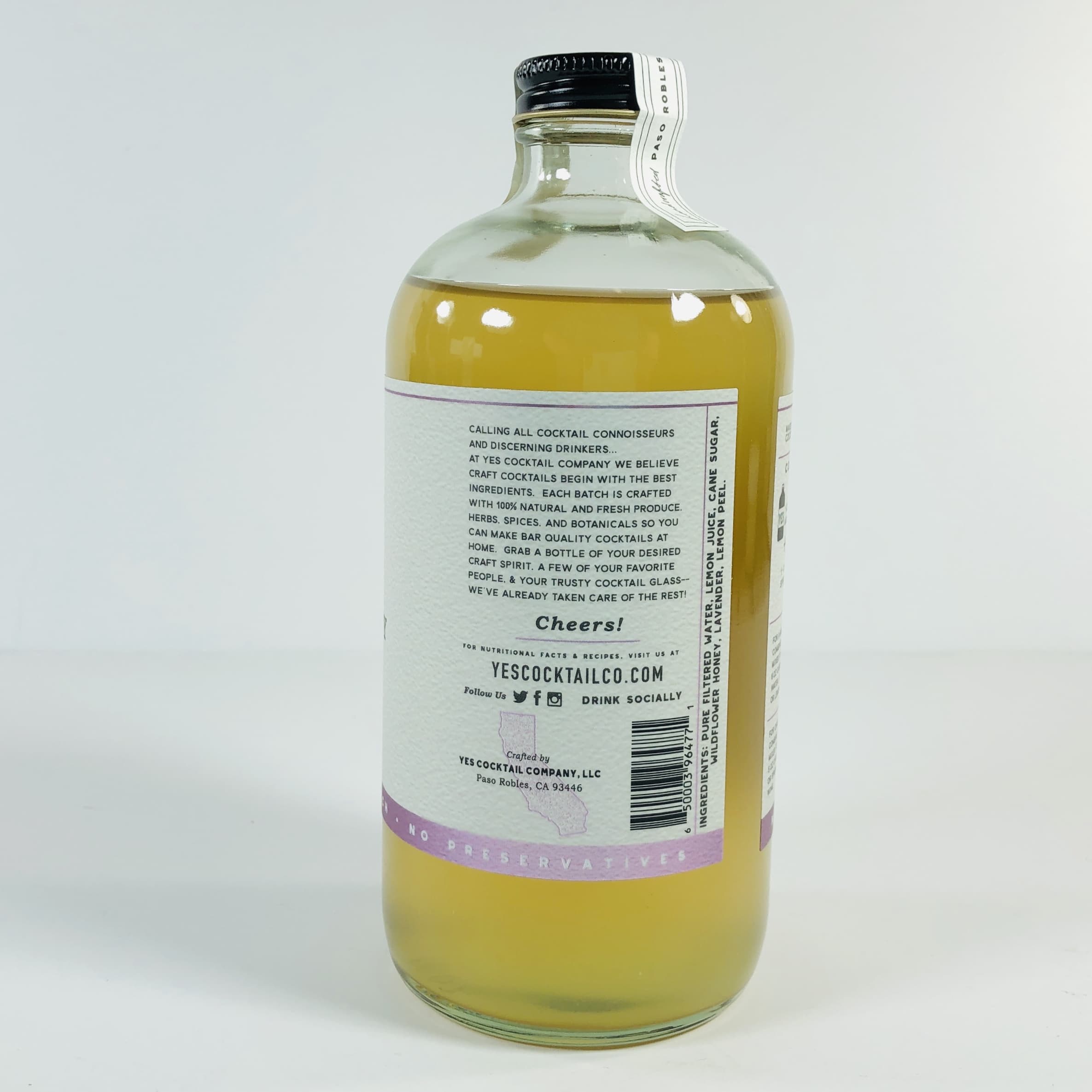 The ingredients were listed on the product and are simply water, lemon juice, sugar, honey, lavender, and lemon peel.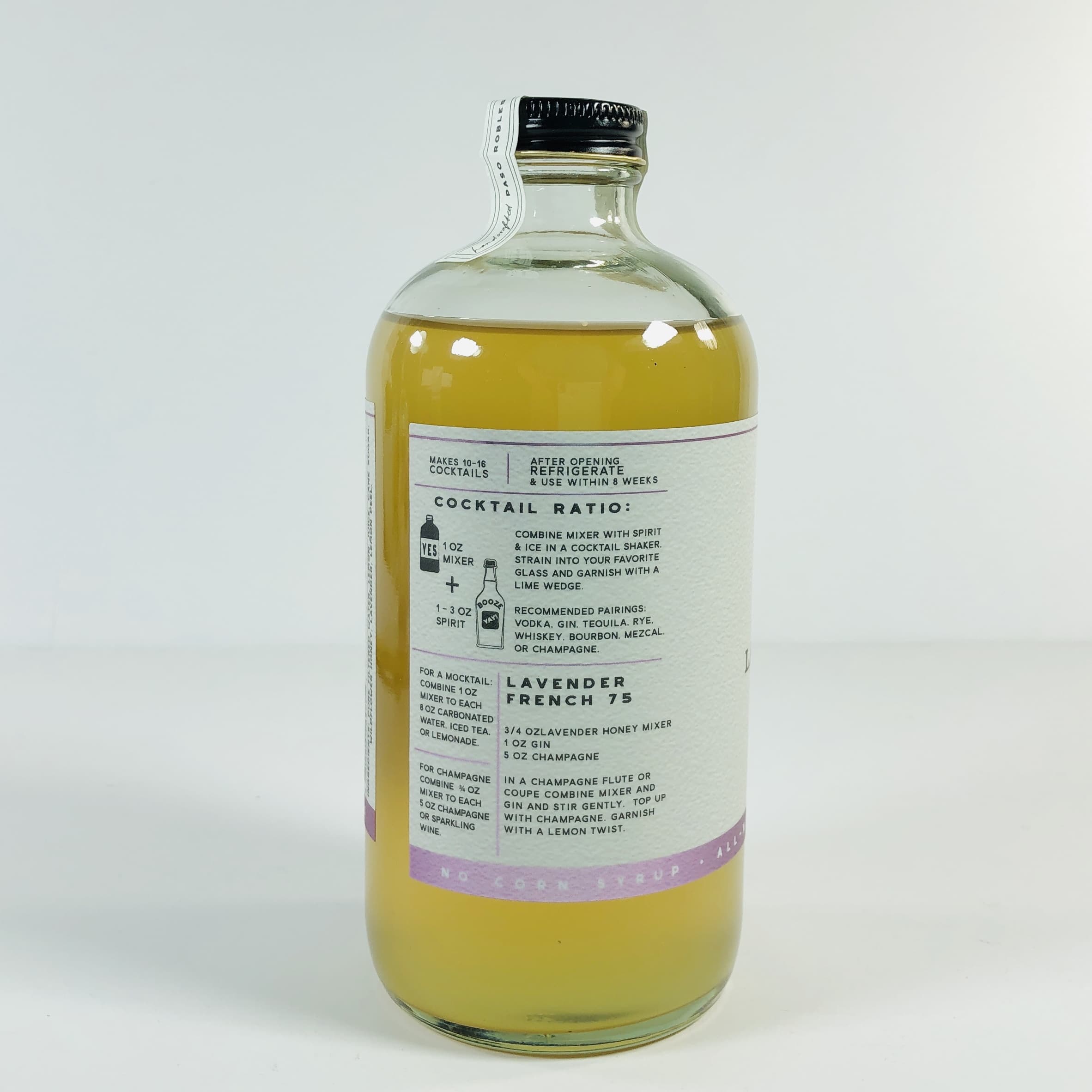 While it is intended as a mixer to be used with champagne, rye, vodka, or tequila, it can also be used in iced tea, lemonade, or bubbly carbonated water! I am out of all of the above but will be sure to put carbonated water in my grocery cart so I can make my own unique soda!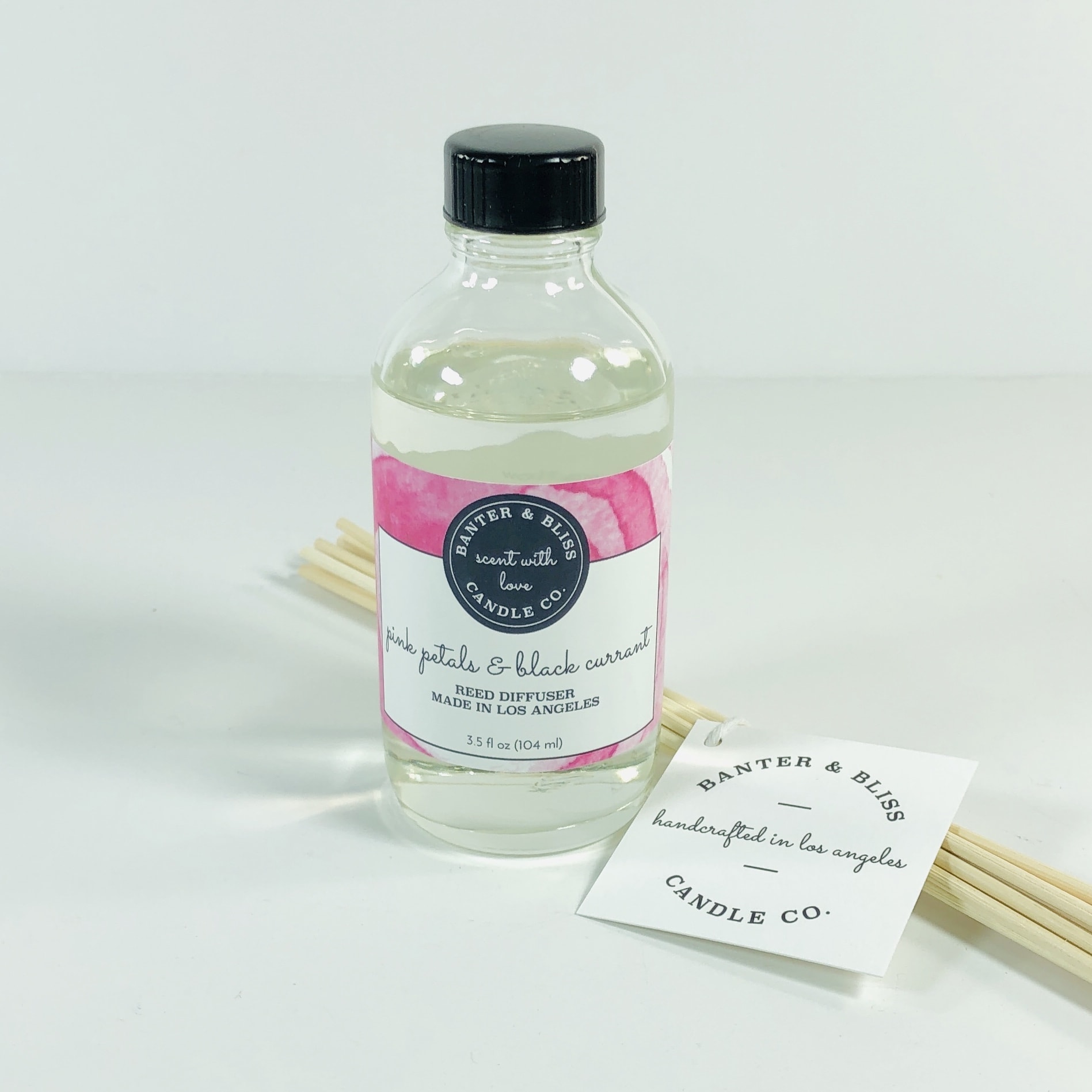 Banter & Bliss Candle Co. Pink Petals & Black Currant Luxury Reed Diffuser ($17.50) I have a lot of candles but obviously I have to be near them to keep them safe from my roaming cats. Enter a reed diffuser to make it easier to get scent in my house without having to watch it closely.
I placed mine on my fireplace mantle so it could keep my living room smelling wonderful at all times and so the cats won't be able to reach it.
Simply remove the lid from the jar, place the rattan reeds in the jar, and the scent will gently float about the room for the next 3 months. If the smell seems to fade then remove the reeds, turn them upside down, and place back in the jar. The scent is pretty strong at first but will mellow out after a few days. I think it smells floral and not really fruity with perhaps a bit of musk.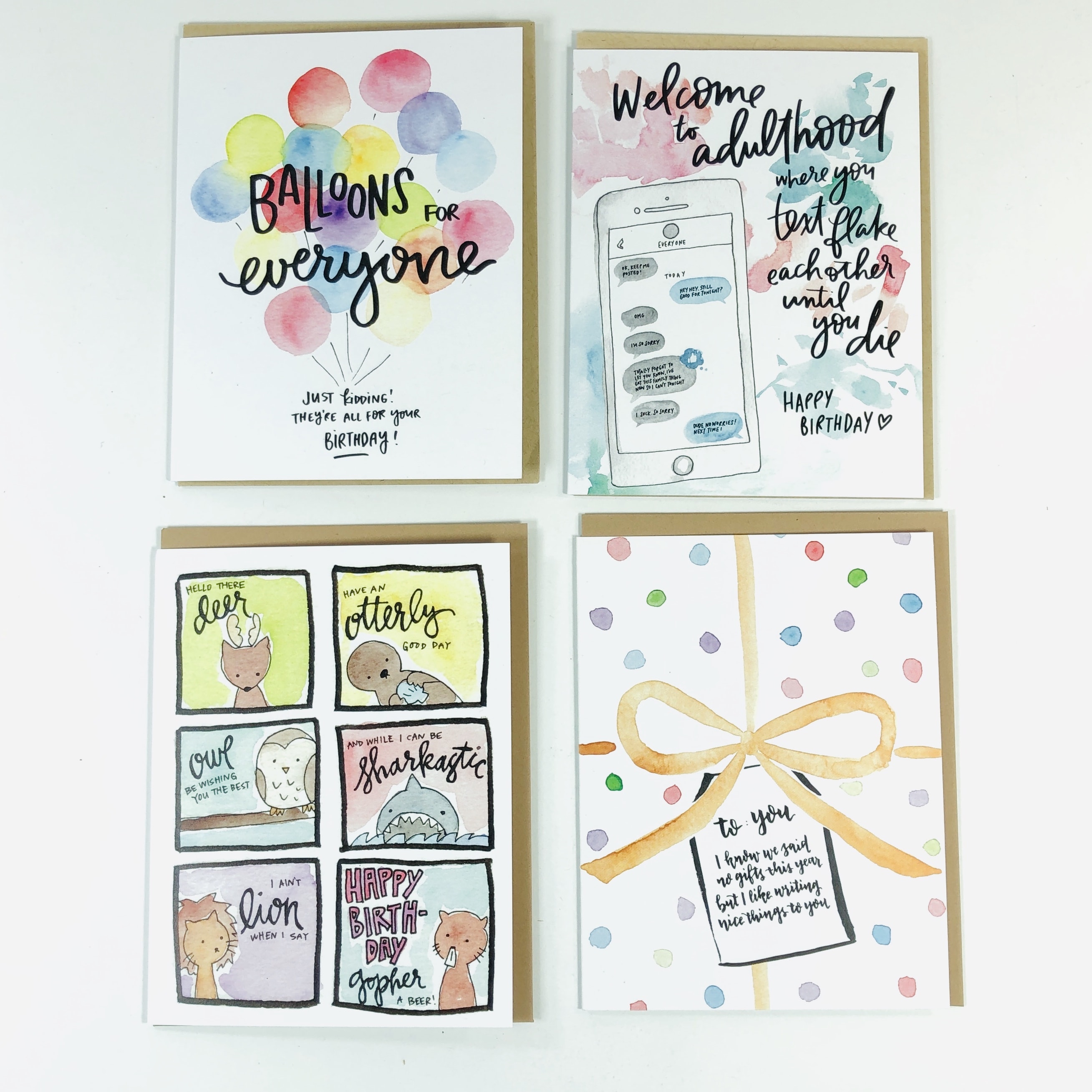 Fiber & Dye Four Greeting Cards ($18, the link wasn't working when I was writing my review so hopefully the site is back up by now) Each of the four cards in this set is about 4.25″ x 5.5″ and is blank on the inside. Each one has a kraft paper envelope. I adore the springtime colors and my favorite of the bunch is the one with animal puns!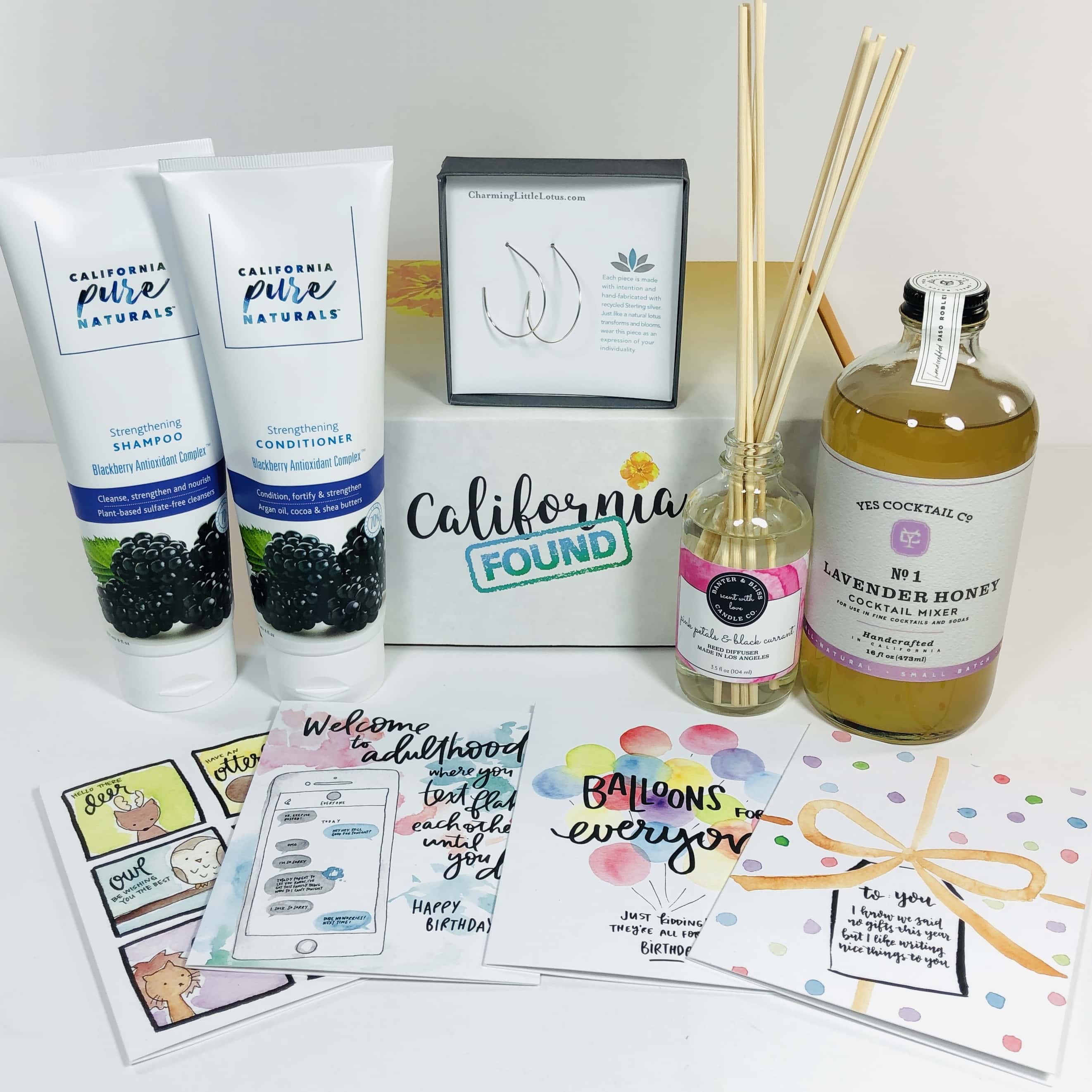 California Found is just amazing, they send such unique items and they always make me smile. There is usually something to eat, drink, or cook with; something that smells nice; a piece of jewelry; some greeting cards; and a beauty item. I believe all of the vendors this month are new-to-me and the pieces all worked well for me. They are items that for me will take more than a month to use up since they are all full-sized. The value for the March box was around $110.48!
What do you think of California Found? Let me know in the comments!