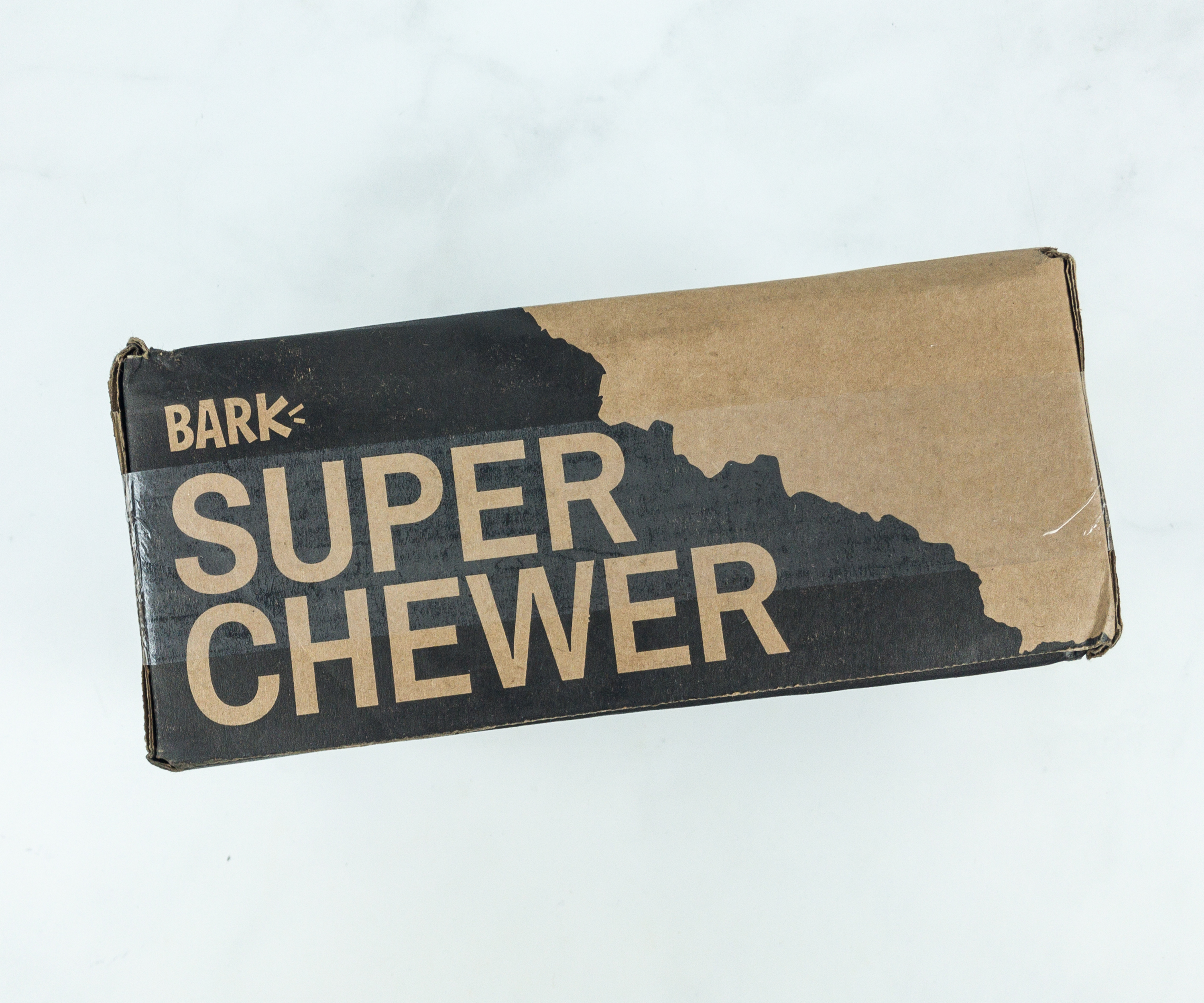 Super Chewer is a monthly subscription box for dogs "who demand a challenge." Each box has 4-6 dog products and is customized to the size of your pup, plus it has a cute theme. All natural treats, tough toys, and challenging chews are included in the monthly box.
DEAL: Use this link to get your first month of BarkBox SUPER CHEWER for just $9 when you purchase a 6- or 12-month subscription! Ends 4/28.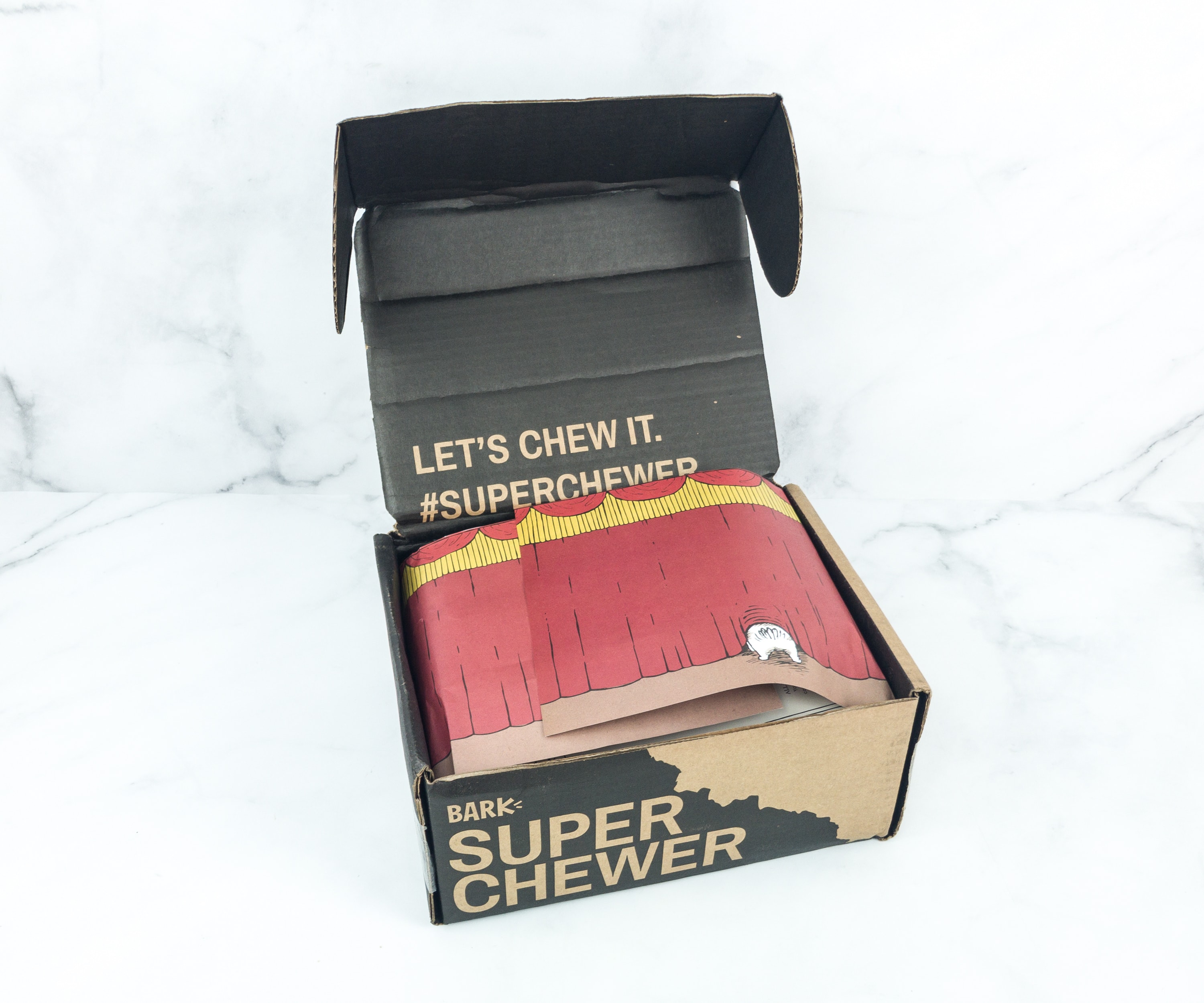 BarkBox will replace a toy for free if your dog defeats it.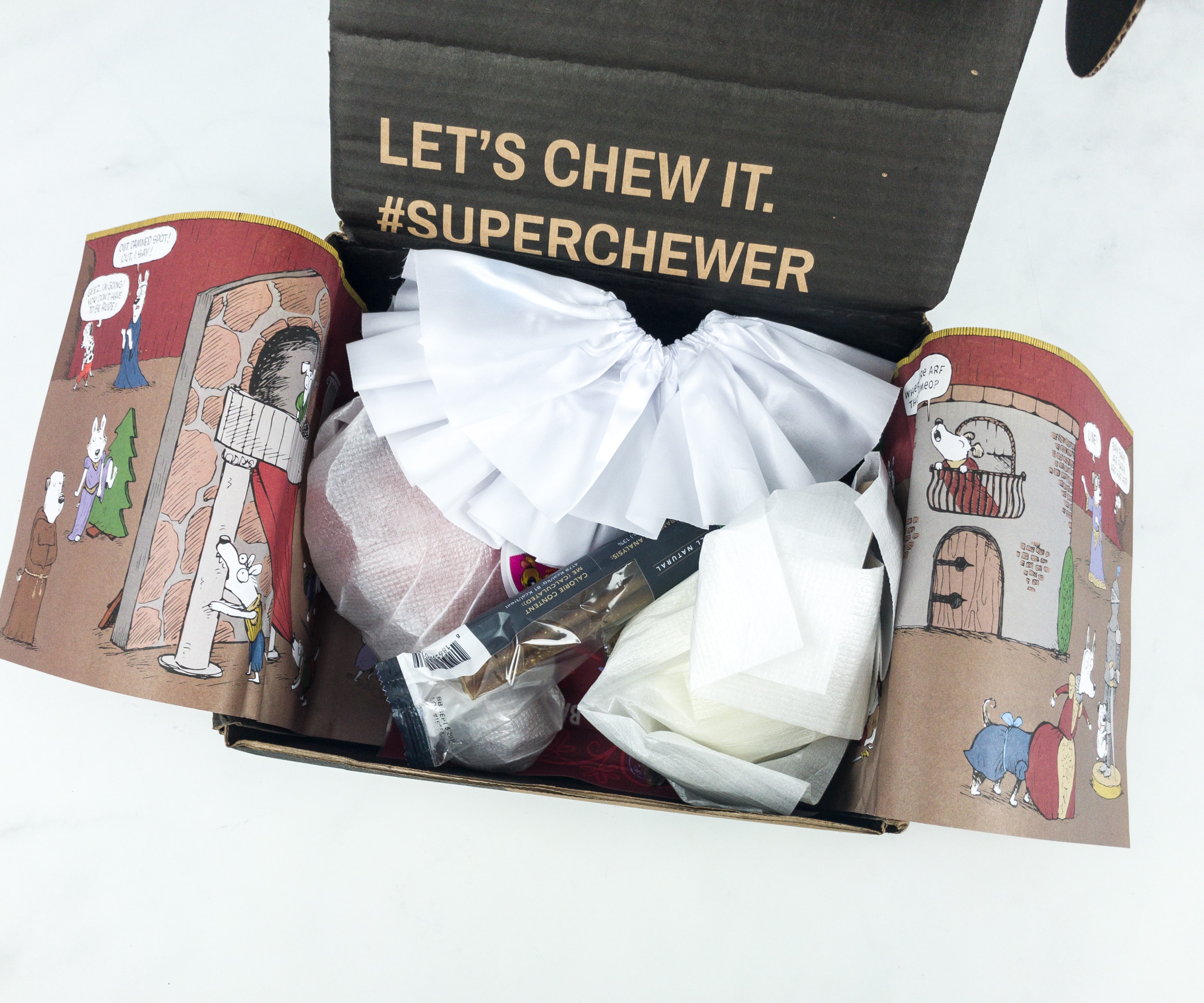 All the toys and treats are wrapped in a custom Barkbox paper.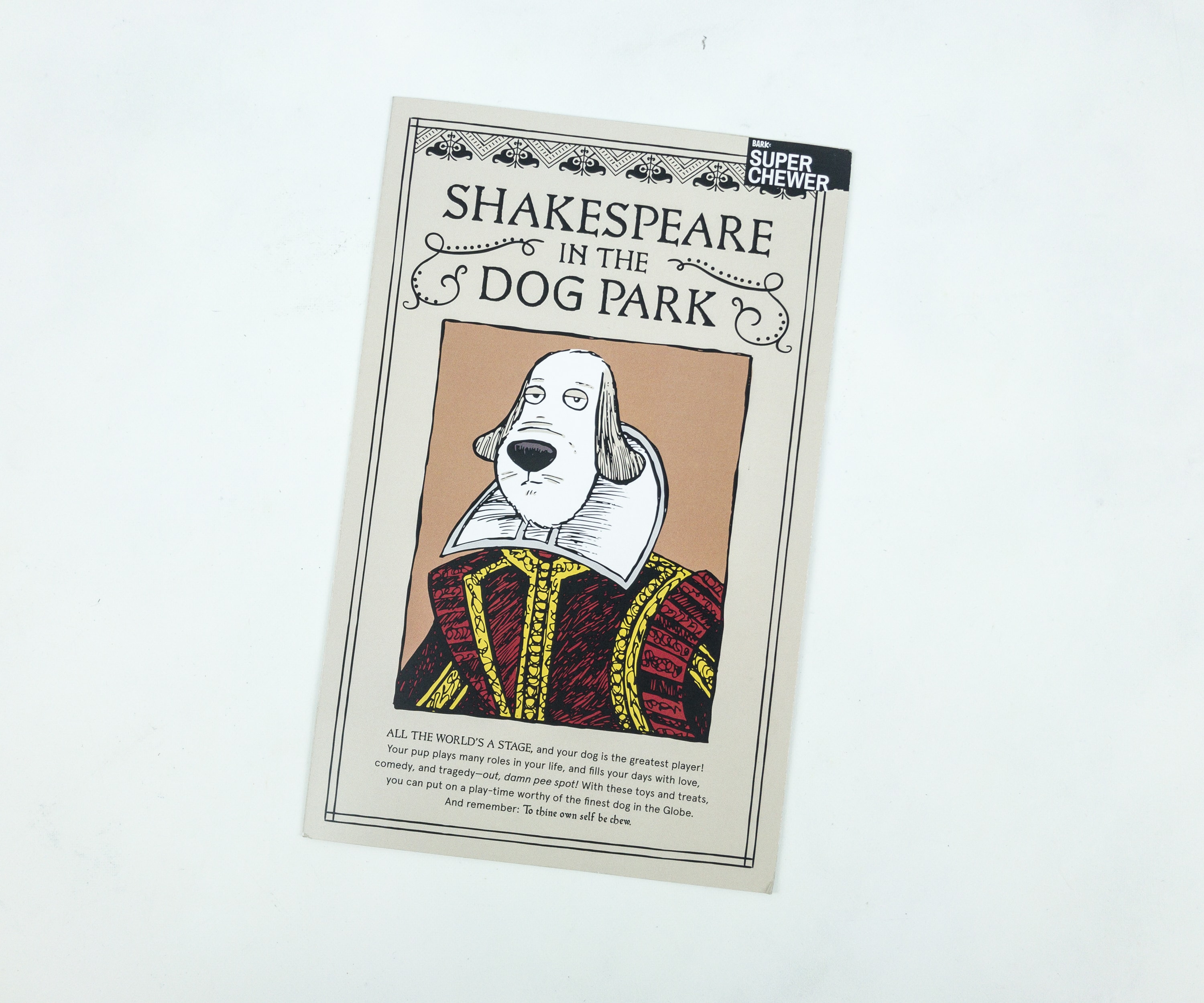 The theme this month is Shakespeare in the Dog Park!
Barkbox includes a cute brochure that provides information about all the items in the box. It also contains some important tips so you can keep your pups safe when playing with the toys and giving them the treats.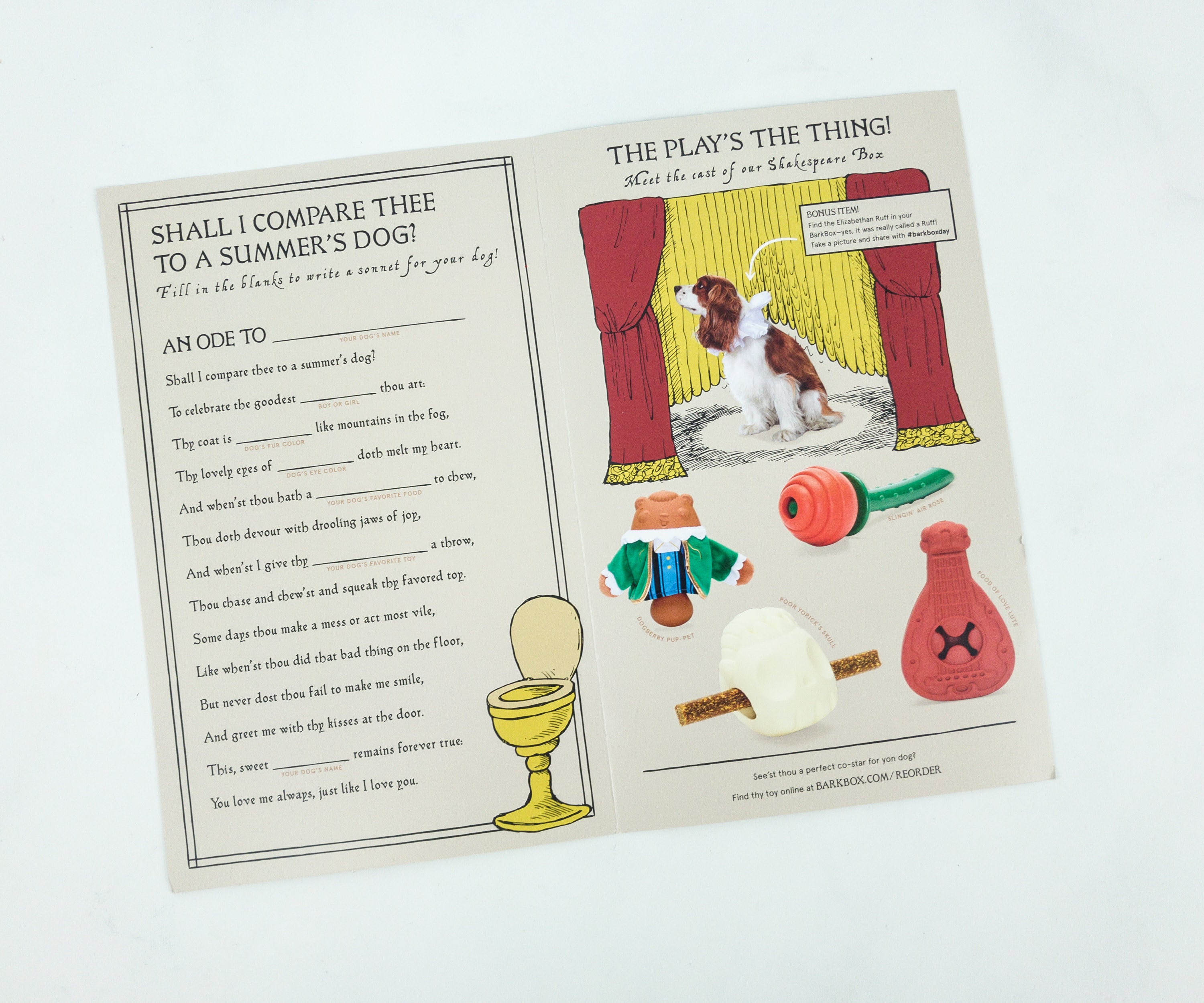 The back of the card features a little activity for you. All you need to do is fill the blanks with words to write a sonnet for your pups. There are also photos of possible plush toys that might be included in your box.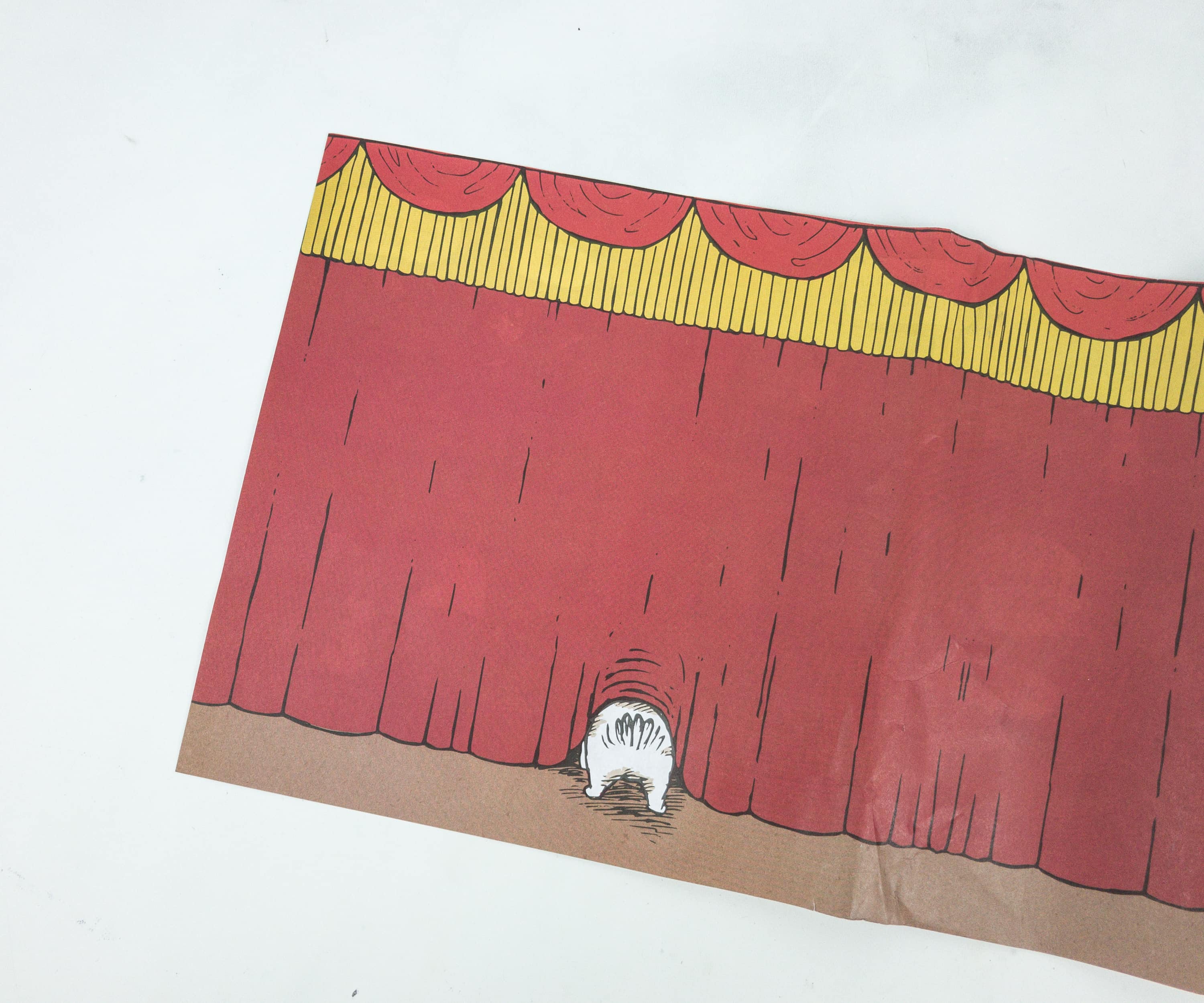 One part of the wrapping paper features a dog's back, with a wiggling tail. There might be something exciting beyond that curtain!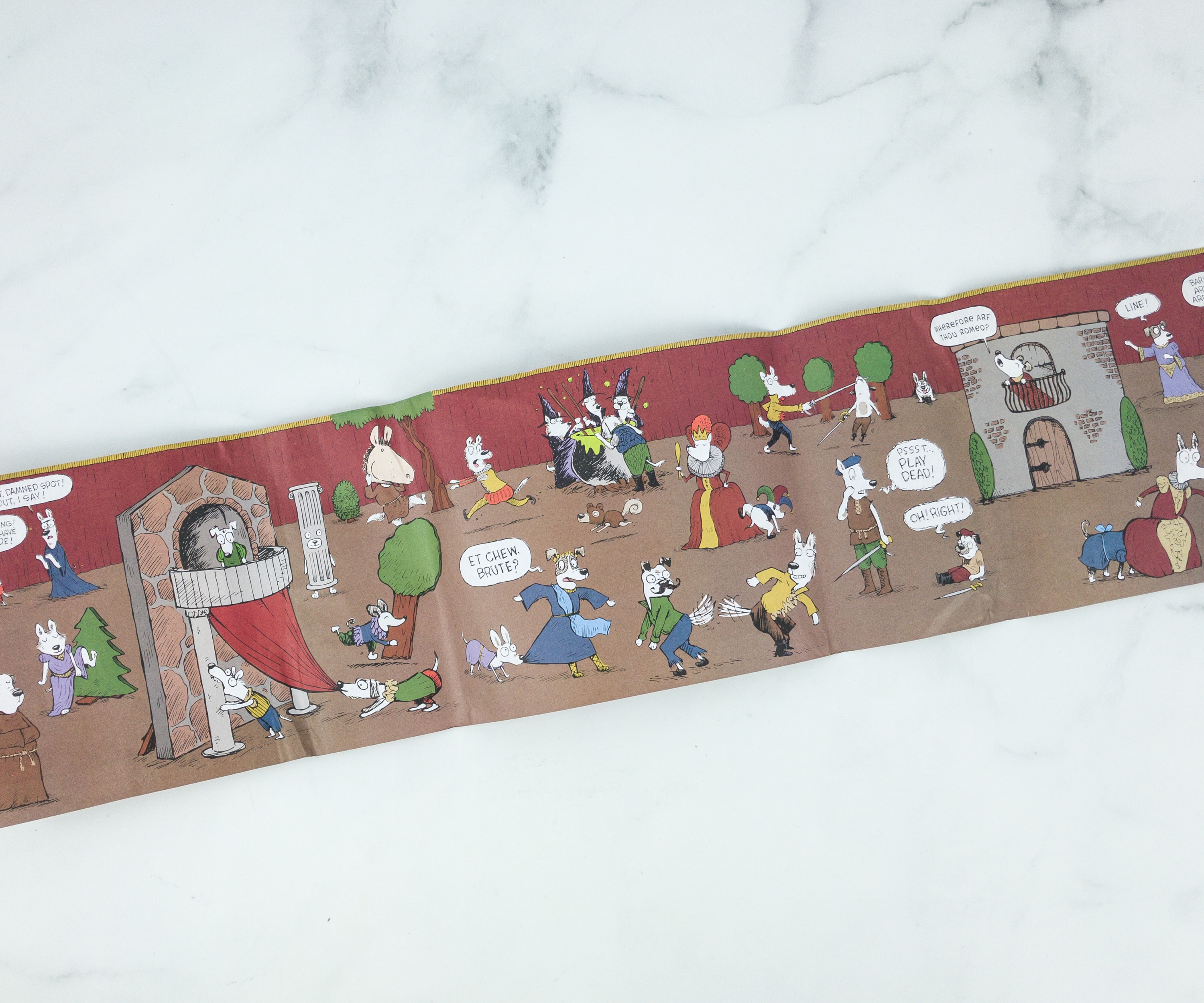 On the other side of the packaging are a variety of dogs with different costumes. I can see some wizards, sparring partners, queen, princess, and many more!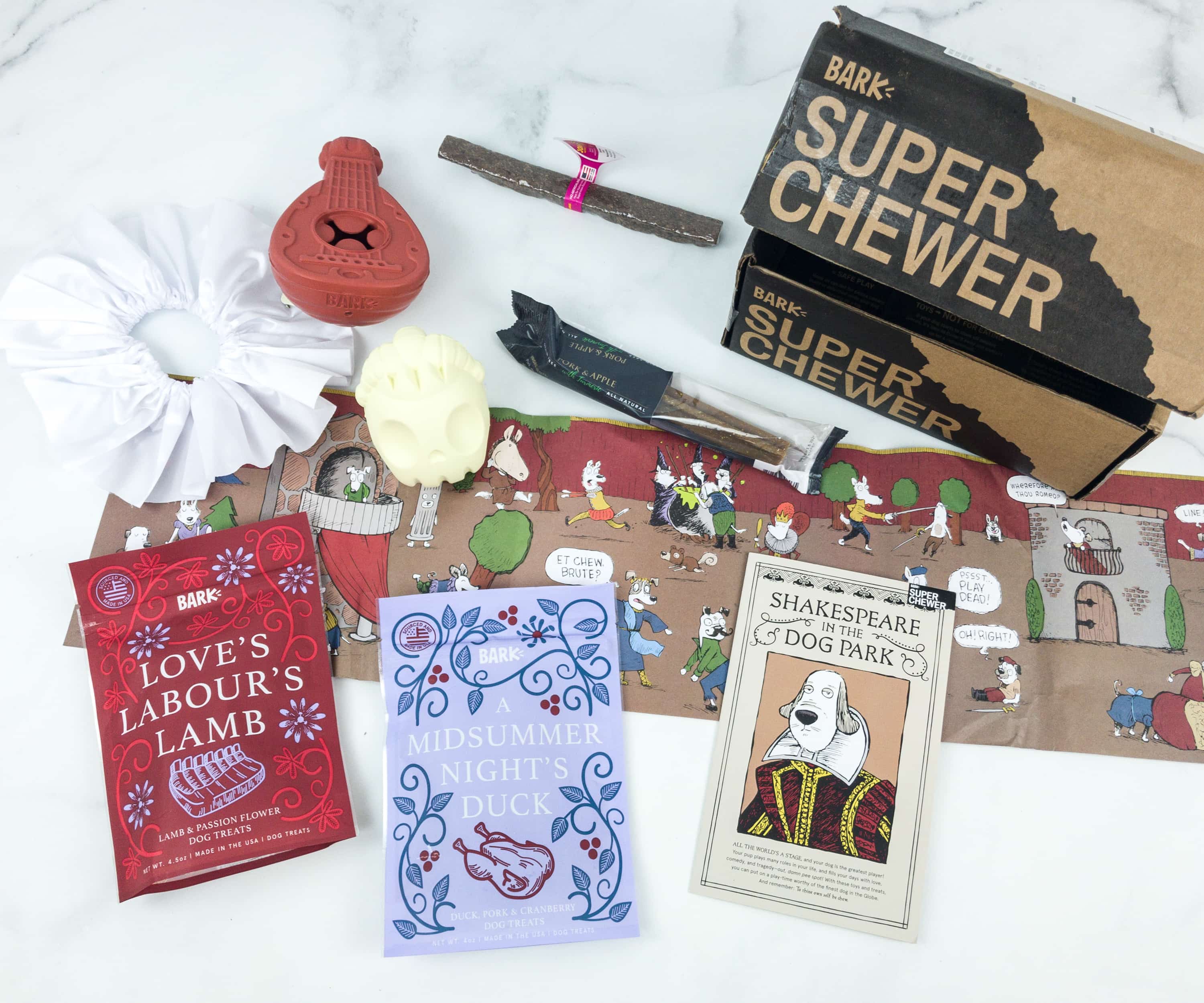 Here are all the items in this month's box!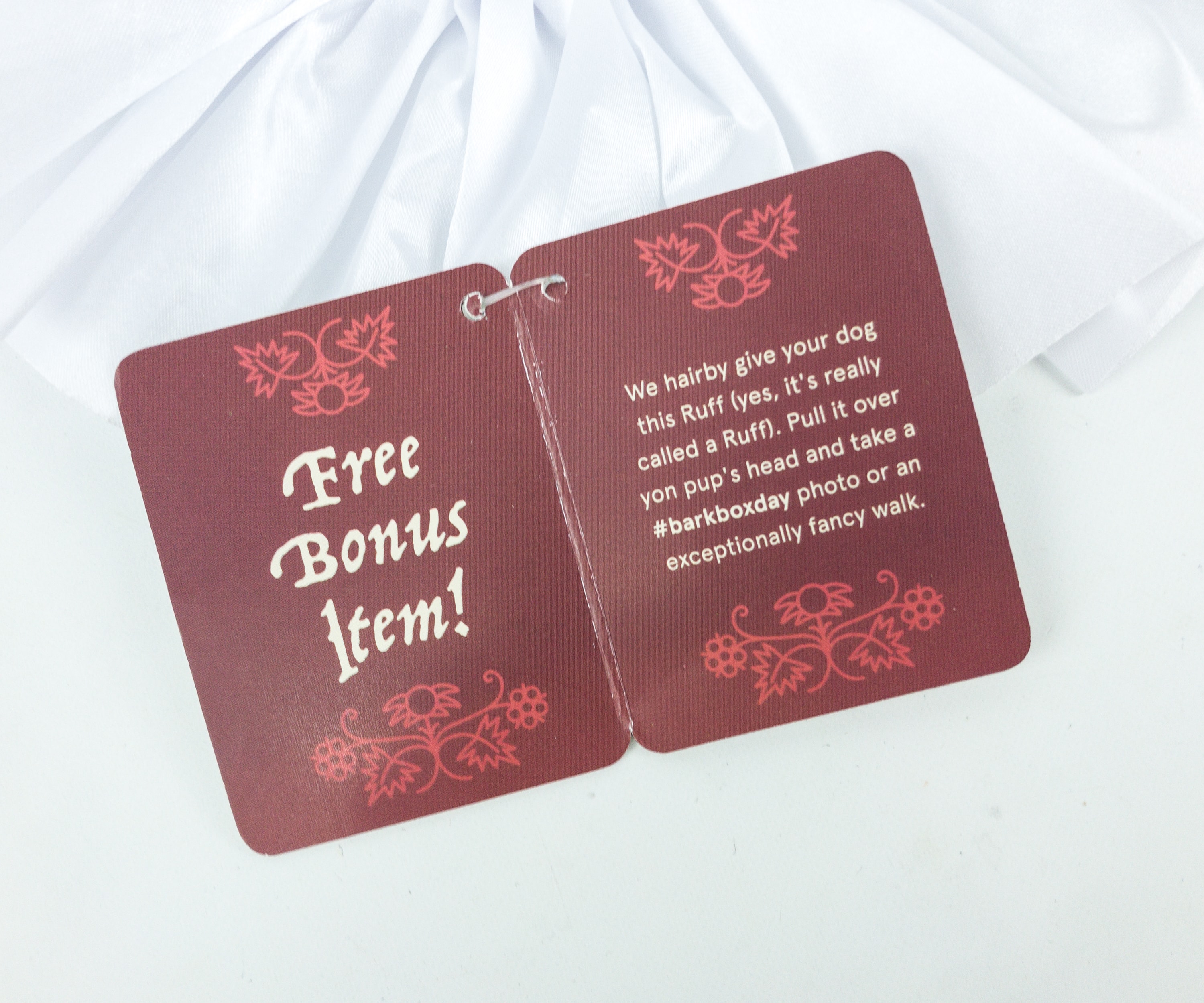 Ruff Collar. This month, they sent us a bonus item. It's a white ruff collar that you can pull over your pup's head!
It's an adjustable collar made with garter and wrapped by a soft and smooth white fabric. Perfect as a prop for photo ops!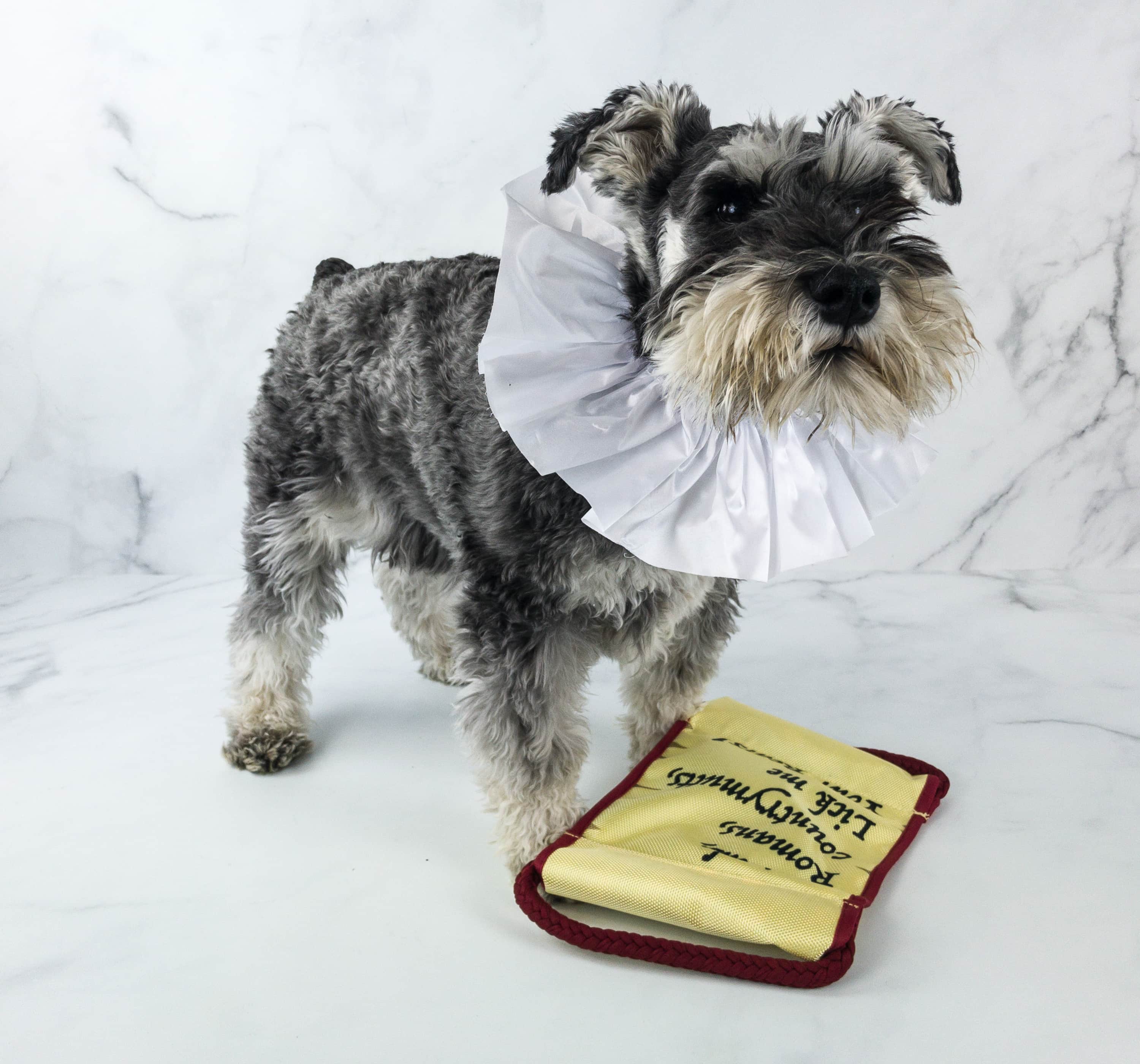 Here's a pic from one of the other Barkboxes this month!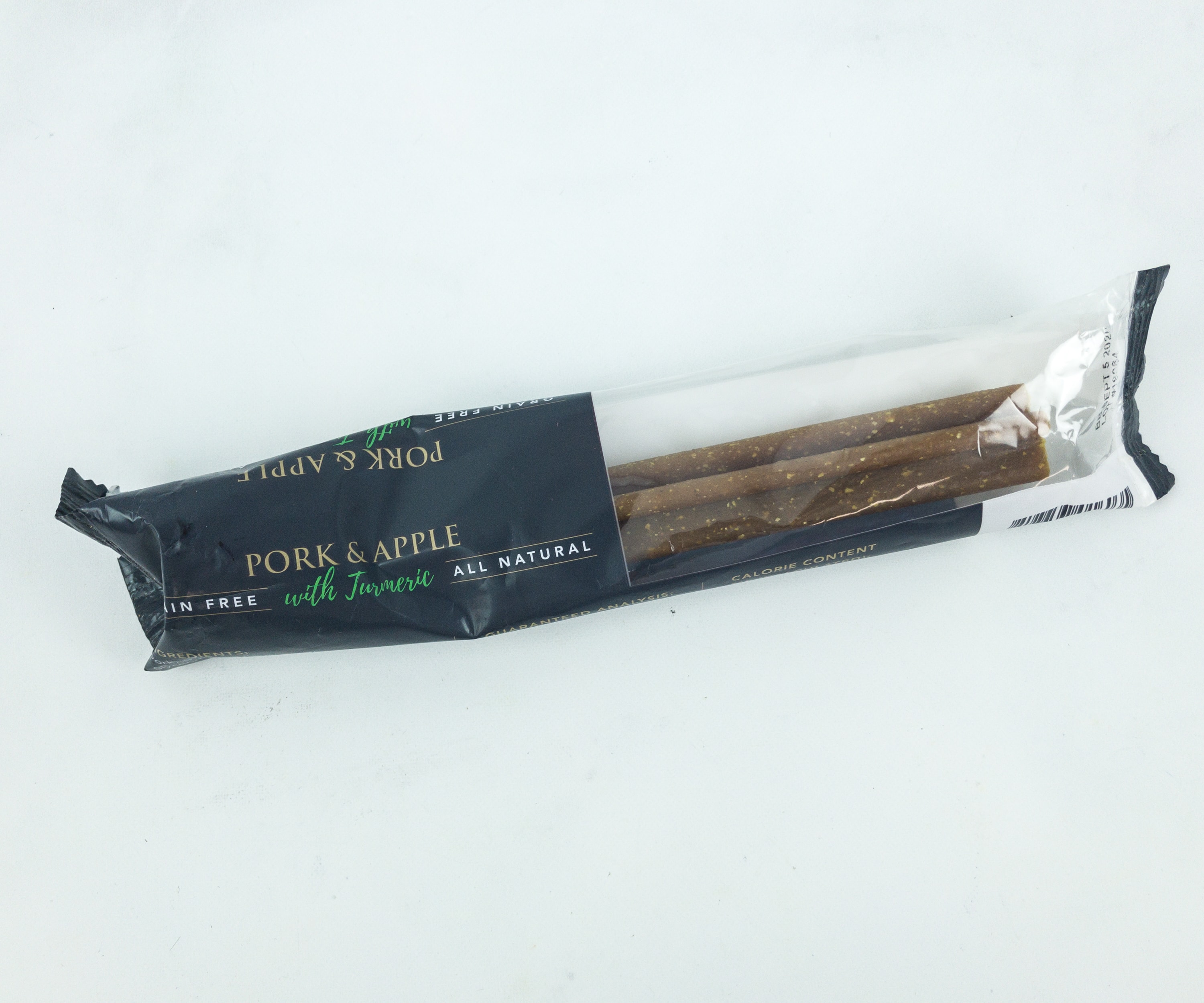 Pork & Apple Dog Treat. It's a pack of all-natural and gluten-free snack sticks. Each stick can be broken down into smaller pieces and given to dogs as a training reward.
The packaging lists the ingredients used in making these sticks, which includes pork and apple.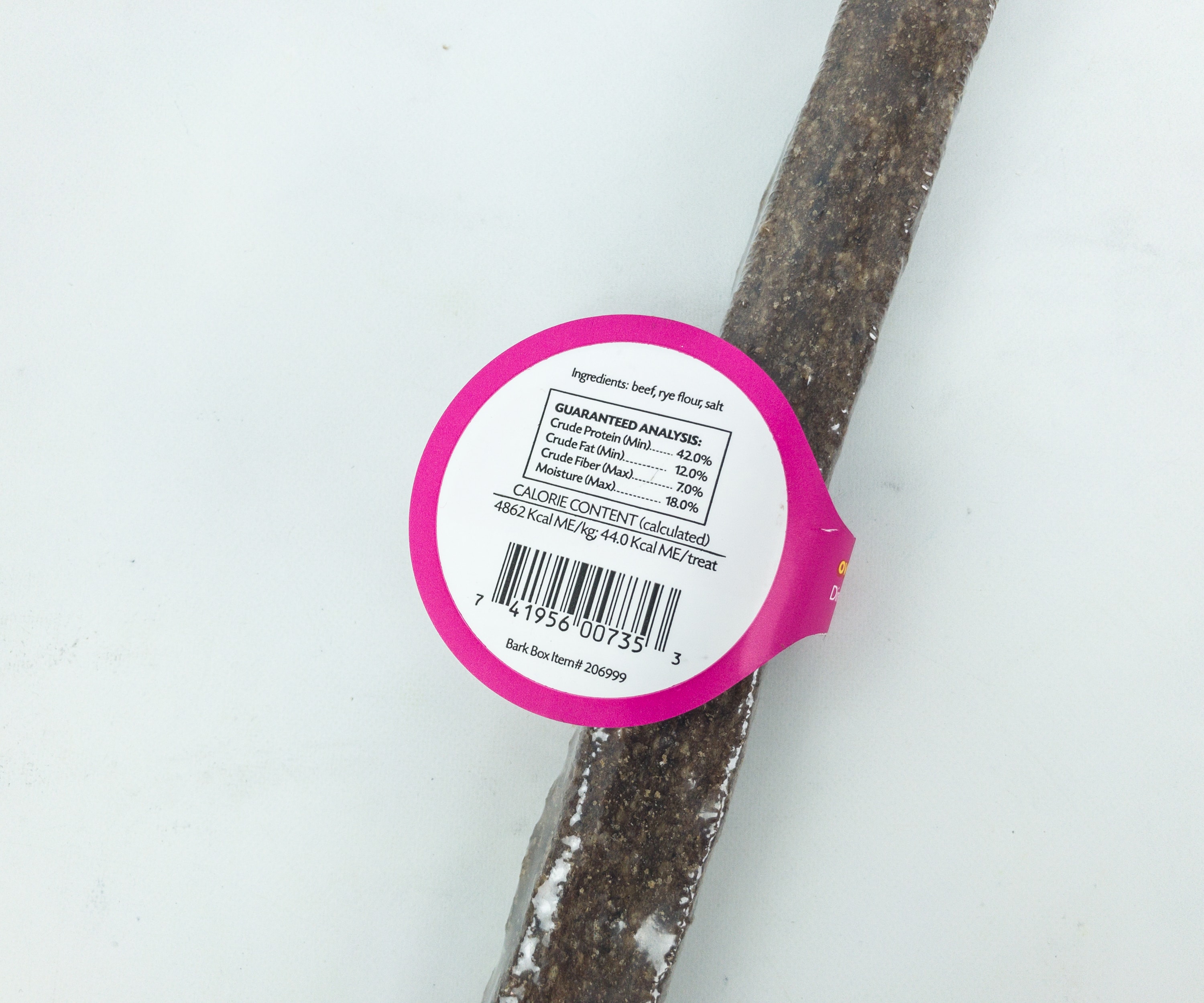 Jones Big Paw Jerky Link. Perfect for the super chewer, they included a big jerky snack! It's made with real beef meat and packed with a collagen casing.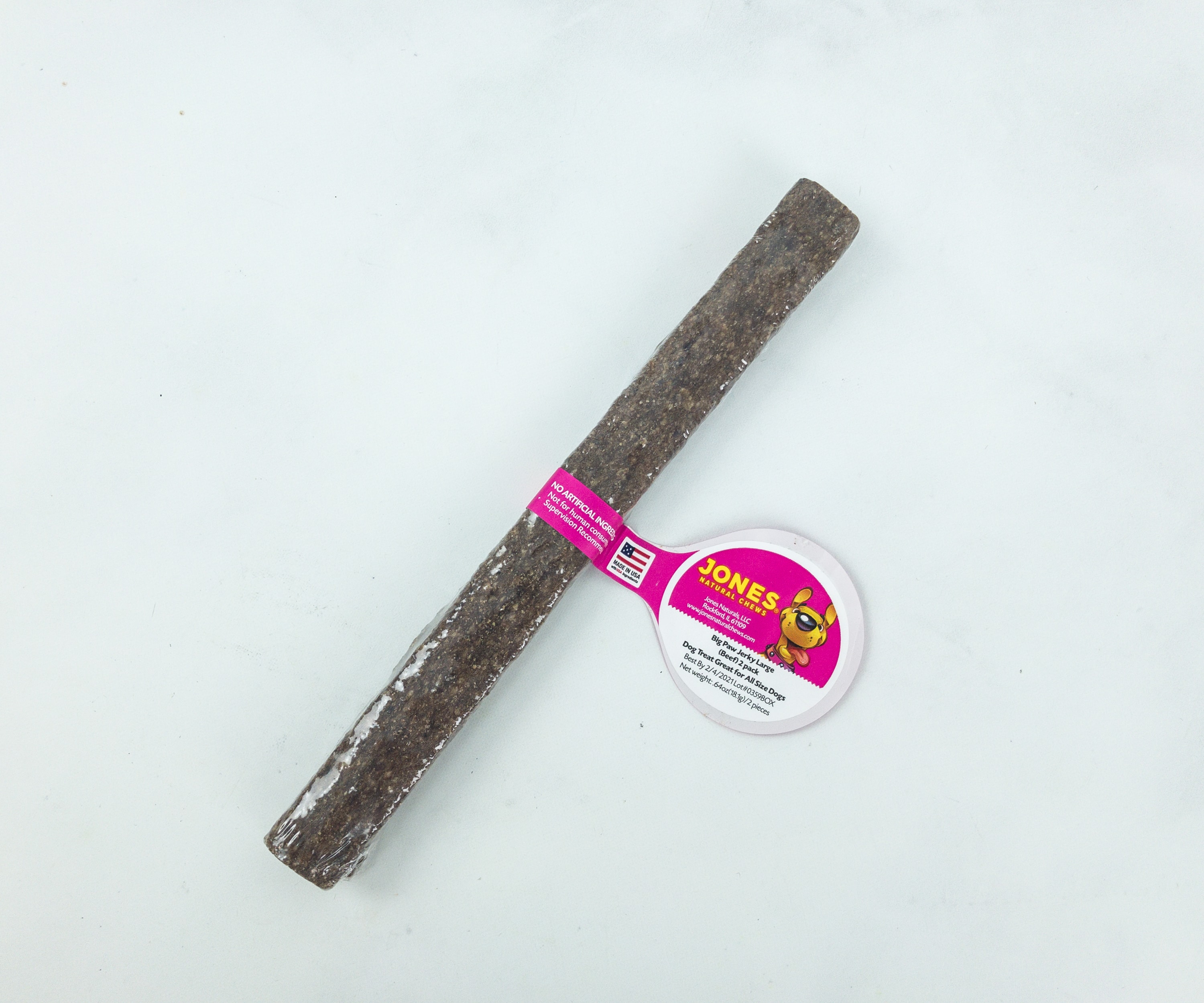 It's ideal as a reward treat or as a training snack. You can also break it into smaller pieces.
Bark Super Chewer Poor Yorick's Skull. The first toy is a skull-shaped chewer made from high-quality natural rubber.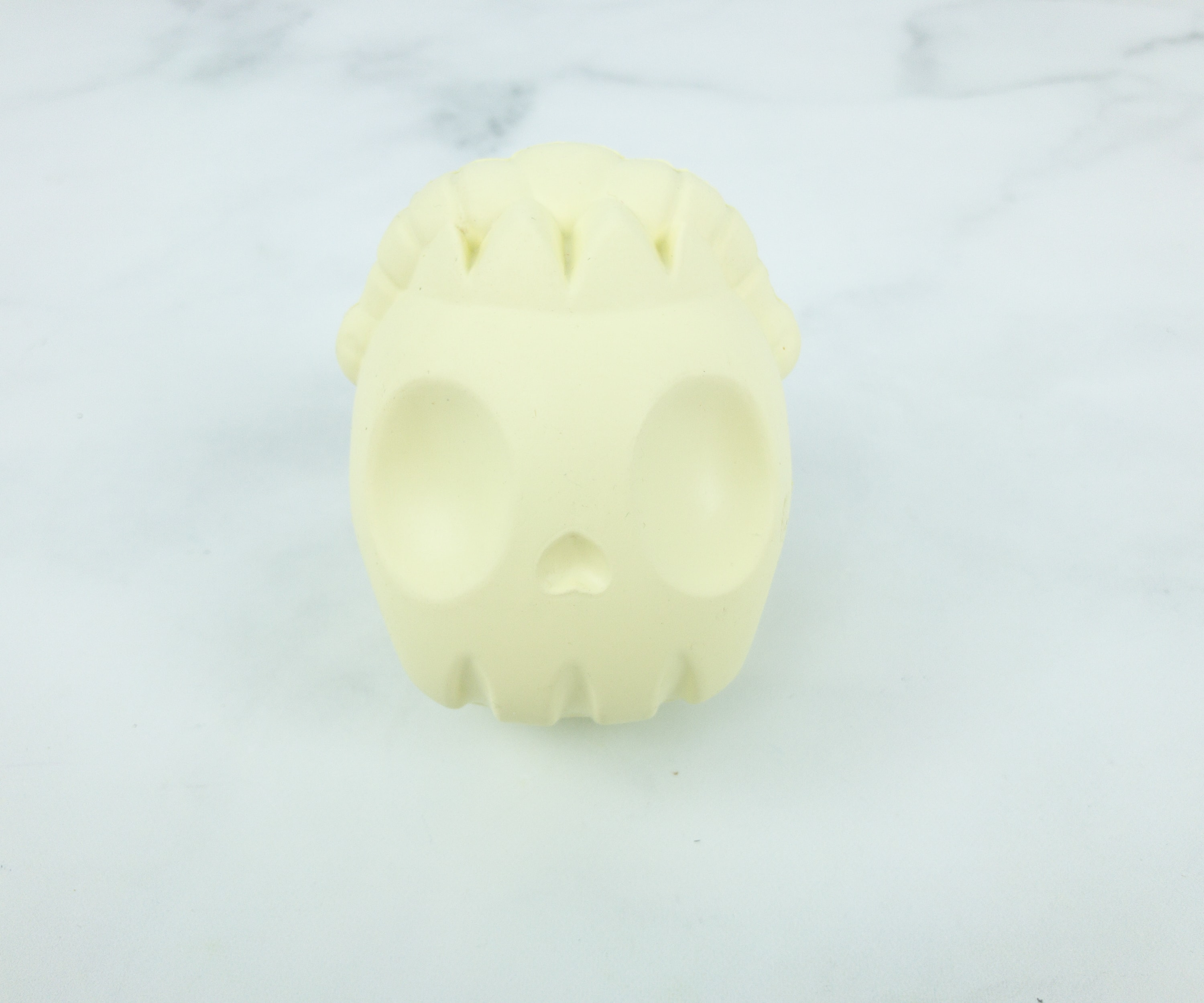 It's a handy toy that can be used for a little throw and fetch game with your beloved pups.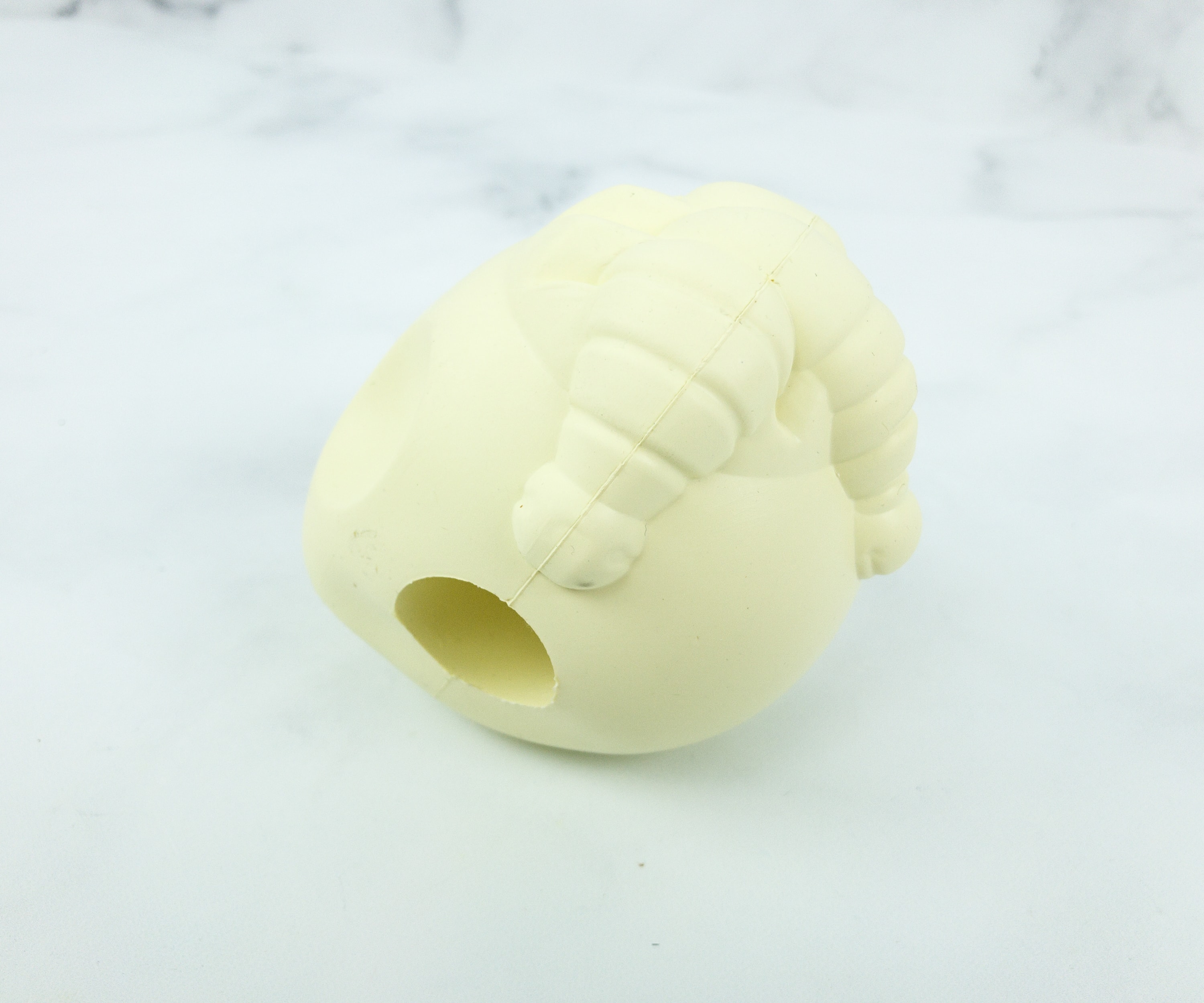 This mini toy also features a huge hole in the middle that works as a treat holder.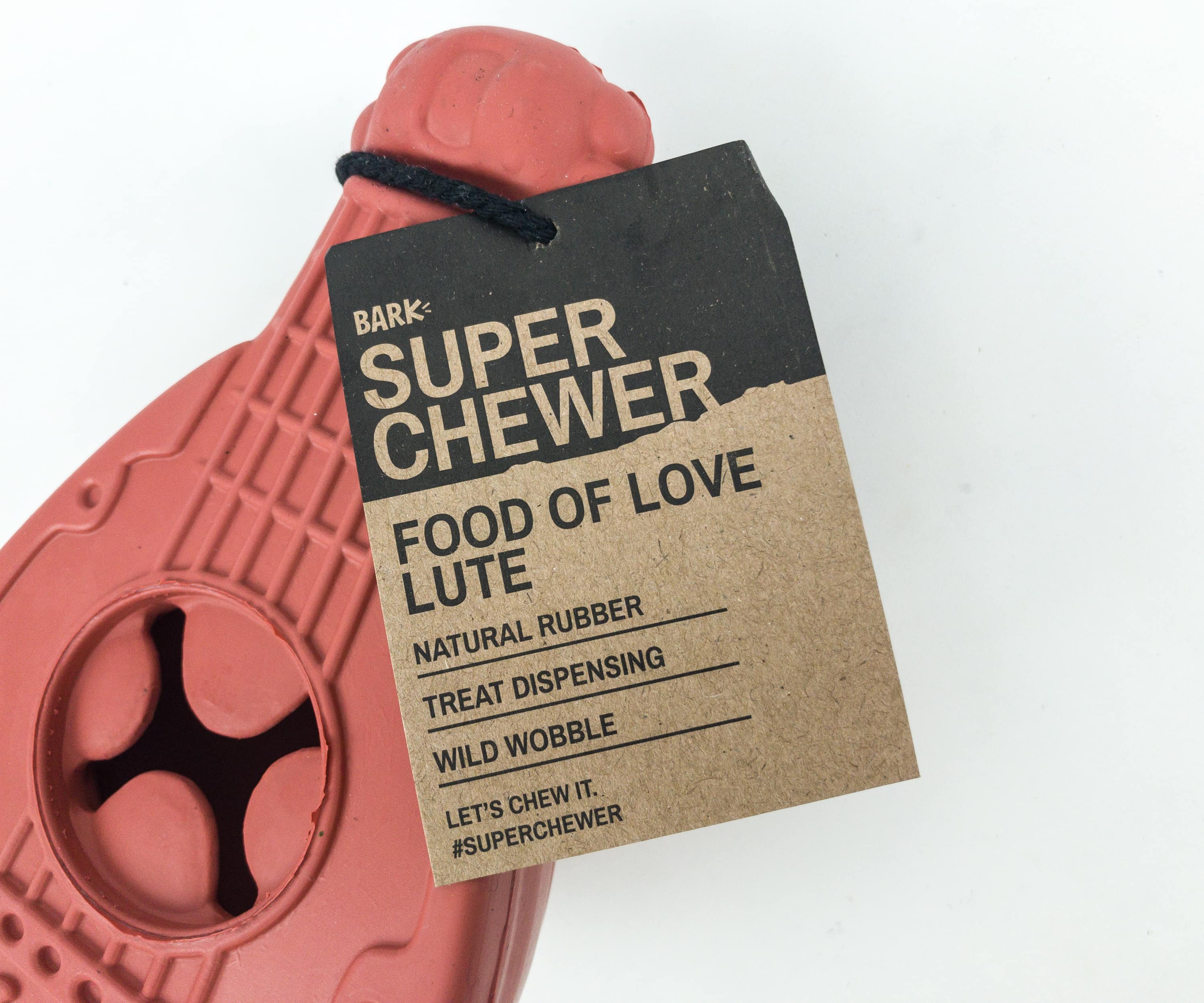 Bark Super Chewer Food Of Love Lute. We got another treat-dispensing toy and this time, it's guitar-shaped. It's also made from natural rubber!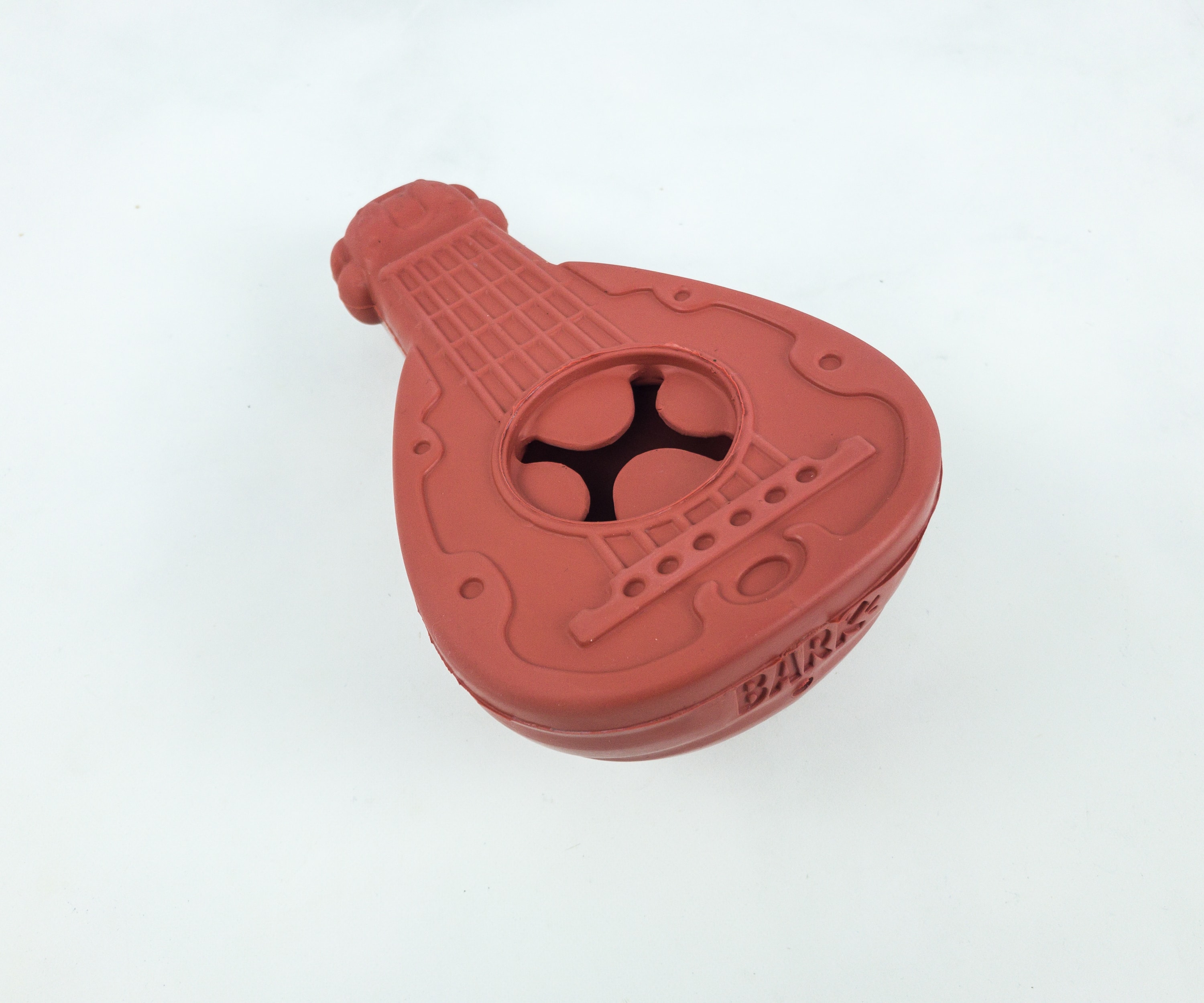 To use, simply put the bite-sized treats inside the guitar, give it to your pups, and let them do their thing.
Though it's made from rubber, this toy is free from harmful chemicals that may harm your pups.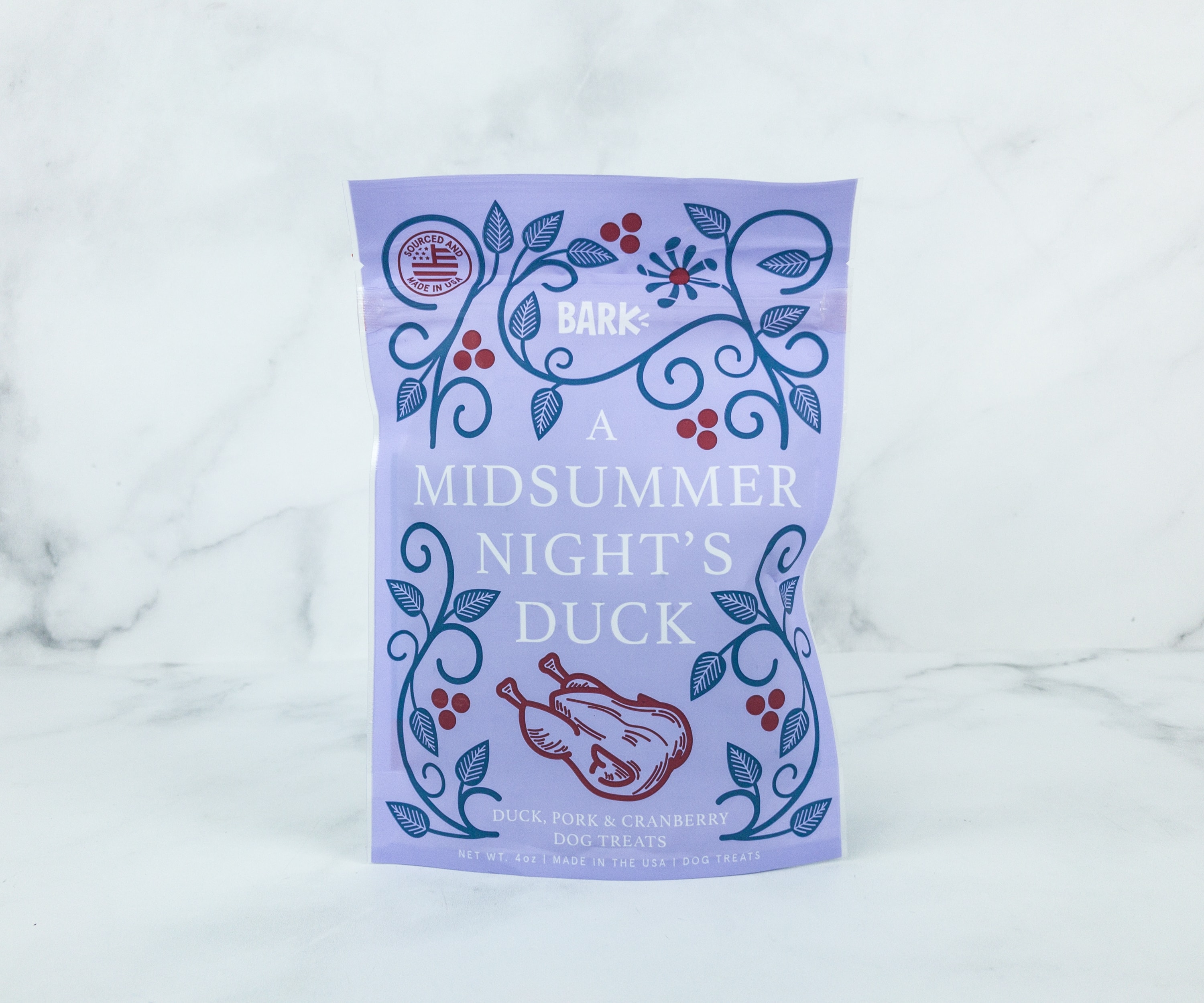 Bark A Midsummer Night's Duck Dog Treats. Duck and pork were combined in these dog treats! They're also blended with cranberry, making the snack extra healthy and yummy for dogs.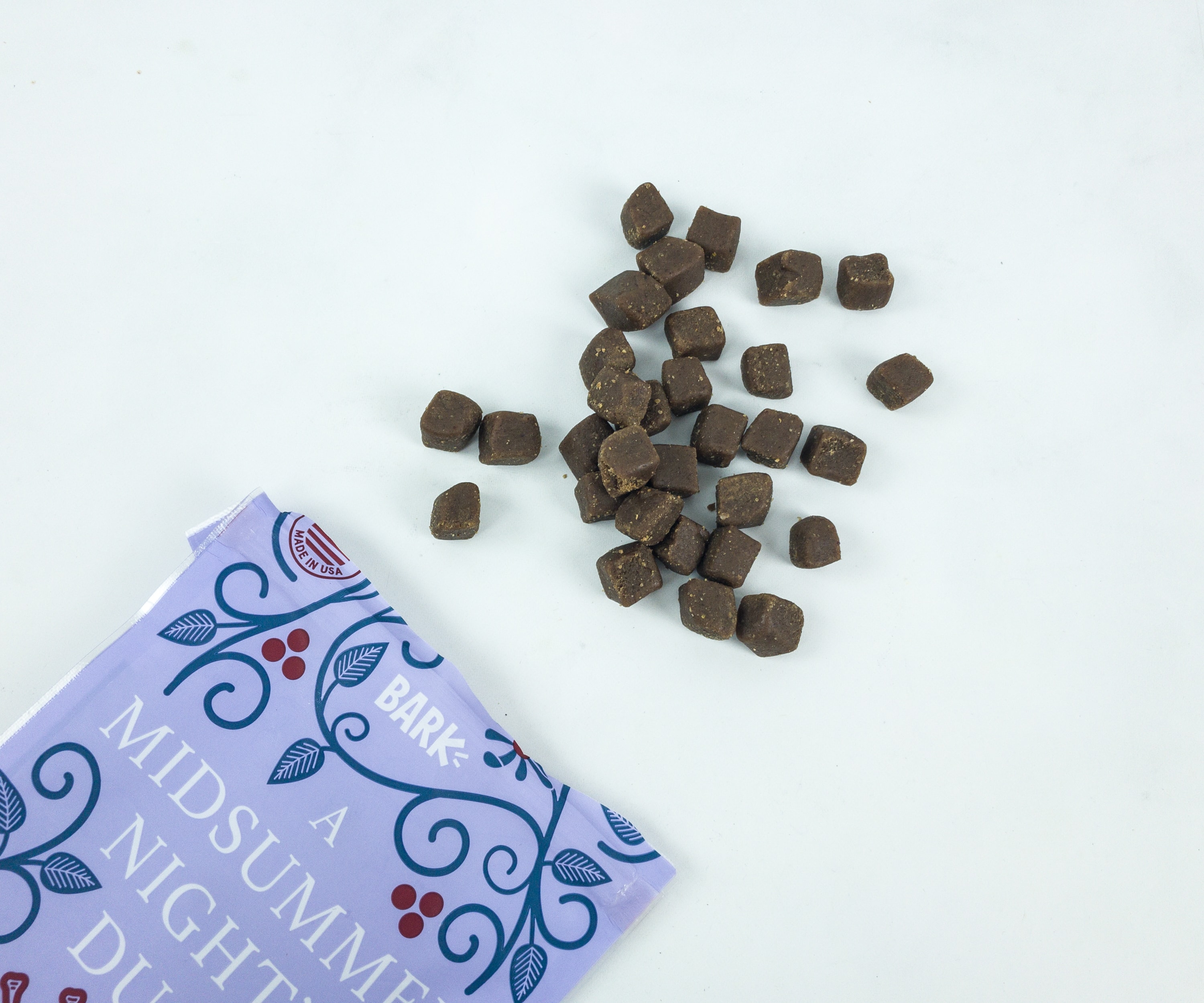 Each piece is chewy and bite-sized. I can tell it's tasty because our pups kept asking for more of it!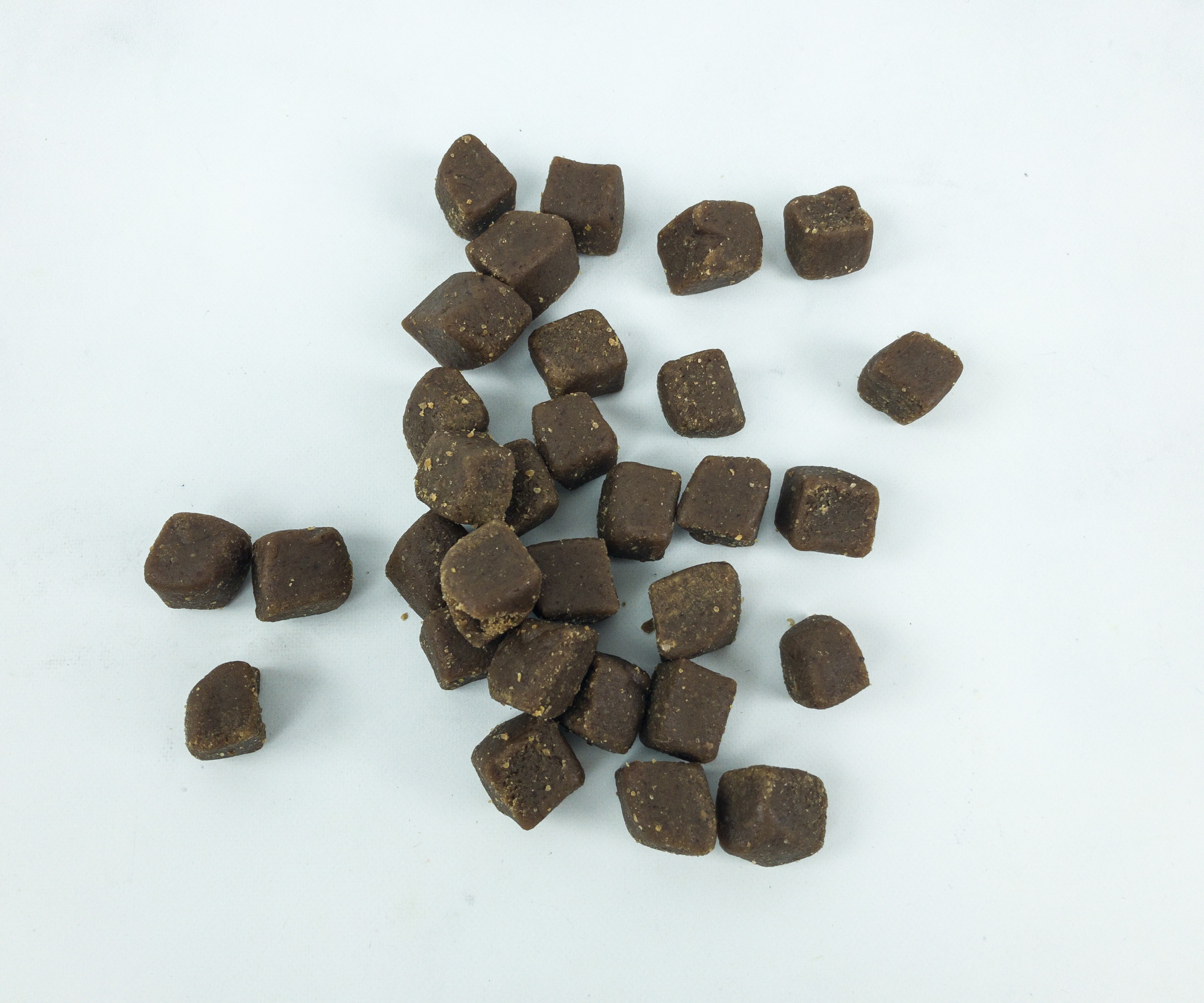 They are the ideal whether as a training treat or just a simple snack. Also, they don't contain grain, soy, wheat, corn, and other stuff that might harm your dogs.
The packaging is resealable. On the back, it lists everything you need to know about the treat.
Bark Love's Labour's Lamb Dog Treats. The second bag of treats contains a chewy snack made with lamb, honey, flaxseed, and apples!
Each piece is heart-shaped and bite-sized. The treats are a great source of omega-3, fatty acids, fiber, and vitamin A that would help give your dog a stronger and healthier body!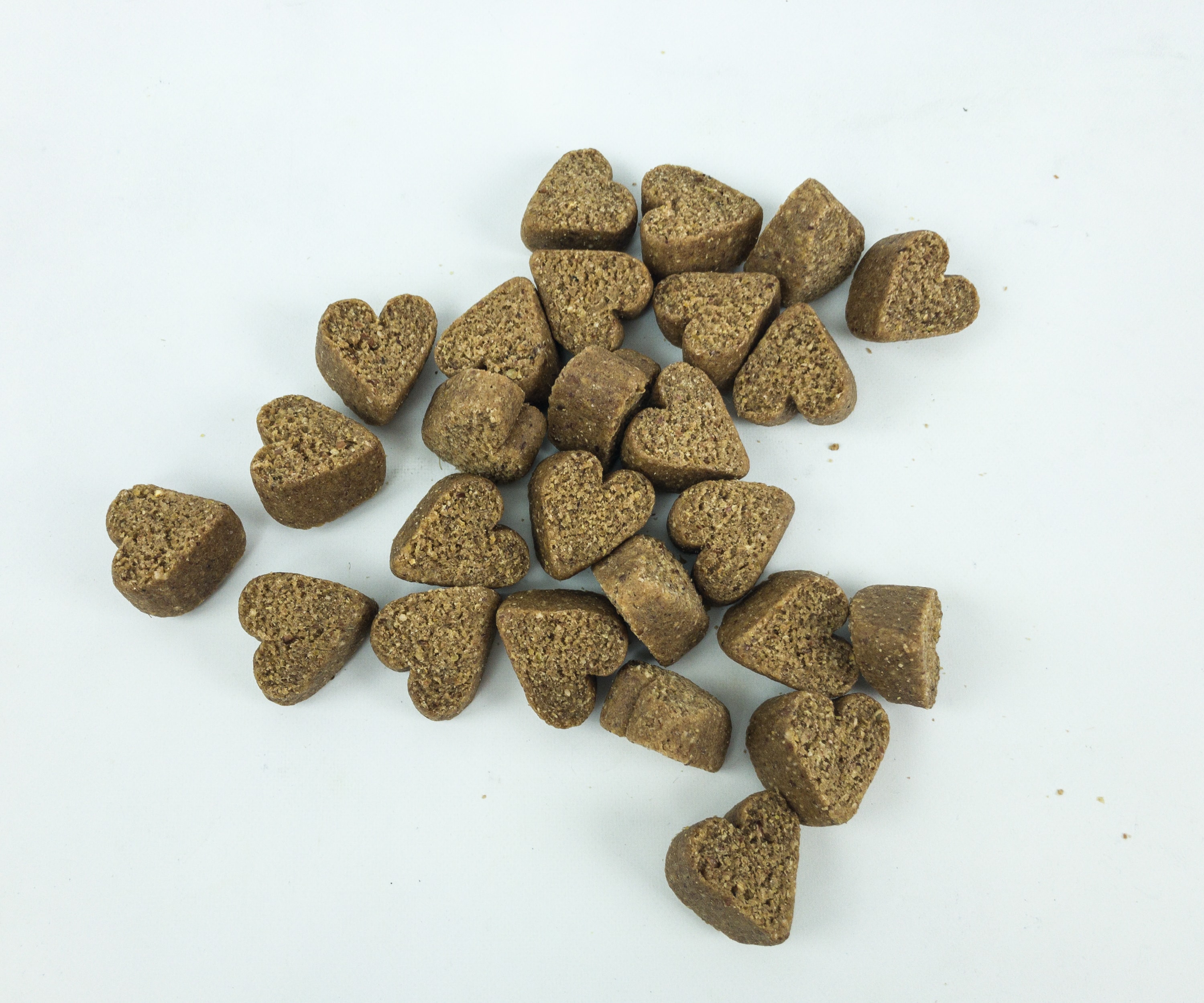 These treats are wheat-free, soy-free, corn-free, and grain-free!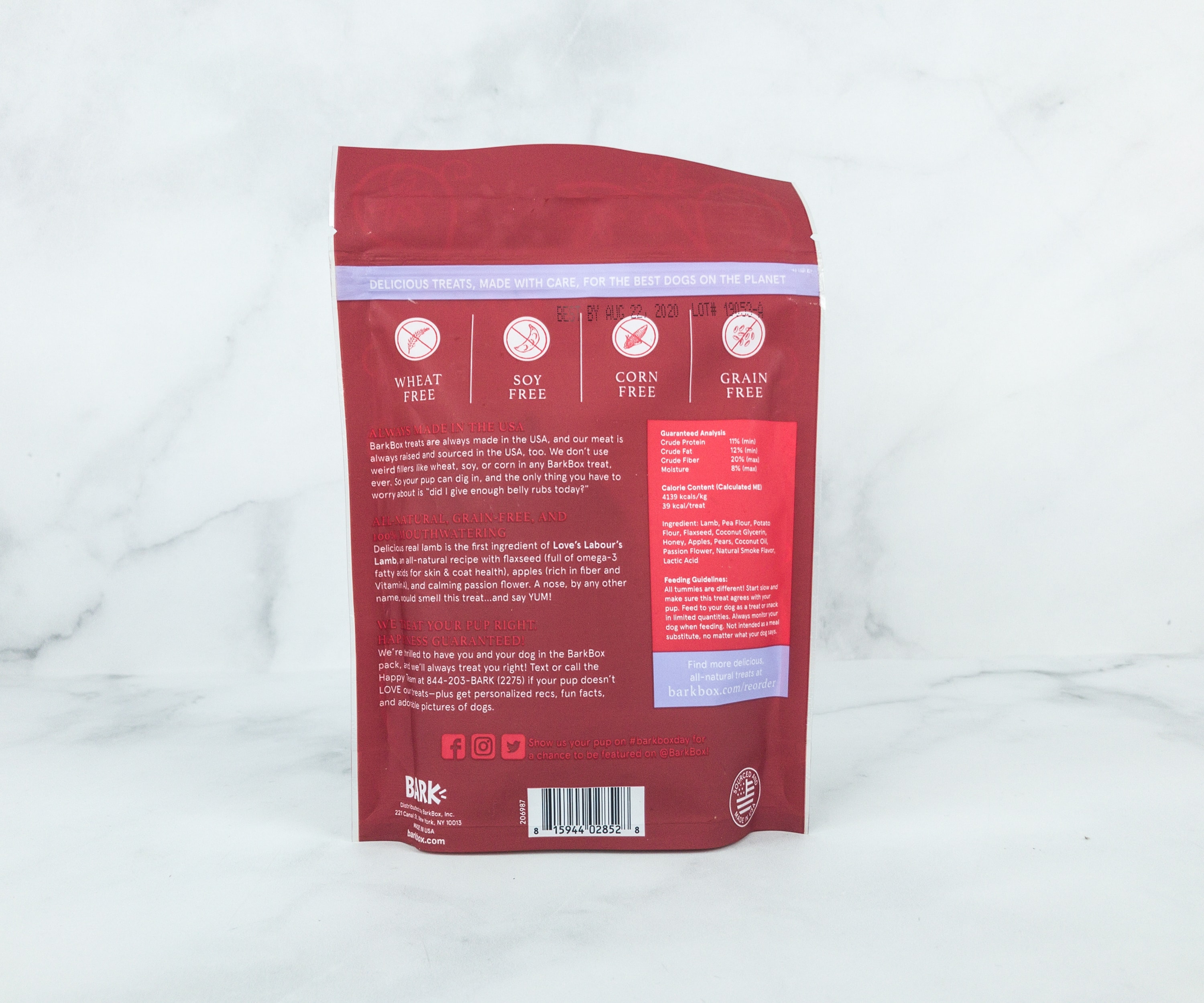 Like the first one, this snack comes in a resealable bag, making sure that it stays fresh and clean all the time!
Once again, we watched our dogs as they had fun with their new toys and enjoyed their yummy treats from Barkbox! This subscription never fails to impress us with their amazing selection of treats and toys, and what makes it even better is that you can customize your box! This particular box is curated specifically for super chewers and everything is just on point. They also make sure that the toys are safe and the snacks are made with healthy ingredients. Plus, the themes are always fun and witty. We can't wait for the next one!
What do you think of this month's Super Chewer Barkbox?