BabeBox is a monthly subscription of beauty & makeup that sends 5-6 full-sized products. They promise at least $100 or $150+ value each month, depending where you look on their website. BabeBox is $29 a month; shipping to the US is $4.95, worldwide is $5.95. (We were charged $6.95 for shipping on the $29 box too.)
All types of makeup products are eligible including lipstick, foundation, contour, eye shadow, face masks, serums and eyeliners. And we never ship the same product twice!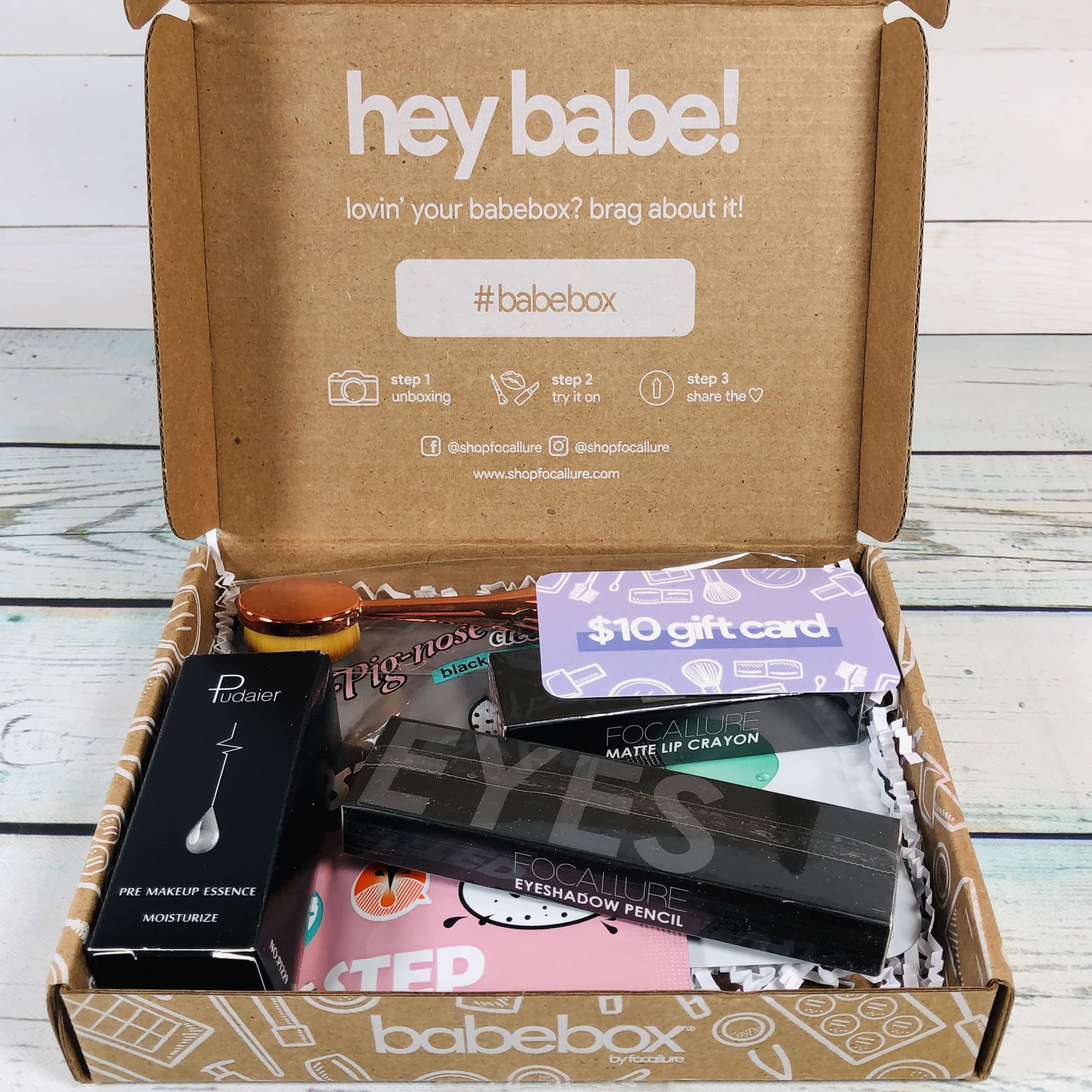 This is my second BabeBox. I subscribed on March 3rd and was charged again on April 4th, before receiving my first box. BabeBox claims your first box is free, just pay $6.95 shipping and handling. One very important thing to keep in mind is that if you cancel before being charged for your second box, you *may* (most likely *will*) get charged the full price.
The product info card doesn't mention the month but does tell me that Focallure is committed to being cruelty-free. You will see the PETA Beauty Without Bunnies logo on their products but thanks to sharp-eyed fellow blogger Valerie for looking them up on the PETA website and discovering that they are not actually listed. They are most likely using the logo without permission, which is dishonest to consumers.
The back of the card lists the MSRP, and on the bottom it says "not including special discounts". I found these items on several different "Focallure" websites (shopfocallure.com, focallure.com, amazon.com, and aliexpress.com) and the prices on the card are seriously inflated. You can buy 10 of the Holika Pig Nose masks on Amazon for less than $15!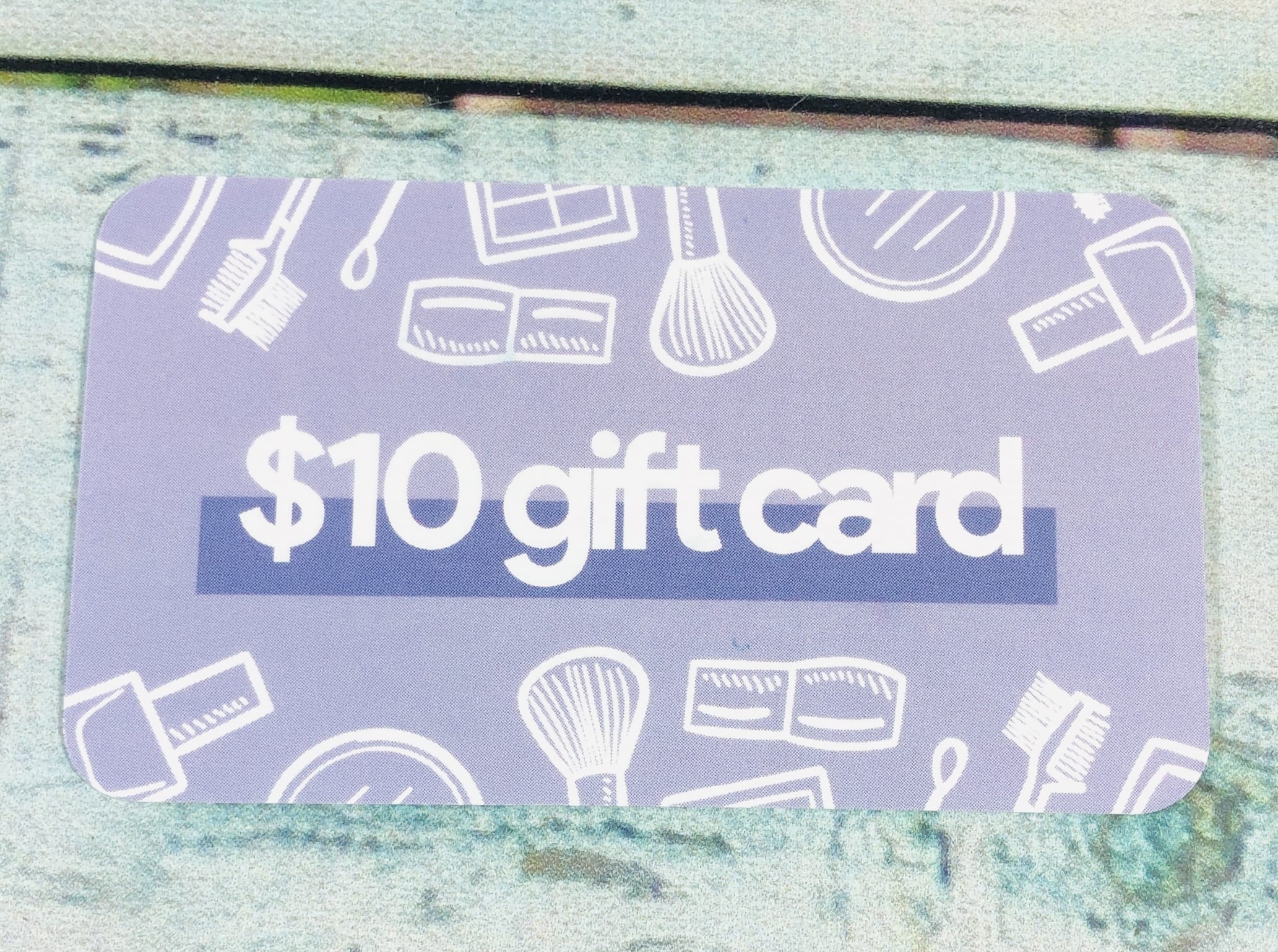 They sent a $10 gift card.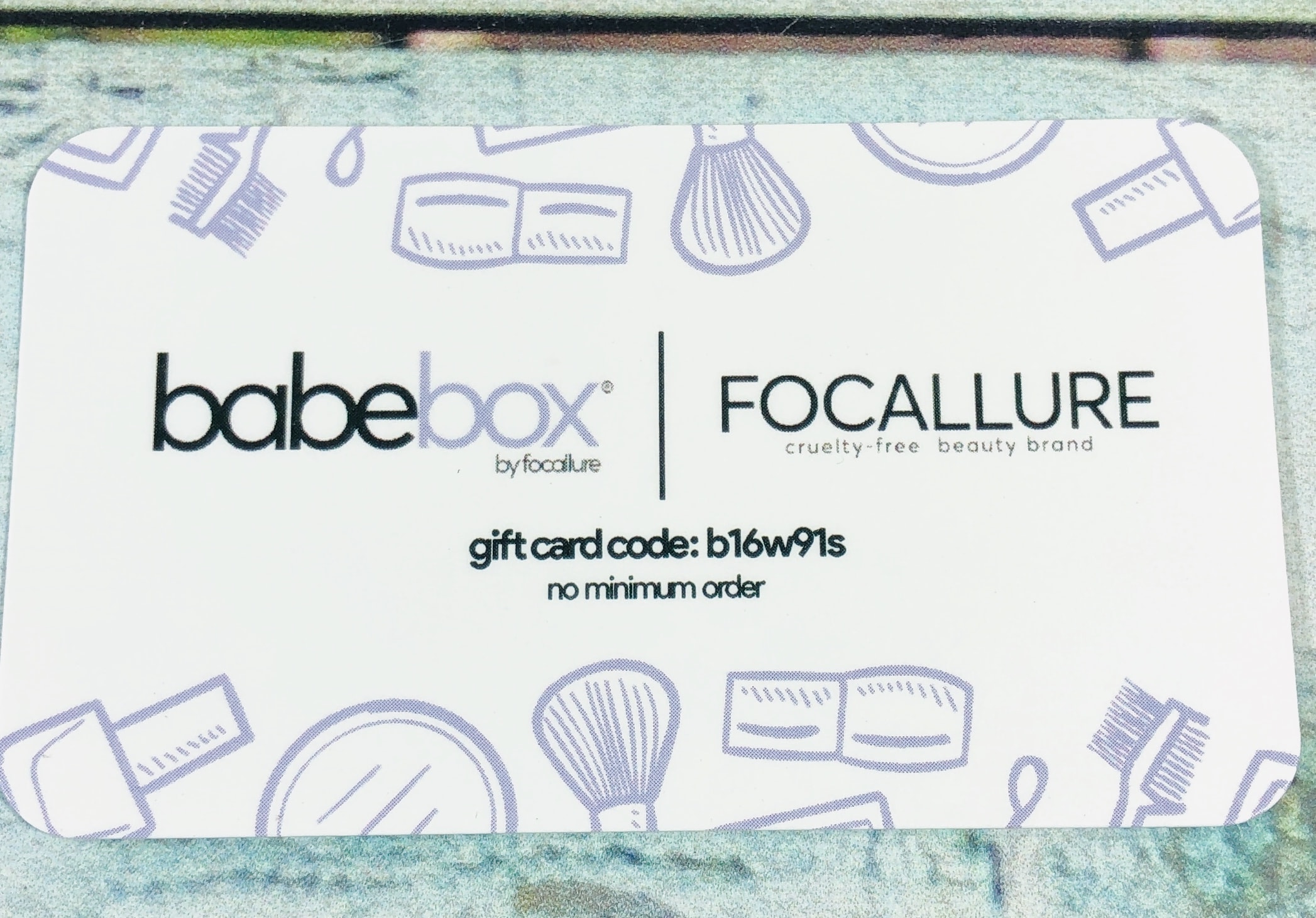 Here's my code if you would like it since I have no plans on using it.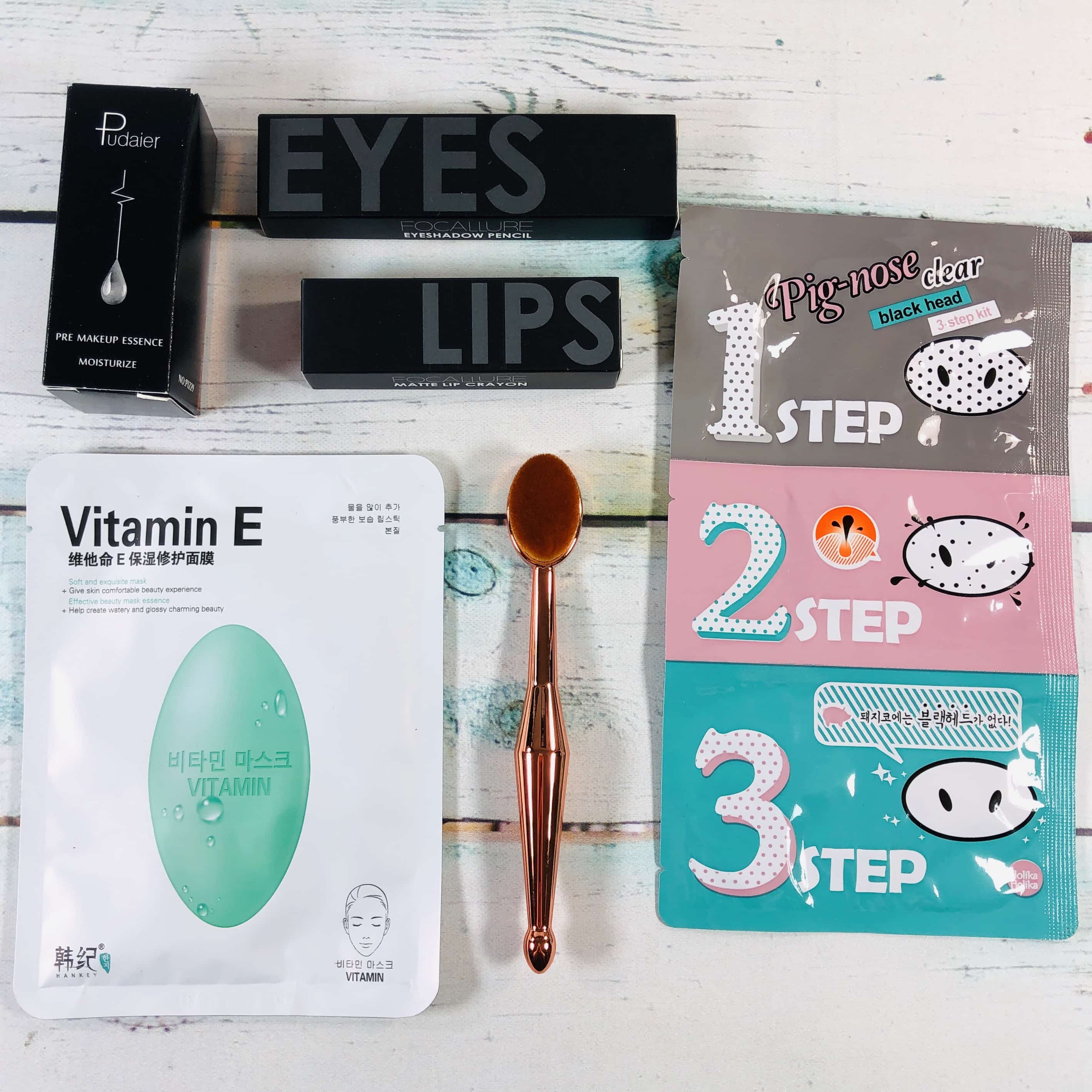 Everything in the box. The products were wrapped in their original packaging and were tucked into shredded paper. I removed the plastic but you can see that all items were wrapped if you look back at my second picture.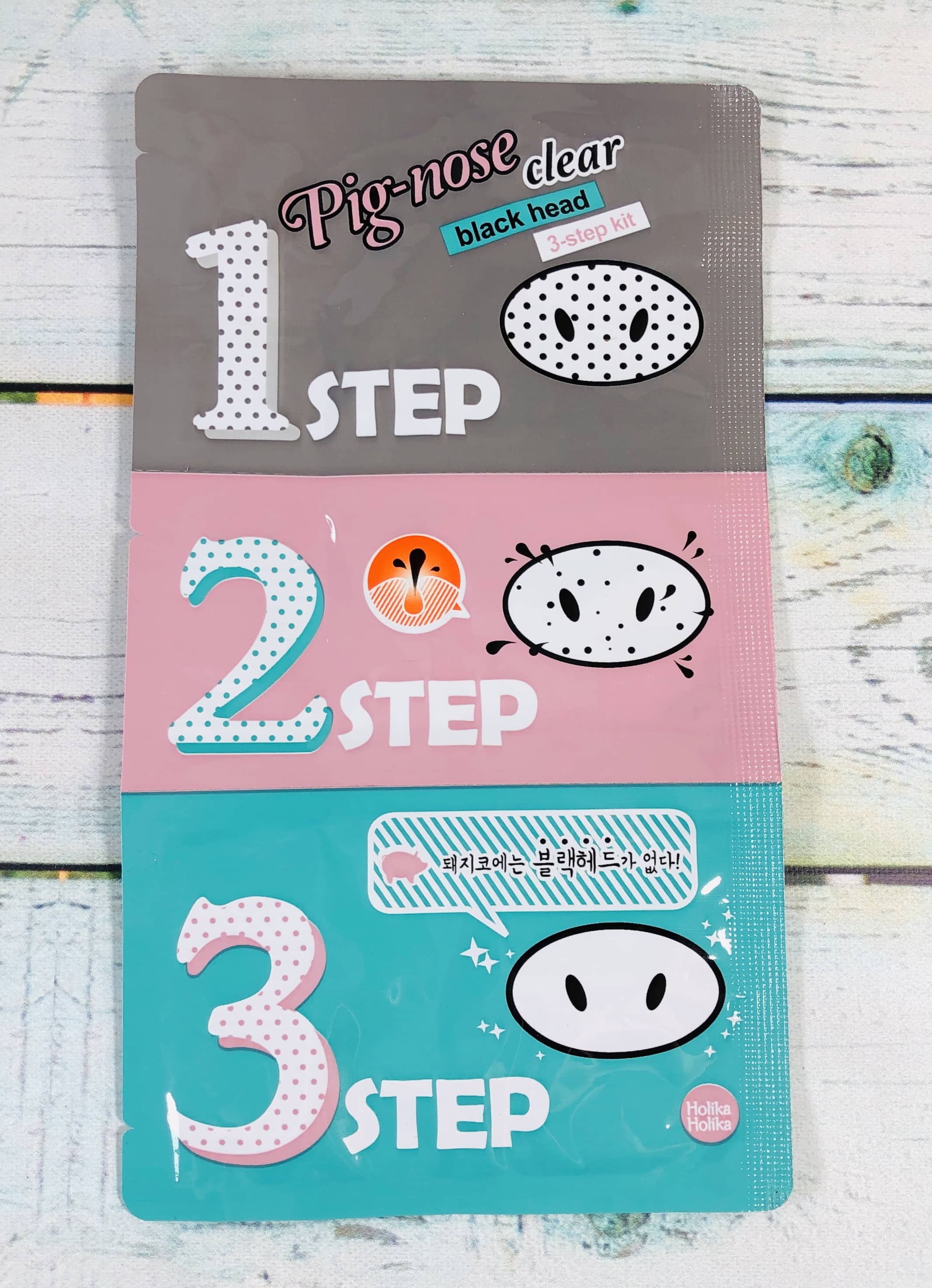 Holika Korean 3-Steps Blackhead Removal Mask ($15 on card, $1.49 value) I found these on the Amazon website where you can get 10 of them for $14.90, but BabeBox says $15 for 1 mask on the card. I am used to inflated prices on info cards but that's ridiculous.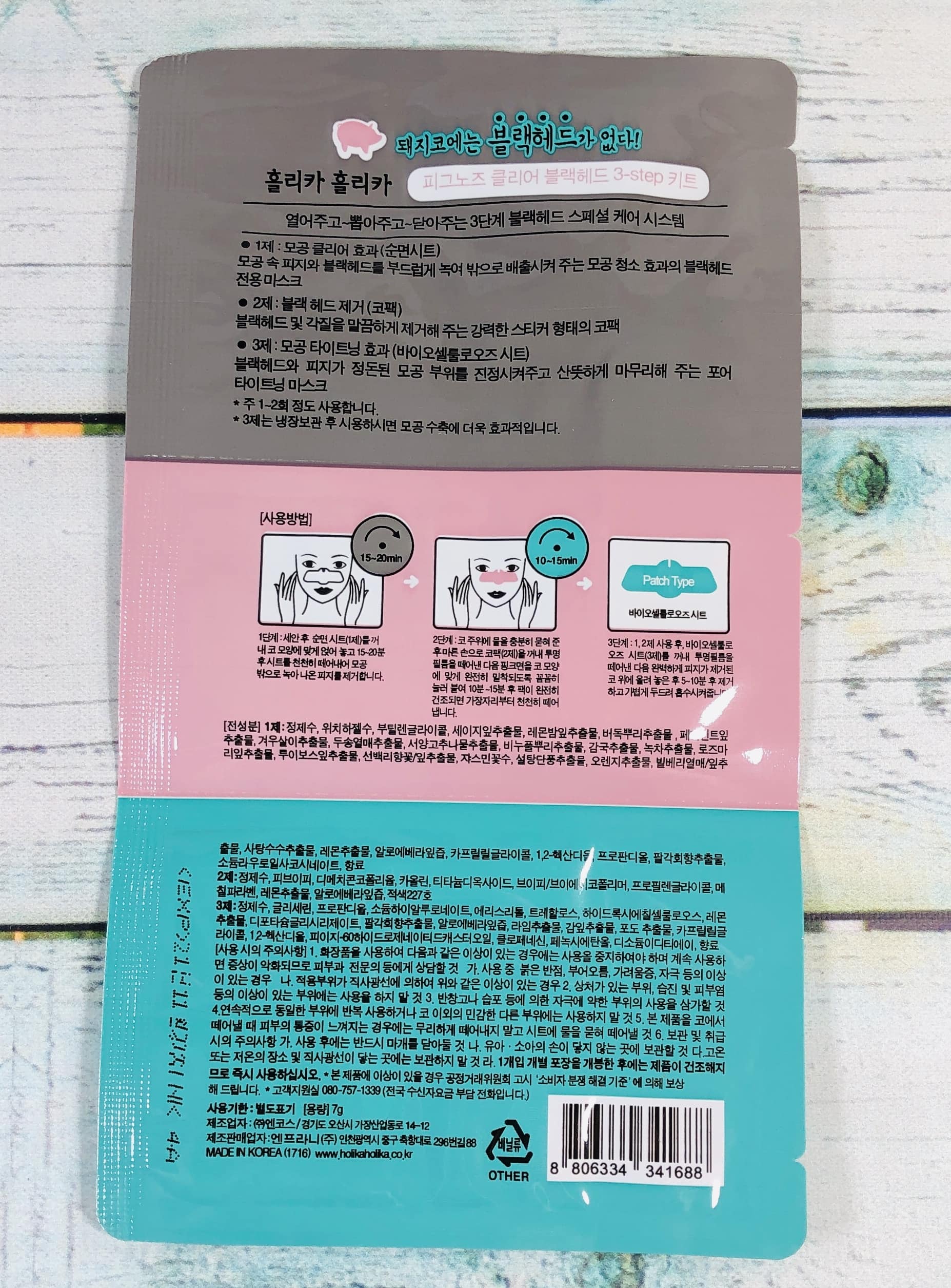 Instructions on the back were in Korean. Just apply them to a wet nose, starting with the top mask. Wait 10-15 minutes, remove, and then go on to the next one. You will use all three masks one right after the other. I am passing them on to my daughter, who is worried about her pores.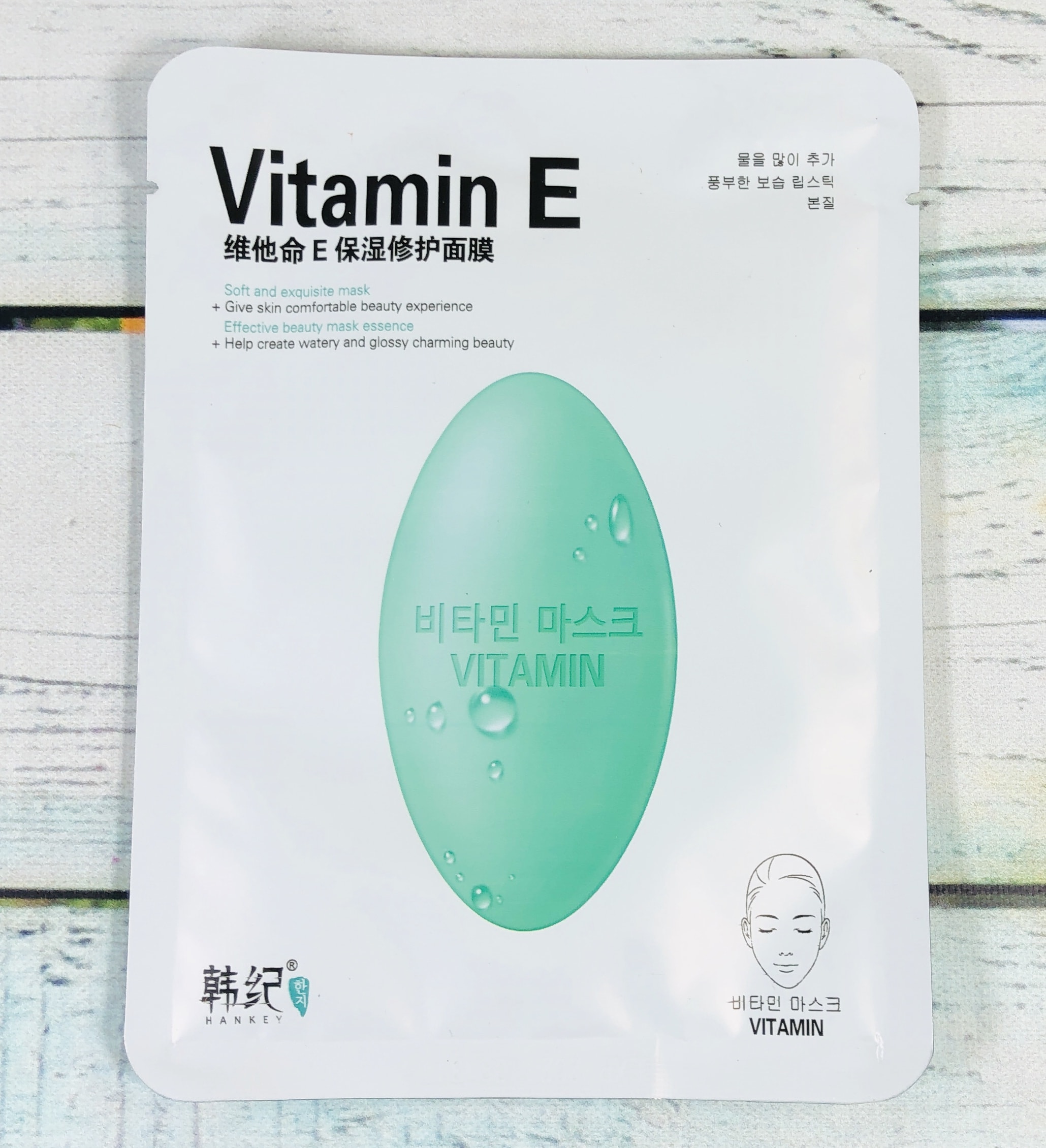 Hankey Vitamin E Moisturizing Repairing Facial Mask ($14 on card, $1.37 value) I recognized the look of this mask but not the maker. Turns out it looks almost EXACTLY like the Dr Jart+ Soothing Hydra Solution mask. Yep, it's a dupe. Even the BabeBox site shows a picture of the Dr. Jart+ masks. This is deceptive and tells me so much about BabeBox as a company.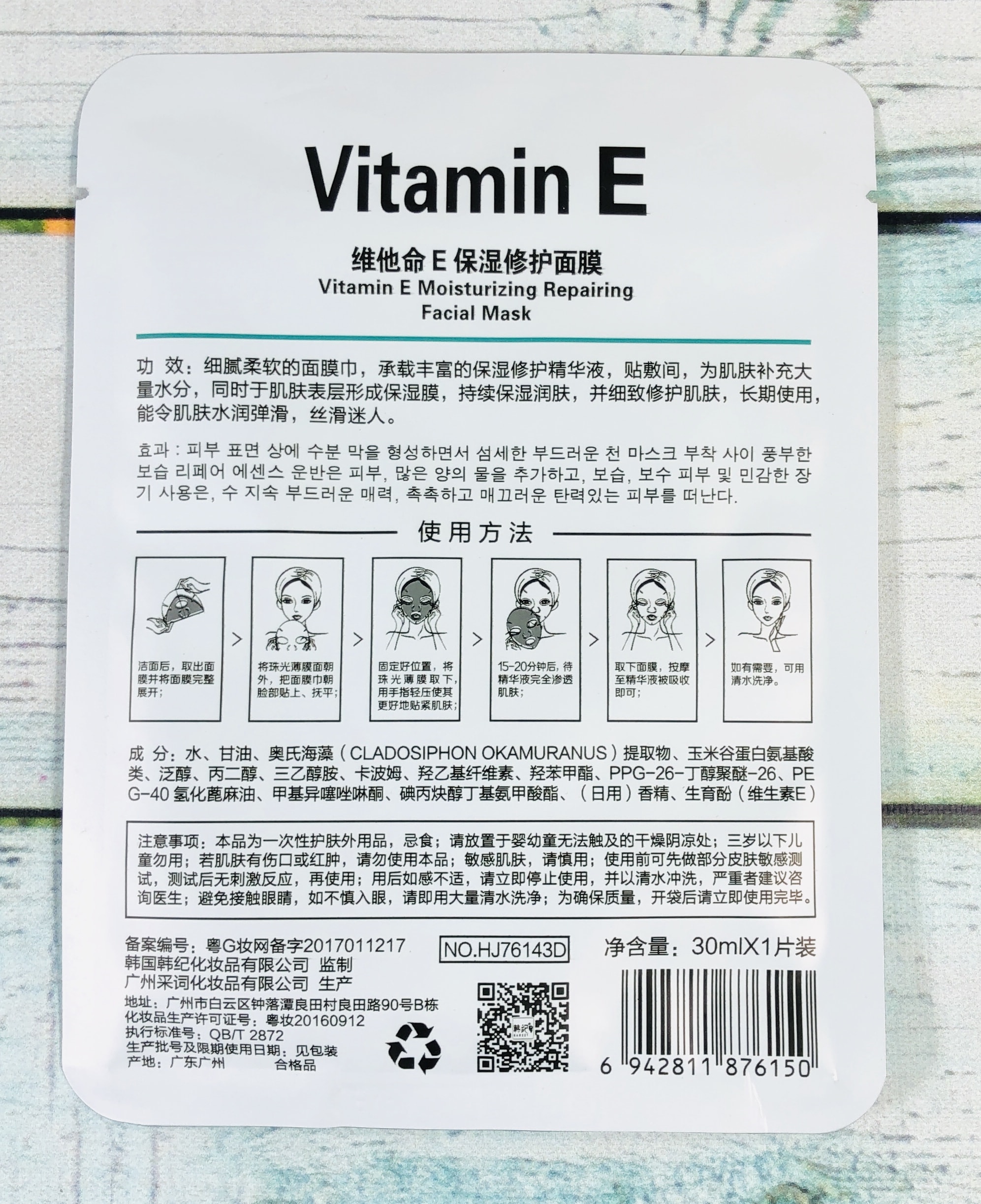 The package doesn't say where this is made, at least not in English, but the AliExpress site says China.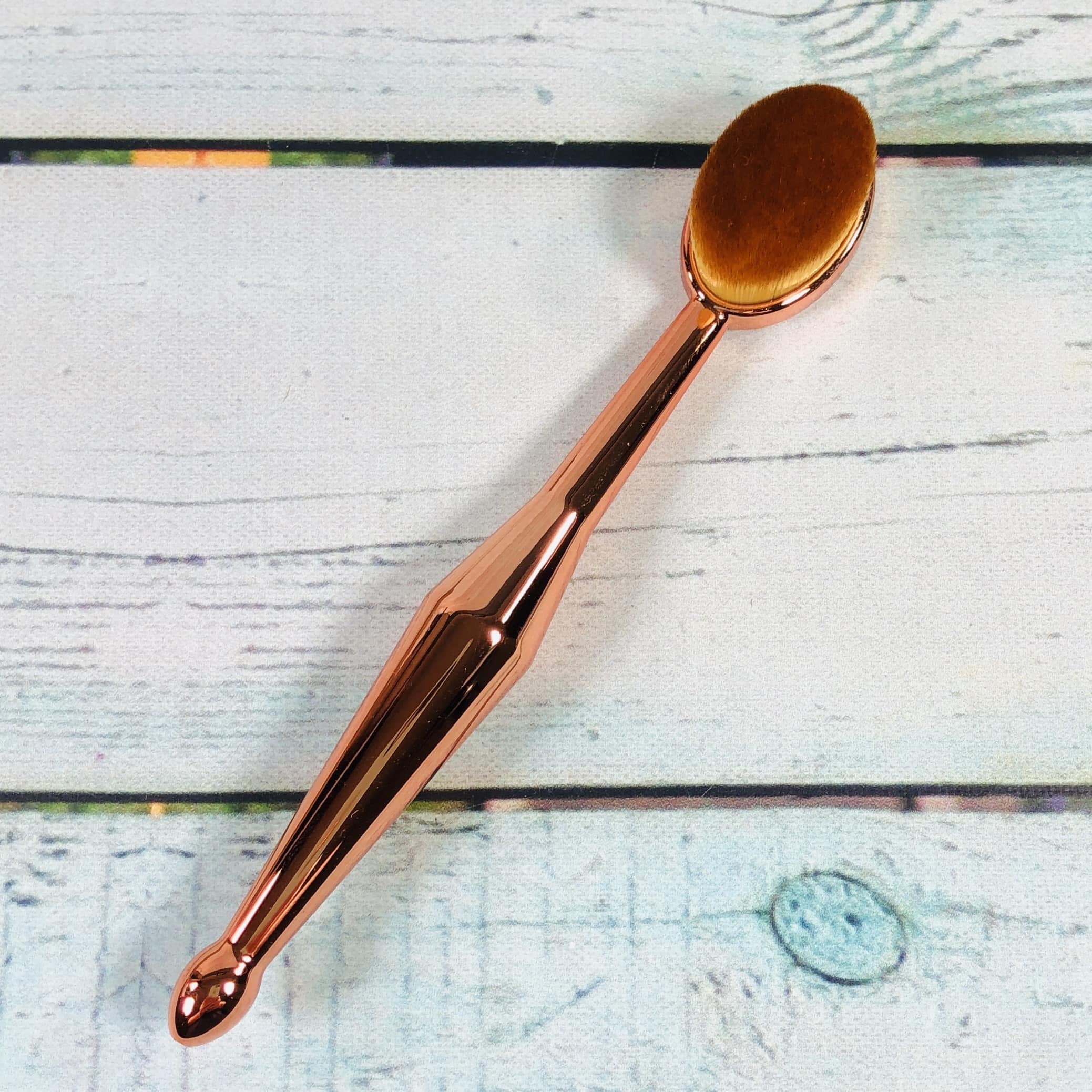 BabeBox Oval Brush ($19 on card, 99¢ on AliExpress, $2.36 on Amazon) I've never owned an oval makeup brush and the rose gold color is cute.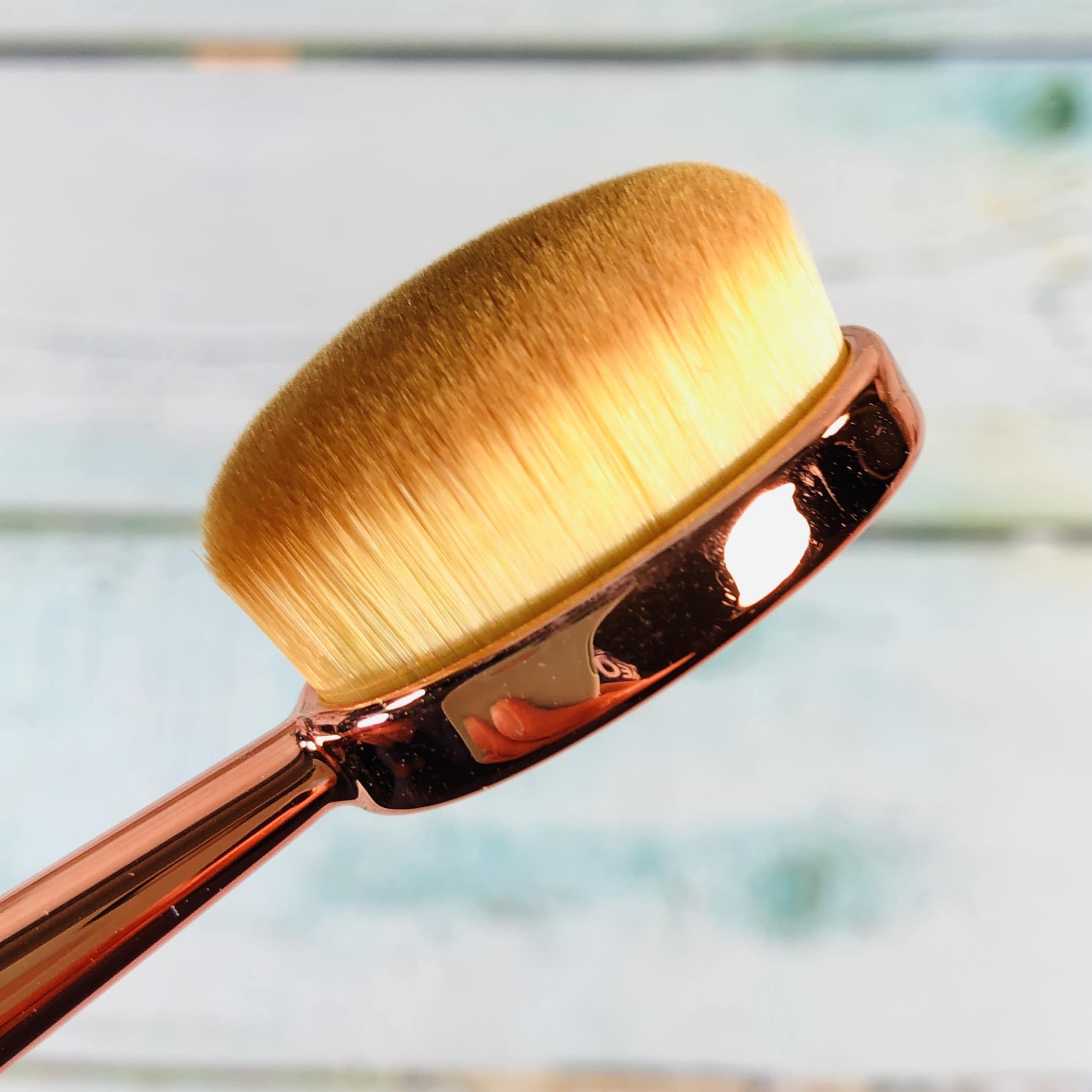 I tried using this to apply powder but it was too rough. I used it to apply blush and it worked well. Maybe I will try it out with foundation next time.
Pudaier Pre Makeup Essence ($29 on card, $2.40 on AliExpress) I think this is a pre-makeup hyaluronic acid product that has glitter chunks to help you glow.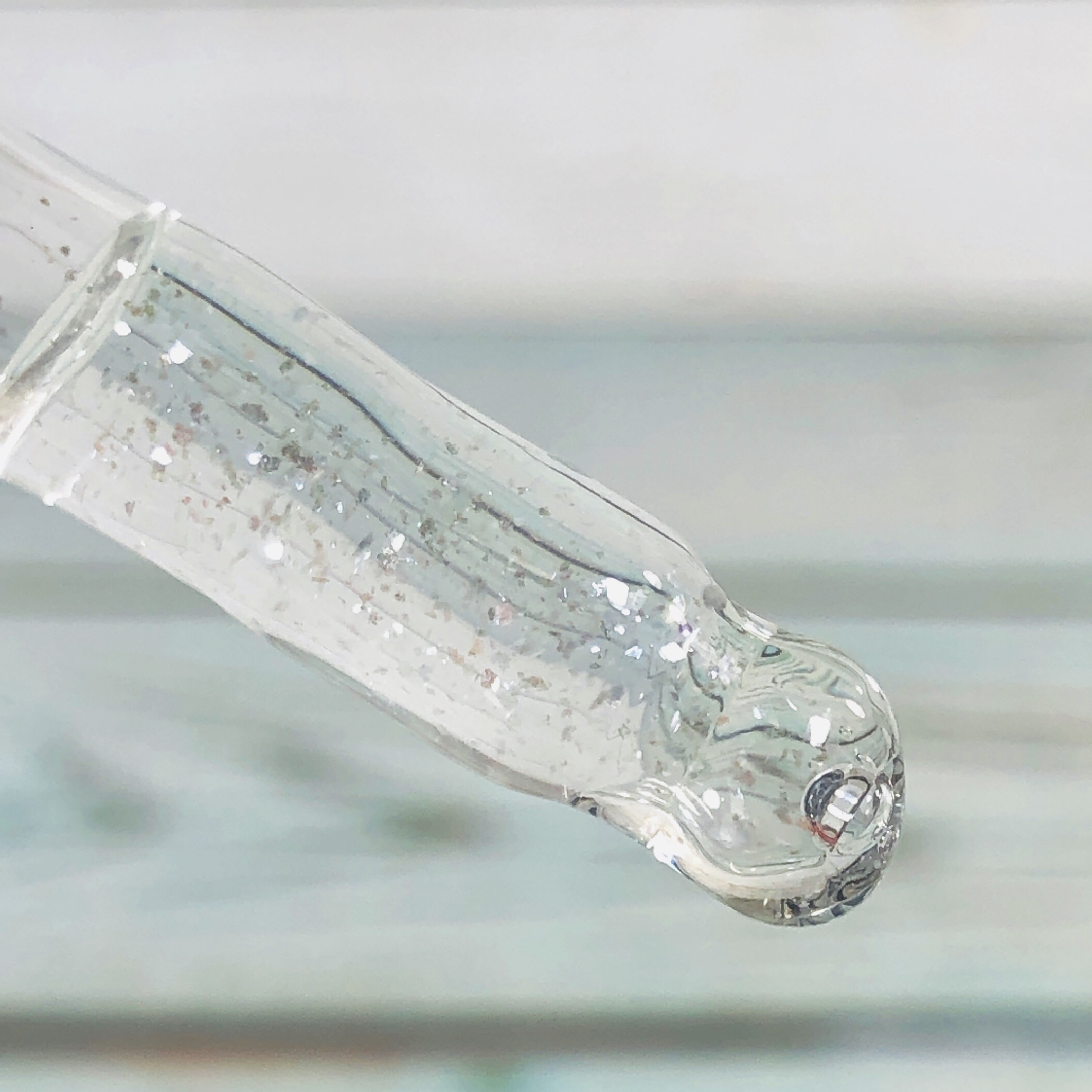 The first three ingredients are water, glycerin, and polypropylene glycol and the essence felt kind of sticky when I rubbed it on my arm to test it out.
Focallure Eyeshadow Pencil in 02 Champagne ($12 on card, $4.49 on Focallure official, even cheaper on AliExpress and Amazon) I was happy to see an eye pencil in a shade I like. It is supposed to be an eyeliner too and no-crease.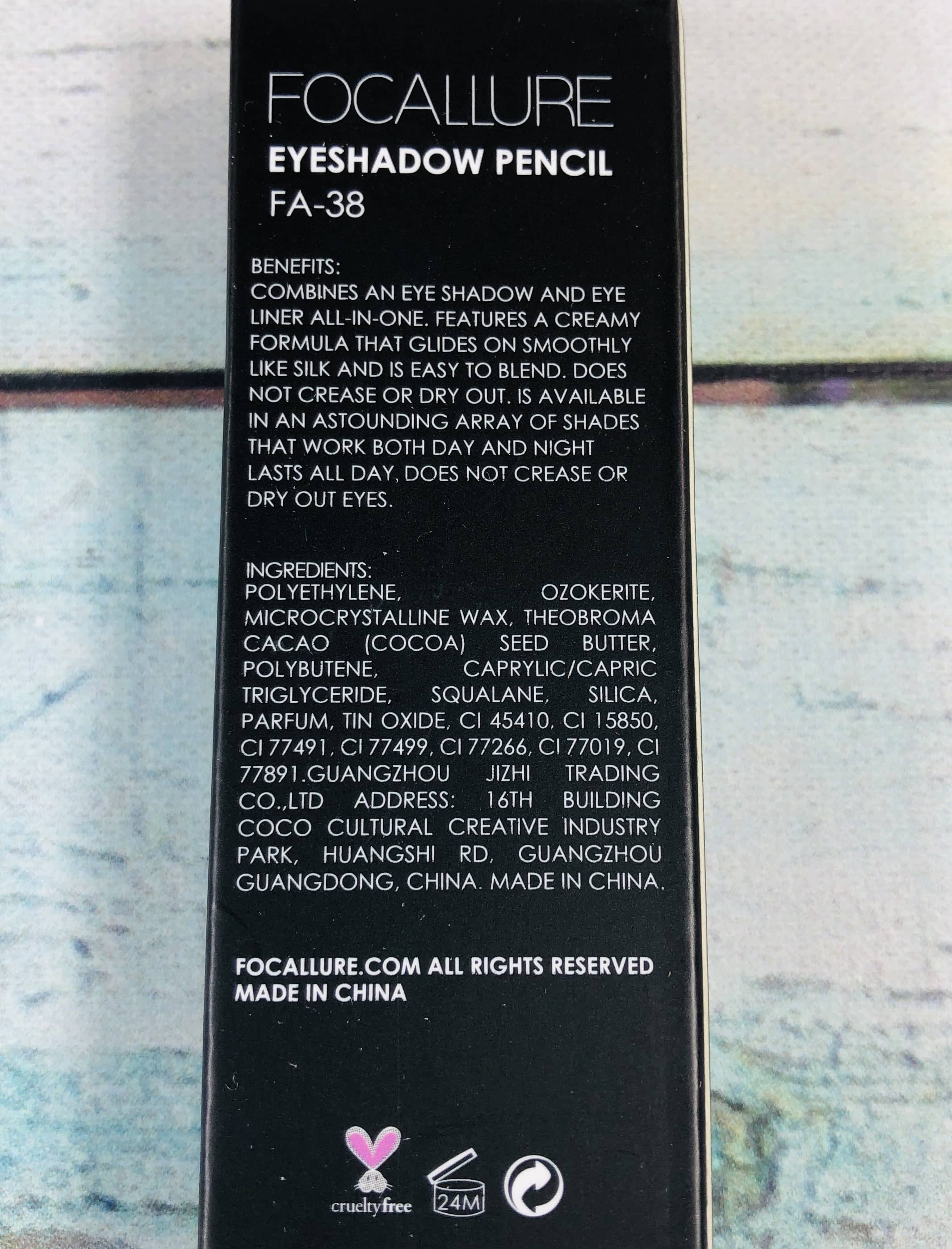 Ingredients are listed on the box.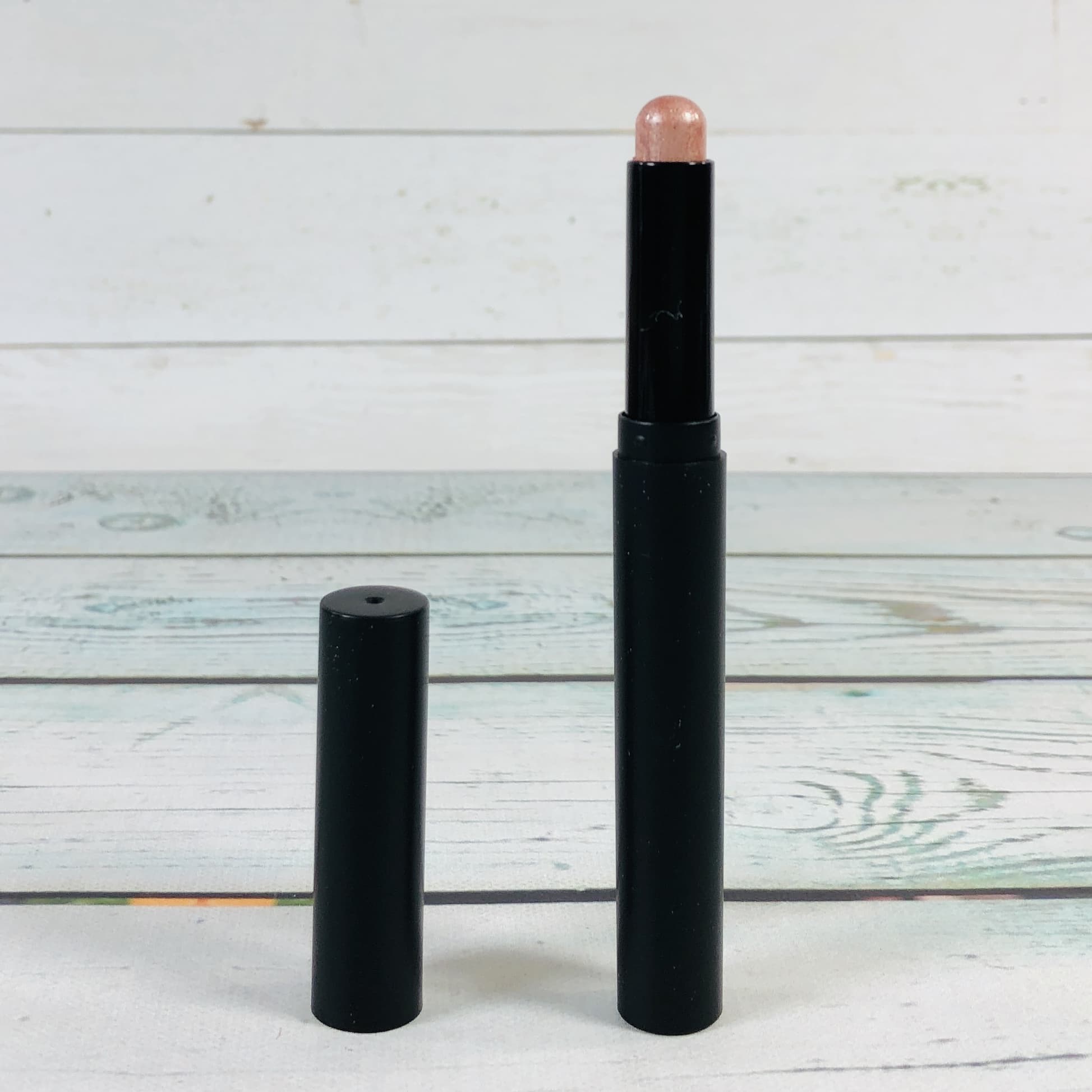 I have a similar product from Birchbox (Love of Color) that I love, it goes on and stays on. This product I did not love because it goes on and then disappears. I applied it to my lids and then applied a different color to my crease and it just vanished. I swiped some on my inner arm and when I wiped it away it did look all glittery, maybe it would work better as a highlighter. Also, this is way too thick to apply as an eye liner.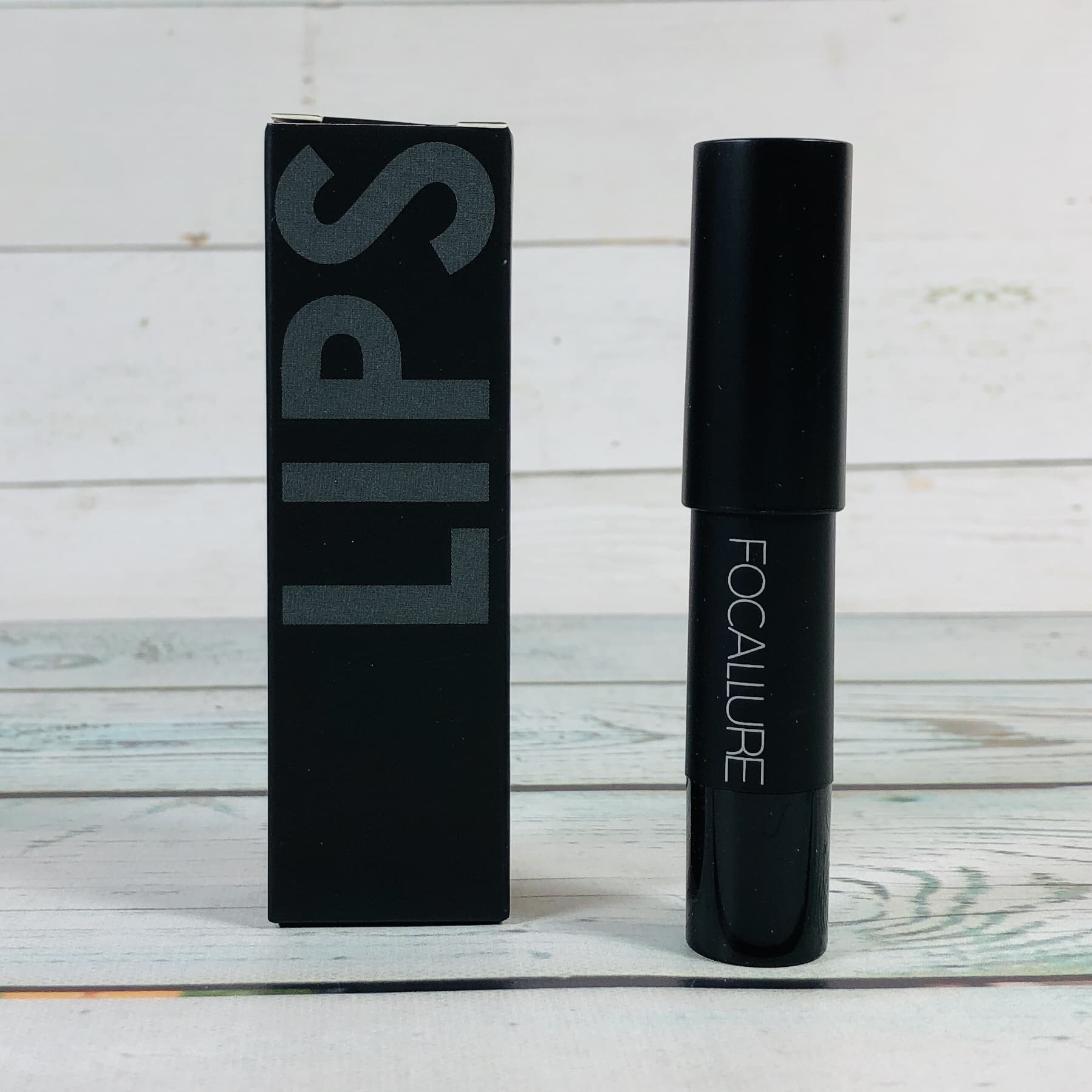 Focallure Matte Lipstick in #10 Vivid Auburn ($11 on card, $4.49 on Focallure official, $1.79 on AliExpress) The lipstick I received in my last box was the only item I actually kept.
Ingredients were listed on the box. "Ruelty free"!
The shade is #10, Vivid Auburn. It has a warm cast to it. It worked fine for me and stayed for a while.
Here are the eye shadow and lipstick swatched on my arm.
I am not often super disappointed in a box but BabeBox is not truthful in their advertising and I would be wary about this box. Our order was placed on March 3rd and I received two boxes in April, about a week apart. They say the first box is free, just pay shipping, but you are charged for the second box before you even receive the first. The values given on the info card are extremely inflated, even by subscription box standards. The quality of the products is not good, it all seems very cheap. We paid $42.90 for two boxes, which means that each box was $21.45. If you cancel before getting a second box, then you've paid $35.95 for one "free" box. Speaking of cancelling, according to the BabeBox website it's simple to cancel but that has not been the case. After 5 emails we are still not sure that the account has been cancelled. They wanted to know why we were cancelling and tried to get us to keep subscribing, then said they would forward the request to cancel "for approval". The company has a grade "F" with the Better Business Bureau.
What do you think of this month's box? Did you have a positive experience with this box or have you been burned? I would love to know what your experience has been!