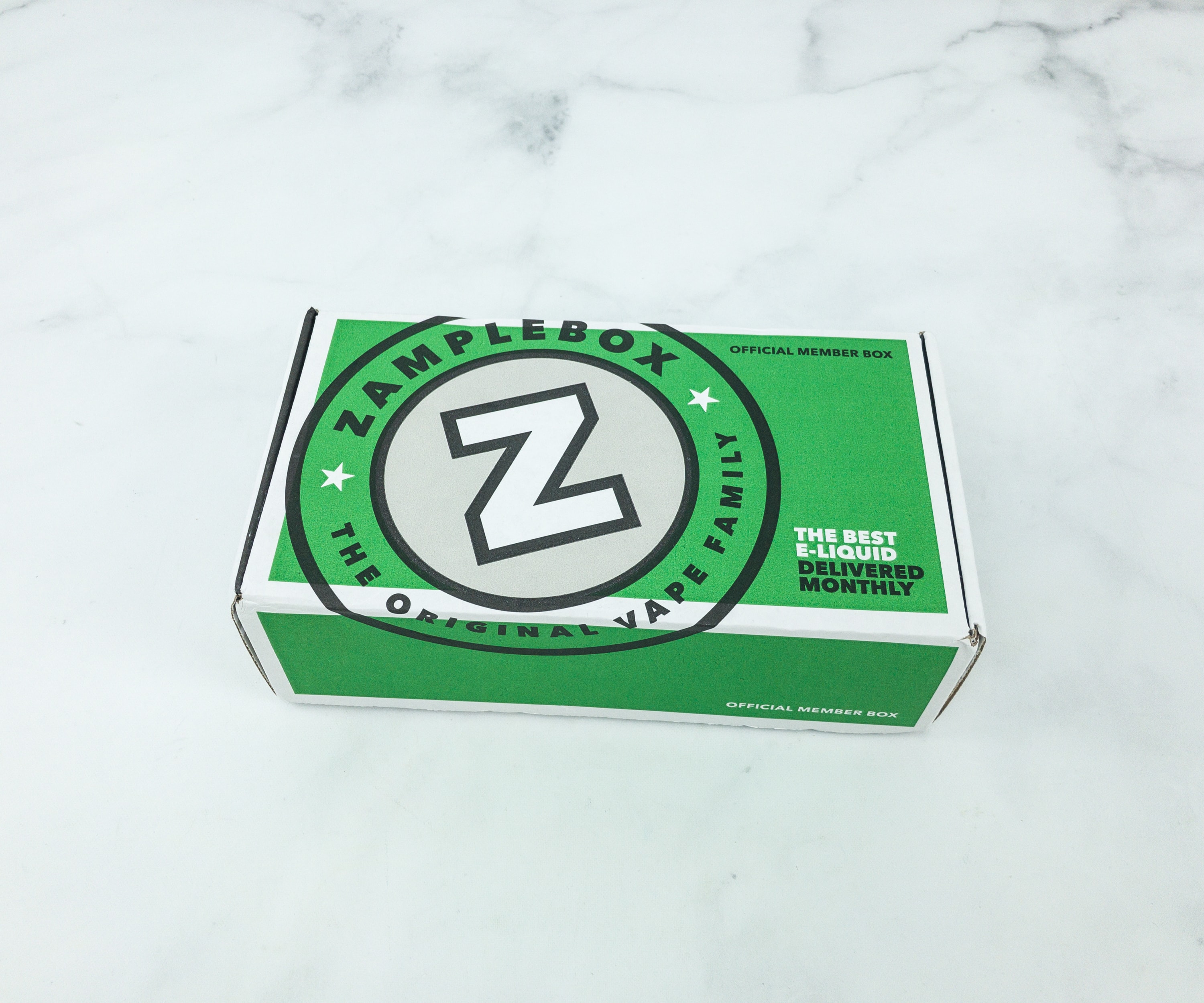 ZampleBox is a monthly e-juice/vaping subscription box. Every month you'll receive 3 ($23.99), 6 ($33.99), or 11 ($53.99) premium, American-made e-liquid bottles. Zamplebox has a ton of juice preference features that allow them to deliver a box that is customized to your taste preferences.
This is a review of the 11 bottles $53.99 per month box.
DEAL: Get 10% off your first box with coupon code ZBTEN!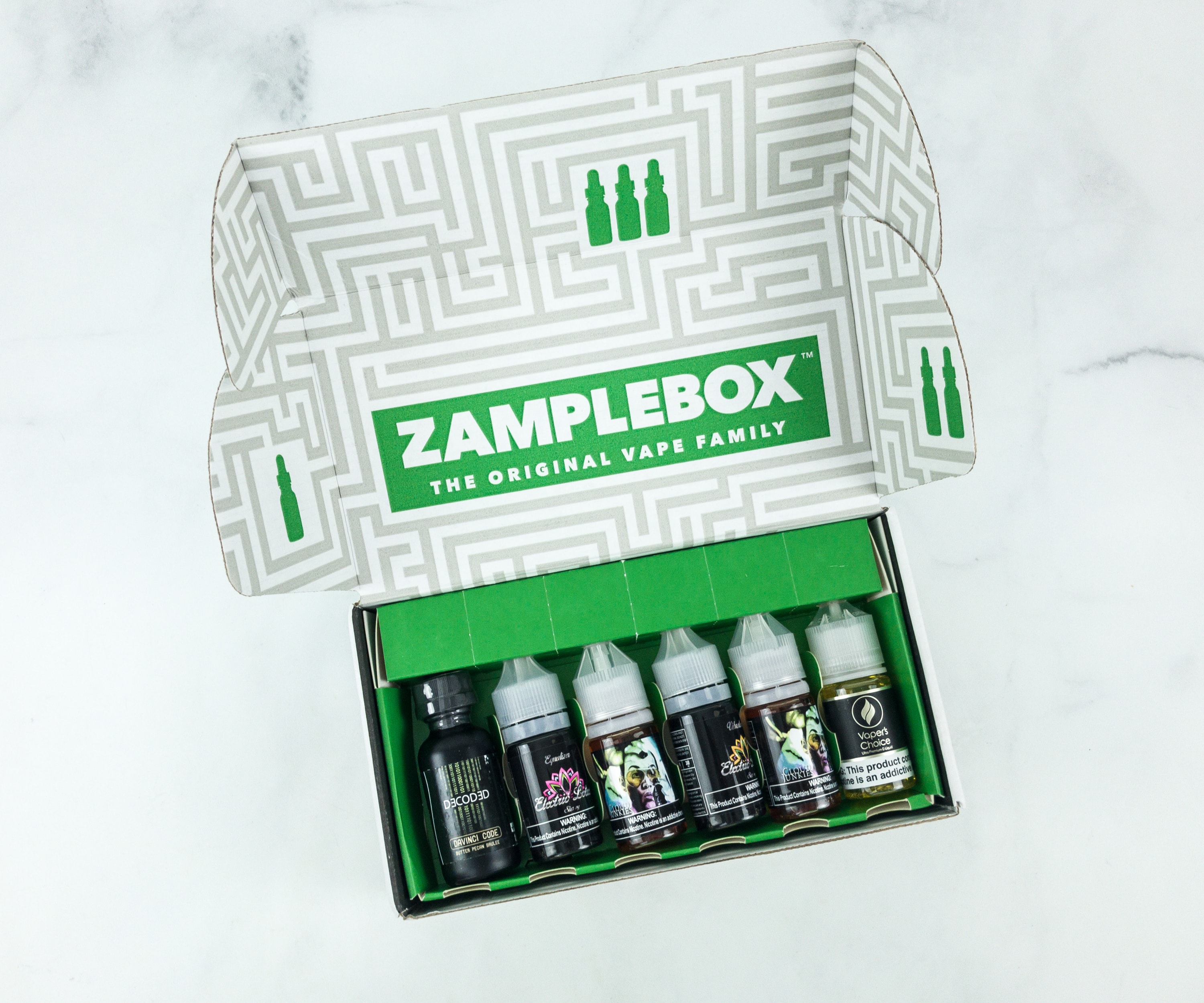 All ZampleBox Memberships now include ZB Wholesale ($9.99/month value) for FREE! You'll get access to special member-only vape deals as well as the wholesale shop.
It's well packaged to ensure that there will be no leaks or damages during shipping.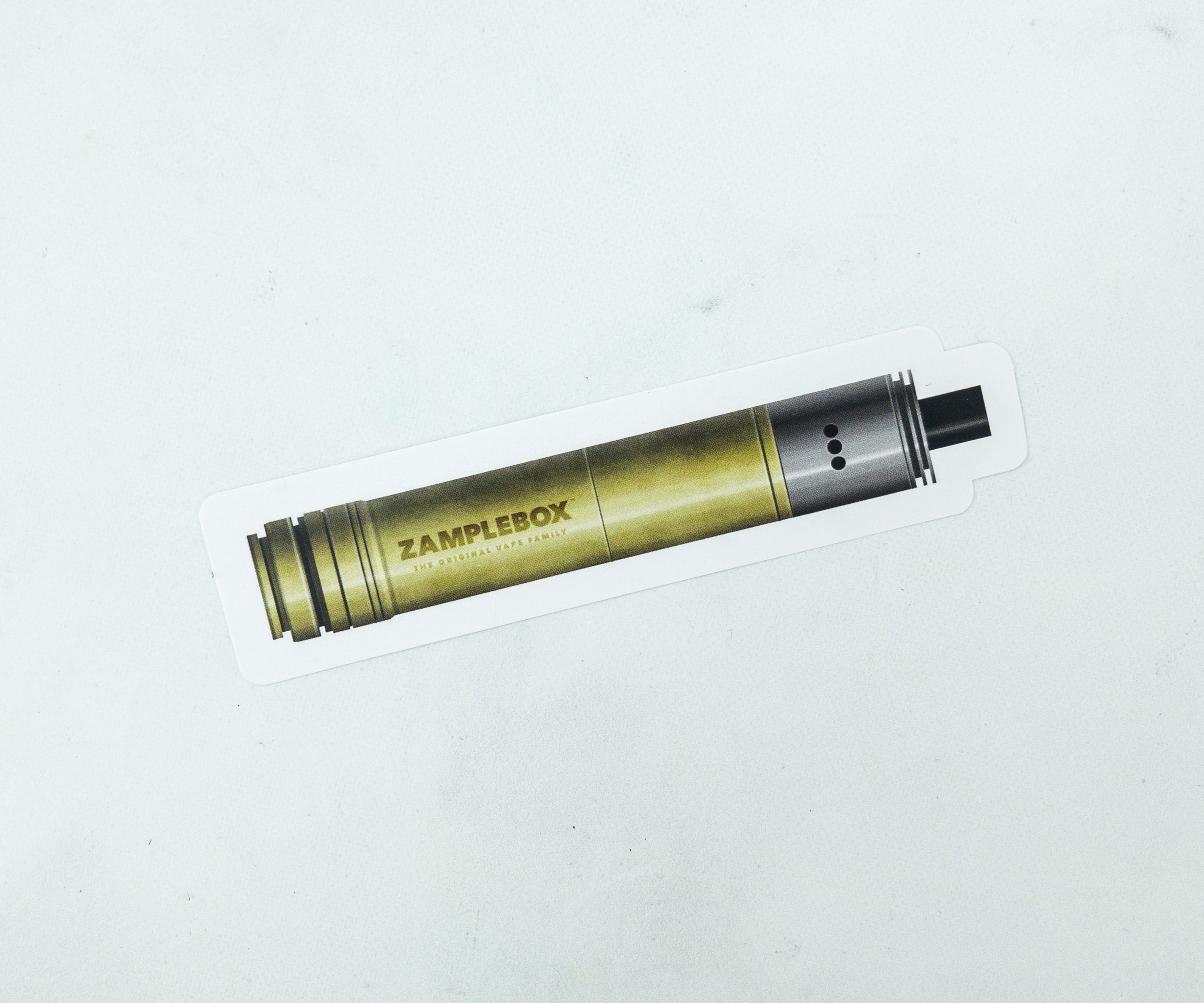 Each month, an exclusive sticker is included inside the box. This month's featured sticker is a vape!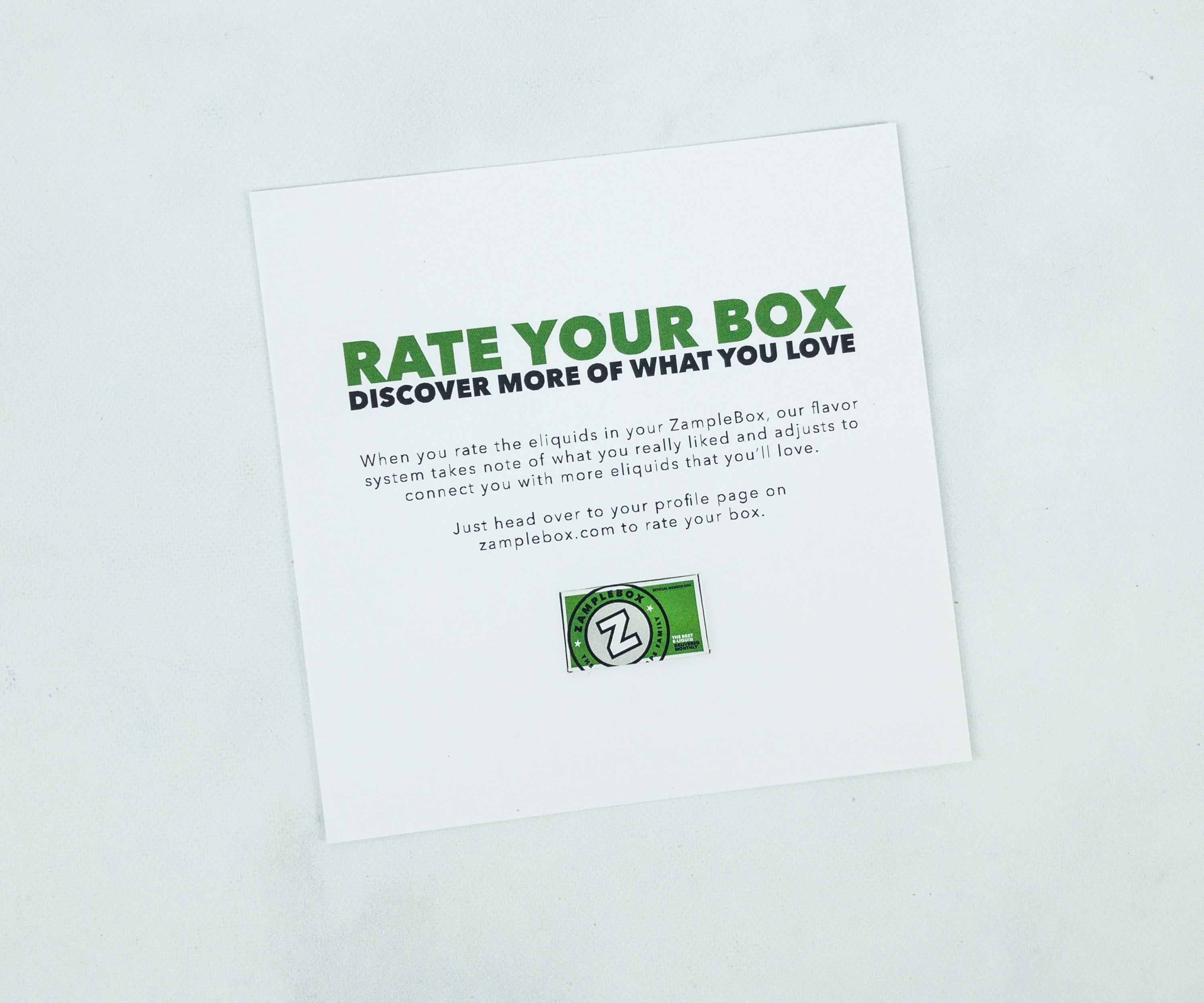 Here's the rating card!

You just have to pick your top 3 favorite e-juices, post it on social media, and tag ZampleBox for a chance to be featured!
Also included in the box is an information sheet that lists all the e-juices in your box for the month.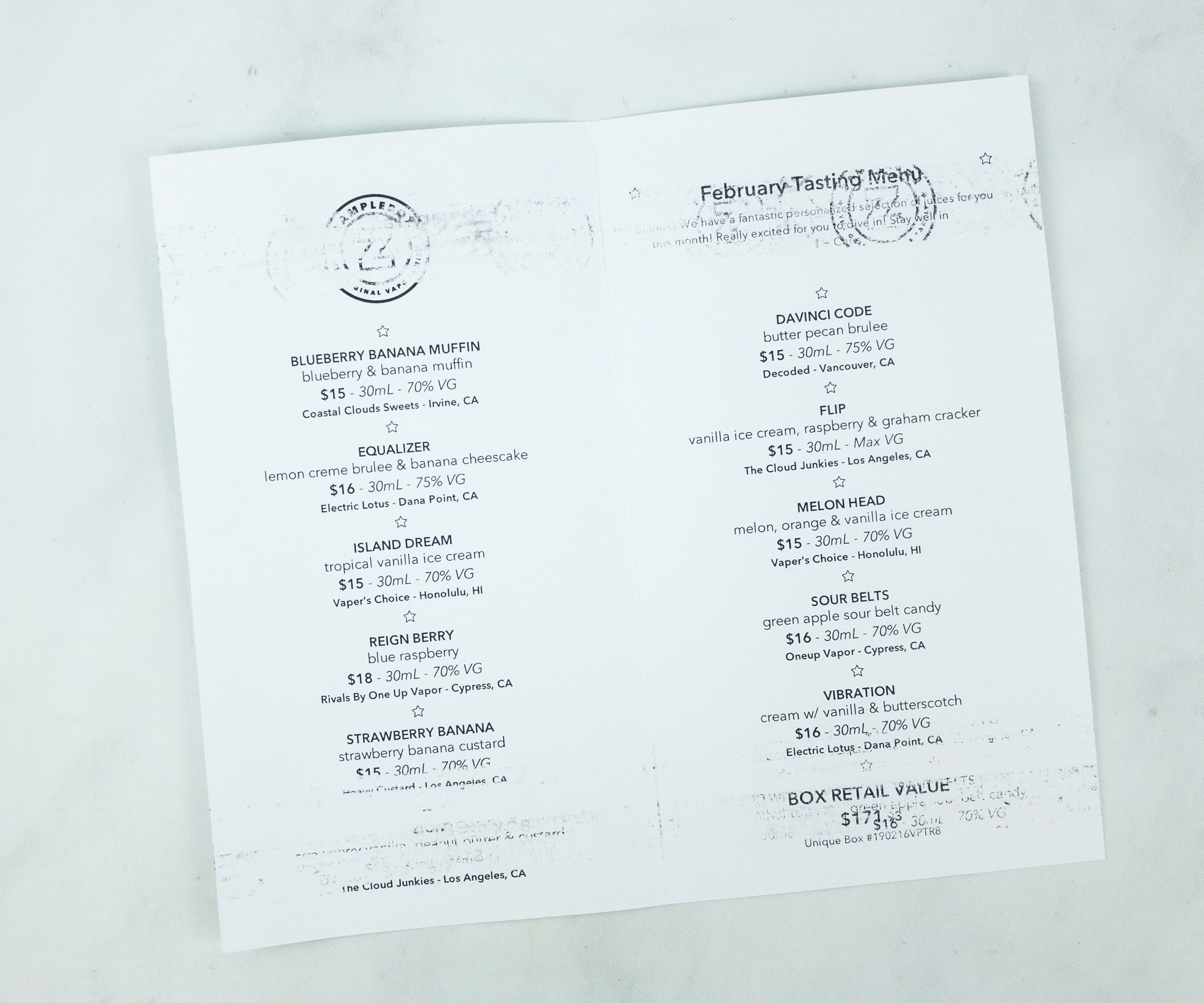 Brand labeling on e-juice is notoriously cryptic, so it's sometimes a bit of a challenge to match up the listings with the bottles.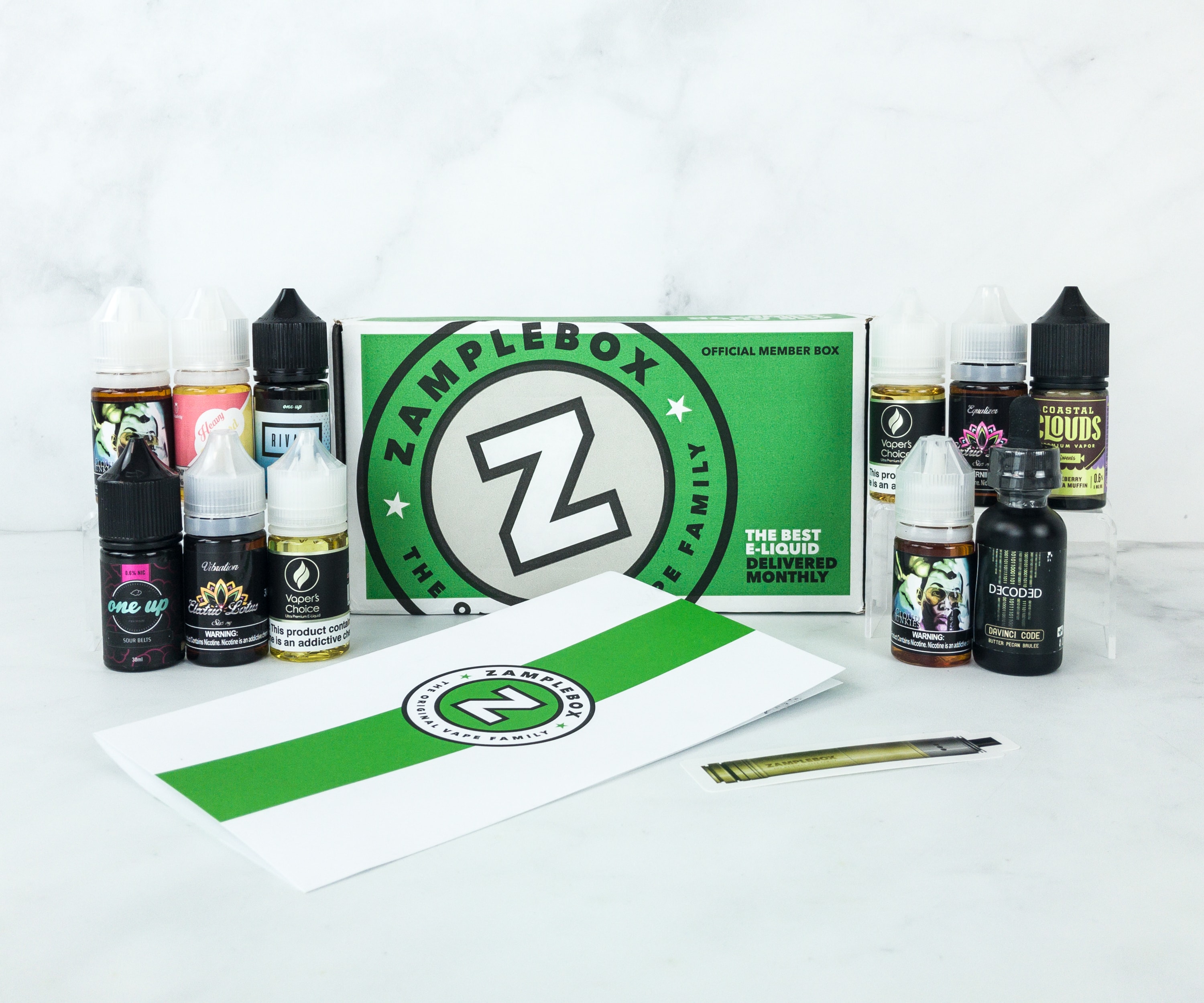 Everything in the box!
Blueberry Banana Muffin By Coastal Clouds Sweets ($15) Flavors: dessert, banana, muffin, berry, and blueberry
This juice is really awesome, I can taste the banana flavor and a little kick of blueberry on every sip. Plus, there's absolutely zero burnt sensation.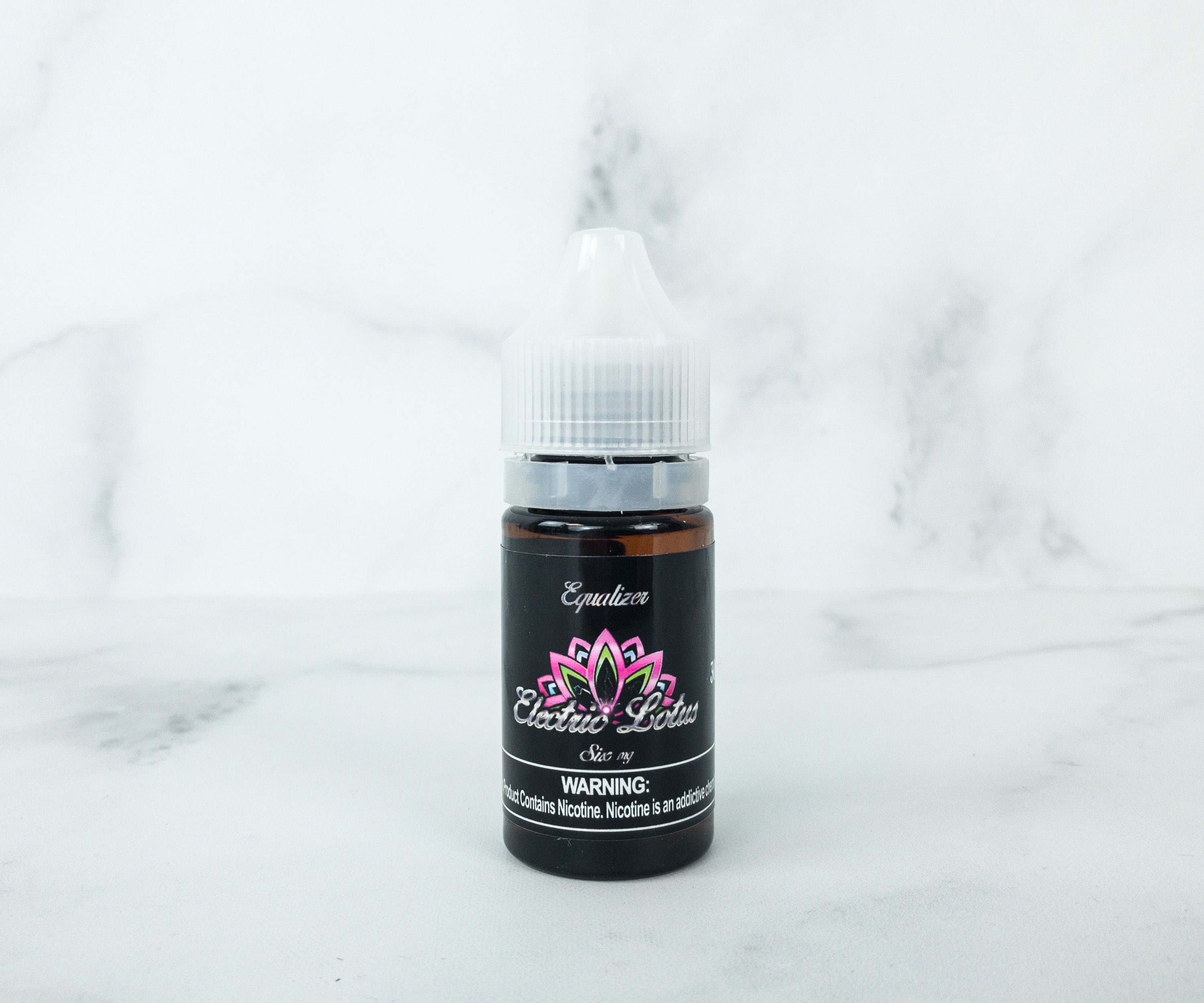 Equalizer By Electric Lotus ($16) Flavors: cream, cheesecake, lemon, banana, and citrus
This juice features a well-balanced fruity taste of citrus, lemon, and banana blended with creamy cheesecake flavor. If you love sweet fruity taste, then this is a juice you must try on!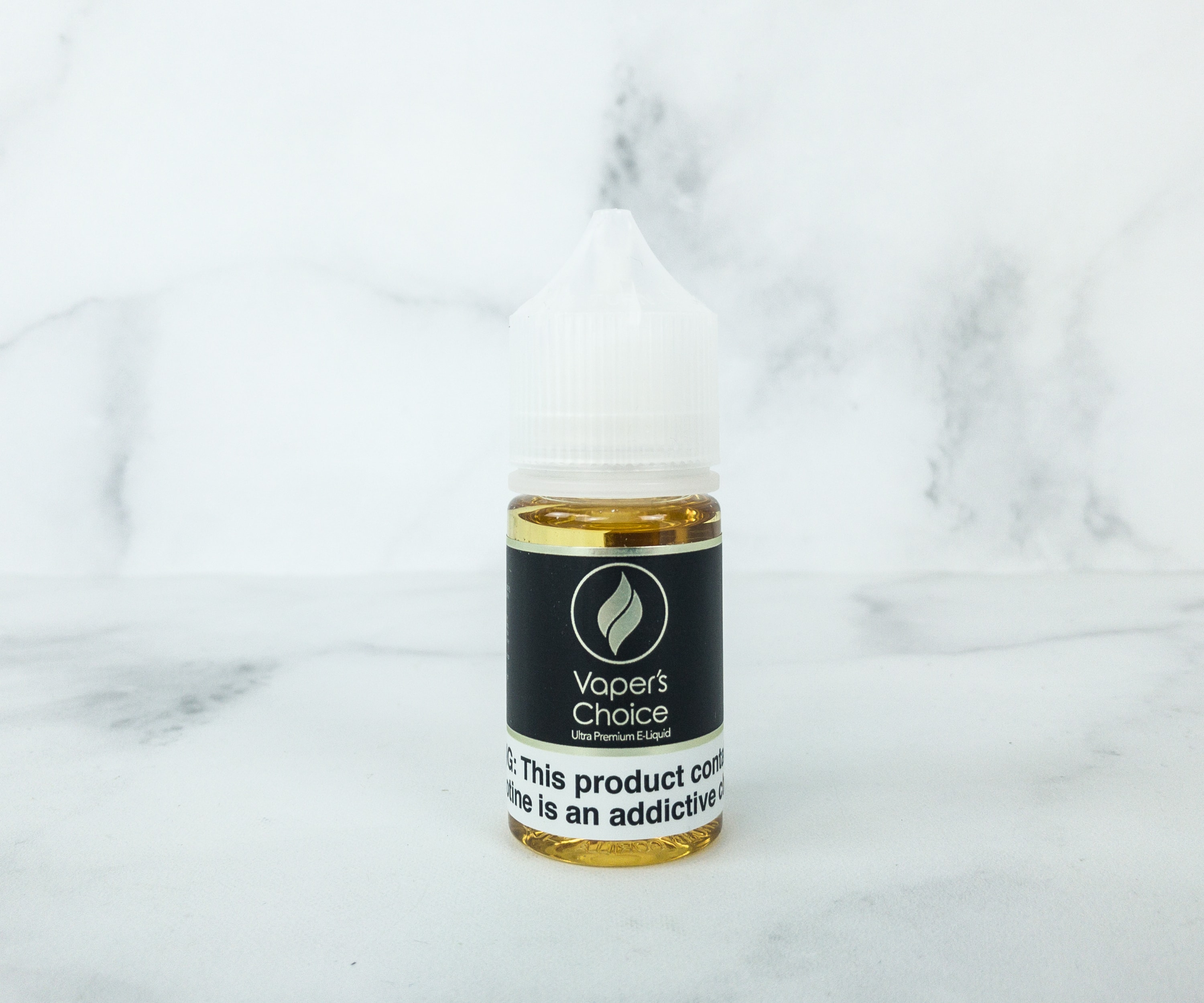 Island Dream By Vaper'S Choice ($15) Flavors: vanilla, ice cream, coconut, and pineapple
The ideal e-juice for those who loves dessert vapes. This unique juice gives a feel of like eating a creamy vanilla ice cream with a blend of sweet pineapple. It also comes with a thick cloud production.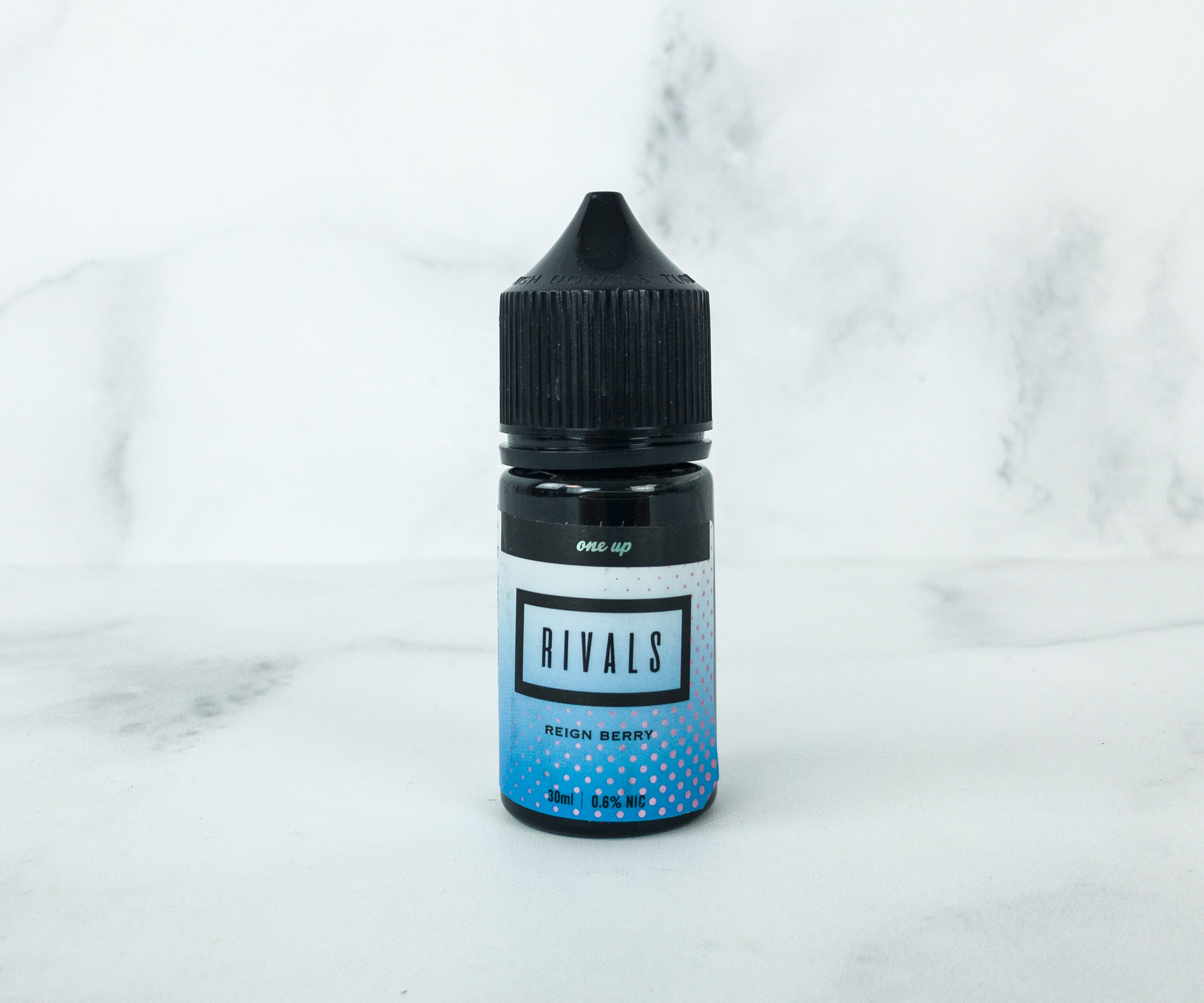 Reign Berry By Rivals By One Up Vapor ($18) Flavors: fruity candy, berry, blueberry, and raspberry
This juice is dominated by a strong blueberry notes with a little kick of raspberry candy taste. It's so nice and smooth with almost zero throat hit.
Strawberry Banana By Heavy Custard ($15) Flavors: dessert, cream, custard, banana, and strawberry
This vape juice is so light to the throat, with a taste of banana and strawberry. It produces a sweet creamy-like dessert cloud of smoke.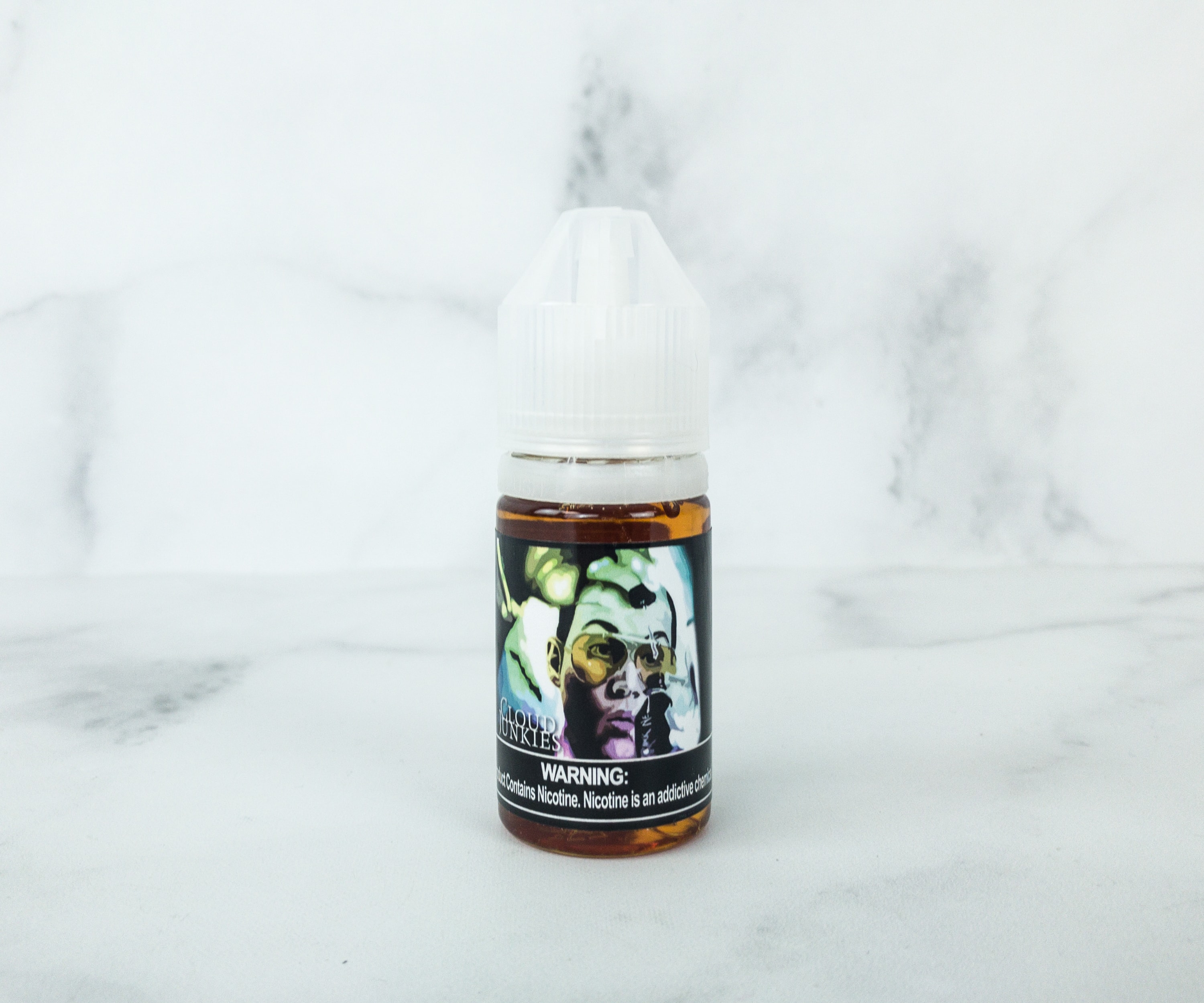 Flip By The Cloud Junkies ($15) Flavors: graham cracker, raspberry, dessert, cream, vanilla, and ice cream
A hippy smooth vanilla flavored juice with a blend of raspberry and graham crackers ice cream taste. It really features an impressive taste of berry flavor on the inhale and ice cream crunch on the exhale.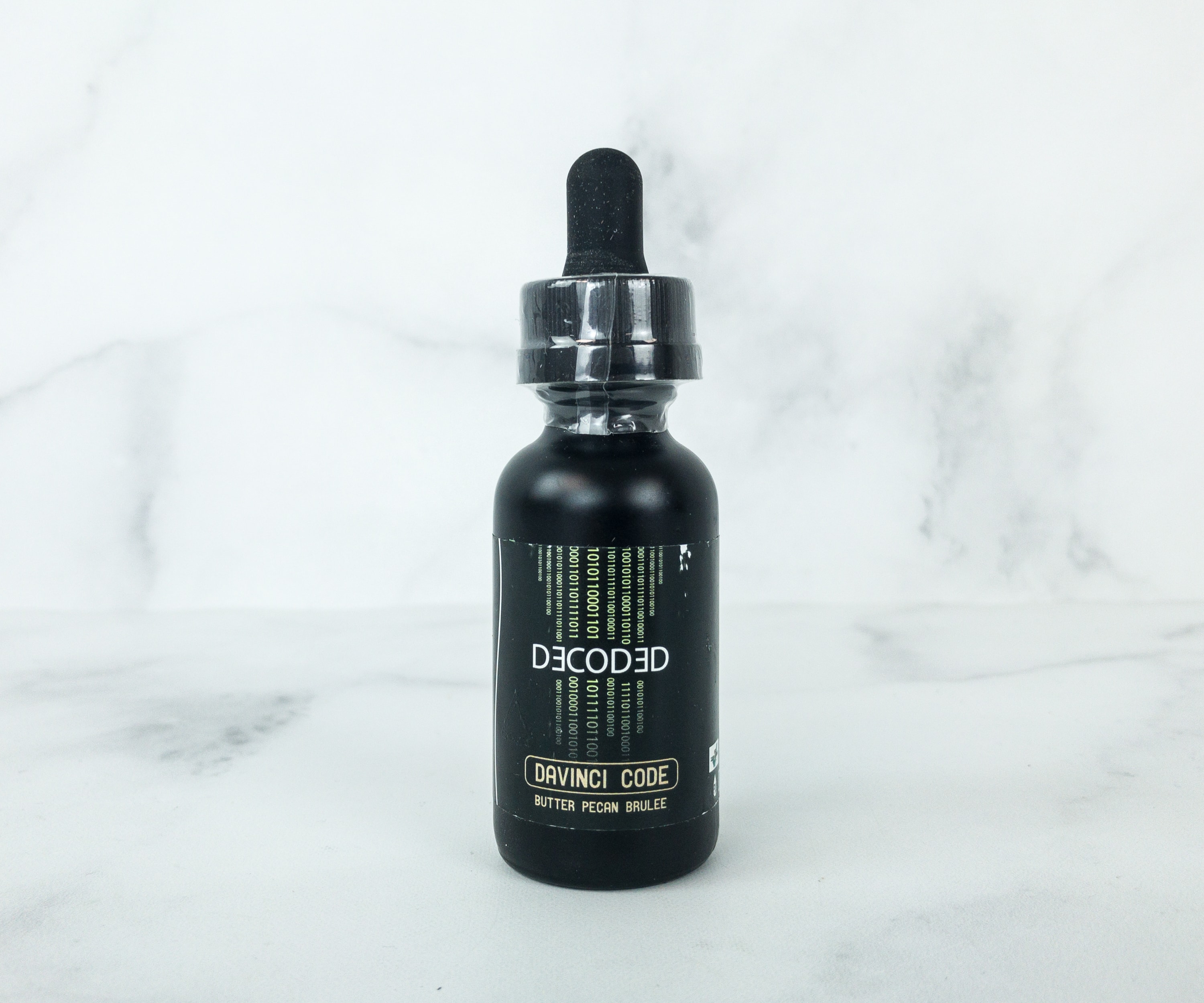 Davinci Code By Decoded ($15) Flavors: dessert, cream, and pecan
This flavor brings a hint of caramel pecan notes on the inhale, then leaves your mouth with a warm buttery taste on the exhale. It's a very tasty e-juice, yet not overpowering.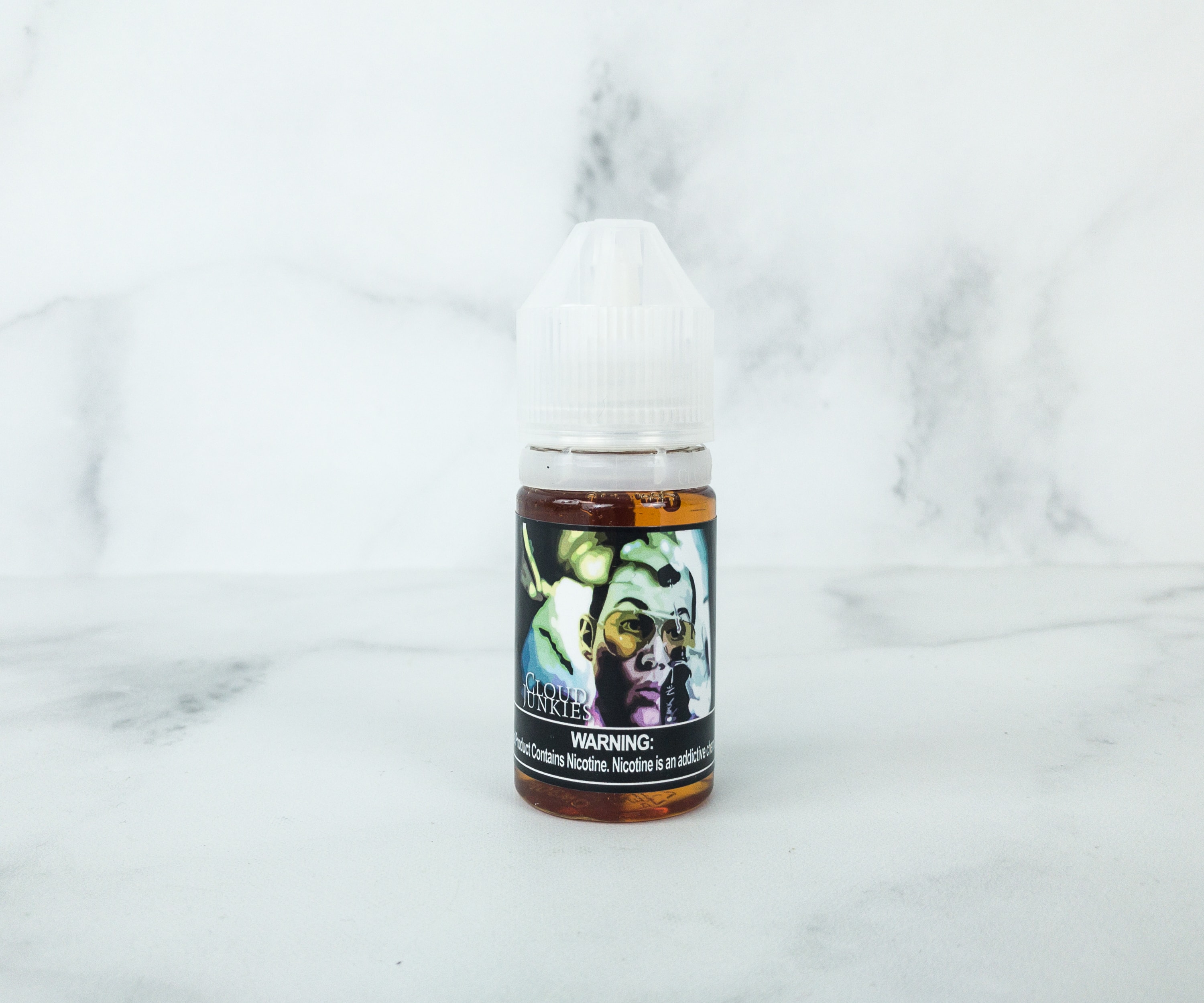 Zion By The Cloud Junkies ($) Flavors: peanut butter, dessert, vanilla, custard, berry, and strawberry
At first, I was kind of hesitant to try this juice as I am not really much into peanut butter. But I was wrong, this juice from Cloud Junkies tastes really good, I never expected that the combination of peanut butter, vanilla, and strawberry would be this good!

Melon Head By Vaper'S Choice ($15) Flavors: melon, mango, honeydew, vanilla, cantaloupe, orange
The sweetness of mango mixed with orange cantaloupe and honeydew melon topped with creamy vanilla is just fantastic. It has little to zero hit on the throat with a supreme high cloud production.

Sour Belts By Oneup Vapor ($16) Flavors: candy, apple, punch, gummy, sour, tart, watermelon, and strawberry
This vape juice features a complex flavor between sweet sour fruity taste. Their are times when I feel it has the sweet apple-gummy taste but on the next it feels like a sour strawberry punch, and sometimes both. But still, this juice is so enjoyable and has a minimal hit to the throat. A one amazing juice!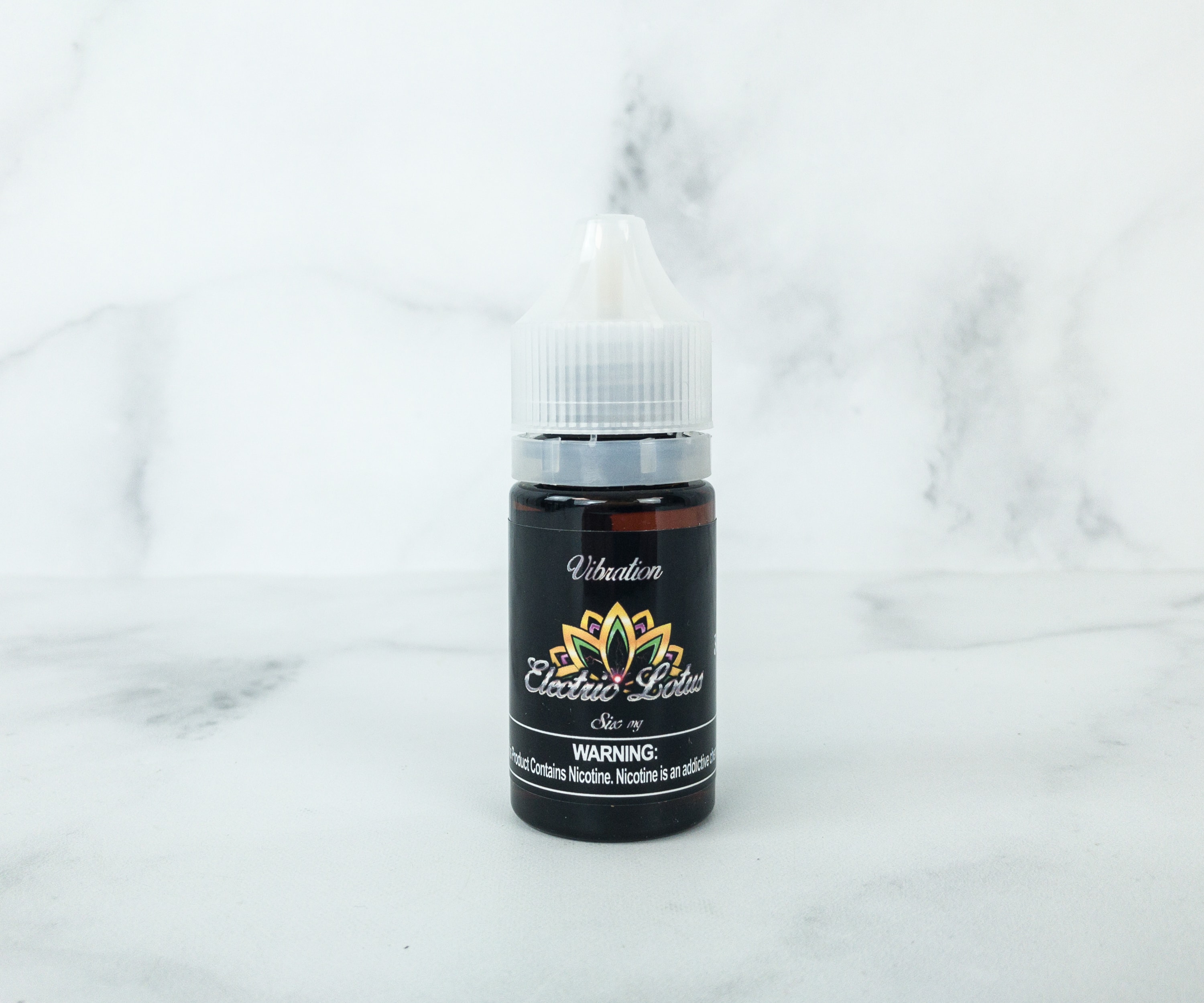 Vibration By Electric Lotus ($16) Flavors: vanilla, amaretto, dessert, cream, butterscotch, almond, and alcohol
This juice from Electric Lotus features an amazingly unique feat that includes an alcoholic-like taste blended with butterscotch, amaretto, and vanilla that will definitely bring you out your wildest imagination. It's my first time to encounter this kind of juice, but absolutely not the last!
This month's ZampleBox is truly amazing, as they offer another impressive curation of delicious juices that would definitely be loved even by the veteran vapers. It's really a great way of discovering new vape flavors, which is very useful especially for vaping newbies. What makes this subscription more likable is that the box is customized according to your taste preferences, so you will be less likely to receive a flavor you won't like. Also, it's a lot cheaper compared to buying e-juices separately from different sellers!
Are you getting this month's Zamplebox?