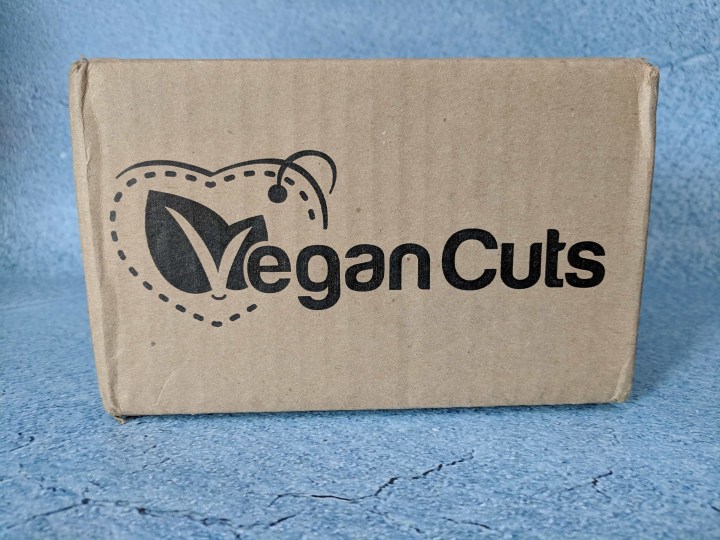 Vegan Cuts Snack Box is a monthly vegan food subscription that brings 5-7 organic and vegan treats each month. Each subscription box costs $22.95 monthly, and delivers mostly gluten-free snacks (always vegan!) right to your doorstep.
Here's everything in the box.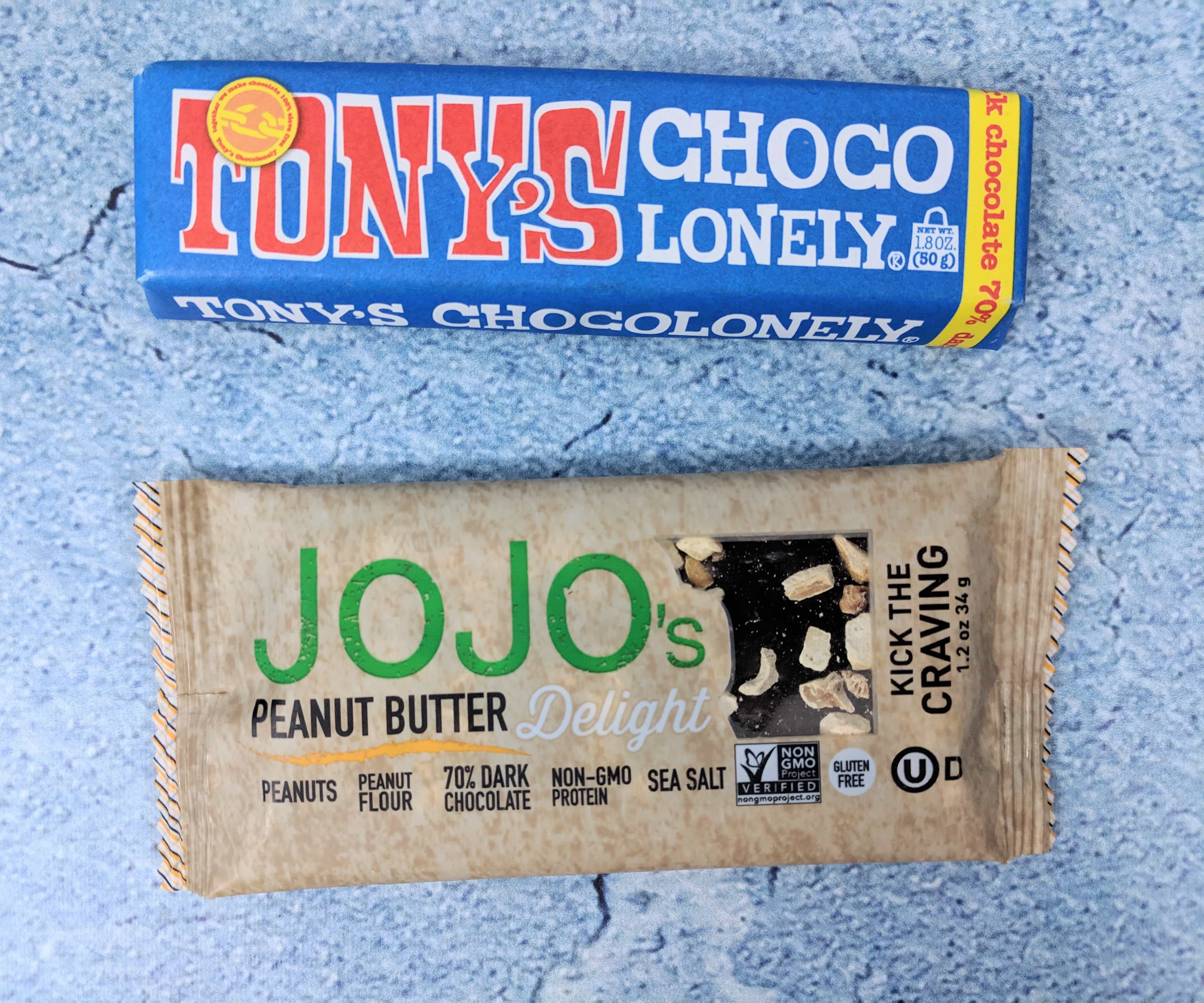 Tony's Chocolonely. An extra-dark chocolate (70%), but with enough sweetness to balance out the bitterness. It's rich and smooth.
Jojo's Peanut Butter Delight. 70% Dark Chocolate, with peanut chunks and a hint of sea salt. The taste is not as smooth as other chocolate bar, a tiny bit chalky, but it doesn't have a lot of sugar while still being tasty.
Harney & Sons – Organic Bangkok. It's an organic green tea blended with coconut, lemongrass, vanilla, and ginger.
Bakery on Main – Unsweetened Quinoa Multigrain. The ingredients are quite simple: organic brown rice, organic cornmeal, organic quinoa flakes, and organic flax meal.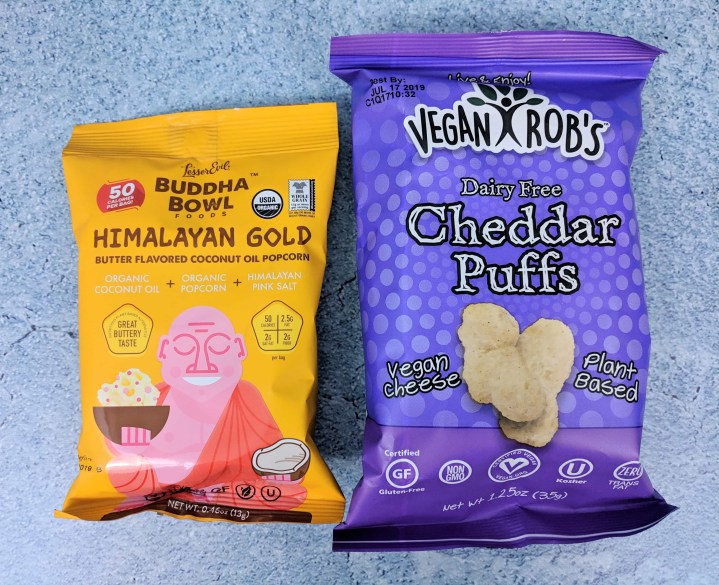 Lesser Evil Hymalayan Gold Popcorn. Popcorn is a great snack for fewer calories and they are so much better with butter on top! This popcorn doesn't have butter in it, but it definitely has that lovely buttery taste, a tad sweeter.
Vegan Rob's Dairy Free Cheddar Puffs. They are like Cheetos in the way they are puffed and how crunchy they are, but the cheddar flavor was a tad too sweet after a while. Nothing to stop me from eating the whole thing.
Popchips Yes Peas. Made with whole peas, a bit of oil and salt, these chips are nice and crunchy.
Garden Veggie Chips – Ghosts + Bats Sea Salt. We love veggie chips, and this one has a nice thin texture. They are very crunchy with just a hint of the different flavor from the powdered tomato, spinach, and beetroot. These would be awesome to give out at Halloween instead of the usual bag of chips.
Munk Pack – Blueberry Acai Flax Oatmeal Fruit Squeeze. This is like one of the apple sauce squeezes, but with oatmeal in it, so the texture could be off for some people, but I really like it and it's perfect to keep in my gym bag.
Growing Roots Organic Corn & Seed Bites. This one was a weird one for me. I could taste the maple bourbon, but there was a bitter aftertaste. The texture was crunchy, but the seeds were soft. I didn't dislike it, I just didn't enjoy it.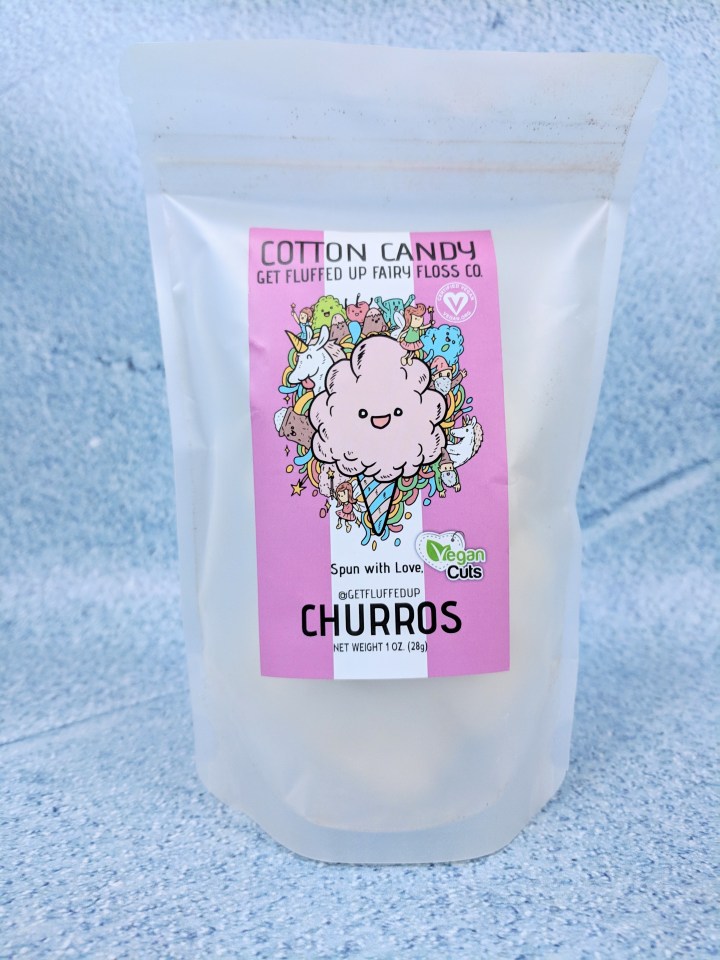 Vegan Cuts Cotton Candy – Churros. Cotton Candy!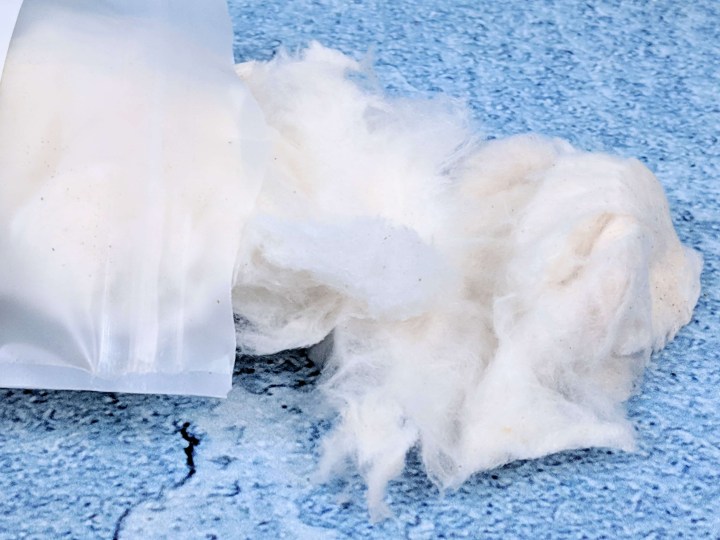 I love cotton candy, it brings back memories from my childhood! This one has a very nice cinnamon flavor.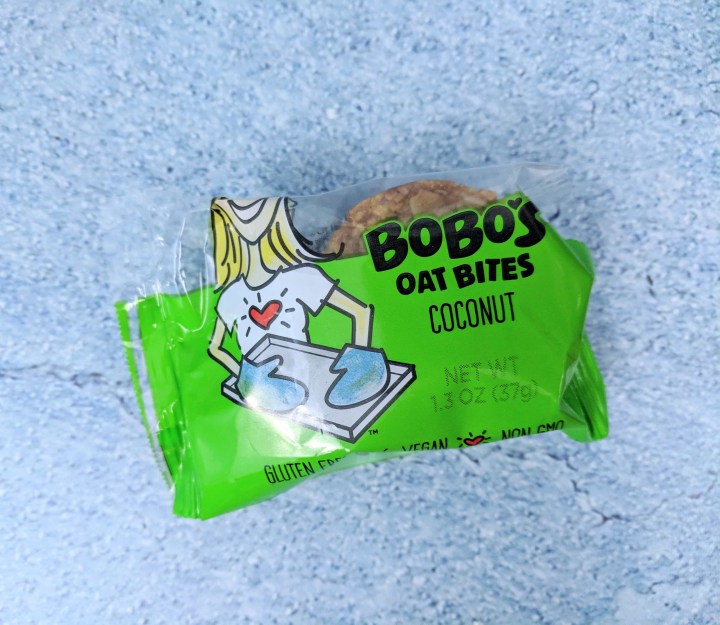 Bobo's Oat Bites Coconut. A gluten-free treat, it's made with organic whole grain rolled oats and organic dried coconut.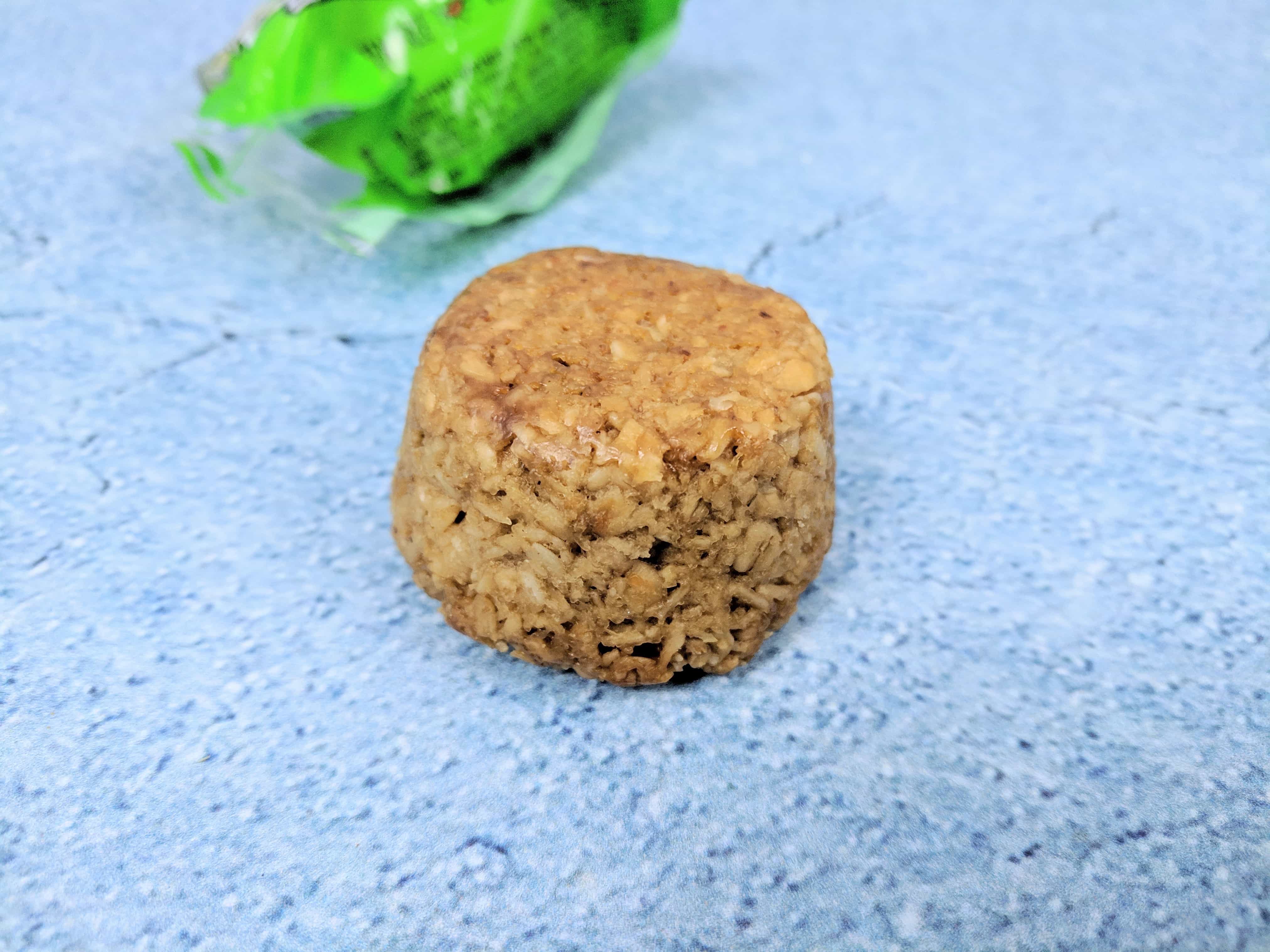 It has a very strong coconut scent, and the texture was ok.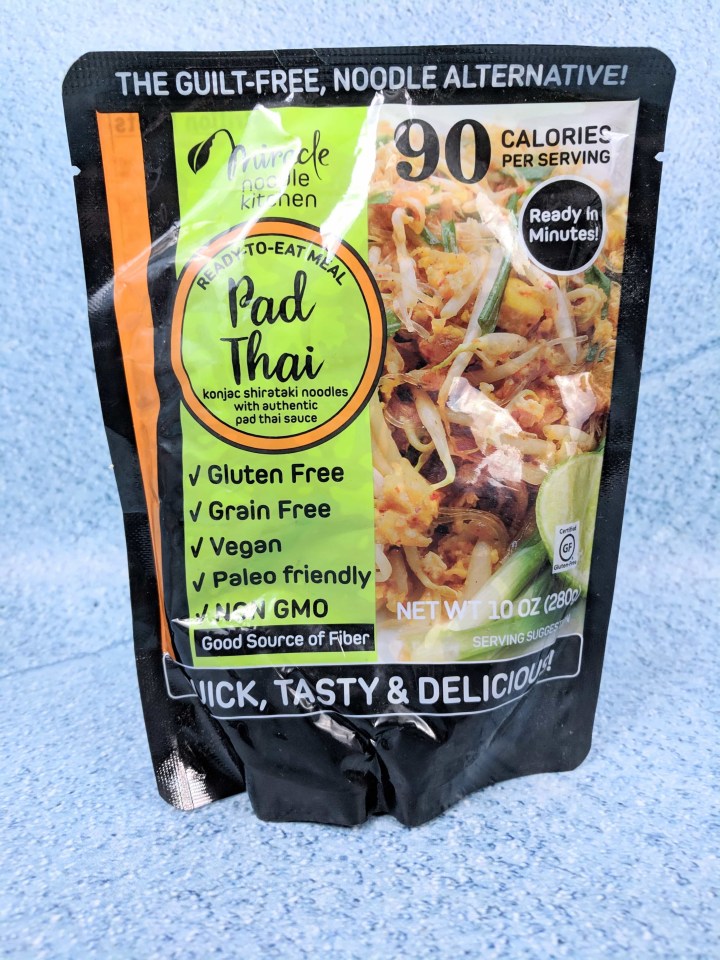 Miracle Noodle. A ready-to-eat Pad Thai meal with konjac shirataki noodles. It also has coconut, tamarind paste, peanuts. To eat, all you have to do is to open the pouch and microwave it or reheat the content on the stove. It looks delicious!
We really enjoyed this month's Vegan Cuts. I like that we had more savory items than sweet, and I appreciate when a box is not overwhelming with one flavor or another, like when we have a lot of chocolates or a lot of peanut flavored items. My favorites where the popcorn and the oatmeal squeeze and my husband loved the Veggie Chips and Tony's Chocolate.
Have you tried Vegan Cuts Snack Box? Let me know what you thought of the box!