Sudsy Club is a bi-monthly all-natural artisan soap subscription box. Each box will have 3 artisan soaps plus a bonus item and free shipping. Sudsy Club ships in February, April, June, August, October, and December. If you order in an odd month your box will start in the next month.
All of the ingredients in our soaps come from natural plant-based sources such as olive oil, shea butter, and coconut oil.  We never use artificial dyes, synthetic fragrances, preservatives, or detergents in any of our soaps. Many handmade soap companies add brightly colored dyes and artificial fragrances to their soaps. At Sudsy Club, we let the natural scents of the oils and butters enhance the soap with things such as herbs, essential oils and clays.
DEAL: Get 15% off your first box with coupon code HELLO15.
First glimpse!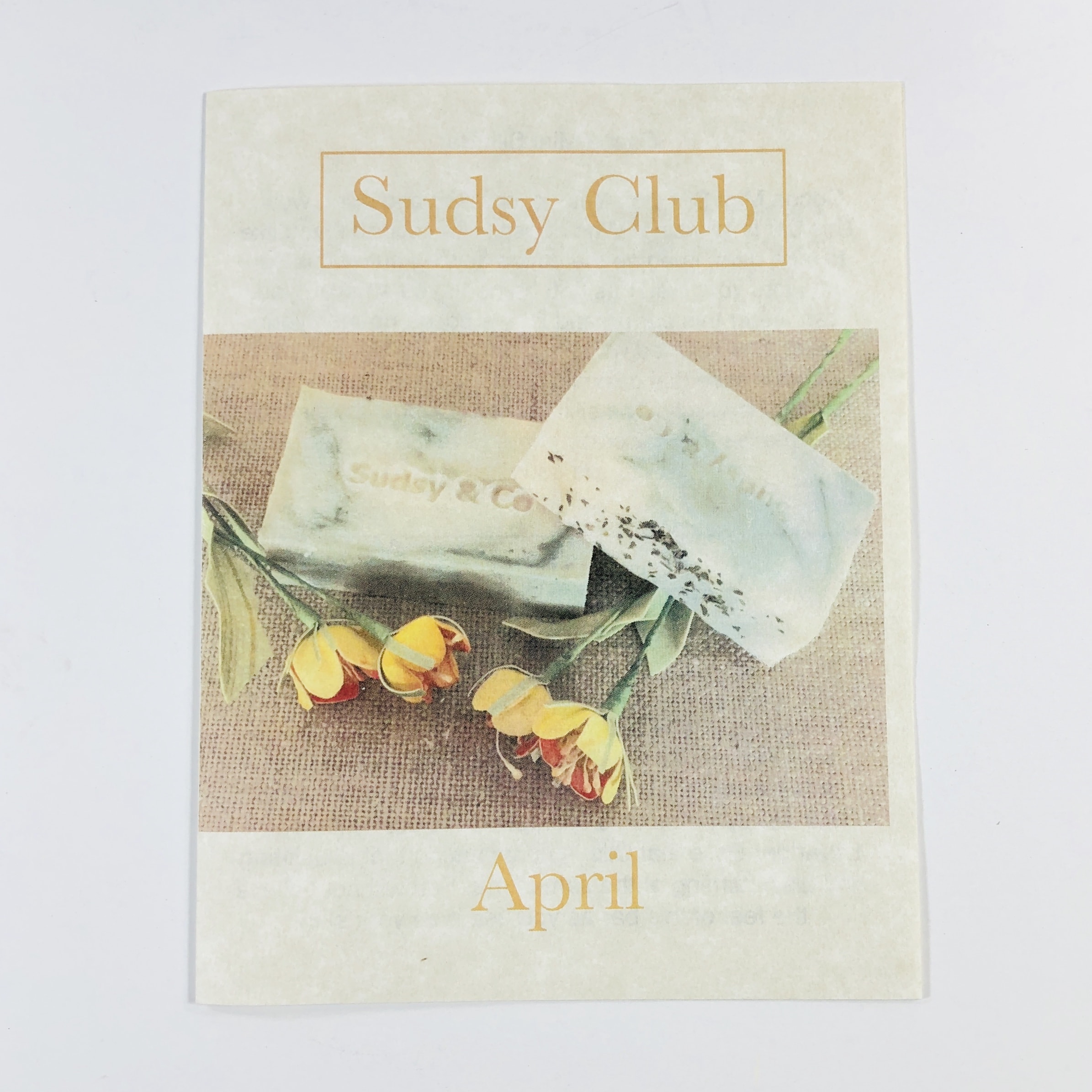 I received a pamphlet with info on my new box.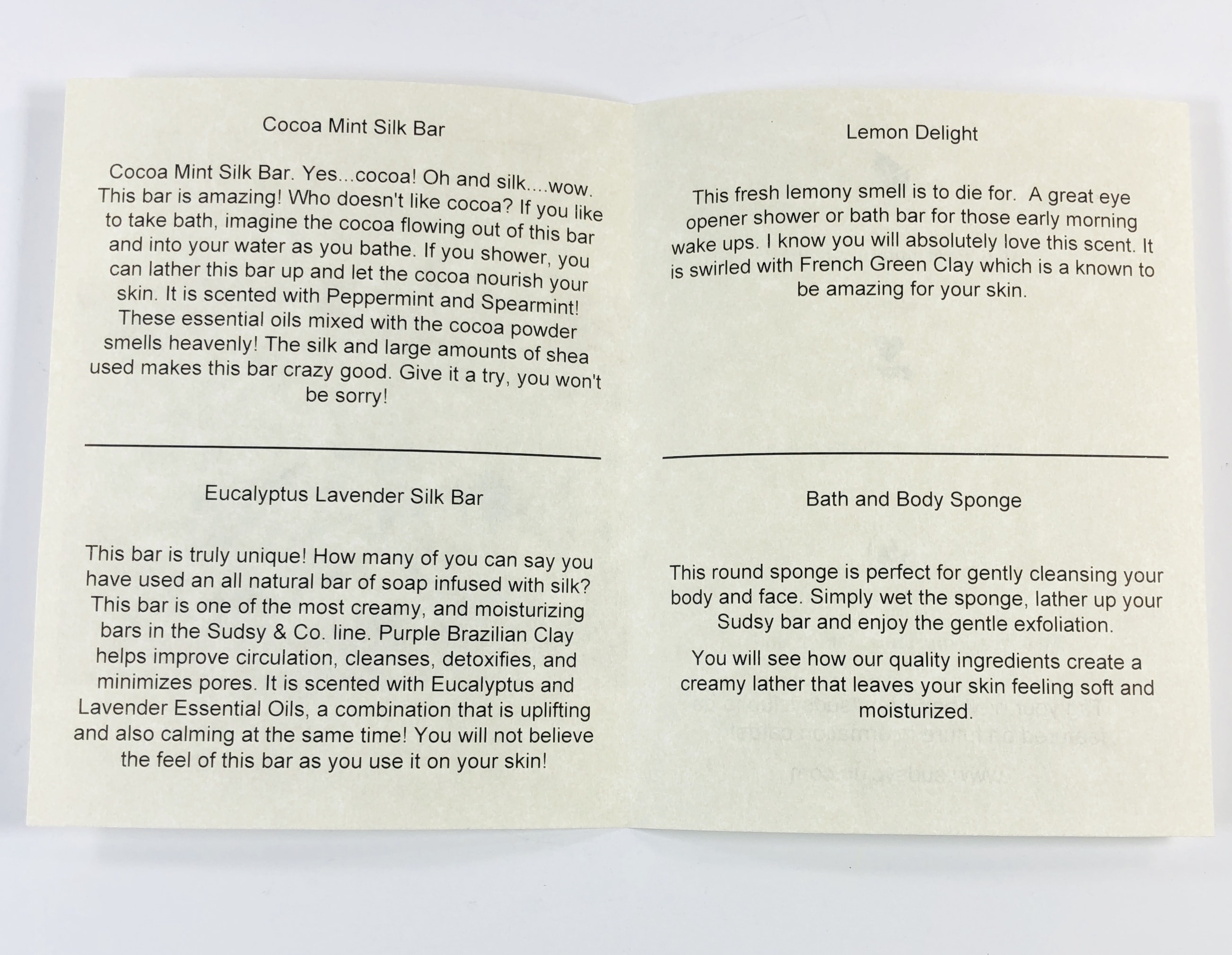 Each item was detailed on the inside.
The back of the pamphlet had some more info.
My soaps were lined up next to a sponge, the bonus gift for this cycle.
Each bar was individually wrapped, and what beautiful wrappers they are!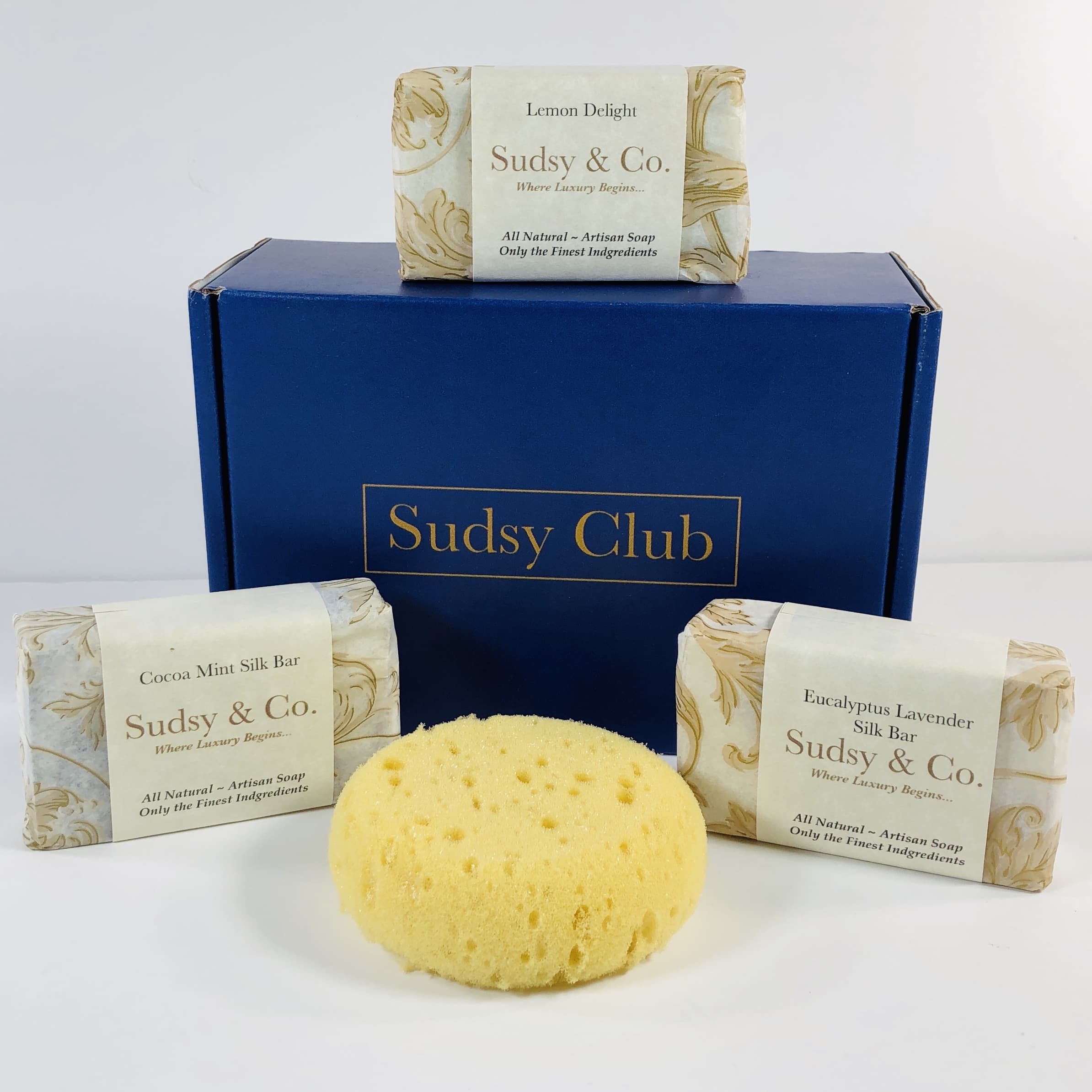 Everything in my box!
Sudsy & Co. Bath Sponge ($6.95) I don't believe I have ever used a sponge like this one, I usually use plastic ones from the store! It can be used on the face or body and is about 3.5″ across when dry.
Sudsy & Co. Lemon Delight ($5.95) "A great eye opener shower or bath bar for those early morning wake ups."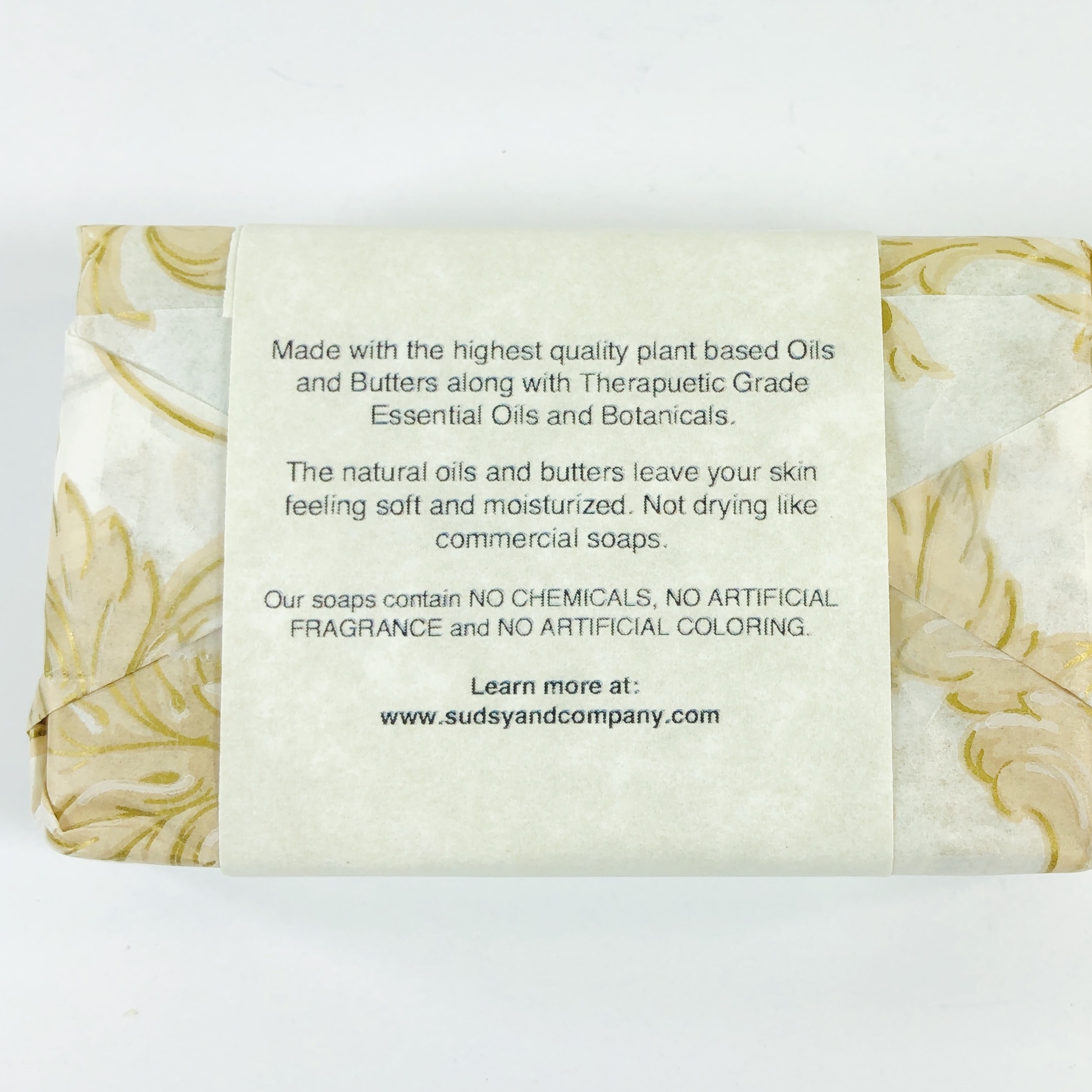 Each Sudsy soap bar is wrapped with beautiful patterned paper. I think they would make nice gifts if you can bear to part with them. I was happy to see that the bars are scented naturally and have no artificial colors.
This bar is made with saponified oils, lemon essential oil, French green clay, and rosemary extract.
The scent is very subtle and I am very happy about that. I don't want a strong smelling soap, I prefer for my perfume to do the talking.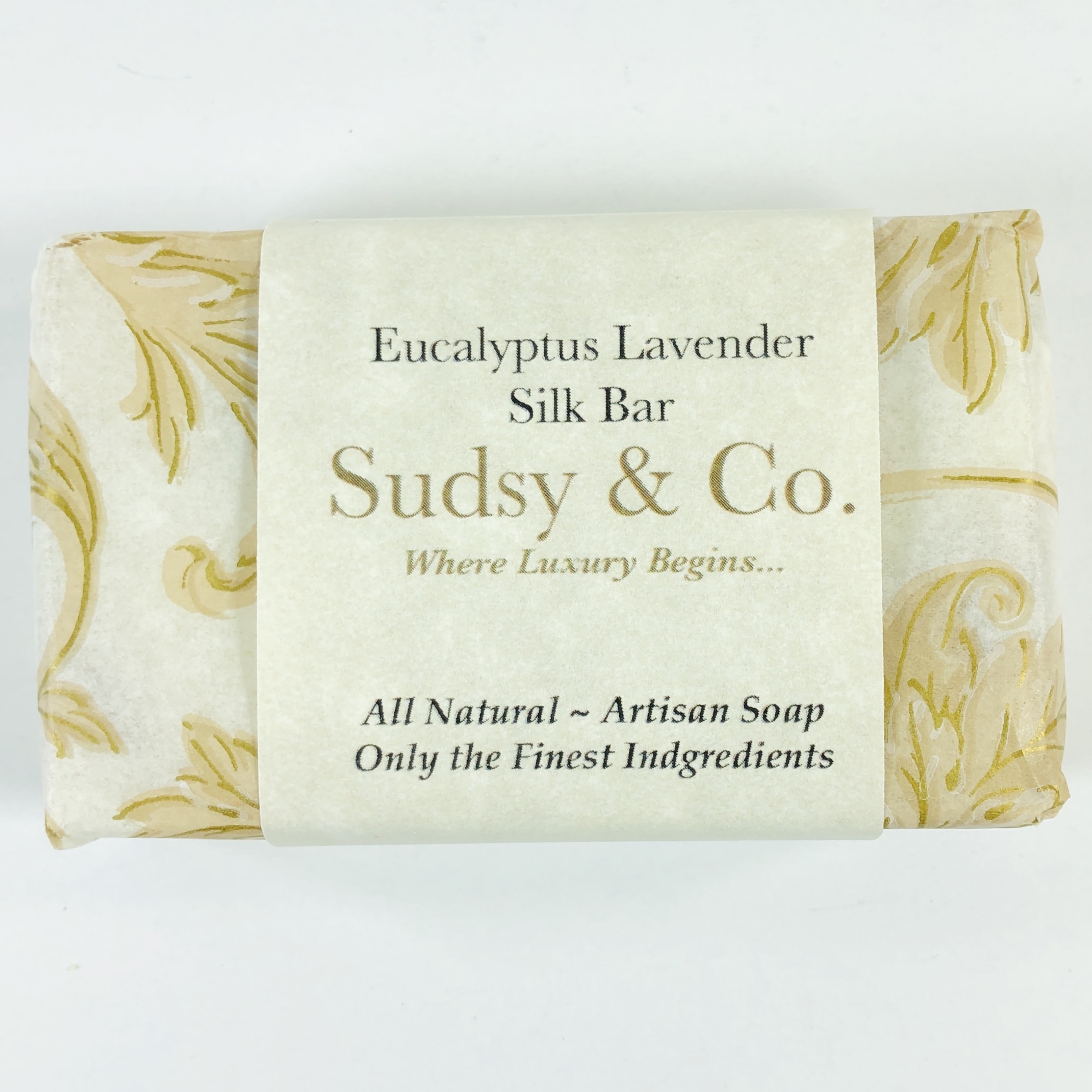 Sudsy & Co. Eucalyptus Lavender Silk Bar ($5.95) "This bar is one of the most creamy, and moisturizing bars in the Sudsy & Co. line."
Saponified oils show up again here, along with Brazilian purple clay, eucalyptus & lavender essential oils, and rosemary extract. The big difference between this bar and the one shown previously is the addition of Tussah silk.
I have been using this one in my morning shower and it smells good but not super strong. It lathers well and rinses away quickly.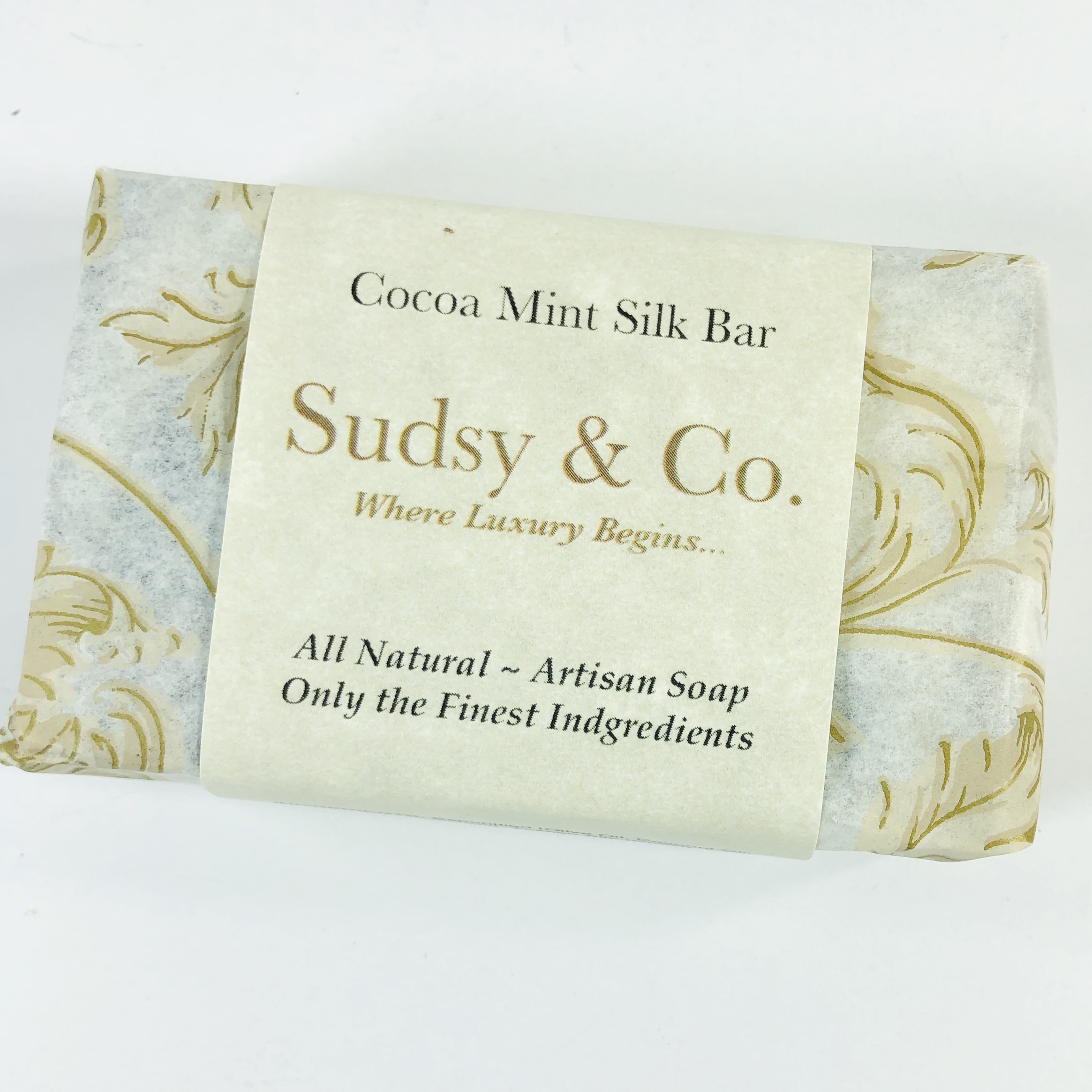 Sudsy & Co. Cocoa Mint Silk Bar ($5.95) "Who doesn't like cocoa? If you like to take bath, imagine the cocoa flowing out of this bar and into your water as you bathe. If you shower, you can lather this bar up and let the cocoa nourish your skin."
Saponified oils, cocoa powder, and both peppermint and spearmint essential oils are joined by silk again. I noticed that this one says "cruelty-free silk". I looked it up and would like to explain a bit about the silk. In the interest of keeping the term "cruelty-free' in beauty products to mean that a product isn't tested on animals, I think a better term would be "non-violent silk". In traditional silk extraction, the silkworm larva are boiled inside the cocoon; in non-violent extraction they are allowed to leave the cocoon first before the silk is harvested. I appreciate that Sudsy Club uses non-violent silk!
Look at how beautiful this bar is!
My oldest daughter has claimed this one for herself and I am happy to share. I think this was my favorite scent of the bunch but then I am a big fan of anything mint!
I was quite happy with my very first box from Sudsy Club! The presentation was simple yet elegant, the wrappers earthy and also upscale. The ingredients are all-natural and I feel good about using them on my body, no worries about chemicals or fake nasties on my skin. The soaps themselves are like little pieces of art, especially the Cocoa Mint bar! I think the price is also reasonable for the soaps. I can't wait to see which scents are sent in future boxes!
What do you think of this month's box?