Squawk Box is a monthly birdie care package of 4-6 bird treats, toys, and more delivered straight to your door. Because parrots, big and small, need a great amount of stimulation to thrive, Squawk Box will deliver a new selection of toys every month. Every crate is carefully curated to keep our feather friends happy and healthy!
The box is available in four sizes: Little Birdie (great for Lovebirds, Parrotlets, Cockatiels, Parakeets, Green Cheek Conure sized), Middle Birdie (great for Quakers, Conures, Senegals, Pionus, Timneh Greys, Caiques, some Mini Macaws & some small cockatoos), Big Birdie (Amazons, Cockatoos, Eclectus, and Congo African Grey sizes), and Jumbo Birdie (large Amazons, Macaws, Moluccan Cockatoos). The monthly subscription starts at $24.95 for the Little Birdie to $44.95 for the Jumbo Birdie, with significant discounts for longer subscriptions. Knowing that parrots have a long life ahead of them, and that they will destroy everything around them (including couches, books, important papers, walls), the longer subscription is definitely a must! They now ship to Australia!
Also, for each Squawk Box ordered, a percentage goes to parrot rescues. Not only do you provide fun new treats to your own bird, but you help other parrots as well!
This review is for the Little Birdie. My assistant reviewer, Kiwi the Lovebird, is always happy to stick around to see the new toys she received! Fun thing: non-bird pet can also enjoy these box, such as squirrels or hamsters! Of course, the bird is not included with the box, you have to provide your own diva!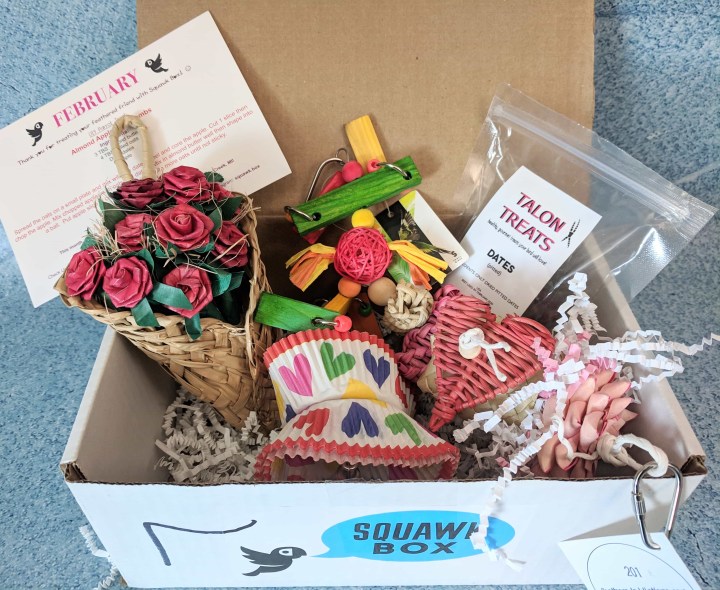 Everything is packed with paper and both the box and packaging are bird safe. So bigger birdie will have a blast with the box!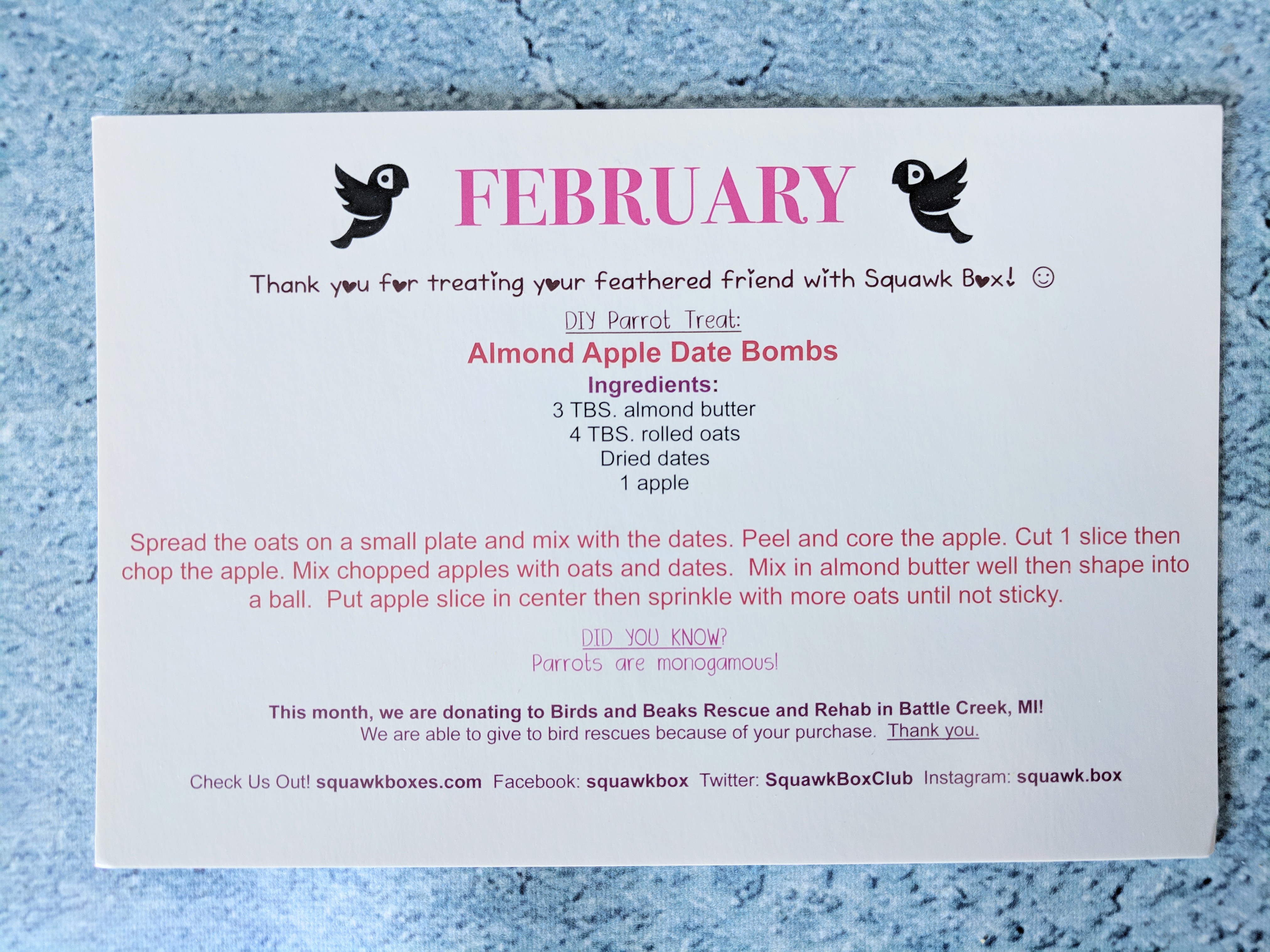 There is no information on the content of the box, but you get a nice DIY Parrot Treat, a Did You Know about parrots (this time about their love life!), and the Rescue of the Month. For February, part of the money from the sale of each Squawk Box goes to Birds and Beaks rescue and Rehab in Battle Creek, Mi!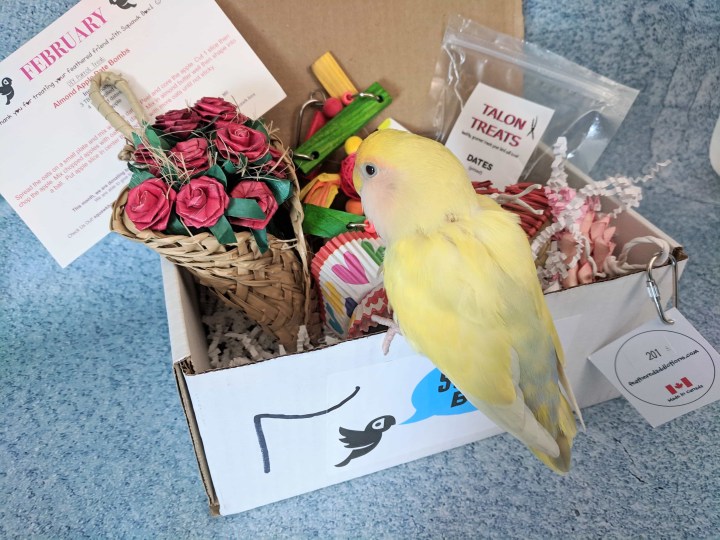 So let's take a look inside this box, shall we Kiwi?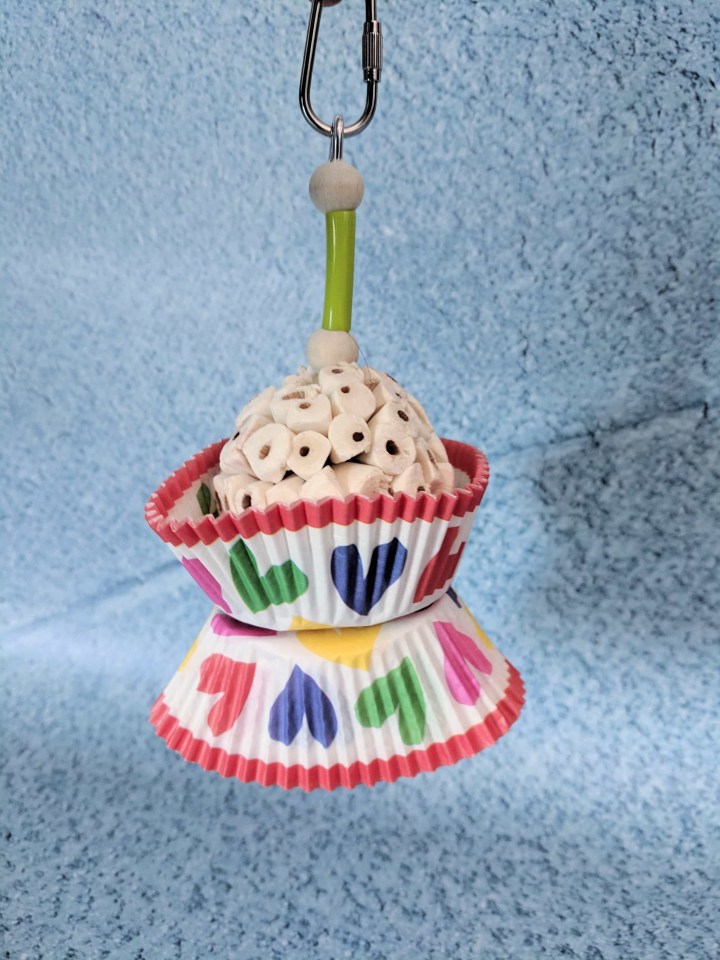 Bonka Bird Toys Smiley Heart Camo cup cake. A mix of paper cupcake liners with fun colorful hearts and a sola atta ball (a soft type of plant). You can hide nuts and treats between the wood to turn this chewing toy into a foraging one.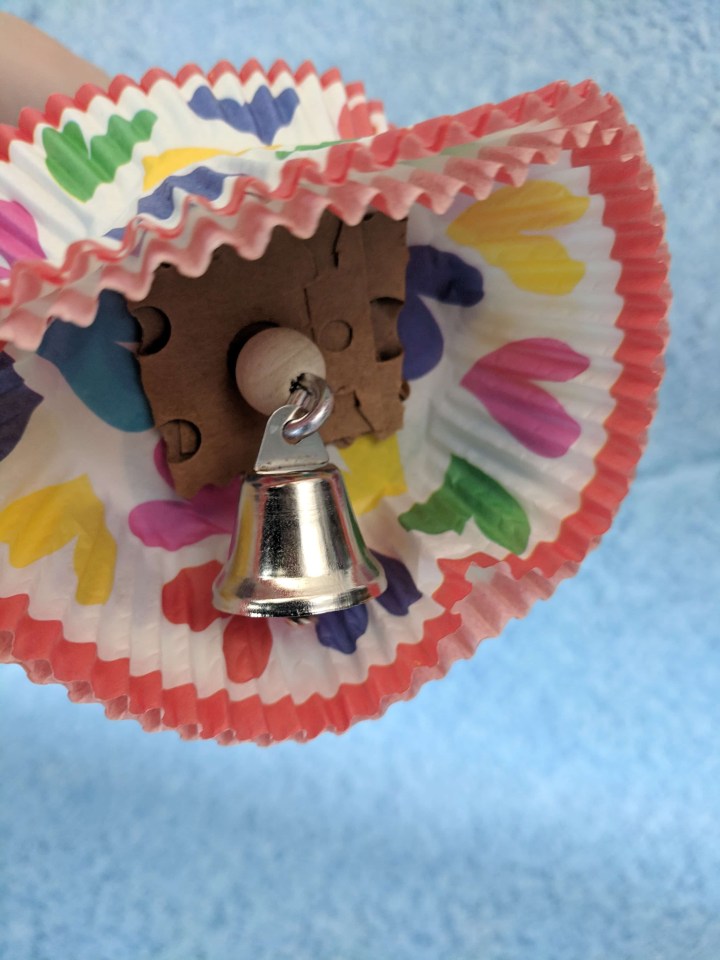 Of course, there's a bell underneath, a favorite among birds!
Planet Pleasures Rose Bouquet. Fully shreddable toy, there's no plastic or metal in this toy, only woven palm leaves. You can hang it in the cage, attach it on the side of the cage or just on a flat surface. When Kiwi has trouble walking because of her injured leg and she needs to spend time in a plastic box, this is the kind of toy I'll give her has there's less risk of reinjuring her leg by getting it caught in ropes or anything she can't deal with her beak.
Feathered Addictions Heart Pinata. That's an other safe toy for chewer that can be use in any cage or as a foot. This toy is made with all natural material and will provide a lot of fun to a chewer, and little strips of paper to a nesting bird!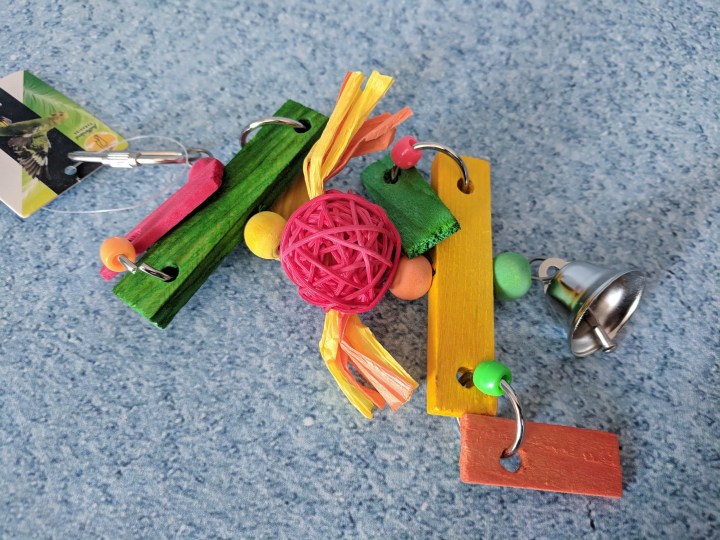 Windchimes. A simple hanging toy, everything is skewed on a very bendy wire. It's made with balsa wood, vinews, metal rings with plastic beads, and of course a bell.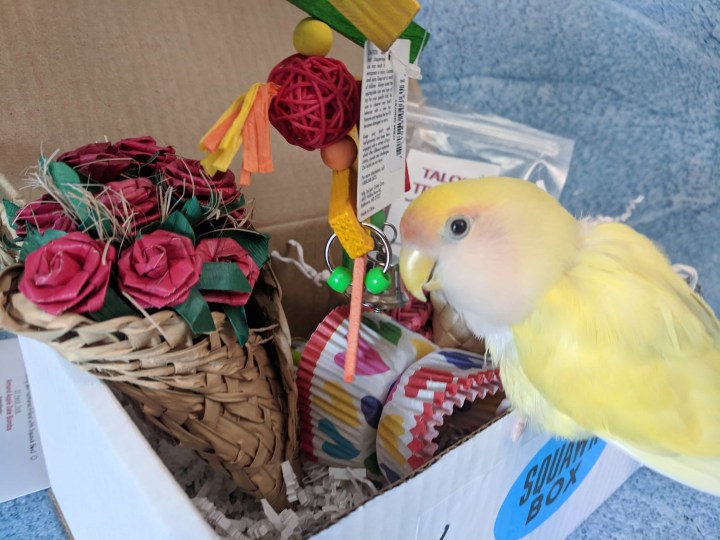 This toy grabbed Kiwi's interest!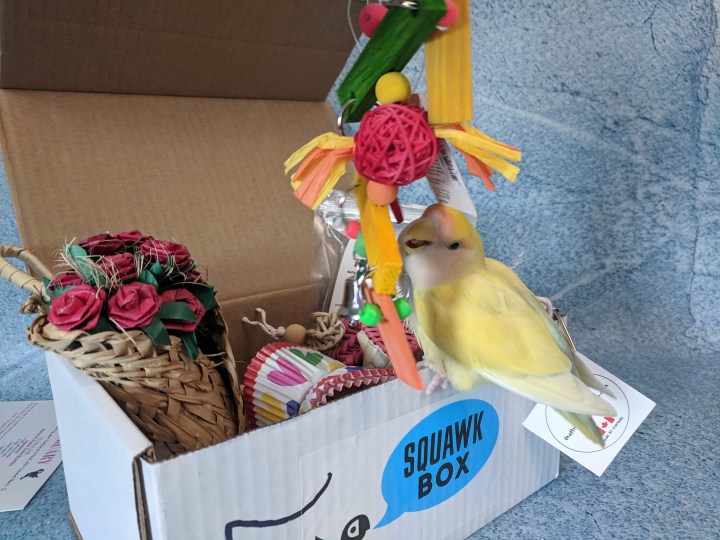 Oh yeah, something to chew and destroy! She loves it!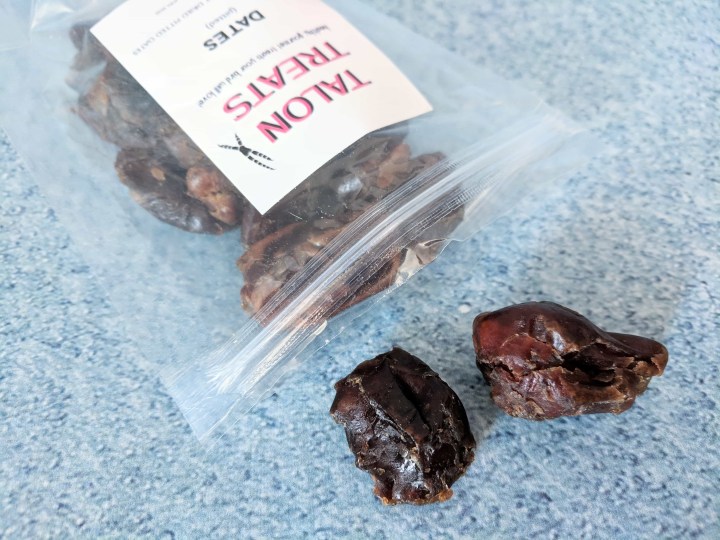 Talon Treats. This month's treats are dates. That's convenient as the DIY parrot treats that came with the box uses them!
Kiwi and I love Squawk Box as it is great to discover new toys, and maybe new favorites. I love that the variety in texture and type of toys means that any birds with or without special needs will find something interesting in this box.
I'm impressed by the variety of toys available out there as Kiwi has been subscribed to Squawk Box for over two years now and she received the same toy only a couple of times. It's fun to get a box of new toys and treats to discover, instead of spending countless hours at the pet store in front of a very limited selection to end up buying the same toy over and over again! And sometimes, your bird will surprise you by loving a toy or treat you were sure it would hate!
Chirp!
What do you think of this month's Squawk Box?