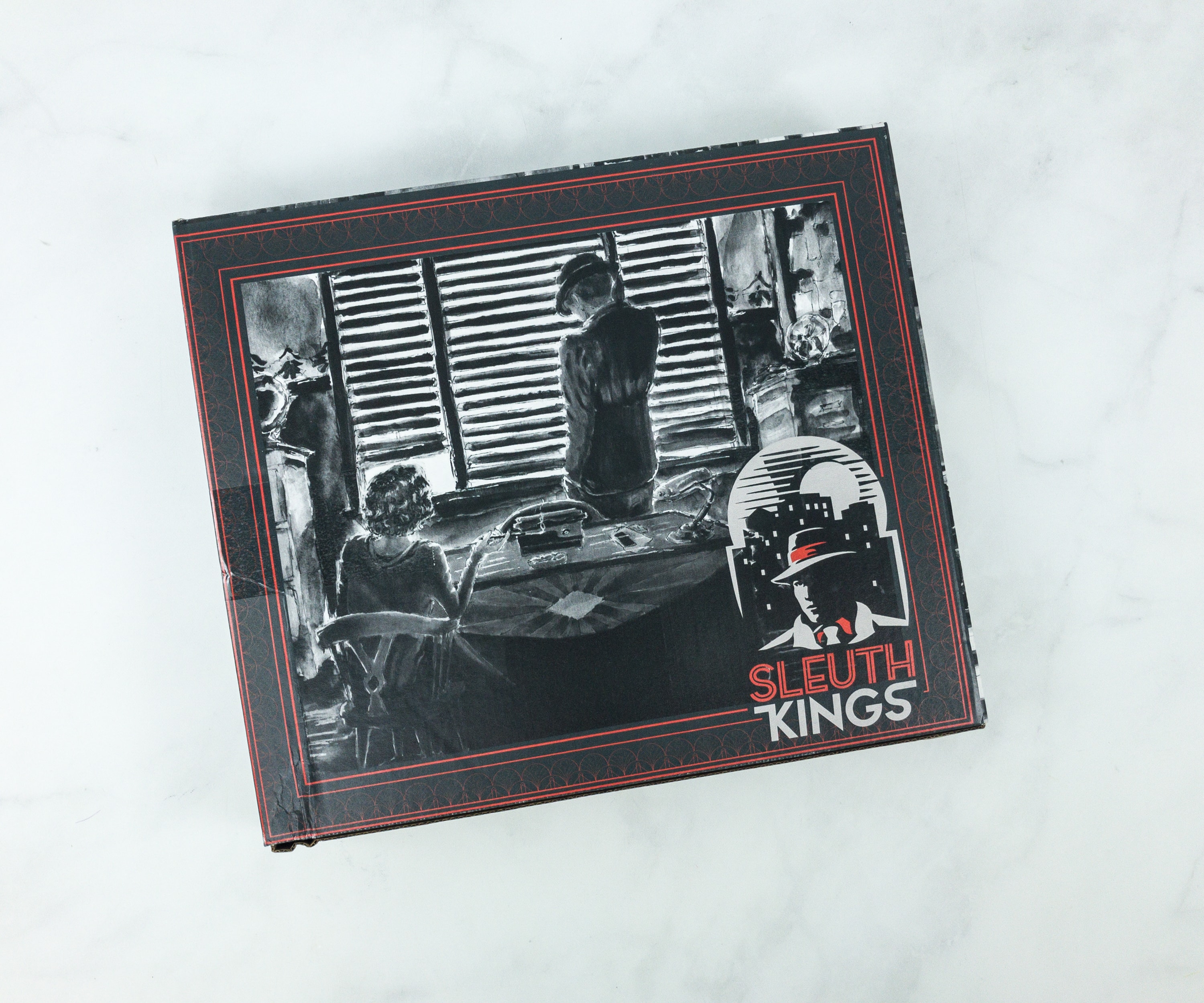 Sleuth Kings is an interactive monthly mystery box. Every month, a physical case file arrives full of evidence, puzzles, ciphers, and more. Plans start at $29.95 per month and they also have 3-month and 6-months prepay options. You will work hand-in-hand with Sullivan King, the lead detective, via email as you solve the case.
Each month's case is a new, stand-alone mystery that takes approximately 2-3 hours to complete. Each case includes an epilogue -a  follow-up letter from the client as well as a small gift. For every 4 cases you solve, you'll be rewarded with a FREE bonus case that revolves around the hunt for Sullivan's father.
DEALS:
Get $8 off first purchase Use coupon code HELLOSK .
Get 10% off of your order! Use coupon code HELLO10.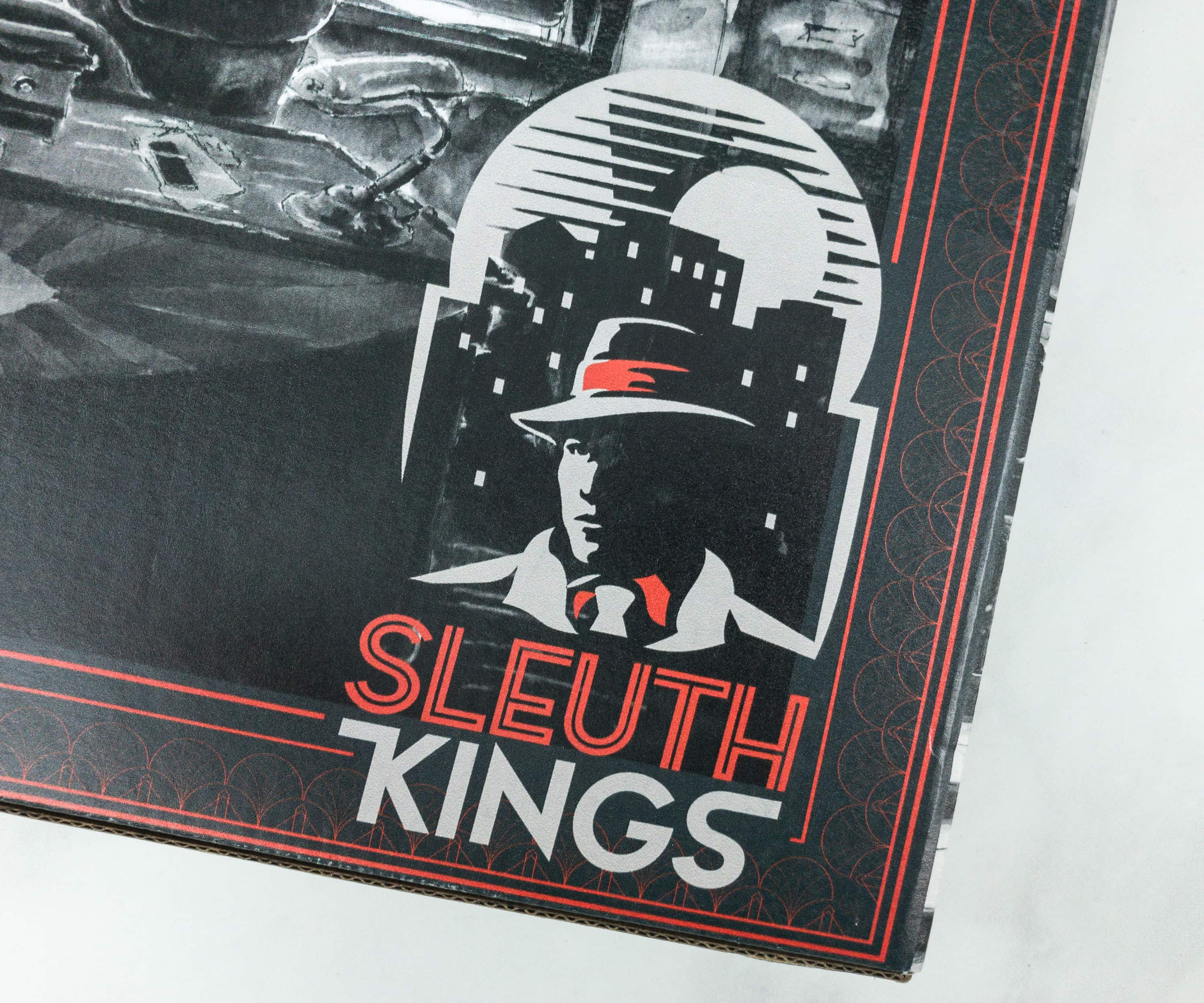 This the review of Mystery Box Case 016: Flyer Fundraiser!
The mystery comes in an envelope. The only things written on it are the Sleuth Kings P.O. box address and the case that you will be working on.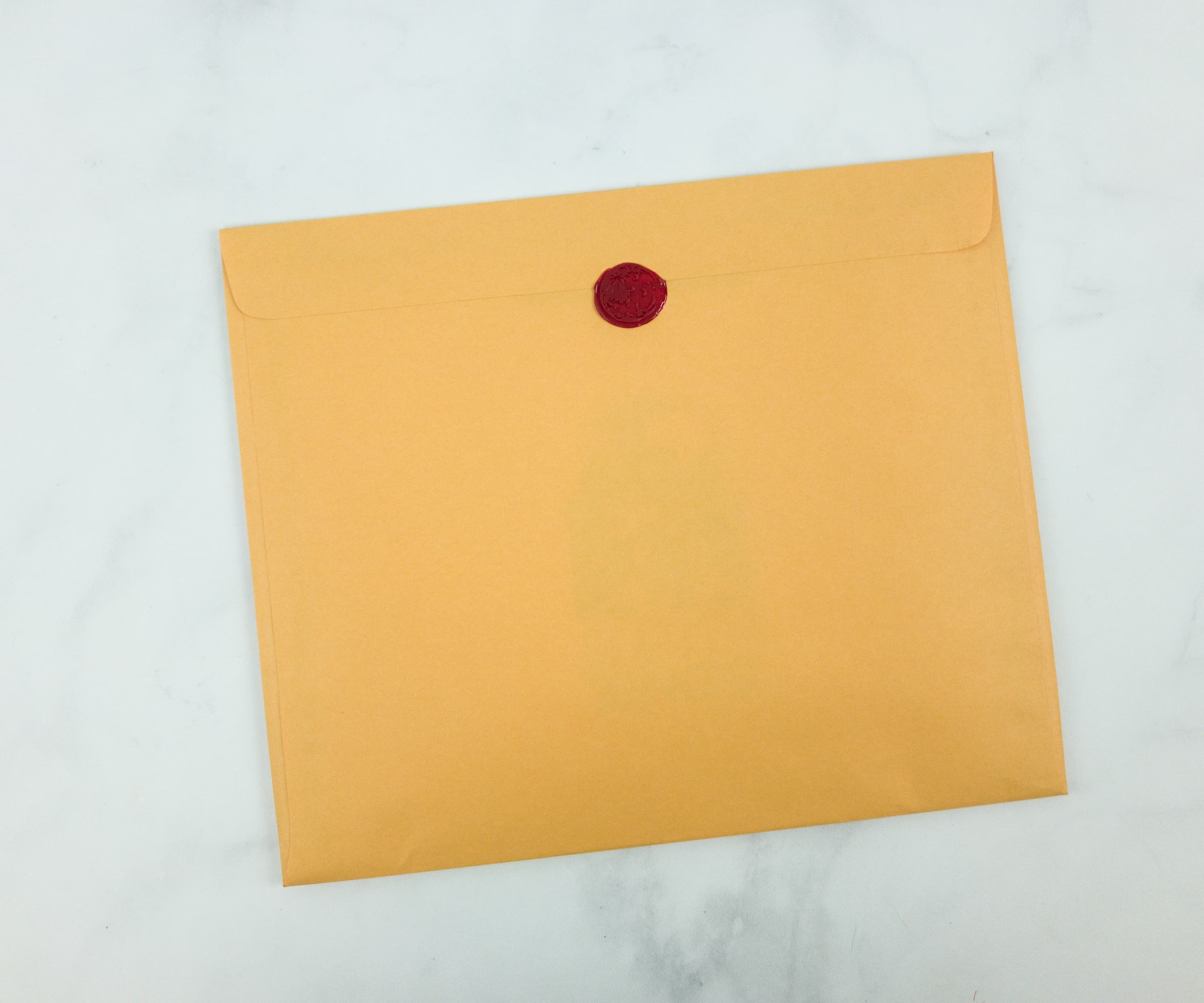 The envelope is quite big!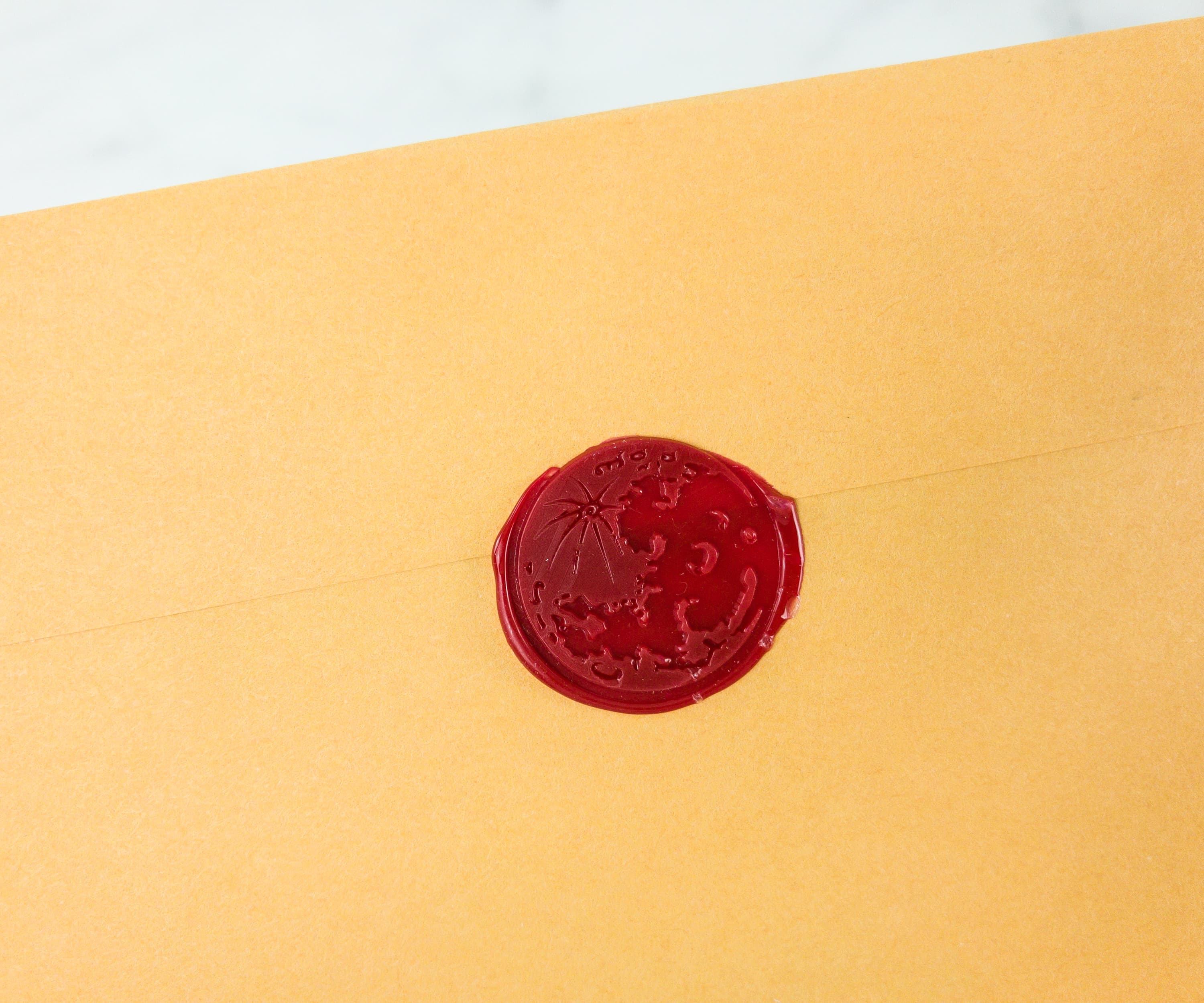 The envelope is also wax sealed with a globe pattern.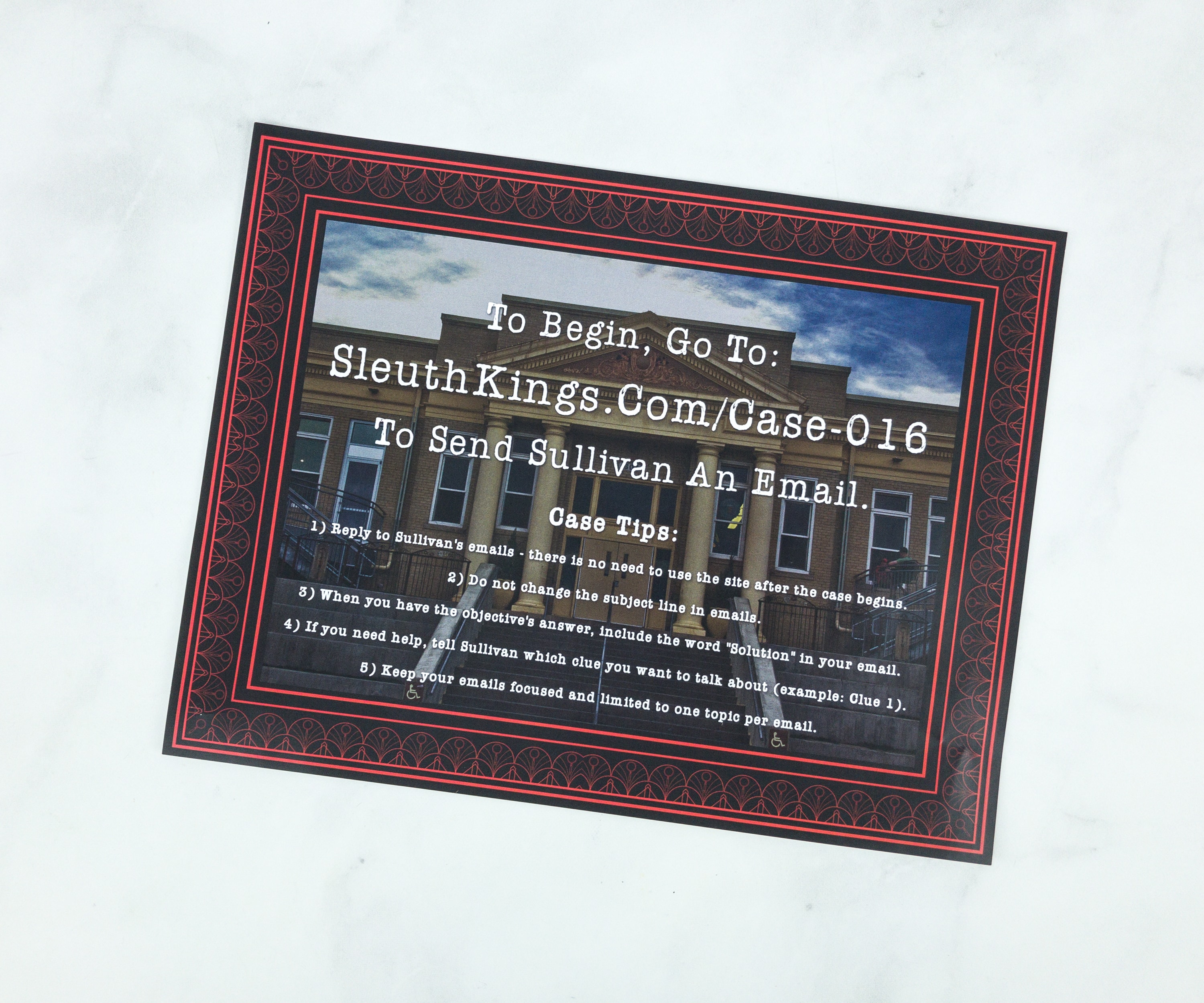 To begin with your adventure, you need to login to their website and send Sullivan an email.
The files are neatly arranged in a white folder, with Sleuth Kings branding in front.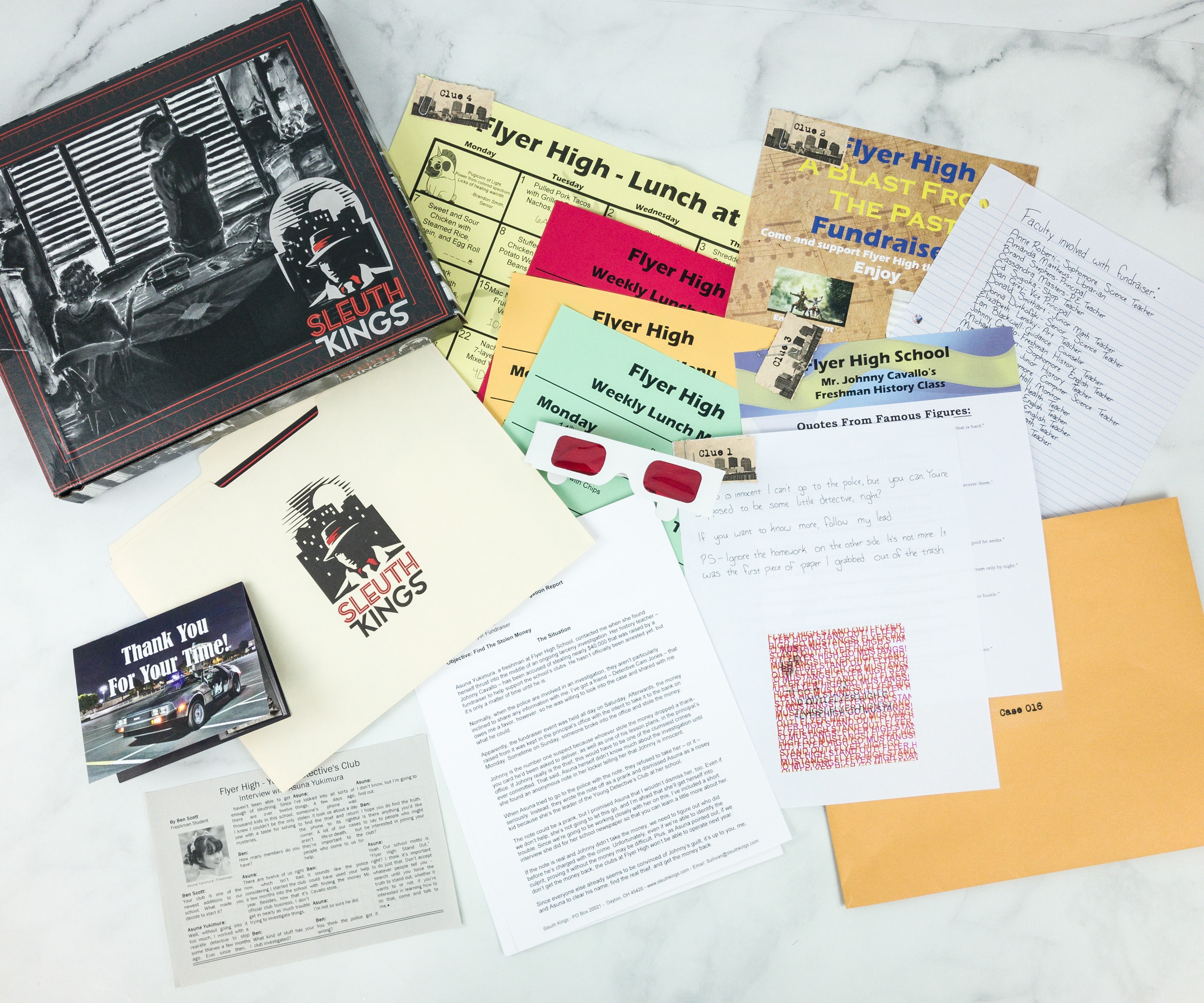 Everything in my box!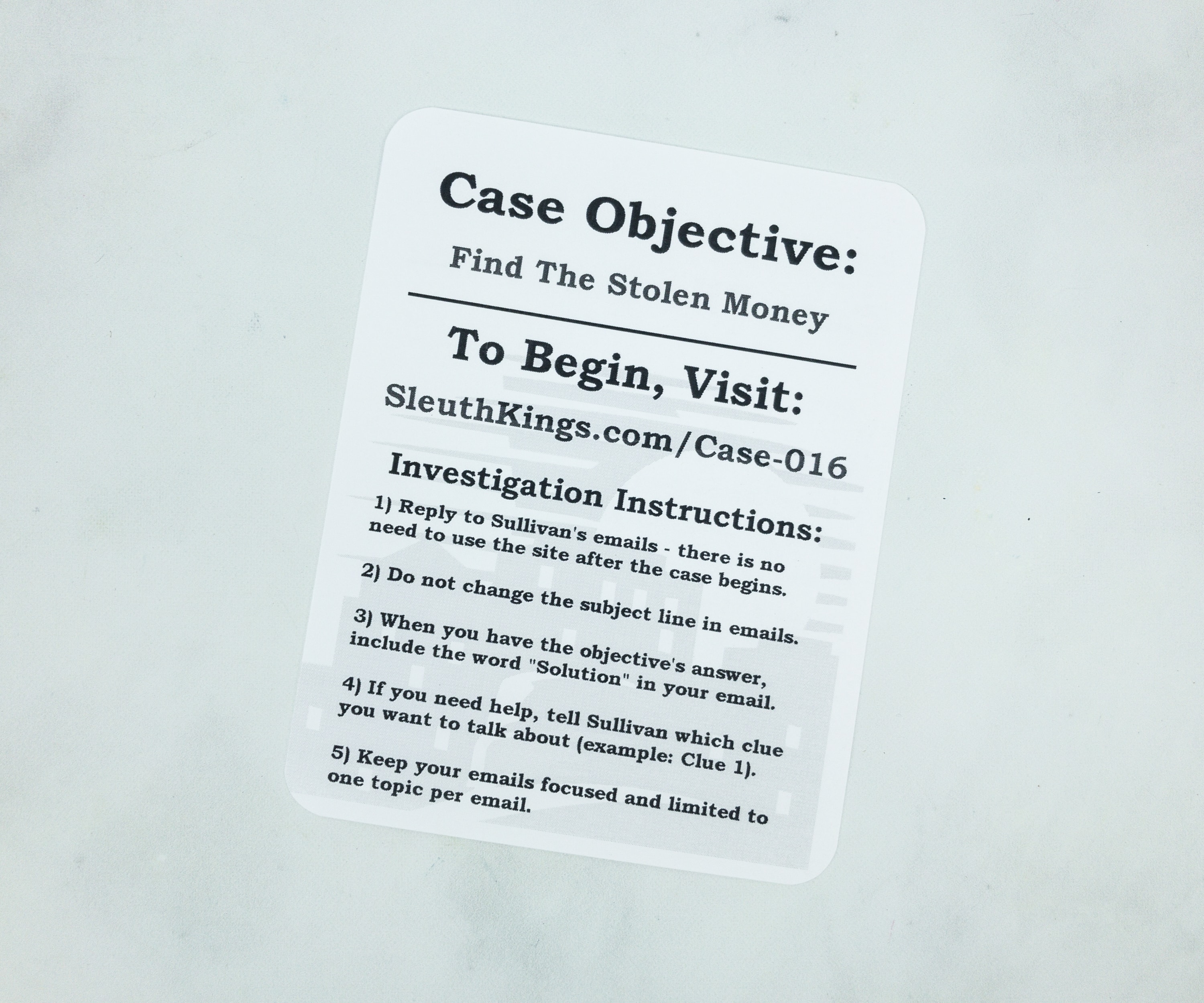 The case objective is written in a card, and we will be working on finding the stolen money!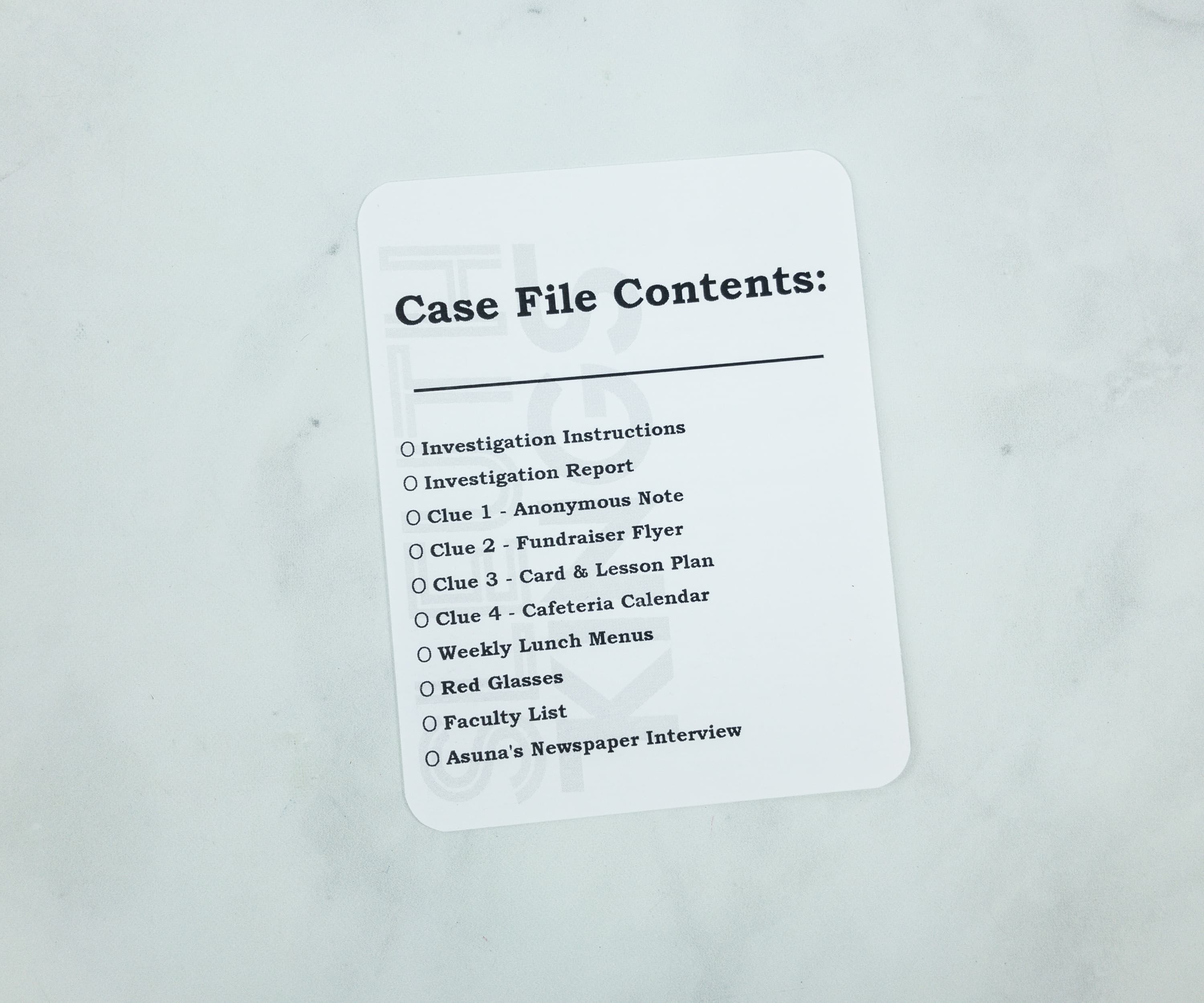 It also lists the contents of the case file: investigation instructions, investigation report, clues, and more.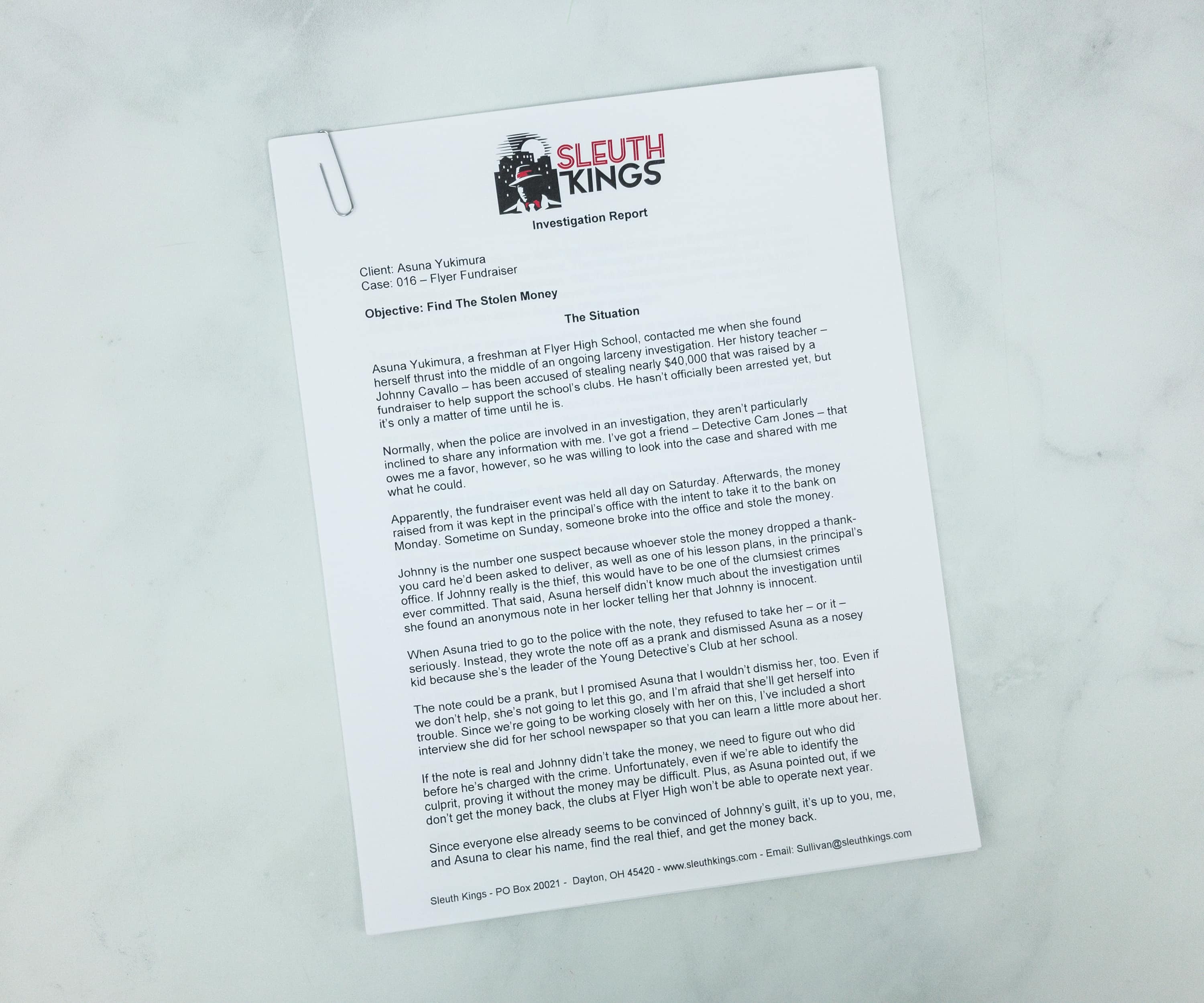 The investigation instruction sheet names the client, the case you will be working on, and the whole situation.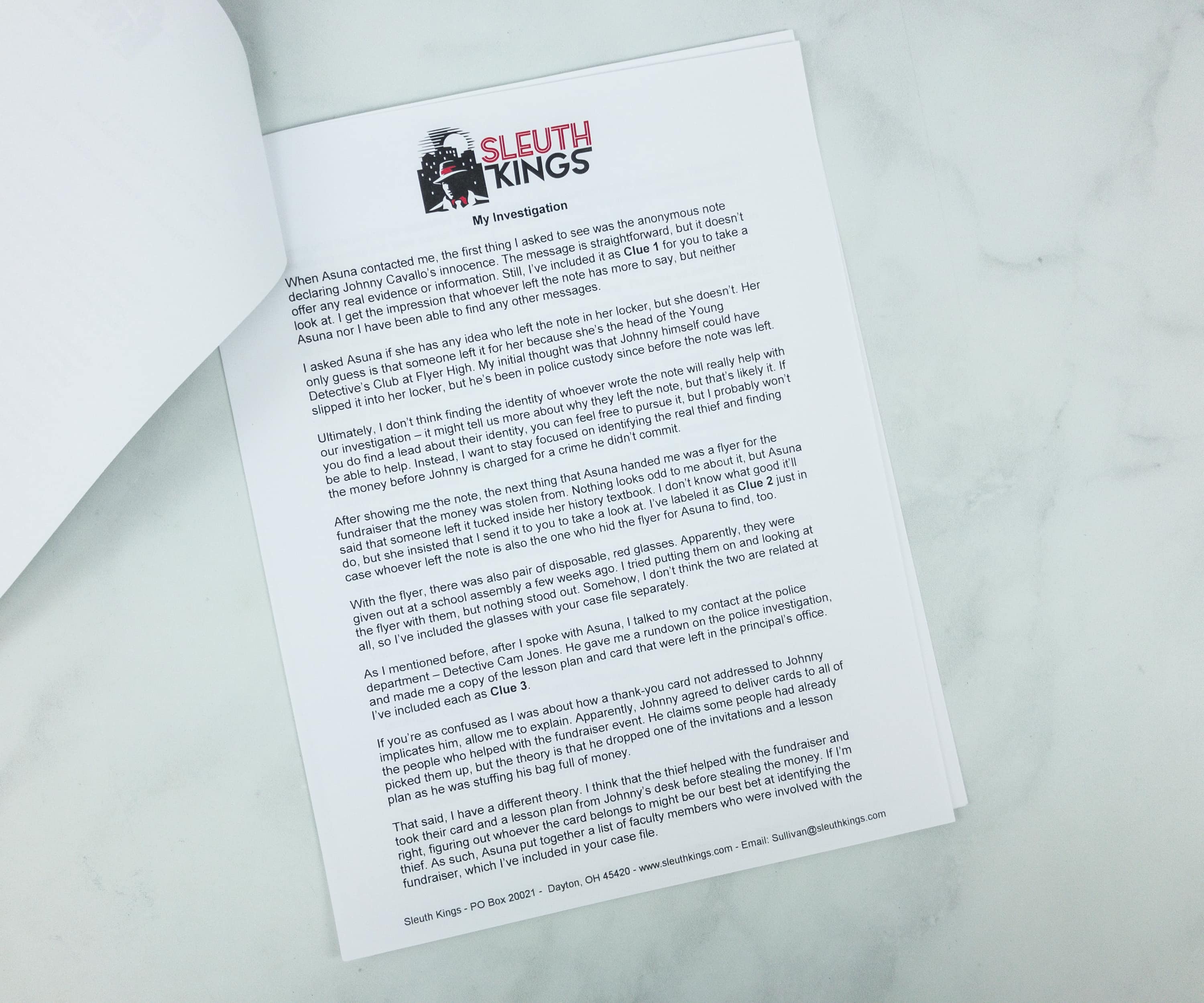 I suggest you read them thoroughly to fully understand the case, and also, know where to start the whole investigation.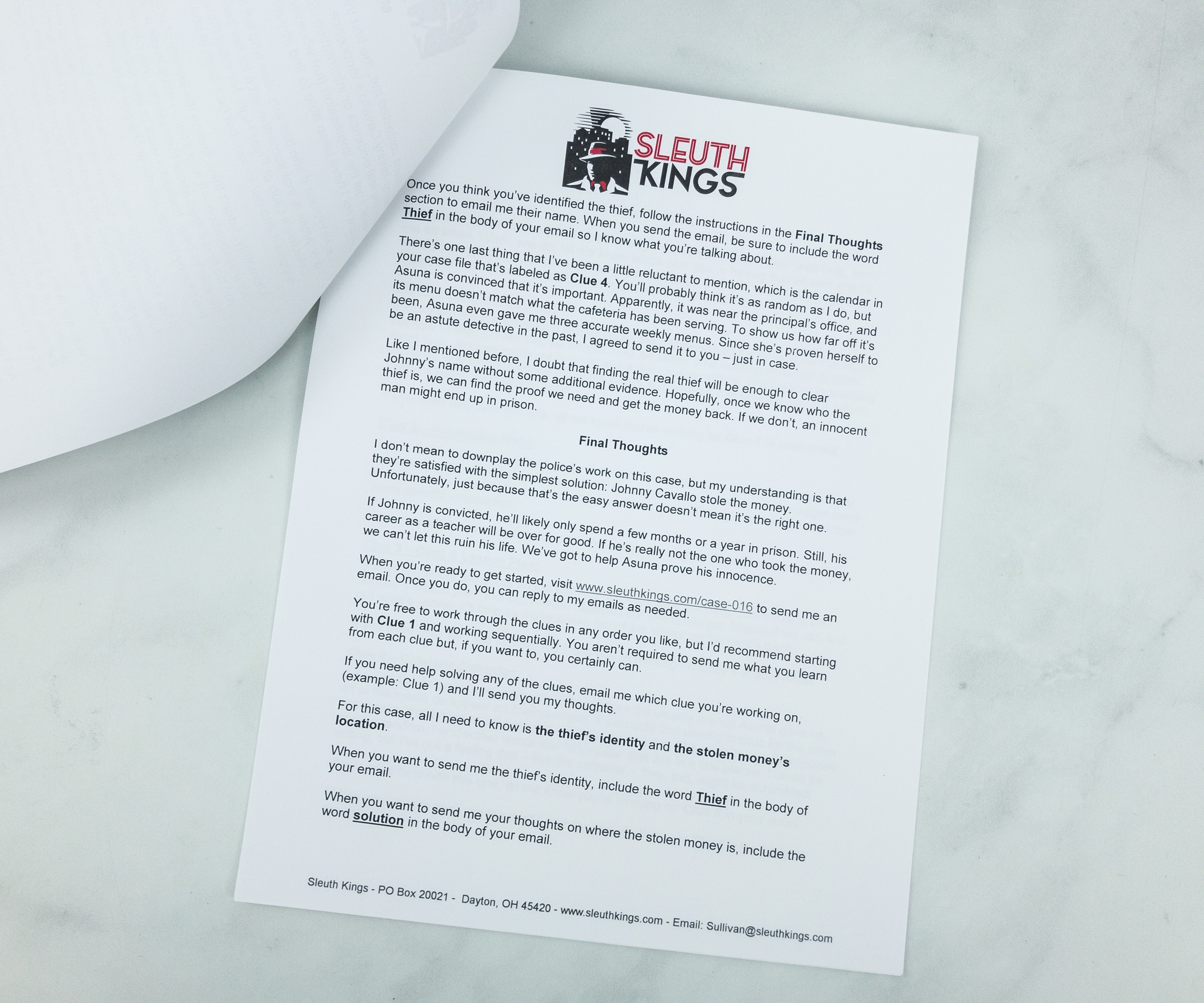 For this case, we just need to find out the thief's identity, and the location of the stolen money.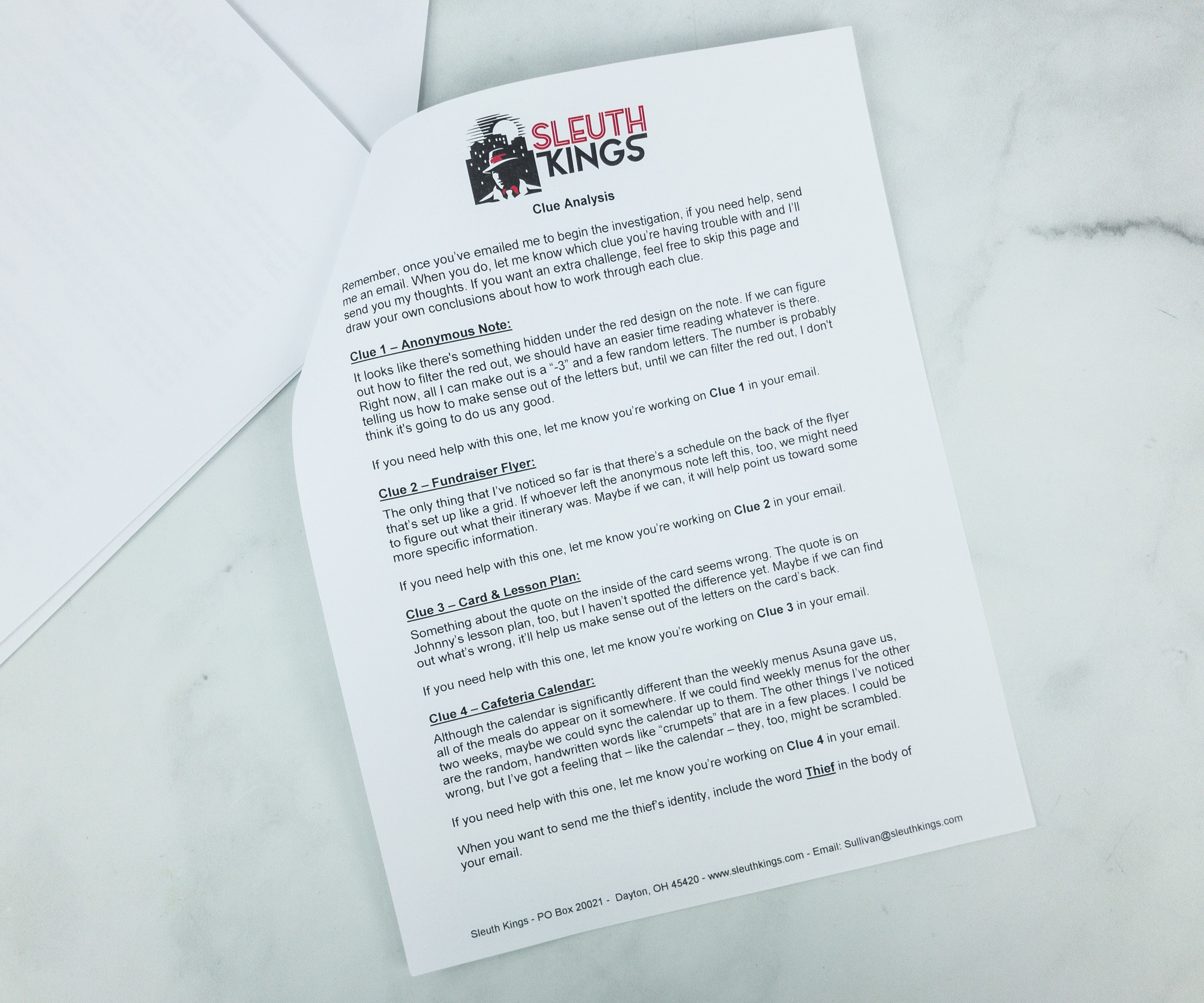 There are also clue analysis, where each clue item's use is being hinted or explained.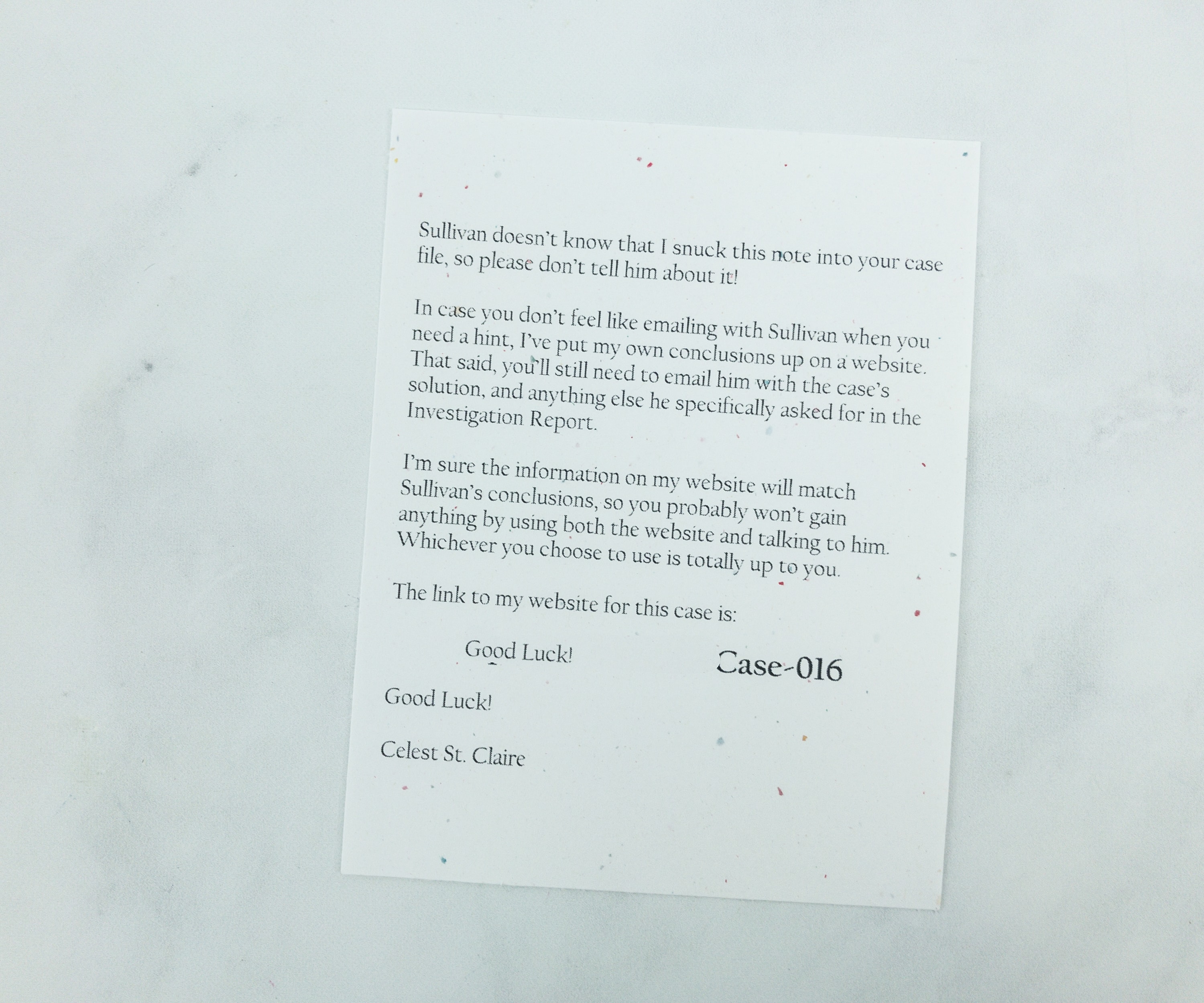 We also got a snuck out letter from Celest St. Claire, telling us that we can also use her help. After looking at all the materials, I sent Sullivan a letter to finally start the case.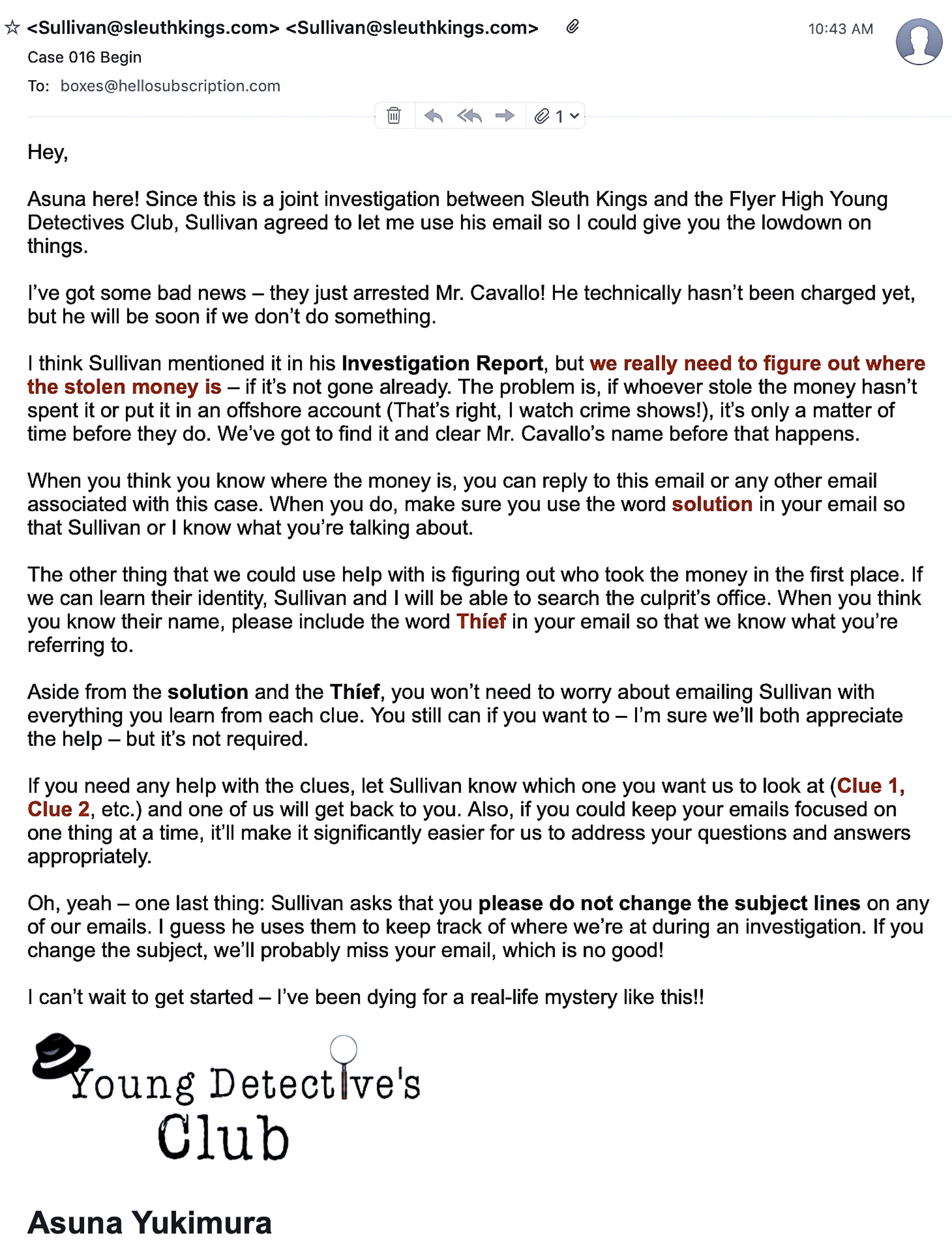 We received an email not from Sullivan but from Asuna, explaining the situation, and that Mr. Cavallo was arrested, so we need to find the stolen money to clear his name. Asuna also explained that Sullivan allowed her to use his email as this is a joint investigation between Sleuth Kings and Flyer High Young Detectives Club.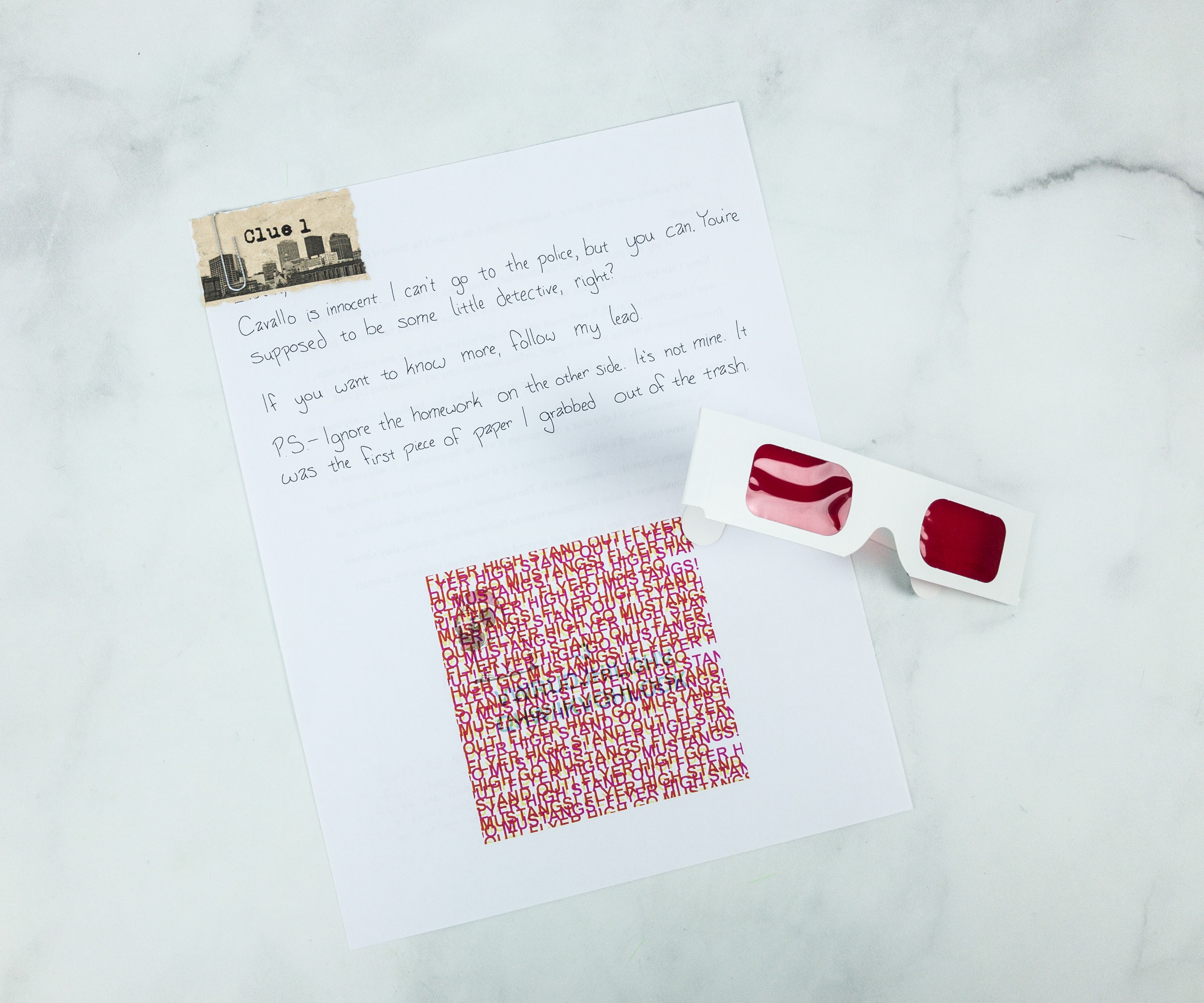 For the first clue, we got the anonymous note, where the red glasses can be used.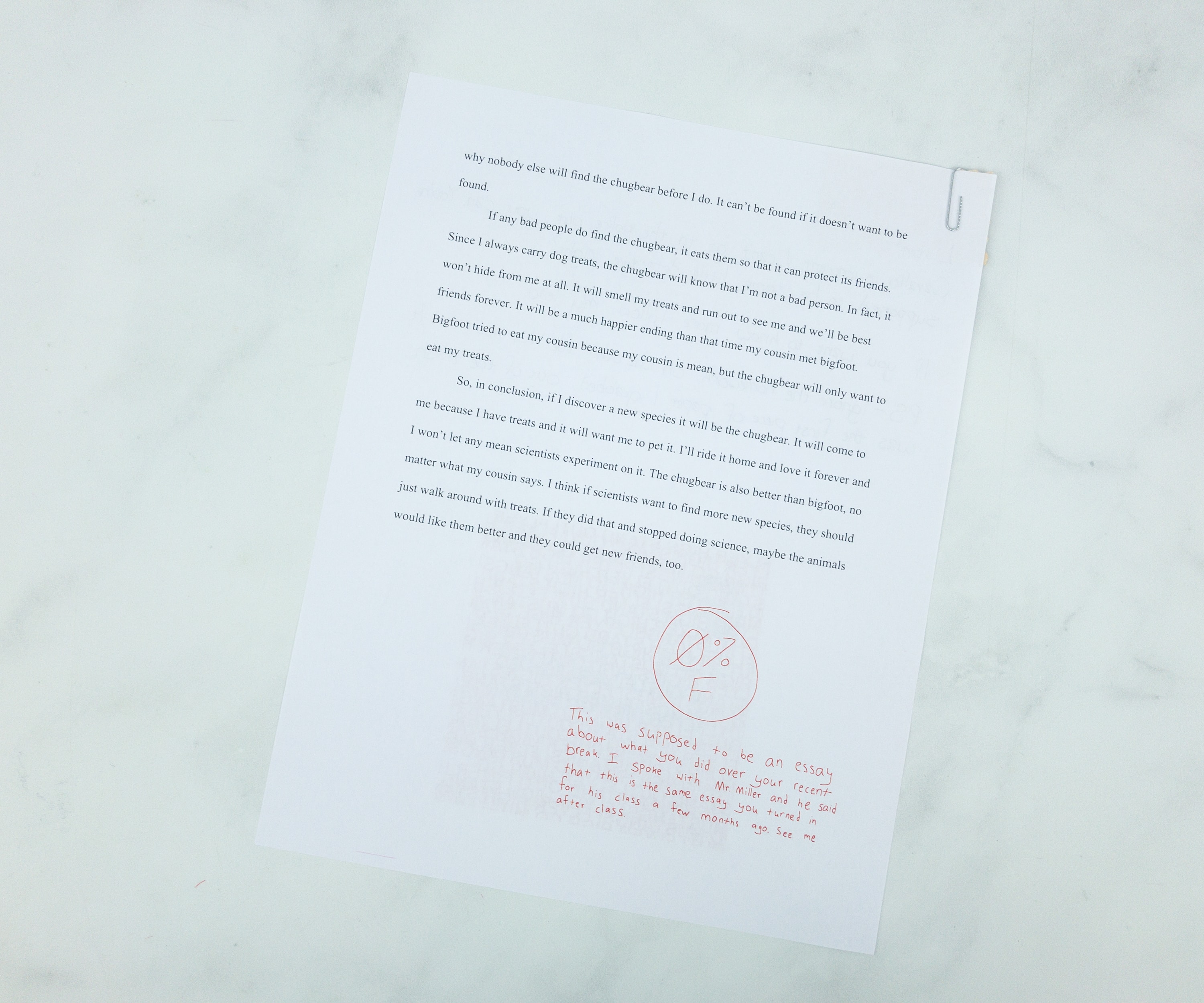 At the back of the note is a copy of somebody else's wrong homework.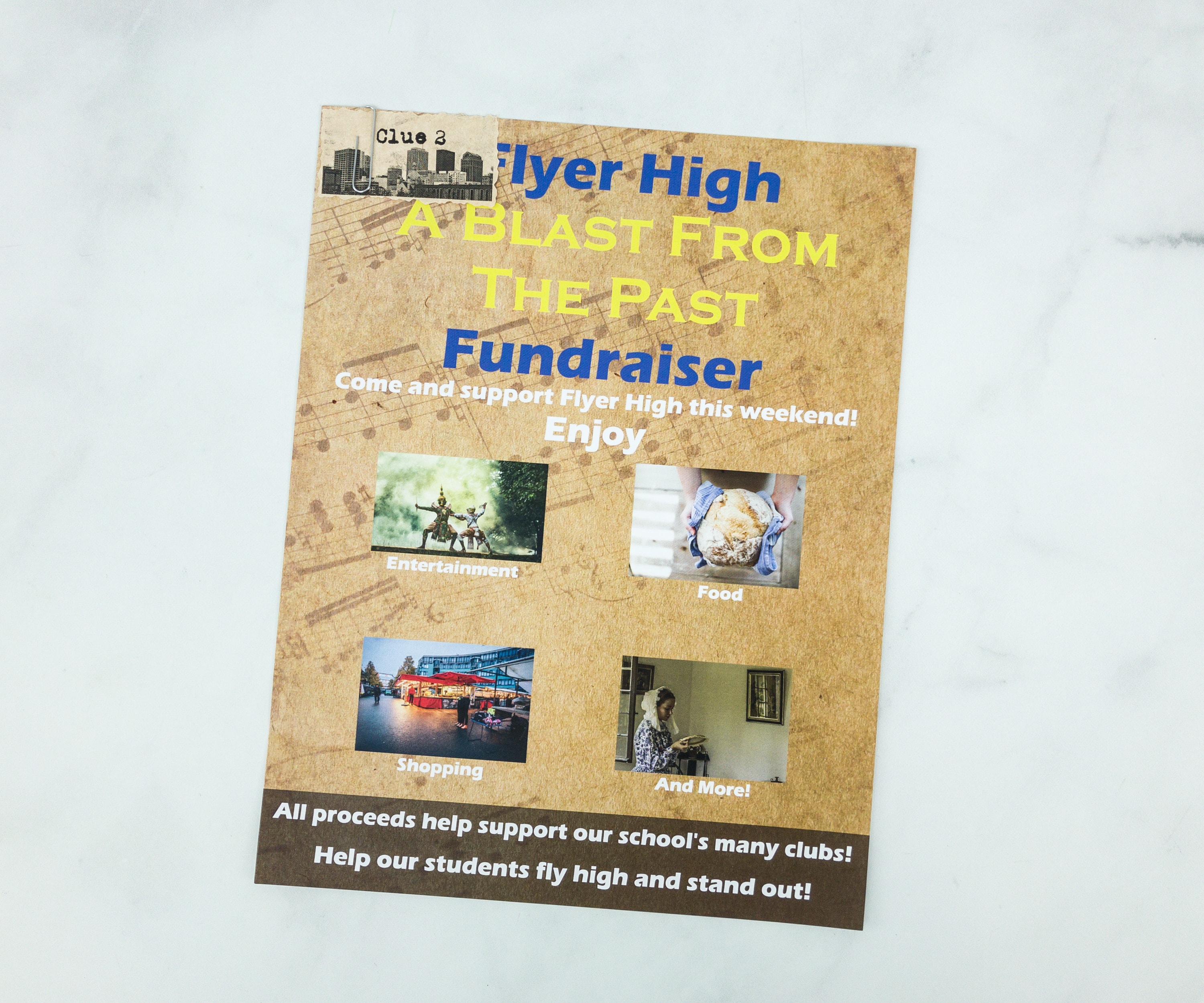 The second clue is the Fundraiser Flyer.
The flyer has a schedule of events, which looks like it has something to do with the itinerary of the person who also left the anonymous note.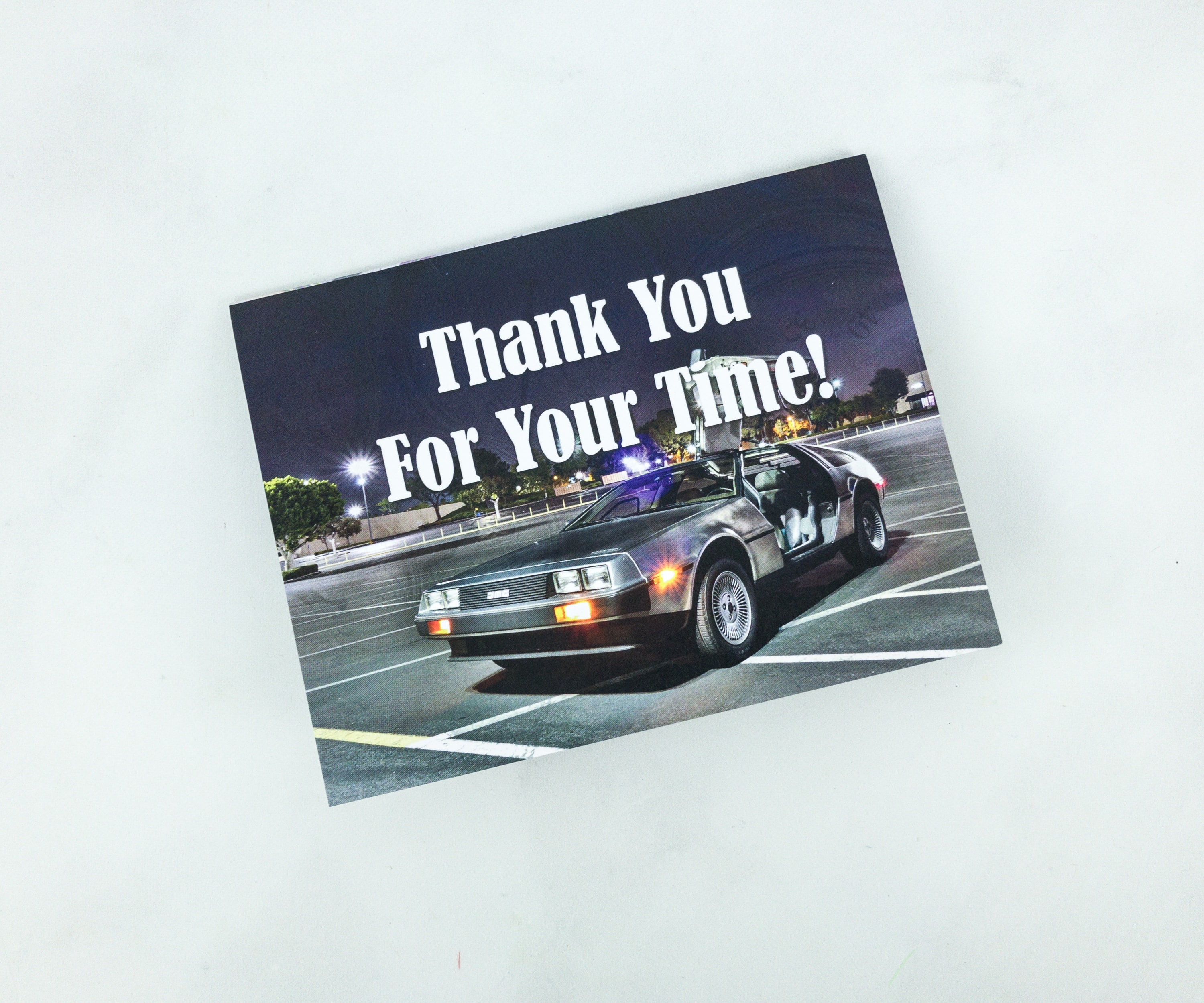 For the third clue, here's a thank you card.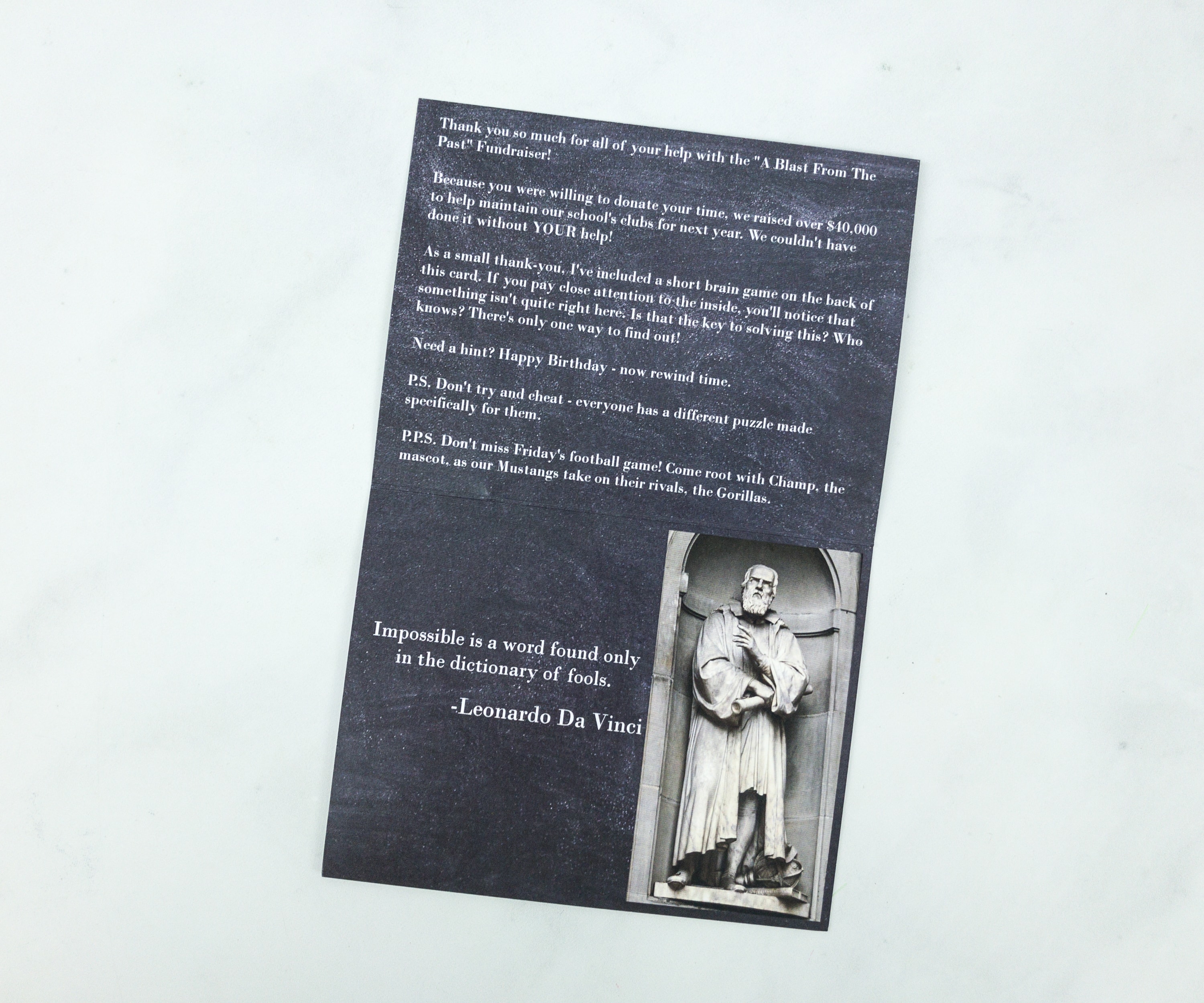 At the back is a note that gives thanks to those who helped with the fundraiser. And there's a quote from Leonardo da Vinci too! Or is it???
I sent Sullivan an email saying I was working on clue 3, with Bonaparte and da Vinci, and there was a cipher.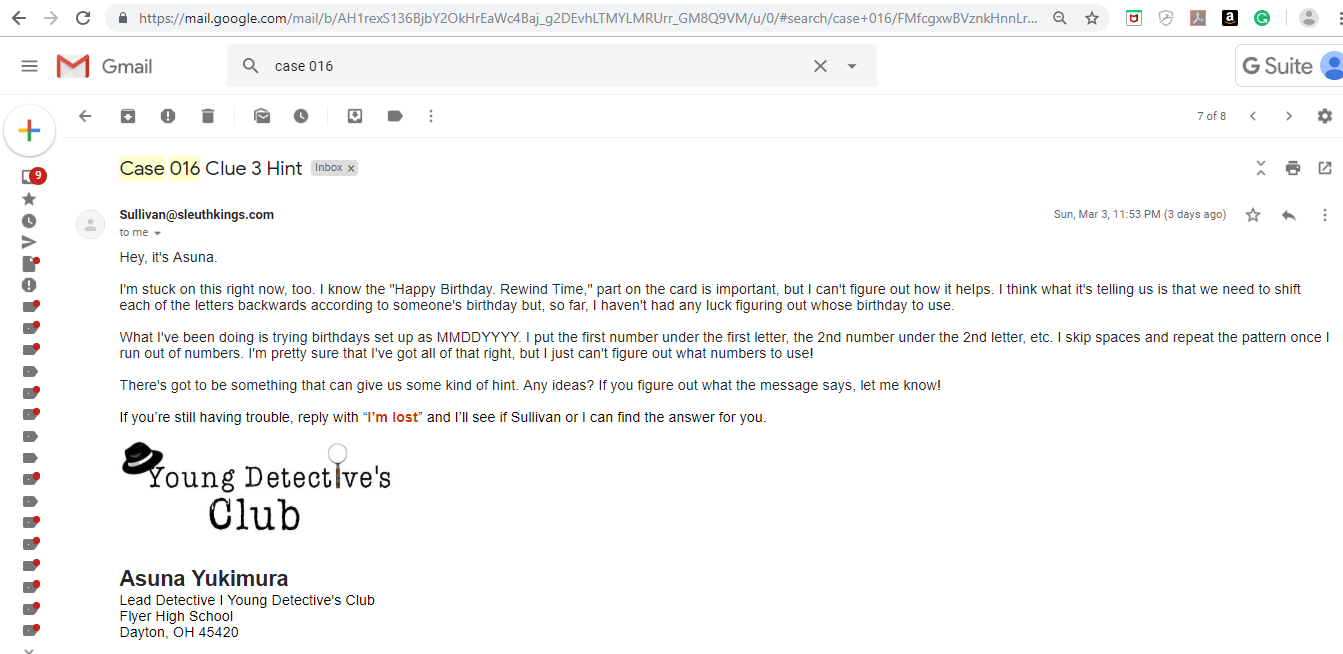 Asuna replied suggesting that I repeat Napoleon's birthdate and turned each letter back by that number, and I did. It read:
History is a set of lies agreed upon.
– Your hero, Napoleon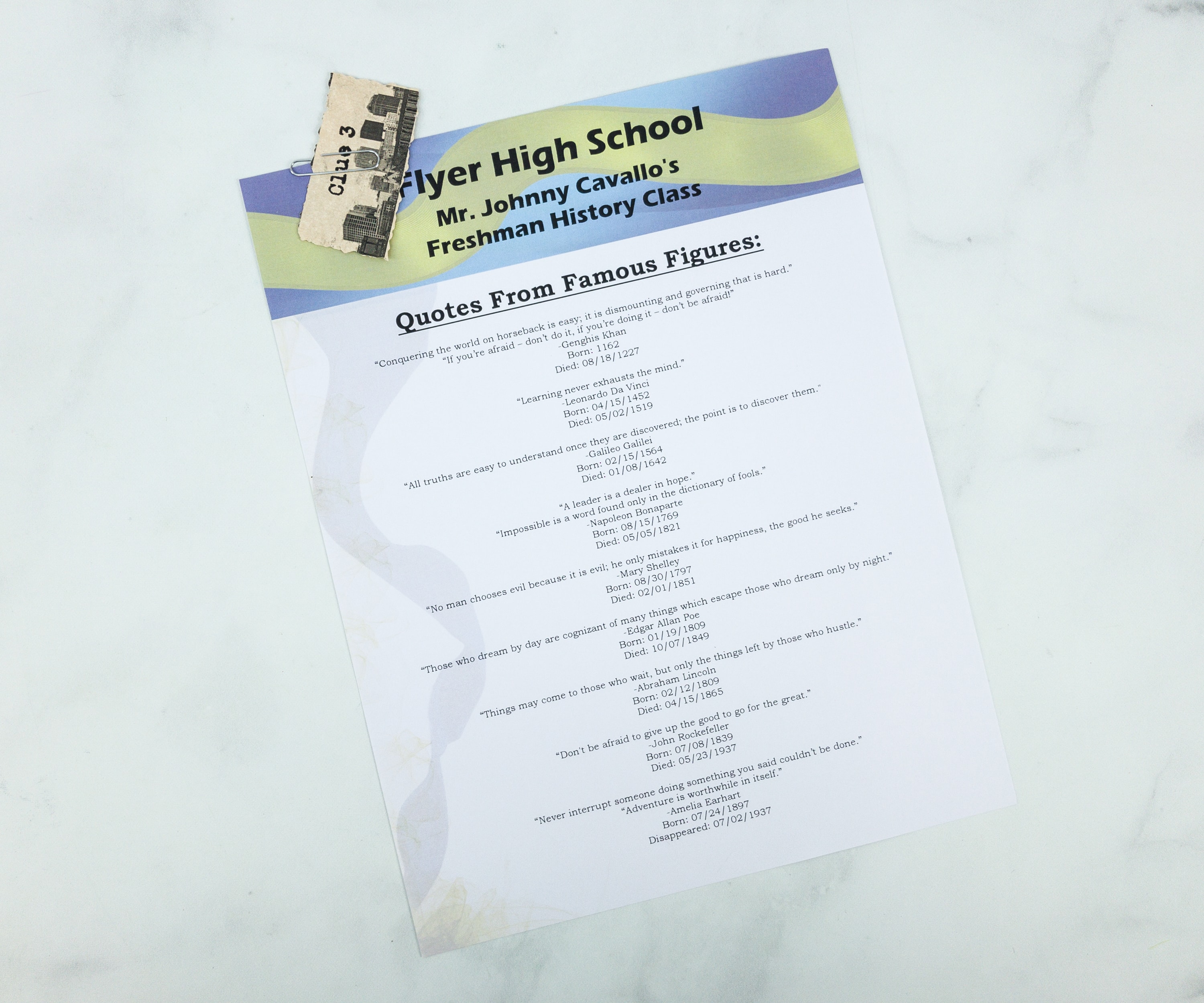 Here's another item for clue 3, which is a copy of the lesson. This is strange because it does not have that quote that I ciphered.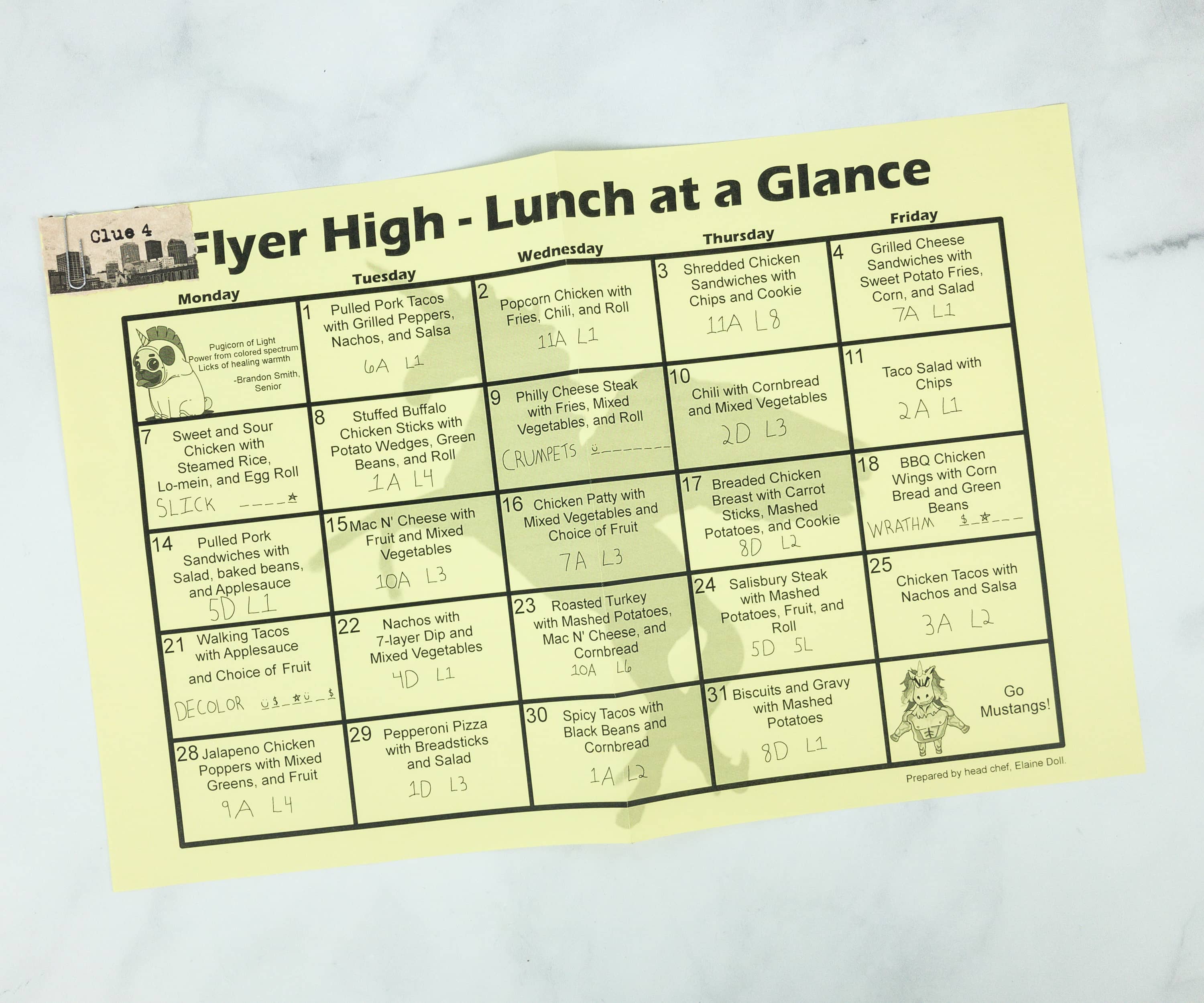 And for our 4th clue, they included a cafeteria calendar for Flyer High.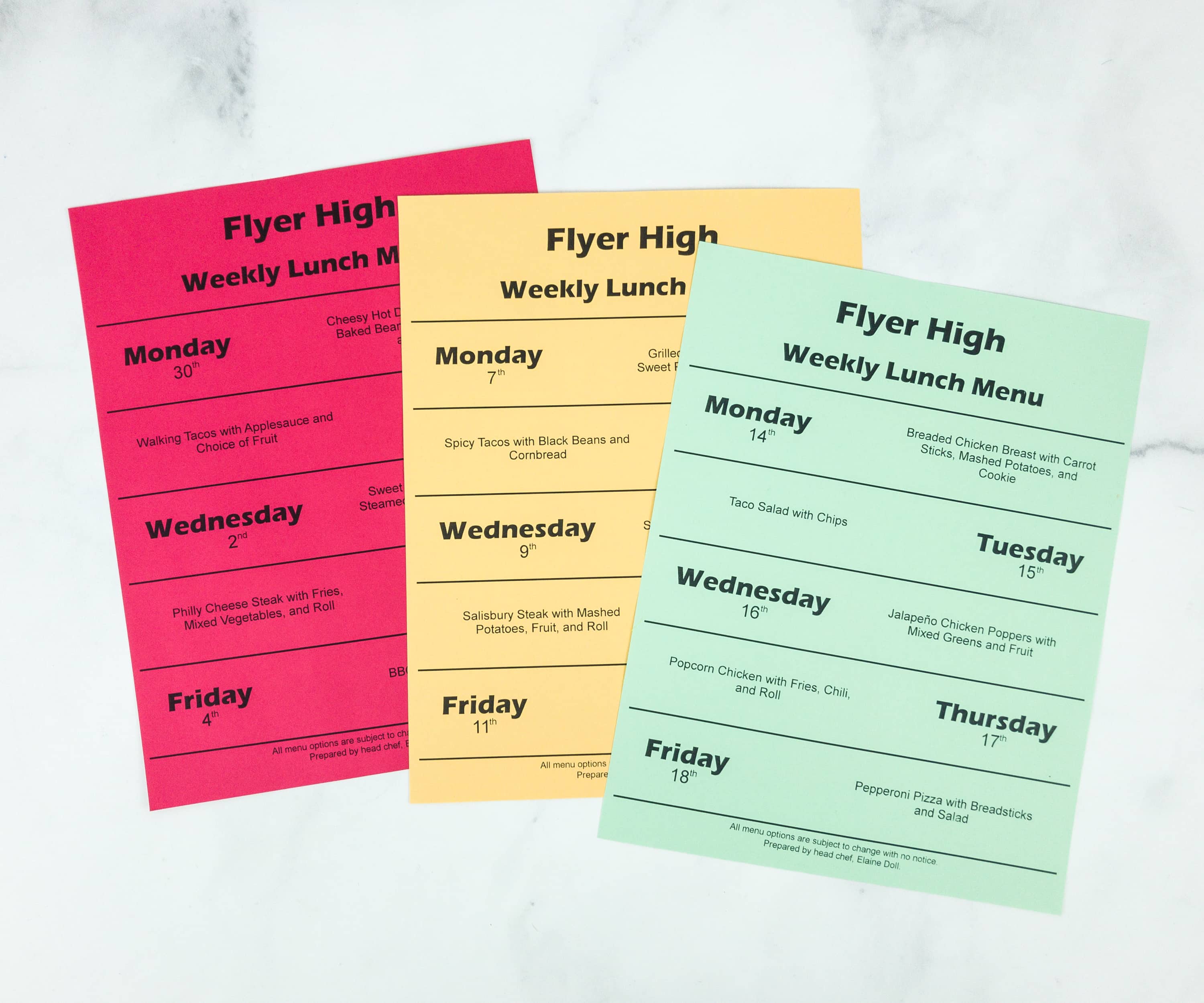 I started looking at the lunch menus and trying to figure out what the letters, numbers, and seemingly random words meant.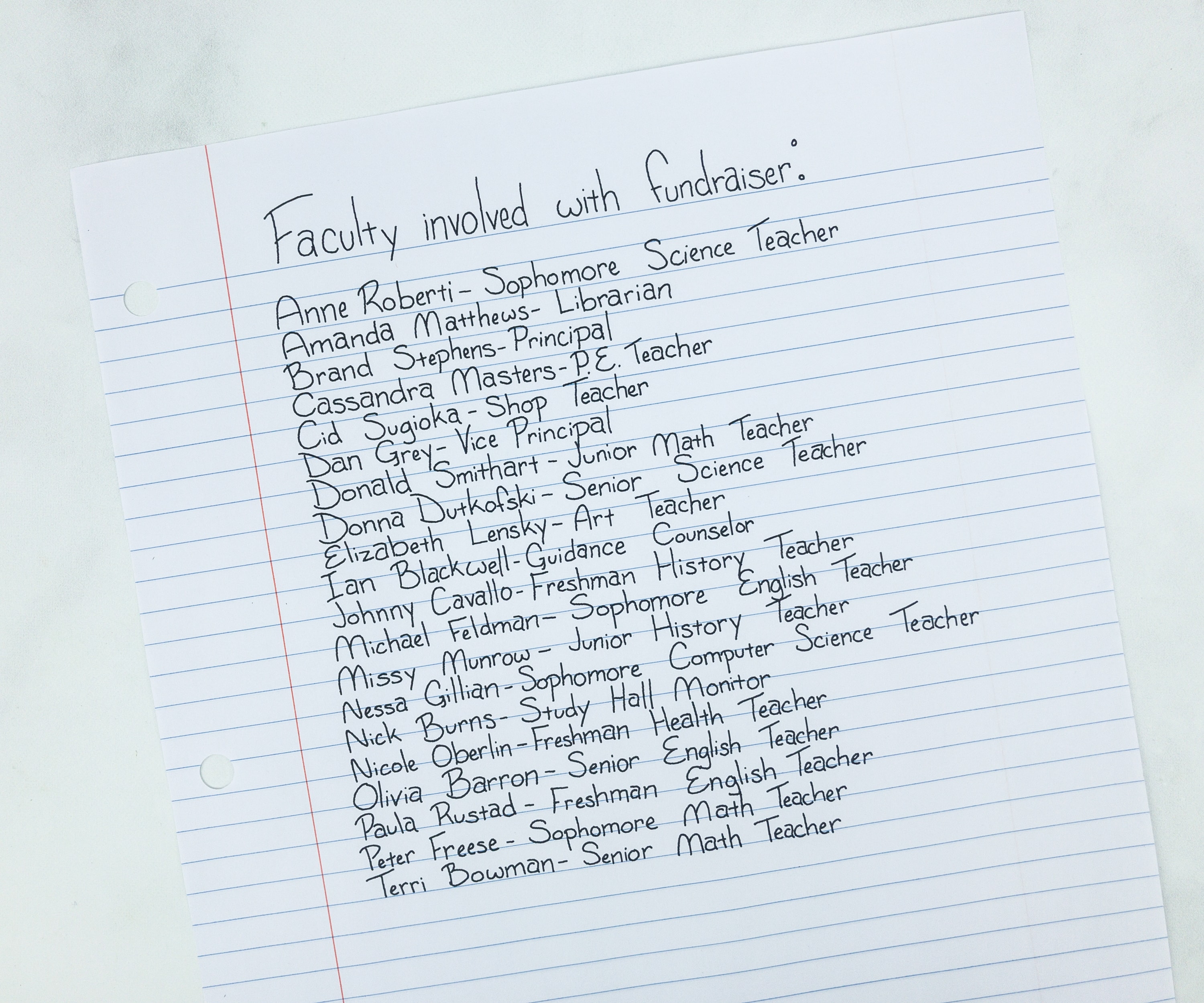 There's also a list of faculties involved with the fundraiser. I wonder if one of these guys is the thief.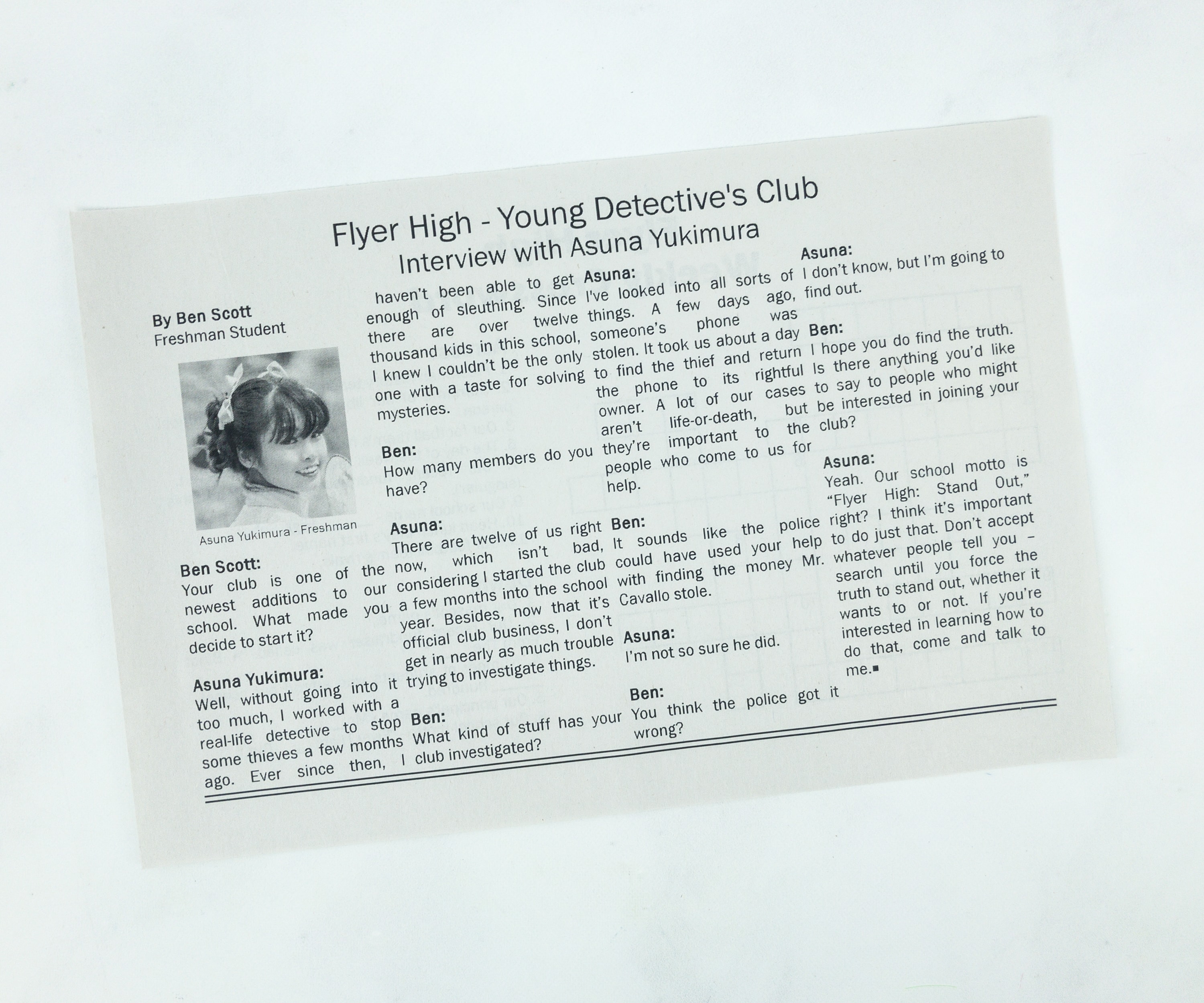 There's also an interview flyer with Asuna Yukimura.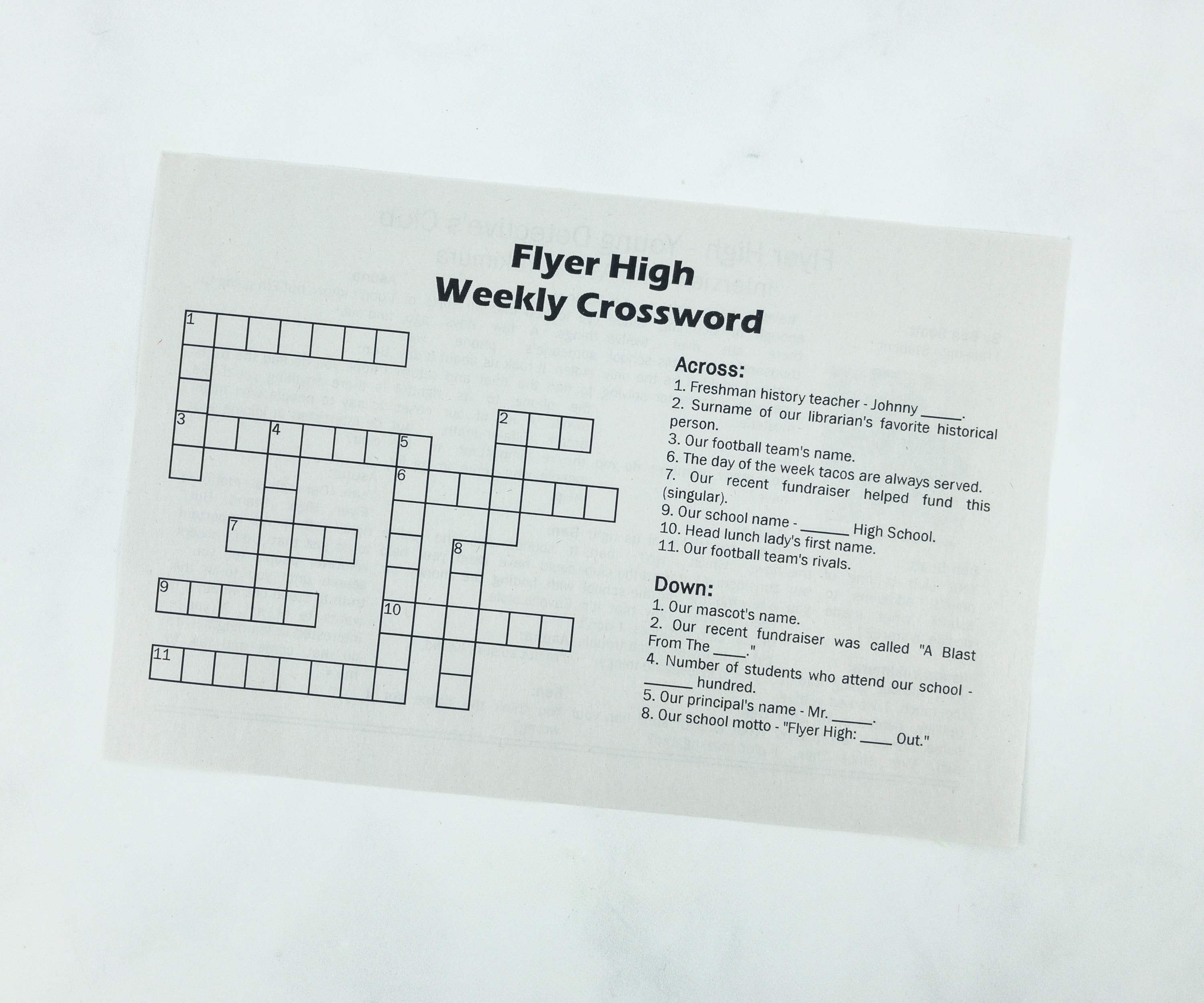 At the back of the page is a crossword puzzle.
I emailed Sullivan telling him I was working on clue 4. He told me that the symbols indicate the crossword, and I already had that filled out.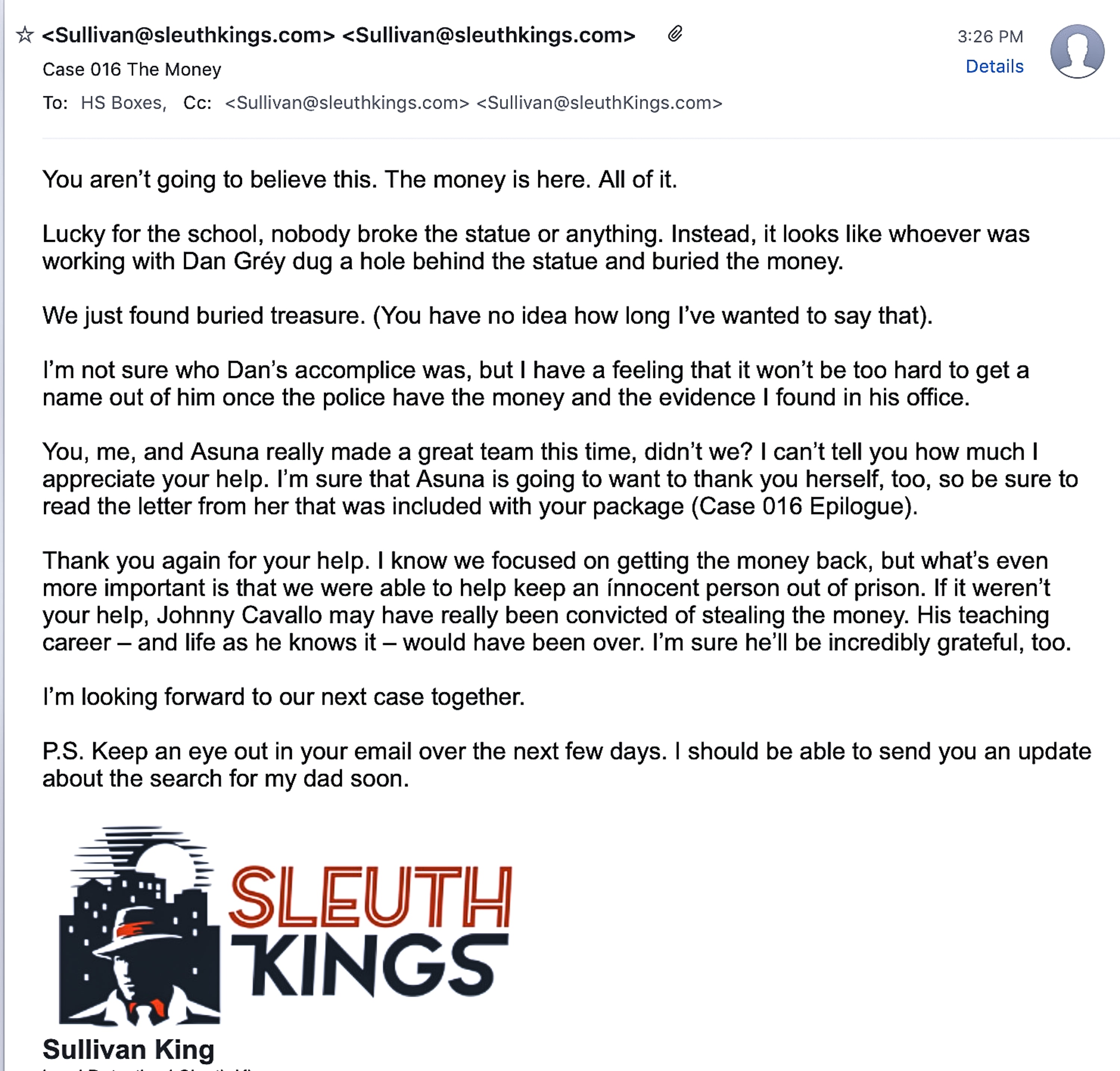 I wrote out the letters for each lunch menu. I emailed Sullivan, and he gave me clues. We figured out that the money was at the Pegasus statue. Gréy stole the money, but someone else helped.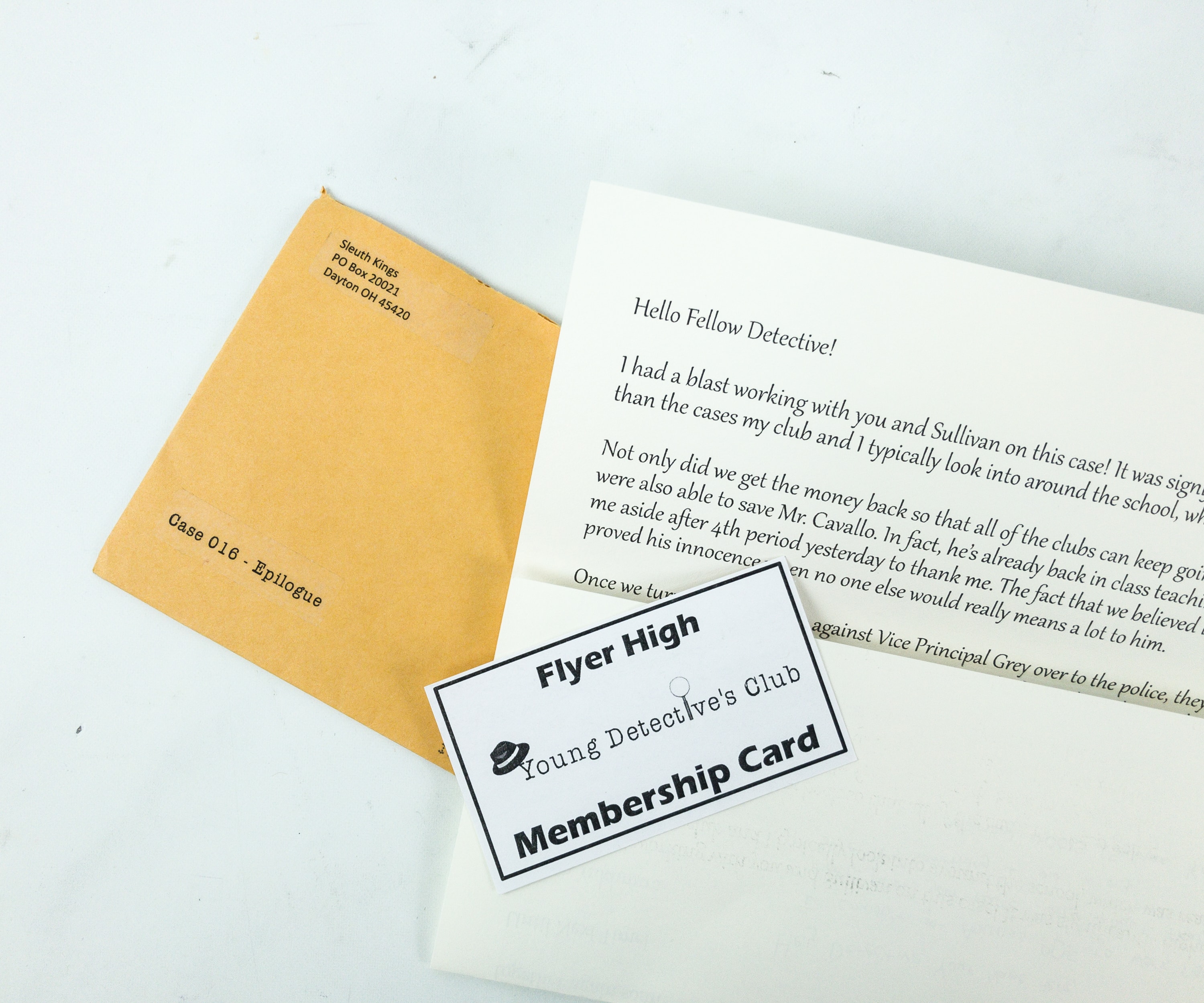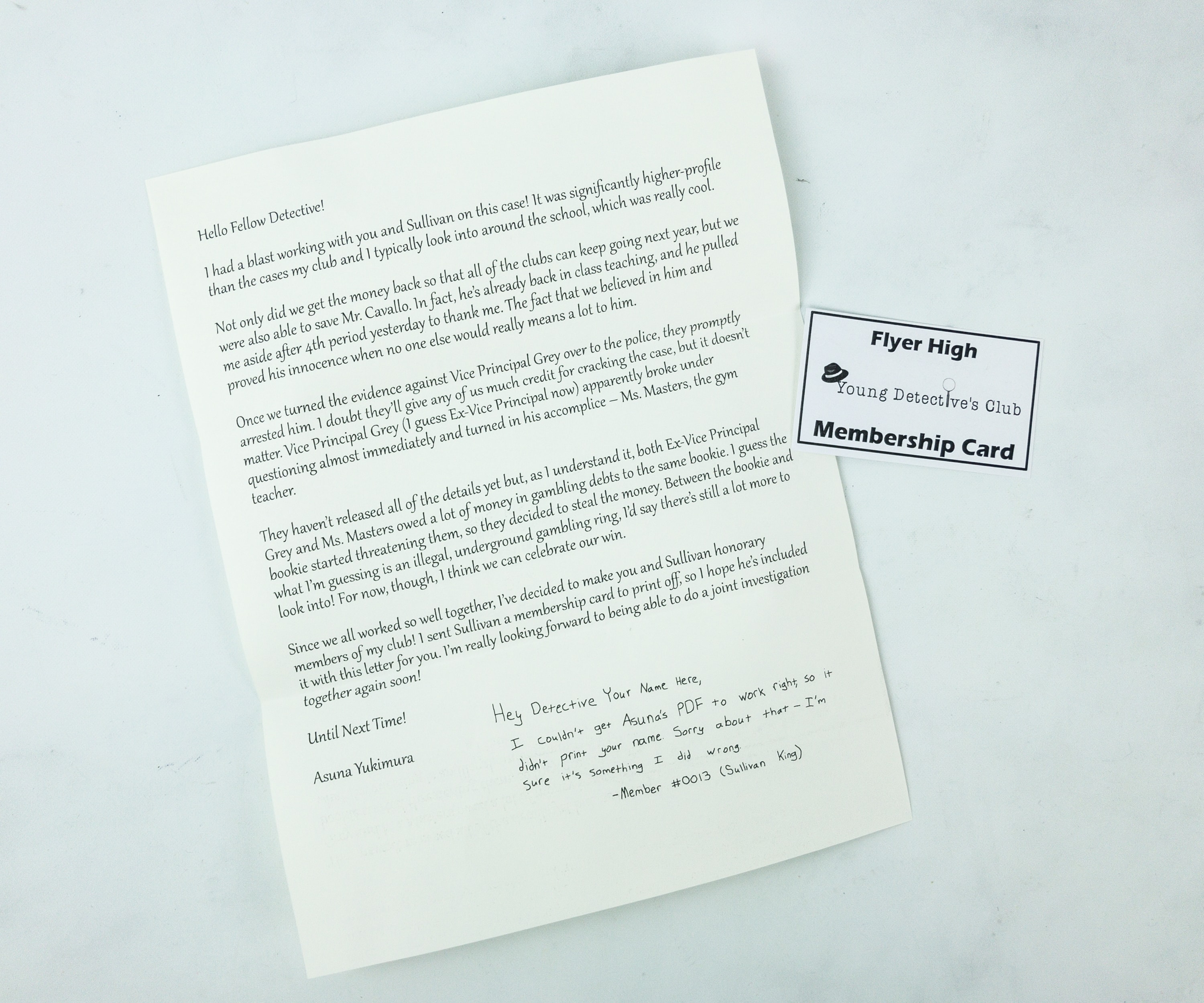 As a reward, a letter from young detective Asuna – and our Young Detective's Club membership card!
This is another thrilling and challenging case that Sleuth Kings, joined by the Flyer High Young Detectives Club, let us experience! It's really helpful that we were able to seek help from Sullivan or Asuna to gain more information and solve the clues. The puzzles are really fun, and we actually like Asuna, she's witty and full of energy as you can feel her excitement and eagerness to help us solve the case, which makes everything more exciting. I hope we get to know more characters other than Sullivan on the next cases, we're really excited about the upcoming boxes!
What do you think of the Sleuth Kings box?