Sanaya Set is a quarterly self-care subscription box that sends a seasonal collection of curated lifestyle products curated by a trio of first-generation South Asian women. The subscription is $99 and 10% of net proceeds is donated to charity. They collaborate and give back to organizations that have positive impacts on social justice, intersectional feminism, and values aligned with those causes.
Unfortunately this is Sanaya Set's last box, but you can save 20% on anything in their shop, including this box.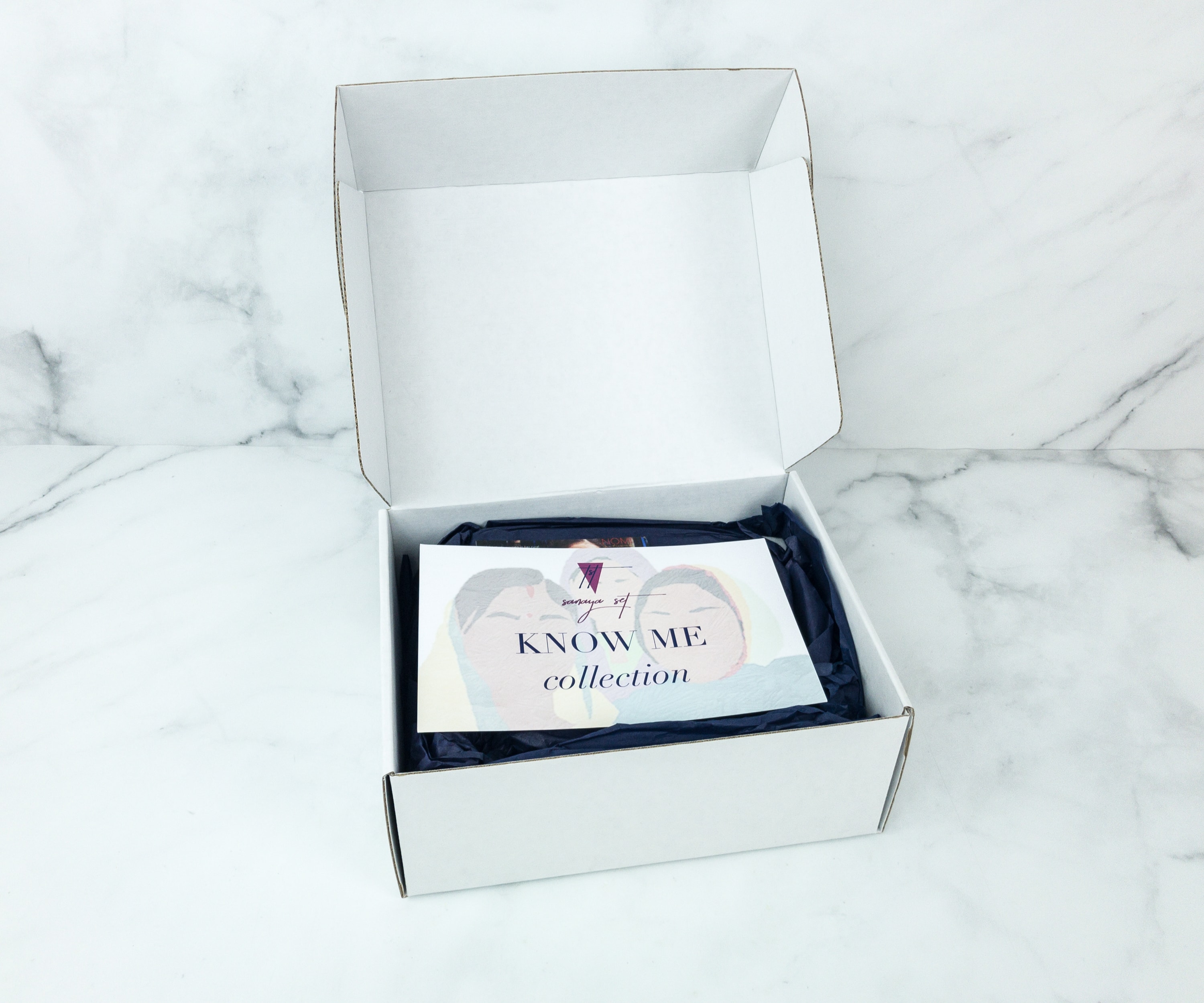 We focus on sourcing predominantly from womxn owned businesses, with an emphasis on businesses owned by womxn of color and/or those from marginalized communities. We also work with organizations and fair trade companies who elevate womxn globally. Our goal is to spread our mission and values, while empowering womxn who are brave enough to pursue their passions.
Everything was wrapped in tissue paper and sealed with their logo sticker.


If you don't want to commit to a subscription, it's ok! You can also buy the box for $120.
Even in the box design, Sanaya Set doesn't fail to make an impression. They promote social justice and self-care.

What a lovely note from the curators of the box incorporating all of this season's items.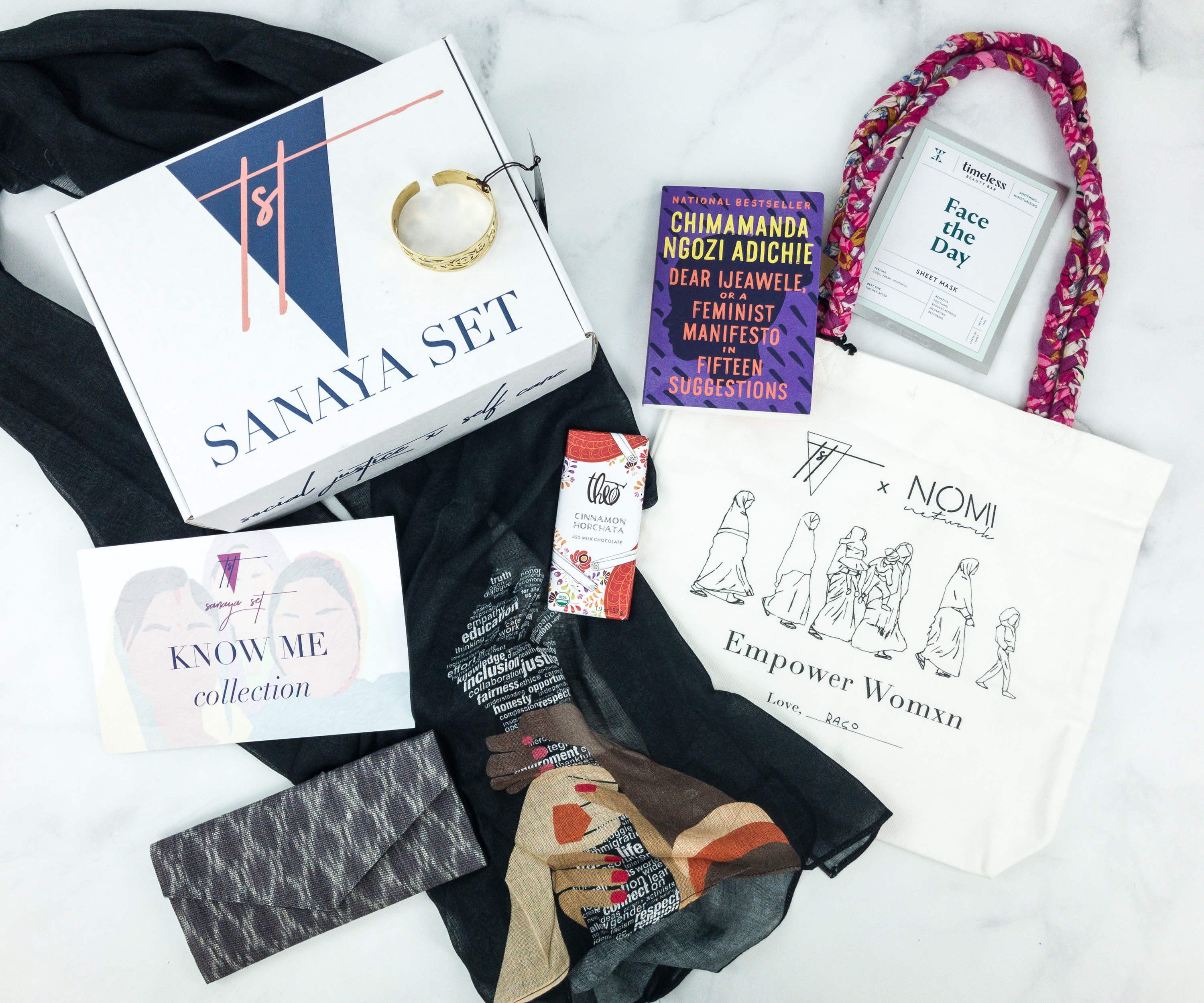 Everything in The Know Me Collection!
Nomi Network x Sanaya Set Empower Womxn Tote. I love how some of the items in this box has a story to tell, may it be the makers or the item itself, and it's really inspiring and empowering. Here's a page and some information about the Womxn Tote.
Nomi Network was established in 2009 to help survivors and women at risk of human trafficking. Also, the pamphlet includes the materials used on the item, how it is made, and where the net proceeds go to.
The beautiful tote is made of 100% organic cotton fabric.
The design is really uplifting, and the message it is relaying is crystal clear. One thing I love about this tote is the colorful floral handles, which complement the whole bag and are really pretty. It's signed by the maker, too.
The tote is spacious, and I know I can fit a lot of stuff inside. Outside the tote, there's a stitched brand patch.
Timeless Beauty Face The Day Sheet Mask ($6) The day sheet mask is a 100% pure cotton sheet mask that calms and rehydrates the skin. It soothes, reduces redness, plump, rehydrates, boosts, and restores the skin to its beautiful glory. It's free from artificial components, so even those with sensitive skin can use it.
It is best to refrigerate this before use, for an added cooling experience. I did and it's great. It didn't just make my skin plump, it also has a soothing effect. I am so ready to face another day feeling refreshed.
Dear Ijeawele, Or A Feminist  Manifesto in Fifteeen Suggestions by Chimamanda Ngozi Adichie ($6.78)
A powerful statement about feminism today from "one of the world's great contemporary writers" (Barack Obama), the author of Americanah and We Should All Be Feminists.

A few years ago, Chimamanda Ngozi Adichie received a letter from a childhood friend, a new mother who wanted to know how to raise her baby girl to be a feminist. Dear Ijeawele is Adichie's letter of response: fifteen invaluable suggestions—direct, wryly funny, and perceptive—for how to empower a daughter to become a strong, independent woman. Filled with compassionate guidance and advice, it gets right to the heart of sexual politics in the twenty-first century, and starts a new and urgently needed conversation about what it really means to be a woman today.

A New York Times Best Seller ● A Skimm Reads Pick ● An NPR Best Book of the Year
The book is a good read for empowerment, as it teaches a lot about feminism.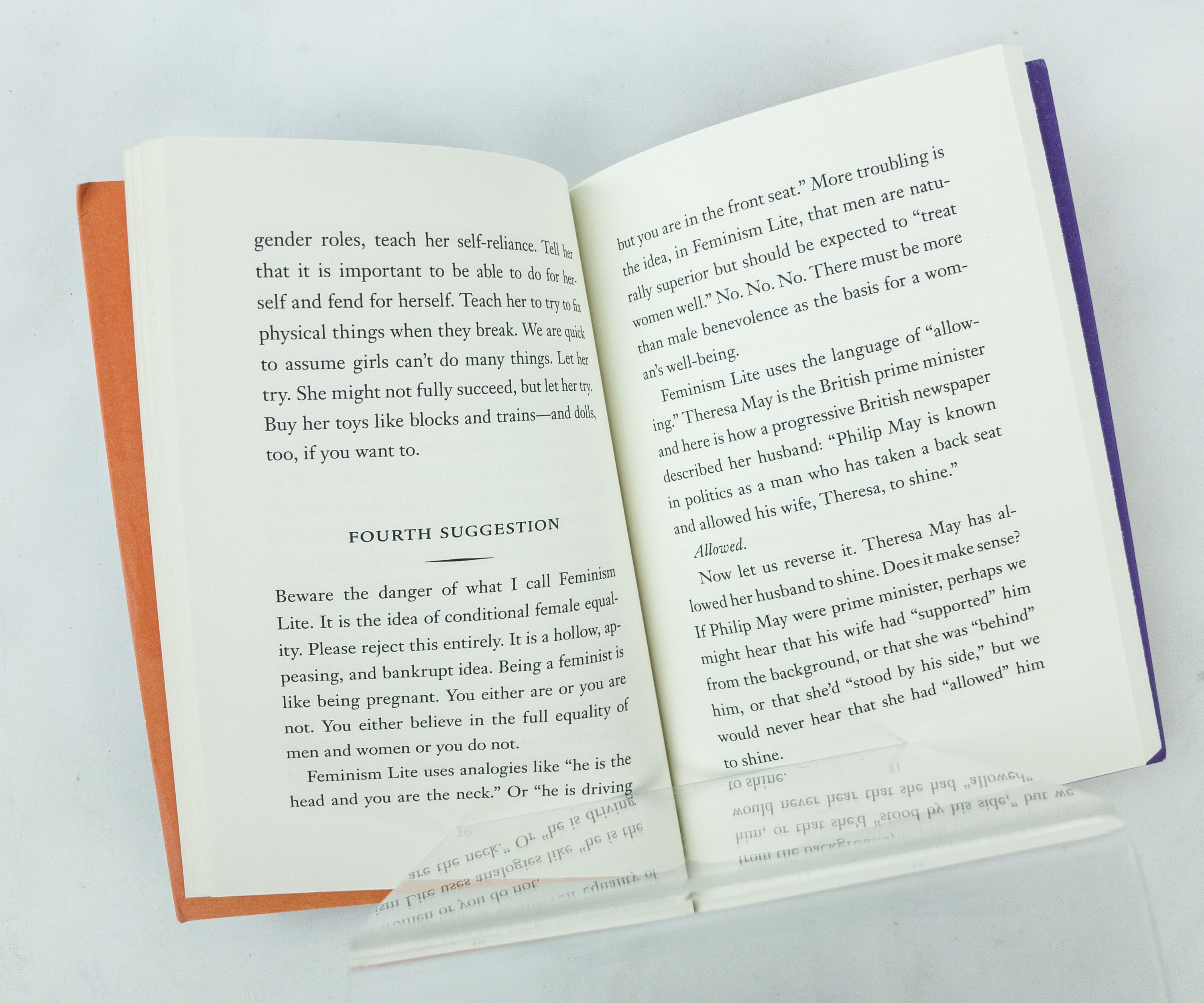 Gender equality is one of the biggest issues around today, and it's important to know and tell the whole world that women can do lots of stuff that men can do!

Strong and independent women will definitely love this book. It looks like a step by step guide towards fully understanding what feminism is, and what are the important roles a woman plays in the society.
Nomi Network Diamond Ikat Wallet. This printed woven fabric wallet is really exquisite. The design is so elegant, and it's spacious enough for the essentials.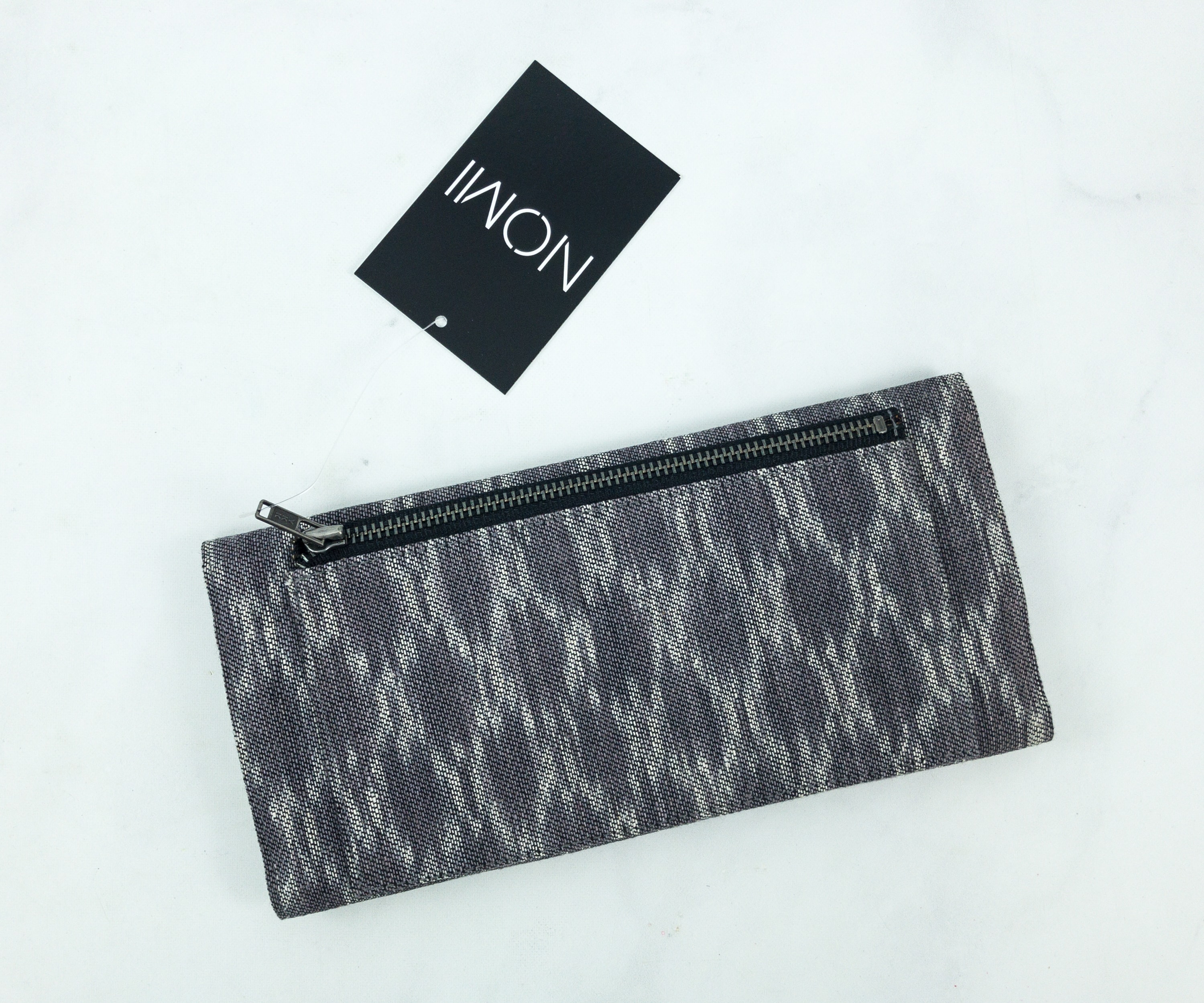 The pretty wallet also has a zippered pocket at the back, where you can store coins or spare changes.
It has lots of pockets inside, where you can easily store cards and IDs.
Nomi Network Khmer Cuff. The Cambodian-inspired cuff is really beautiful, and I can wear this alone and but still make a great fashion statement. I also love that it has open ends so that I can easily slip it on, without worrying that it will not fit!
The beautiful cuff is made of 100% repurposed brass out of melted bullet casings and the details and patterns are really pretty, it reminds me of some temples in Cambodia, and the popular Khmer designs.
Theo Chocolate Cinnamon Horchata 45% Milk Chocolate ($2.99) I love the crunchy texture of this treat! It's milk chocolate but with a little kick of spice from cinnamon!
It's always great to get something sweet and nice from this kind of box, and a chocolate bar is always welcome!
The texture is fantastic because of the rice crisps and quinoa. It added fun to the creamy and delightful chocolate, as it also balances the sweetness while making the bar somehow guilt-free.
I don't think this bar will last long! I like the little spice the cinnamon is giving this bar!
It has a good snap, and you know that is made with high-quality ingredients. The cross-section of the chocolate looks good with all the rice crisps on it!
Nourka Equality Scarf. This is another beautiful artisan item with a powerful message.
The print is really encouraging and I love the message it is telling us!
This is an amazing statement accessory!
Sanaya Set totally lived up to their promise of empowering and inspiring women with their boxes. The tote and the accessories that came in the box definitely help and encourage every woman to know their rights and stand for them.The designs, the makers, and the stories behind the contents of the box are definitely motivating. I also love that I got a delicious treat from the box, which is the horchata chocolate.  My favorite items in this quarter's box are the scarf and the book, and I'm sad that they're ending the subscription since both the message and the curation were amazing.
Any thoughts about the Sanaya Set?