Petit Vour is a monthly vegan beauty subscription box sending the "crème de la cruelty-free." Petit Vour is $18 a month for 4-5 cruelty-free and non-toxic beauty products, mostly deluxe sample sized but with the occasional full-sized item. Prepay for 12 boxes and the price drops to $15 a box! Each box will have a value of between $45-$60. Petit Vour has around 30 ingredients that they pledge NOT to put in boxes and of course, each item must be vegan and cruelty-free.
The Petit Vour Beauty Box is made for the beauty devotee whose lifestyle leans toward compassion.
Each month we'll share the best in plant-based beauty, culled from beauty's kindest. Inside you'll find generously-sized products (personalized to your beauty profile) for you to apply, blend, buff, lather, soak, and spray.
DEAL: Save 25% on your first box with coupon code FIRSTBOX!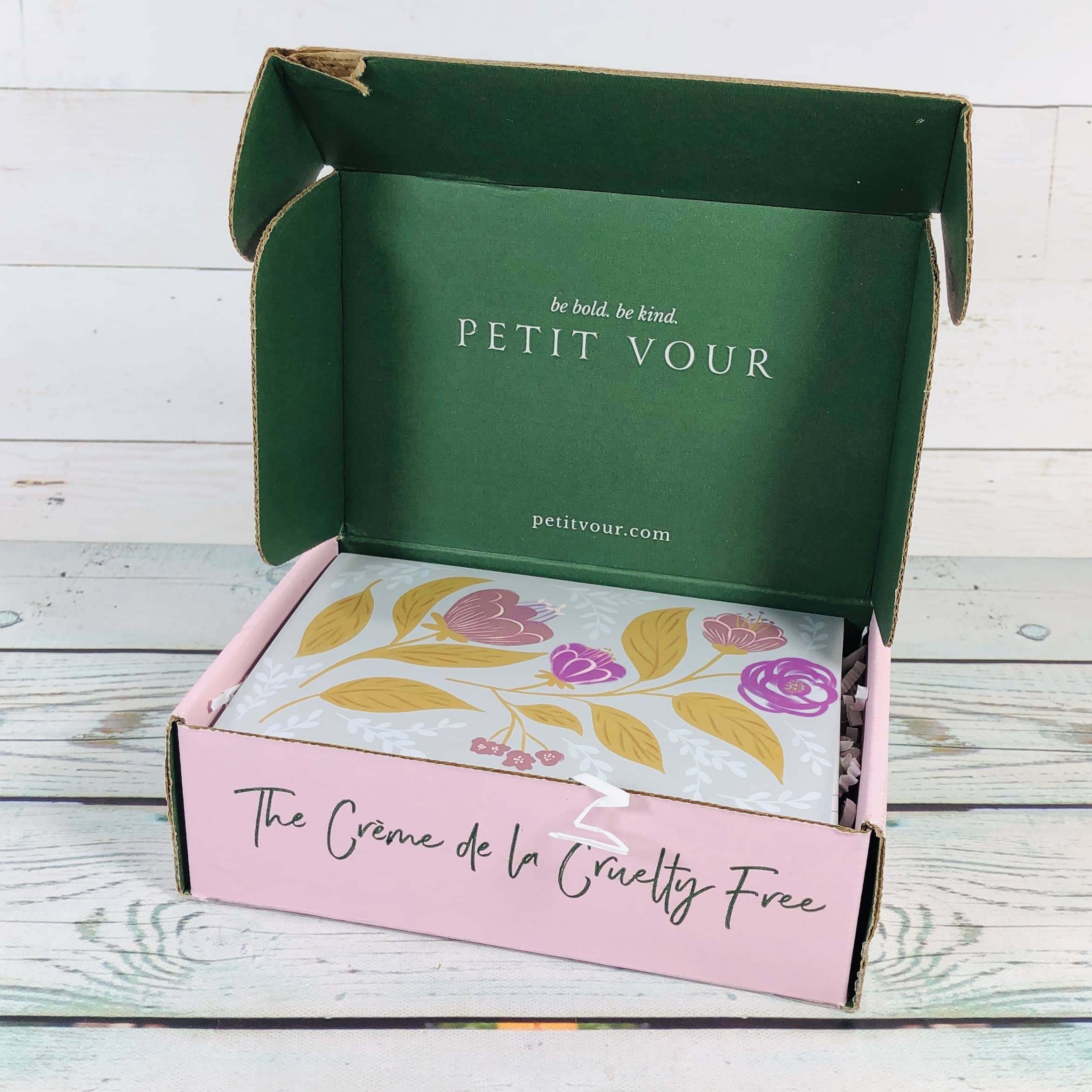 The items were packed in white paper squiggles. I think Petit Vour does a great job at presenting a pretty box. I wonder what's inside this month?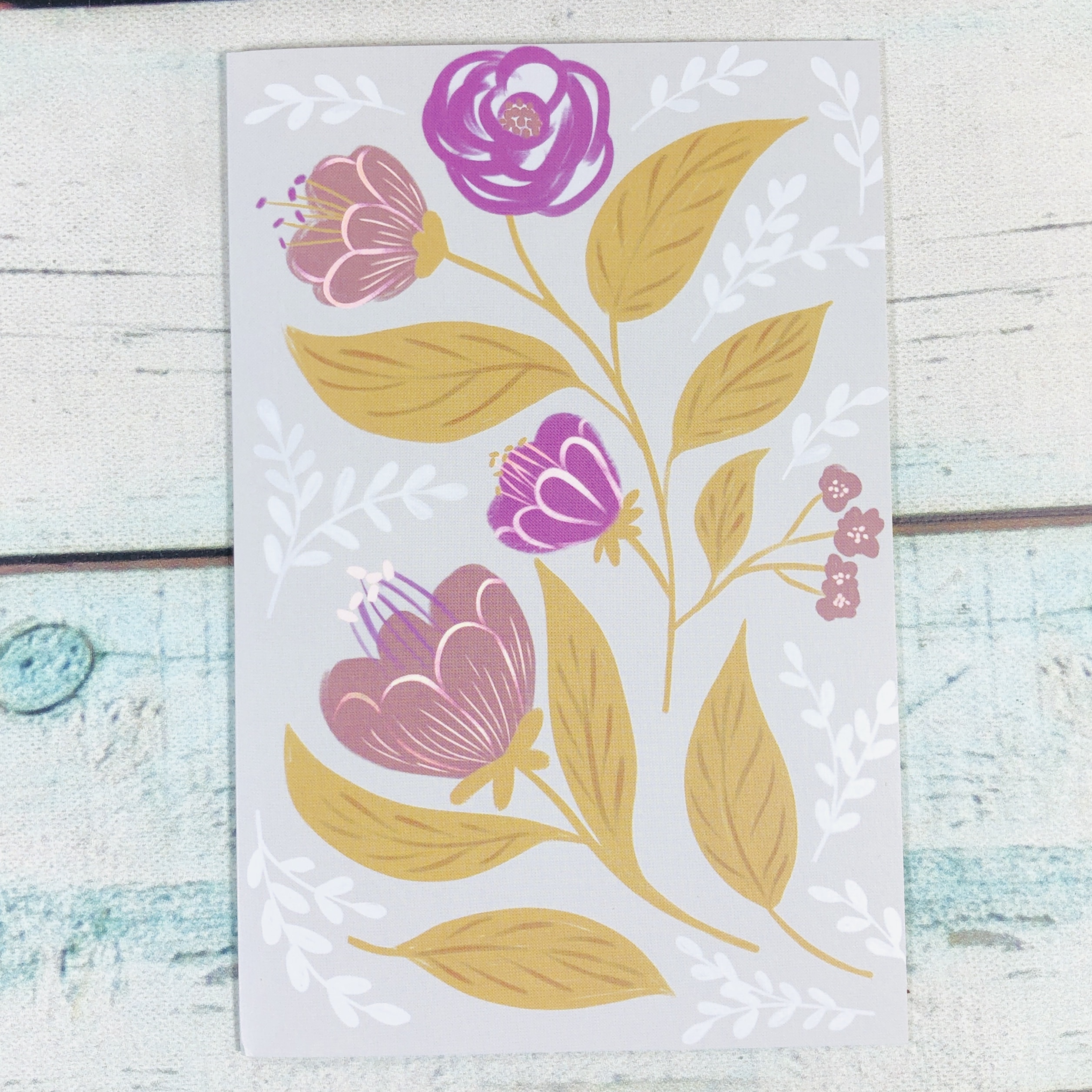 Petit Vour sends a lovely product information card.
The inside of the card listed each item, some info about the item, and the value.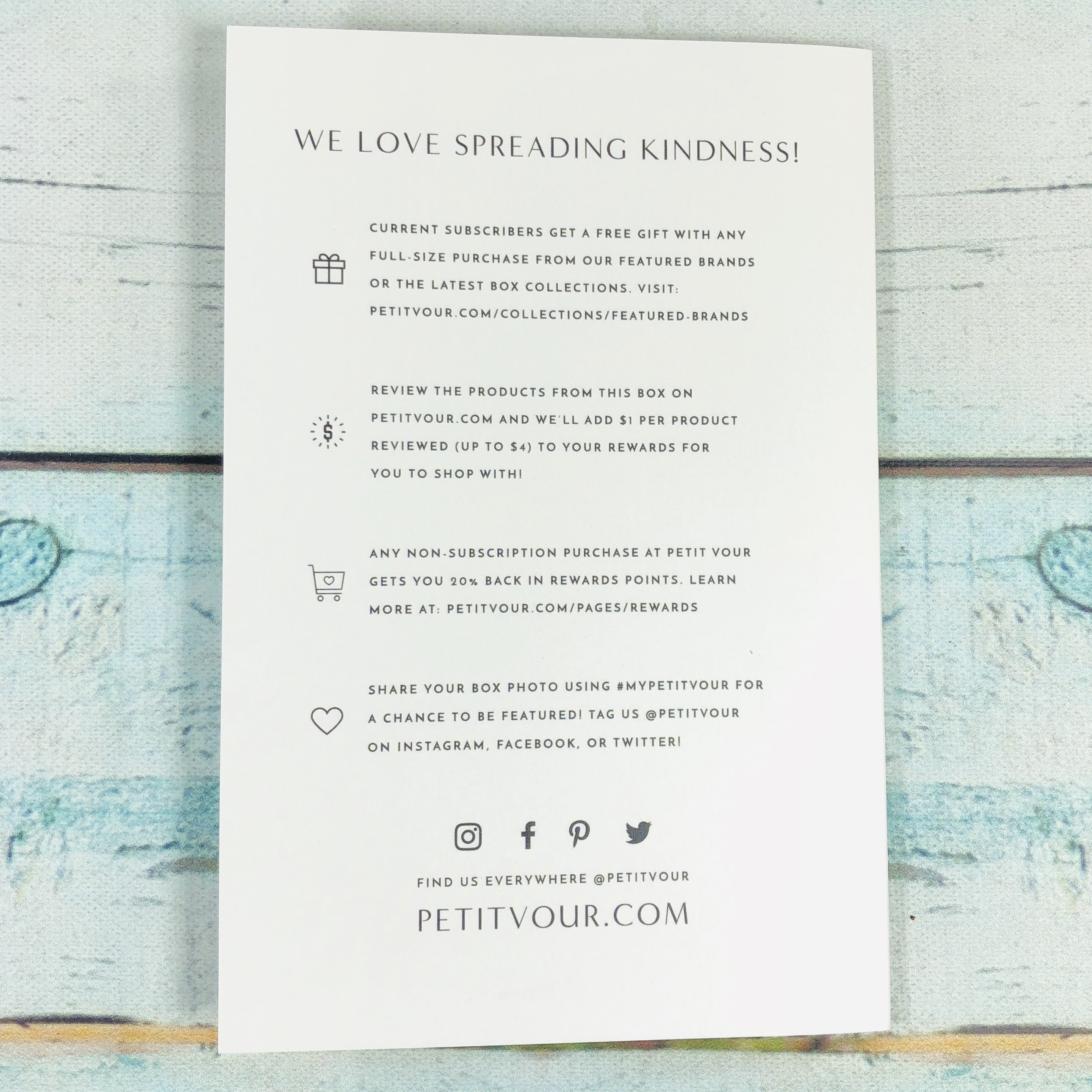 The back of the card gave info on how to earn reward points, plus if you share a photo of your box on social media your picture may be featured!
Everything in my box!
Formulary 55 Sea Mineral Foot Soak Eucalyptus & Peppermint ($7) When I opened my box the invigorating scent of this foot soak greeted me and I love it!
Sea salt, baking soda, rosemary leaf, charcoal, and essential oils are the short and clean list of ingredients. There should be enough for 1-2 uses.
It kind of looks purple! The picture on the website is white though so maybe it's time for them to re-shoot the picture and it looks like there was a reformulation since the ingredients on the package and the ingredients on the Petit Vour website are different. I haven't tried this yet but I am planning a pedicure session this week and can't wait to use my foot soak. It is supposed to fizz when it hits the water so I look forward to seeing if that happens but again, since it no longer has citric acid in the formula, there is nothing really to set off the baking soda.
Shamanuti Seaweed Toner ($10) I tend to use toners to make sure that I have removed all traces of makeup at the end of the day. I sprayed this one on a cotton pad and wiped it all over.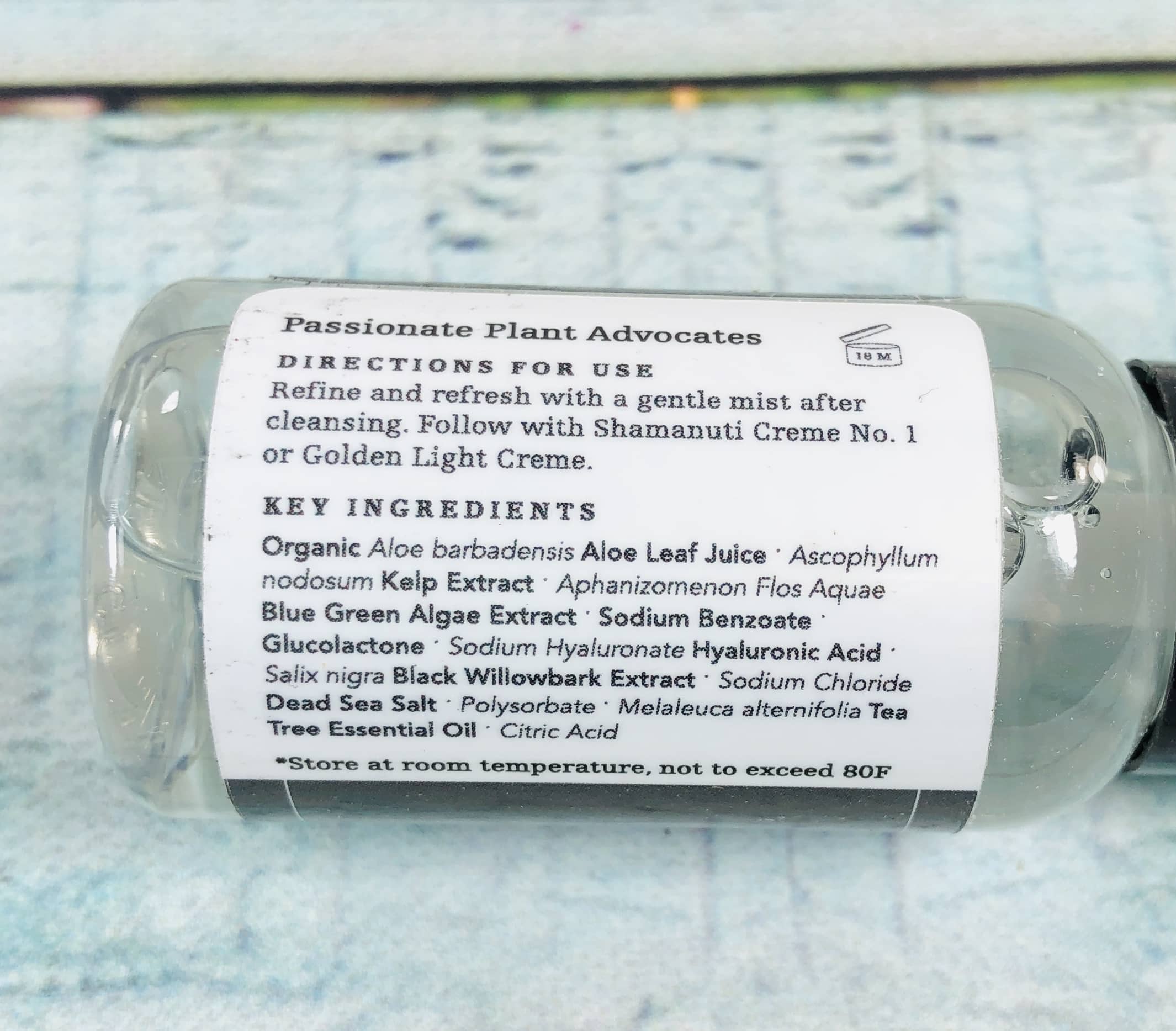 Aloe, kelp, and blue green algae are the first few ingredients and are supposed to provide moisture, antioxidants, and nutrients. I didn't notice a tea tree scent but it does smell a bit like jasmine and is pleasant, while tea tree almost always smells medicinal. Again, the ingredient list is different on the PV website, which lists essential oils, plural, in the list.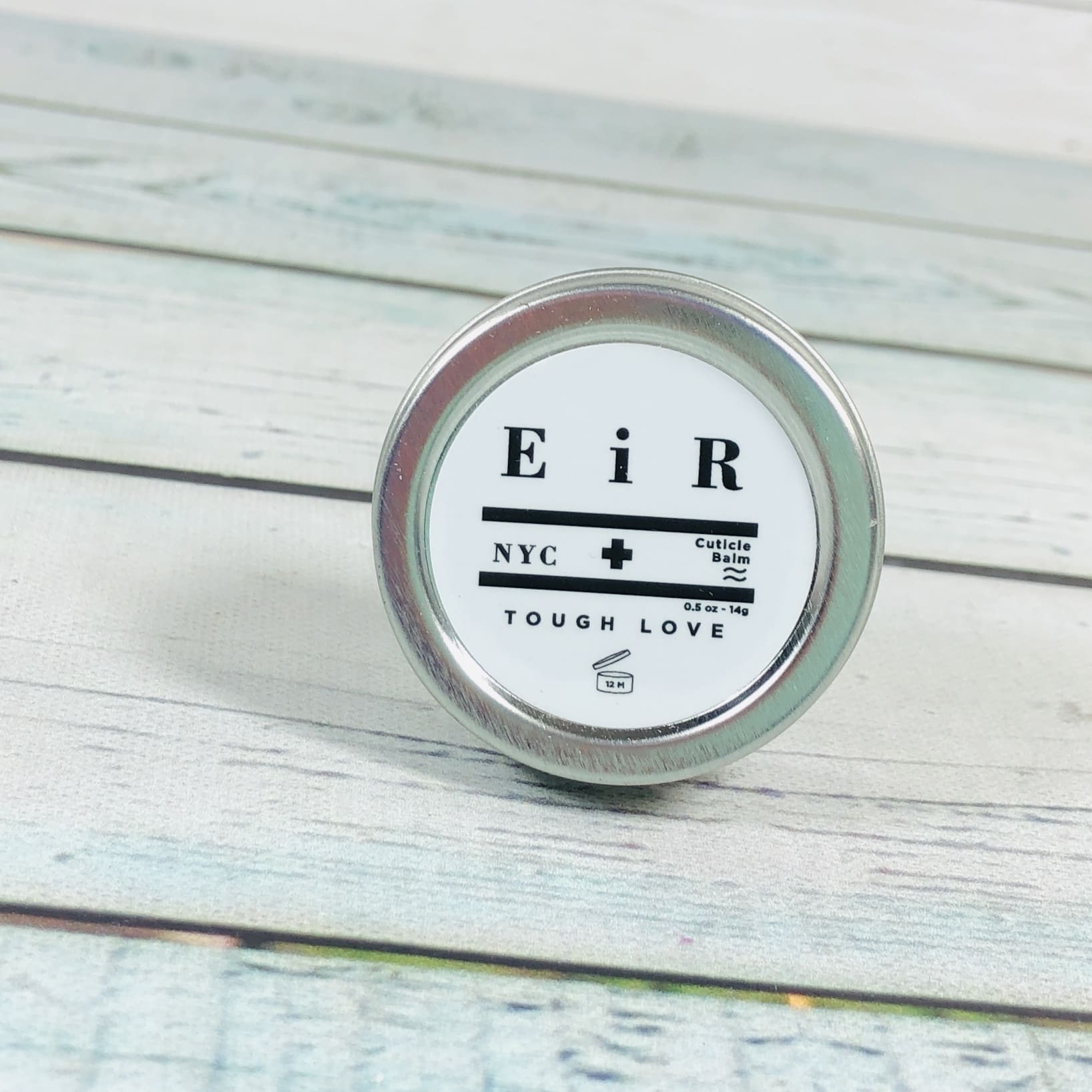 EiR NYC Tough Love Cuticle Balm ($14) I can always add a cuticle treatment to my routine, although it can also be used on hands and rough areas such as elbows.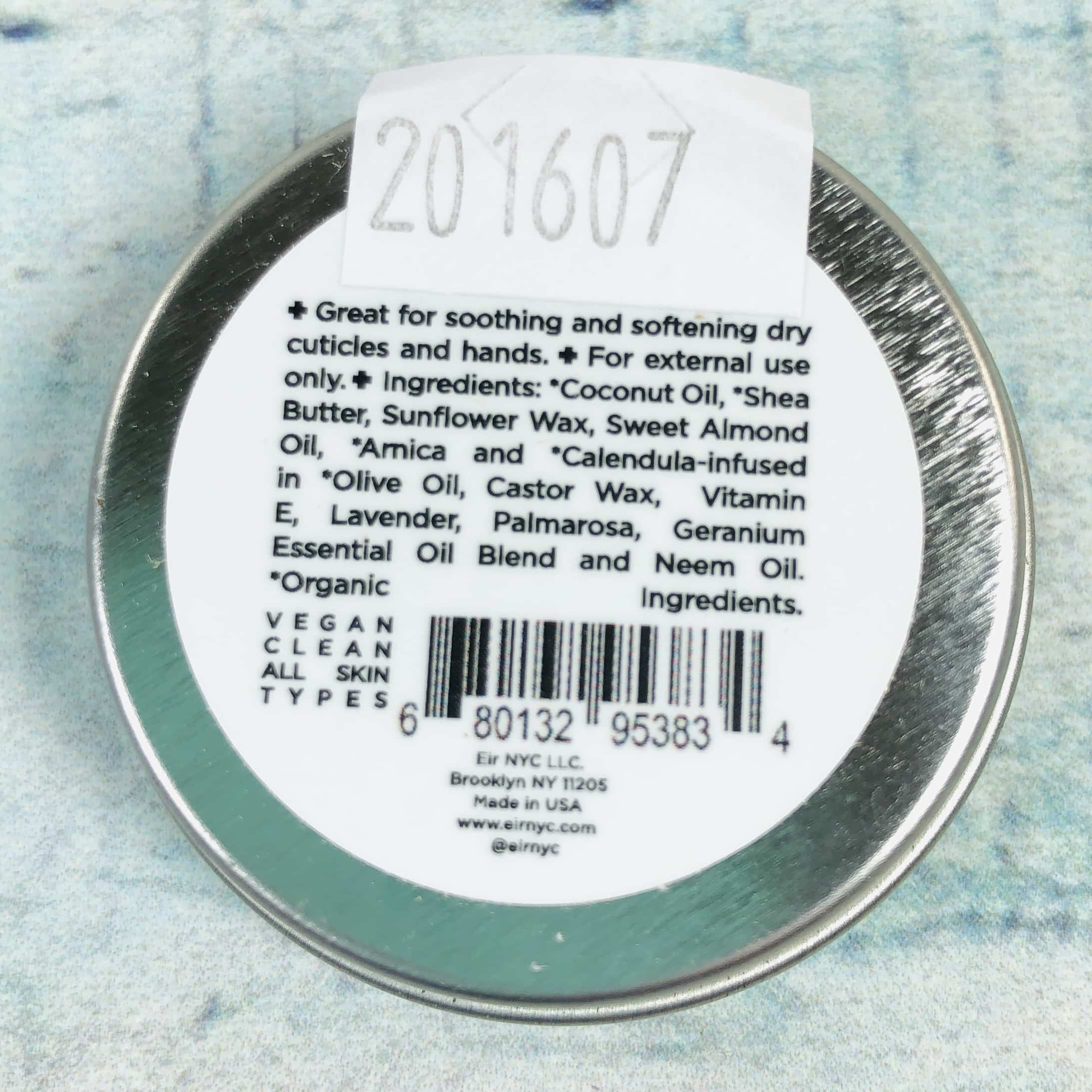 I am a little confused by the sticker on the back, which says 201607. That makes me think this was produced in July of 2016, which means it is 2 1/2 years old! If you look at the ingredients on the Eir website, you will see that this product now contains beeswax, which is not vegan, so skip that site if you want to keep it animal product free.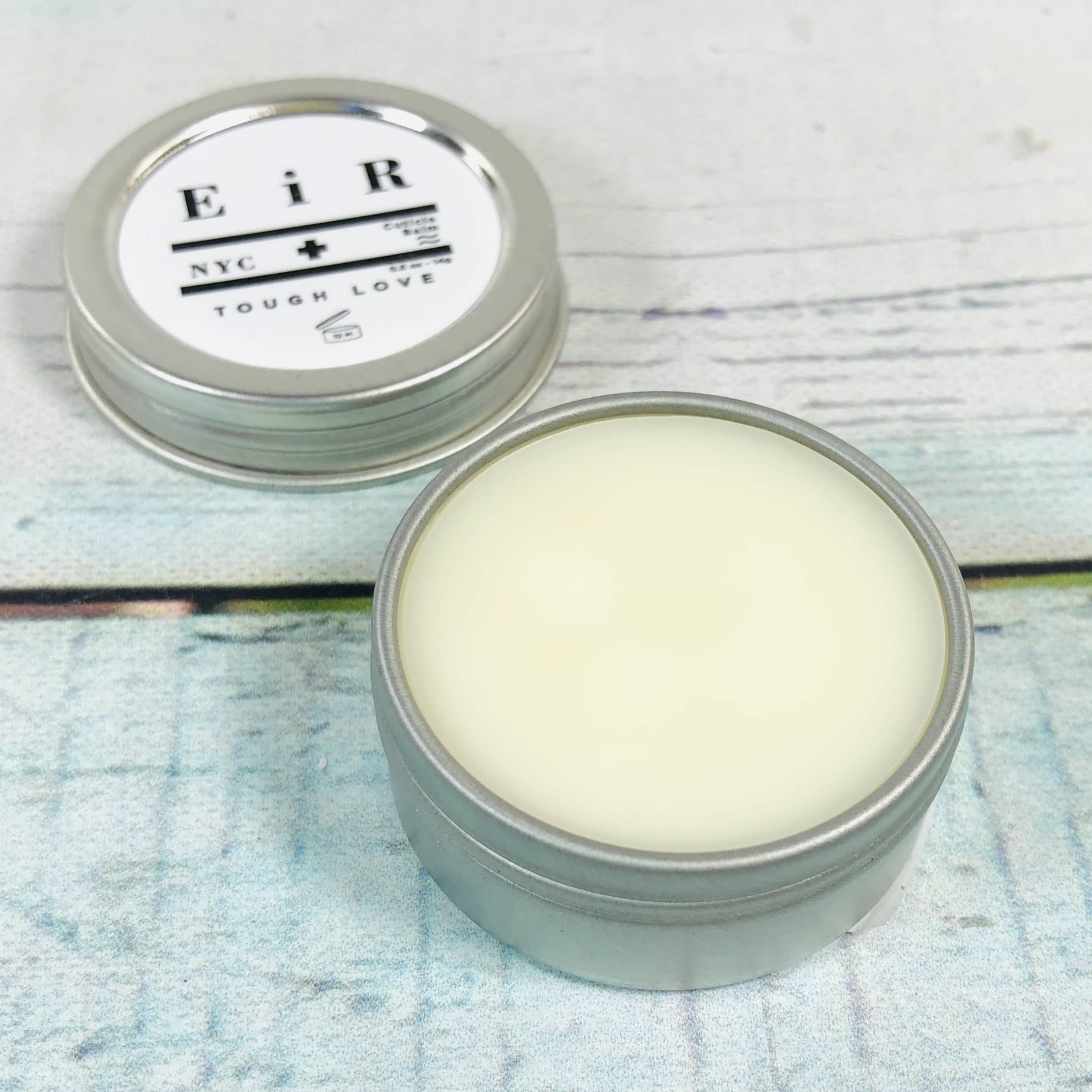 Luckily it doesn't smell like old product! It has a scent that I can't quite place but it smells herby. It was easy to apply to my cuticles and the container is hardy enough to throw in a purse or bag for any soothing touch ups that might be needed.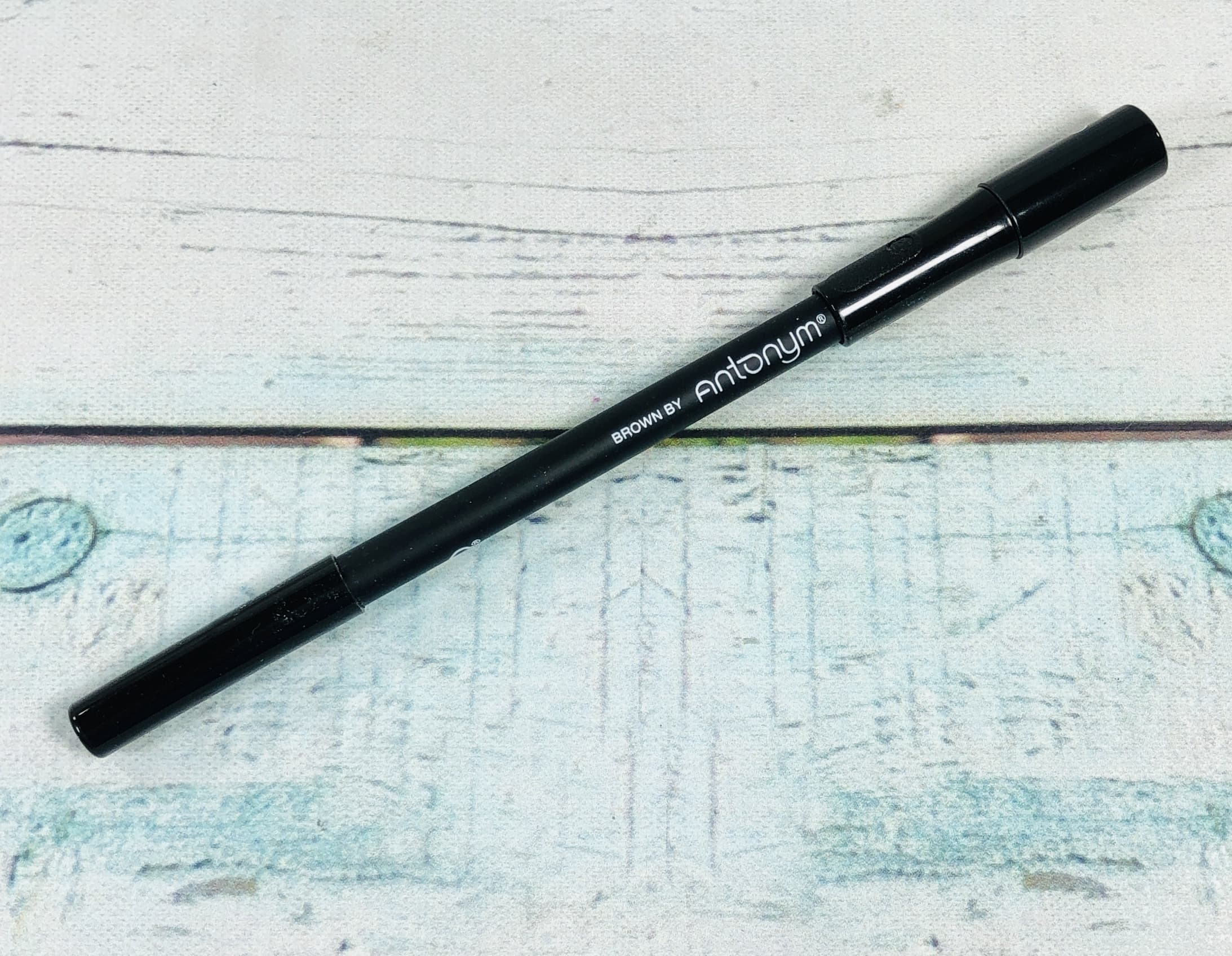 Antonym Certified Natural Waterproof Eye Pencil ($19) I received a brown pencil, which is a welcome change from the black ones that seem to be everywhere.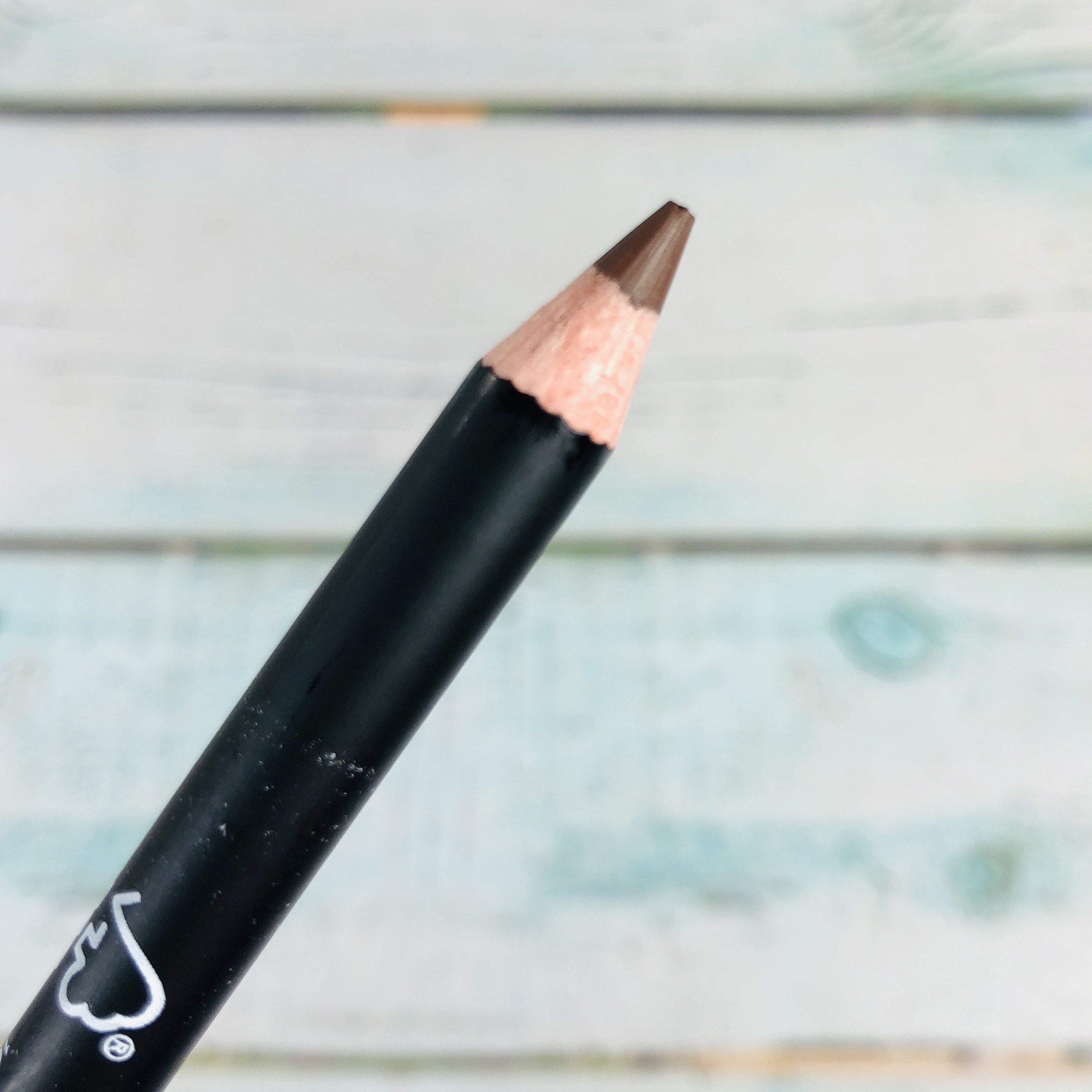 Jojoba oil, shea butter, and plant waxes are a few of the ingredients found in this pencil.
It even came with a detachable sharpener!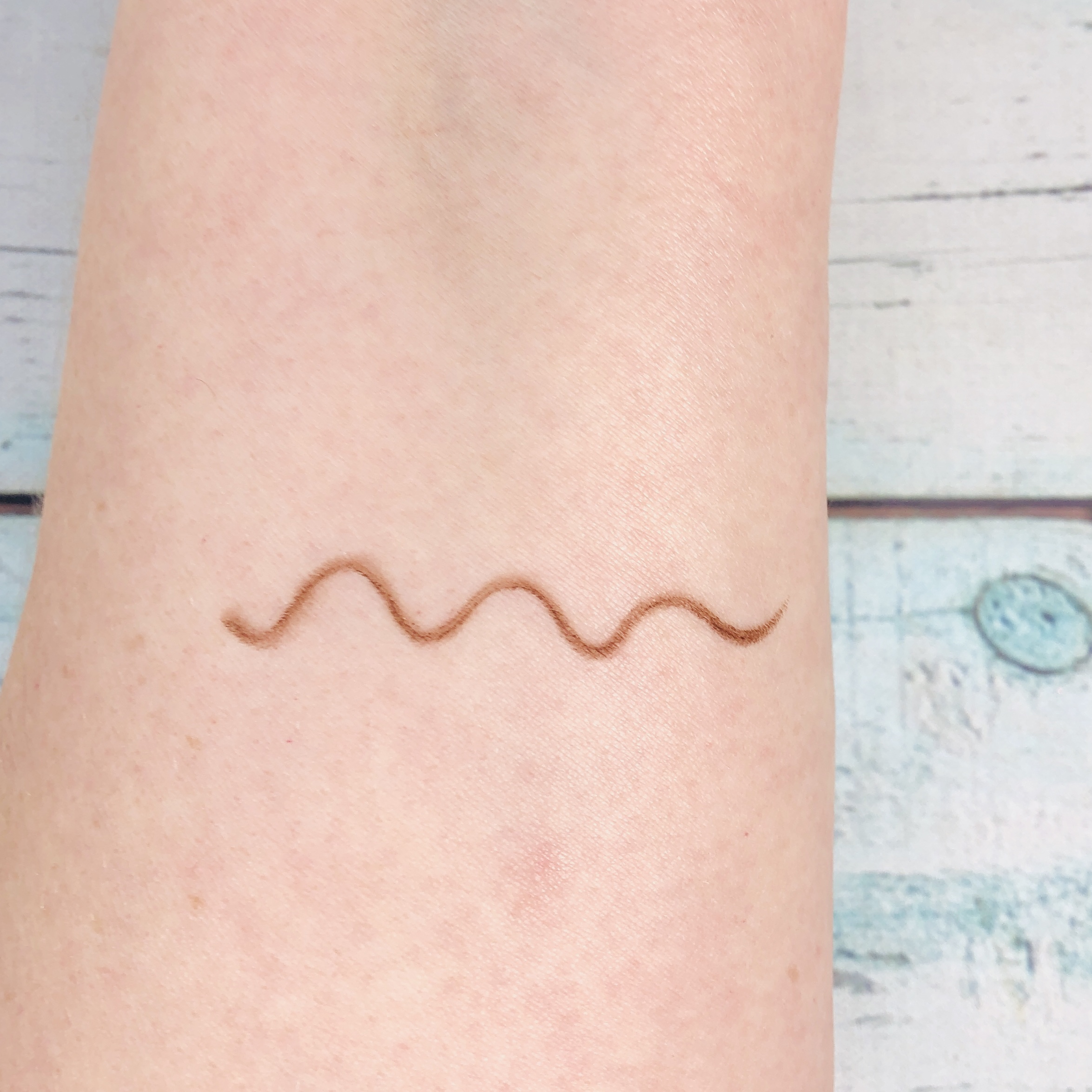 The color was a little lighter than I was expecting but it looked good with my coloring. I know it says it is waterproof and while I didn't test this in wet conditions, I discovered I had to do mirror checkups frequently because I would find it had migrated under my eyes, yet I still had liner on at the end of the day. Also, I was happy that the product went on smoothly without tugging.
I do a little happy dance every month when my Petit Vour Beauty Box shows up! I love the brands they send and am happy knowing they are safe for my skin and body. They work well and are oftentimes luxurious to use. I did find some inconsistencies in ingredients though but most of them were pretty minor, as long as the ingredients on the containers are correct. The value for the February box was around $50!
What did you think of the February Petit Vour? I'd love to hear your thoughts on this box in the comments! 
Visit Petit Vour to subscribe or find out more about this vegan beauty subscription box!