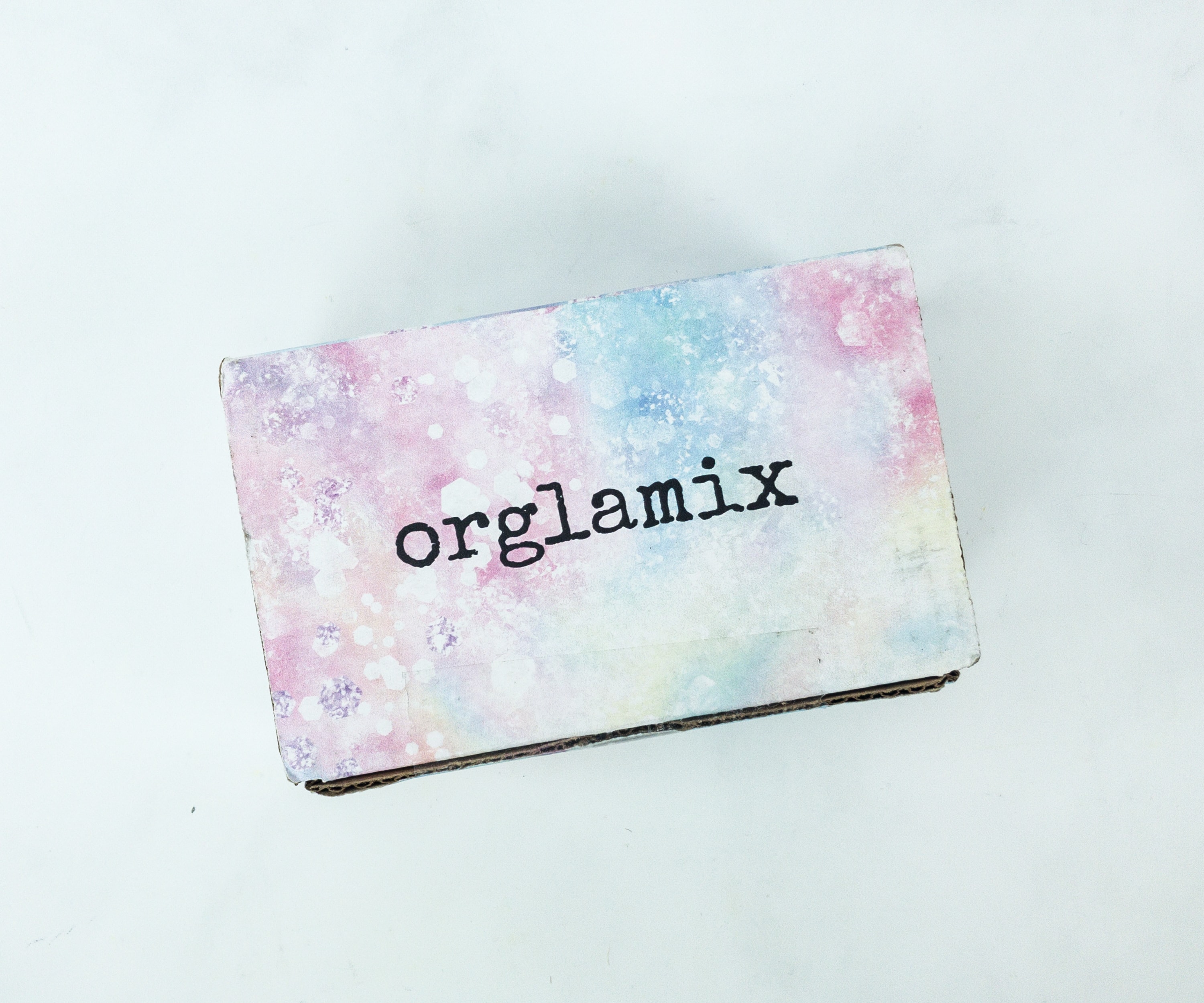 Orglamix is a monthly vegan beauty and makeup subscription box. Every month you'll get vegan beauty products with a cute monthly theme! Some months are more skin care and body care focused, others have a good dose of Orglamix mineral makeup. Orglamix has recently added the Eyeshow Edit box for $21.95 a month with 3 shades of highly pigmented mineral shadows.
DEAL: Save $5 on your first month with coupon code CRATEJOY.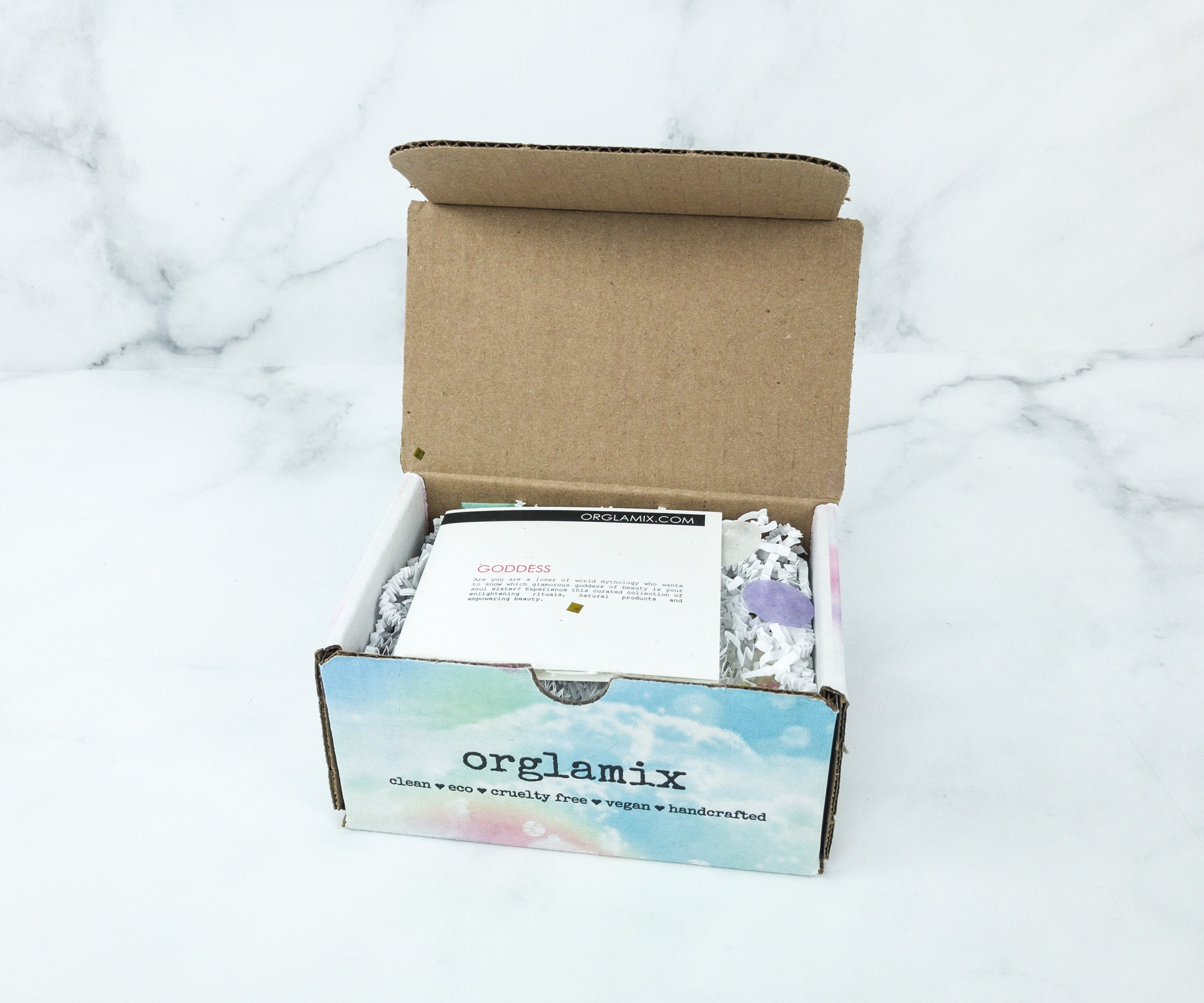 There's a card on top of the items.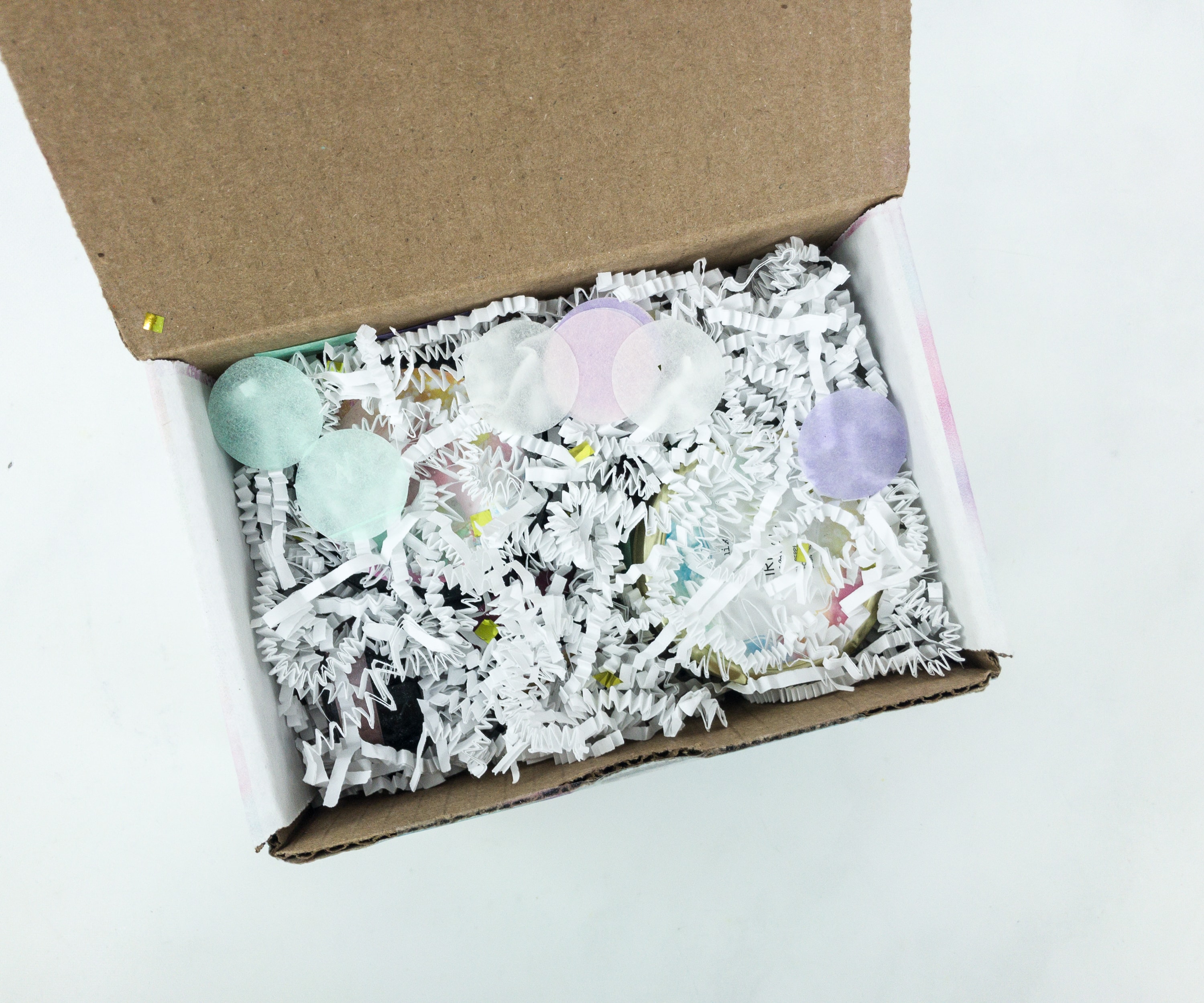 The items were neatly packed and filled with squiggles to prevent them from moving around.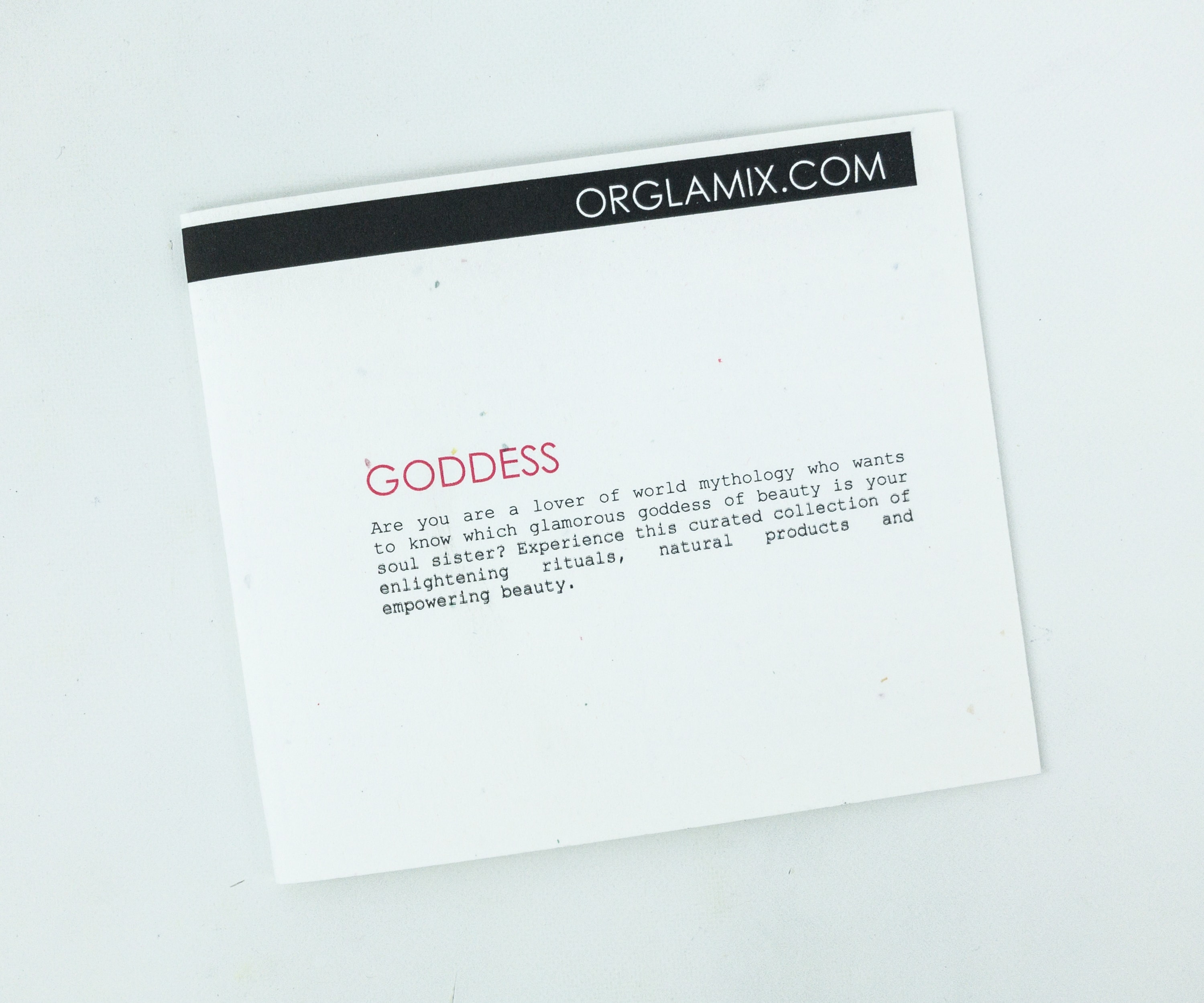 The February 2019 theme is GODDESS.
The information card has details on every item, plus useful tips.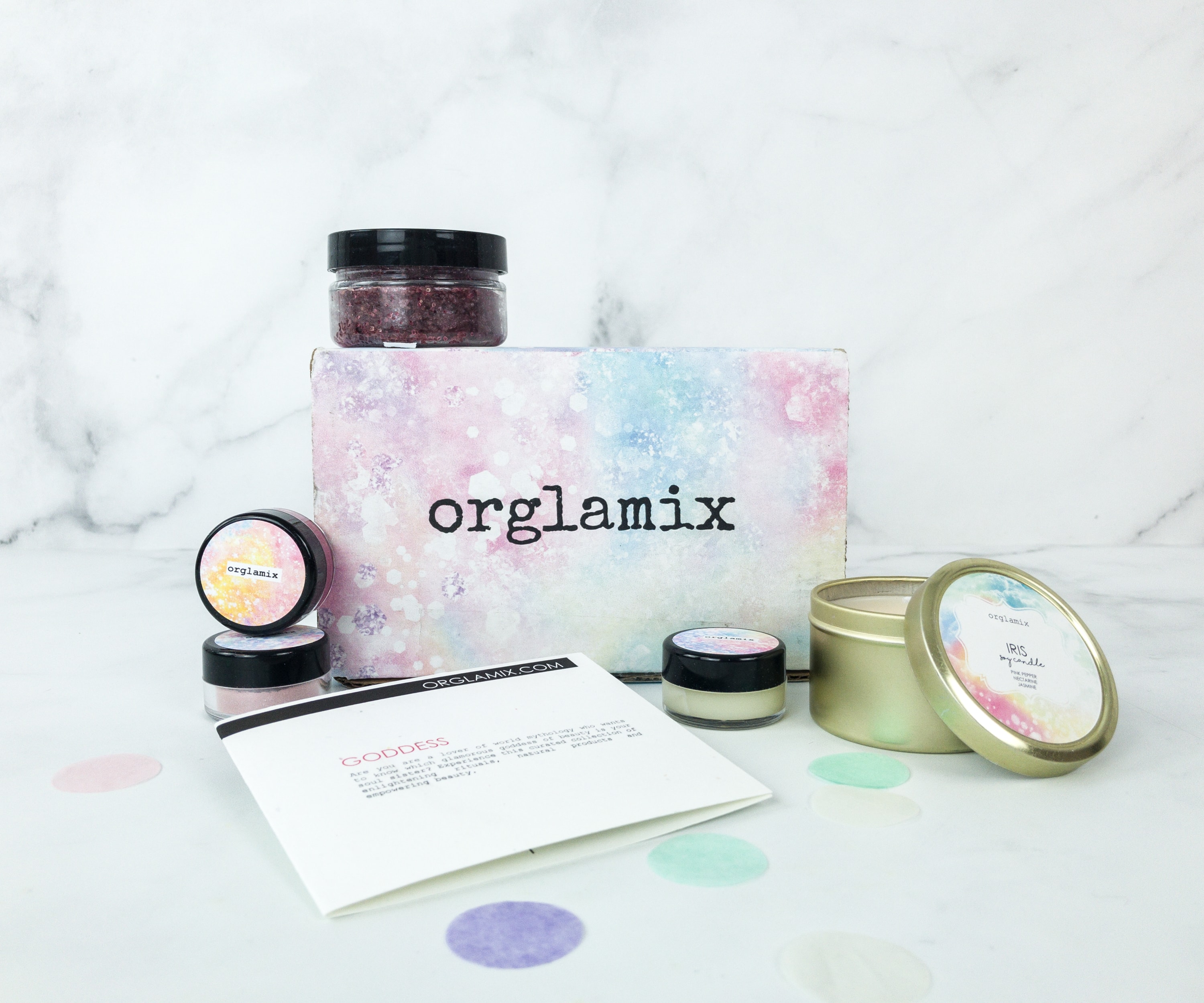 Everything in the February 2019 Box!
Orglamix Iris Soy Candle ($12) I like the floral scent of this soy candle! It has notes of bergamot, jasmine, orange, plum, nectarine, sandalwood, white patchouli, and black currant. It's even packaged in a gold colored tin, which adds to its elegance. The scent is soft and not overbearing.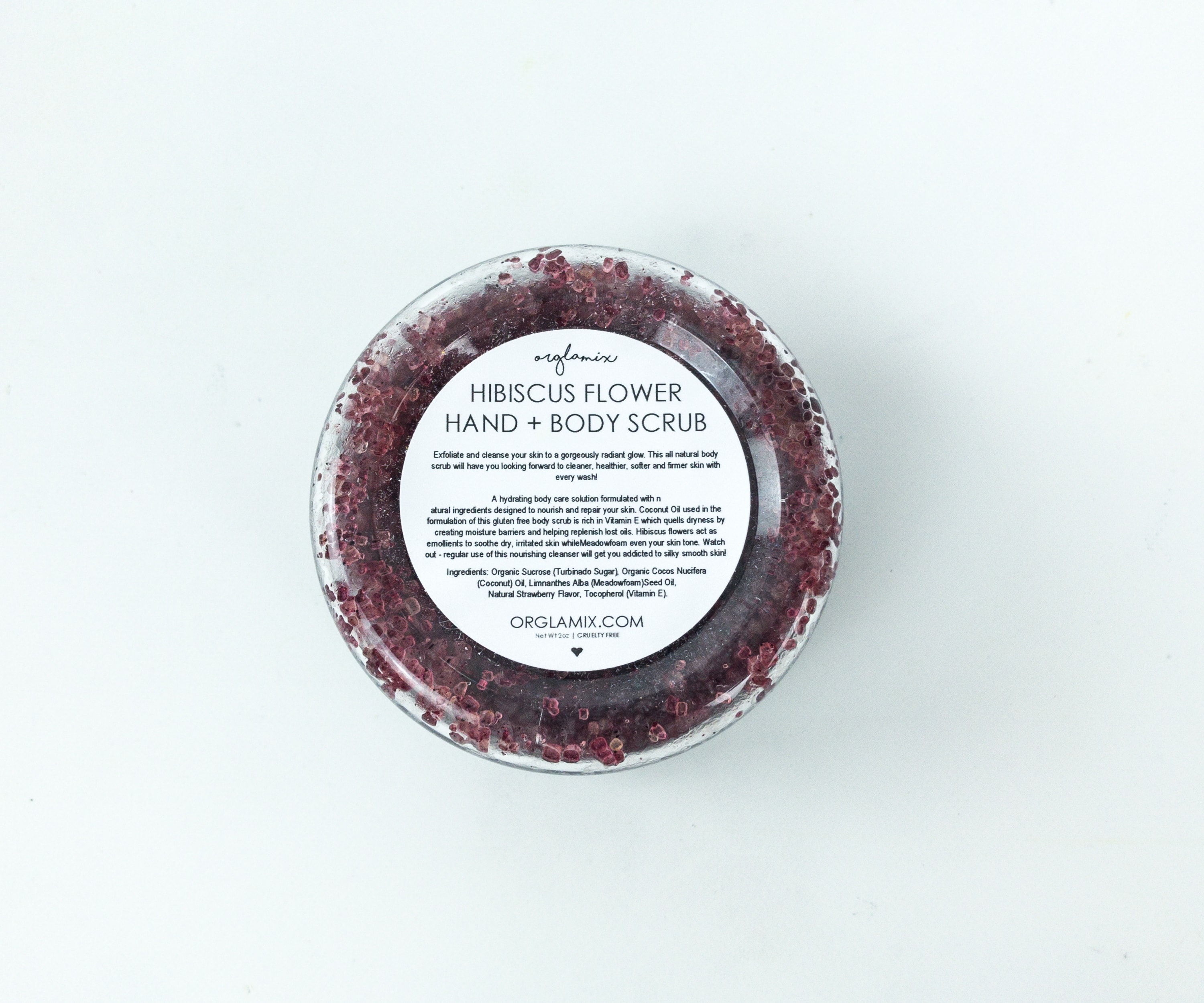 Orglamix Hibiscus Flower Hand + Body Scrub ($18) Made with fair trade sugar crystals from organic sugar cane juice, this exfoliating scrub removes dead skin cells and leaves your hands and body feeling soft and smooth.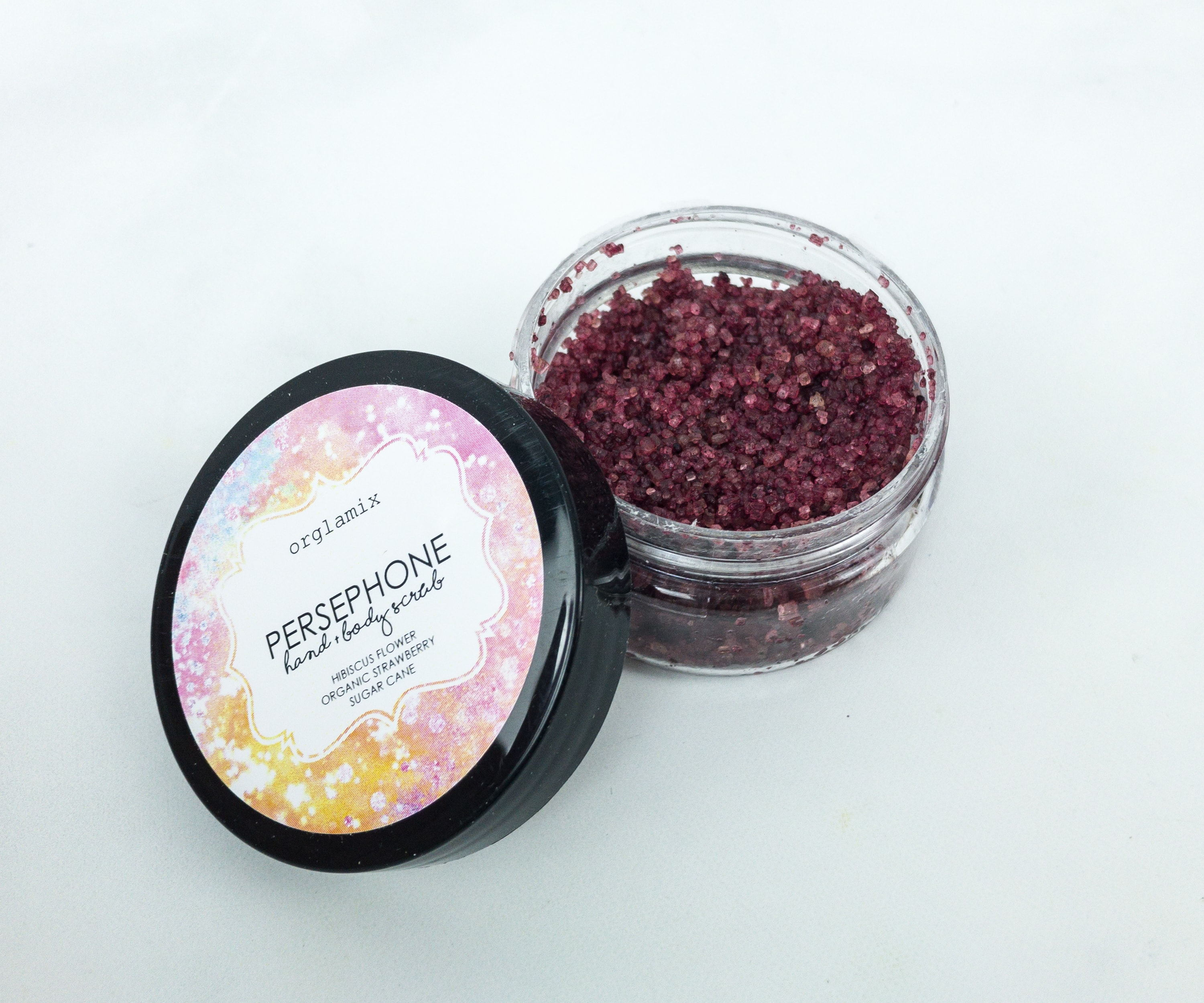 It also contains hibiscus flower and organic strawberry, and it just smells so good. A little goes a long way. To use, just put a small amount on your palm and massage it gently on your skin. It works great on dry and rough areas. There's no icky residue either.
Orglamix NYX Lip Balm Butter ($7) Sweet almond and rose hip oils were combined in this balm butter, making it nourishing and moisturizing. It's in a travel-friendly size!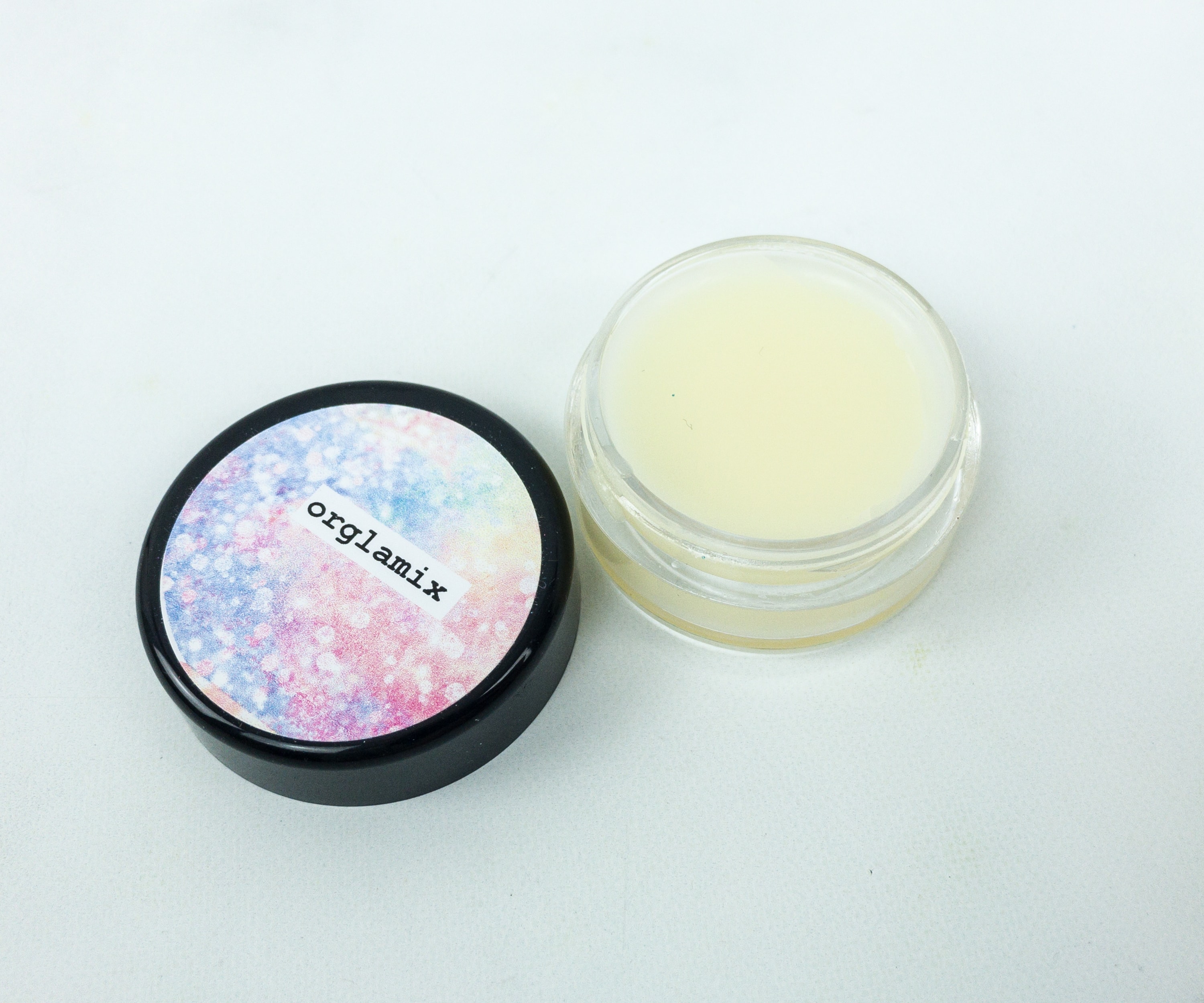 It also smells fresh and sweet.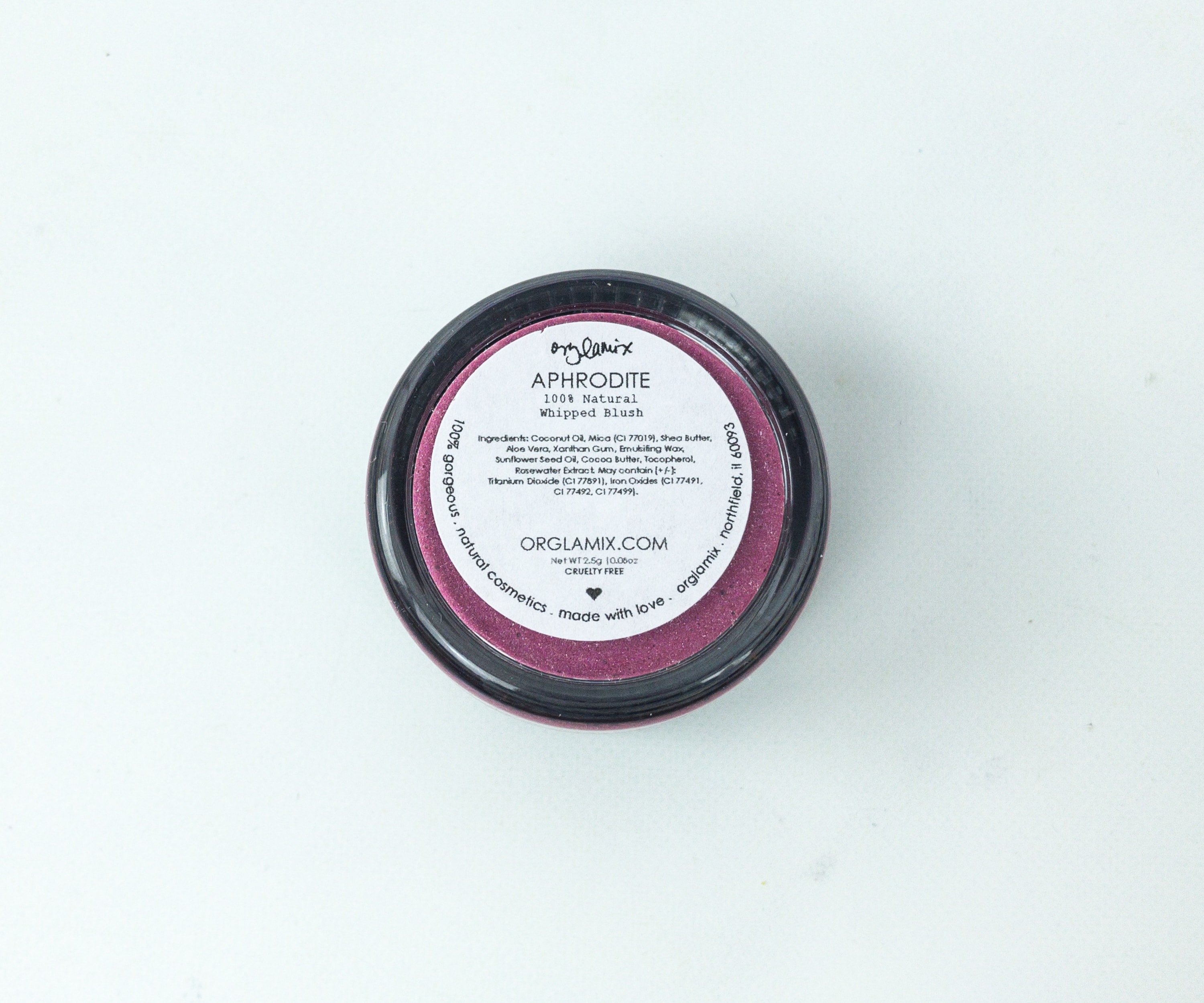 Orglamix Aphrodite Whipped Blush ($18) It's a unique blush with a whipped texture, ideal for bringing a healthy glow to your dull complexion.
It's lightweight and long-lasting. The formula also leaves your skin with a soft matte glow finish.
Orglamix EOS Natural Eyeshadow ($12.50) This dewy eyeshadow is made with jojoba seed and rosehip oils. The neutral color is just what I need for a natural look.
It's quite messy when I opened the container but it's all good. The eyeshadow stays long and it's not drying too.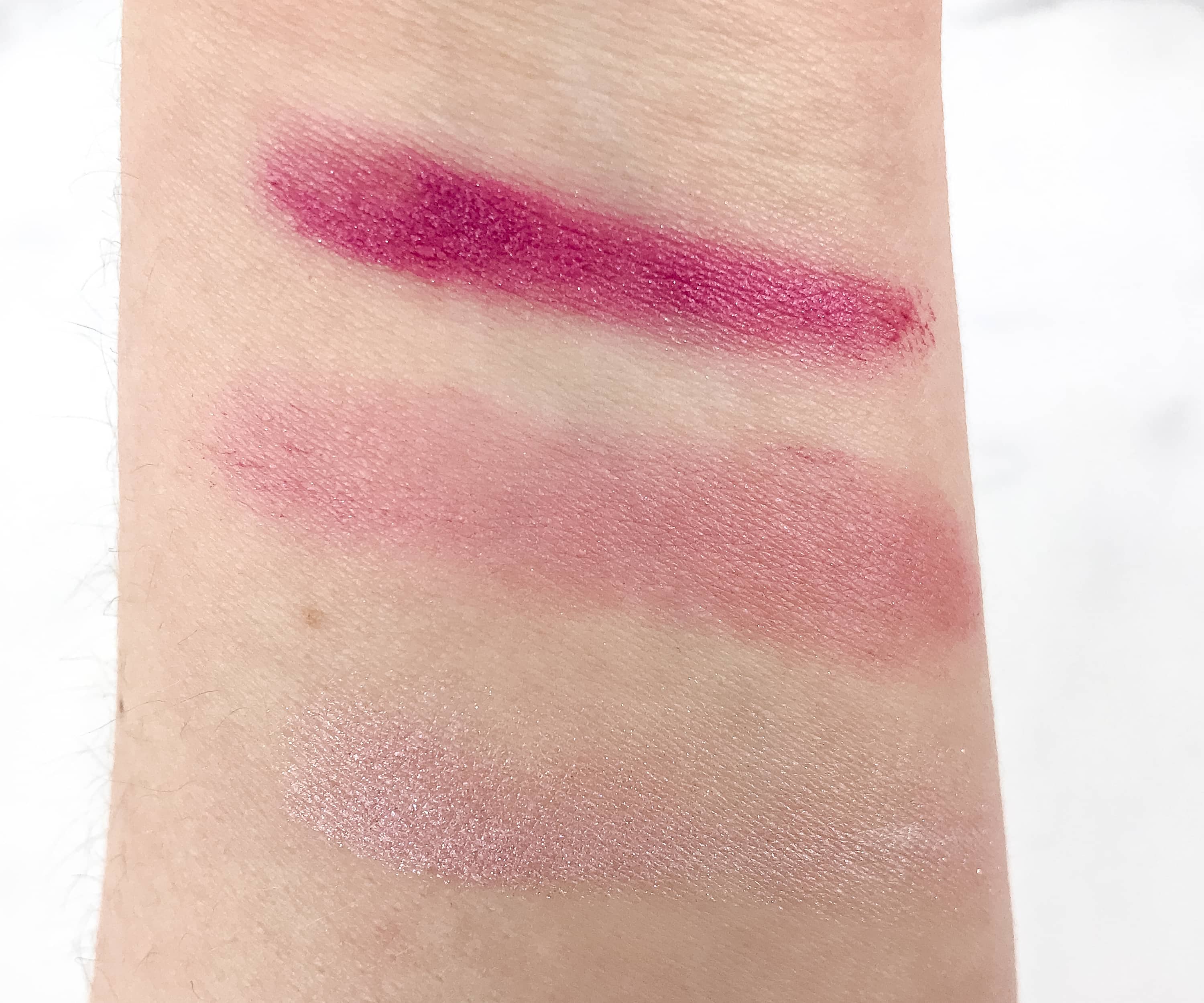 Here are the swatches! The whipped blush was a little hard to apply because it didn't stick to my fingers, so I did a second swatch with it blended out.
This month's Orglamix box had a bunch of wonderfully scented items and I'm in love! I like the scented candle in a gold colored tin, it's perfect for creating a relaxing moment any time of the day. Another favorite is the hand and body scrub, which made me feel renewed and refreshed. The rest of the items are as lovely and useful. Getting all these vegan products makes me happy and this was a pretty box for the month of love – but it arrived in late March! I hope they do get caught up with their boxes this year. Thanks Nancy for letting us know this is the March box. She noted the February box included items that were previously shipped to subscribers. I'm definitely looking forward to the next themes and items from this subscription!
What do you think of this month's Orglamix?