Olfactif is a monthly fragrance sampler subscription box that sends hard-to-find niche perfumes. Every month you'll receive 3 samples, each of which contains 2.5ml and gives around 40 applications of an independently designed perfume. Olfactif is $20 a month, or sign up for a longer subscription for a discount – prepay for a year and the price drops to $15 a box!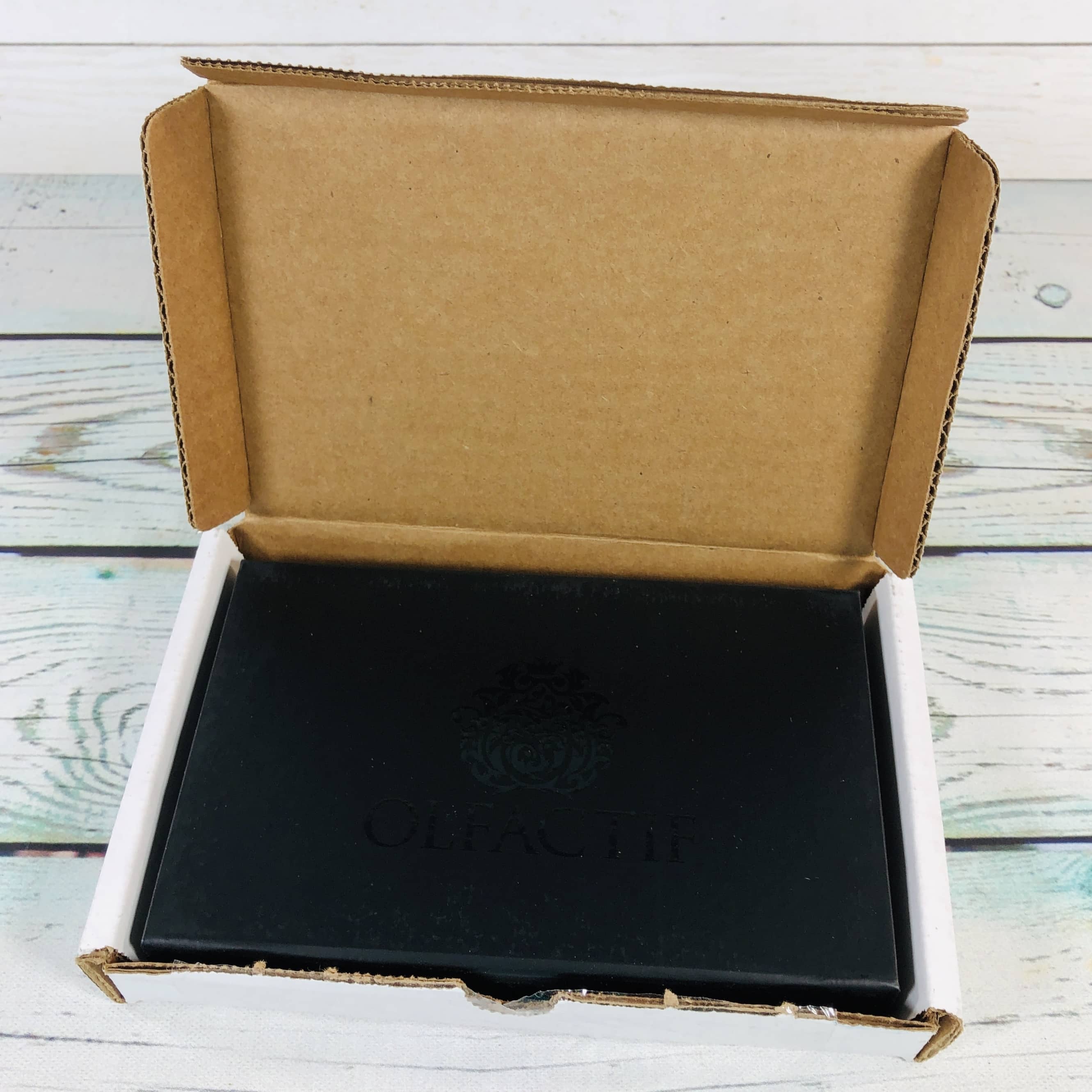 In addition to receiving a curated collection of 3 premium fragrances from around the world, members also receive: 20% off full bottles of every featured scent, 10% off all other full bottles, 10% off all à la carte samples, and earn free stuff with rewards points.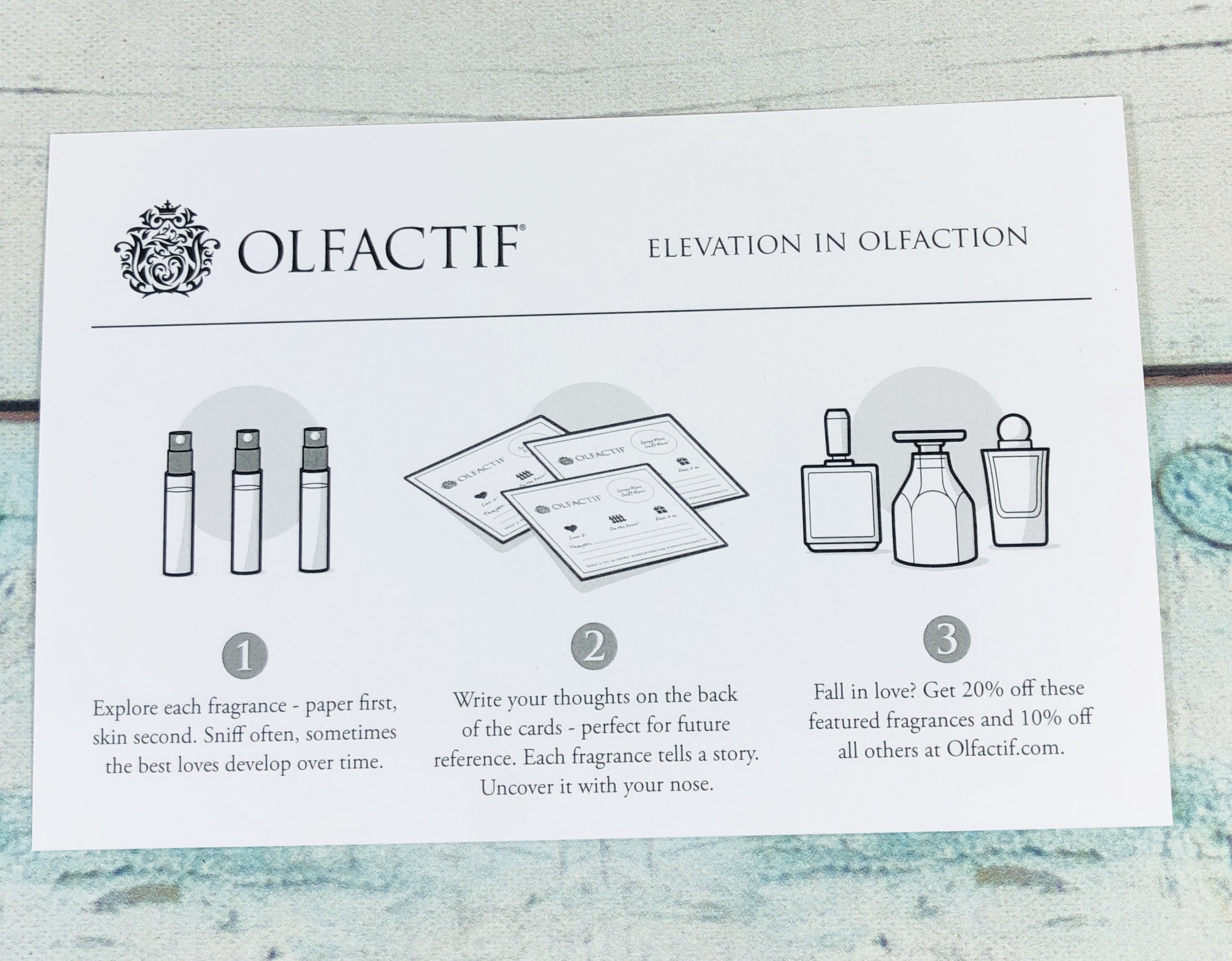 There was a card with a little info on the subscription. Olfactif now offers atomizers with samples, similar to other to-go fragrance subscriptions out there, but with a limited selection of niche fragrances, most of which are not available in other subscriptions. Prices vary depending on the scent chosen and you can choose from two colors of case – either Rosé or Stone. Each of those samples are 5ml.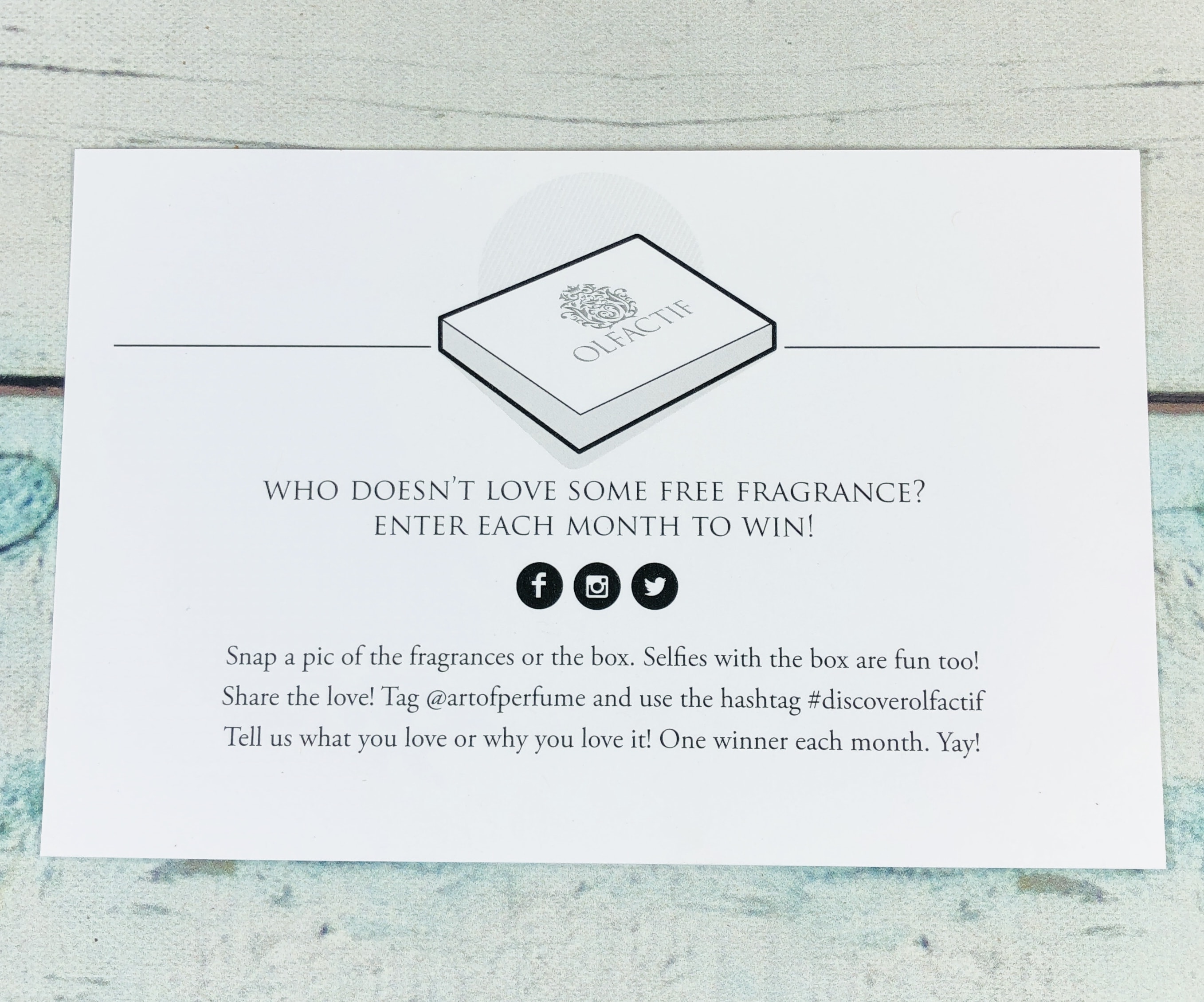 The back told how you could win some free fragrance.
Olfactif sends their scents in a black box with a magnetic closure. Very classy. Olfactif focuses on niche fragrances – unique scents produced with higher quality and harder-to-find ingredients than you would encounter in a department store. When you subscribe you can choose from the Women's or Men's box. You can check out our reviews of Olfactif Men here.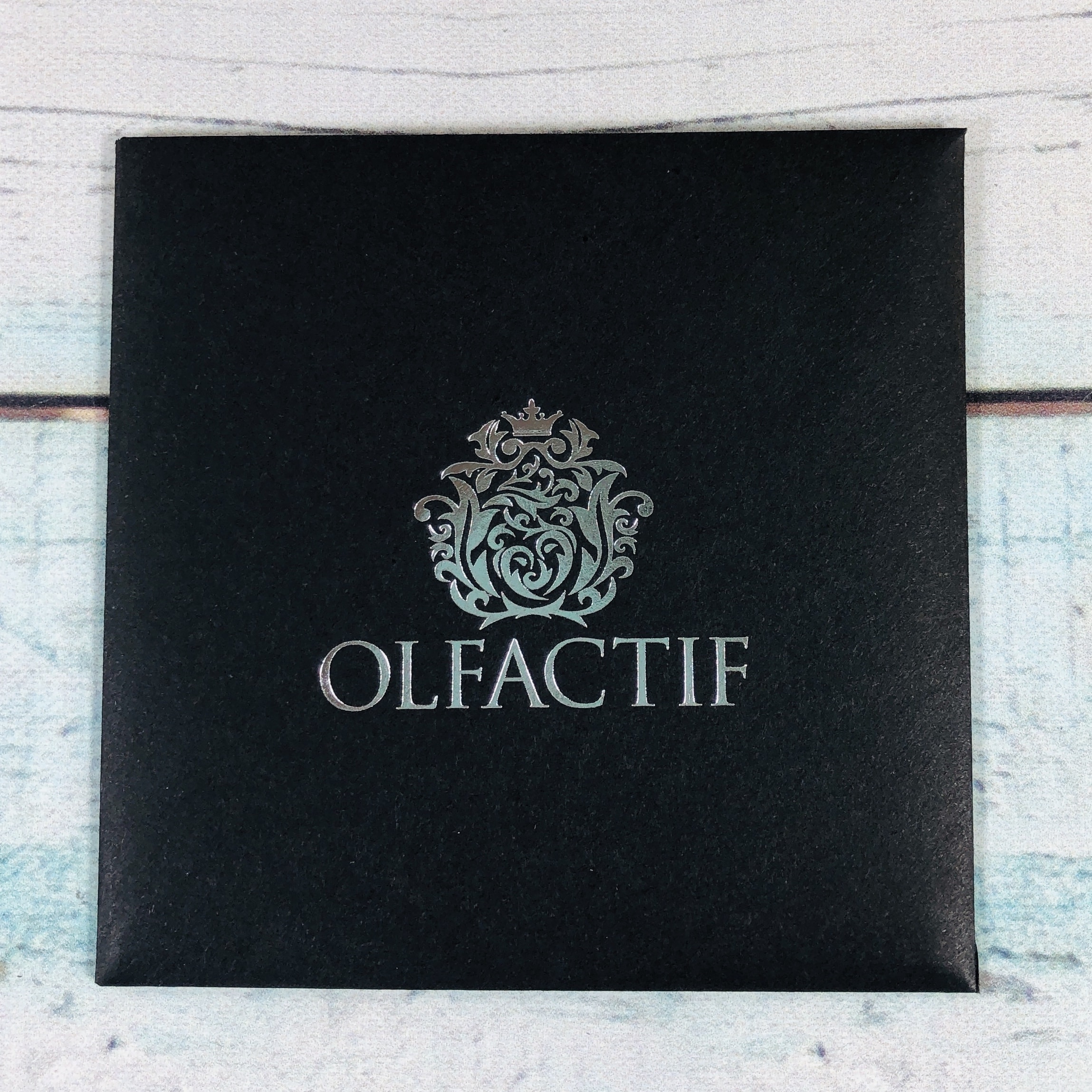 On top I found a black envelope with the Olfactif logo.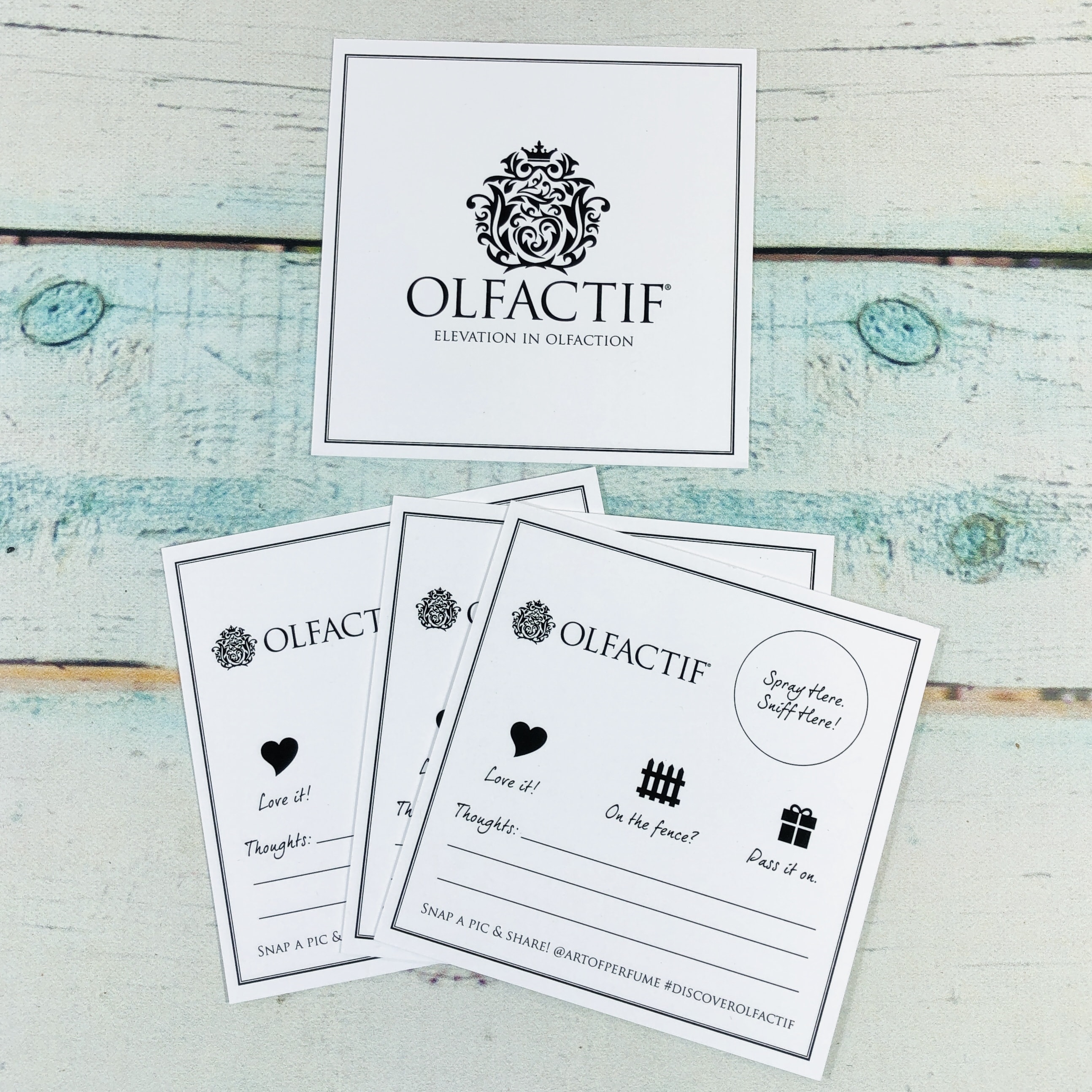 Inside I found four cards. You test your scents directly on the back of each scent's card. There's even space to write notes on what you thought of the fragrance.The first thing I do when I receive this box is spray each card with its scent, then decide which one to try on my body first!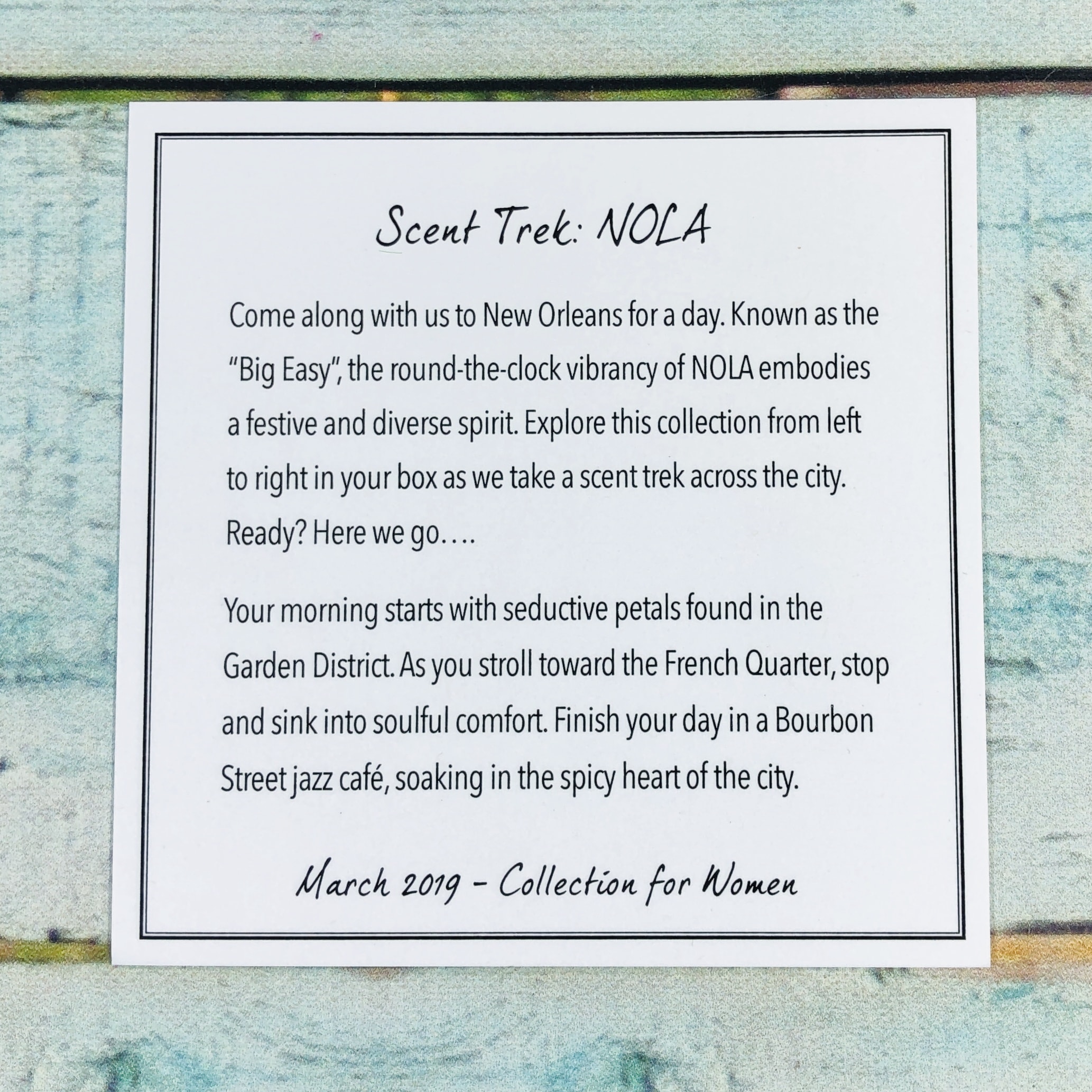 The theme for March's box is Scent Trek: NOLA. A note about my testing procedure: I always try each fragrance at least twice and on non-consecutive days. Sometimes what we eat may affect a scent and I want to make sure that last night's spaghetti dinner doesn't taint a scent.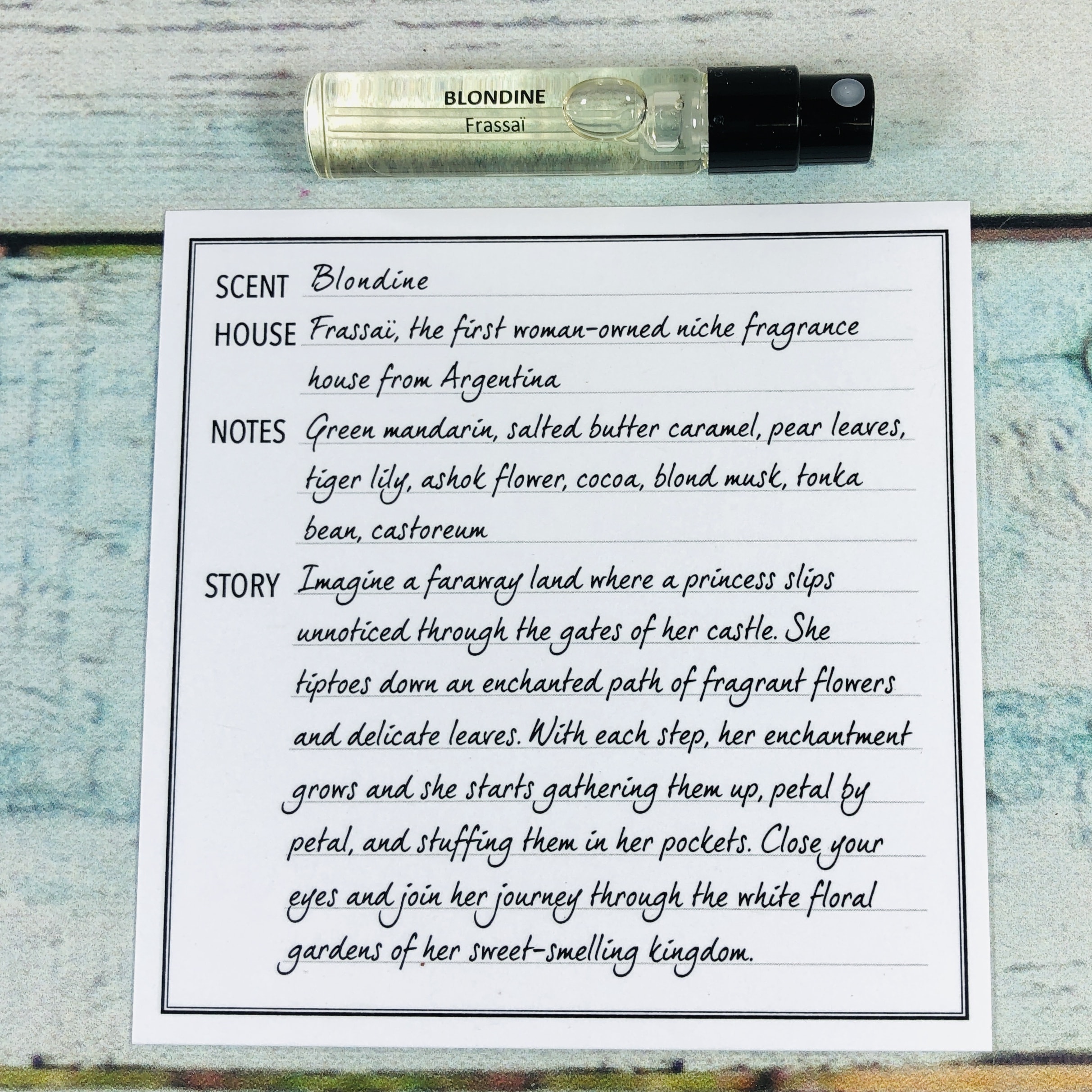 Blondine Frassaï ($130 for 50ml) I love sweet and warm scents and this floral even moves into gourmand territory. It has notes of salted caramel, citrus, vanilla, and some other notes I don't recognize (I've never heard of ashok flowers or smelled a pear leaf!). I think it smells sweet and comforting and it also smelled very different when I used it over a body oil, it brought out some of the citrus notes. Definitely an arm sniffer, I can't stop smelling it!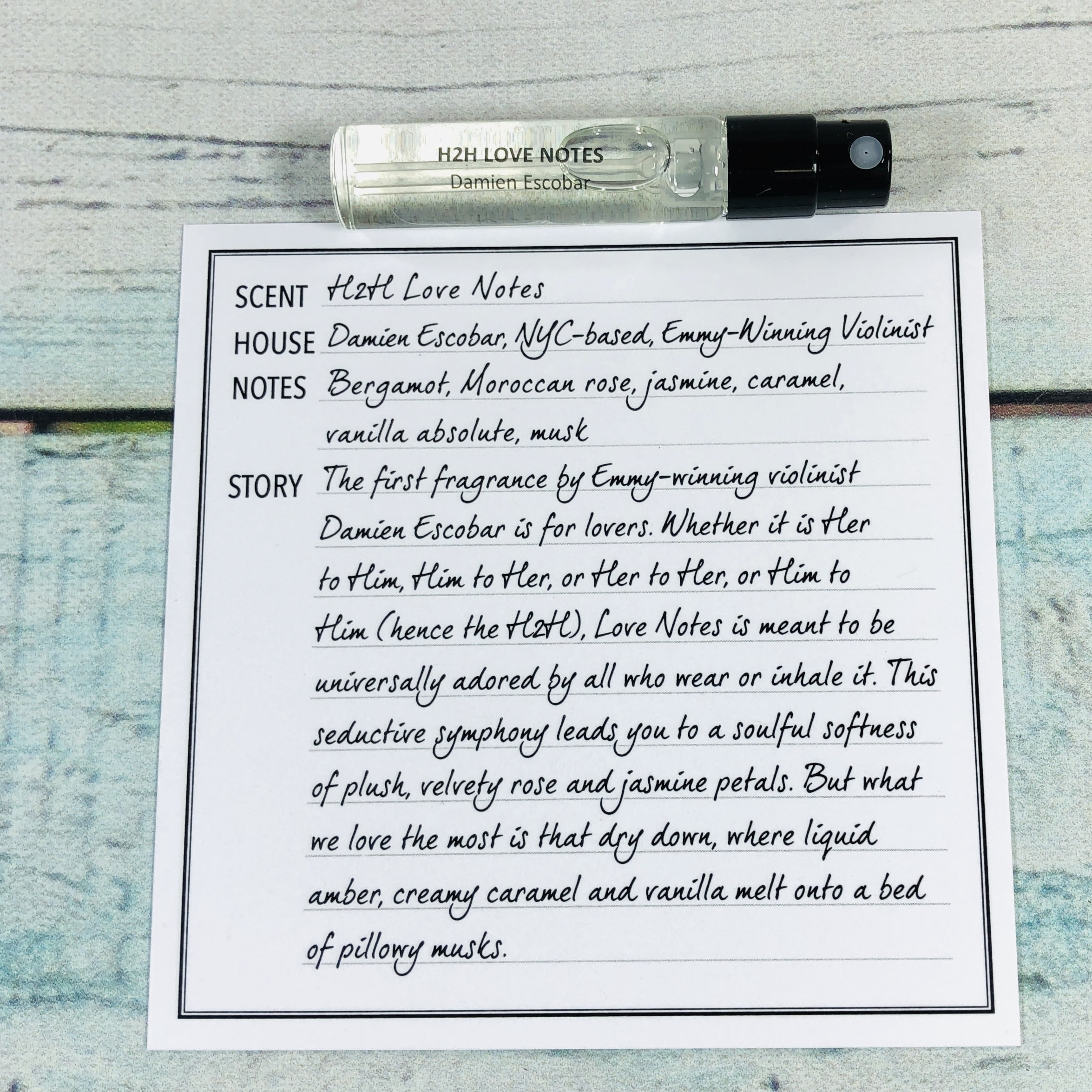 H2H Love Notes Damien Escobar ($70 for 100ml) Not much is out there about this fragrance and you can only get it from pop up shops or Olfactif! It has notes of bergamot, Moroccan rose, and musk and is considered unisex. I think it is warm and sweet, spicy and not too deep. Wait a minute, the dry down is much deeper once the top notes fade. It smells like vanilla, caramel, and sweet spices and I can't really pick out the bergamot. A lovely fragrance.
Jacaranda Natura Brasil ($95 for 50ml) Here is another independent perfume with not a whole lot of info. Notes include grapefruit, papyrus, and rose and while I can't say what papyrus smells like, I am not picking up the other two notes on my body. The scent is supposed to smell fresh and spicy, and it does, with hints of cinnamon peeking through a creaminess that I wasn't expecting. I can't stop smelling my arm!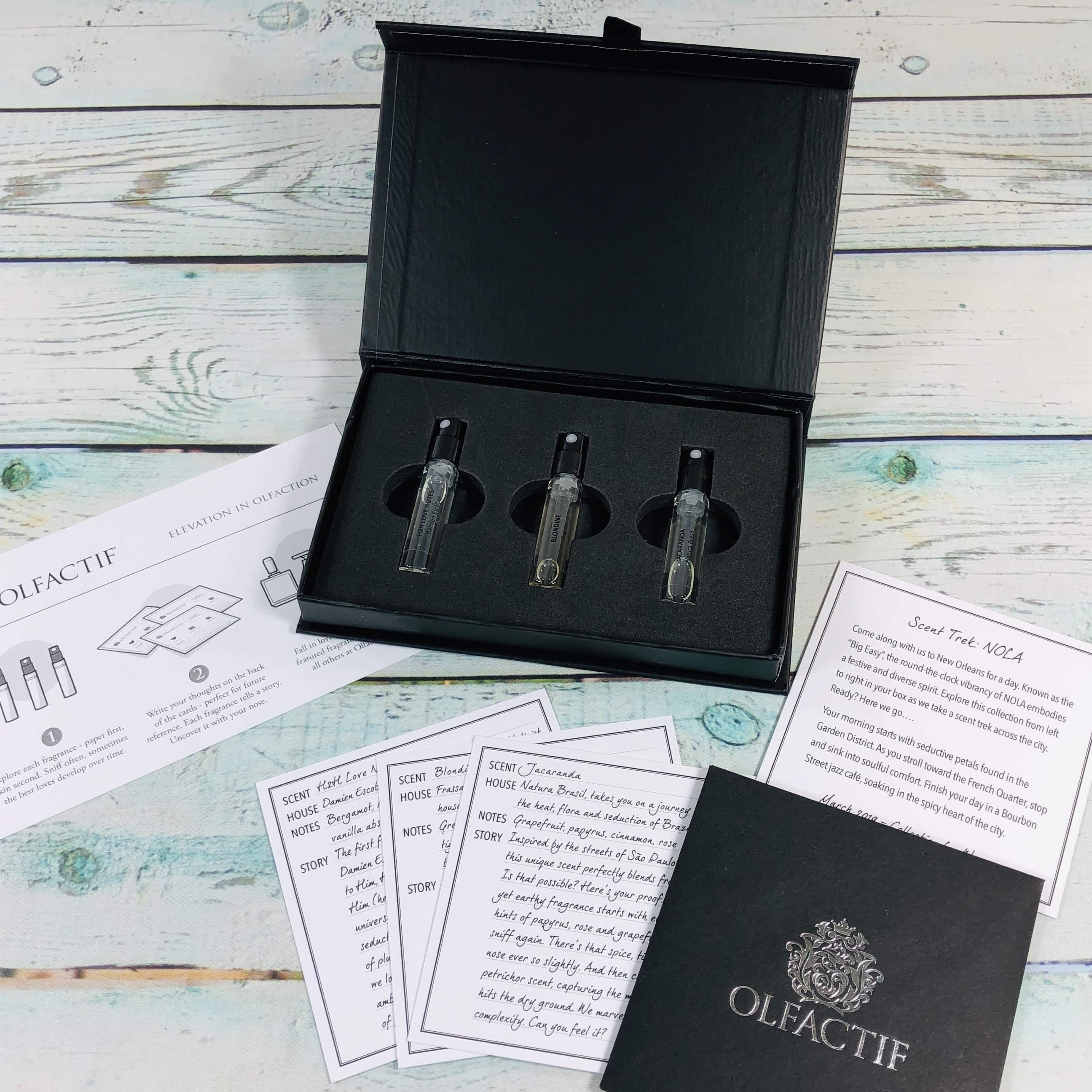 Olfactif is such a neat way to discover niche fragrances. They are so unique and bear little resemblance to the stuff found at Sephora or a department store. The scents also change over time and sometimes from one wearing to another. It is exciting to smell the progression over a couple of hours and to discover some of those base notes that don't show up right away. I also enjoy the fact that Olfactif doesn't just send random scents but weaves them together into a story and I am happy to go along on the adventure!
Have you tried Olfactif? Let me know what you think of this subscription in the comments!