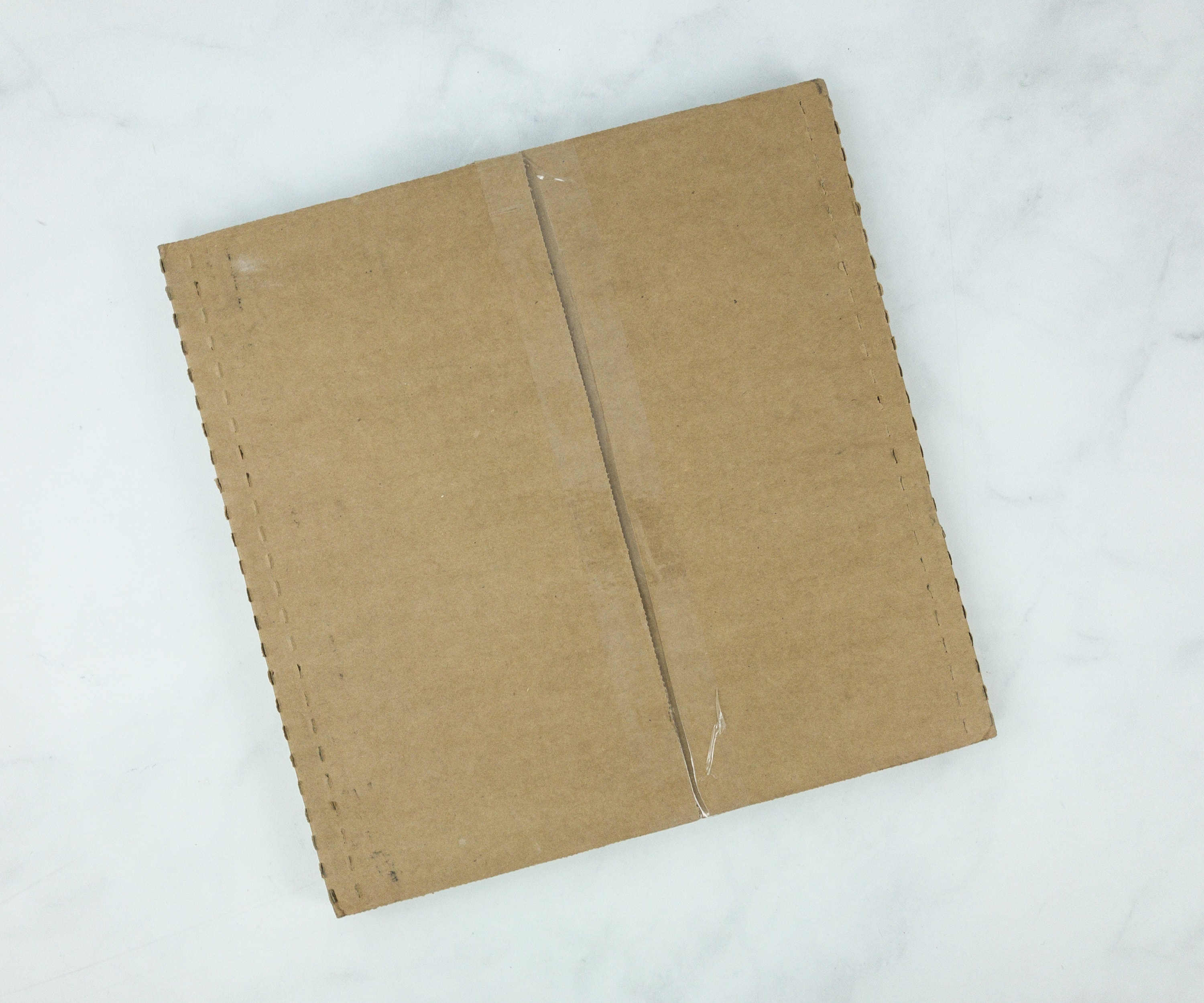 Little Feminist Book Club lets you diversify your kid's bookshelf with 1 to 2 hand-selected books for $19 per month. It is a subscription by age, which you can choose the range from 0-3, 3-7 to 7-9 years of age. You can then choose if you want a monthly ($23/month), or a pre-paid box for 3 months ($63 – $21/month), 6 months ($120 – $20/month) or 12 months ($228 – $19/month). Each box includes discussion questions, parent letter, and DIY ideas.
This is a box that teaches children how to be brave and empathic. It instills to their minds the principle of feminism and that all genders are equal.
This is a review of the book subscription for kids 3-7 years old!
DEAL: Get $5 off anything on LittleFeminist.com! Use coupon code HELLO.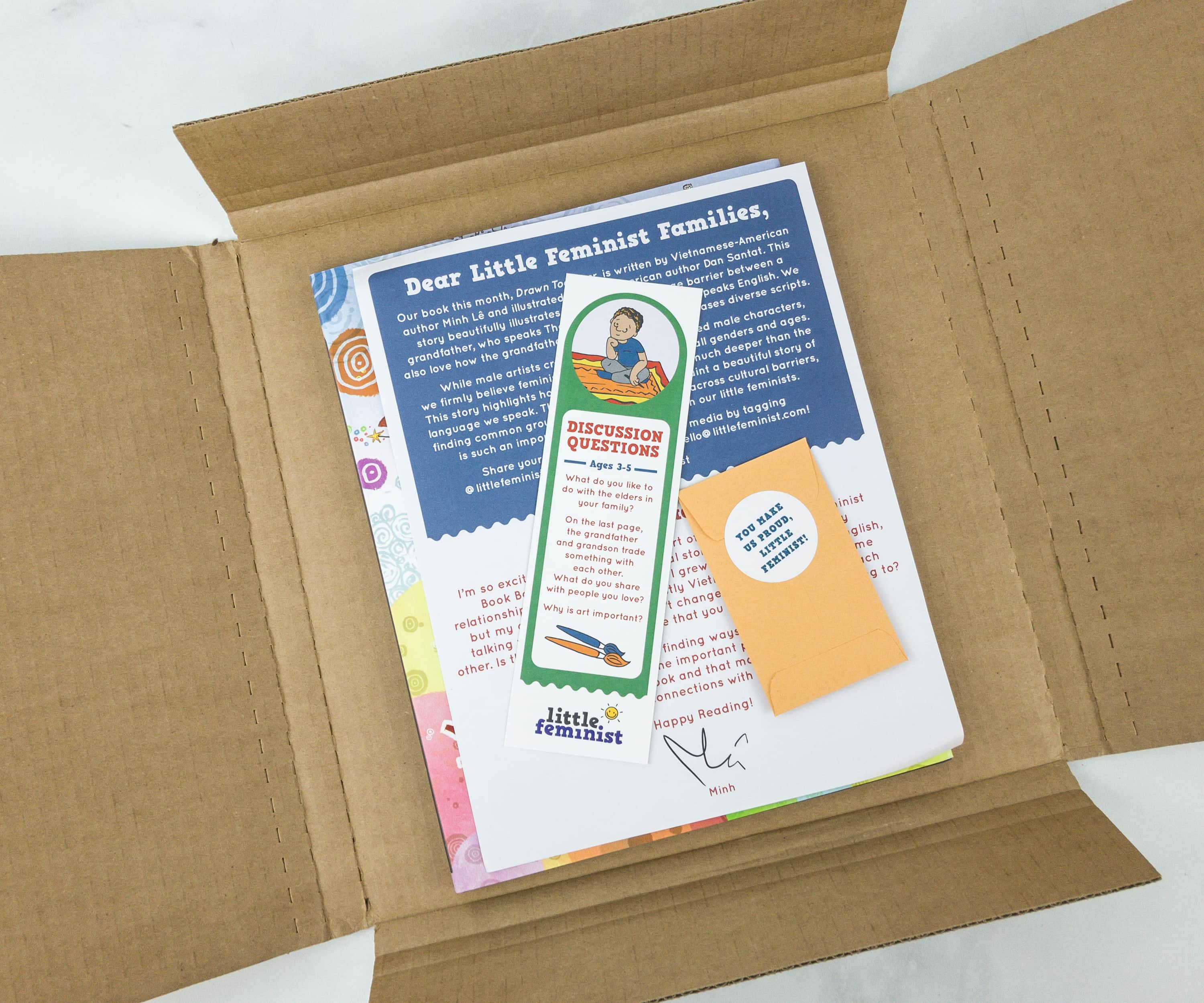 The book is wrapped neatly in a cardboard box along with the fliers and a small envelope.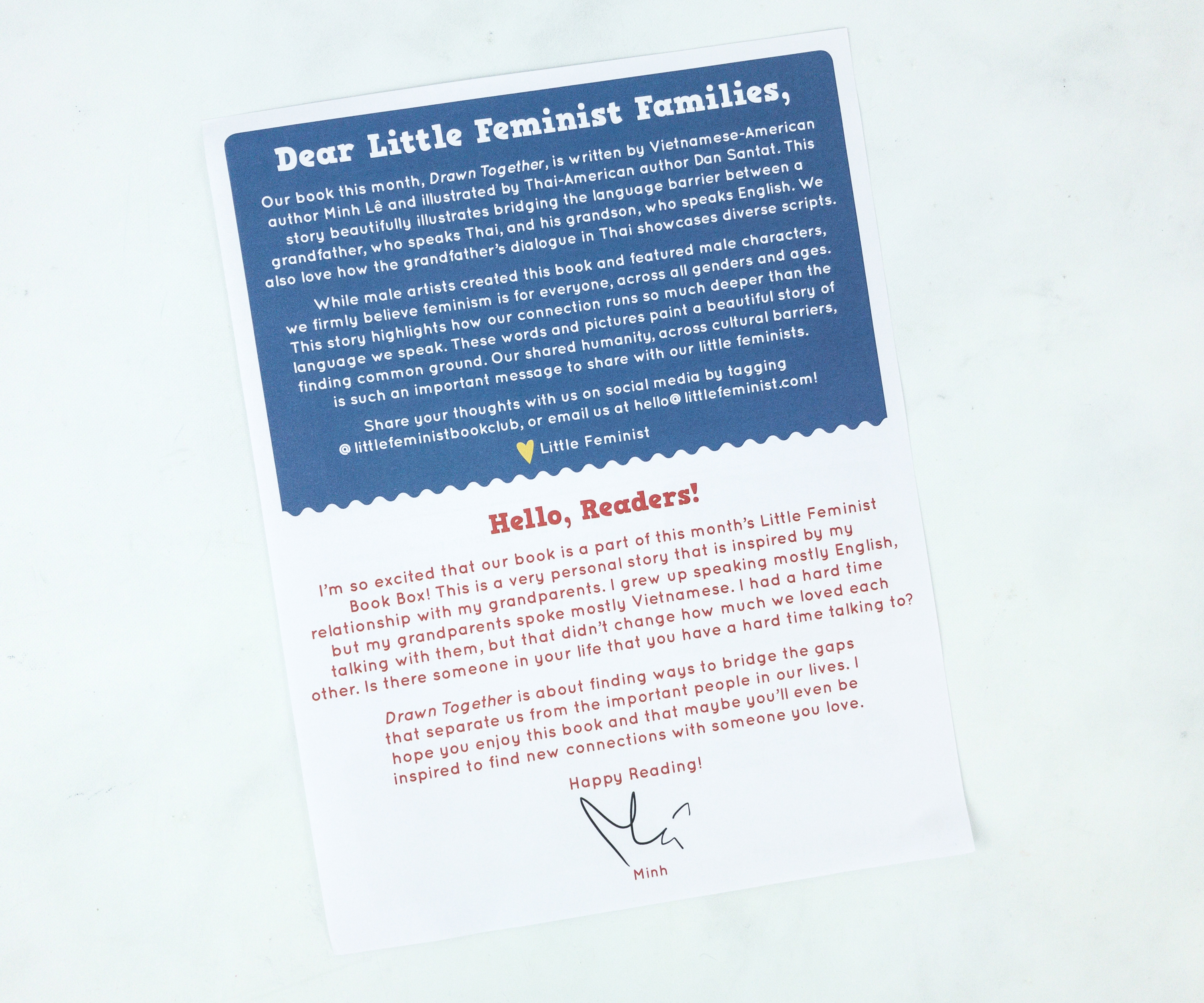 There's an insert of the book's summary and a very thoughtful message from Minh Le, the author of this month's featured book!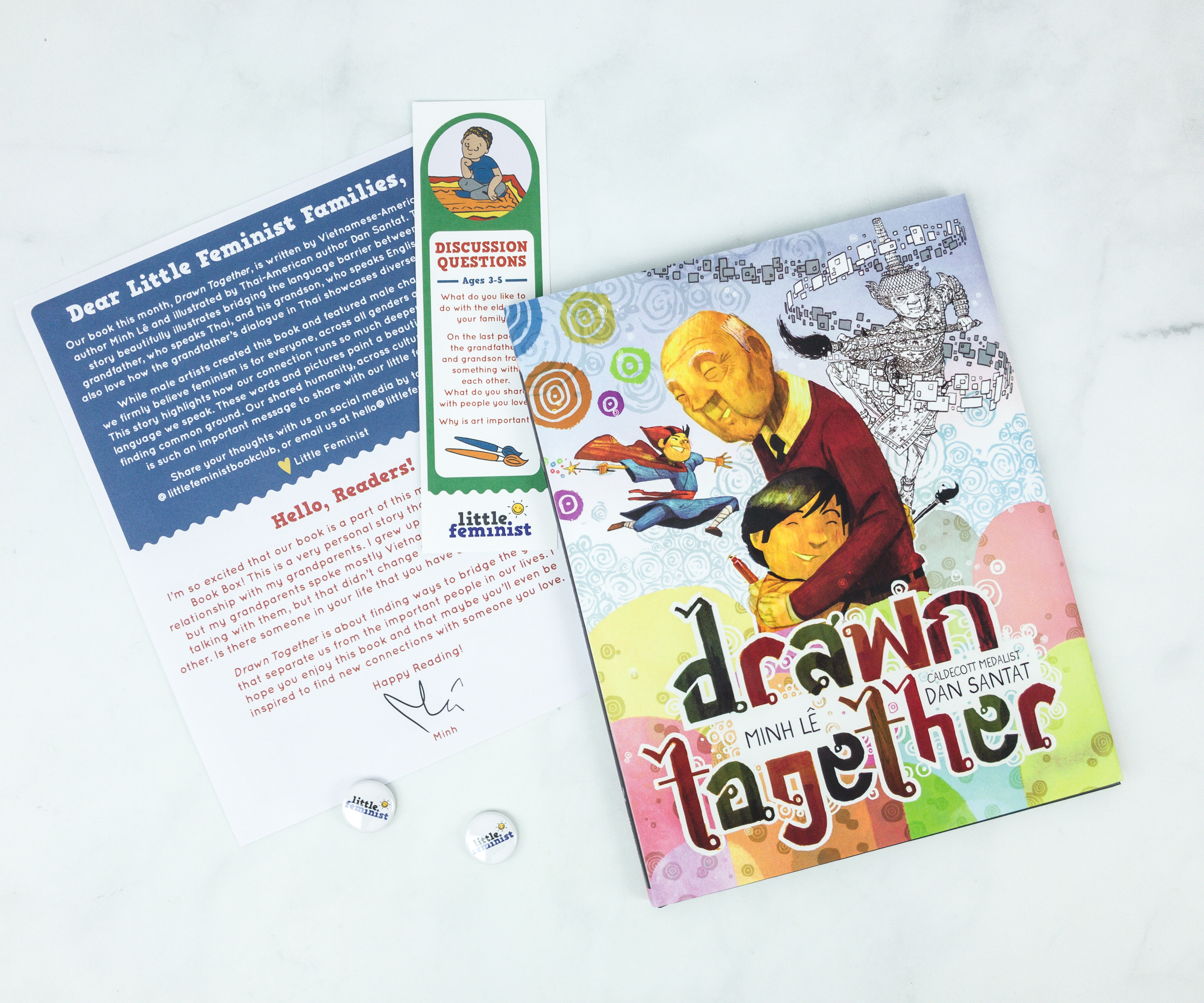 Everything in my box!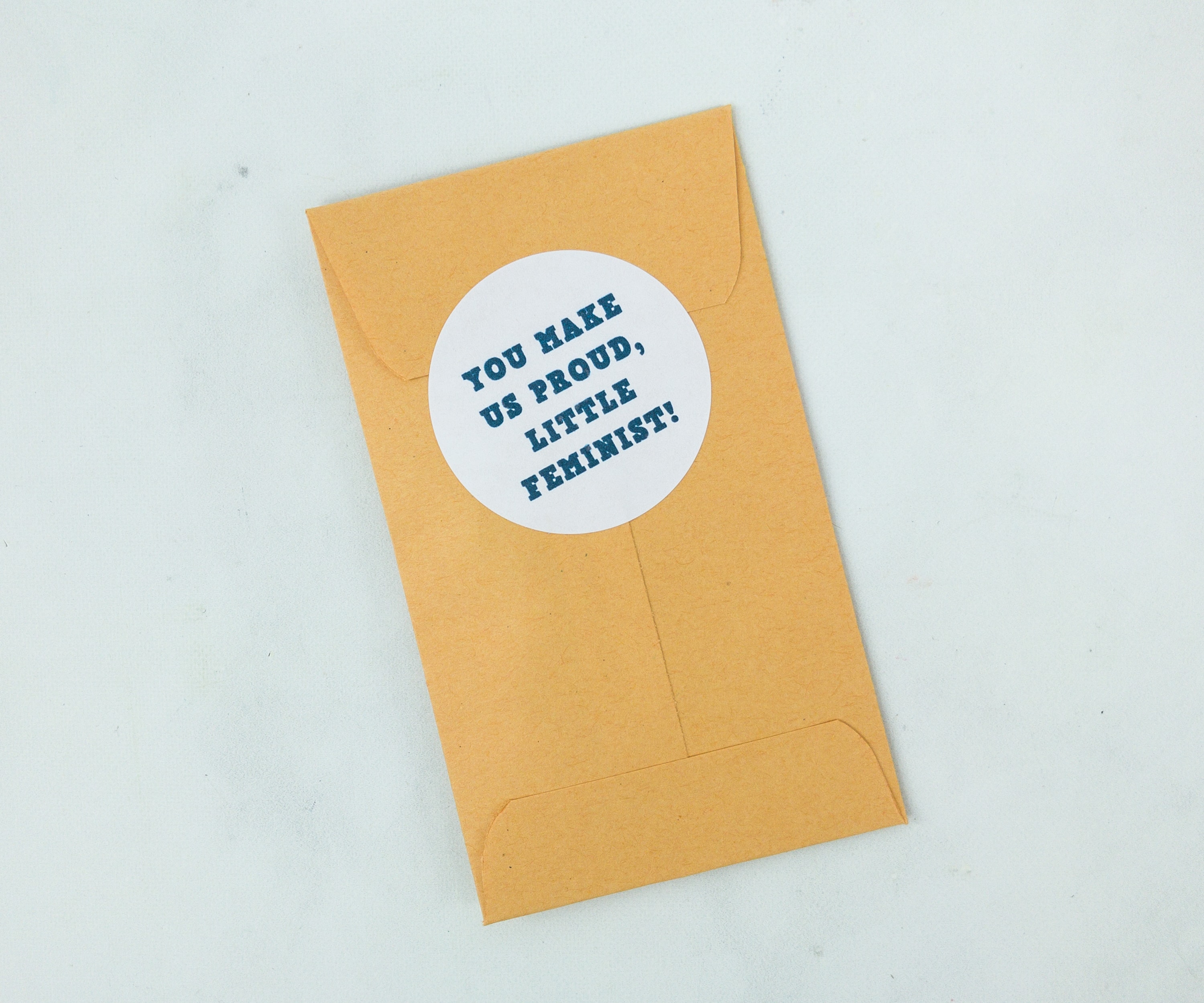 What a cute brown envelope with inspiring statement sticker!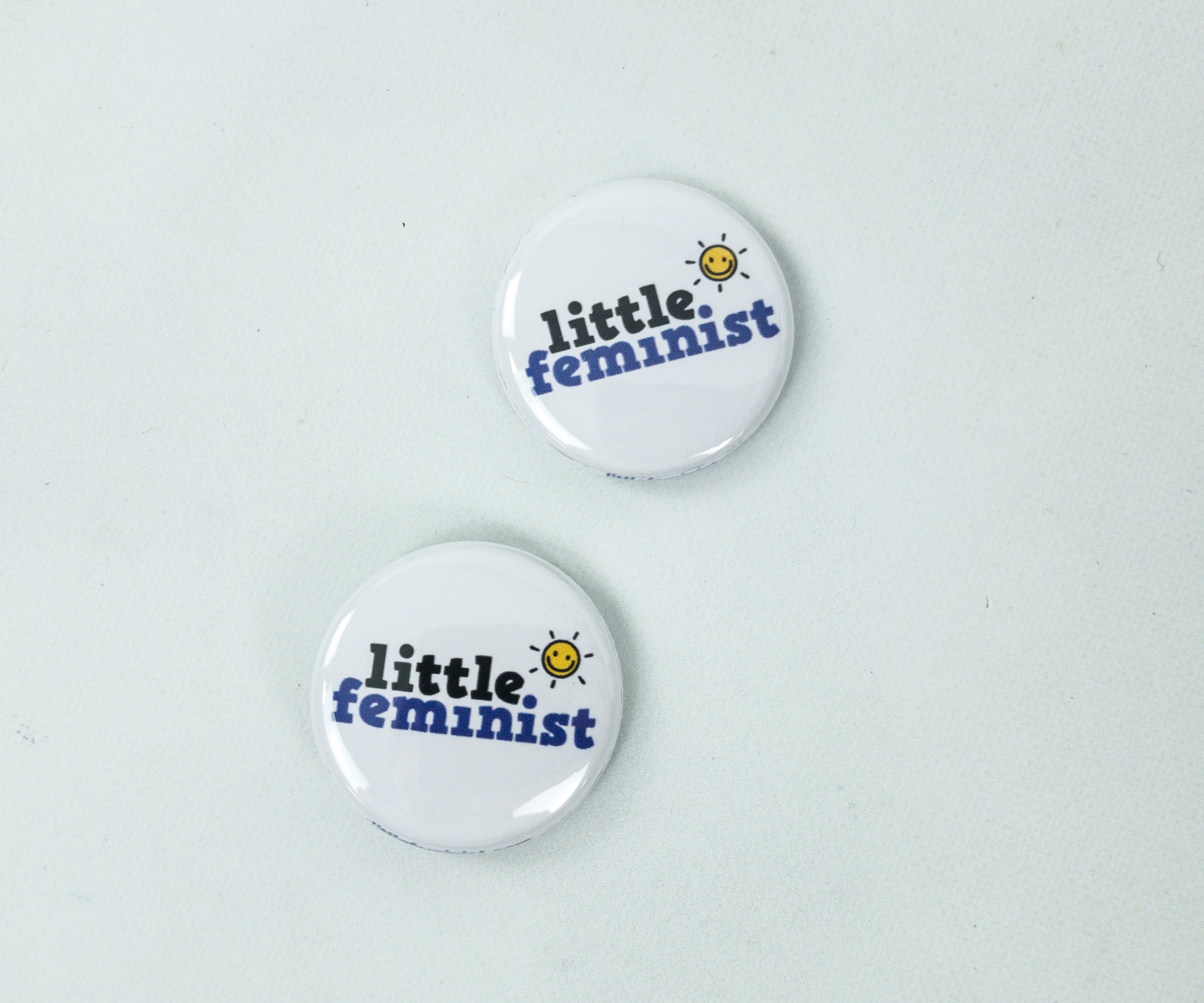 These cute buttons made for our little feminists are a sweet touch!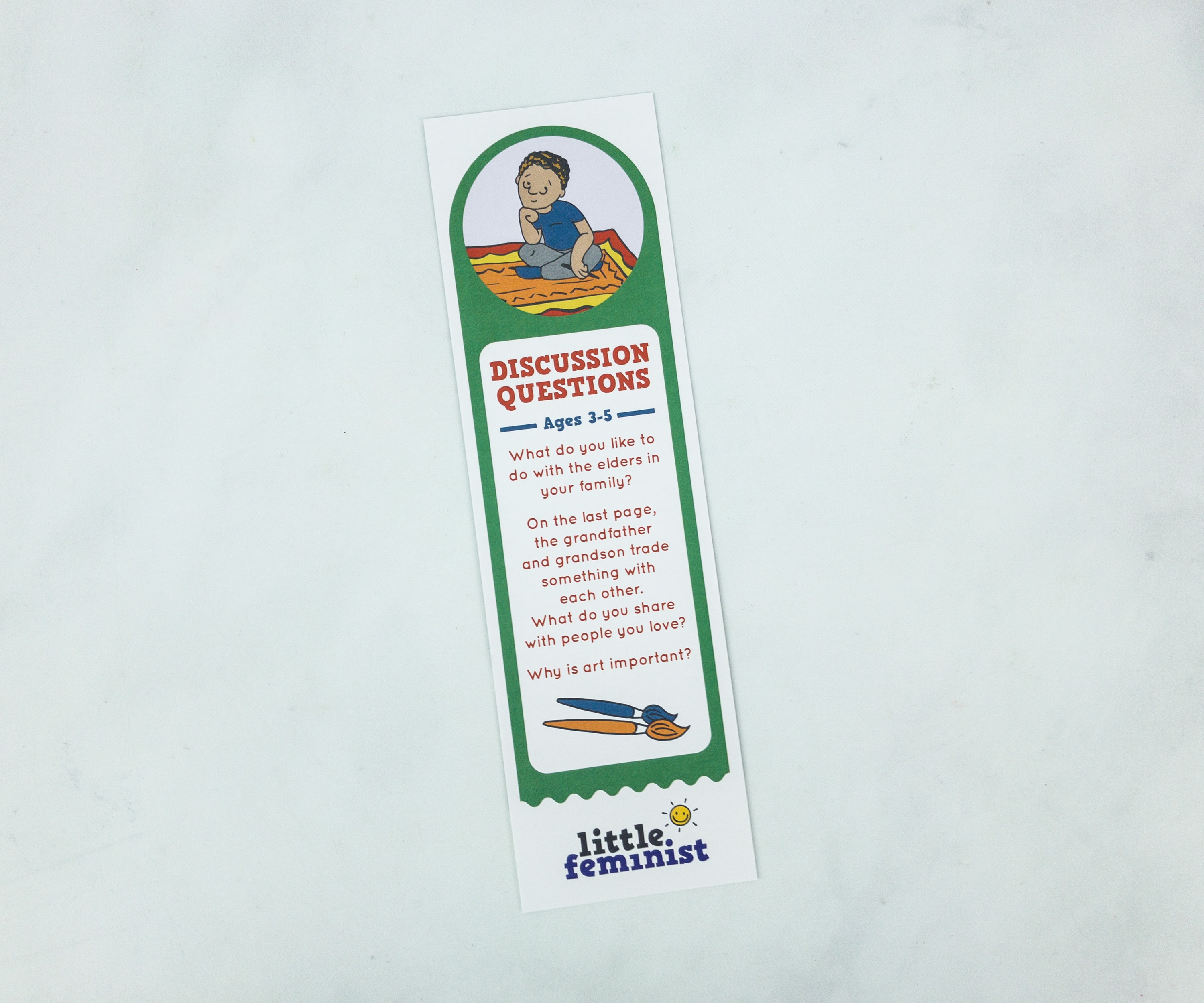 Before reading the book, having some discussion questions with the kids can invigorate their minds. Good thing, the box provided some for us. This tag can also serve as a bookmark!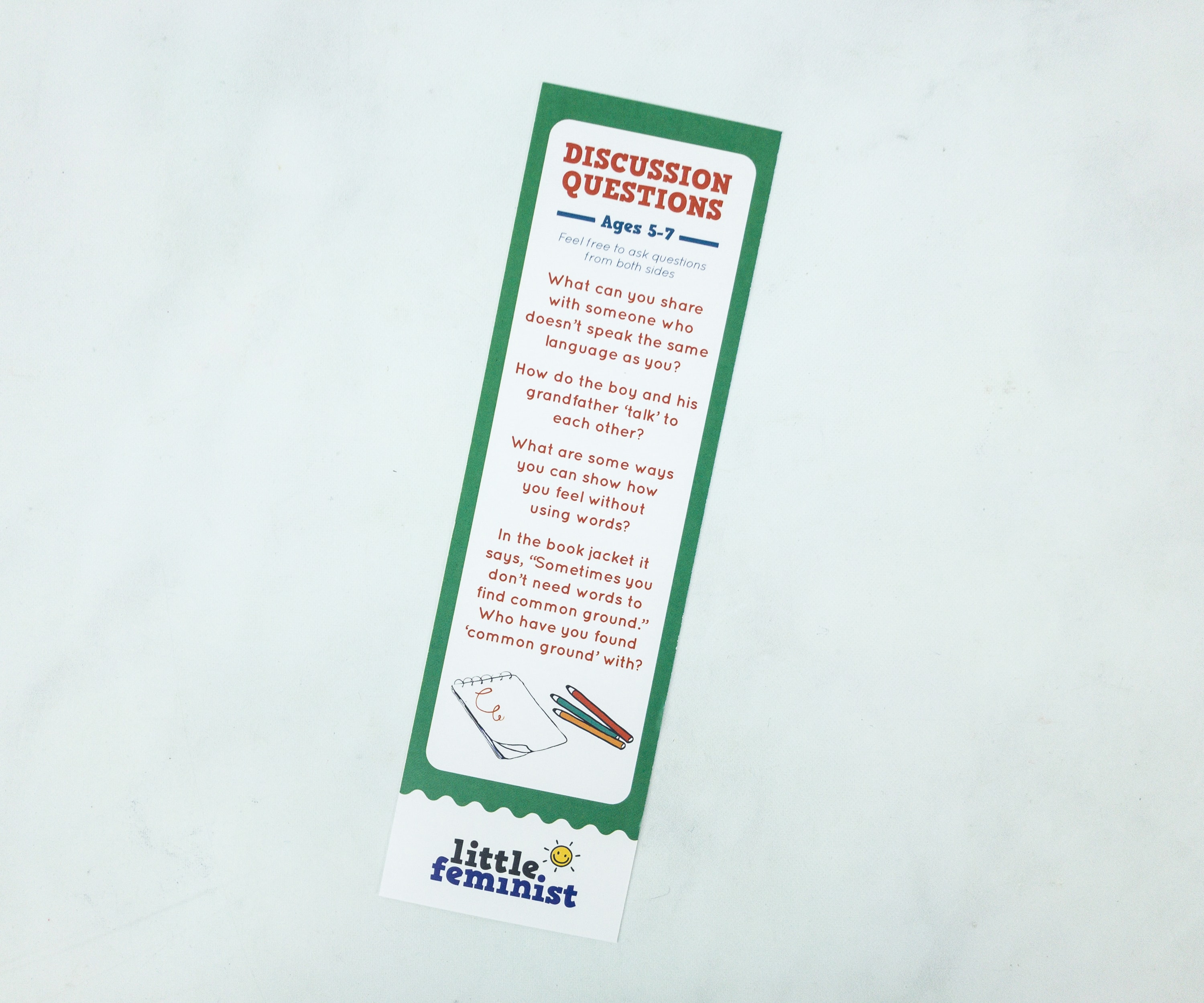 These set of questions are divided into two sections for ages 3-5 and 5-7. I think these are helpful for them to express their thoughts by thinking outside the box and develop a keen observation in every situation.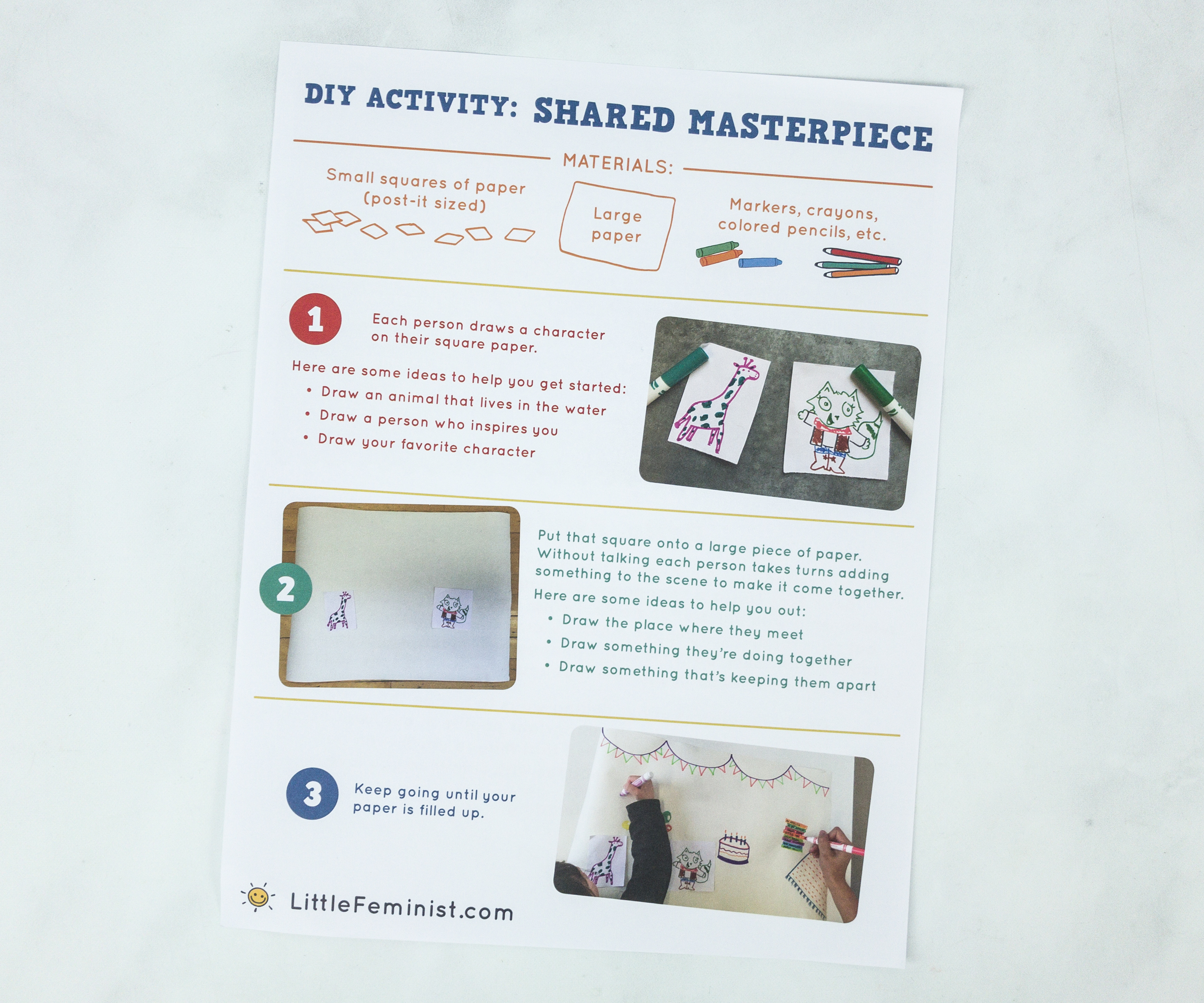 Of course, learning isn't complete without a fun activity to work on! The directions are easy to follow, but you can always guide them and share your masterpieces with each other for an extra bonding moment. It's drawing time!
Drawn Together By Minh Le ($10.91)  The book cover shows a good illustration of the story. Drawn Together aims to deliver the message that love is the bridge between language barriers, thus the image of the Thai grandfather hugging his grandson who speaks in English.
I was so pumped to receive this book – I've been wanting it since it was released!
Reviews from different English-language international daily newspapers, award-winning authors and respected book review magazines can be seen at the back cover. They prove that this book is really a must-read for our children.
The images are bold with brilliant colors that they leave my children smiling. On this page, it shows that there is a lot of silence between the characters and that they are still struggling to communicate with each other.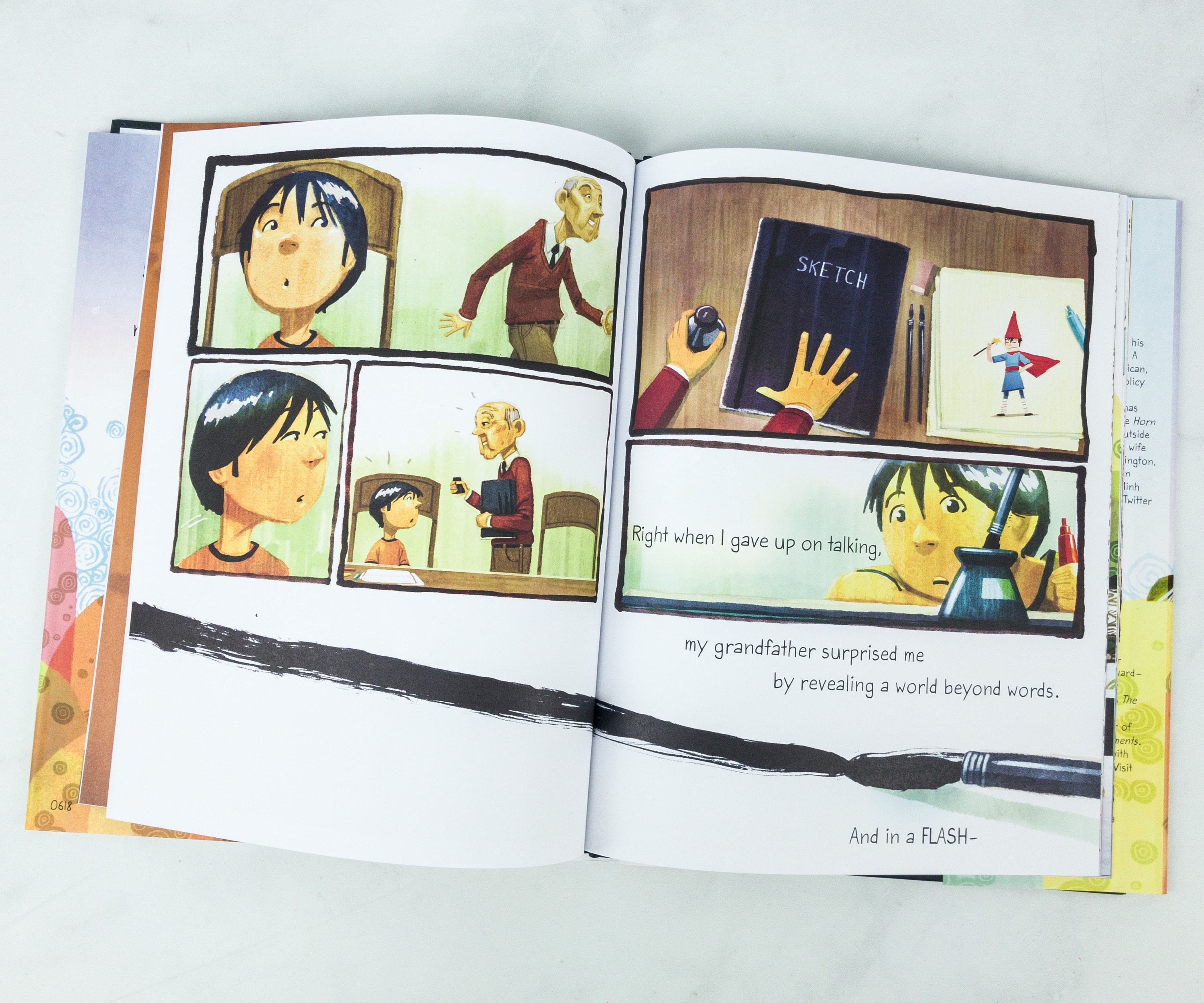 Eventually, they found a way to connect with each other through sketching! It's a wonderful lesson to impart with my kids. It engages them into using a wealth of culture, imagination, ideas, family and finding ways to communicate without words.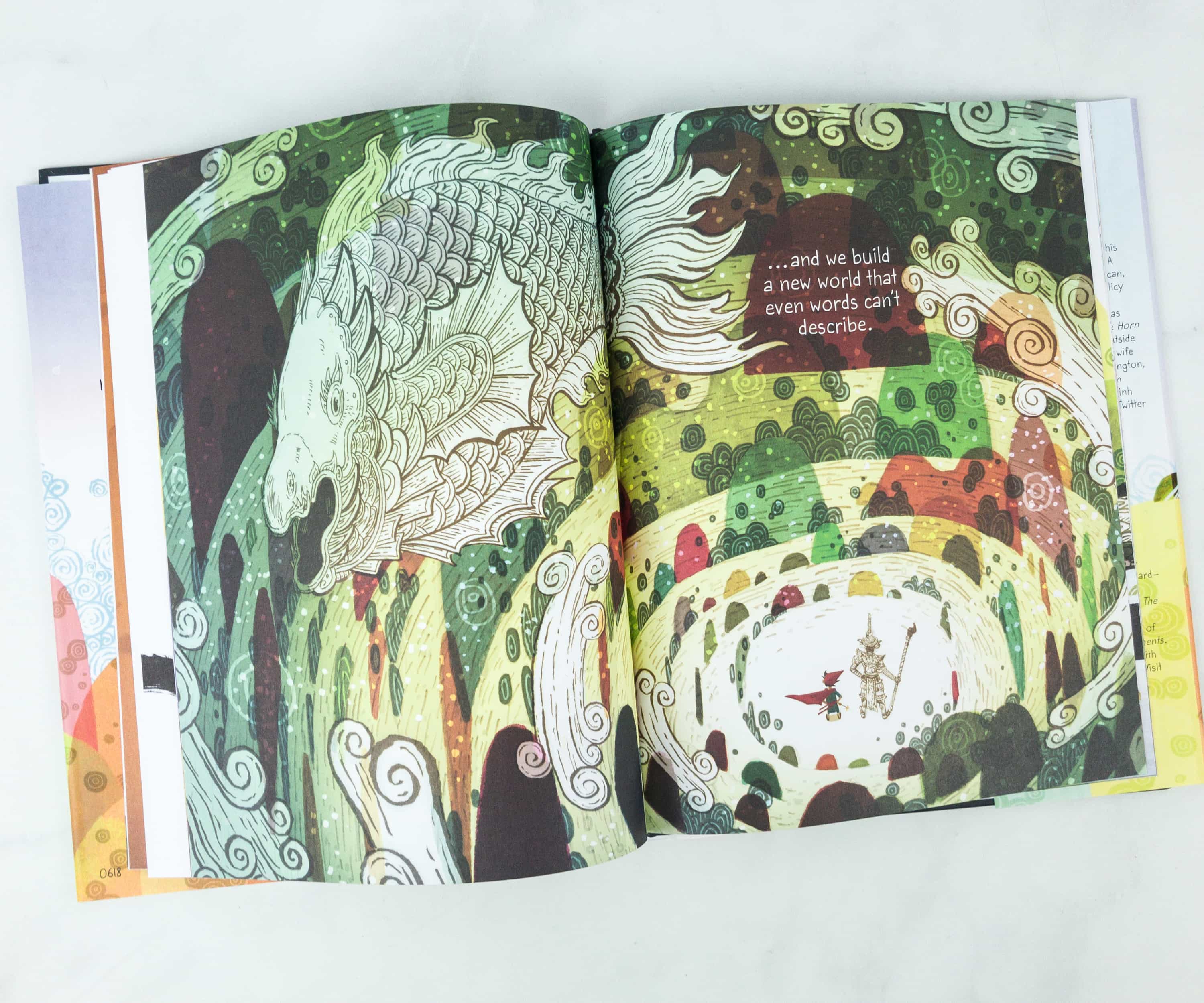 This illustration gives the book title "Drawn Together" a double meaning. Sharing their skills in artwork through drawing and its power to aid in communication that led them closer to each other.
Drawn Together is a wonderful and heartwarming story, told using a few words and lots of pictures that show how art and sincere emotions can bridge the gap between generations and cultures. My children enjoyed reading it and I am truly mesmerized with how educating this book is. I'm also excited that the activities were right on point with the book and we're exploring ways to communicate with each other and express our love!
What do you think of the Little Feminist Book Club?