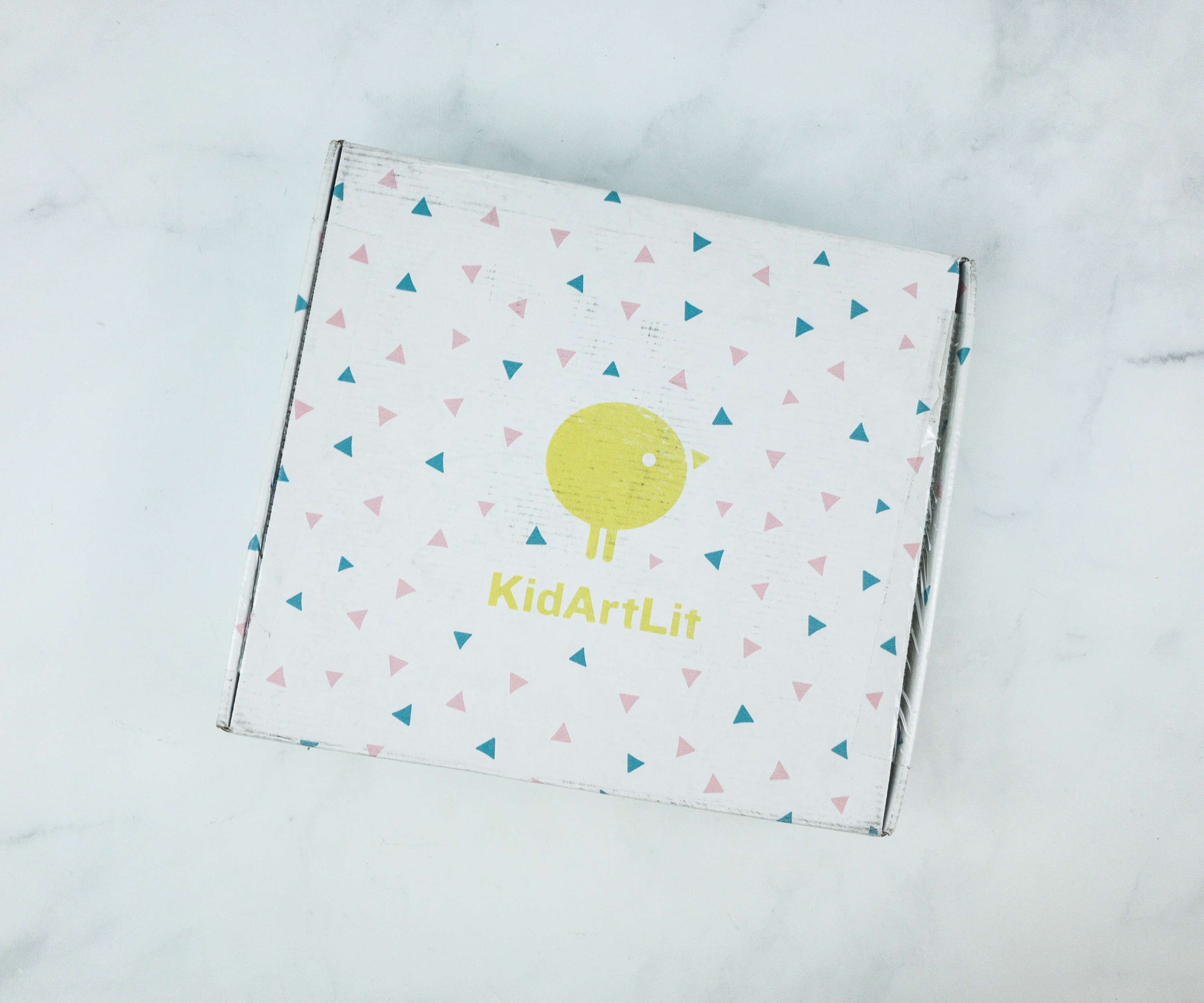 KidArtLit brings art and literature together through a monthly subscription box. The subscription costs $46.99 per month, and each box includes an art project, a picture book, a Ready-Set-Go Pack, and a mini-magazine. The boxes are designed to help your family deeply connect through art and reading.
DEAL: Get 10% off your first month and all gift orders. Use coupon code HELLOSUBS.
The box and packaging itself are very pretty. The items are covered in a bright yellow tissue paper sealed with an adorable KidArtLit sticker.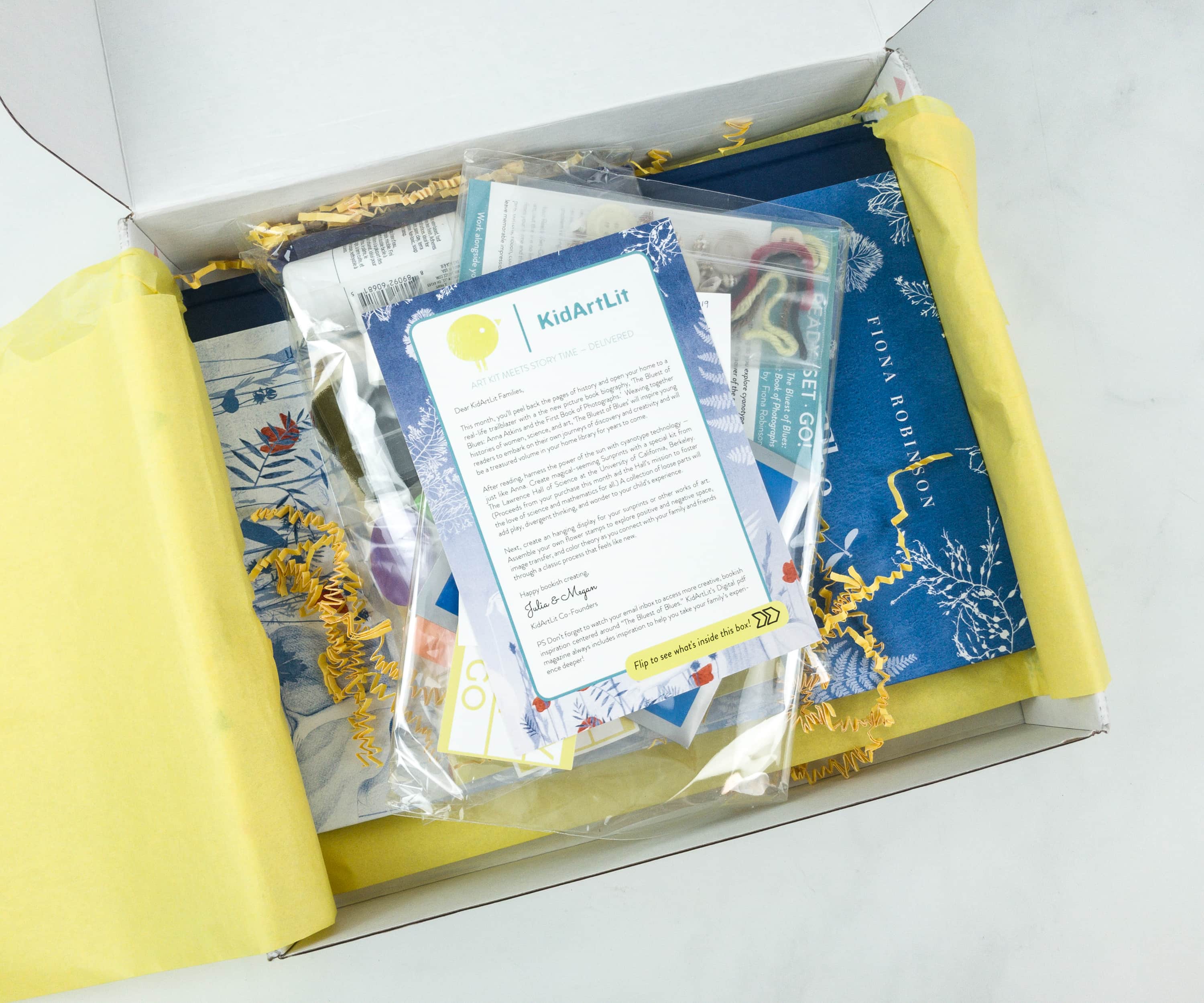 Opening the box gives me positive vibes because of the bright yellow color scheme.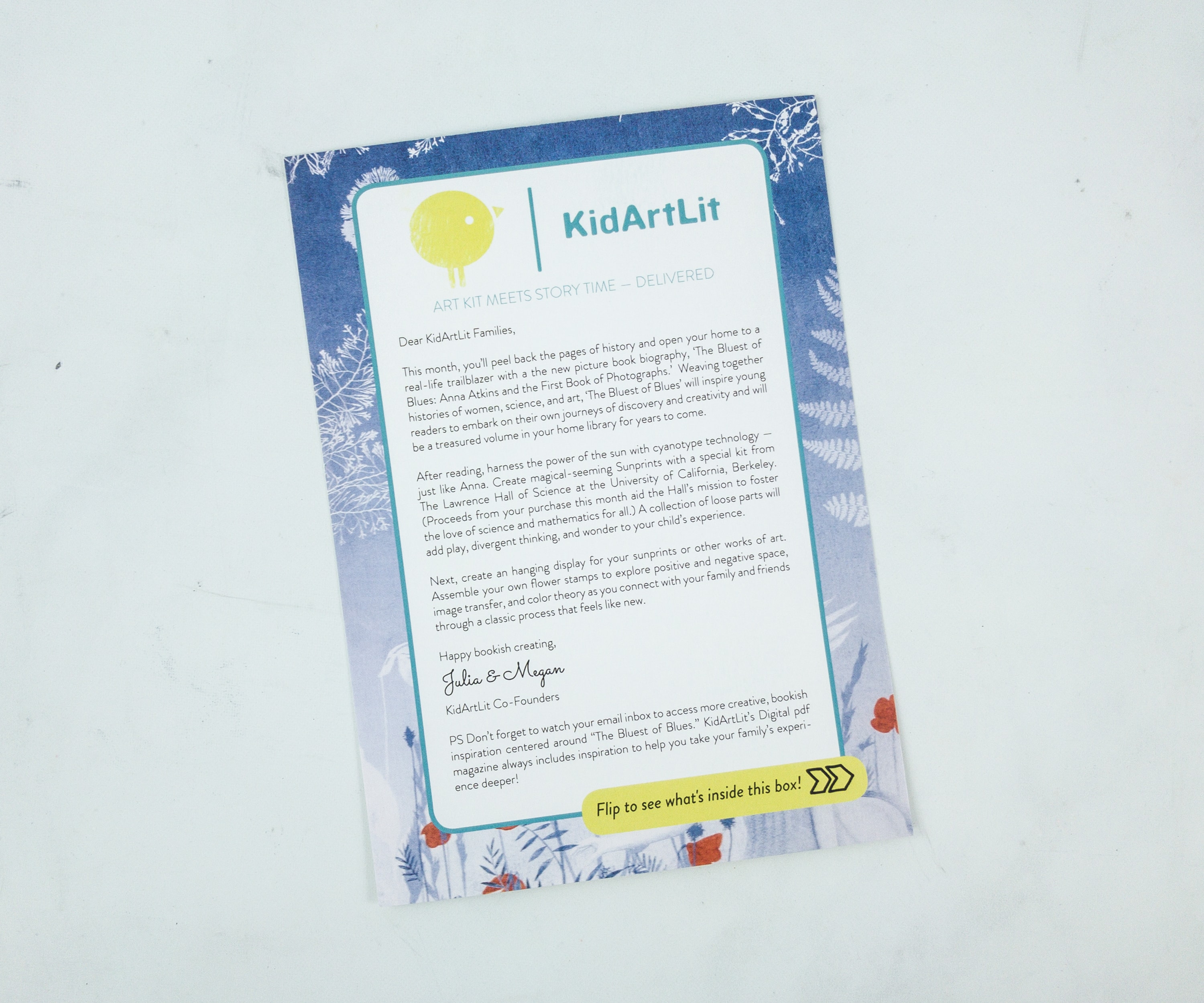 The card sets us up to have a wonderful experience with the activities that are in store for us. There are lots to learn in this box.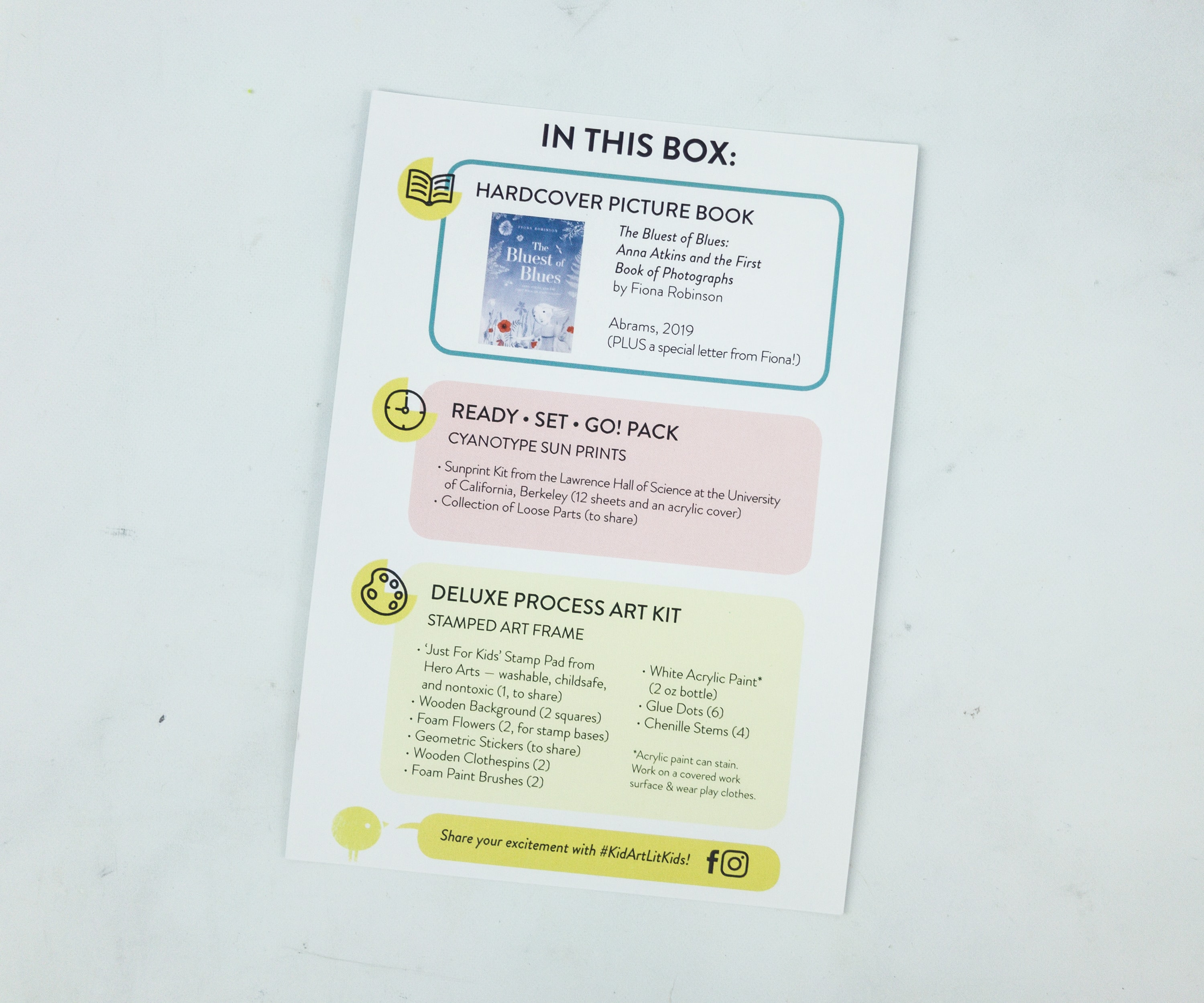 Flip the card and you will see the list of things inside the box.
Everything in my box!
Fiona Robinson, the author for this month's book, also has some things to say.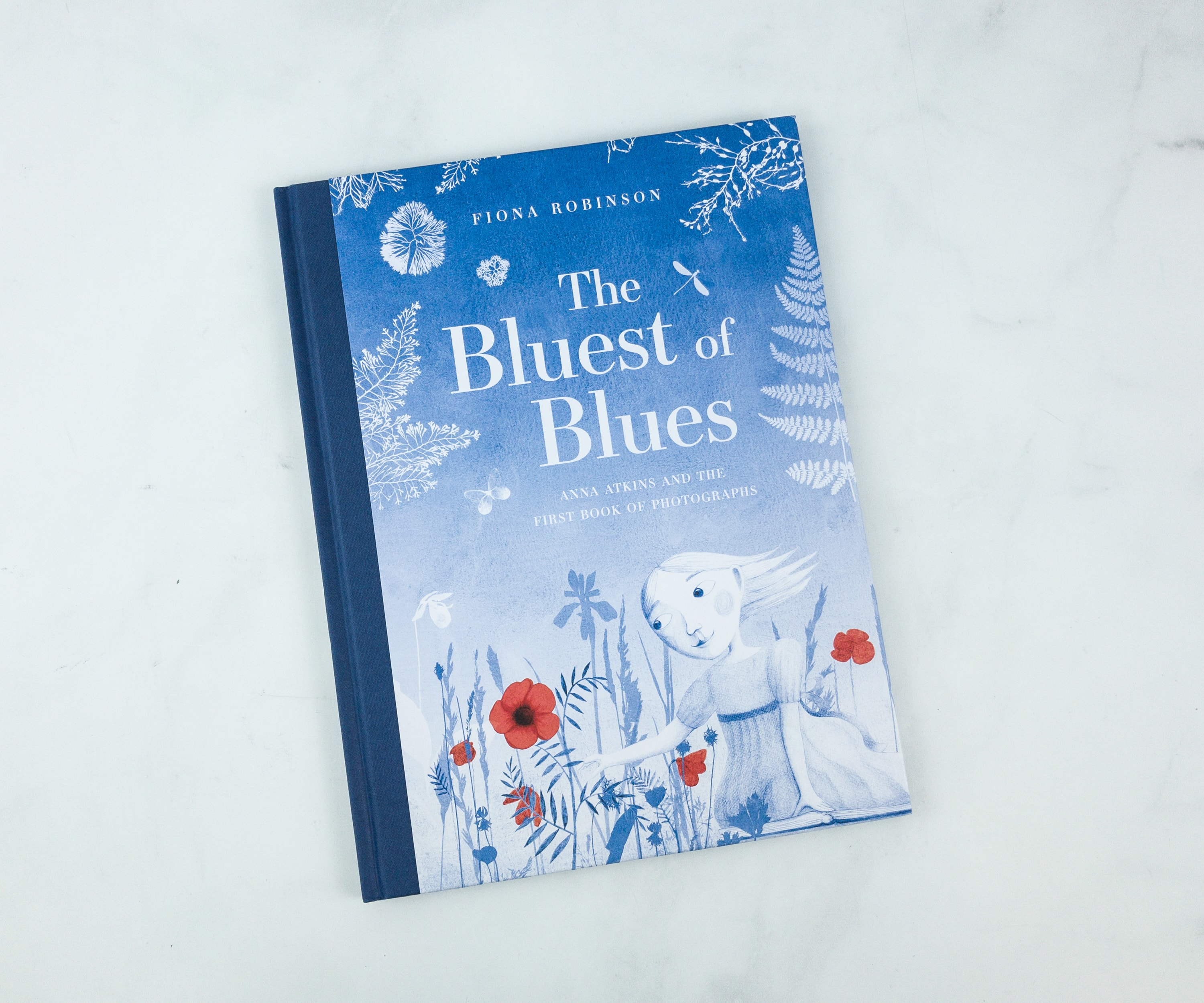 The Bluest Of Blues by Fiona Robinson ($12.32)
A gorgeous picture book biography of botanist and photographer Anna Atkins–the first person to ever publish a book of photography

After losing her mother very early in life, Anna Atkins (1799–1871) was raised by her loving father. He gave her a scientific education, which was highly unusual for women and girls in the early 19th century. Fascinated with the plant life around her, Anna became a botanist. She recorded all her findings in detailed illustrations and engravings, until the invention of cyanotype photography in 1842. Anna used this new technology in order to catalogue plant specimens—a true marriage of science and art. In 1843, Anna published the book Photographs of British Algae: Cyanotype Impressions with handwritten text and cyanotype photographs. It is considered the first book of photographs ever published. Weaving together histories of women, science, and art, The Bluest of Blues will inspire young readers to embark on their own journeys of discovery and creativity.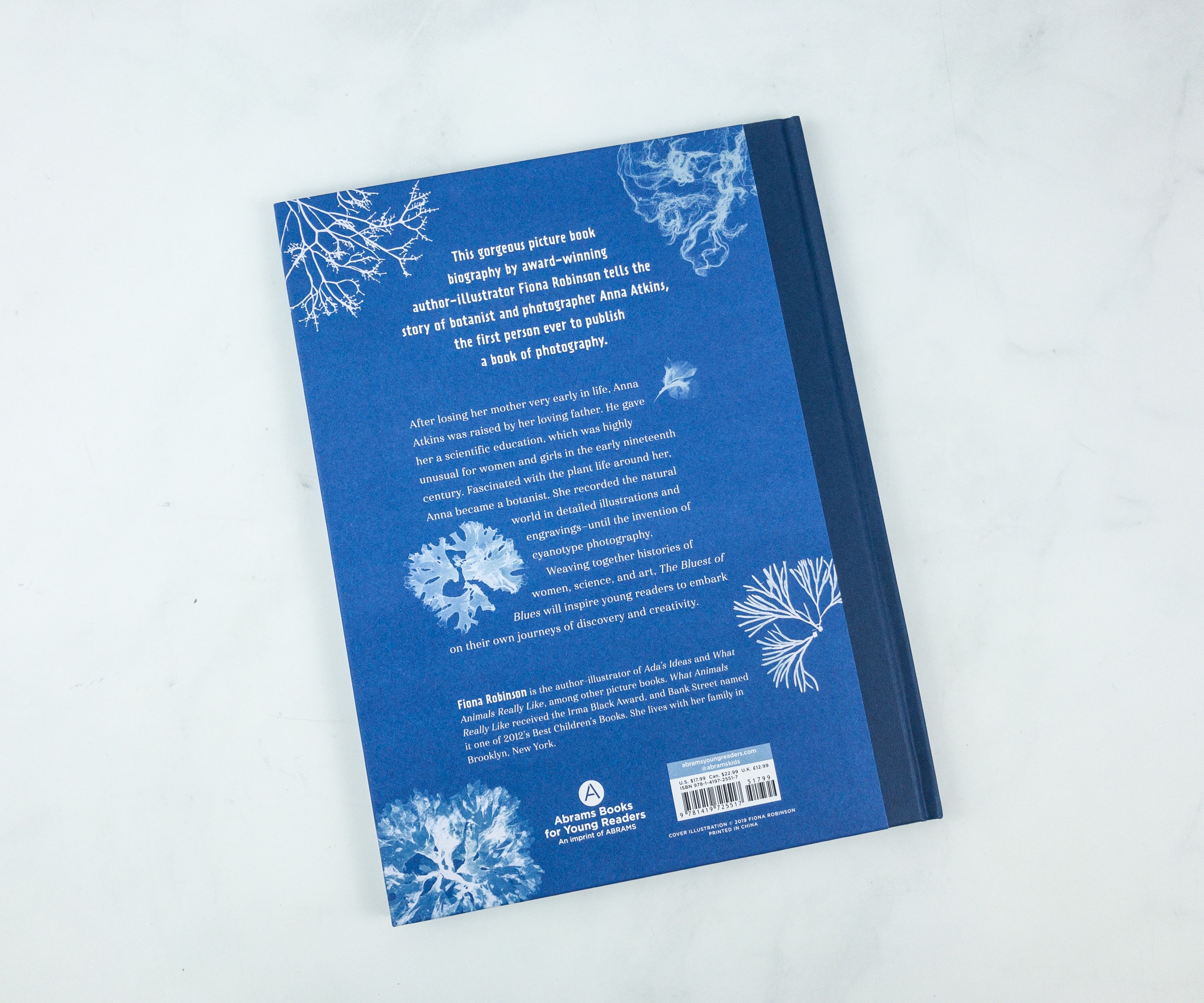 It is a picture book biography of botanist and photographer Anna Atkins, illustrated by the award-winning author and illustrator Fiona Robinson.
The book lives up to its title, everything inside is BLUE!
Anna even takes interest in insects! These creepy crawlies are harmless in blue!
Anna even drew a lot of shells. She has more than 250 illustrations to complete. It started with an elephant tusk from the Philippines!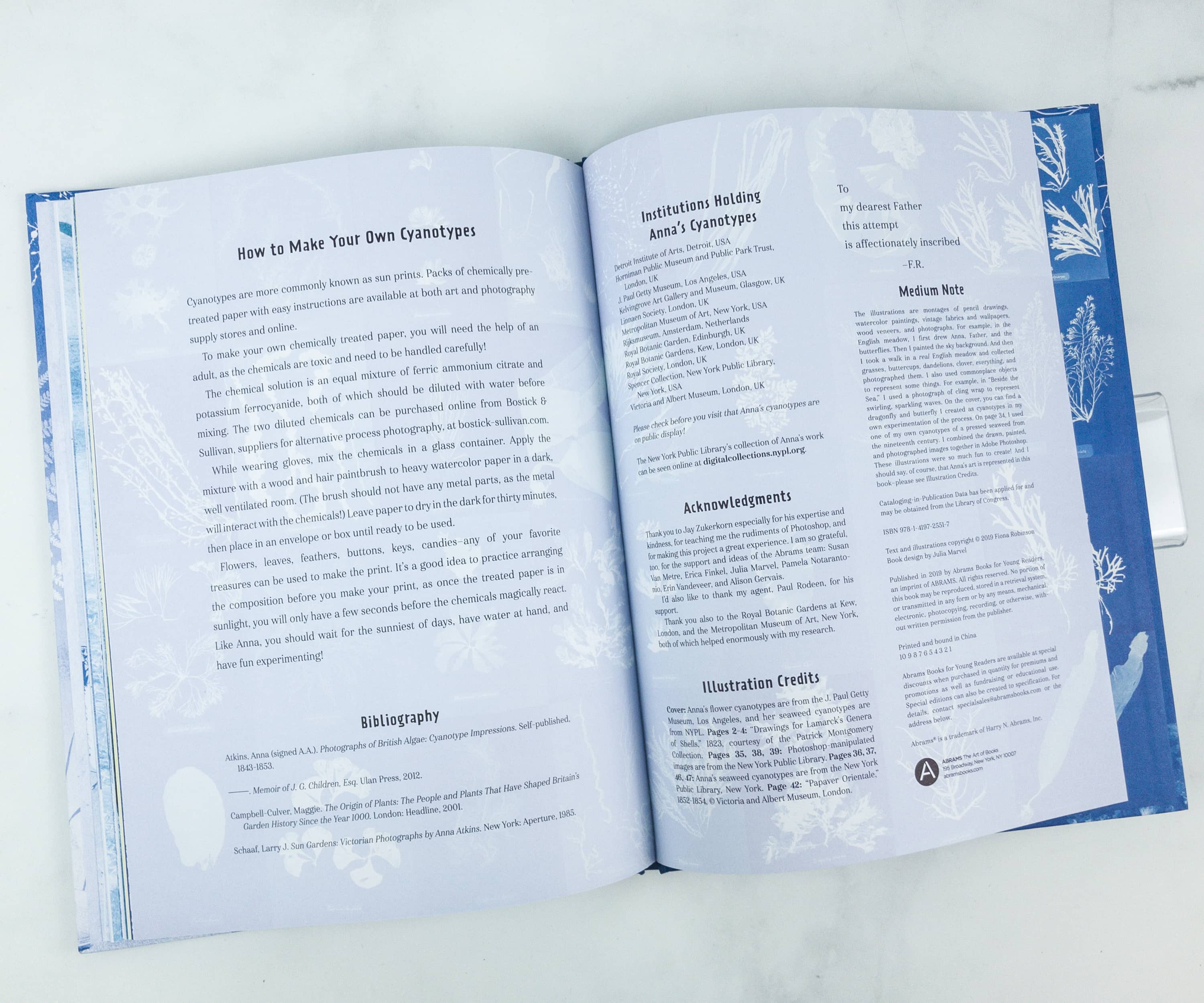 The book's last pages were dedicated to making your own cyanotypes, and a bibliography! The book, overall, is really delightful and educational, it even made us want to see Anna's cyanotypes! It's a good thing that this box included a kit that can let us make our own.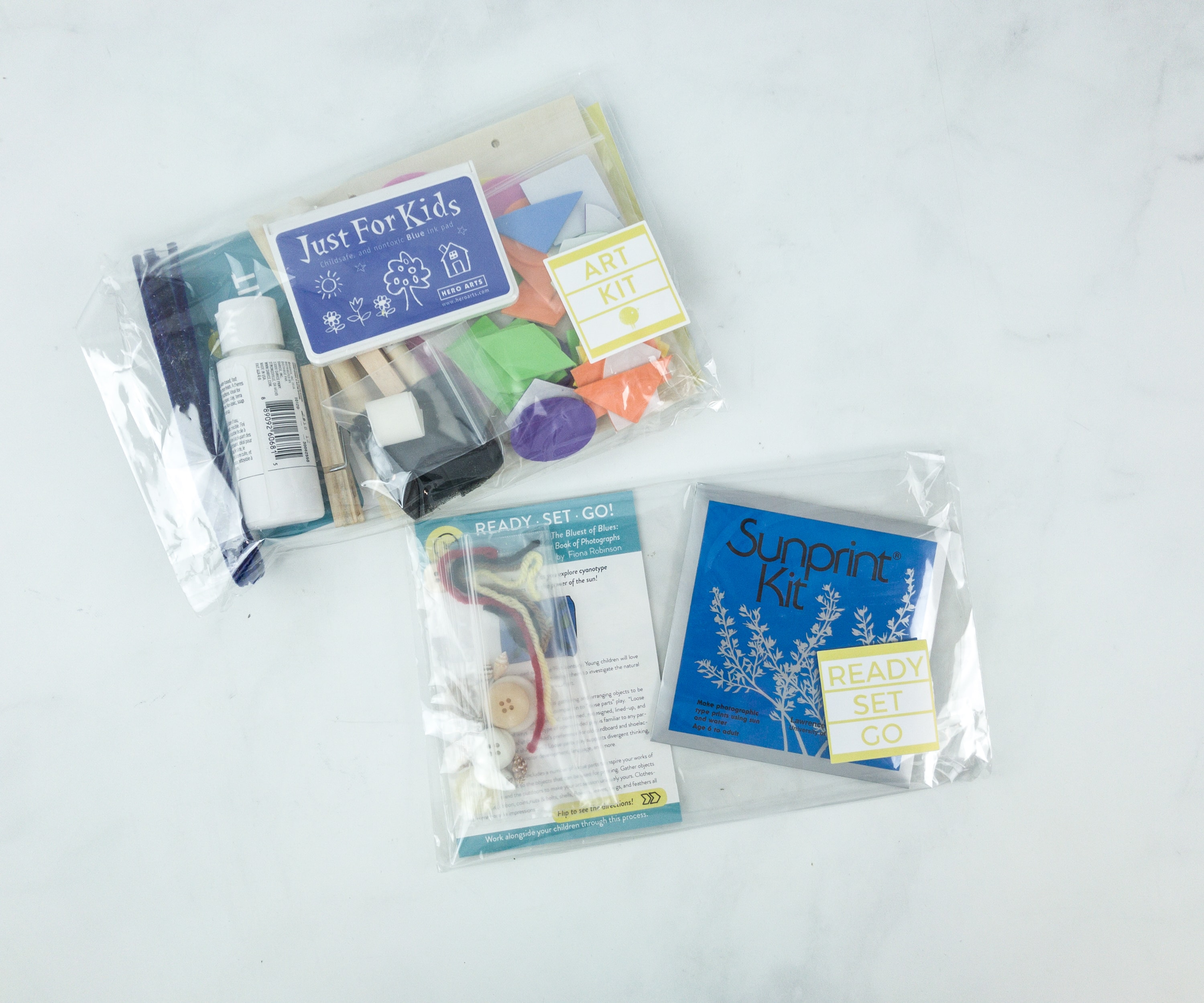 Here are the kits included in this month's box: a sunprint kit and an art kit!
Make Cyanotype Prints — Just Like Anna. The sunprint kit will let us make our own cyanotype, a low-cost photographic printing process that produces a blueprint.
The kit also comes with detailed instructions on how to do the cyanotype. It requires a little adult supervision especially when the kids need to rinse the print with water.
Here's everything in the sunprint kit!
We went outside so the kids can expose their prints in direct sunlight.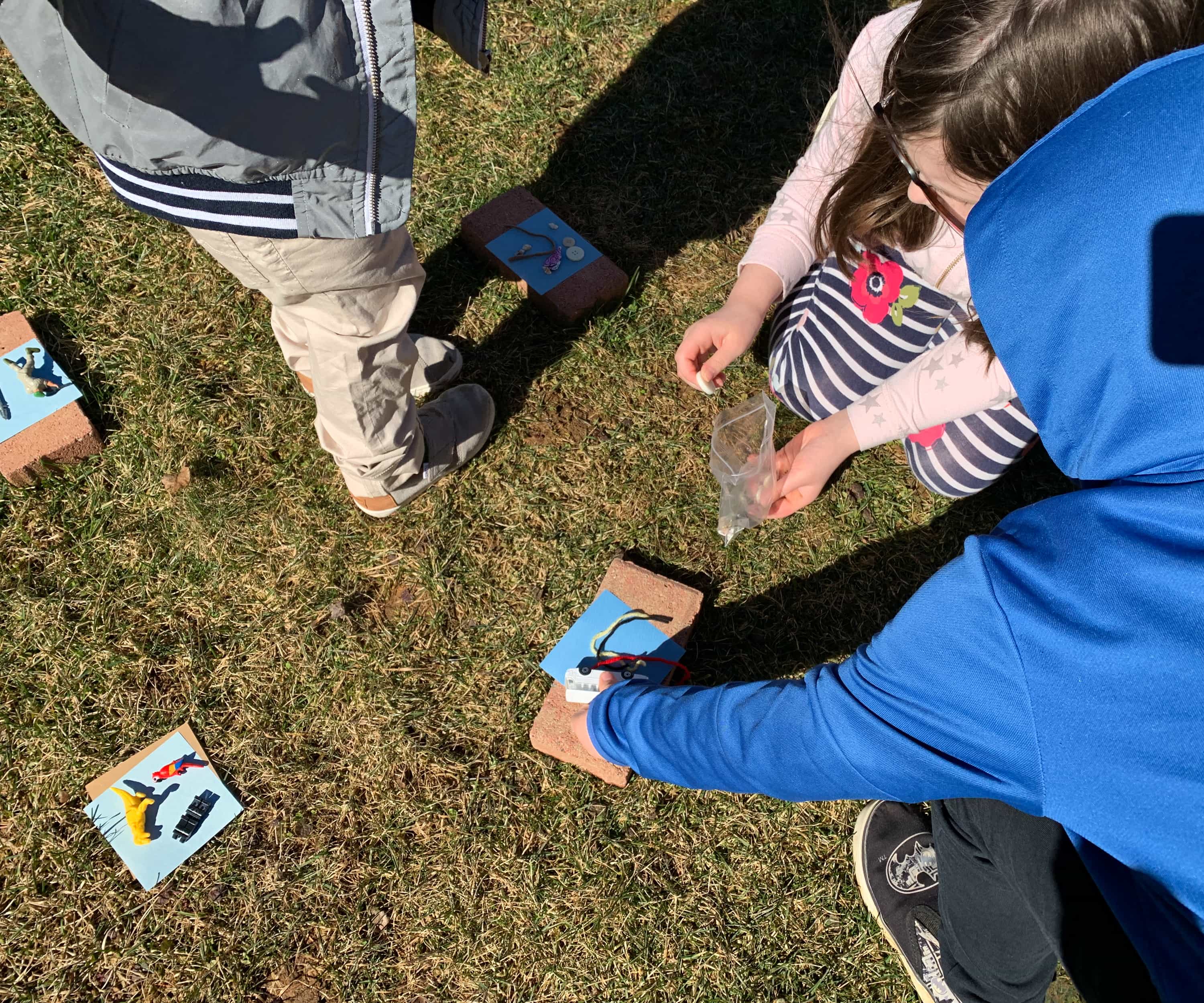 Since it is a sunny day, we didn't need to stay long outside. If it's not as bright, the prints will require longer sun exposure.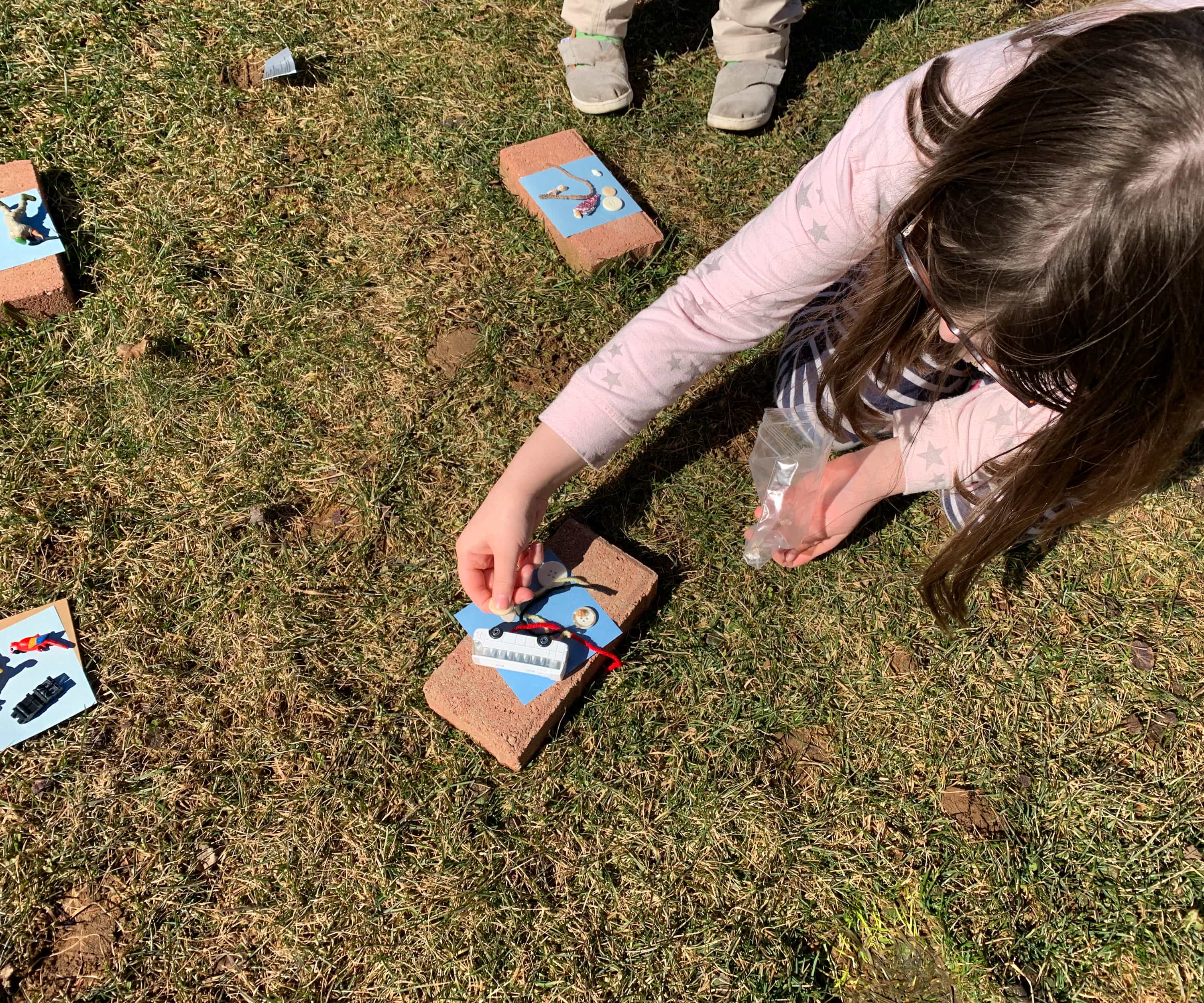 The kids got creative on what prints they want, and I'm actually not surprised that they went for more objects than just one.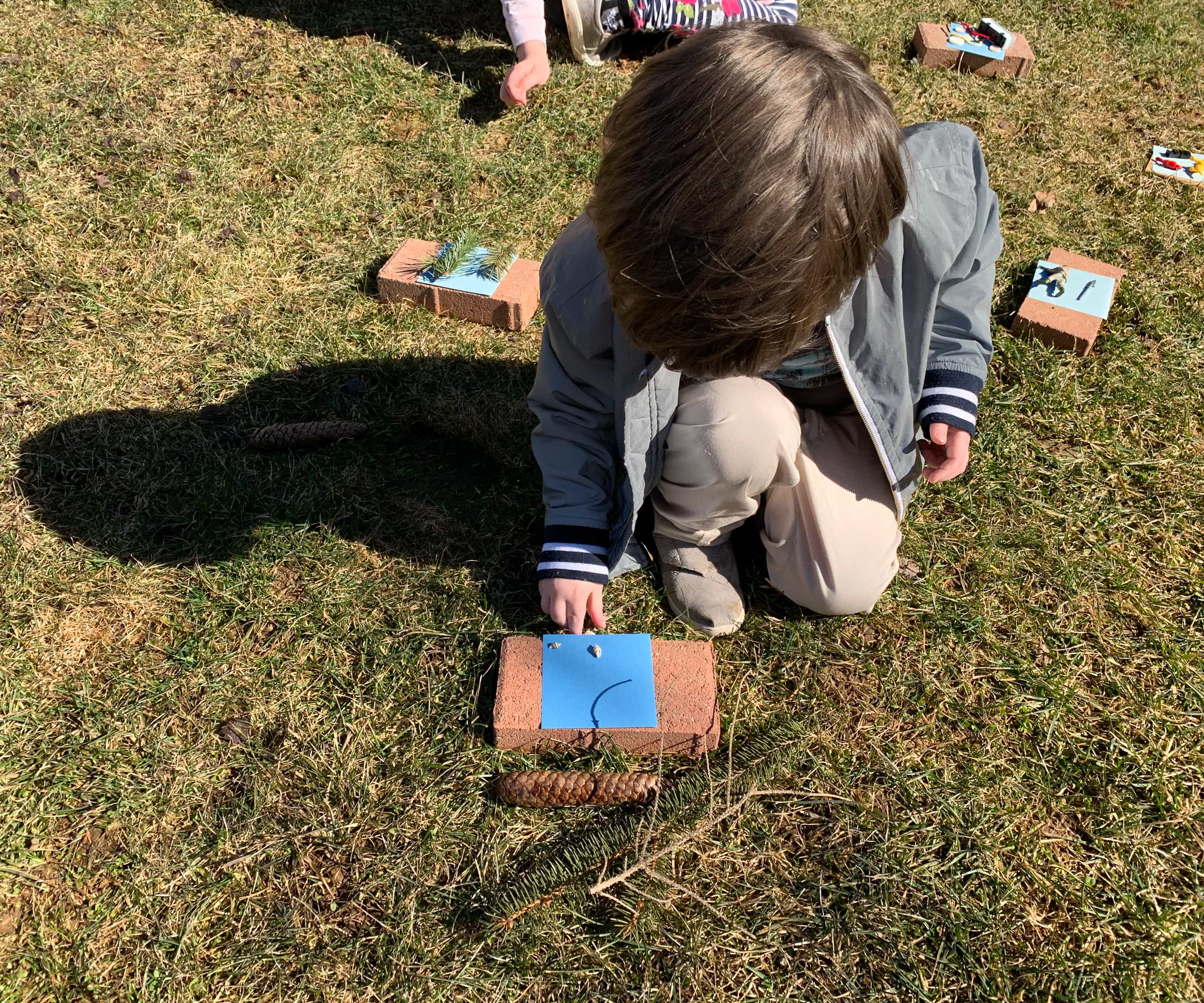 Here they are waiting for their prints to fade from blue to white.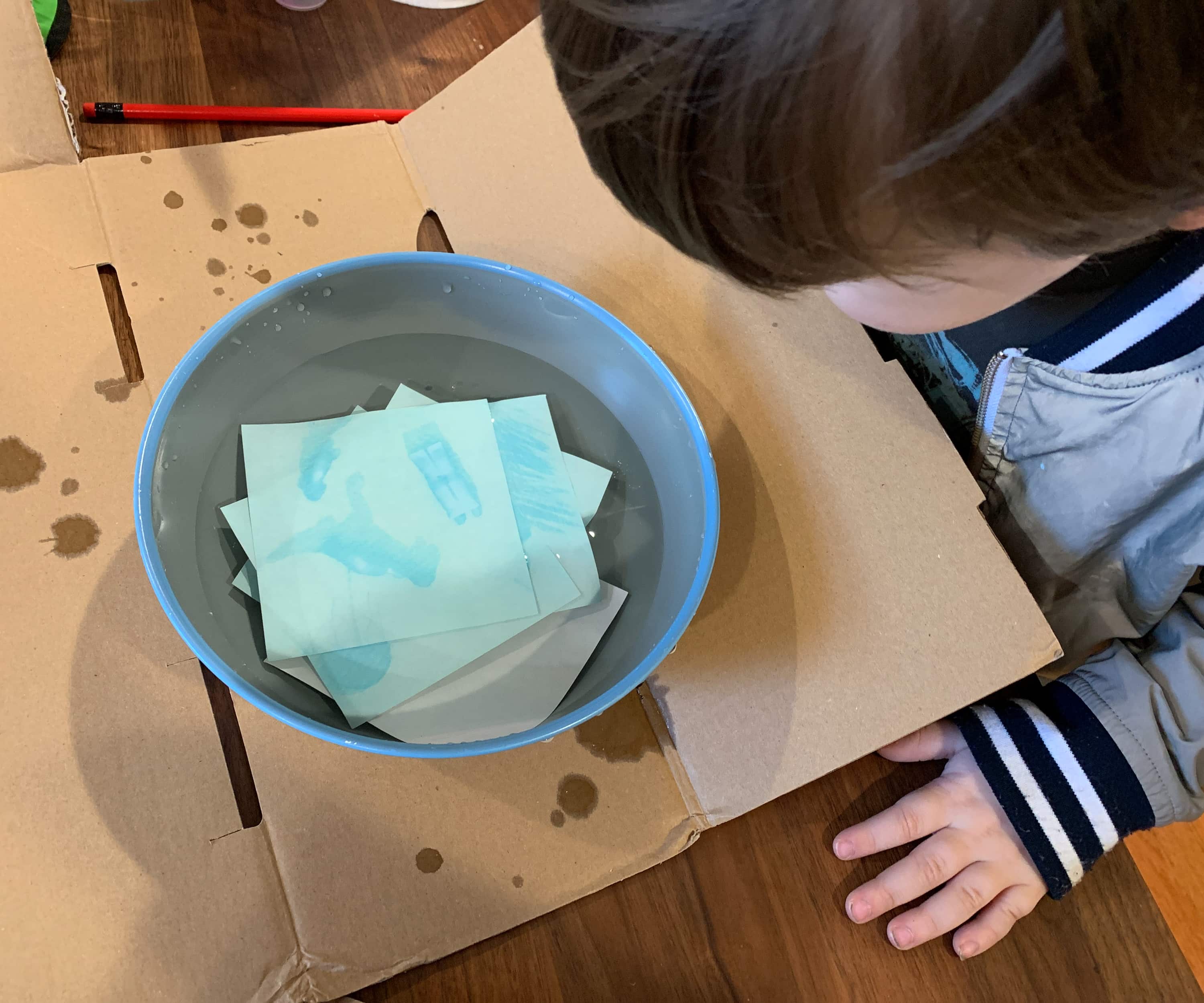 After sun exposure, we need to rinse the blueprints. We filled up a basin with water for this.
The water fixes the prints by turning the white areas blue, and the blues to whites.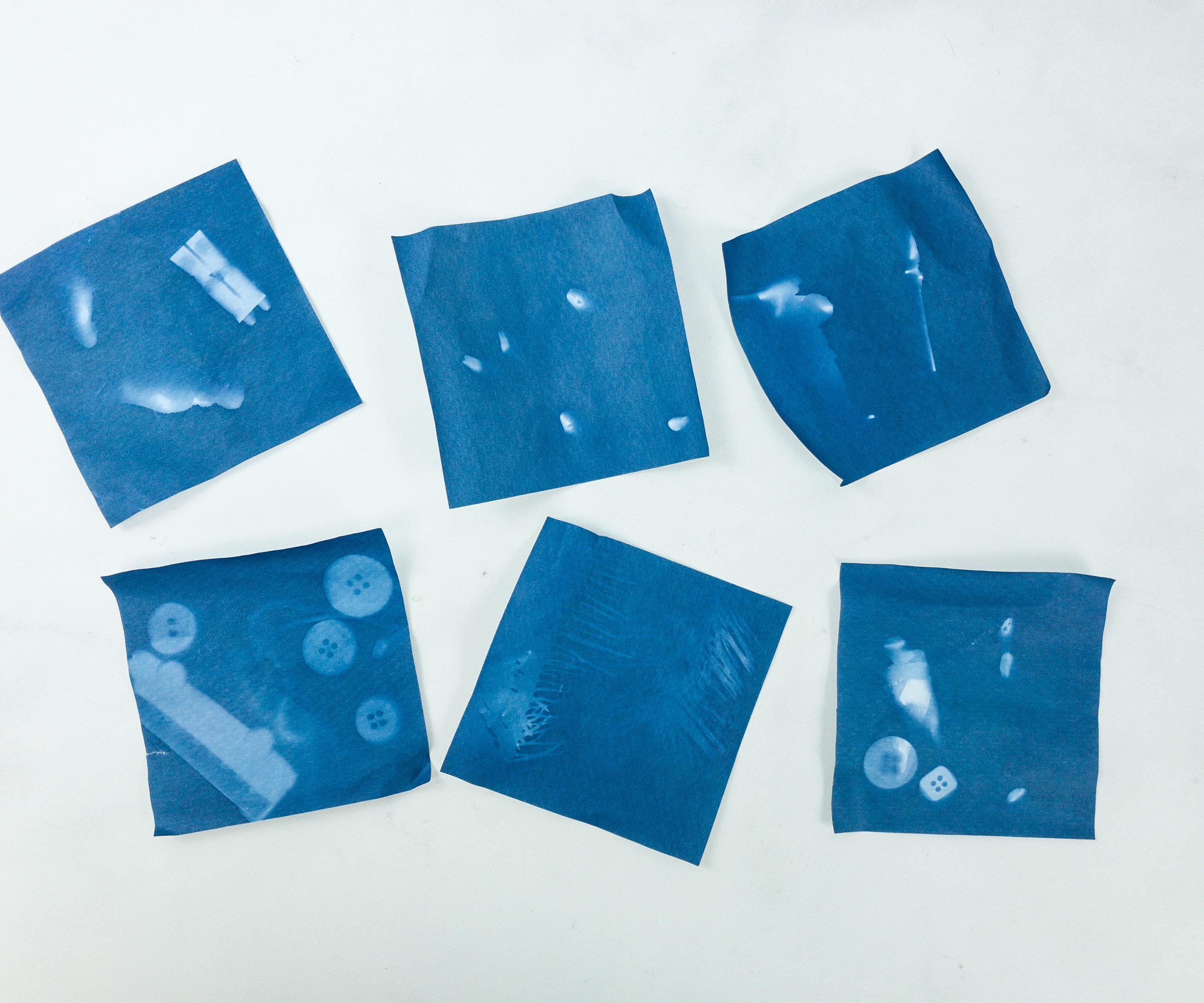 After some drying, here are the produced prints! It's a success!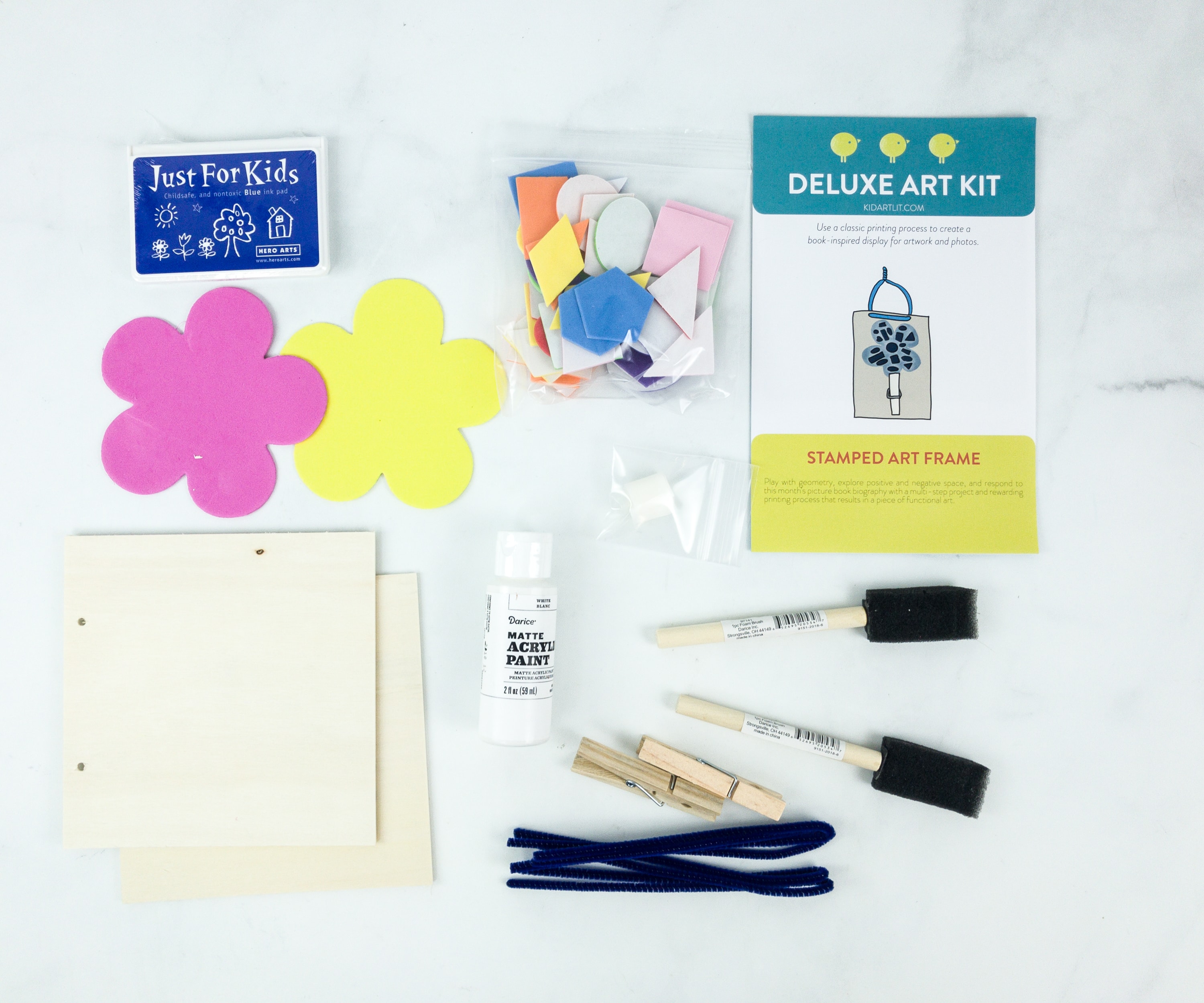 Image Transfer Process Art Frames. Another kit that came in the box is for making art frames!
This kit contains a guide that lists all the supplies and instructions to easily make the project.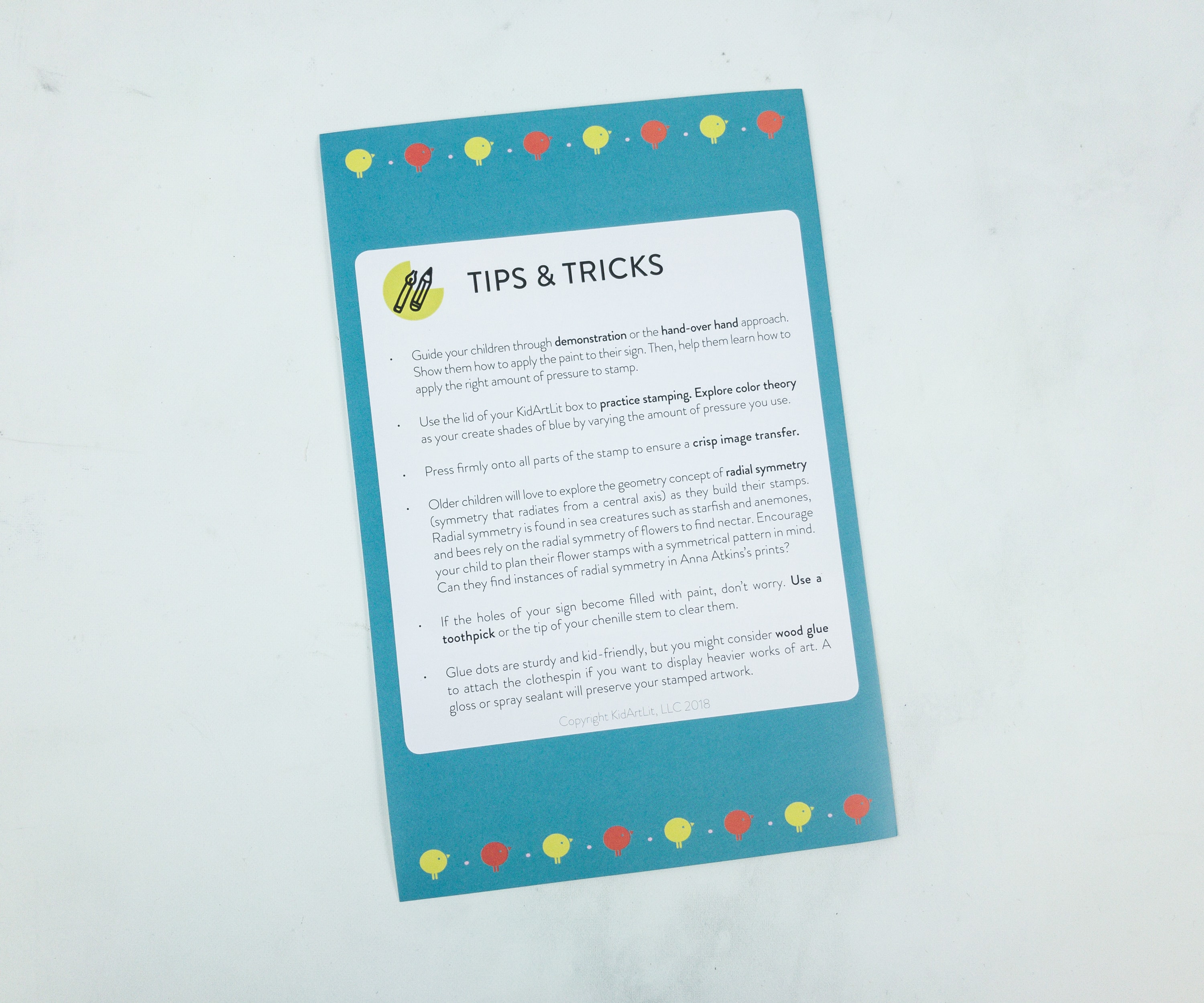 It also provided tips and tricks!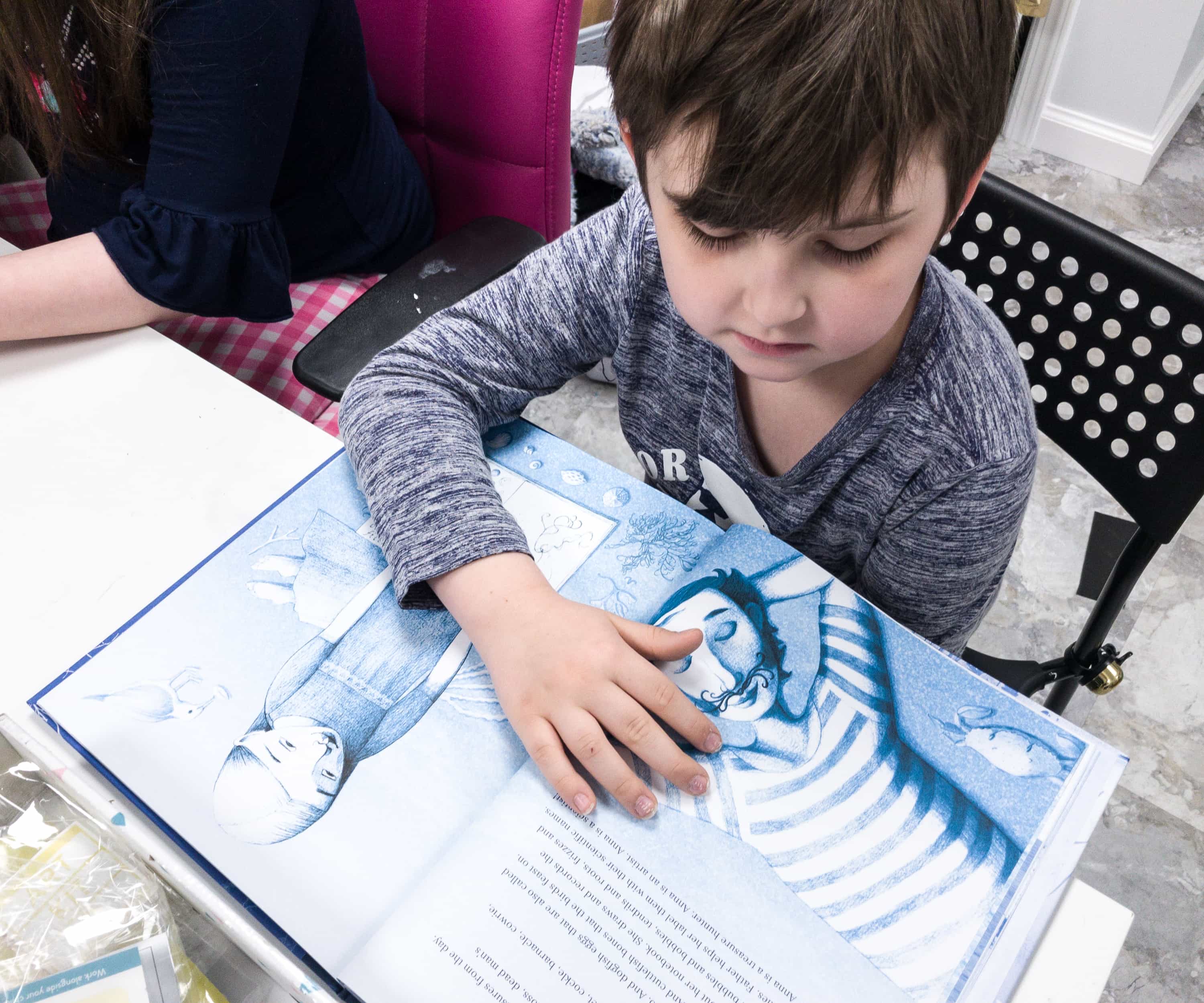 The kids took a look at the book for inspiration.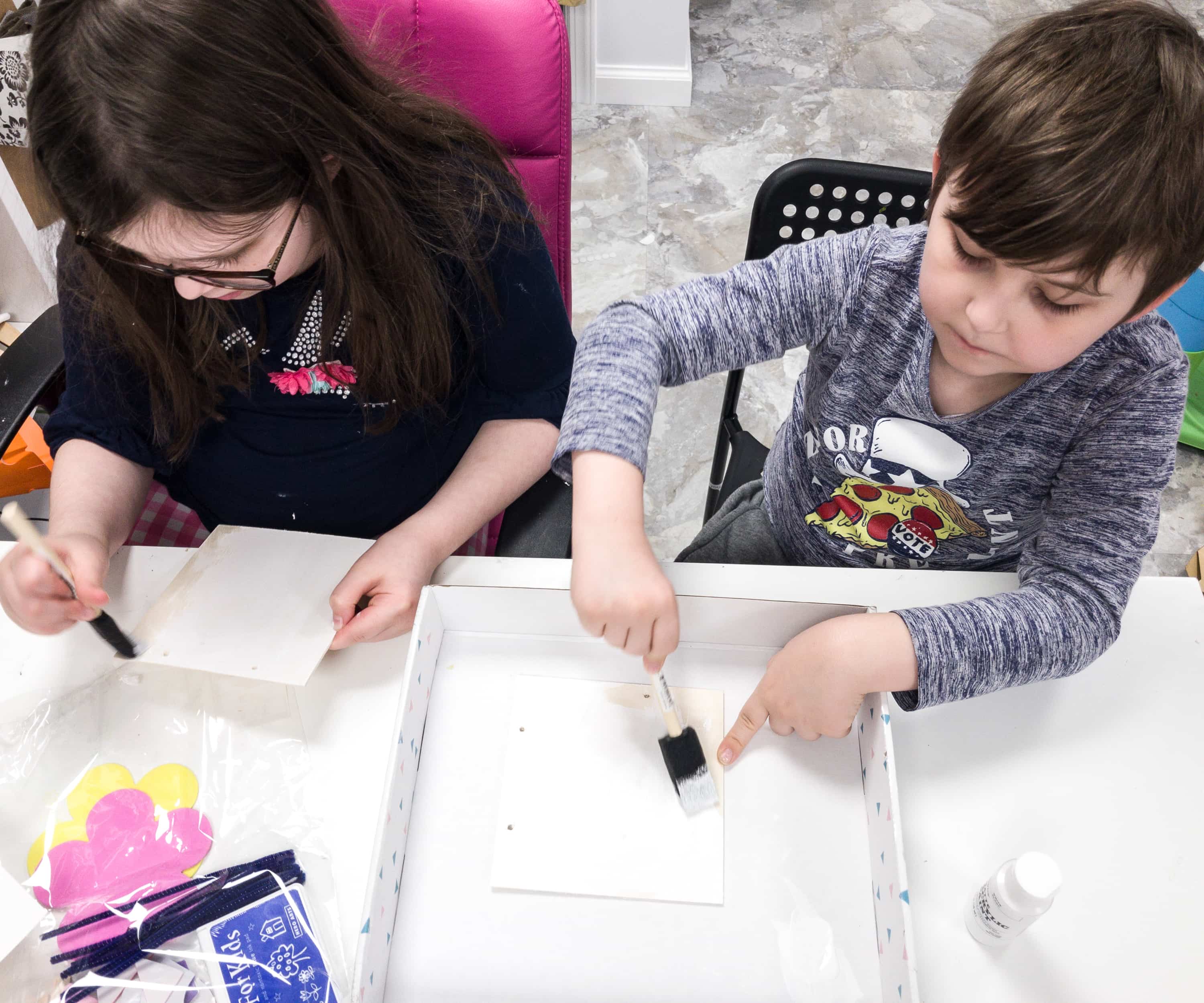 Then, they started with the project. My son covered the wood square with white paint.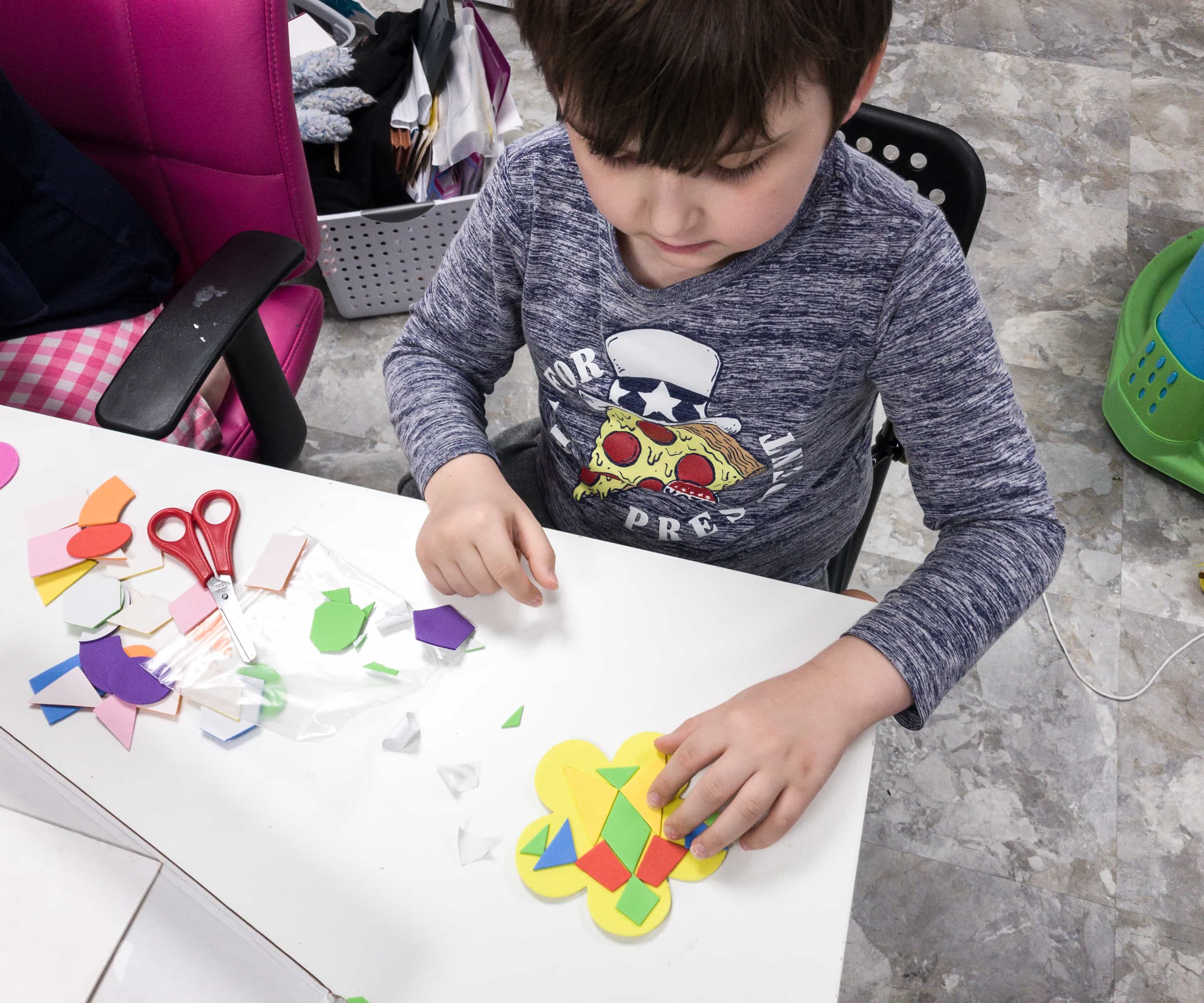 After painting, he started to work on the flower stamp. He is adding geometric shapes on it.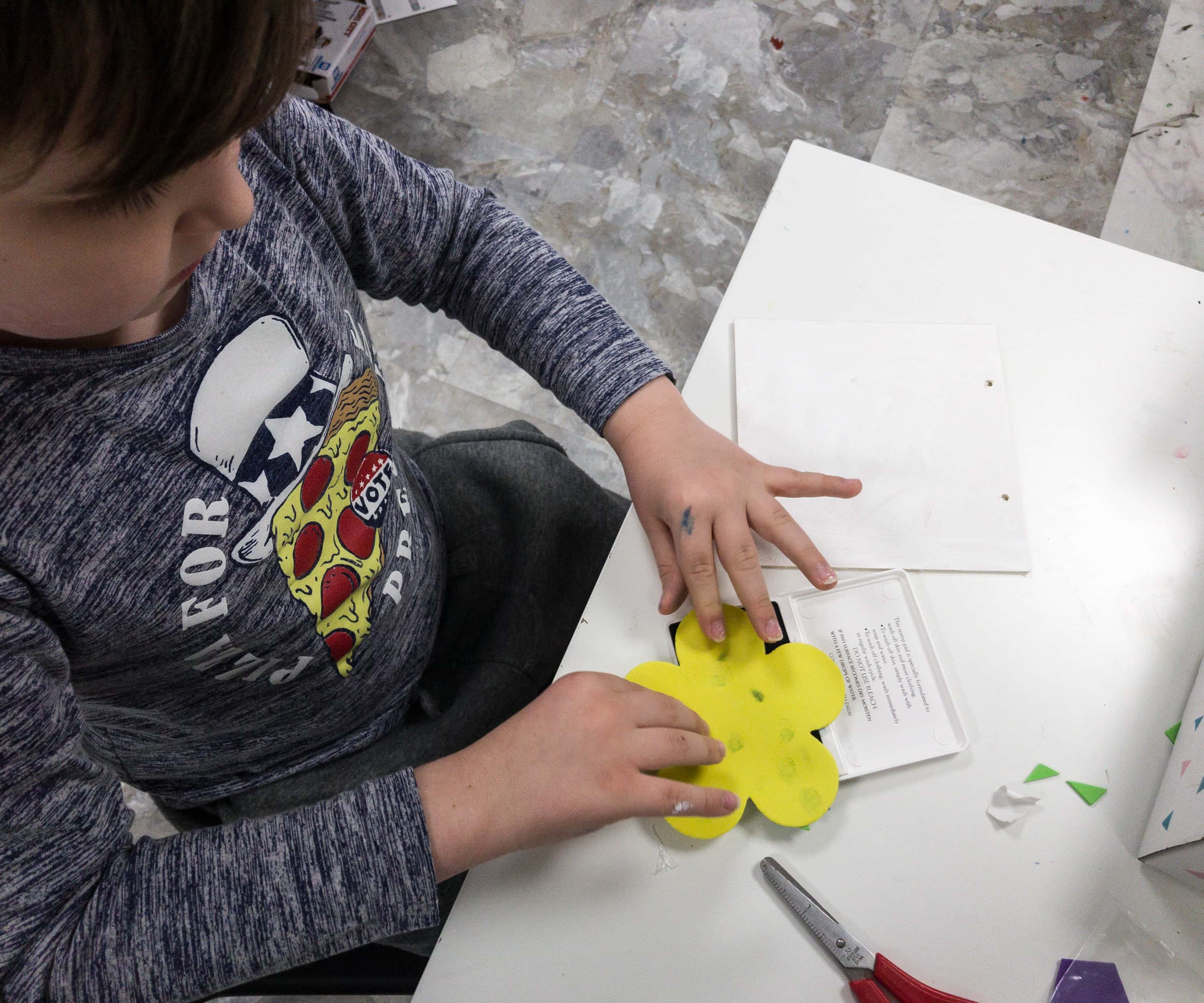 After finishing the stamp, he pressed the foam flower on the ink pad and rotated it to fully cover the whole thing.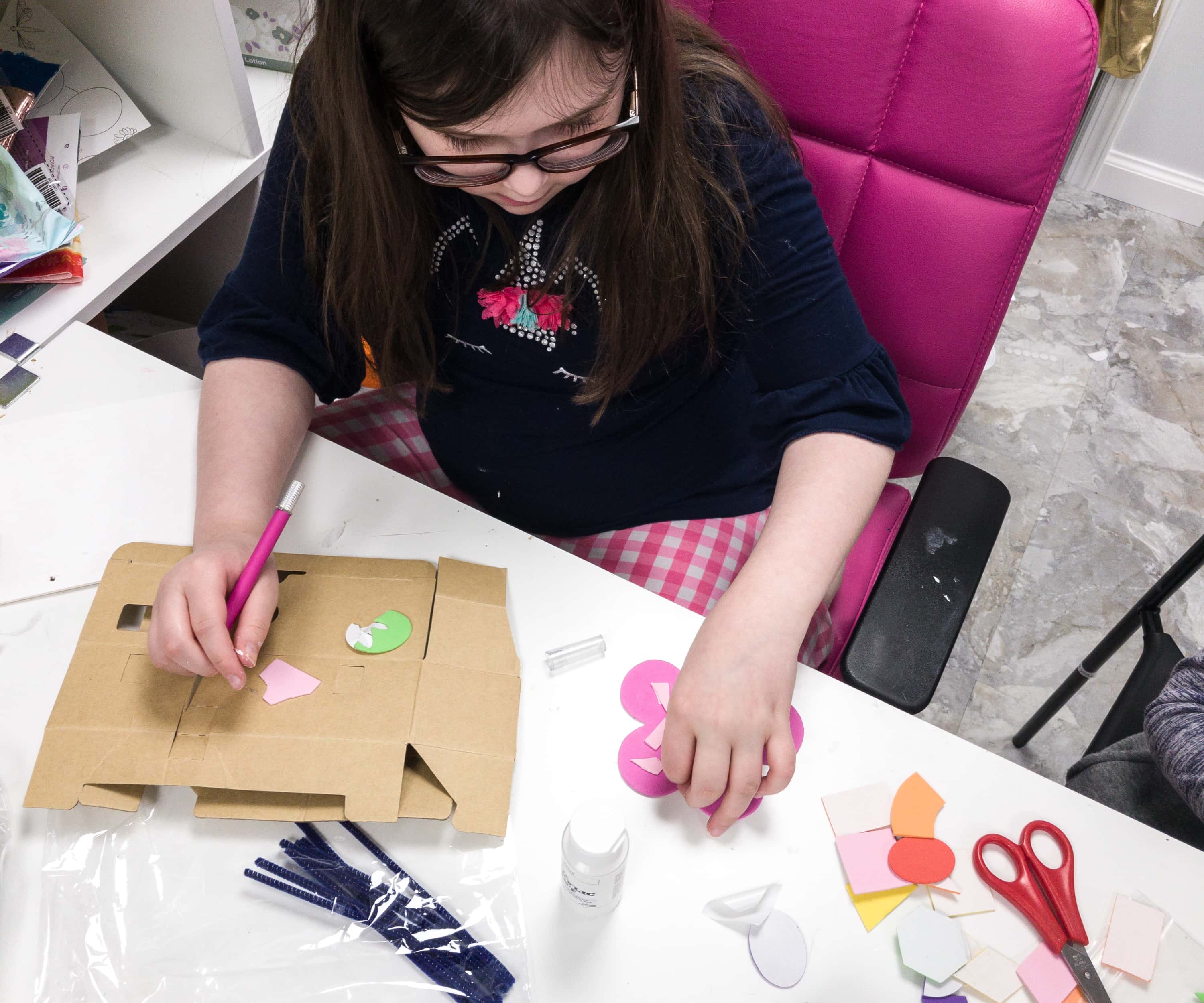 Here's another foam flower covered in geometric shapes made by my daughter.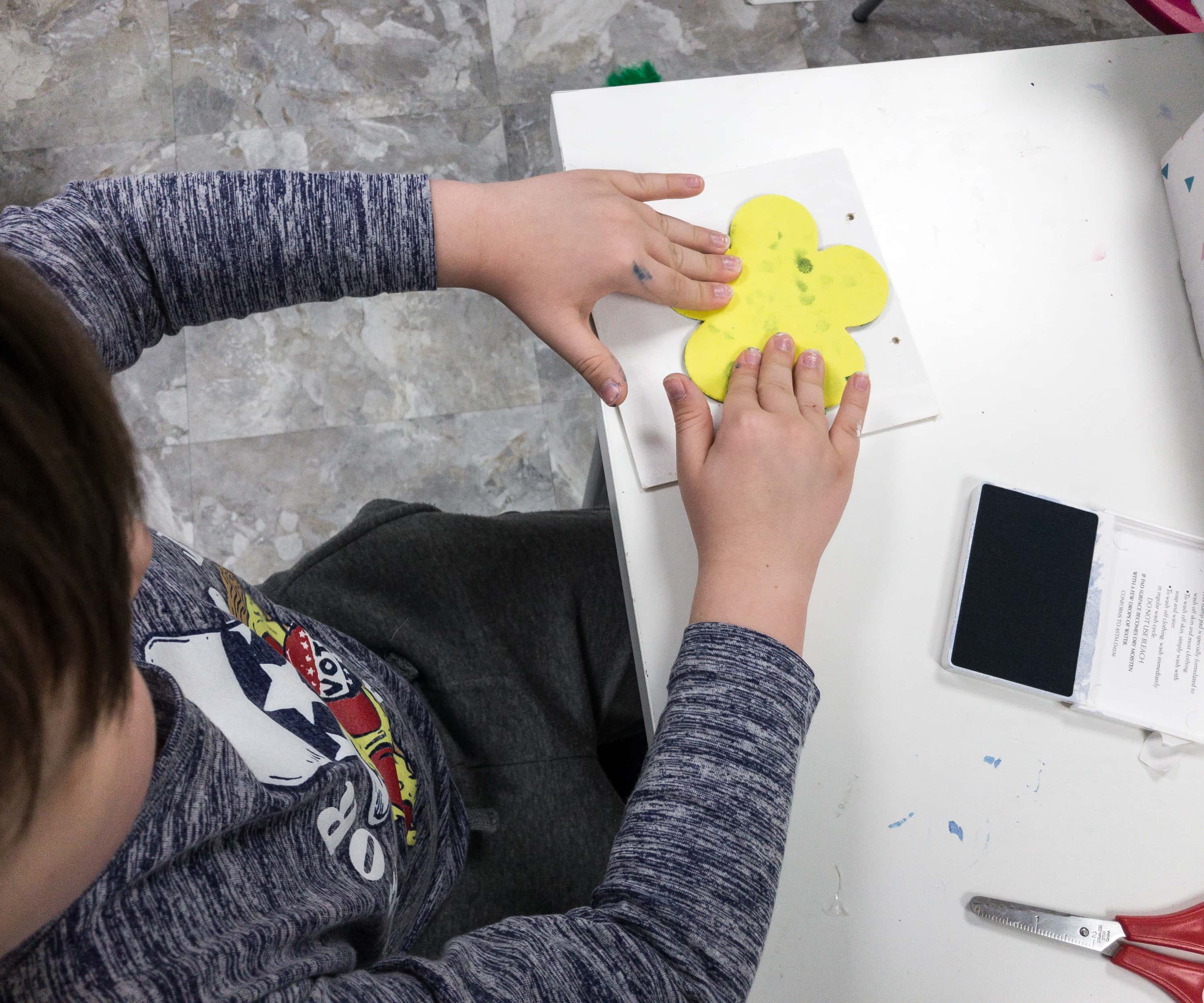 After fully covering the foam flower in ink, my son stamped it on the painted wooden square.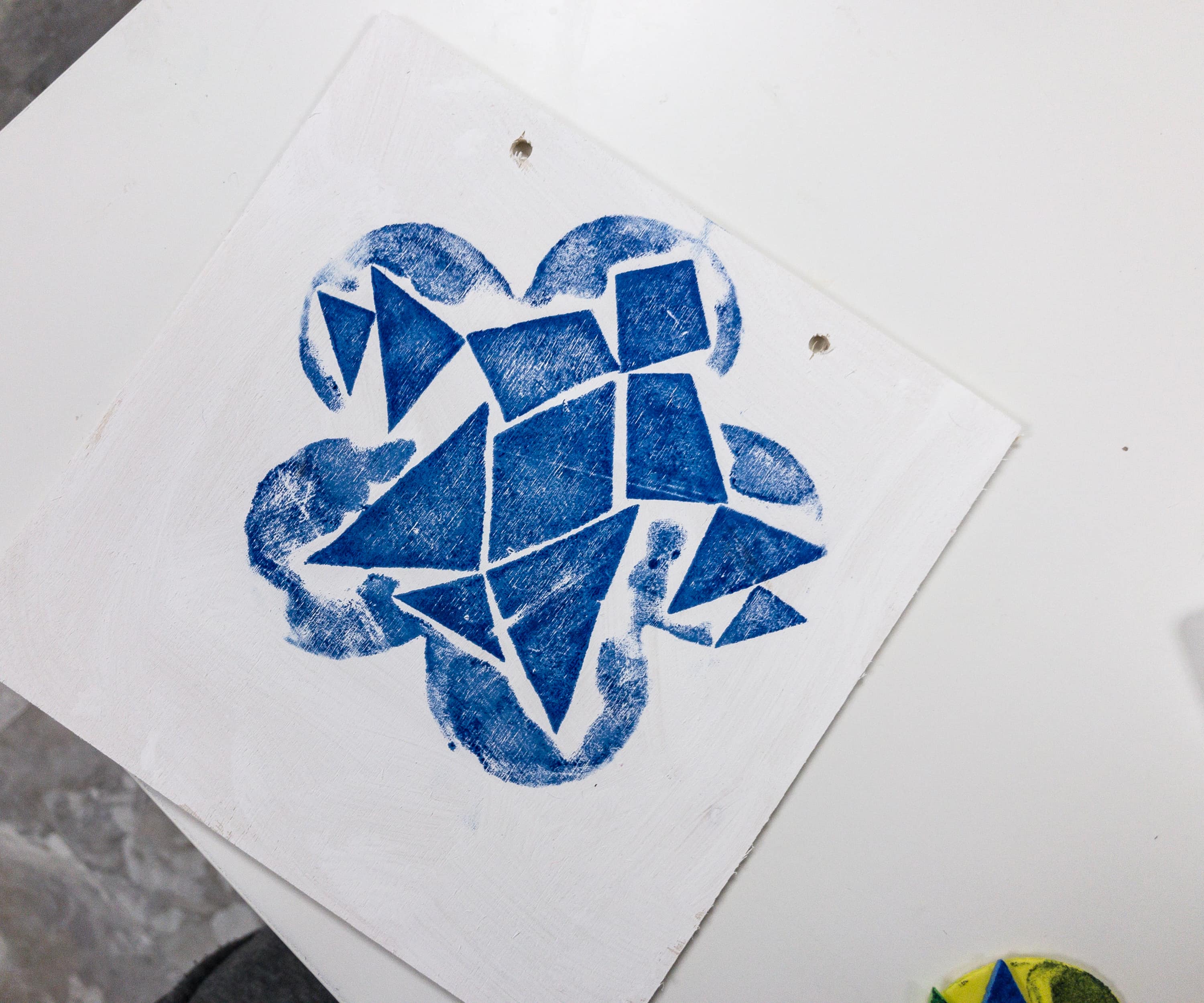 After pressing firmly, he peeled off the stamp to reveal the design he created! That's looking fantastic!
Here's another one by my daughter, and she's ready to transfer her design on another wooden square!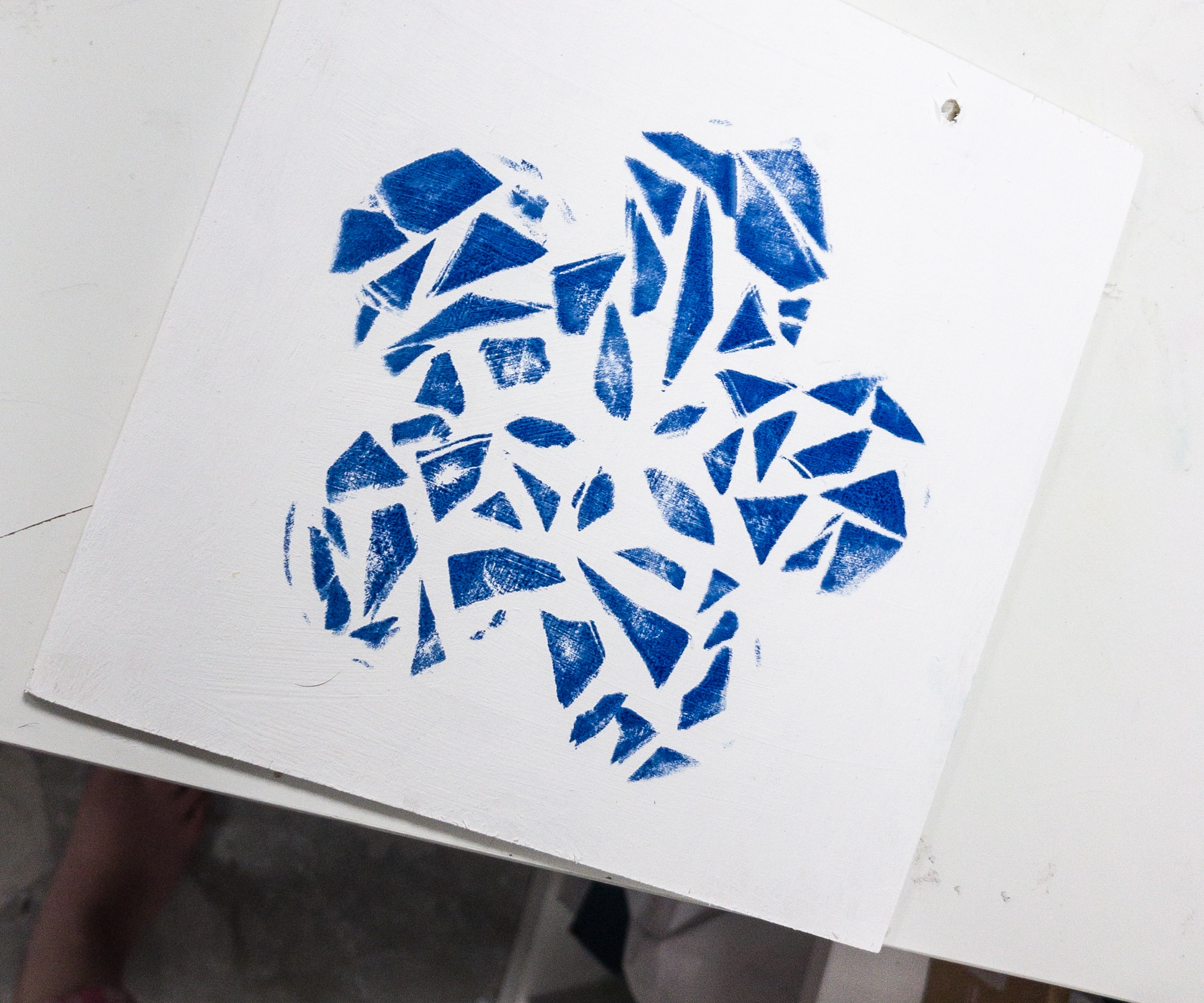 It's looking pretty! It reminded me of beautiful stained glass designs because of the beautiful shapes!
They also attached the painted clothespin on the finished art.
They also put some chenille stems on it so they can hang the artwork.
They can use the finished art to hang their sunprints! These kits are really fun to do!
It's another fun and educational KidArtLit box! We always get excited whenever this box arrives as we all know that it contains fun activity kits, and a wonderful book that has also something to do with the activities. The sunprint activity is fun! The kids loved that it involved being outdoors. They also picked their own materials for it, and the end products all turned out great. The frame-making activity is awesome too. The kids got really creative on each of the stamp design. Overall, this is a good box not just for doing crafts and keeping the kids busy, but the book that comes with them is also a nice inclusion that introduces them with great people, great minds, practices, and talents! We all love this box, that's for sure!
What do you think of this month's box?