Kid Notes by Grace Notes is a monthly subscription that aims to surround you with the power of God's Word every month! You will receive a Biblical verse that you can place where you will be sure to see it often. By the end of the month you should know it really well! Kid Notes is $8 a month and the design and verse change every month. You can also receive the same verse for the rest of the family by subscribing to Grace Notes ($10/month and includes two high quality prints (one 5×7", one 2.5×3.5"), a waterproof sticker, a prayer card, and a coordinating paperclip) or Man Notes ($7/month and includes two prints featuring a masculine design). Kid Notes comes with two 5″ x 5″ prints and two waterproof stickers featuring a kid-friendly design.
DEAL: Get $2 off any subscription! Use coupon code HELLO.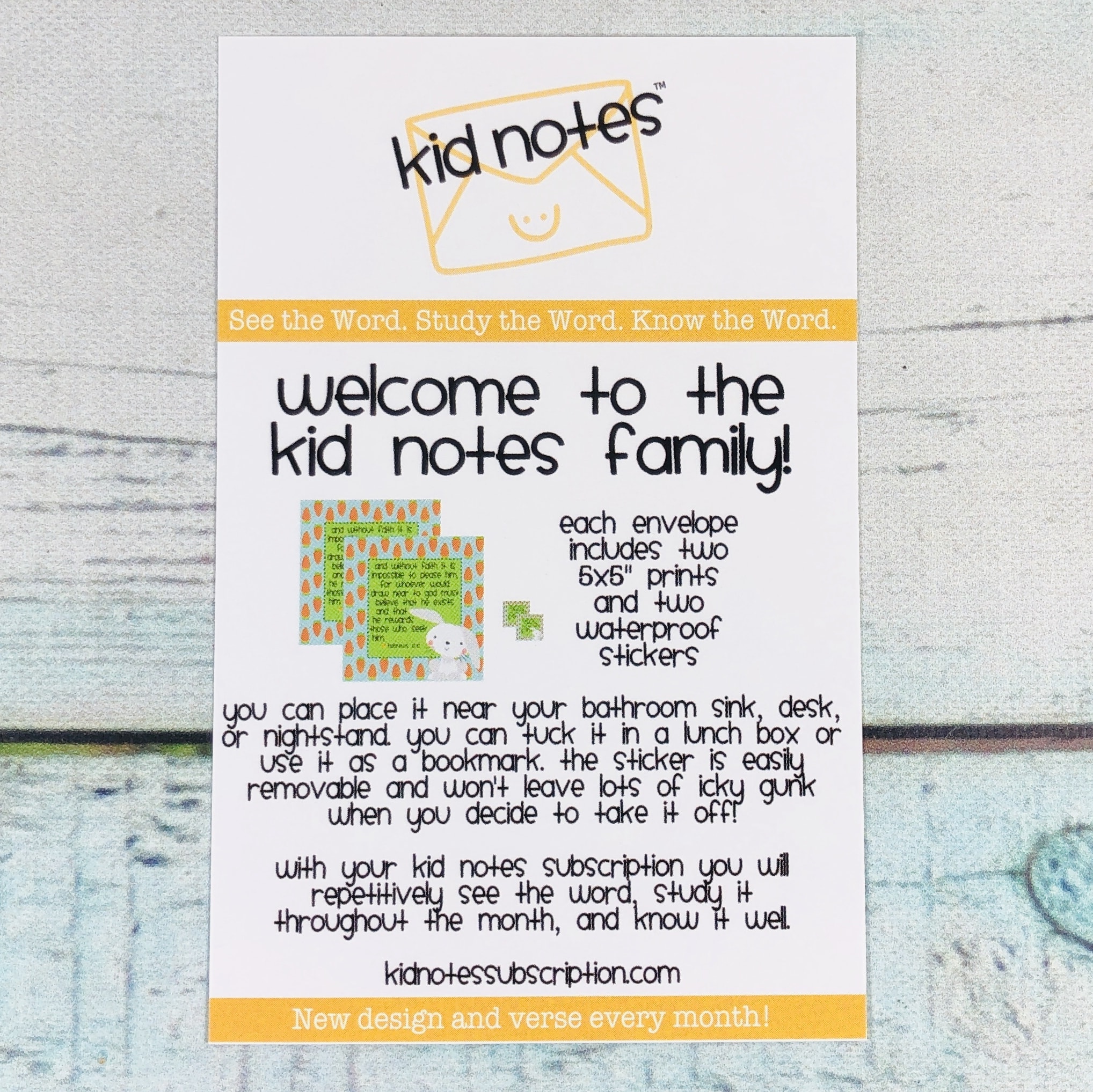 I received a card with contact info. The card listed some ideas on where to place the notes and stickers so they will be easily noticed throughout the day.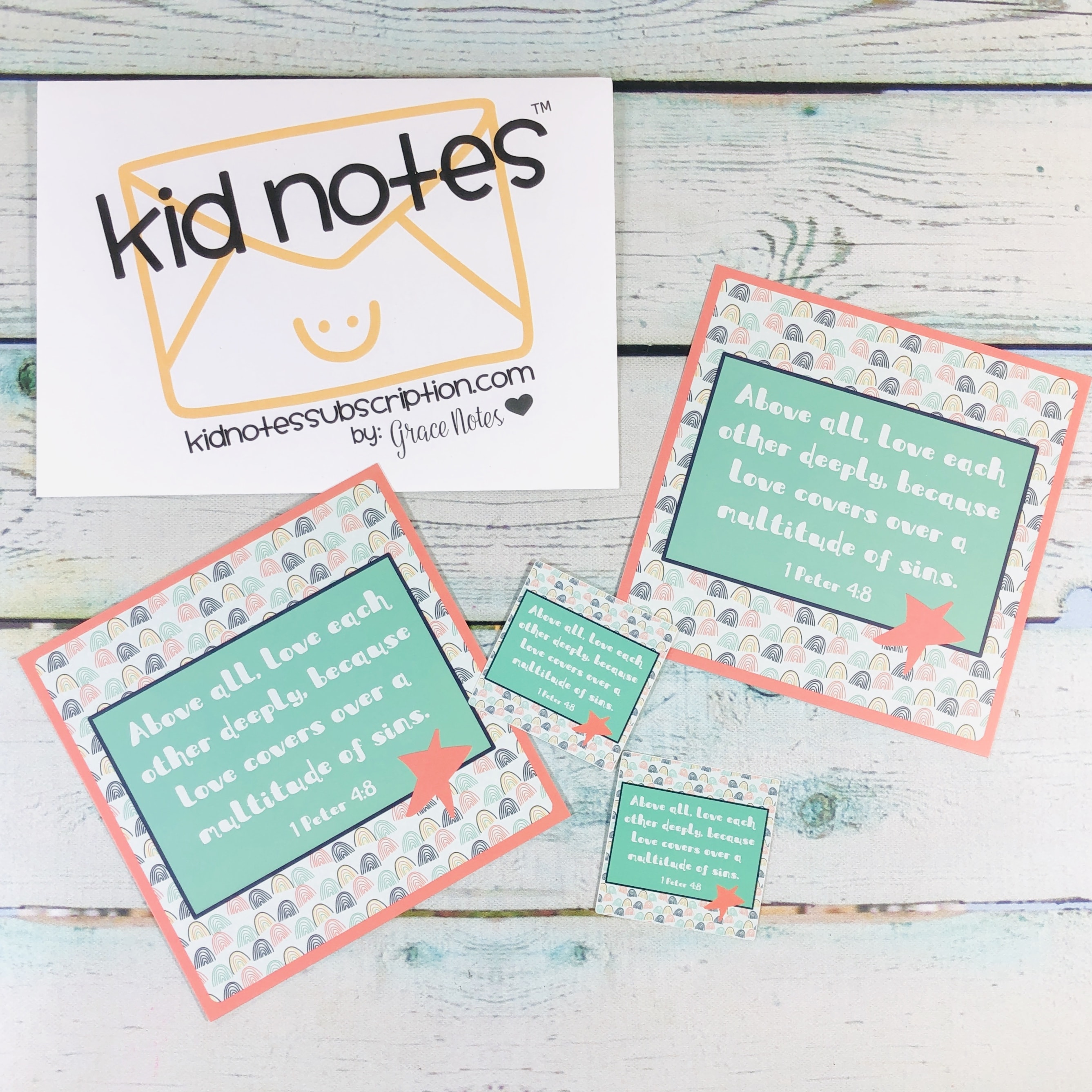 Everything in the envelope!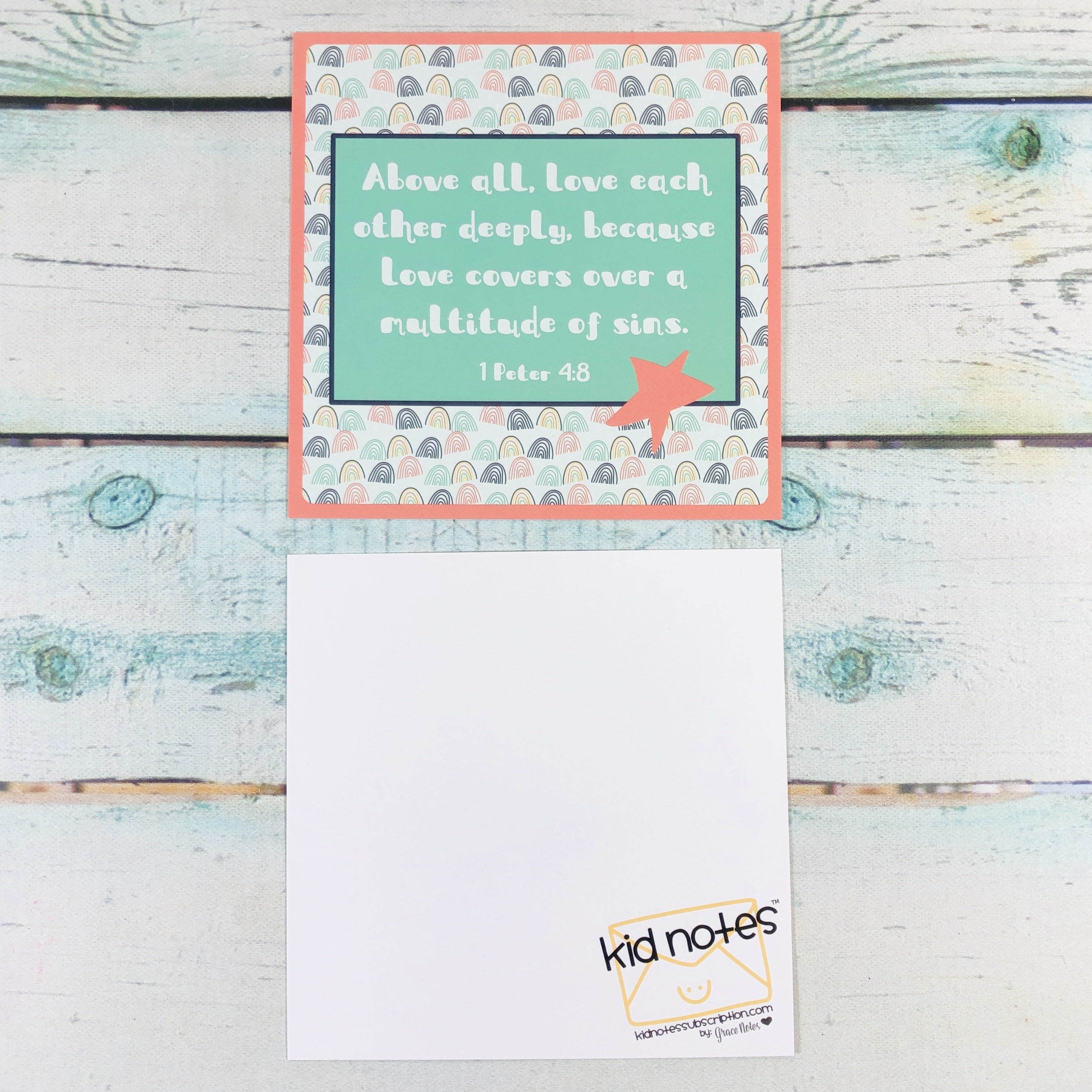 I received two 5″ x 5″ cards printed on quality cardstock with a kid-friendly print and the featured verse of the month: "Above all, love each other deeply, because love covers over a multitude of sins." 1 Peter 4:8 NIV. The verse is also used in Grace Notes and Man Notes, but with a different design. This way the whole family can learn the verse together. Both cards are blank on the backside so you can copy the verse or a prayer, or maybe a list of who you might want to pray for that month.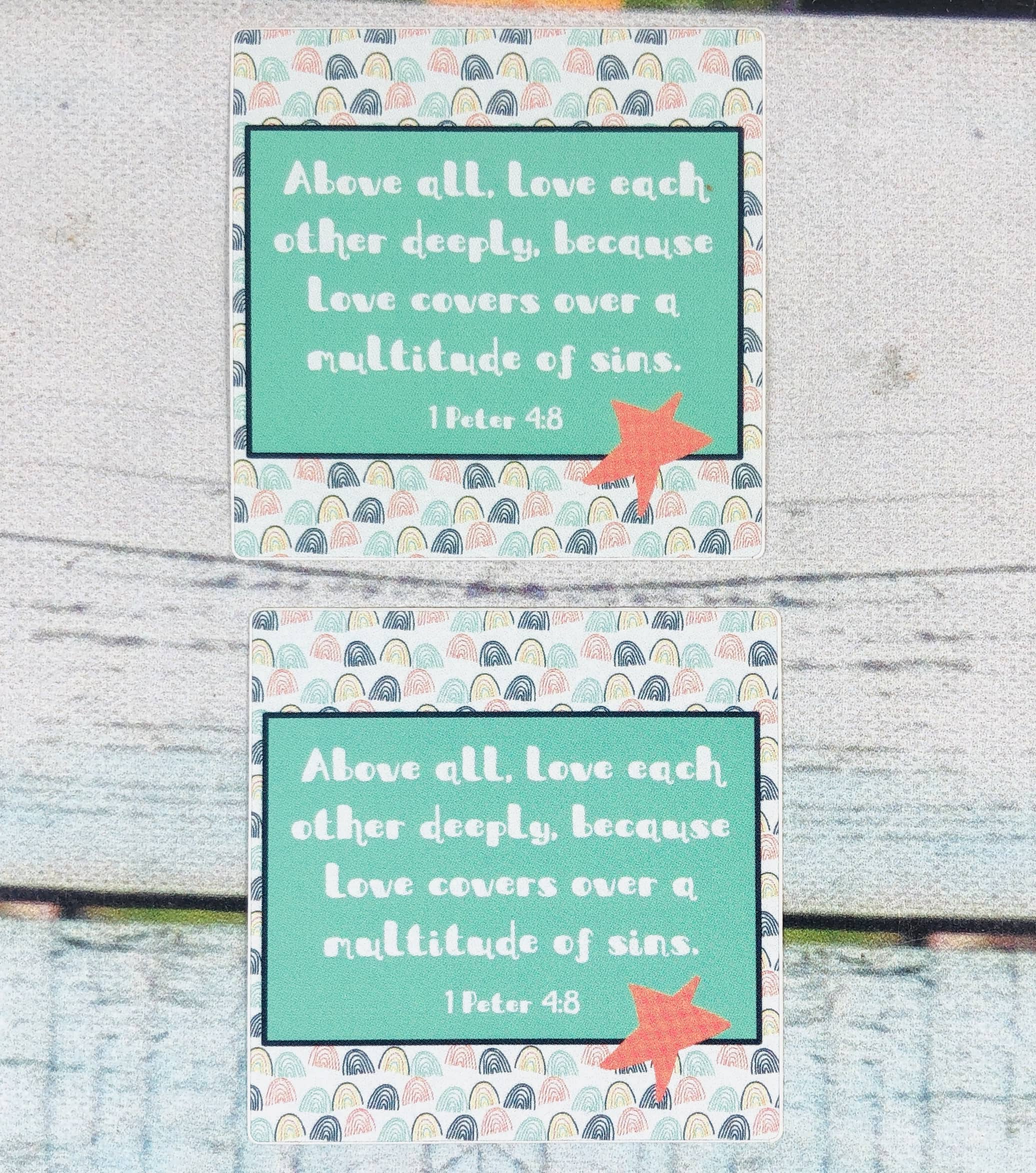 There were two waterproof stickers inside. These can be placed on a water bottle or bathroom mirror. The stickers are 2″ x 2″.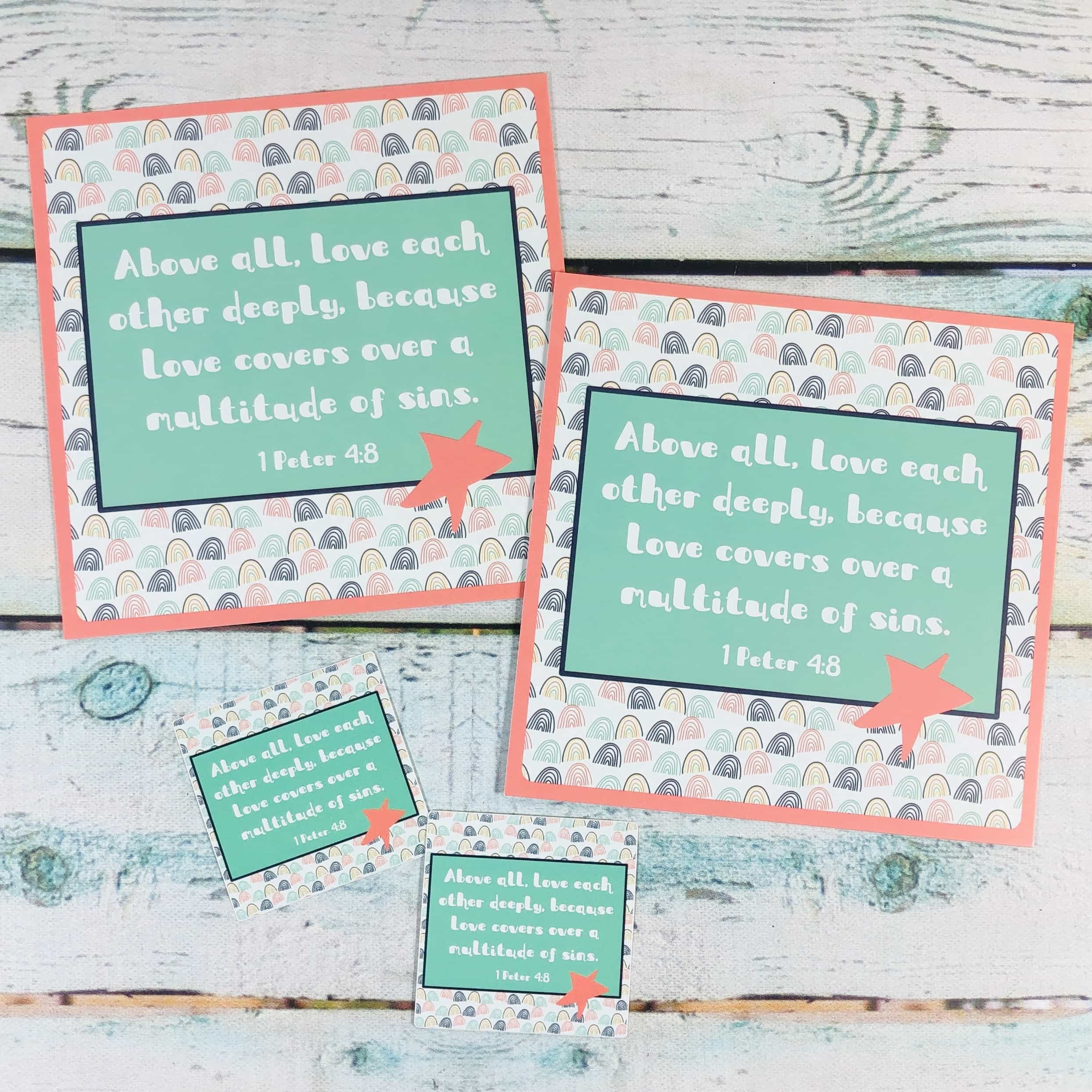 Kid Notes by Grace Notes is a sweet subscription that aims to help kids memorize scripture. By the end of the year they could possibly have memorized 12 verses of scripture. You can purchase previous sets and card holders in the Grace Notes online shop. FYI, Biblical verses will be either NIV or ESV versions.
What do you think of the Grace Notes?