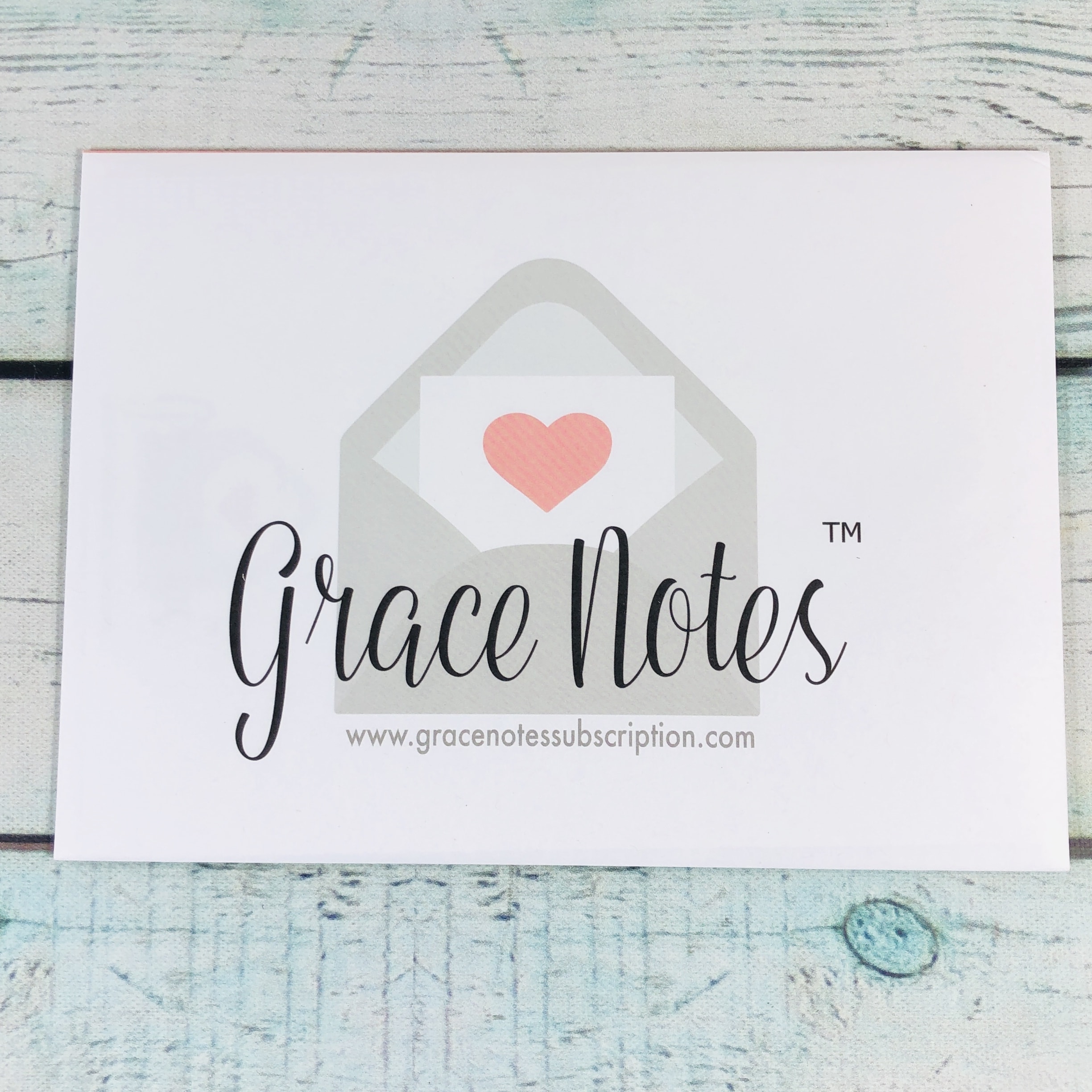 Grace Notes is a monthly subscription that aims to surround you with the power of God's Word every month! You will receive a Biblical verse in a few different sizes that you can place where you will be sure to see them often. By the end of the month you should know it really well! Grace Notes is $10/month and the design and verse change every month. You can also receive the same verse for the rest of the family by subscribing to Man Notes ($7/month and includes two prints featuring a masculine design) or Kid Notes ($8/month and includes two prints and two stickers featuring a kid-friendly design). Shipping is free to the US but you will need to contact the company directly for international shipping rates. What will you receive in Grace Notes?
With Grace Notes, every month you will receive an envelope with a new design and verse on two high quality prints (one 5×7", one 2.5×3.5") and a waterproof sticker. Also included is a 5×7" card to write the Scripture and what you're praying about that month. Last, but not least, there's a small envelope with a coordinating paper clip inside.
DEAL: Get $2 off any subscription! Use coupon code HELLO.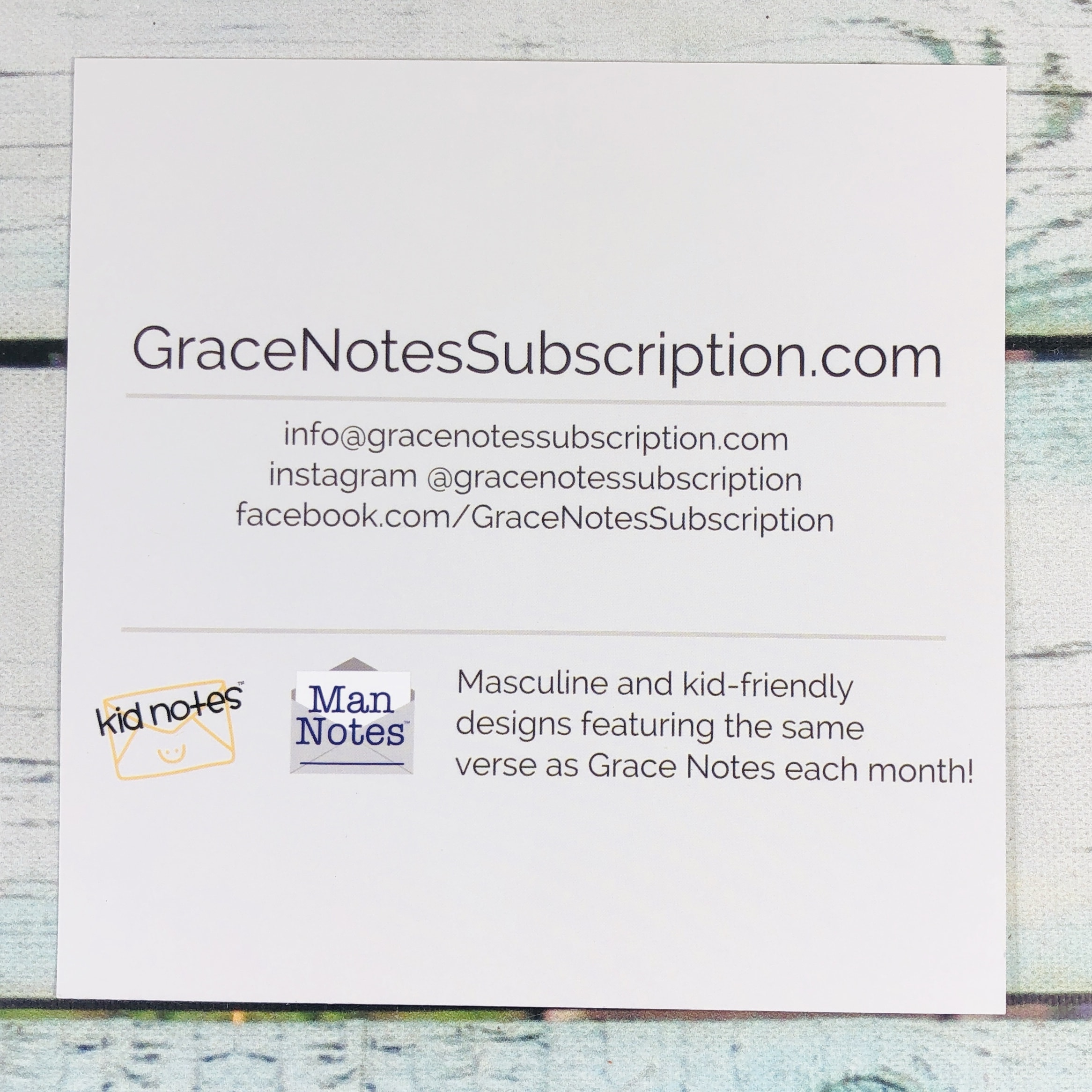 I received a card with contact info.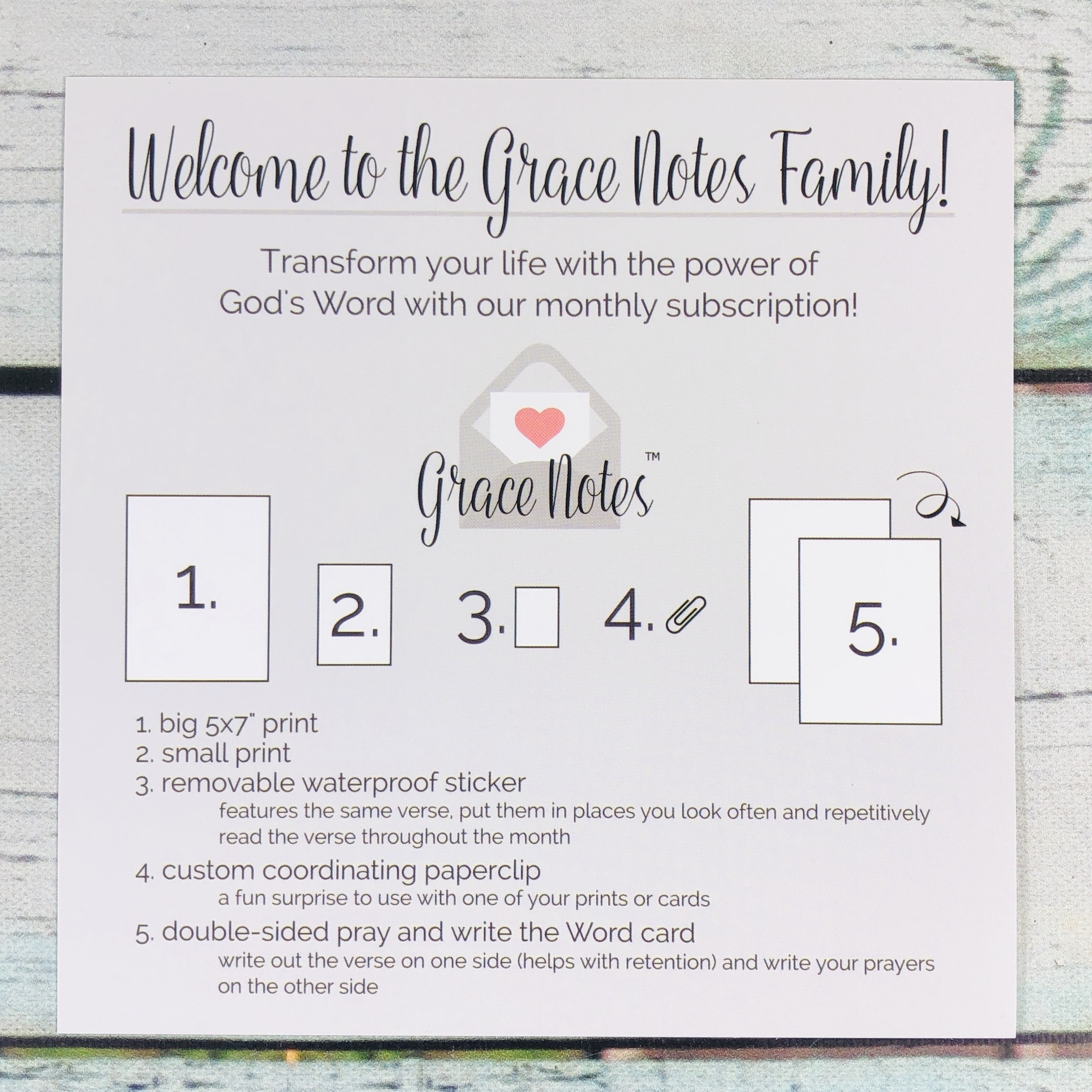 The back of the card described what I would find in my envelope.
Everything inside the envelope!
I received a 5″ x 7″ card with the featured verse of the month: "Above all, love each other deeply, because love covers over a multitude of sins." 1 Peter 4:8 NIV. The verse is also used in Man Notes and Kid Notes, but but with a different design. This way the whole family can learn the verse together. This size is perfect for a frame, I have a rustic frame that has a clip so I can easily change out the print.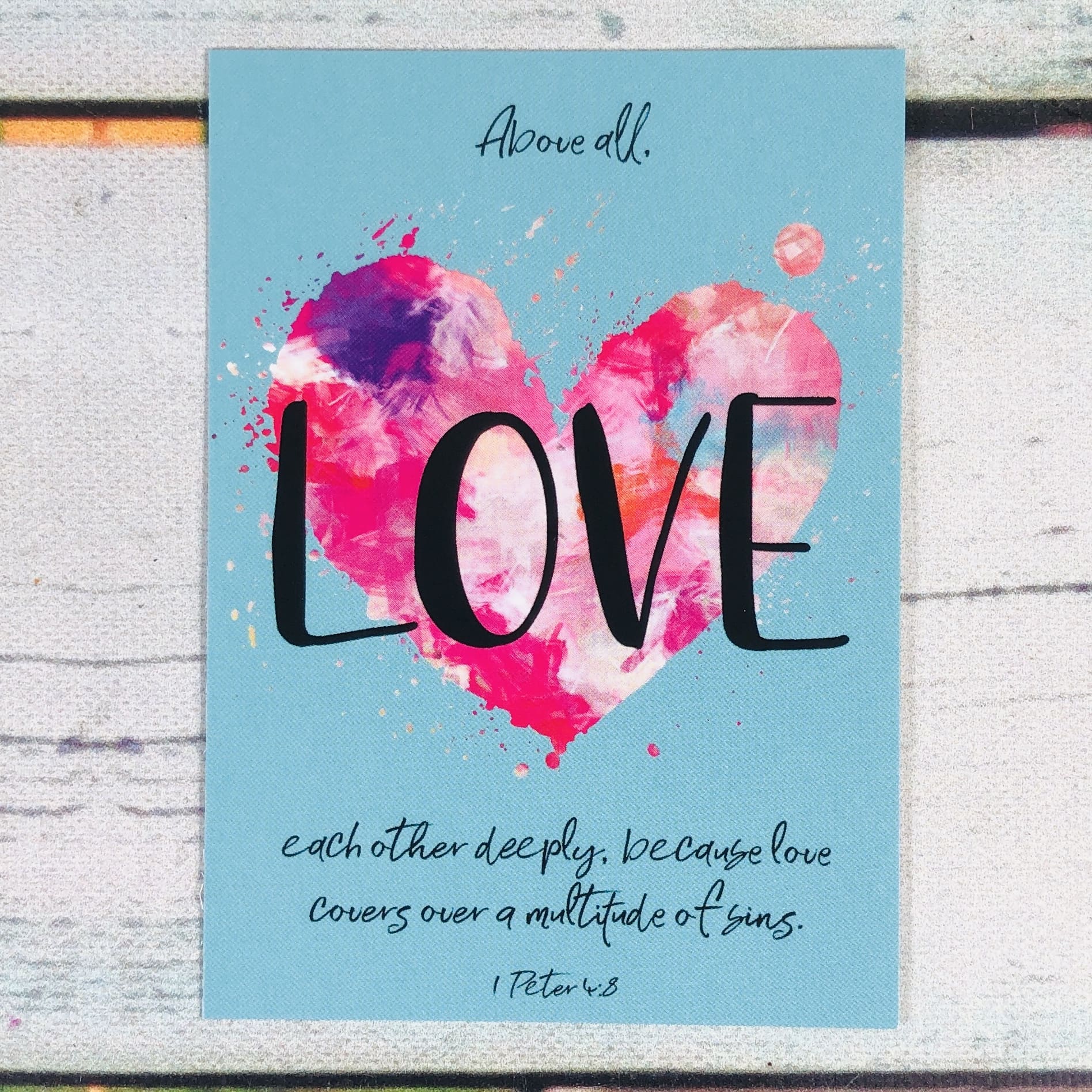 I received the same verse but in a smaller size, 2.5″ x 3.5″. This size would be perfect for either a wallet or to place in a planner.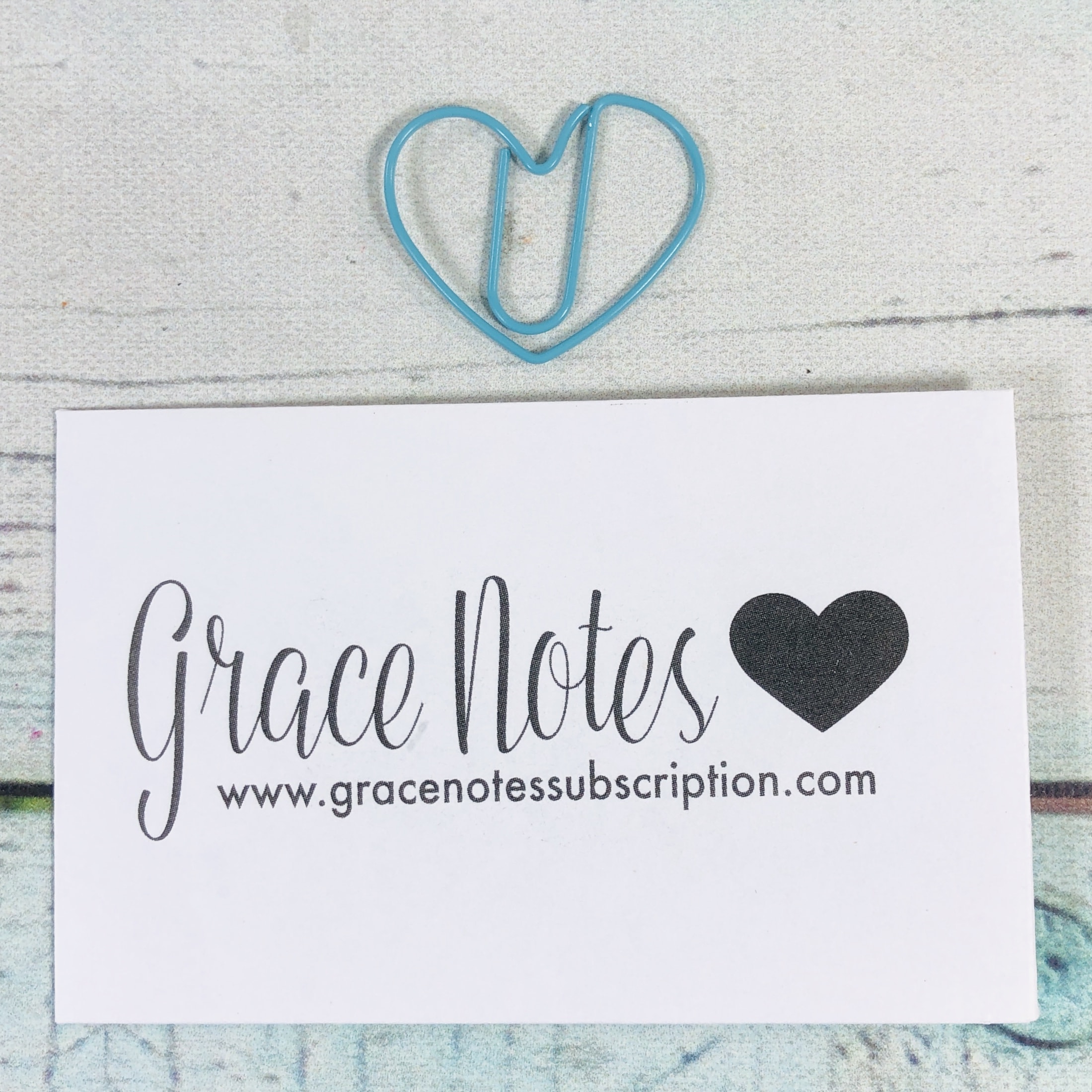 I even received a paper clip that would look adorable in my planner!
I received a double-sided card. One side is for writing the verse, which may help one memorize it for retention.
The flip side of the card has a place to write your prayers. It helps with focus when it comes time to pray for your loved ones.
I even received a removable waterproof sticker! Maybe this would go well in a bathroom mirror to look at first thing each morning and last thing before bed. Or place on your phone, water bottle, or calendar.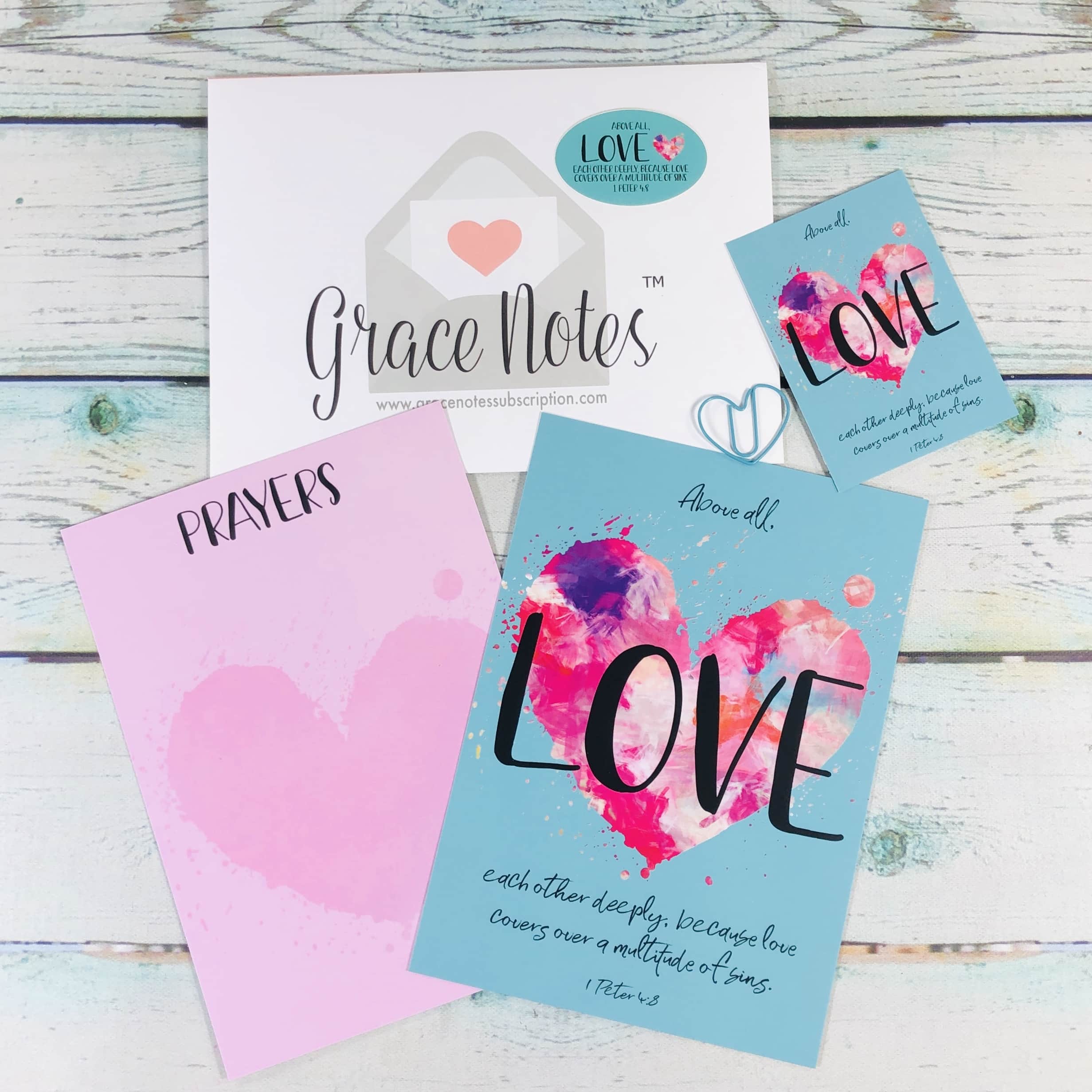 Overall I think Grace Notes is an adorable subscription! It is very doable, and by the end of the year I should have memorized 12 verses of scripture. The cards are printed on sturdy cardstock, and the main card feels a bit glossier than the prayer card. You can purchase previous sets and card holders, even a t-shirt, in the Grace Notes online shop. Biblical verses will be either NIV or ESV versions. You can even download the verse for free to use as your computer's wallpaper or as your phone's screensaver.
What do you think of the Grace Notes?