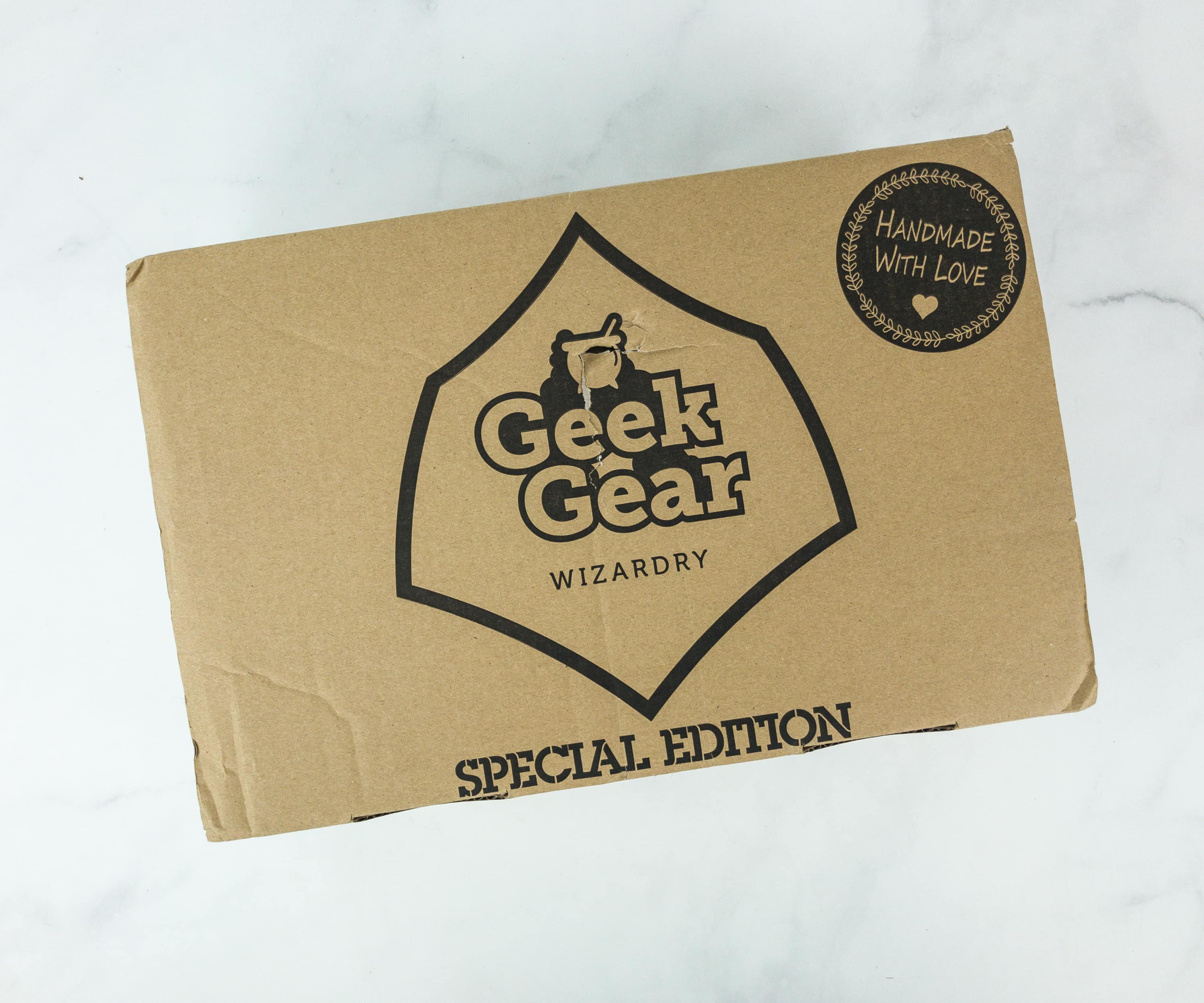 GeekGear WIZARDRY Special Edition is a bimonthly premium subscription box from GeekGear filled with awesome licensed and exclusive PREMIUM Harry Potter & Fantastic Beasts merchandise! Boxes are £44.99 +S/H with a £90+ value! (That's £50.98 shipped to US, about $68). In every box expect an exclusive t-shirt, an exclusive jumper/hoodie/long sleeve t-shirt, an exclusive premium artwork, and 3+ other premium products.
Although they're called special edition, don't be fooled – these are now a regular subscription, similar to Loot Crate DX! 
This is a review of the February 2019 Special Edition box.
DEAL: Save 10% on your first month! Use coupon code NEWSUB10. Or try SPECIAL15 to save 15%!
The box was £44.99 +S/H with a £90+ value (That's £50.98 shipped to US, about $68) and was limited to 750 units.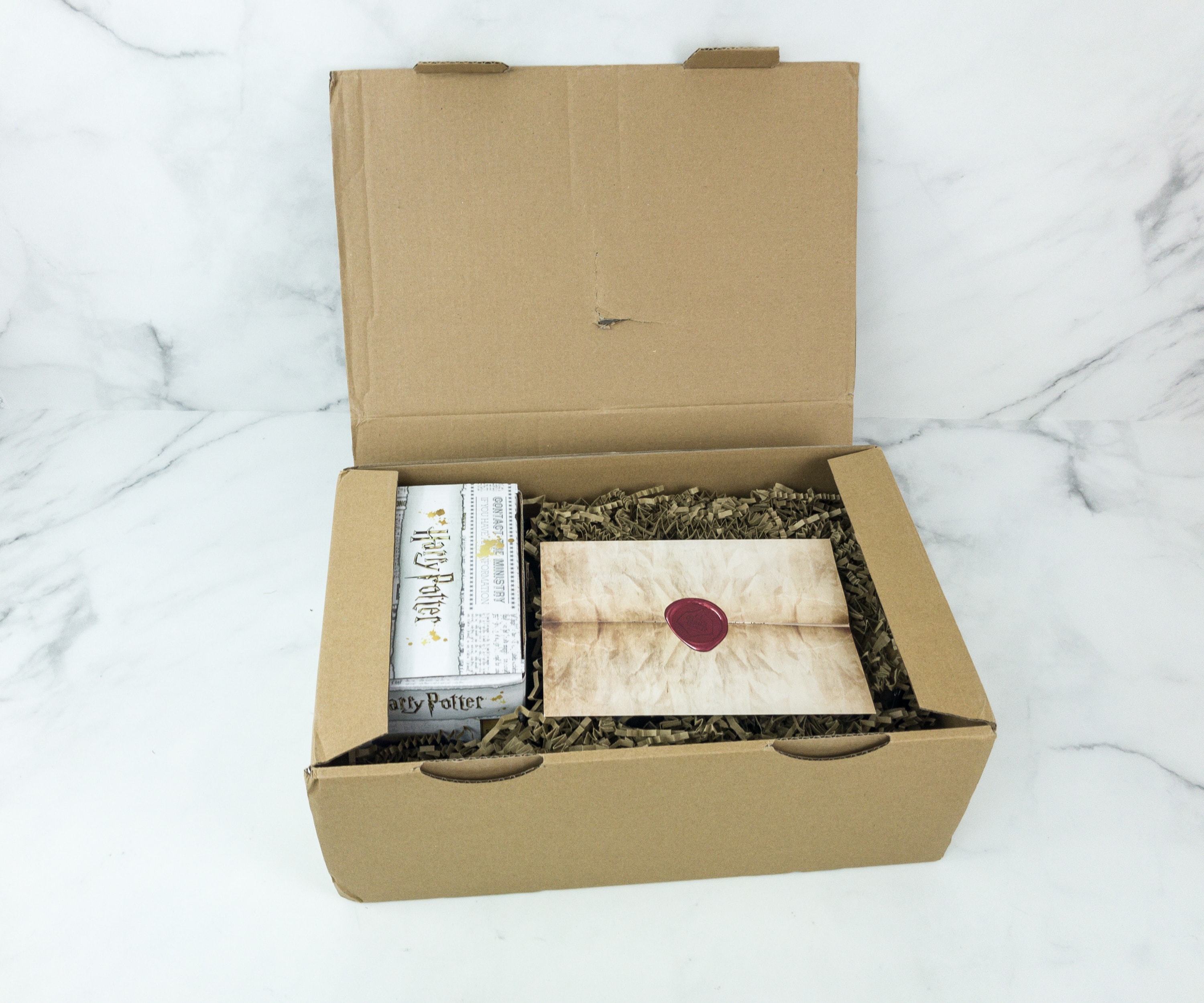 The box is filled with brown squiggles.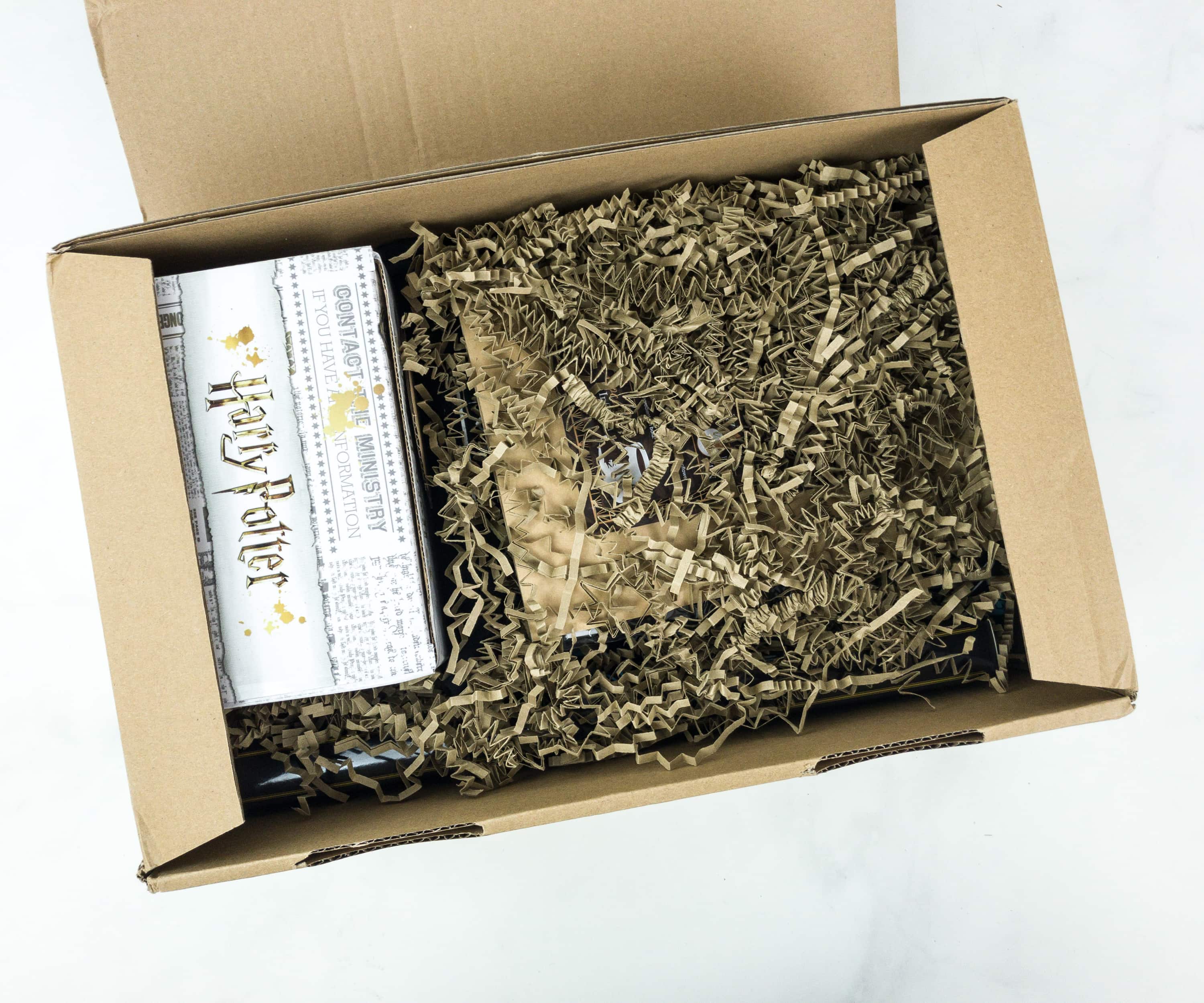 No need to worry when this thing is in transit!
There's a letter sealed with the Geek Gear branding in "wax" (it's printed on).
It lists all the items in the box.
Everything in the February 2019 Special Edition World of Wizardry box!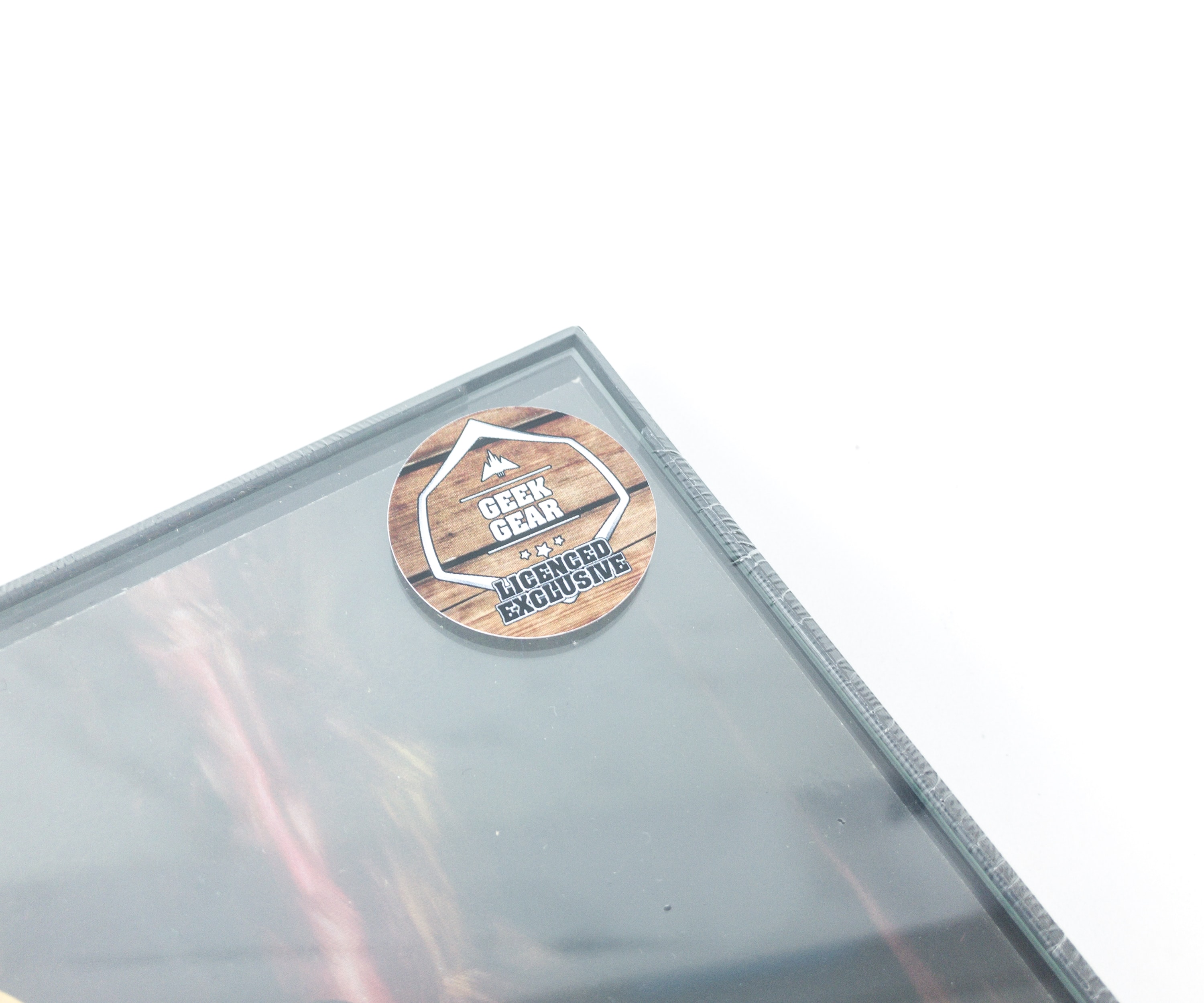 Exclusive Licensed Framed Print. The licensed exclusive print for this month is an iconic symbol for all Wizards and Witches!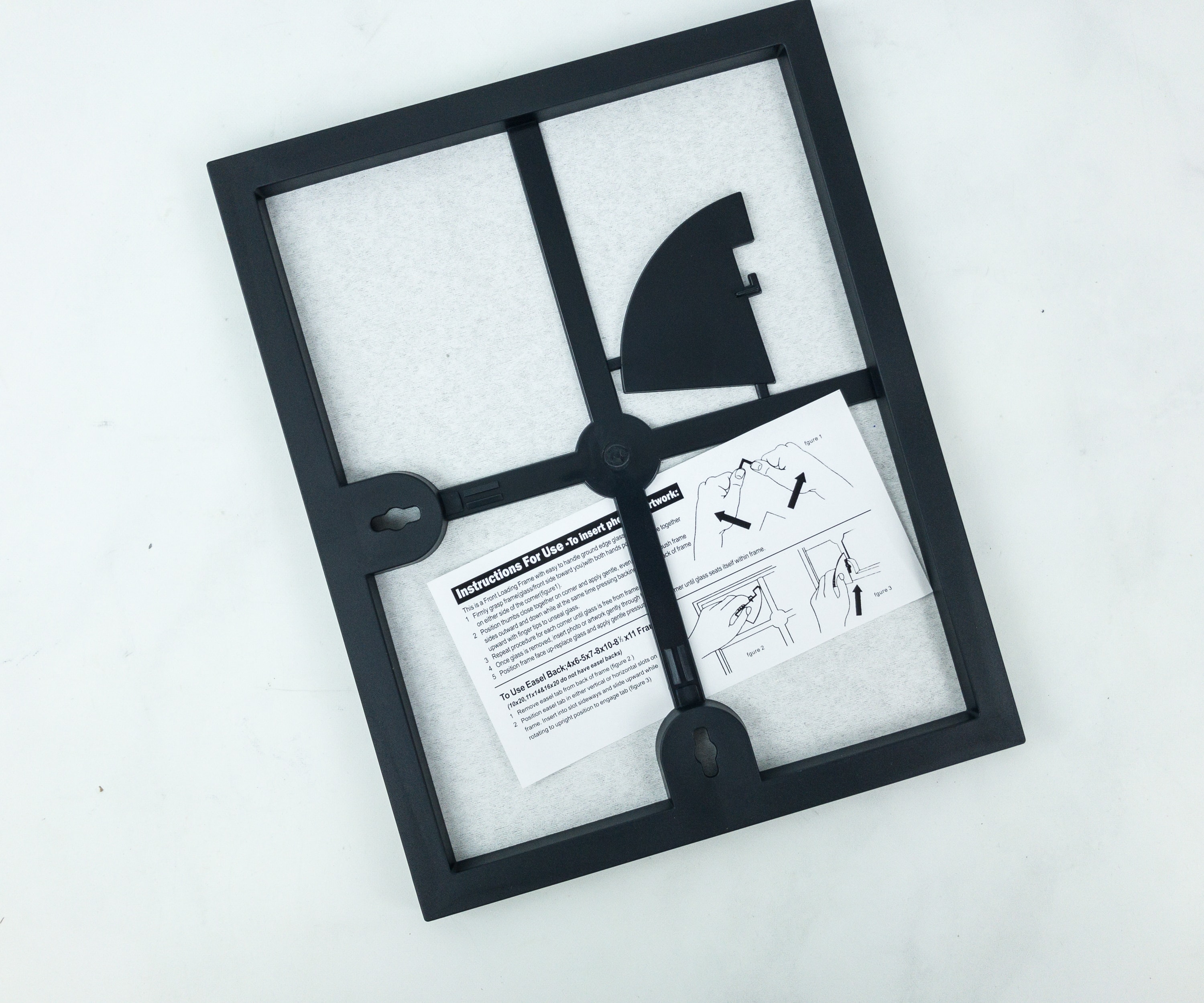 At the back of the print and on the frame, there's an inset that contains all the instructions for use.
You cannot just hang the art print on the wall, but you can make it stand on a desk too!
It's a beautiful print of the Hogwarts Crest. I love getting house-neutral items from this box, like this one!
Chocolate Frog Tea. Wow, it's a different tea, because it's chocolate! You just need to brew a teaspoon per cup in 3-5 minutes at 100°C.  Super fun!
Noble Wands Superbia. Here's the familiar elegant box that includes a wand from Noble Wands!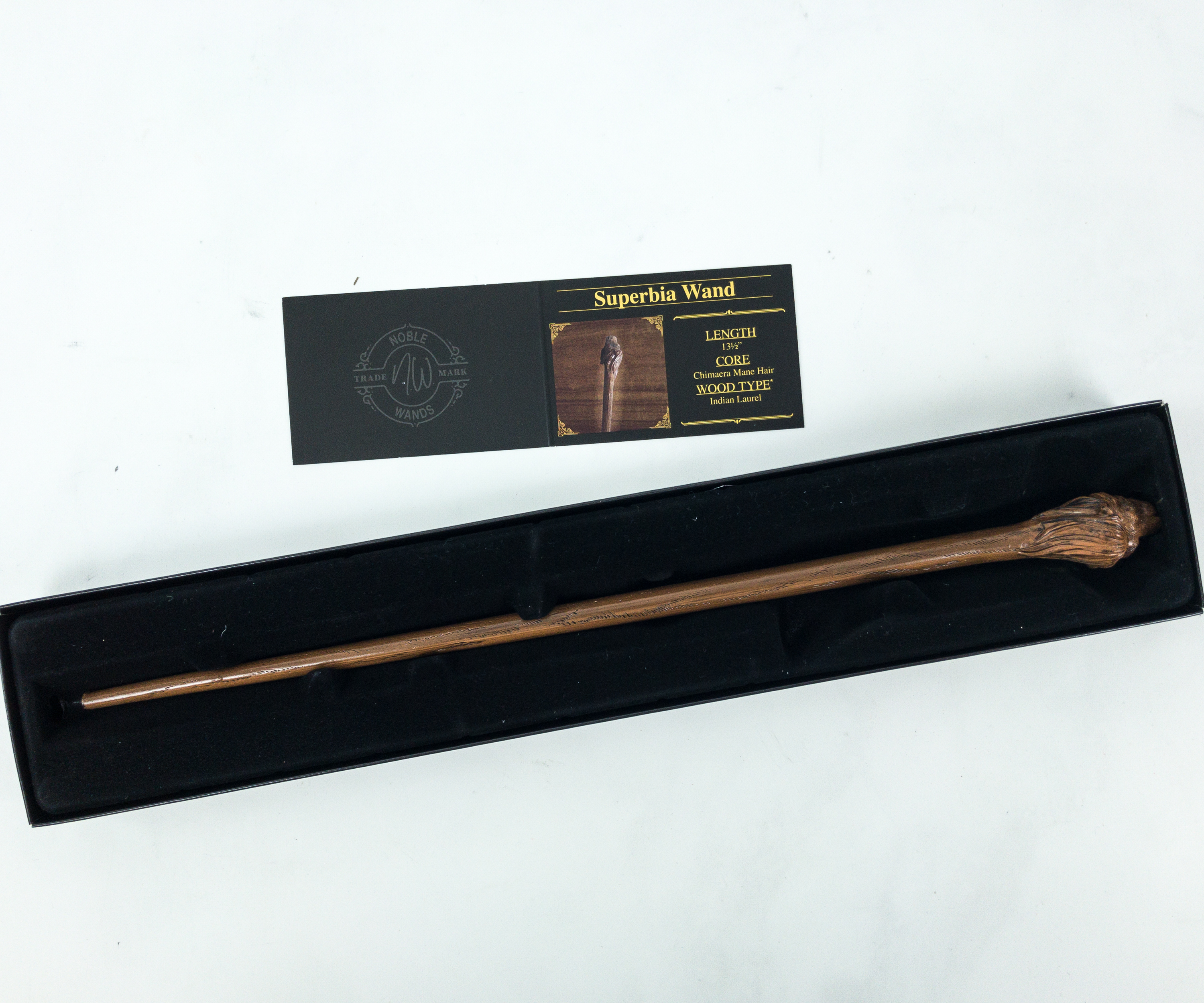 It's the Superbia Wand, and it's made of Indian Laurel and a core of Chimaera Mane Hair.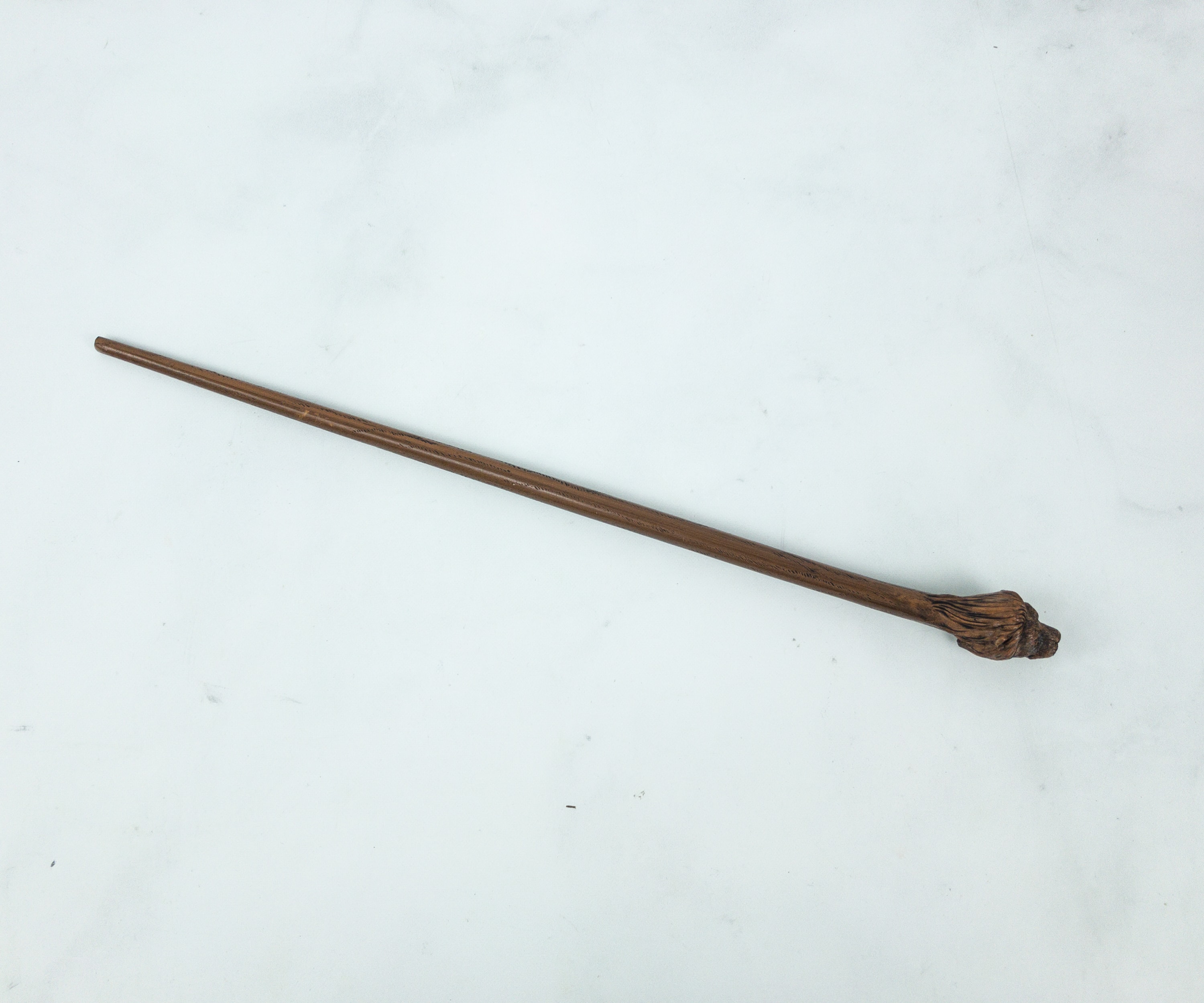 It measures 13 1/2 inches, and it looks plain on this angle.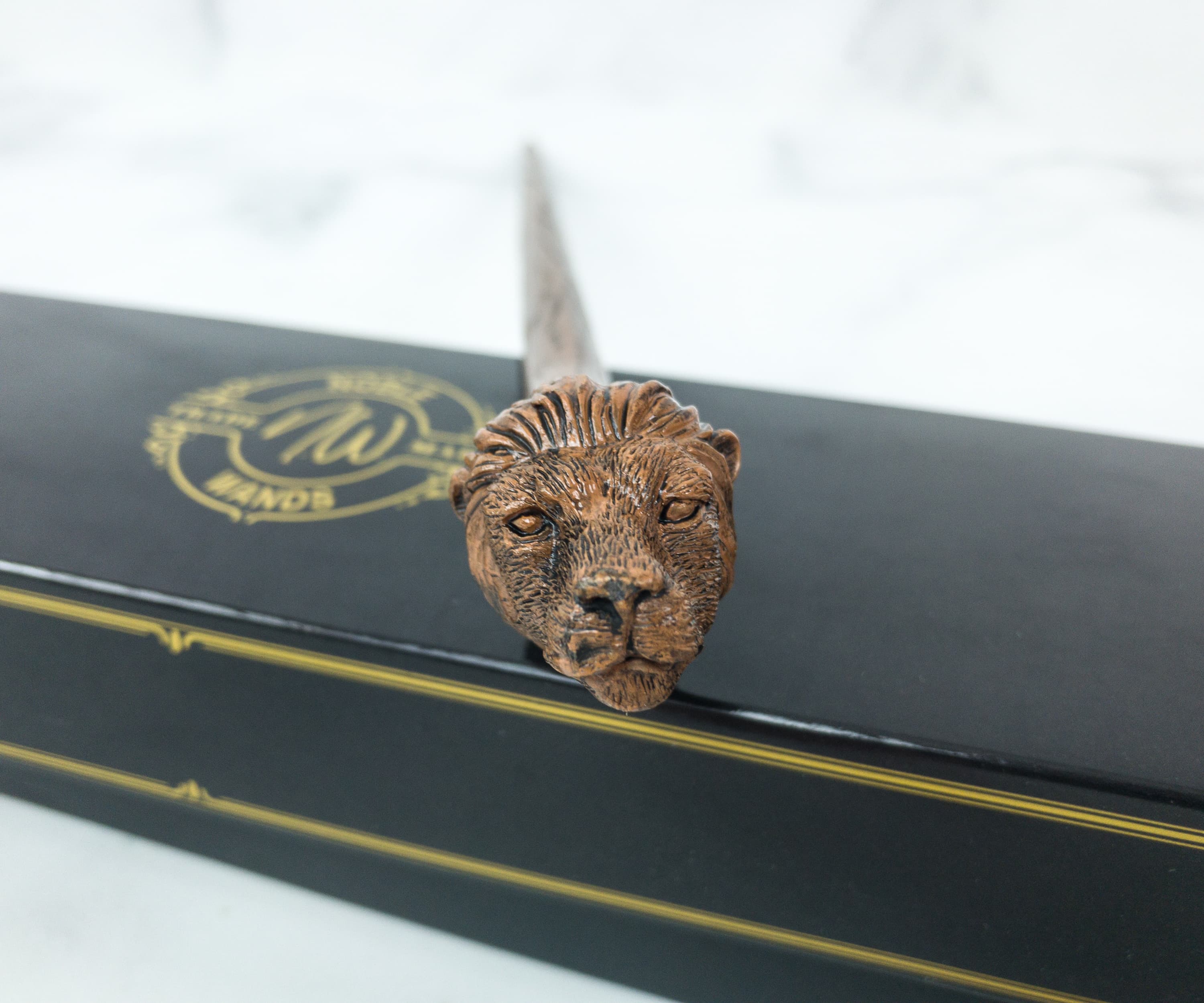 But when you look closely at the handle, you'll be surprised by what you'll see. It's a lion's head! I bet this is a perfect wand for someone who belongs to Gryffindor!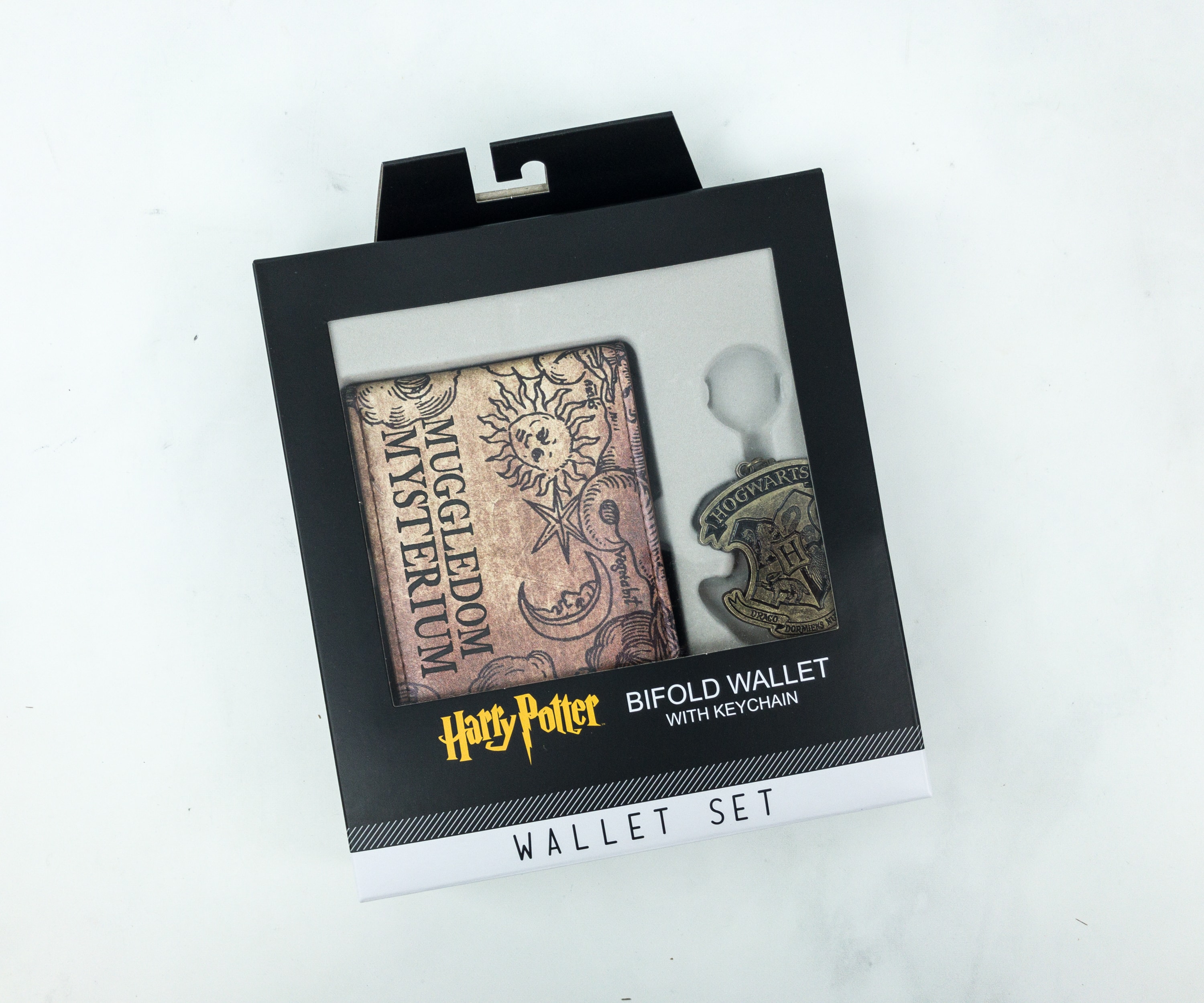 Licensed Wallet & Key Ring. This set looks awesome! It looks more like a gift set, and the window box contains a bifold wallet and a Hogwarts crest keychain inside!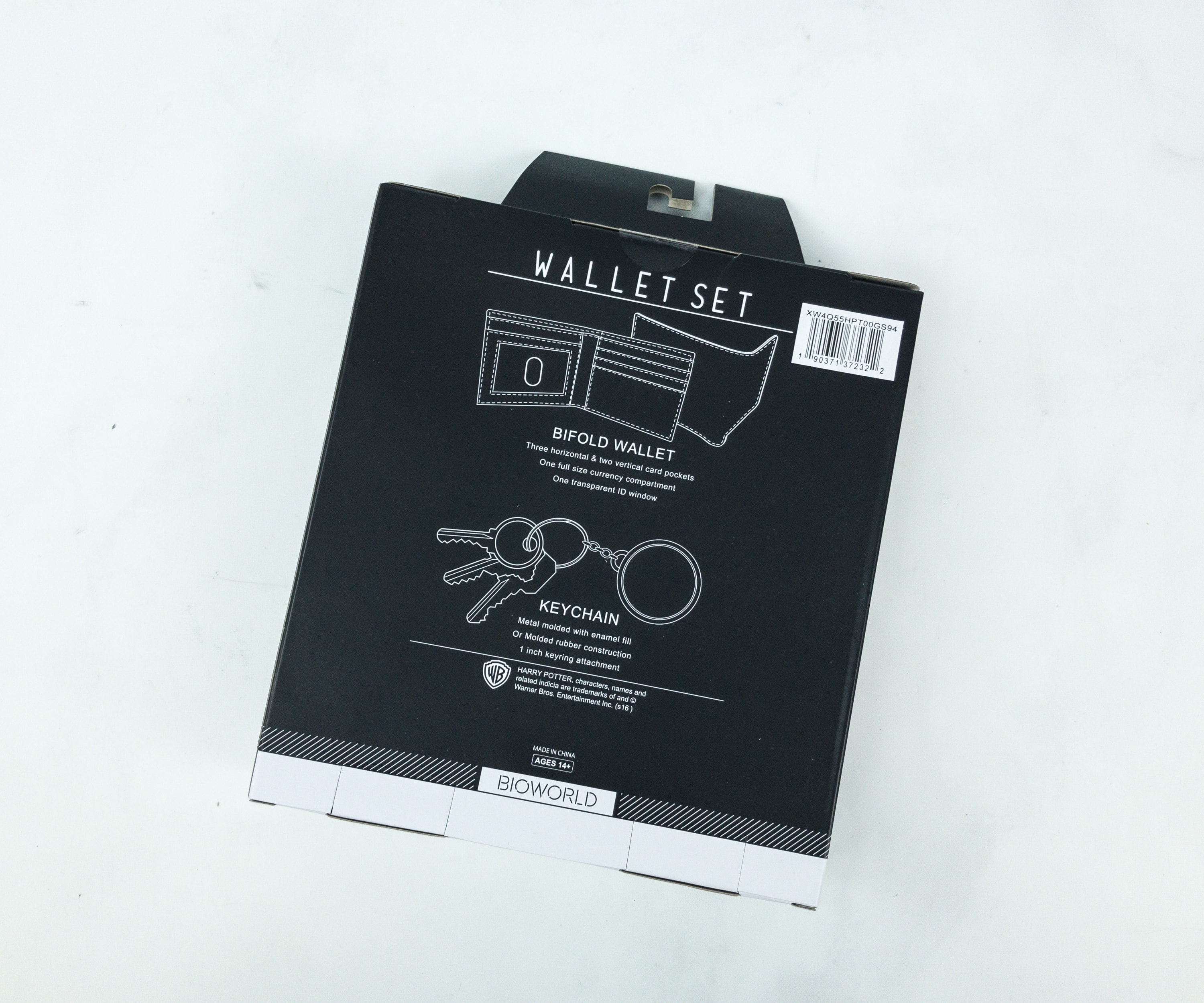 The back of the box lists the items inside with some description about them.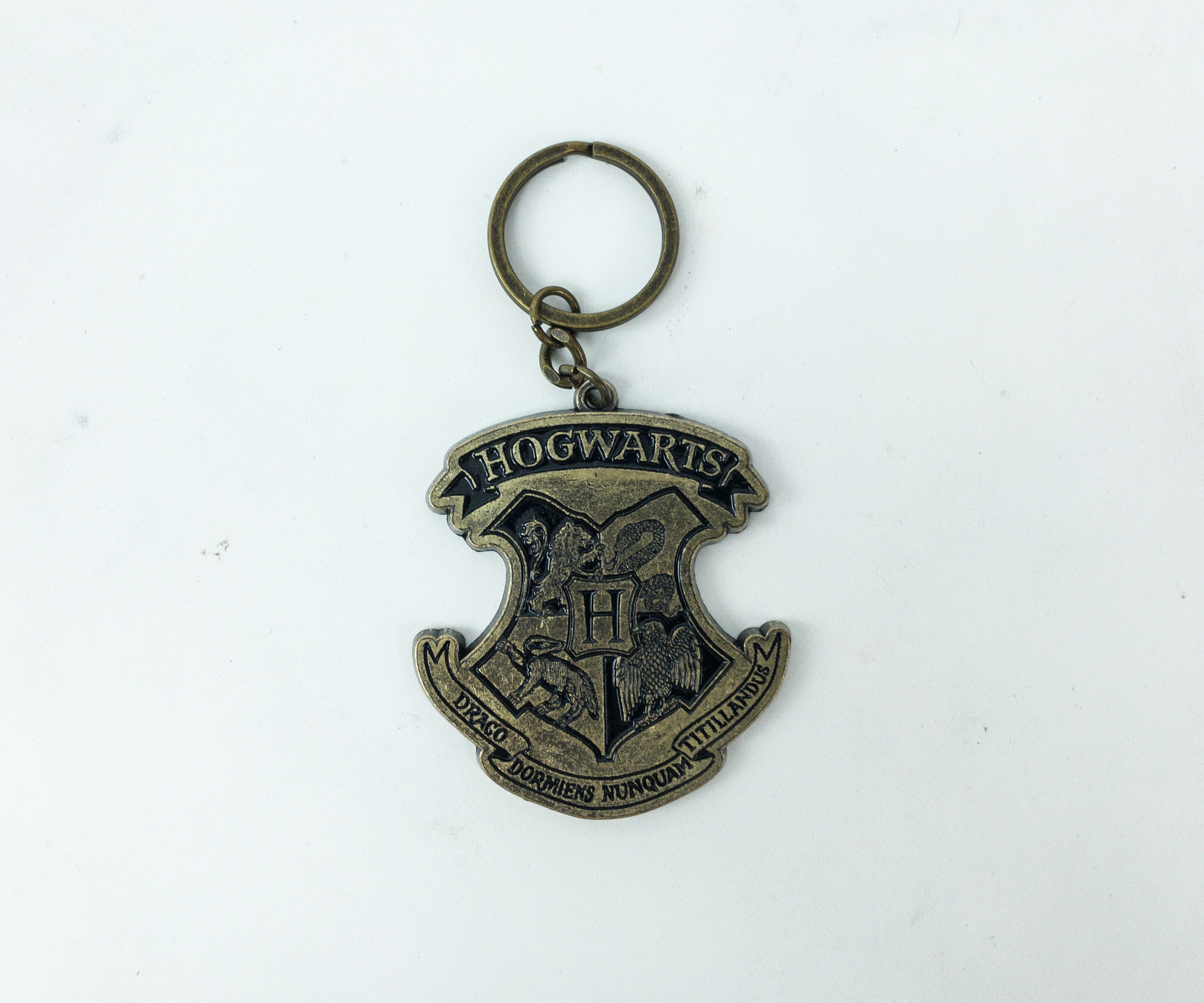 The Hogwarts Crest keychain looks like an antique because of its rusted look.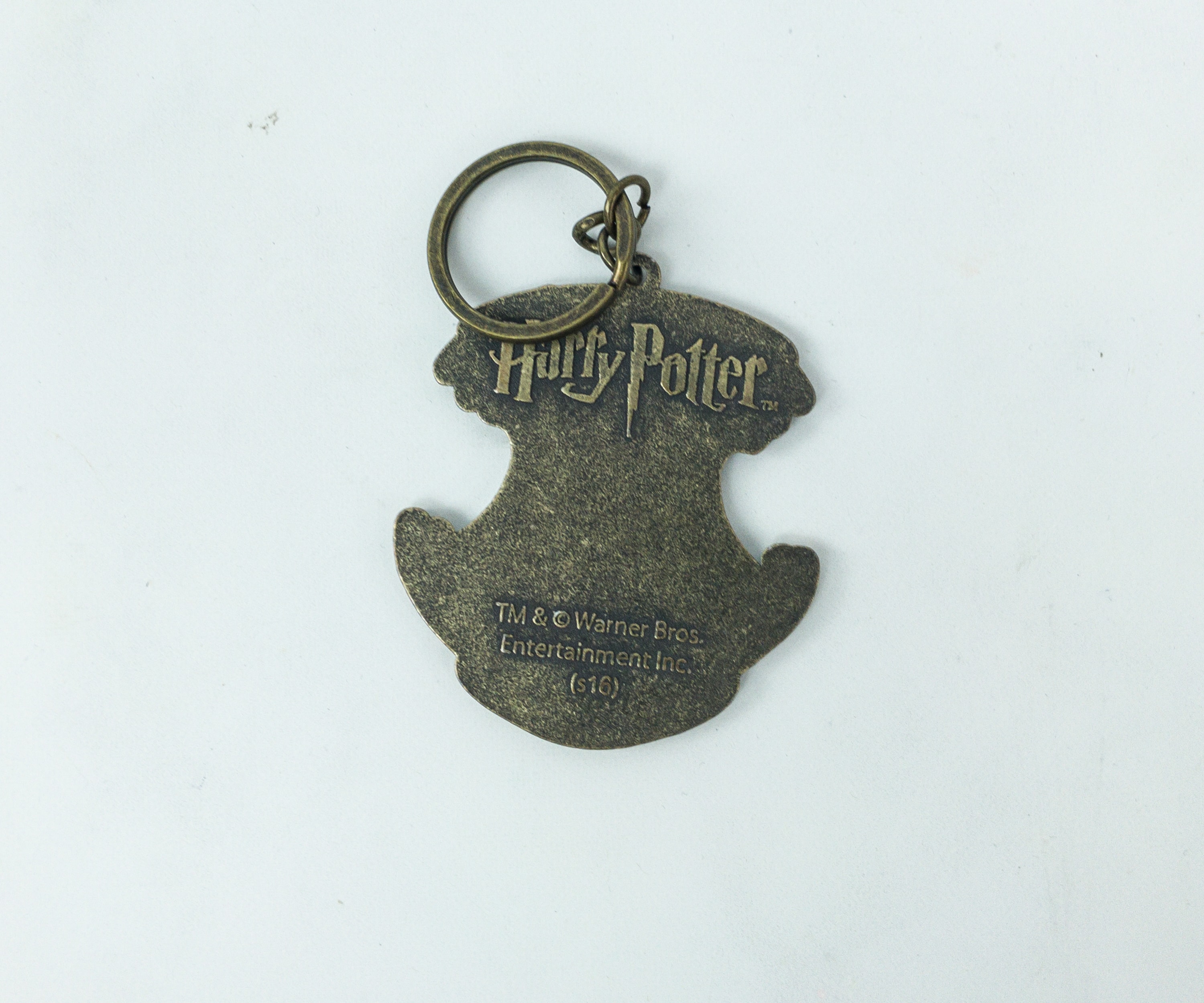 It definitely added more appeal to the item, and I'm going to use it to keep my keys together!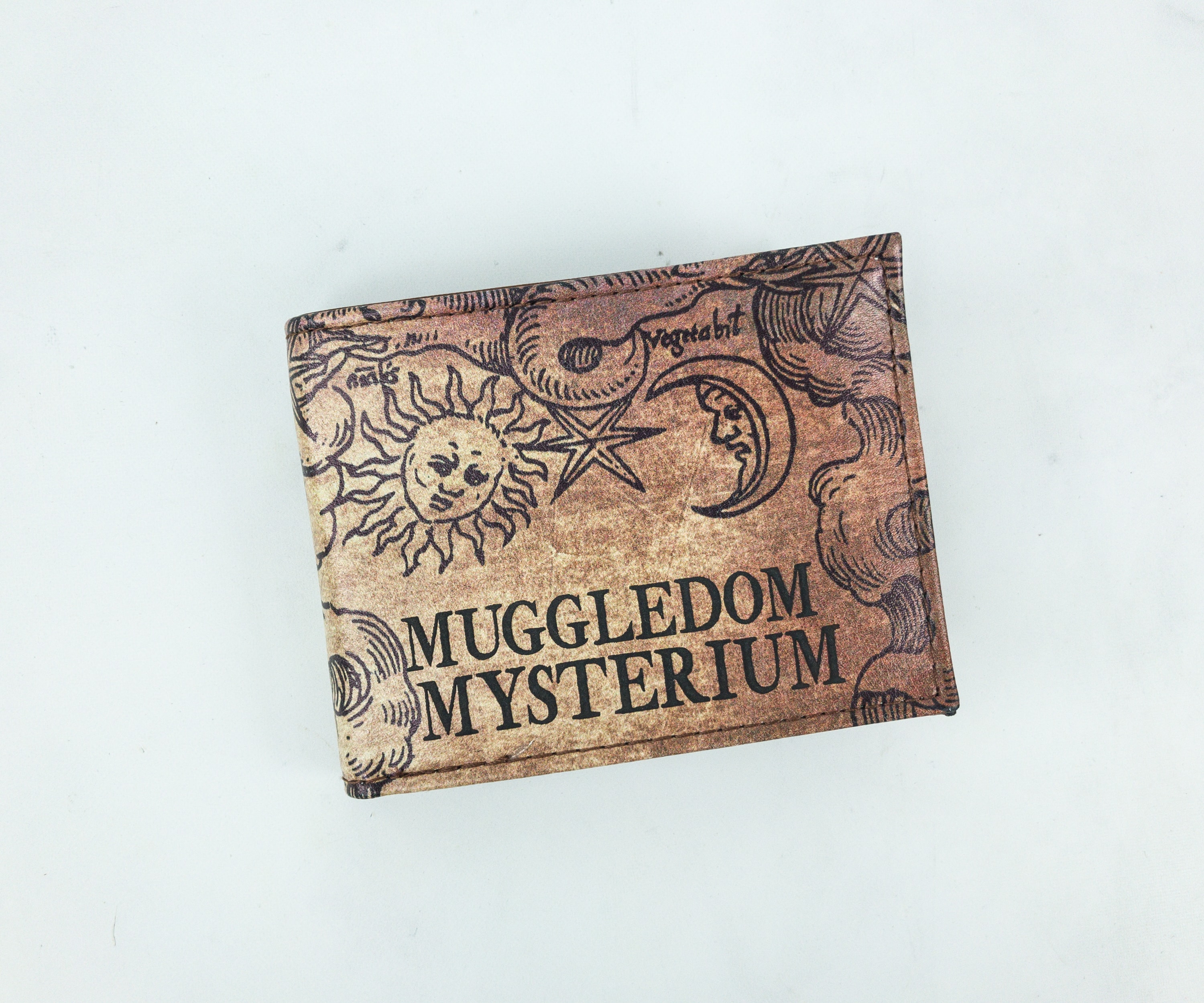 Like the keychain, the bifold wallet also has a classic appeal to it.
The bifold wallet looks like a souvenir from the Muggledom Mysterium: Annual Convention of Wizards and Witches, which is held every 14th of November.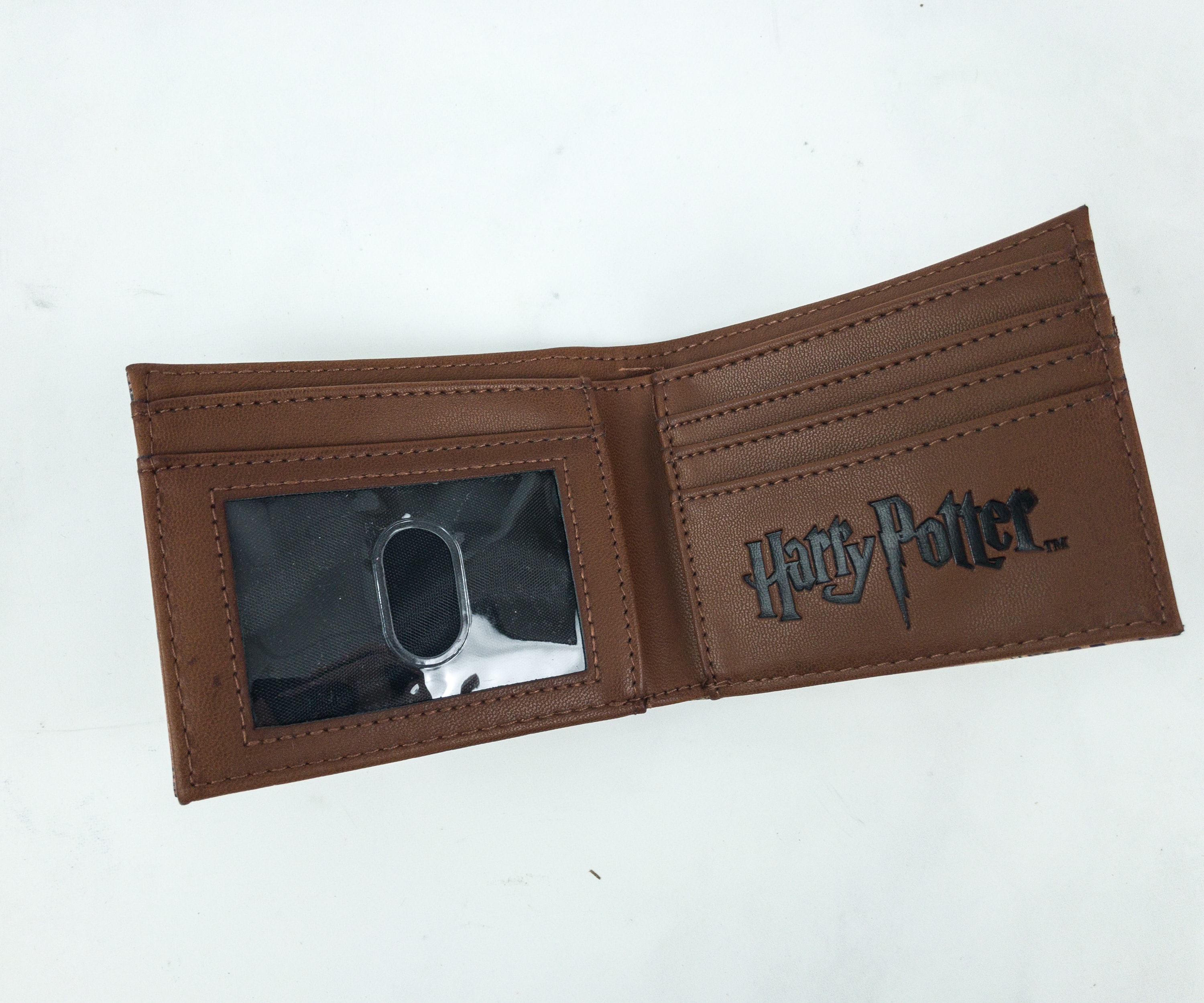 The wallet has several card pockets, a bill compartment, and a transparent ID window.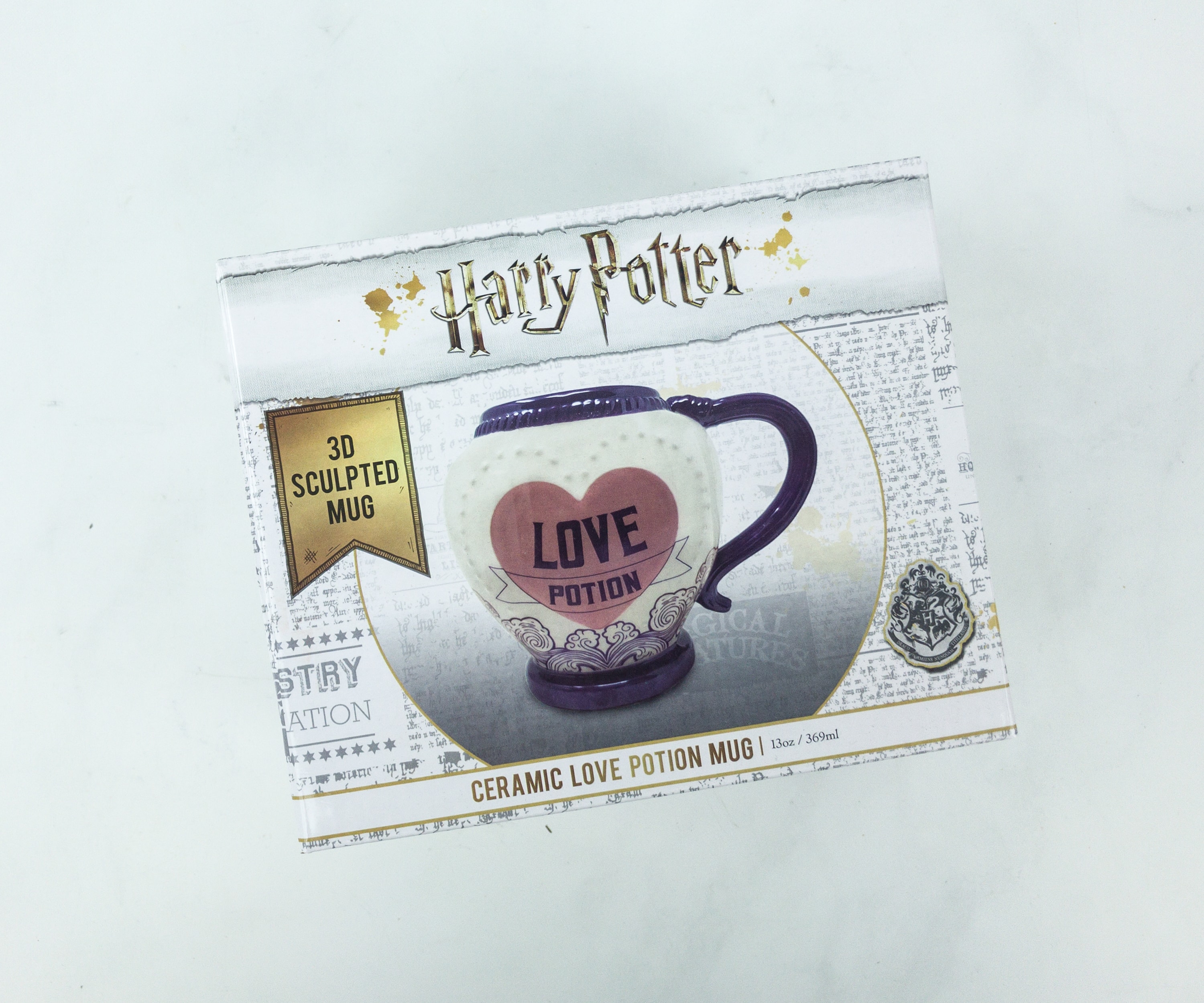 Licensed Harry Potter Love Potion Mug. Another item came in a pretty giftable box, and it already shows what you get inside! A love potion mug!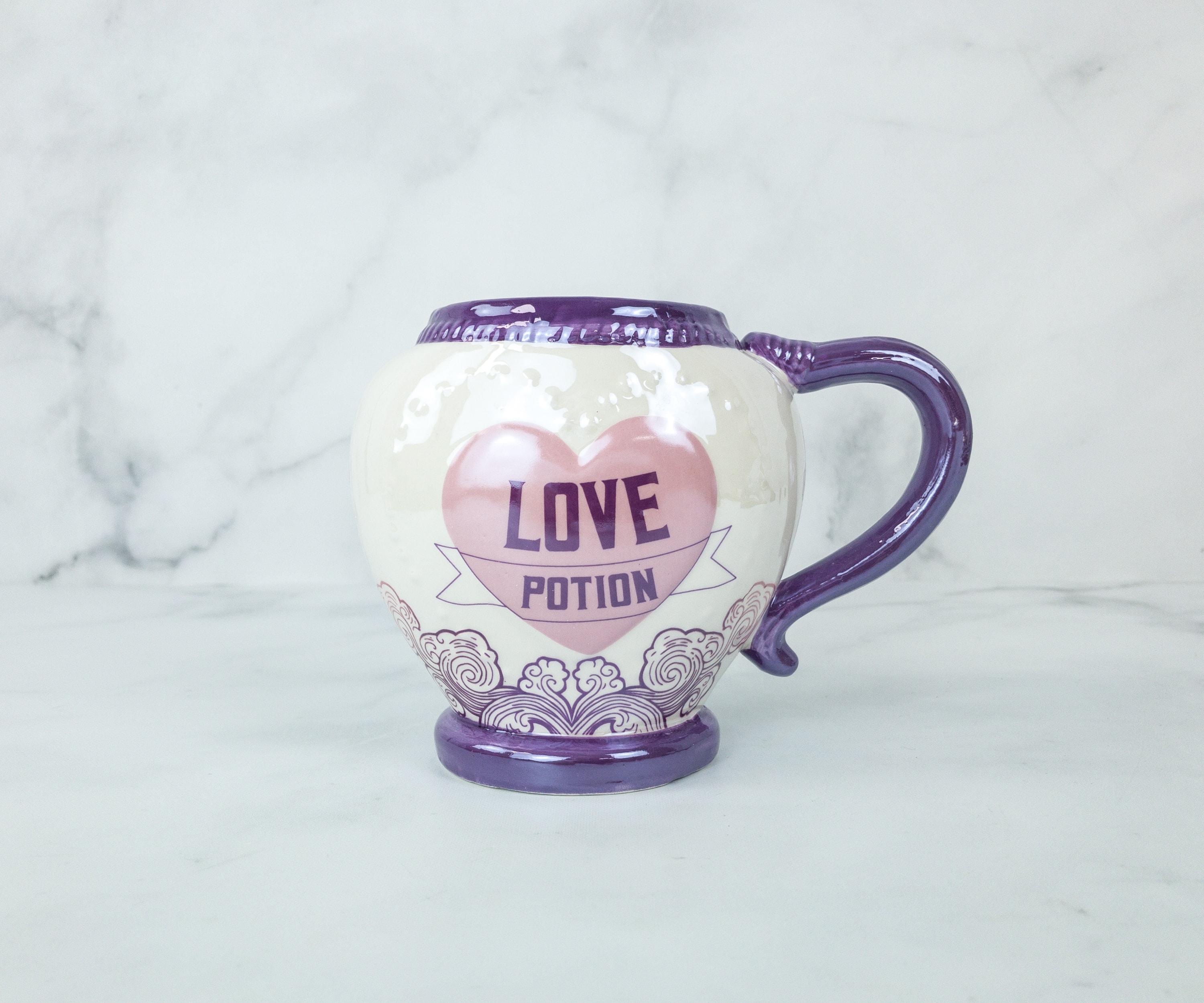 The mug really looks chick with all those girly details! But it's actually beautiful!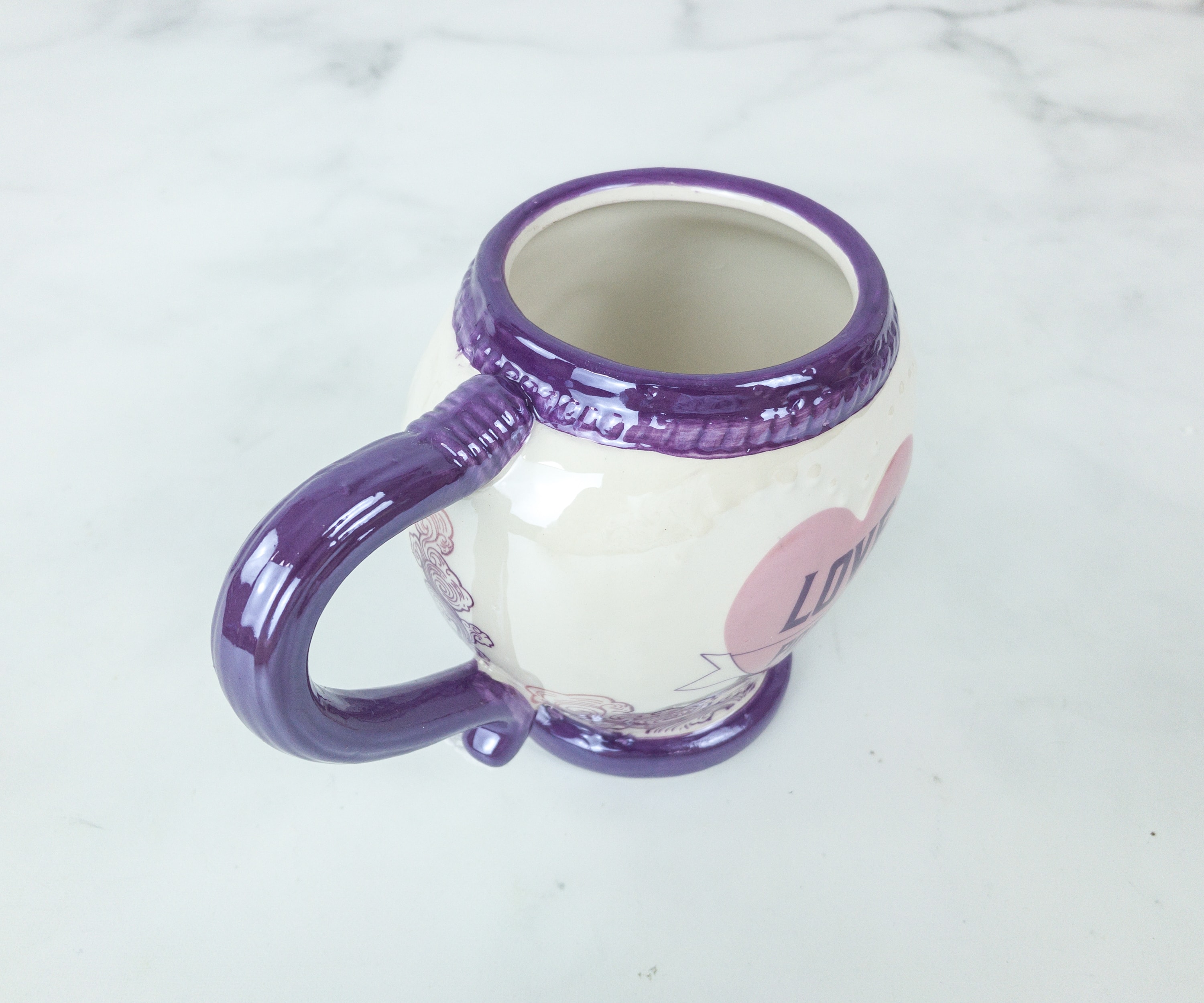 I love the purple handle, brim, and its bottom.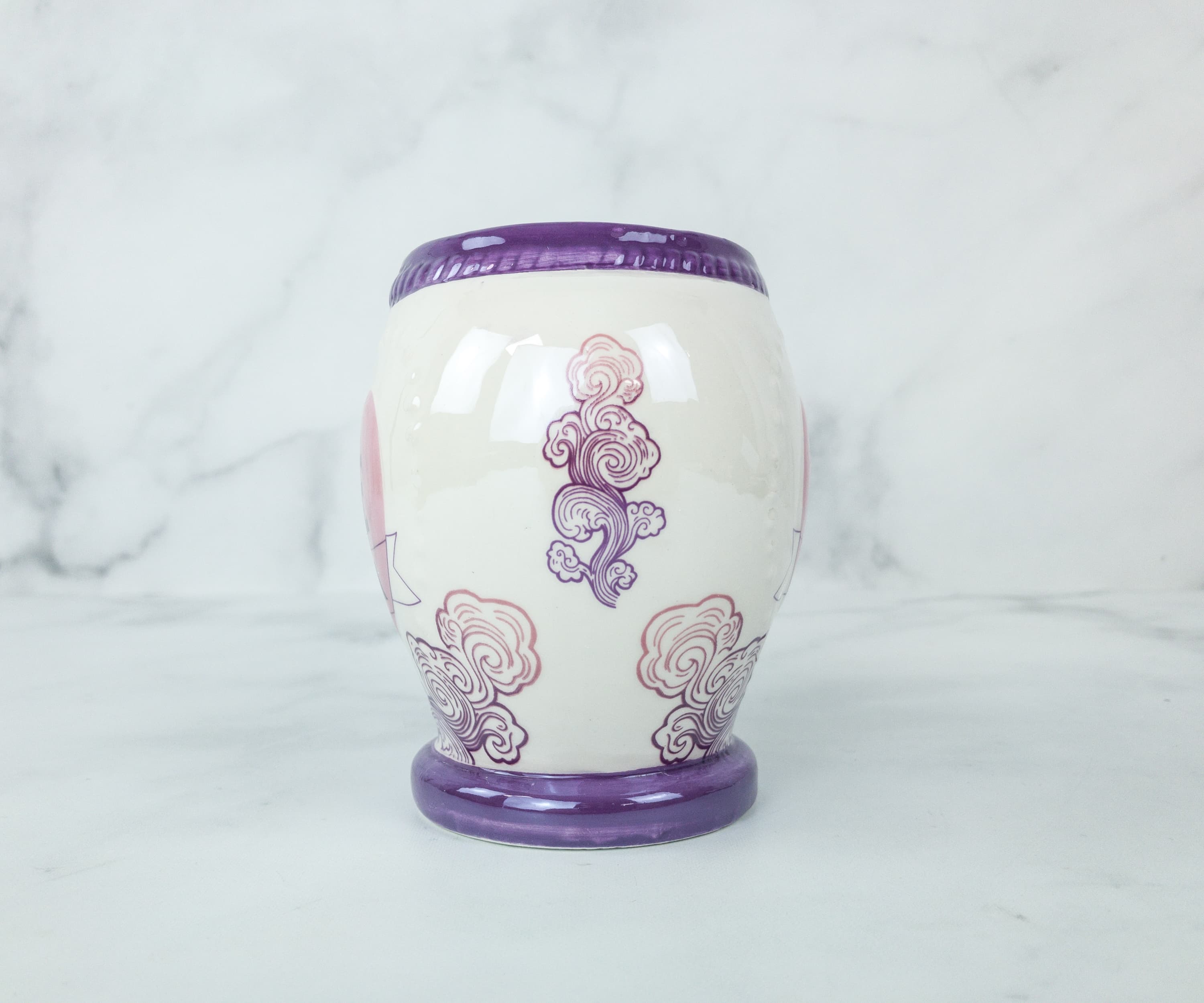 The cloud-like, or vine-like, patterns are really pretty additions to it as well. Aside from putting some hot beverages on it, it can also serve as a beautiful desk decoration, a pen holder, or even as a flower vase!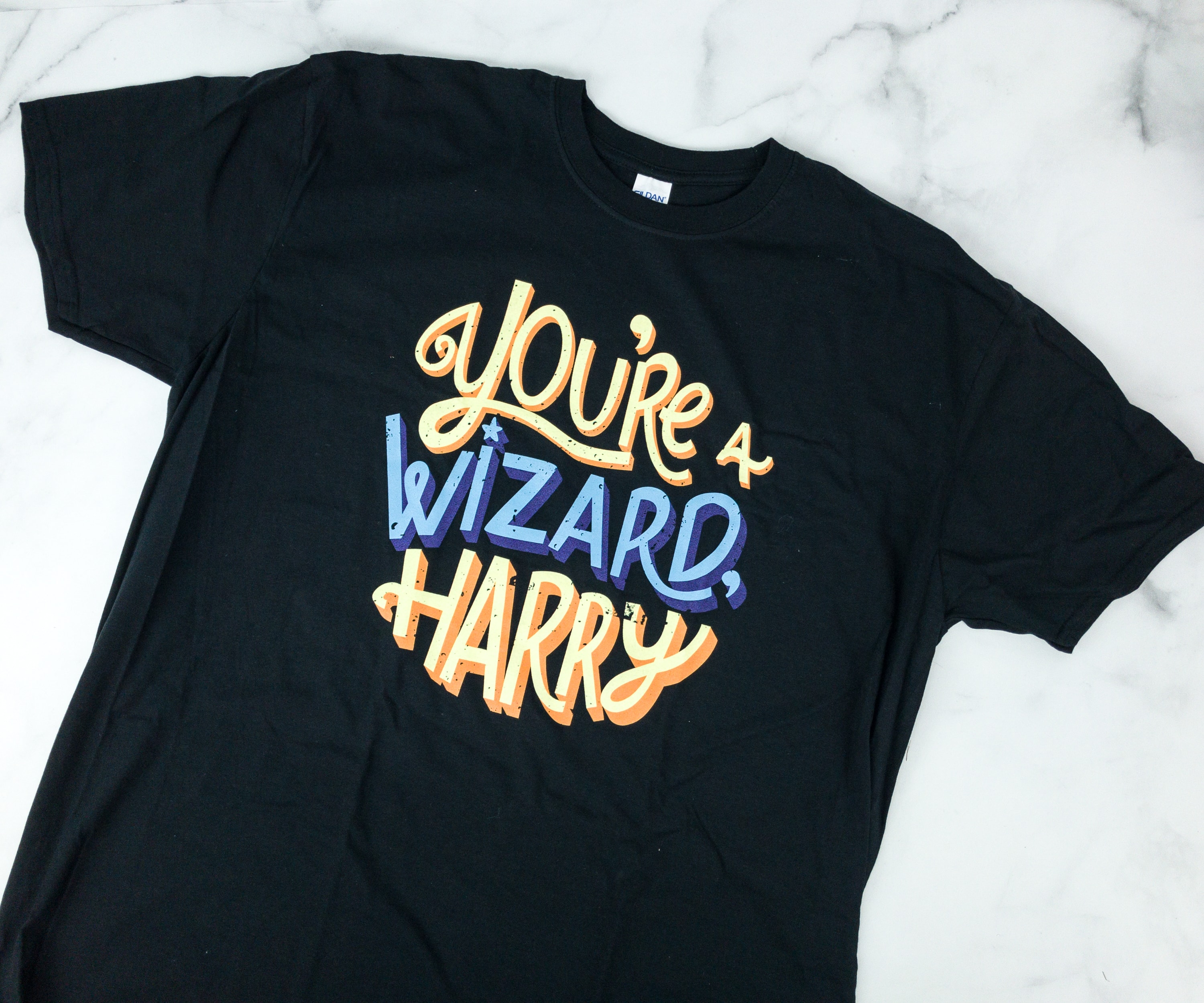 You're A Wizard T-Shirt. 
You're a wizard, Harry.
All Potterheads know this line by heart!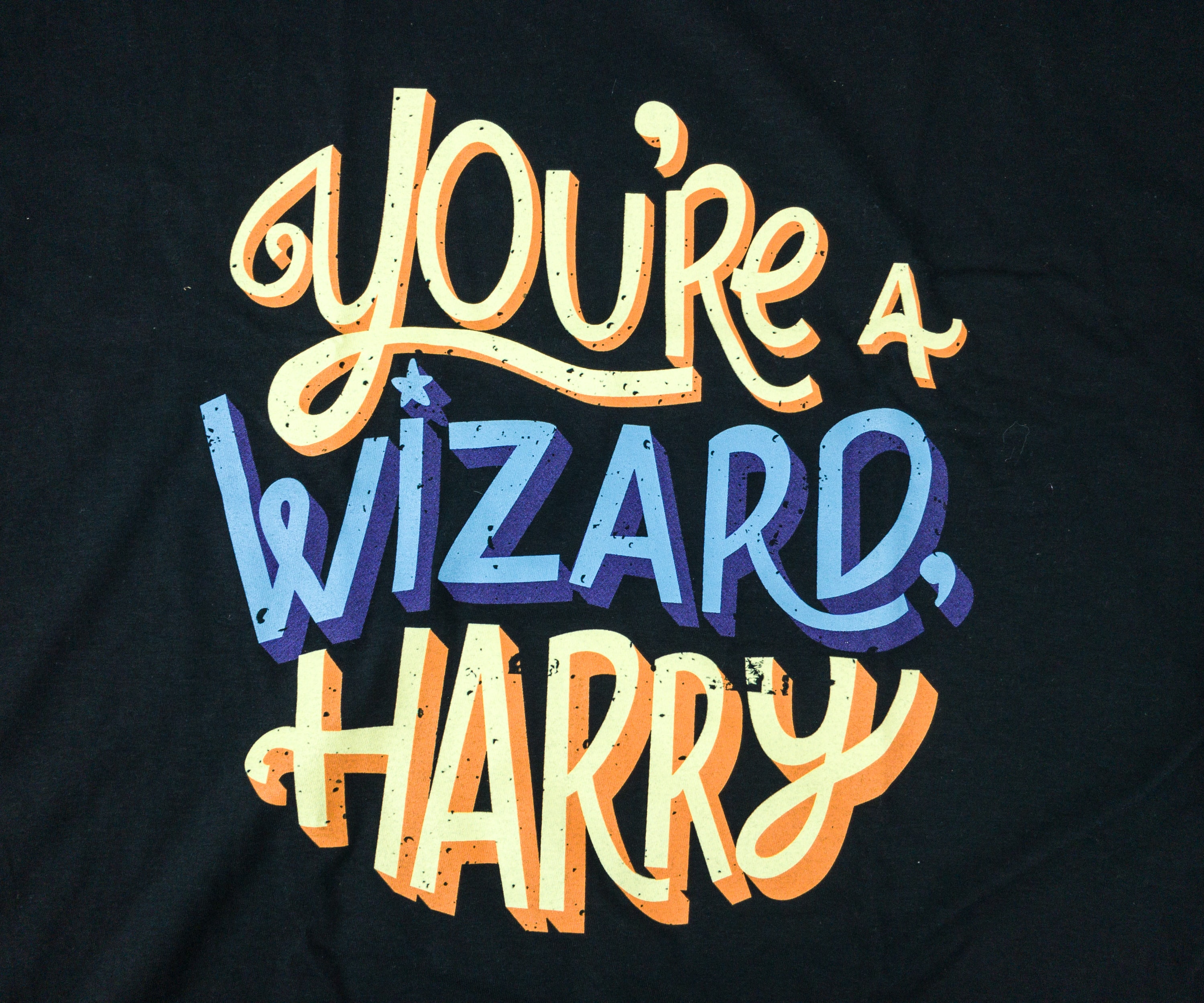 I am so excited that I got this really iconic line designed beautifully on a black shirt! Just awesome!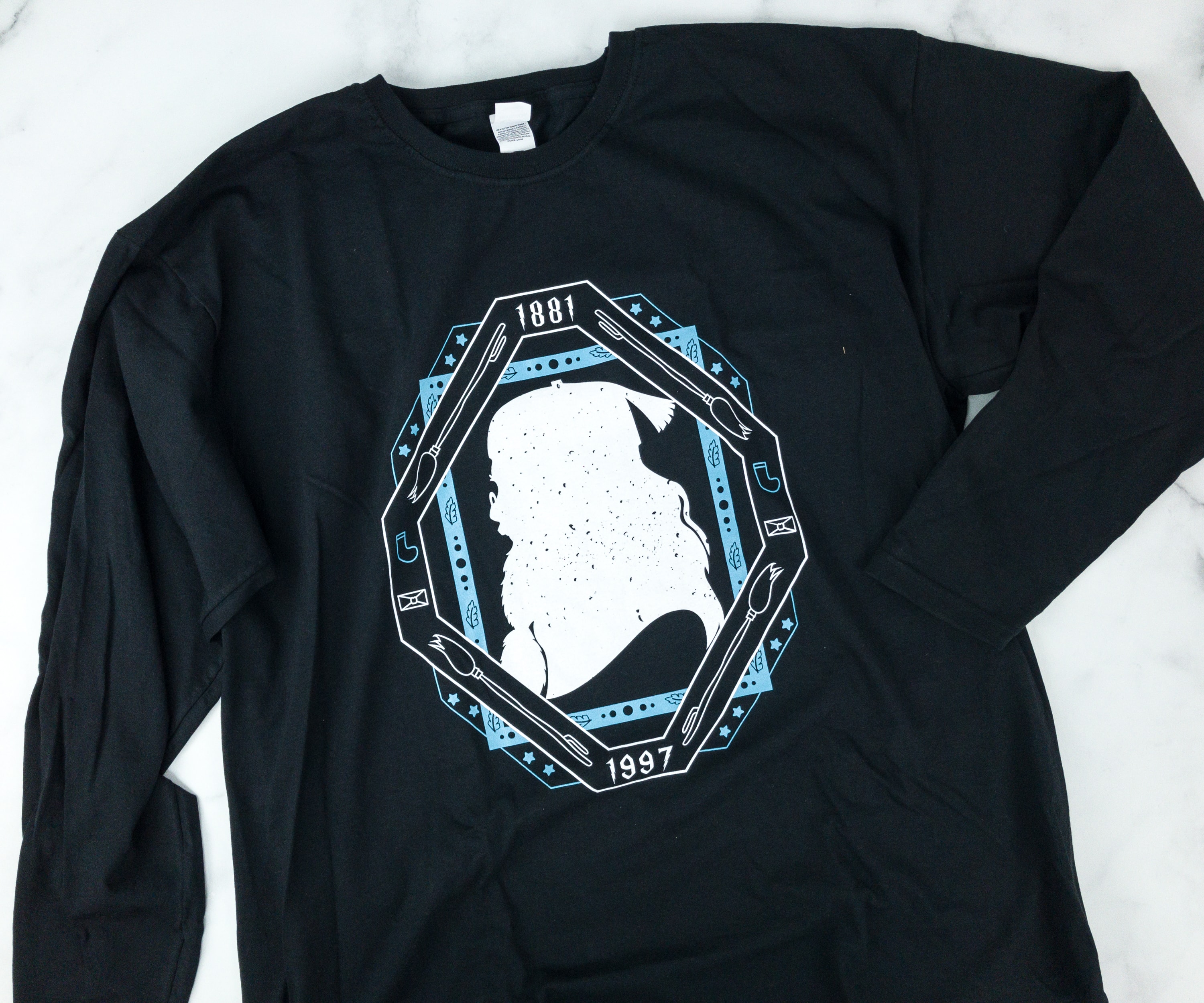 Headmaster Longsleeve T-Shirt. Another wearable in black features the only Wizard that scares He-Who-Must-Not-Be-Named!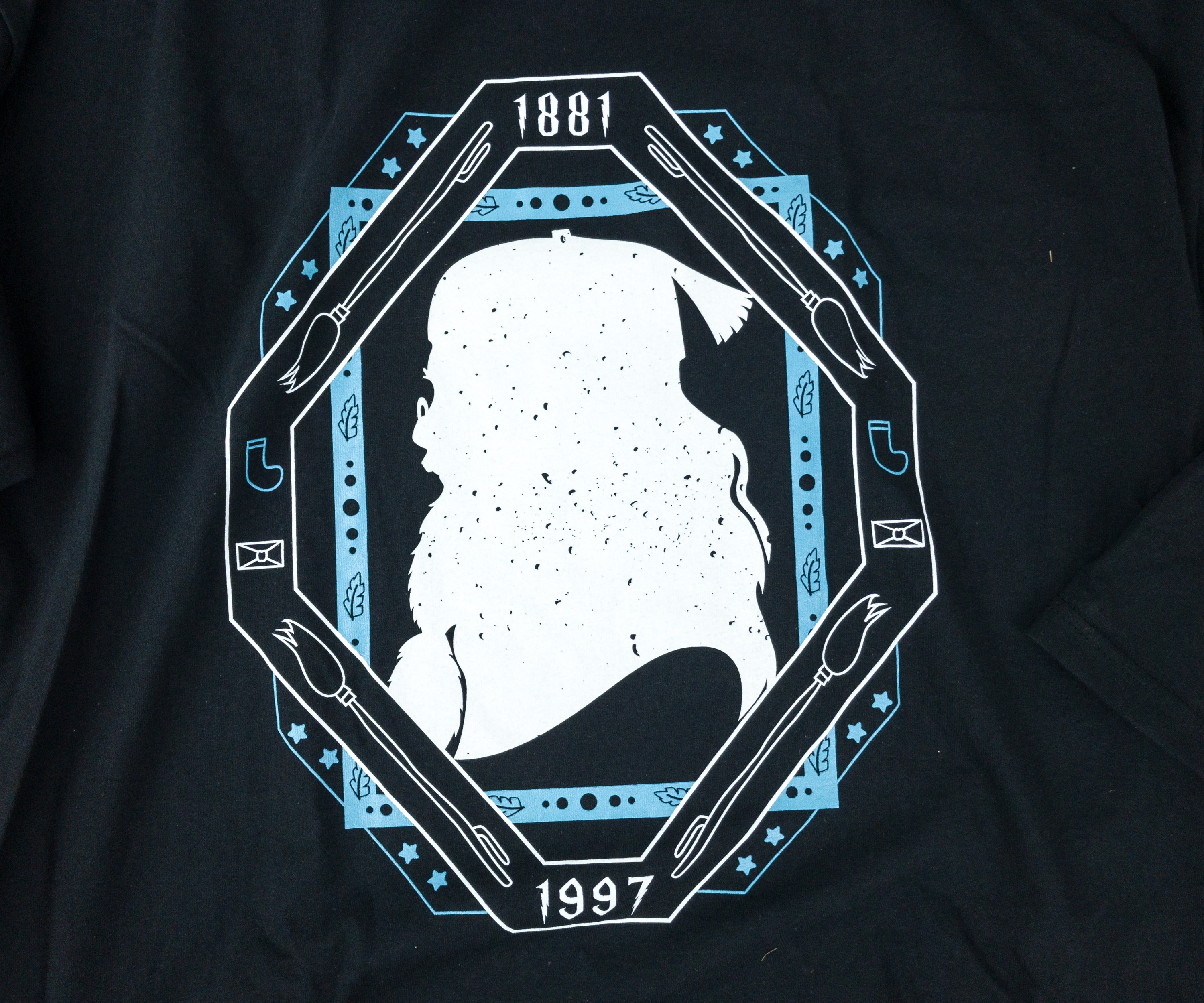 It features a white silhouette of the great Albus Dumbledore, and the frame also features some iconic Wizarding World Symbols, on top with his birth year. At the bottom is the year he died. It's a wonderful shirt to commemorate the Grand Sorcerer!
I strongly agree that this is really a SPECIAL BOX. I am once again amazed by all the inclusions. My favorites are the wearables, both having really iconic and memorable designs. Also, the Noble Wand is one that I certainly would love to have as a Wizard. I mean, look at the handle's wonderful details! The crest-themed items, the art print, and the keychain are really beautiful too! Although the mug is somehow eccentric, I still love that it's included in this edition. Overall, this is a fantastic box, and Geek Gear WOW boxes are boxes that any Potterhead should subscribe to, to get amazing WOW (World of Wizardry) items!
What did you think of the special edition World of Wizardry Geek Gear box?
Visit Geek Gear World of Wizardry Special Edition to subscribe or find out more!