Firstleaf is a wine club subscription that aims to discover your exact wine preferences and ship you that wine. A member's first shipment will be an introductory pack containing 6 bottles of wine. It will be curated based on a few simple questions that you will answer upon sign up. If you rate wines after you receive your box, they'll use their proprietary algorithm to target your exact preferences, getting better and better with every box.
DEAL: The introductory order with 6 bottles of wine is priced at $39.95 + tax and has free shipping, while future boxes will contain 6 bottles for $79.98 + $9.95 shipping and tax. No coupon needed, just use this link to subscribe.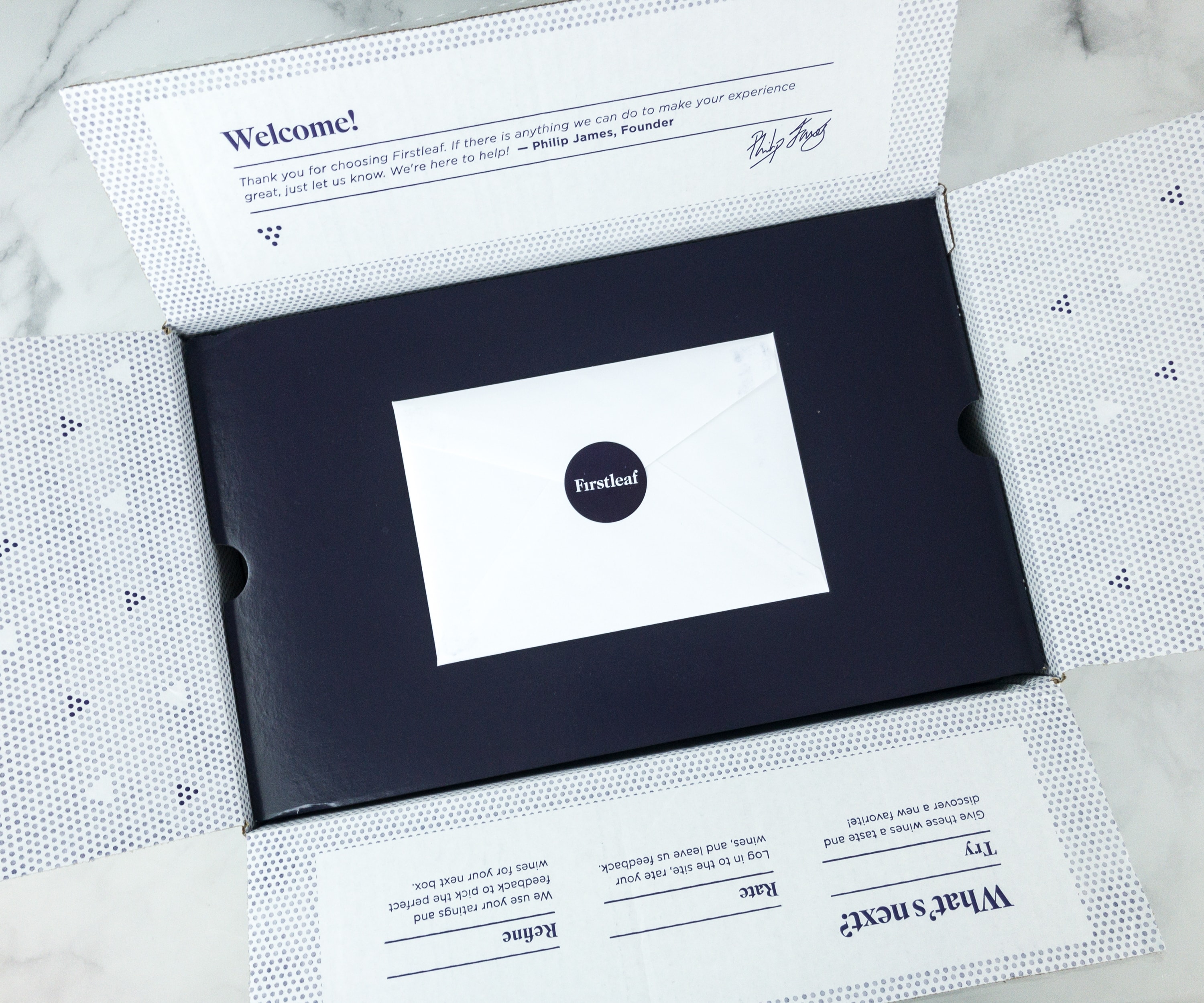 Once you receive your first shipment, you can log into your account and rate the wines in the Previous Boxes section. The more wines you rate, the more closely they can match future shipments to your tastes. Instead of sorting you into broad categories, Firstleaf performs a chemical analysis of all their wines, and uses your ratings to narrow down your predicted reactions to each flavor component.
Your first box will be pre-selected though. Ours is a mix of American & International, red & white.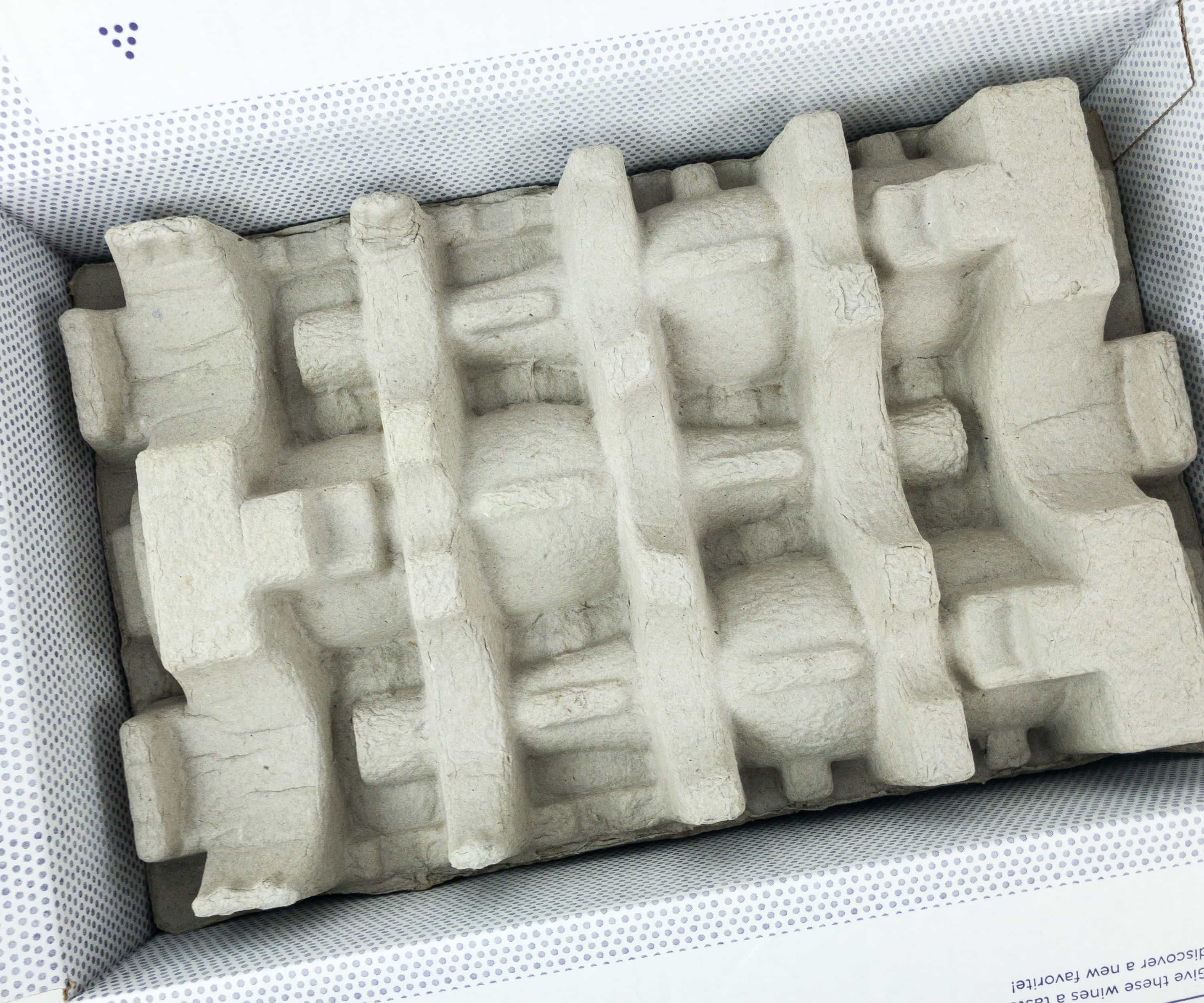 The wines are placed in a molded pulp tray to fully protect them during transit.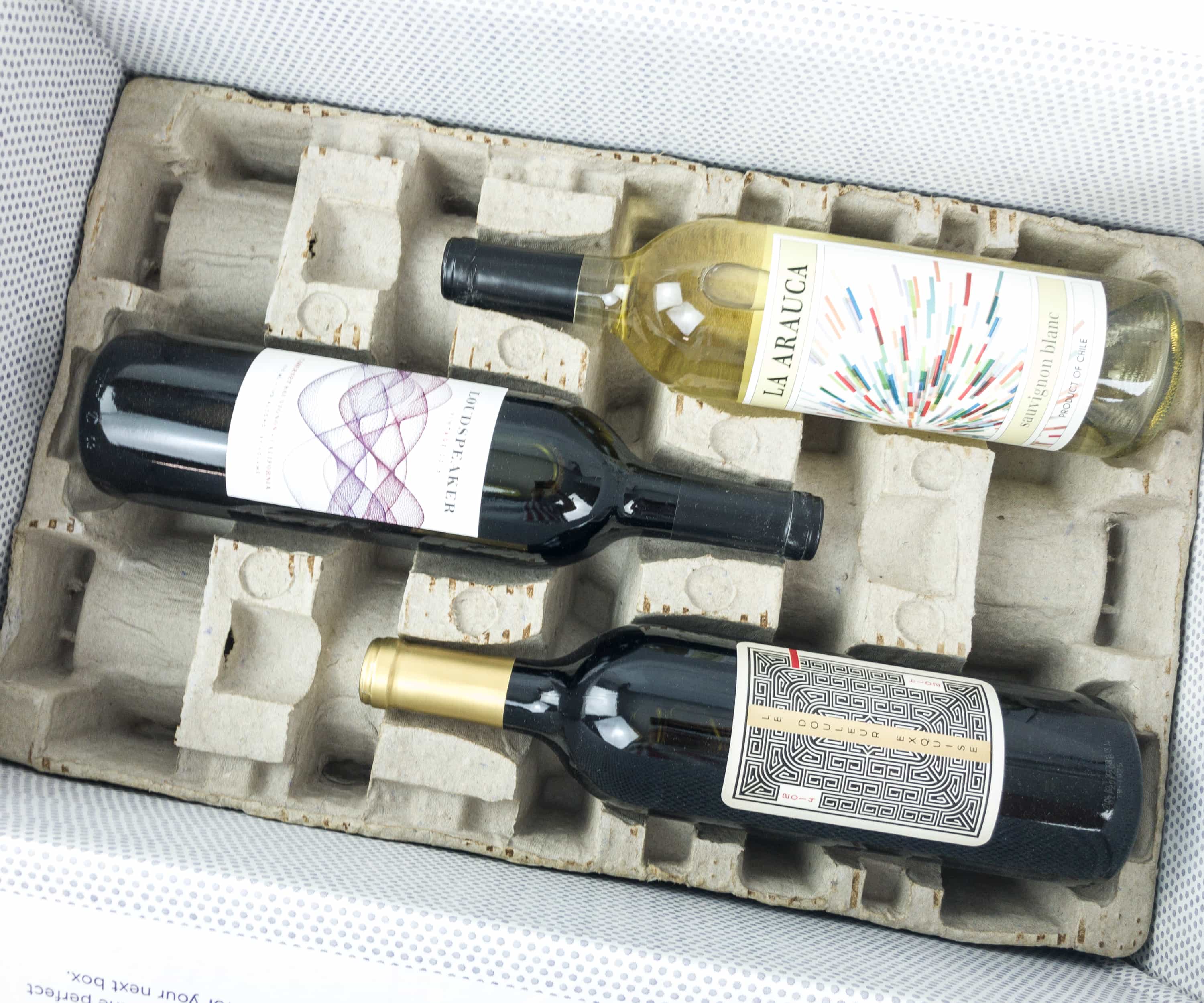 The wine bottles arrived in perfect condition! They were placed in the box horizontally, but there was no leakage whatsoever!
There's a sealed envelope inside the box and it contains information cards regarding the wine varieties we got this month.
On this card, we are reminded to check our email for updates from Firstleaf!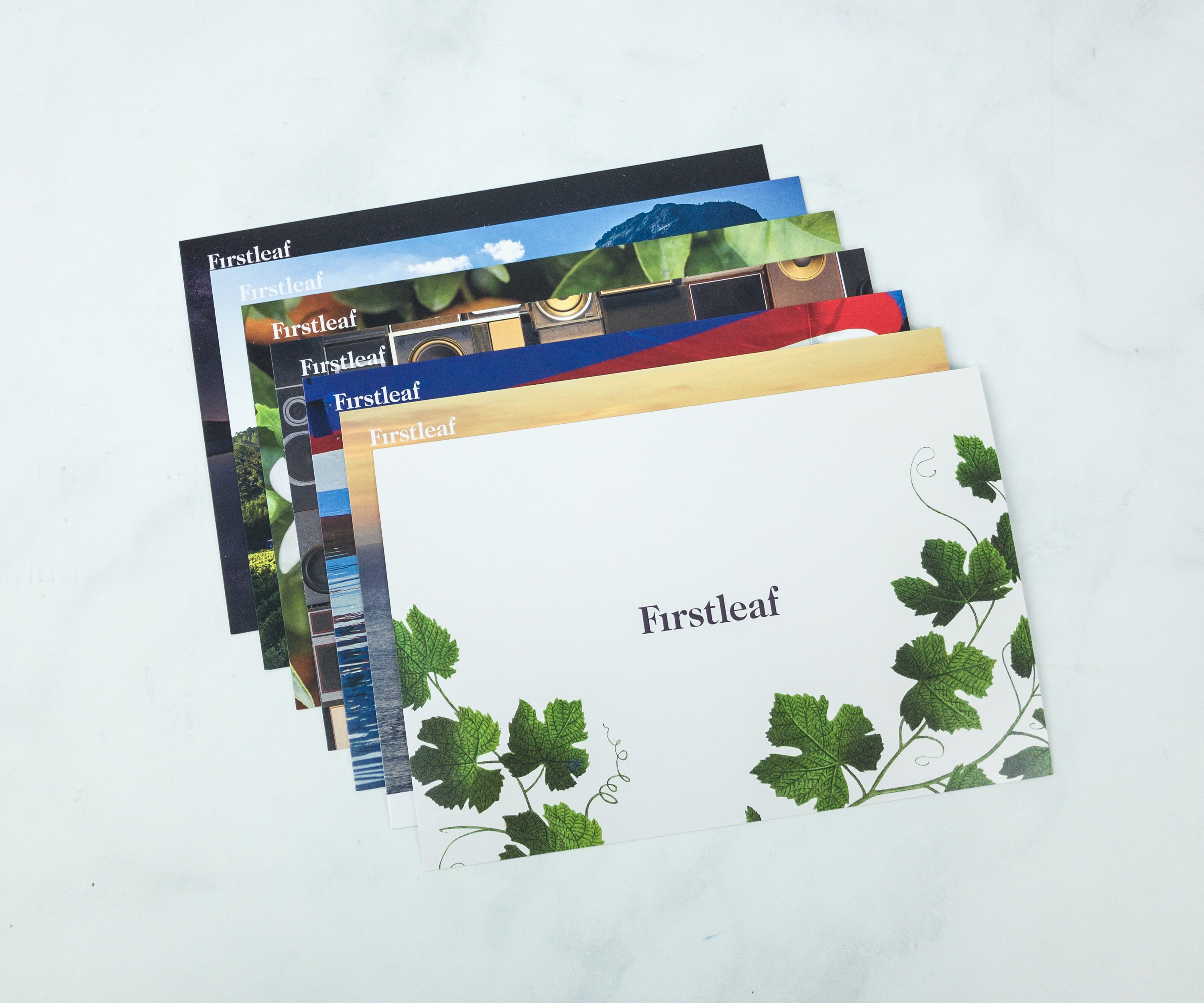 Each bottle of wine has a corresponding information card.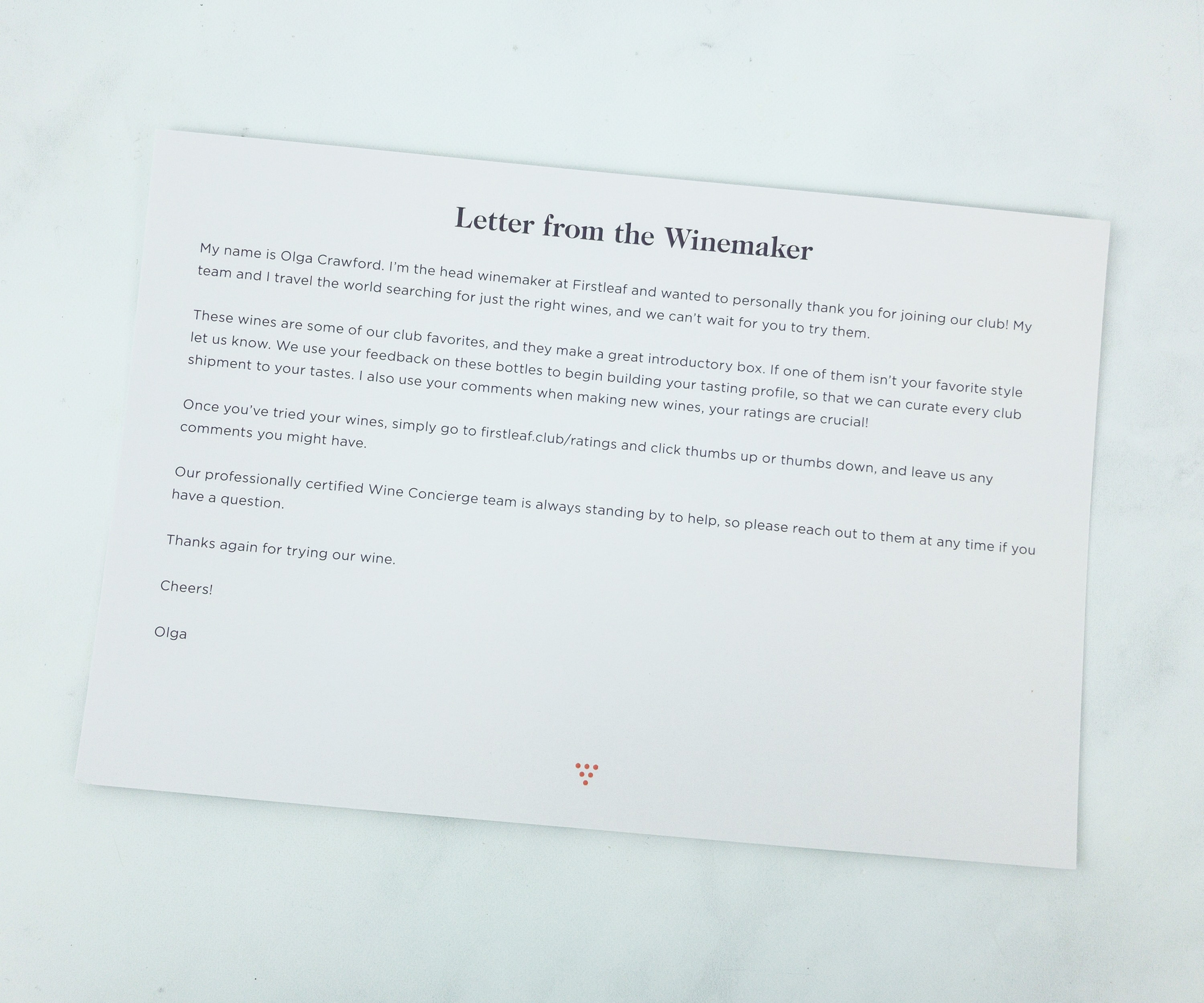 There's also a letter from the winemakers which got us even more excited to open the box.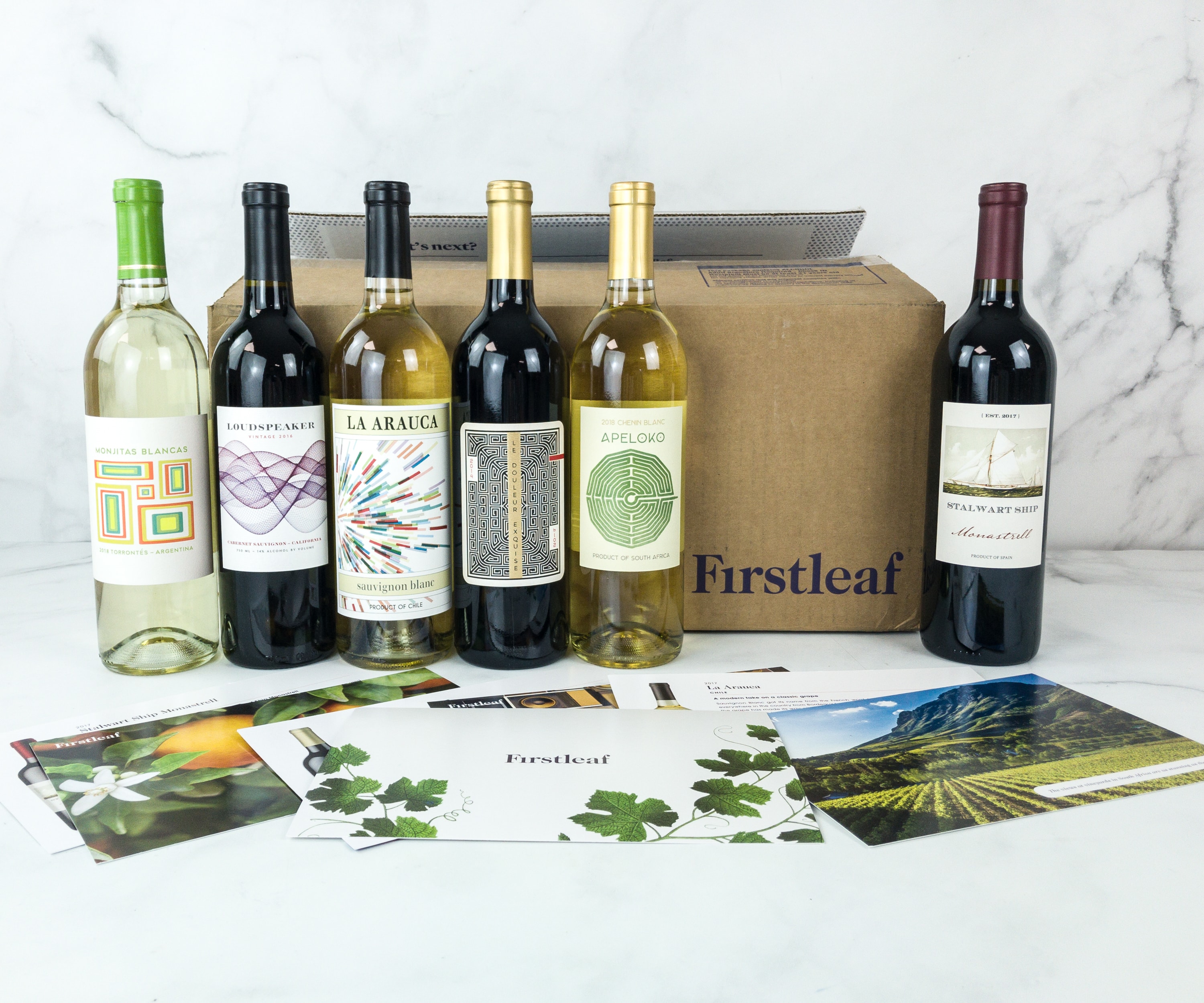 Everything in my box!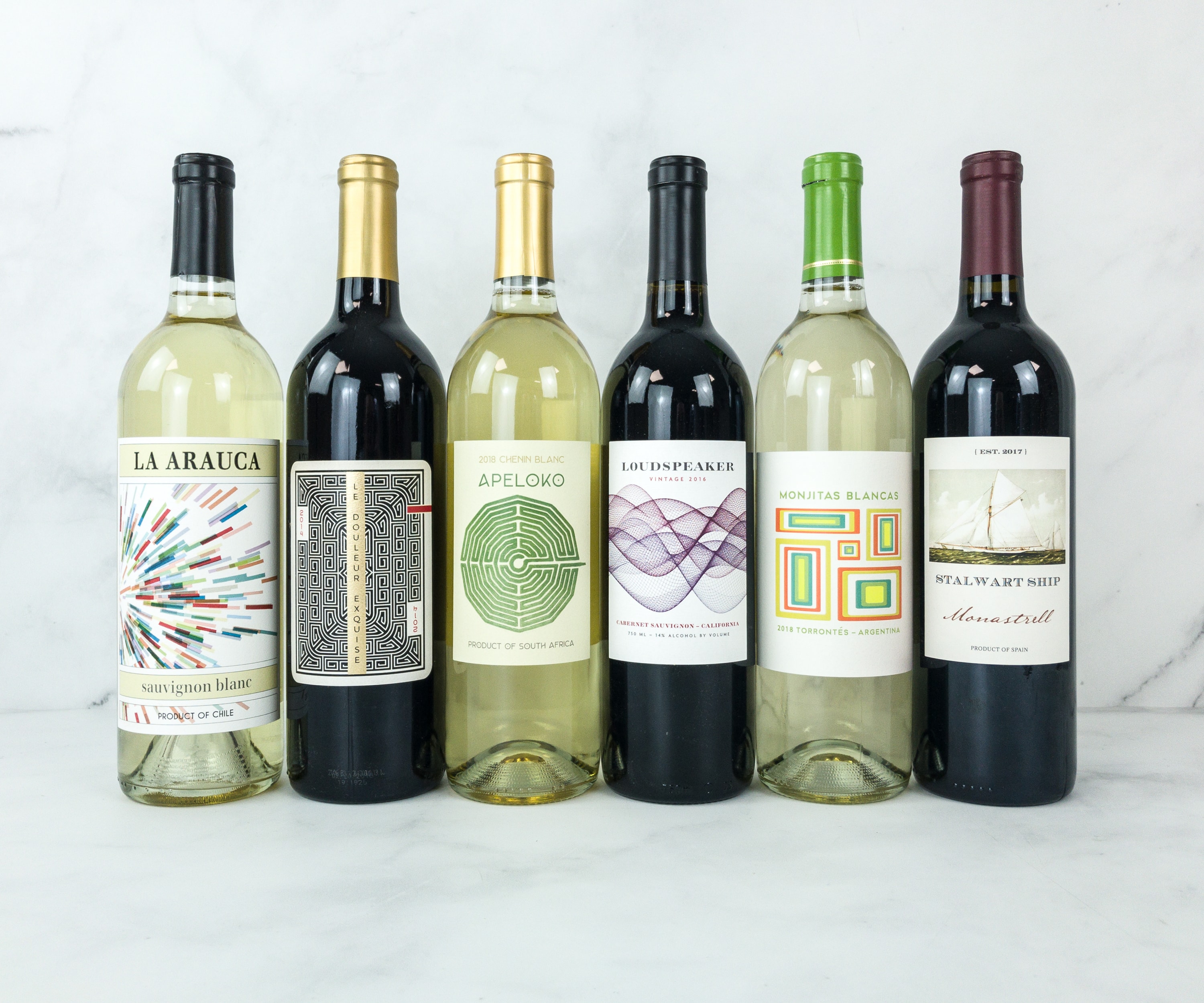 This is our introductory box and it contains 3 red wines and 3 white wines.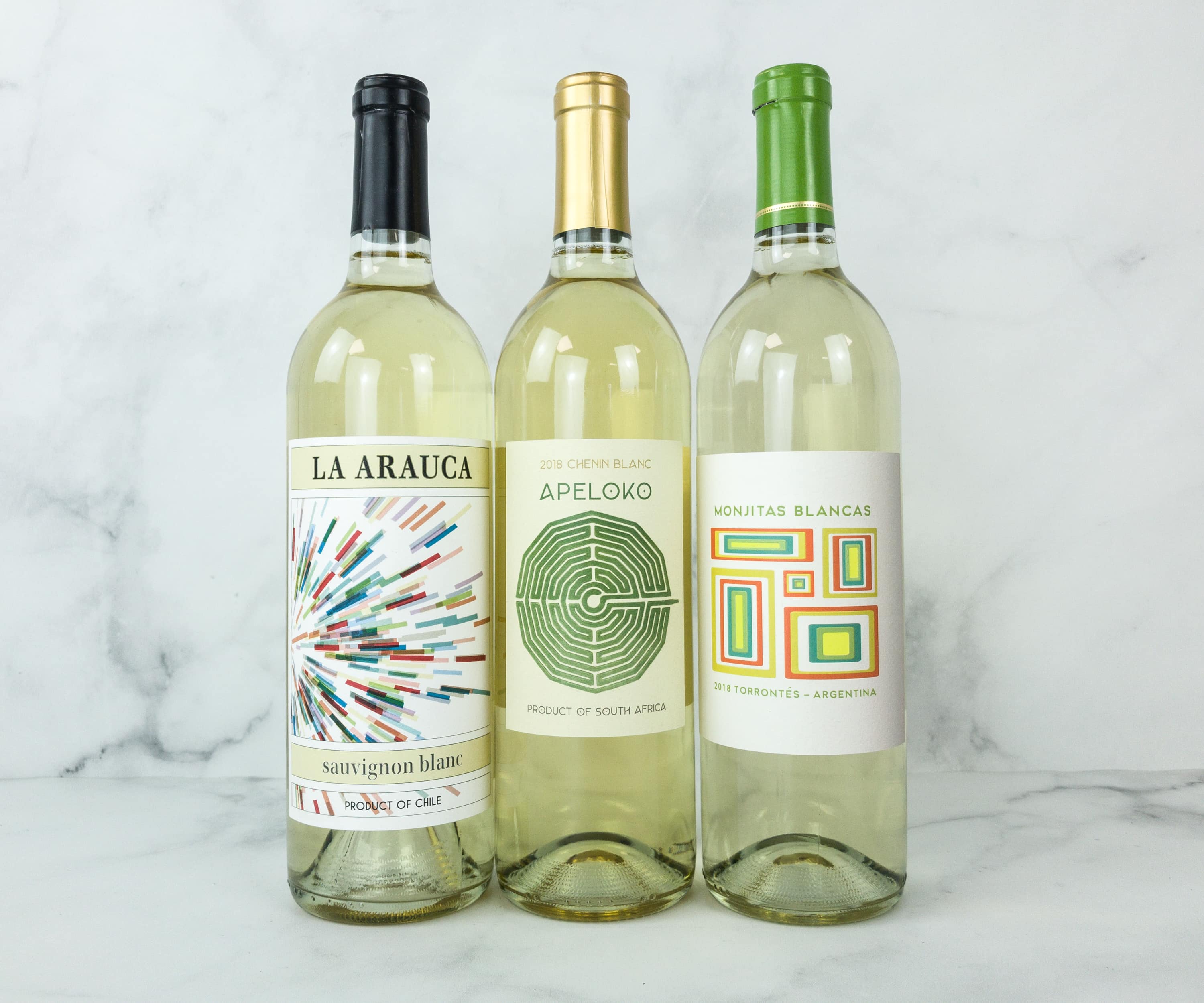 The first three bottles are white wines from Chile, South Africa, and Argentina, respectively.
All the information card features a beautiful photo in front and useful wine information at the back.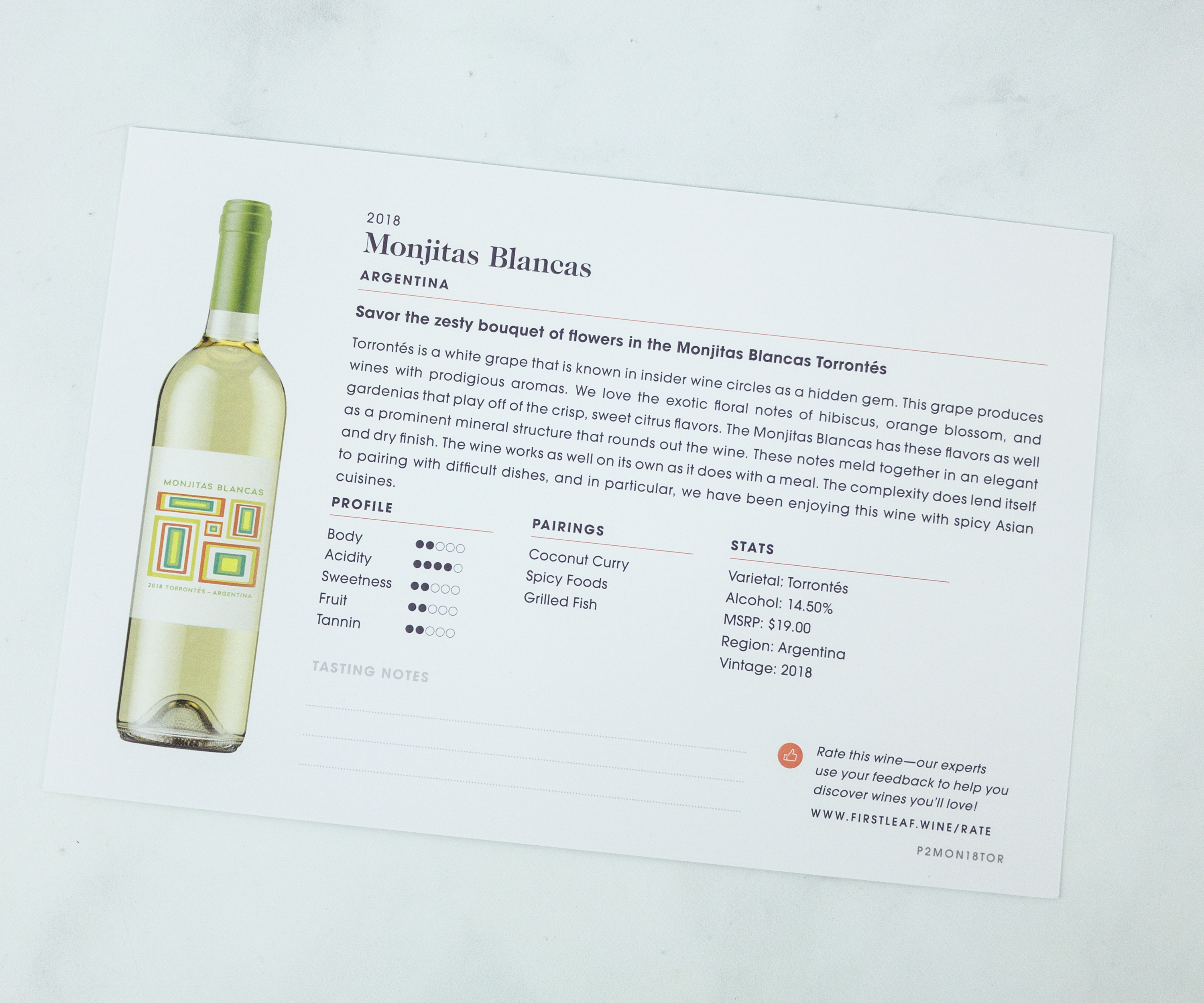 Monjitas Blancas 2018 Torrontes Argentina ($17.99)
Savor the zesty bouquet of flowers in the 93 Point, Double Gold medal-winning Monjitas Blancas Torrontés. Torrontés is a white grape that is known in insider wine circles as a hidden gem. This grape produces wines with prodigious aromas. We love the exotic floral notes of hibiscus, orange blossom, and gardenias that play off of the crisp, sweet citrus flavors. The Monjitas Blancas has these flavors as well as a prominent mineral structure that rounds out the wine. These notes meld together in an elegant and dry finish. The wine works as well on its own as it does with a meal. The complexity does lend itself to pairing with difficult dishes, and in particular, we have been enjoying this wine with spicy Asian cuisines. Judges love it too! It took home 93 Points and a Double-Gold Medal at the 2019 International Eastern Wine Competition.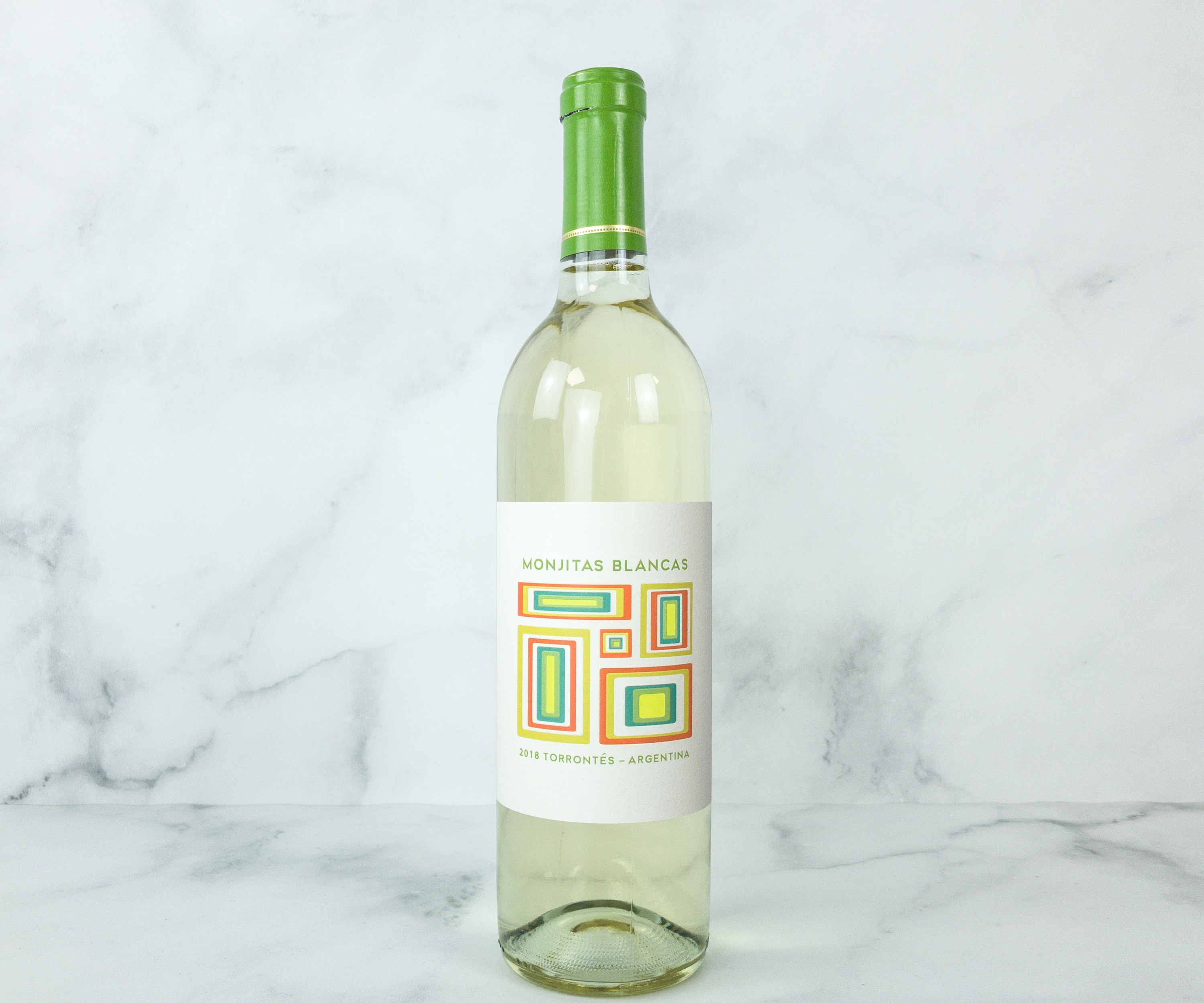 Monjitas Blancas is an award-winning wine and I'm not surprised. Its exotic floral notes and mineral structure with a good backbone of acidity make every sip enjoyable. Even before reading the card I could taste the lychee underbelly of this wine and new it would be great to pair with a variety of Asian dishes!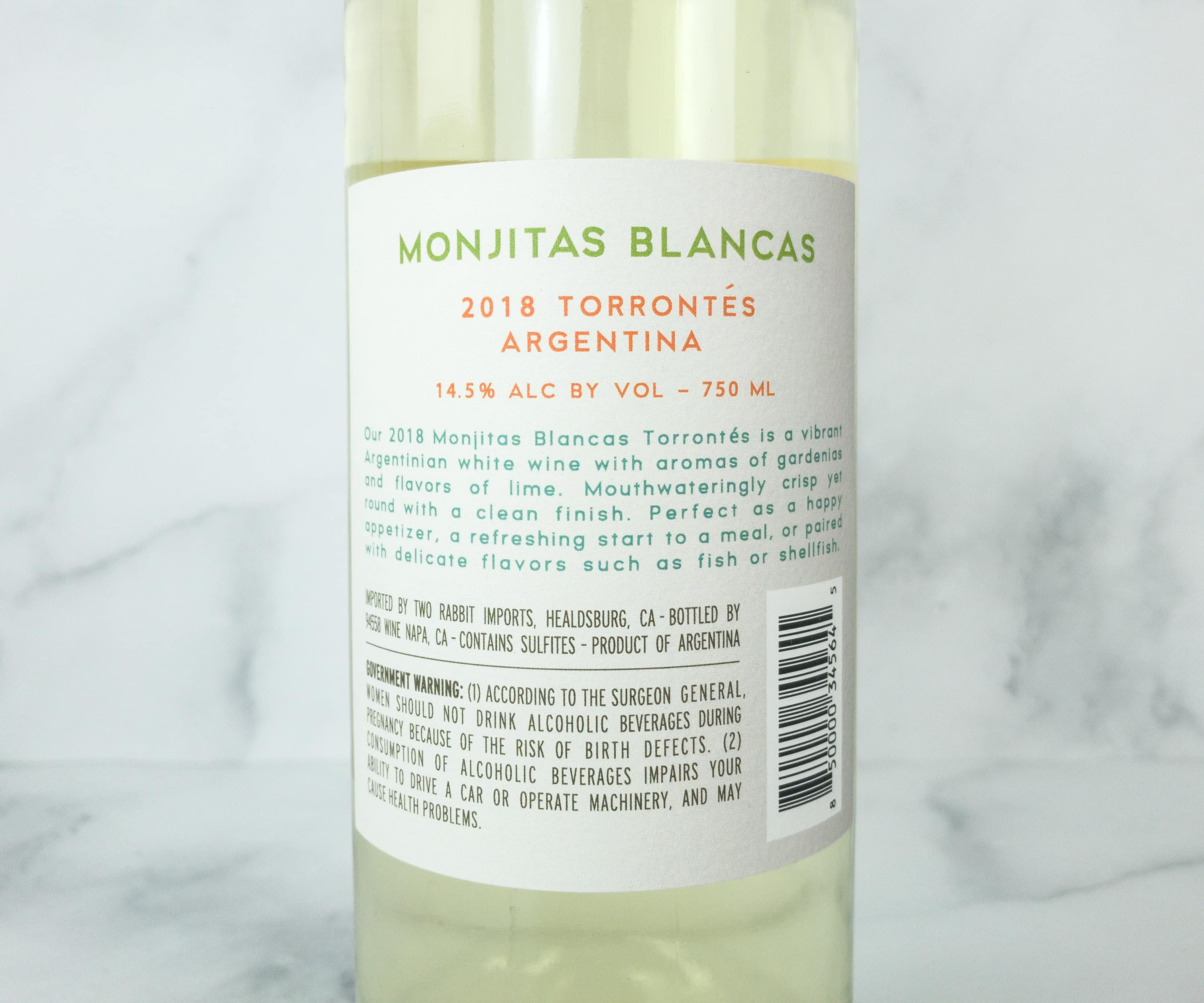 The taste was bright and only a little sweet. According to Firstleaf, this white wine goes well with grilled fish, spicy food, and coconut curry.
The only downside? My husband wasn't crazy about this wine, which does pose a problem for the rating system. Either all the ratings will be my taste, or his taste, or some agreed upon taste – but the flavor profile, for a couple, is not going to be anyone's unless you strictly go with one person's preferences. I would really love to see a two person rating system, with the ability to split the box with wines for person 1 & person 2, and wines we might enjoy together.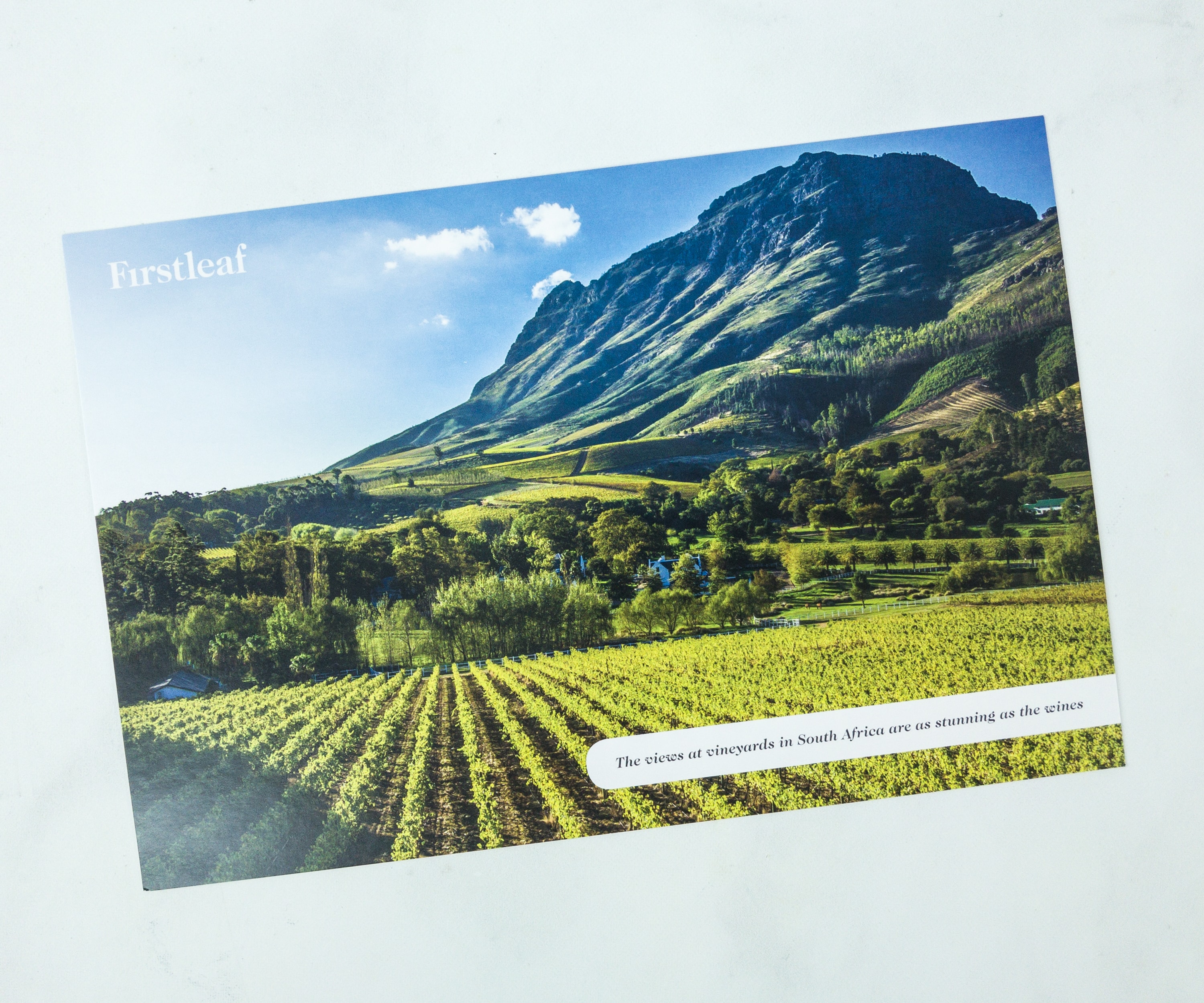 The next bottle of wine is from the beautiful vineyards of South Africa.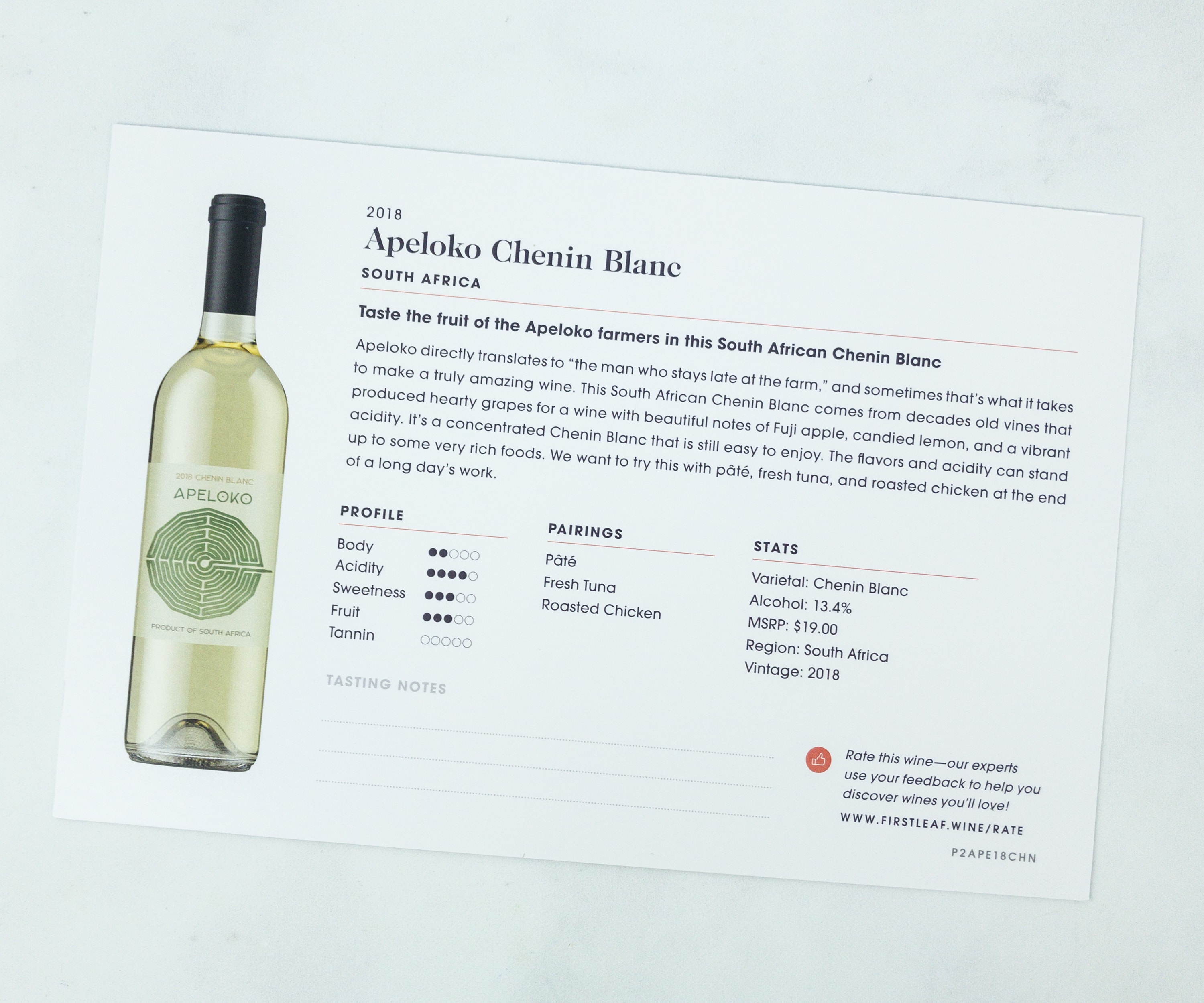 Apeloko 2018 Chenin Blanc South Africa ($18)
Taste the fruit of the Apeloko farmers in this South African Chenin Blanc. Apeloko directly translates to "the man who stays late at the farm," and sometimes that's what it takes to make a truly amazing wine. This South African Chenin Blanc comes from decades-old vines that produced hearty grapes for a wine with beautiful notes of Fuji apple, candied lemon, and a vibrant acidity. It's a concentrated Chenin Blanc that is still easy to enjoy. The flavors and acidity can stand up to some very rich foods. We want to try this with pâté, fresh tuna, and roasted chicken at the end of a long day's work.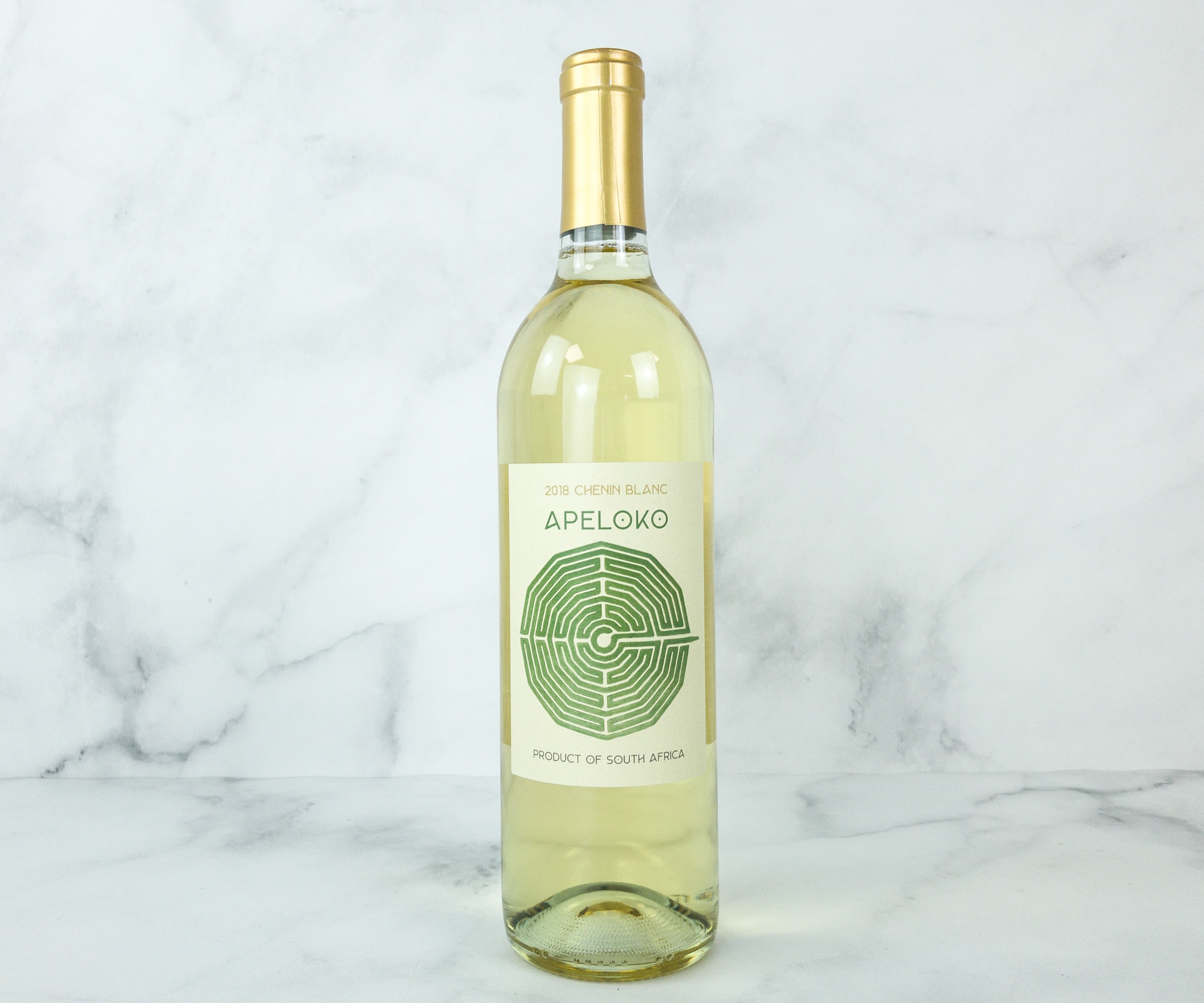 This wine charmed me right away because it has just the right amount of sweetness and fruitiness with every sip. It was beautifully balanced with a smooth, lingering finish. I loved this wine, and I rarely say no to a South African wine, so again, not surprised. It was so good.
Firstleaf says this wine is best paired with Pâté, fresh tuna, and roasted chicken.  I can't recall eating with this delectable beauty, just drinking it. It was really a delight.
The next wine is from Chile, and the info card for this wine features the beautiful starlight on a Chilean lake.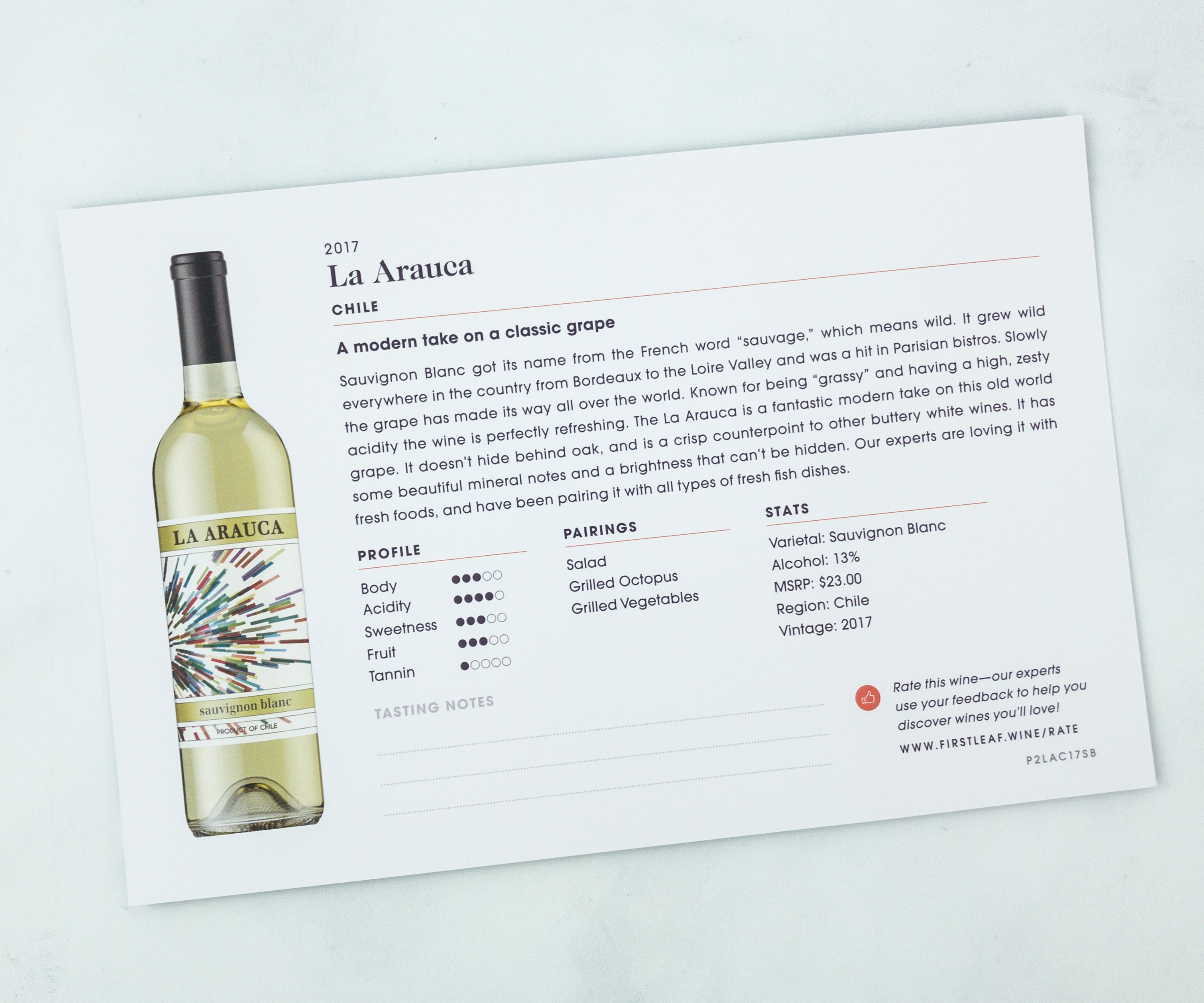 La Arauca 2017 Sauvignon Blanc Chile ($20)
A modern, award-winning take on a classic grape. Sauvignon Blanc got its name from the French word "Sauvage," which means wild. It grew wild everywhere in the country from Bordeaux to the Loire Valley and was a hit in Parisian bistros. Slowly the grape has made its way all over the world. Known for being "grassy" and having a high, zesty acidity the wine is perfectly refreshing. The La Arauca is a fantastic modern take on this old world grape. It doesn't hide behind oak and is a crisp counterpoint to other buttery white wines. It has some beautiful mineral notes and a brightness that can't be hidden. Our experts are loving it with fresh foods, and have been pairing it with all types of fresh fish. Judges love it too! It took home a Silver Medal at this year's Critics Challenge!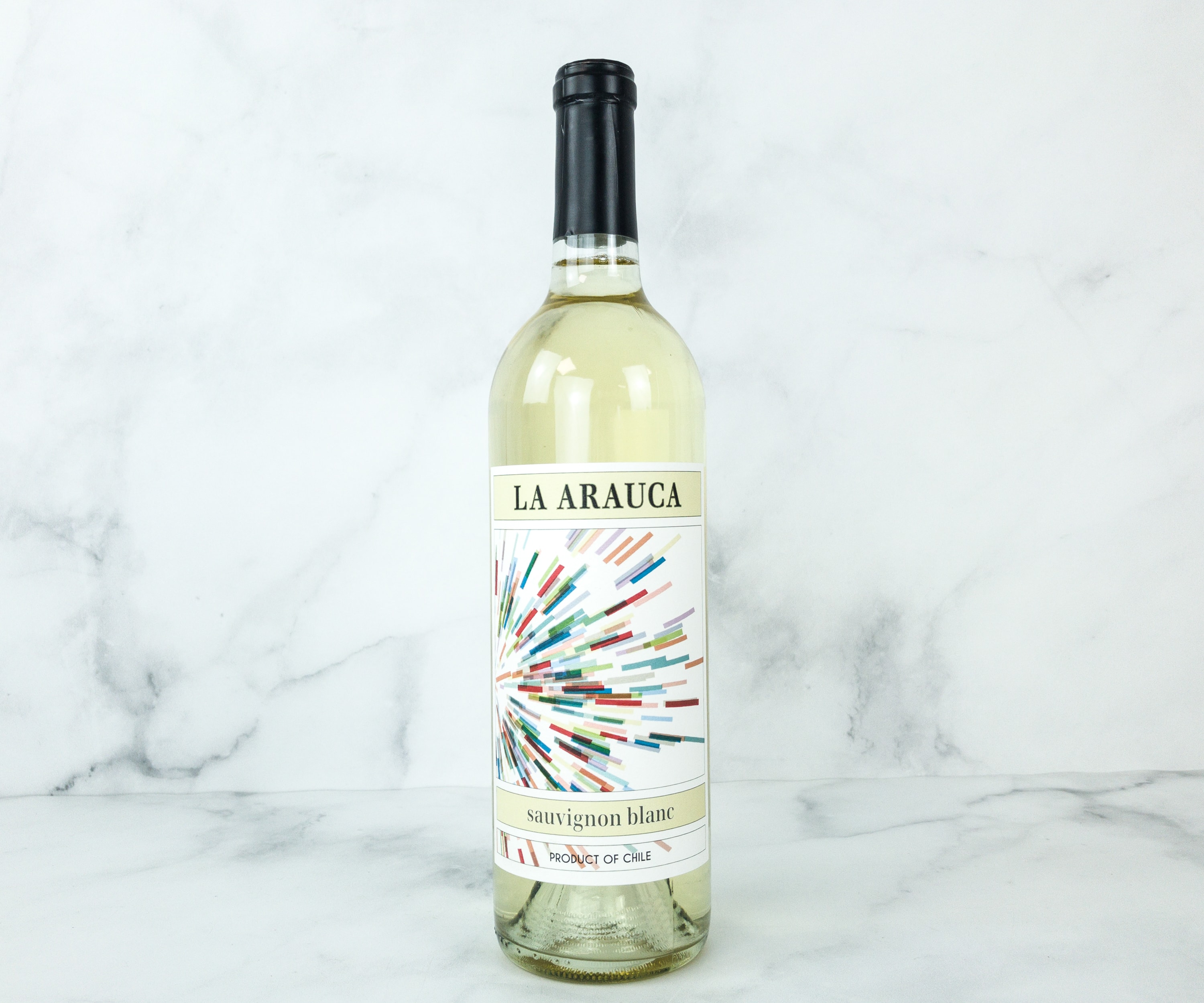 The mouthfeel of this Sauvignon Blanc is delicate yet vibrant. The zesty notes coupled with herby nuances makes it interesting for me. This was among a few of what I'd call Spring-focused wines in the box – as in it made me think of Spring, which was wonderful to be transported there!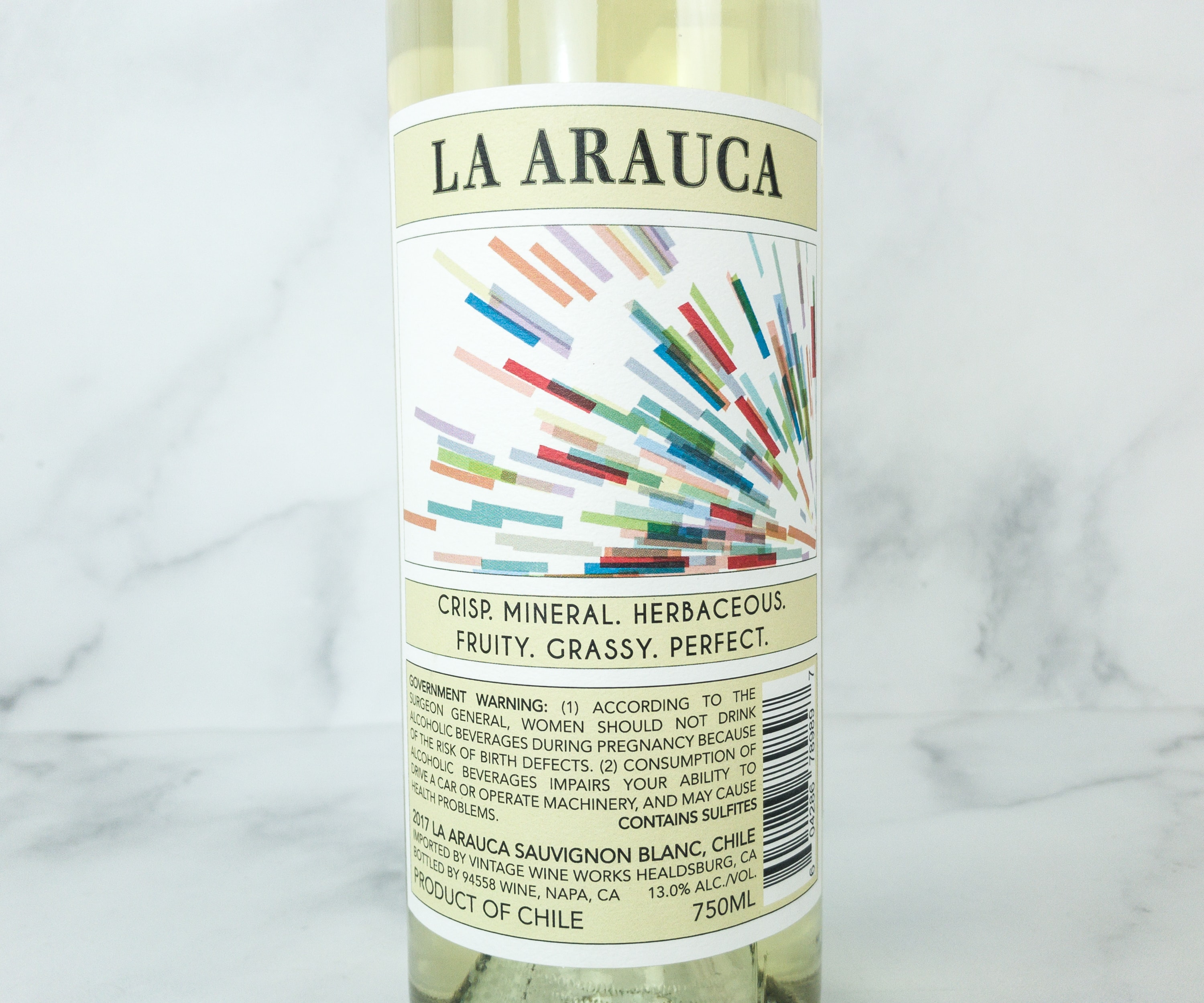 Fans of white wine will also appreciate its casual sophistication and elegant structure. We paired it with salad, grilled veggies, and seafood, as Firstleaf suggested!
The next three bottles contain red wines from Spain, France, and California, respectively!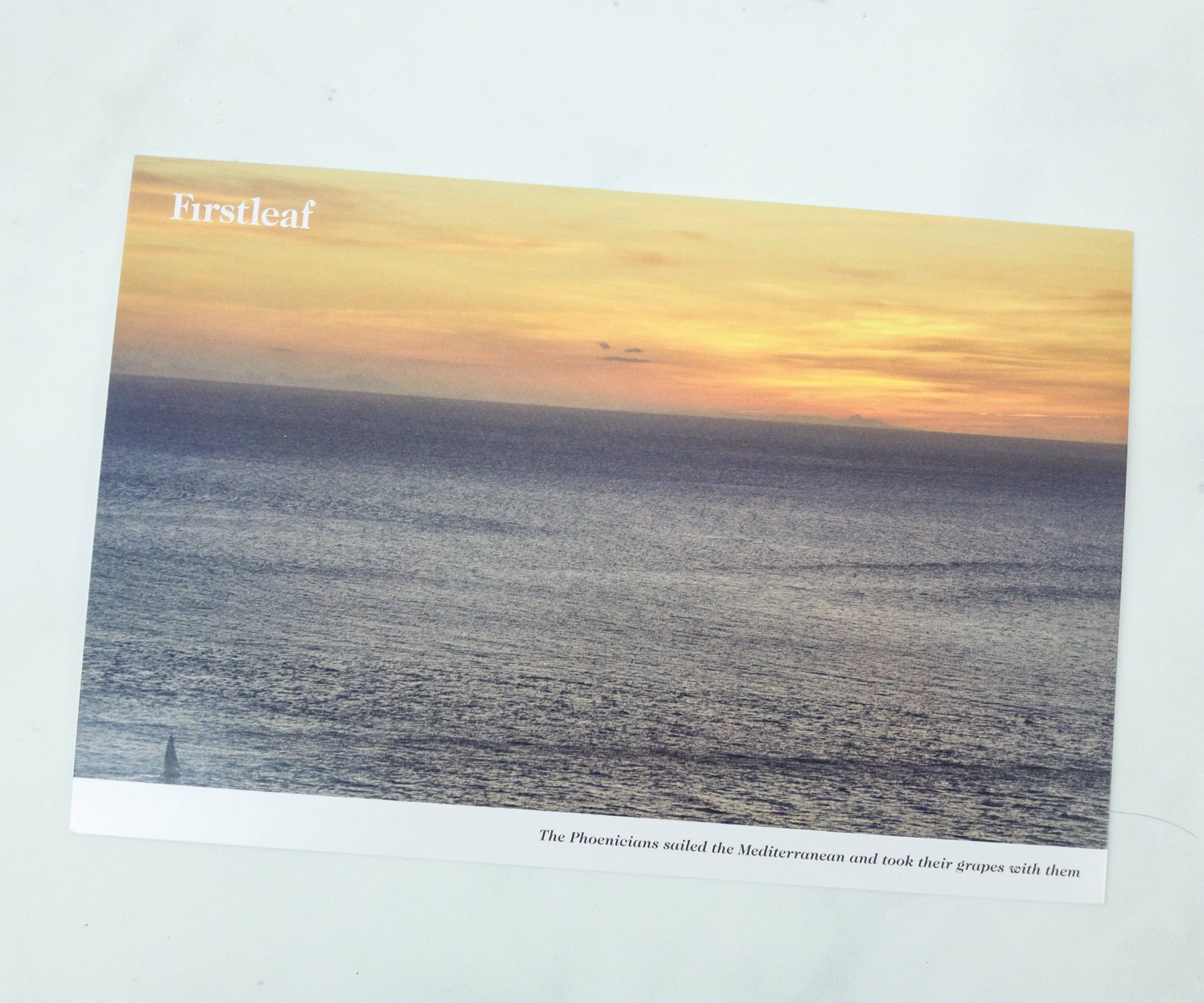 This is really a beautiful card representing a wine from the Mediterranean.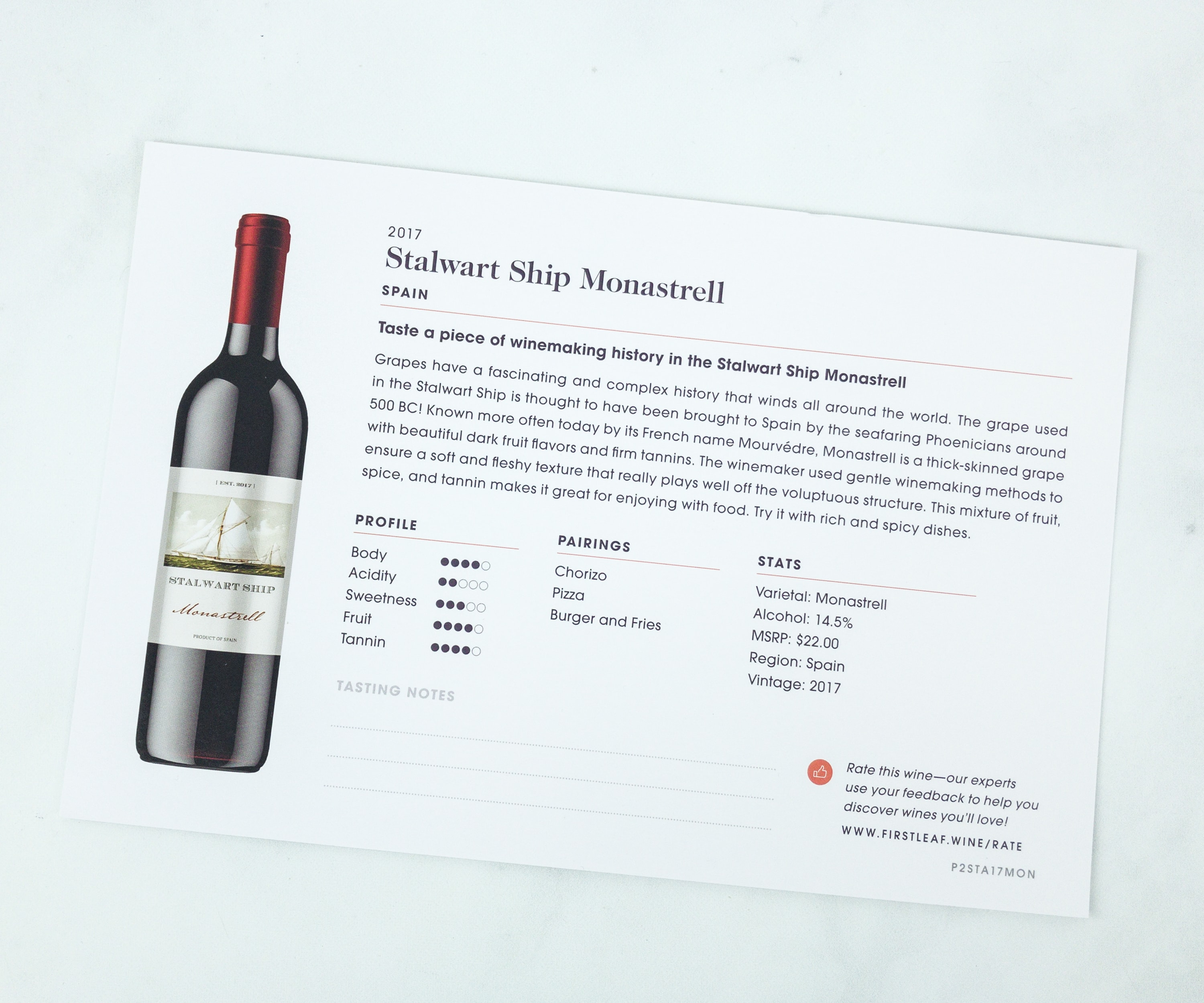 Stalwart Ship 2017 Monastrell Spain ($17.60)
Taste a piece of winemaking history in the award-winning Stalwart Ship Monastrell. Grapes have a fascinating and complex history that winds all around the world. The grape used in the Stalwart Ship is thought to have been brought to Spain by the seafaring Phoenicians around 500 BC! Known more often today by its French name Mourvédre, Monastrell is a thick-skinned grape with beautiful dark fruit flavors and firm tannins. The winemaker used gentle winemaking methods to ensure a soft and fleshy texture that really plays well off the voluptuous structure. This mixture of fruit, spice, and tannin makes it great for enjoying with food. Try it with rich and spicy dishes. Judges love it too! It took home a bronze medal from the 2018 Harvest Challenge.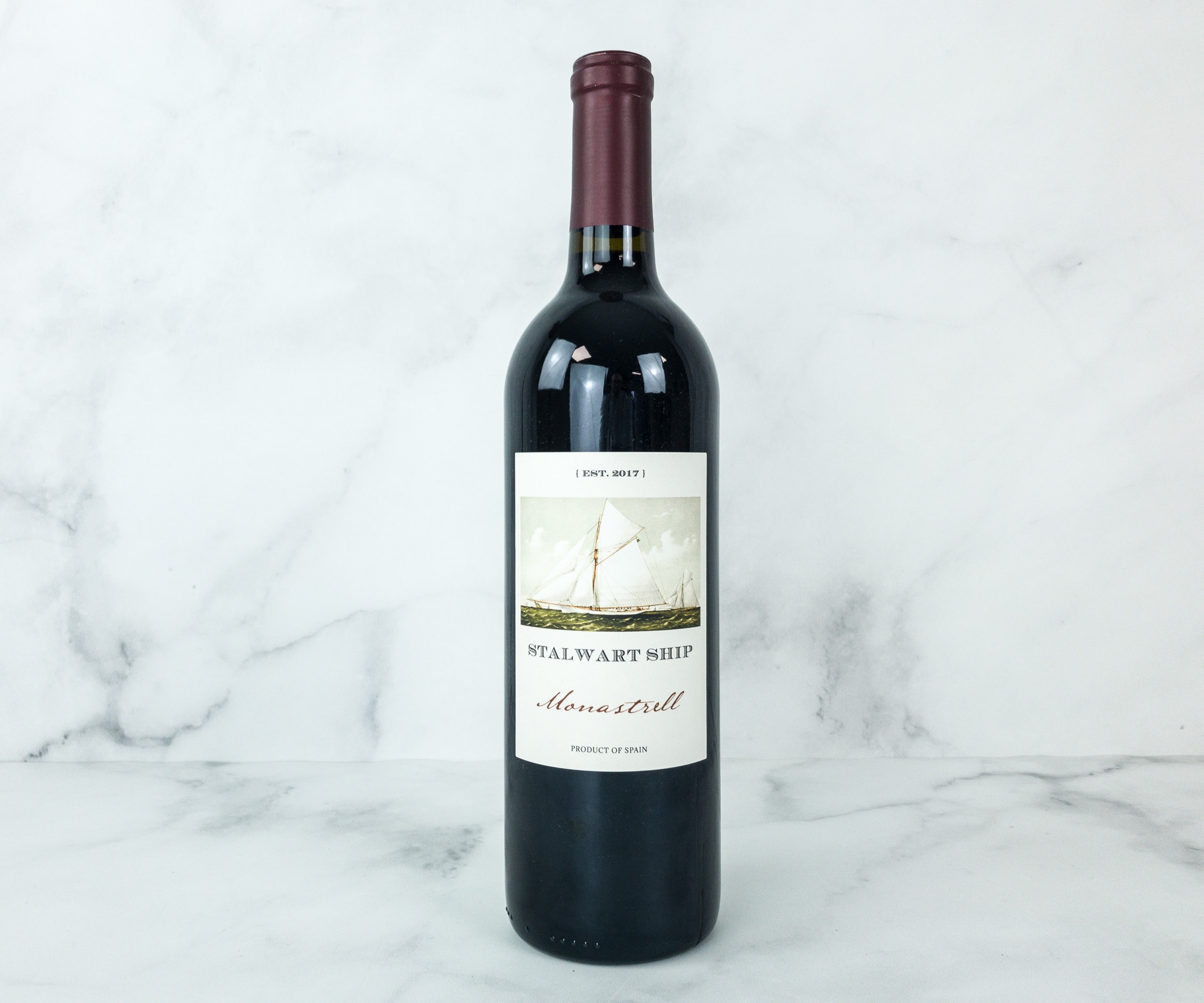 The wine's fruity and spicy flavors meld with ripe tannins, resulting in an intense and remarkable mouthfeel. I paired this with grilled meat and a hearty serving of sauces, and it was seriously amazing.
Firstleaf suggests to pair it with chorizo, pizza, and burgers and fries. If you're a fan of wines with a powerful structure, this is a must-try because it really holds up! Can I also admit that I spritzed with this wine? It was also excellent. Don't hate me.
This next bottle of wine is from France, and the card pictures the sea beside the southernmost vineyards in the country.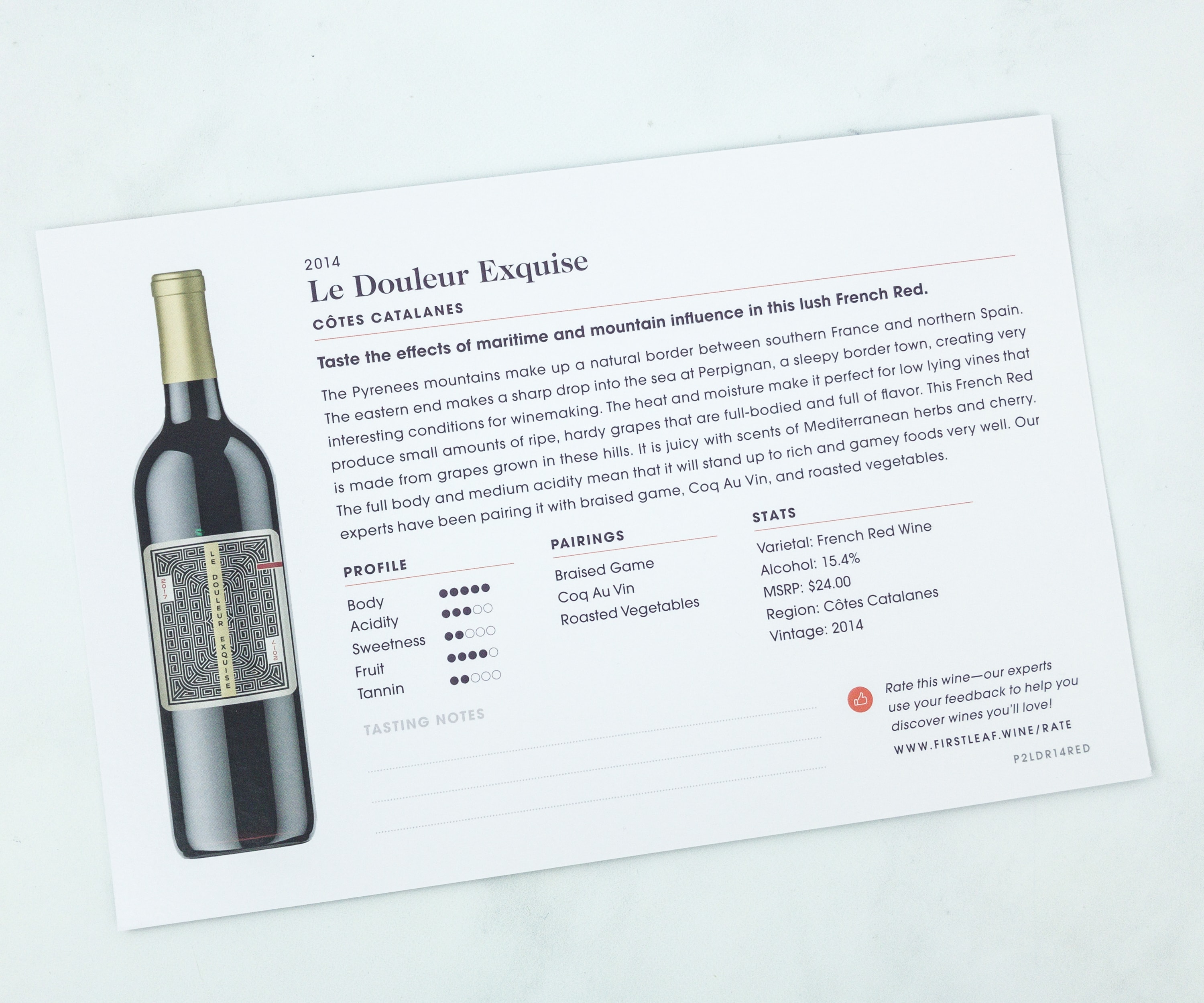 Le Douleur Exquise 2014 Red Blend Cotes Catalanes France ($19.20)
Taste the effects of maritime and mountain influence in this lush 91 Point French Red. The Pyrenees mountains make up a natural border between southern France and northern Spain. The eastern end makes a sharp drop into the sea at Perpignan, a sleepy border town, creating very interesting conditions for winemaking. The heat and moisture make it perfect for low lying vines that produce small amounts of ripe, hardy grapes that are full-bodied and full of flavor. This French Red is made from grapes grown in these hills. It is juicy with scents of Mediterranean herbs and cherry. The full body and medium acidity mean that it will stand up to rich and gamey foods very well. Our experts have been pairing it with braised game, Coq Au Vin, and roasted vegetables. Judges from the 2018 Critics Challenge loved it enough to award it 91 Points and a Gold Medal!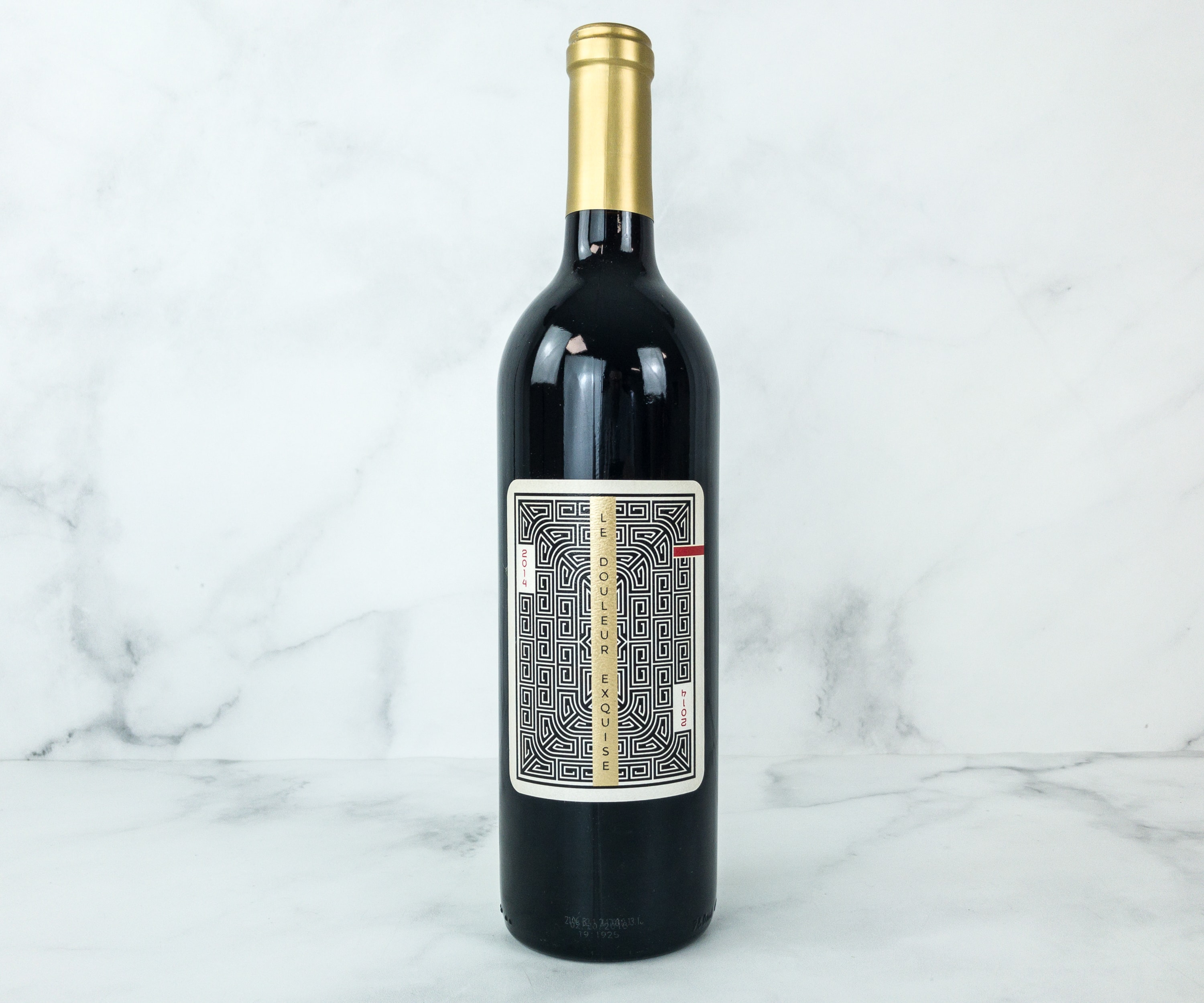 Supple tannins effortlessly surround the lingering fruity and herby flavors of this full-bodied wine. Every sip just feels plush in my mouth, and that's why this wine made its mark on my list. It also was wonderfully warming for winter!
It's another wine variety to try if you're in need of a heavy drink with your dinner meal. Firstleaf says it's best paired with braised game, roasted vegetables, and Coq Au Vin. We had this one with a heavy pot roast with gravy and this wine brought loads of complexity to our meal.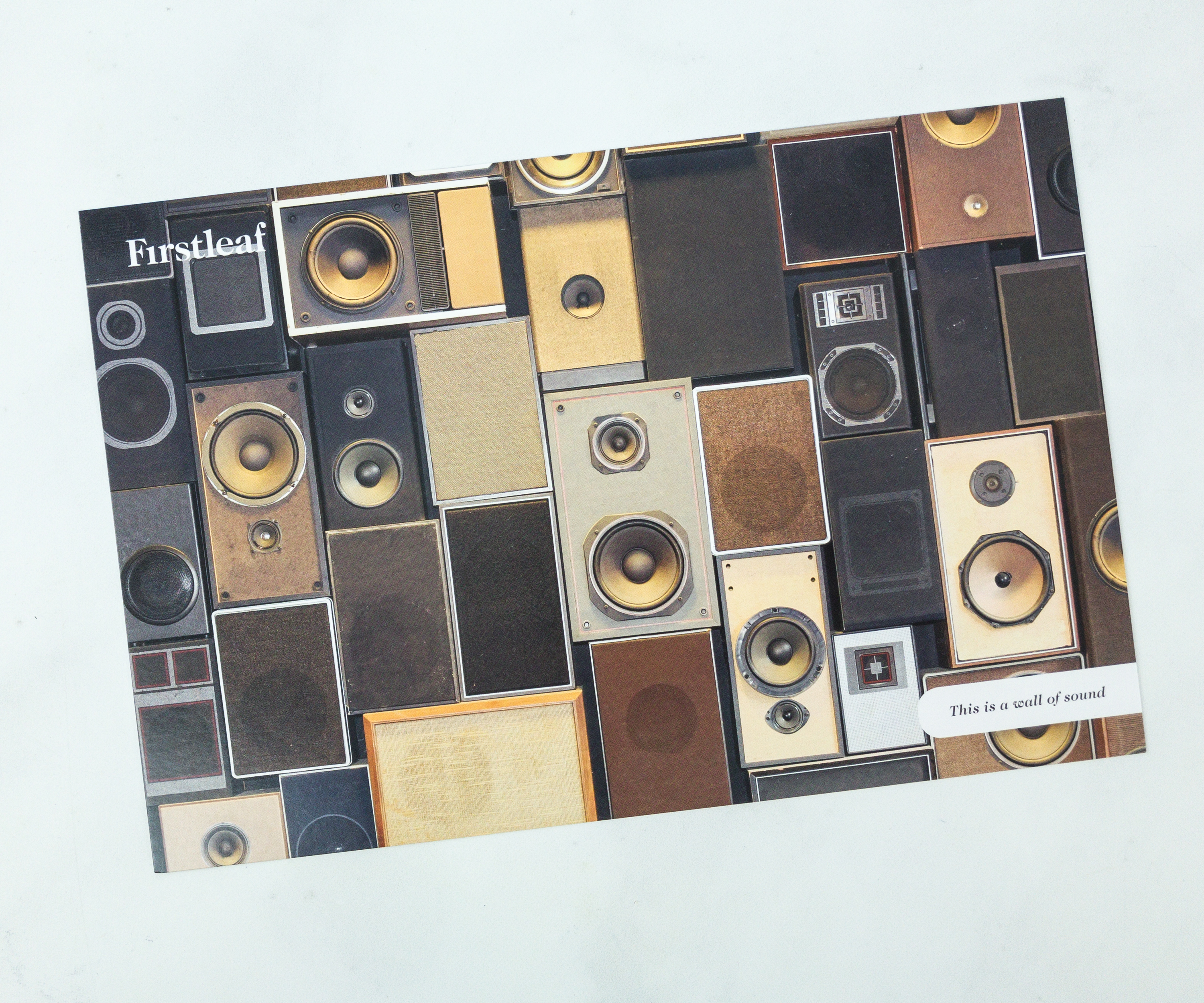 The last card features a cool "Wall of Sound," and this wine is proudly California-made!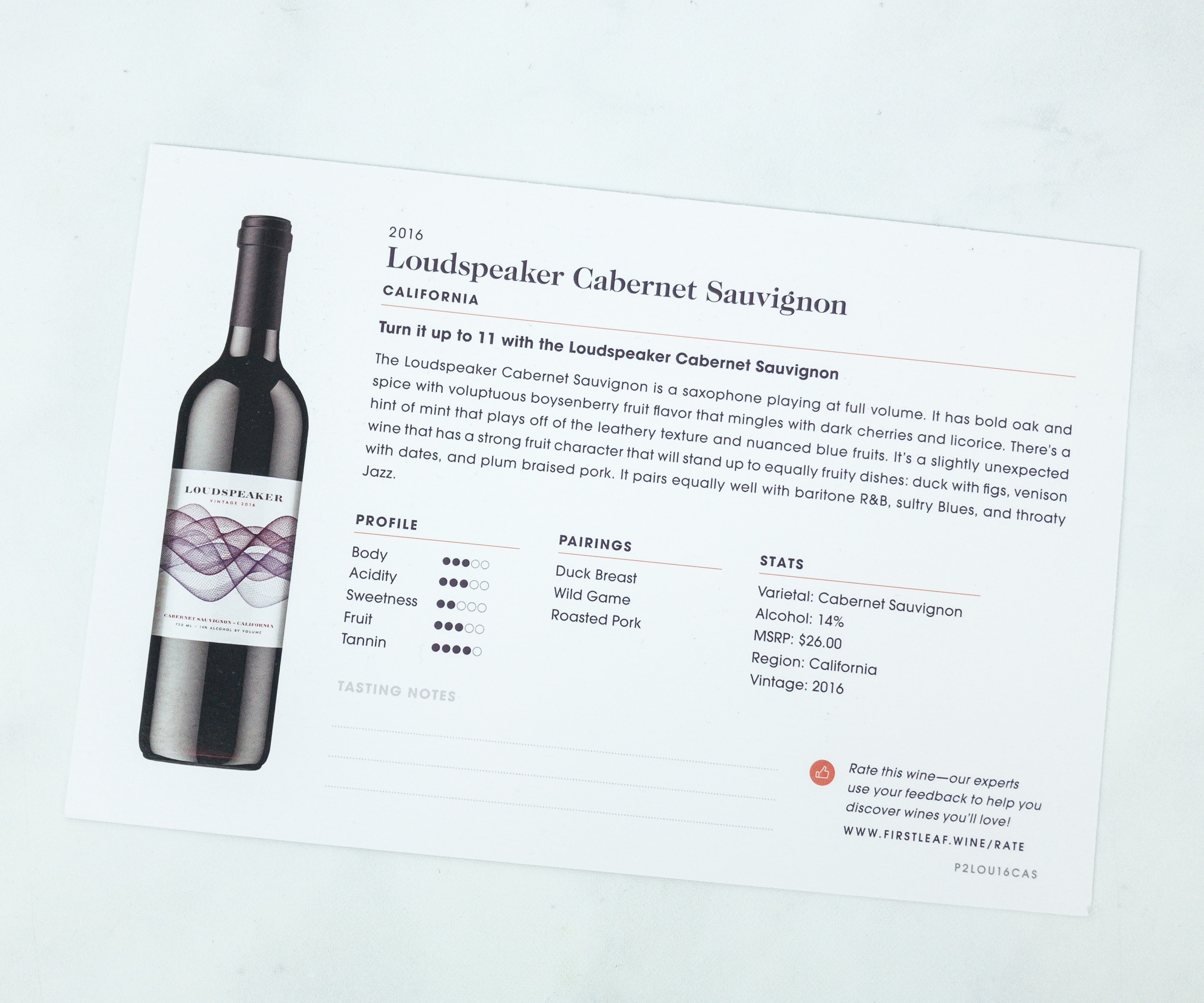 Loudspeaker Cabernet Sauvignon 2016 California ($21)
Turn it up to 11 with the Gold medal-winning Loudspeaker Cabernet Sauvignon. The Loudspeaker Cabernet Sauvignon is a saxophone playing at full volume. It has bold oak and spice with voluptuous boysenberry fruit flavor that mingles with dark cherries and licorice. There's a hint of mint that plays off of the leathery texture and nuanced blue fruits. It's a slightly unexpected wine that has a strong fruit character that will stand up to equally fruity dishes: duck with figs, venison with dates, and plum braised pork. It pairs equally well with baritone R&B, sultry Blues, and throaty Jazz. Judges love it too! It took home a Gold medal at the 2019 Texas International Wine Competition.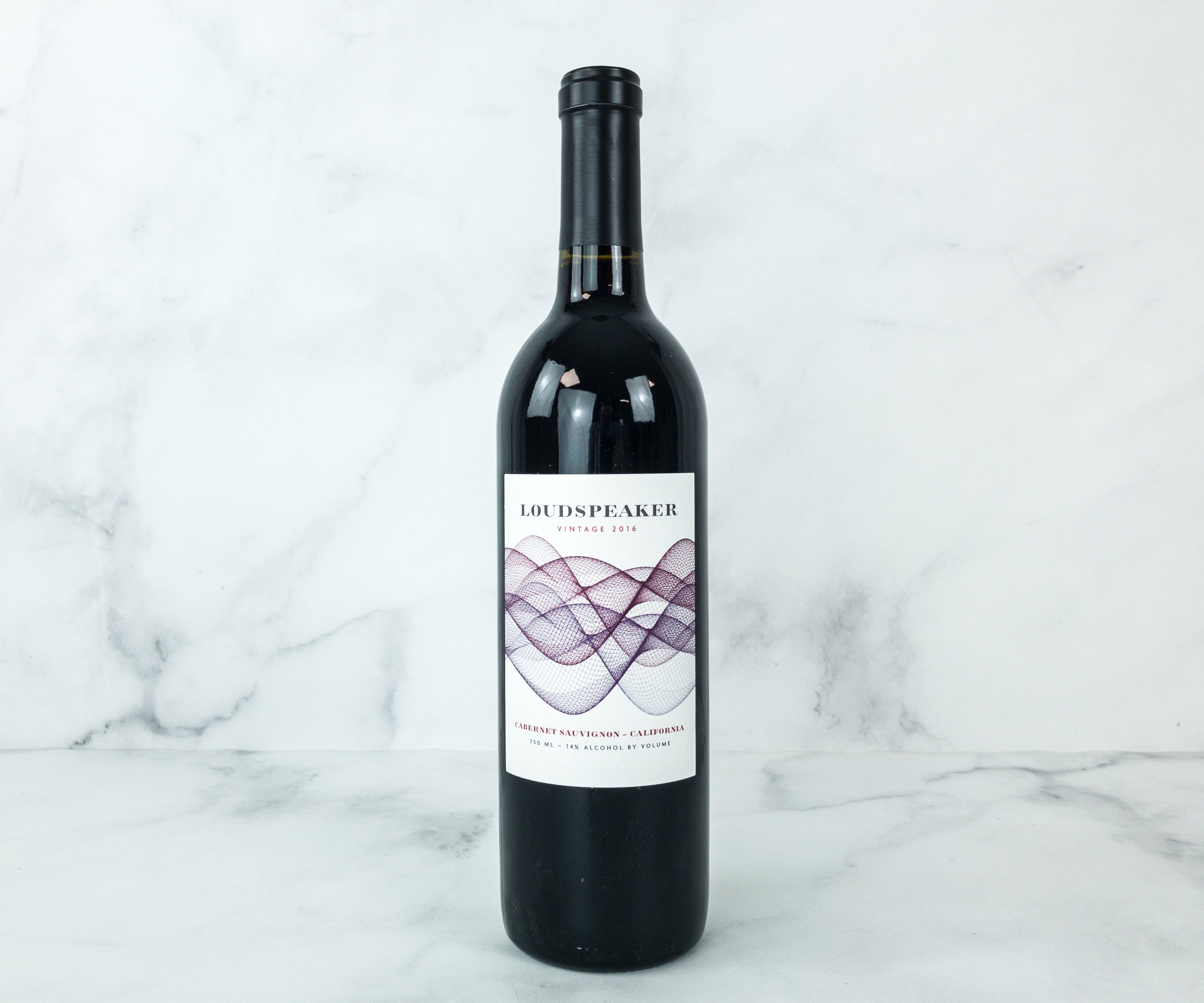 With a rich, complex core of blue fruits, this wine boasts of a rich mouthfeel at its peak of taste. What made it more special is that it unfolded to reveal notes of vanilla and mocha.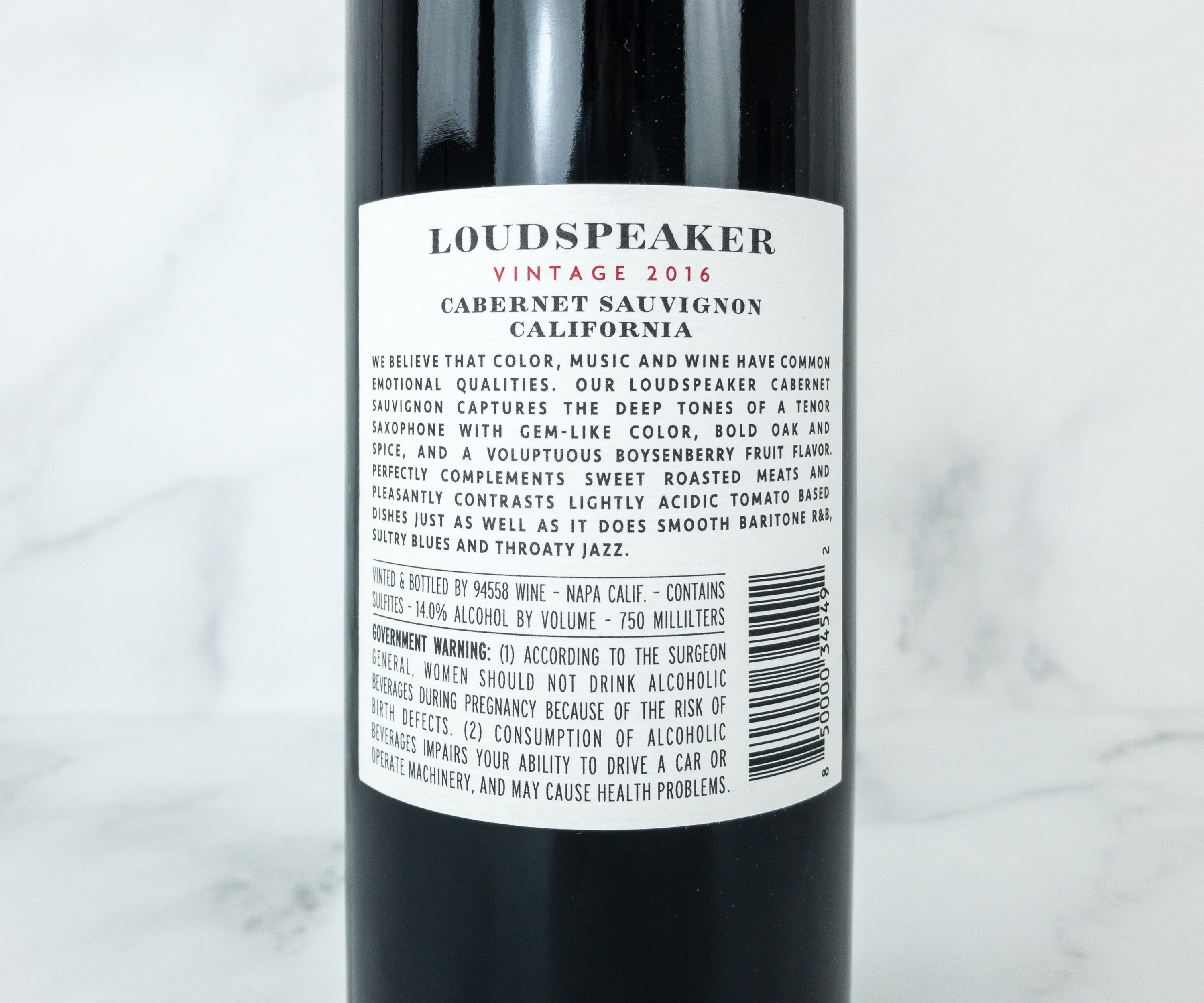 The finish was harmonious and immensely satisfying! A fruity wine like this is best paired with fruity dishes as well, according to Firstleaf. They recommend duck breast with figs, wild game like venison with dates, and roasted or plum braised pork. We skipped the meal and enjoyed the fruitiness of this amazing wine all by itself.
This wine club is fantastic! The introductory box is really a good deal, that's 6 bottles of wines (ours was a mix of reds and whites) for $39.95 + tax. Firstleaf even sends the wines with tasting notes and pairing recommendations so all you really need to do is to enjoy your wine, just as we did! The wines we received in our intro box are all appealing, but if I have to choose just one favorite, it has to be the Stalwart Ship. Its fruity and spicy nuances fit perfectly with my taste. Their system of choosing which wines to send to members is awesome. Each box is customized according to the member's tastes so you're more likely to receive a wine that you can actually enjoy! The only downside we can see is what we pointed out previously – you're going to need to focus on just one person's preferences when rating your wines. I'm really hoping they'll take this system to the next level as this subscription matures. What's clear, however, is that the wine is some of the best we've ever enjoyed from a subscription.
What do you think of Firstleaf Wine Club subscription?