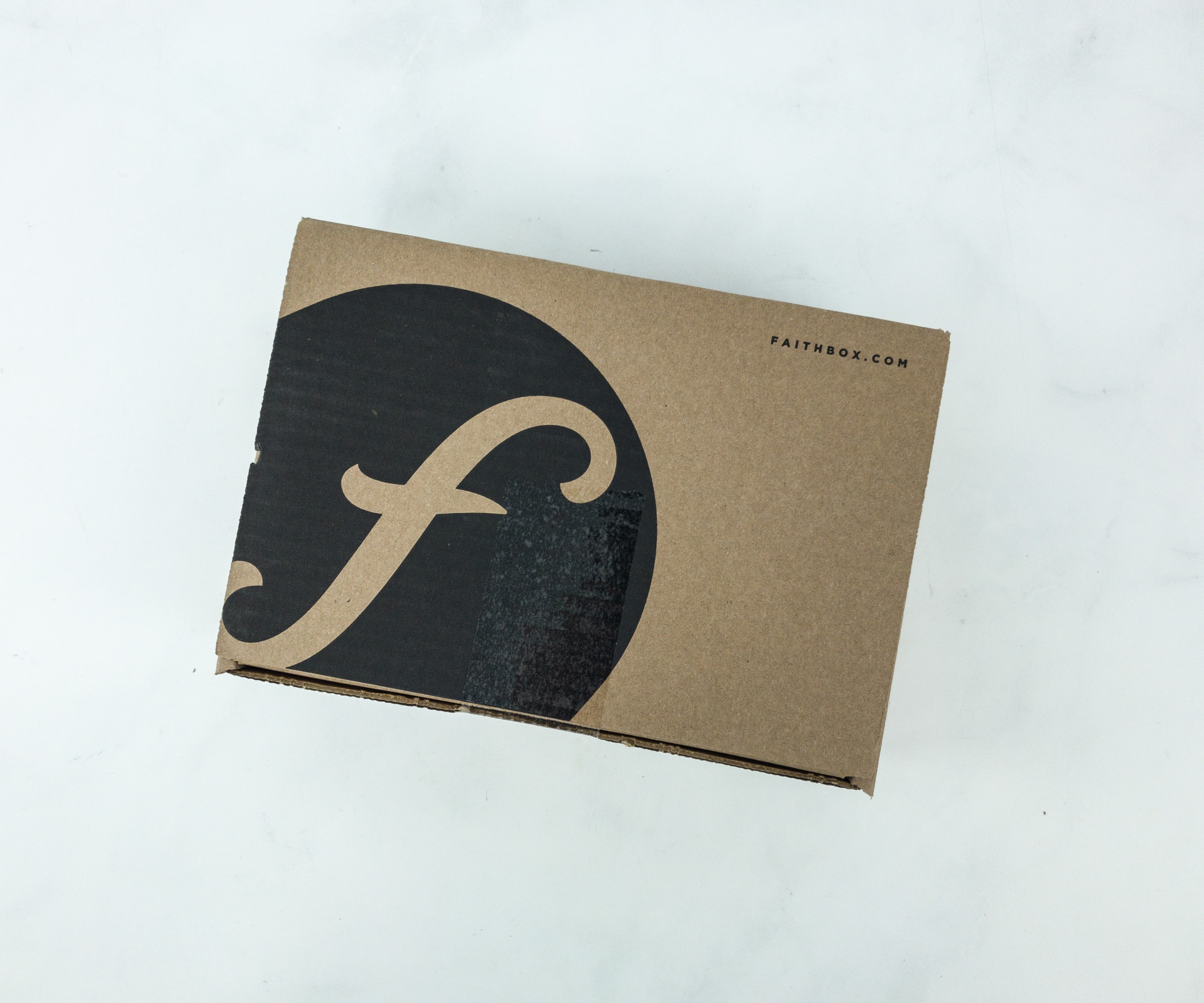 Faithbox is a monthly subscription box that sends out devotional, inspirational and hand-picked products that do good. The box costs $25 per month + $5 shipping, and you can also opt for a 3-month or an annual plan for a lower cost per box. The box inspires daily Christian living by helping you grow in faith, affect your community, and discover products that are made by companies that support a good cause. All the items in the box are made ethically, eco-friendly, and faith-based that you can find inspirational scriptures, challenges, and even seasonal prayers.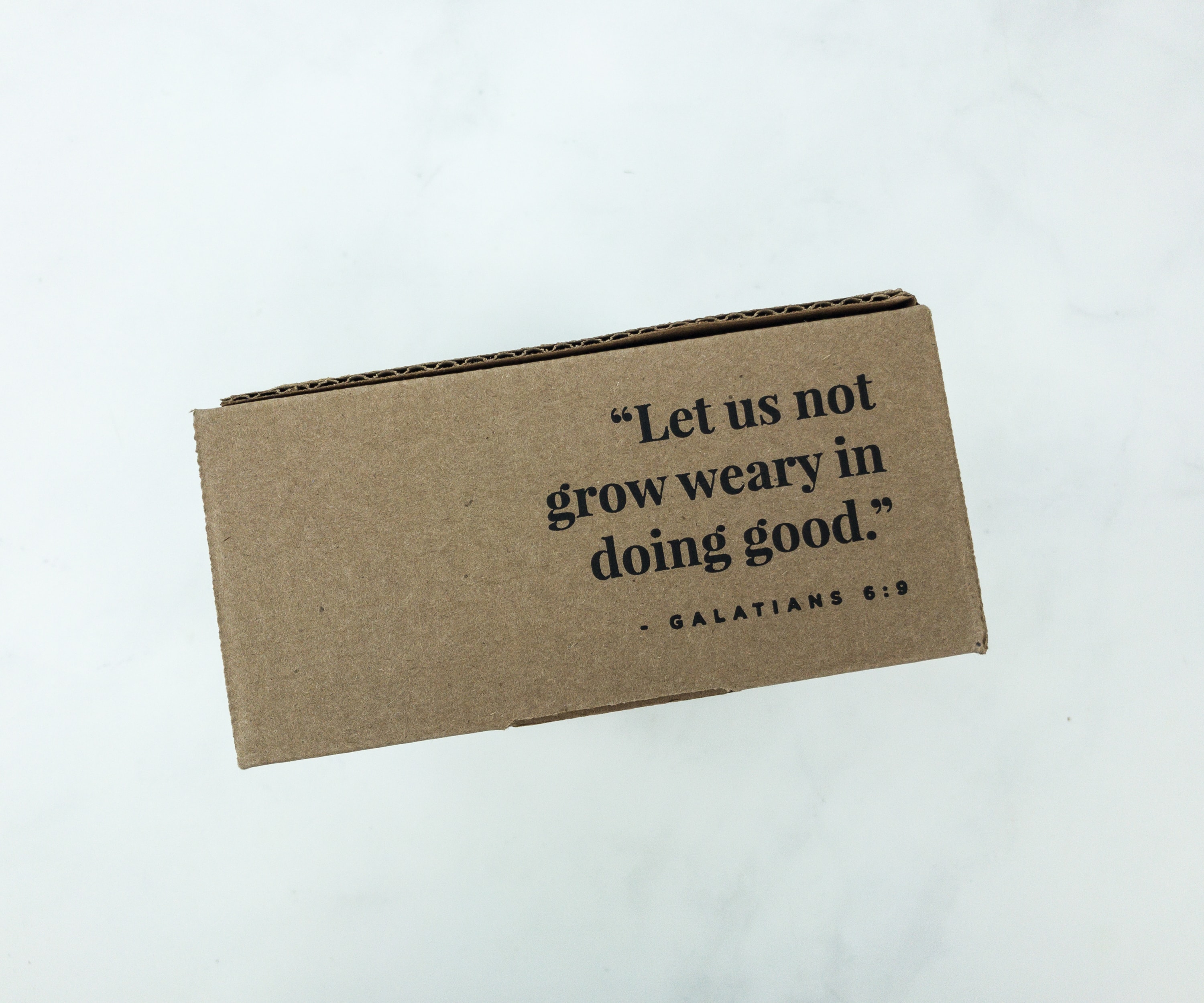 Let us not grow weary in doing good.
Faithbox will help you reexamine your faith and your relationship with God, ensuring that you are being the very best you that you can be in your walk with Christ.
The theme for this month is SACRIFICE. They also included the Impact Guide, a booklet to guide you along in exploring the box and all its contents!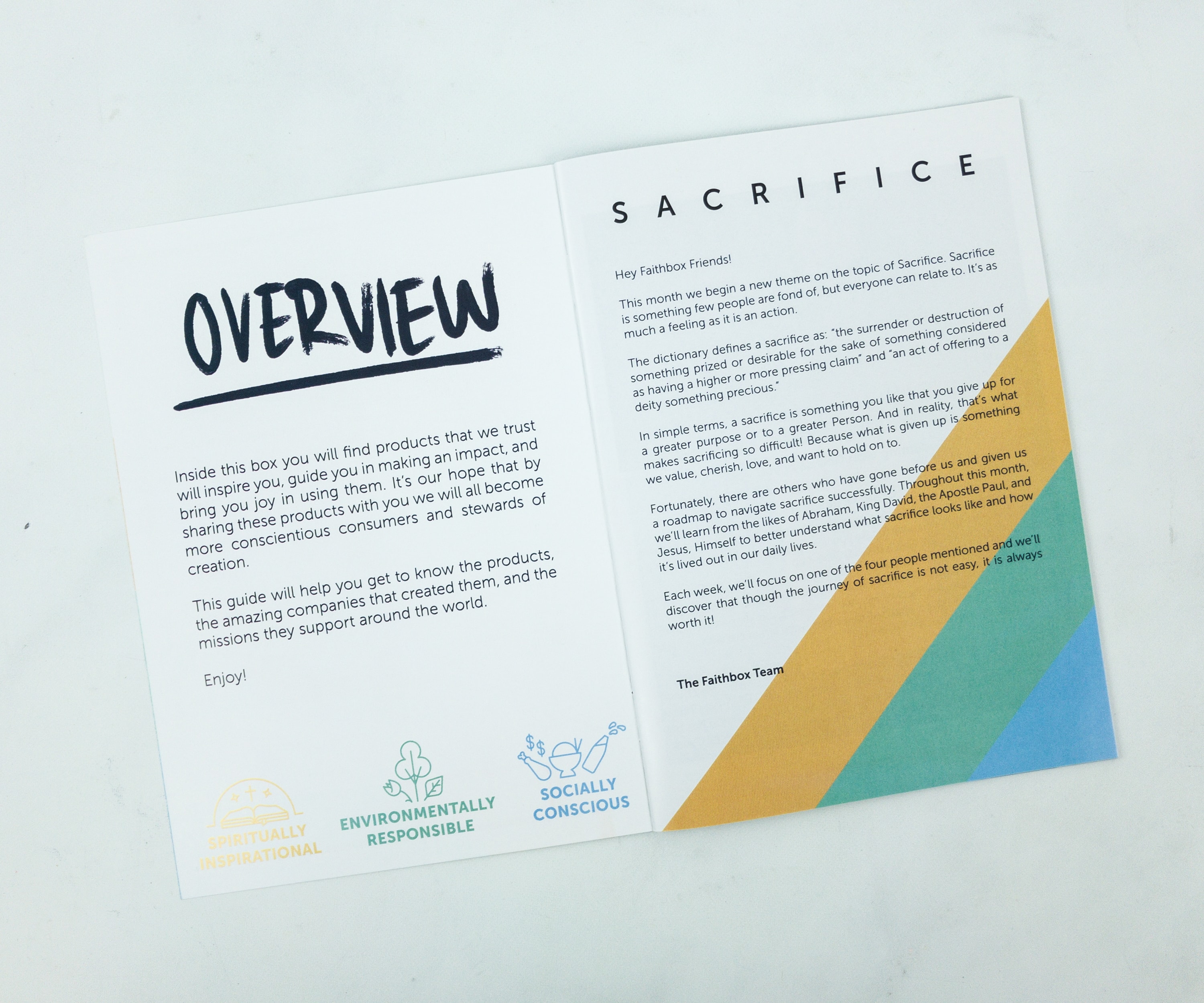 The FaithBox team also has a note for the subscribers.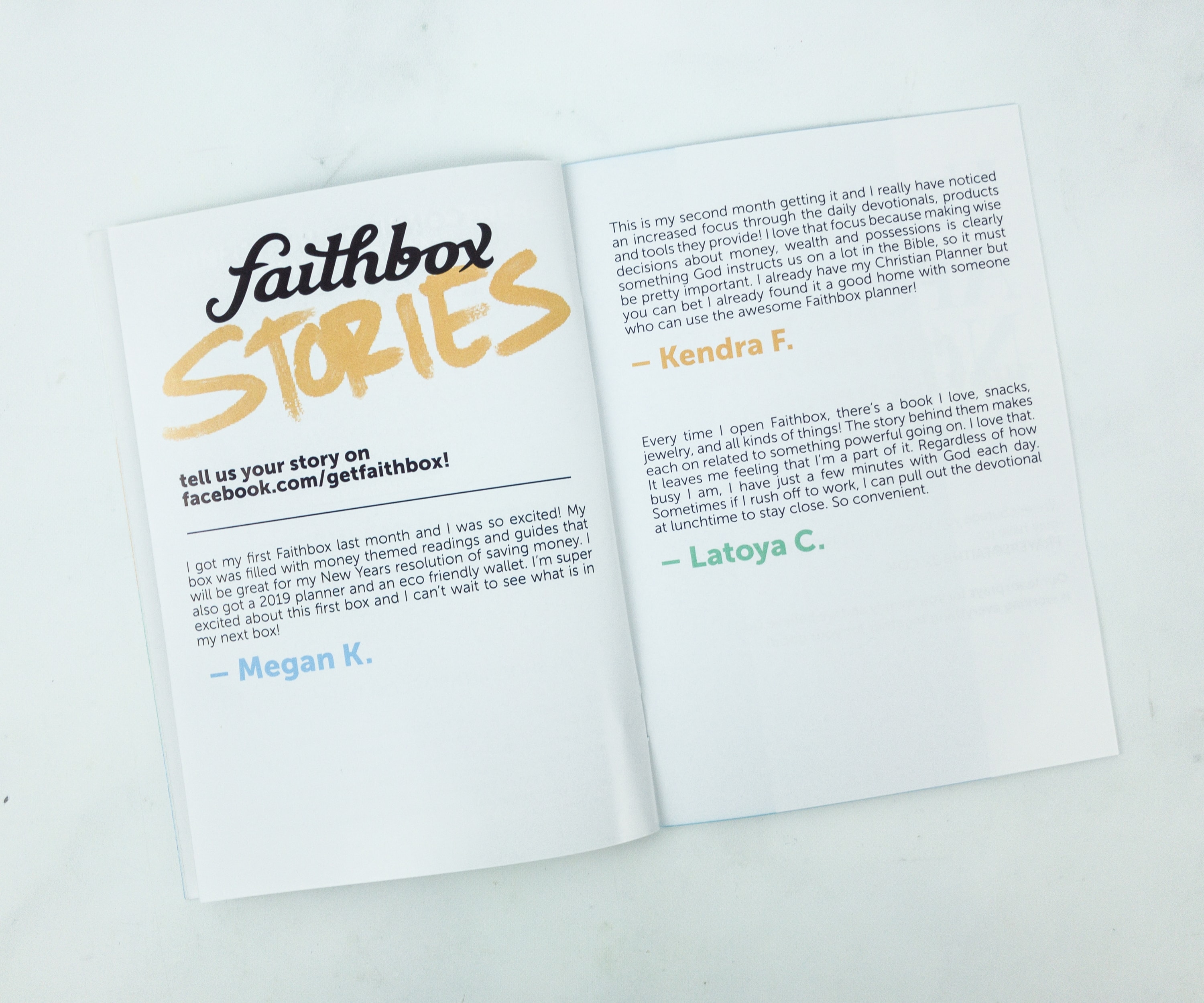 There are also stories of faith that are really inspiring.

Aside from the theme, it also contains helpful articles and Bible verses to get you going.
There's even a community challenge where subscribers can share photos.
Everything in the box! This box has items inside to inspire you and it's a simple joy to open the box to see the selection of products and the causes behind them.

Deux Mains Designs Leather Tasseled Bookmark ($7.99) The first thing I got from the box is this beautiful placeholder for my current read!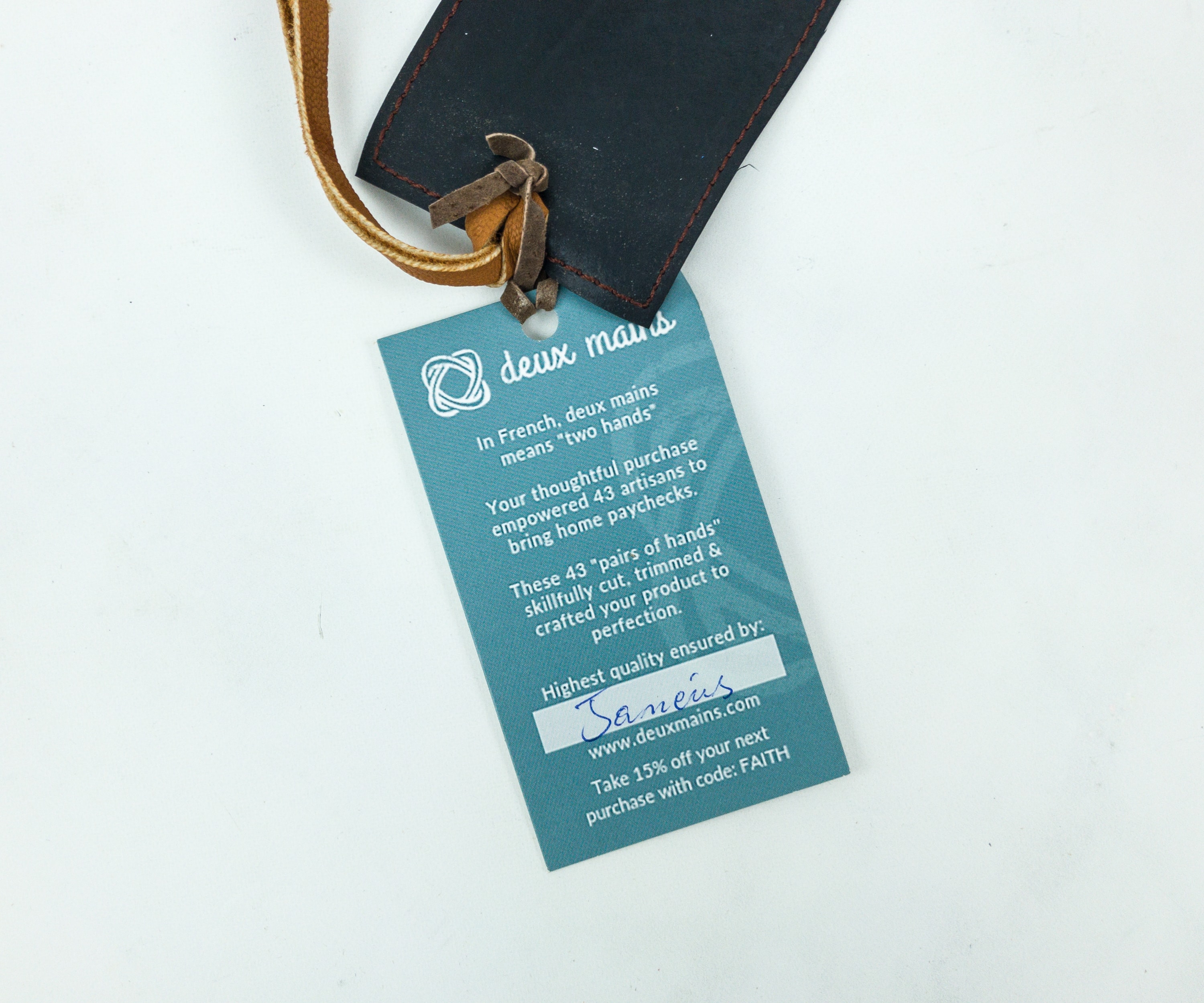 It also comes with a tag that tells us more about this unique product. Purchasing this item means empowering 43 artisans to bring home paychecks and live a good life. Deux Mains is a long-time partner with FaithBox and they're joining hands in making the world a better place to live in.

The hand-made bookmark comes in 3 colors: red, blue, or cognac. Ours came in this beautiful cognac color, and we love how classy it looks.
This bookmark is made from repurposed and recycled tire inner tubes, which is truly amazing.

Faithbox Custom Leather Wrap Bracelet ($19) The next item is a cool accessory, a leather wrap bracelet.
The bracelet arrived with a pouch featuring a FaithBox print.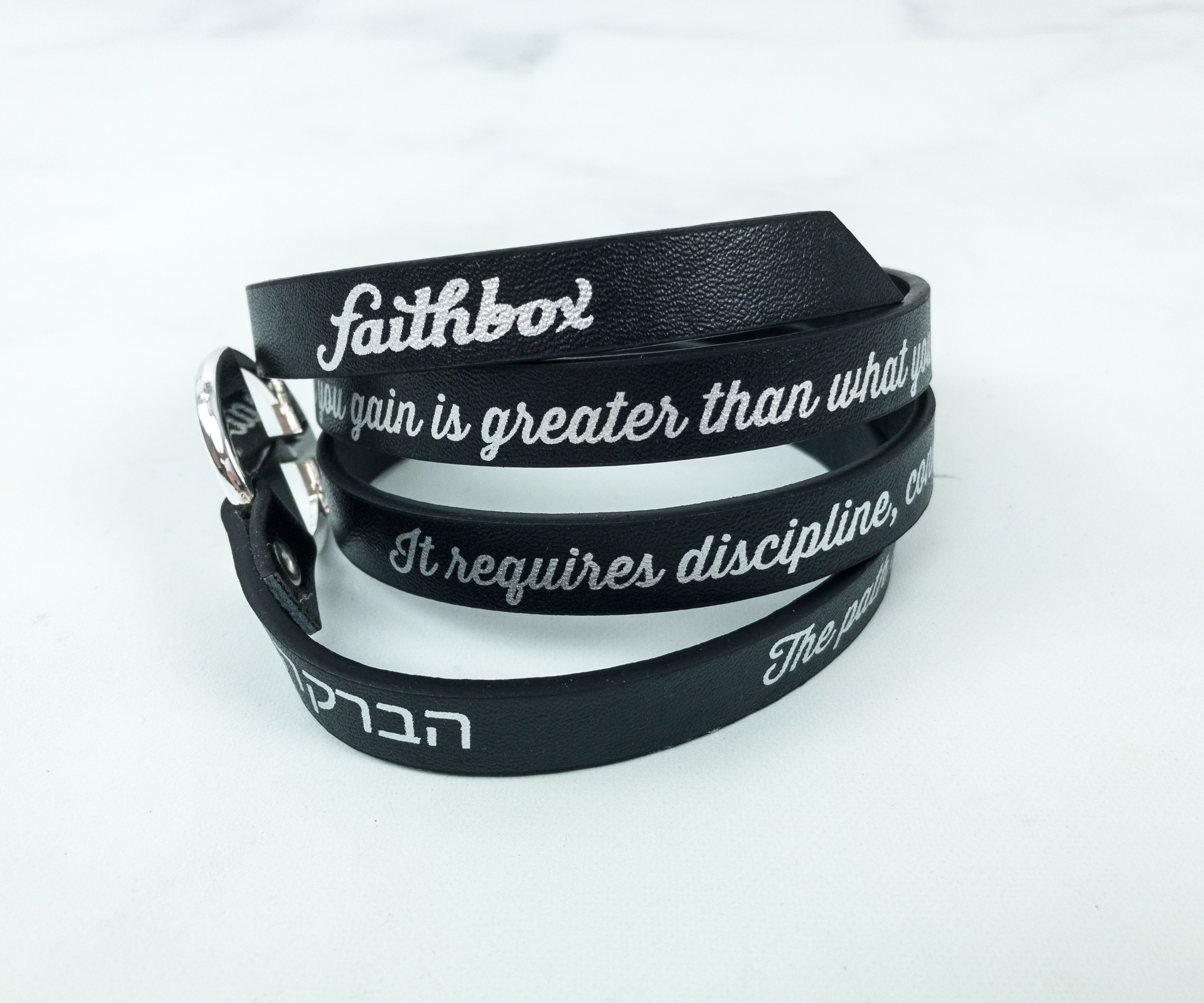 The bracelet has a quote inscribed on its length:
The path of sacrifice is not an easy one. It requires discipline, conviction, and faith. But what you gain is greater than what you gave up.

It can be wrapped easily around the wrist 3 to 5 times, depending on how you like it or how comfy it will be.

It also has a clasp that can be used to tighten and secure the bracelet in place.
It's nice to have this accessory to remind me of how important sacrifice is, and how greater is what you get as compared to what you give up.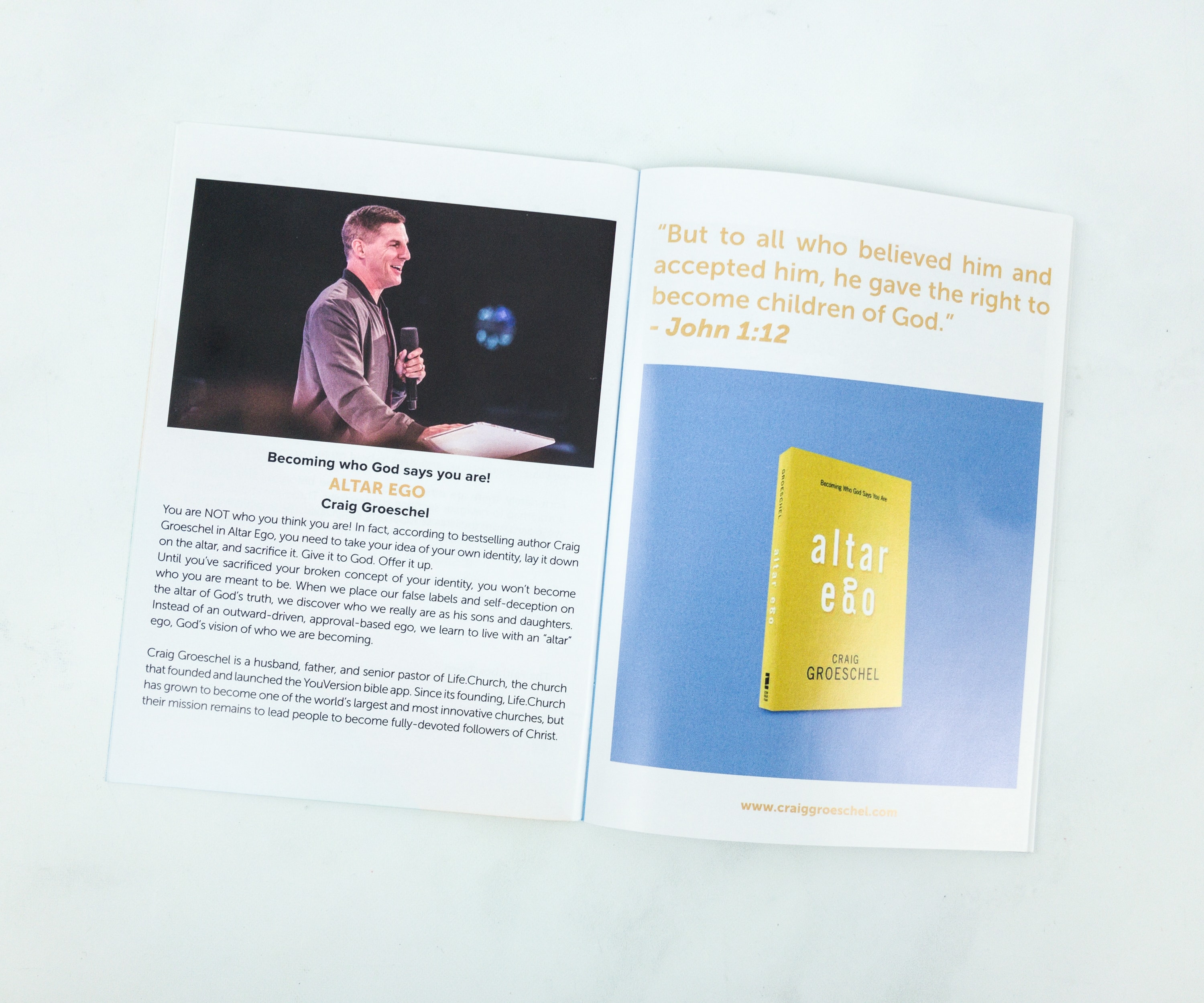 Altar Ego by Craig Groeschel ($6.54)
You are NOT who you think you are. In fact, according to bestselling author Craig Groeschel in Altar Ego, you need to take your idea of your own identity, lay it down on the altar, and sacrifice it. Give it to God. Offer it up.

Why? Because you are who GOD says you are. And until you've sacrificed your broken concept of your identity, you won't become who you are meant to be.

When we place our false labels and self-deception on the altar of God's truth, we discover who we really are as his sons and daughters. Instead of an outward-driven, approval-based ego, we learn to live with an "altar" ego, God's vision of who we are becoming.

Discover how to trade in your broken ego and unleash your altar ego to become a living sacrifice. Once we know our true identity and are growing in our Christ-like character, then we can behave accordingly, with bold behavior, bold prayers, bold words, and bold obedience.

Altar Ego reveals who God says you are, and then calls you to live up to it.
The book is all about discovering who you really are according to God and living your life up to it.
The back of the book cover gives you more idea on how you're going to trade in your broken ego, and unleash your altar ego.

I can compare this book to the story the Prodigal Son. This will appeal to those who grew in a Christian home, who got lost along the way and finally came back, or those who aren't really content with themselves.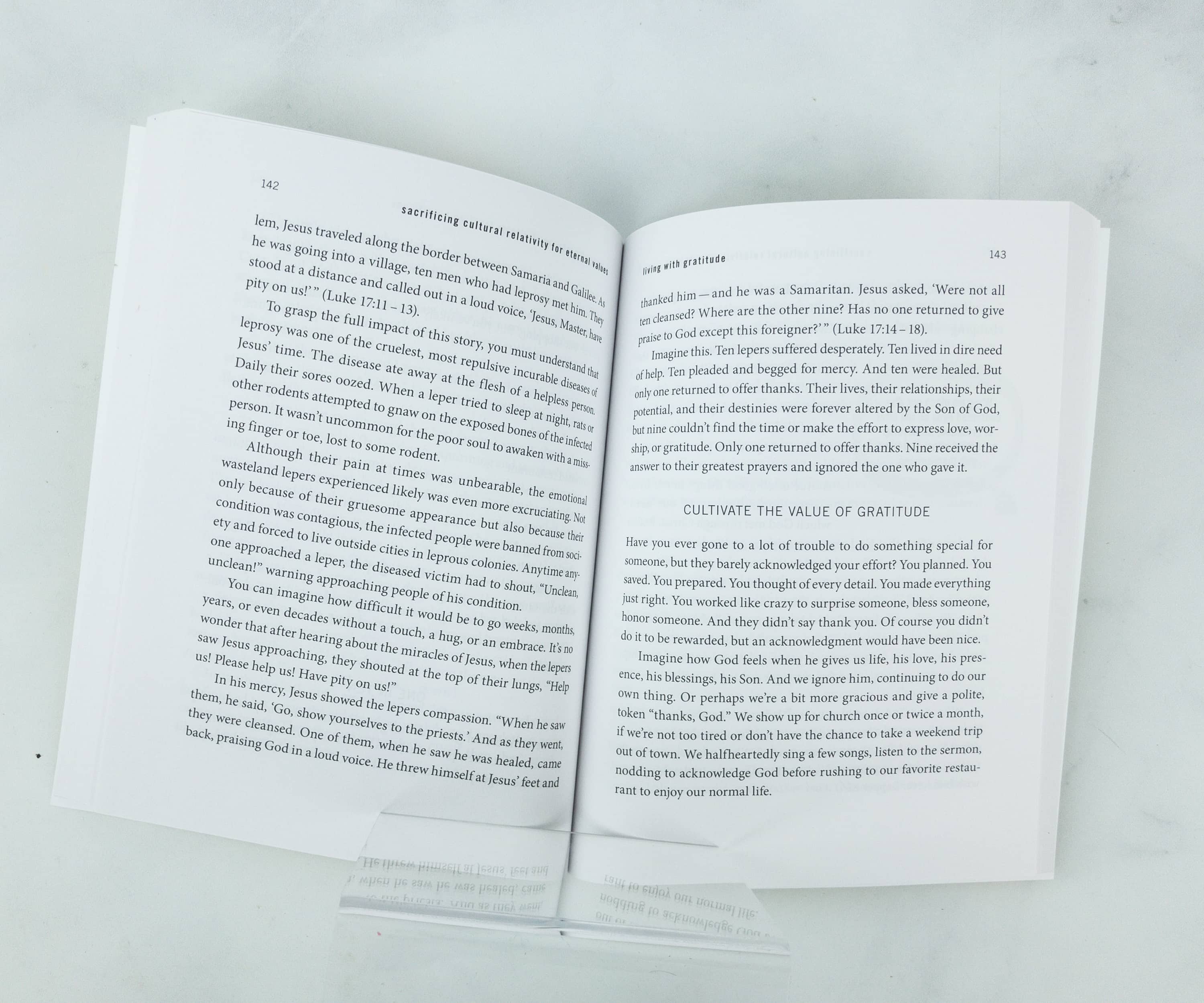 It's a good book because there's so much to learn from it. Definitely worth a read!
Madeline Harwell Custom Watercolor Art Design. We got some art designs by Madeline Harwell!
Each card features beautiful artwork and some words of wisdom or verses.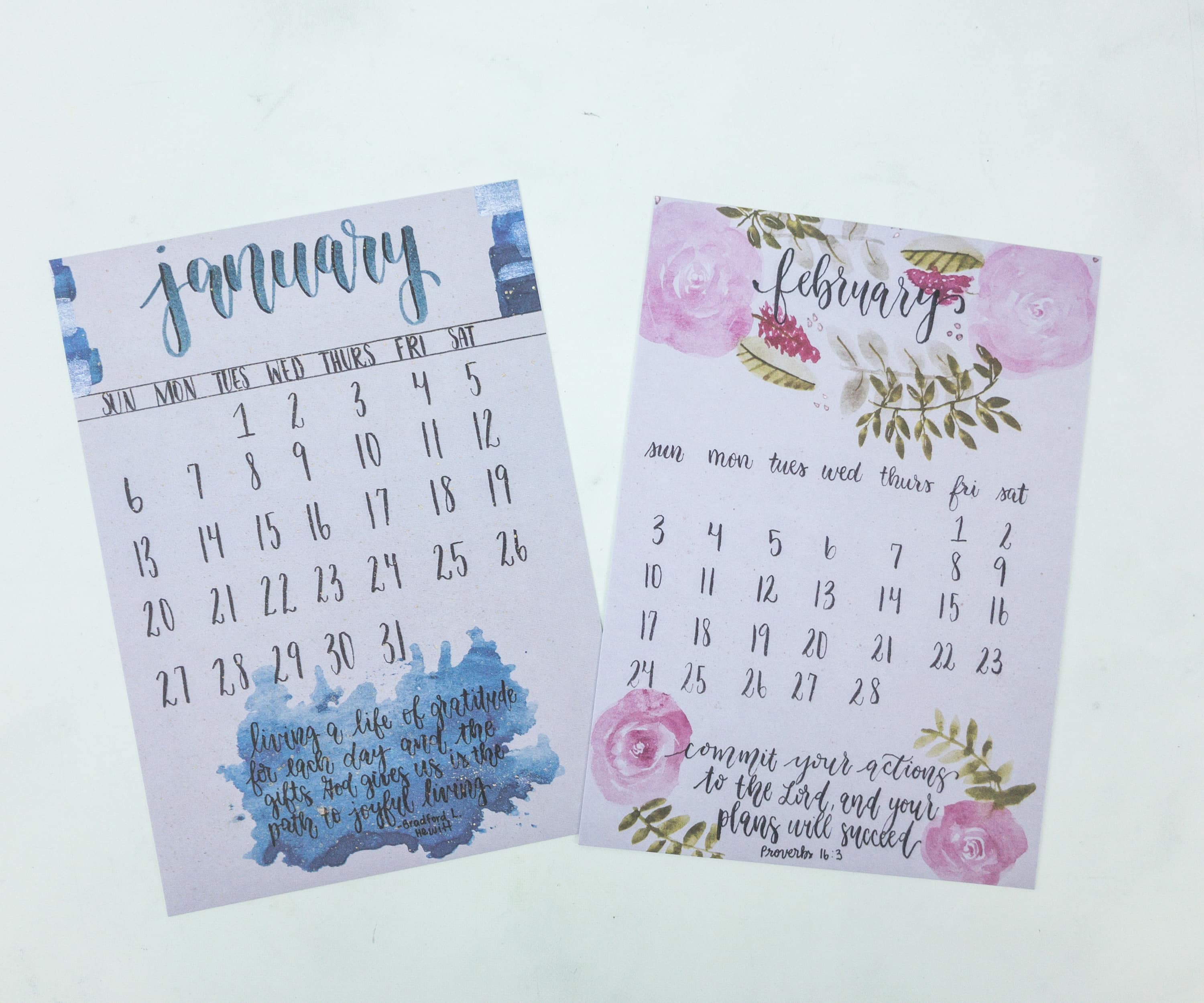 At the back, there is a calendar page for January and February respectively.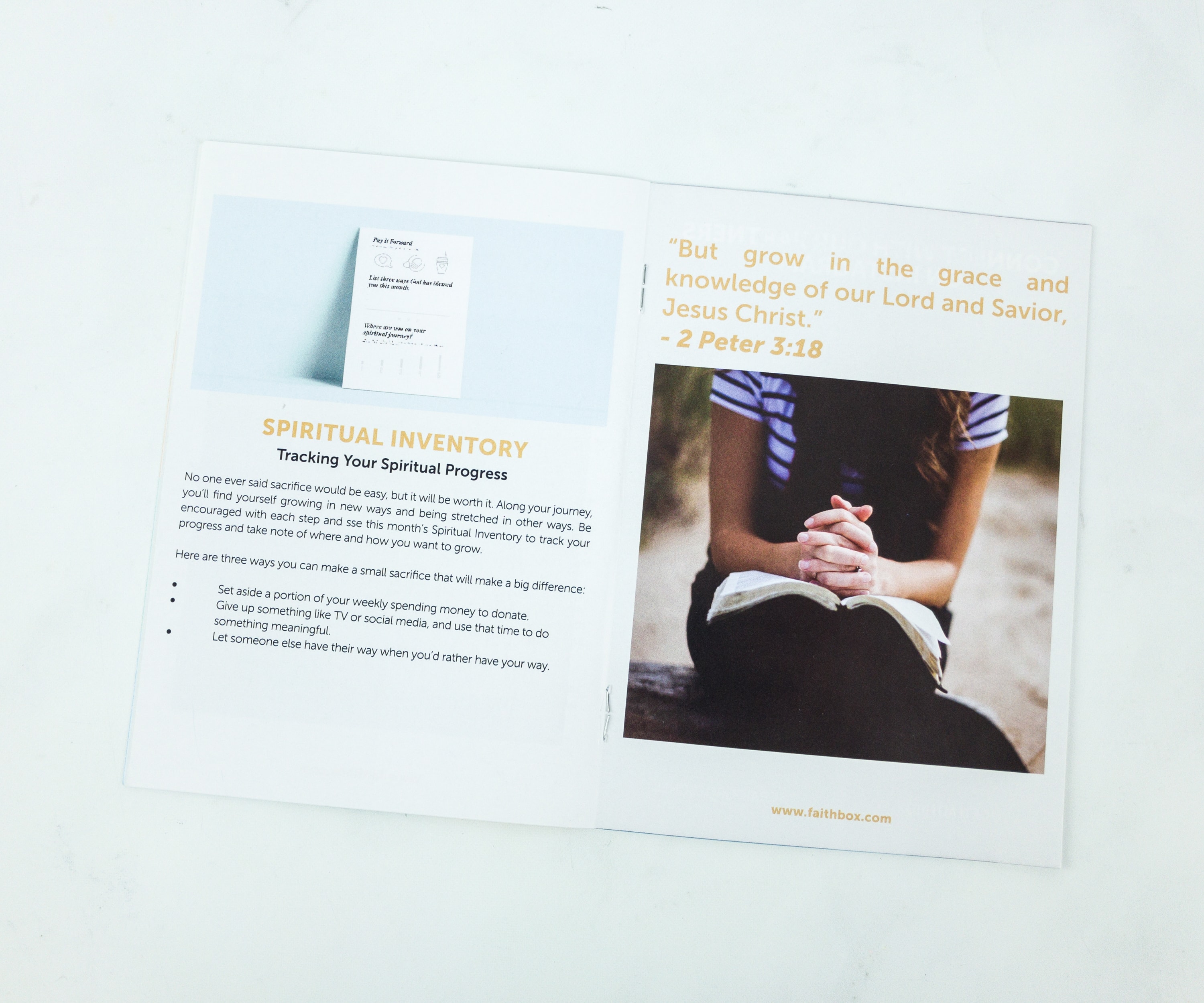 Tracking Your Spiritual Progress Spiritual Inventory. It's a tracking chart, which makes it easy for you to reflect on your spiritual journey by writing.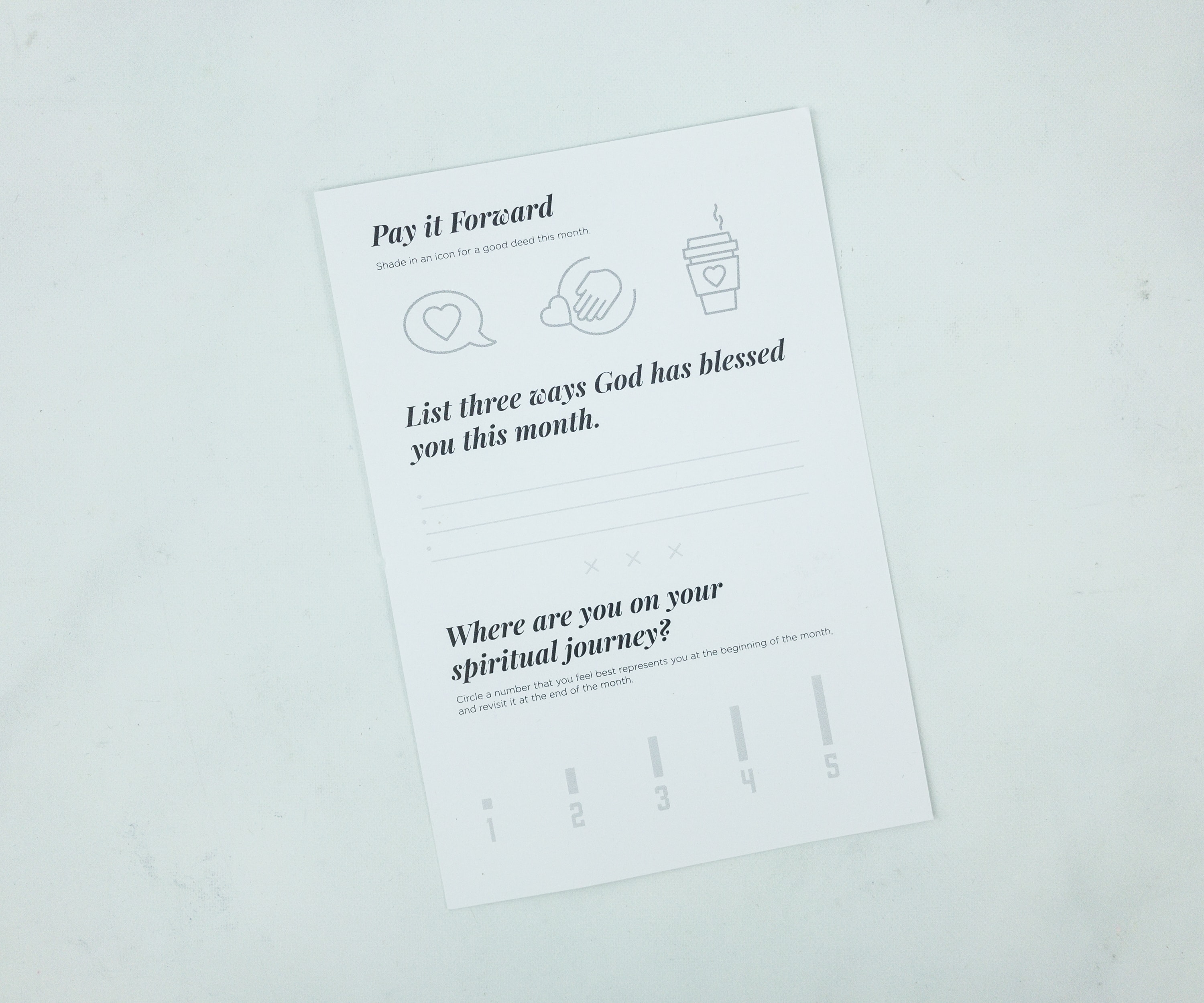 For this one, you can list three ways God has blessed you this month.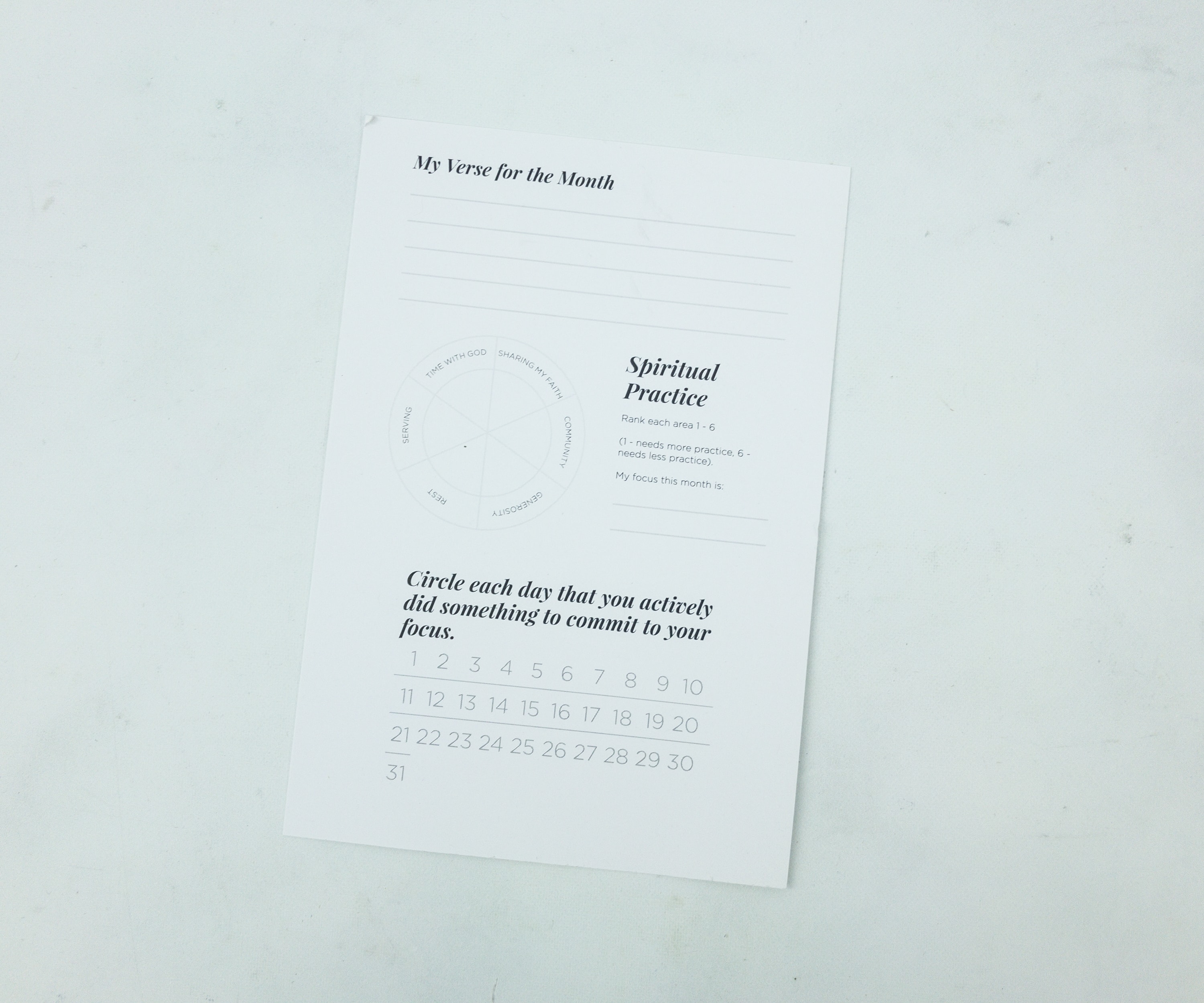 You can also write down the verse that inspired you the whole month, and track your Spiritual practice and committing your focus.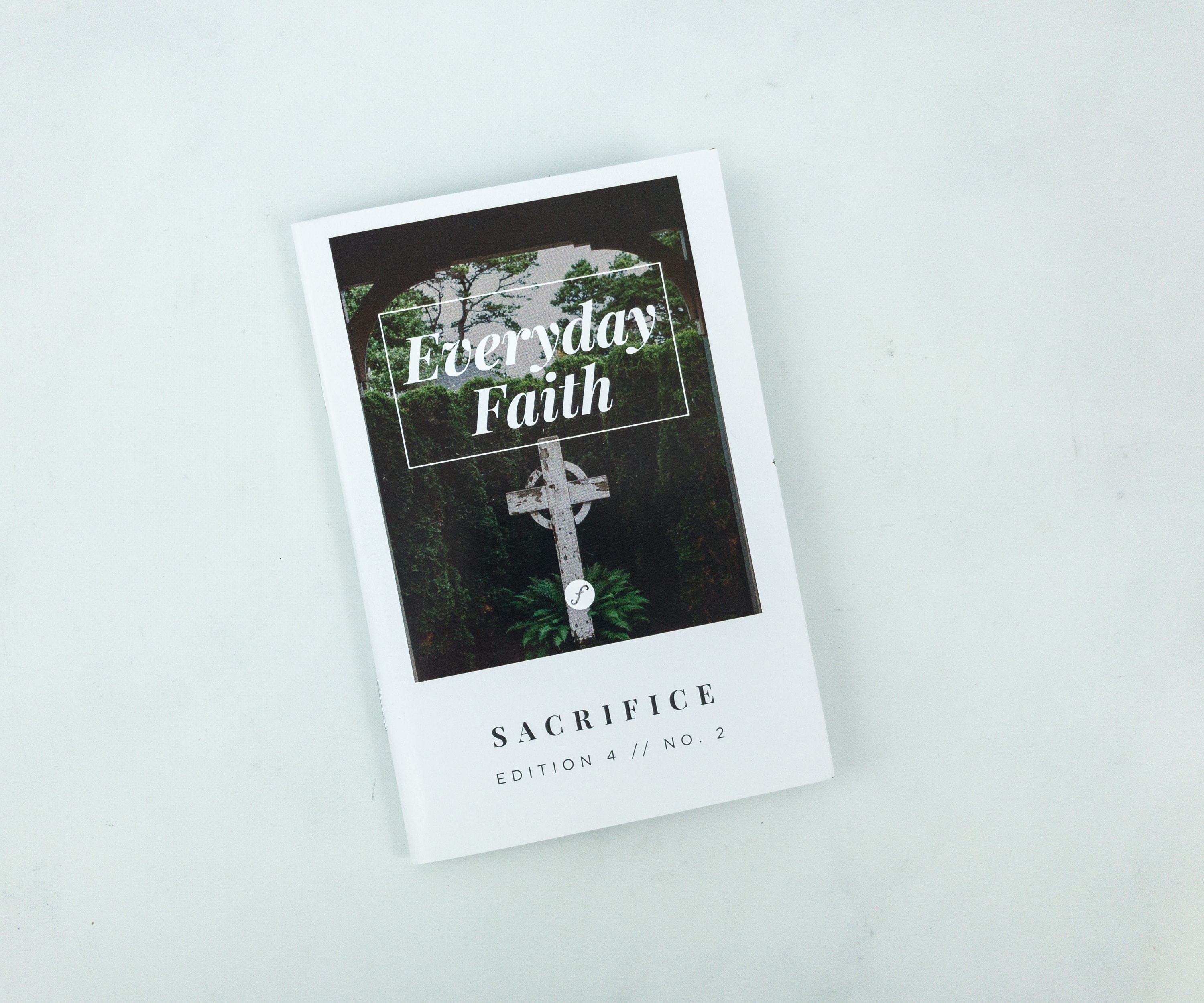 Everyday Faith: Sacrifice Edition 4 / No. 2. The Everyday Faith booklet's theme is always in line with the whole box's theme. For this month, it is all about sacrifice.

It is a great little booklet with thought-provoking verses, quotes, and passages, enough for 31 days.

Everyday, you'll get to learn more about the theme.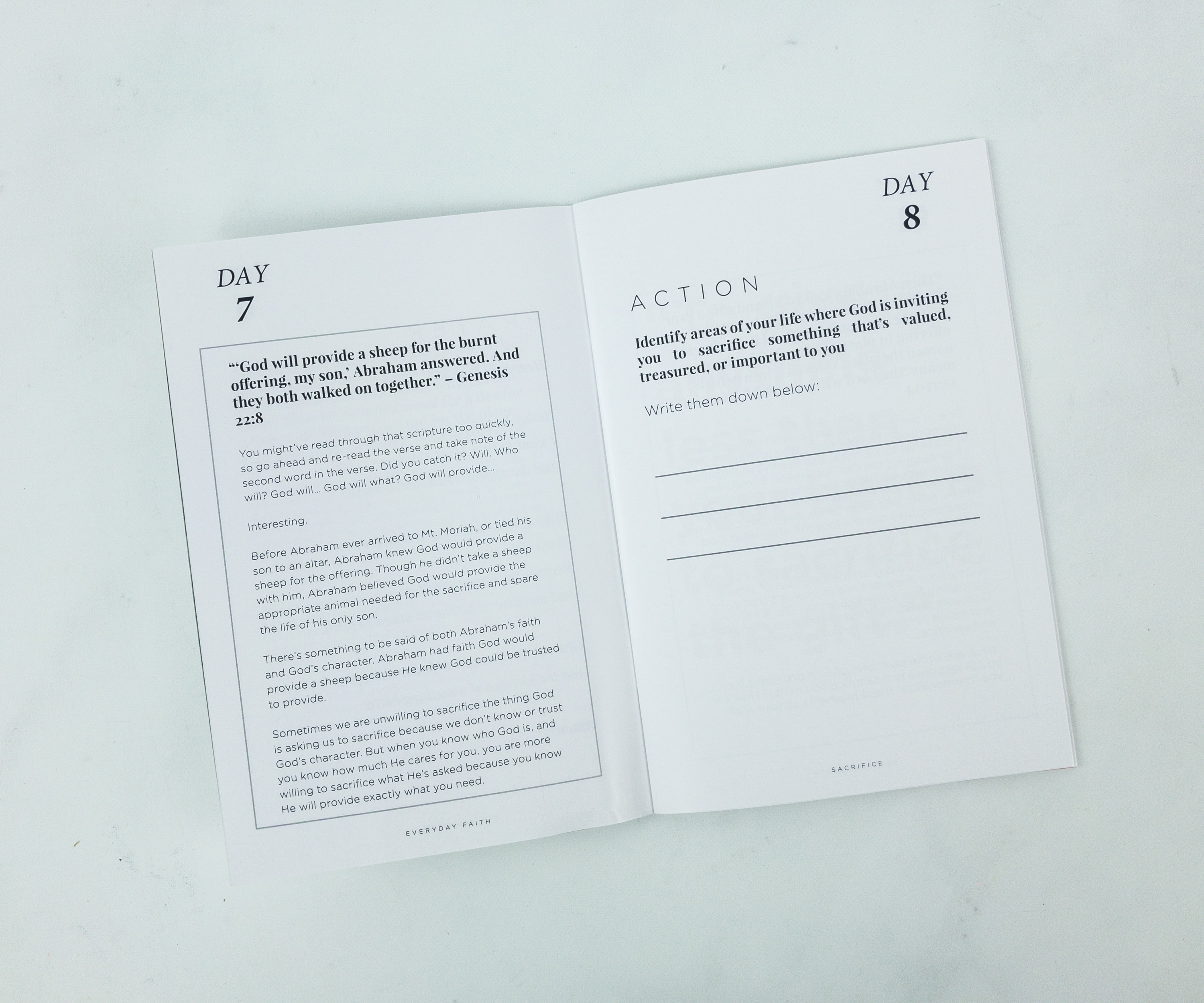 You can also list down your actions on specific dates, that way you can track your progress on understanding the month's theme more.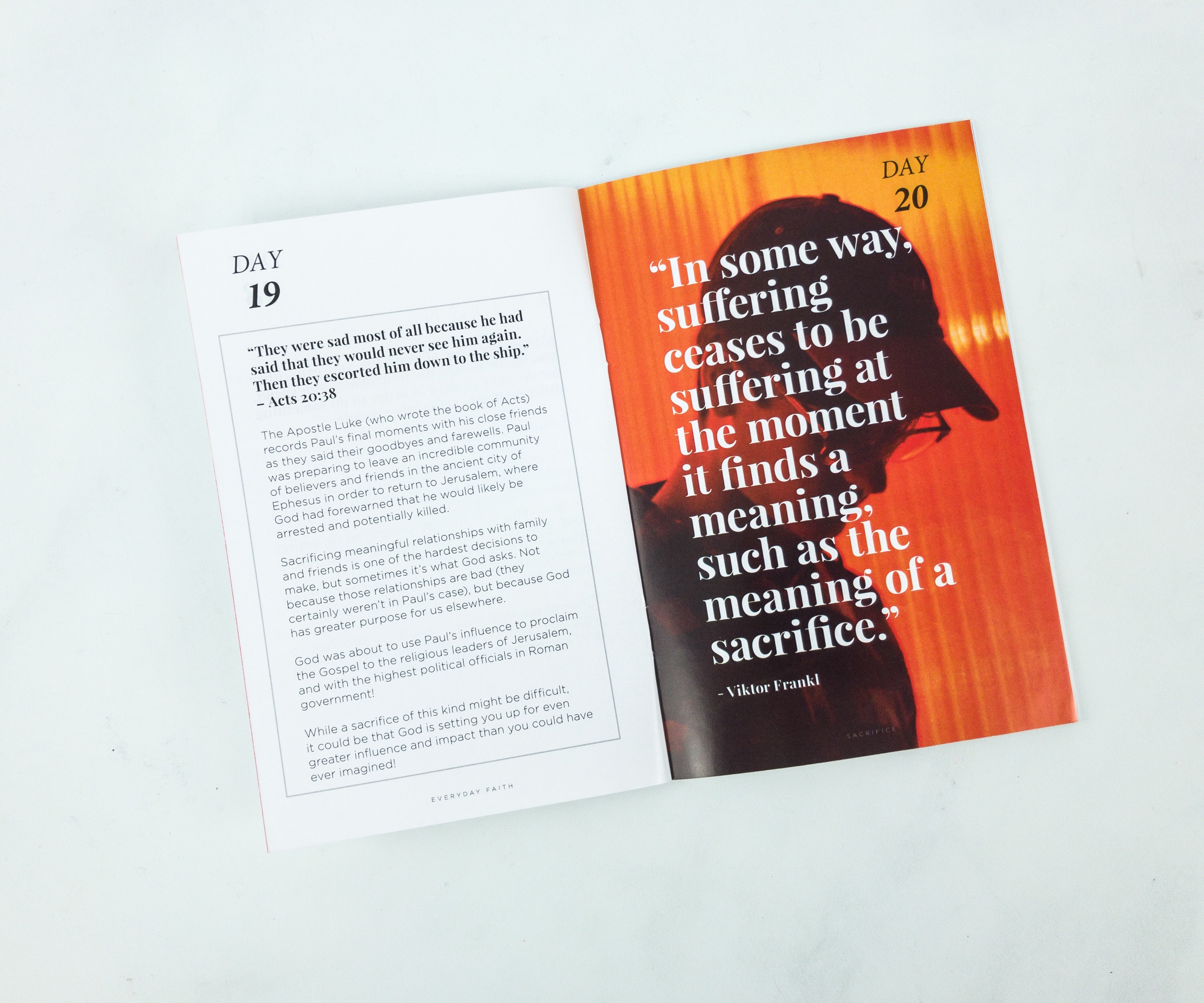 I really love the verses and quotes that the booklet includes.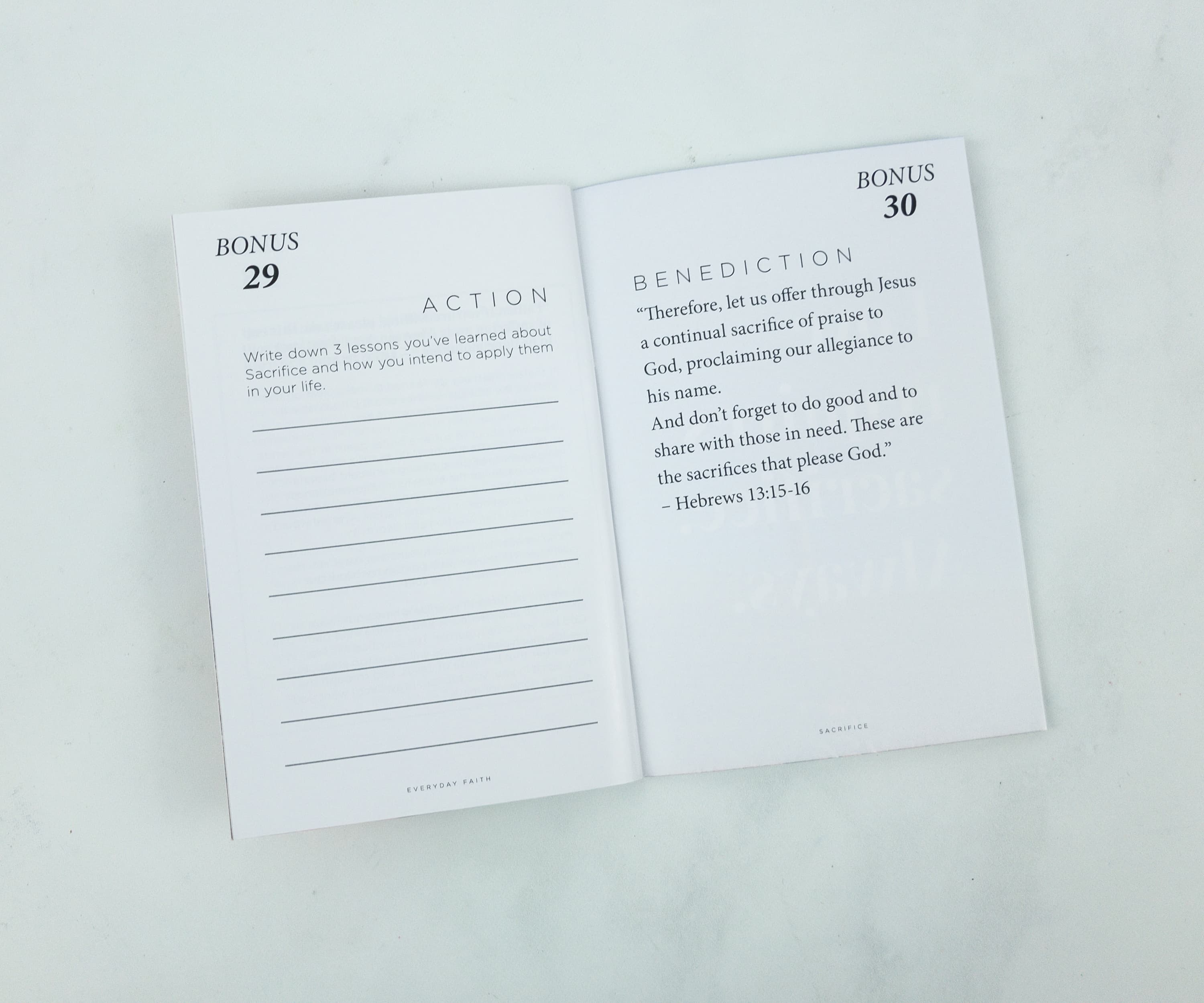 The last days of the month serve as bonuses as well. And the 30th day even came with a Benediction.
FaithBox definitely helps us develop our Christian values, and make us understand not only other people but even ourselves too. This month's theme is really a great thing, as sacrificing is really a noble deed. God will never let our sacrifices go in vain, and just keep our faith that everything will pay off in the end and that the reward is greater than our sacrifices.
What do you think of this month's box?
Visit Faithbox to subscribe or find out more!