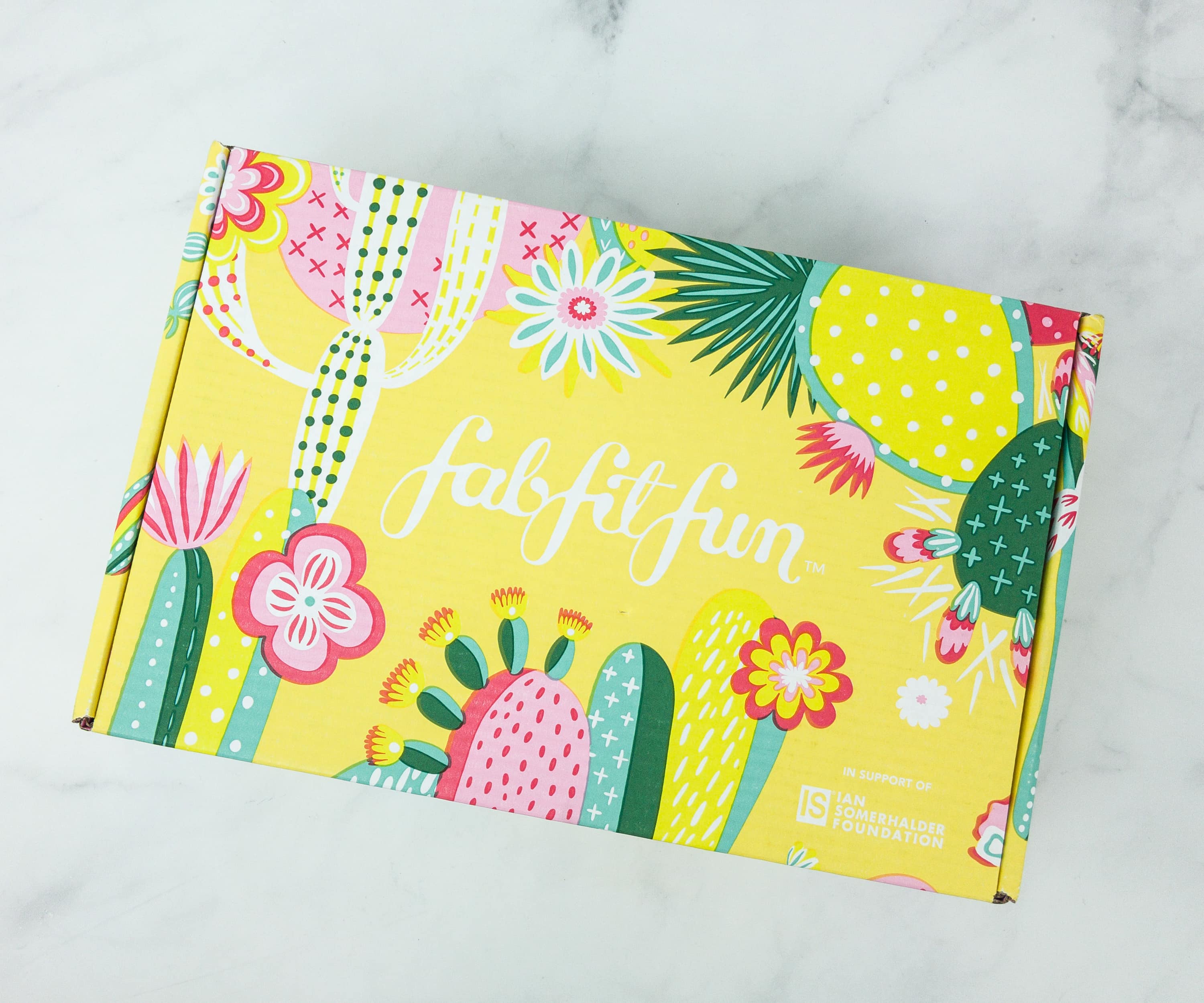 FabFitFun Box is a quarterly women's subscription box that promises fabulous beauty, fashion, and fitness items every quarter.
This box is currently still available!
DEAL: New members can save $10 with coupon code FAB10!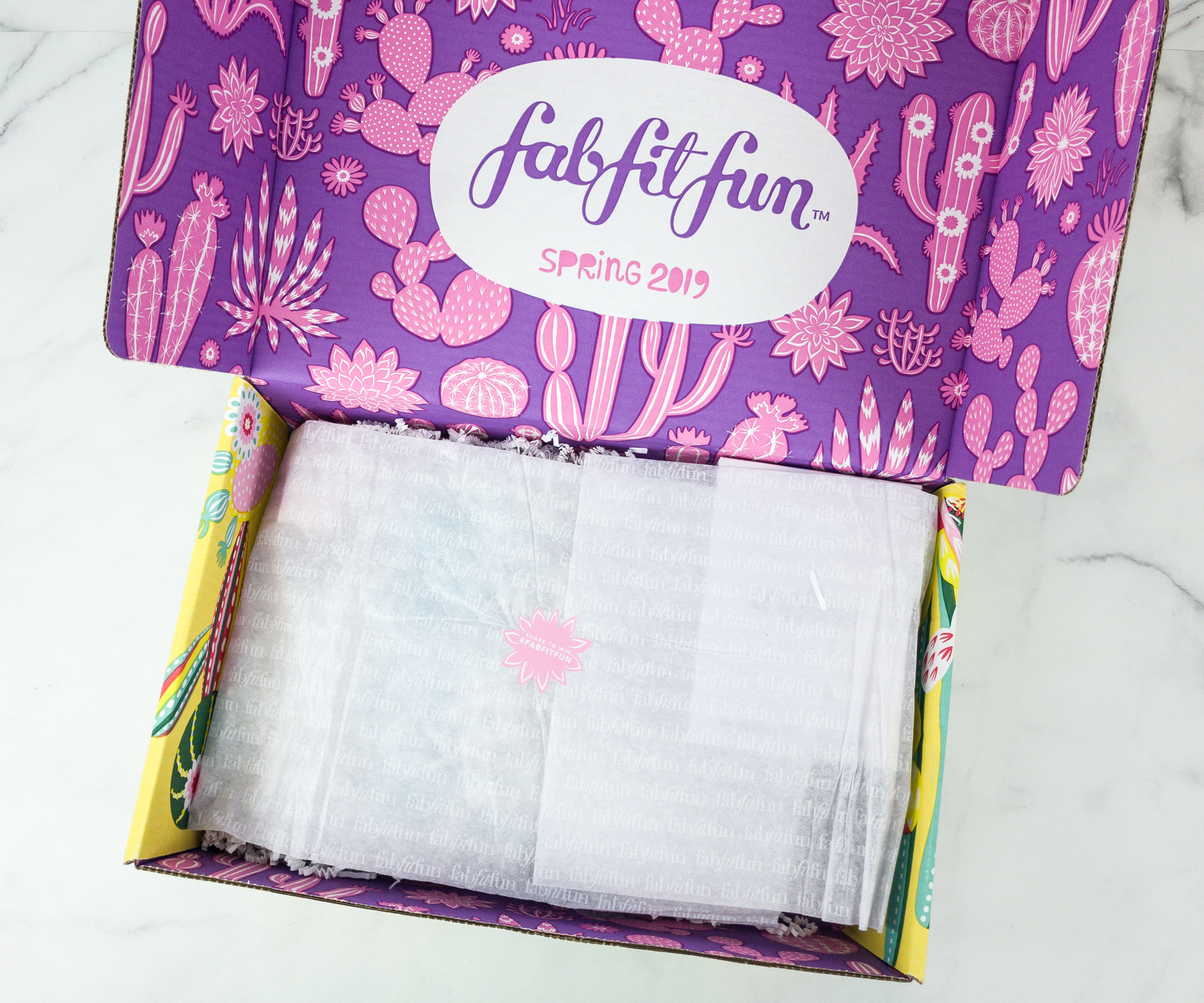 The outside box has a fun and pretty design – they're different every quarter!
This box is packed full of goodies, as it is every season.
A large format mini-magazine comes in the box.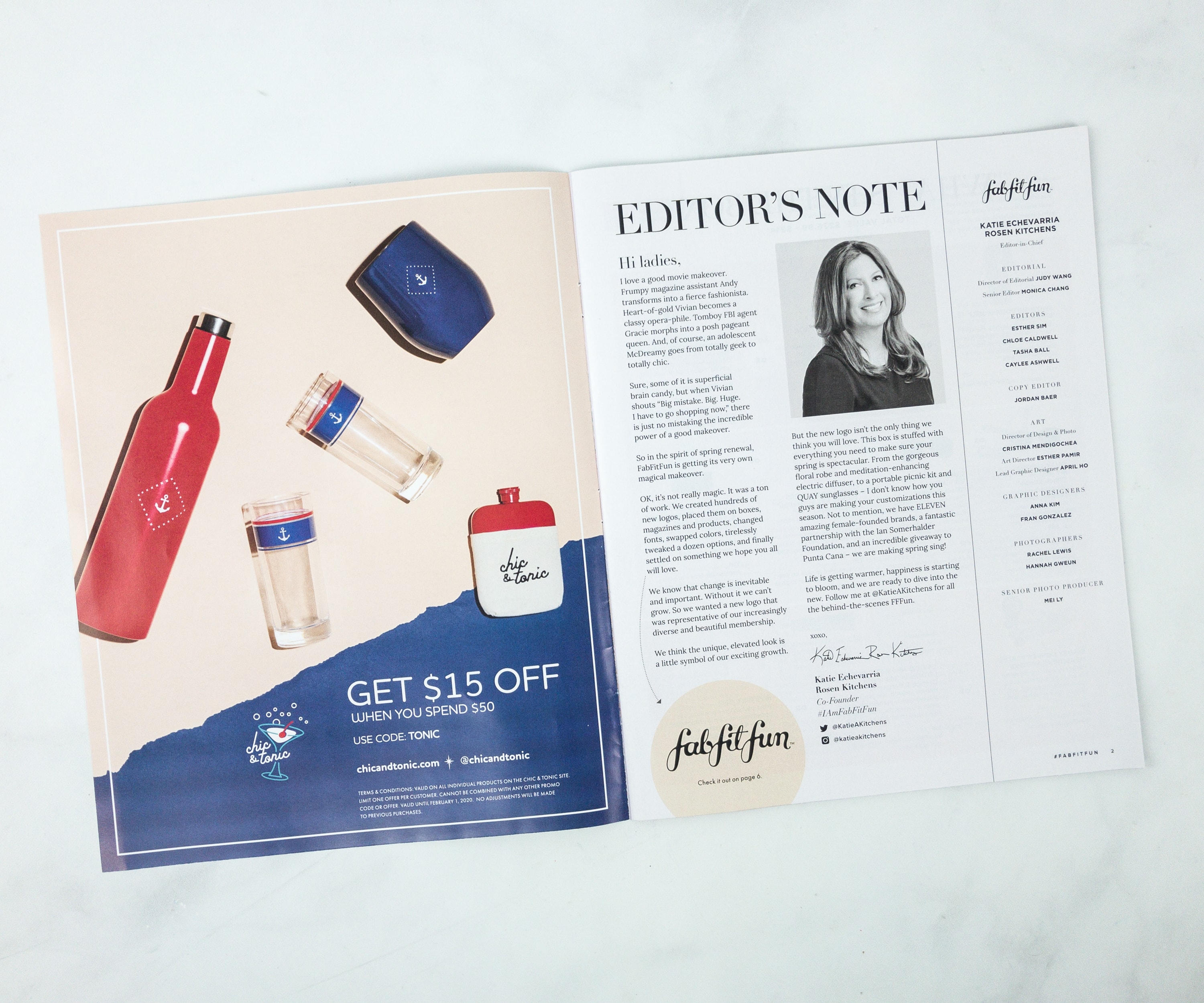 There's a full page of notes from the editor.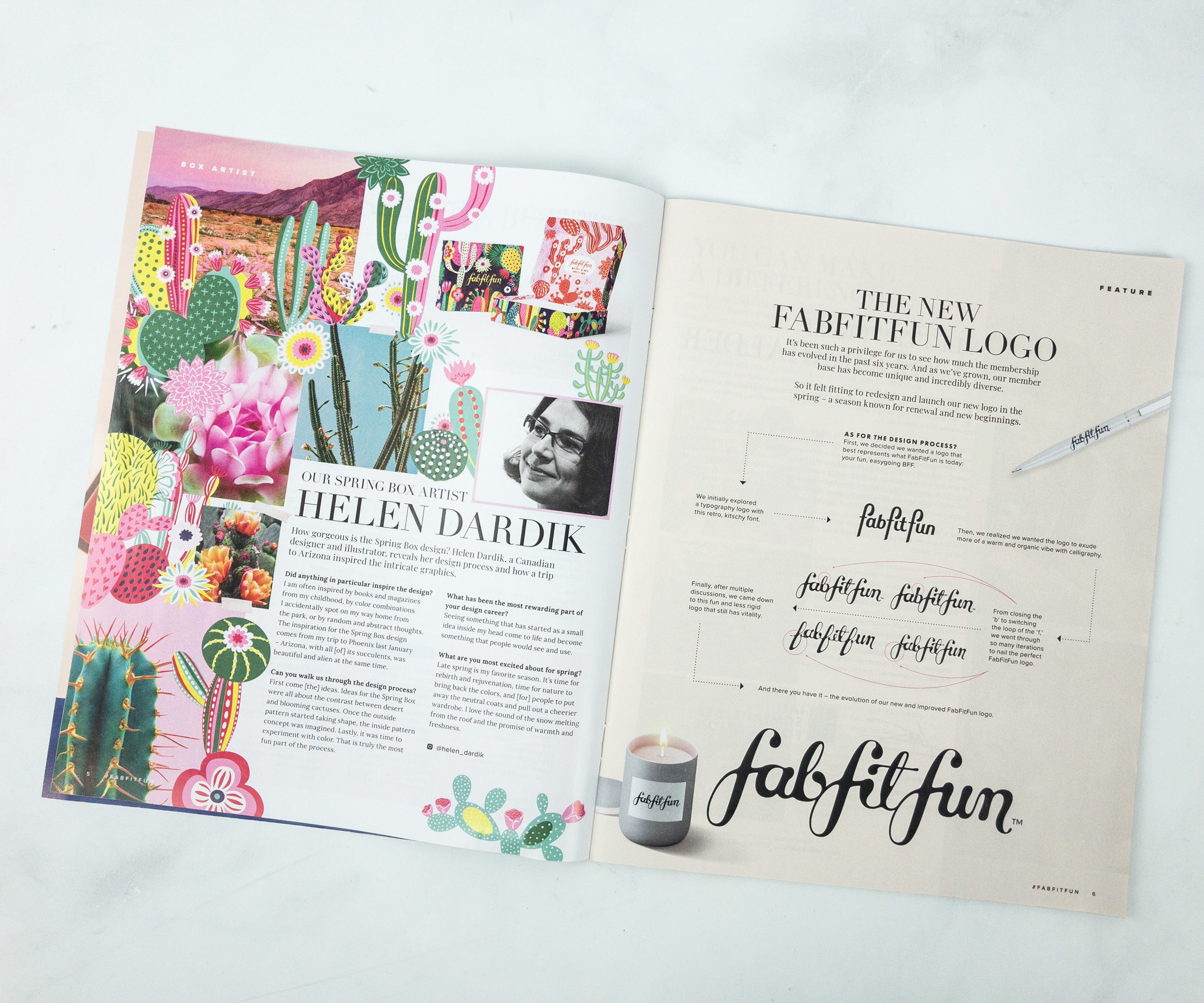 The magazine provides all the details on the products, plus fun lifestyle articles too!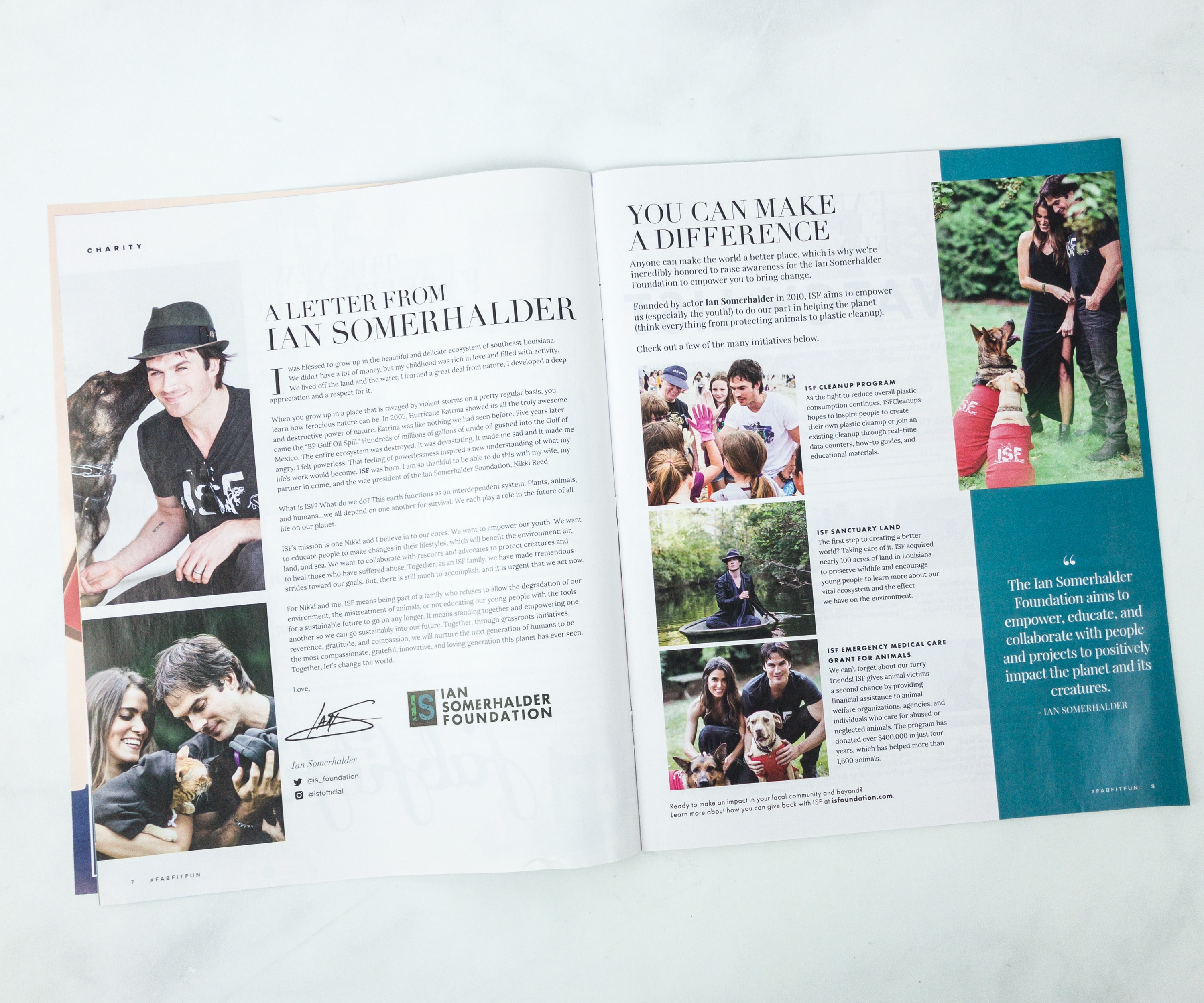 There's a letter from Ian Somerhalder, an American actor and the founder of the Ian Somerhalder Foundation.
Planning a picnic? Here are some tips to have a picture perfect one, plus delicious recipes!
There's a guide for Spring fashion!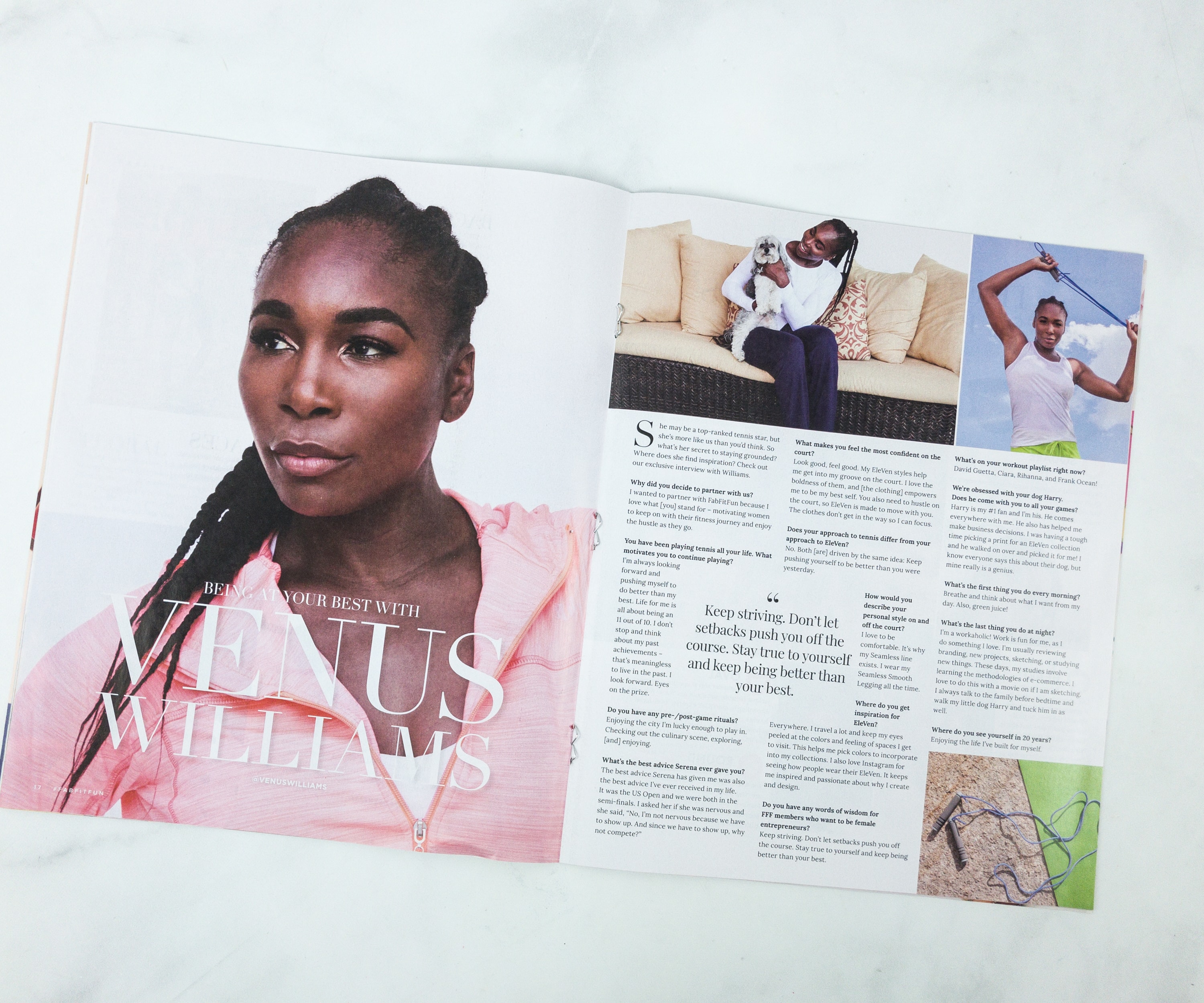 The magazine even has a feature on Venus Williams!
Another feature contains travel tips and beauty tips involving some of the items in the box.
Variations of these can be in your box but not all of them. A full page gives details on every item in the box.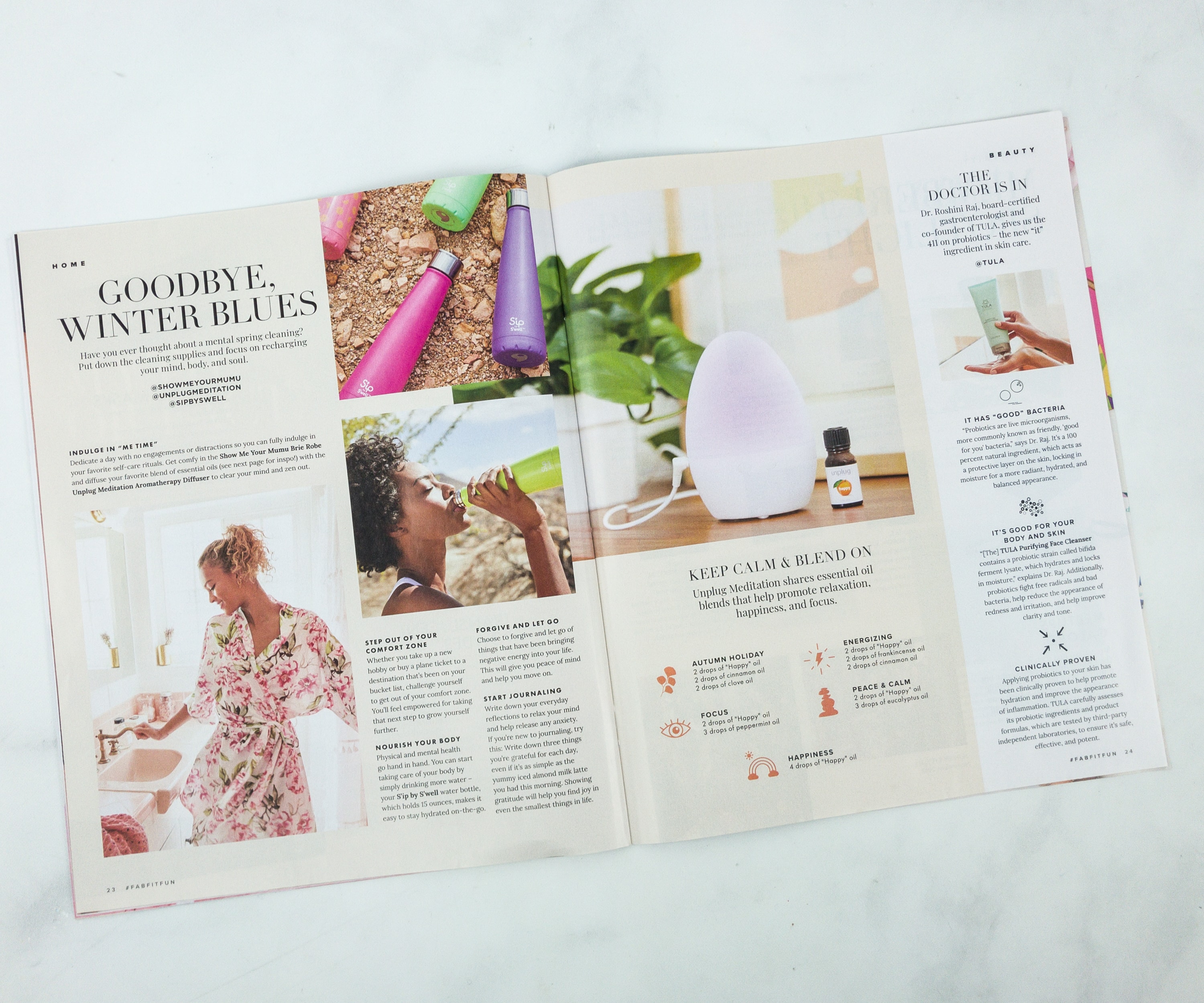 More tips to bid goodbye to Winter blues!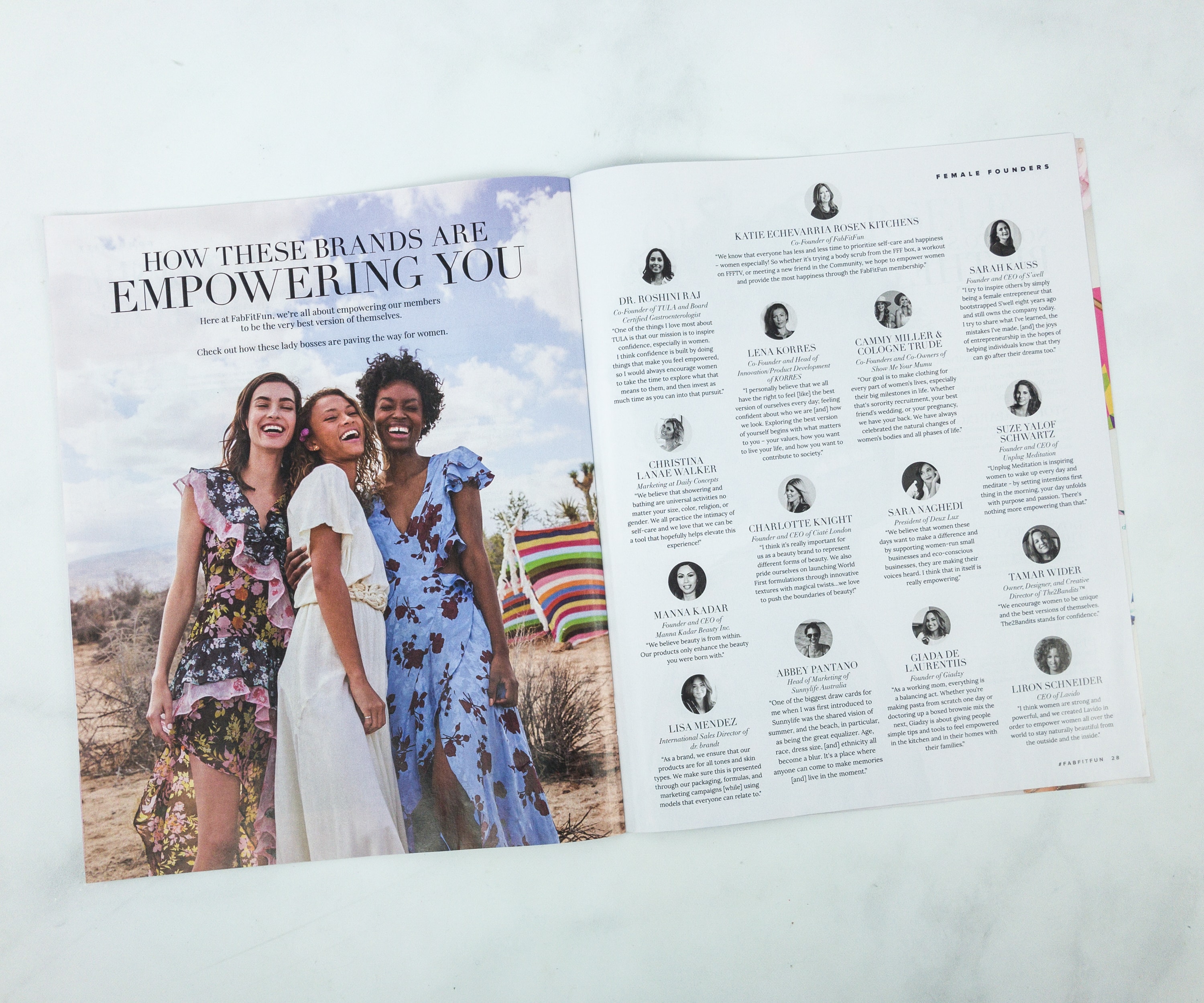 They also included an article on how the included brands this Spring are empowering women all around the world!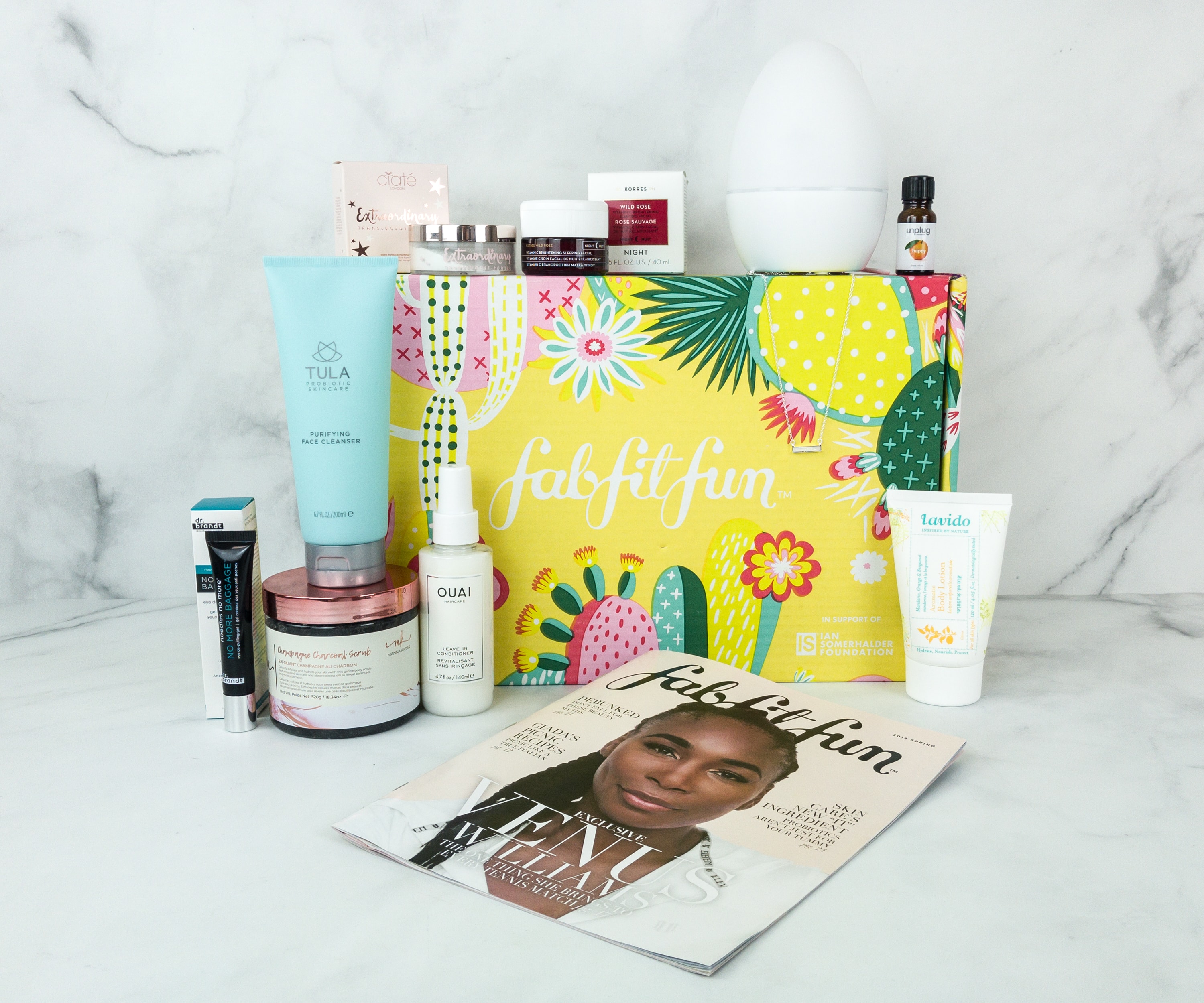 Everything in the FabFitFun VIP Box for Spring 2019! There are lots item variations that are detailed below.
I have an annual subscription so I was able to make a few extra choices.
EVERYONE GETS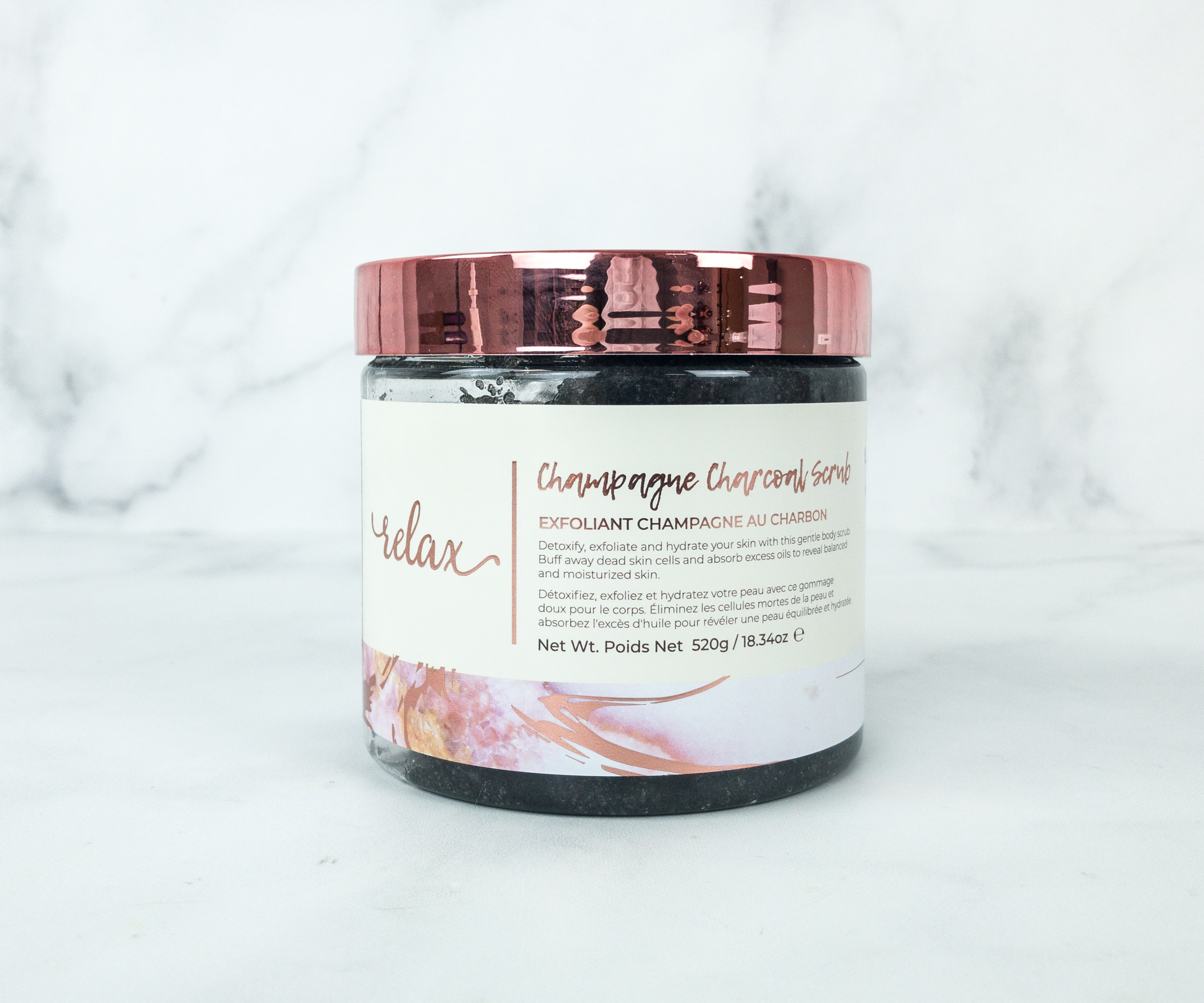 Manna Kadar Champagne Body Scrub ($24) This gentle body scrub contains charcoal and Dead Sea minerals that help remove dirt, dead skin cells, and build up, making the skin looks polished, refreshed, restored, and hydrated.
It's really easy to use as you just need to apply the product evenly onto the body while gently massaging the skin, then rinse with water. I love the feeling after using this scrub, as my skin's so soft like a baby's and really moisturized too! It doesn't have a particularly strong scent, but it's pleasant, and there's a LOT of it!

Dr. Brandt Skincare Needles No More NO MORE BAGGAGE Eye De-Puffing Gel ($42) Not getting enough sleep leaves my eyes with bags which doesn't look nice. When my eye area looks swollen, I need a product and formula that will work to reduce puffiness so I am happy to get this eye de-puffing gel. It provides a tightening effect as it smooths the under-eye contour, and through this action, the appearance of my eye bags and dark circles are dramatically reduced. I like how it makes my eye area look brighter, so my whole face looks refreshed and well-rested. This is worth almost the cost of the entire box, win!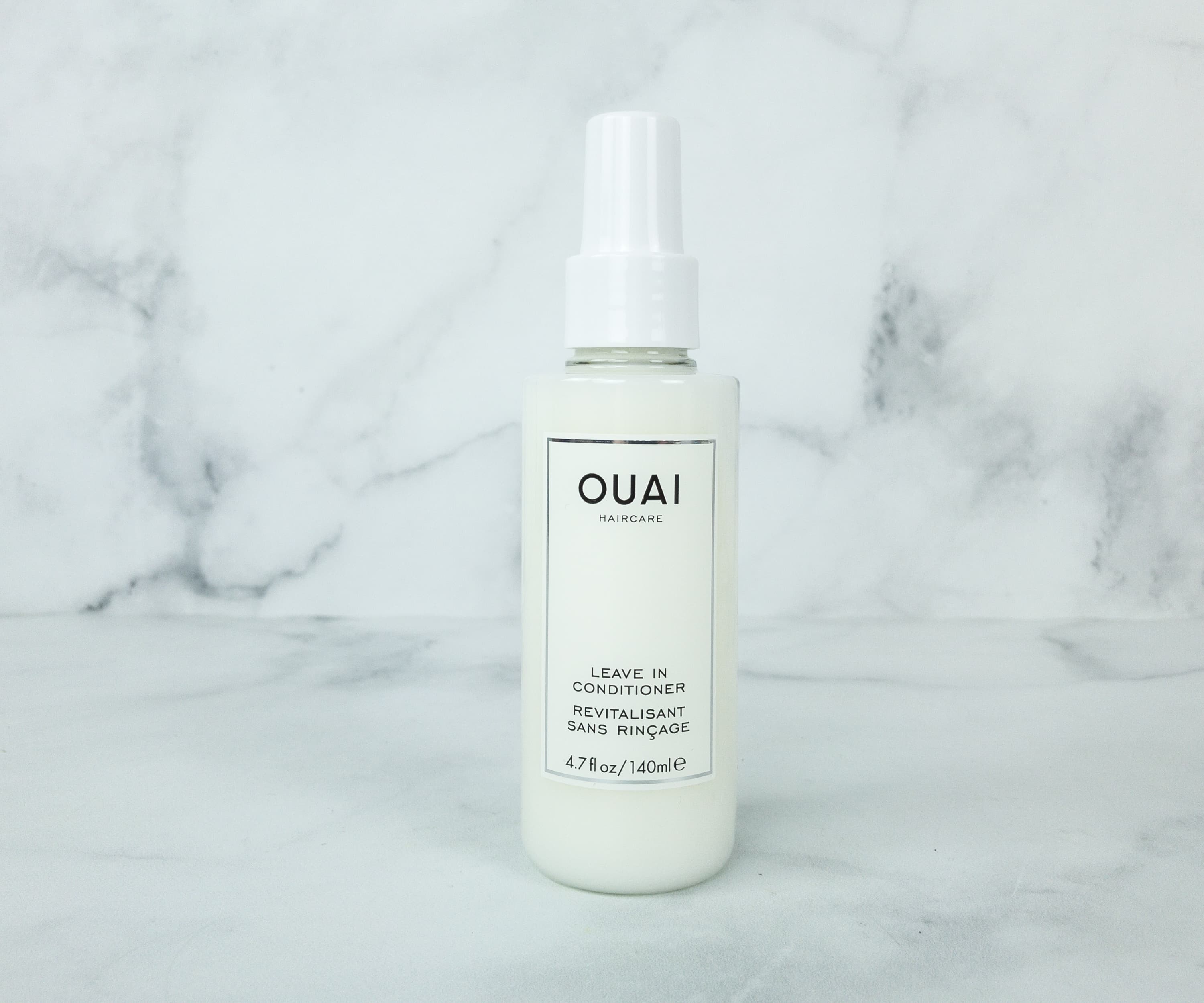 Ouai Leave-In Conditioner ($26) Stubborn and hard to manage hair is another pet-peeve! This Ouai Leave-In conditioner is meant to address that, as it is a multi-tasking hair mist that reduces frizz and flyaway. It leaves my hair smooth and silky. It also has thermal protection and detangles my hair making it easier to comb, manage, and style. The floral fragrance has notes of bergamot, Italian lemon, rose de Mai, violet, and white musk. I love all Ouai, so I thought this was winning, too.
CHOICE ITEMS
Subscribers will get to choose between:
Giadzy Copper Plated Measuring Spoons ($15)
Lavido Aromatic Body Lotion in Mandarin, Orange & Bergamot ($19)
A mystery choice!
I picked:

Lavido Aromatic Body Lotion in Mandarin, Orange & Bergamot ($19) The first thing I noticed about this body lotion is that it smells really good which is almost heavenly. The winter has left my skin feeling dry and rough, so this product came right on time. It's rich yet lightweight, and the skin easily absorbs it, leaving my skin soft, smooth, and beautiful! The formula works for all skin types, and also, it contains organic essential oils that also help restore and moisturizes the skin.
Subscribers will get to choose between:
I chose:

KORRES Wild Rose Vitamin C Brightening Sleeping Facial ($48) To help improve the appearance of my skin overnight, I chose this sleeping facial that addresses dull and uneven skin tone. It also brightens my skin and helps improve its elasticity.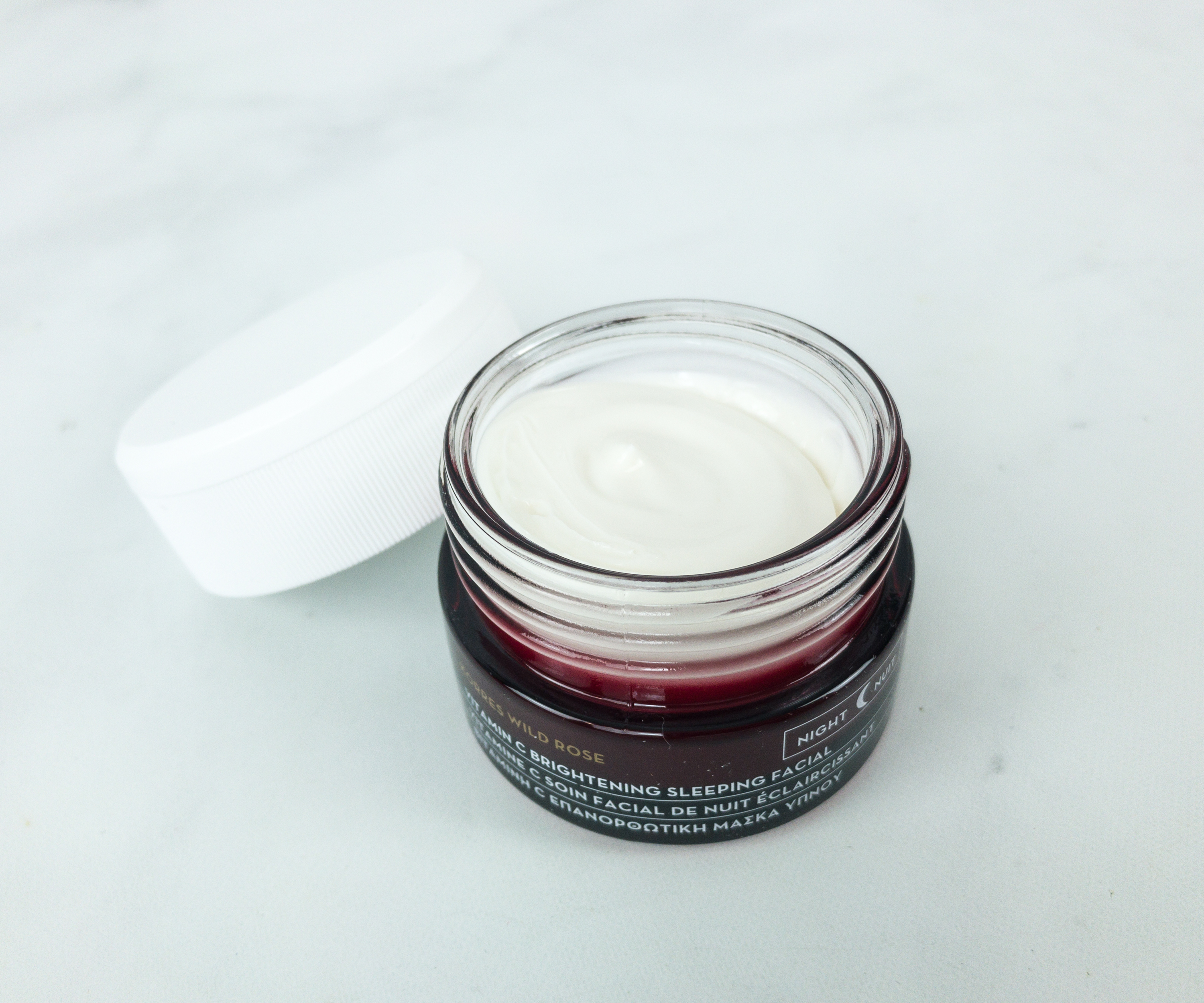 The formula contains wild rose oil and vitamin C, turmeric extract, and hyaluronic acid that makes skin soft, smooth, and radiant overnight. It also helps the skin with wrinkles and early signs of aging, making the skin look youthful and glowing! You just put it on before bed after your regular routine for super hydrating power!
Subscribers will get to choose between:
I picked: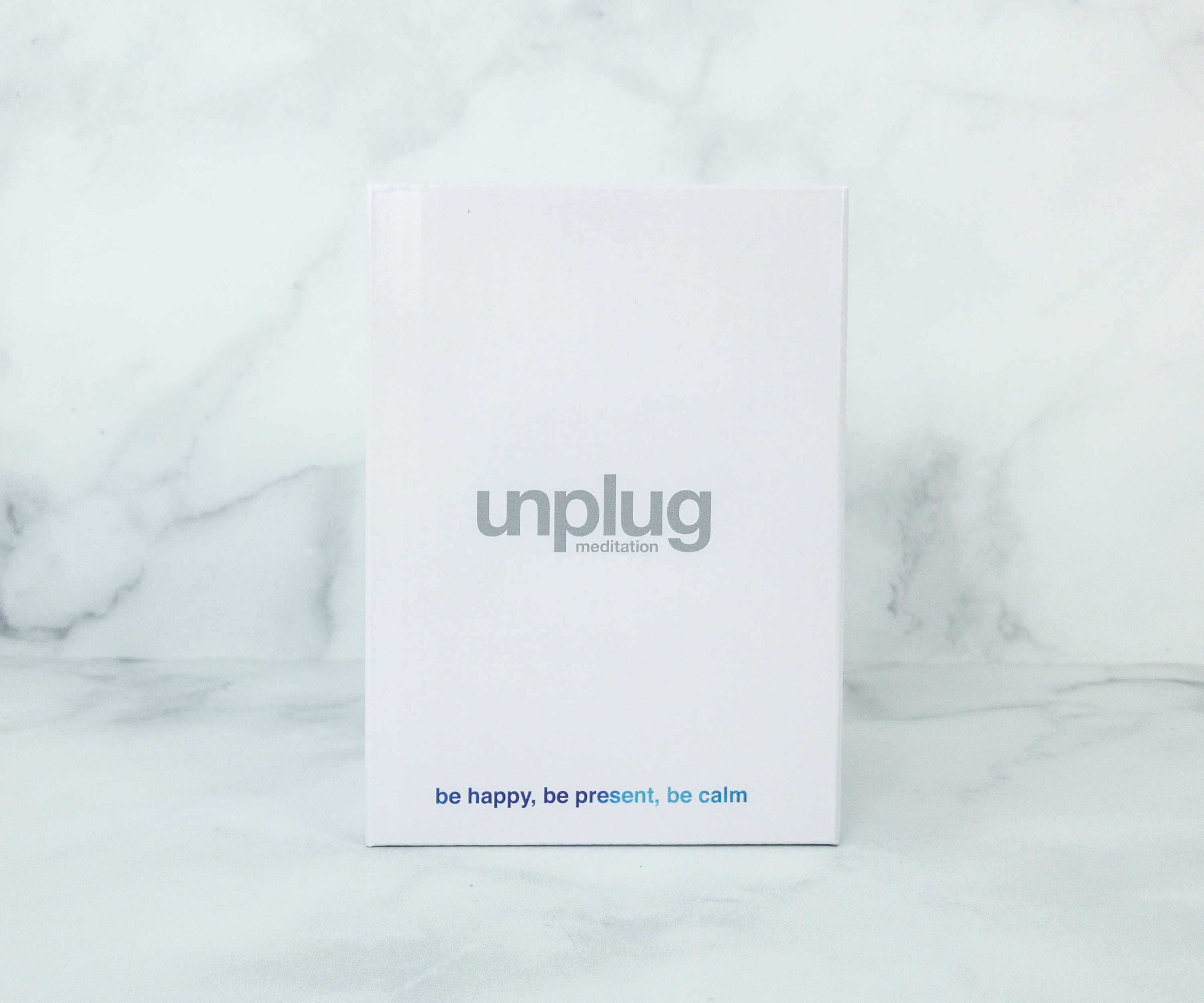 Unplug Meditation Multicolor Diffuser ($55) Meditation does you a lot of good like increased happiness and reduced stress. And doing this exercise is great with an added companion, none other than a good oil diffuser!
Aside from meditation classes and books, Unplug also offers a beautiful slim oil diffuser that changes its color when used.

It also came with a USB plug so you can just plug it to your PC or a USB wall outlet to make it work.

It also came with a Happy Orange essential oil. I used it and the room smells citrusy delicious, and the atmosphere really feels refreshing.
We placed it inside my room and turned it on for the night. The room does not just smell good but it's really relaxing in there too. Also, I love the transitioning light colors, I turned off my lamp and just used this one instead.
ITEMS WITH VARIATIONS (Annual Subscribers Choose Variations – Seasonal Subscribers No Choice, Random Item)
Annual Subscribers will get to choose between:
S'ip by S'well ($19.99)
Ciaté London Extraordinary Translucent Setting Powder ($22)
The2Bandits Athens Necklace ($30)
I picked the Ciaté London Extraordinary Translucent Setting Powder!
Ciaté London Extraordinary Translucent Setting Powder ($22) After doing my make-up, all I want for it is to set and last longer, and this setting powder does the job! My worry when wearing makeup is that after some time it will reveal some of my fine lines, so for a crease-free and flawless look, I used this powder over a good concealer.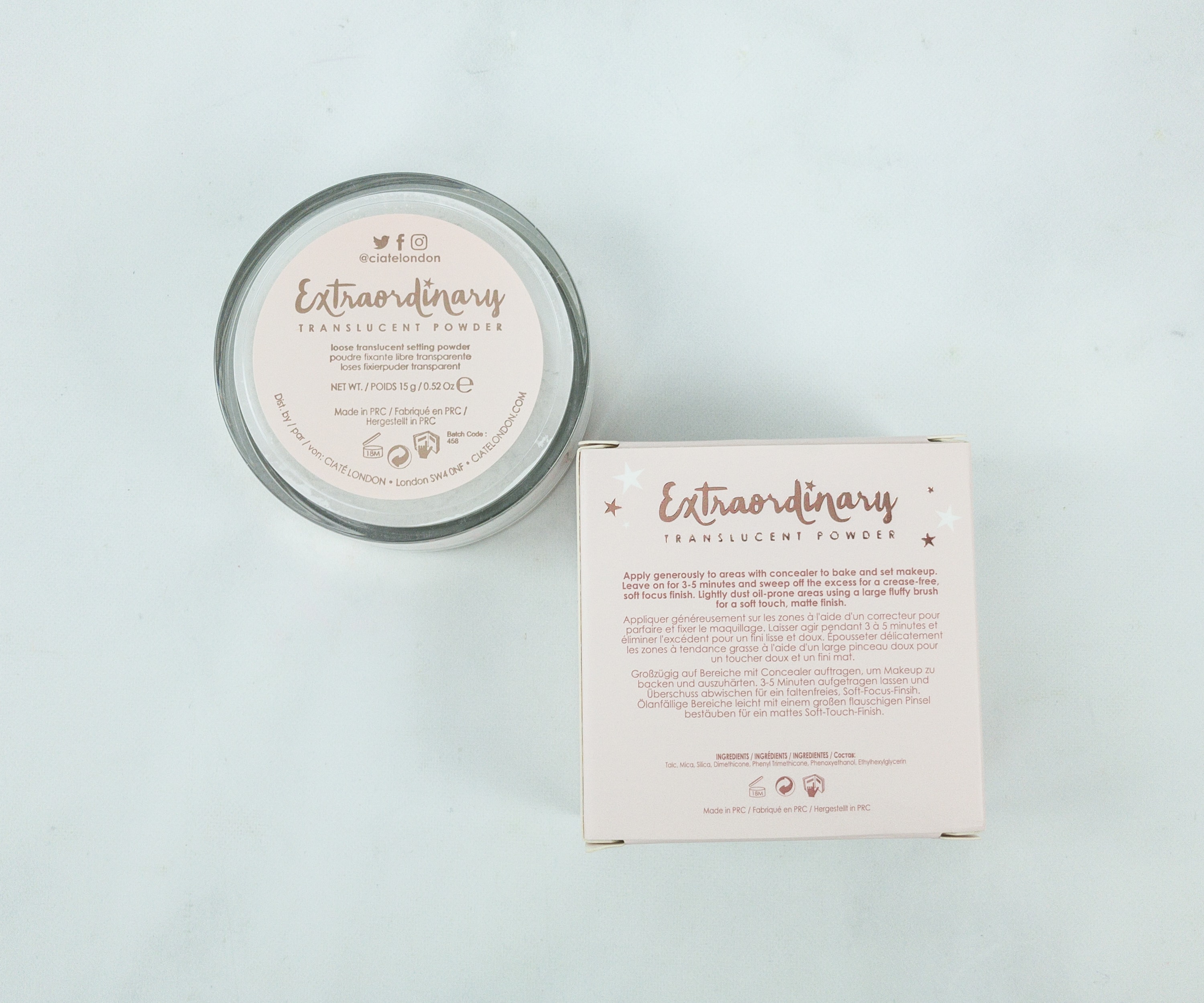 The box also tells you how to use the product effectively, if you just want to use it for a soft touch matte finish, or taking it a step further for baking and setting your makeup.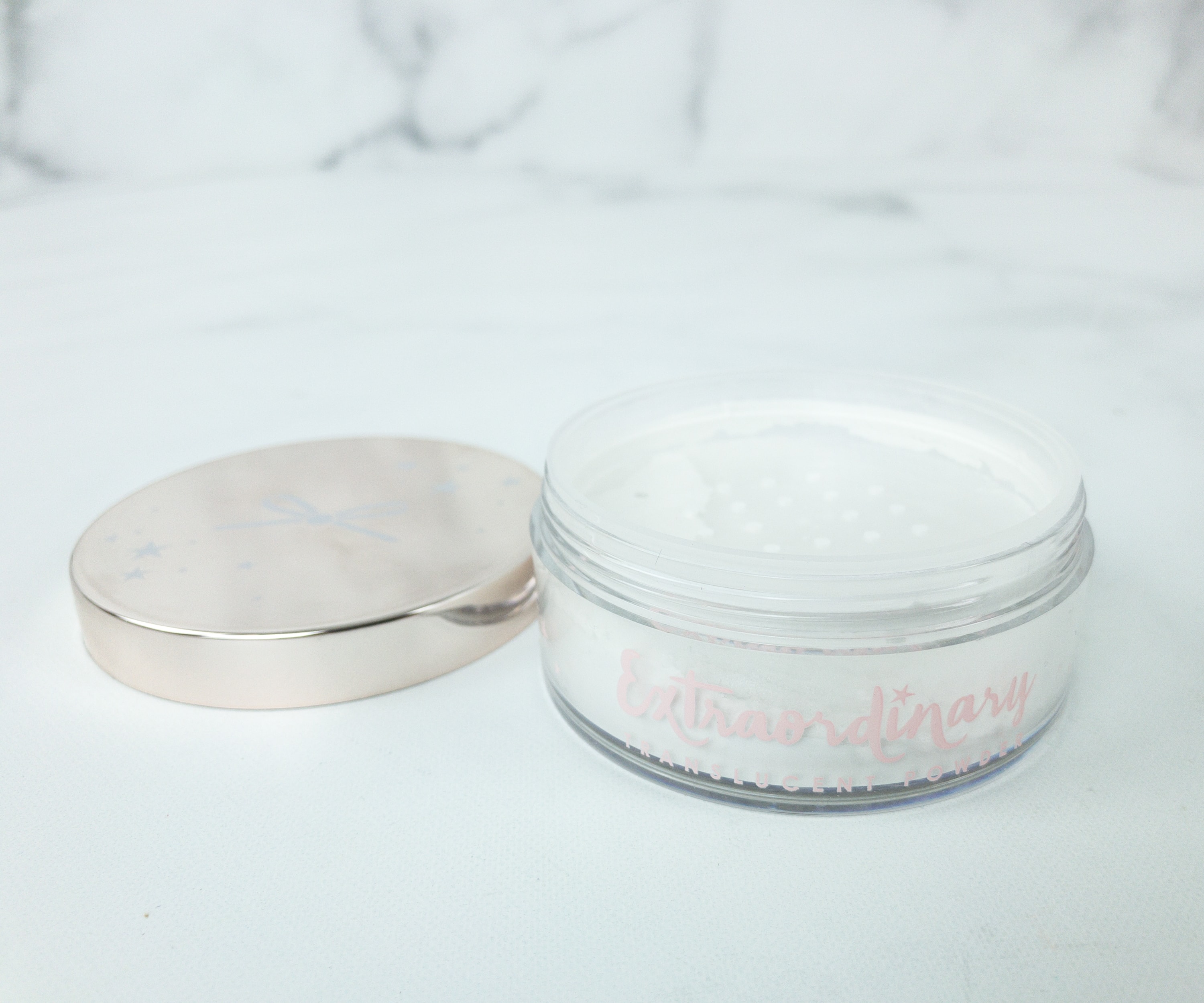 The product came in a loose powder mesh container, which helps control the amount of product that comes out and also avoid lumps overtime. The container is so chic too!

The 2Bandits Athens Necklace ($30) I also got this antique silver necklace for an additional $10. I love this FFF feature – I think it's really a steal to load up your box with extra $10 goodies!

The necklace's chain measures 18 inches.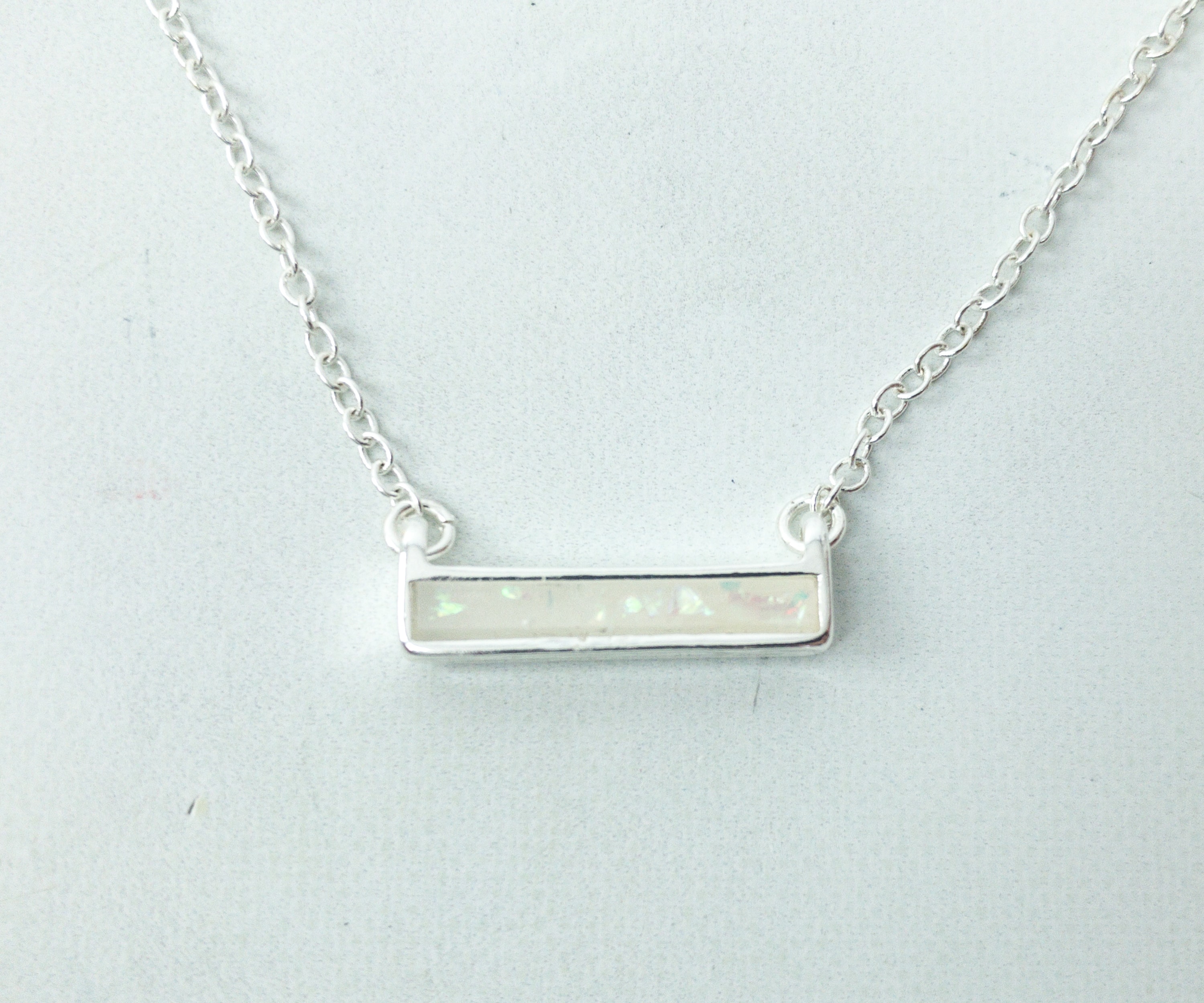 The charm is really special as it is an iridescent stone. The bar chain is shiny and it looks good with any top color I wear. I really like it and it's way more gorge in person!
Annual Subscribers will get to choose between:
TULA Purifying Face Cleanser ($28)
Daily Concepts Daily Detox Brush ($18)
EleVen by Venus Jump Rope ($15)
I chose the TULA Purifying Face Cleanser!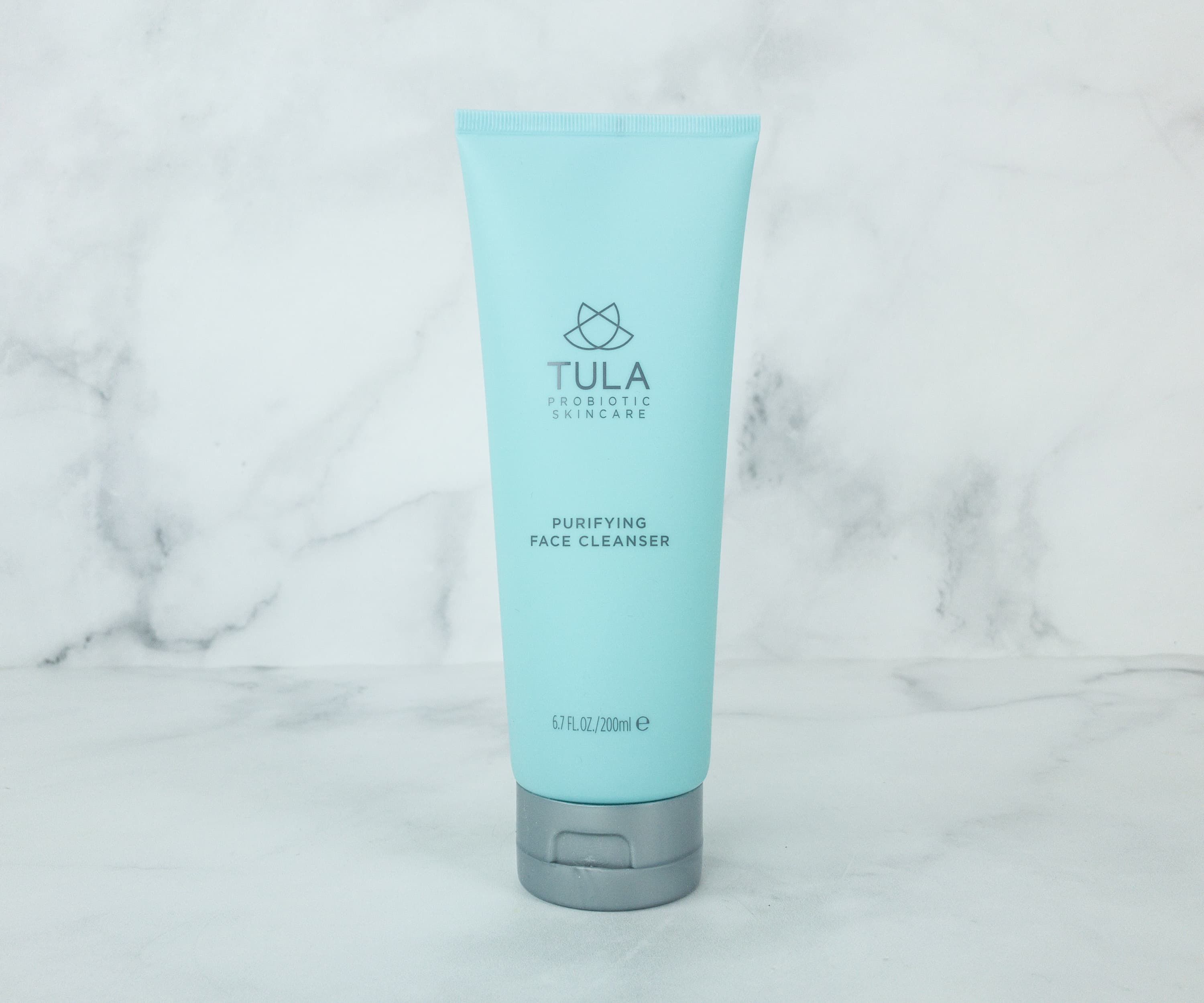 TULA Purifying Face Cleanser ($28) I chose this one as I really want to know how it will deal with my skin problems like aging, dryness, and most of all, firming. The cleanser is a probiotic gel that is actually soothing after use, as it goes deep into the pores and lifts up all the oil and dirt trapped inside. It also conditions the skin and keeps it hydrated and moisturized, I've no worries that it will over-strip or leave my skin dry after that thorough cleaning. This works for oily, dry, normal, combination, sensitive, and mature skin.
Also, the magazine contains some of the extra lifestyle feature and membership benefits pages. There's a watch list, that has selections of videos ranging from fitness to cooking!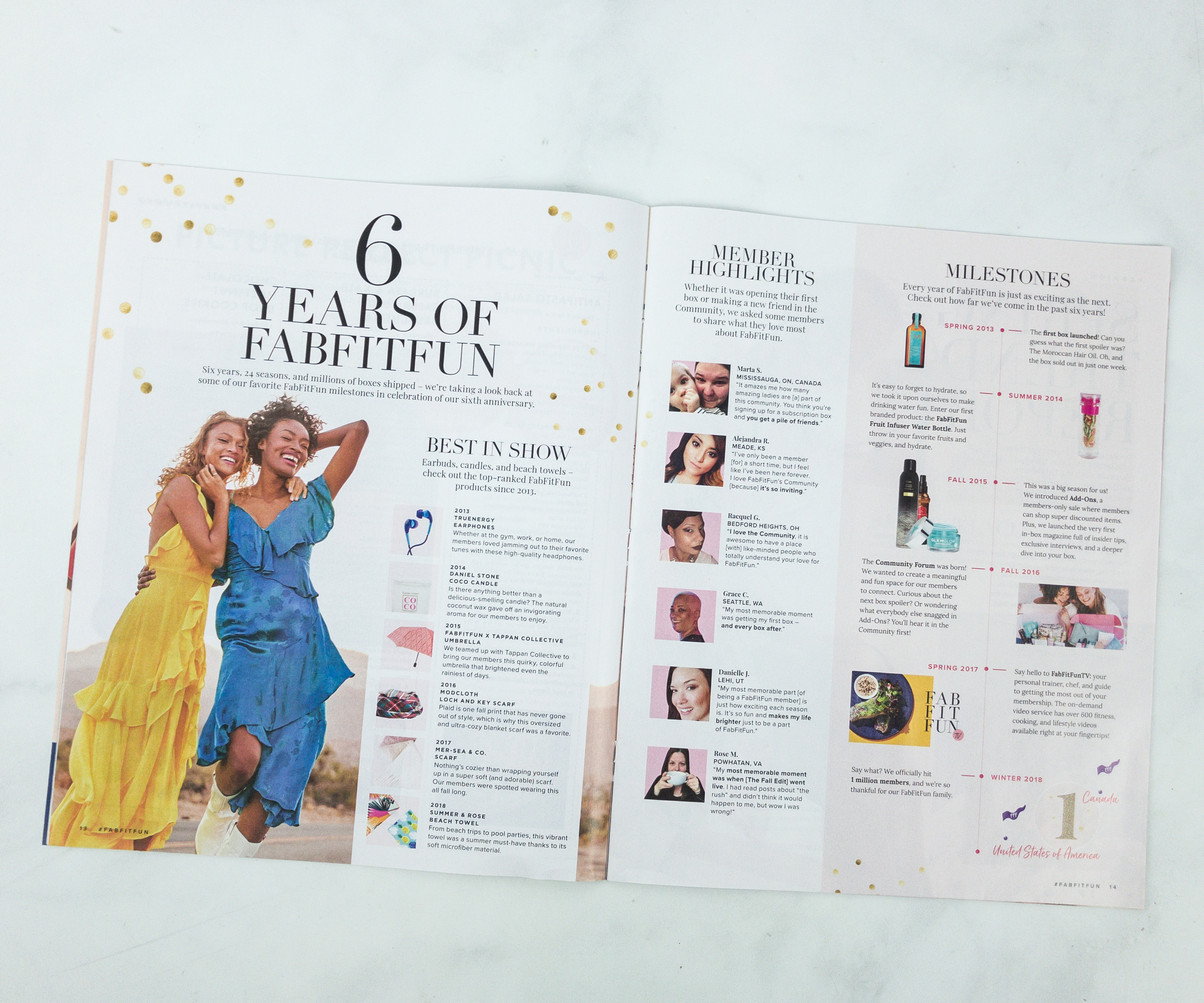 Some articles are really helpful, and you can get a lot from it that you can apply to your everyday activities and routines!

Be the best you! They also included a fun activity that you can do during your free time and ease your boredom!

There's a page dedicated for horoscopes, and some offers and perks for members!

It's actually a lovely read, and I always leave it on my magazine rack, so if friends come over, they can also experience this great mag from FabFitFun!
This box definitely made me feel special and a true VIP with all the inclusions this month. The items I chose this month are all fantastic, so are the items that everyone receives. My favorite is definitely the oil diffuser! It doesn't only look good displayed in my room, but really useful too, as I can use different oils and they will all work. The changing light colors are great too, I made it my night time lamp as well. The skin care products are great, like the gel cleanser and charcoal scrub. The eye de-puffing gel is another favorite, as I usually lack sleep and needs something to hide my puffy eyes! Everything is great and suits my profile, so I'm really happy with this season's box! The only bummer – I didn't know that all the "everyone receives" items would be beauty items, so my box was really beauty heavy this month and lacked a bit of a wow factor for other products. I'm hoping for a bit more product variety in future boxes!
What do you think of the Spring FabFitFun VIP Box?