Entreduce is a monthly lifestyle subscription box that introduces you to new and up and coming brands and products from entrepreneurs. The products are curated to a theme and will be from smaller brands that use cleaner, simpler ingredients. Entreduce is $39 a month but the price drops with longer terms, down to $35 a month for a 6-month subscription.
We want to introduce you to as many products and brands from new or up and coming entrepreneurs and startups.
DEAL
: Get 10% off your first box with coupon code 
FIRSTBOX
!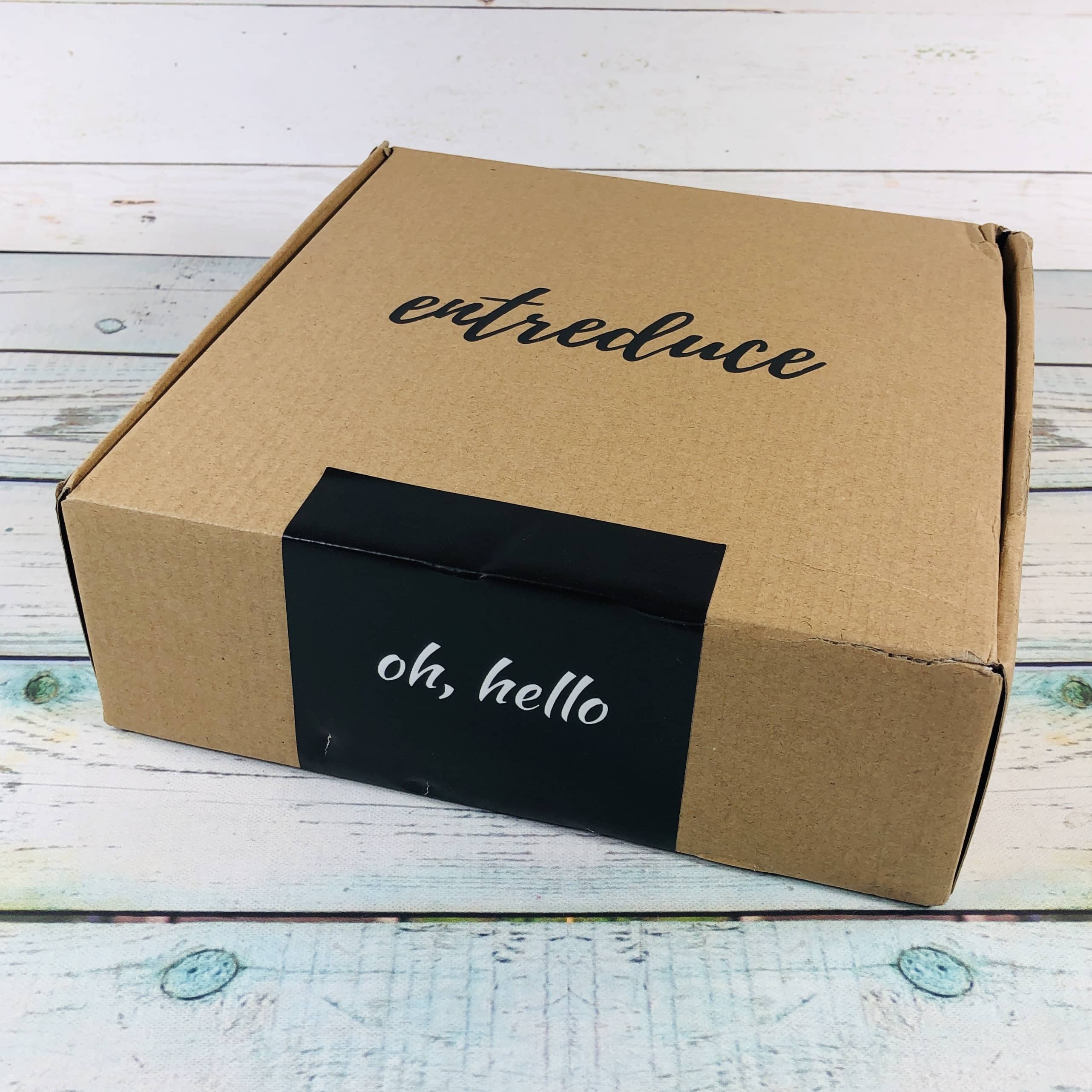 Oh, hello!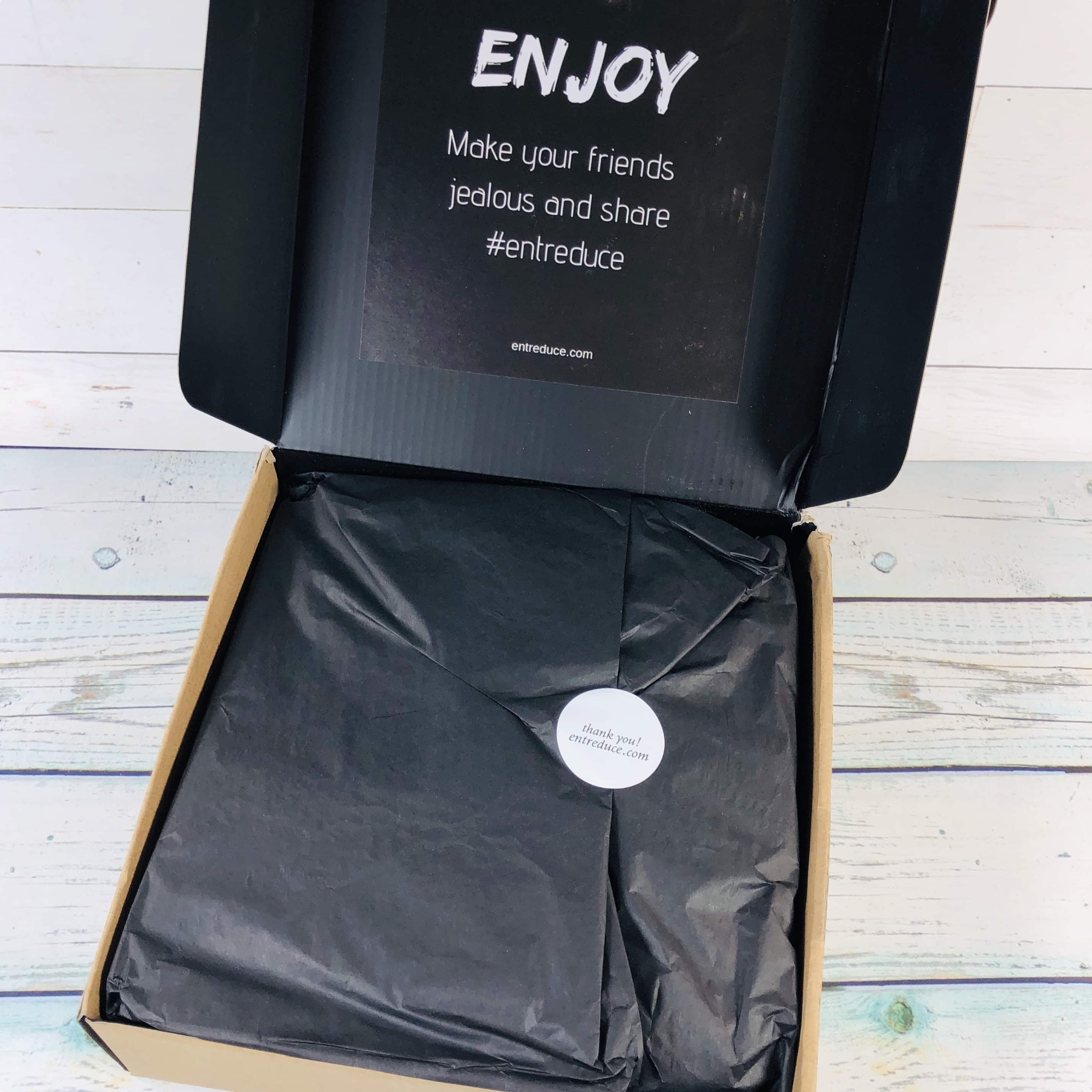 The presentation is simple, just black tissue paper and a sticker closure.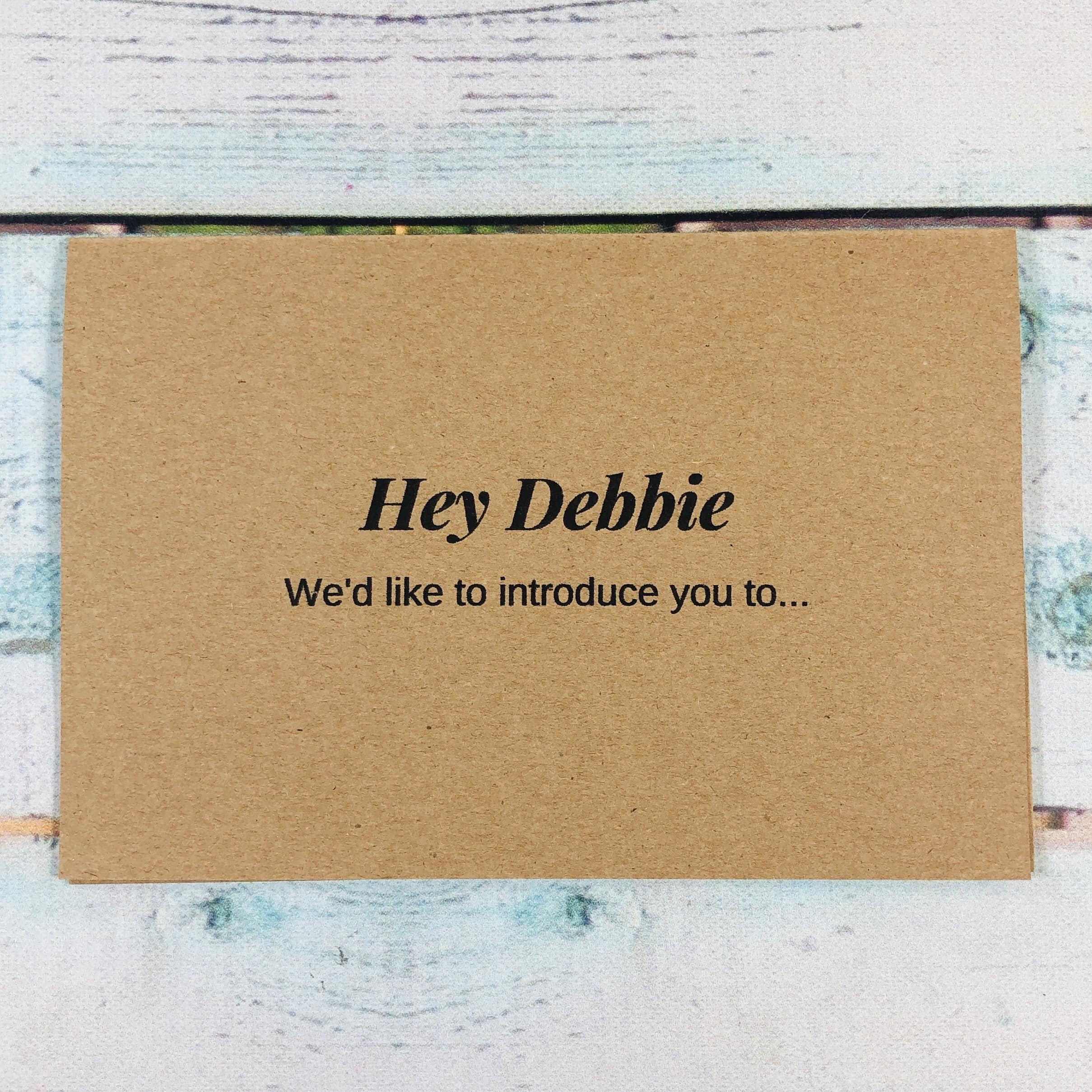 A personalized card is always welcome.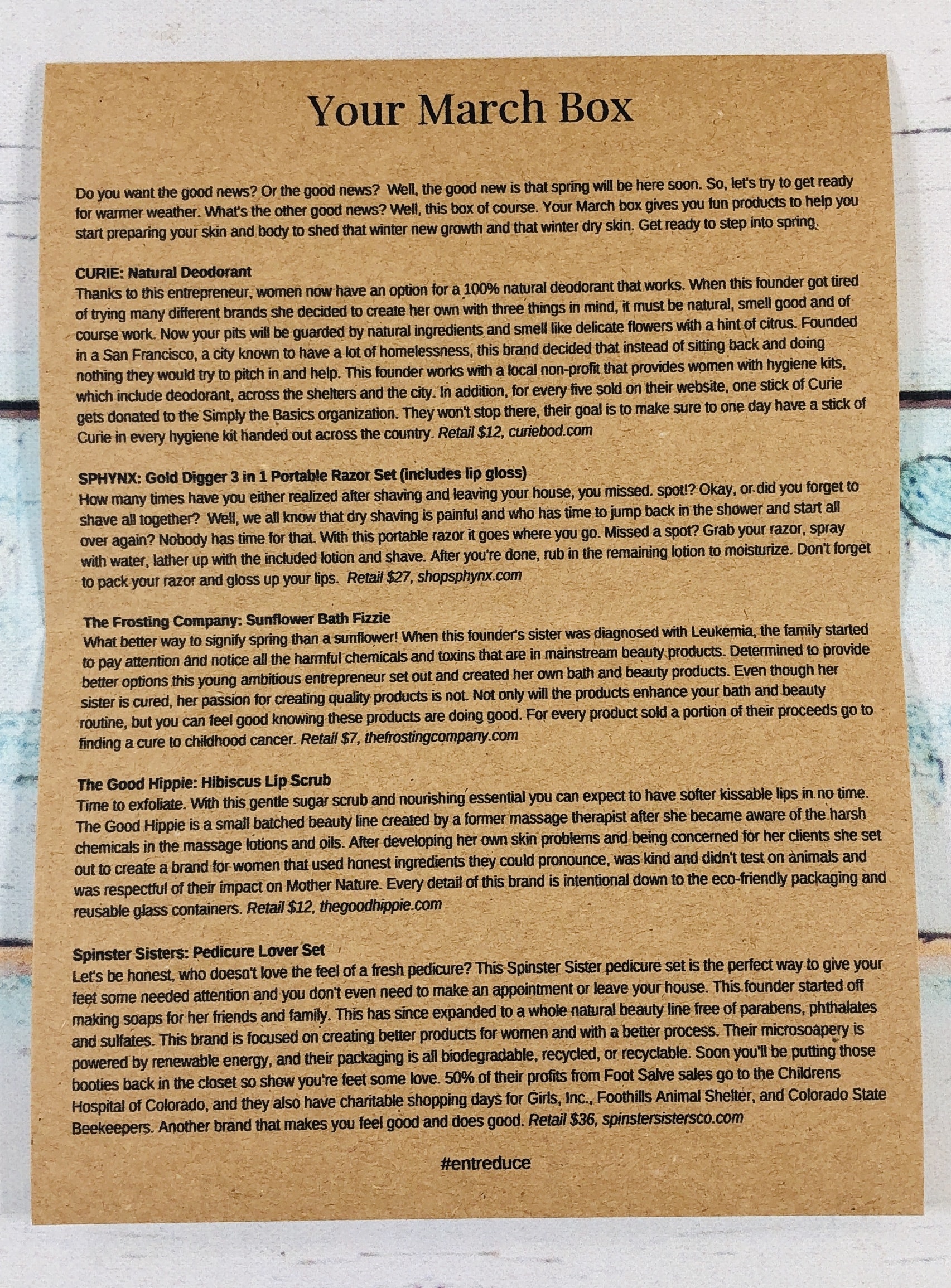 Inside I found info on all of the products in this box plus MSRP's. The March box was all about helping us get ready to shed some layers in anticipation of spring!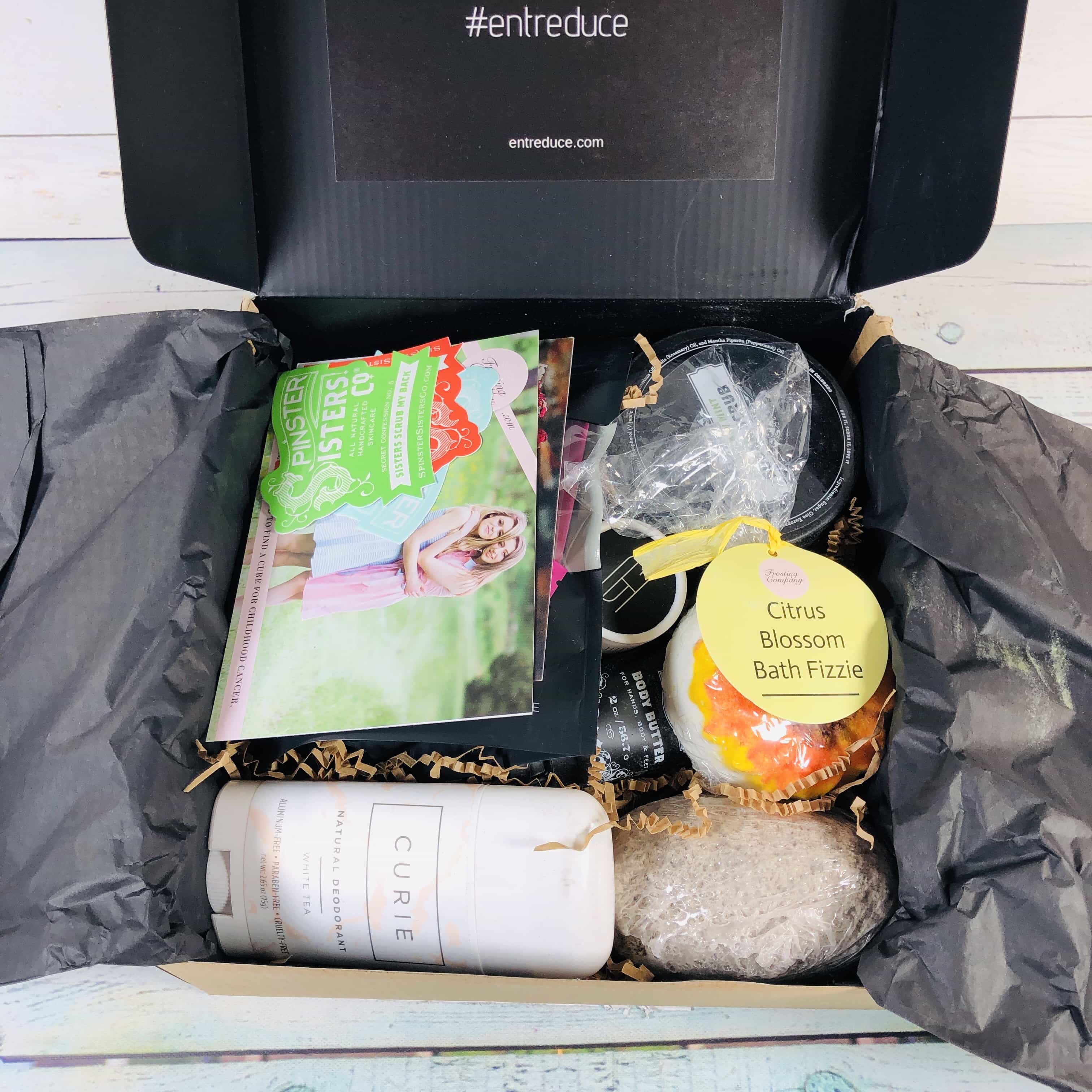 I wonder what is inside?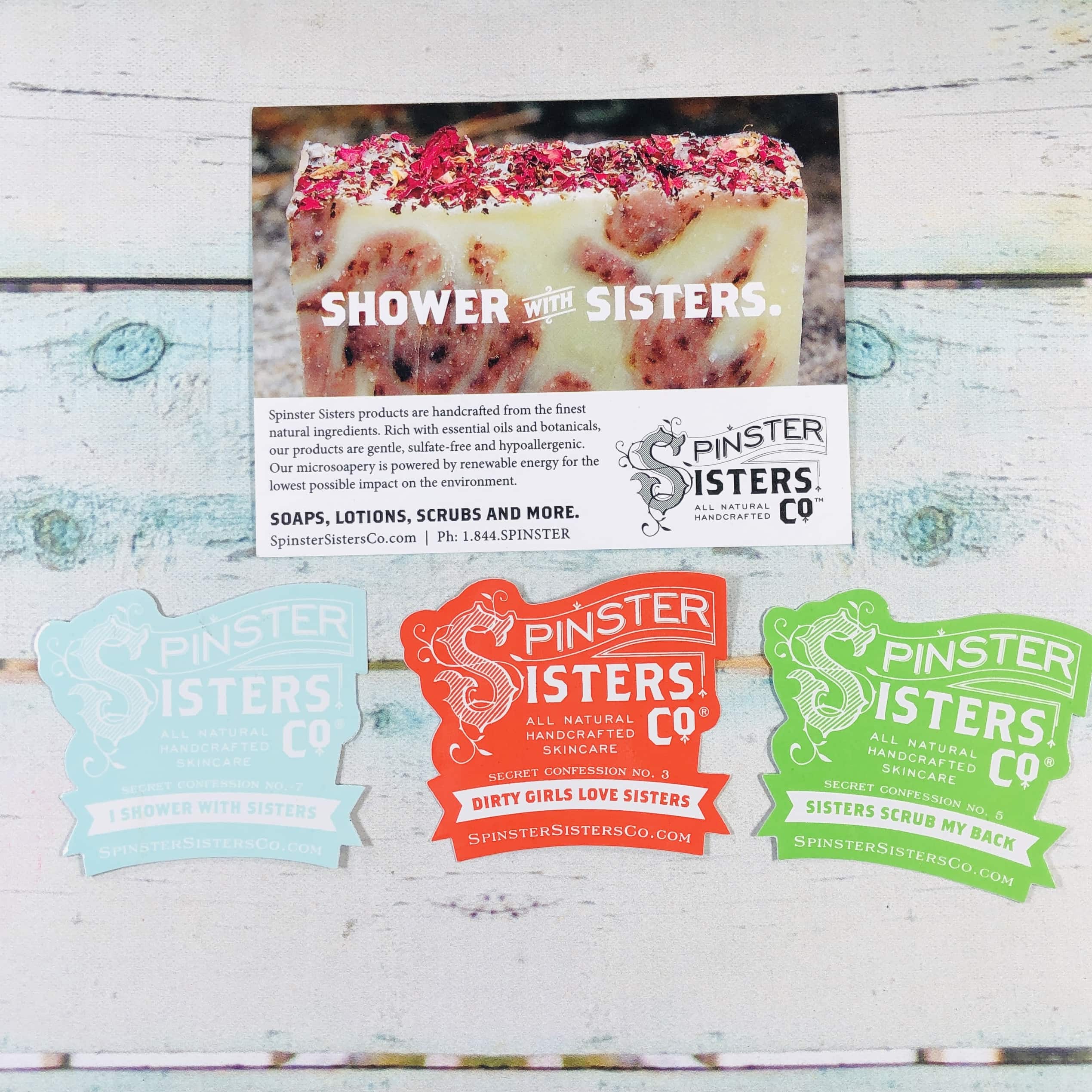 I found a couple of cards and even some stickers from two of the featured brands.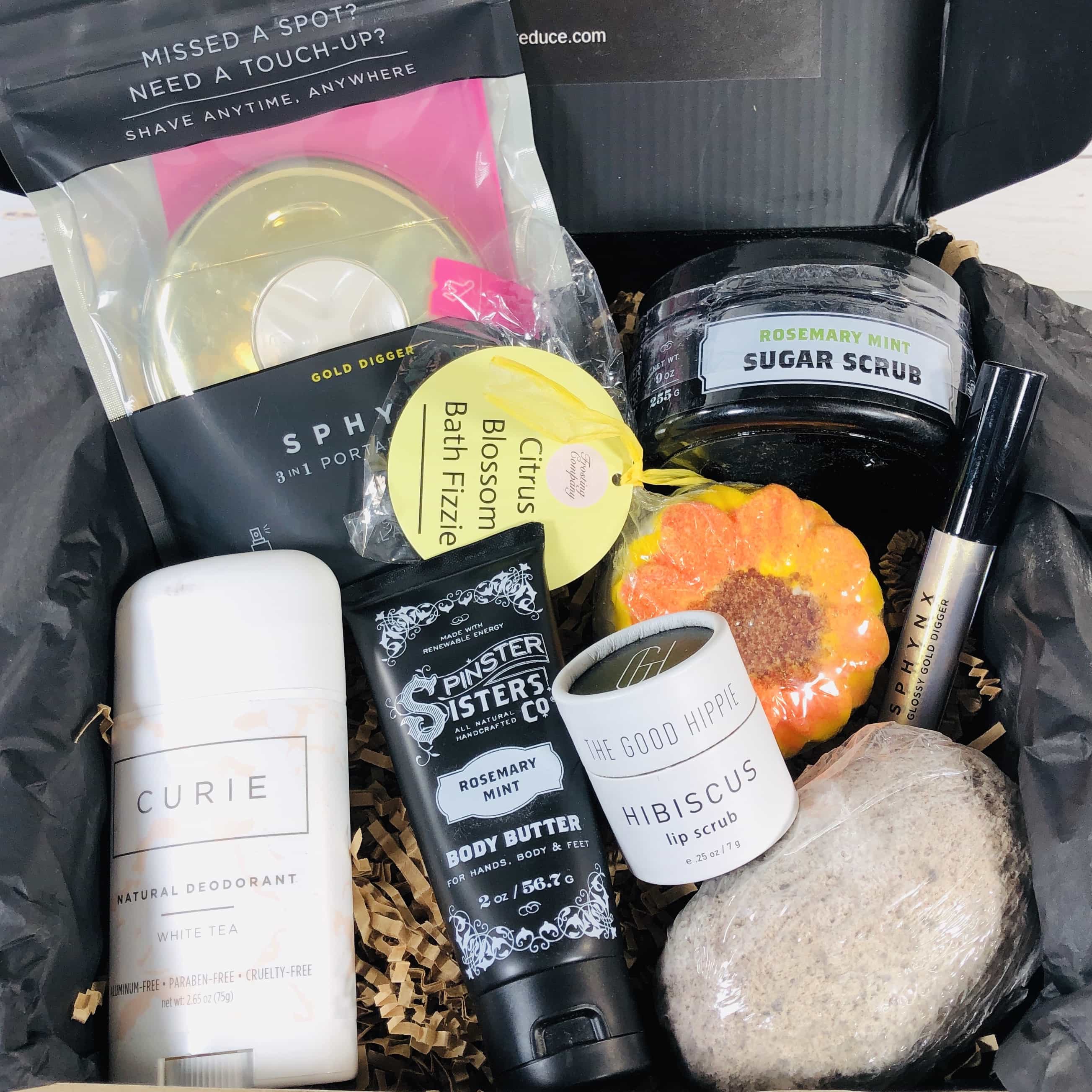 Everything in the box!
Sphynx Gold Digger 3-in-1 Razor Set ($27) One way to get ready for spring is to remove unwanted body hair. Sphynx is a portable way to do that on the go.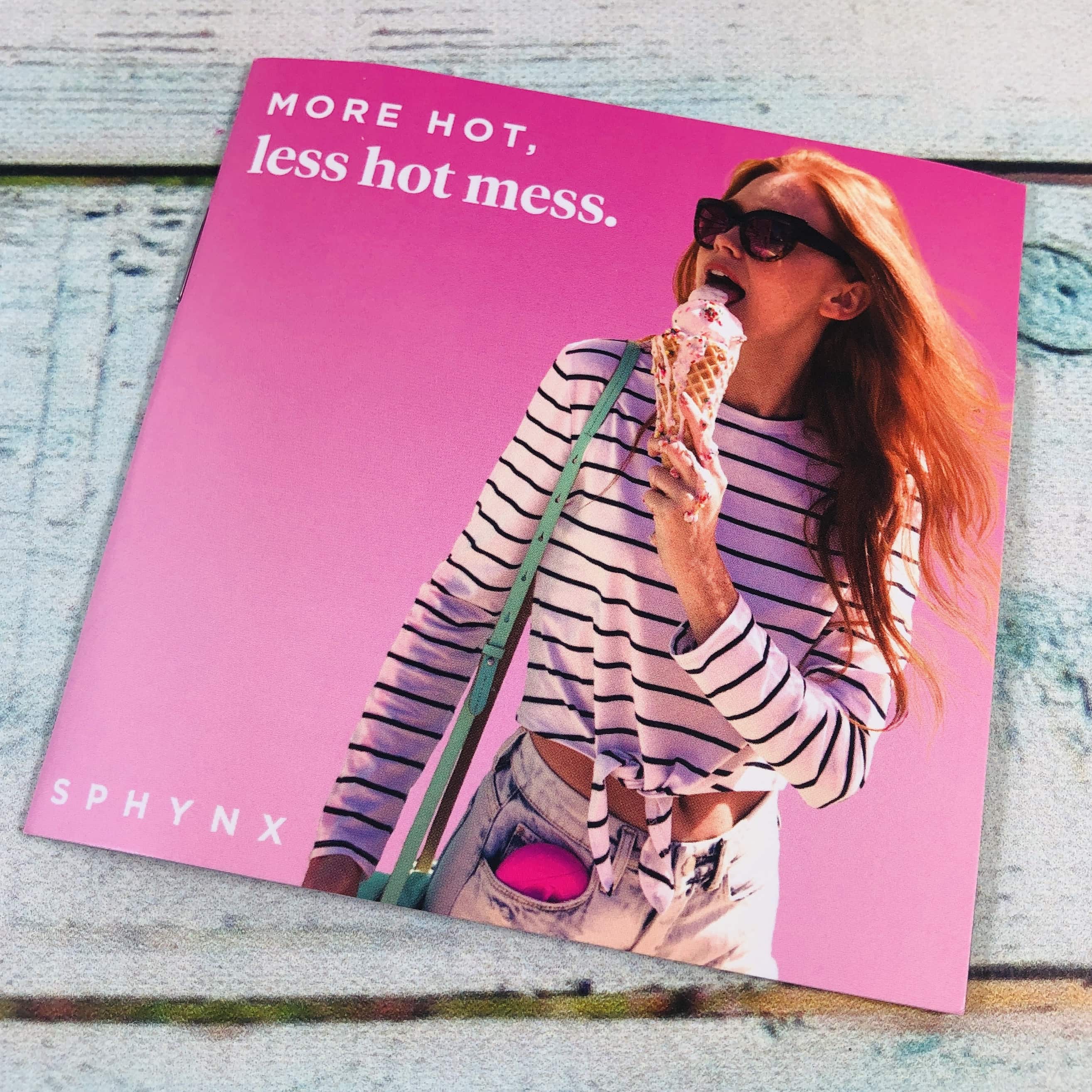 The razor came with an instruction book and refill instructions.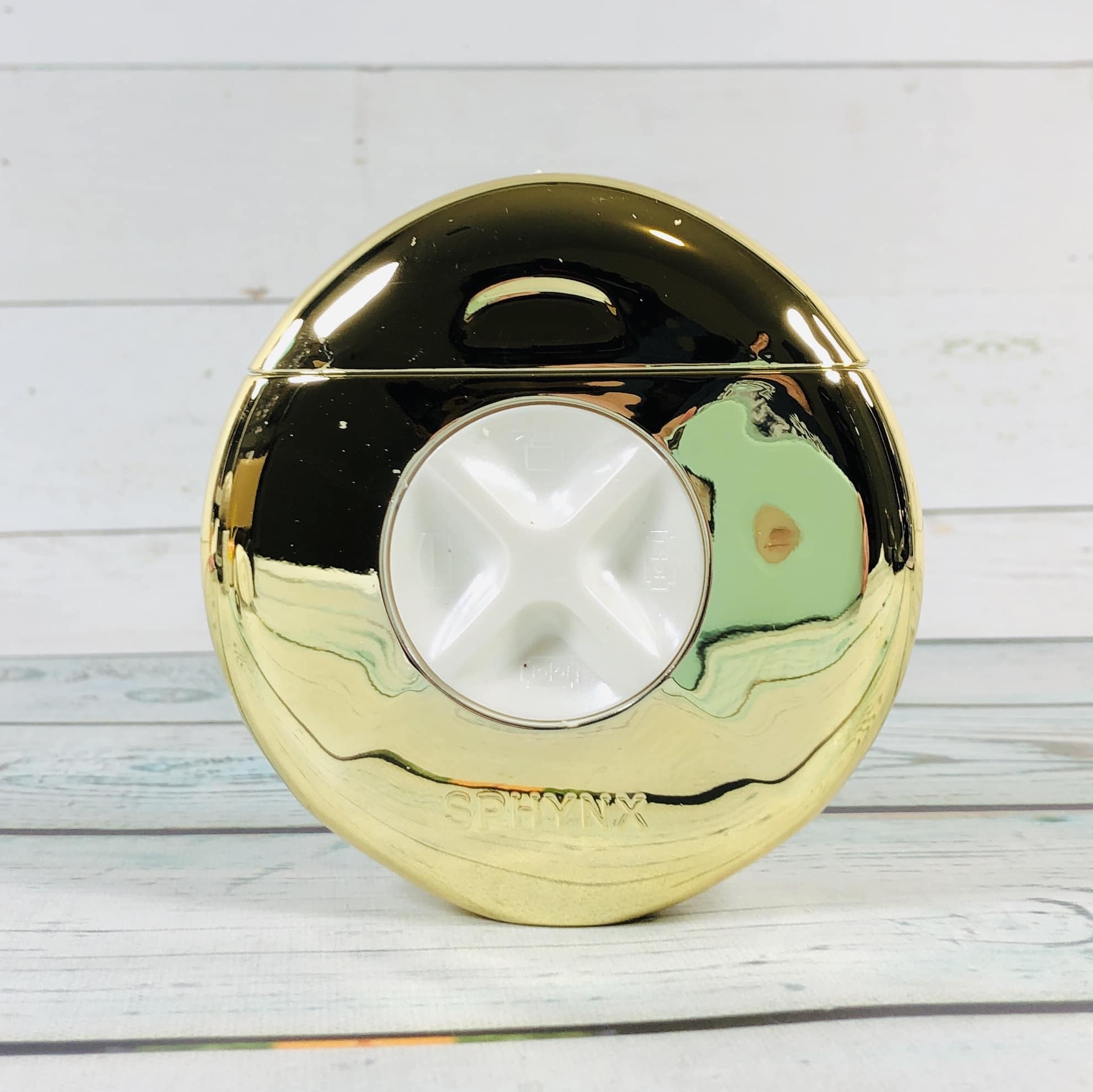 This version of the Sphynx came in a shiny gold case.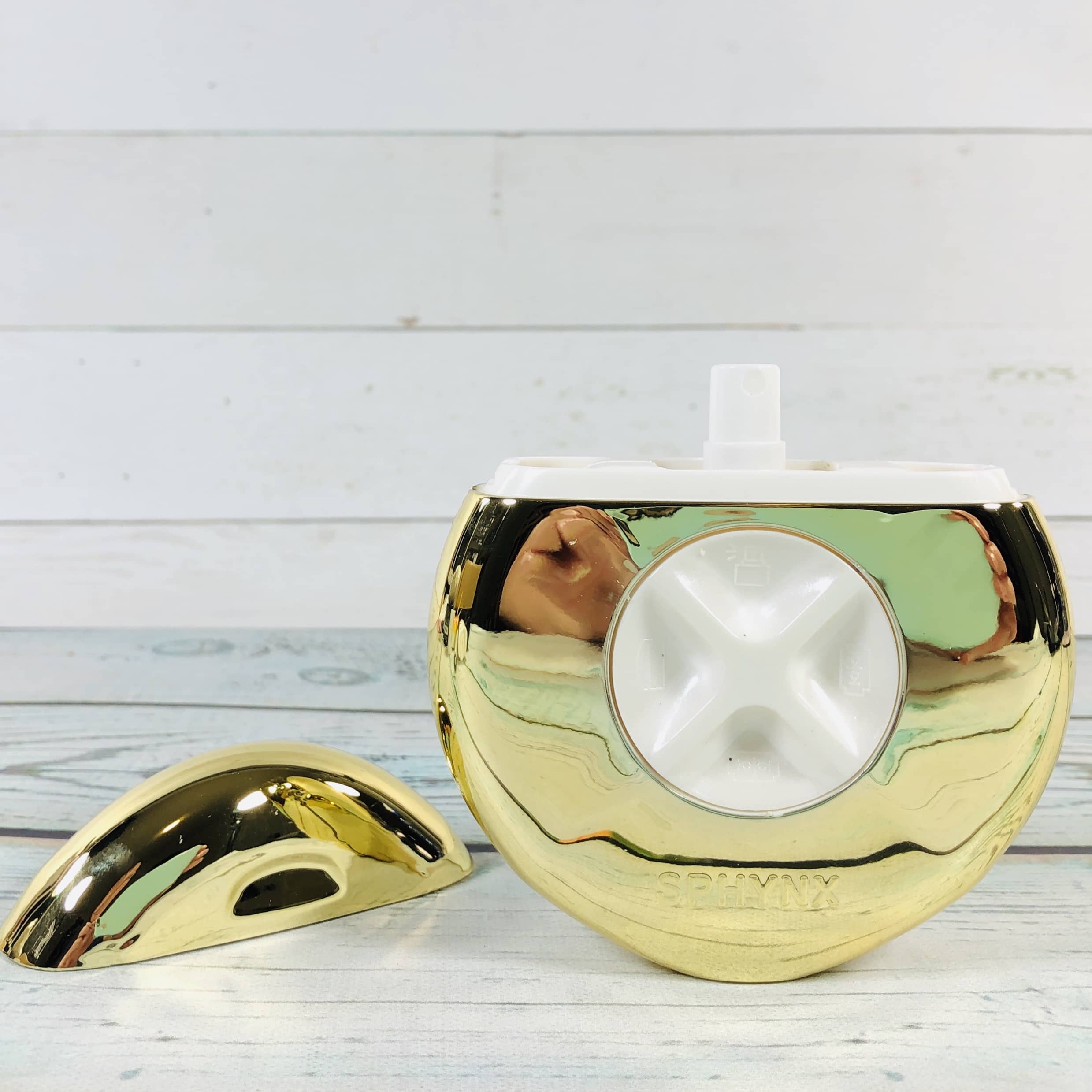 Remove the lid and you will see a sprayer, which you can fill with water.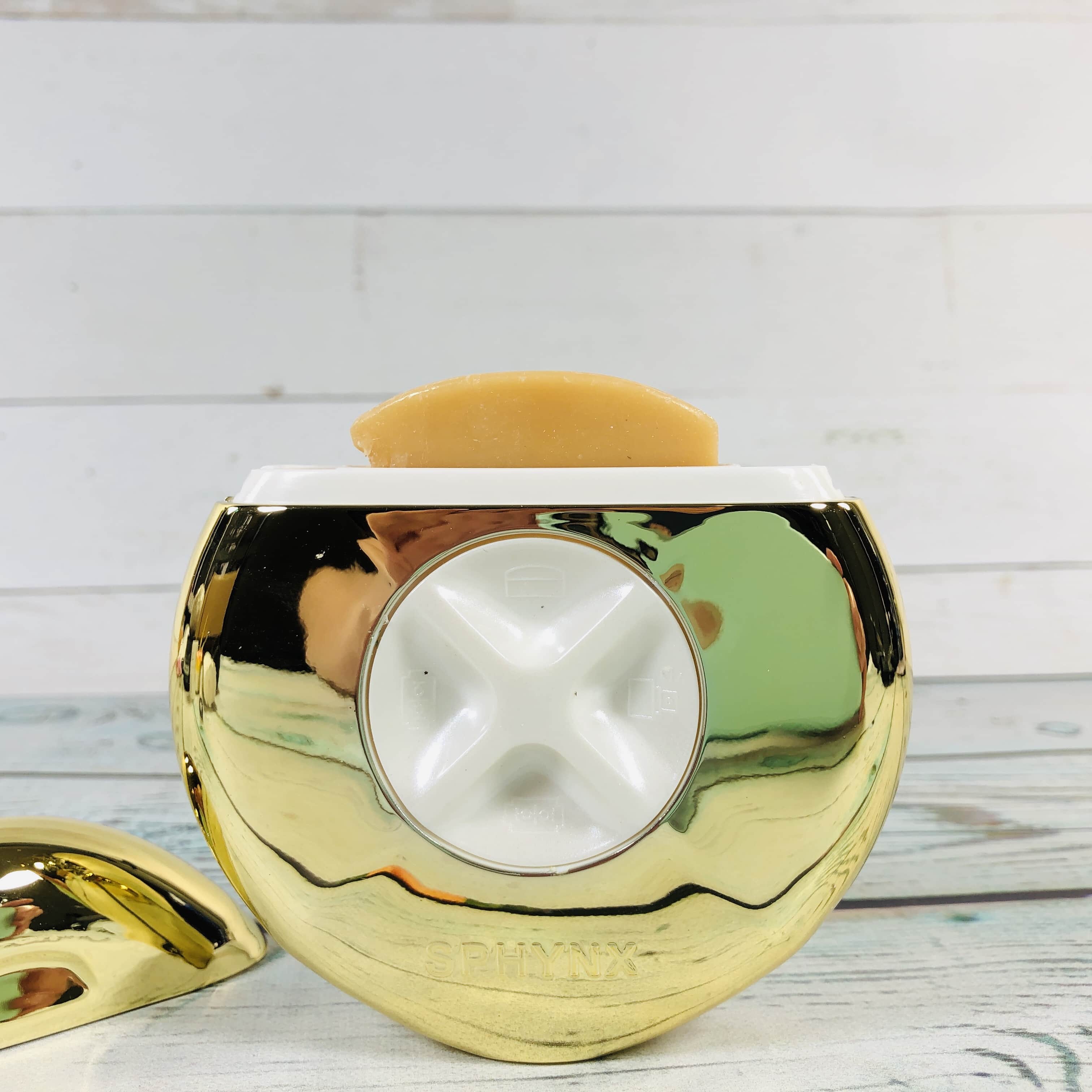 Twist the white piece on the front and presto, you will find the lotion bar, which can be used as a shave prep, but it also doubles as a moisturizer, so no need to rinse.
Twist again and you will find the single-blade razor. If you twist one more time, you will find a second, backup razor. You can purchase refills of the razors and lotion bar to place in your holder. The idea is to use it for emergency touch ups, or maybe if you missed a spot and it's bugging the heck out of you.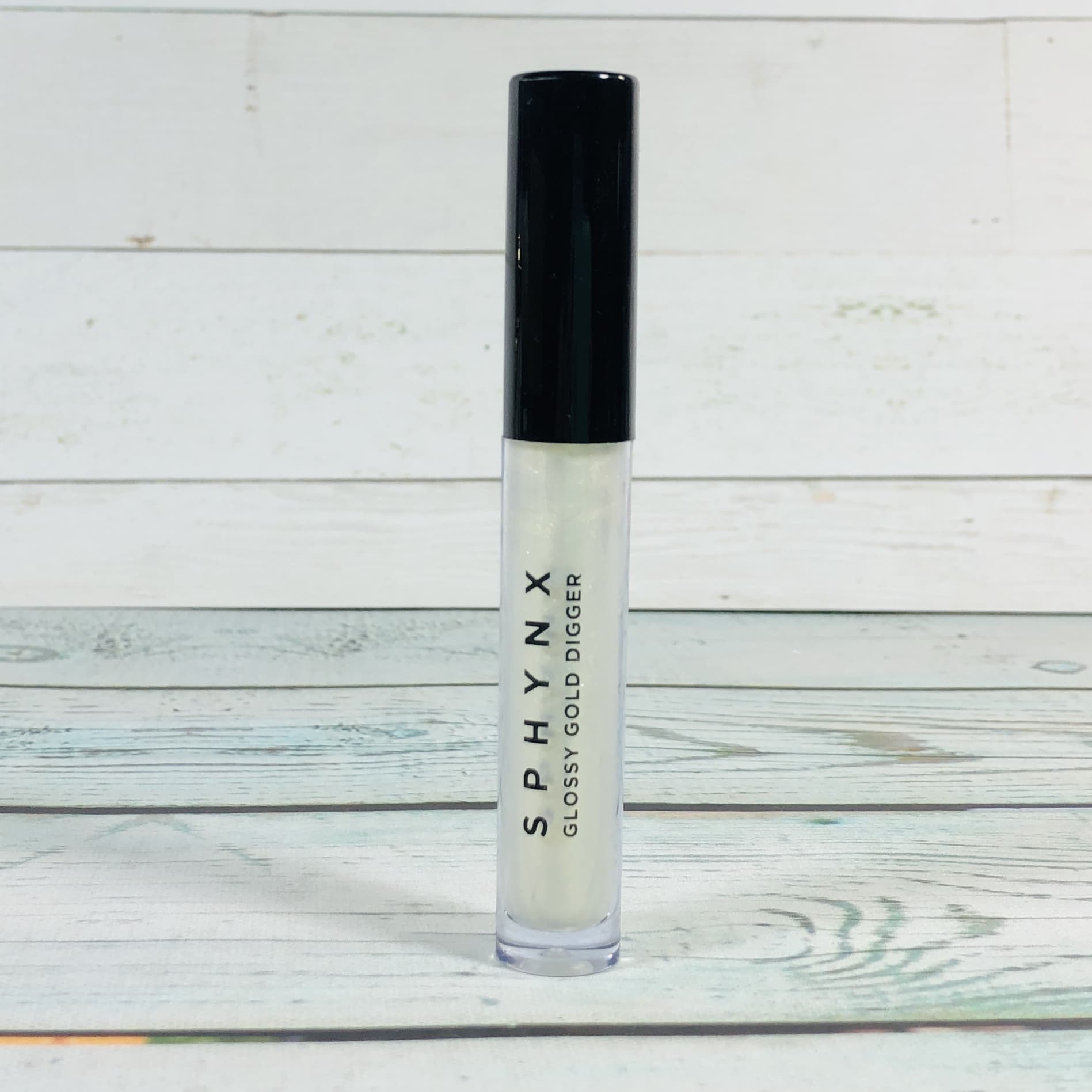 The kit came with a bonus lip gloss.
No ingredients are listed.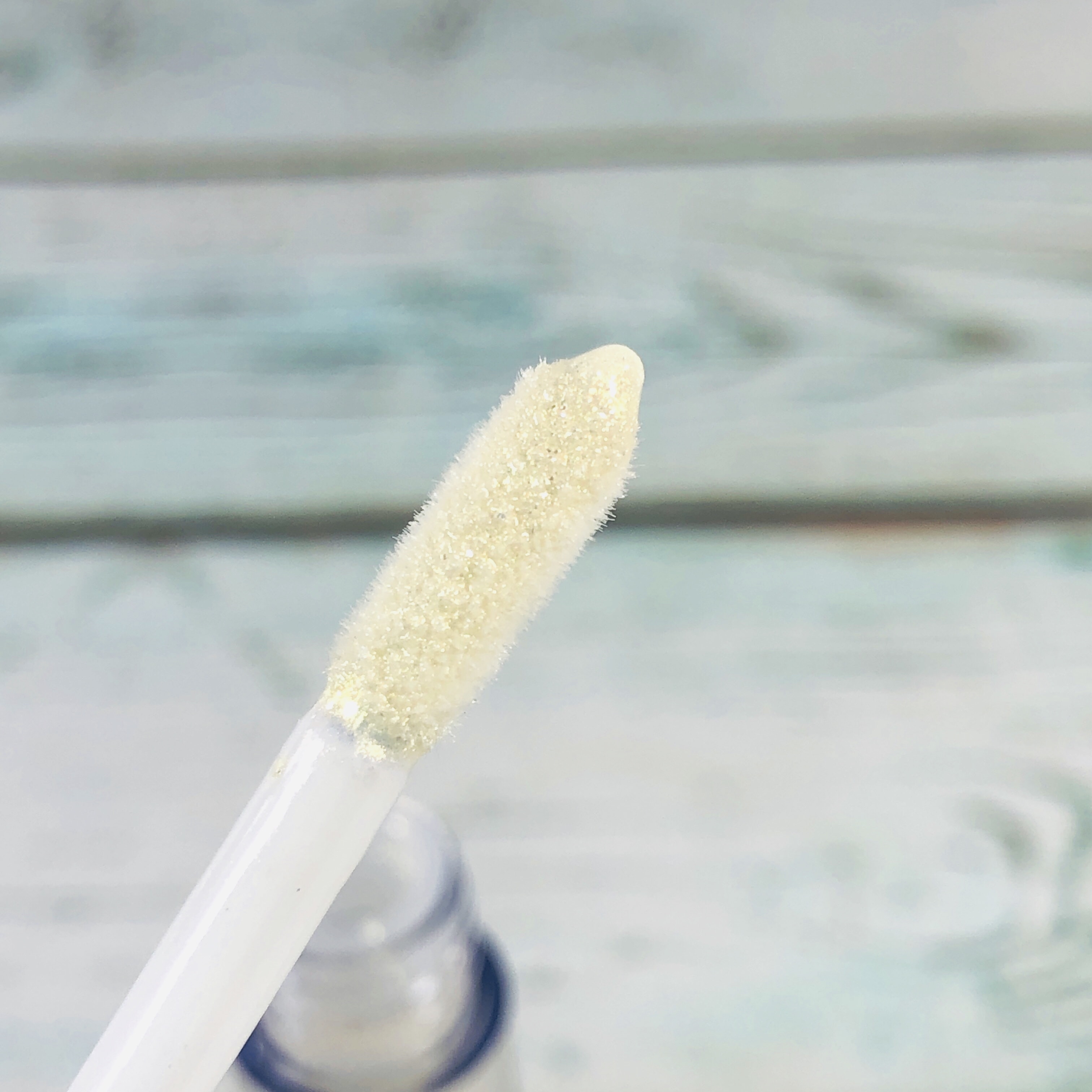 The applicator is a classic flocked tip.
Here's the gloss right after application.
Here it is after I rubbed it in a bit. Very shiny! I used it on my lips and while I can't pull it off, I could use a dab in the middle of my lower lip to highlight and make my lips look fuller.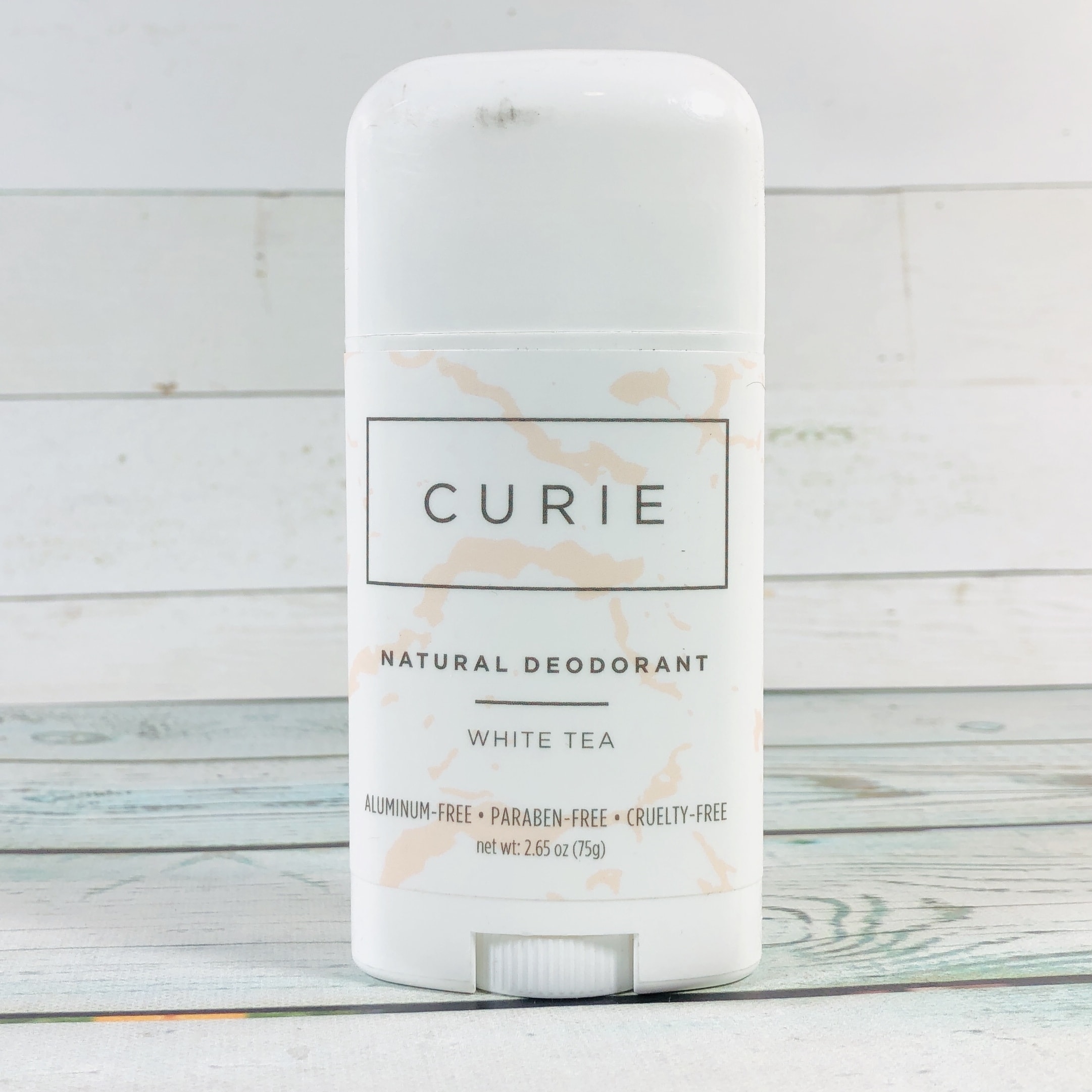 Curie Natural Deodorant in White Tea ($12) I love to try natural deodorants, but I will admit that I only use them on my day off. They are supposed to keep you from smelling like BO, but they won't necessarily keep you from sweating, you need an antiperspirant for that.
The ingredients are listed on the back. One thing to note is that this is the only product sold by Curie, and it says this is for those with sensitive skin. I do see baking soda as an ingredient, and I know some are sensitive to it. I applied on freshly shaved pits and it didn't bother me at all.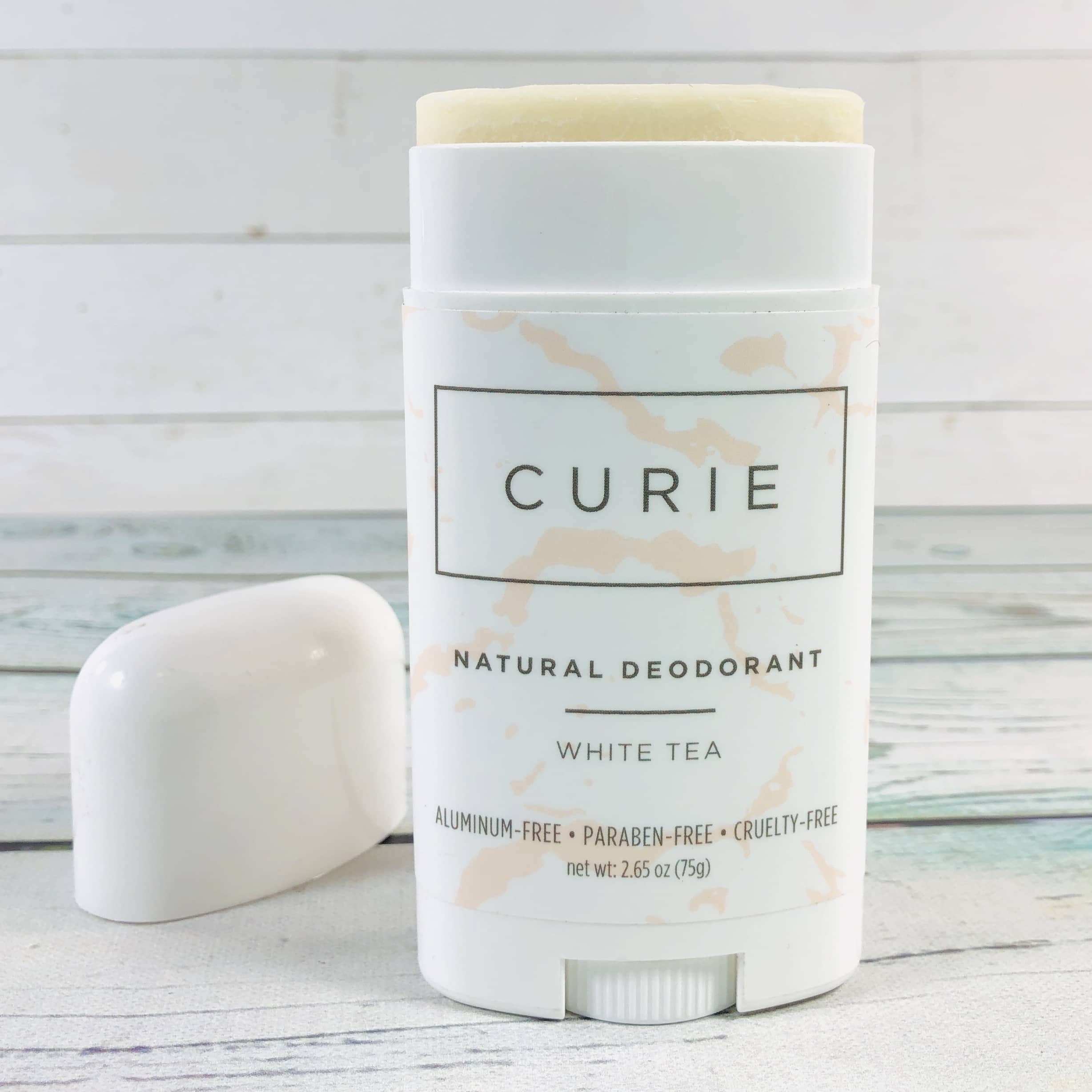 I let it sit in my underarm area for a moment to let my body heat up the deodorant, then I had no problem applying it like my usual product. It smelled really nice, like green tea perfume I suppose. I liked it!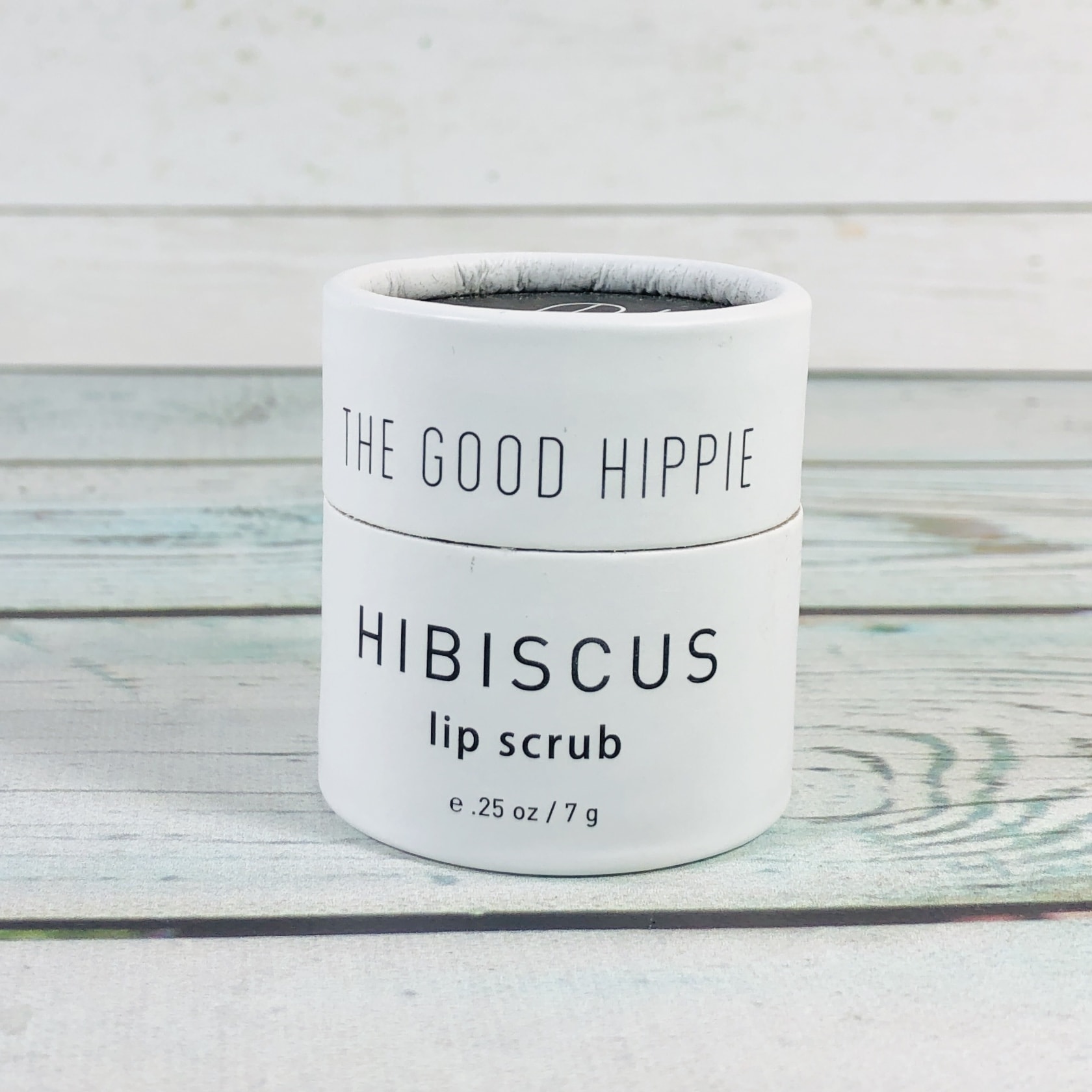 The Good Hippie Hibiscus Lip Scrub ($12) Check out this packaging! Inside I found a glass container, but this cardboard holder kept it safe on its journey.
The natural ingredients were listed on the container.
Made in Austin? That's where I live! I love supporting hometown businesses!
Here's the actual container.
I applied the scrub to my lips and then smushed it around for a bit before wiping it off with a tissue. I then went over it again with a clean, warm, wet washcloth. I applied lip balm over top and my lips are smooth as can be.
Frosting Company Citrus Blossom Bath Frizzie ($7) Isn't this a cute bath fizzie? It's also huge!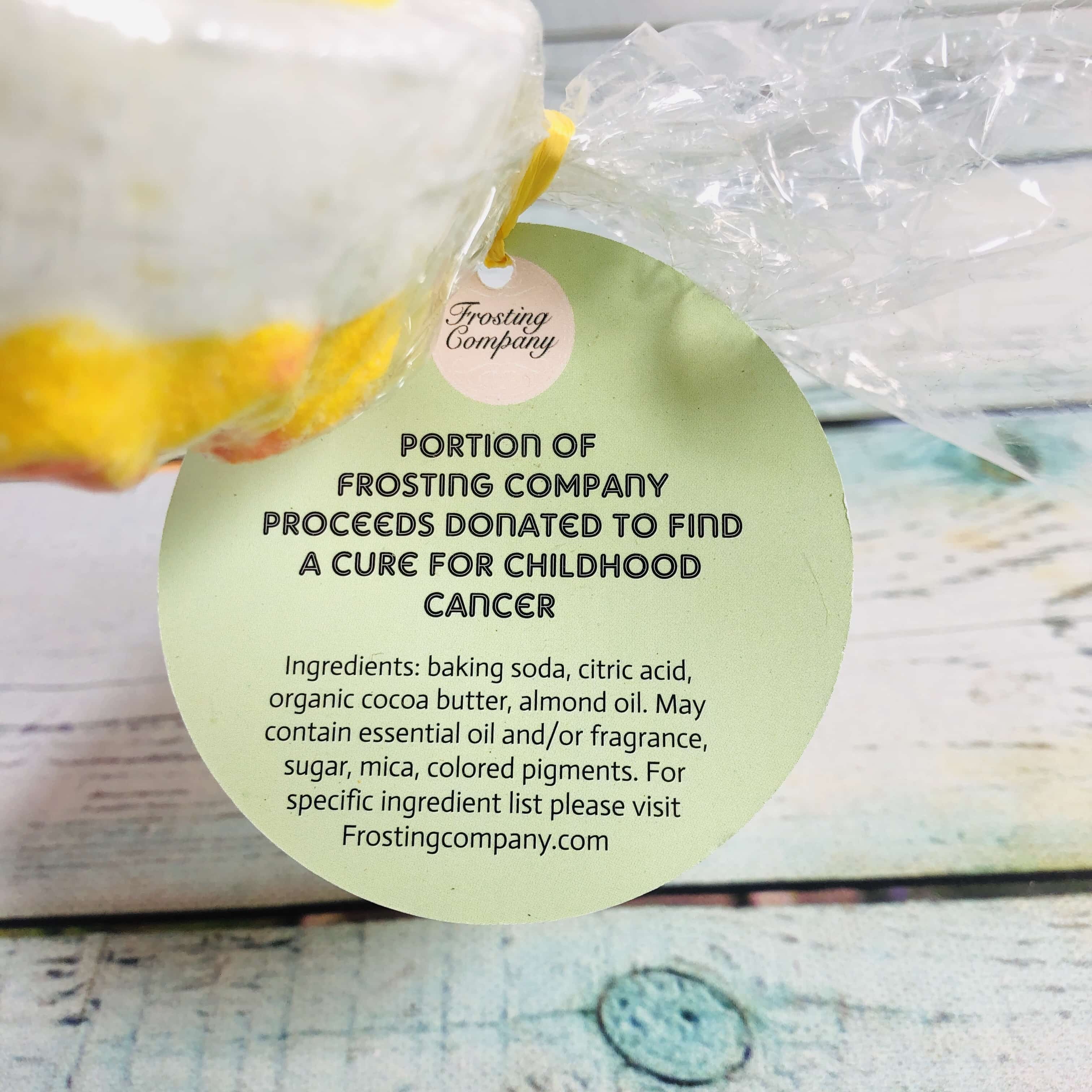 A portion of sales are donated to help find a cure for childhood cancer, as one of the founders had cancer as a child.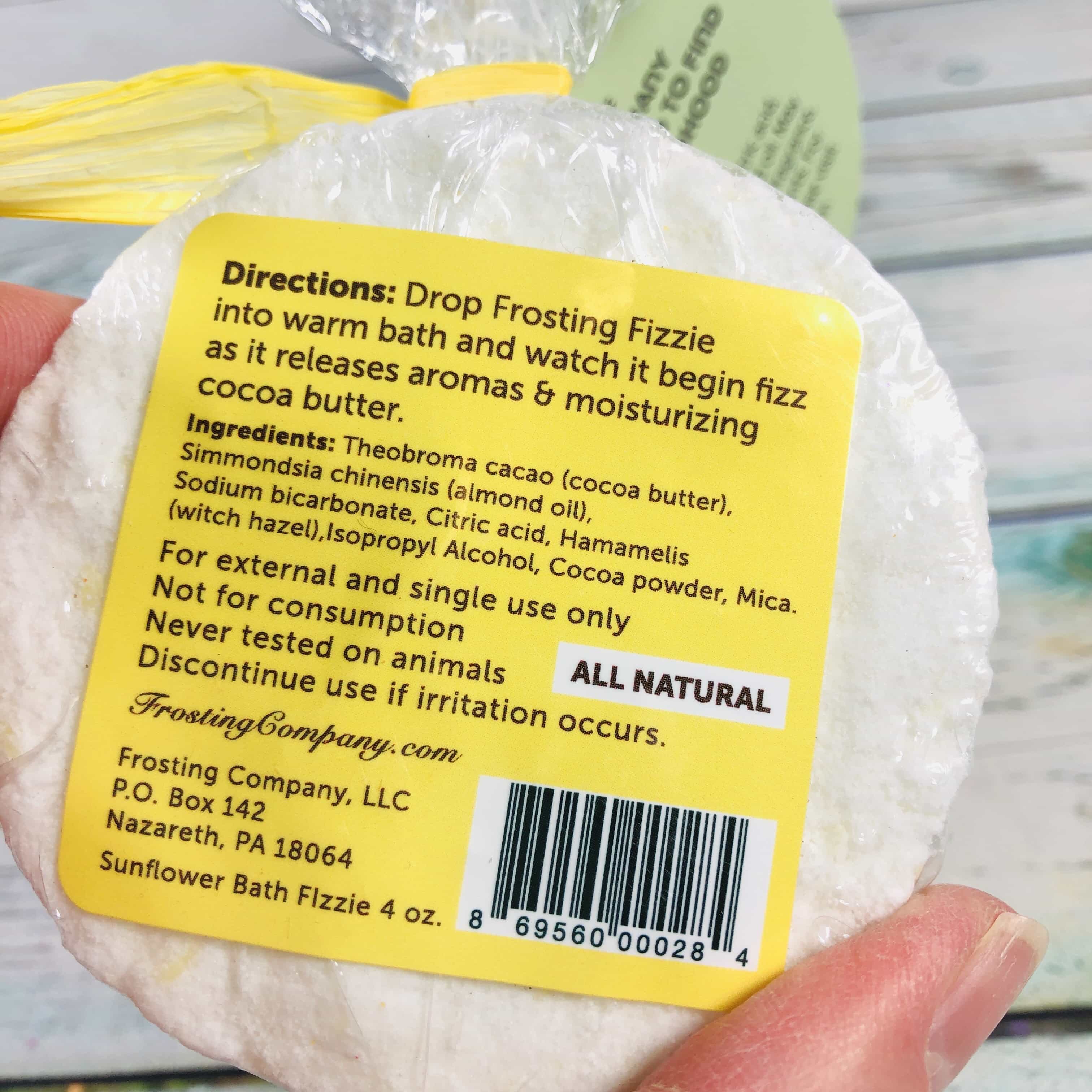 Drop the fizzie in a warm bath and it will eventually melt and leave behind cocoa butter and almond oil. Be careful, it might be slippery!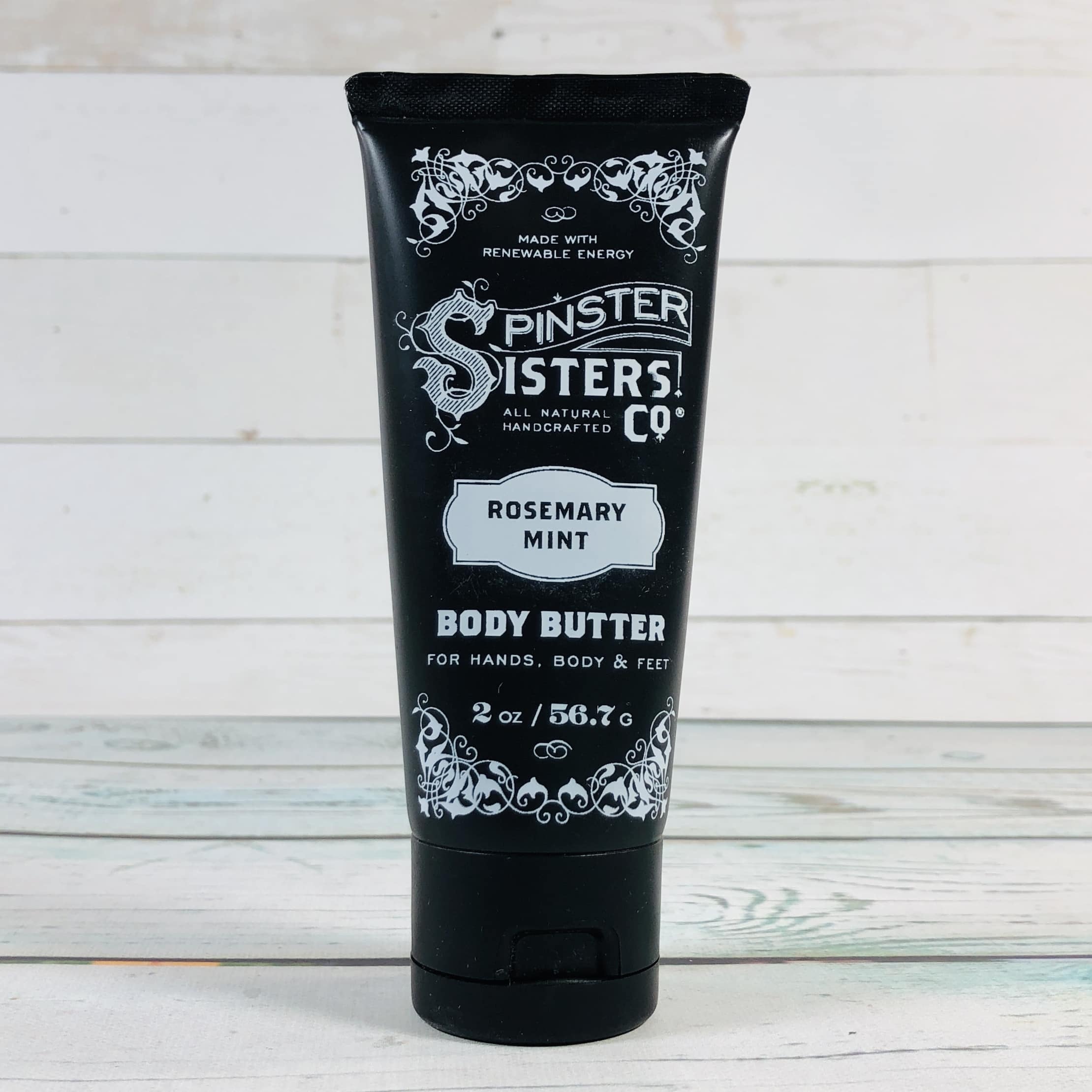 Spinster Sisters Co. Pedicure Lover Set ($36) I know this says it is a set, but I broke each item down for you. First up is the Rosemary Mint Body Butter.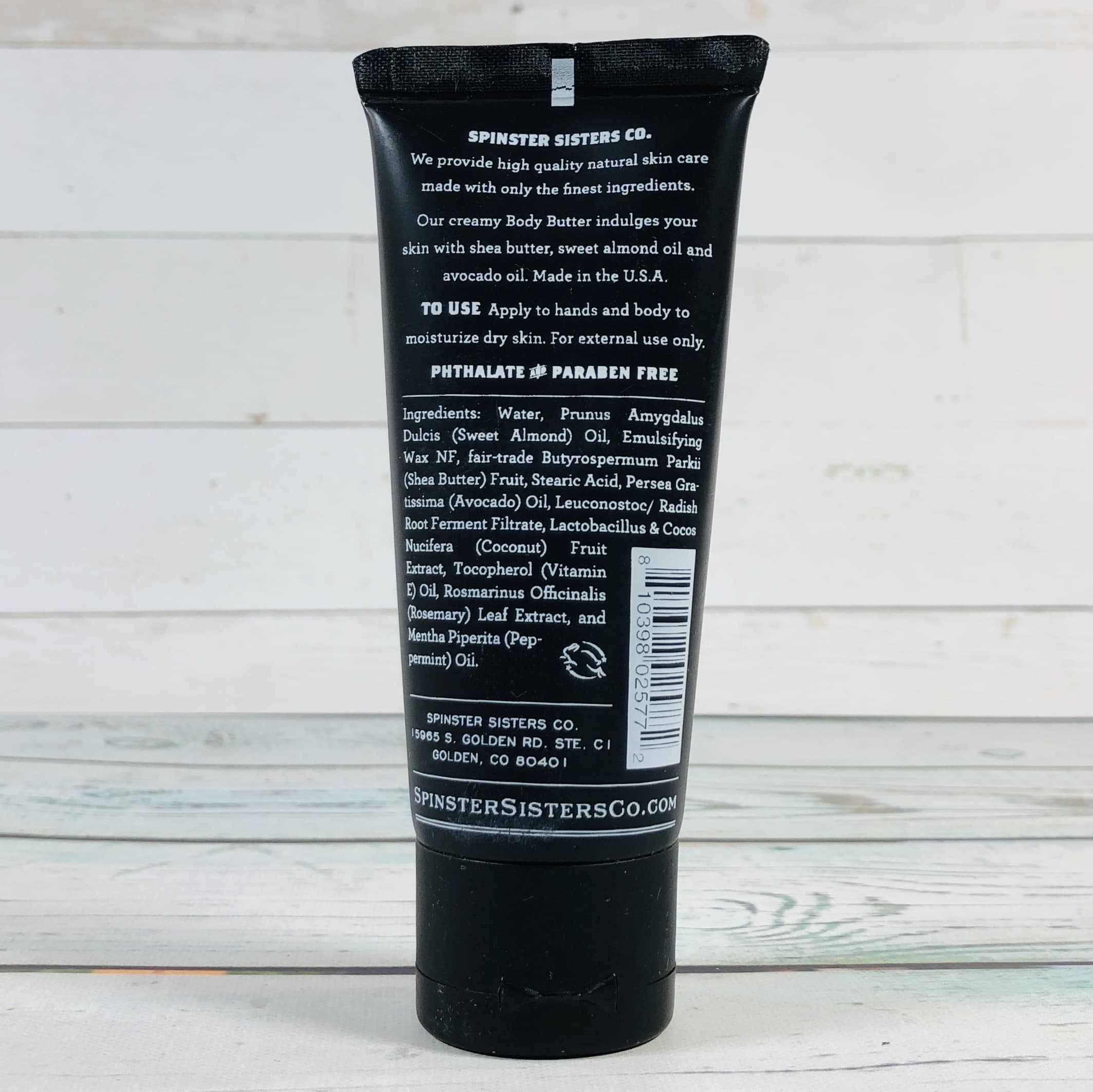 All of the ingredients in this and the body scrub are natural. My skin absorbed it very quickly and I enjoyed the minty fresh scent. I would say it's more of a lotion than a butter and my skin wasn't greasy at all.
Rosemary Mint Body Scrub is made of sugar and oils.
It was sealed well but be careful, it is very oily!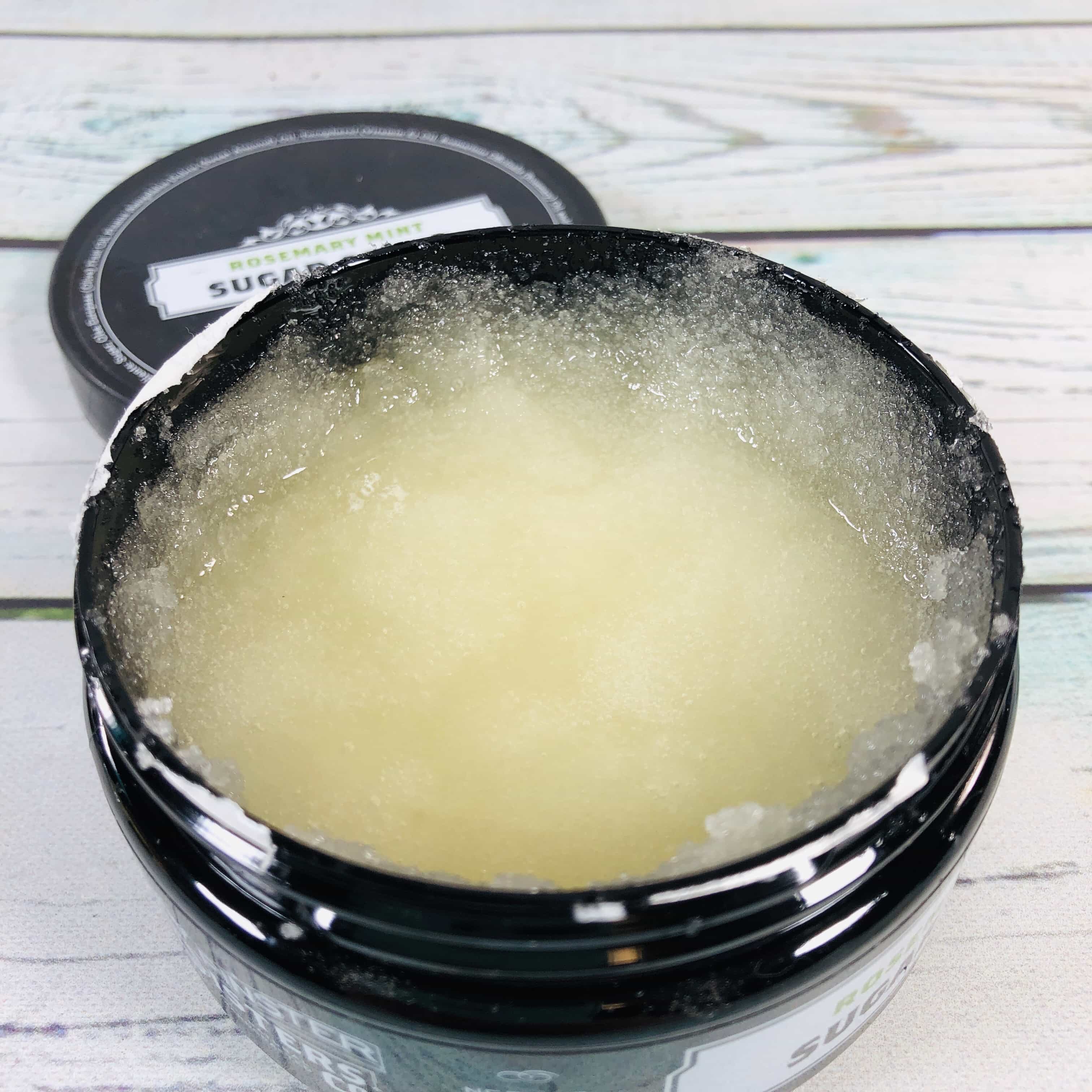 I applied it in the shower to my arms and legs and gave it a good scrub. According to the website, you could also use it on your face. I took a deep breath before rinsing it off and my skin felt soft even after I toweled off, no body lotion needed.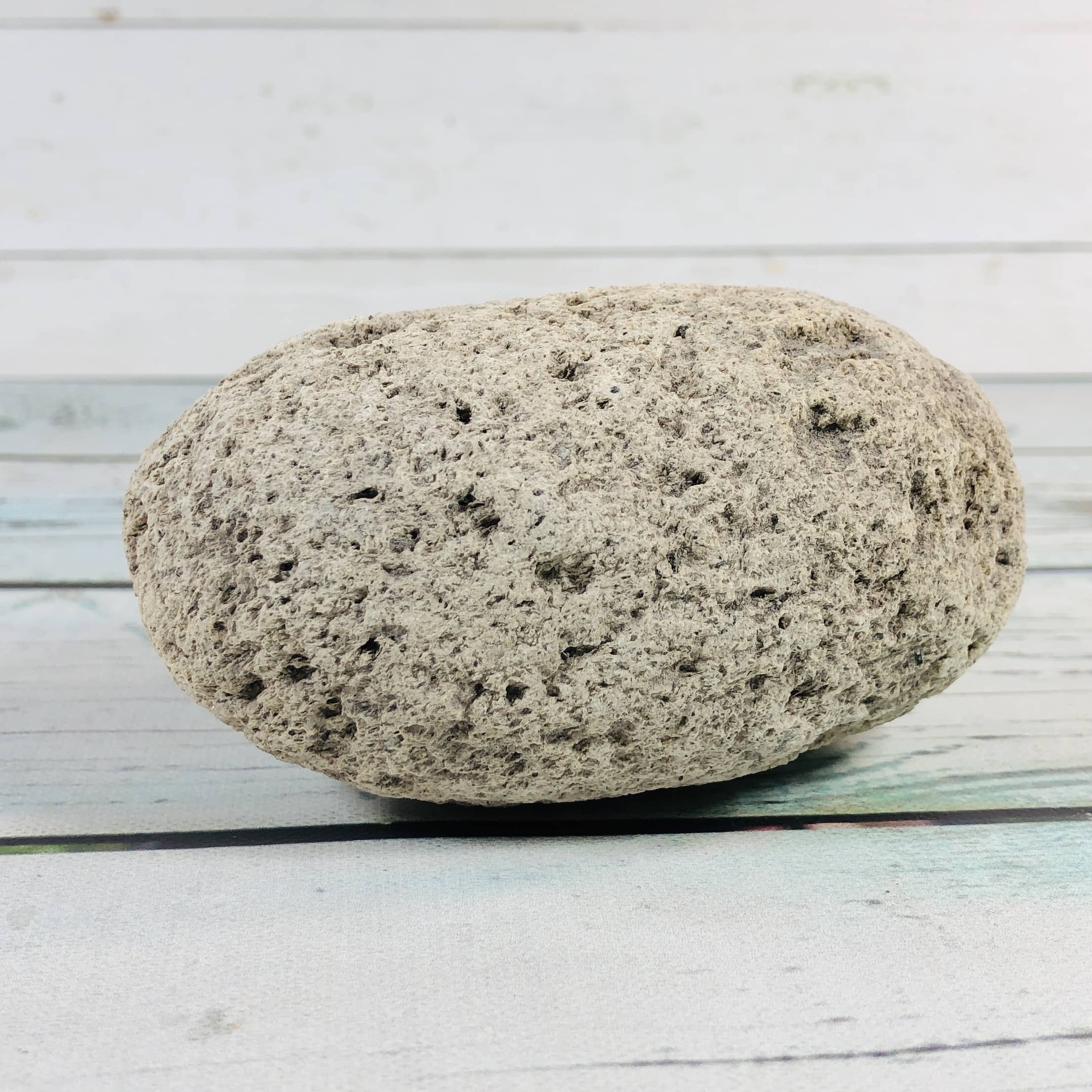 The Pumice Stone is made of porous lava rock from California's Mt. Shasta. My box was very dusty and I'm sure it was from the pumice stone! Just wet and rub on hard or calloused areas of skin, like the bottoms of your feet.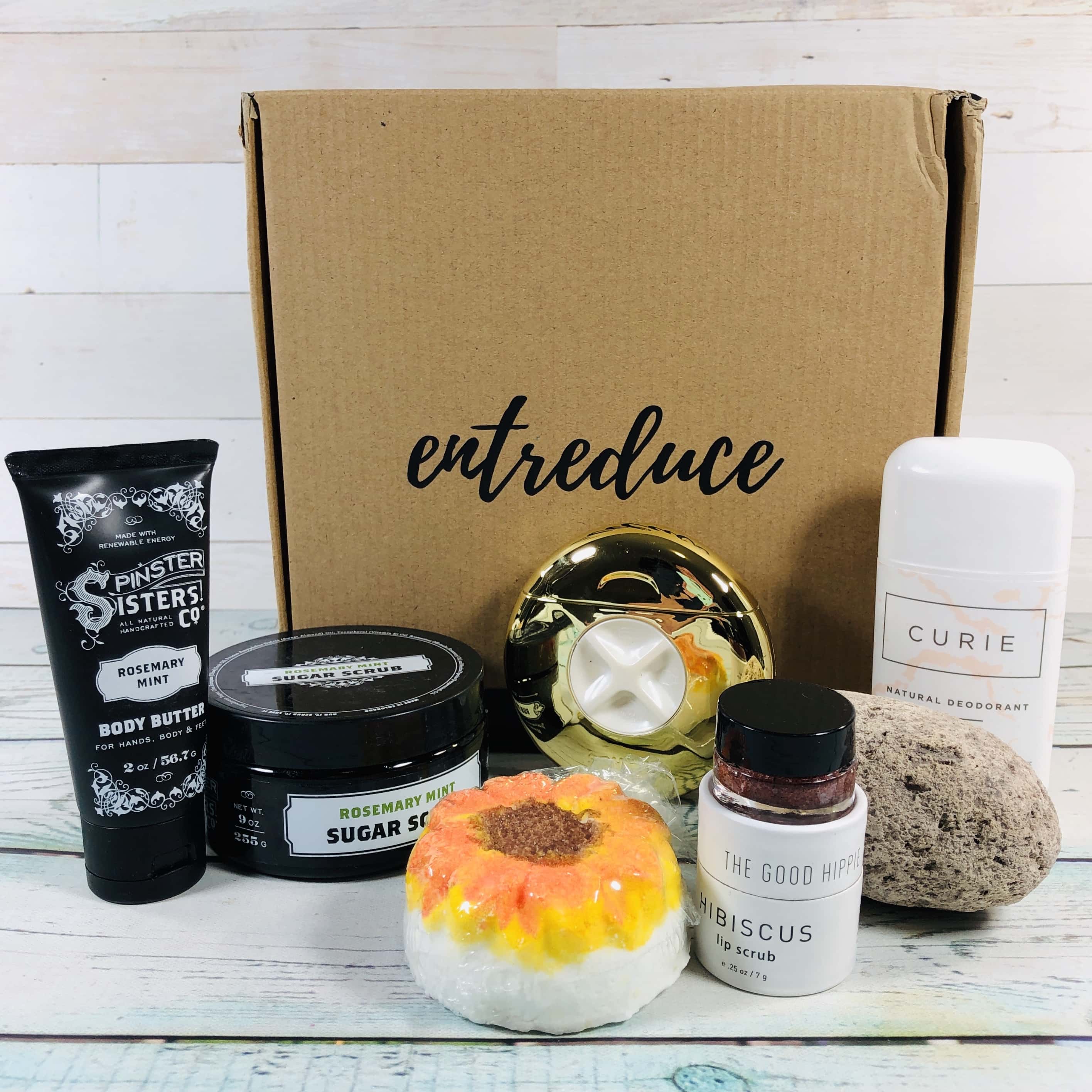 Entreduce is such a fun box to get! I am always amazed because they send brands that I haven't tried yet, and I've tried a lot of brands! I especially appreciate that the beauty items are pretty natural and are cruelty-free and sometimes vegan. I liked the assortment of products and feel like I'm ready to face spring with fresh, soft skin. My box had a value of around $104! That's more than double the price paid for the box!
Are you getting the Entreduce box?