Creepy Crate is a subscription box full of items from many different horror properties. There are items you may not expect, but unlike that noise you hear outside your window, it's generally something pretty cool.
DEAL: Save $5 off your first Creepy Crate! Use coupon code HELLOSUB5.
All of the creepy contents!
Man-Eater: The Life and Legend of an American Cannibal by Harold Schechter – $14.99 – This should be an interesting read. I know the story of Alfred Packer thanks to the movie "Cannibal: The Musical." I'm sure this won't have all of the musical numbers in it.
In the winter of 1873, a small band of prospectors lost their way in the frozen wilderness of the Colorado Rockies. Months later, when the snow finally melted, only one of them emerged. His name was Alfred G. Packer, though he would soon become infamous throughout the country under a different name: "the Man-Eater."

After the butchered remains of his five traveling companions were discovered in a secluded valley by the Gunnison River, Packer vanished for nine years, becoming the West's most wanted man. What followed was a saga of evasion and retribution as the trial of the century worked to extricate fact from myth and Polly Pry, a once-famed pioneering journalist, took on the cause of Packer. Man-Eater is the definitive story of a legendary crime—a gripping tale of unspeakable suffering, the desperate struggle for survival, and the fight to uncover the truth.
"Death Becomes Us" Tote Bag – I like the size of this tote. It's from the True Crime Festival.

Partners in Wine Glasses – The stemless glasses look great! The design is fantastic and I like how the folks at creepy crate bubble wrapped them. It's nice that they are stemless.
Black Dahlia Coasters – These will look especially creepy under the new wine glasses.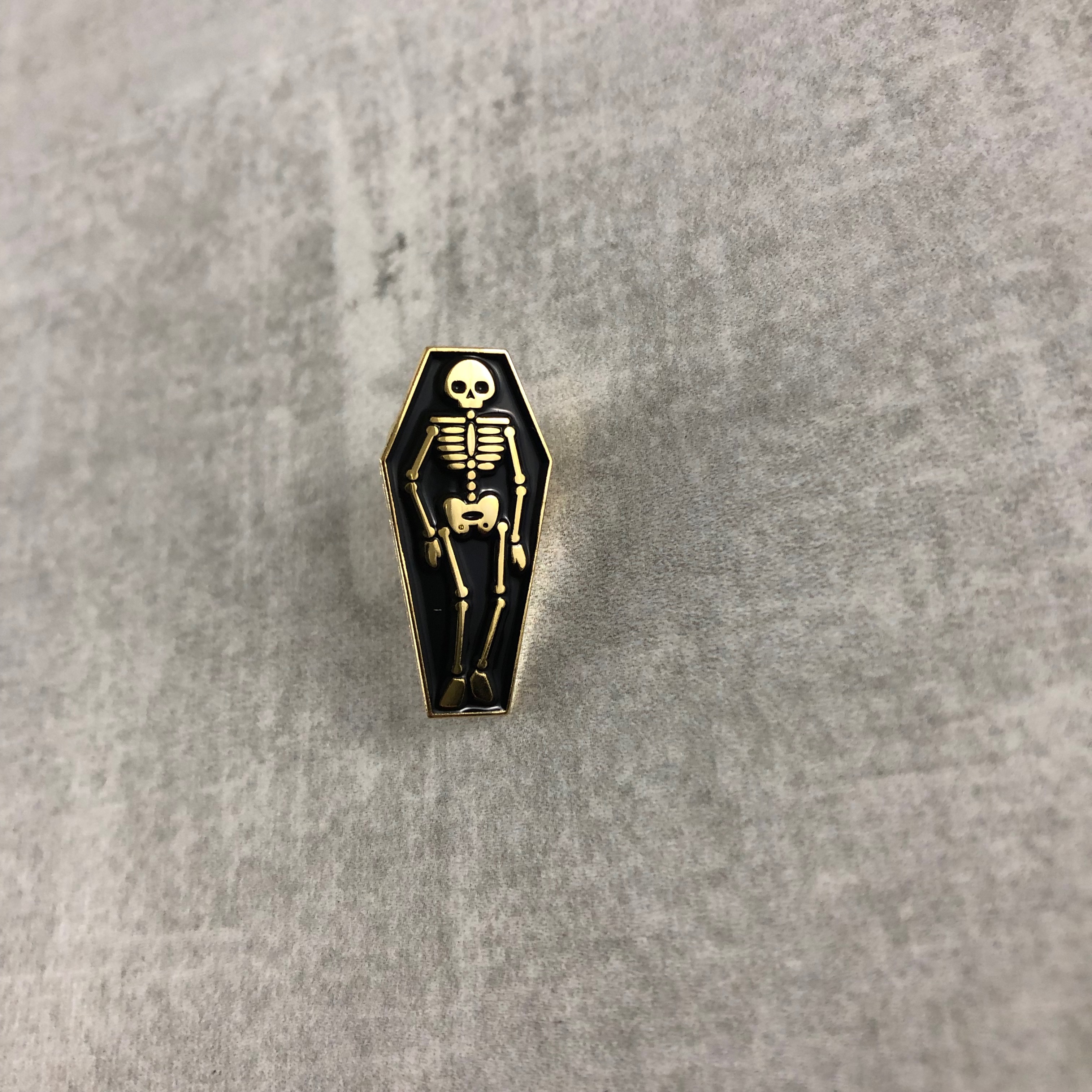 "Dead Like Us" Pin – The pin is very sharp looking with the black and gold. It's a wonderful addition to the collection.

CBTK Security Sticker – Dennis Rader is on the case to keep you protected.

Evil Has a Name: The Untold Story of the Golden State Killer – This is an Audible original. I like the Audible service as it is a great way to take in a book while you are on a walk.
Everything in this month's Creepy Crate is totally creepy yet enjoyable to look through. For a horror fan like me, the homages to some of my favorite properties makes this box really exciting. My favorite item this month is the wine glasses, but the rest are just as amazing. It's a great subscription to try whether you're simply into spooky reads or a horror fan in general!
What do you think of this spooky subscription?