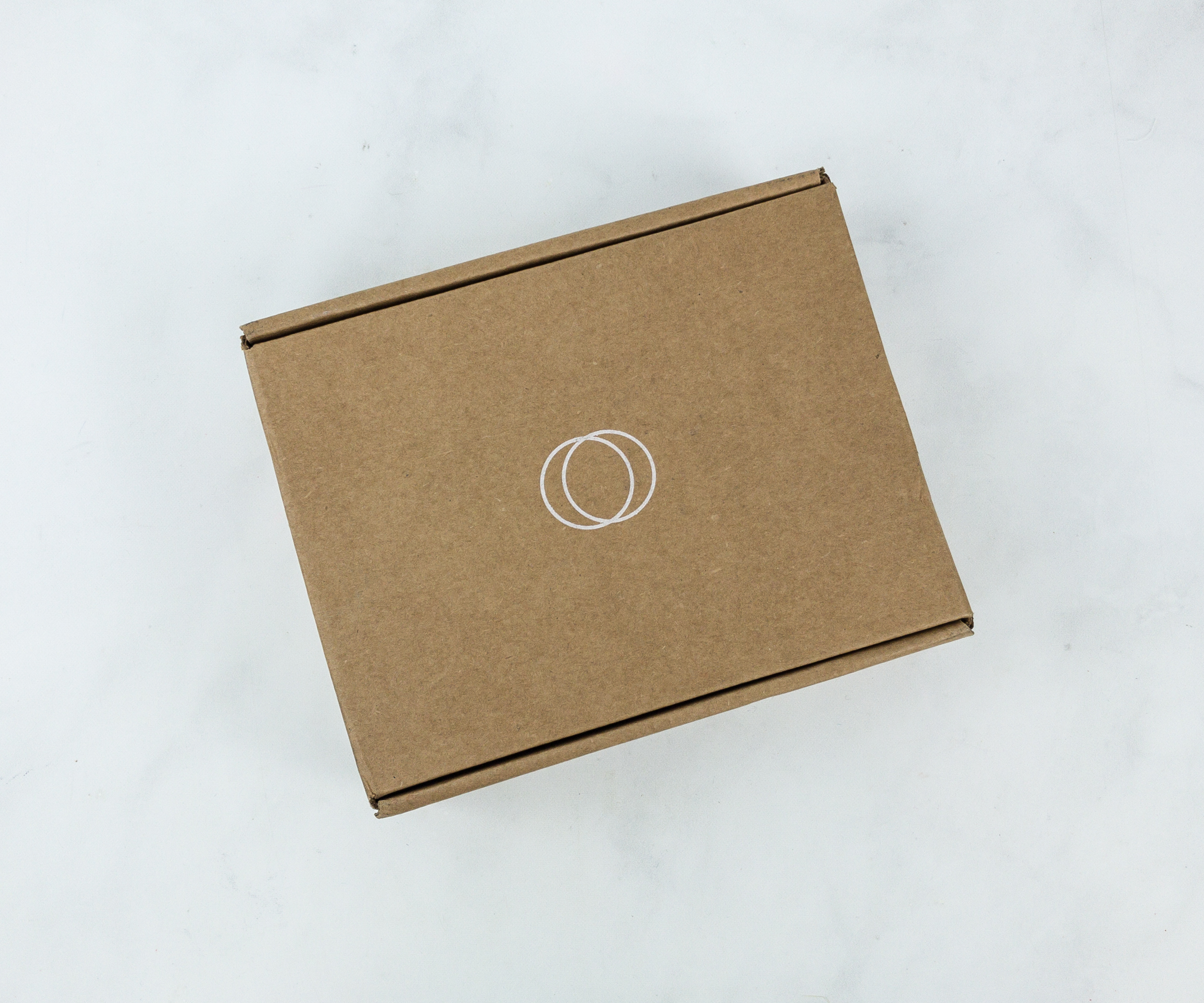 Cora is a subscription box that brings tailored tampons and menstrual health items according to your flow. The subscription starts at $11 per month paid quarterly, and you'll get a box with premium organic cotton tampons, liners, pads, and more, depending on your preferences!
DEAL: Start your subscription FREE, just pay $3 the first month for shipping! No coupon needed – just use this link to sign up!
When you sign up, there's a super short quiz including how many tampons and pads you use per period, whether you like all supers, all regulars, or mostly one and a few of the other. Your subscription price depends on how many tampons you need monthly and starts at $9. You can pay quarterly or annually for a discount.
With your first REGULAR box, you'll also get a complimentary Signature Kit, which includes Cora's Little Black Box, Little Black Clutch and Cora's Stowaways. You can get an assortment equal to a month for FREE with $3 shipping – just use this link to sign up.
The exact cost of your subscription will depend on your selections. The good news is that if you don't have a chance to try them out before rebilling, you can log on and push your subscription date out, which I did, because I wanted a chance to see exactly what I needed.
There's all sorts of add-ons too.
This is a review of Cora's Tampon Free Trial.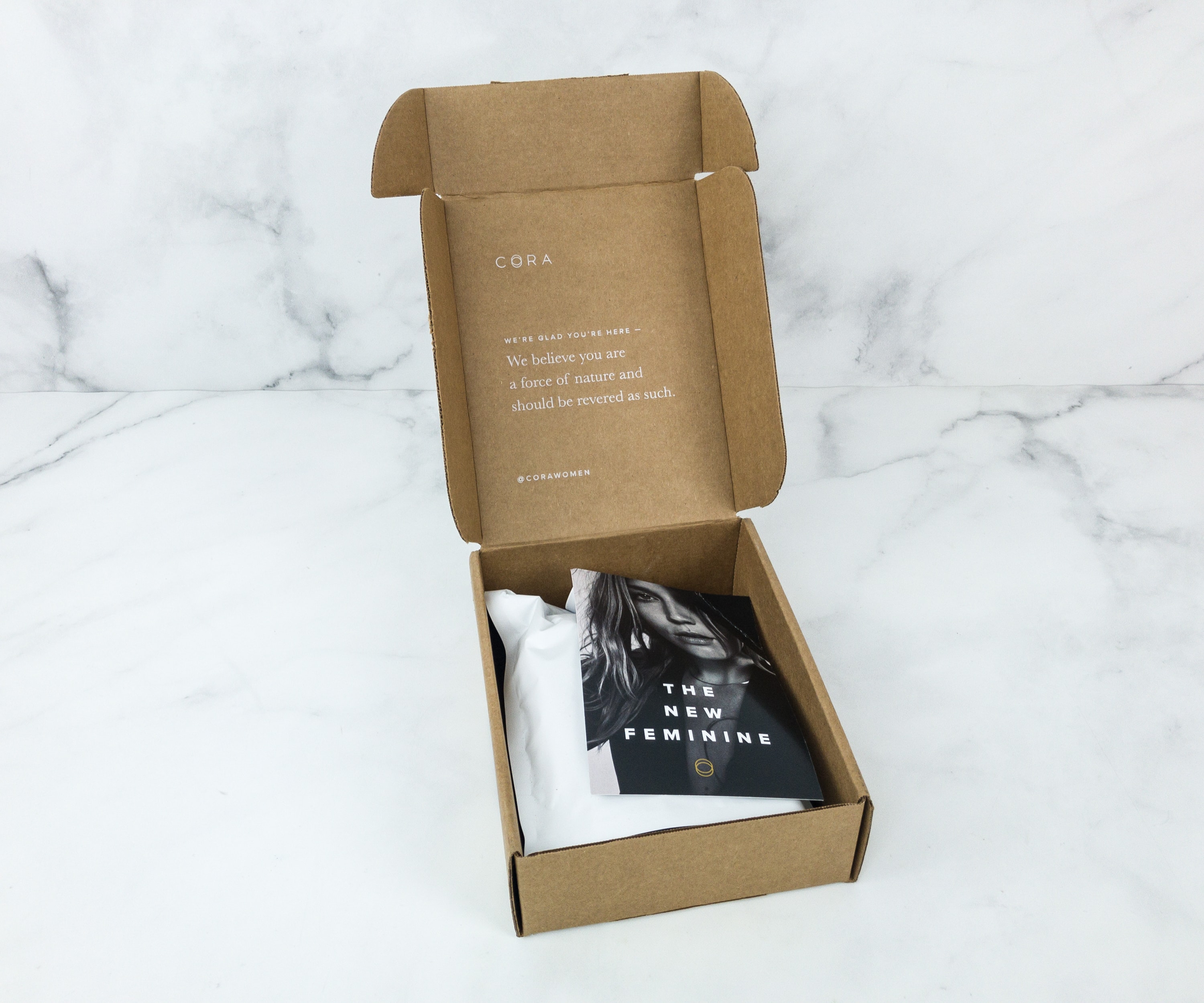 Inside the box is a resealable packet filled with tampons.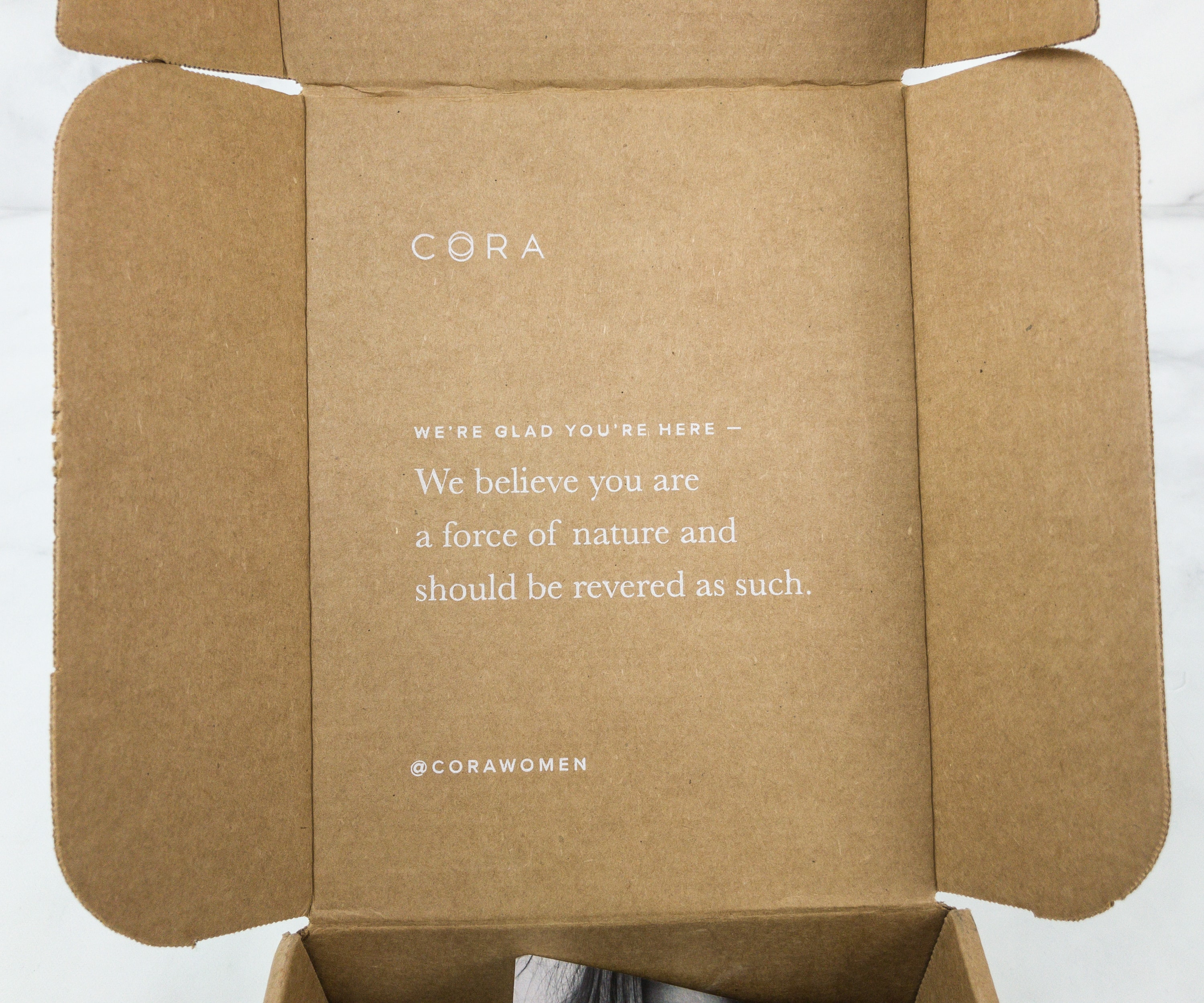 They also left an empowering message for women under the box cover.
We're glad you are here —

We believe you are

a force of nature and

should be revered as such.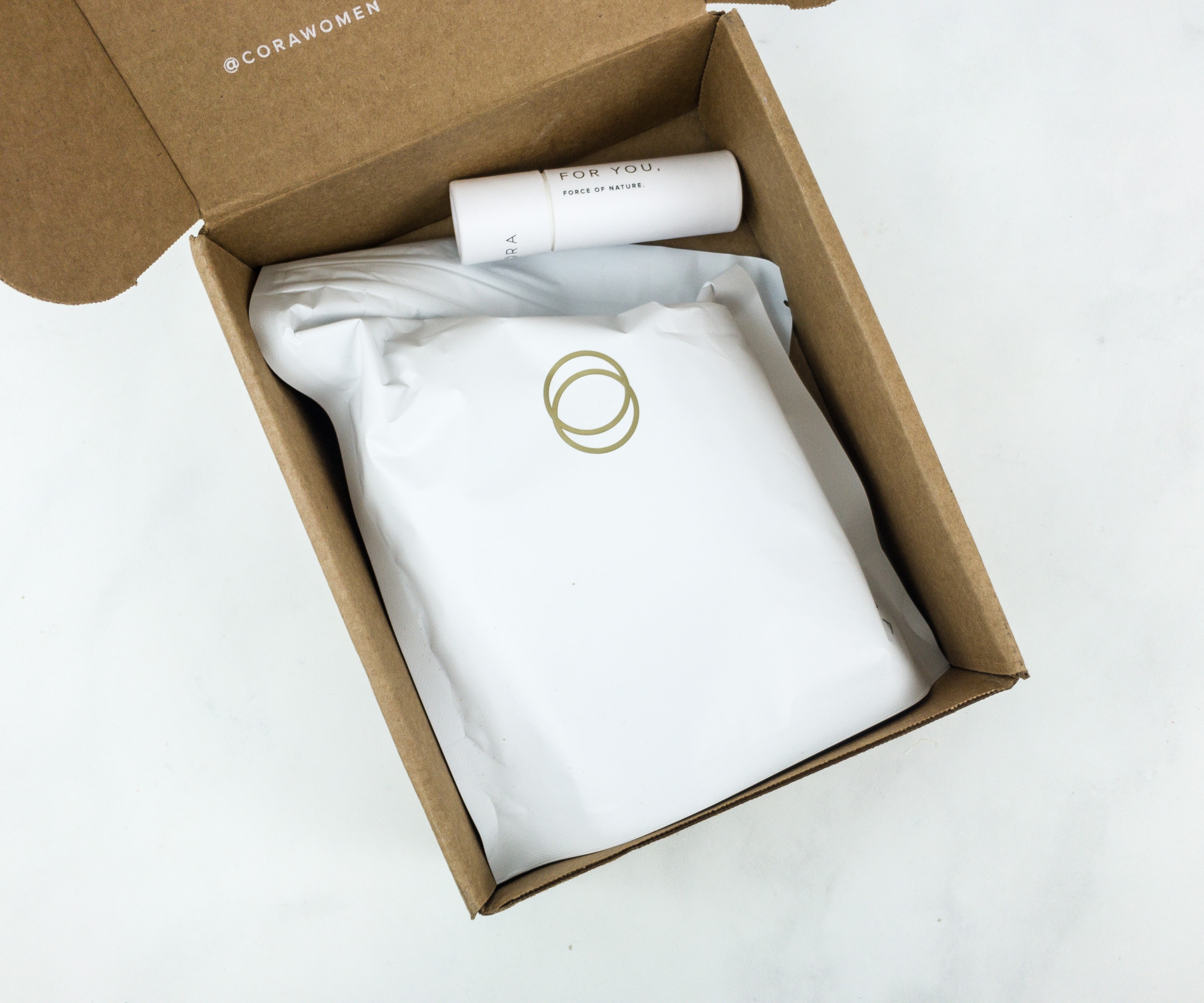 I like the packaging because it's chic and simple.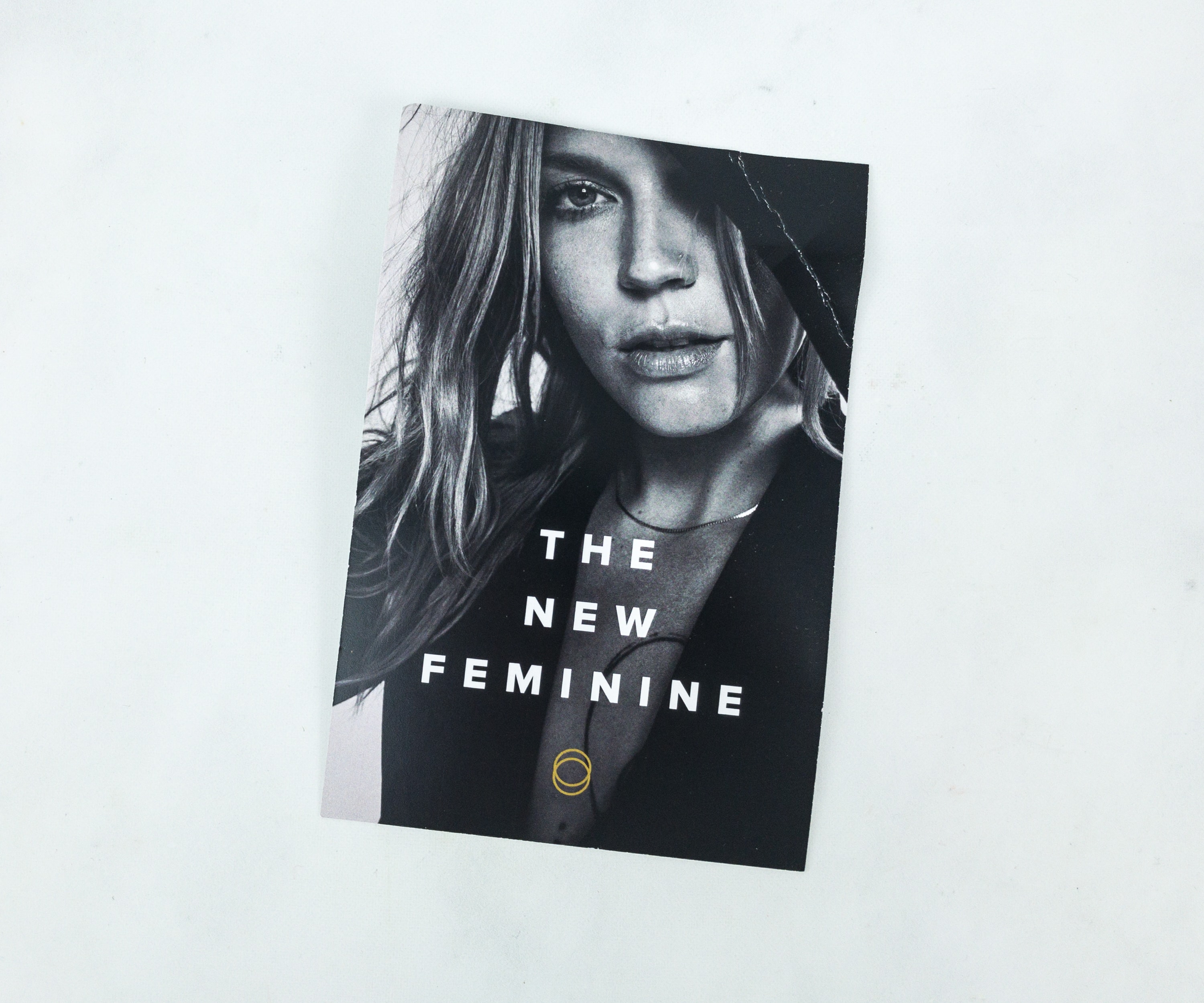 The box also includes an information card.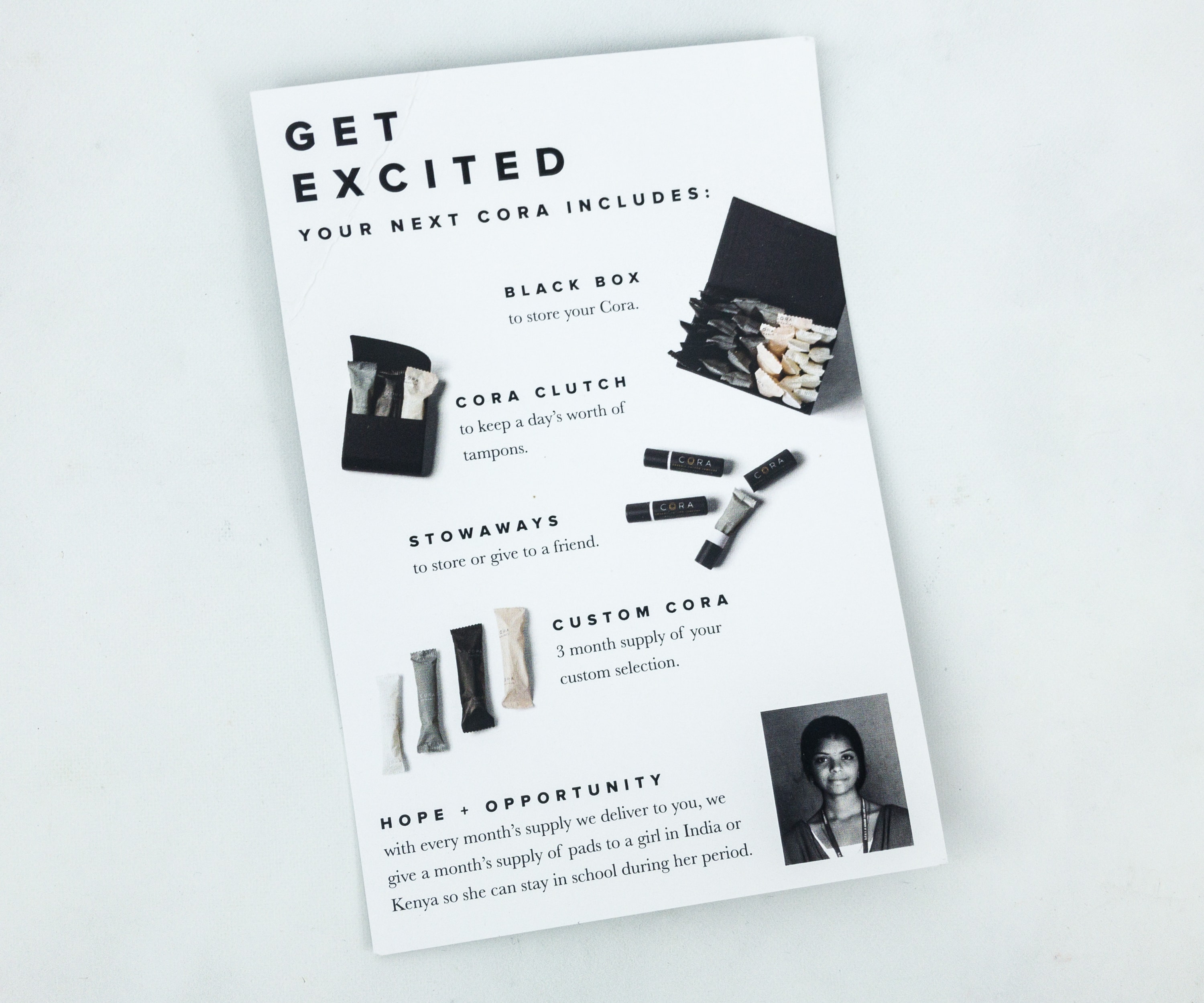 Behind the card is a description of all the products in your next package, plus their advocacy. Every supply you purchase is equivalent to a month's supply of pads to a girl in India or Kenya. I noticed that the clutch on this card is different than the one on the website.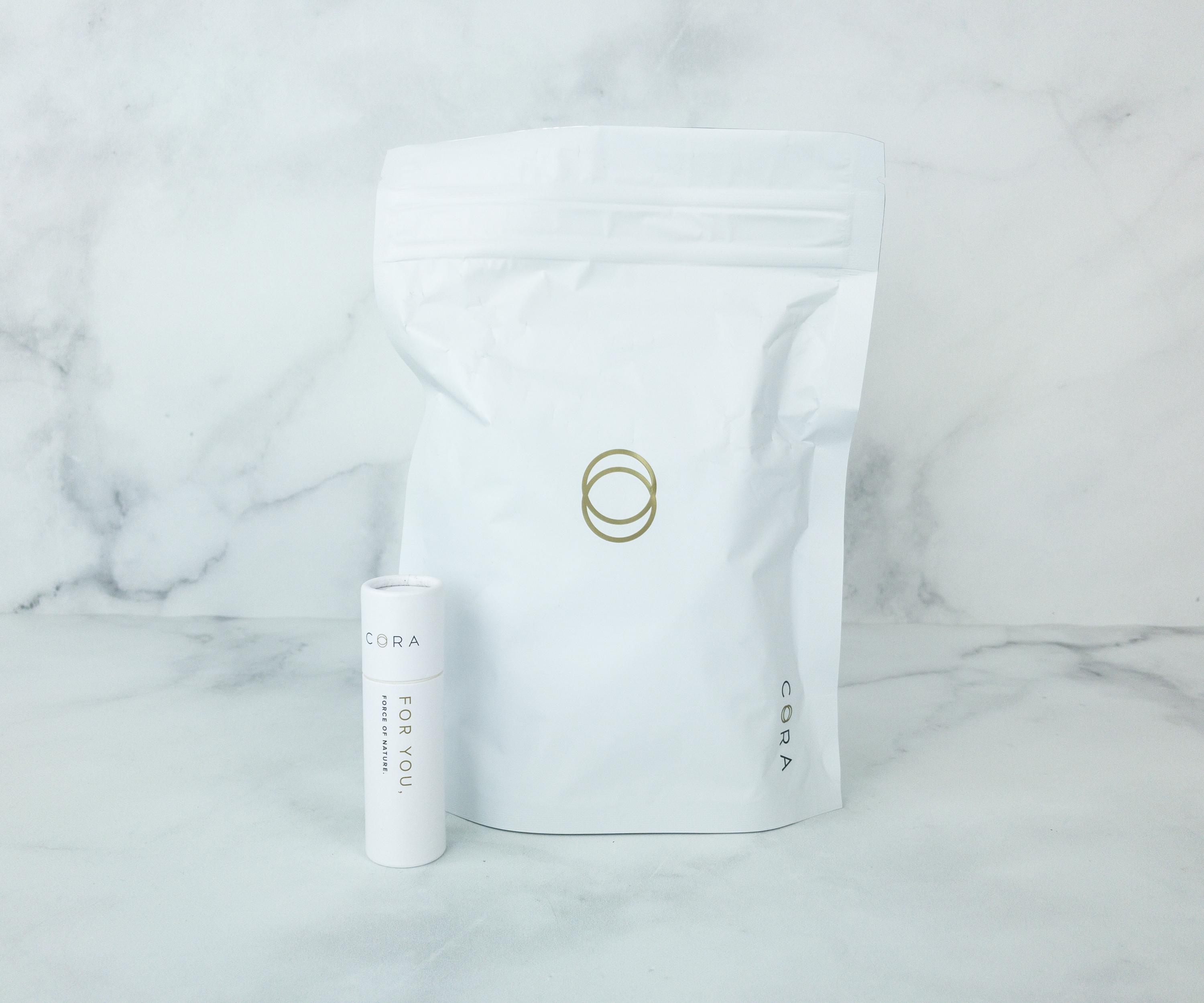 Cora uses only organic cotton and non-toxic ingredients in their products. The materials are fair-trade as well.
Conventional cotton is the dirtiest crop in the world. The pesticides and insecticides applied to conventional cotton contaminates water systems and soil, poisoning animals and destroying ecosystems and putting our health at risk. By using only 100% certified organic cotton, we eliminate the pesticides and insecticides that cause harm to the planet we love.

Many conventional farms use child labor and expose workers to dangerous chemicals. Our organic cotton is certified by the Global Organic Textile Standard (GOTS). GOTS protects workers' rights. They ensure that employment is voluntary, working conditions are safe, fair wages are paid, and no child labor is ever used.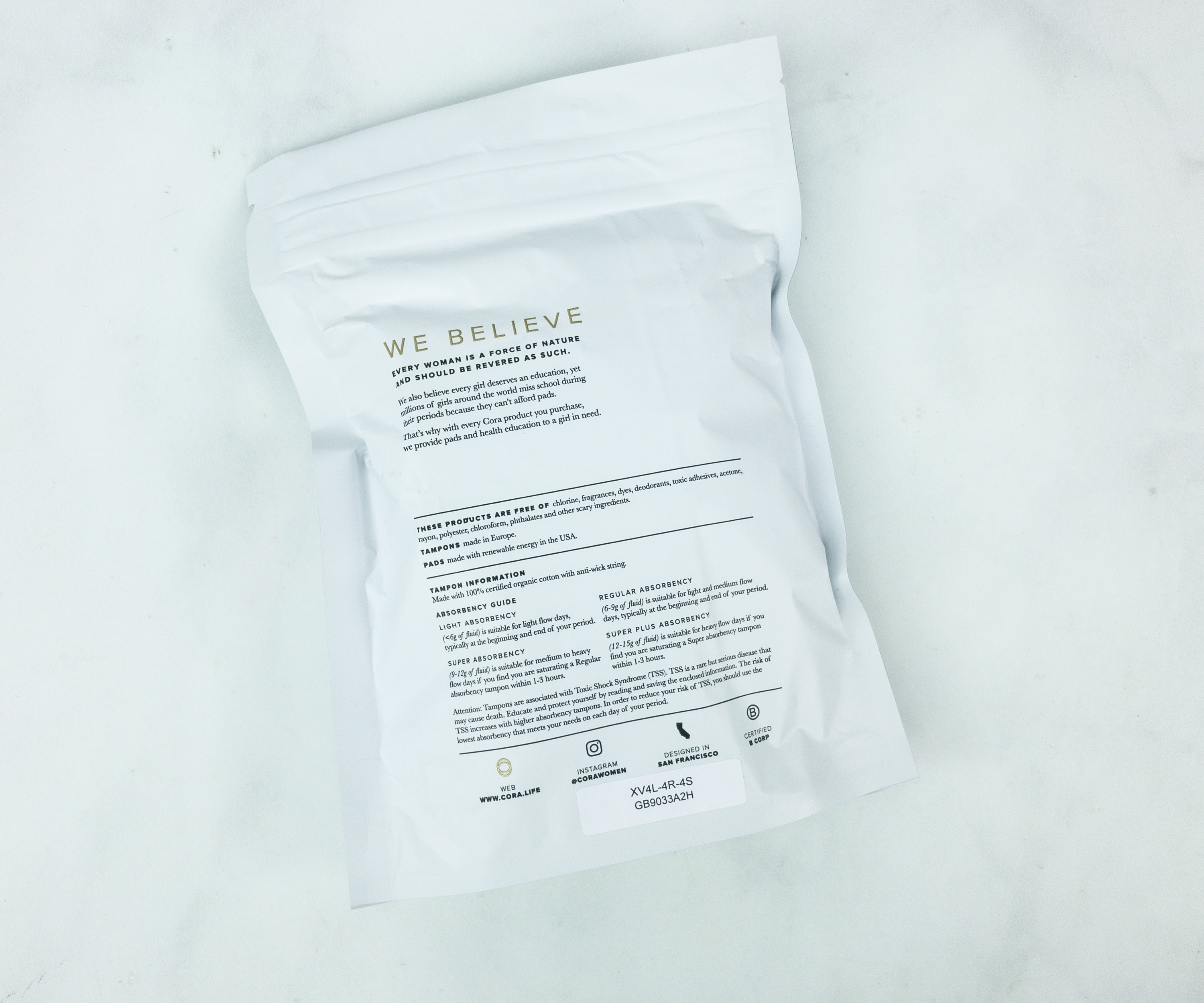 More information about their products is detailed at the back of the resealable packaging.
Cora's tampons are made in Europe, while the pads are made with renewable energy in the USA. They even have an absorbency guide so you can find the perfect kind of tampon for your flow and clear TSS info.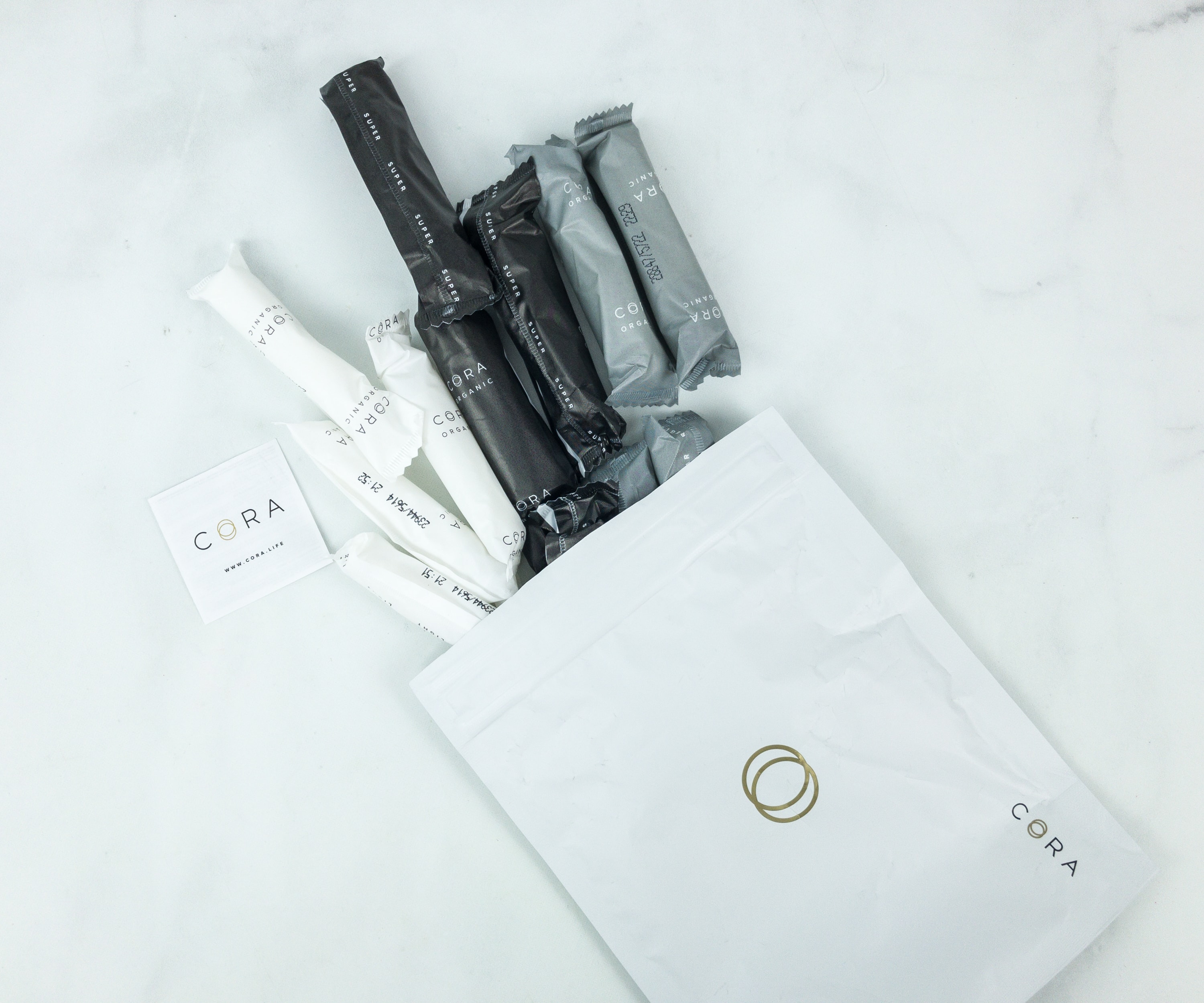 Our trial pack includes 12 tampons with color coordination designated for different flow types. I picked ones with applicators, although they also have applicator-free tampons.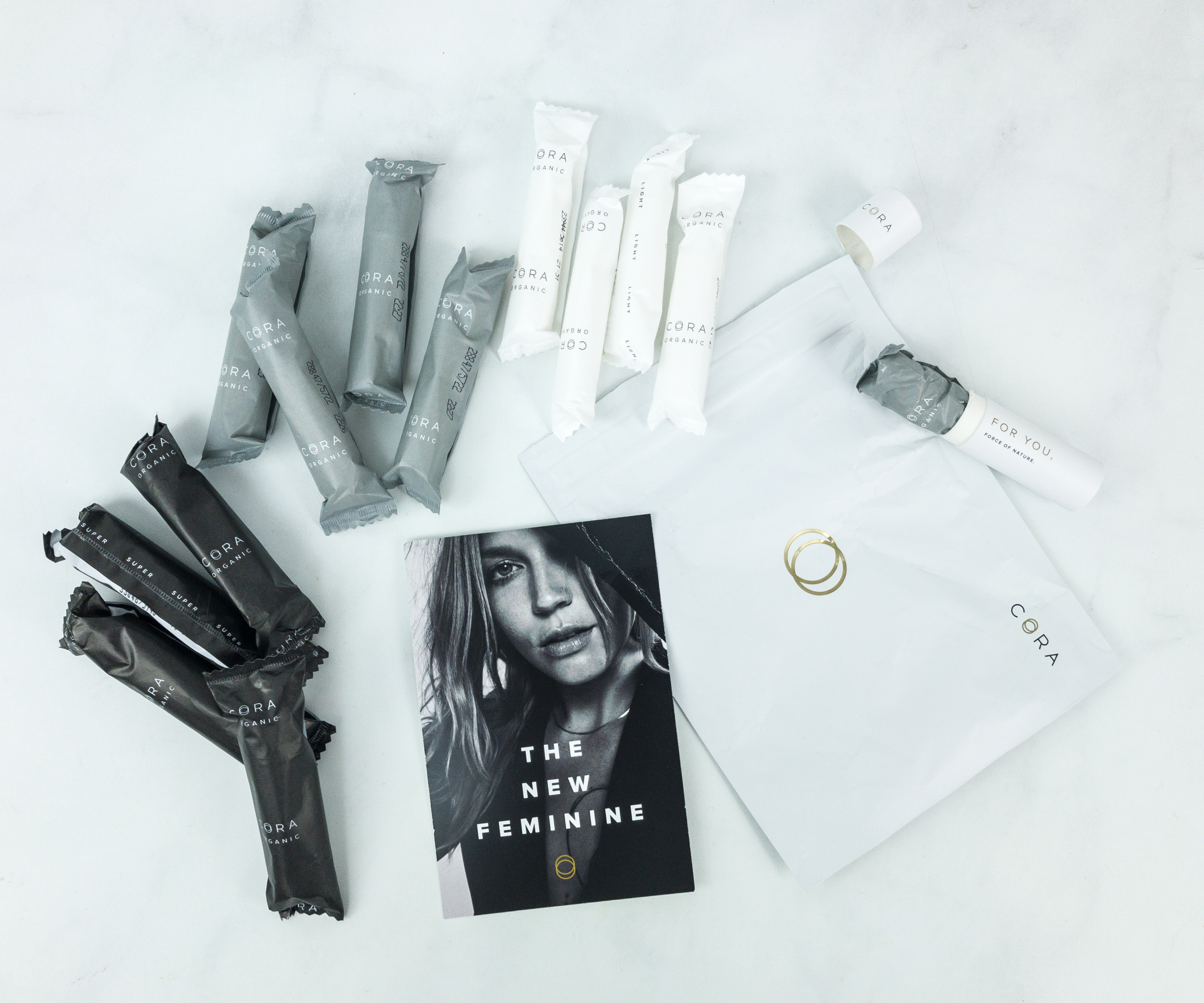 Everything in my box!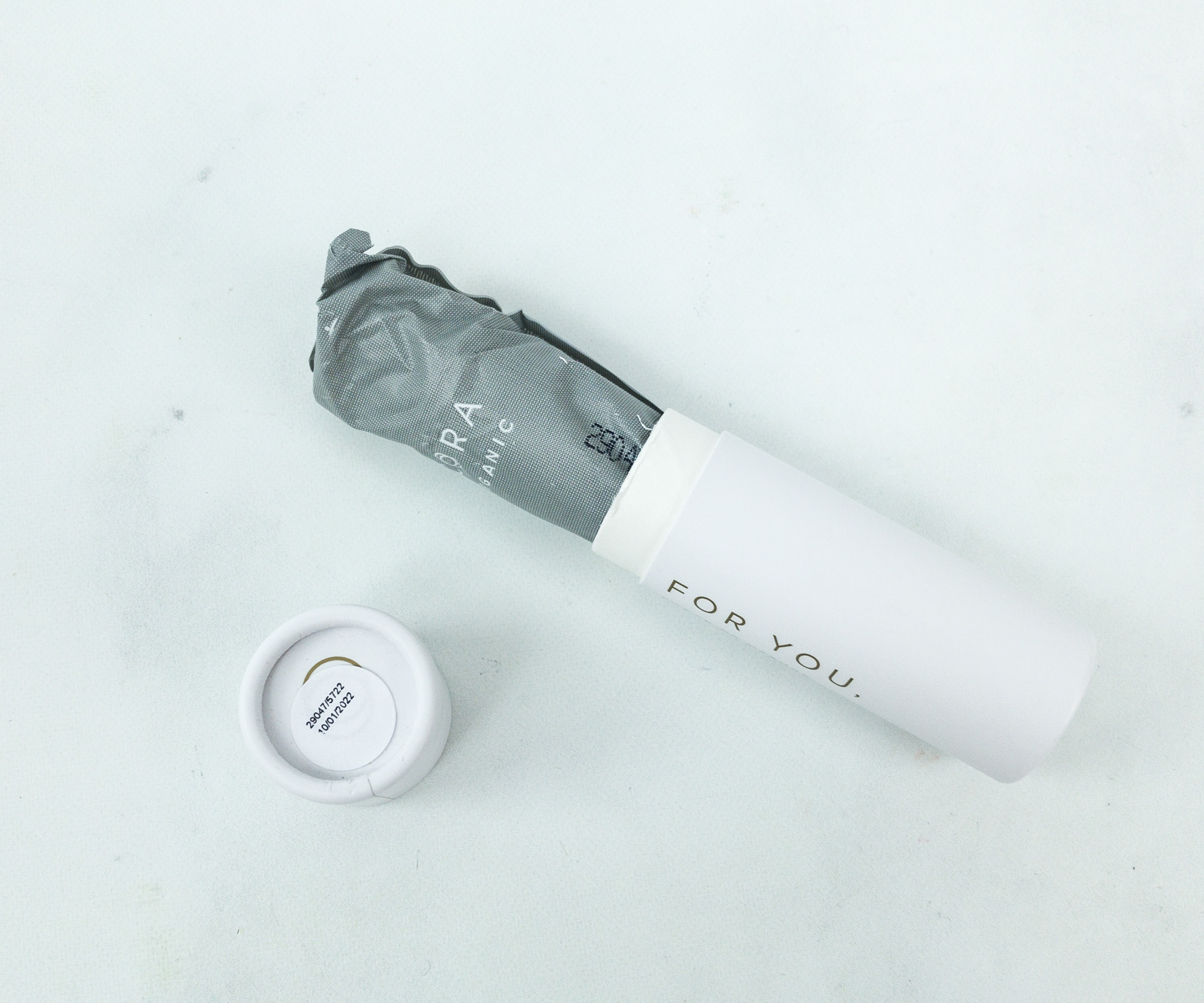 This container is called stowaway. It's a cute lipstick-sized tube where we can put a tampon and keep it from getting destroyed if we're bringing it in our bags. The tube is reusable, so it's eco-friendly too.
Cora Light Tampons are the ones in white packets. They are tailored for light menstrual flow, either at the start of your period or towards the end. All Cora tampons are comfortable to use and highly absorbent because the material is made from 100% cotton.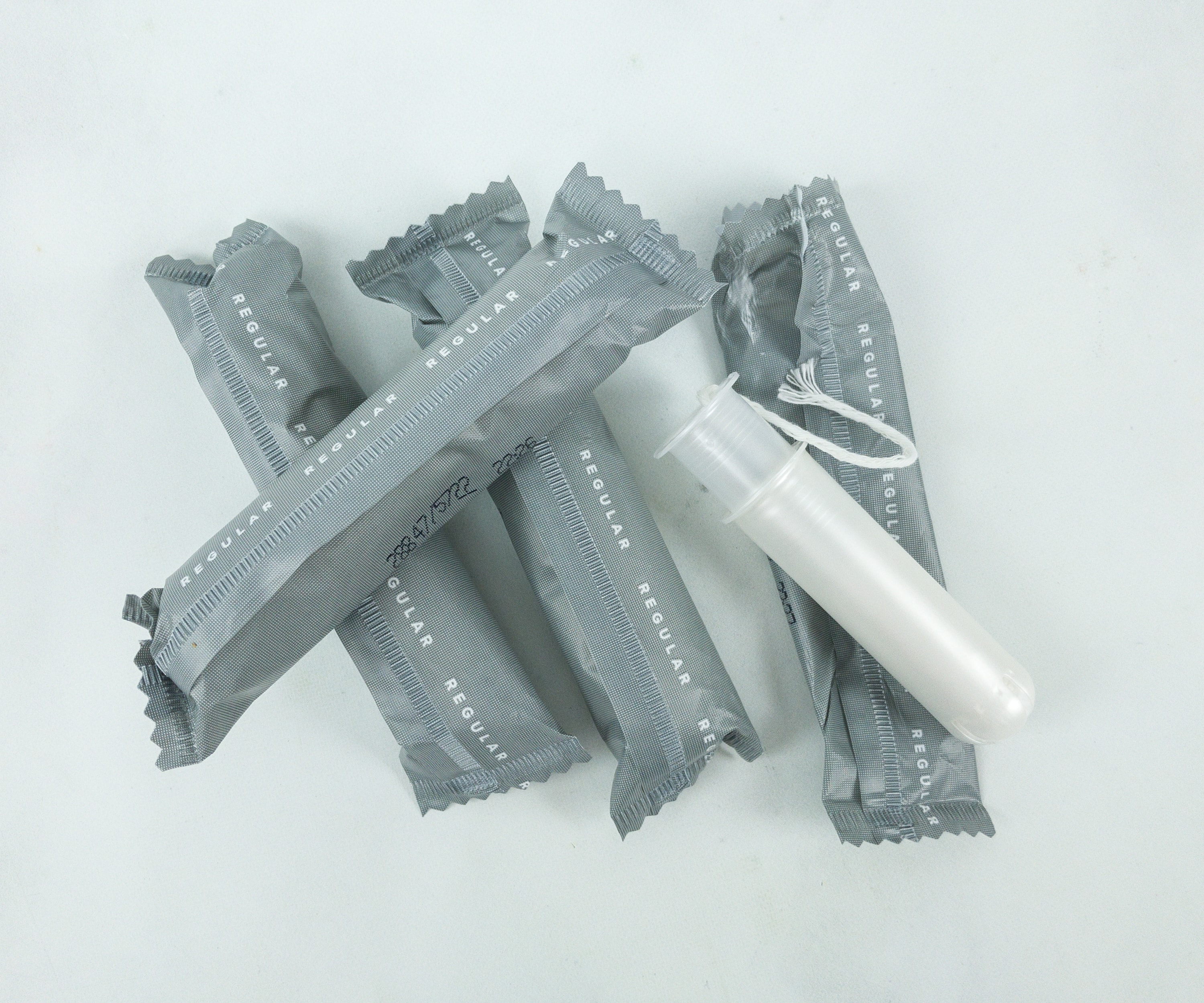 For a regular to medium flow, Cora Regular Tampons are perfect to use. Like other kinds of Cora tampons, these are pesticide-free, chlorine free, fragrance-free, toxin-free, and non-GMO.
I don't have to worry about heavy flows anymore because Cora Super Tampons is made for that. Its customized octagonal design and width-wide expansion conform to your body for maximum absorption and no uncomfortable leaks.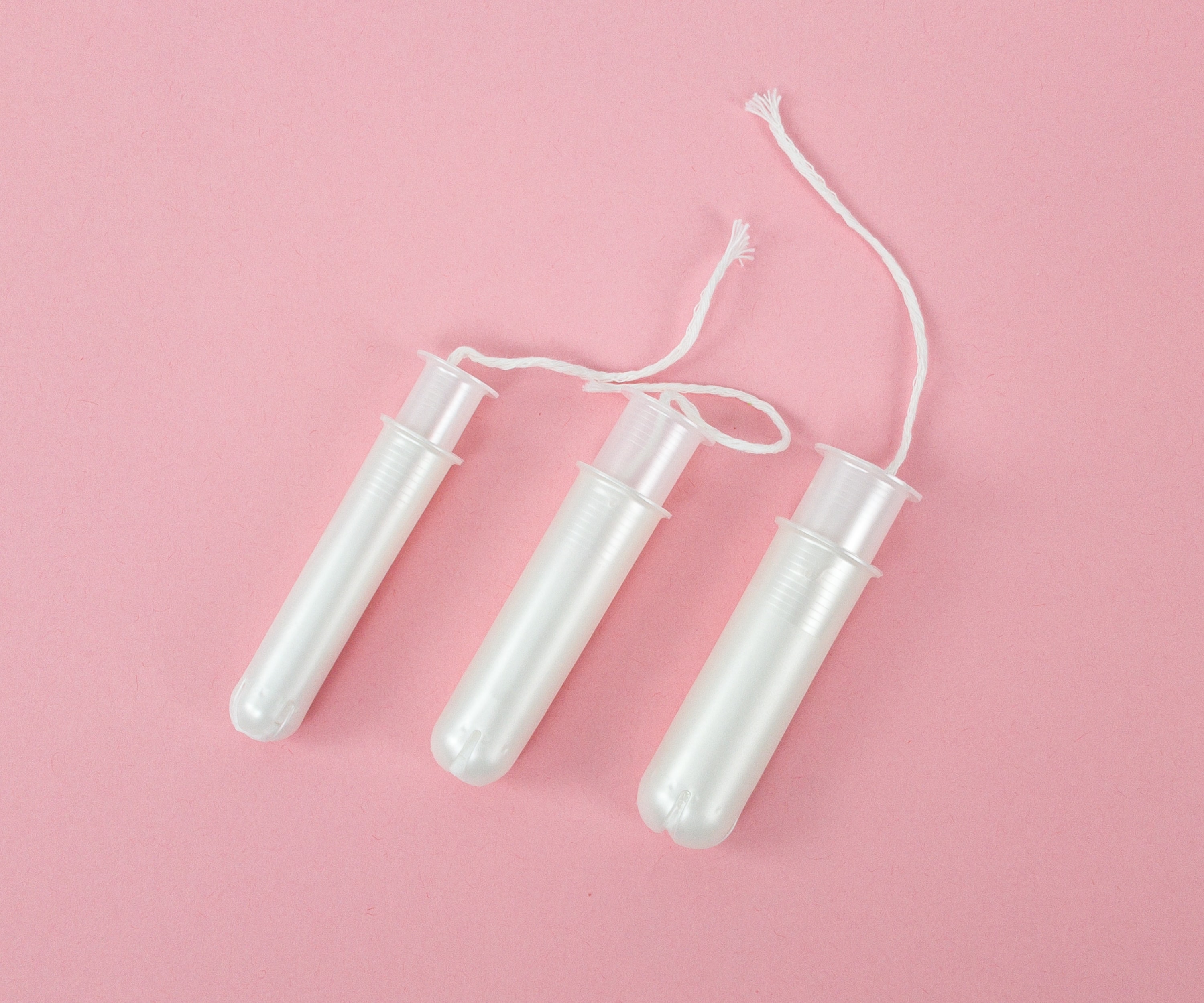 The compact plastic applicators have a comfortable and sleek design. The soft tip is structured for easy insertion. They are made with BPA-free, fully recyclable plastic, and wick-free thread. Compact and environmental impact, it's the best of both worlds!
Finally, a tampon for modern women! Unlike other brands that use undisclosed synthetics, Cora made theirs organic and natural for a safer and more hygienic experience.  I am happy to find one that will not just protect me from leaks, but from infection too. I would definitely ditch my old brand and switch to Cora!
What did you think about Cora?