CAUSEBOX is a quarterly subscription box curated with socially conscious products for women. In each box, you'll receive 5-8 seasonal lifestyle products that are focused on ethical and sustainable production, donate a percentage of profits to charity, or aim to inspire and empower others.
DEAL: Save $10 on your first box with coupon code WELCOME10!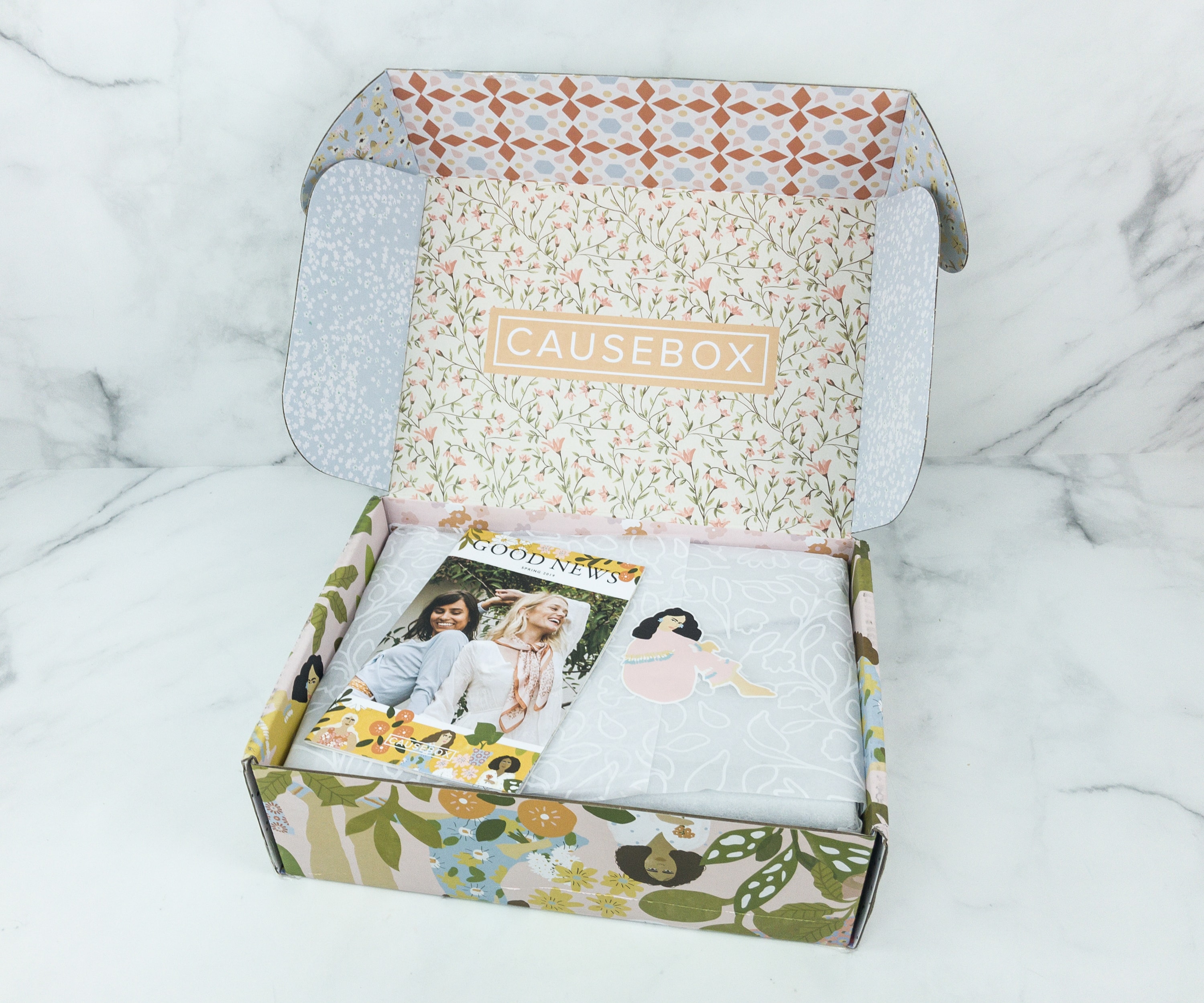 A mini magazine welcomed us upon opening the box.
The items are wrapped in a thin tissue paper and sealed with a sticker.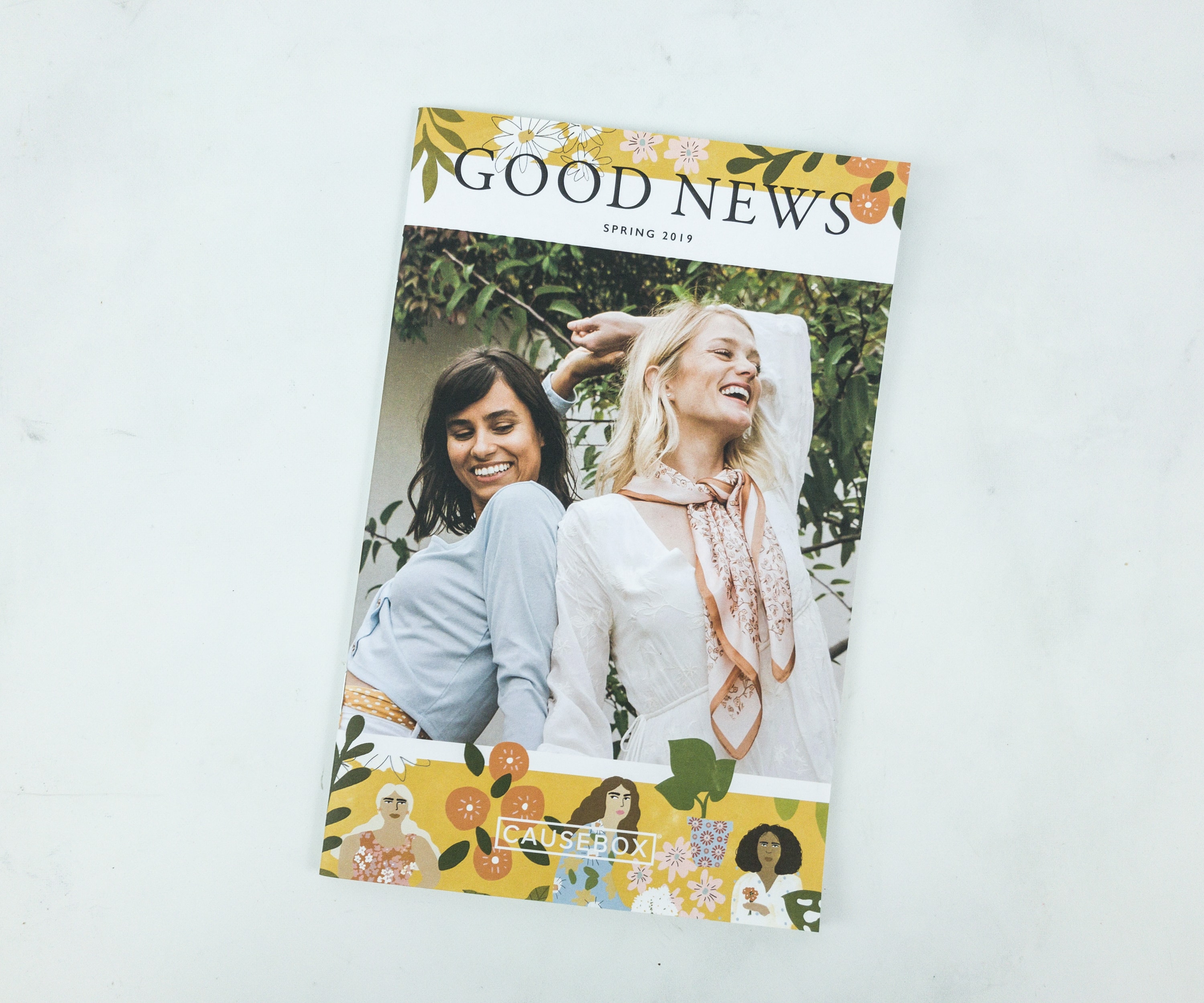 The mini magazine is packed with useful information.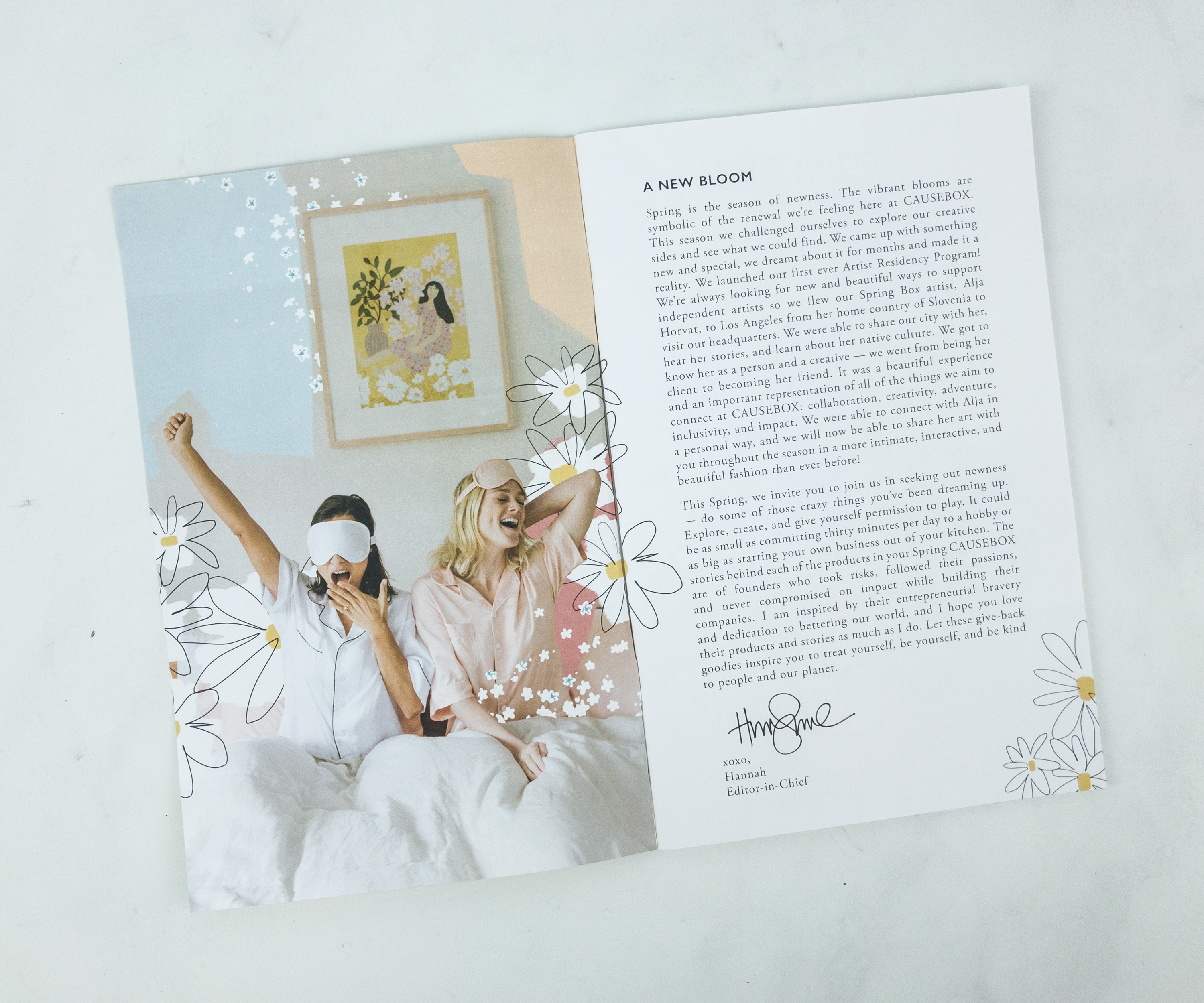 Here's a message from the Editor-in-Chief!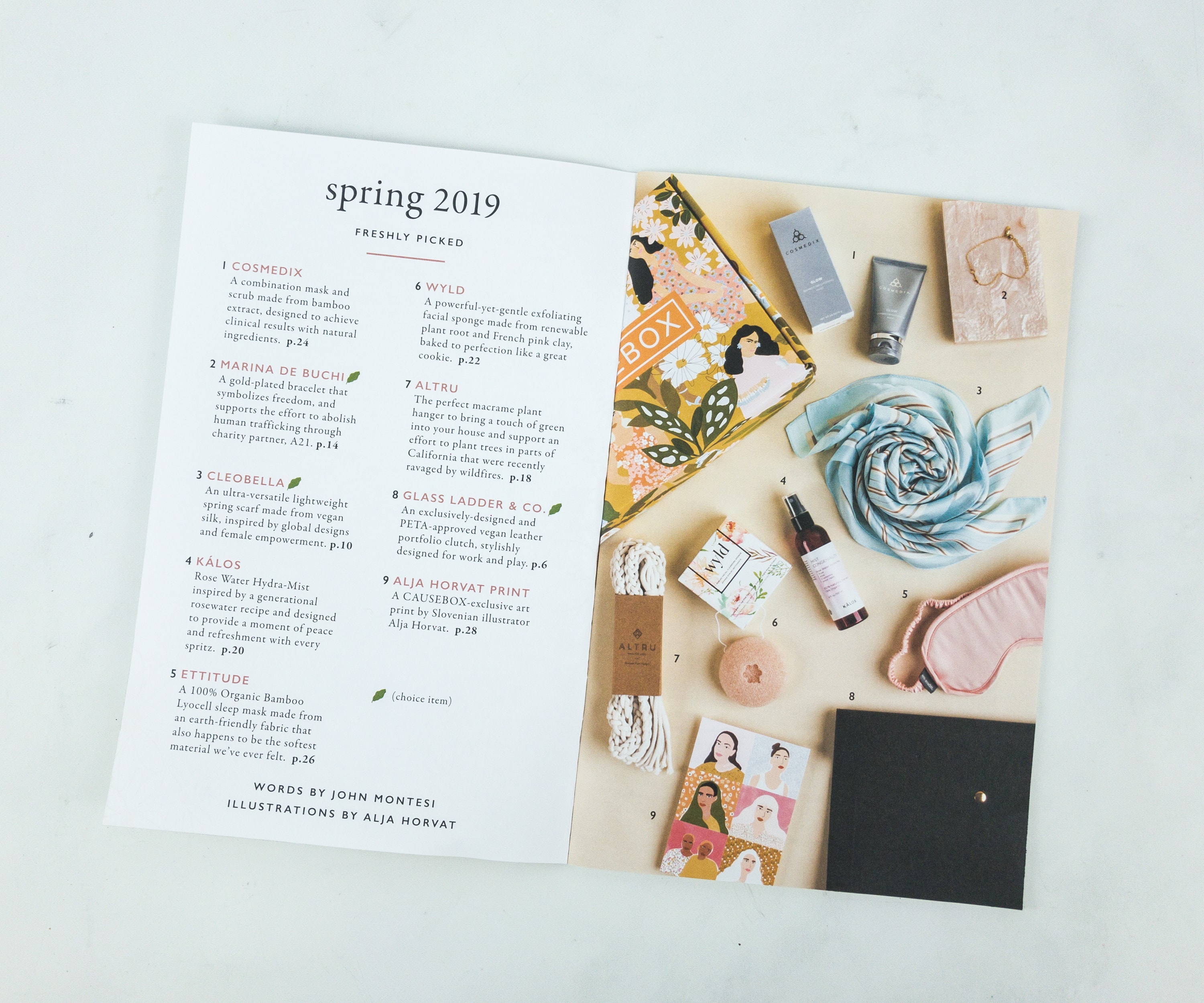 This page shows you a list of all the items in the box and their corresponding page in the mini magazine.
There's even a feature about how to grow succulents. On the other page are members-only deals and coupon codes!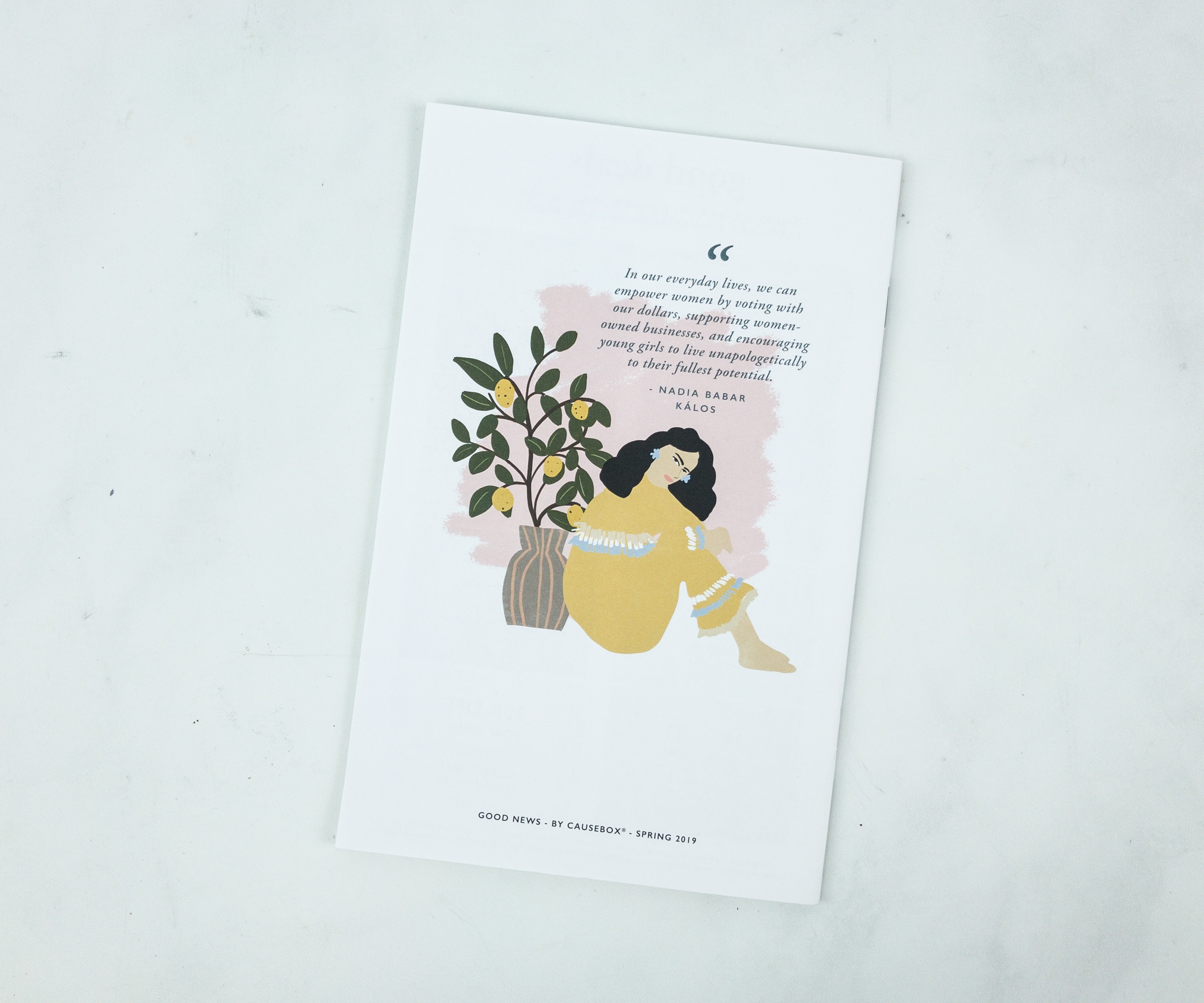 In our everyday lives, we can empower women by voting with our dollars, supporting women owned businesses, and encouraging young girls to live life unapologetically to their fullest potential.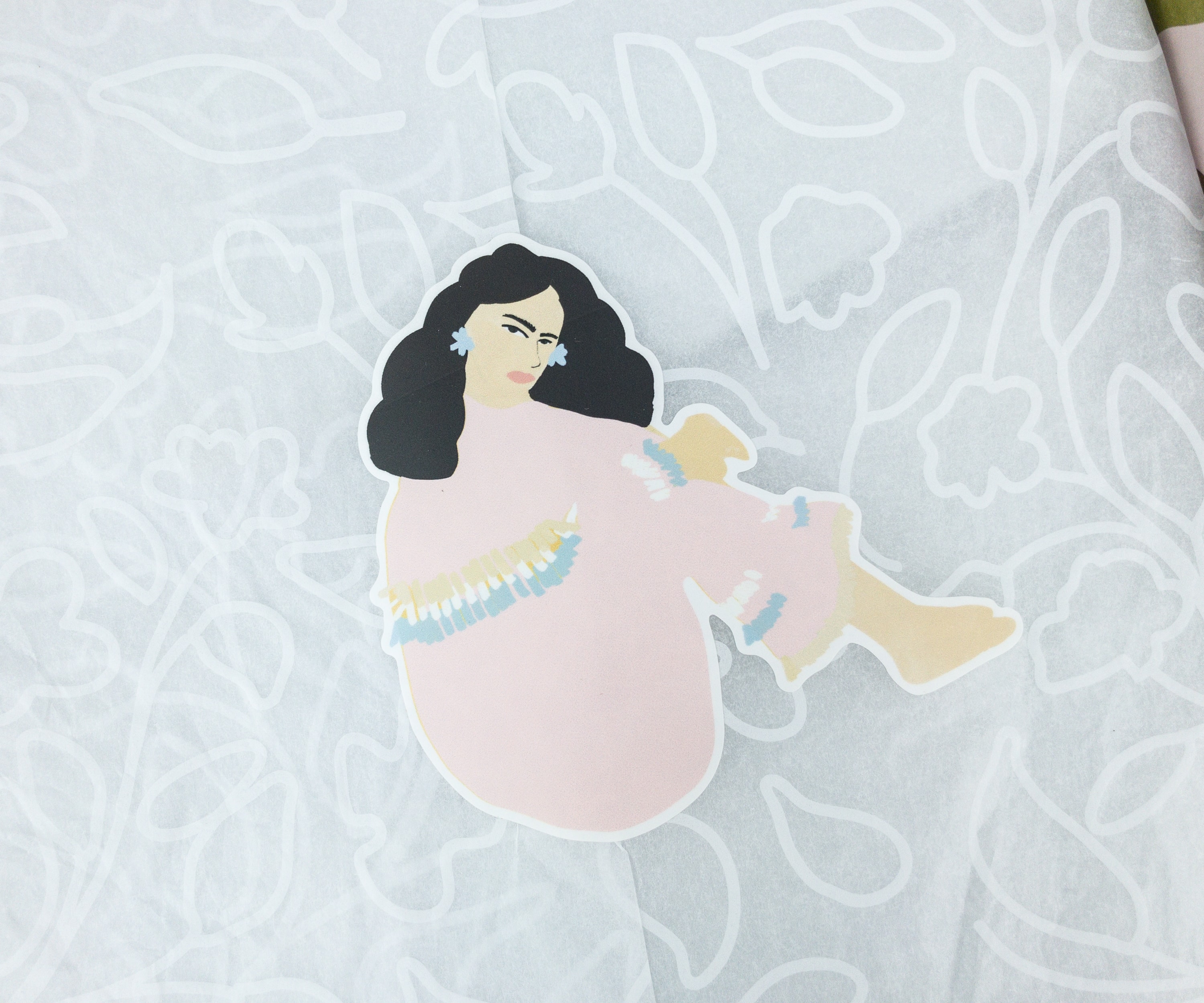 The items were wrapped in a tissue paper and sealed with a pretty sticker.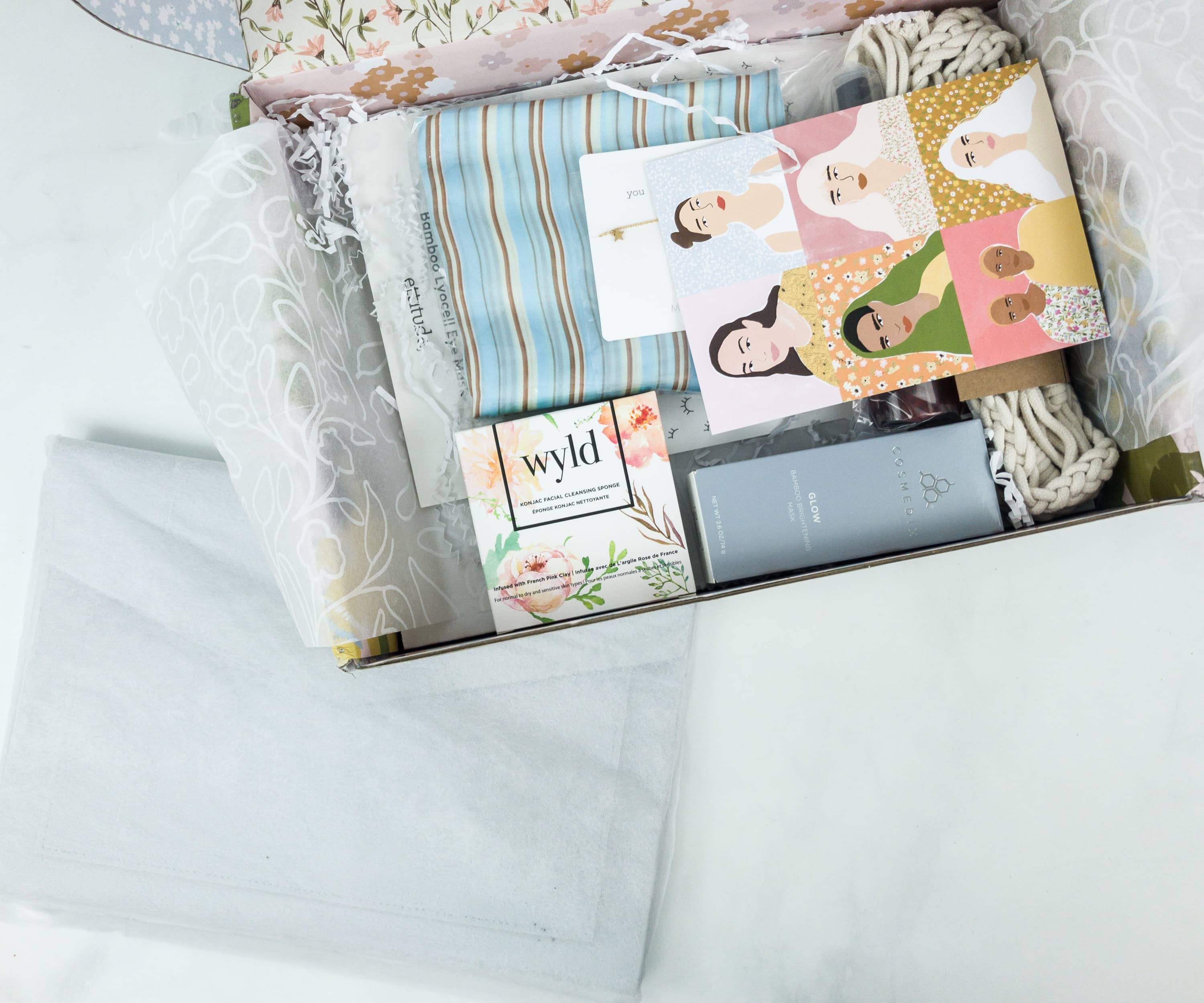 The box is jampacked!
Everything in the Spring 2019 box!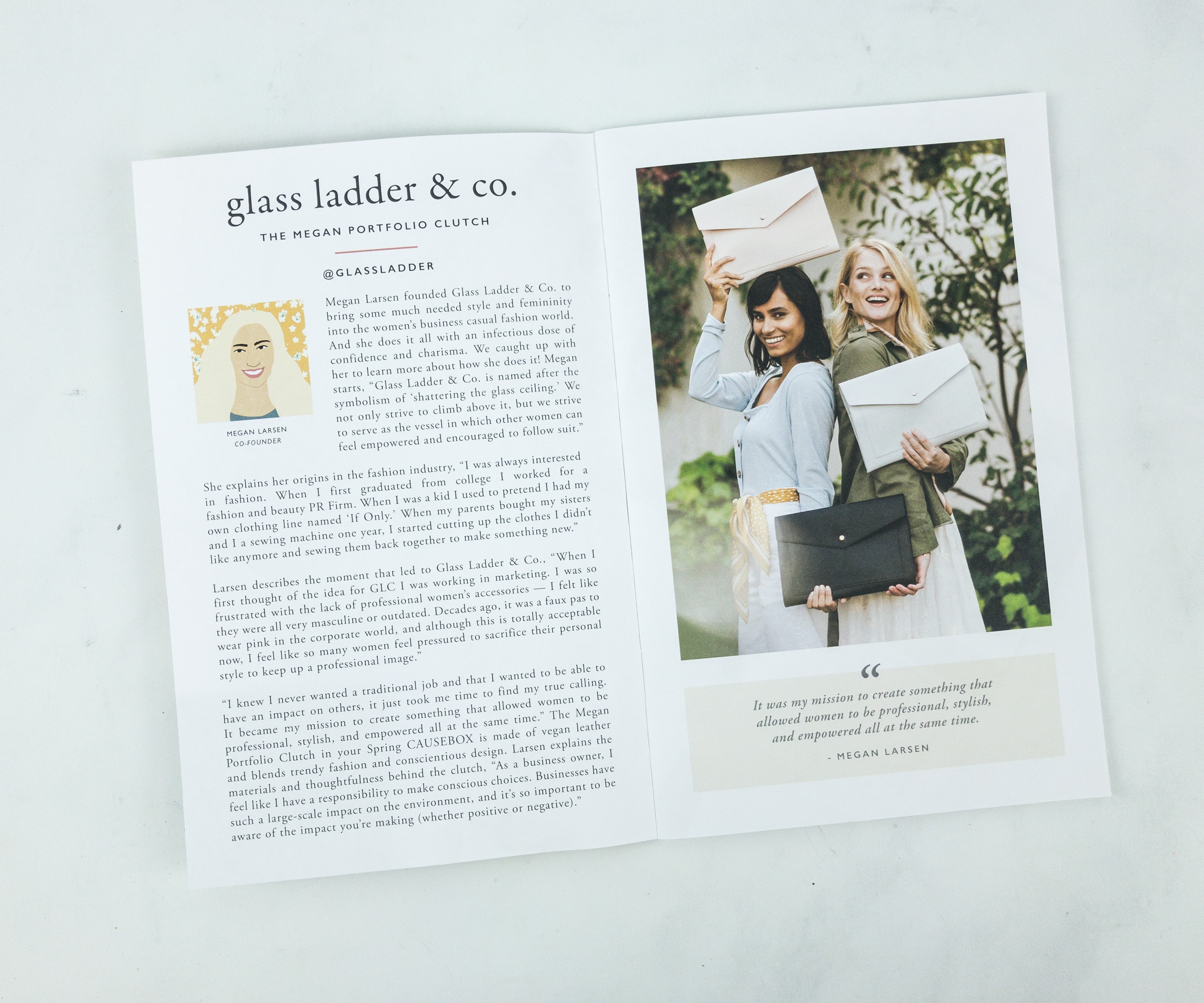 Glass Ladder & Co. Megan Portfolio Clutch ($120) This pouch is made of vegan leather which is a much safer alternative to genuine leather, but looks and feels just like it.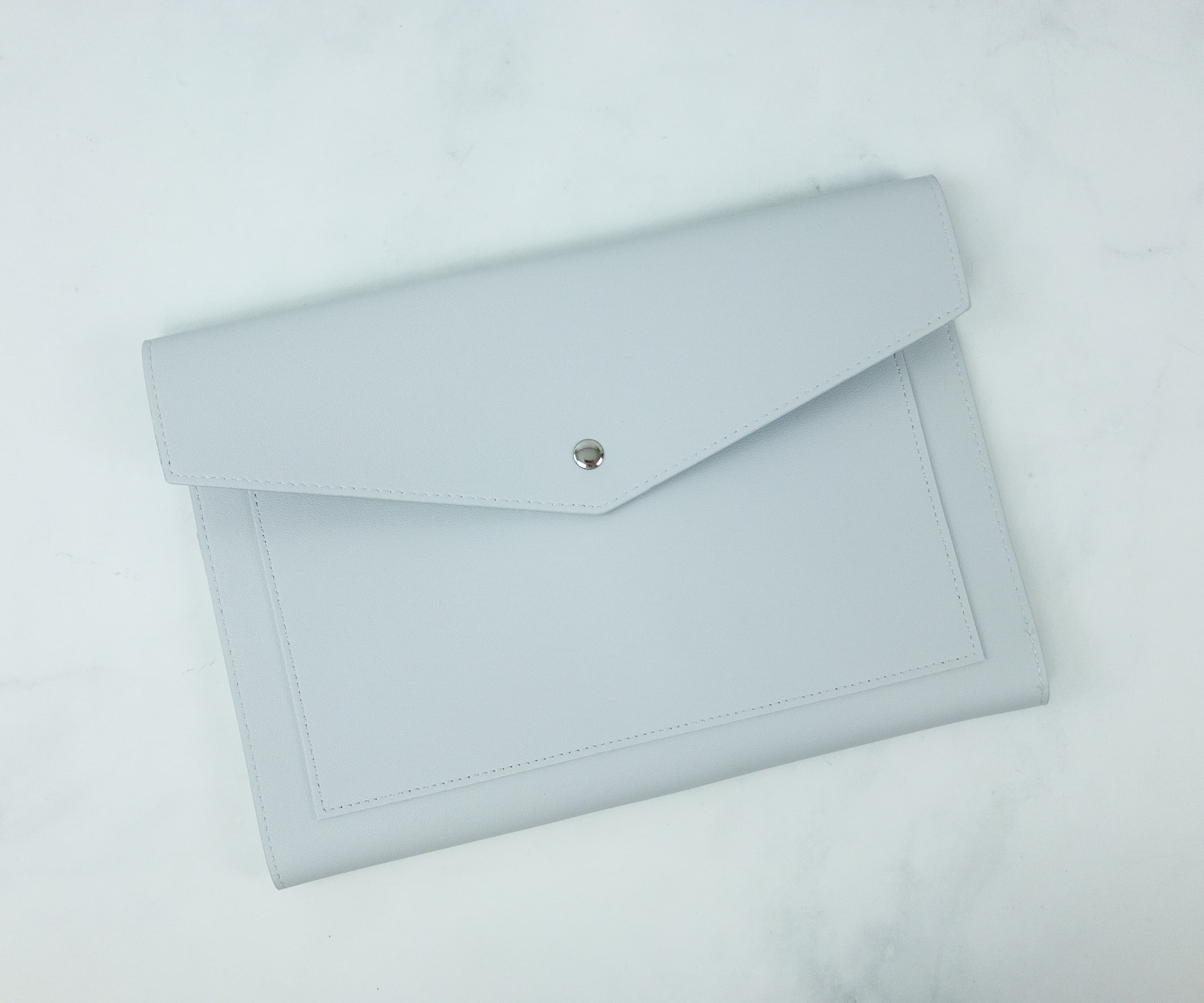 Fusing an urban style with feminine styling, this slim envelope-flap clutch will help me get and stay organized. I can pair it with my tote bag and add a streamlined addition to my daily look.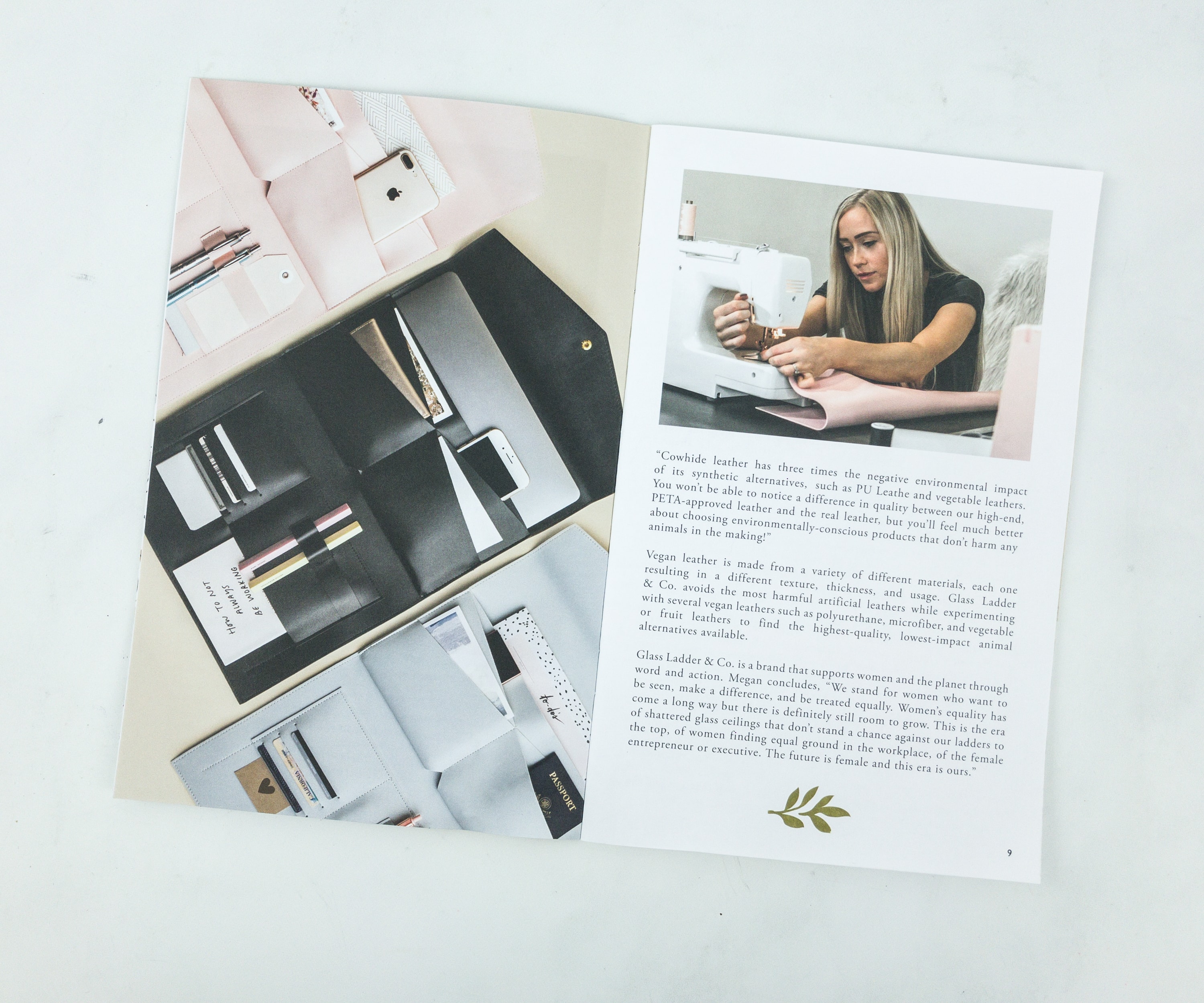 This leaflet expounds on their dedication to using vegan leather in creating their products as a way to protect the planet as well as the people and the animals that inhibit it.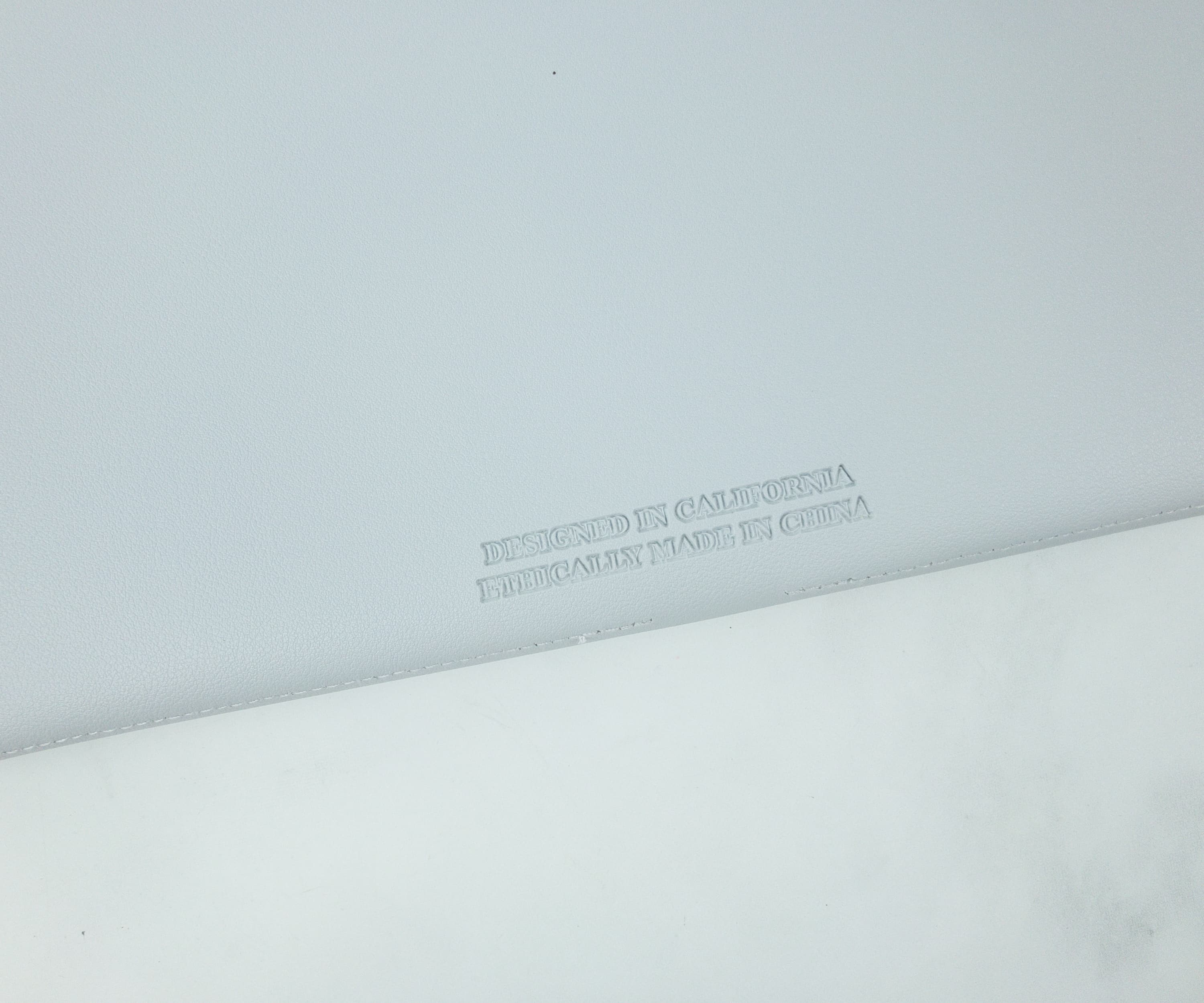 The countries of manufacture and production were engraved on the back part of the pouch.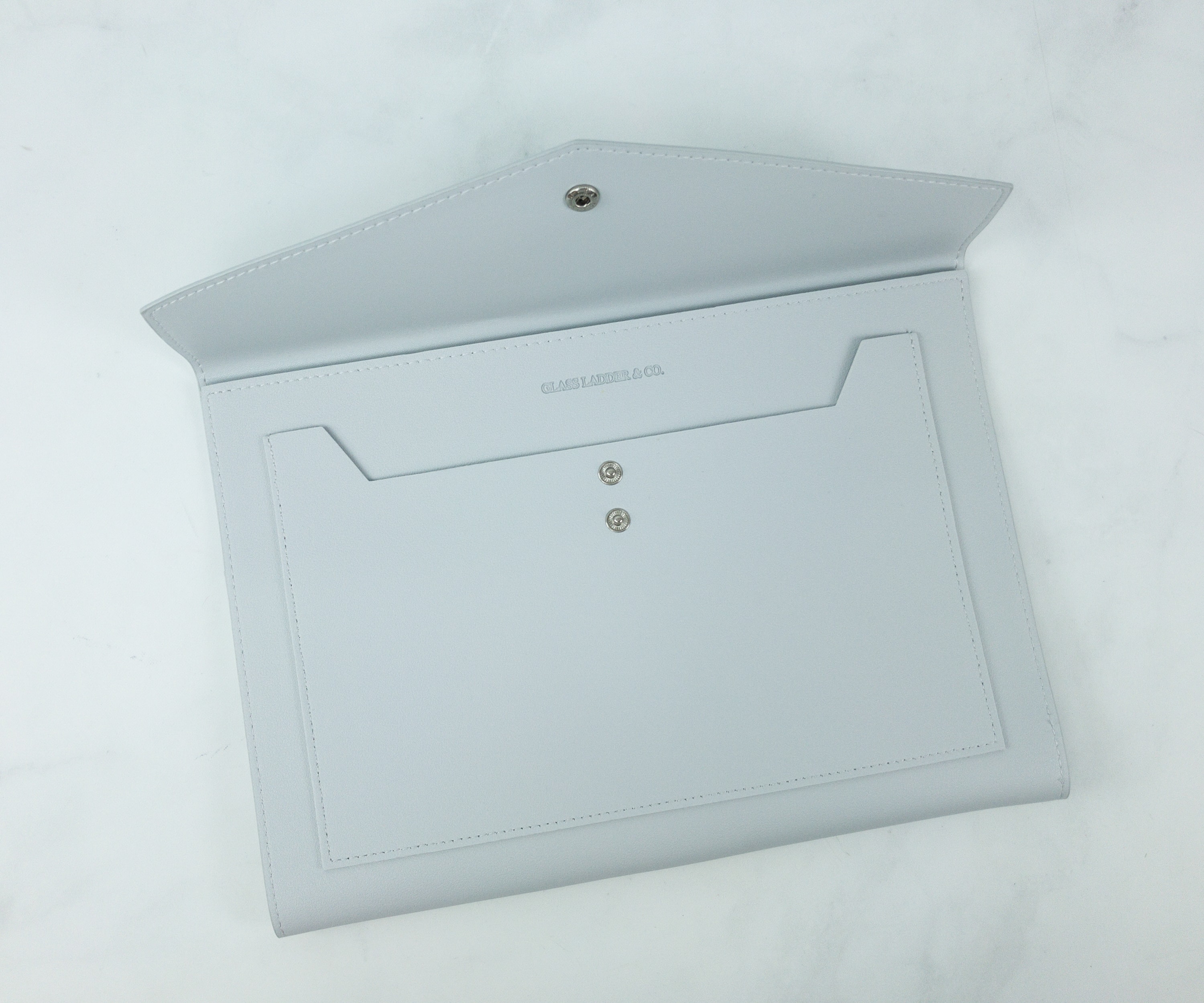 The super functional outer pocket is perfect for fitting small tablets, detachable keyboards journals, and much more! Also, there are two button closure options to give more slack when carrying larger items.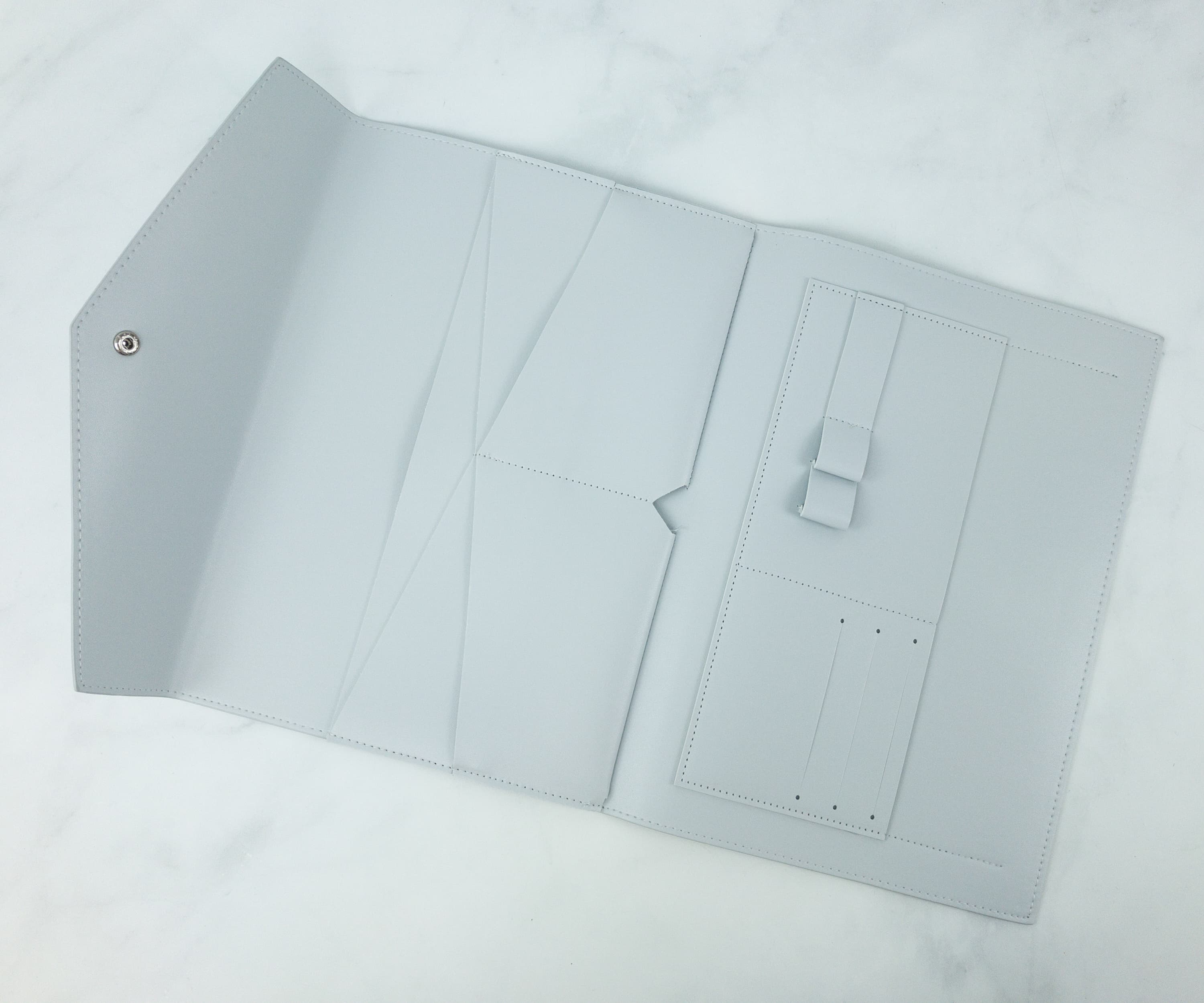 Shape takes on form with this cloud grey pouch that comes with silver hardware, built with the enduring strength and simplicity of classic riveting. It's perfectly-sized for my everyday necessities and whatnots. It's really not blue – it's a bluish gray, which I like, but I was hoping with something with a touch more blue to it.
Cleobella Silky Scarf ($52) I fell in love with this scarf the moment I saw it in the box. Even more so when I realized that it's from Cleobella. This company's goal is to empower women and raise their consciousness on female integrity.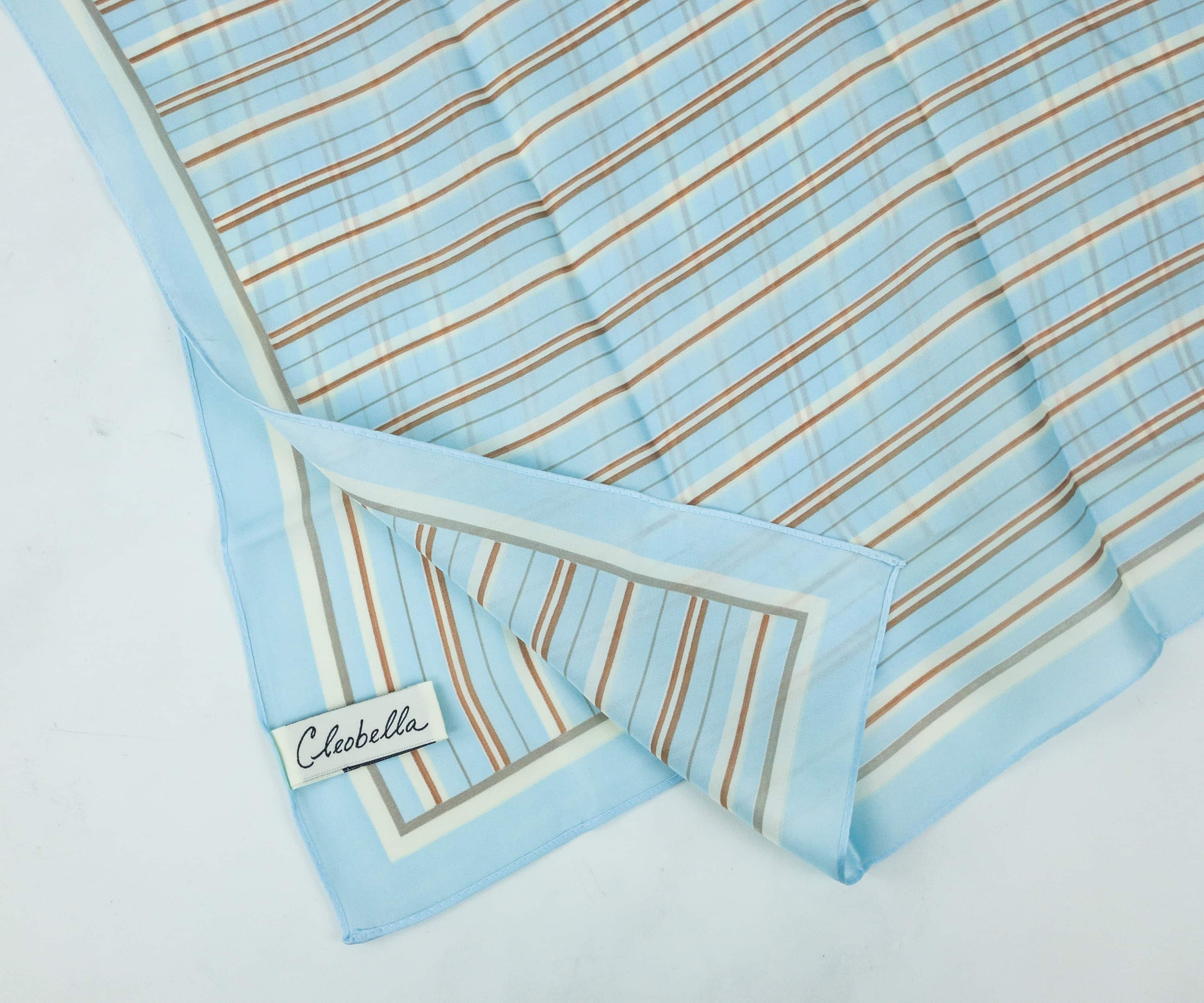 This scarf is made of vegan silk. Vegan silk is essentially polyester, which is man-made instead of made by silkworms.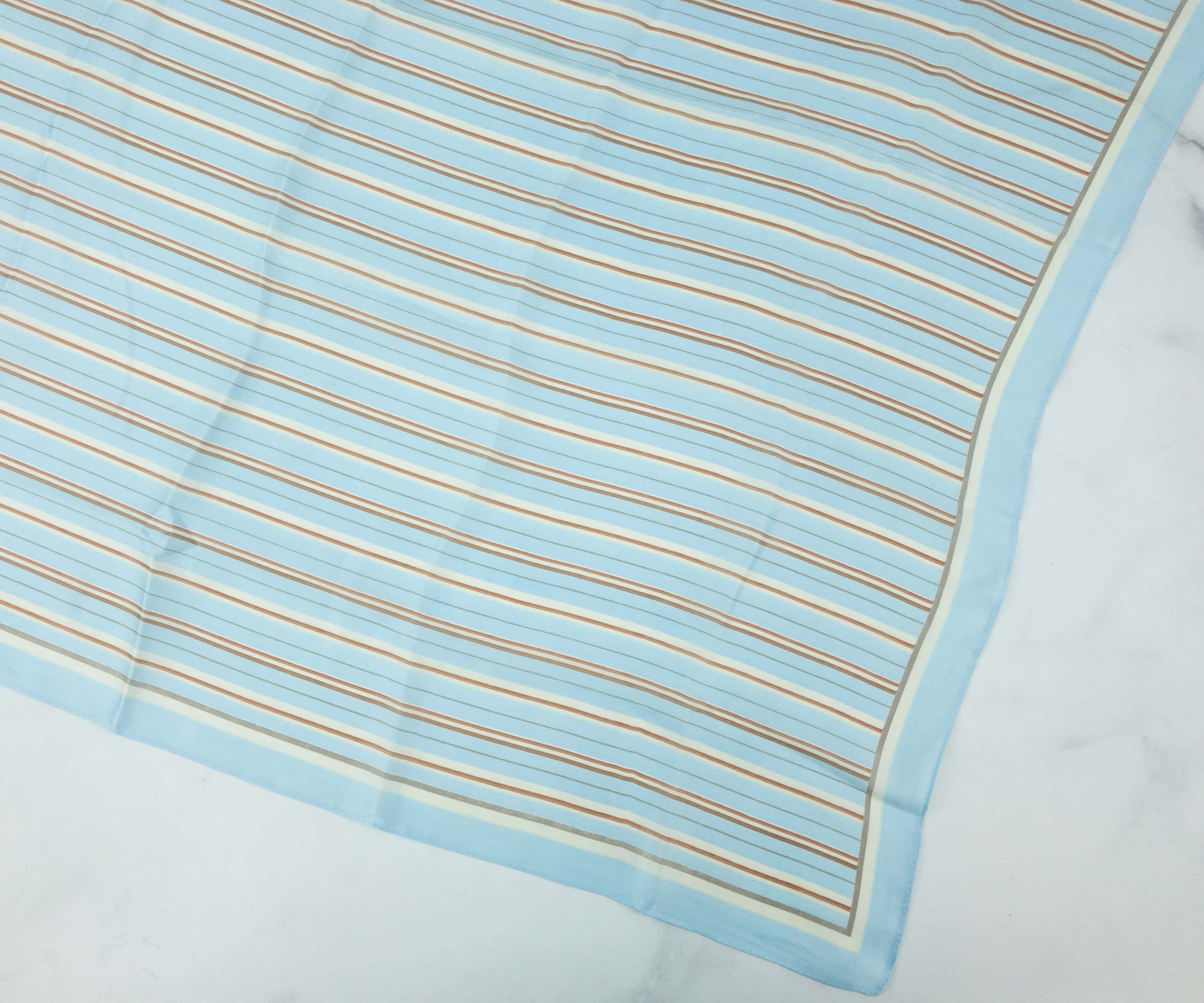 After months of sampling, they developed this scarf out of highest-quality polyester that they have ever seen. It's cruelty-free and totally re-imagines silk and polyester.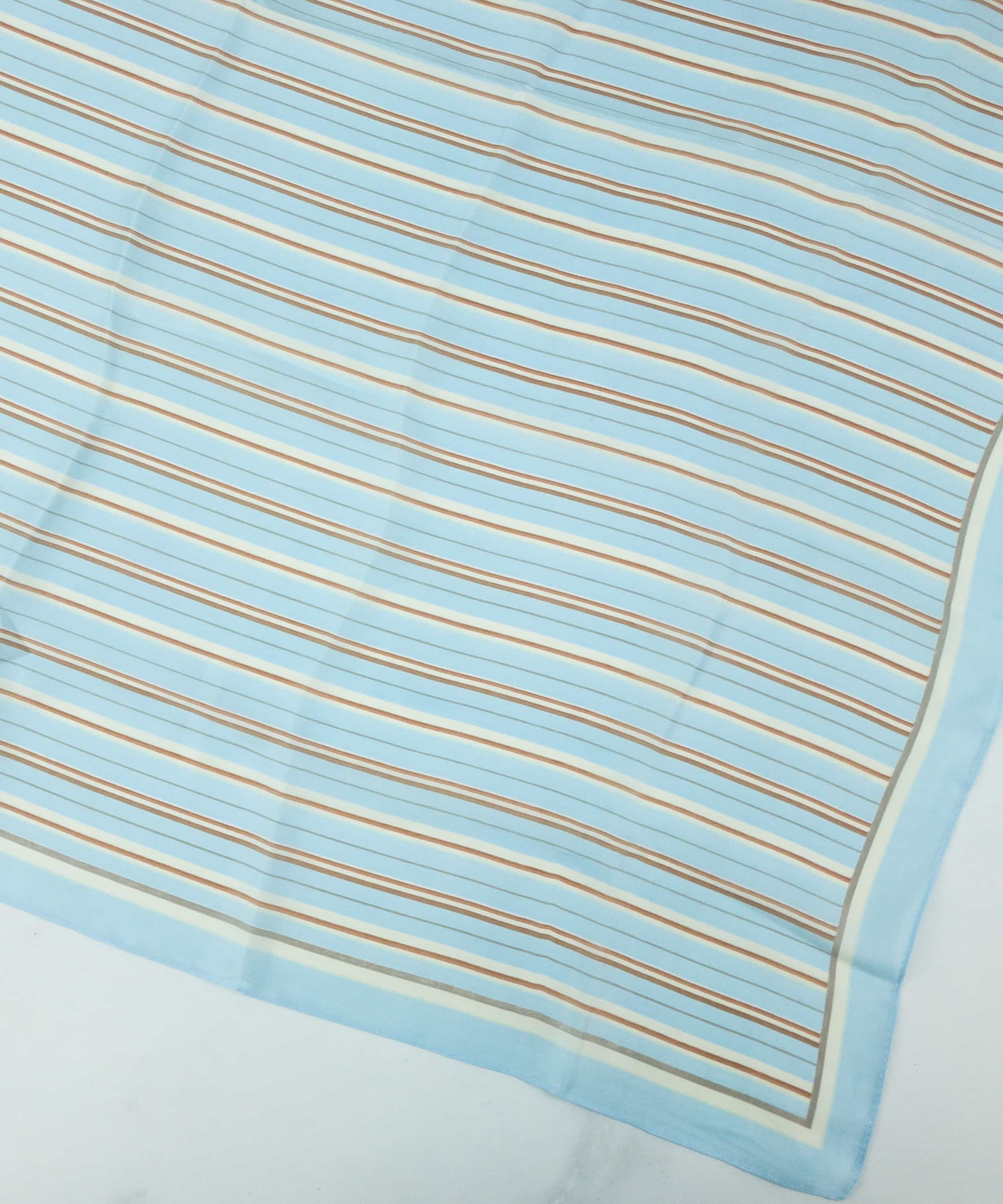 The stripe design has an artisanal feel to it. It's on-trend at the moment and very much in line with the Spring collection. It's also exclusive for Causebox.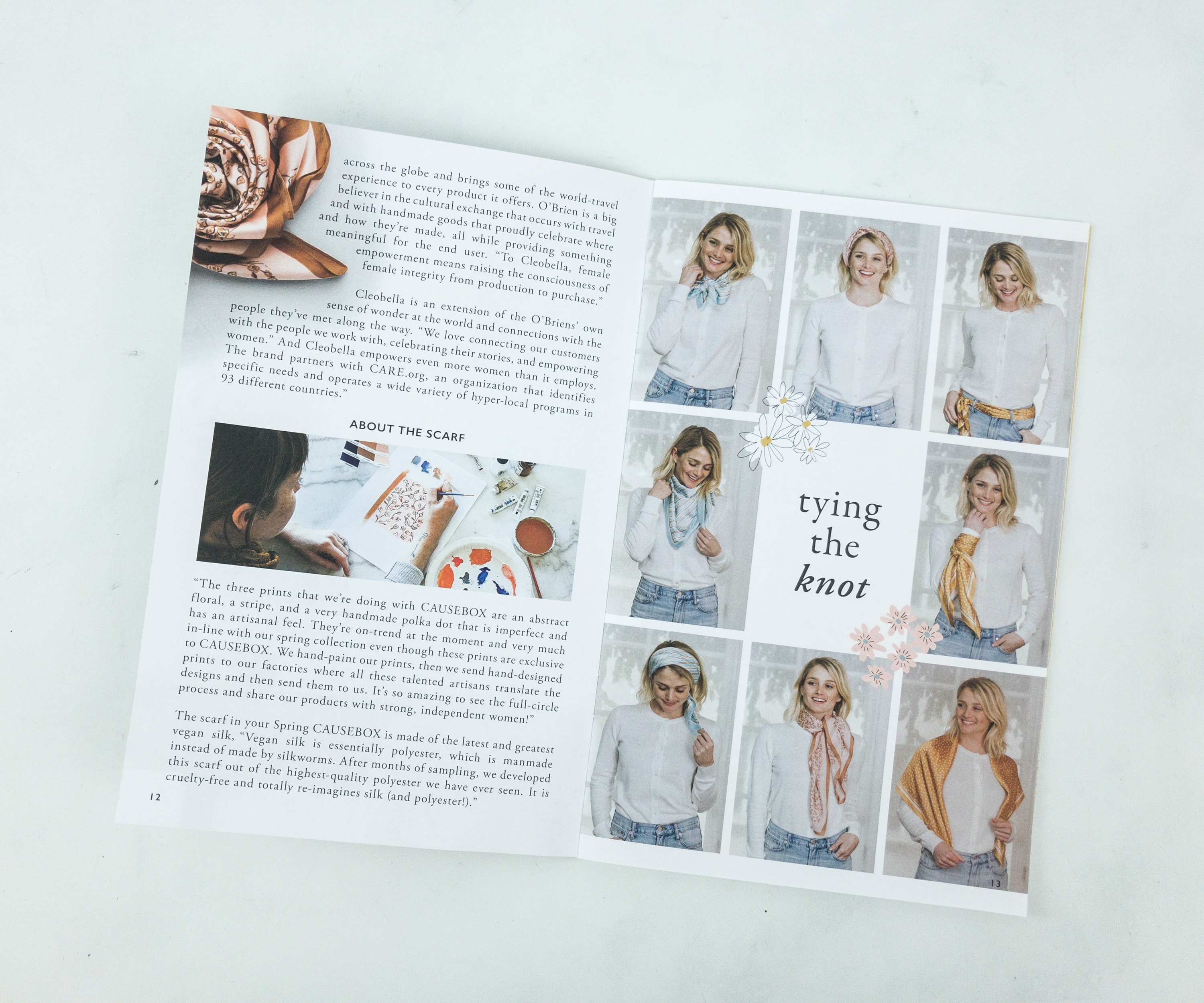 The leaflet features different ways on how to wear, style, or tie the scarf. They all look lovely!
It looks elegant however I wear it. I can even simply wrap it around and hang it over the shoulder.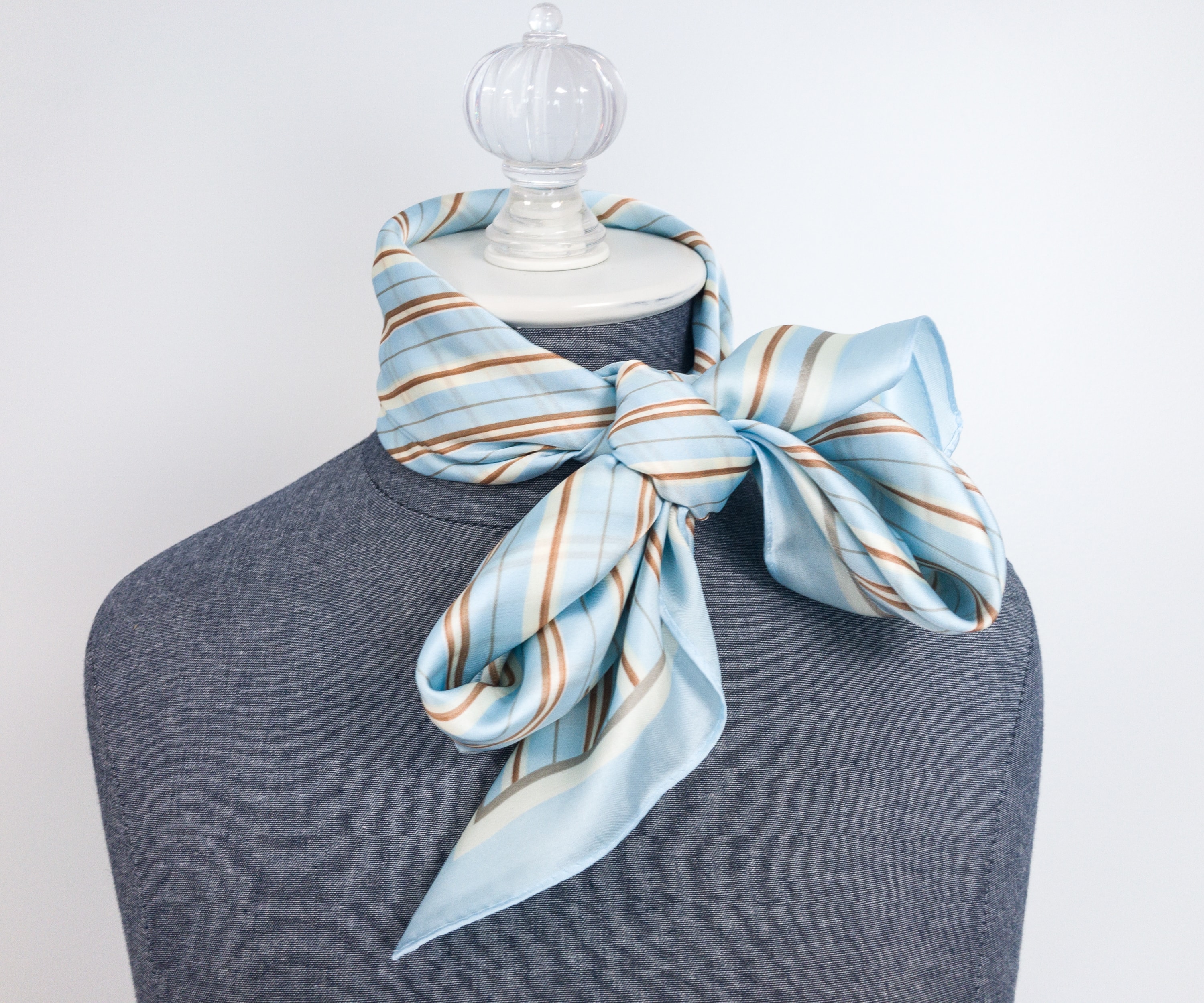 But my favorite is tying it in a bow. It accentuates any kind of clothing!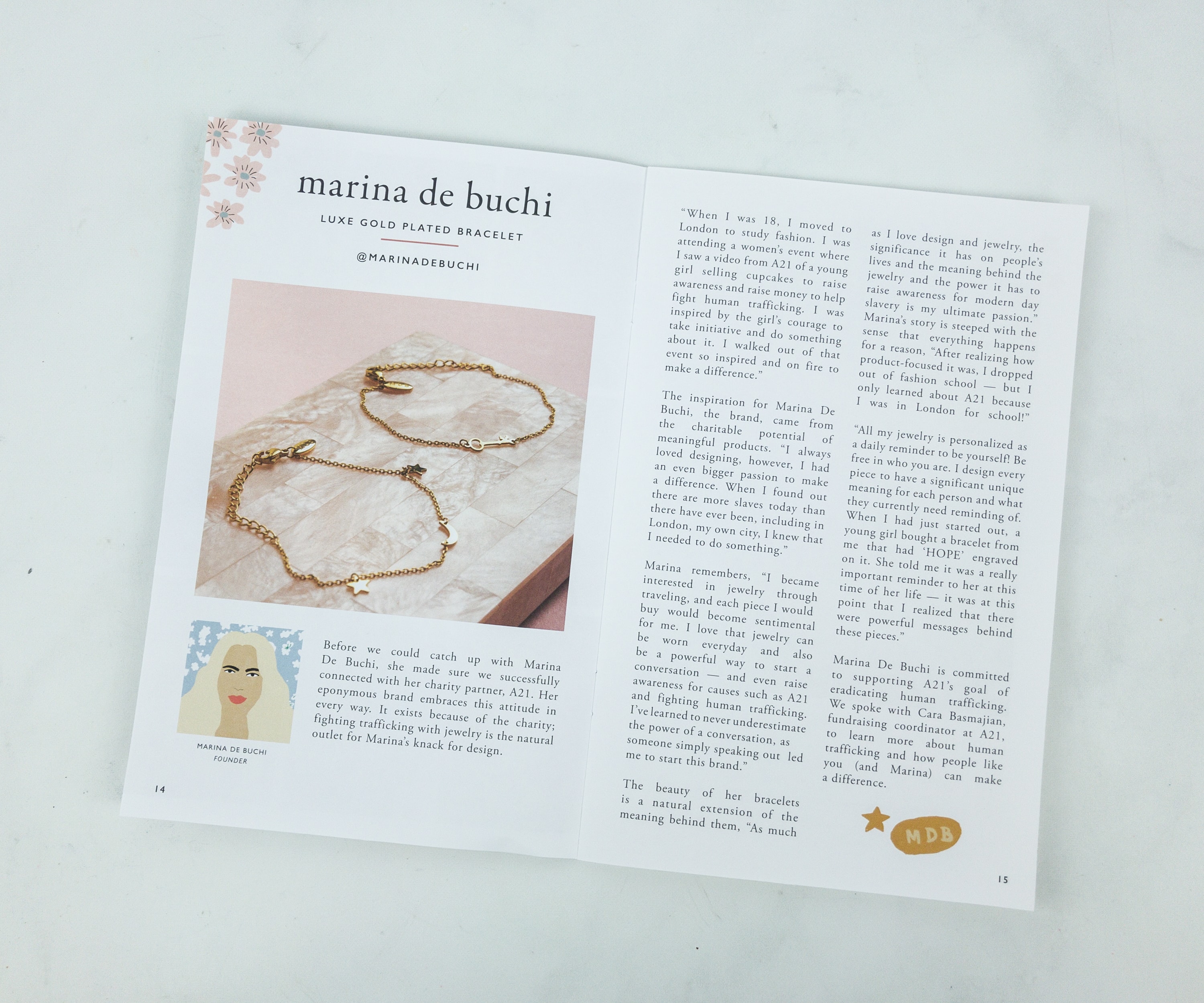 Marina De Buchi Moon and Stars Bracelet ($37) This Freedom bracelet piece is designed by Marina De Buchi in London, England.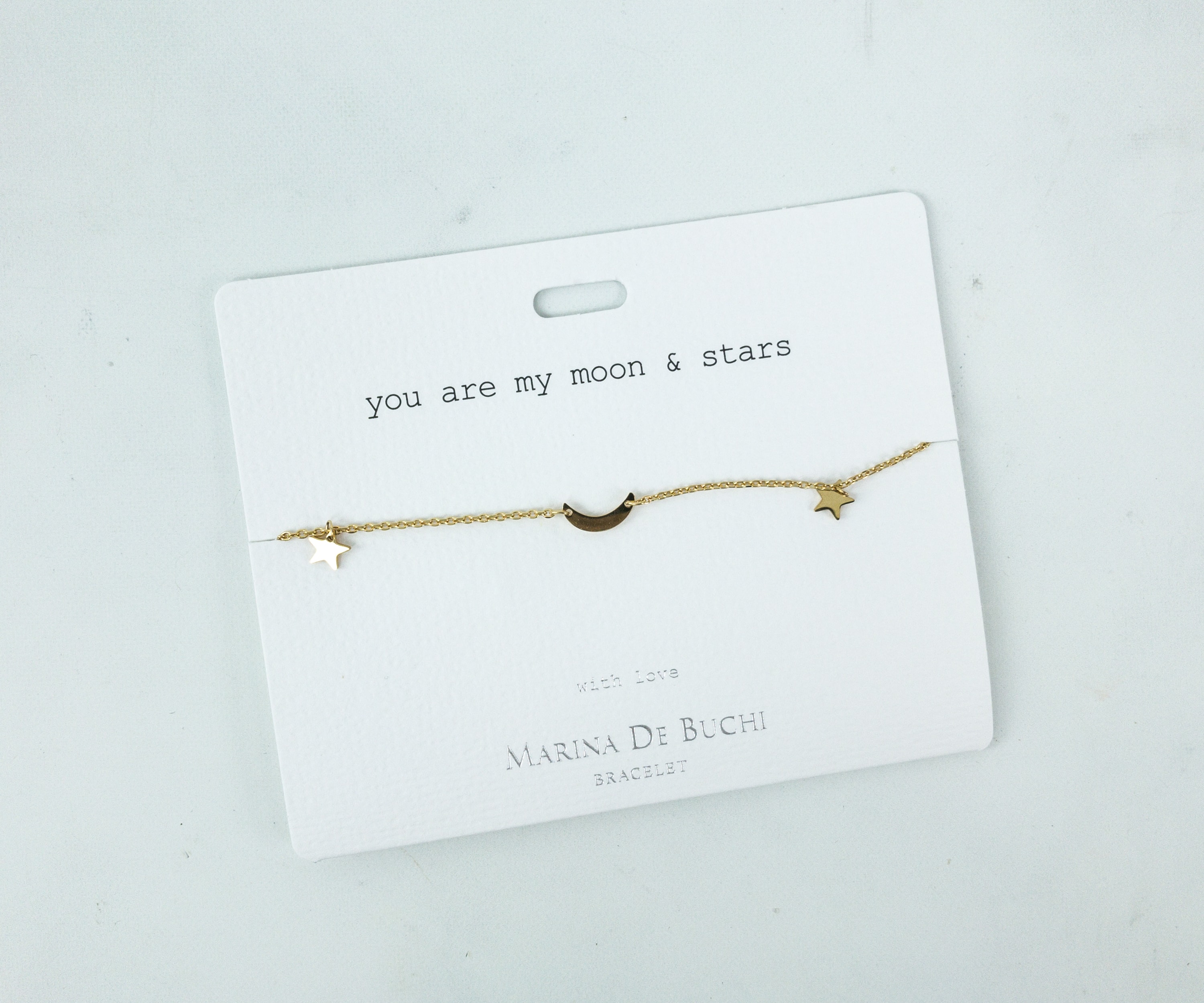 It's a dainty, gold plated 6″-8″ chain with adjustable links to make chain fit any ideal length.
The bracelet is beautifully presented with a card with the iconic Marina De Buchi name in silver foil. They also included a note about their advocacy.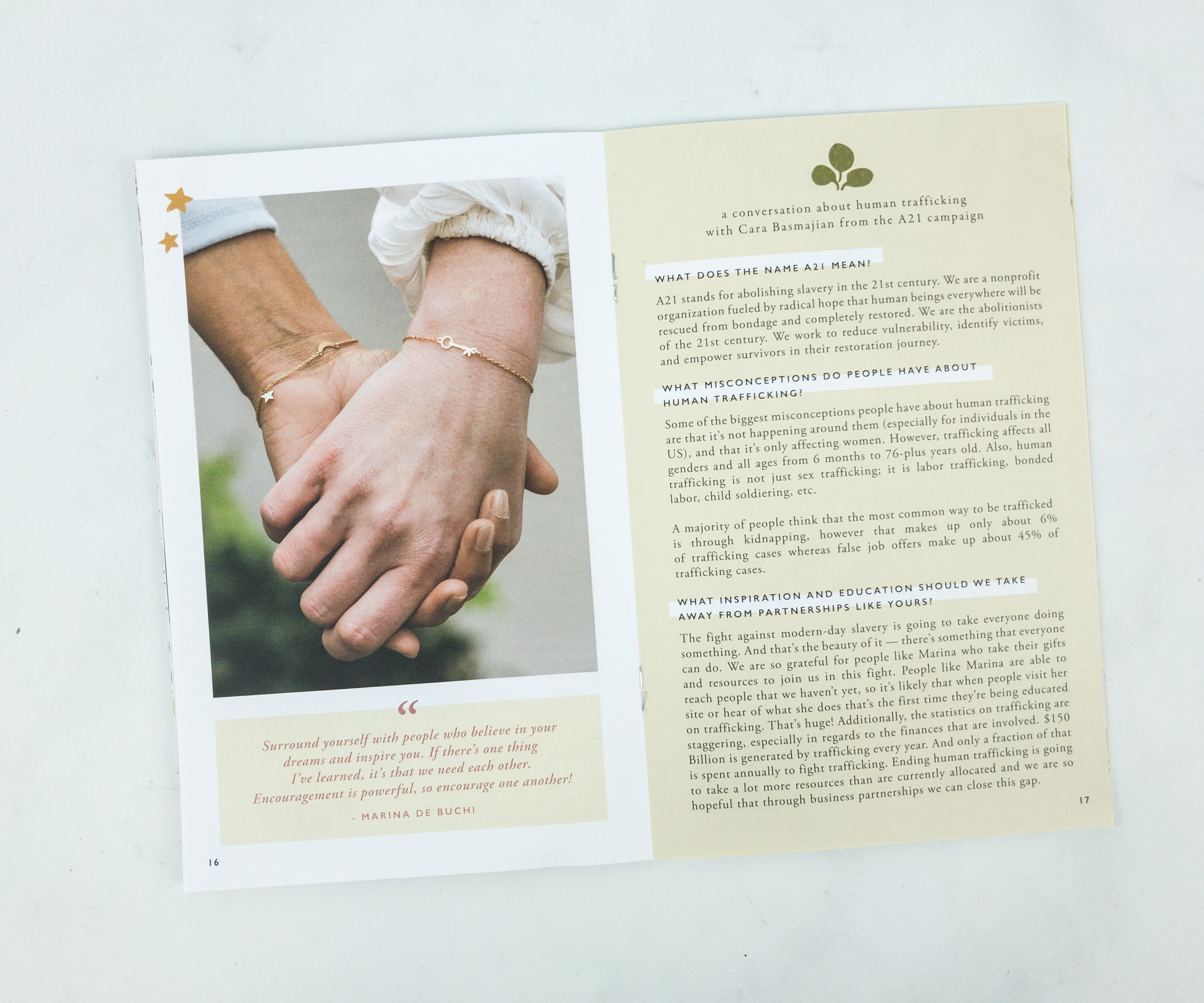 This page tells more about their fight against human trafficking and their A21 campaign.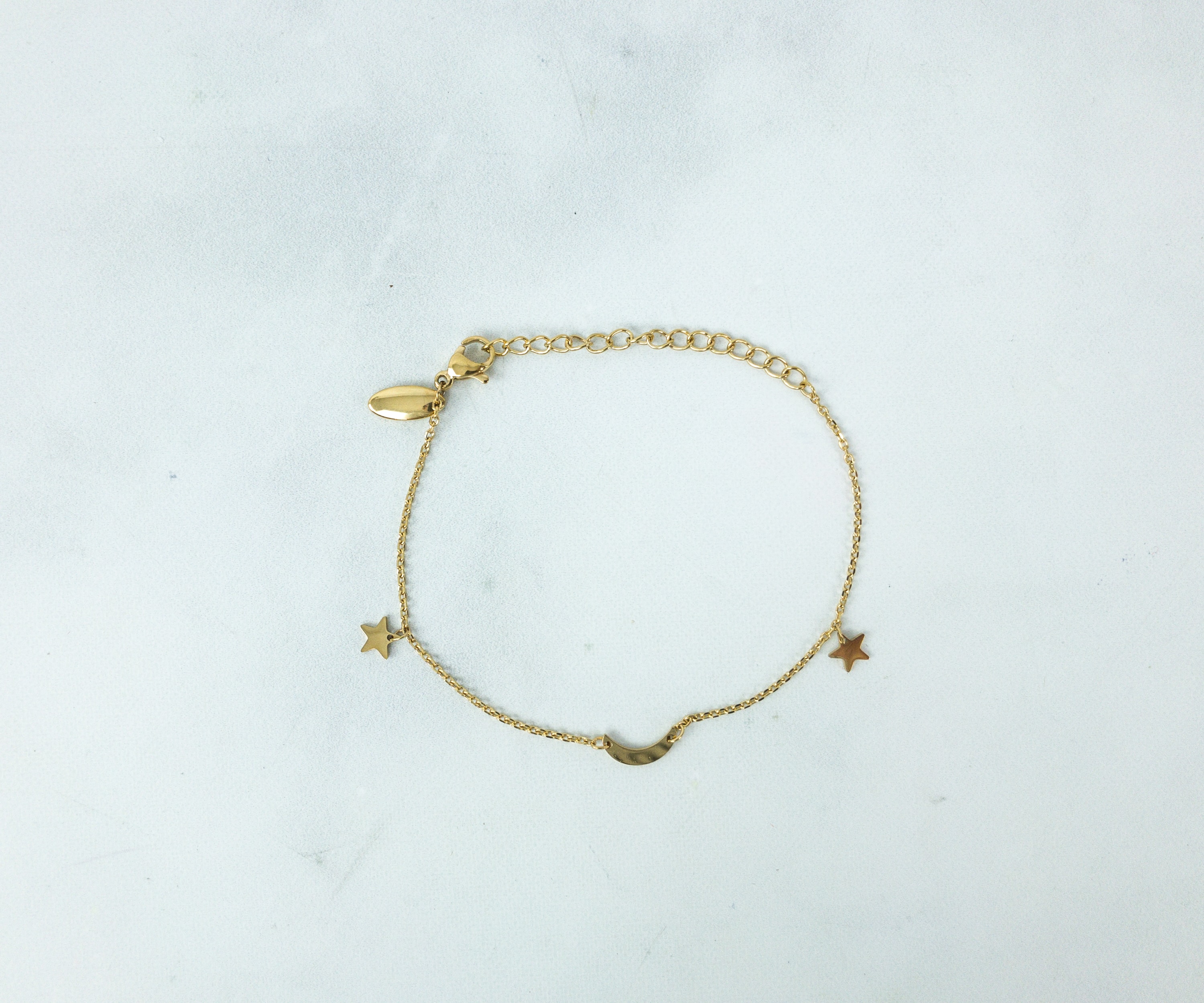 It's plated to last a lifetime and with good quality so it's gentle on the skin. The stars and moon design is also charming.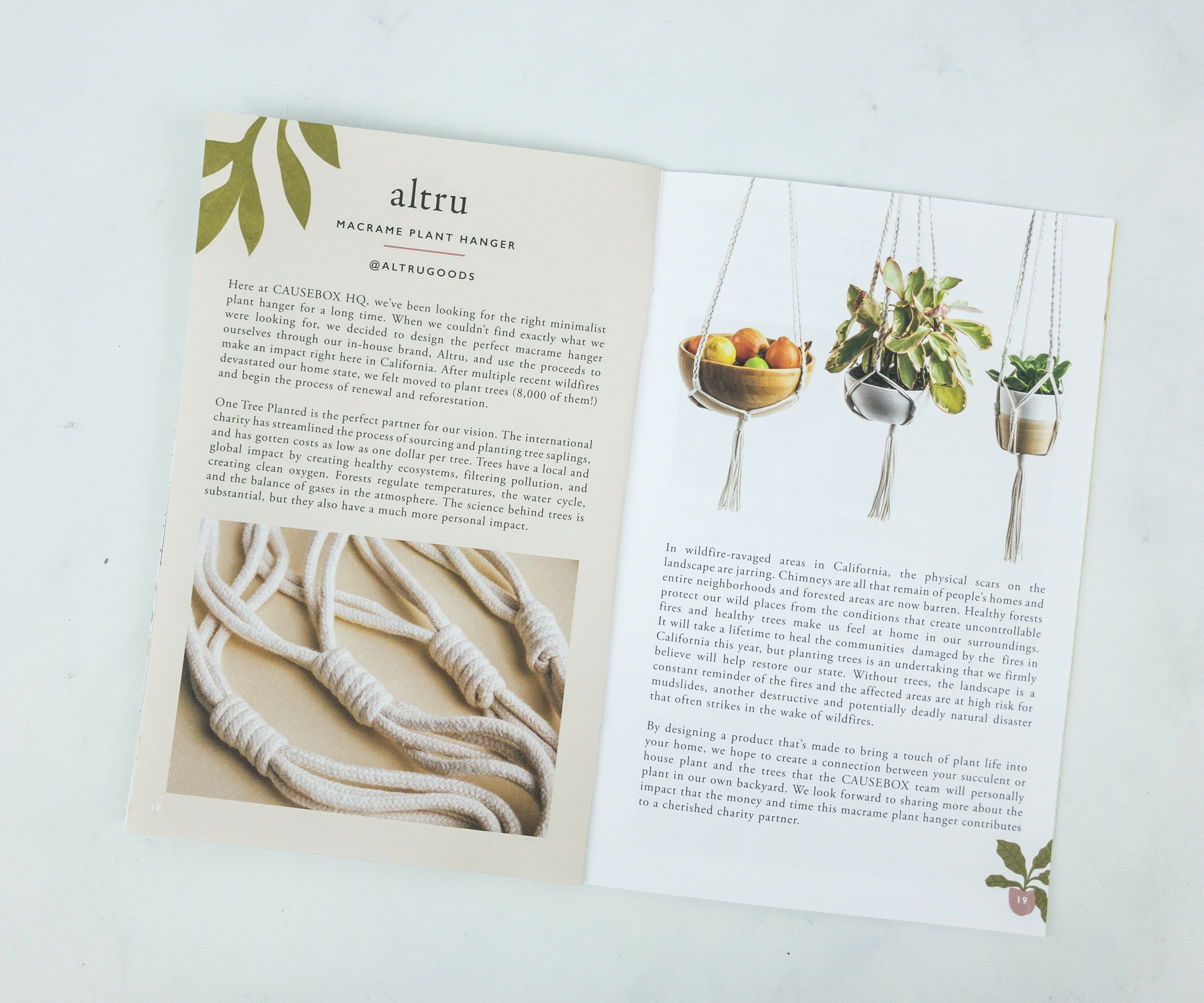 Altru Macrame Plant Hanger ($14)  This beautiful macrame hanger is simple, yet meticulously handcrafted. This beauty adds a touch of elegance and boho vibes to my home, balcony and patio.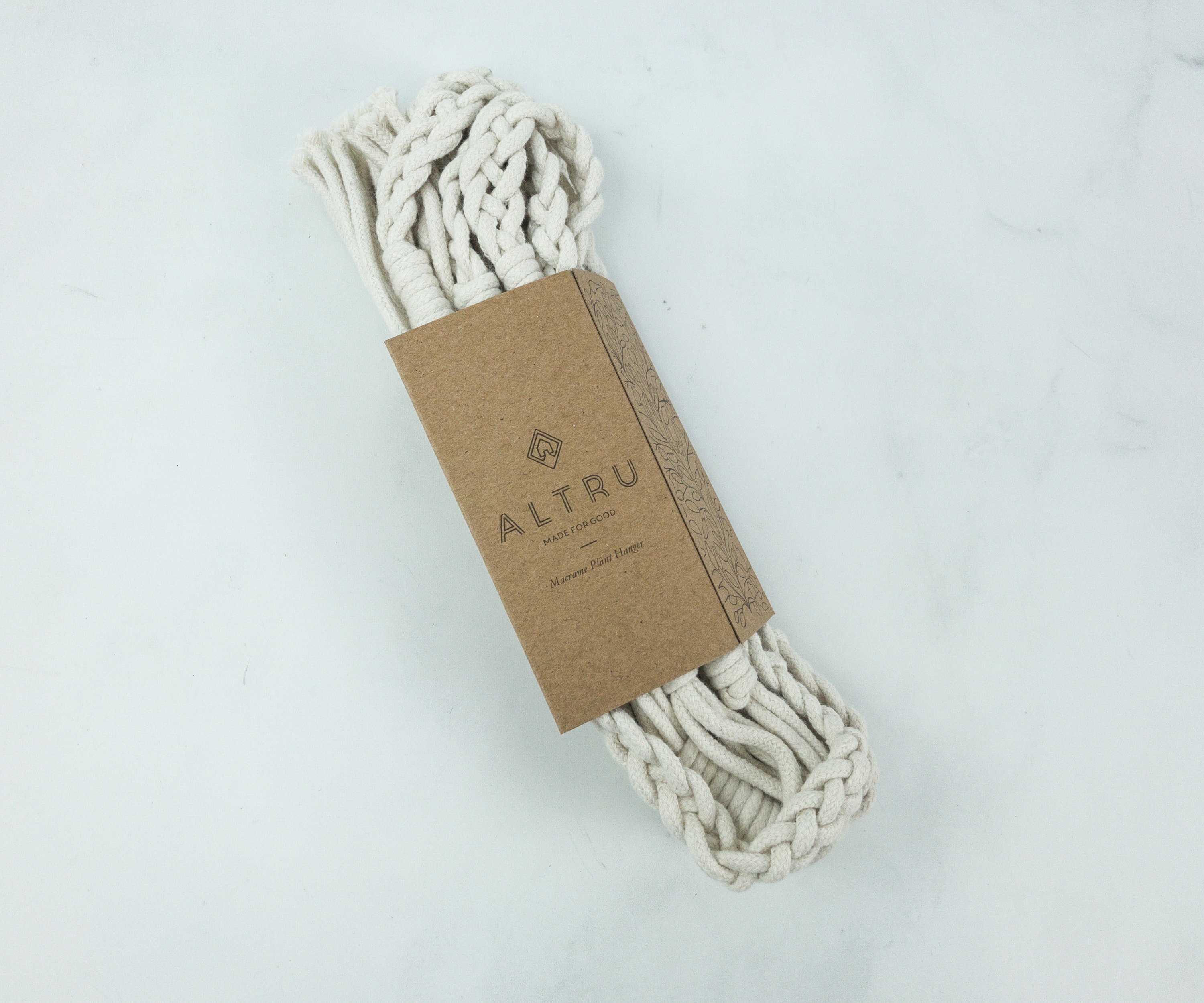 Macrame is the art of knotting cord or string n patterns to make decorative articles, just like this plant hanger.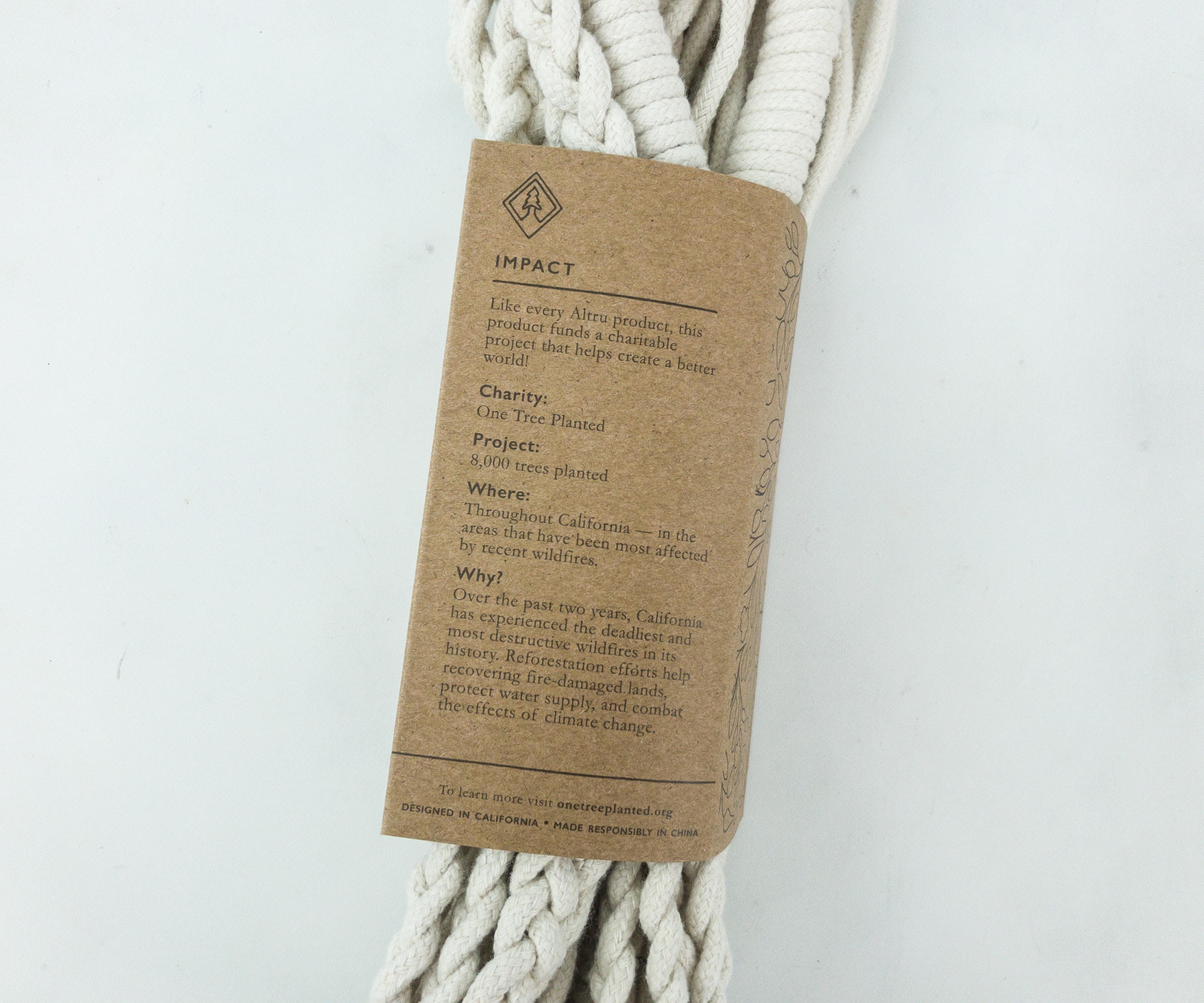 This product is made to create an impact by funding a charitable project that create a better world such as tree planting.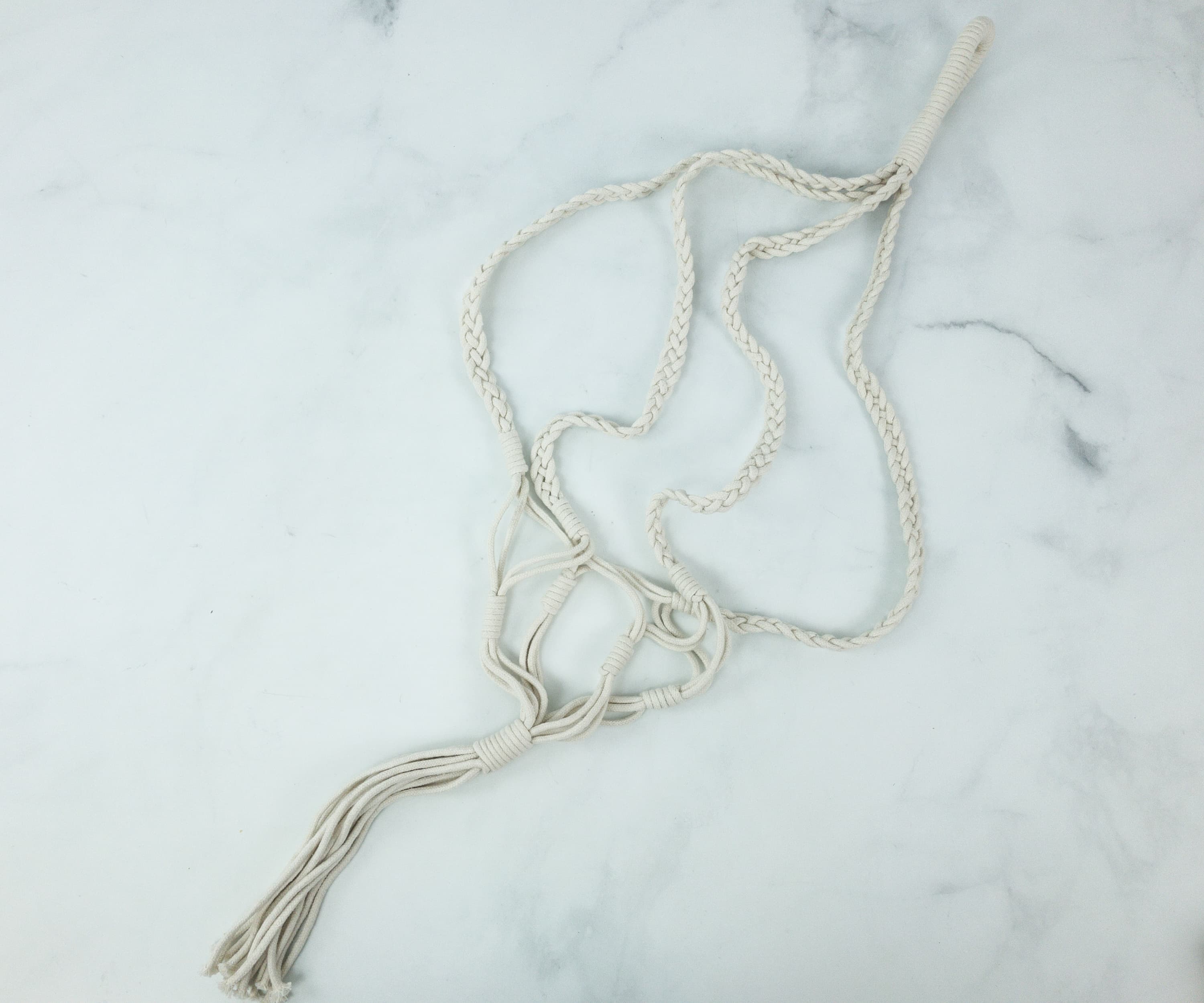 It's also easy to use. Simply expand the four leg strings, then put the plant pot in the middle of the conjunction. It's a perfect solution for pet owners like me because my dogs have the tendency to destroy my plants so this one saves me from the struggle.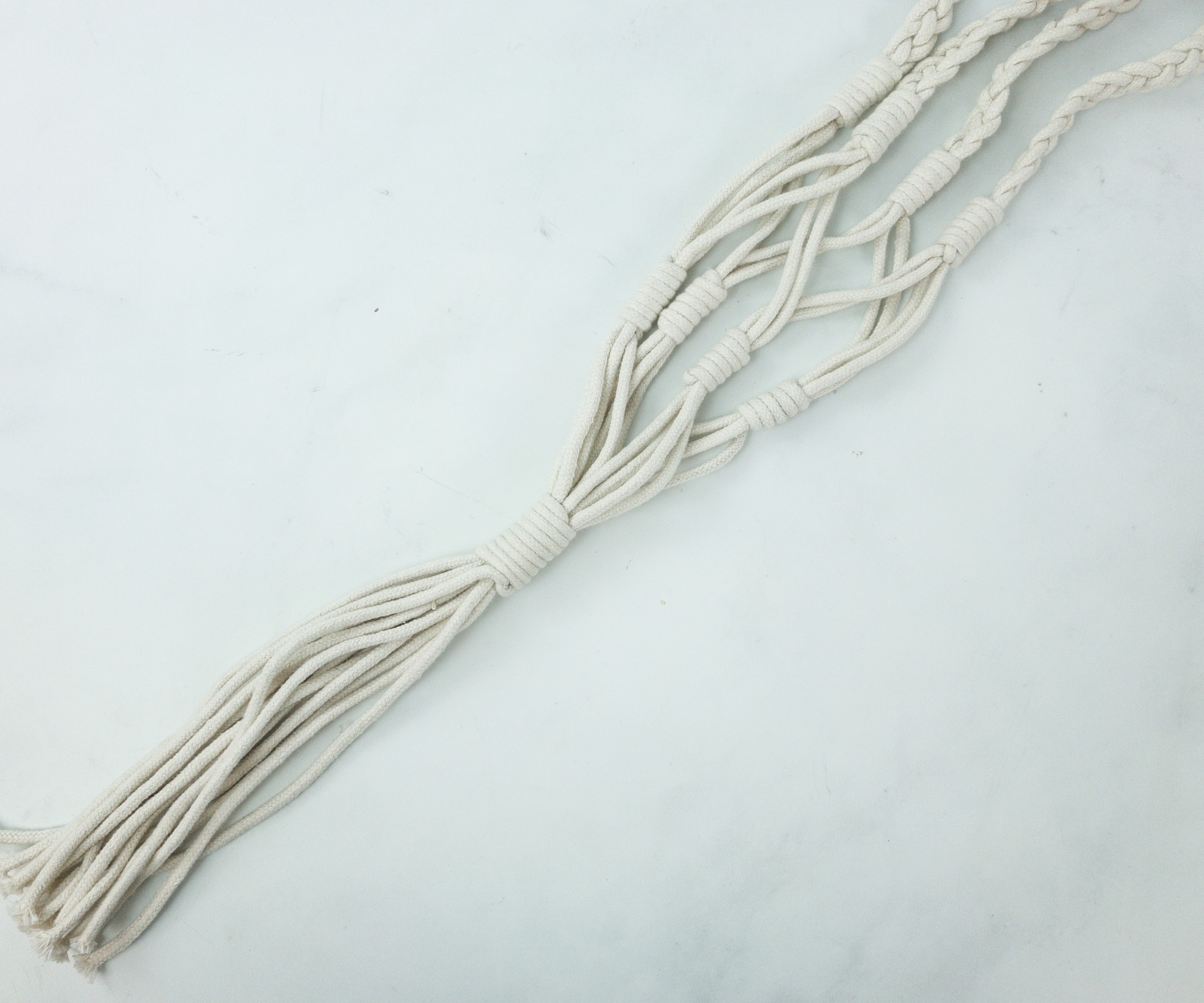 The detailed design especially the tassled tail makes it ideal to decorate pathways and indoors. It's also a great and practical gift for plant lovers.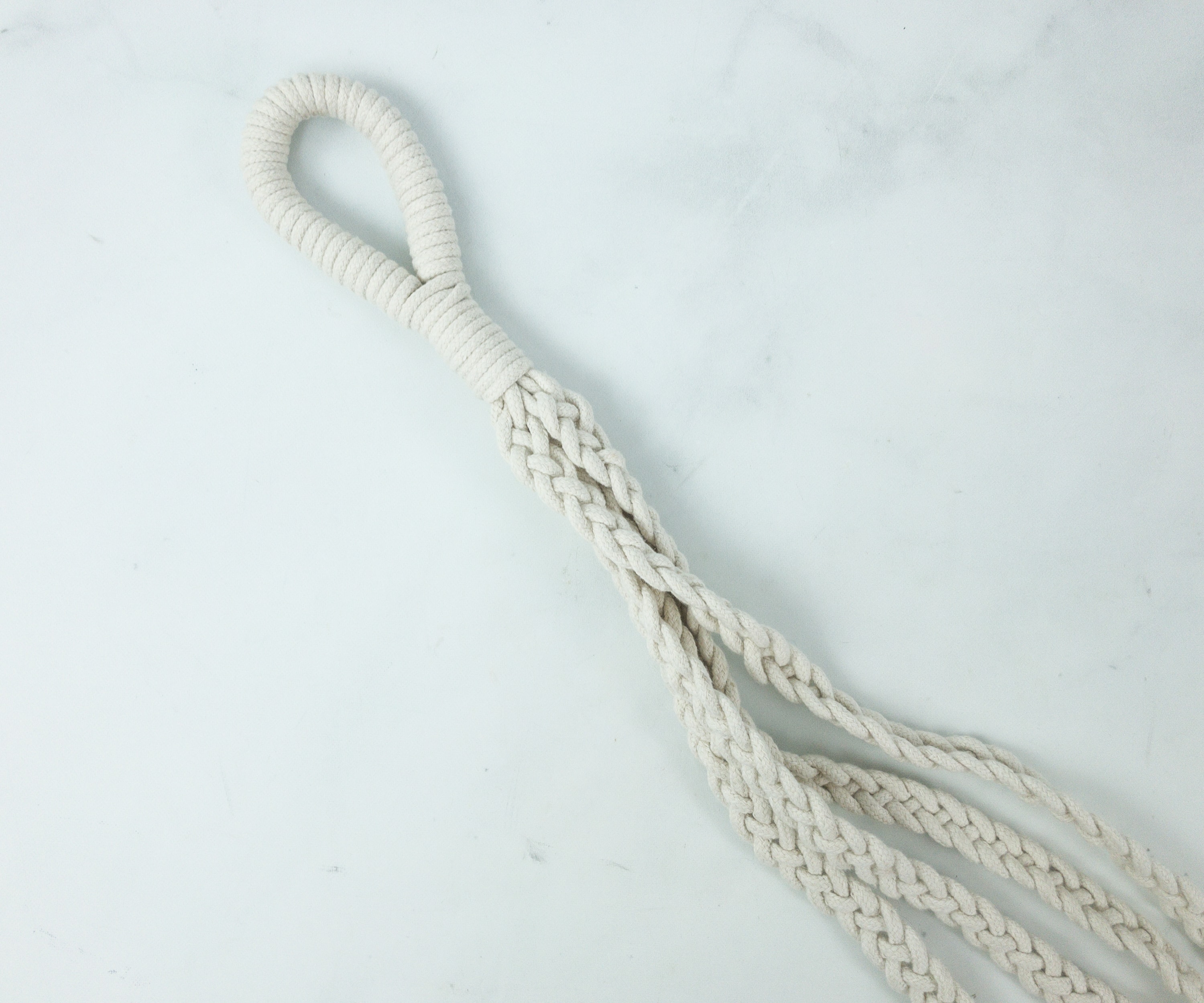 This plant hanger has a strong, flexible woven design that can accommodate various shapes and sizes of planters. The maximum load is about 12 pounds.
Kalos Mist Congeniality Elixir Toning Mist ($22) This delicate mist provides immediate hydration while improving overall skin tone.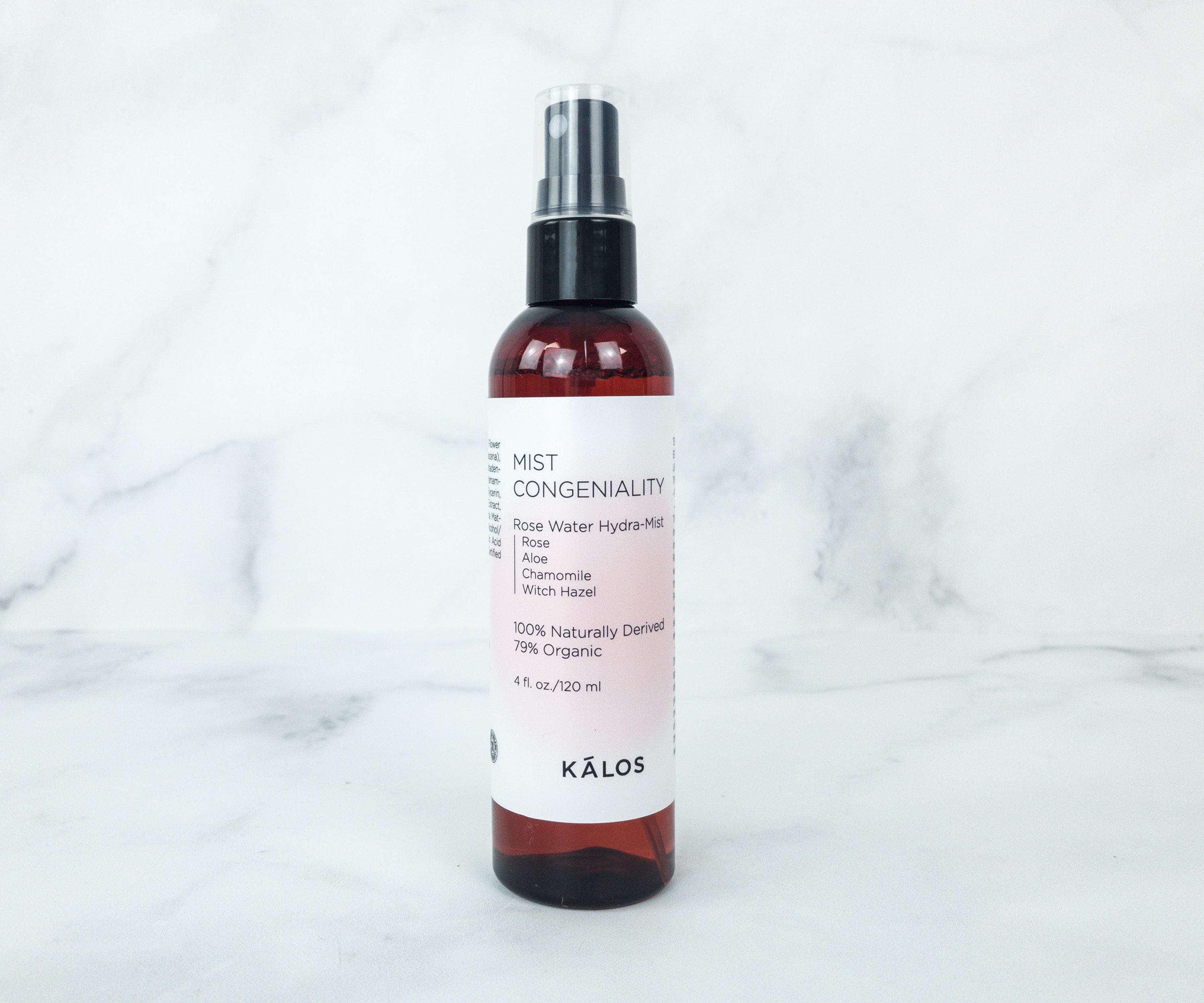 Perfect for all skin types, Mist Congeniality generates skin-plumping moisture for revived and glowing skin.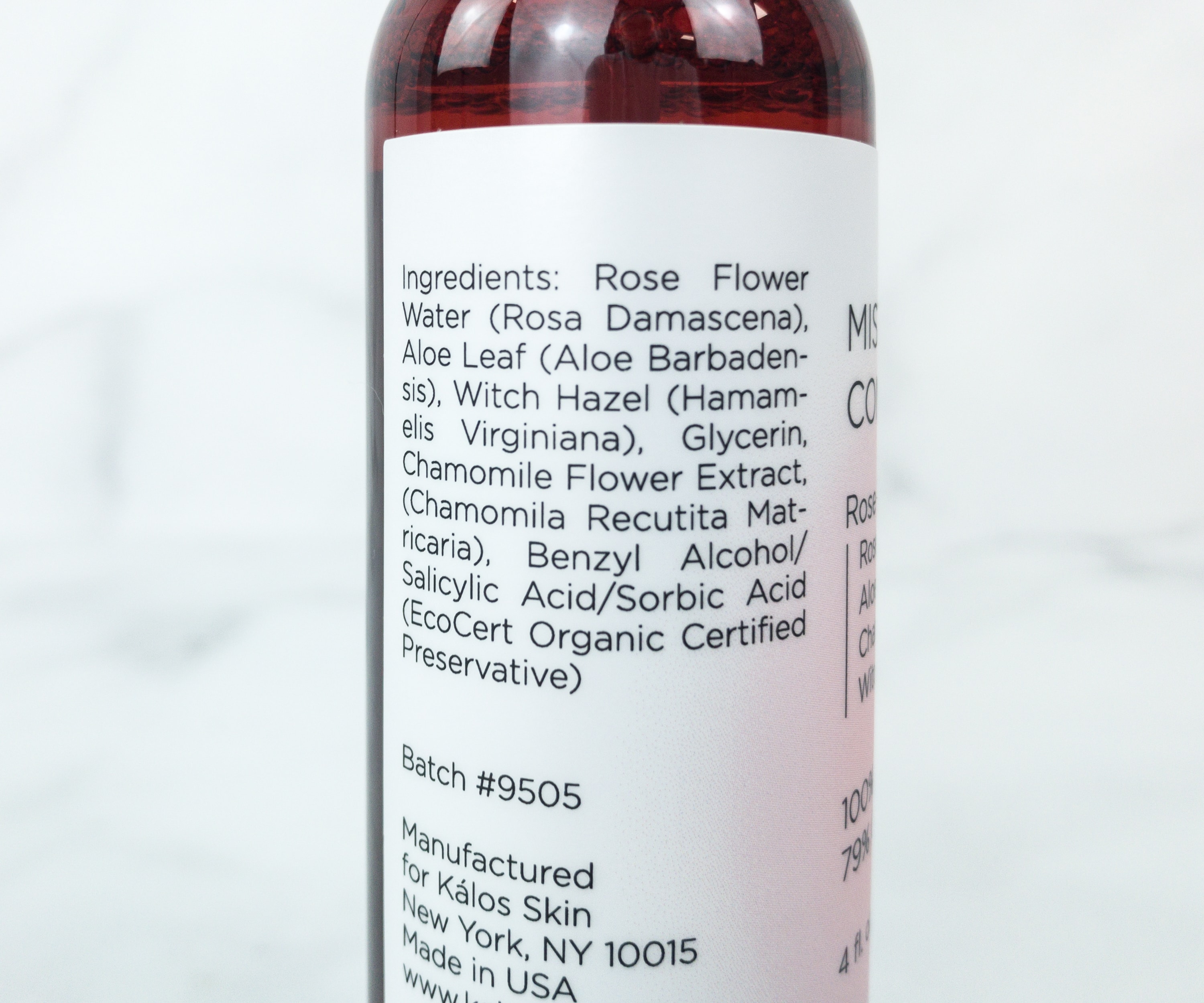 It has rose, aloe, and chamomile that work synergistically to assist the healing process of skin.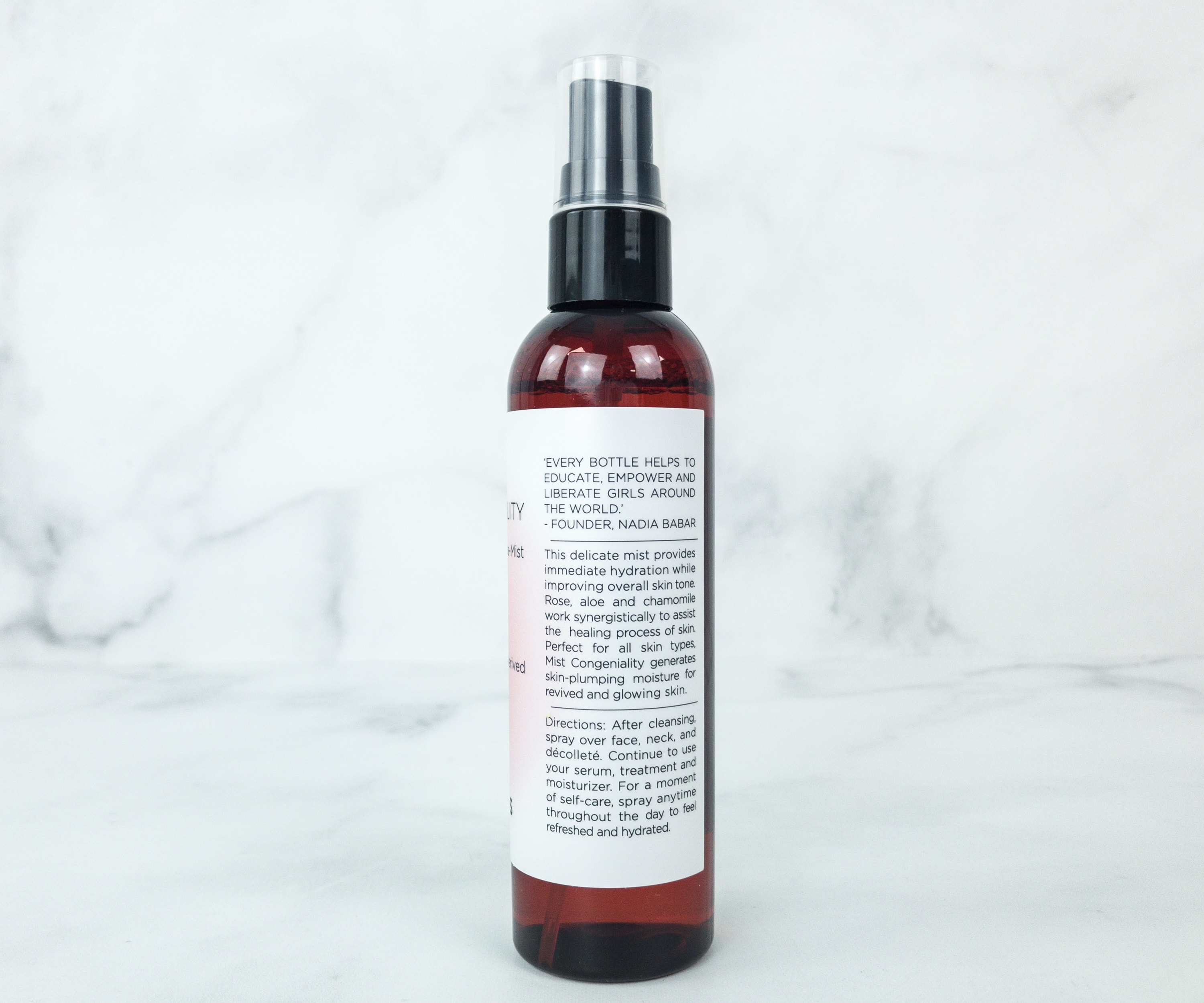 My skin gets very dry and irritated and this helped me tremendously. The formula is so smooth that it leaves my skin hydrated and plump, but not sticky at all. I also use it for setting my makeup and it's also soothing when you spend a little too much time in the sun.
I love that they print their mission right on the bottle!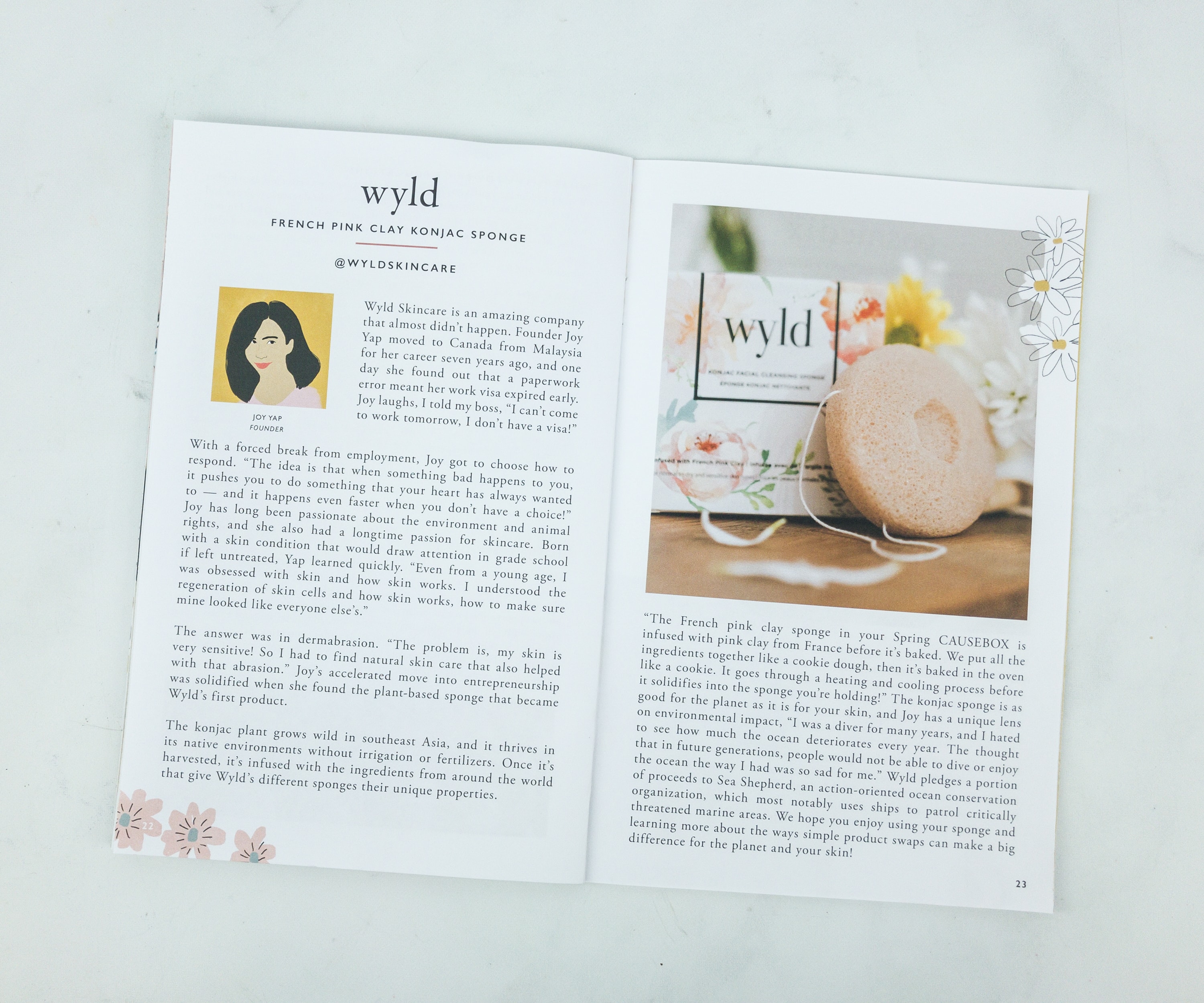 Wyld French Pink Clay Konjac Sponge ($16.90) This gentle exfoliating sponge is made from 100% natural Konjac plant.
It gives great results with or without my everyday cleanser. It leaves my skin soft, even and glowing! The box that it came with also looks lovely with all the flower prints on it!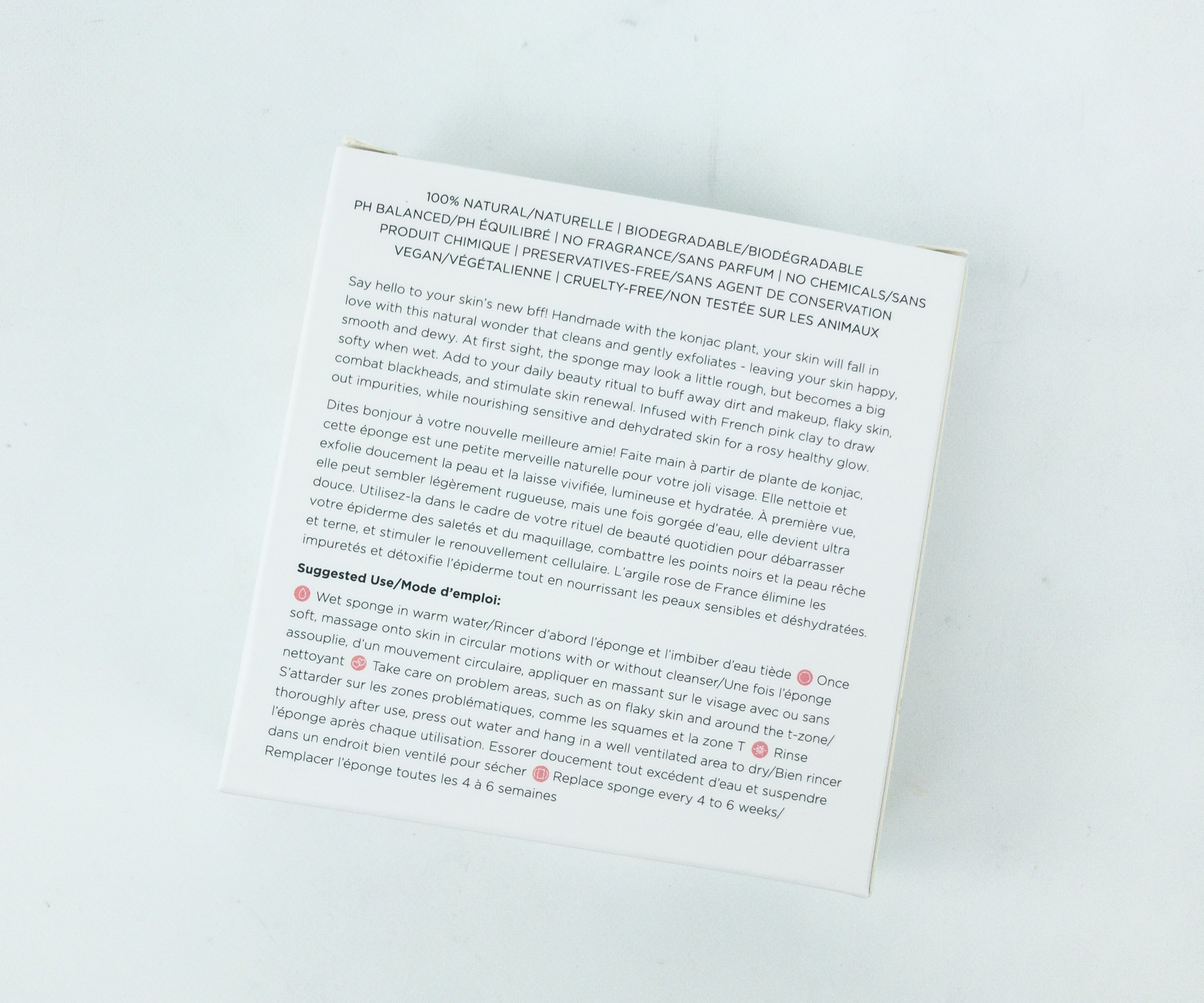 The added healthy benefits of French pink clay helps me remove dirt, oil, makeup and build up in pores. It also contains natural calming properties to soothe and nourish skin.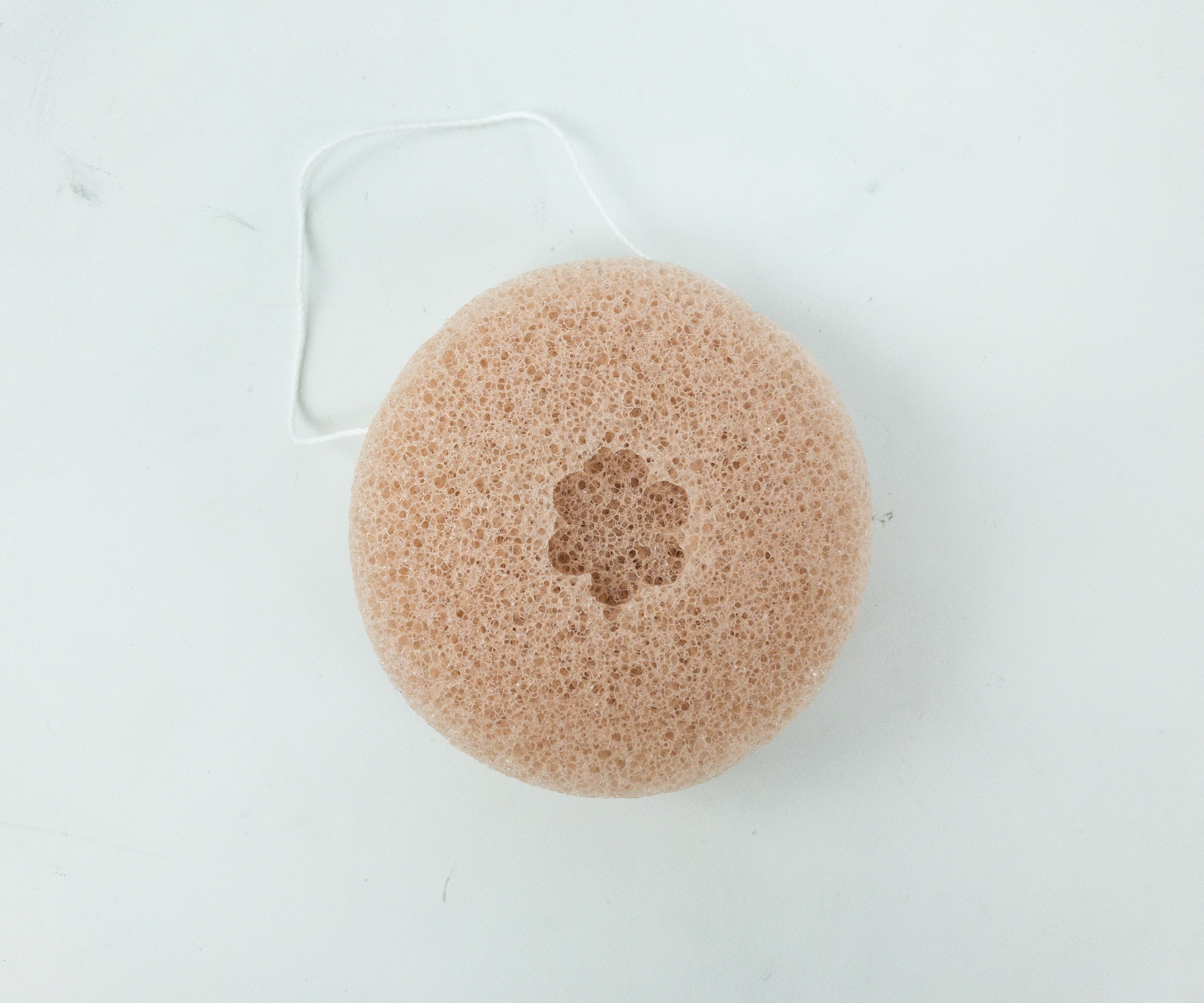 This hardworking all-natural sponge lasts for over a month, and since it's biodegradable, I can toss it in the compost when I'm done with it.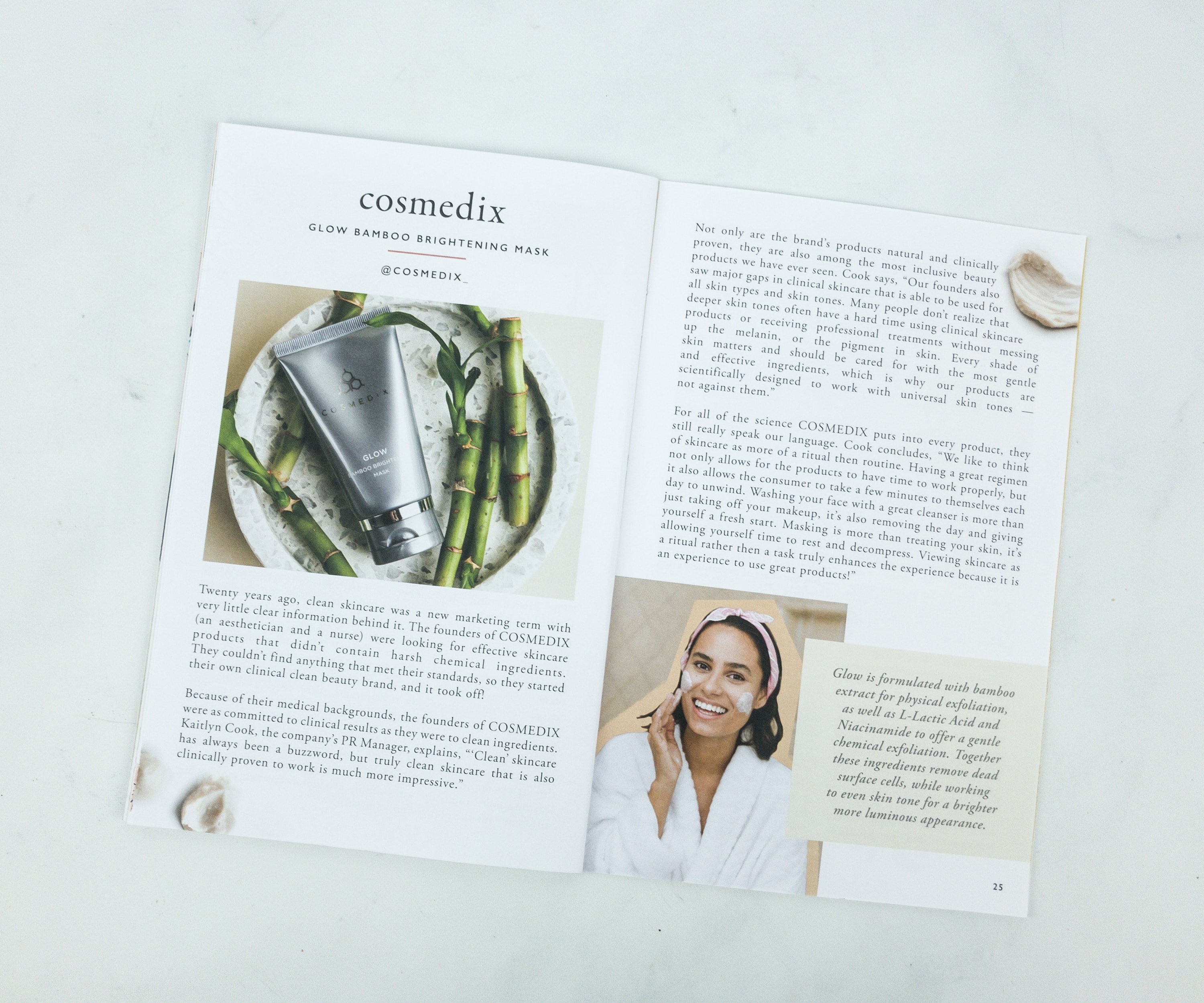 Cosmedix Glow Bamboo Brightening Mask ($54) This brightening mask helps improve the appearance of discoloration and uneven skin tone by exfoliating away dead surface skin with bamboo stem extracts.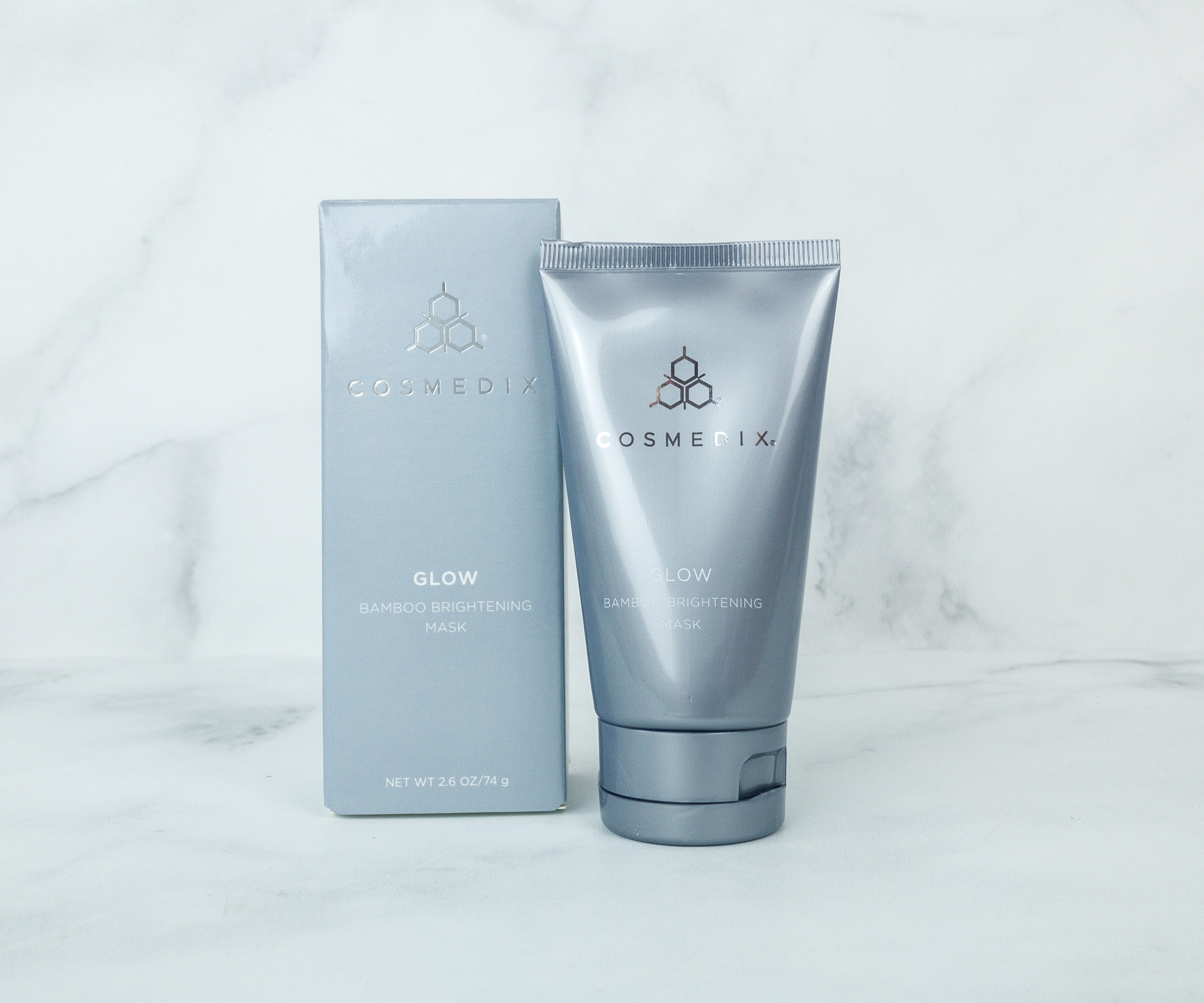 It's not recommended to be used during the day, but it's good to apply before serums and moisturizers at night, for up to three times per week or as tolerated.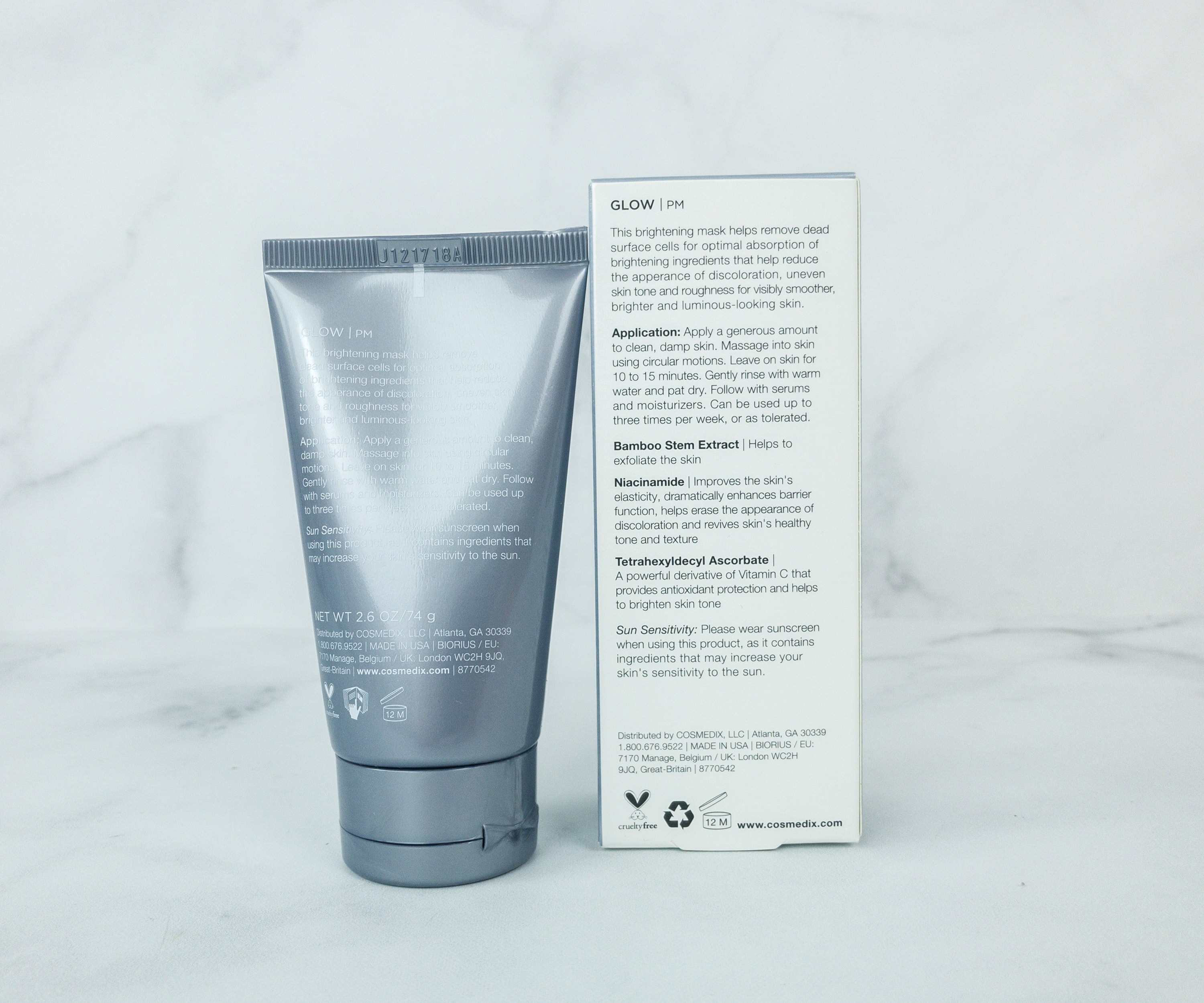 I really love what this mask has done for my skin. I have been using it for several days now and I like the exfoliating element that this mask offers. Once I exfoliate, I let it set and then rinse. My skin has been baby soft with a really amazing glow! Love that they also remind you to use sunblock – it's necessary with the niacinamide in this product.
Ettitude Bamboo Lyocell Eye Mask ($15) Soft and lightly cushioned, this eye mask sits softly against the face to block out the light for uninterrupted rest.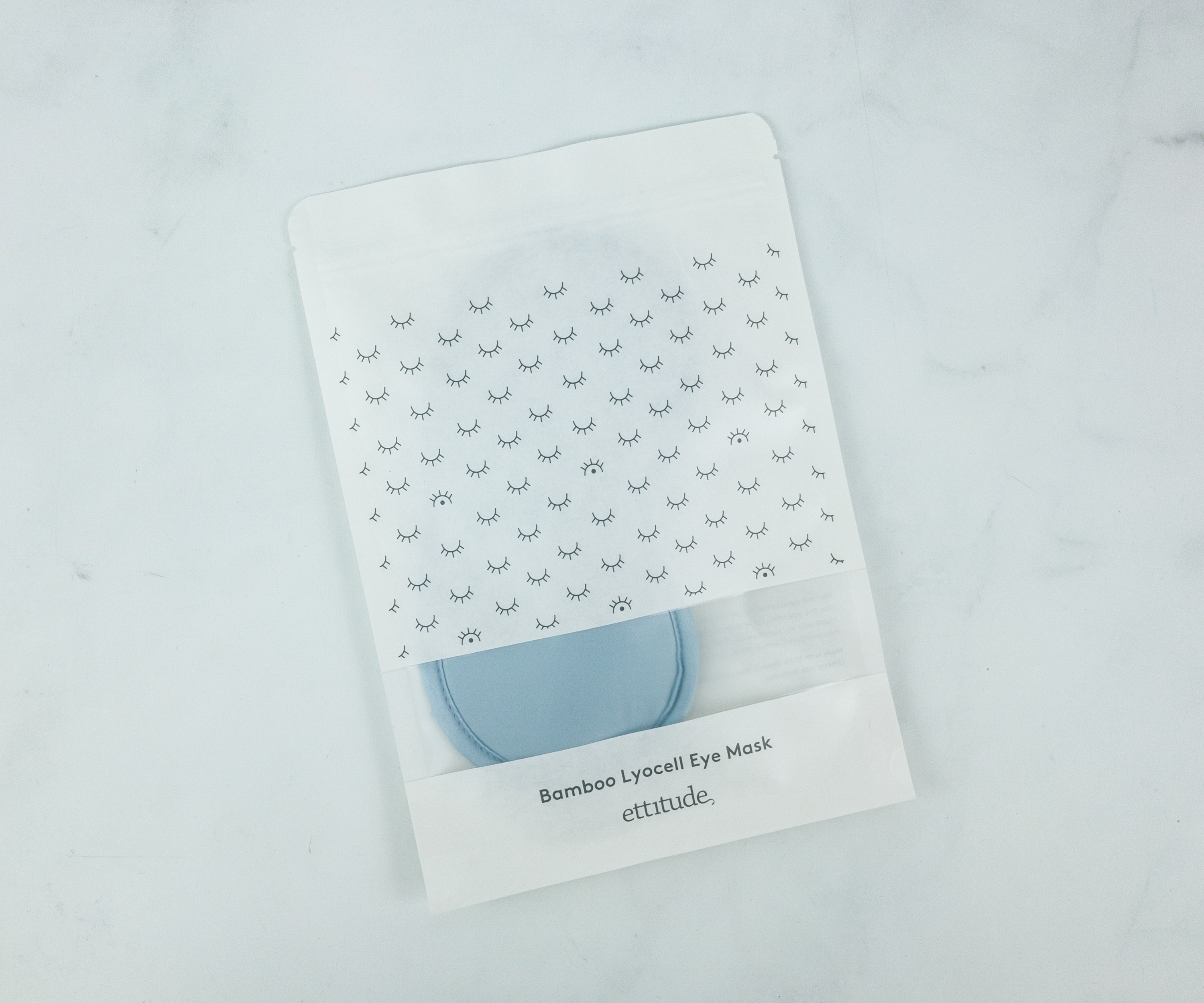 It's crafted from organic bamboo lyocell fabric.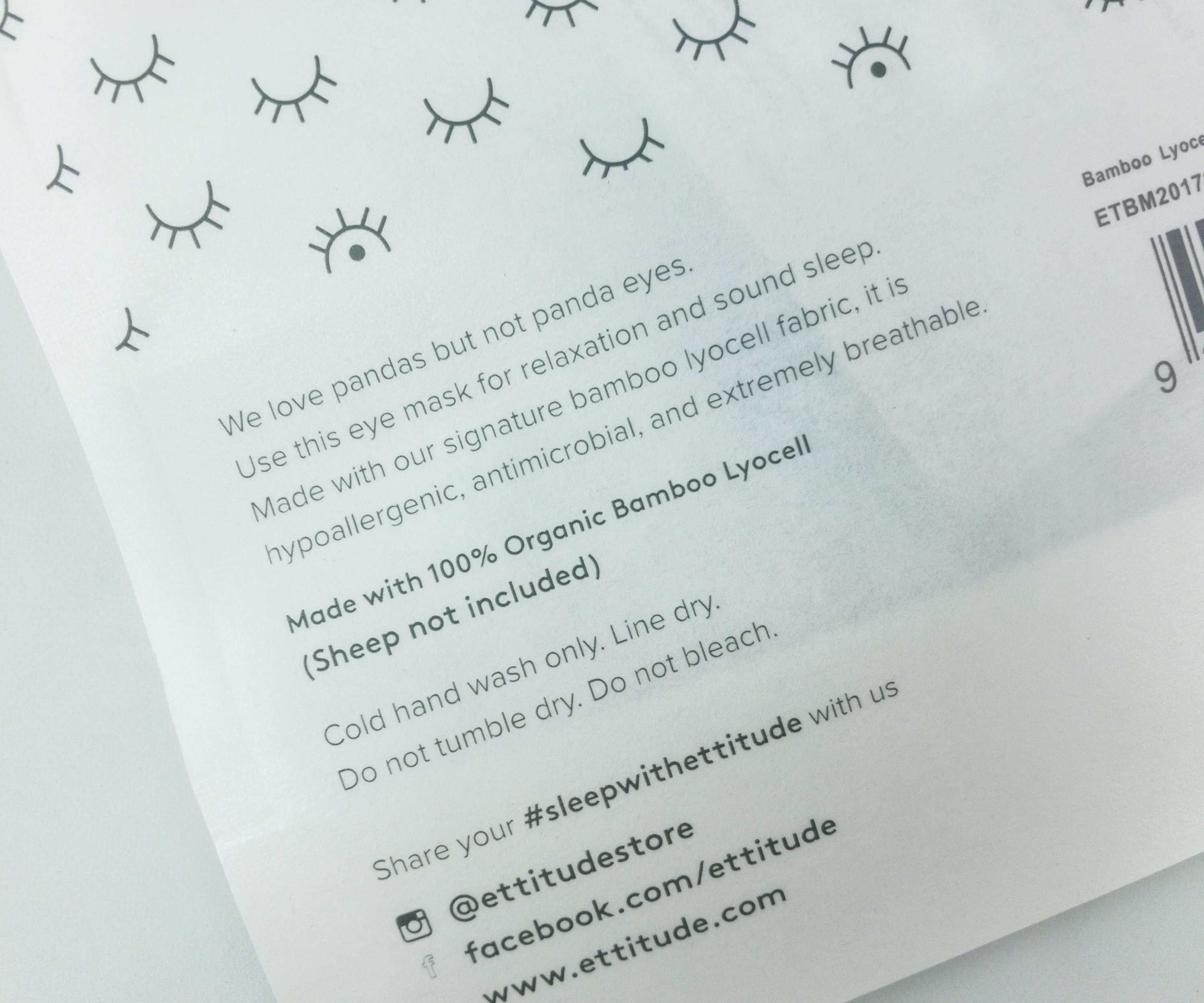 It's a machine washable, eco-friendly, and vegan alternative to a silk eye mask.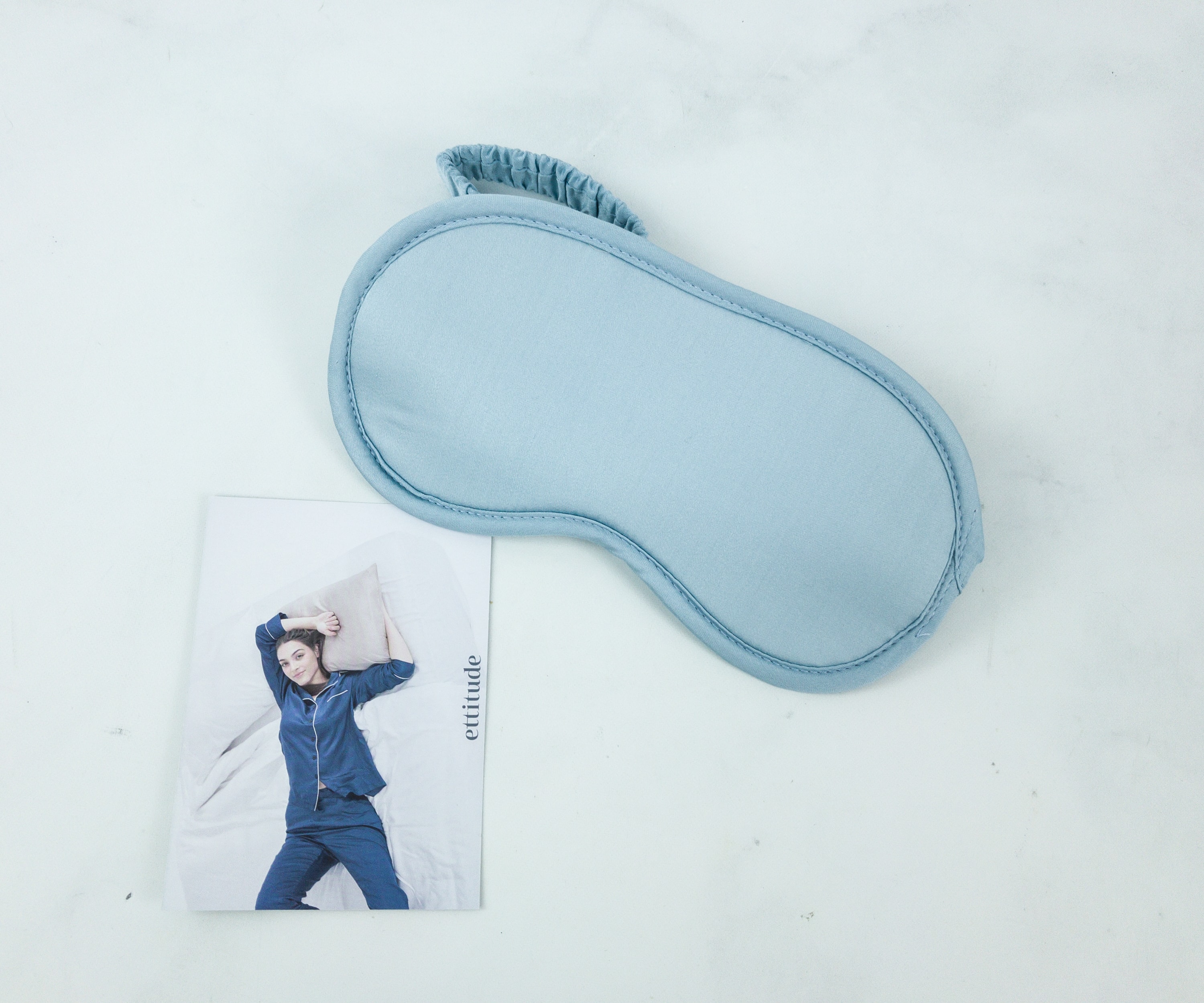 They believe that sleep is imperative to health and beauty because good sleep helps prevent wrinkles, brightens the complexion, and counteracts eye puffiness. Thus, this eye mask is created to promote good sleep.
The smooth, hypoallergenic, and breathable fabric will also keep the eyes cool throughout the night without irritating the skin and rubbing the eyelashes.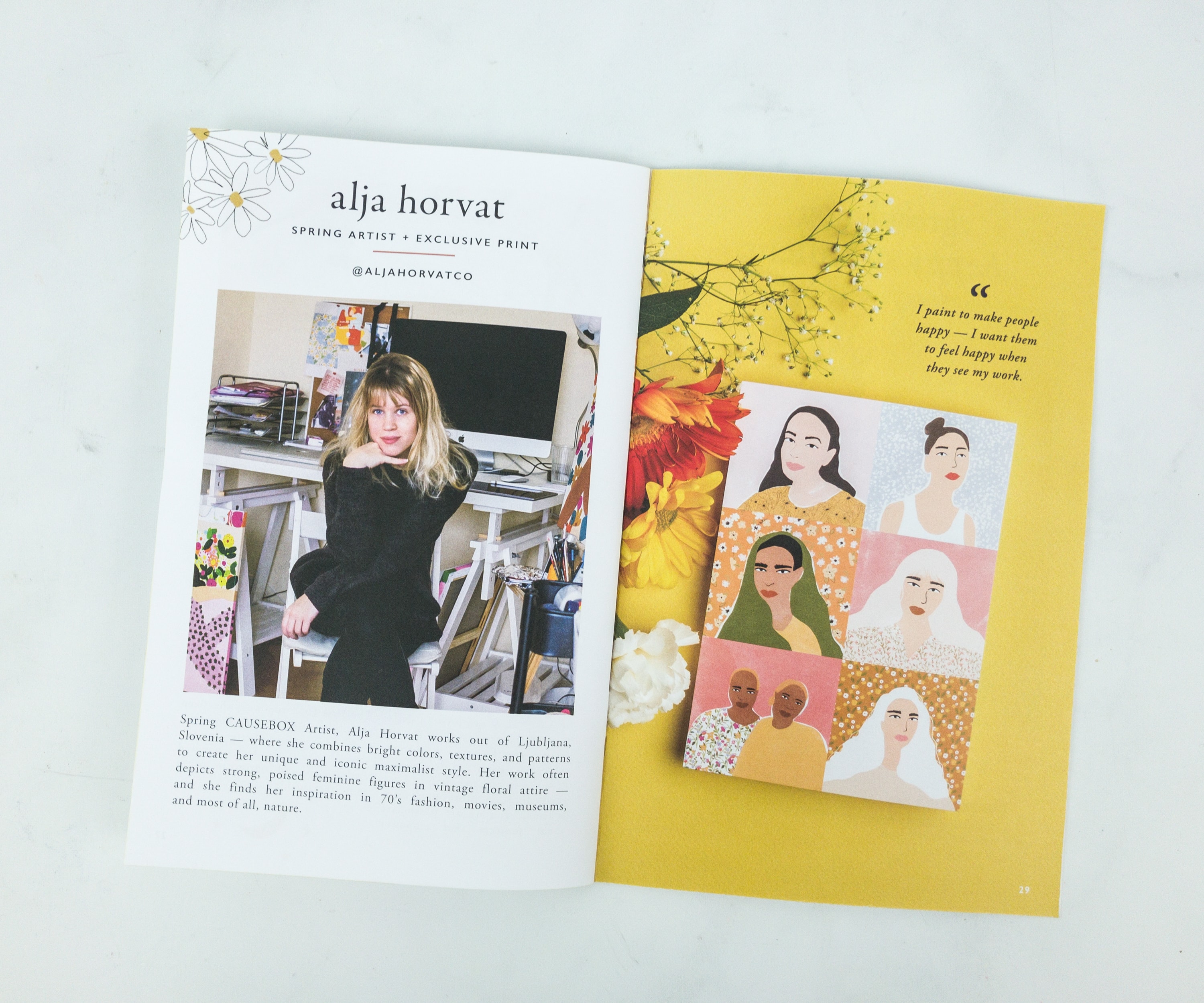 Alja Horvat Art Print ($10) This postcard artwork is by Slovenian illustrator Alja Horvat. It's made exclusively for CAUSEBOX.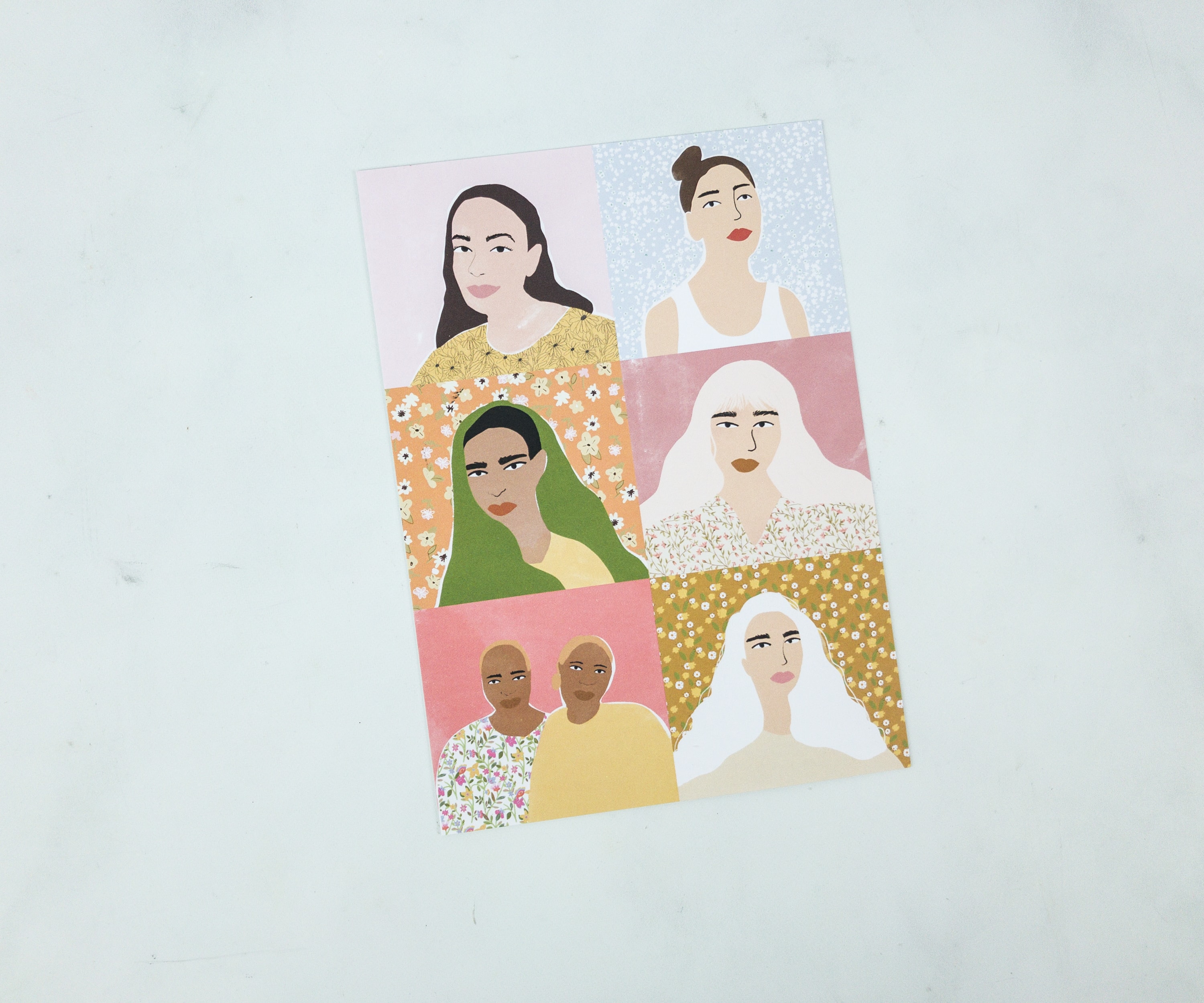 She combined bright colors, textures, and patterns to create her unique and iconic maximalist style. Her work often depicts strong, poised feminine figures in vintage floral attire. Looking at this inspires me to be proud of my femininity and be confident.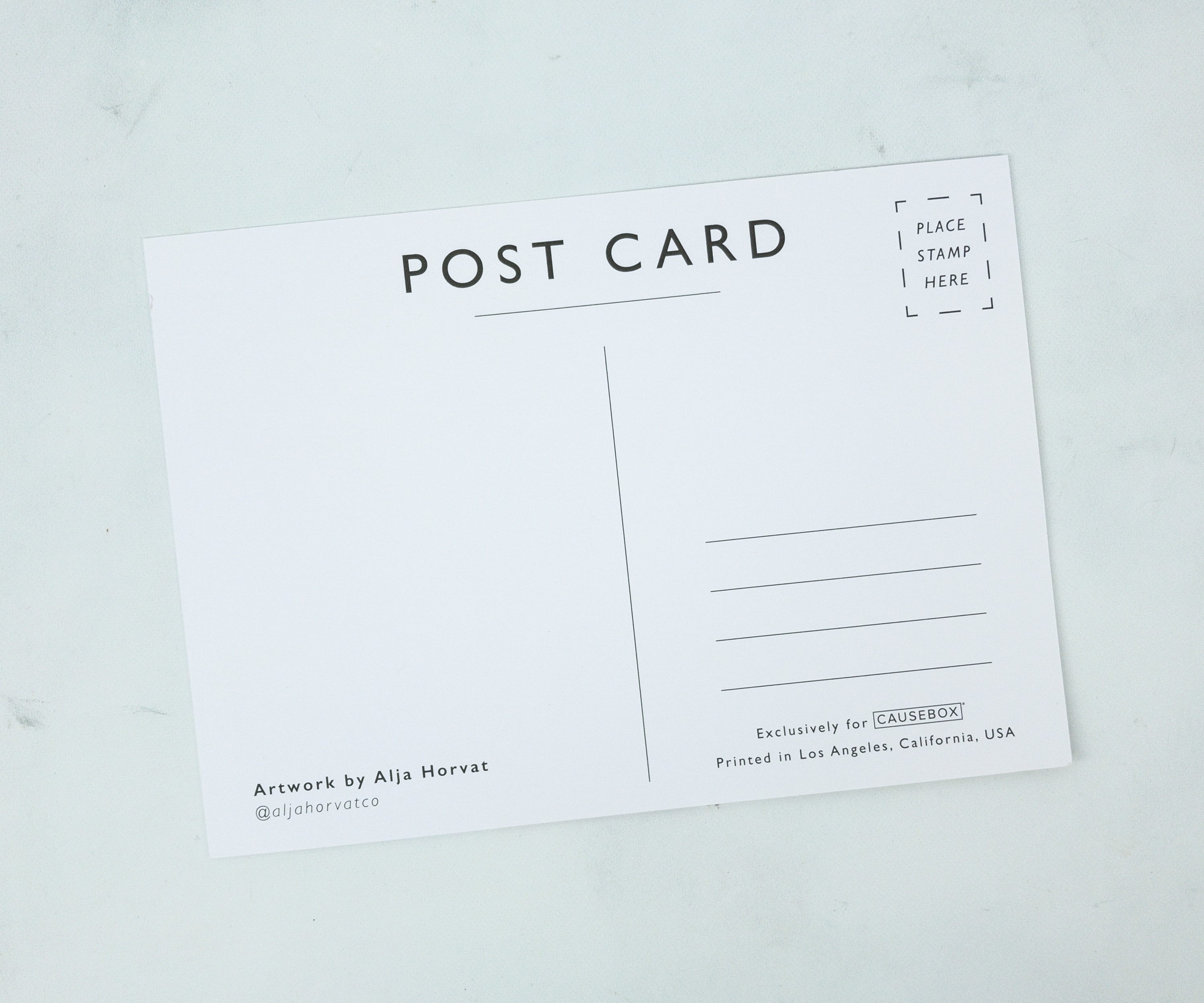 The flip side contains the usual format of a postcard. I will be sending this to a friend to share the nice artwork and its message.
This quarter's CAUSEBOX has a value of about $340.90! As usual, I was impressed with everything I received in this box. I love their mission to collaborate with brands and companies that give back and support fair trade, etc. The quality of every item is really fantastic. The color and prints are perfect for spring too. My favorite little item in the box is the Pink Clay Konjac sponge. I have pretty sensitive skin and I was nervous about it being too harsh, but it has become my new go-to face cleanser. I highly recommend it to anyone who wants angel-soft skin. I love the scarf and portfolio too – it's perfect for organizing my must-haves and taking them on the go!
What do you think of the Spring 2019 CAUSEBOX?