CatLadyBox is a monthly subscription box for us cat ladies and our cats! Each month you will receive cat-themed items for you and your cat (Crazy CatLadyBox), or you can order a box just for you (CatLadyBox). Each box could contain cat-themed shirts, jewelry, home decor, accessories, art, and more – all delivered in a box your cat can keep.
CatLadyBox is unlike any other cat subscription box out there. Each month, you'll receive a meowvelous selection of high-quality cat-themed items only available through us. From super-soft shirts and beautiful jewelry to inspired home decor and quirky cat toys, we pride ourselves in creating and delivering the ultimate ways show off your cat lady pride!
DEAL: For a limited time, save $5 off your first box with coupon code AMEOWZING! Valid on Crazy Cat Lady Box only!
TIP: Looking for a coupon code? Subscribe to notifications for CatLadyBox in the directory to get an email when the next one is released!
I received a card in my Crazy CatLadyBox.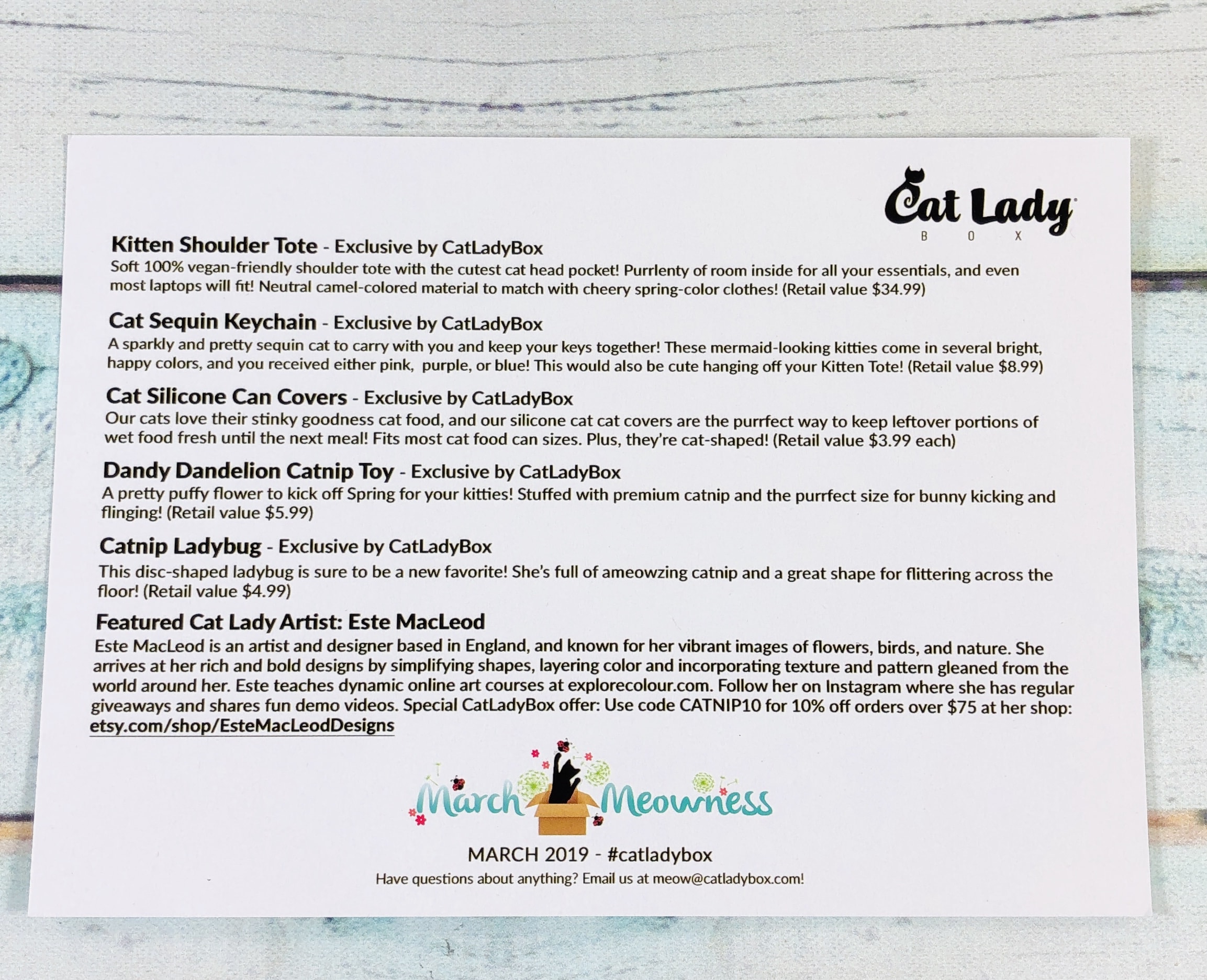 The back of the card lists all of the items in the box and their suggested retail price. Keep in mind that CatLadyBox sells their own line of products so the prices are from their online store.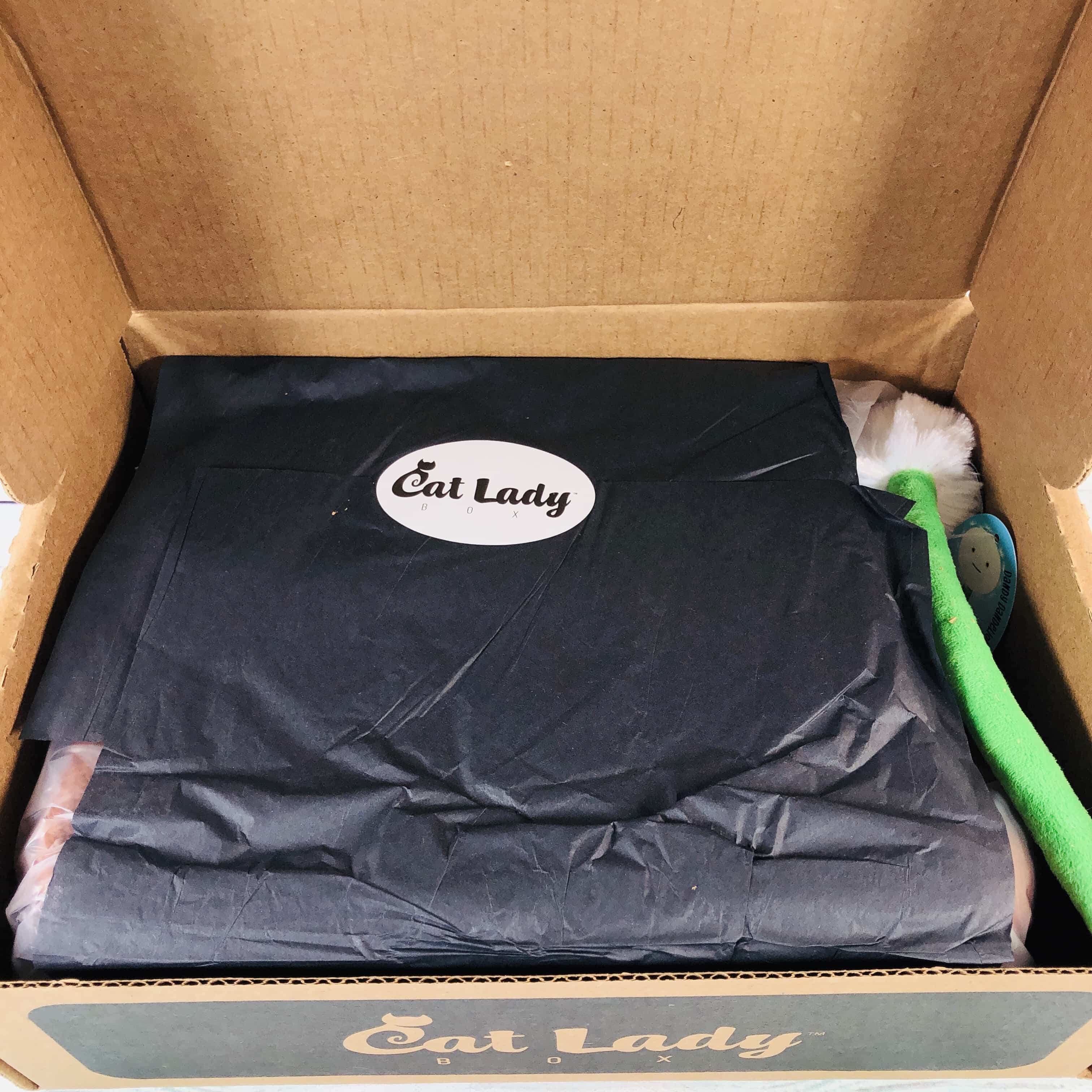 I found my items covered by tissue paper.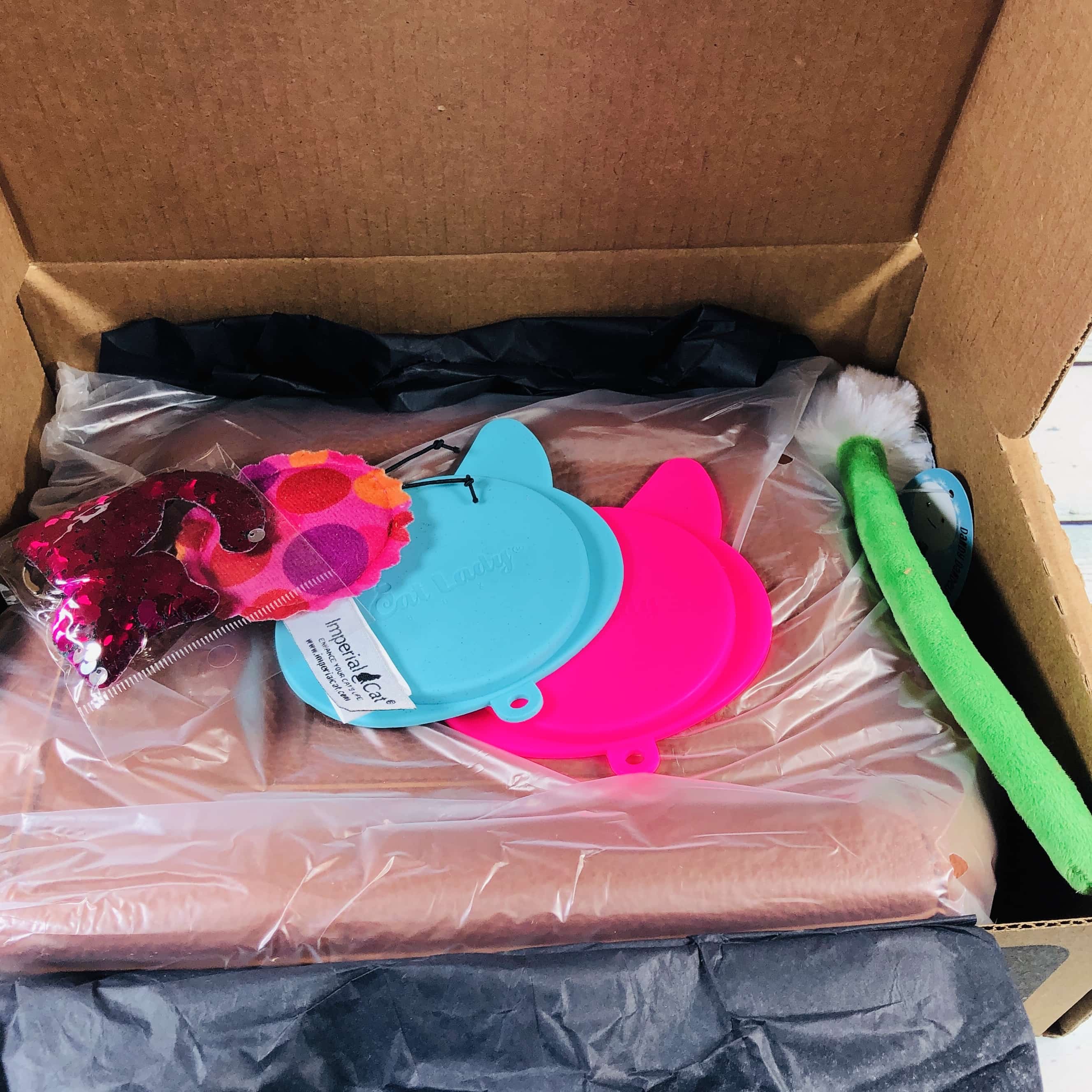 Some of the items were wrapped in plastic.
Everything in my CatLadyBox!
Kitten Shoulder Tote ($34.99) Check out the front pocket: it's shaped like a cat head! The material for this bucket tote is vegan-friendly. The outside has a pebble finish on the material.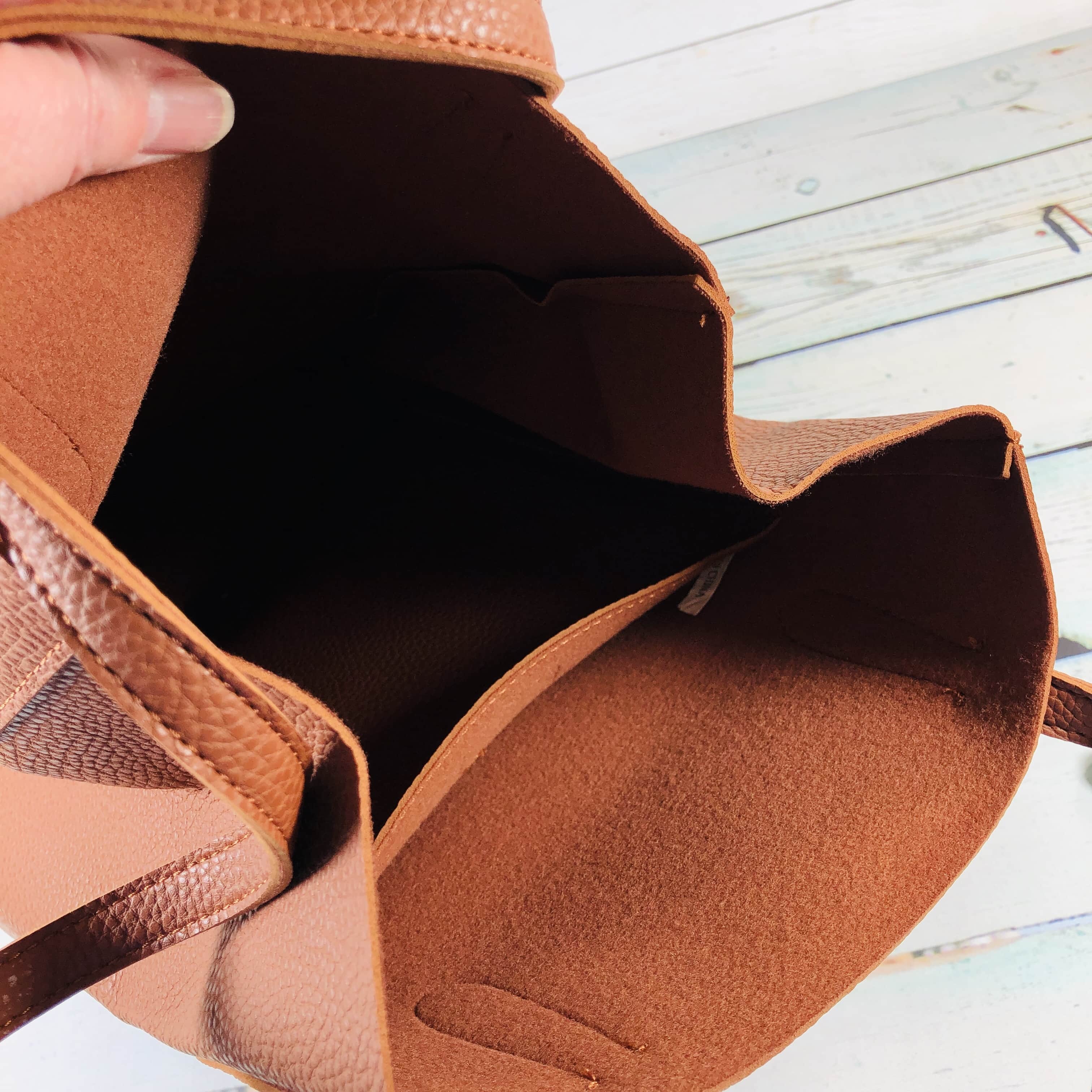 Here's a peek at the inside, which is lined with a soft, flocked material. My oldest was super happy with this tote and even carried it to a wedding!
My younger daughter is modeling it here so you can see how long it is.
Dandy Dandelion Catnip Toy ($5.99) is filled with catnip to entice your kitty to play.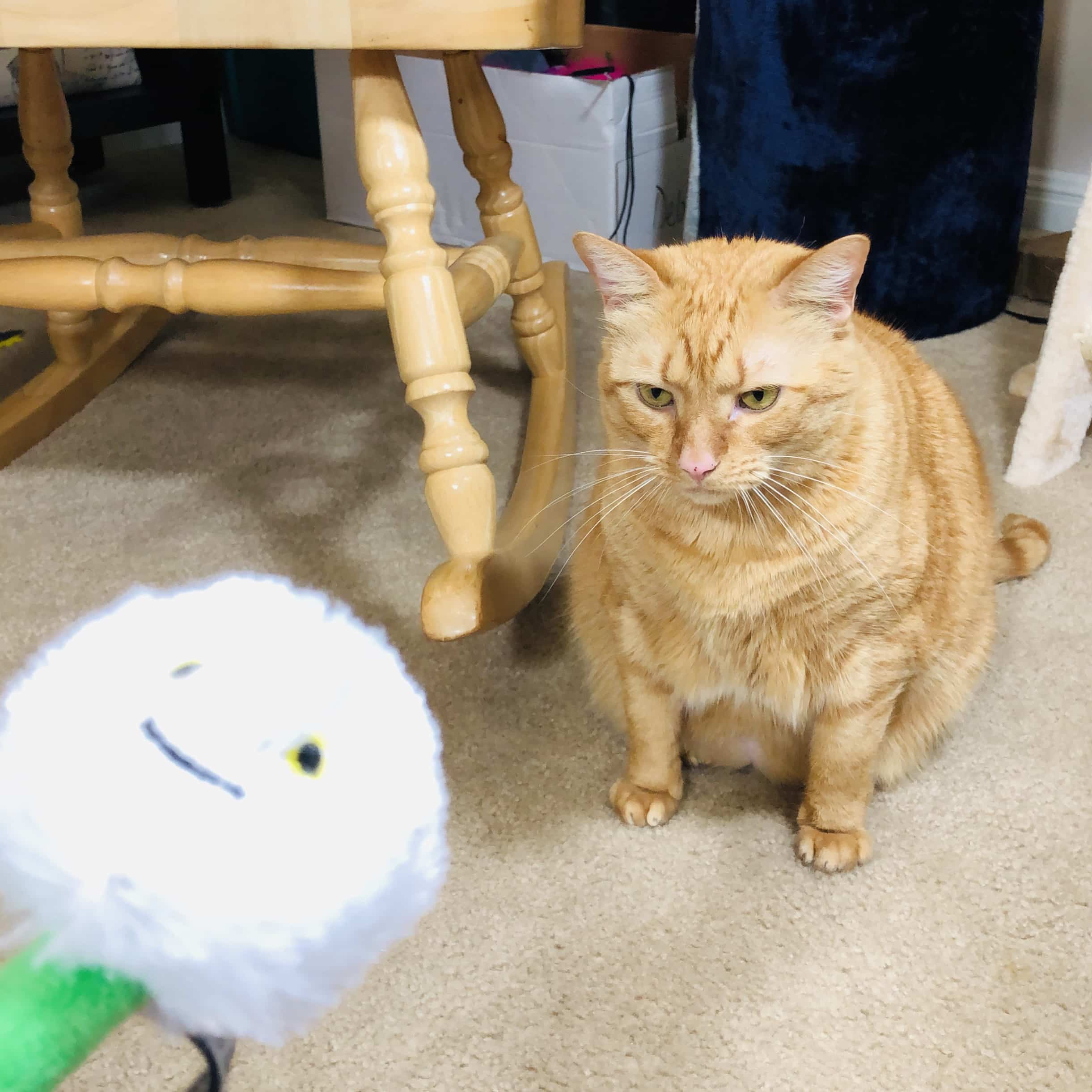 Here kitty, kitty, come and play!
NO! Oh well, maybe Sunny wasn't feeling well, she wouldn't come near.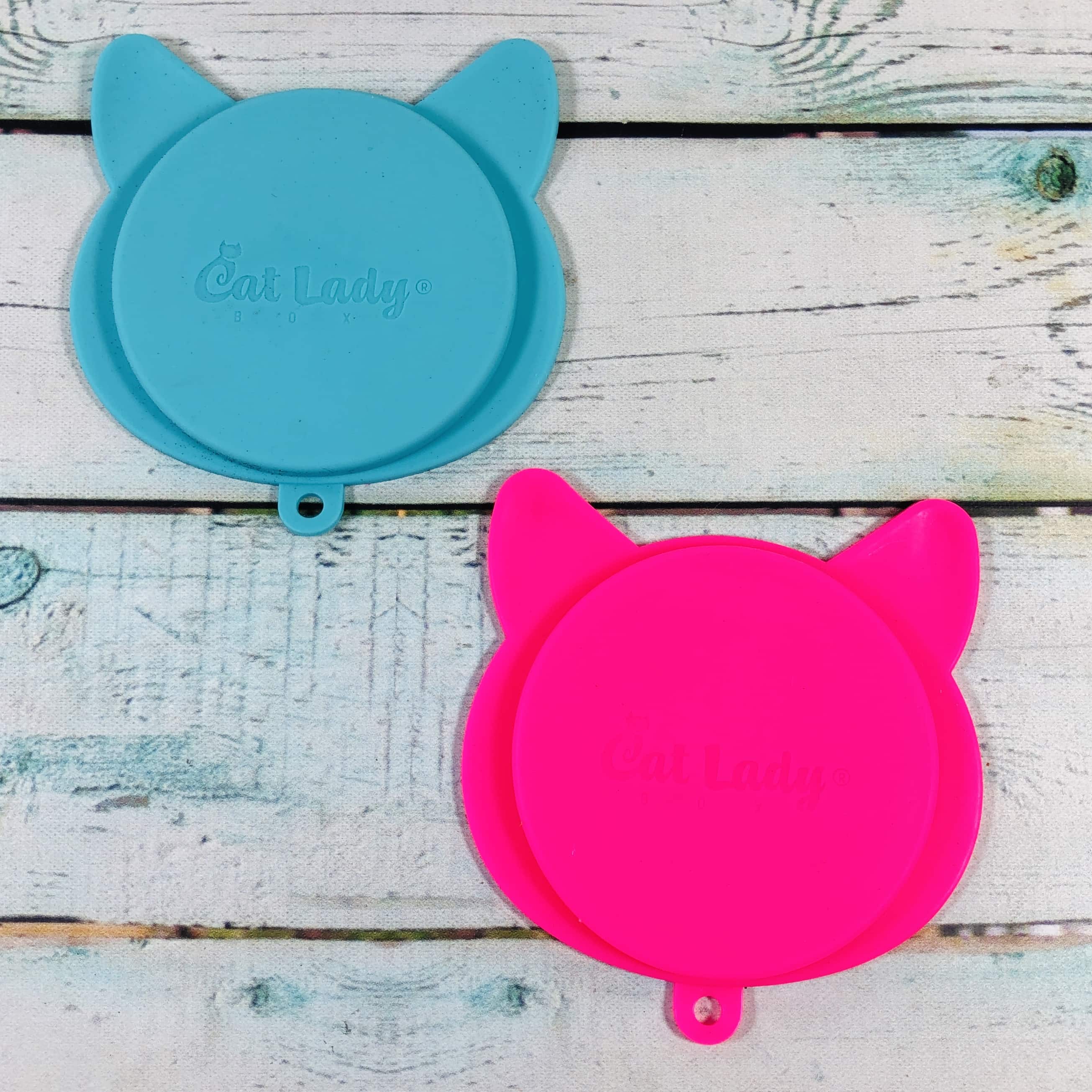 Cat Silicone Can Covers ($7.98) Ever opened a can of cat food and only wanted to use some of it and then save the rest? These lids are there for you. Just pop them on top and place in the fridge. I have a tip for you if you need a lid in a hurry: use one from a can of bean dip. They are the same size as a standard cat food lid, however, these bright lids will also fit the smaller Fancy Feasts lids.
Cat Sequin Keychain ($8.99) Place your keys on your new keychain and then place them in your new tote bag!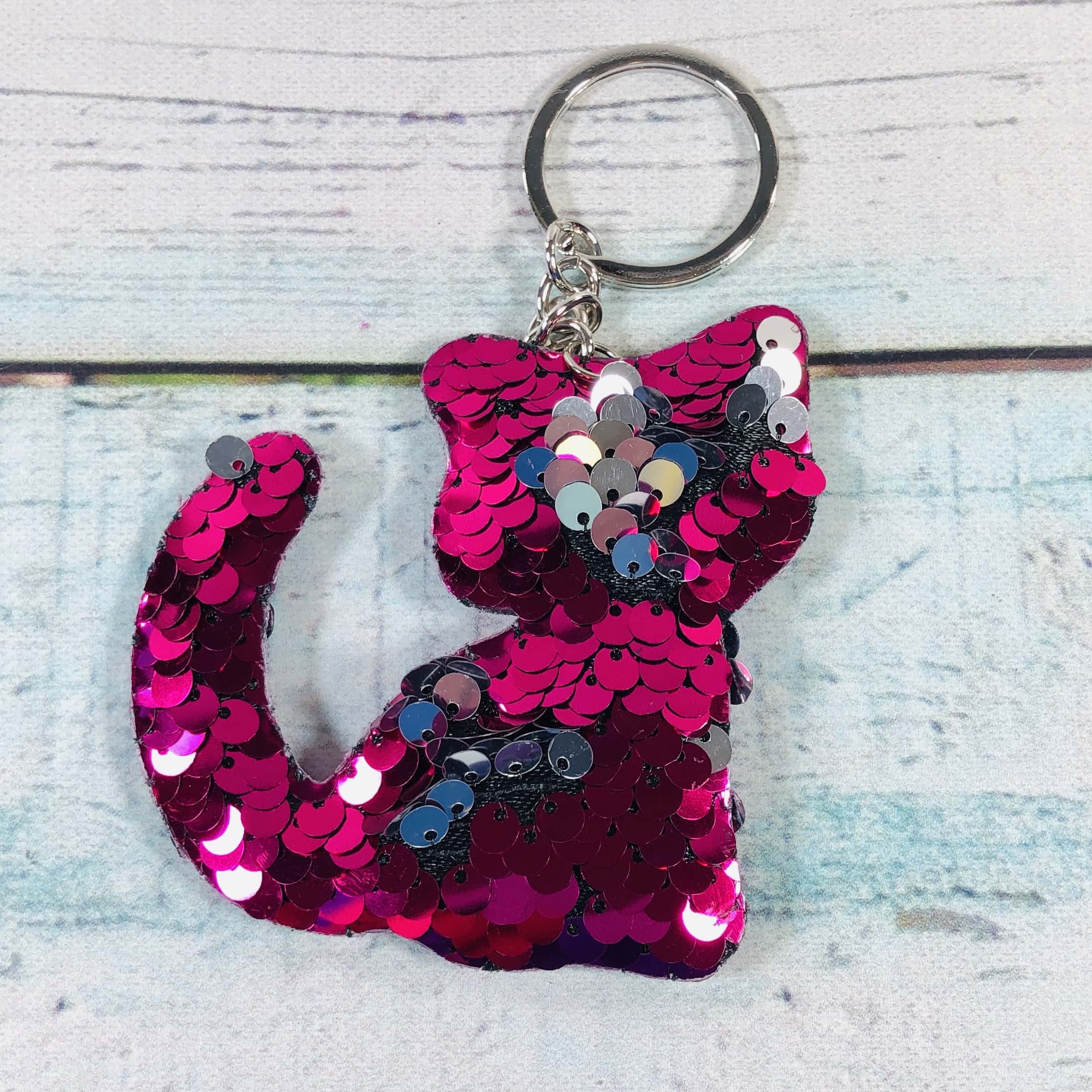 You can move the sequins the other way so that you have either hot pink or silver sequins showing. Three colors were sent so other subscribers may receive purple or blue sequins.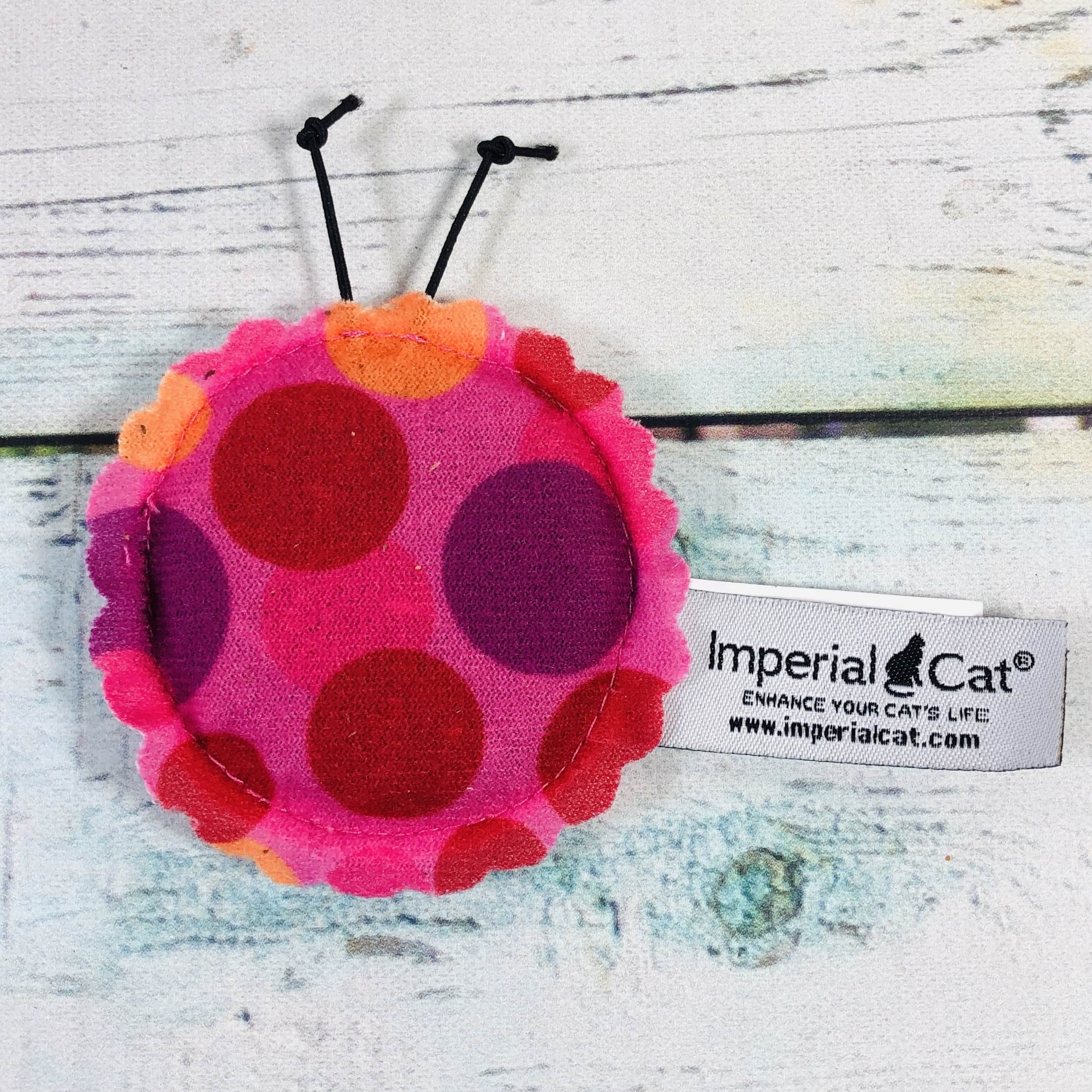 Catnip Ladybug ($4.99) is also filled with catnip but again, my cat was not into it but maybe she will perk up later. I left it on the floor for her to "discover" while I am at work.
CatLadyBox always sends cute cat themed items that are unusual, like a purse with a cat head pocket! The bag was roomy and my oldest will most likely carry it around. The sequin key chain is also pretty, I like the way the sequins change colors. The can food lids are helpful and maybe my cats will play with their new toys later.
What do you think of this month's box? Does your cat give 2 paws up?