Busy Bee Stationery is a monthly stationery subscription that will bring you items that inspire creativity and help you with everyday note-taking, planning, journaling, and letter writing. For $39.90 per month, you will receive 5 to 10 items built around a theme, season, or a specific project. Items can be things like pens, stickers, a notebook, washi tape, stamps, and more!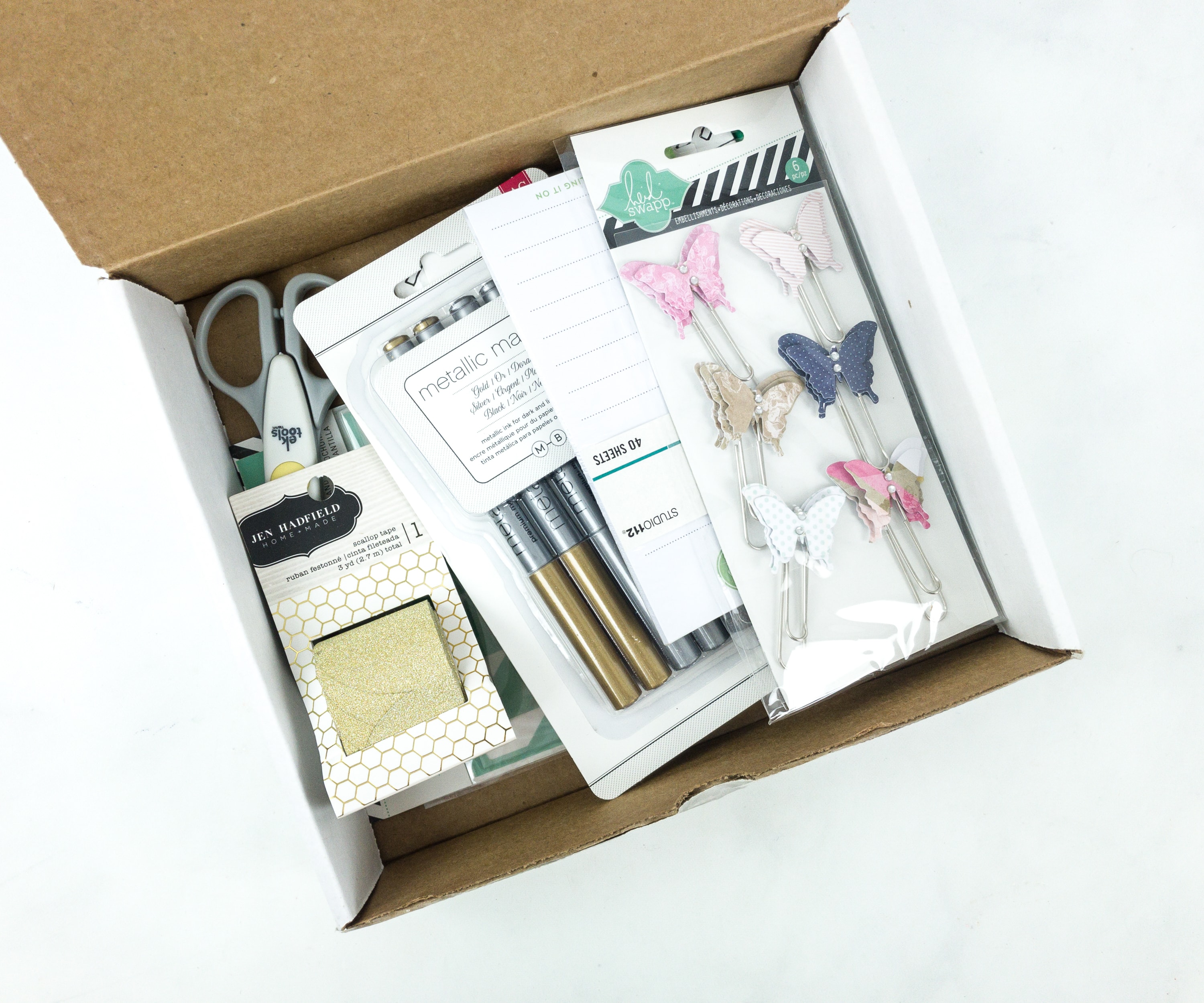 Everything came in retail plastic bags but we remove them for photography purposes.
Included in the box is an info card.
The theme for March 2019 is Teal Colouring!
Everything in the box!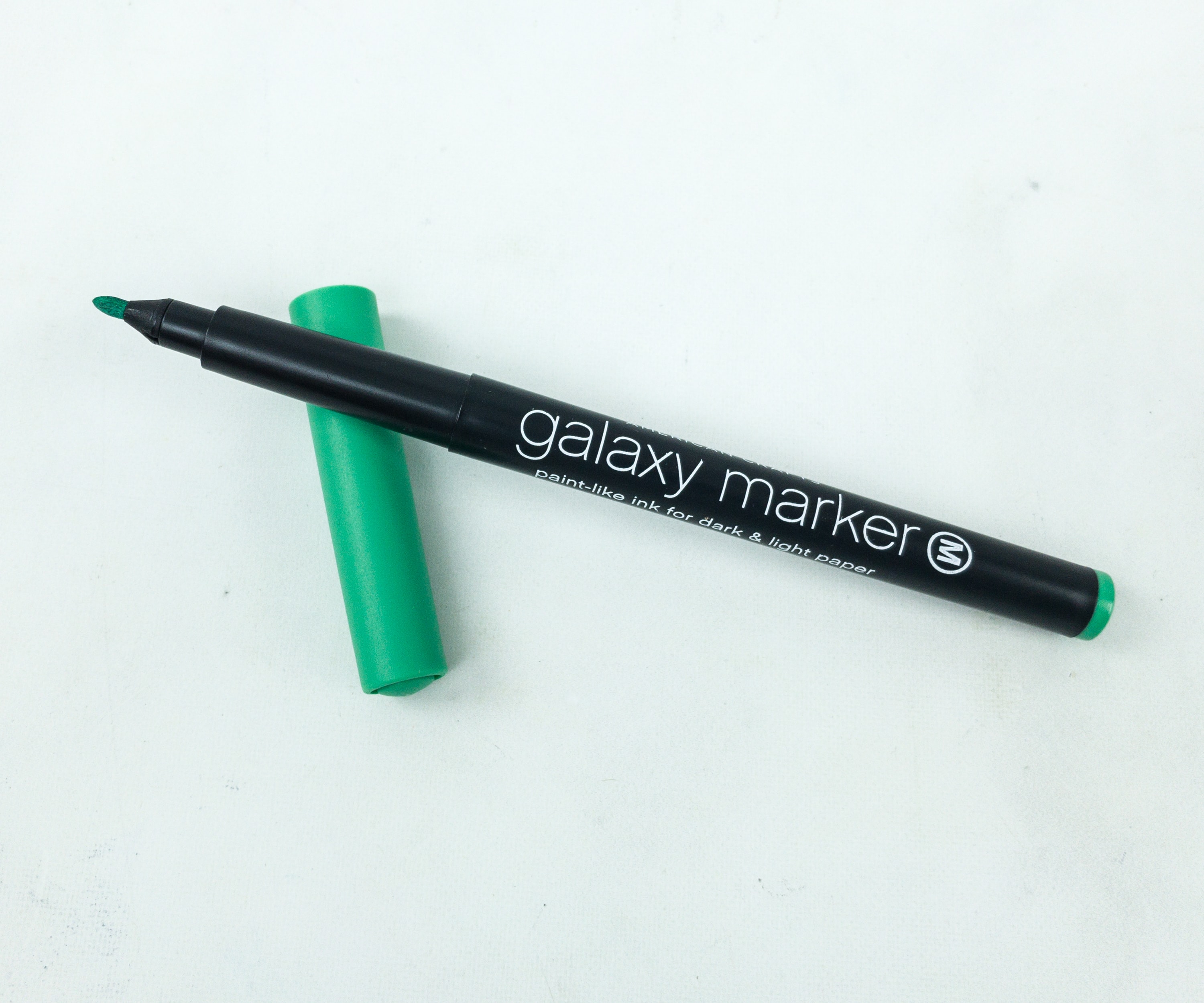 Galaxy Marker in Green ($2.06) It's the absolute marker for every art lover. Unlike paint and opaque pens, this marker is leak-free, clog-free, doesn't require shaking and produces clear and vibrant color for archival quality. On top of those, it's acid free, permanent, and non-toxic!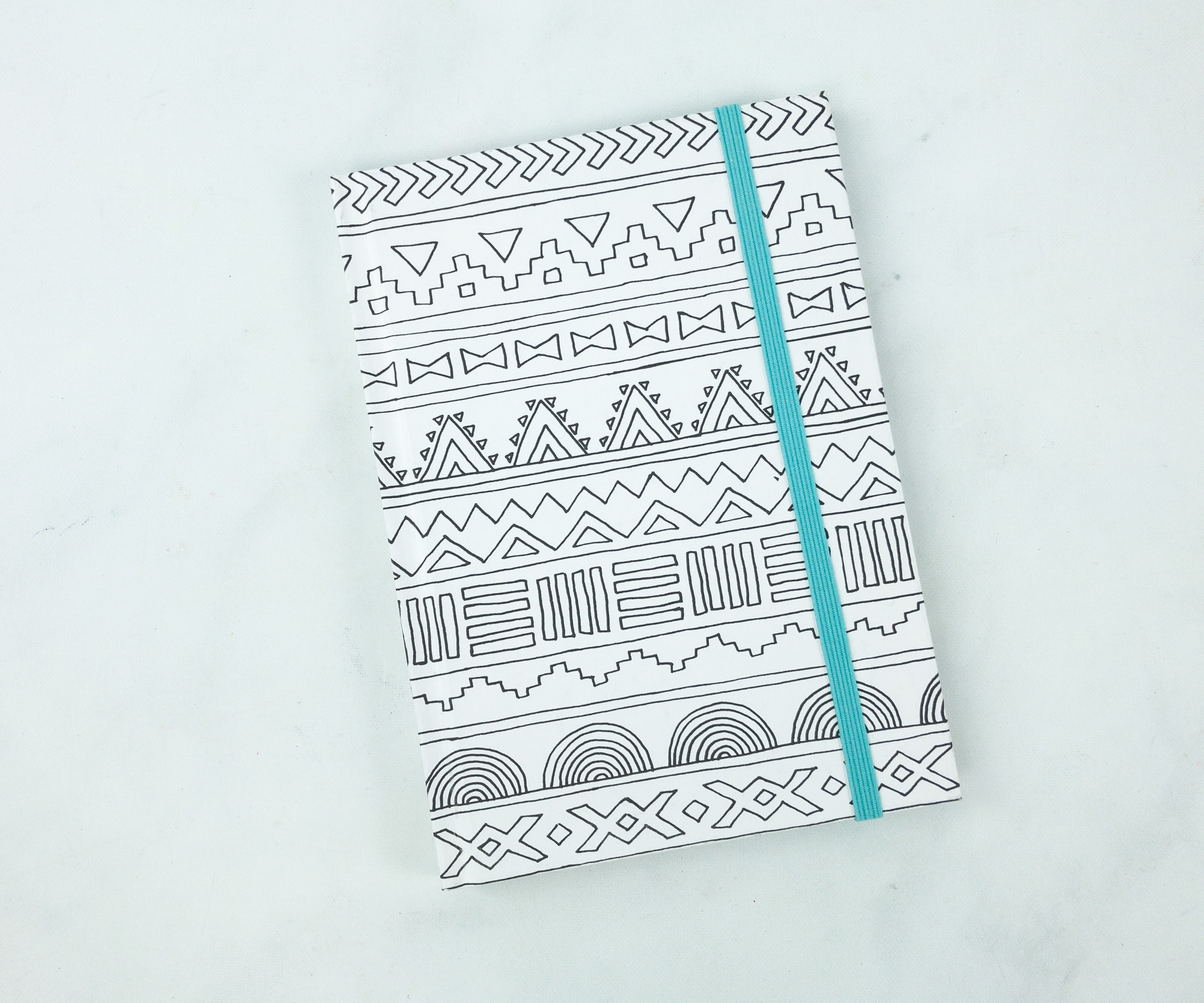 Hall Pass Notebook ($3.59) It's a coloring and writing notebook in one with a stylish aqua ribbon page marker and aqua elastic band closure. Time to doodle – you can decorate this in part with your new green marker – I'm seeing some RAINBOW potentials!
Important product info and distributor's logo are printed at the lower right corner of the back cover.
This hardcover journal is filled with 80 ruled pages excellent for scribbling, while the outside cover with beautiful patterns is just waiting to be colored.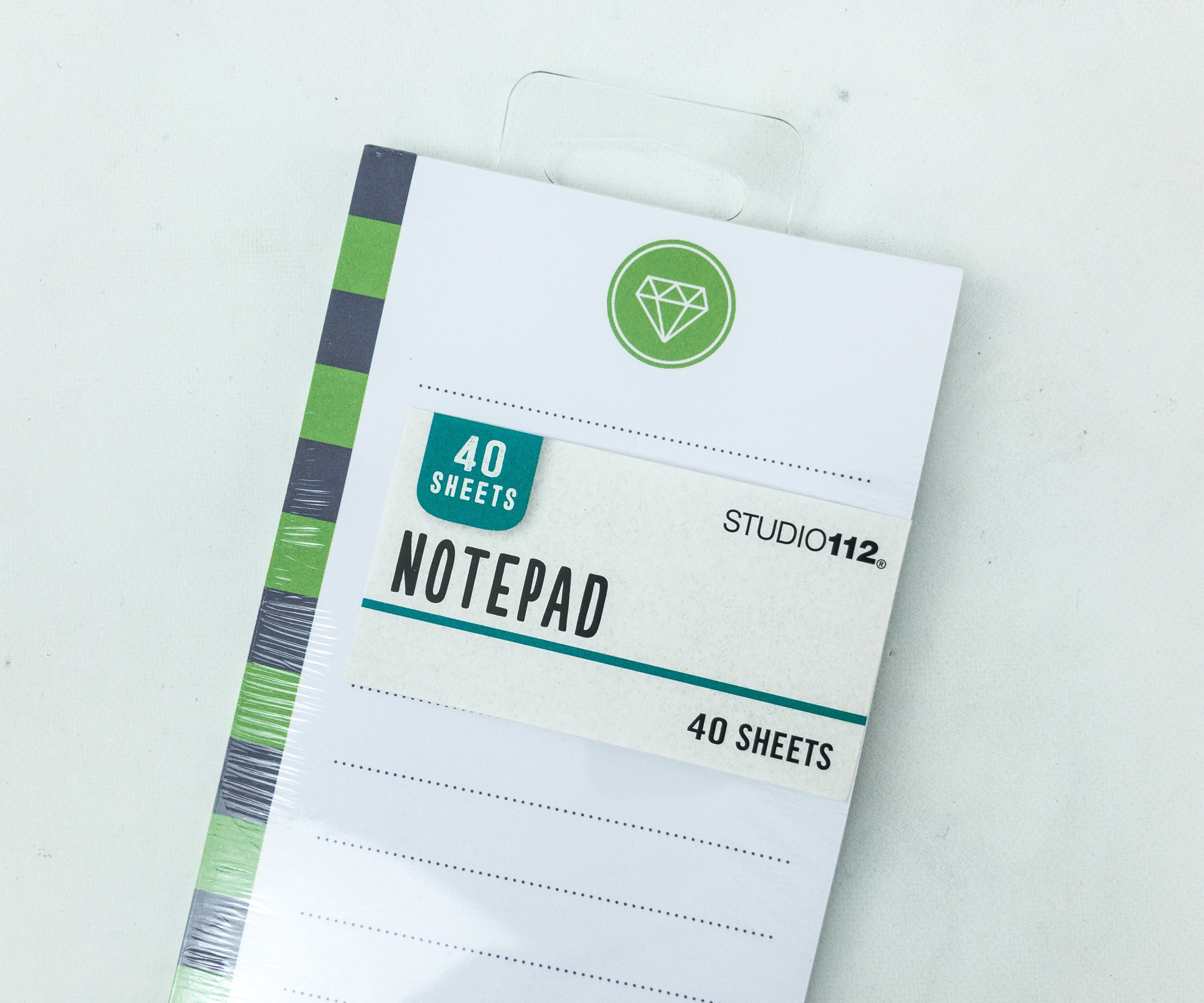 Studio 112 Notepad. This binder of cute paper pages or notepad is commonly used for recording notes and memoranda, writing, drawing or scrapbooking.
With its lengthwise cut, it's also ideal for making grocery lists or important notes for errands.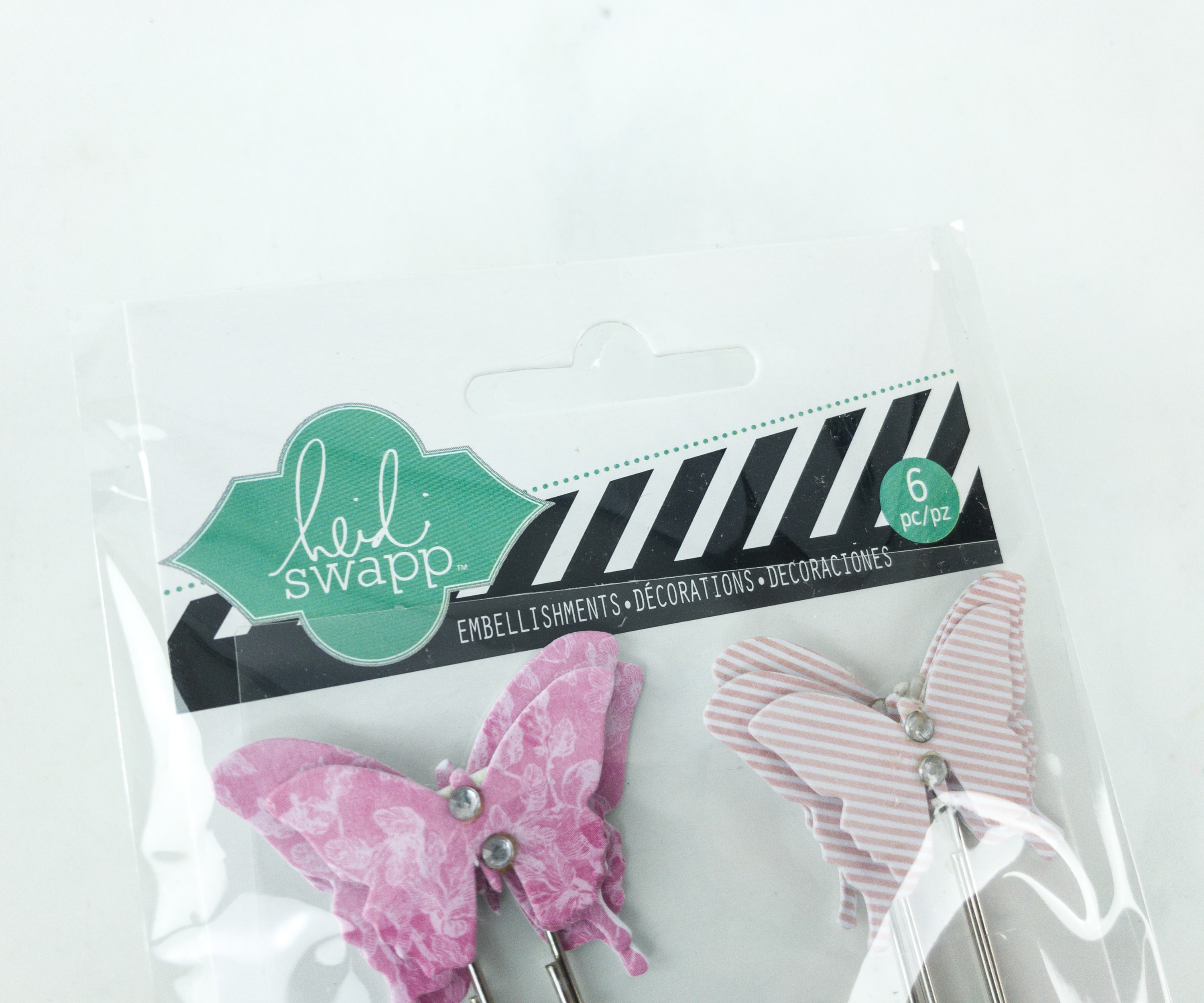 Heidi Swapp Embellishments . This pack from Heidi Swapp includes 6-dimensional butterfly clips.
The pretty and colorful butterfly design will definitely work as an embellishment for scrapbooks and planners. Actually, I really think that it's a fine alternative to stickers.
Each butterfly measures approximately 1.5″ and is attached to .5″ x 2″ clips. They are made in the USA.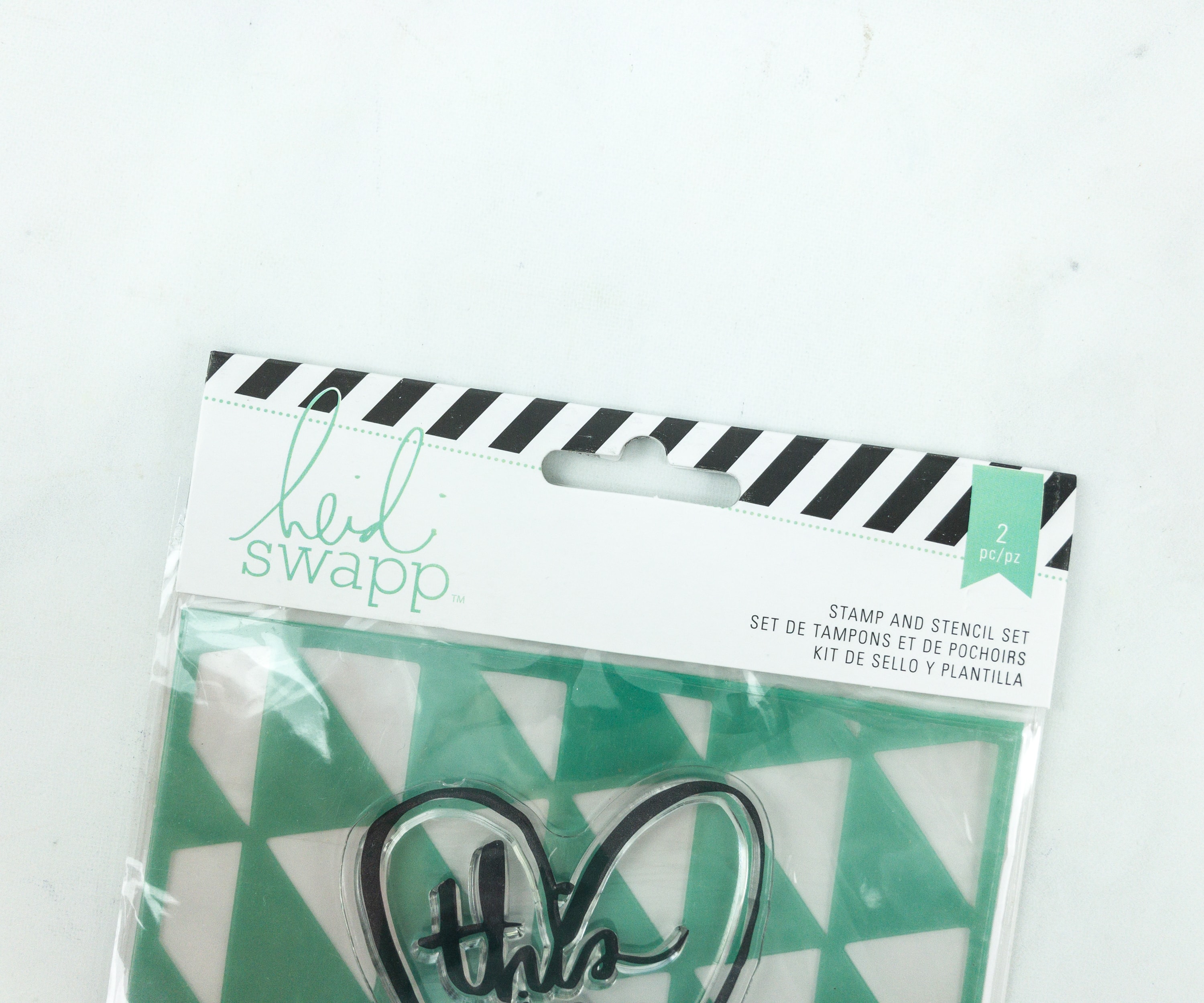 Heidi Swapp Stamp And Stencil Set ($6.99) I got another Heidi Swapp item, and this time it's a stamp and stencil set from the Wanderlust Collection.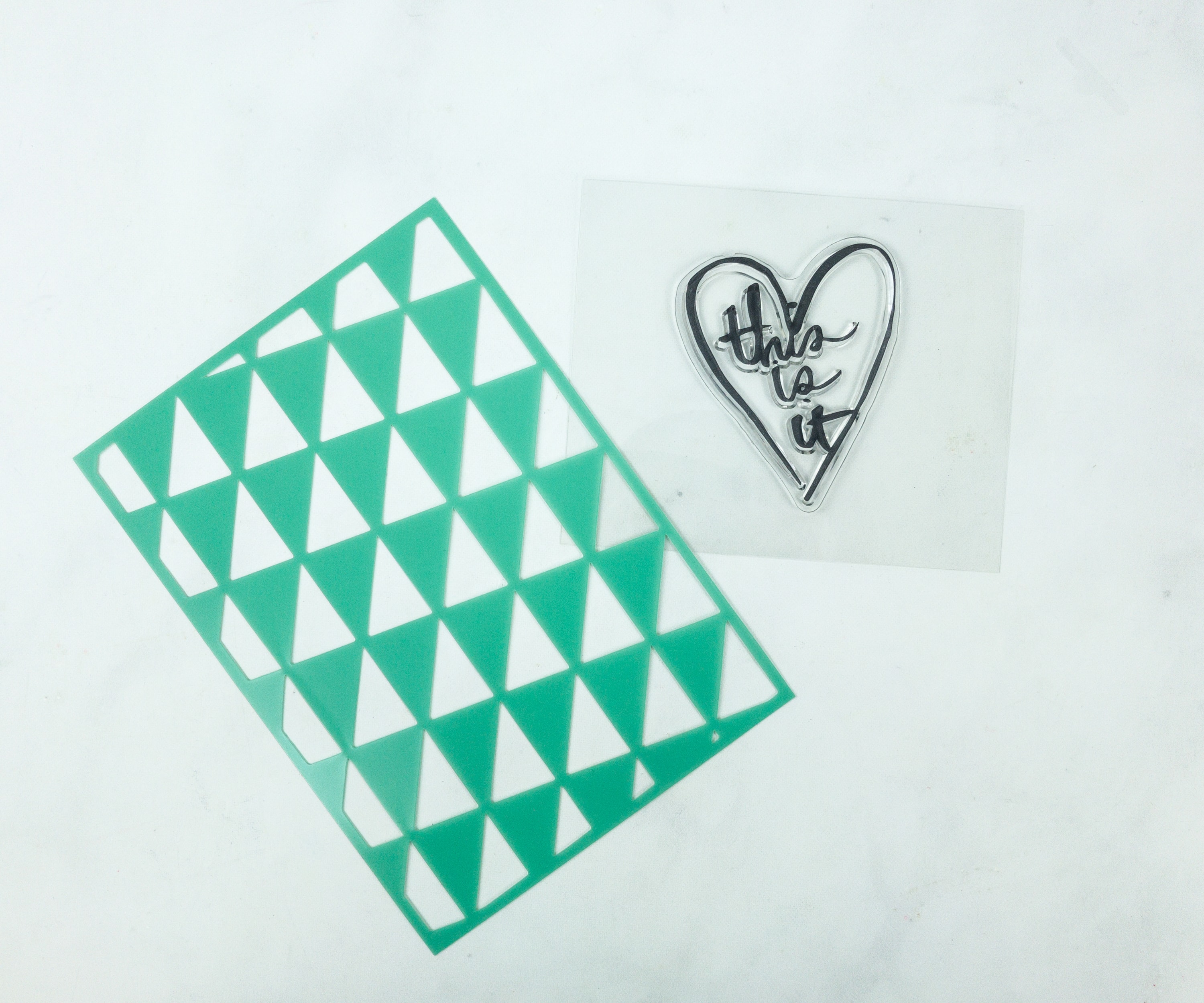 Included in the package are one 5″ x 7″ stencil and one clear acrylic stamp that measures approximately 2.75″ x 3″ in diameter. They are totally addicting and fun to use in decorating pages of my memory album.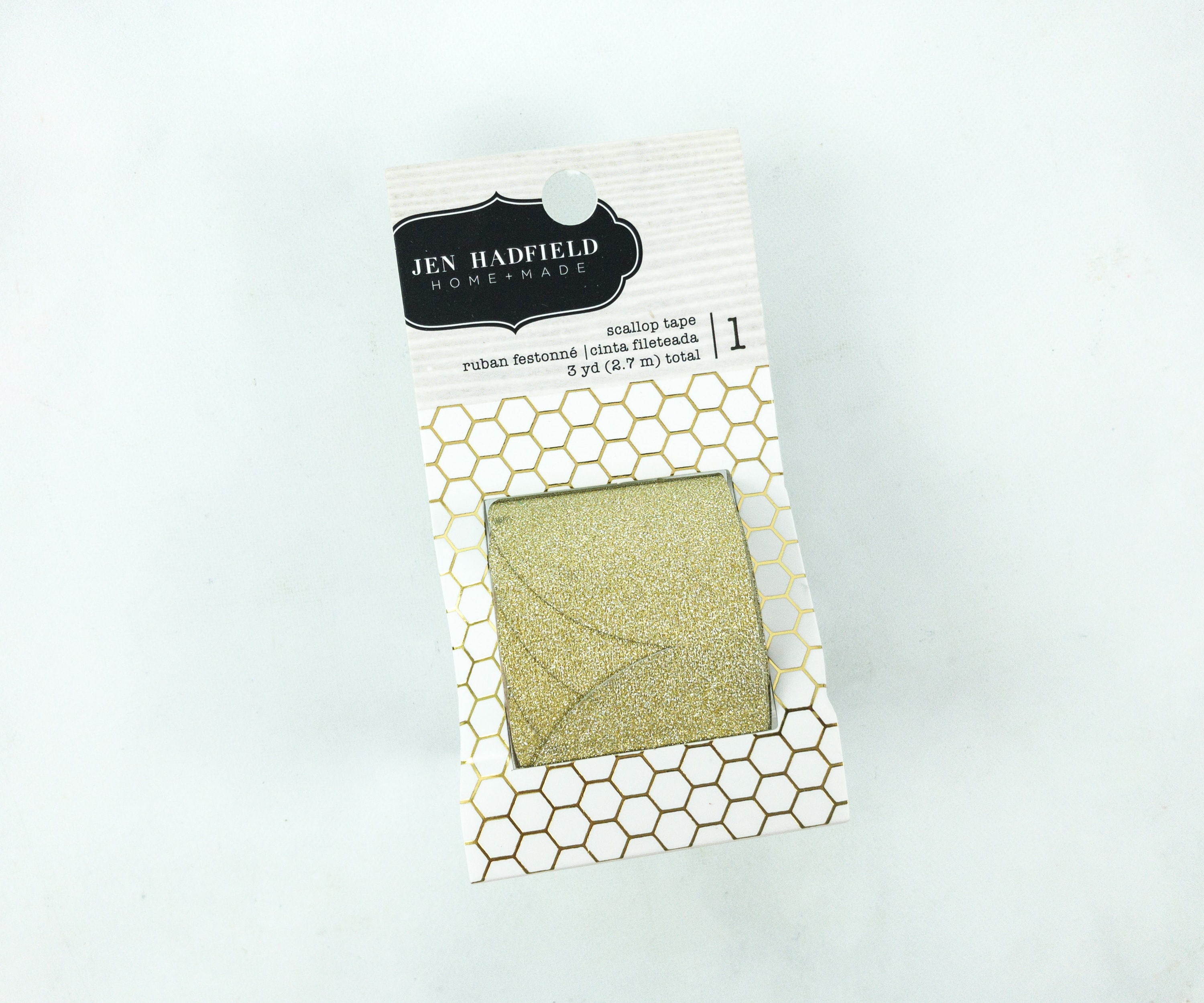 Jen Hadfield Scallop Tape ($4.50) It's a roll of 9 feet and 1.5 inches wide DIY home glitter scallop tape.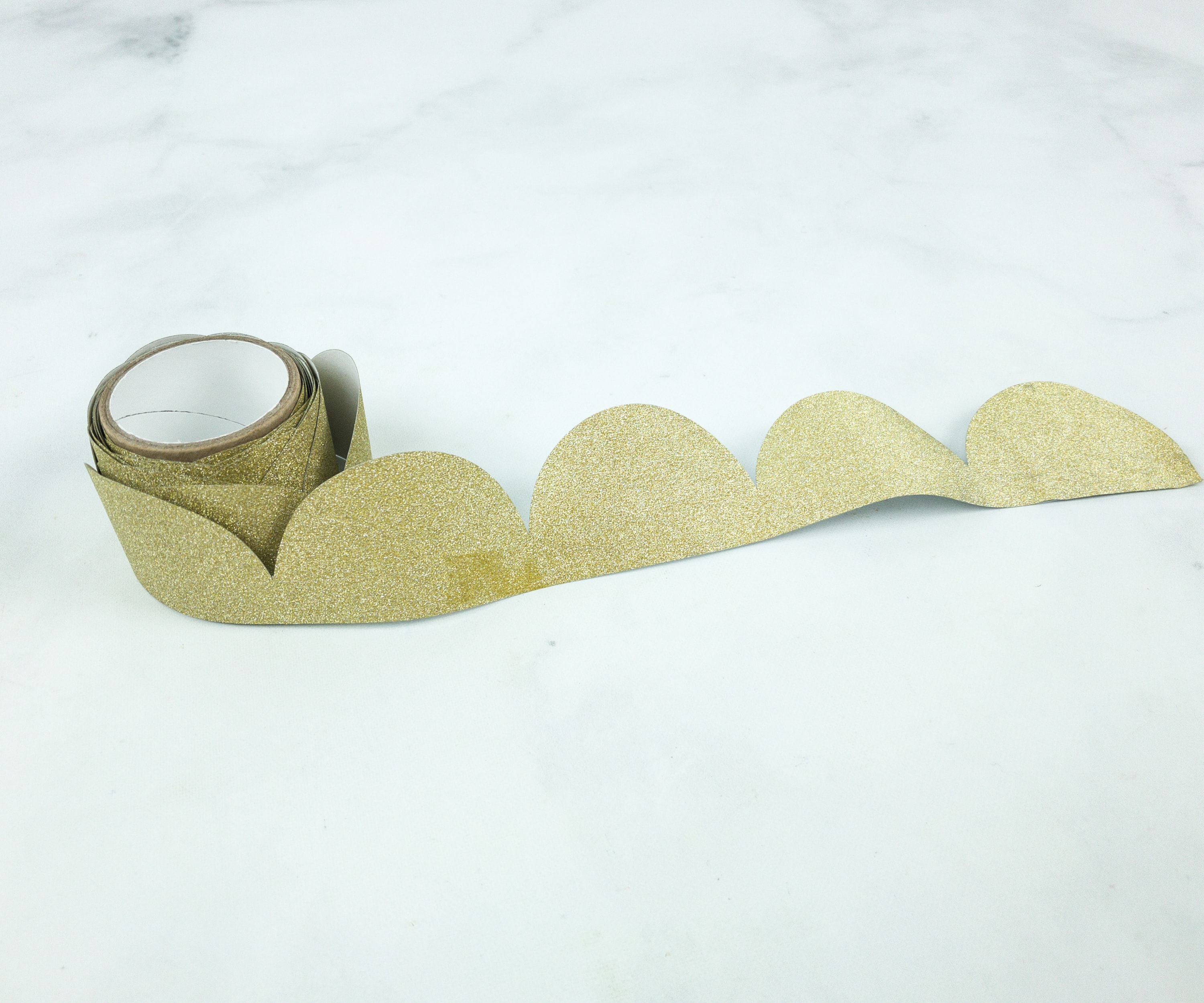 With this trendy die-cut design tape, I can add a touch of glitter to layouts, cards and more! The scallop design also adds glamour to plain paper edges.
AC Metallic Markers. These metallic markers feature brilliant, permanent, opaque ink that requires no shaking and works beautifully on both light and dark surfaces.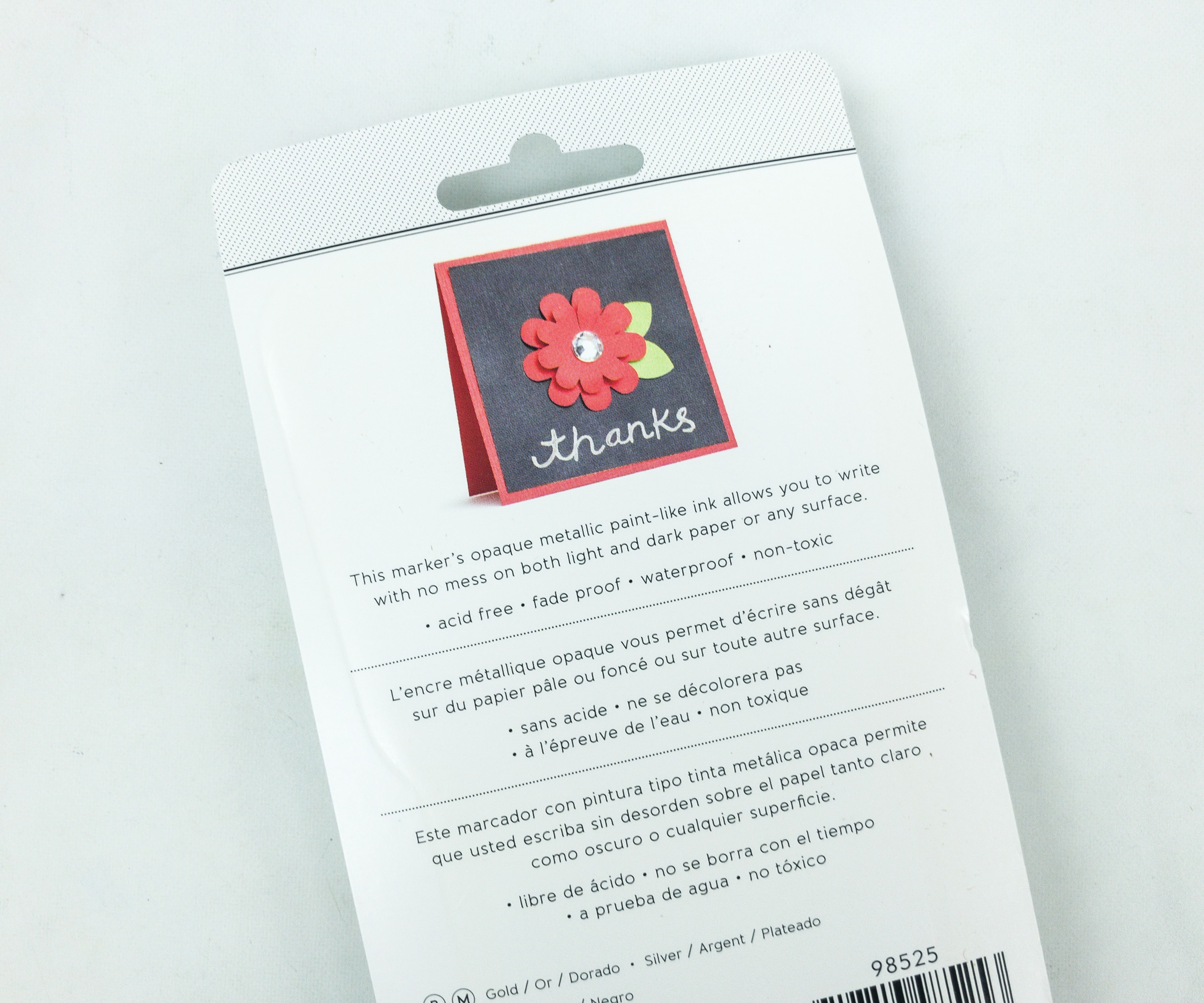 The quick-drying, non-toxic ink is perfect for art on paper, canvas, wood, unglazed ceramic, cardboard, fabric and more, while the fine point tip allows for smooth flow when writing, drawing or coloring. It's also great for calligraphy writing!
Also used for adding sheen and sparkle to any project, these felt tip metallic markers are fade-proof. This set comes in one black with two pairs of gold and silver colors which are striking when used on black chalkboard paper, black sketchbooks, or labels.
EK Tools Scissors ($2.73) These decorative scissors are designed for left or right-hand use. Unlike the ordinary scissors, this one is easier to use for cutting multiple designs on a paper.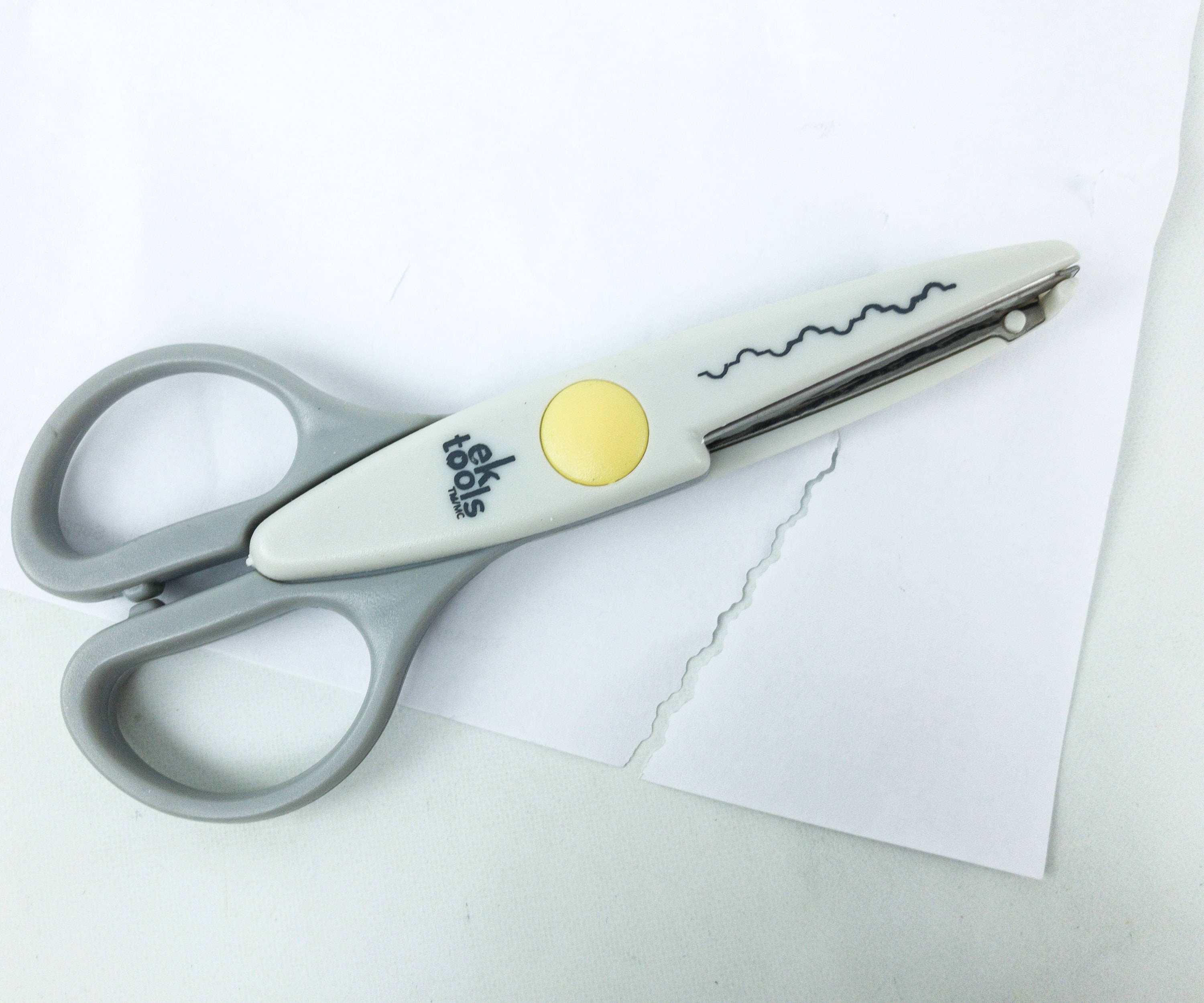 It's helpful for crafting pretty borders on photo frames and cards as well as creating paper ribbons for gift wrapping and embellishing.
Expressing myself through art by painting, drawing or even writing is very therapeutic for me. It improves my mood drastically. Having these useful tools to support my hobby is very heartwarming. Seeing the butterfly paperclips and a set of perfect pens inspires me to continue writing and decorating. Now I can start with my next art project! Plus, I loved the only subtle and classy hint at this month's holiday – while the O'Gradys go big for St. Paddy's, not everyone does!
Have you tried Busy Bee Stationery? What did you think of this month's box?