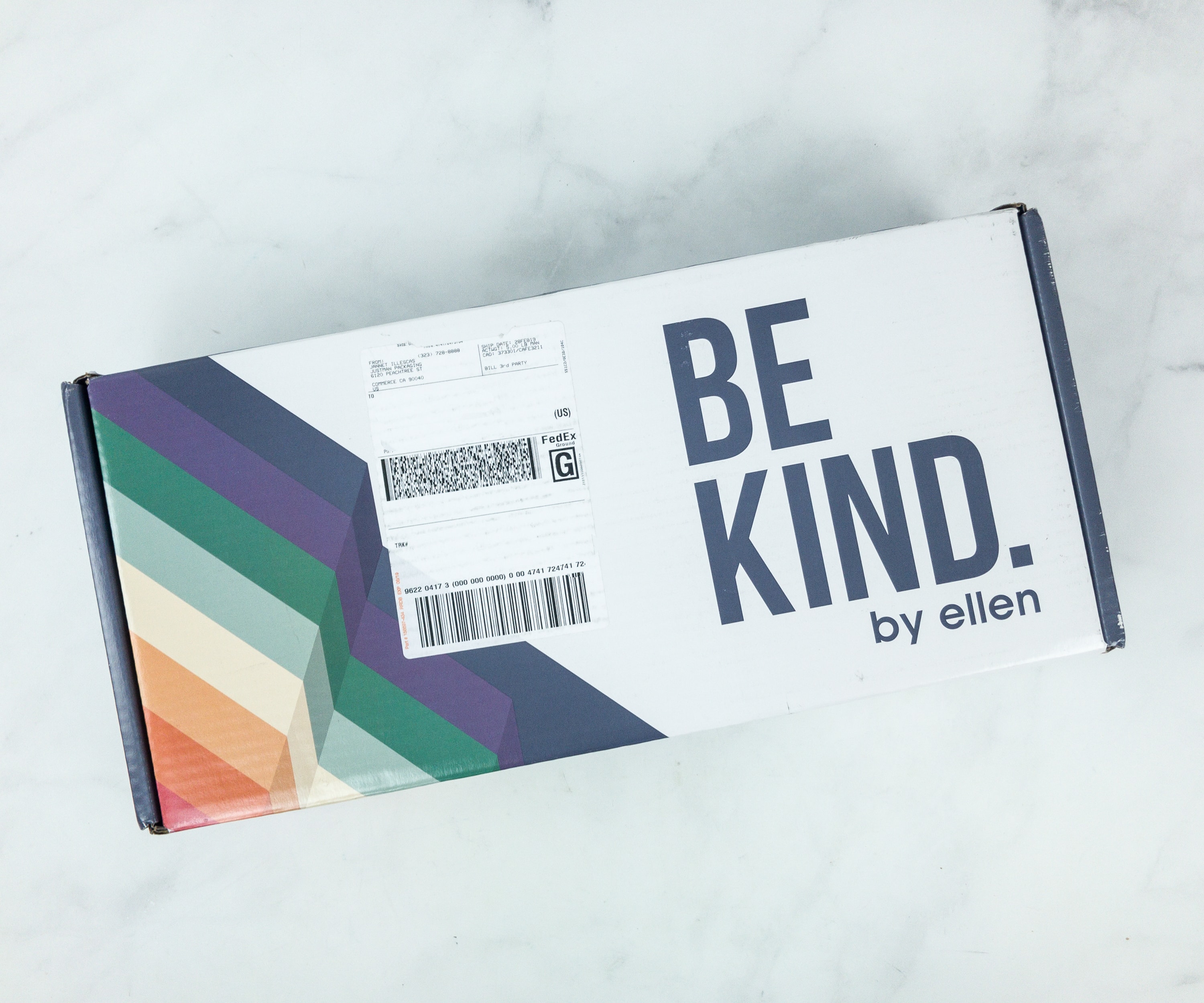 BE KIND box by Ellen is a new quarterly subscription box created by Ellen Degeneres to help people spread kindness!  Each box costs $54.99 and contains fun, unique, and amazing products that Ellen picks herself that she wanted to share. It also focuses on brands and products that do social good.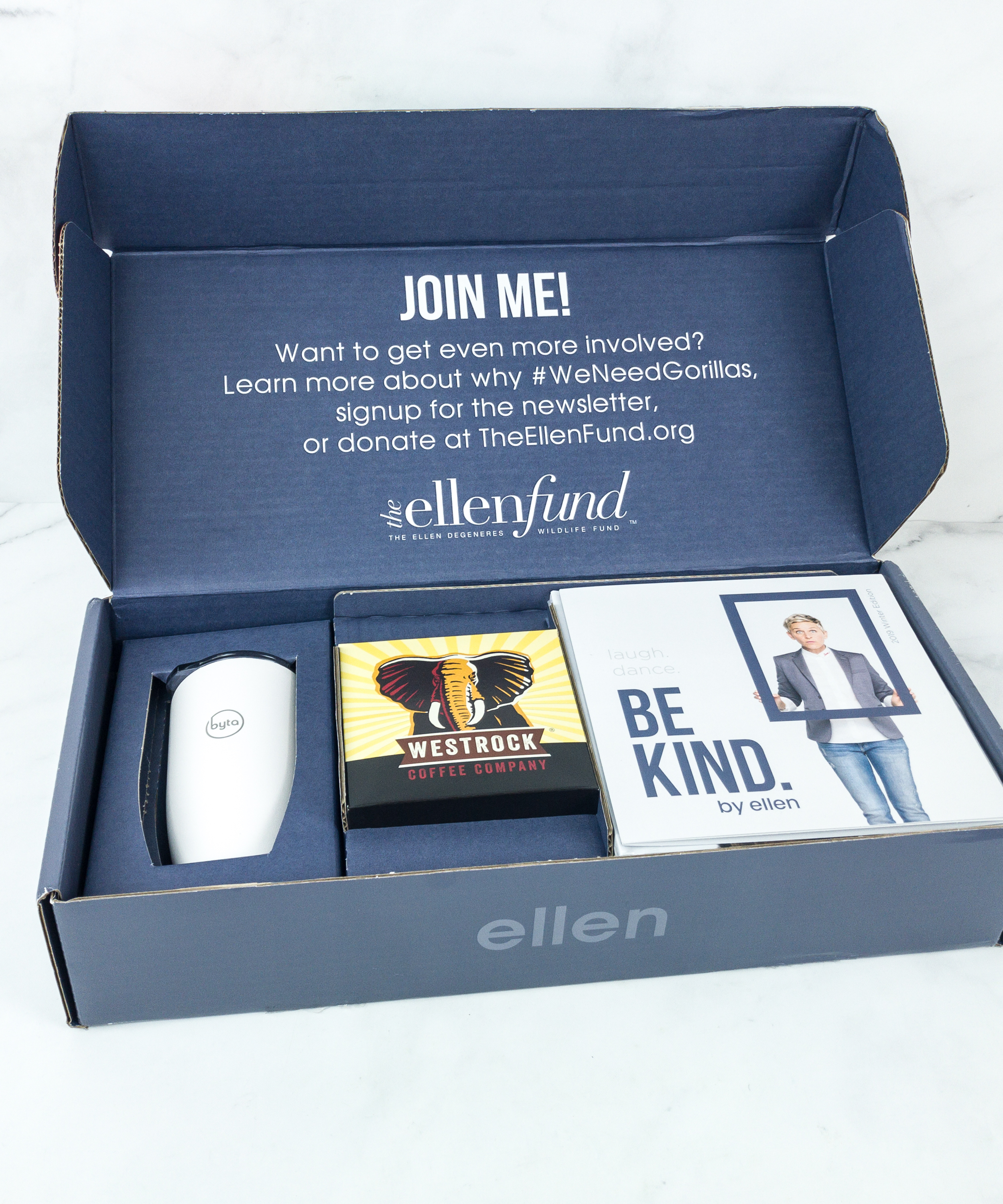 The items are neatly packed in the box!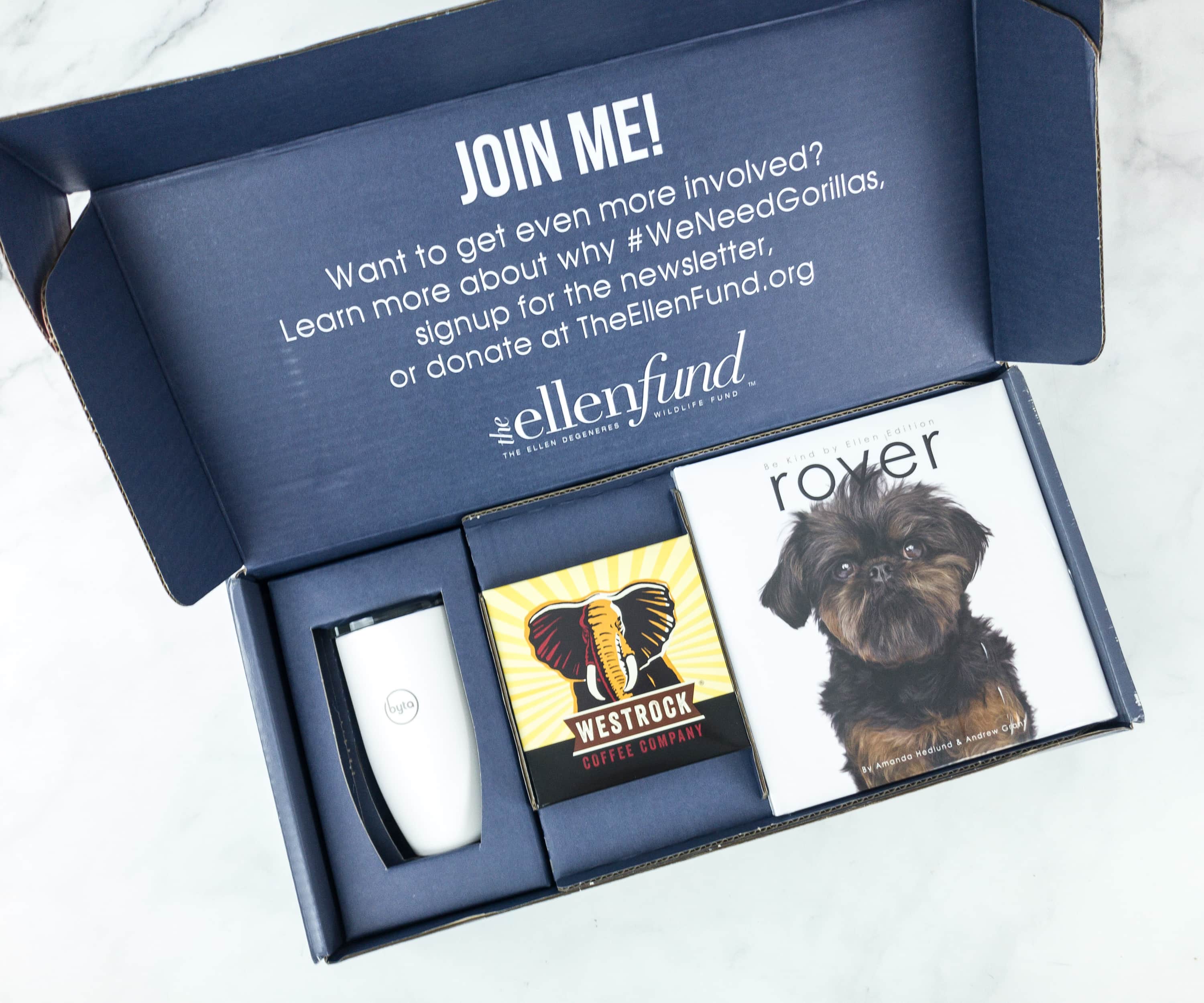 Portia, Ellen's wife, fulfilled the host's lifelong dream on her 60th birthday – is to create The Ellen DeGeneres Wildlife Fund. The EDWF wants to increase the number of gorillas in the world as there are only about 1,000 left. The first project that the fund supports is the construction of the Ellen DeGeneres Campus of the Dian Fossey Gorilla Fund in Rwanda that will ensure the protection of one of the most endangered animals on Earth.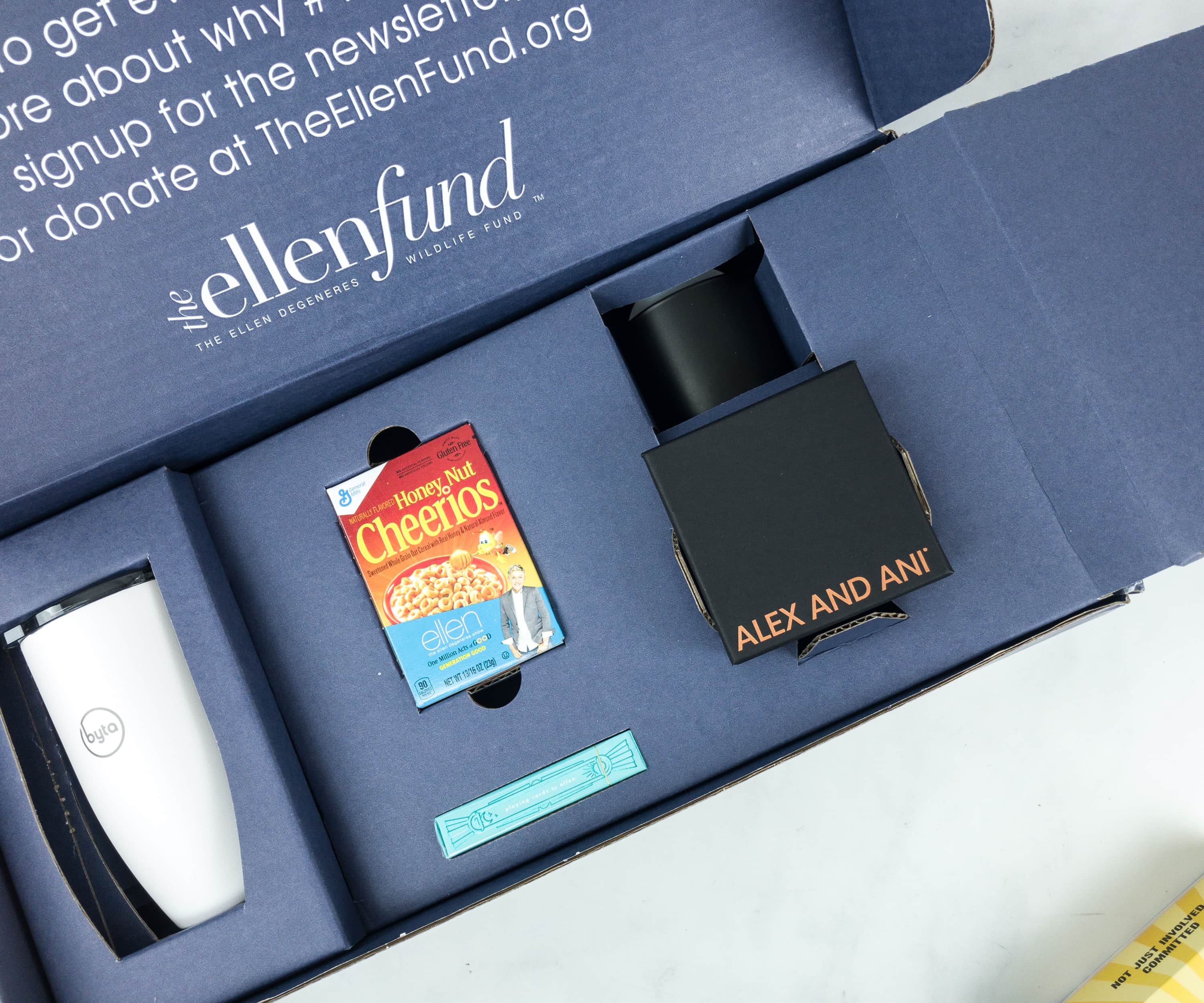 Every item sits in its own cardboard slot.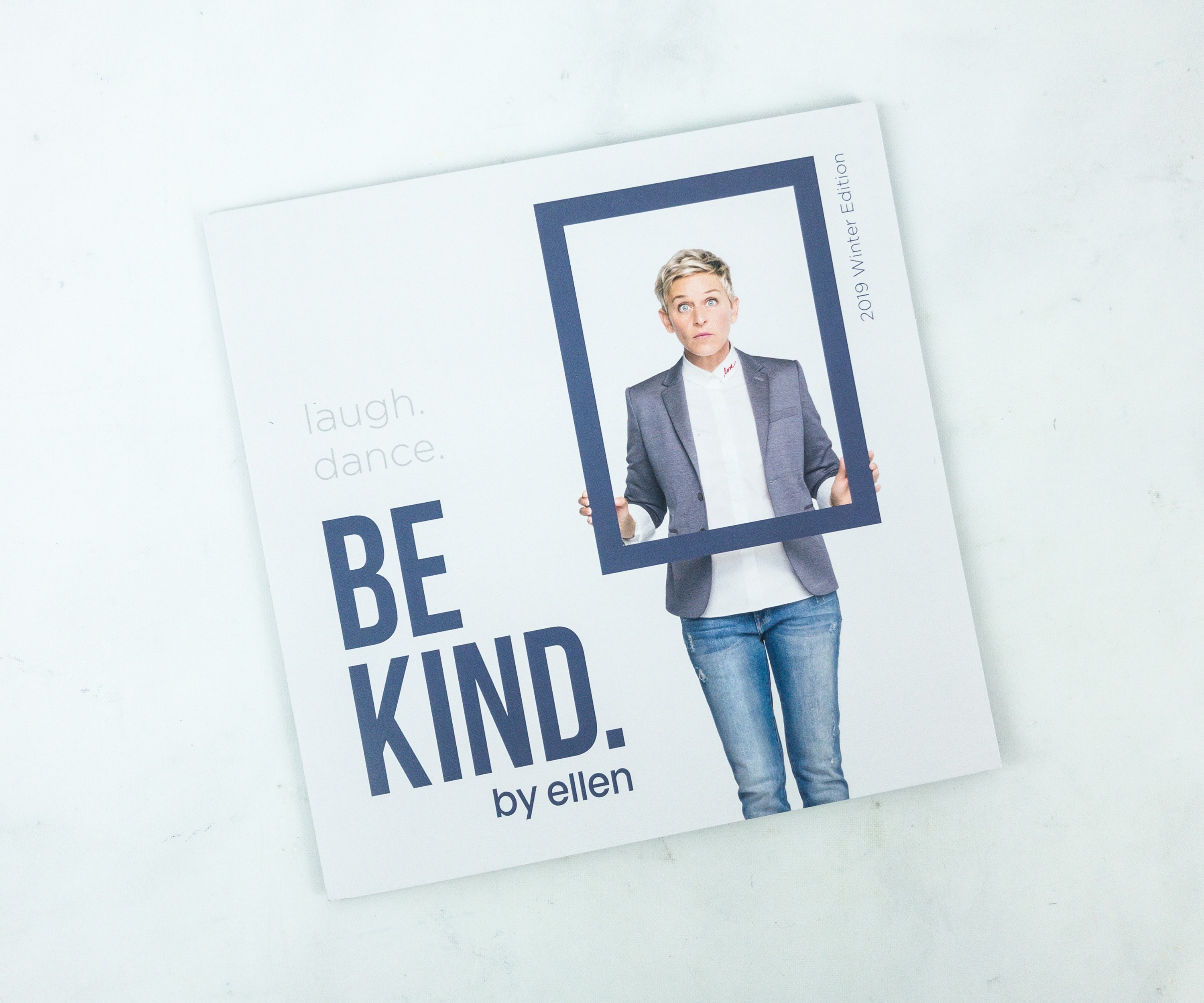 The box also came with a tri-fold booklet with high-quality photos.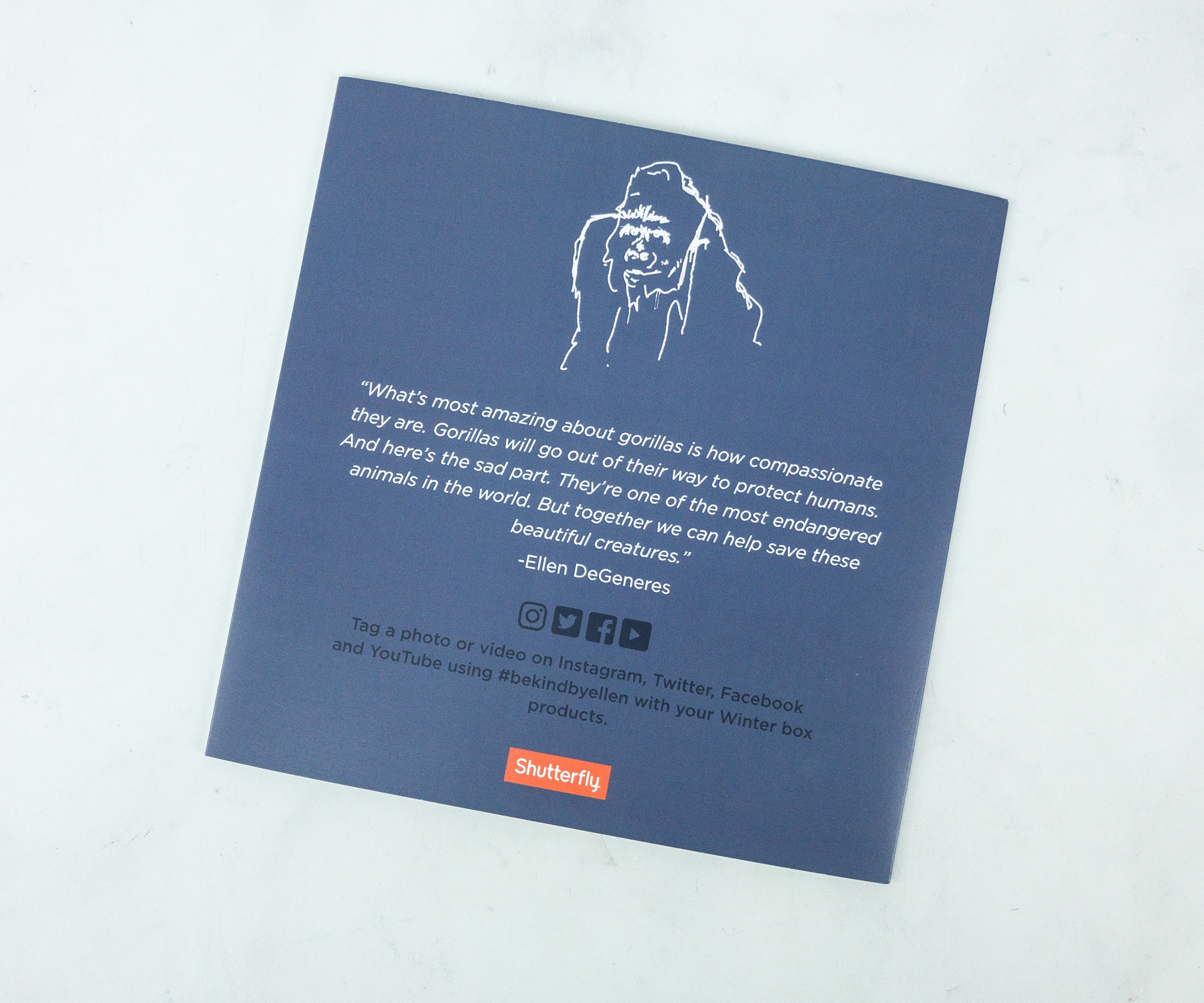 What's most amazing about gorillas is how compassionate they are. Gorillas will go out of their way to protect humans. And here's the sad part. They're one of the most endangered animals in the world. But together we can help save these beautiful creatures. – Ellen DeGeneres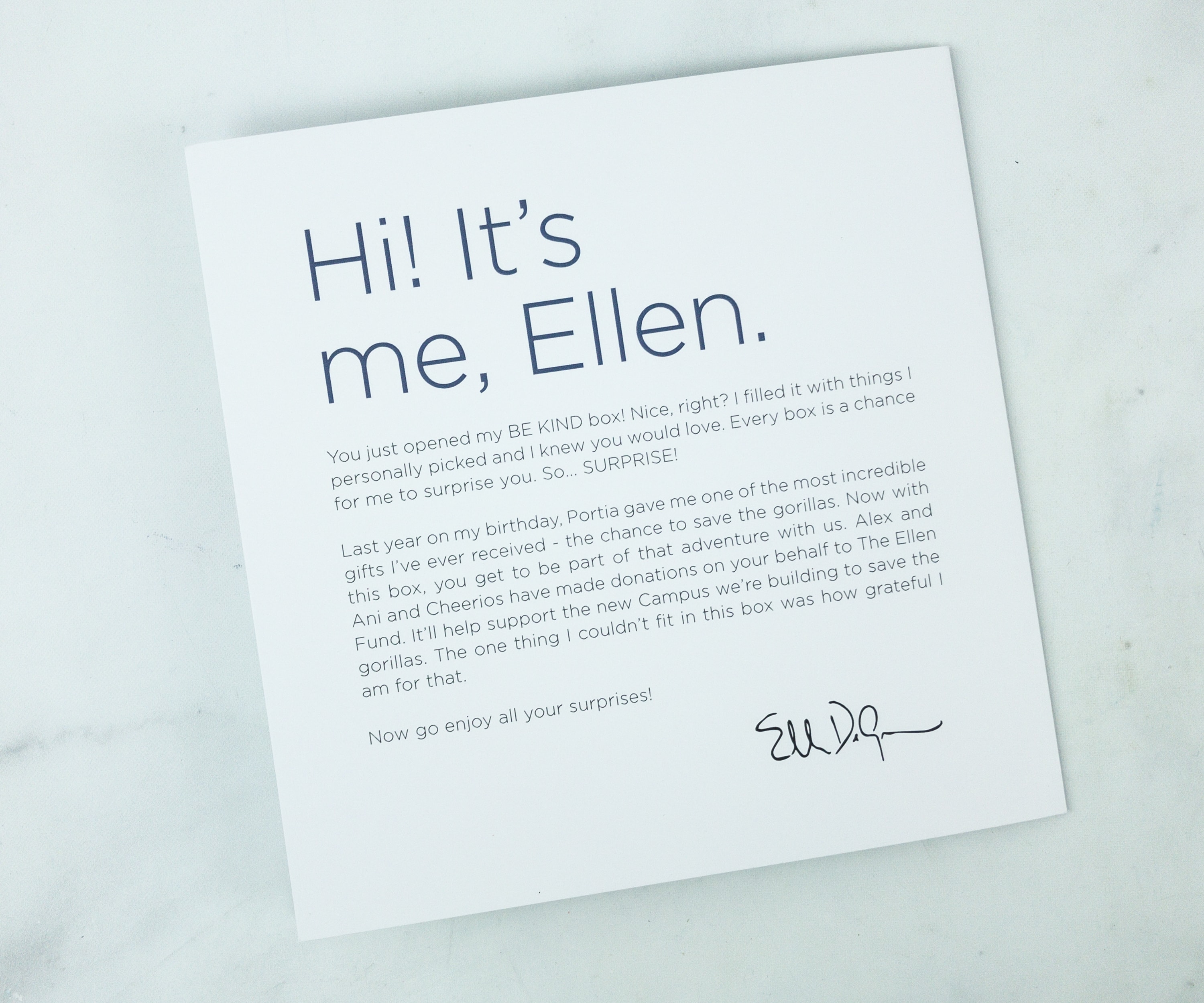 There's also a note from Ellen herself.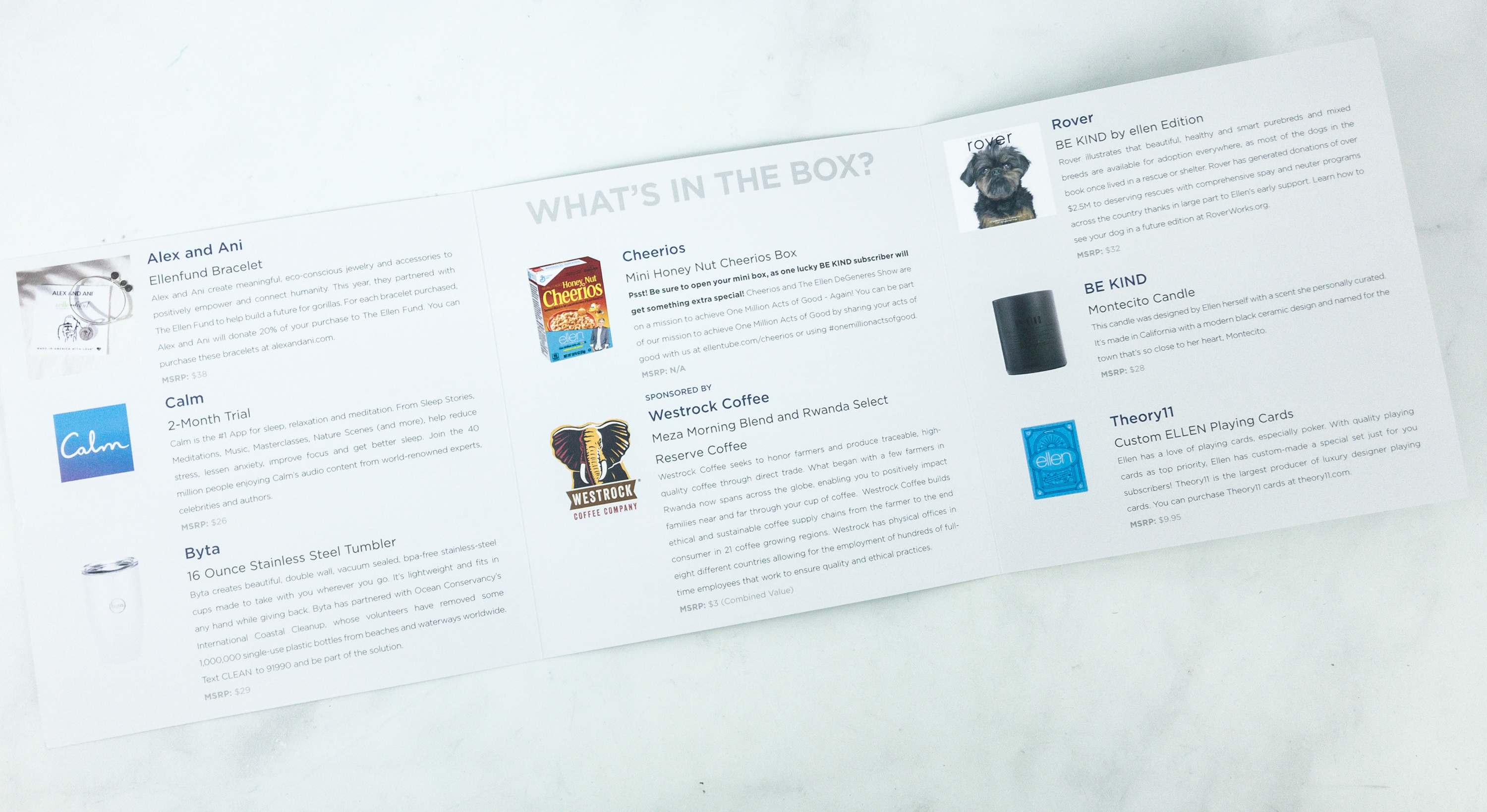 The booklet lists each item in the box with a brief description.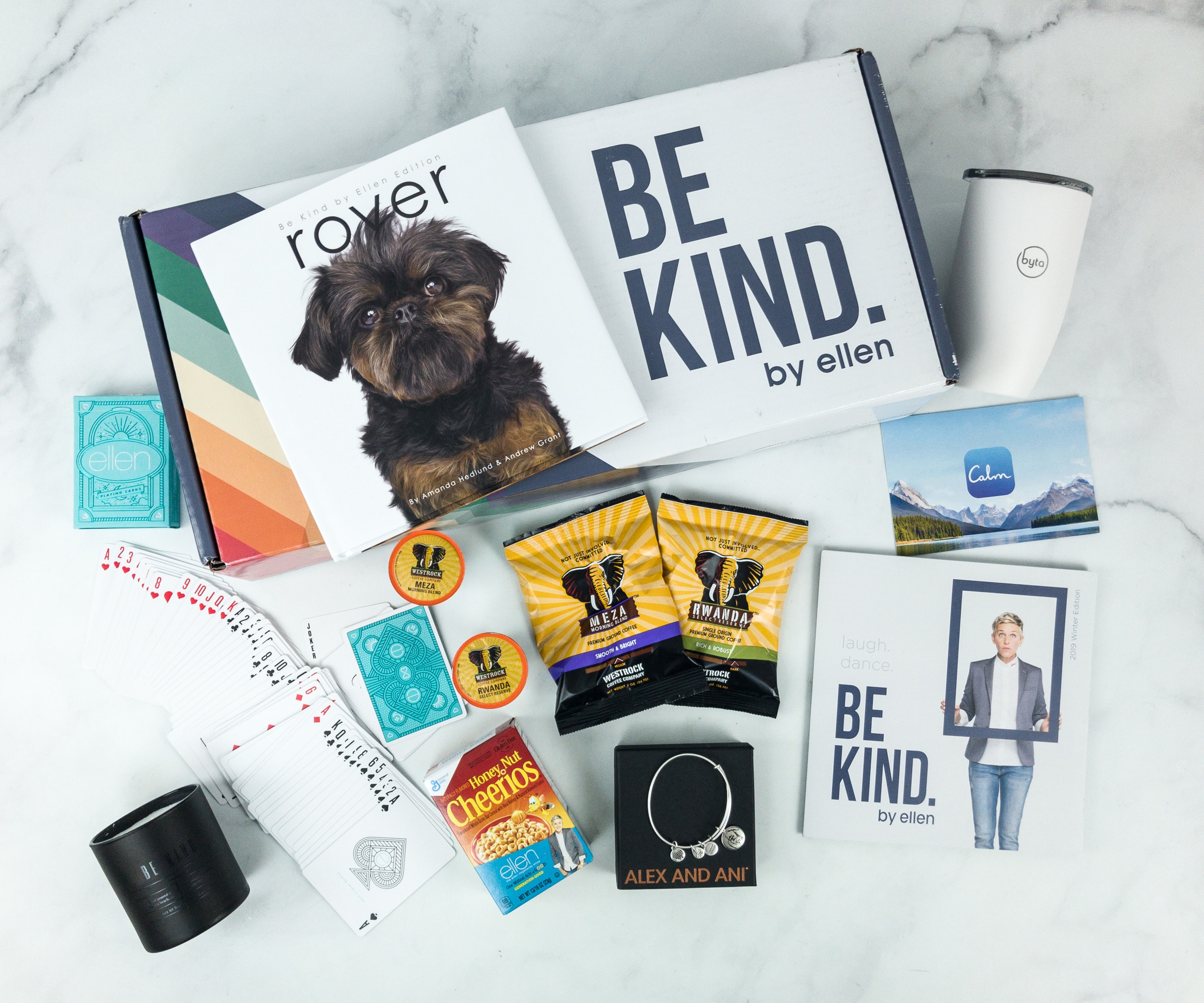 Everything in my box!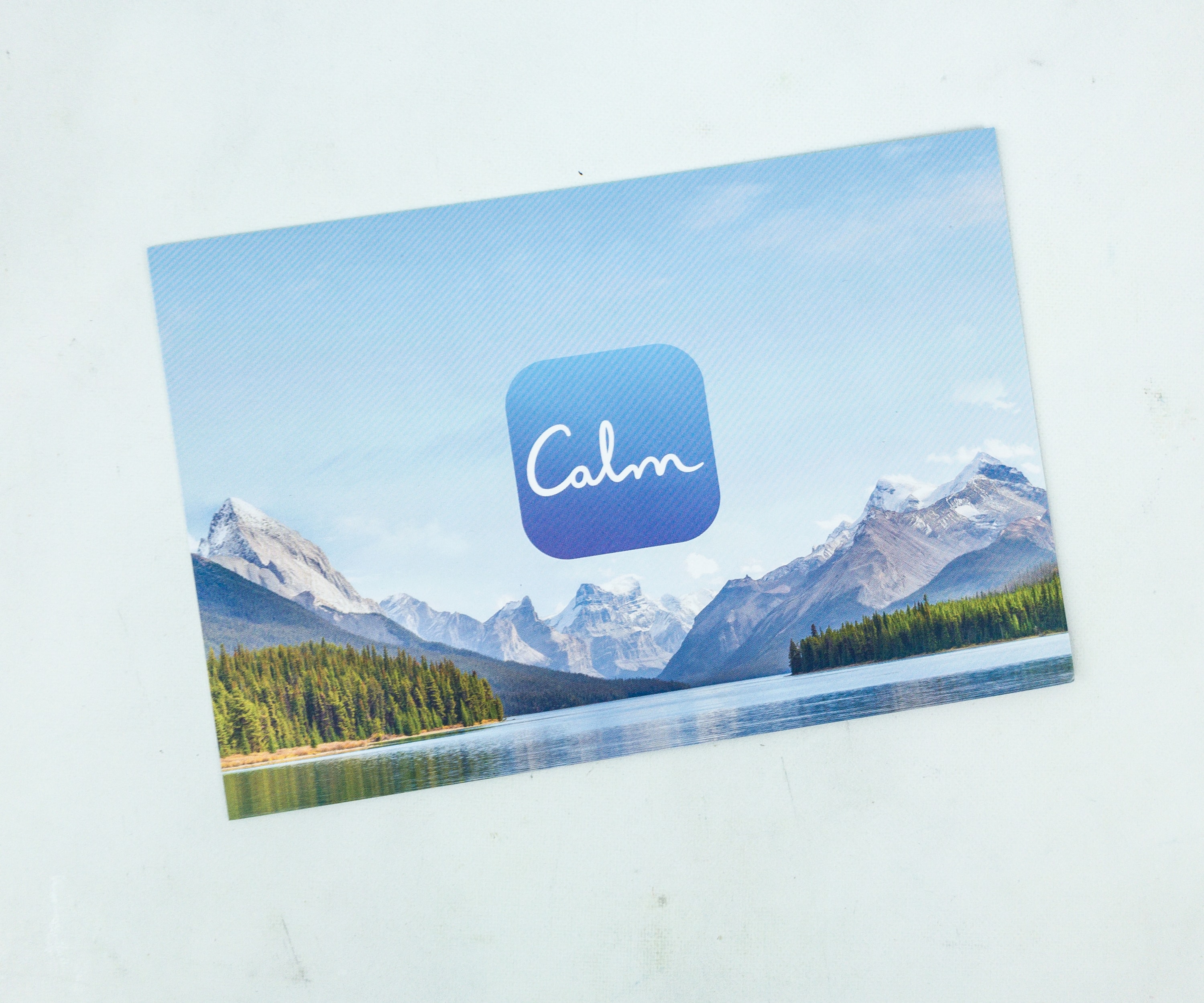 They included a 2-month trial to Calm, an app that promotes good sleep, relaxation, and meditation.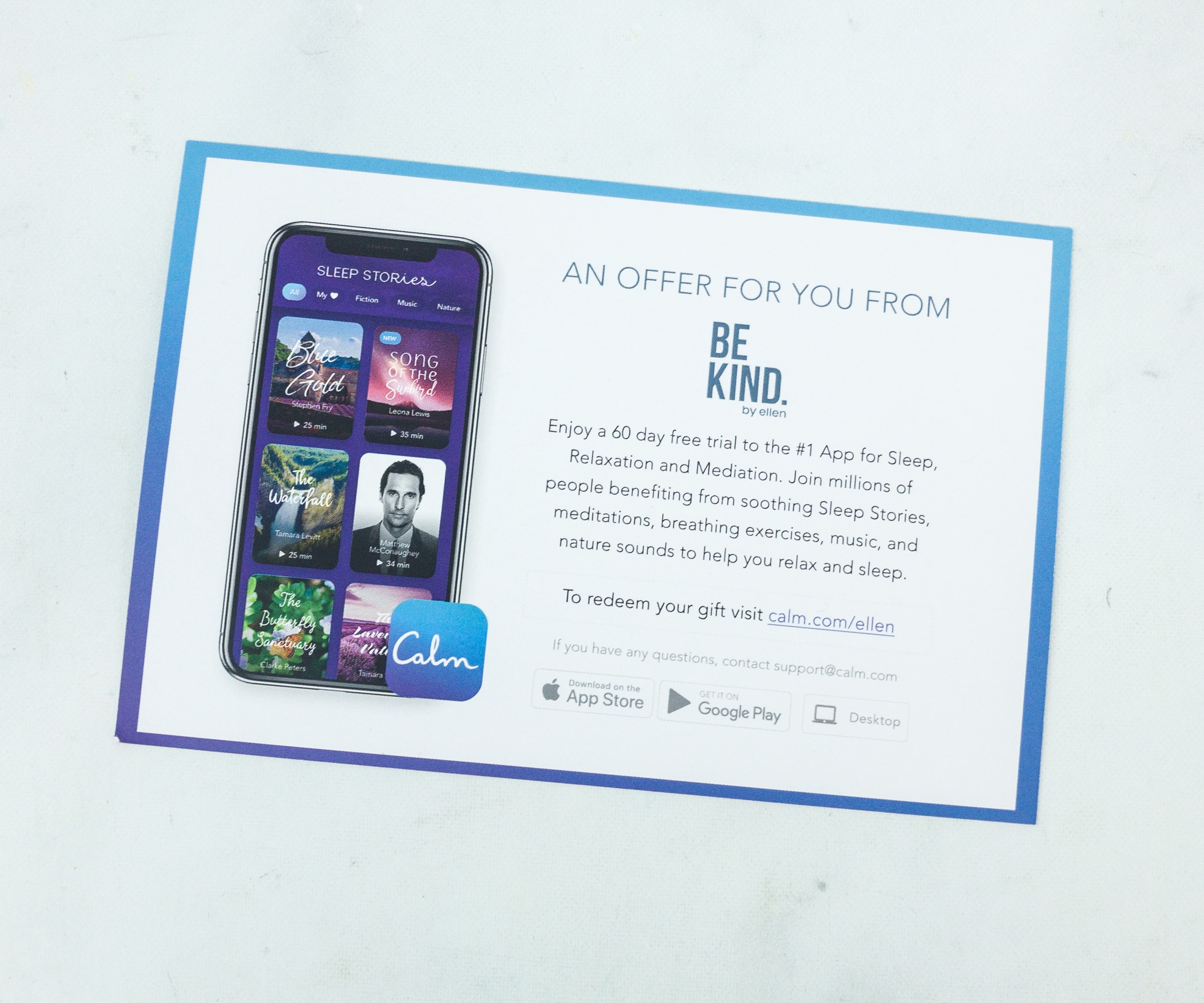 The website where you can redeem the gift is printed on the card.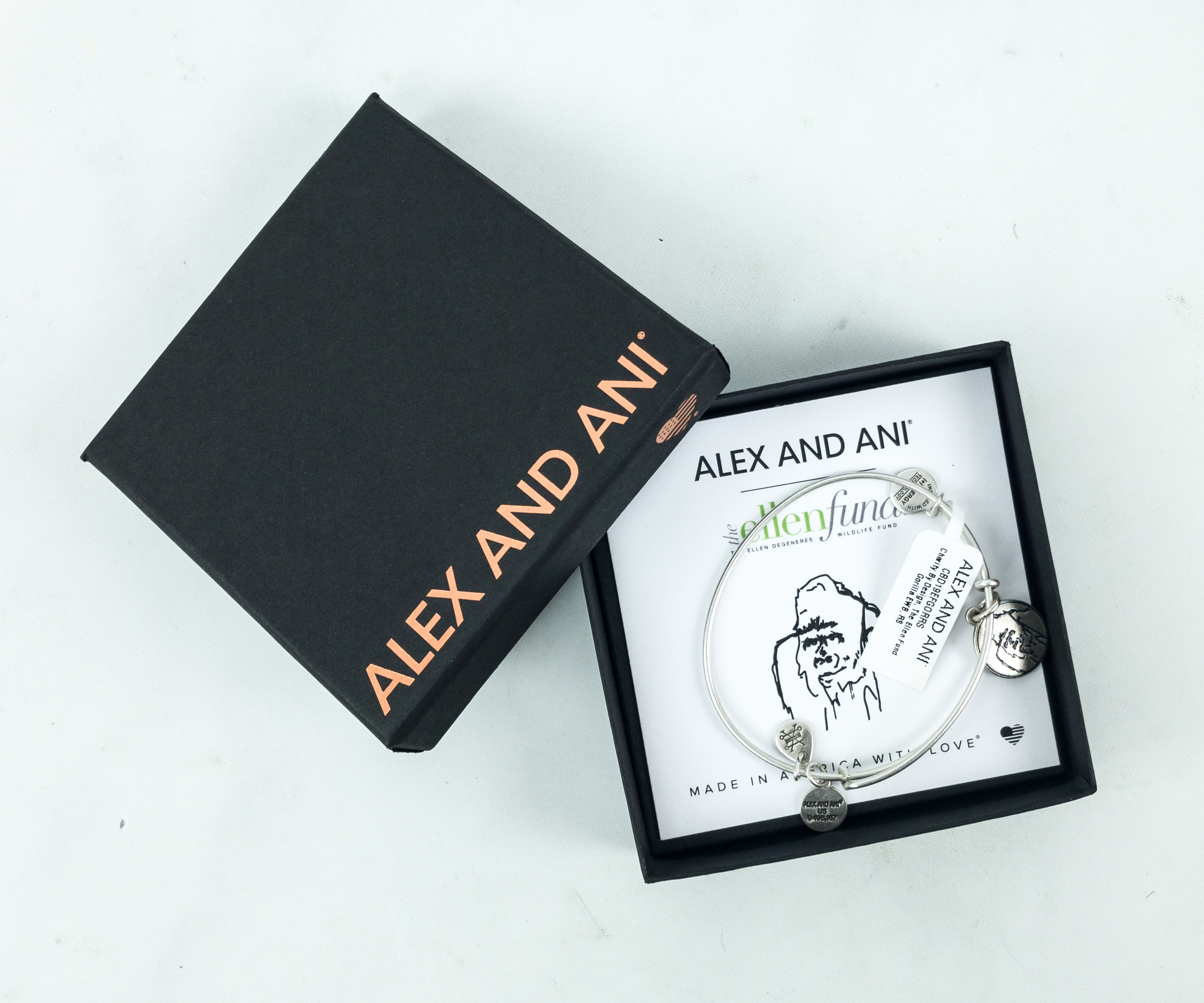 Alex and Ani Gorilla Bracelet ($38) This bangle style charm bracelet from Alex and Ani came in a black, square box.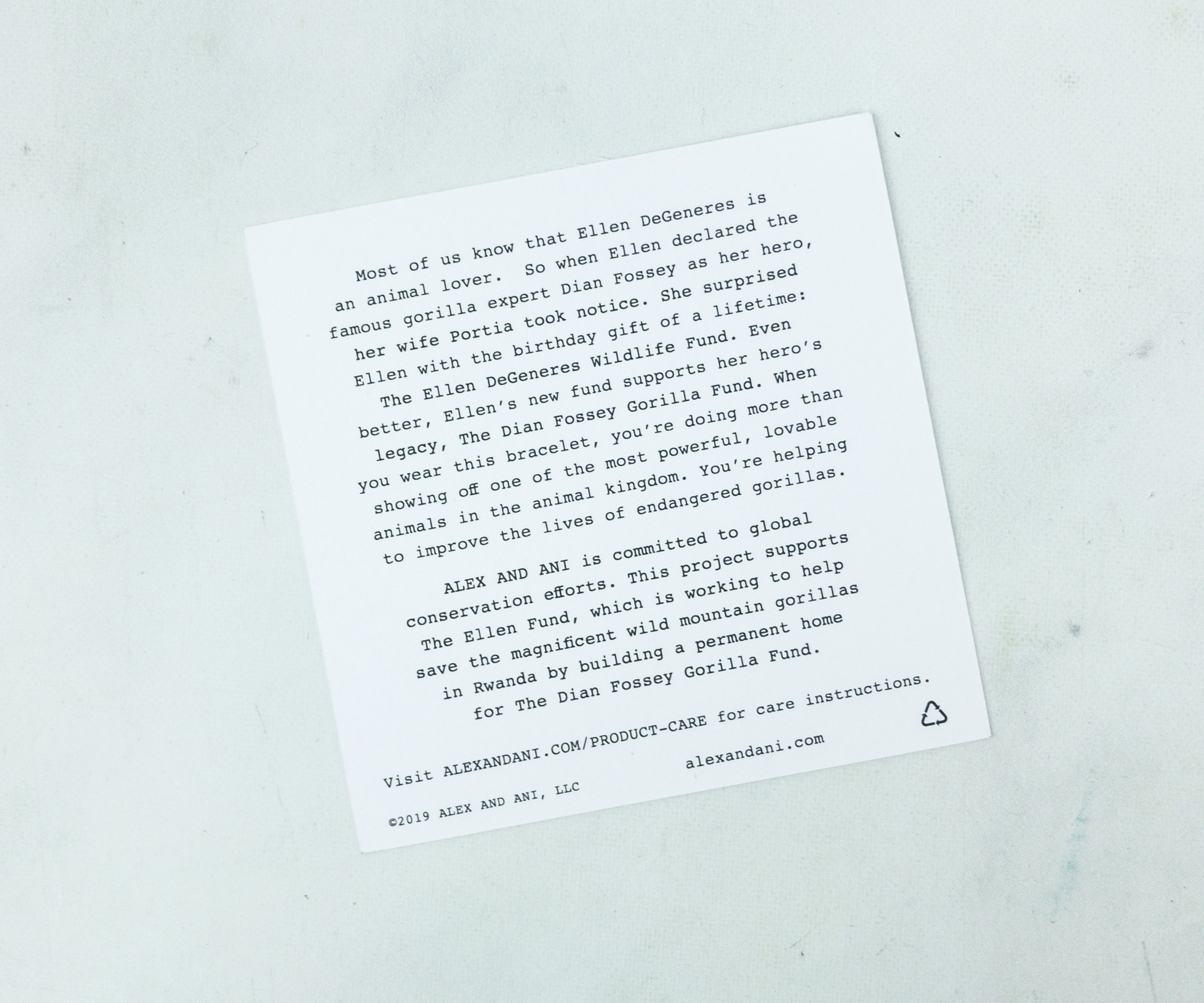 Along with the bracelet is a card that explains the reason behind Ellen's advocacy and love for animals and gorillas in particular. It also expounds on how we can help and donate for The Dian Fossey Gorilla Fund by wearing this lovely piece.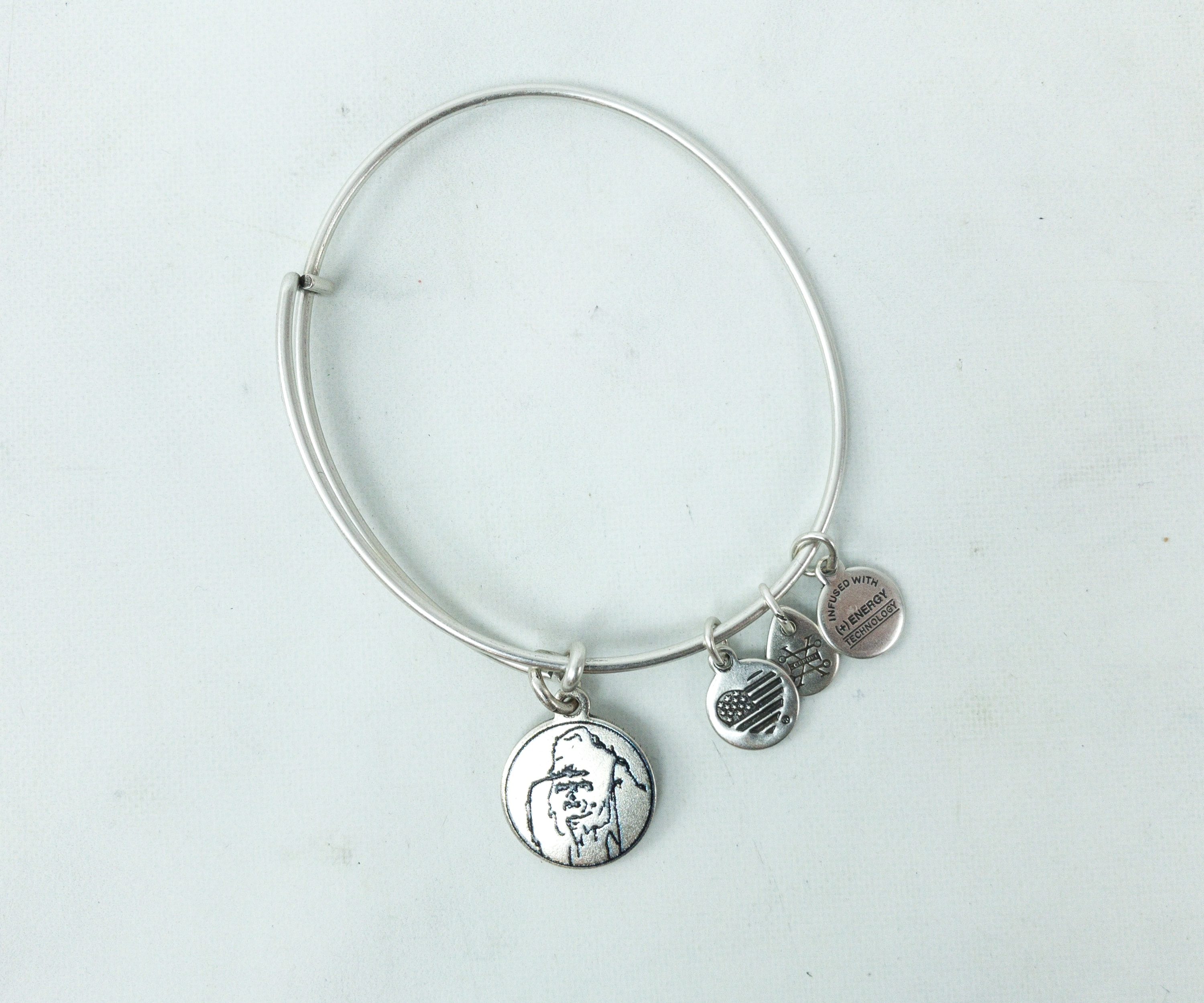 It's a bracelet with Rafaelian Silver finish, featuring a gorilla etched in black with additional cute mini charms on the side.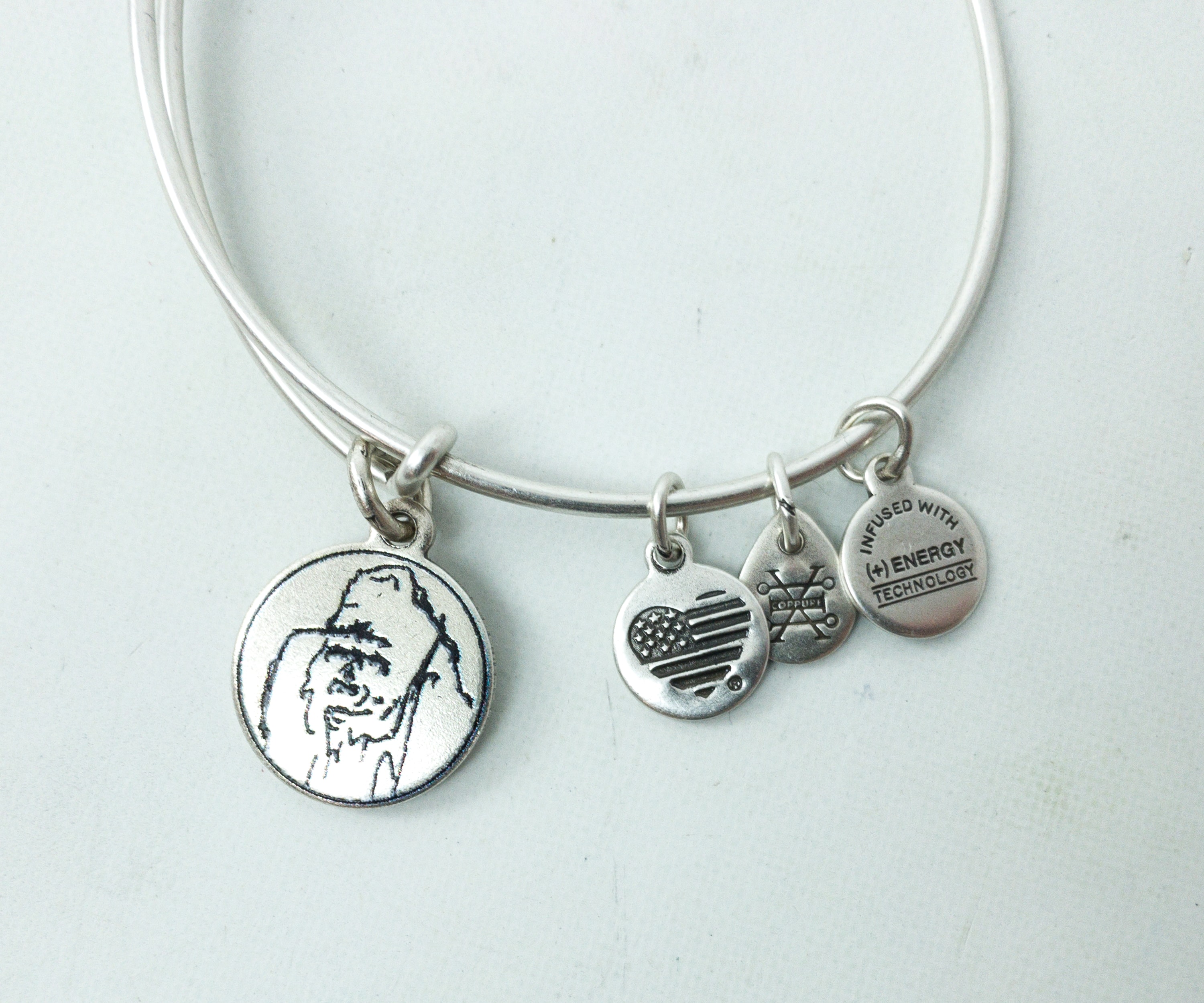 The charms dangling from the bracelet look fancy. Each of them encompasses a symbol that carries its own unique and positive energy.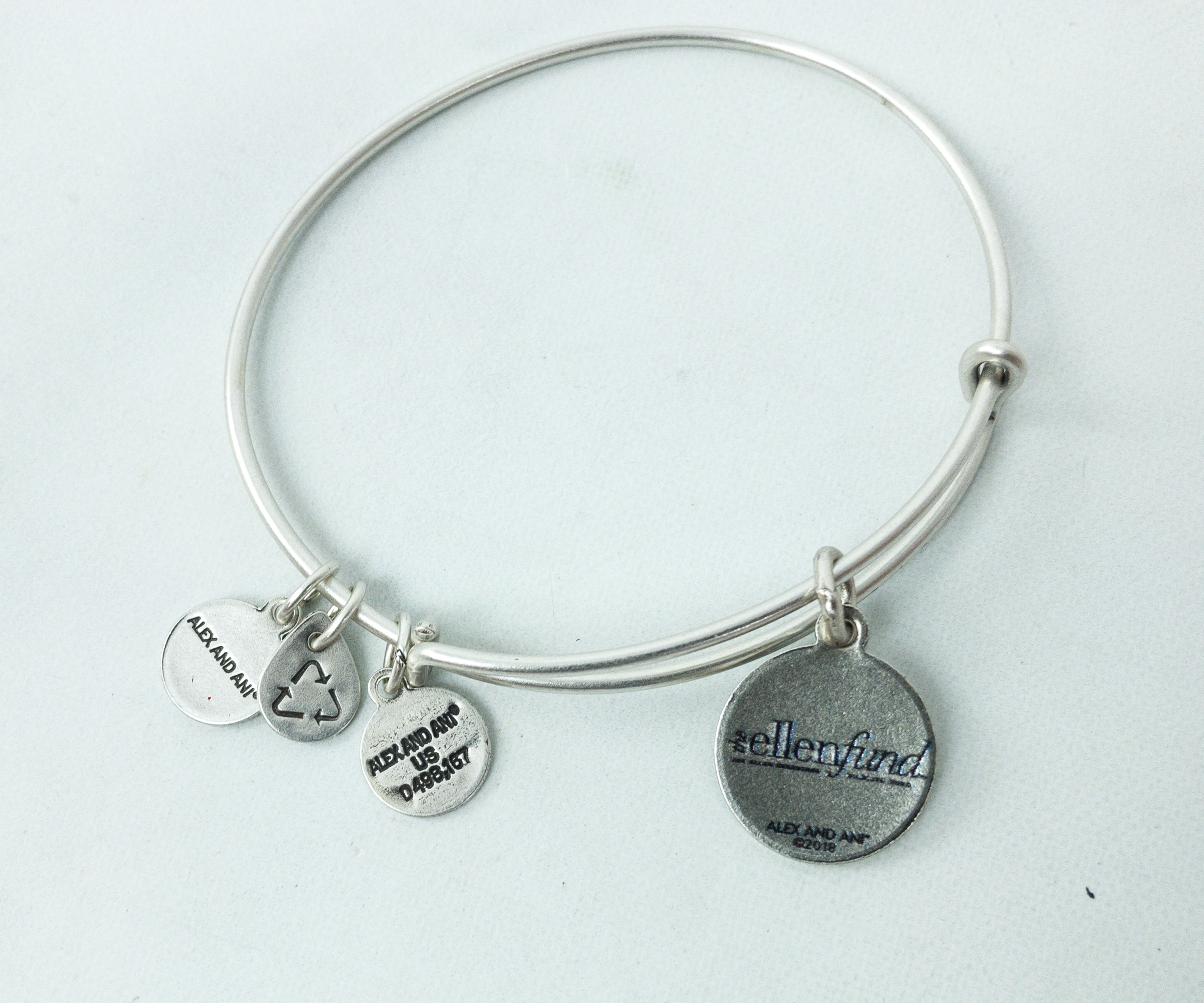 It's adjustable and expands to fit just about any wrist size. The back of the charms is also embedded with their brand names and logos.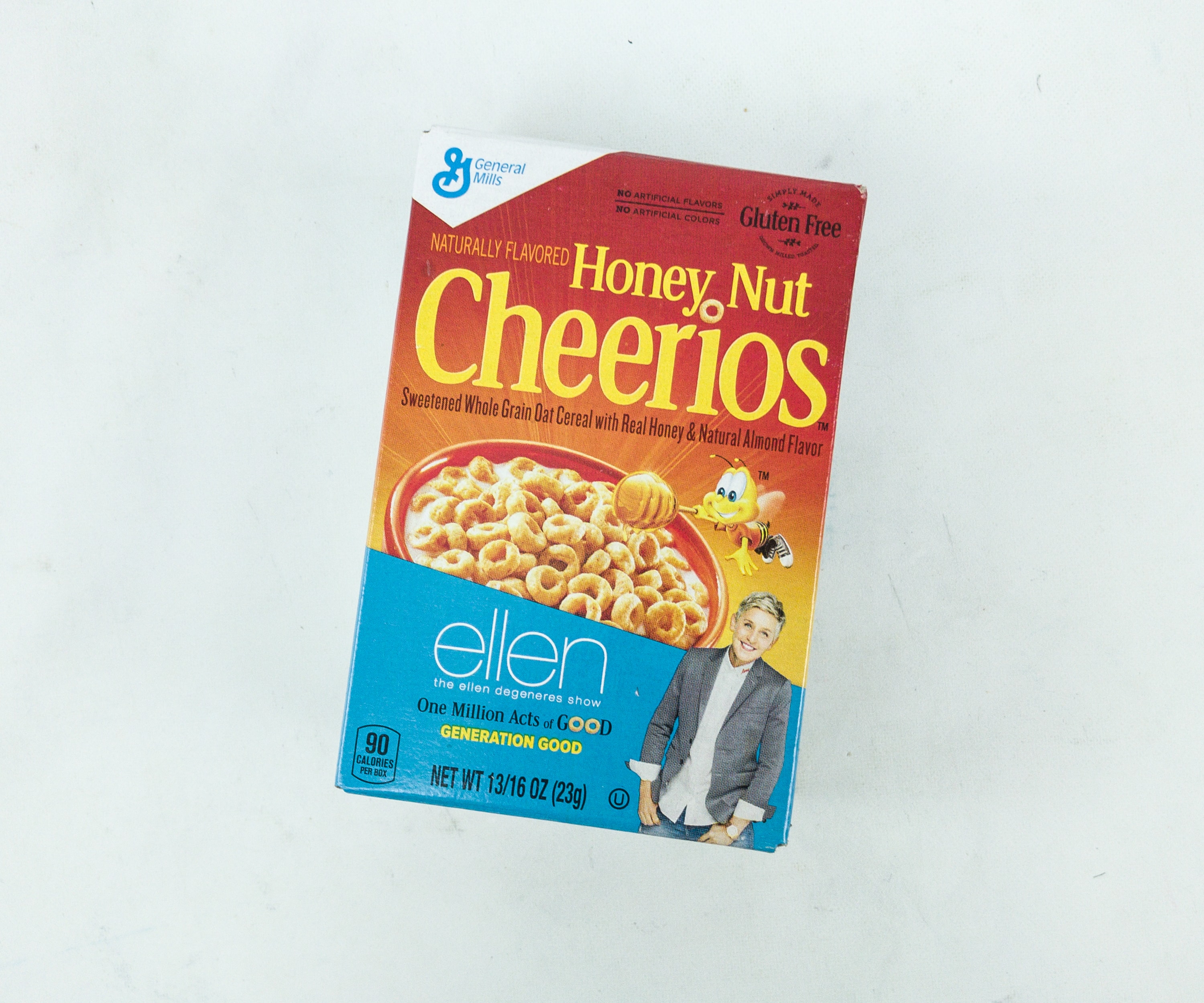 Cheerios Mini Honey Nuts Cheerios Box ($0.42) This mini box of gluten-free cereal is packed with real honey goodness and contains whole grains for a well-rounded breakfast. It can be enjoyed with or without milk. Nobody can really say no to Cheerios including me, especially when it's for a good cause like Ellen's One Million Acts of Good campaign that encourages everyone to do and share an act of kindness.
One lucky subscriber found a $5000 prize in their box of Cheerios!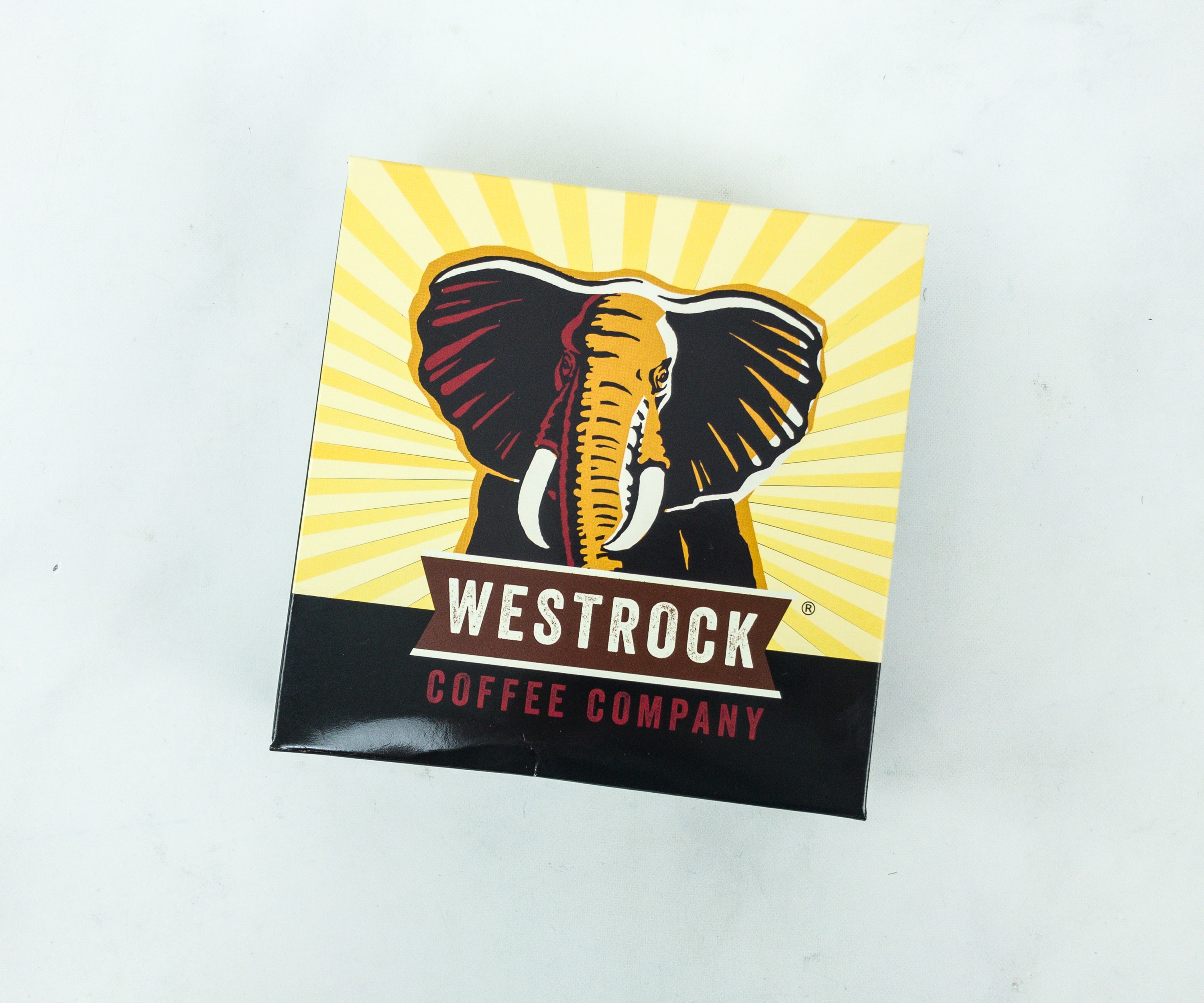 Westrock Coffee Mezza Morning Blend & Rwanda Select Reserved Coffee ($3) These coffees are made with rich and smooth Specialty Grade Arabica beans!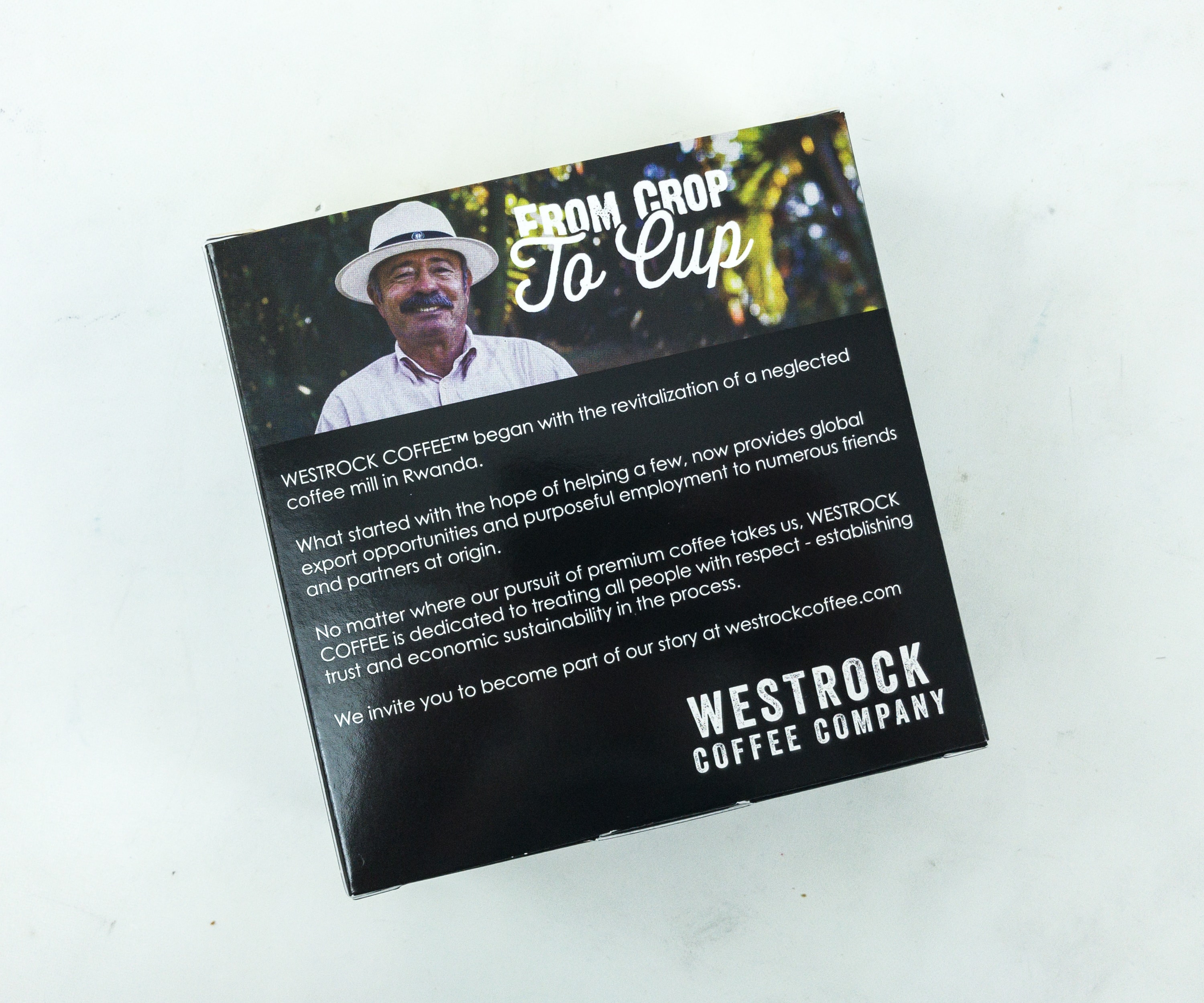 In the hopes of supporting the local coffee farmers in Rwanda, Westrock Coffee made it a mission to offer them a sustainable trade and provide them their basic needs such as healthcare, schooling, and access to clean water.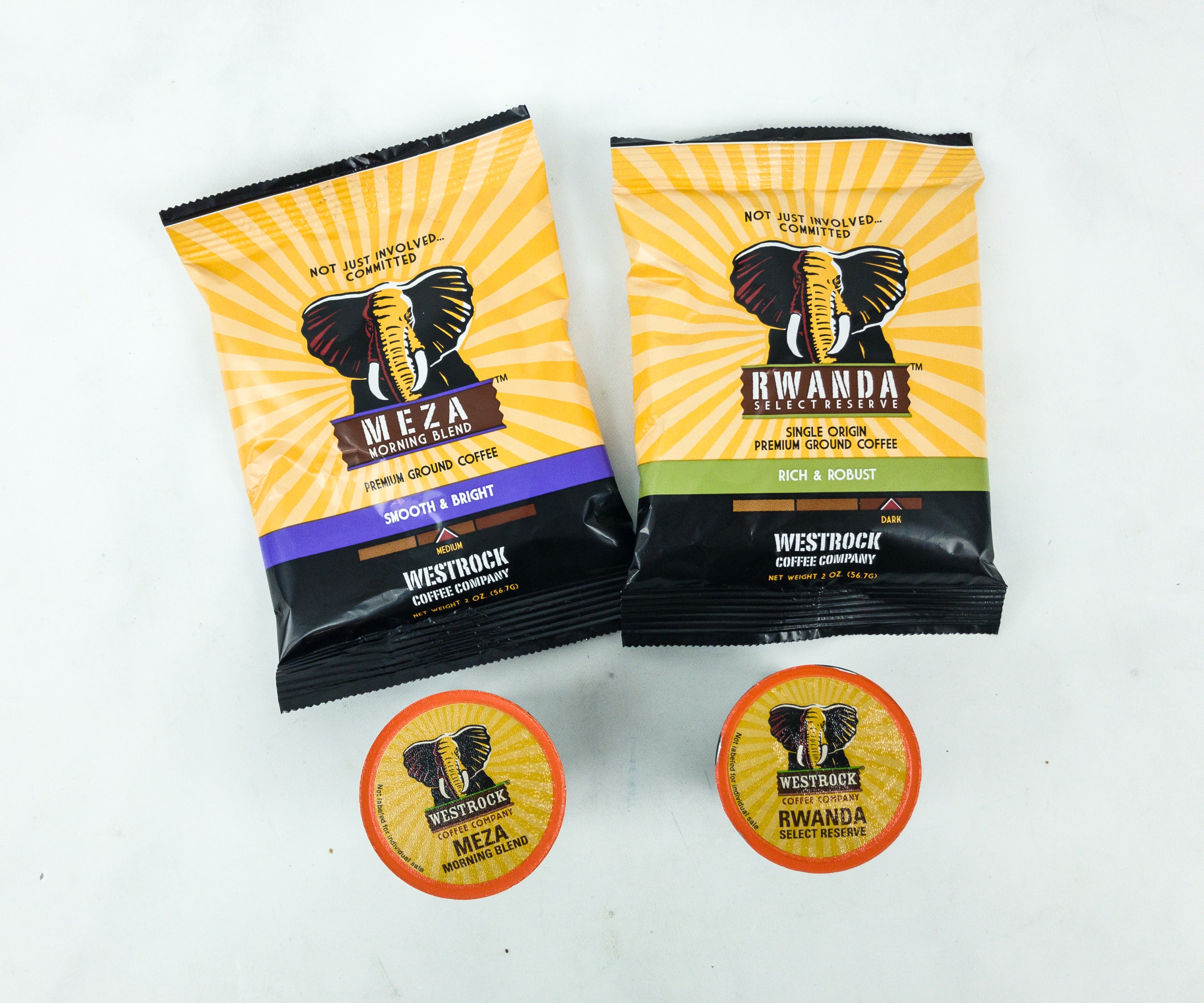 The box contains two different blends. The Dark Select Reserve is full-bodied and rich in flavor of smoky cedar with hints of black currant. The Medium Morning Blend has a bold, nutty aroma with the hints of vanilla that mingles with the strong flavor of brown sugar.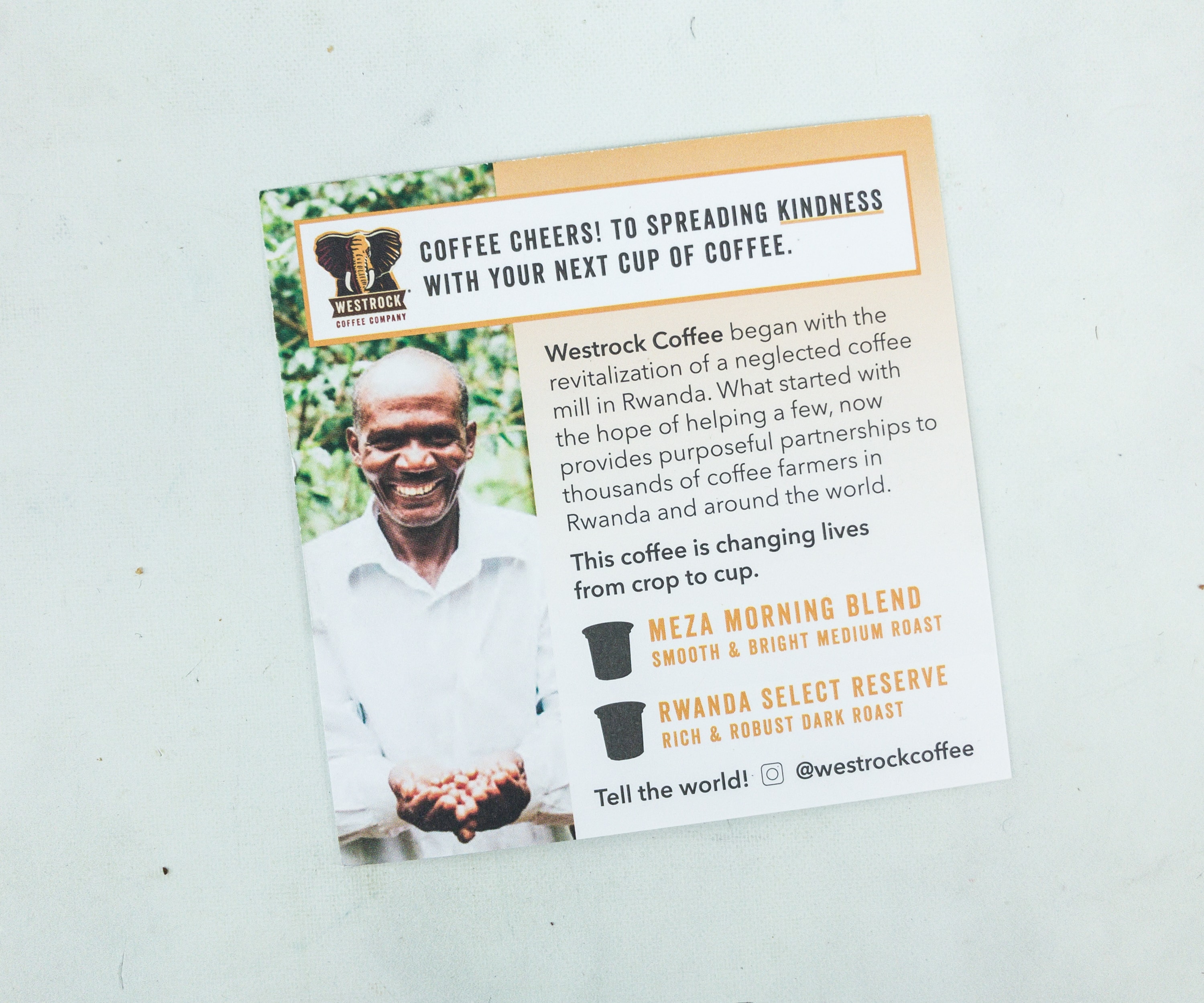 This card is included in the coffee box to call for our help to tell the world about their meaningful advocacy.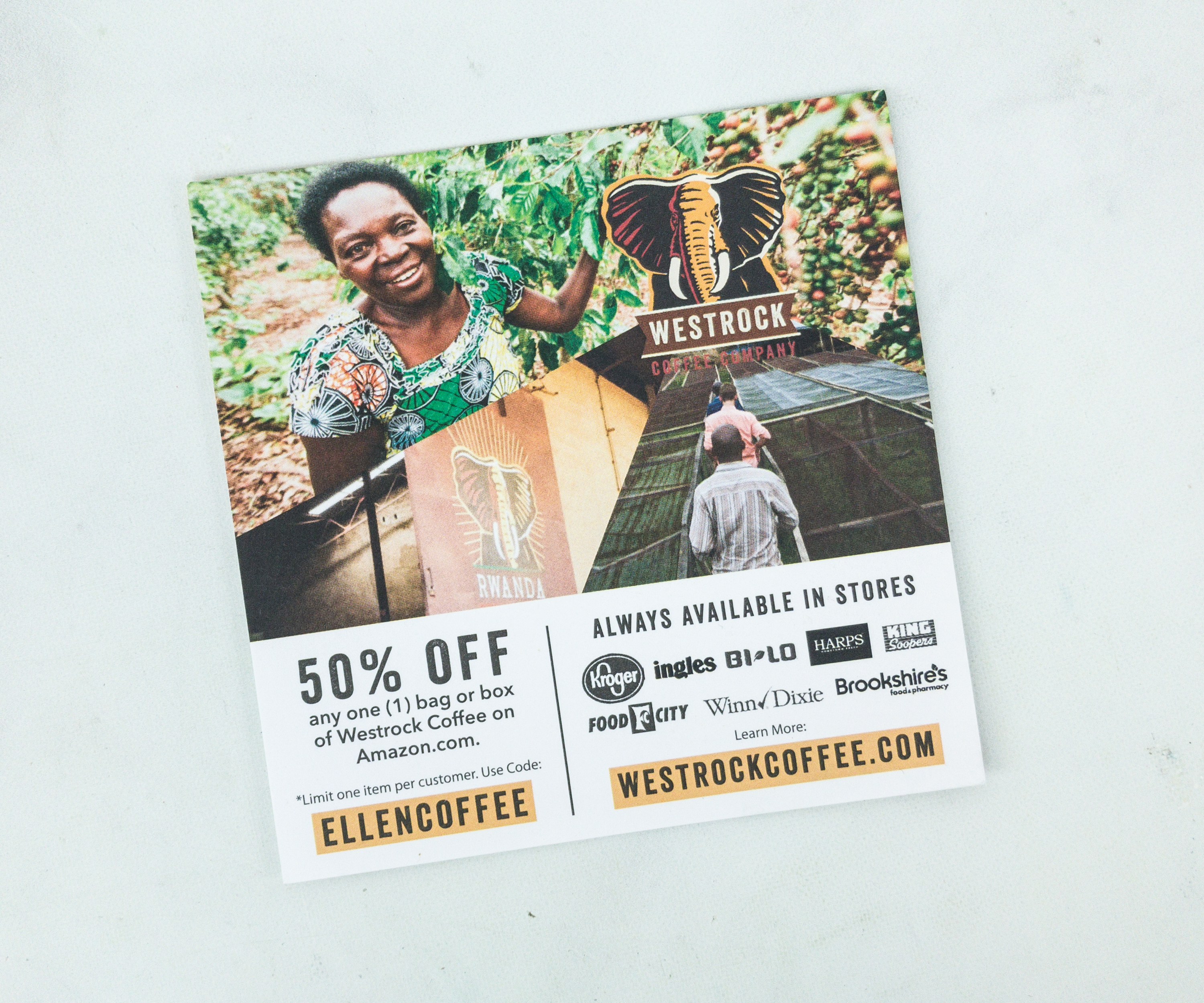 A 50% discount coupon card is also inserted in the box. It's limited to one bag or box purchase on Amazon.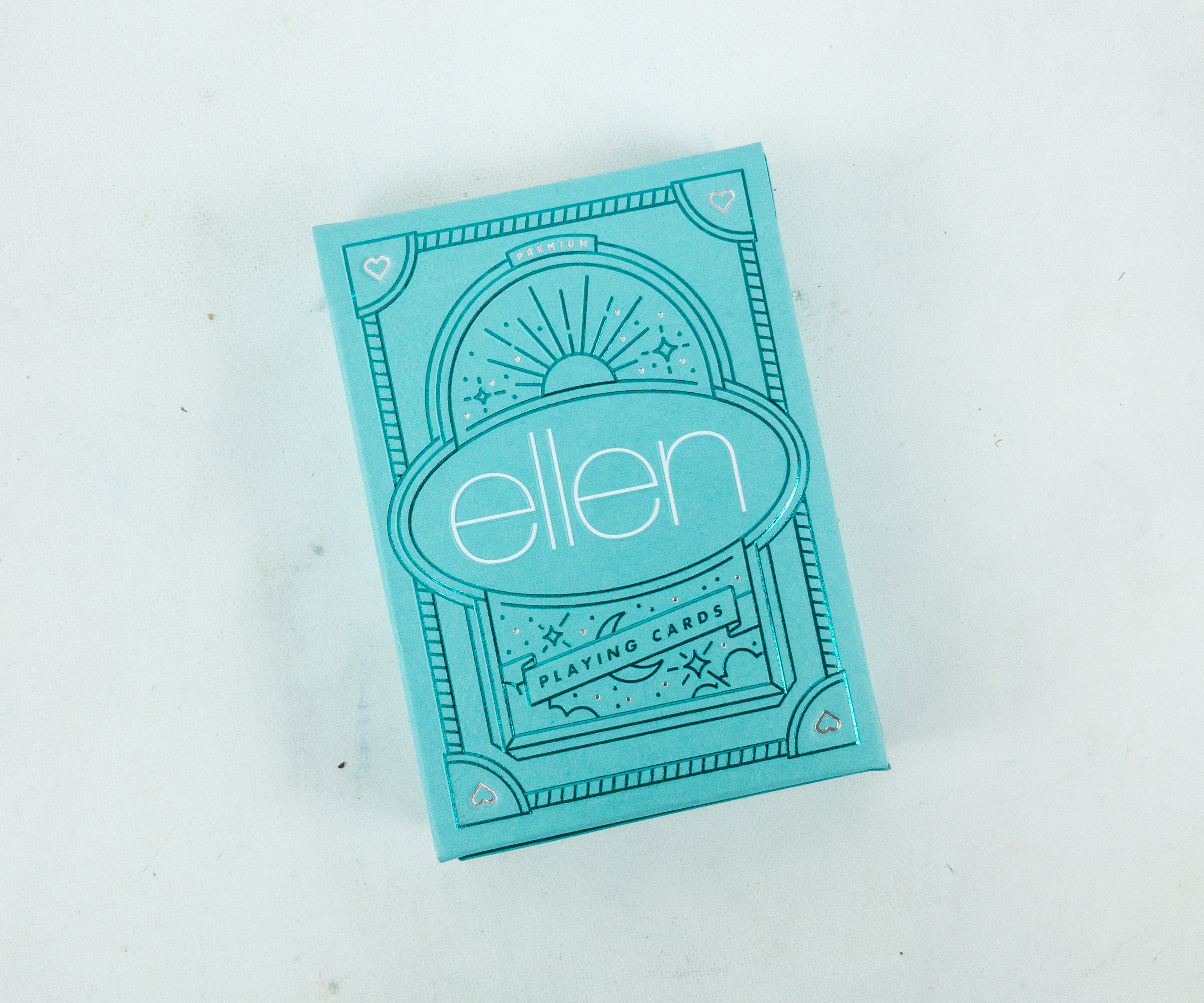 Theory 11 Custom Ellen Playing Cards ($9.95) It's awesome to get this exclusive deck of nifty cards from Theory 11, the largest producer of luxury, designer playing cards!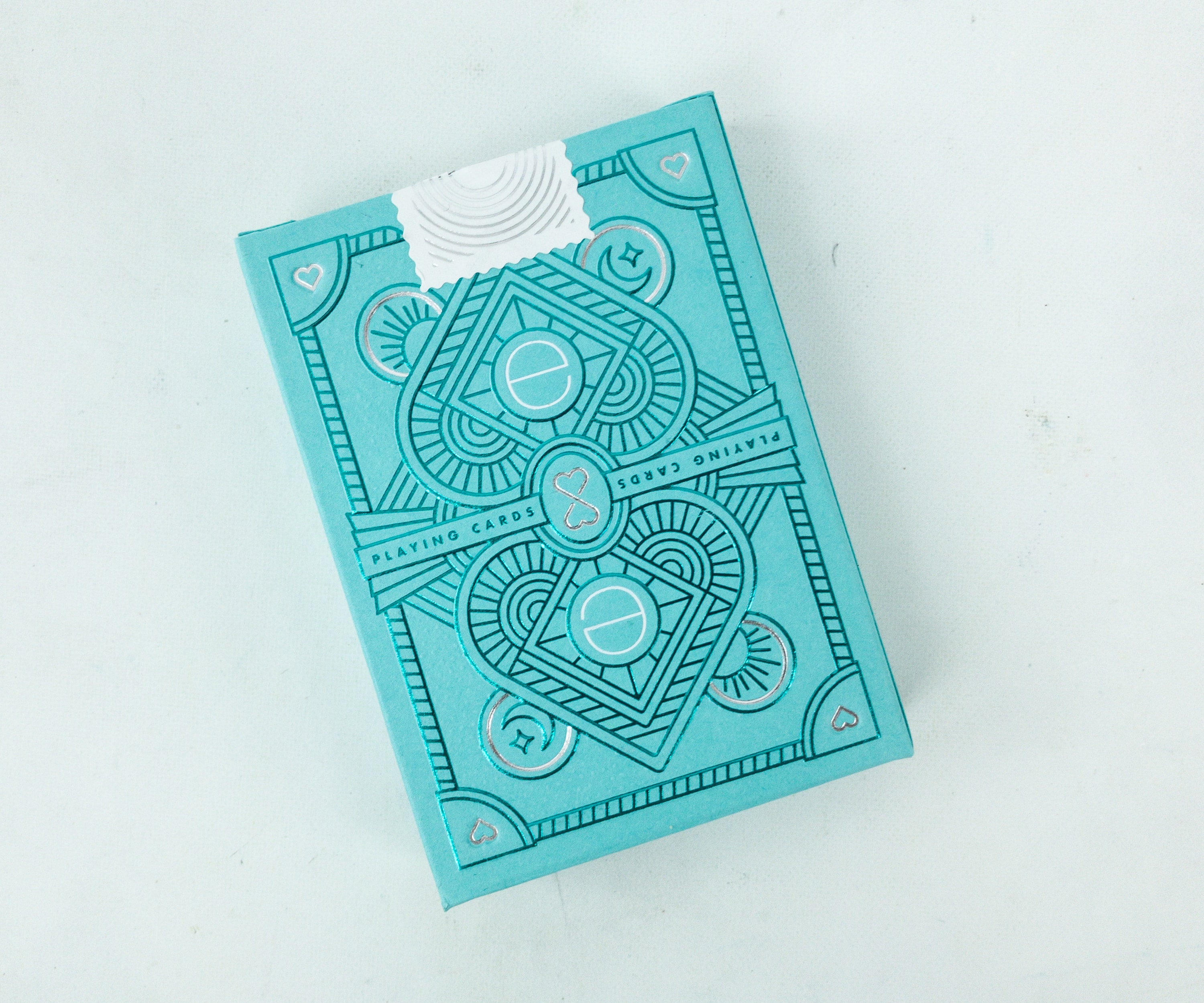 The turquoise blue color is so pleasing to the eyes and the sun, moon and heart theme is so well rendered.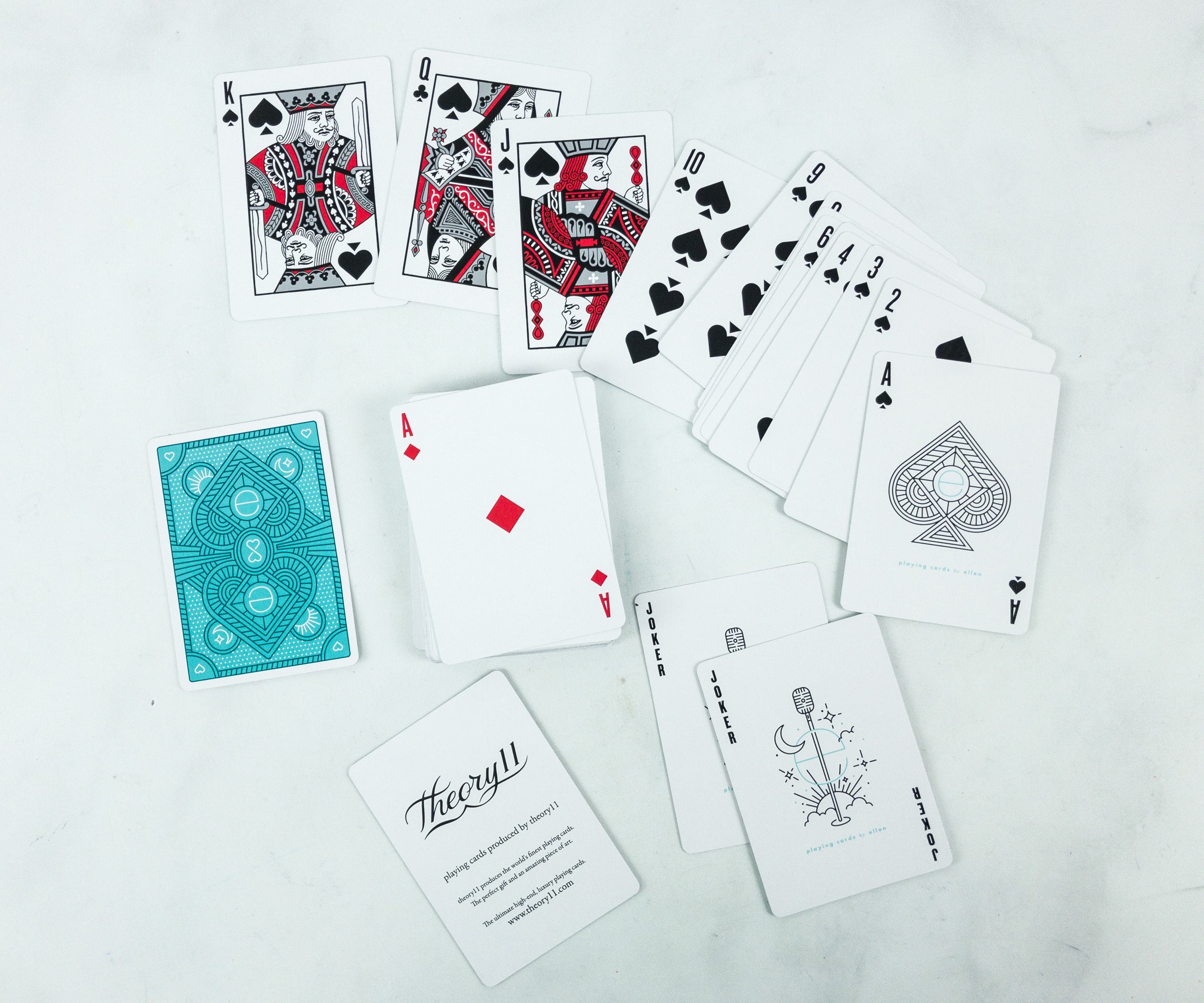 This is a custom set designed by Ellen Degeneres herself. The quality of each suit is sturdy and well made, making them nice to shuffle and play with. This is one of our favorite brands of cards!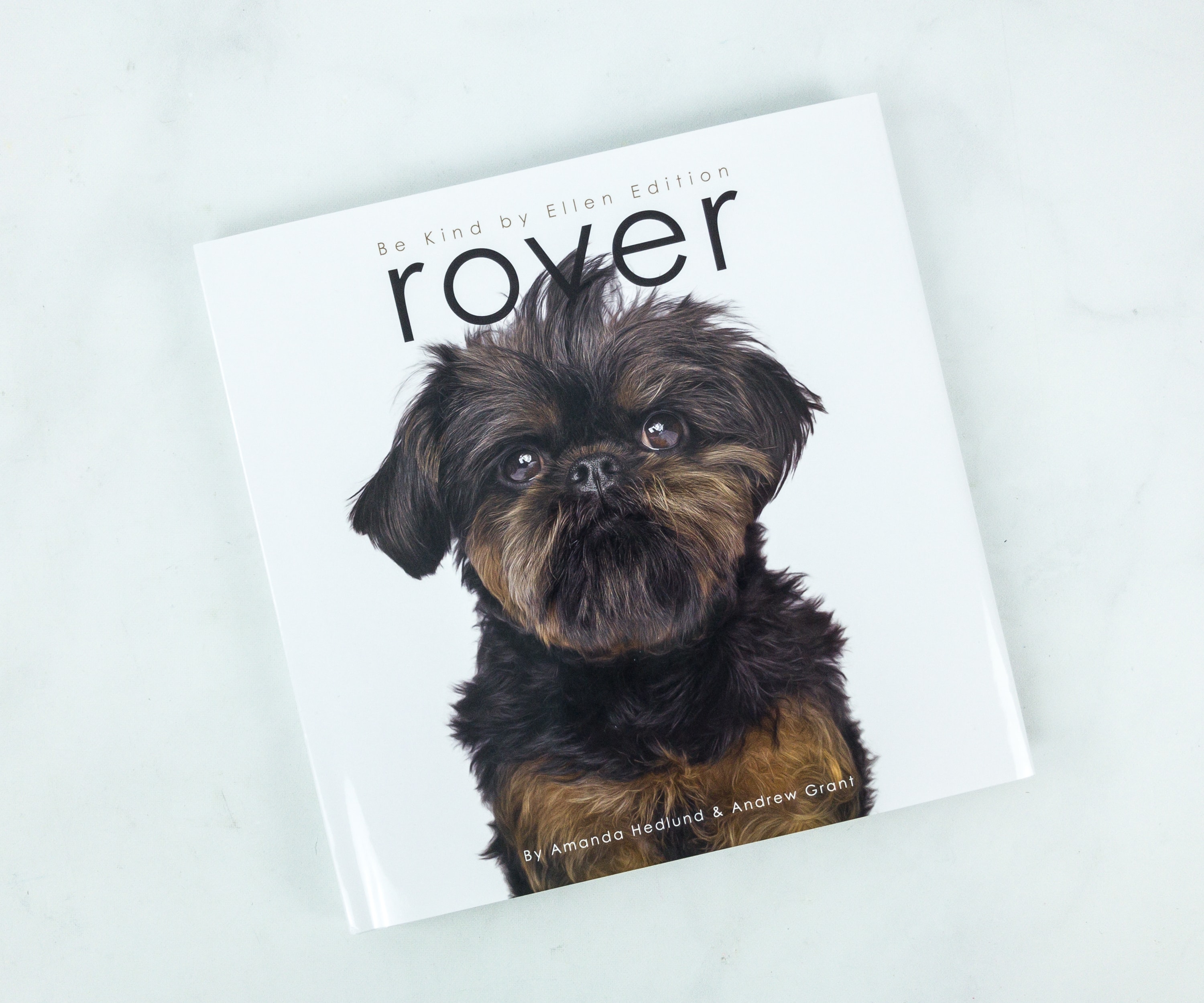 Rover Coffee Table Book – Be Kind by Ellen Edition by Amanda Hedlund & Andrew Grant ($32) This coffee table book is a compilation of compelling portraits of rescue dogs.
The Rover books bring awareness to the homeless animal population in America. Their goal is to raise over $2.5 million for rescues and shelters. It's totally for me because I love dogs.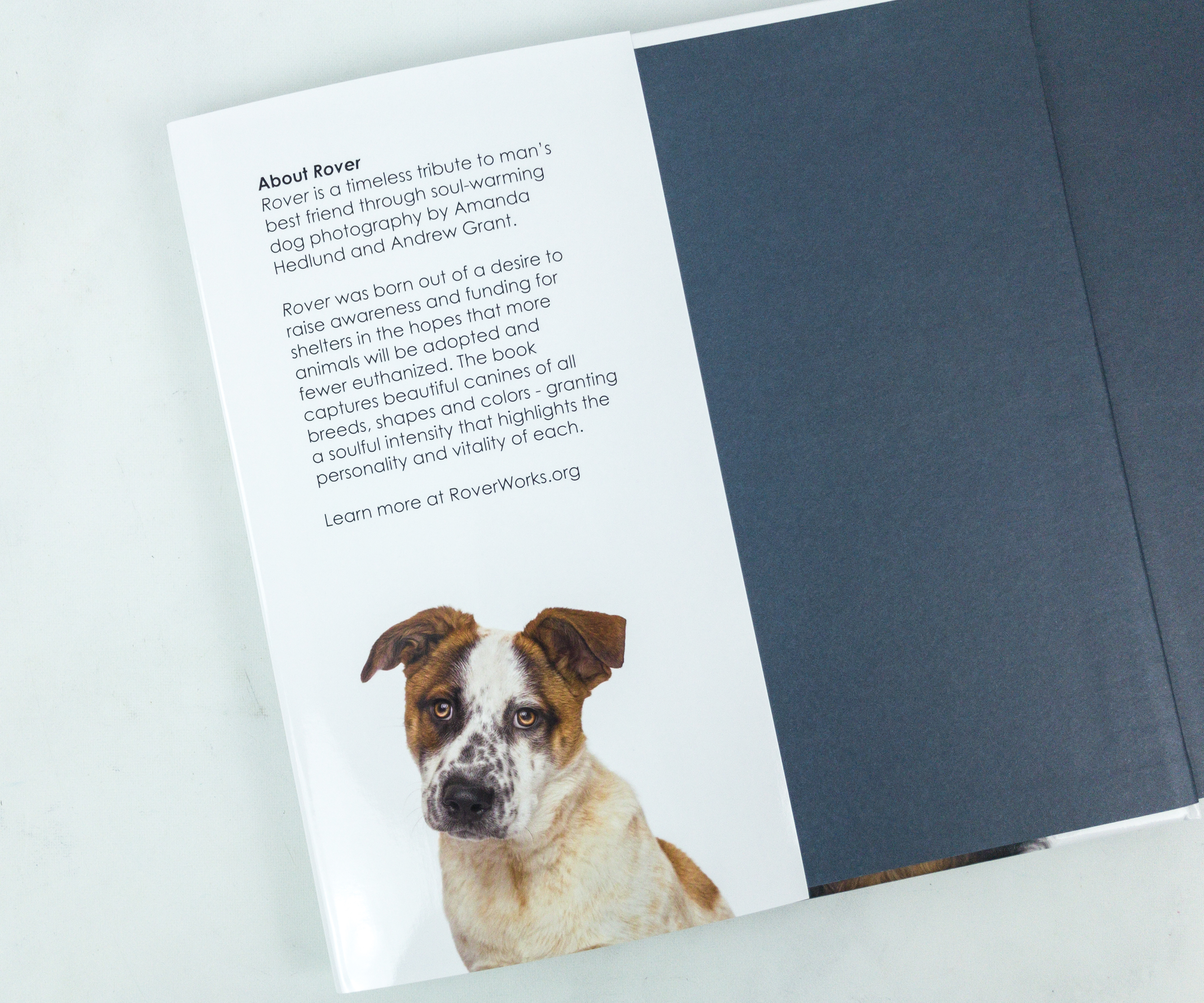 A detailed description of what Rover is about is found at the front end cover of the book along with their website where we can learn and see more of their works.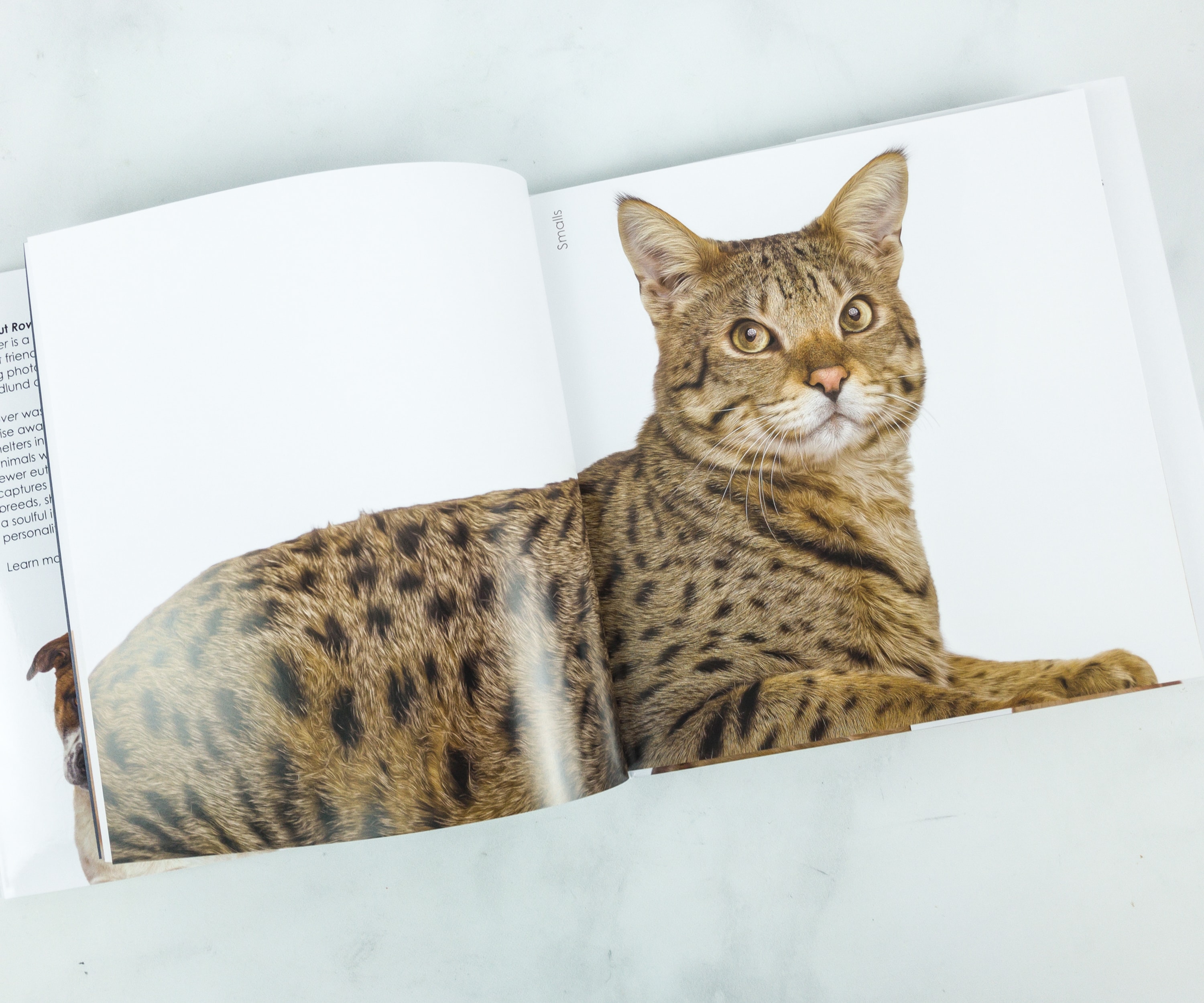 Oh, there's a cat too and it's so cute!
There are various photos of purebreds and mixed breeds, and all of them are beautiful!
Some of the dogs were photographed when they were still homeless. It's truly a timeless tribute to man's best friend, a wonderful conversation piece and can be a perfect gift for pet lovers of all ages.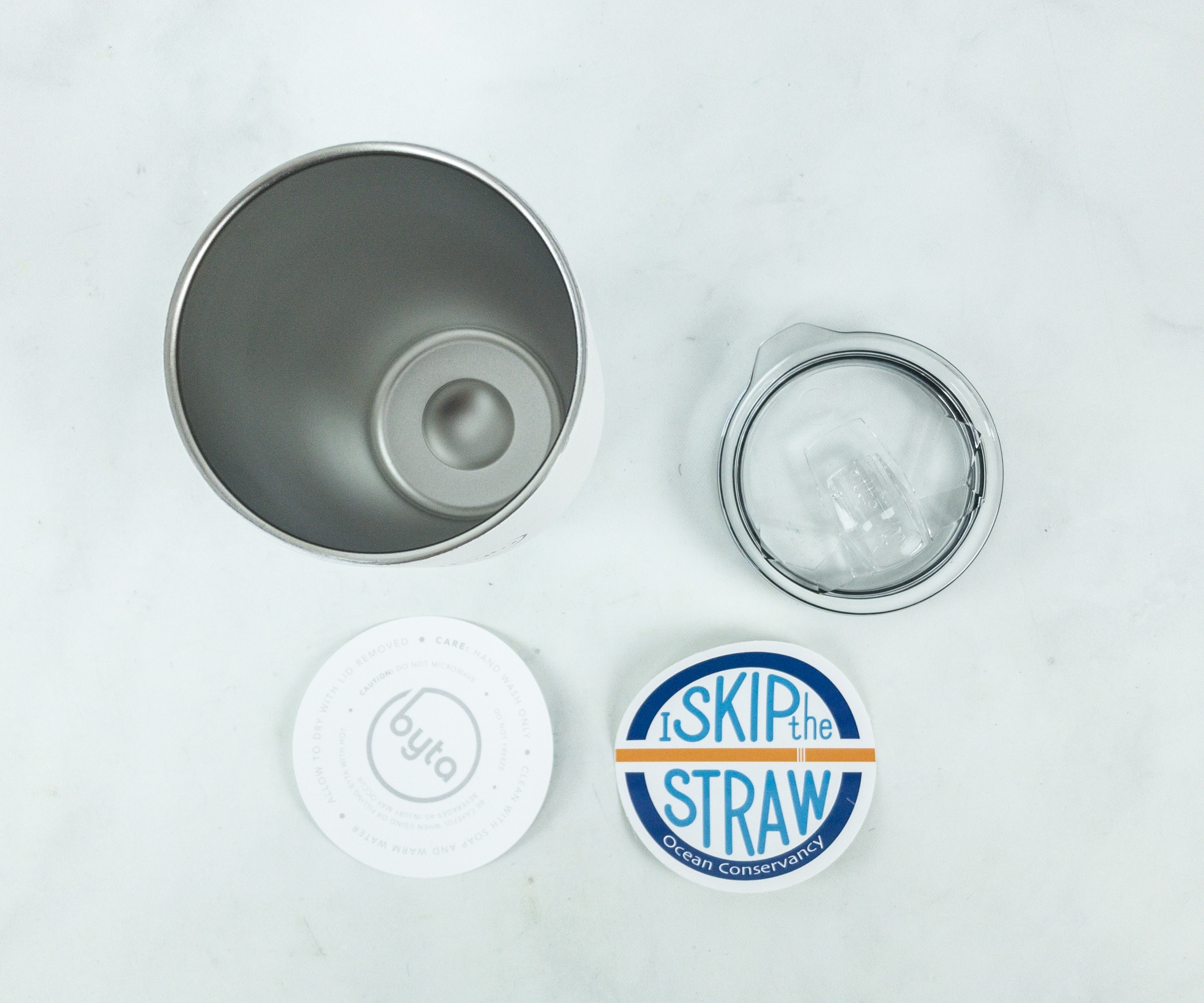 Byta Stainless Steel Tumbler ($29) It's a double-wall, vacuum-sealed, and BPA-free stainless steel cup made portable!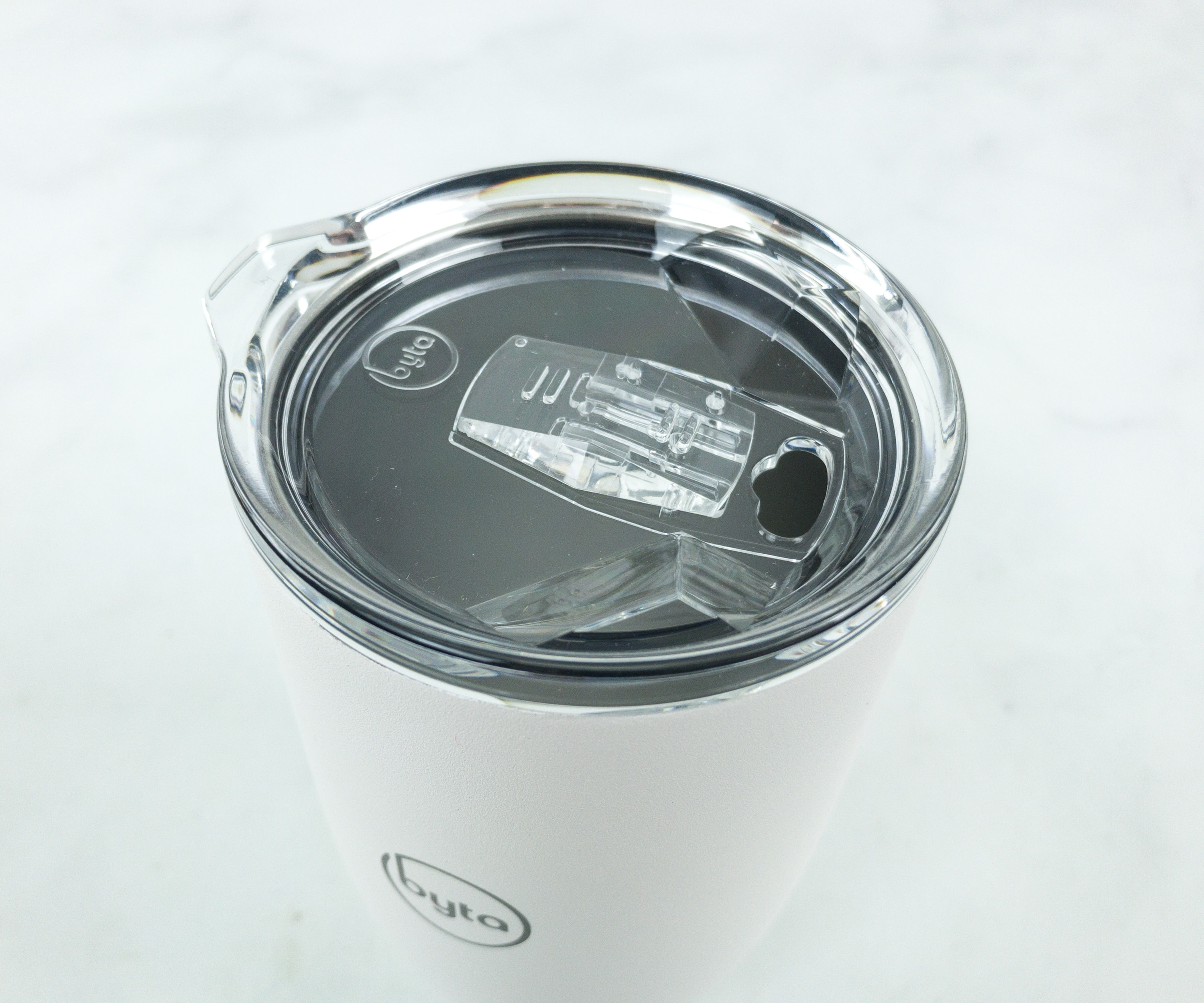 It's double walled to prevent sweating and maintain the temperature of the beverage for a longer time, whether hot or cold. It also includes a shatter-proof lid.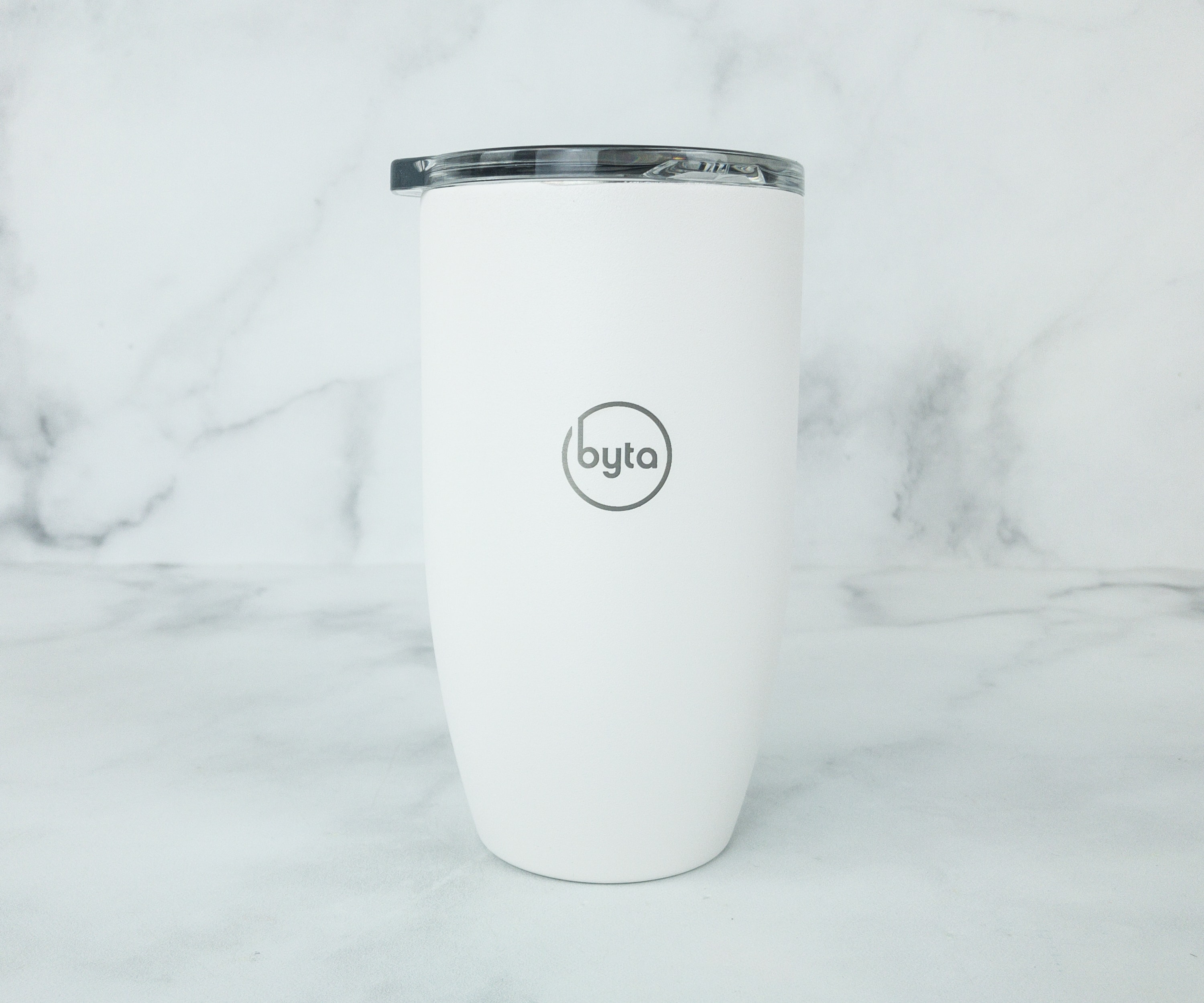 It truly changed the way I drink on the go. It's lightweight and fits perfectly in my hand so I can take it with me during outdoor meetings and long drives to avoid extra thirsty situations.  I got it in the Navagio shade.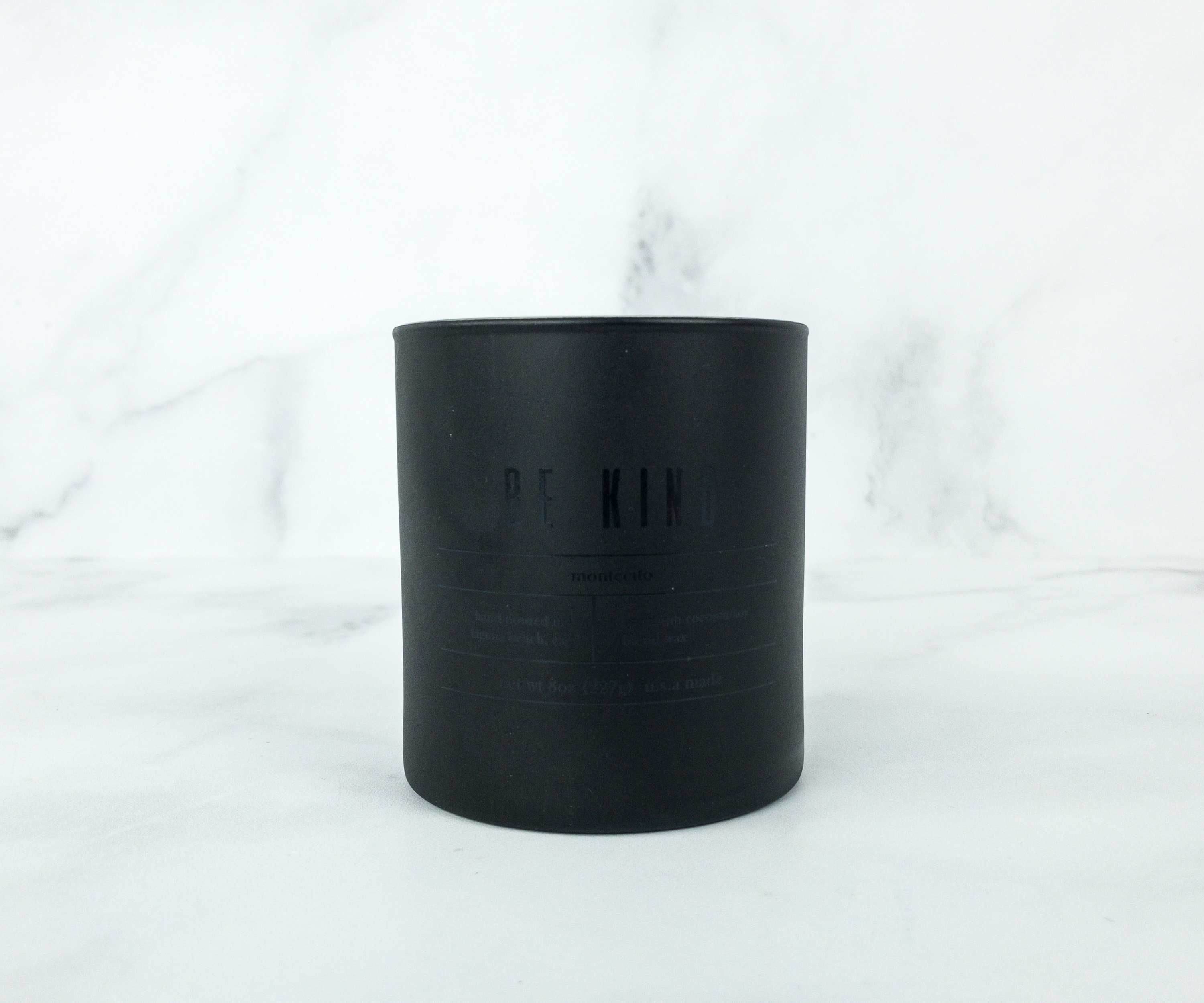 Be Kind Montecito Candle ($28) Here's another item that's designed by Ellen! The candle is made in California with a modern black ceramic design and named after the town that's so close to her heart, Montecito.
It smells like, as Ellen said in her show, "kindness." Kidding aside, it releases a fresh, masculine scent. This candle makes my living room aromatic even when not lit.
It feels so nice to be able to grab a box of these limited issue items. I also appreciate the fact that I was able to support their wonderful advocacy of sharing kindness. Everything has a good vibe and I really like each item, especially the tumbler and the bracelet because they were made of sustainable materials and they match my style. The Rover Coffee Table Book is also a valuable item for me because I have a soft spot for animals especially dogs. The only thing that disappointed me is that I didn't get "the golden ticket" from Cheerios. Not as quite as huge of a value as the first box (this one's about $160), but still fun, especially if you're an Ellen fan and the bracelets and cup were a hit for you.
What do you think of BE KIND by Ellen?