Vine Oh! is a new quarterly subscription box and one of the first wine subscription boxes to include lifestyle items for women. Each seasonal box will include 2 bottles of wine (either whites, reds or both), plus full-size items that are fun, rejuvenating and delicious. Every box will have a retail value of $120 or more!
DEAL: Save $10 Off + FREE Extra bottle of wine + A FREE glass water bottle+ Free Shipping on any Oh! La La! Box. Use coupon code HELLOWINE now through 2/17!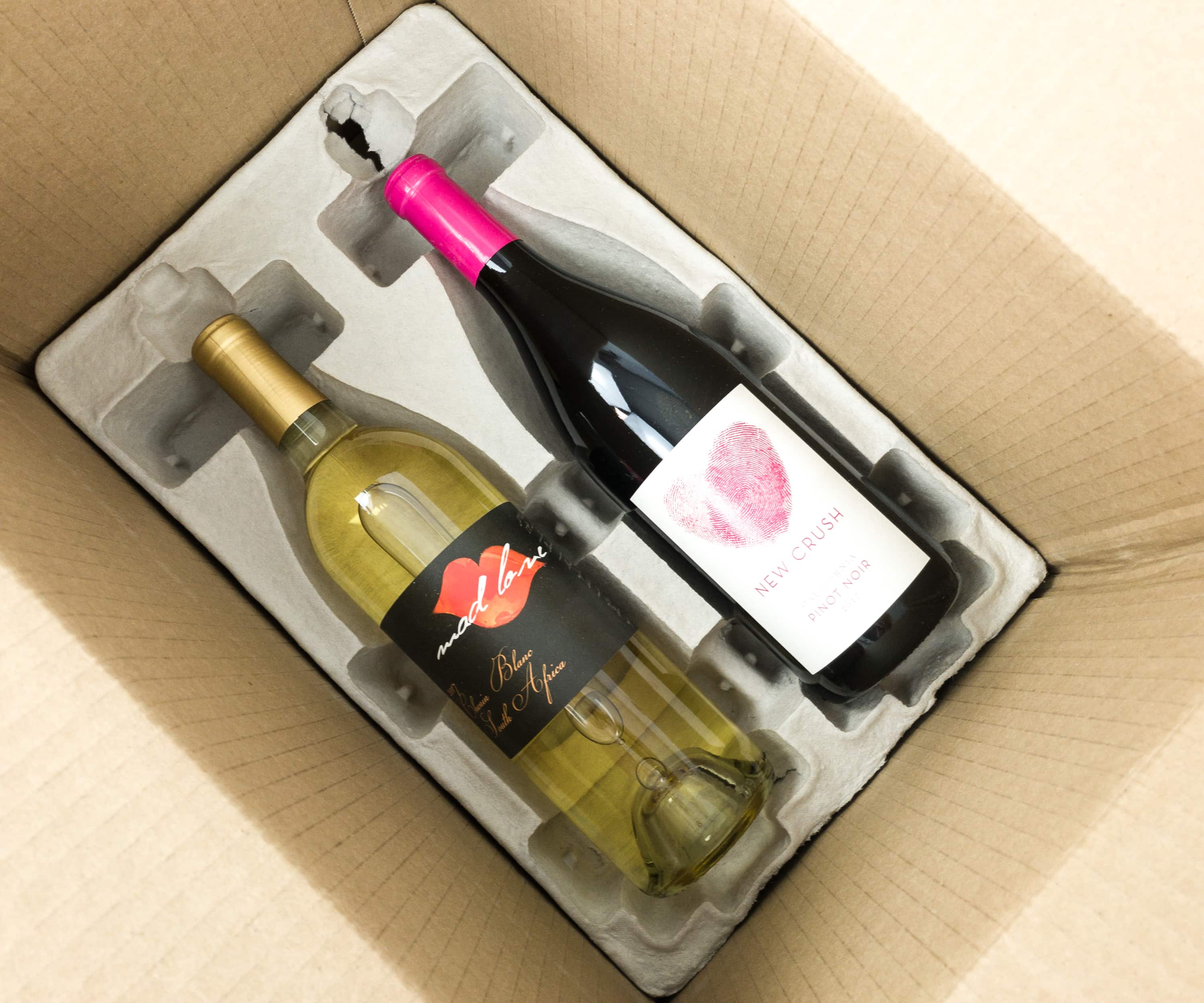 At the bottom of the box, you will find two bottles of wine carefully stored in a cardboard wine shipper to prevent breakage during transport.
All the wines this quarter!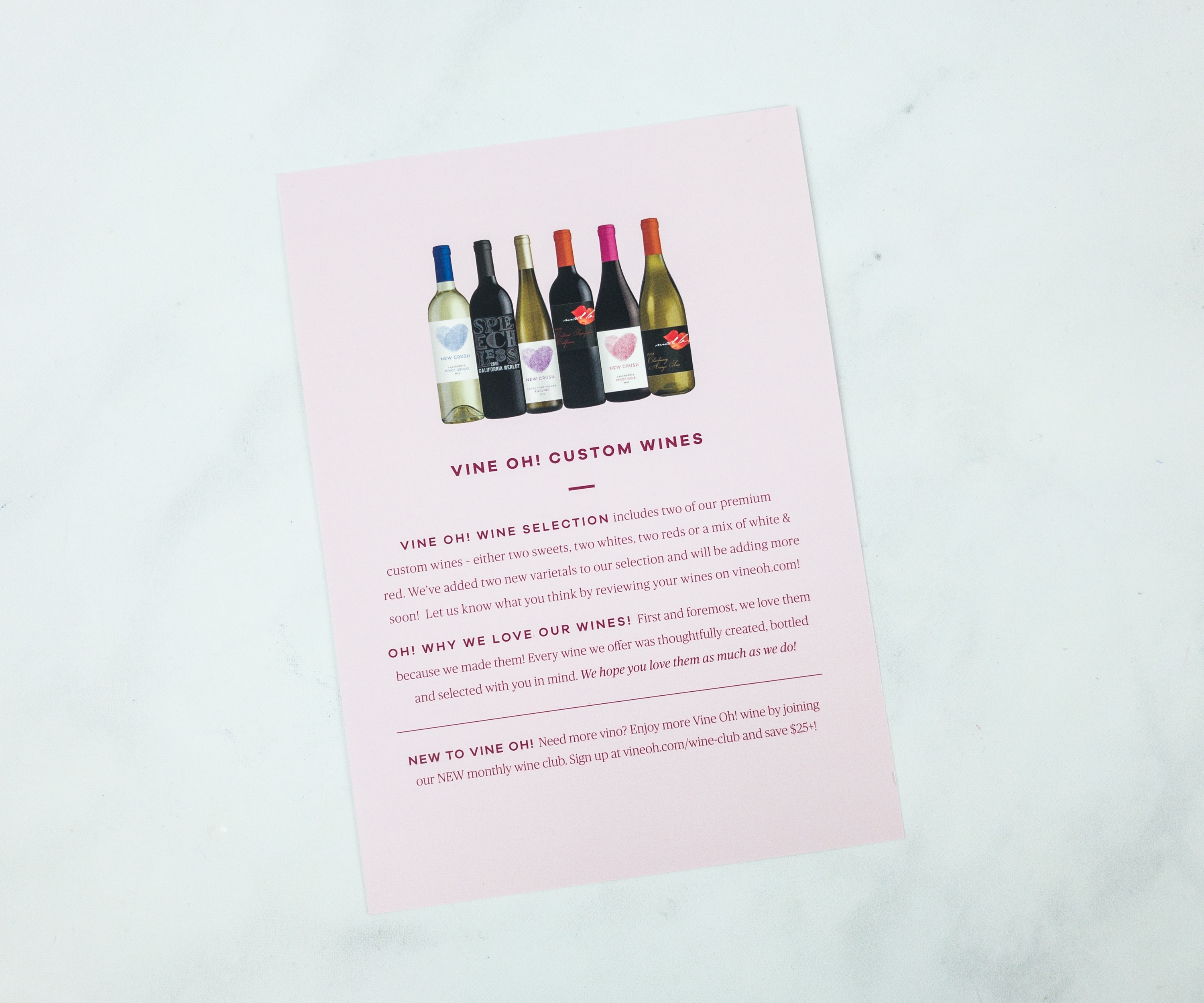 It comes with a small information card on what Vine Oh! is all about. The photo on the card shows the different wines offered by the company and why they just love their wines. These wines look perfect for the dinner table especially when you want to wash down your food with a fine drink on hand.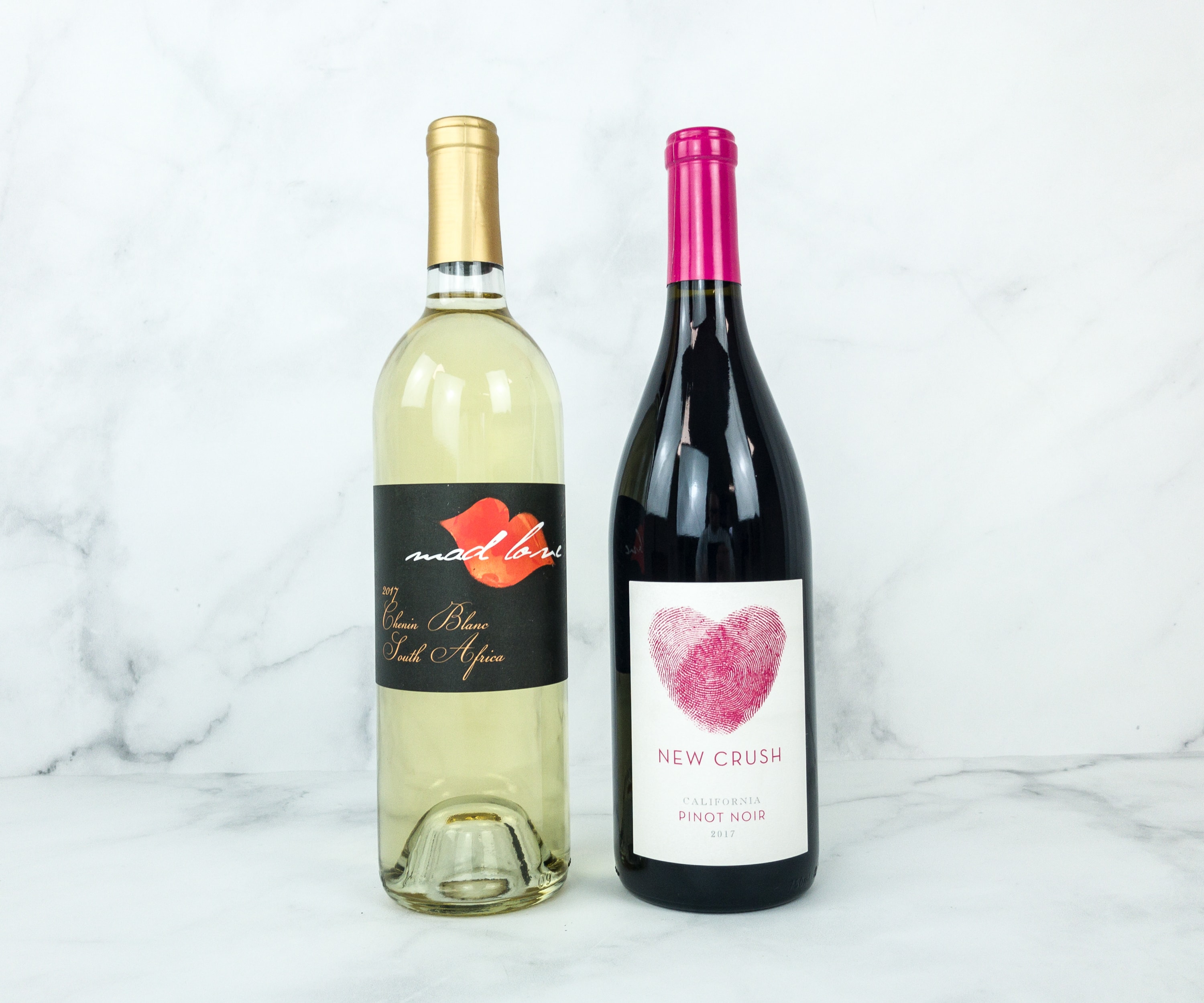 My quarterly box comes with a bottle of 2017 Chenin Blanc South Africa Mad Love and 2017 California Pinot Noir New Crush. Your selections may be a little different depending on the wine selections you choose when you sign up!
2017 Chenin Blanc South Africa Mad Love ($17) This white wine has notes of yellow apple, pear, and melon combined with aromas of honeysuckle and jasmine. Who wouldn't go good "mad" with this wine? The flavors give me a really refreshing feeling.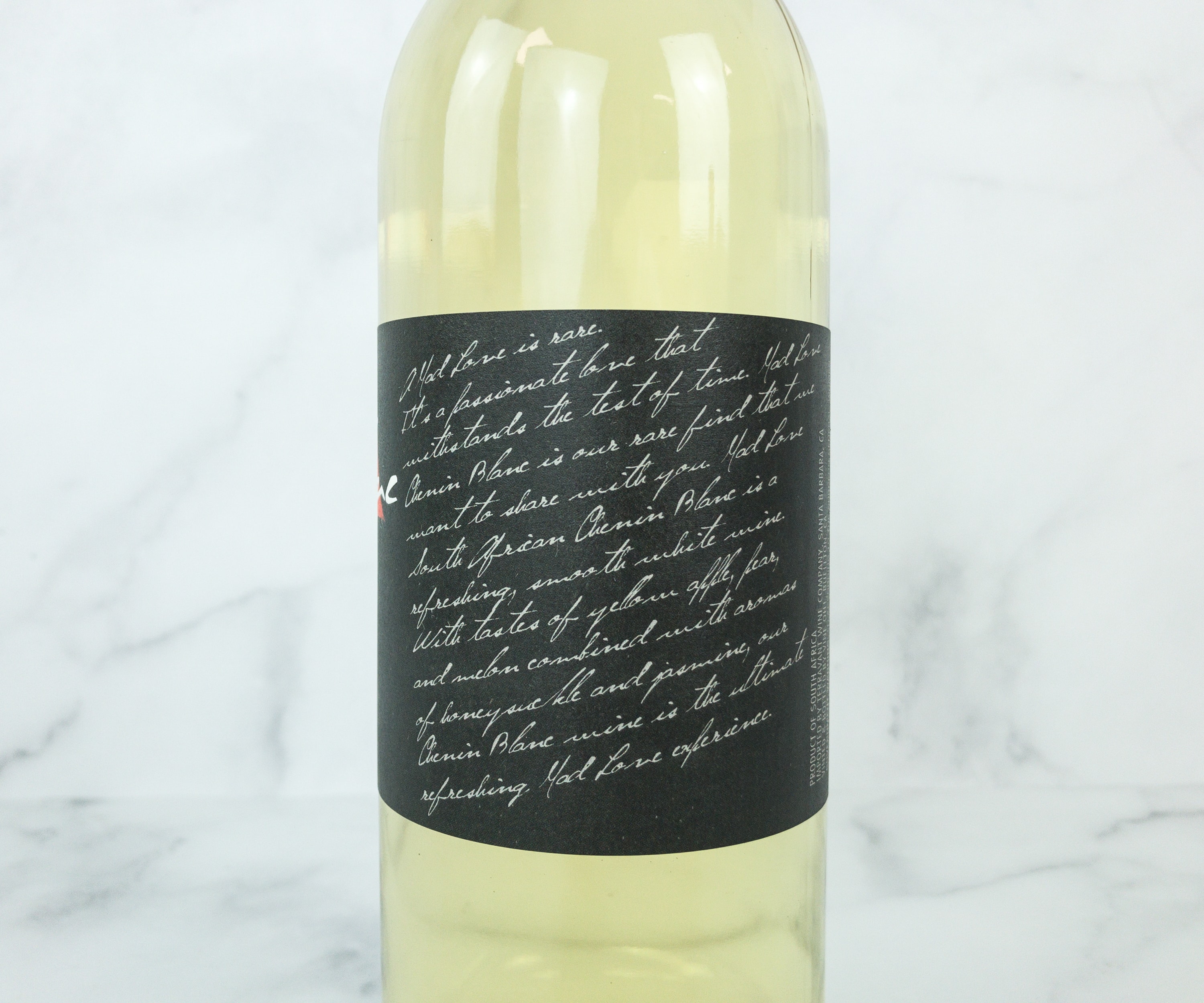 It's sparkling and sweet, just the right drink after a very long and tiring day, while you munch on some delicious savory dish, or just relaxing on a sofa, prepping yourself to loosen up for the rest of the day.
2017 California Pinot Noir New Crush – SIMILAR ($22) It's an aromatic wine made more flavorful by lychee, cranberry, kola, raspberry, and red cherries. This wine looked very familiar, however, it wasn't a repeat — we also received a lovely 2015 vintage in a prior VineOh Holiday box!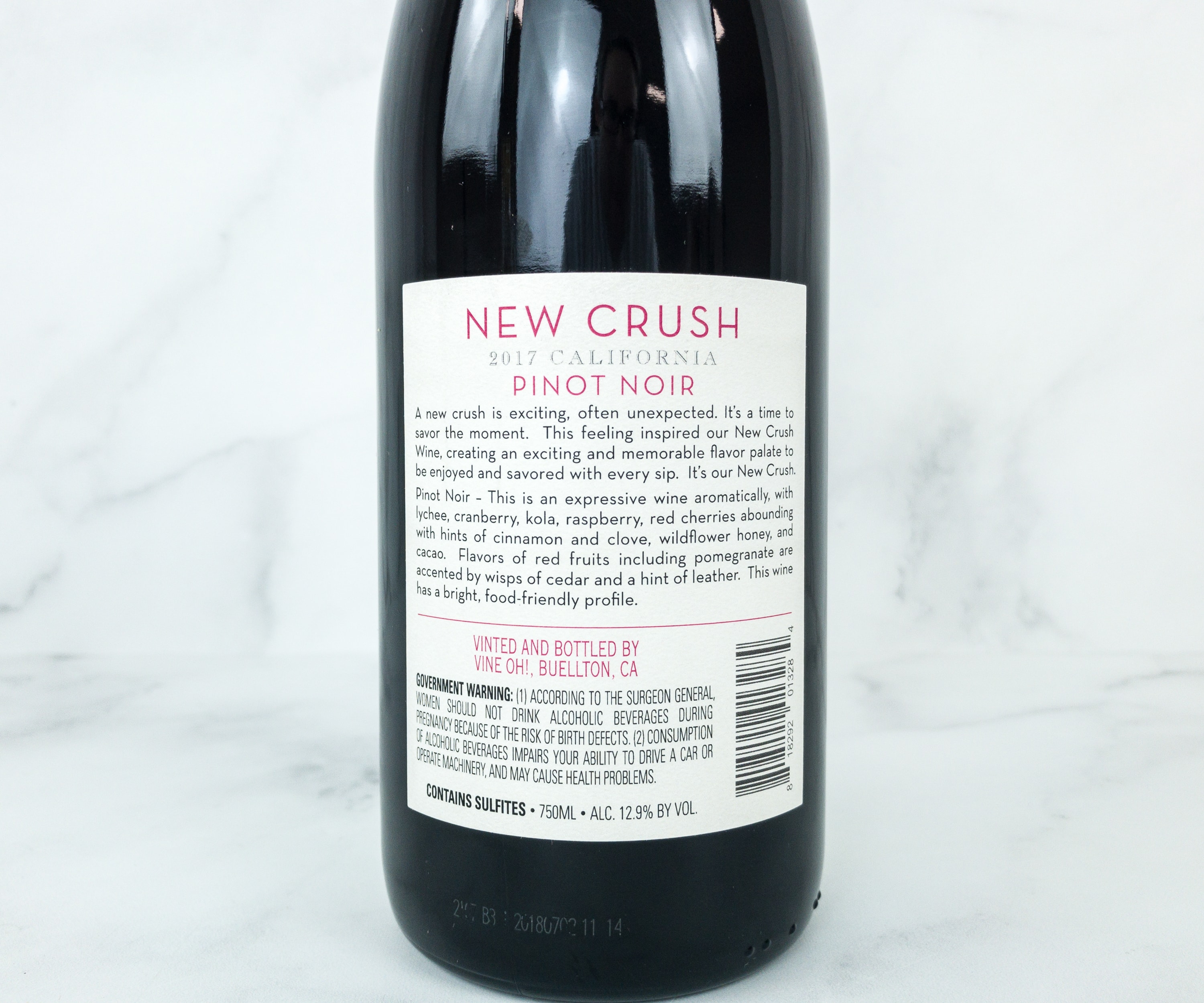 It also has hints of cinnamon and clove, wildflower honey, and cacao. It has a bright profile that makes it easy to pair with various kinds of food. Most VineOh! selections are intended to be easy-drinking and have a wide appeal. This one certainly did – we gulped it down for girls night in front of the tv 🙂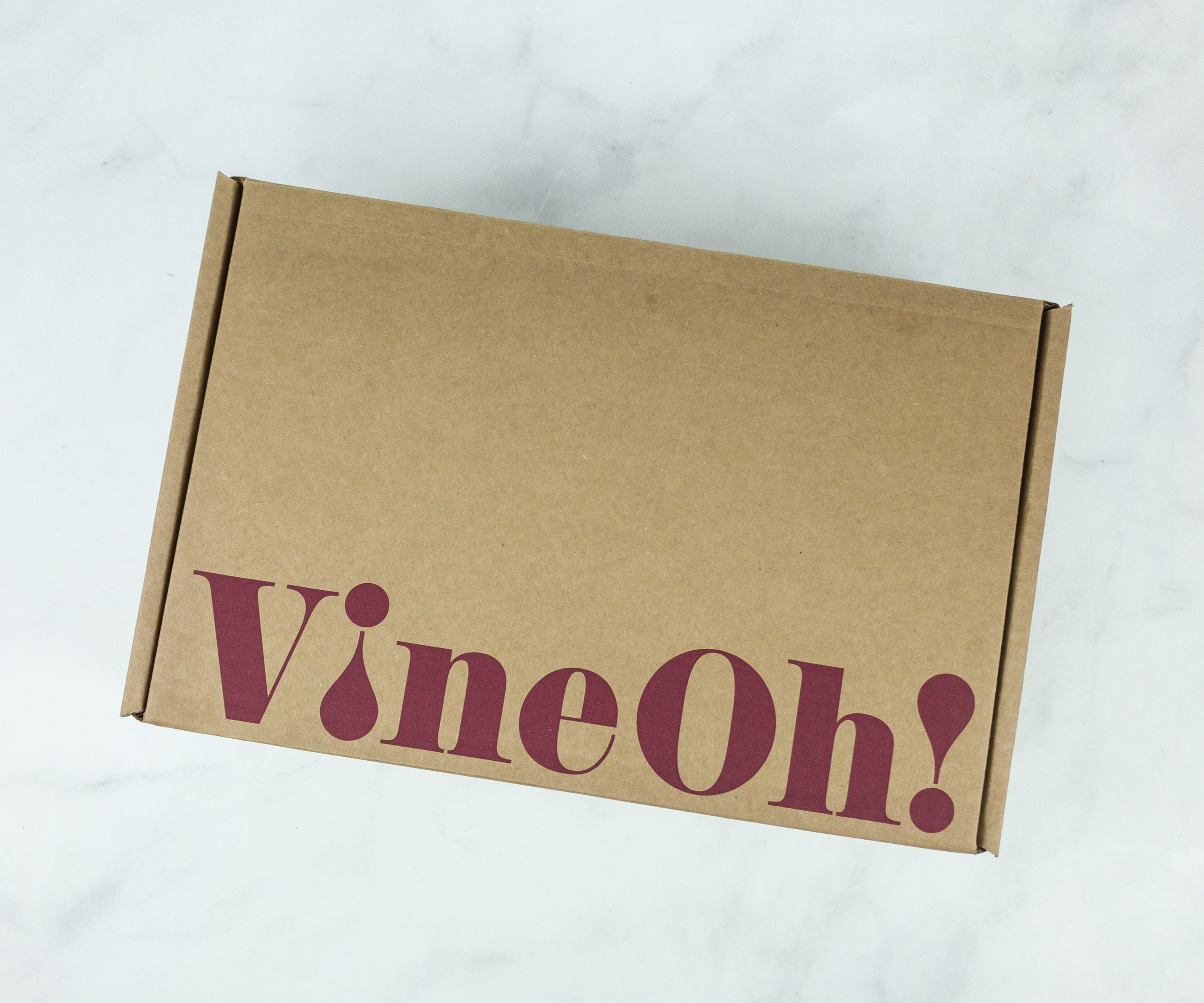 I can't wait to see the lifestyle and wine-related items included in this month's box!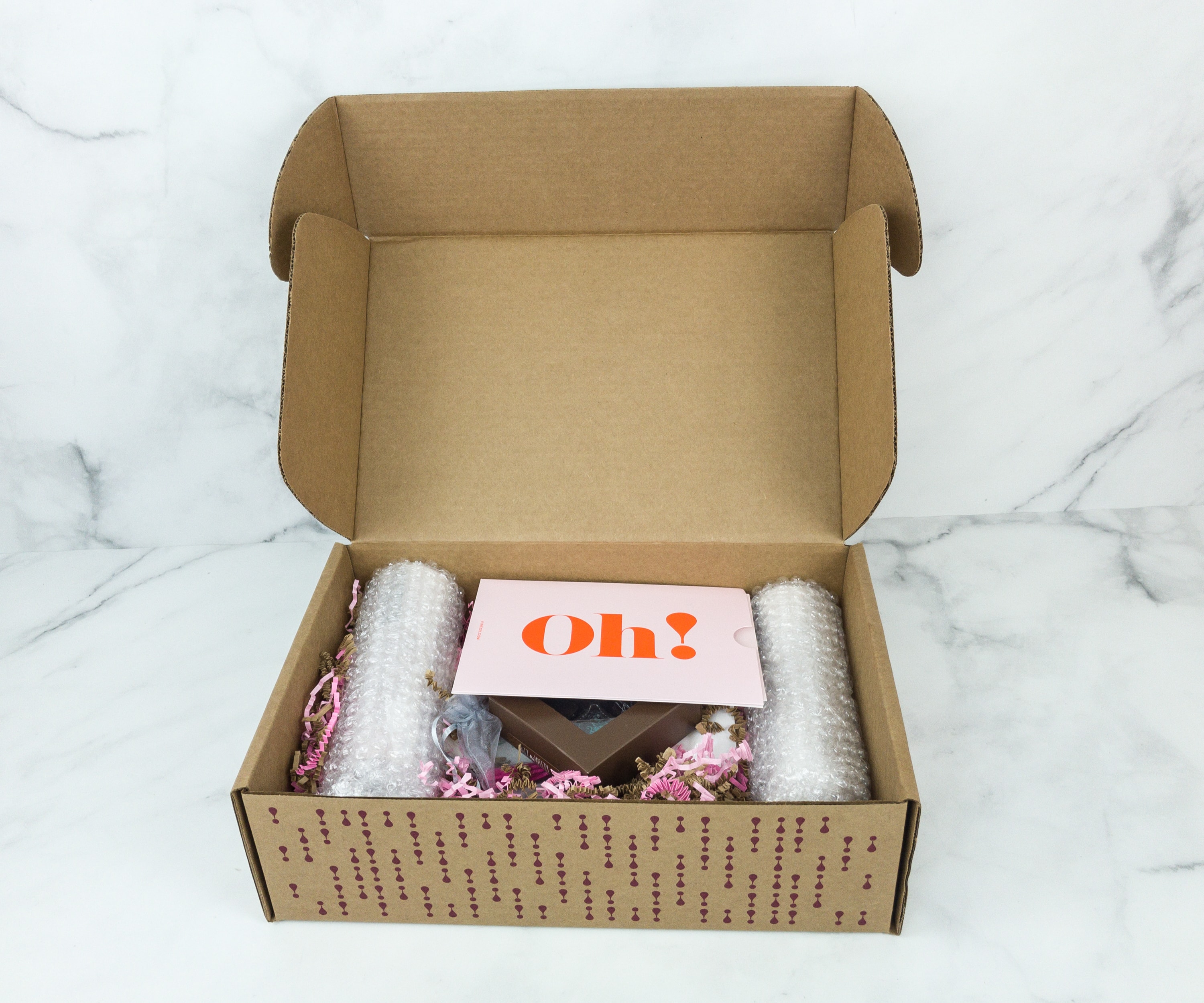 Everything is packaged neatly!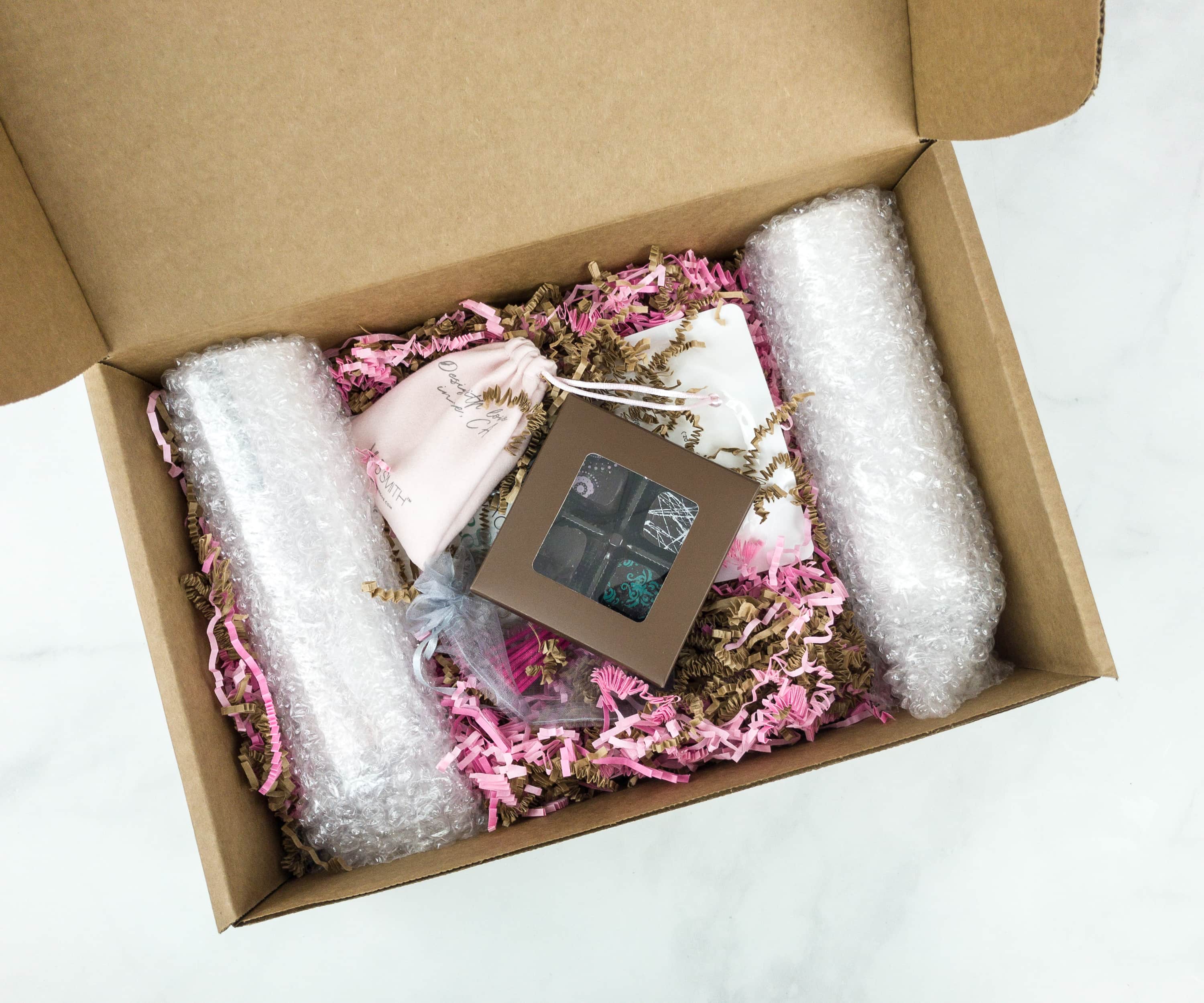 All the contents are protectively packaged with bubble wrap and lots of squiggles.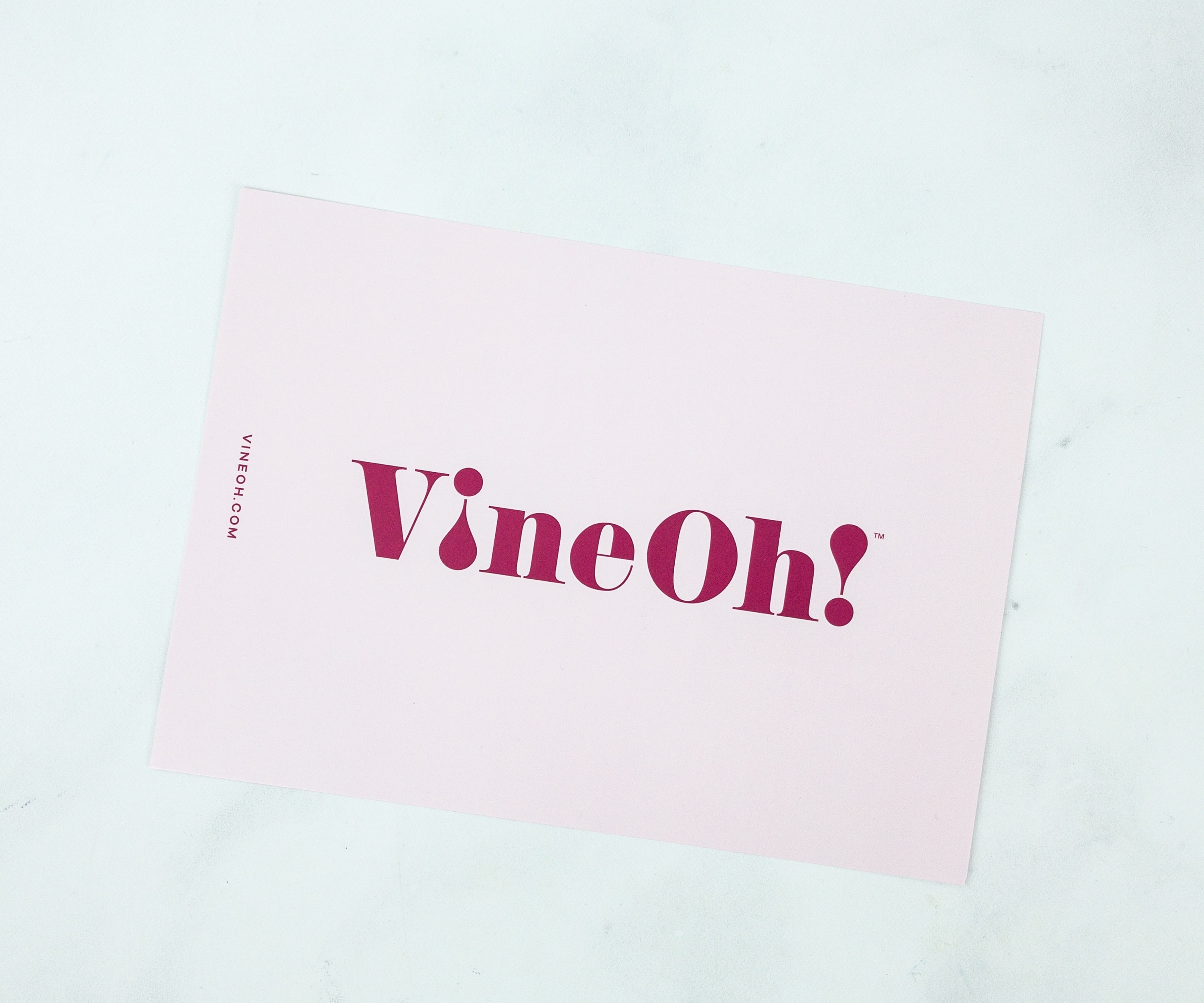 It also comes with an info card.
It lists all the items in the box, plus their retail values!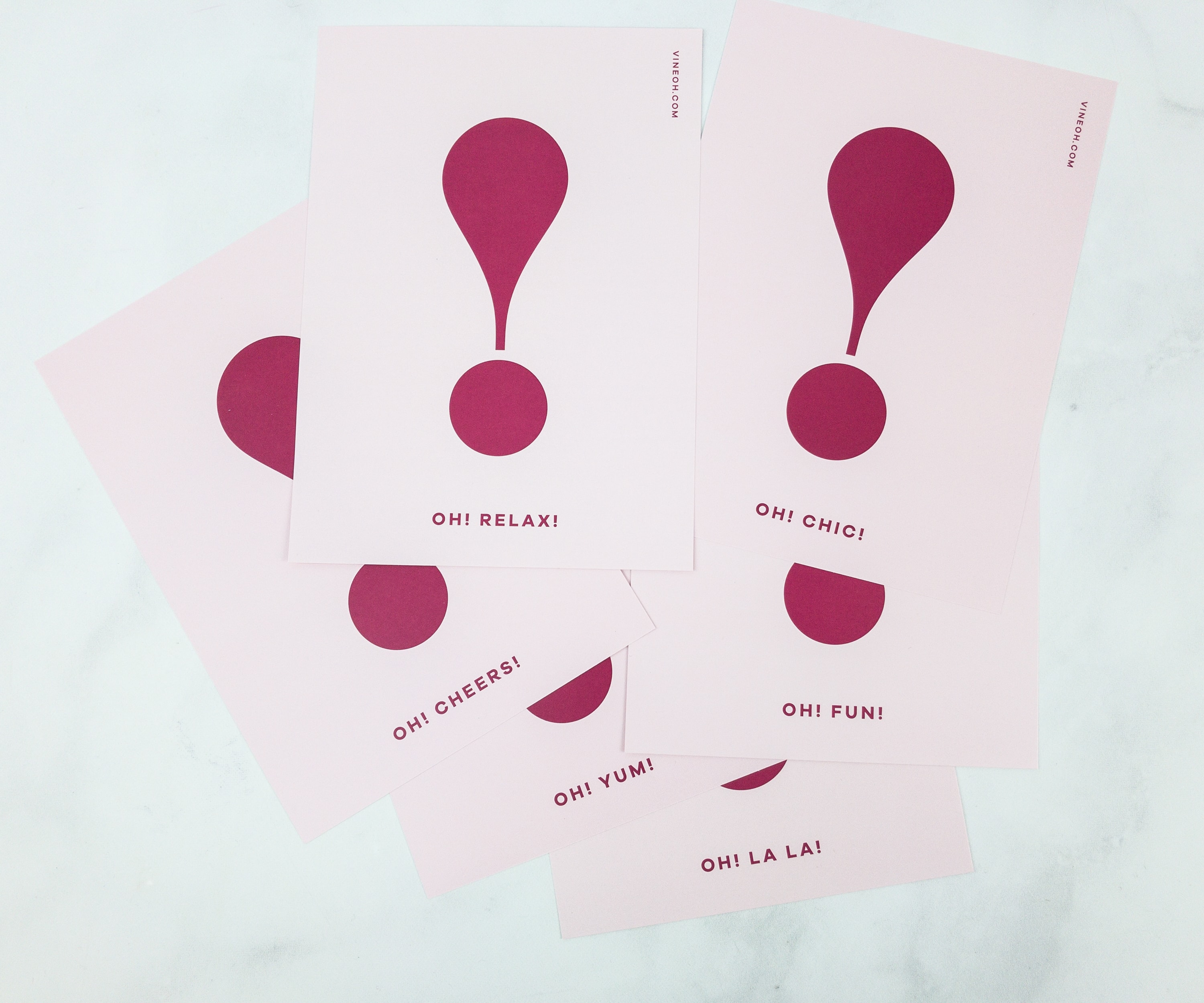 There are different Oh! expression statements on the front of these cute information cards. And at the back of each card, it lets you know more about each item from the box, why the Vine Oh! team loves them, and a special offer.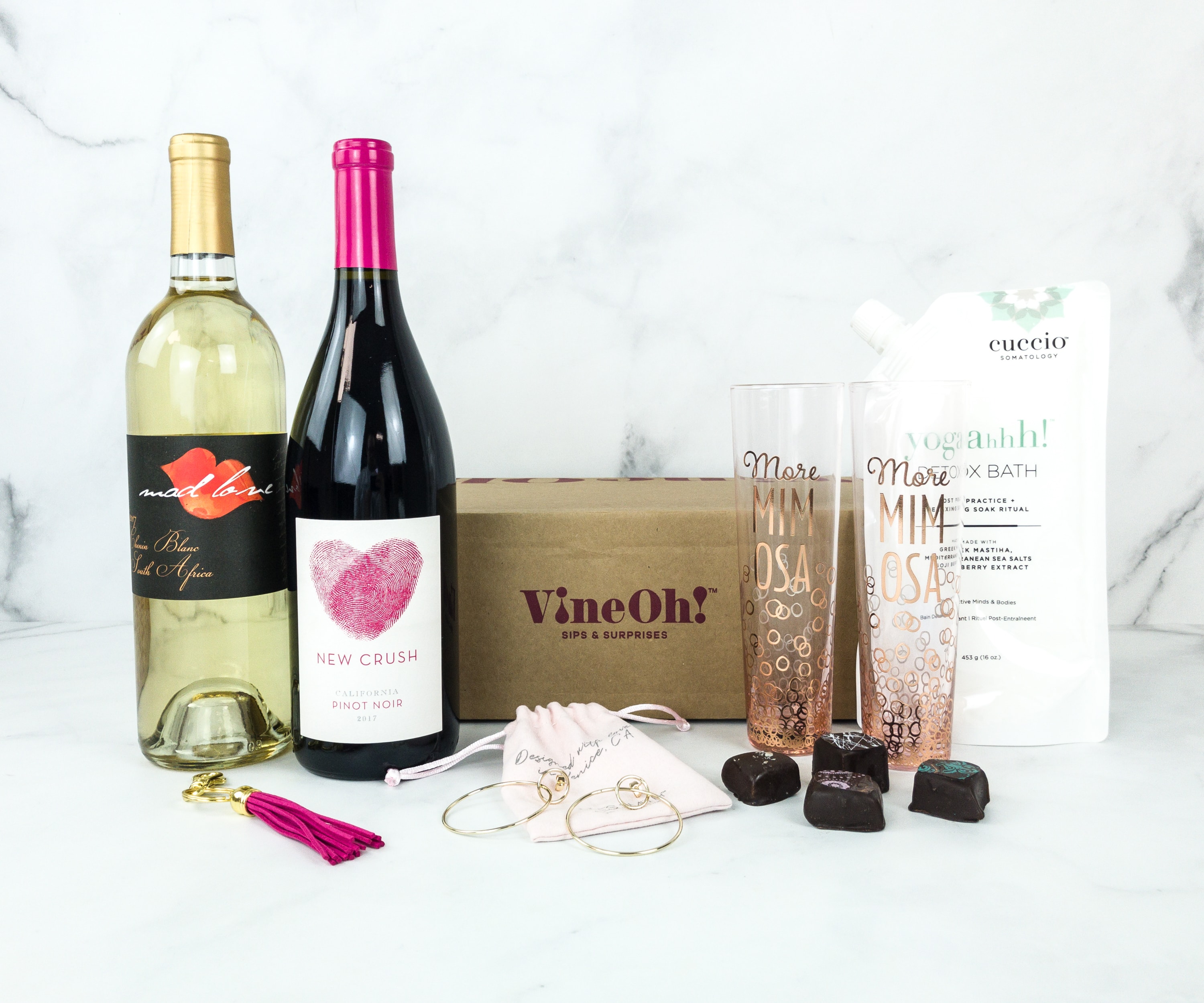 Everything in my Spring 2019 box!
Cuccio Somatology Detox Bath ($40) Detox Bath is made with natural eucalyptus oil, Greek mastiha, Mediterranean sea salts, and goji berry extract.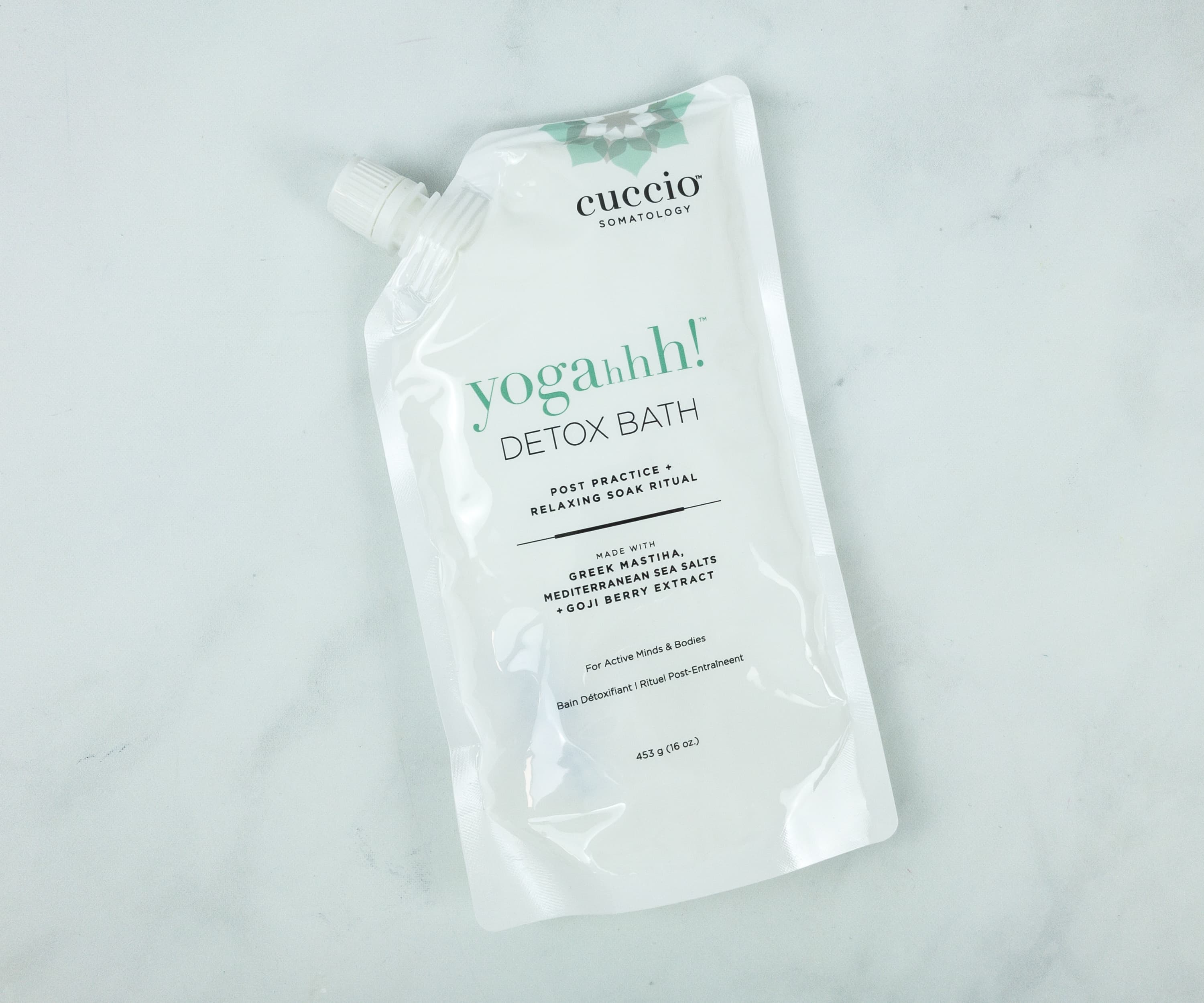 It is recommended to be used in your bath when you need to relax, loosen up, calm your senses, and reset your mind It can also heal skin conditions, aid with muscle pain, and produce better sleep quality.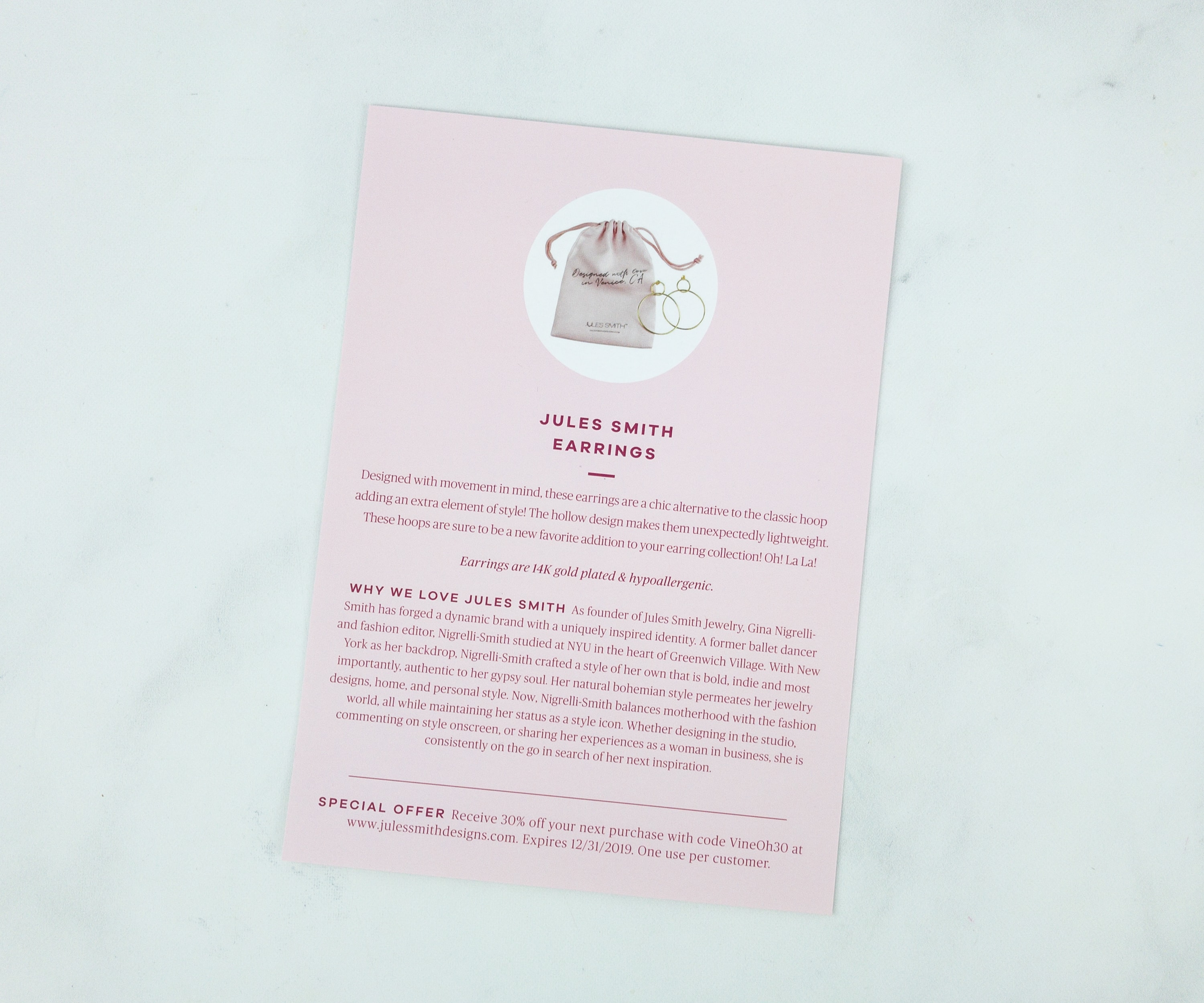 Jules Smith Circle Hoop Earrings ($40) These hoop earrings are designed with movement in mind. It's a great alternative to the classic hoop.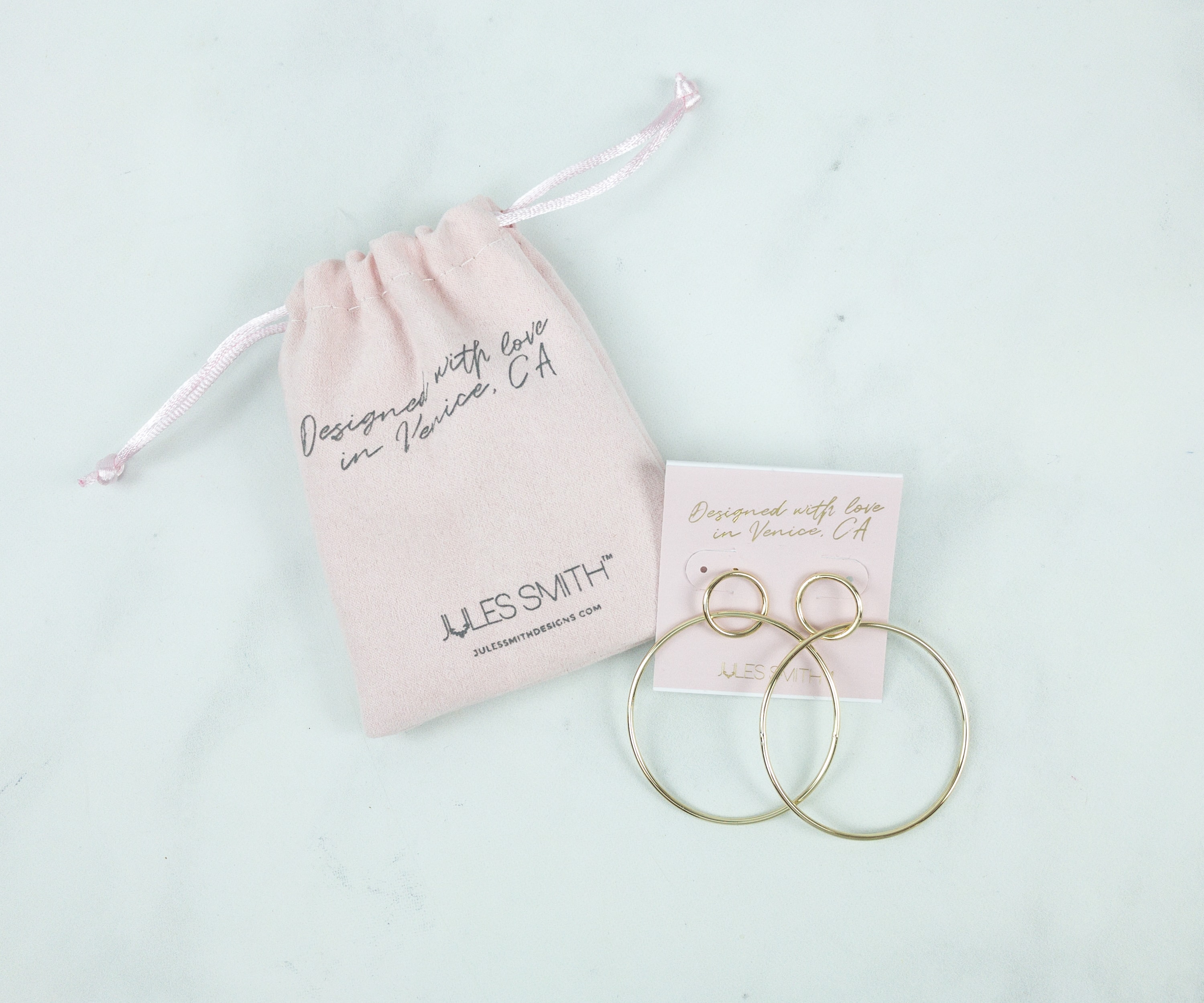 The earrings have a double hoop that adds an extra element of style. The accessory is unexpectedly lightweight with its huge size. It also came with a nice drawstring pouch.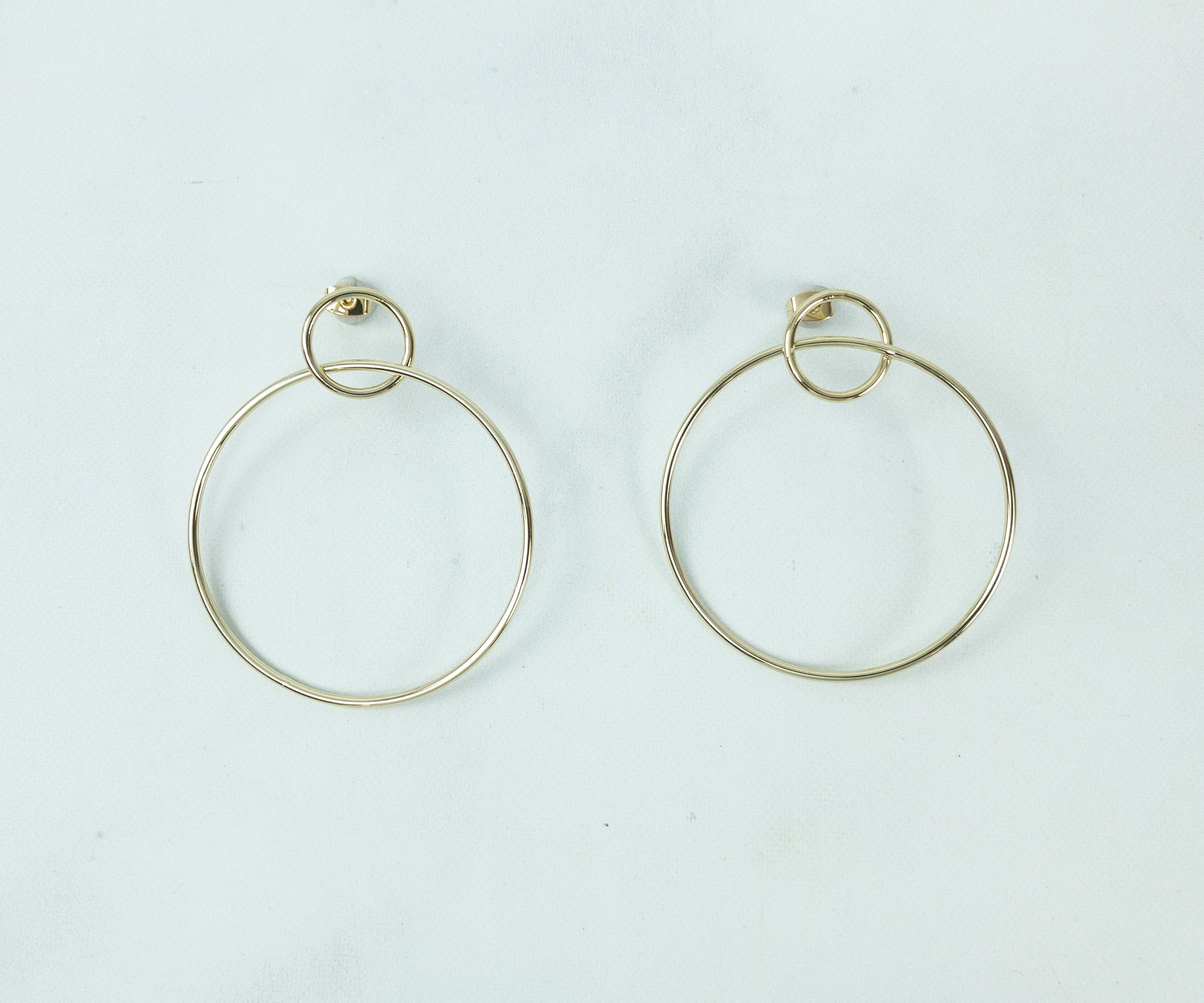 What I love about these earrings is that they dangle just right. Each silver-plated earring measures 2 1/4″ (L) x 1 3/4″ (W).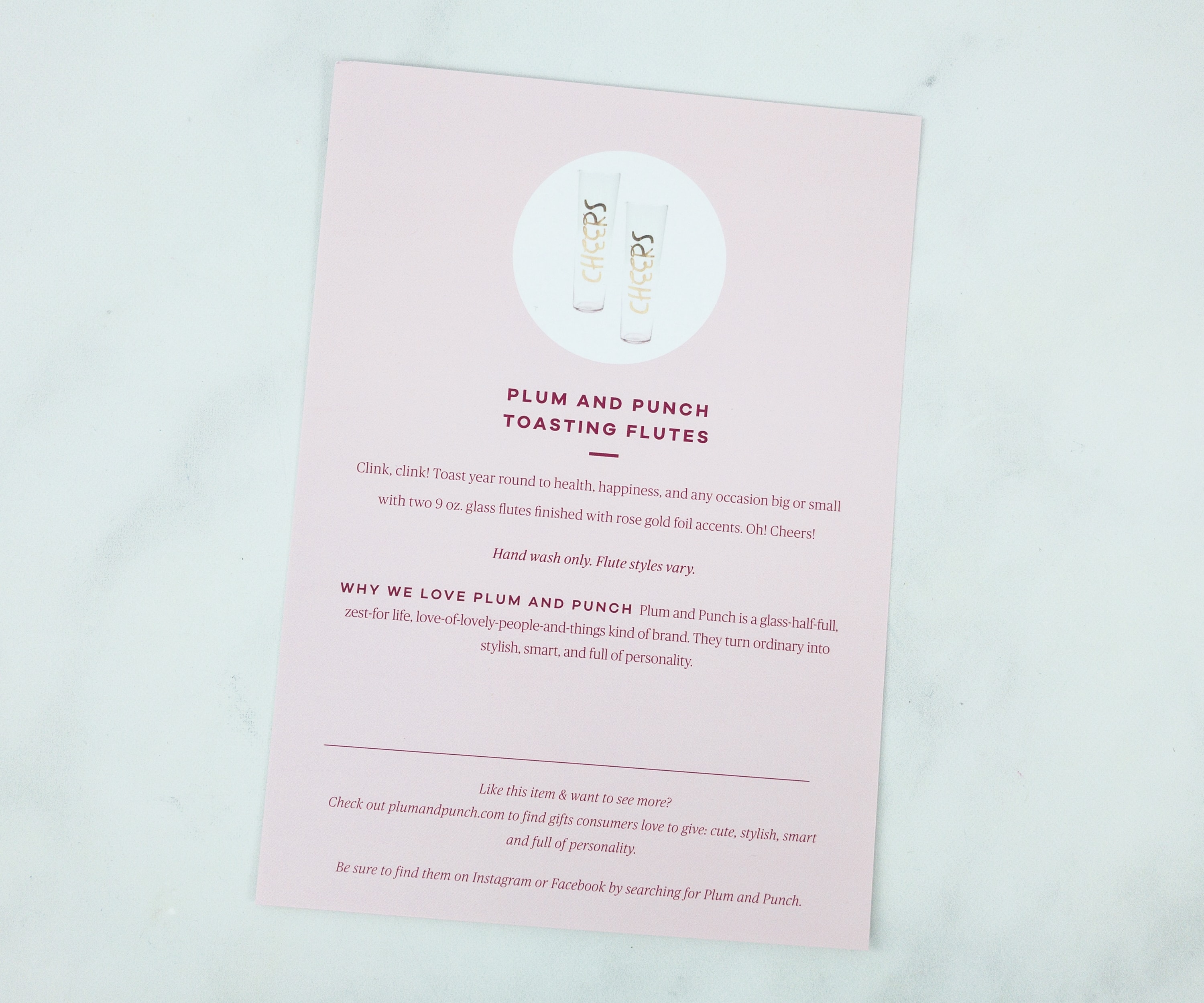 Plum & Punch Toasting Flutes ($30) Since we got wines, it's just fitting to get some flutes!
Plum and Punch are a glass-half-full, zest-for-life, love-of-lovely-people-and-things kind of brand. They make kind of gifts consumers love to give which are cute, stylish, smart, and full of personality.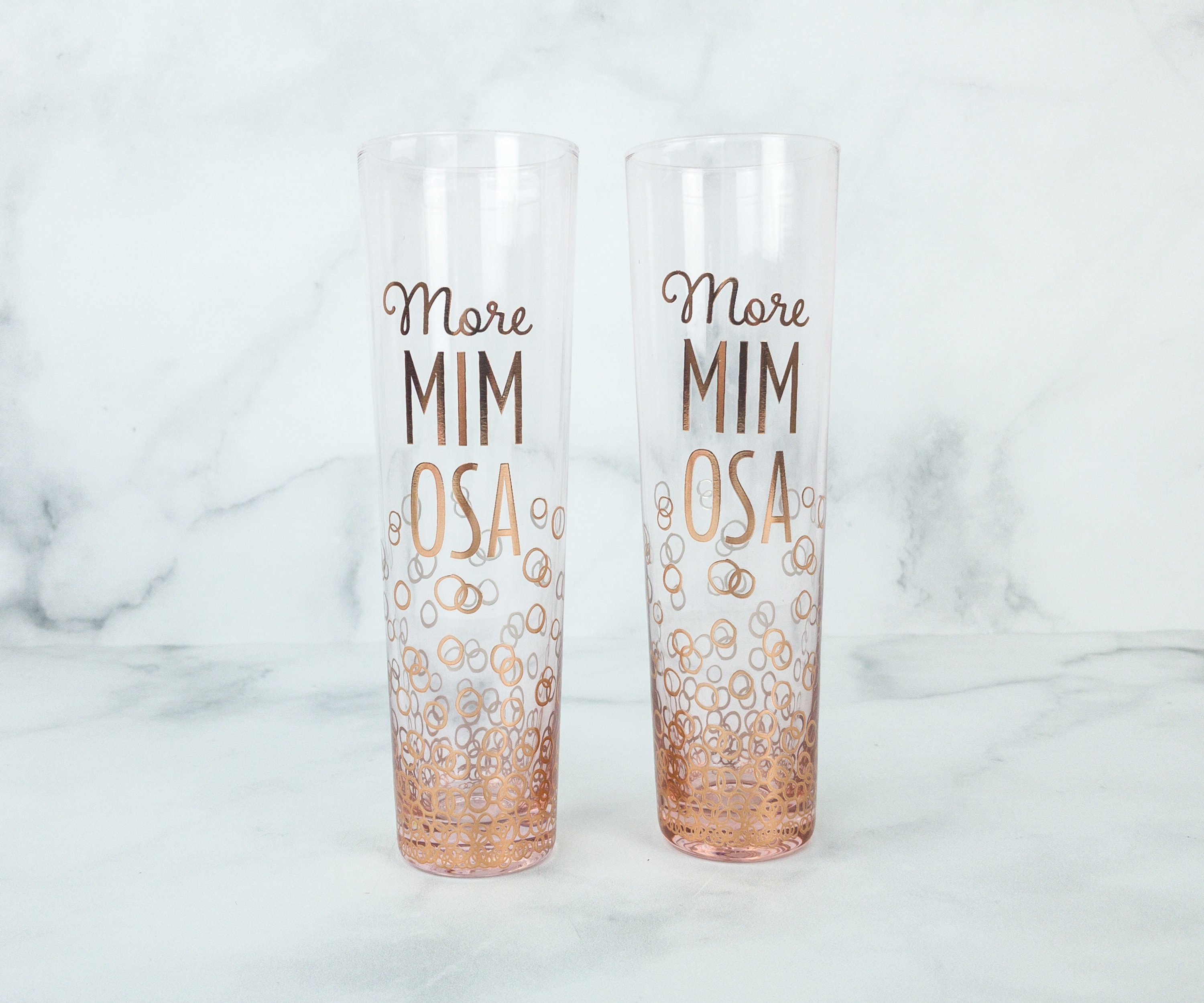 Each glass measures 7″ tall and about 2.25″ in diameter. They are recommended for hand-wash only.
The pink tinted 9 oz. champagne glasses feature a rose gold foil decal. It looks ready for a relaxing night of drinks or clinking up with the one you love!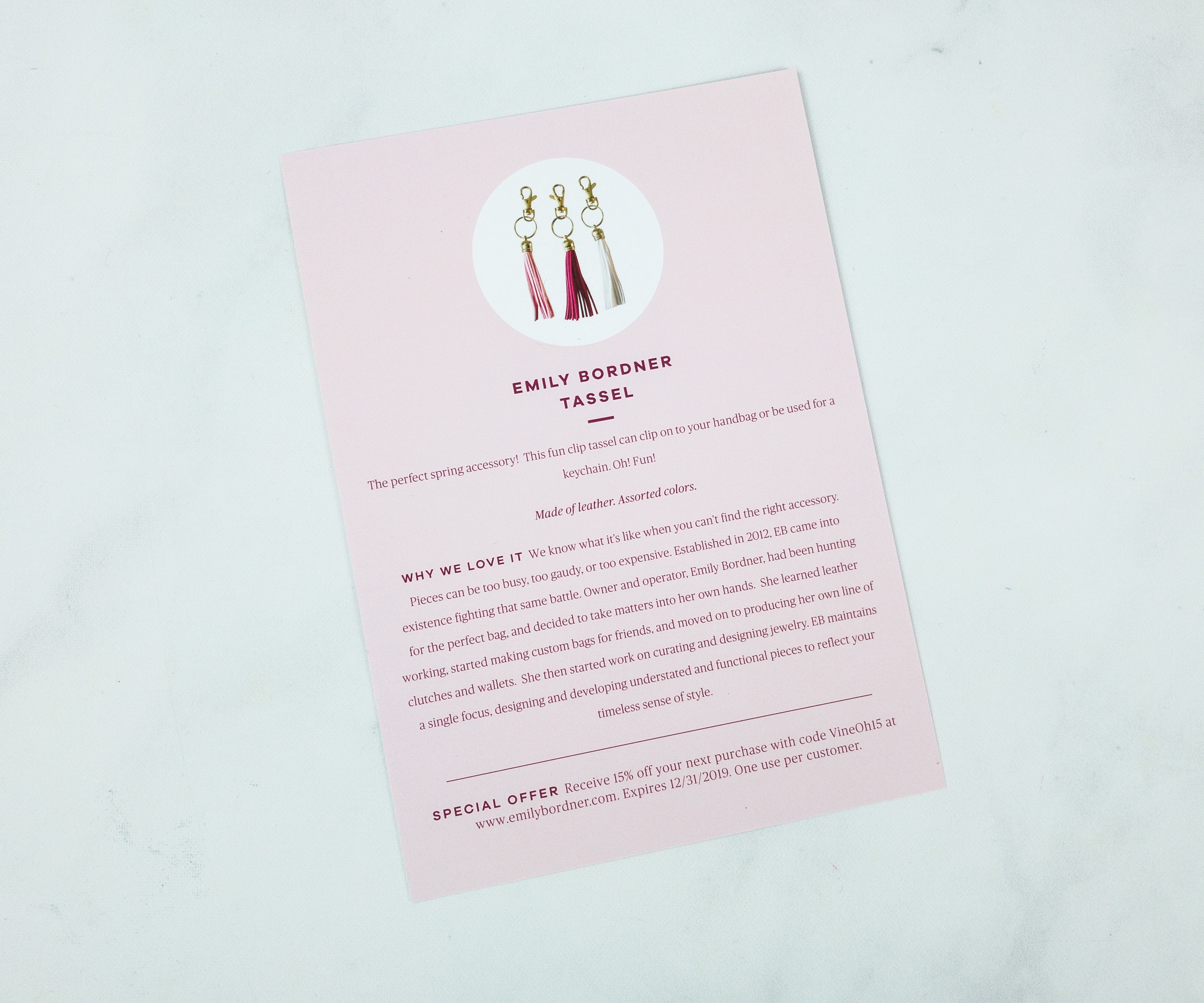 Emily Bordner Tassel ($9) They included another accessory that I can use for Spring! This tassel can be used to decorate a bag, or just to organize keys.
The pretty tassel is in hot pink! It comes in an organza pouch and has a trigger snap to easily attach to zippers or hold your keys.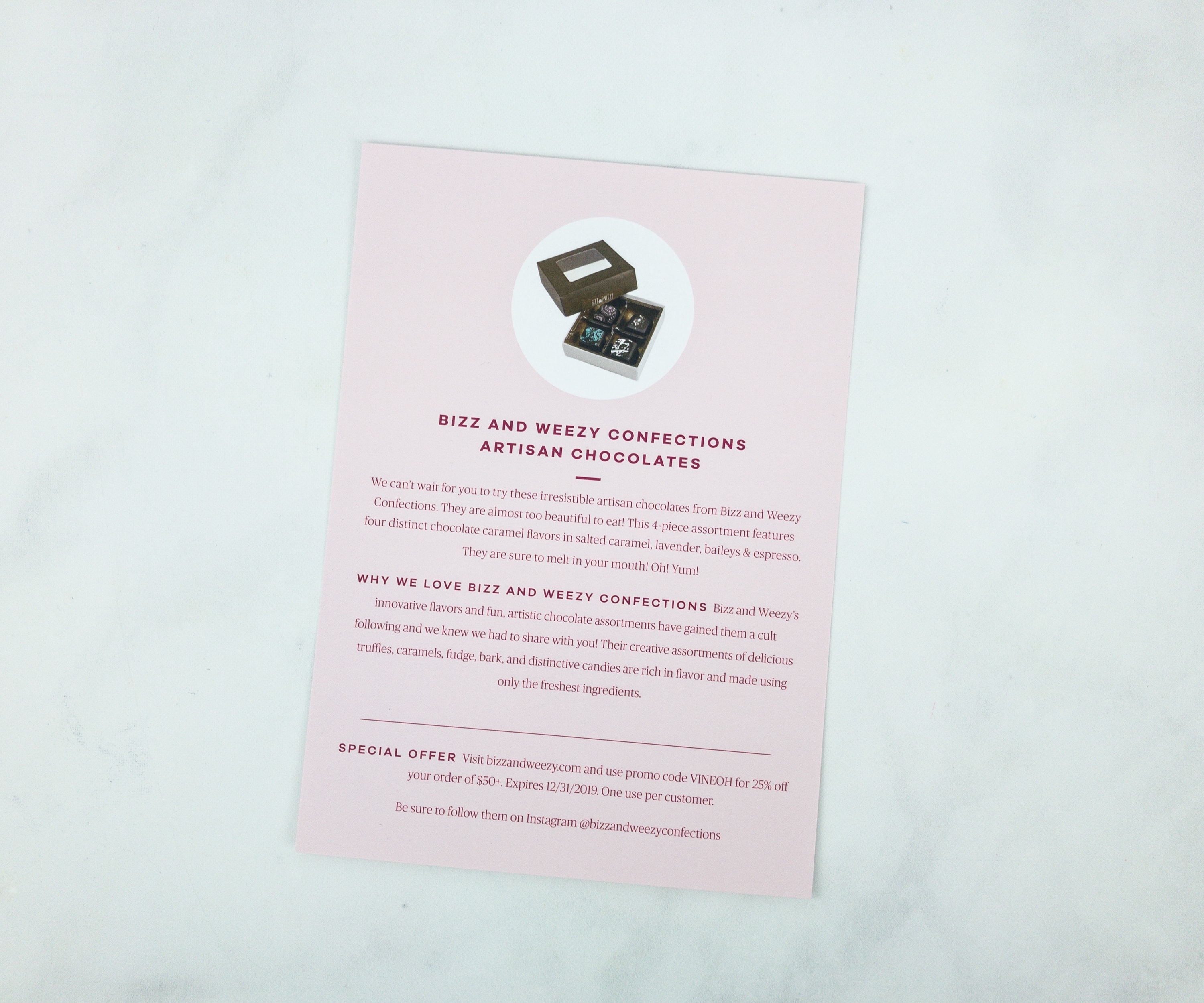 Bizz And Weezy Confections Artisan Chocolates ($9) It's lovely that Vine Oh! also included these artisan chocolates. The pieces really look alluring and I don't know, they're too beautiful to get devoured!
The assortment of delectable pieces also came in a giftable window box. You can really see the delicious pieces of sweets inside!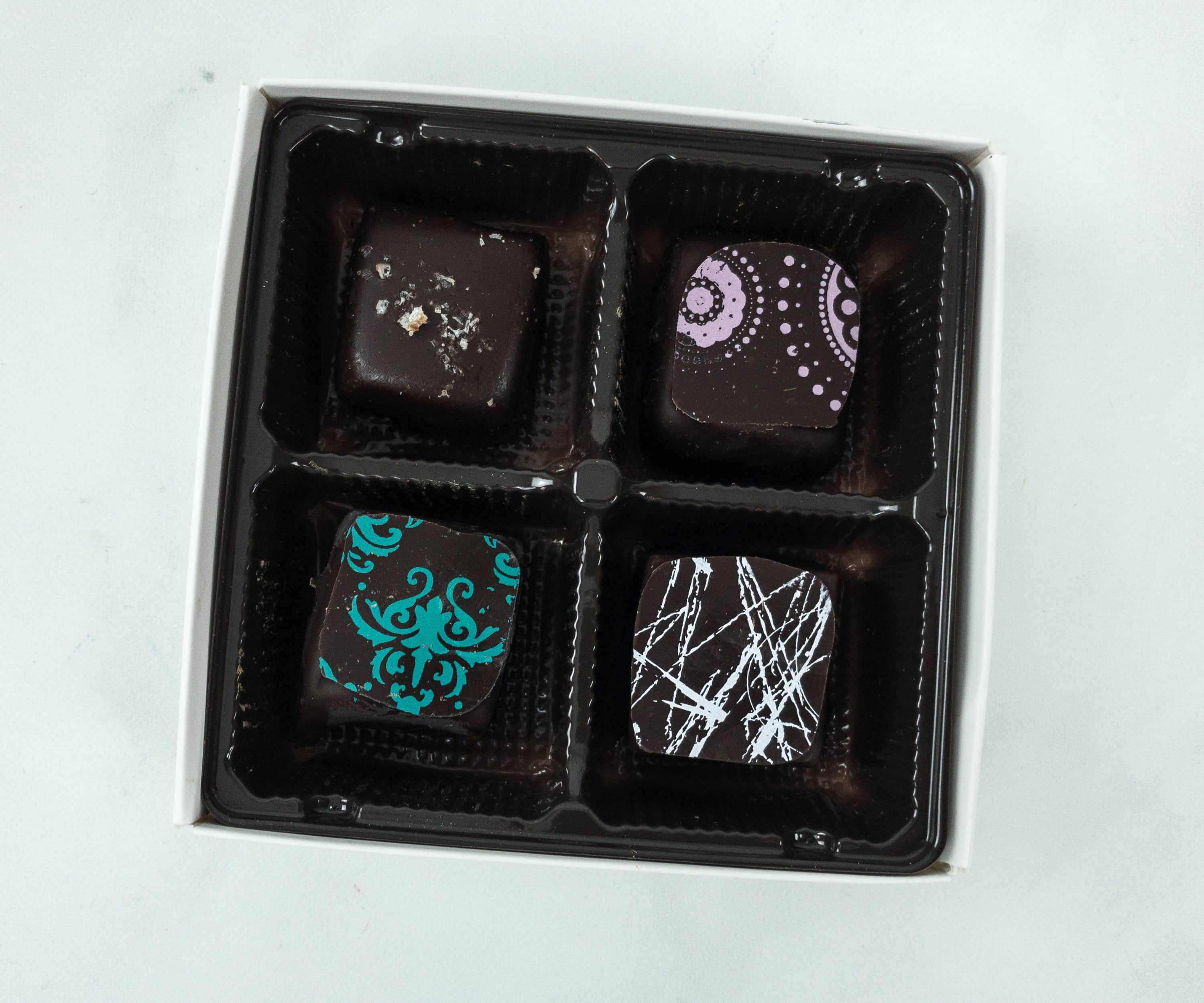 The piece with a teal print appears to be coffee, and the pink is lavender – I couldn't place the taste until I read the card, then I knew what that distinctive taste was. Everything is caramels. The white is like a regular caramel is the Bailey's, tasted like a regular caramel but is much firmer, while the salt one tastes the same as the white, except that it is salted.

I love these bite-sized caramels! They have distinctive and definitely luscious tastes. They're too beautiful to eat but I just can't help it!
Receiving beautiful bottles of wine, coupled with beautiful and relaxing items is always a good deal for me. Vine Oh! definitely uplifts my mood and make me look forward to a relaxing night after a hard, stressful day. The variety of items they sent me this quarter are great to create a routine after working all day. The wines are cherries on top! I like the Epsom salt bath experience as it soothes my tired body, while the accessories are all wonderful, and I will surely use them all. The flute glasses are fantastic, the Chenin Blanc looked gorgeous in it! Without taking a sip, the bubbly drink already looks good inside! And the caramels are fantastic, as much as I don't want to take a bite, I just can't resist! I love destressing with this quarterly box!
What did you think of Vine Oh?