The Vegan Kind is the UK's most popular subscription boxes for vegans. The Beauty Box delivers a mix of vegan skincare, cosmetics and beauty products quarterly.
UPDATE: Since February 2018, The Vegan Kind Beauty Box is shipping bimonthly. Read more about it here.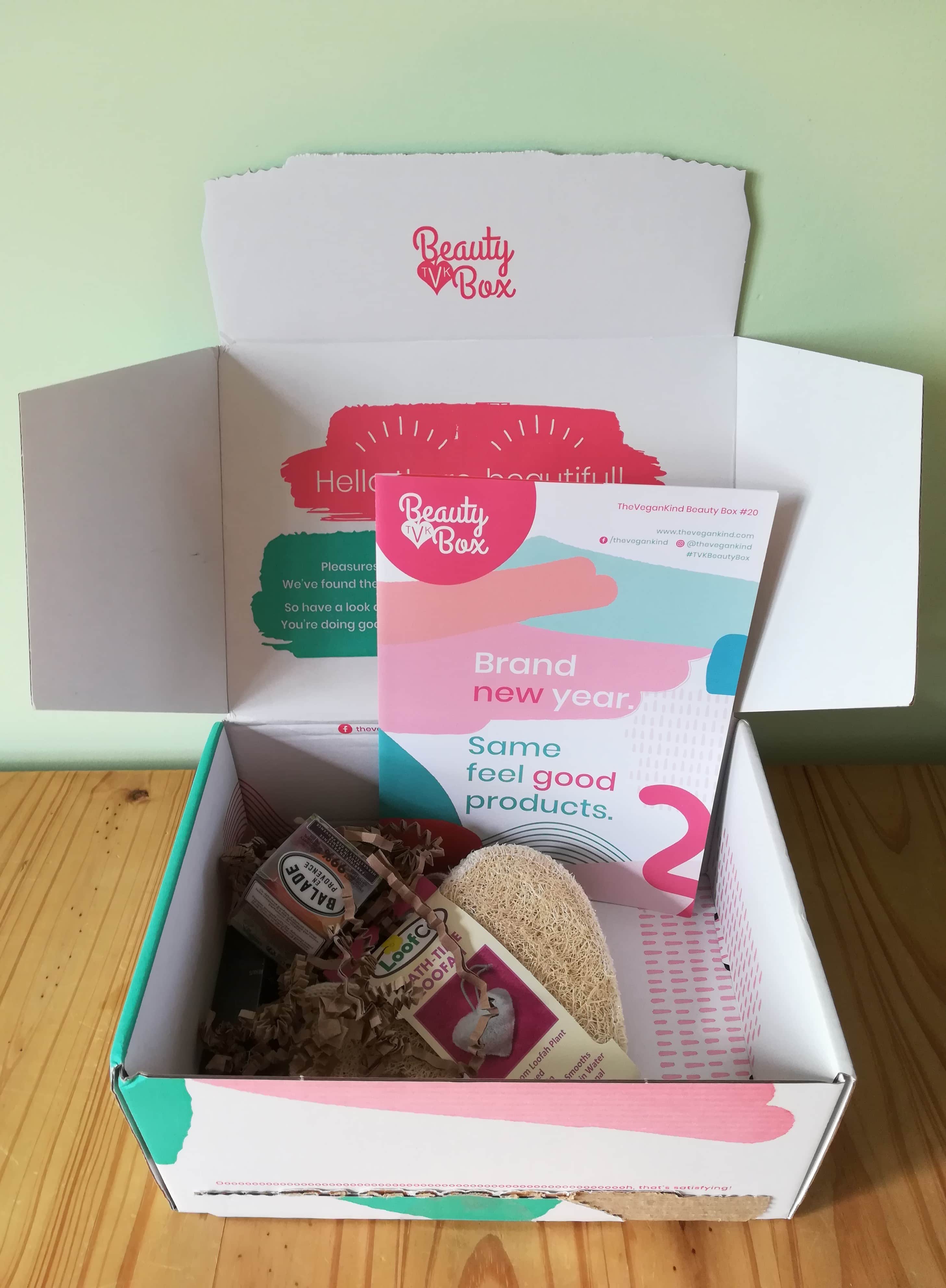 This quarter's TVK Beauty Box arrives in a sturdy little box styled out in pretty pastel colours.  A little bit of crinkle cut shredded paper keeps the contents safe.
DEAL: Get £5 off your first box! Use coupon code VEGAN.
This quarter's box features 5 products.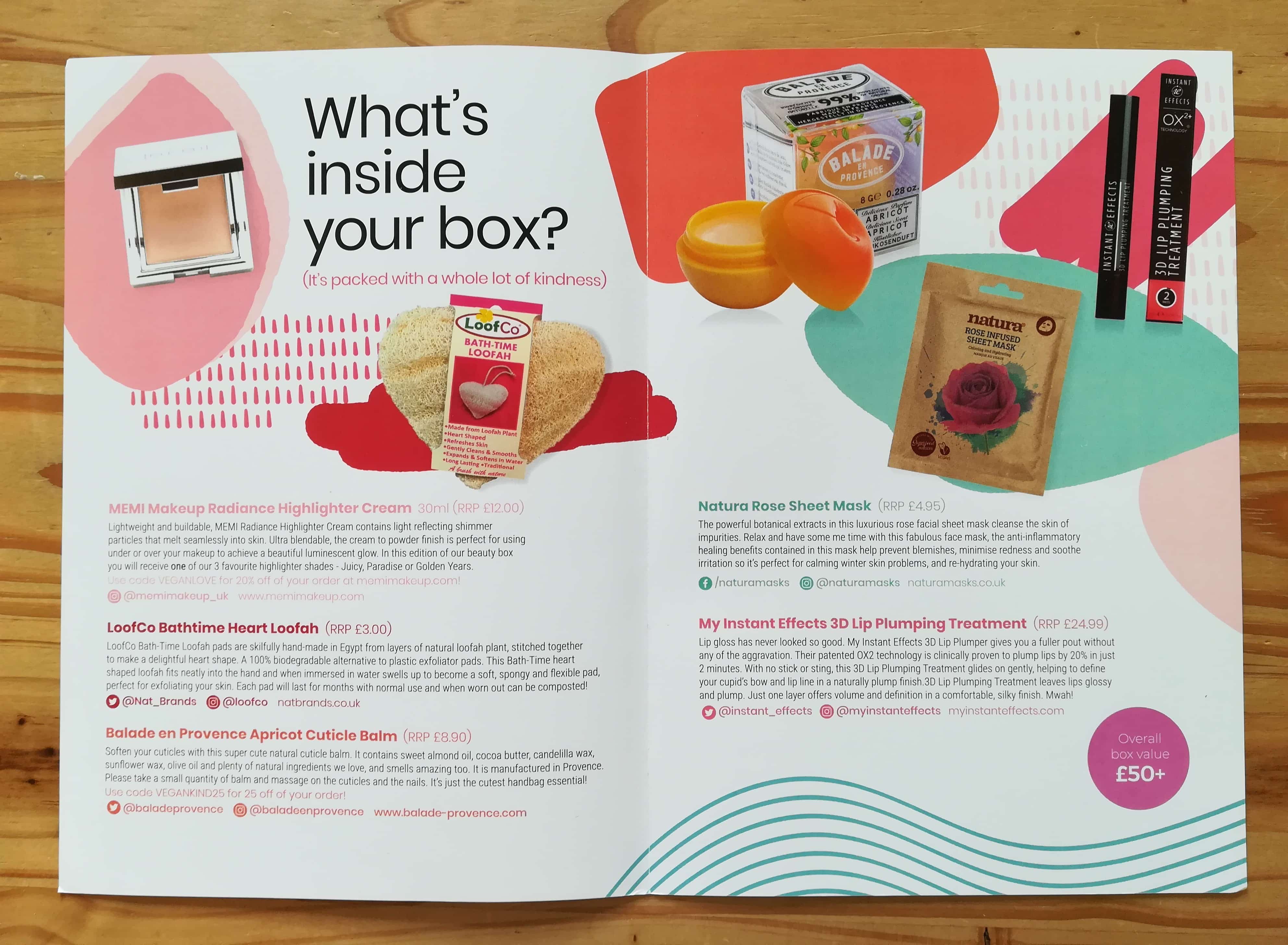 Details of each product are given in the What's Inside Your Box sheet.
The info sheet also includes a list of the top 8 animal-derived ingredients to avoid as determined by Ariane, a Certified Wellness Coach who runs the natural and organic beauty blog ftoxins along with her sister.  And as always, 20p from the sale of each beauty box goes to Animal Free Research UK which supports the development of techniques and procedures to replace the use of animals in biomedical research – a worthy cause indeed!
The first product is MEMI Makeup Radiance Highlighter Cream 30ml (RRP £12.00), which can be applied under or over makeup to add a gentle shimmer to skin. Each TVK box includes one of three shades; mine came with Juicy, which I initially thought would be too golden for my skin tone but actually blended really well.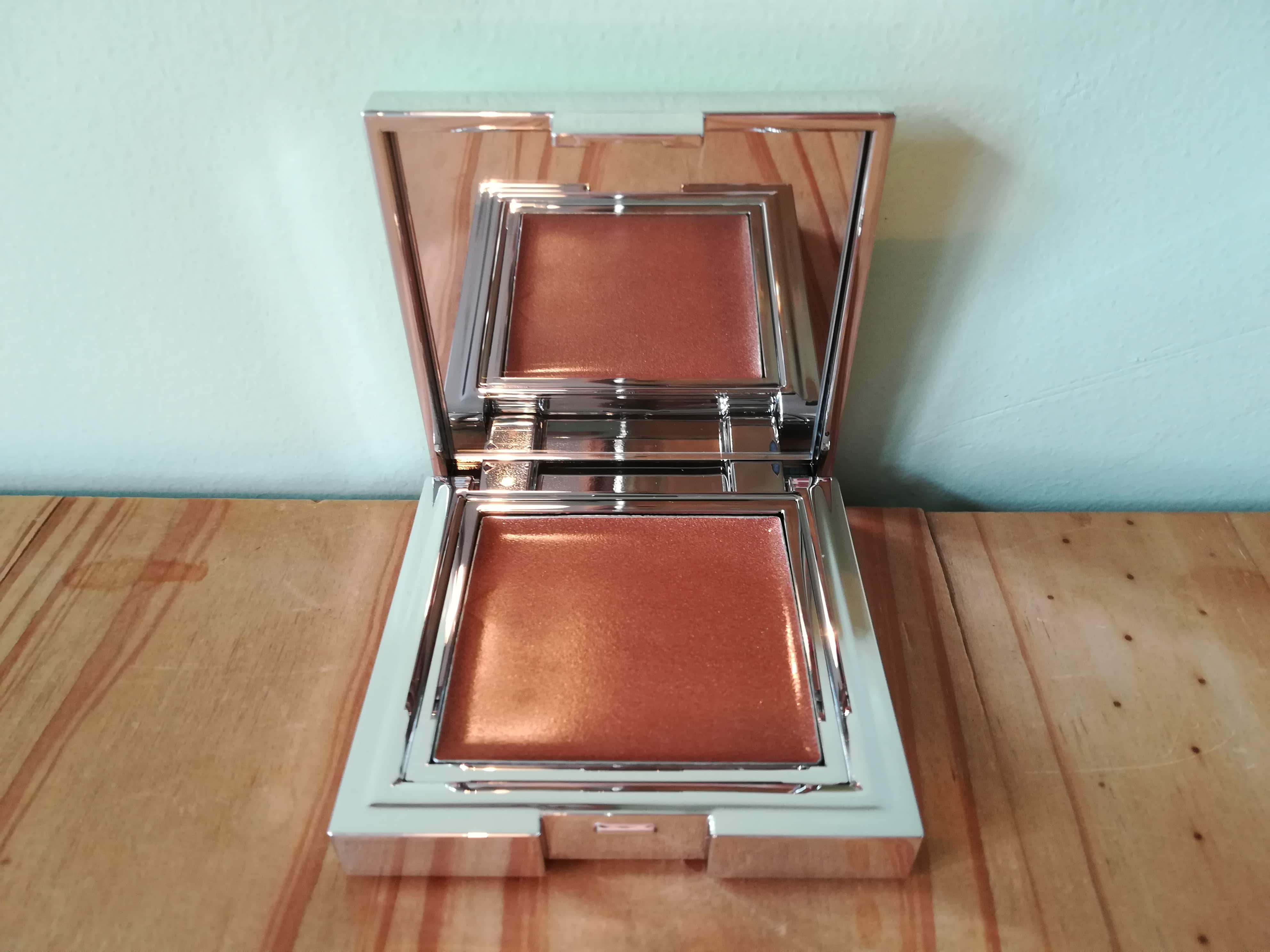 First impressions were that I love the smart looking reflective compact case with its handy mirror. I also appreciate that the cream doesn't get all over the mirror, or break up into bits, in the way powders can. The cream has a lovely velvety feel and it turns into a super lightweight powder as blended into the skin, leaving an even shimmery glow. This is one of the best shimmer highlighters I have tried, the cream to powder finish is fab and the shimmer effect is one of the prettiest I have seen.
LoofCo Bath-time Heart Loofah (RRP £3.00) is a heart shaped skin exfoliator pad made from loofah plant and cotton fibres and hand-stitched in Egypt. The plant based pad will last for months and is compostable, making it an earth friendly alternative to synthetic plastic exfoliators. The heart shape also looks just plain cute hanging in the shower! While the loofah does swell and soften when wet, I have found it to still be quite abrasive after a few uses.  Unfortunately it also doesn't produce as much foamy lather as synthetic sponges. I think the pad is a bit rough for everyday use, however it does a nice job of exfoliating and smoothing skin if you don't mind some scratchiness.
I was excited to see Balade en Provence Apricot Cuticle Balm (RRP £8.90) in this quarter's box. Balade en Provence's apple scented hand cream is one of my favourite products ever from a previous TVK box so I couldn't wait to try this.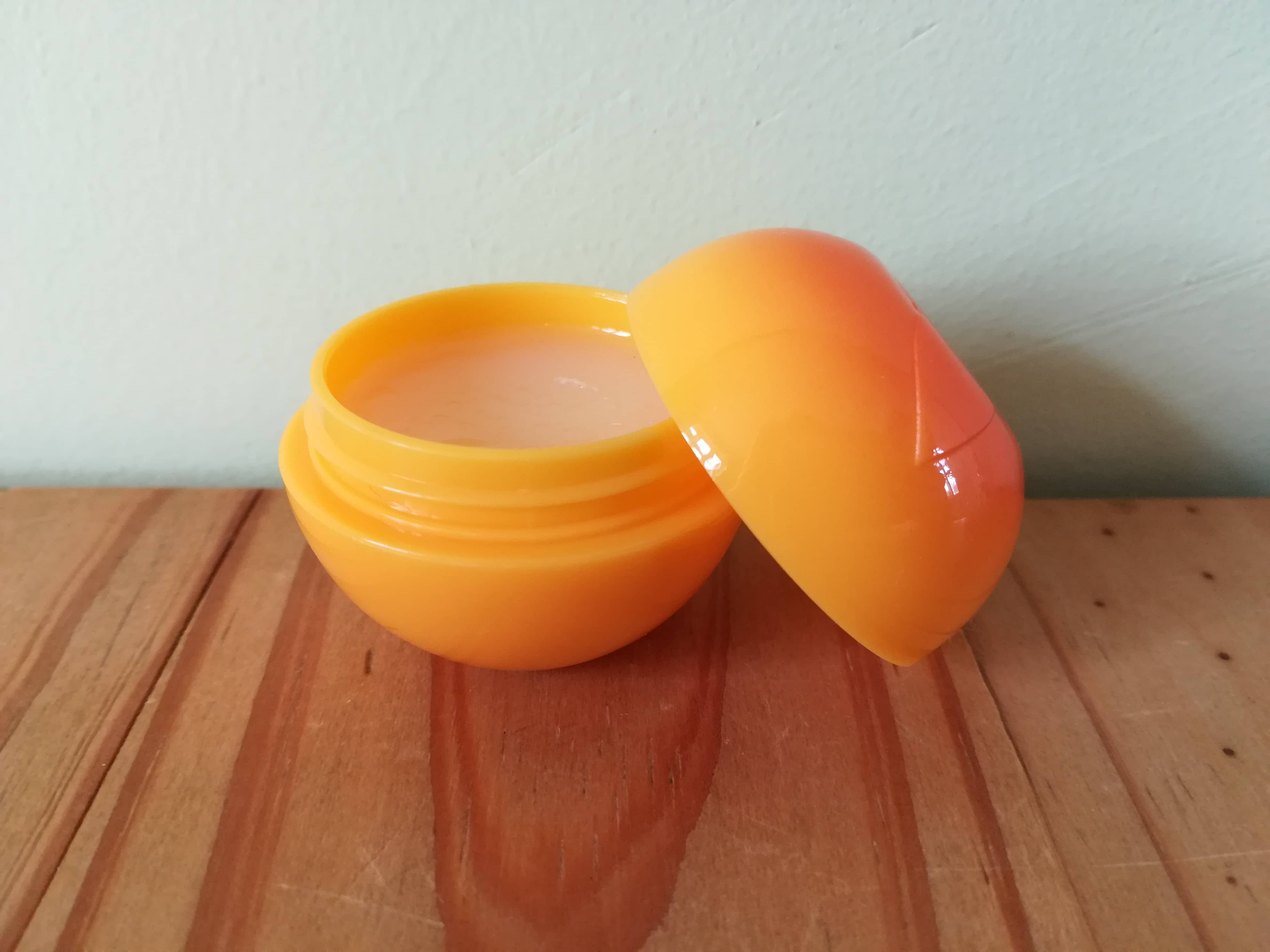 The little apricot container is adorable and the scent is just delicious.Made with sweet almond oil, cocoa butter, candelila wax, sunflower wax and olive oil, the balm is rich and silky and feels fantastic on nails and cuticles. This is a great product in appearance and performance.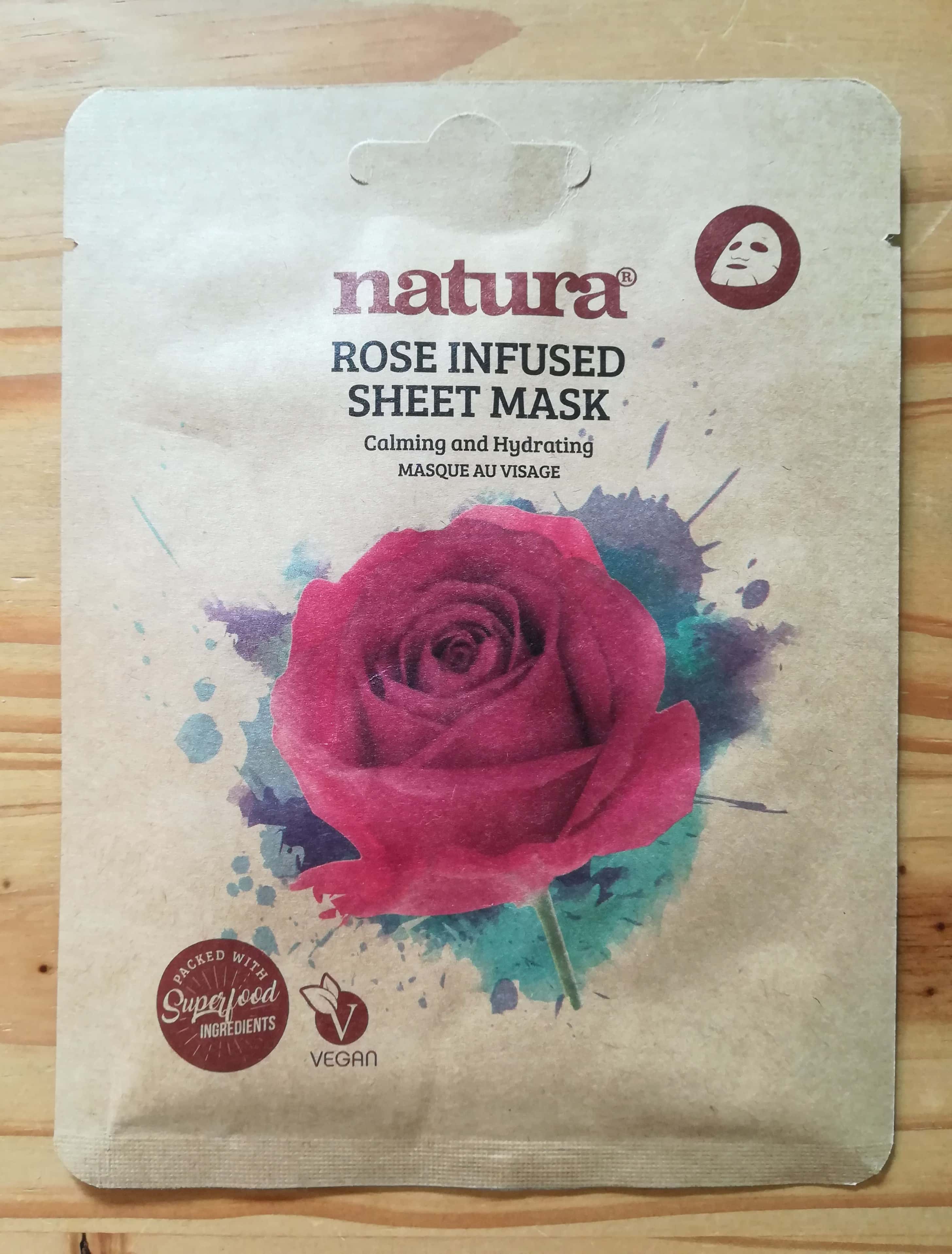 Natura Rose Sheet Mask (RRP £4.95) promises to calm irritation and hydrate skin through the healing properties of botanical extracts. I am not a fan of sheet masks in general – I find them uncomfortable and they make me feel weirdly claustrophobic. However, the wonderful rose scent of this mask made it one of my more enjoyable sheet mask experiences. While I didn't notice any marked improvement in my skin, I also didn't suffer any irritation. If you are a fan of sheet masks, I think this one is worth a go for the gorgeous scent alone.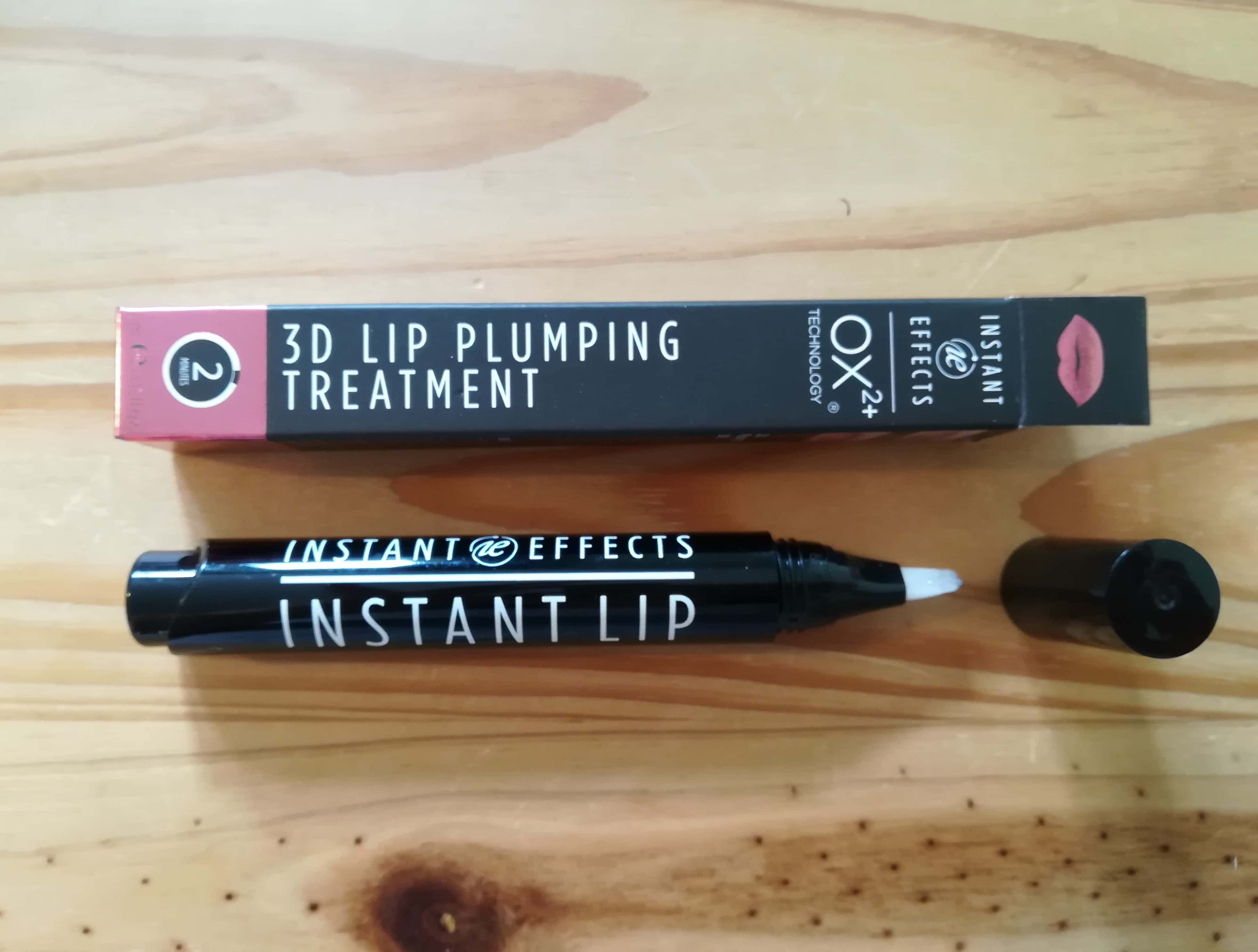 My Instant Effects 3D Lip Plumping Treatment (RRP £24.99) promises to plump lips by 20% by infusing lips with oxygen using something called OX2+ Oxygen Transfer technology and Hyaluronic Acid spheres.  While I can't speak to the efficacy of the 'patented technology', in my experience this product did make my lips feel fuller after each application, and I also liked the brush applicator tip. The downside is that the product is alittle pricey and I wouldn't say that the effects last for four days as the packaging claims. Overall, this is a reasonable means of getting plumper lips without taking any drastic measures.
I always love trying out the products in TheVeganKind Beauty Box.  As usual, there is a mix of products for pampering and fitting a range of different beauty routines. My favourites this quarter were the Balade en Provence Apricot Cuticle Balmand the MEMI Makeup Radiance Highlighter Cream.  This subscription box is a great value and I highly recommend it for vegans and non-vegans alike.
What do you think of this month's The Vegan Kind Beauty Box?
Visit The VeganKind Beauty Box to subscribe or find out more!