The Introverted Chick is a monthly subscription box for those of us who may be a little more inclined to stay home and keep cozy rather than go out and interact with others. Items sent will include fun and practical items to make Introverted Women smile and may offer some attitude too. The Introverted Chick is $39.99 a month and a portion of proceeds are donated to charitable causes.
Fun gifts and neat finds…accessories, home goods, jewelry, treats, tech tools, stationery supplies, and MORE!
Each box includes 5-7 cool, interesting, usable items.
Beautifully and thoughtfully created – makes the perfect gift!
DEAL: Save 10% on your first purchase with coupon code HELLO10.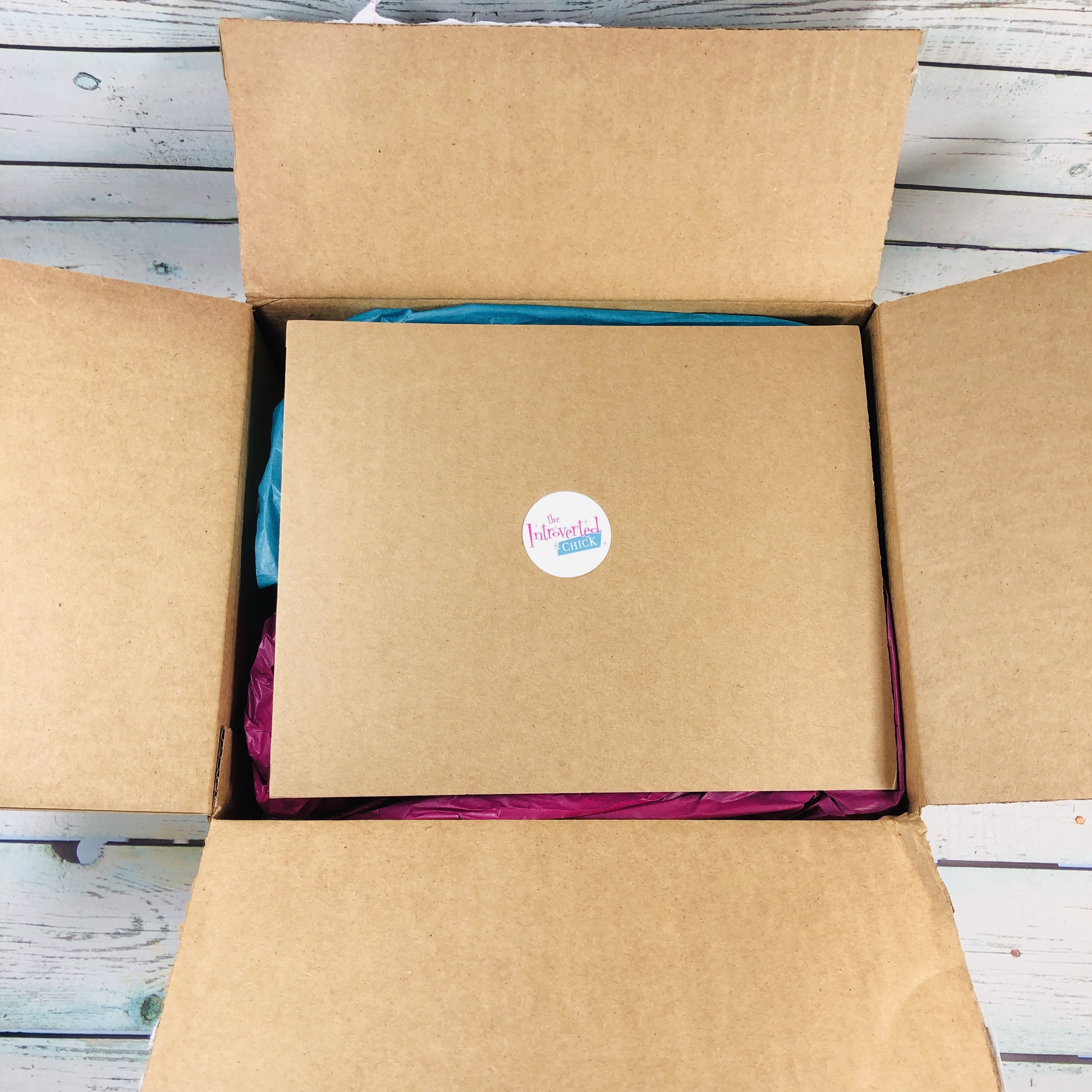 I found a piece of cardboard on top. I flipped it over…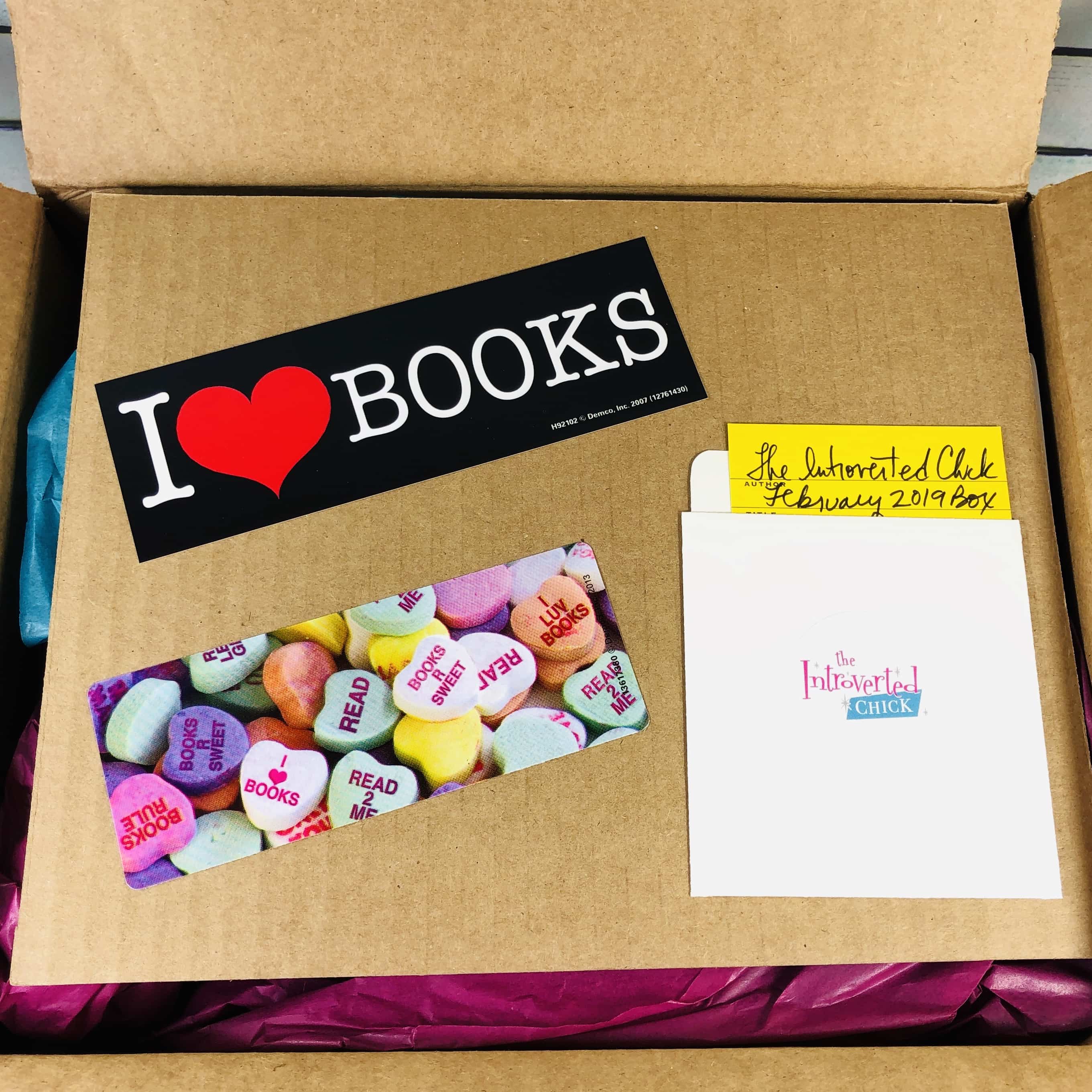 …and found some bookmarks!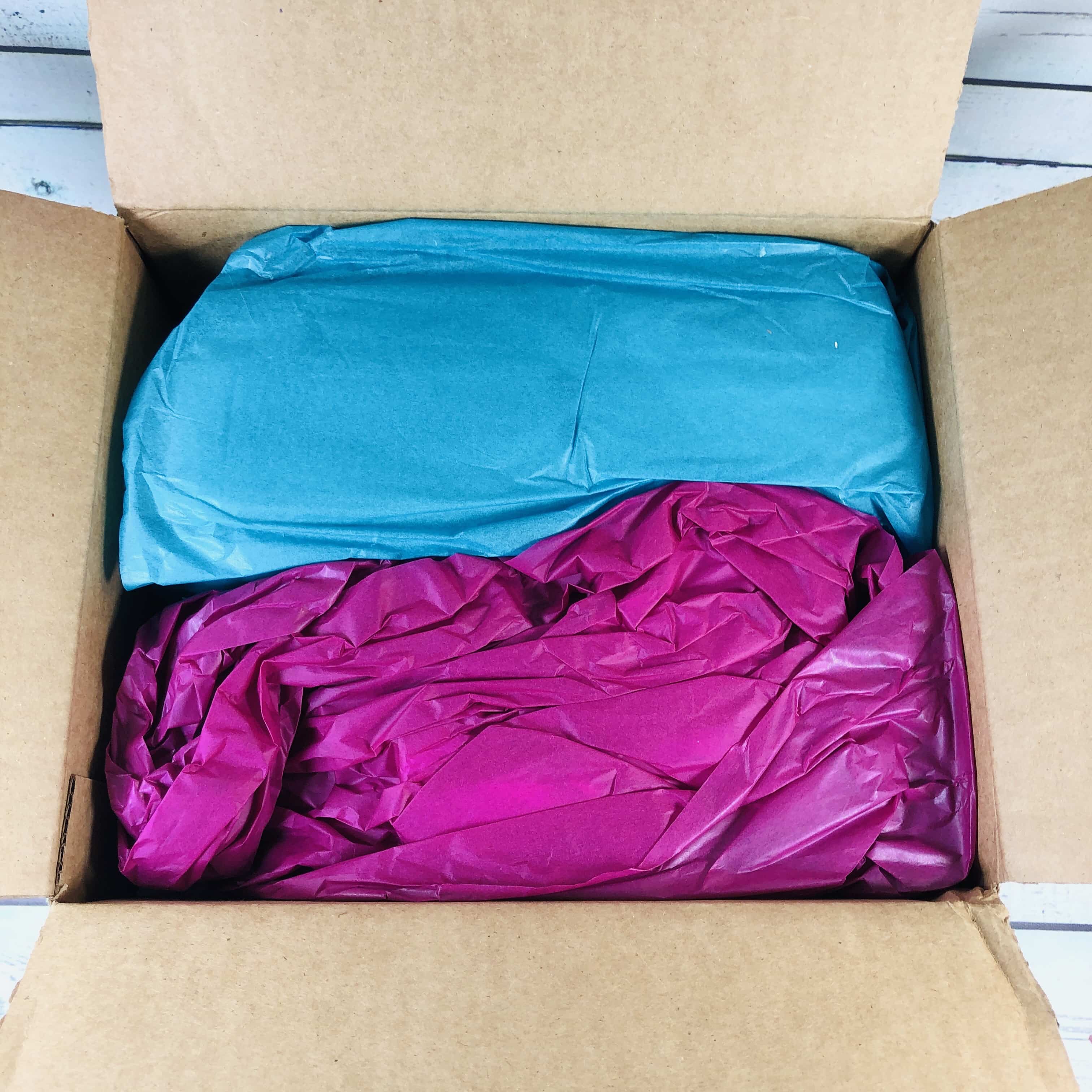 My items were covered in tissue paper.
I found a brochure with all of the products and their makers listed inside.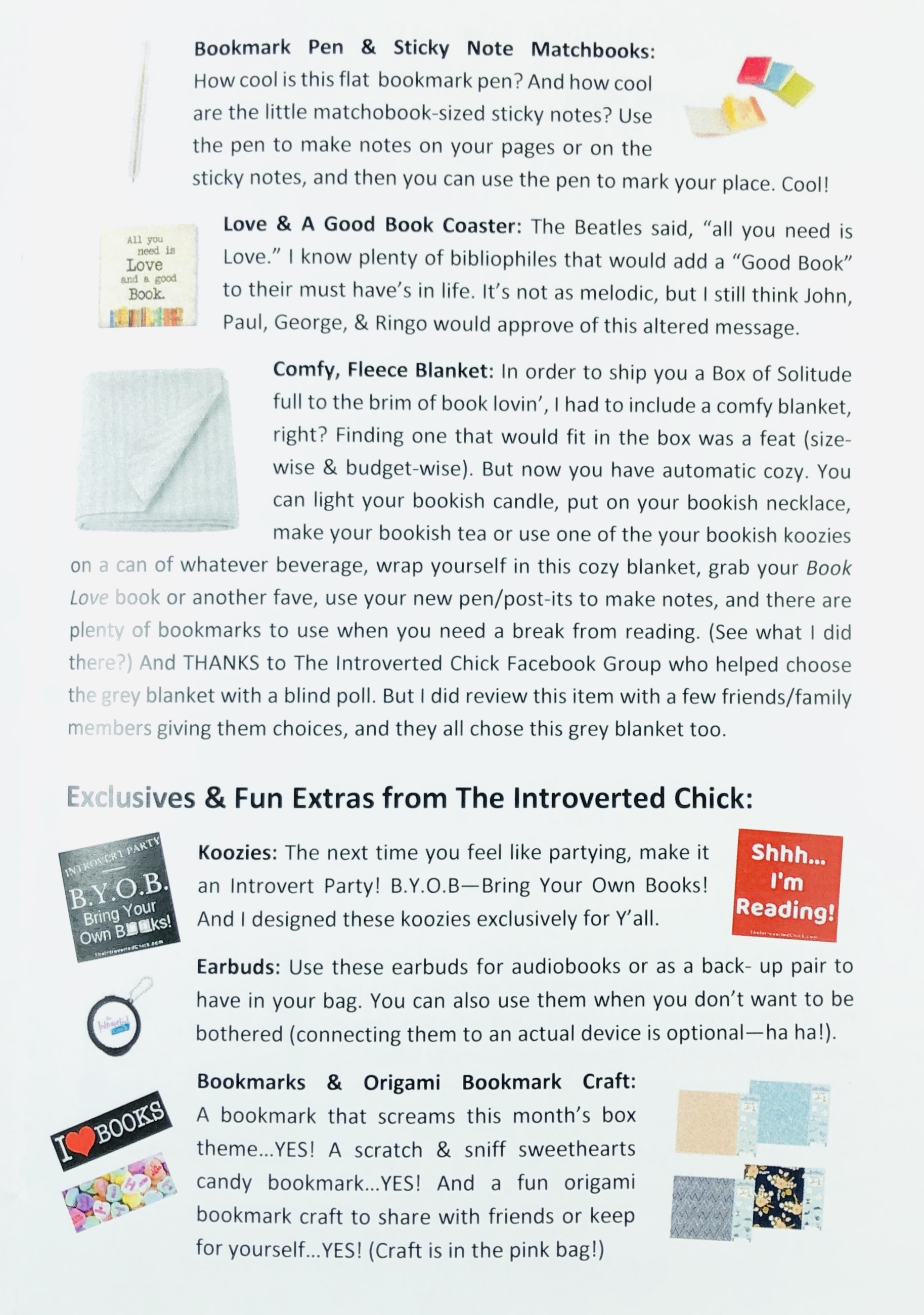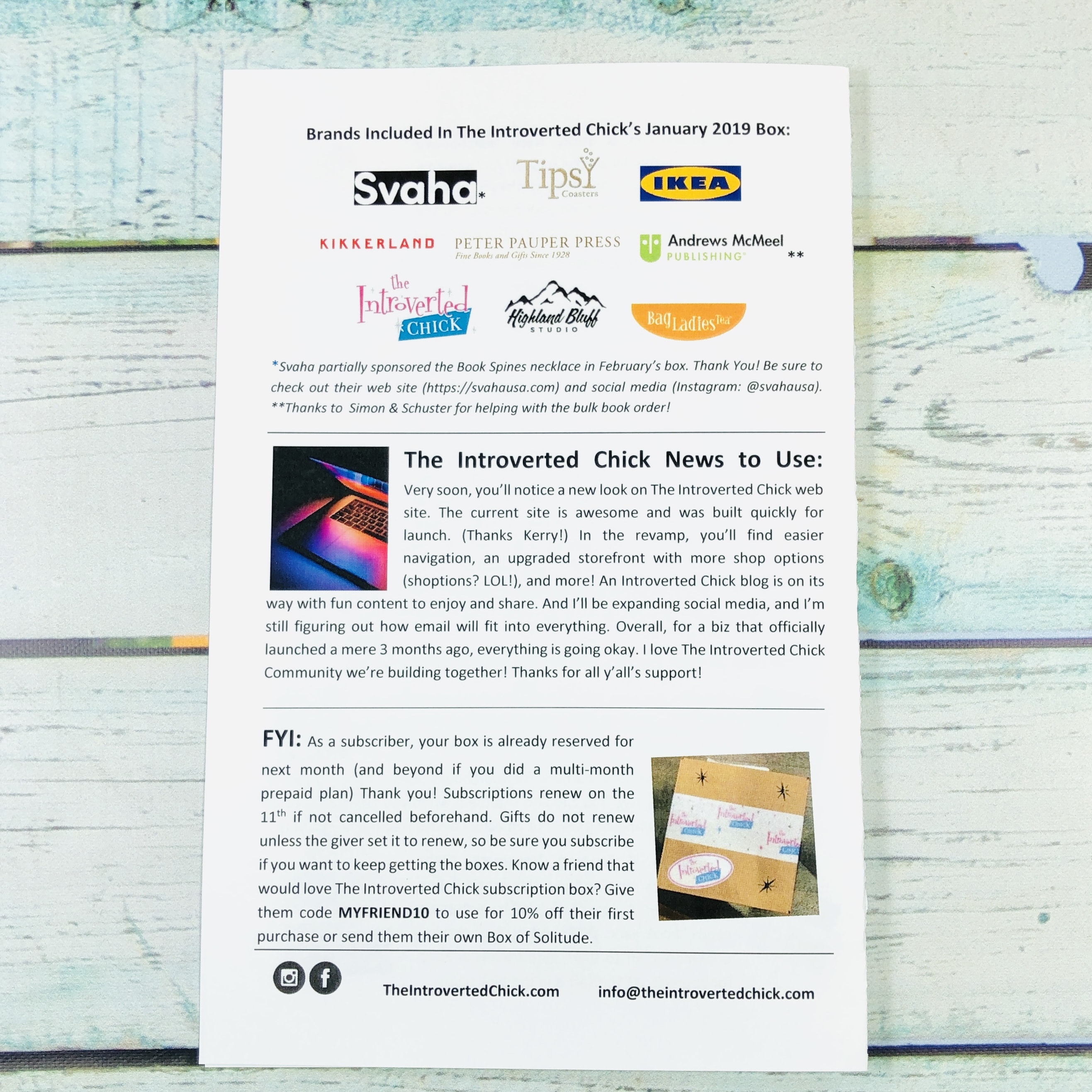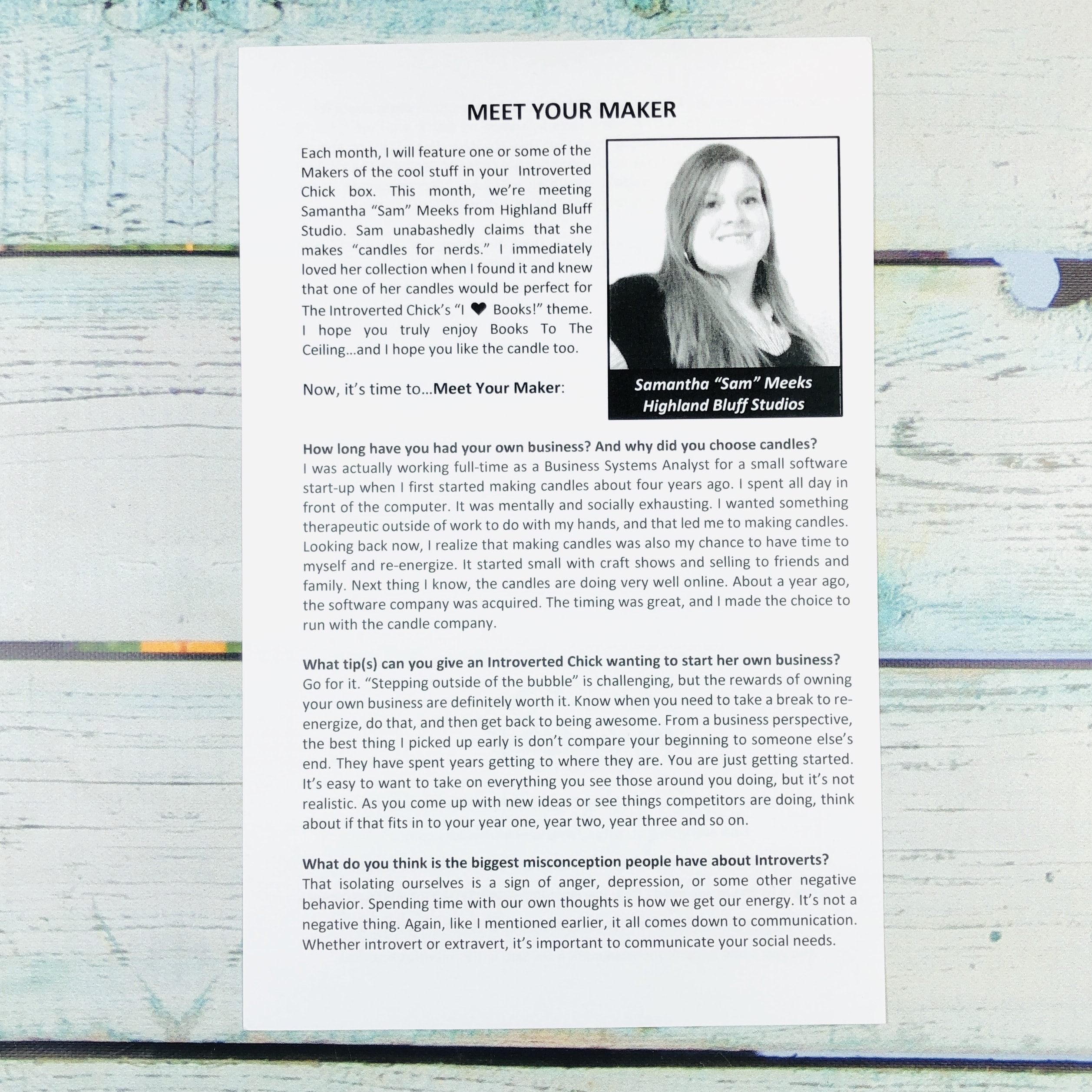 One more insert about one of the featured artisans from this month's box.
There was a coupon code for this particular brand too.
Finally, a thank you card!
Some of the items were wrapped separately, which makes it feel a little like opening a gift.

There were several pages of books listed. Sarah, the box owner, asked for suggestions and printed them up so if you're looking for a new book to read, just check the list!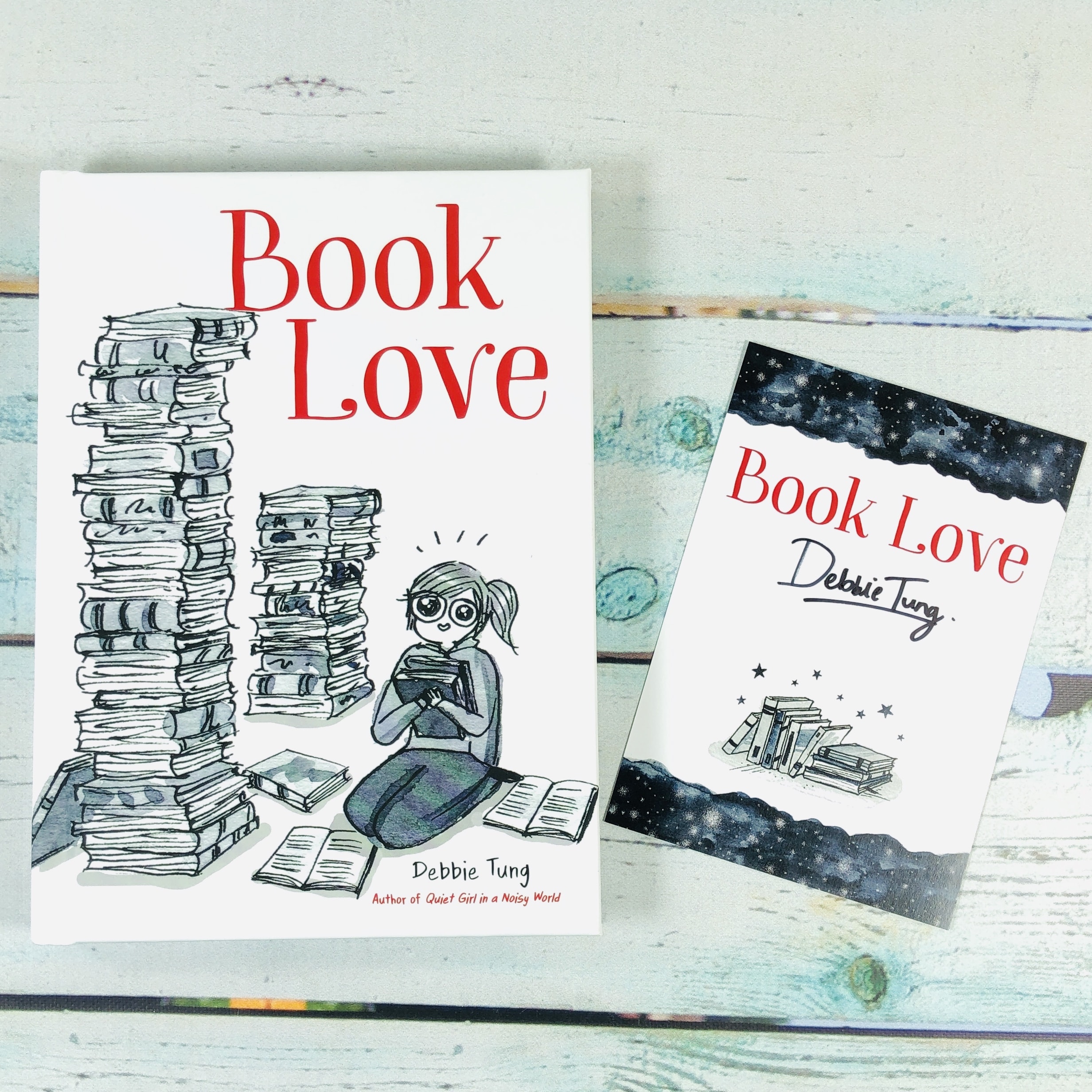 Book Love by Debbie Tung (List Price $14.99, now $10.49) included a signed bookplate by the author. It has cute little comics about the life of a book lover.
Bookworms rejoice! These charming comics capture exactly what it feels like to be head-over-heels for hardcovers. And paperbacks! And ebooks! And bookstores! And libraries!

Book Love is a gift book of comics tailor-made for tea-sipping, spine-sniffing, book-hoarding bibliophiles. Debbie Tung's comics are humorous and instantly recognizable—making readers laugh while precisely conveying the thoughts and habits of book nerds. Book Love is the ideal gift to let a book lover know they're understood and appreciated.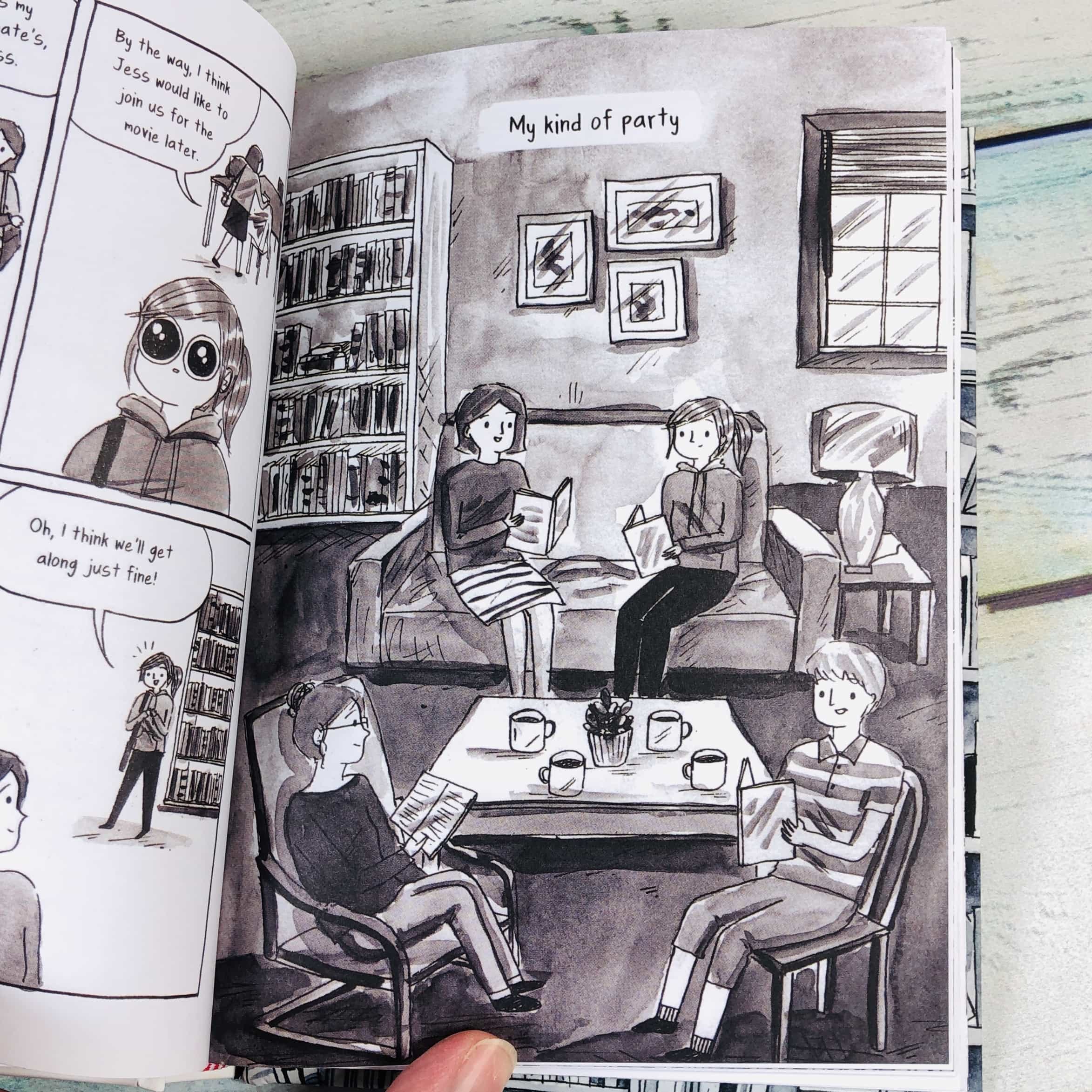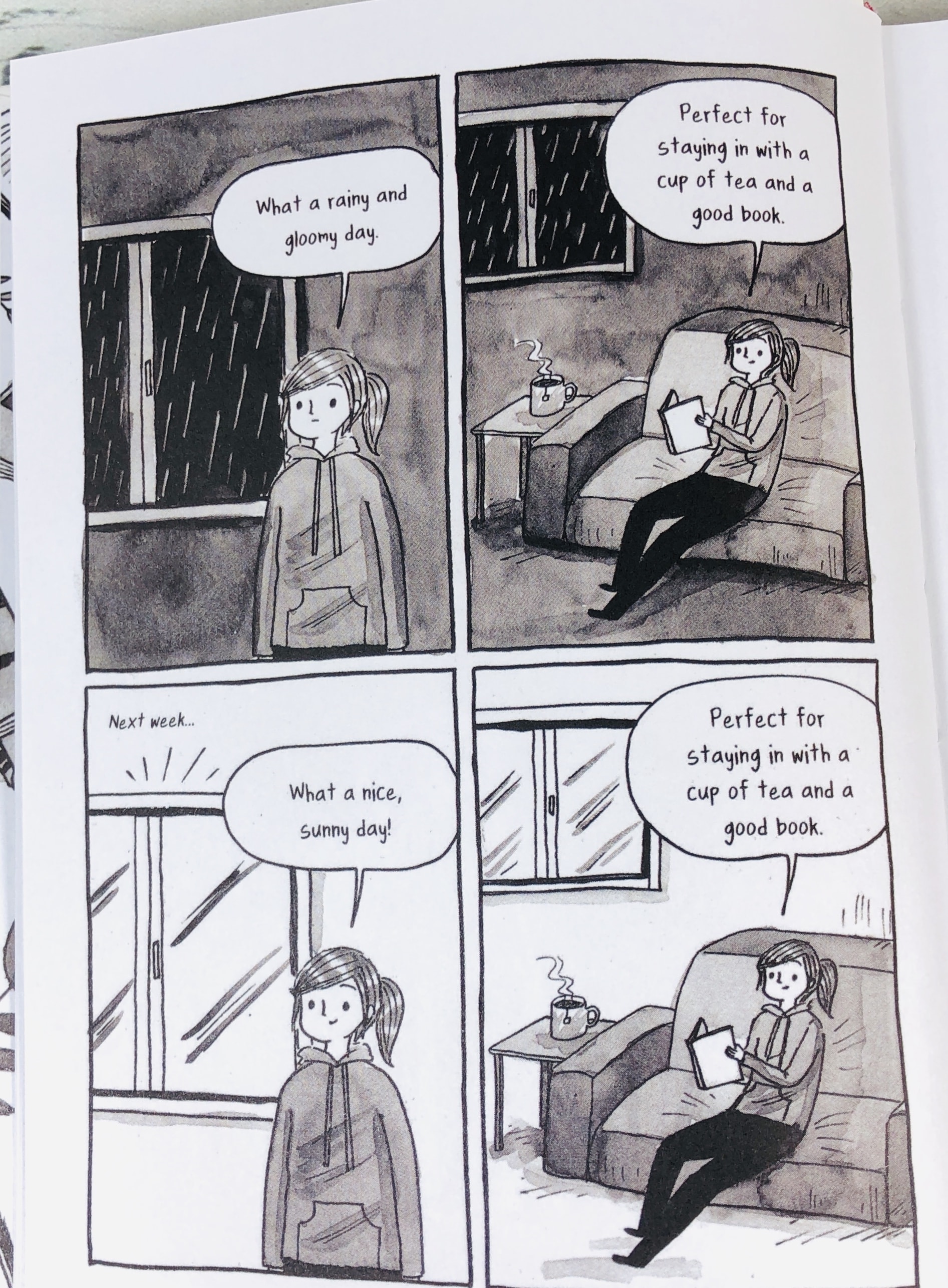 There were a couple of can Koozies thrown in.
Tipsy Coasters Love & A Good Book Coaster ($8) is made of natural limestone that is supposed to absorb condensation but I haven't tested it out yet since it is still cold and my drinks have been hot! EDIT: I bought a frozen frappe drink and set it on the stone and it worked just as it was supposed too!
The back has cork to protect tables and keep the stone from sliding.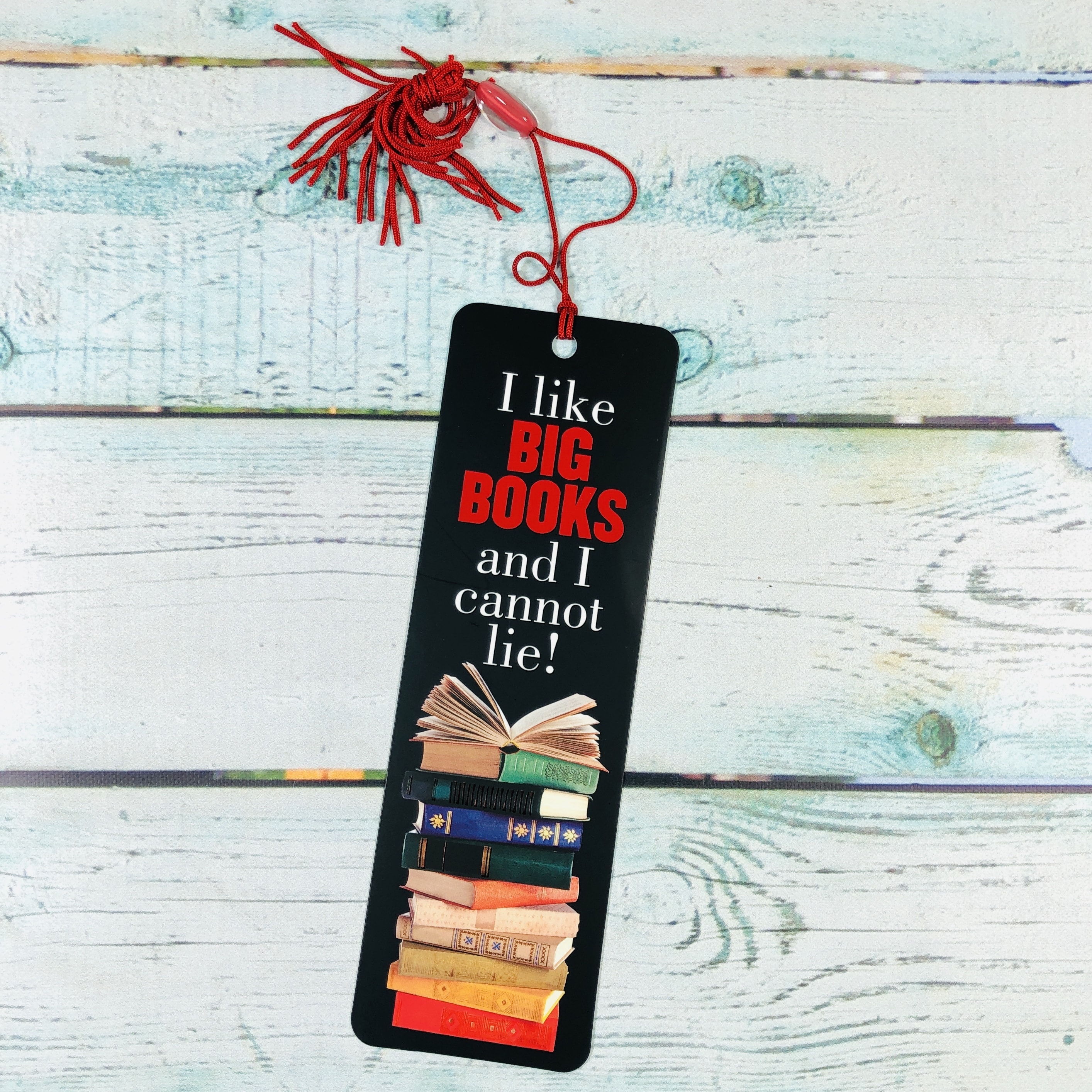 I Like Big Books Beaded Bookmark ($2.95) I don't know about you but I can't help but sing whenever I see this bookmark. All you other readers can't deny!
The back serves as a ruler in a pinch. It is made of sturdy cardstock with glossy accents.
Highland Bluff Studio Books To The Ceiling Candle ($9) is made of soy wax and should burn for 20-25 hours.
The scent is supposed to evoke "paper, ink, and history" and is strong whether cold or when burning. I am not a fan of the scent, it reminds me of something but I can't say what, but it is maybe old-fashioned? Like something one would burn in a powder room? Maybe it smells like musty old books.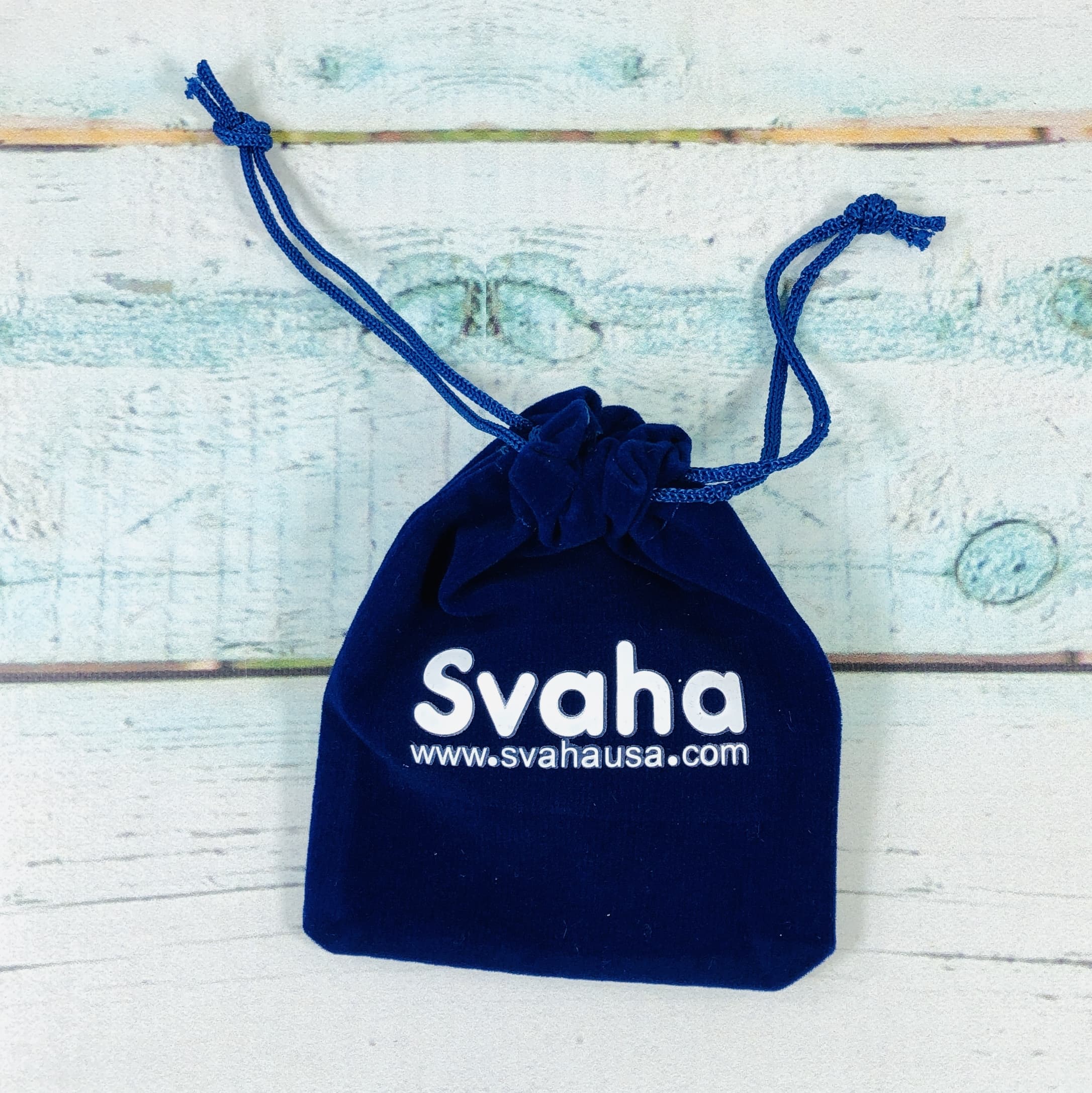 Svaha Book Spines Necklace ($19.99) The Svaha website has some pretty cool science jewelry, like necklaces of a caffeine molecule, anatomical heart, and EKG heartbeat reading!
This particular necklace features book spines and the orb is 1″ across. The chain measures 20″ from one end to the other and the closure is a lobster claw clasp.
It looks almost 3D and I think it is very cool and unique.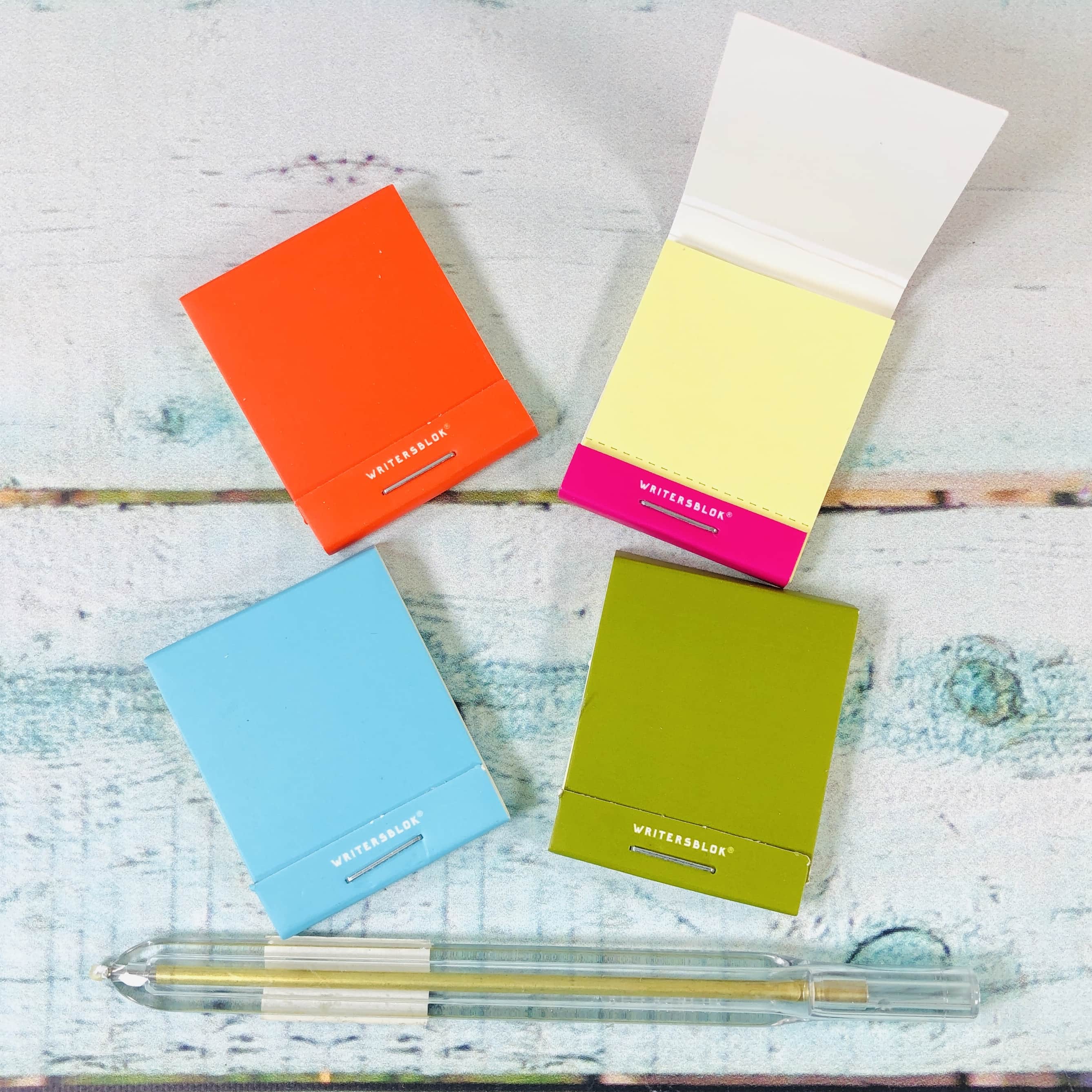 Kikkerland Bookmark Pen & Sticky Note Matchbooks ($3 for pen, $2 for notes) The notes are very tiny in these matchbooks, but they are perfect to carry in a purse in case you need one in a pinch. The pen is flat and writes well, but it wouldn't be very comfortable for writing a long note, plus there's no way to cover the writing tip. It is about the size of an old-school thermometer.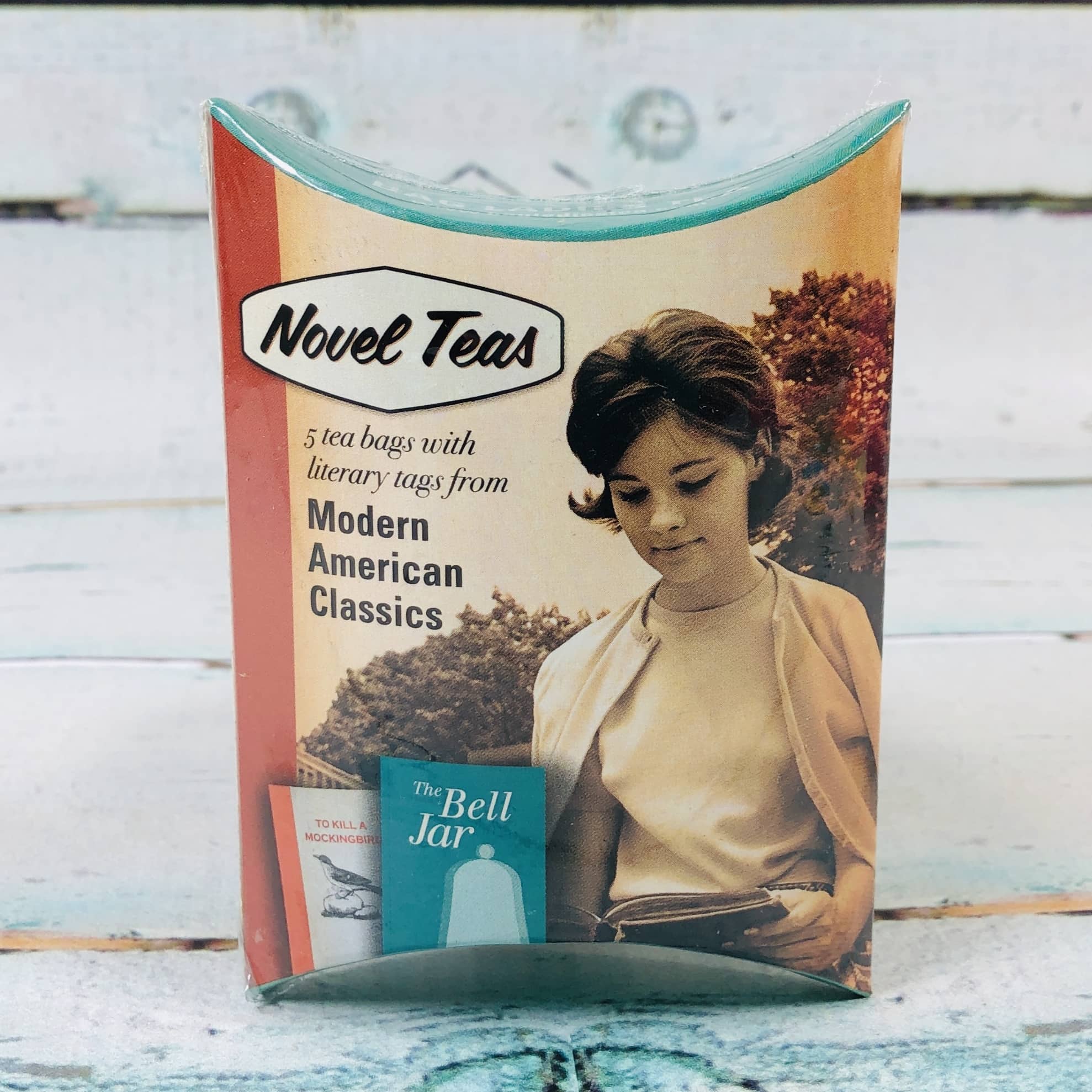 Bag Ladies Tea Novel Teas ($2.50) Oh this is cute!
It is a set of 5 black teabags with book quotes on the tags.
Serve them up at your next book club meeting, or just drink them alone as you curl up with a good book. Filled with basic black tea, it tastes pretty good. I added milk and sugar to mine.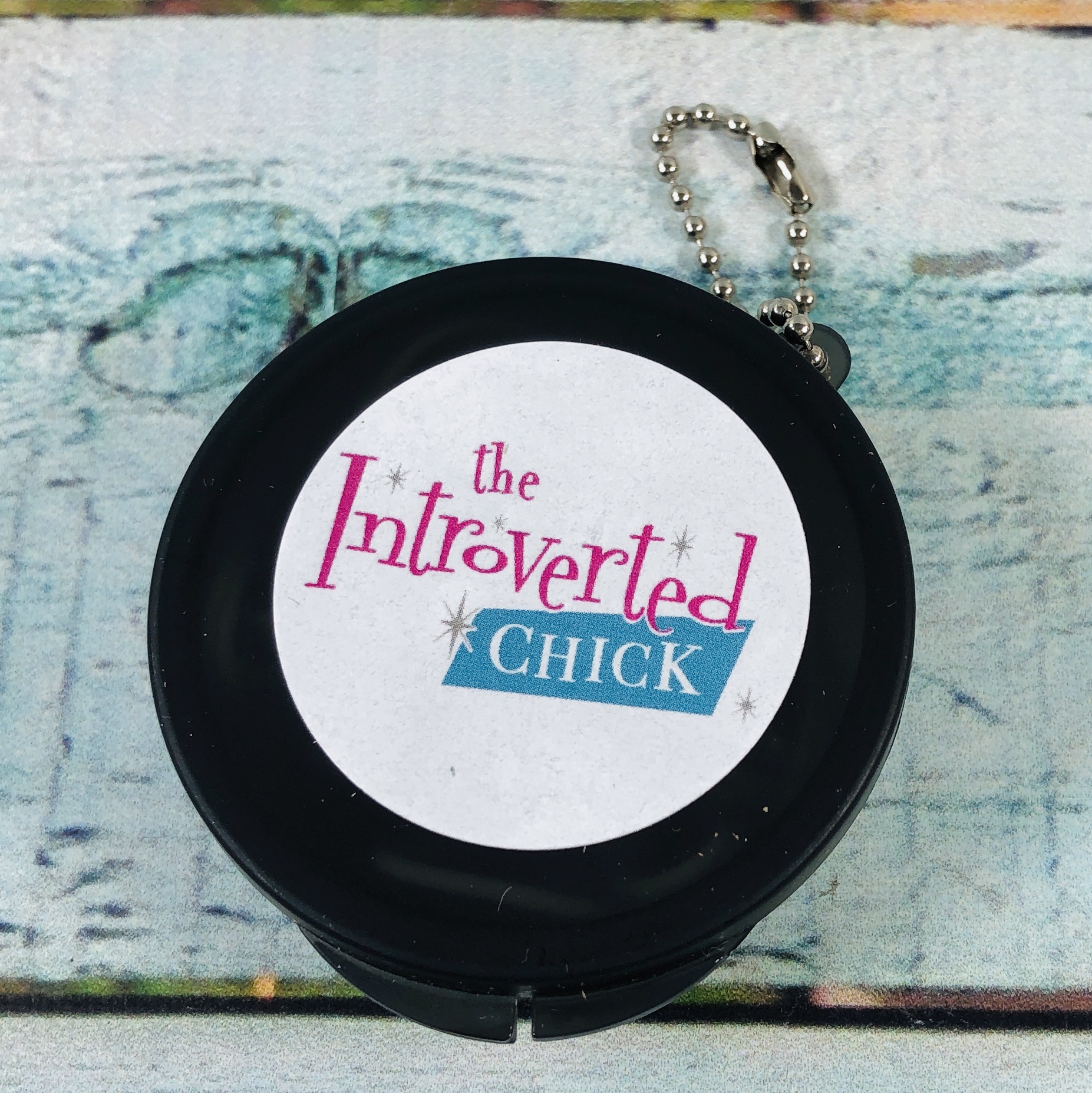 Earbuds and Holder Here is another bonus item. It is a holder for earbuds.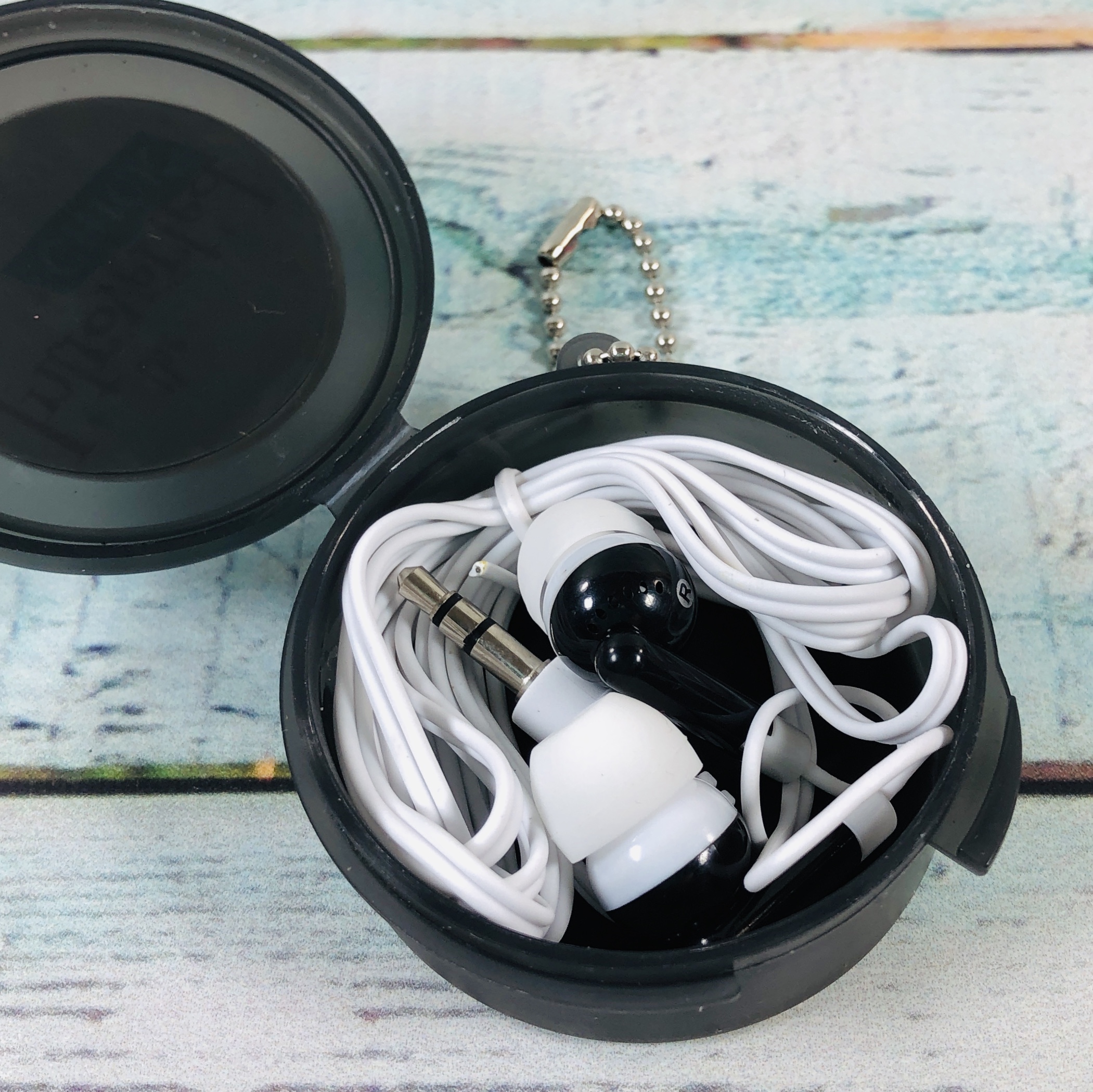 It even came with earbuds! My daughter breaks earbuds all the time so I will pass these along to her. Maybe having a carrier will help them last longer.
Ikea Vitmossa Throw ($2.49) is made of polyester fleece and can be thrown in the wash when it gets covered with cat hair. My cats love to cuddle on my lap when there is a blanket there, and I prefer one that is easy-care.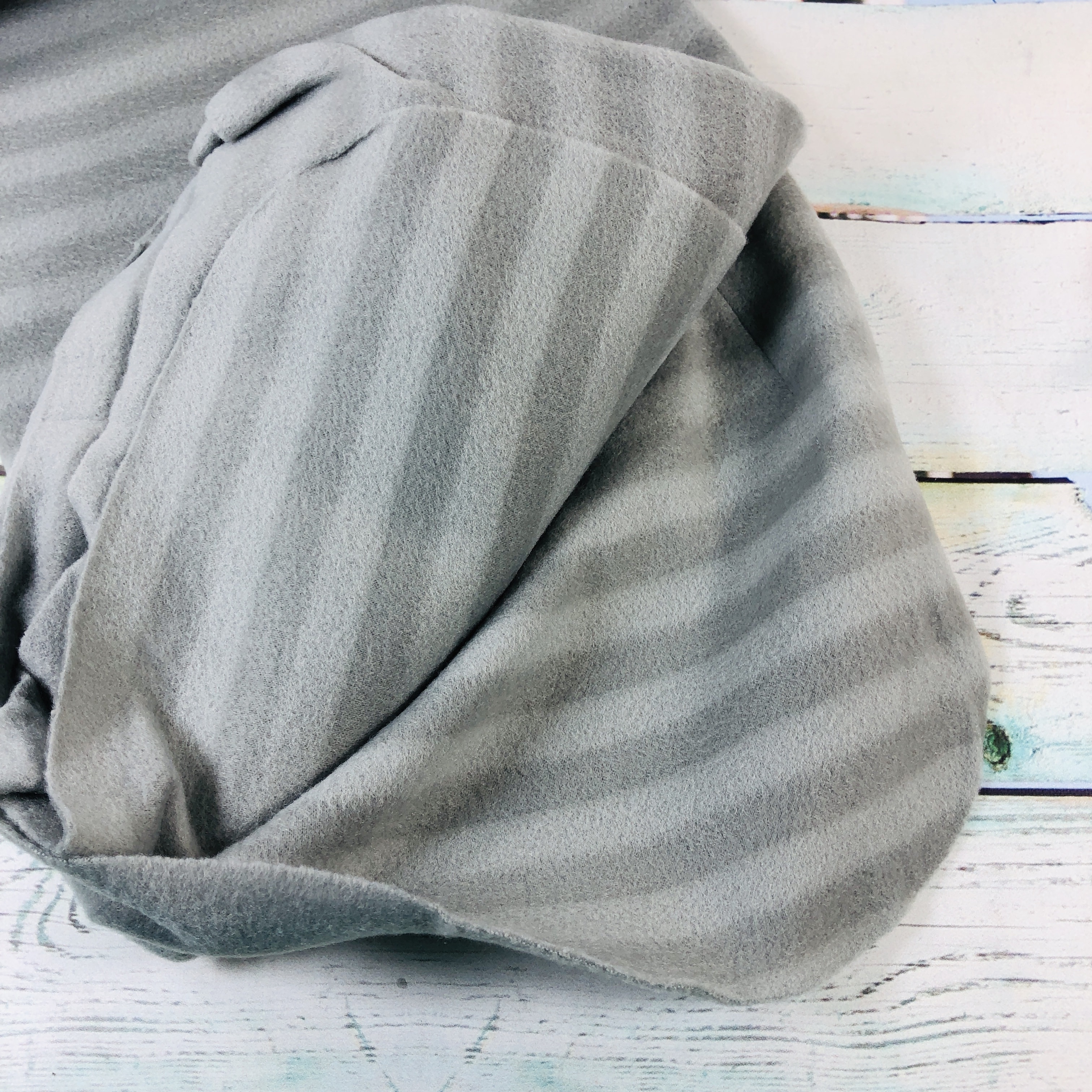 It has grey stripes and is 47″ x 63″.
There is always a pink plastic bag so you can place an item inside that isn't your taste and gift it to a friend. Make sure to check out the inside this month because there was…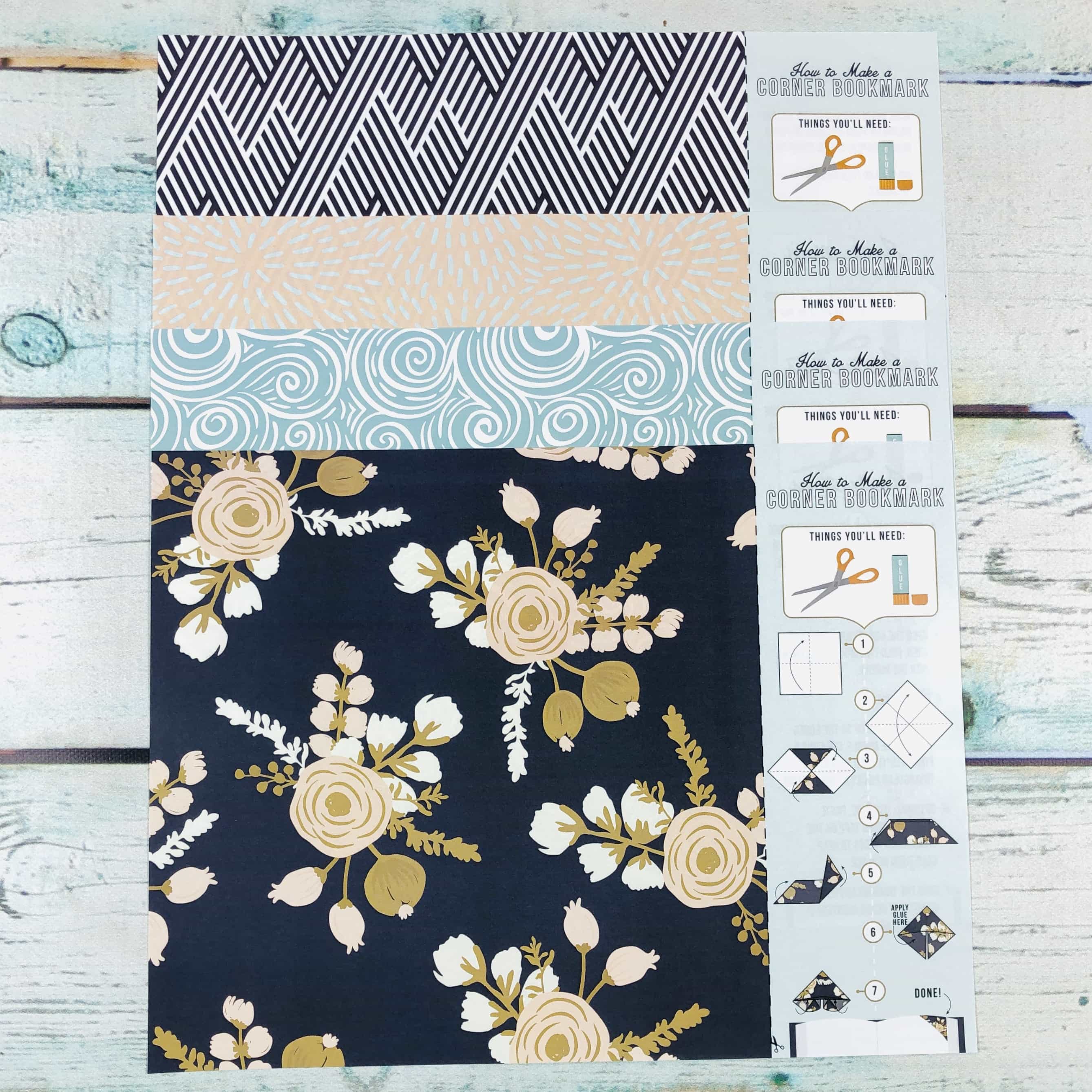 …a set of 4 Demco Origami Paper Corner Bookmarks (60¢)! Just follow the directions on the side of the paper. I like that this is a craft plus I have something useful when I'm finished.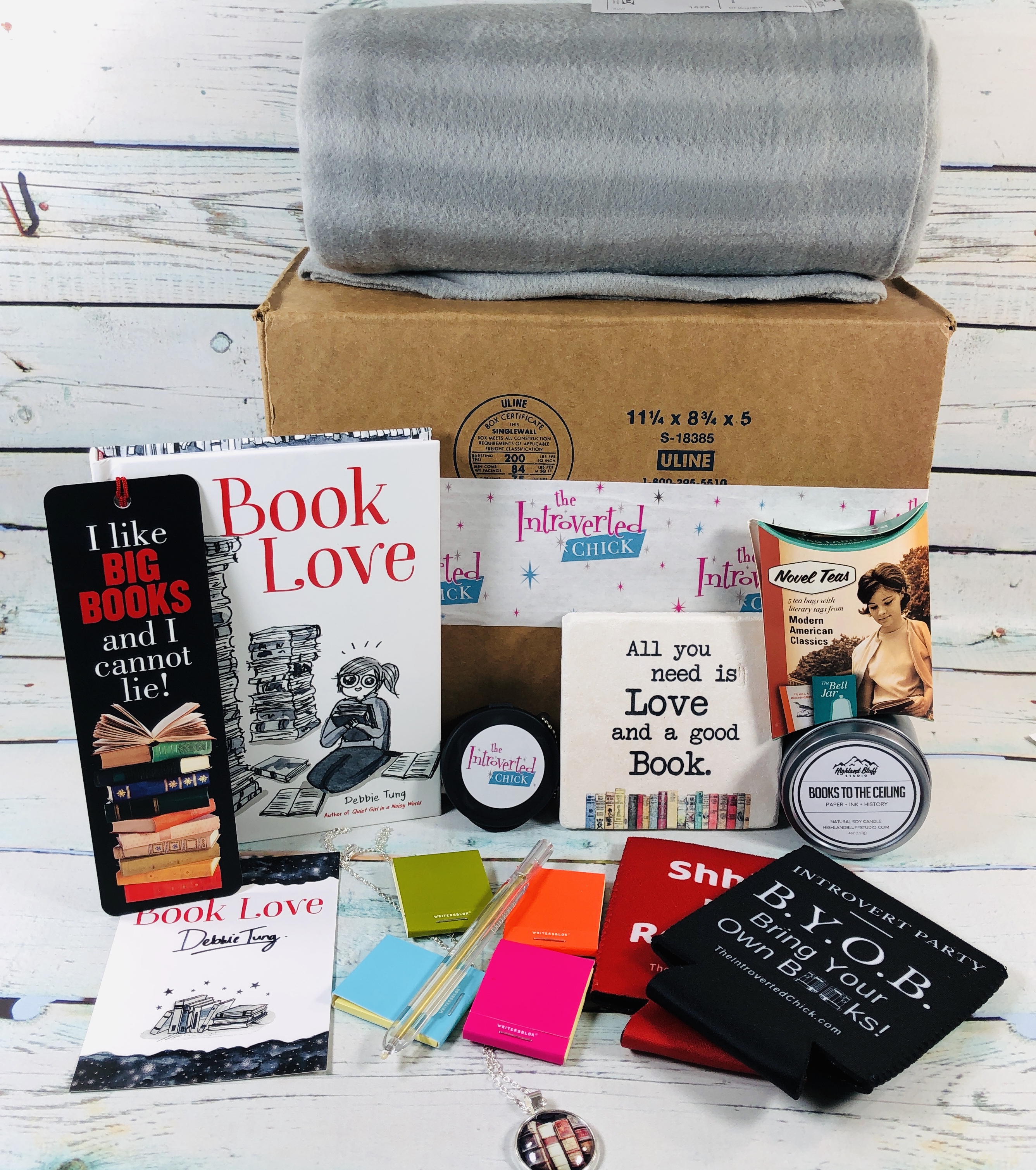 I thought the theme for the February Introverted Chick Box was cute – I am definitely a reader! I liked that it had items to help my reading time feel cozy, like a blanket, candle, and tea. The necklace is adorable, and I may pass it on to my daughter, who not only reads a lot but who also volunteers at the local library (she also gets the earbuds). I have placed the coaster near my spot, and the main bookmark is now in my current read (The Death of Mrs. Westaway) and the tea is almost gone. The value for the items that I could find and that have links was around $61.02, and the other items I considered extras. Considering that the sub is $39.99 a month, I think that's a really good value!
What do you think of The Introverted Chick box?