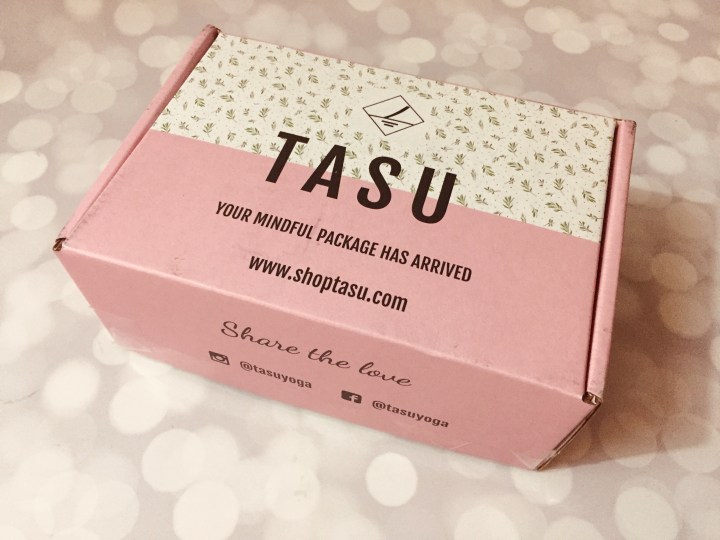 Tasu is a Canadian yoga and wellness subscription box. Every month, you will receive 4-6 products handmade and curated by Tasu. These products will range from clean and non-toxic skin care, aromatherapy, tea, yoga jewelry, healthy snacks, books, essential oils to yoga accessories to support and enhance your wellness lifestyle. The box is CAD $36 with CAD$8 Shipping for both Canada and the US.
DEAL: Get 10% off your first box! Use coupon code HSB10.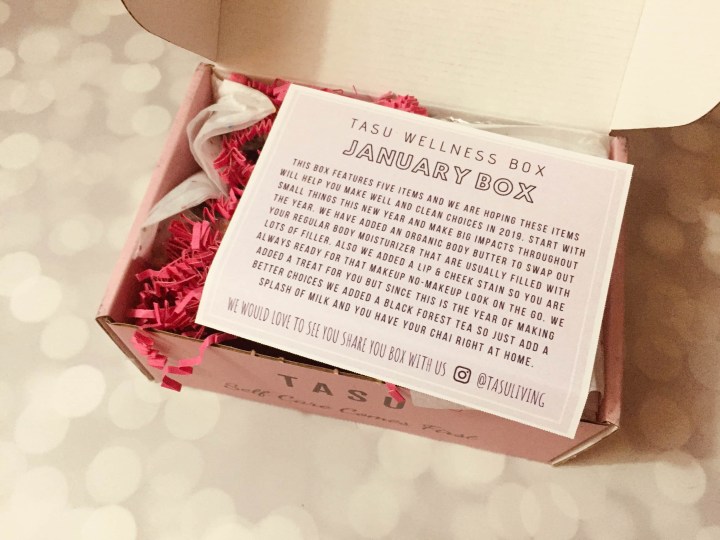 This is the January box, which has a Wellness theme.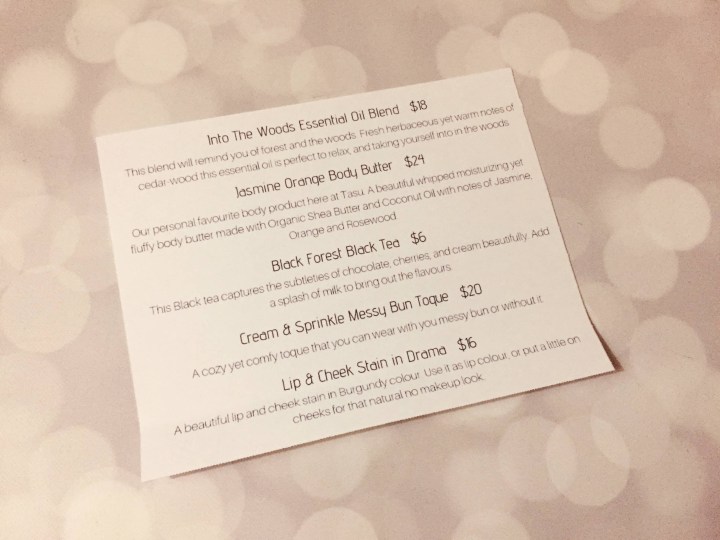 The information card lists everything included, as well as retail prices in Canadian dollars. Sometimes the items are available for sale separately in Tasu's shop!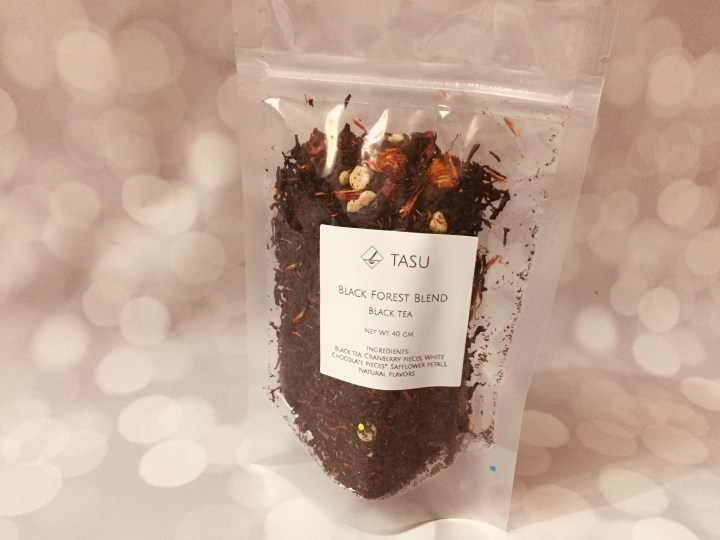 Black Forest Tea Blend — This arrived shortly after I had gone through a black forest cake phase, which I thought was funny. This is definitely a guilt-free version! It's a black tea with cranberry, little white chocolate pieces, and natural flavours. It does smell like cherry! The taste when brewed is a bit more subtle, and next time I'll go a bit easier on the cream to give it more of a chance. Super yummy, though, and perfect for a cold day.
Jasmine Orange Body Butter — I love Tasu's body butters because they're all safe ingredients without any nasties. The base is coconut oil and shea butter, which can be a bit greasy so my tip is to use less than what you think you need, as the heat of your hands really helps melt and spread it evenly on your skin. The jasmine and orange scent is absolutely decadent, and isn't an overpowering fragrance. I love using a body butter like this after a bath or shower to seal in the moisture, and it makes a big difference in winter. It's also great for using on your feet before putting on some big fuzzy socks!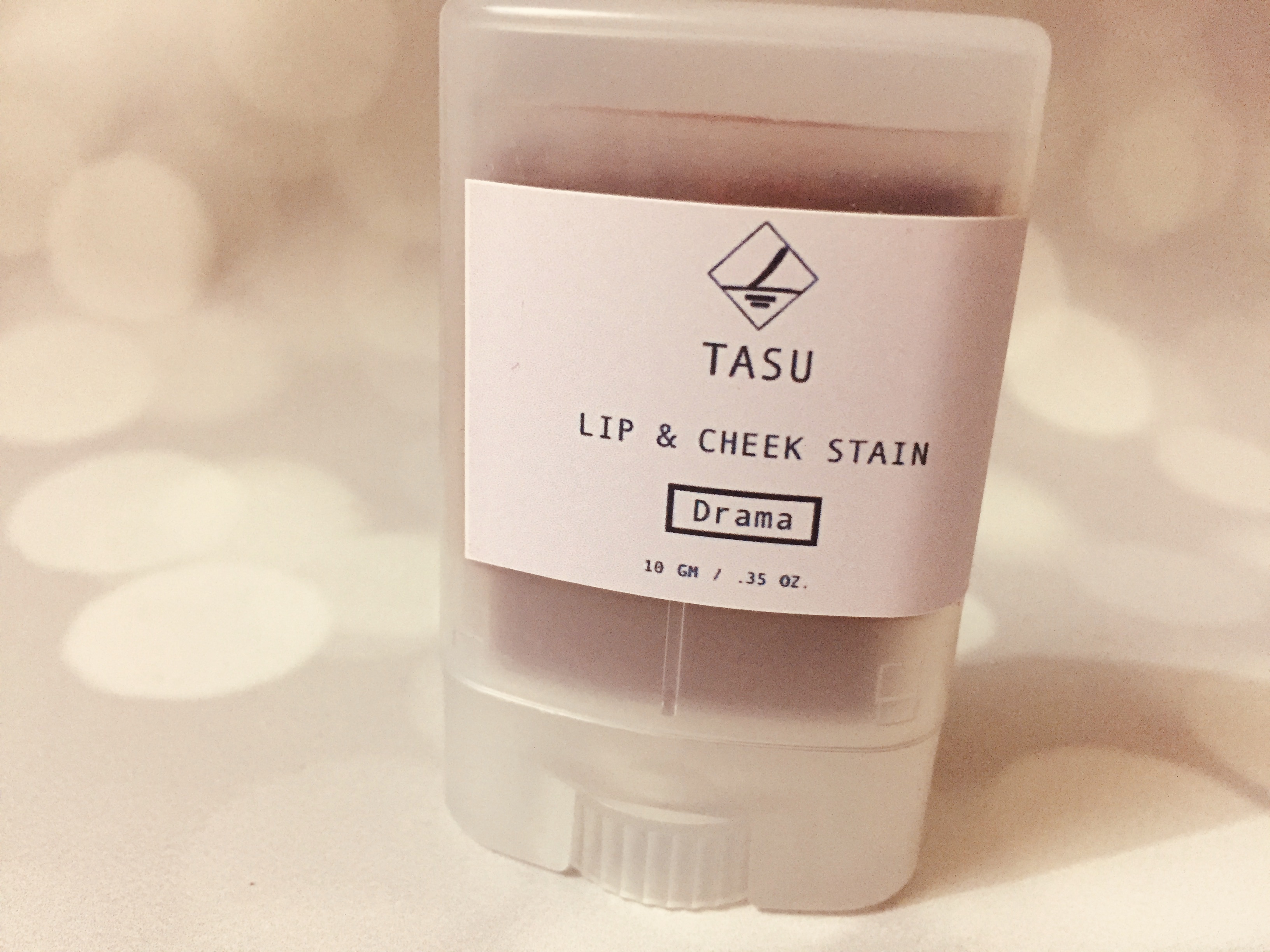 Lip and Cheek Stain — A neutral rosey red stain for lips and cheeks that is coloured with beetroot for a natural glowy flush. This glides on easily and is easy to blend with your fingertips. On the lips it doesn't stay on for very long and moves around, but it kept my lips soft and hydrated even after the colour wore off. On the cheeks it fared much better, and I think if you used a translucent face powder to set everything overtop you would definitely extend its wear even longer.
Here are some swatches of the stain applied straight and then beside it, I blended it out like I would wear on my cheeks.
Into the Woods — Normally Tasu includes an essential oil in the form of a roll-on perfume blend, but this time I was SO excited to see one of their custom blends in a bottle for use in a diffuser! I got a proper diffuser for Christmas that's more powerful than my old one, so I wasted no time in diffusing this amazing woodsy scent. It's a blend of cedarwood, orange, clove, peppermint, and litsea. The result is a spicier woodsy scent that really reminds me of a cold morning. I love it and have been diffusing it daily.
Messy Bun Toque — This is the only item in the box not made by Tasu. It's a 100% acrylic hat in a cute colourful pattern. There is a hole at the top to push a bun or a pony through to keep it out of the way. Unfortunately the headband part of this was a bit too tight and I couldn't easily get it over my head (I have a big head, okay?) so it isn't the most comfortable for me, but I think it's absolutely adorable and I love the idea of having a hole for a bun or ponytail to keep it from being smushed down against your head!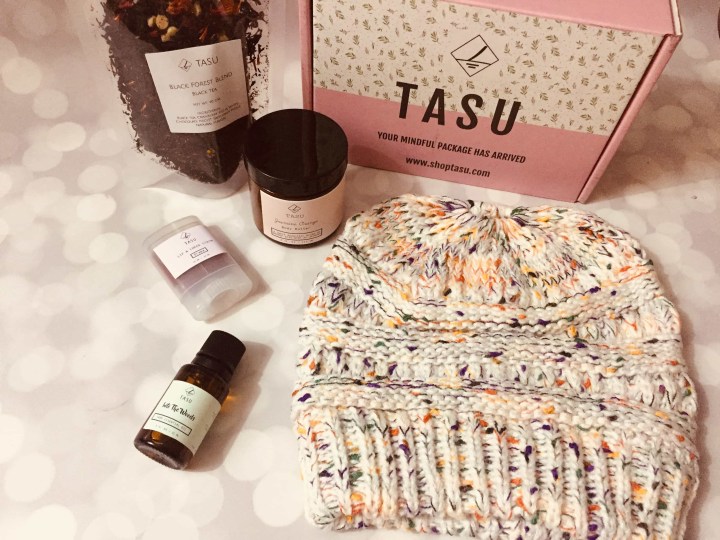 Tasu's January box combined the coziest things I love about winter — yummy yea, moisturizing skin care, a cute hat, and a woodsy wintery oil blend. Every month they WOW me with how much care goes into their products and honestly, this is the sort of box I turn to when I need a bit of self-care, whether it's lighting a candle, rubbing some aromatherapy onto my wrists, or curling up with a cup of tea. I love supporting a Canadian small business and nothing makes me happier than seeing the little pink box in my mailbox!
What do you think of this yoga and wellness subscription?