Sweet Reads Box is a Canadian subscription box bringing a curated selection of a bestselling book along with complimentary items to enhance the experience. The box is $54.99 CAD ($42 USD) for one month, and drops slightly when you purchase a 3 or 6 month subscription as well.
DEAL: Get 10% off your first box! Use coupon code LOVEBOOKS.
On top is the information card.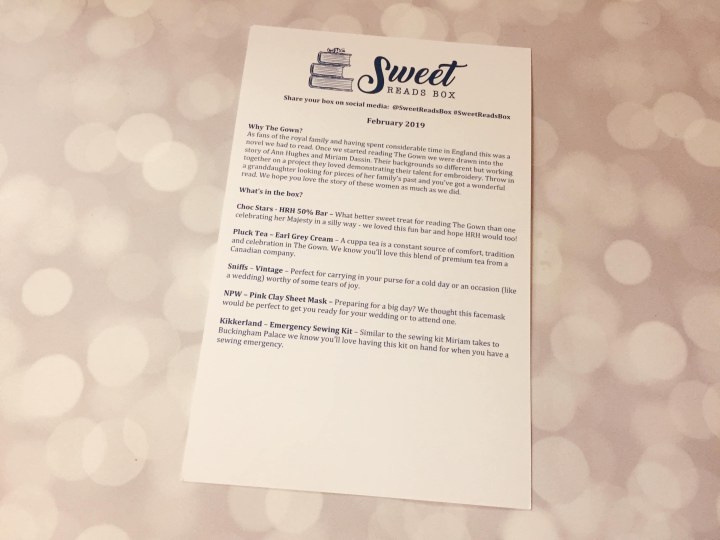 The back of the card has information about the month's book selection as well as the other items included, and how they all tie into the theme.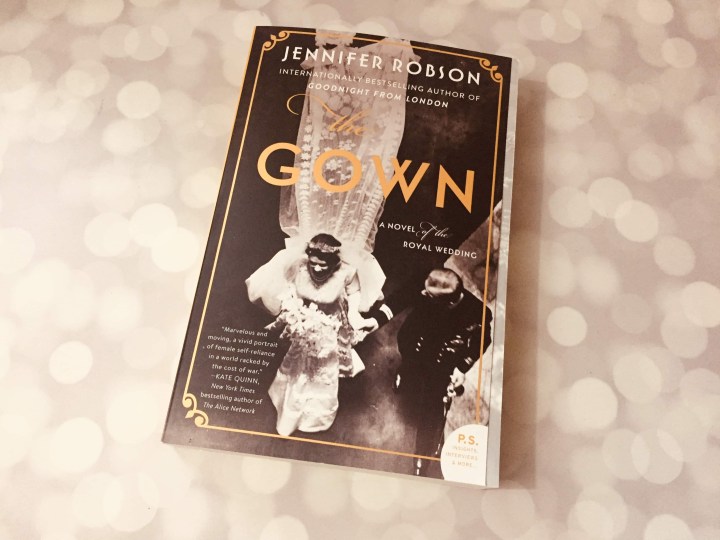 The Gown by Jennifer Robson ($11.59) –A fictional story about the royal wedding of Queen Elizabeth to Prince Philip in the late 40s. It's told through the viewpoints of three women, one in 2016 and the other two from the era. I gobbled up both seasons of The Crown, and even though I'm not obsessed with the royals or their weddings, this definitely piqued my interest. I'm about a third of the way through and it's definitely hard to put down!
London, 1947: Besieged by the harshest winter in living memory, burdened by onerous shortages and rationing, the people of postwar Britain are enduring lives of quiet desperation despite their nation's recent victory. Among them are Ann Hughes and Miriam Dassin, embroiderers at the famed Mayfair fashion house of Norman Hartnell. Together they forge an unlikely friendship, but their nascent hopes for a brighter future are tested when they are chosen for a once-in-a-lifetime honor: taking part in the creation of Princess Elizabeth's wedding gown.

Toronto, 2016: More than half a century later, Heather Mackenzie seeks to unravel the mystery of a set of embroidered flowers, a legacy from her late grandmother. How did her beloved Nan, a woman who never spoke of her old life in Britain, come to possess the priceless embroideries that so closely resemble the motifs on the stunning gown worn by Queen Elizabeth II at her wedding almost seventy years before? And what was her Nan's connection to the celebrated textile artist and holocaust survivor Miriam Dassin?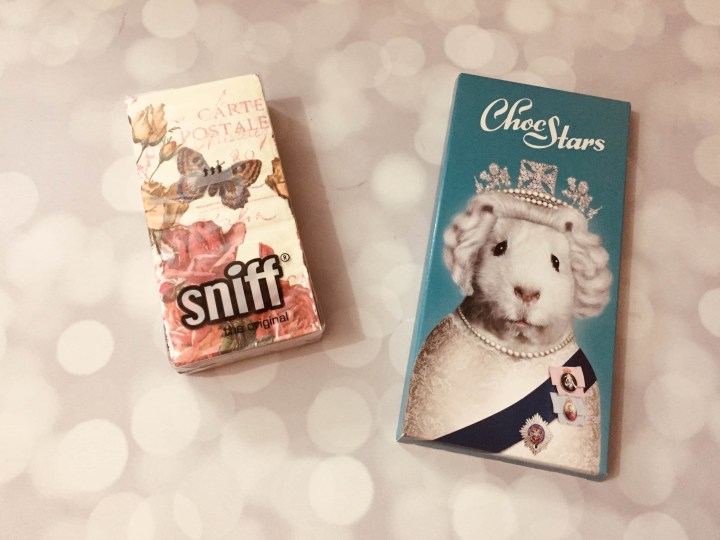 Sniff Tissues — Weddings of any kind can be emotional, and this cute package of vintage printed tissues are great to keep on hand. Plus, it's cold season, so these are definitely going to come in handy.
ChocStars Chocolate Bar — Hee! I'm living for the Queen Mouse on the packaging. A solid bar of chocolate to enjoy.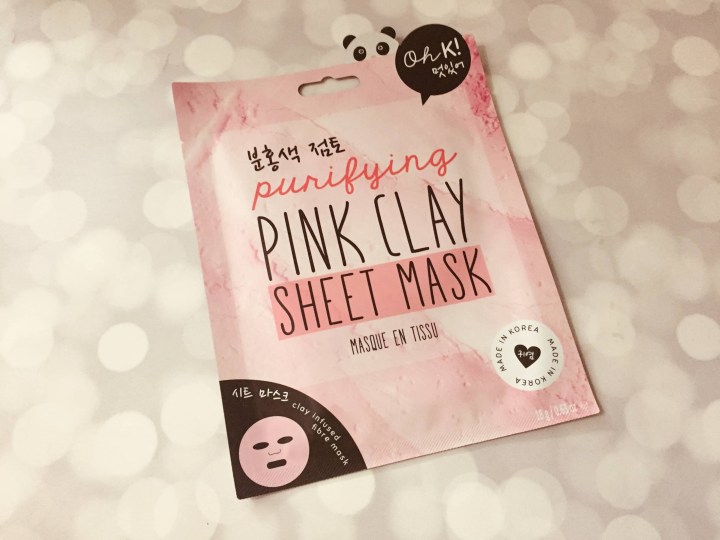 OhK Purifying Pink Clay Sheet Mask — To pamper your skin before a big event like a wedding, Sweet Reads included a sheet mask with pink clay. Masks like these are great for oily skin types, as the clay helps pull out the sebum from the pores.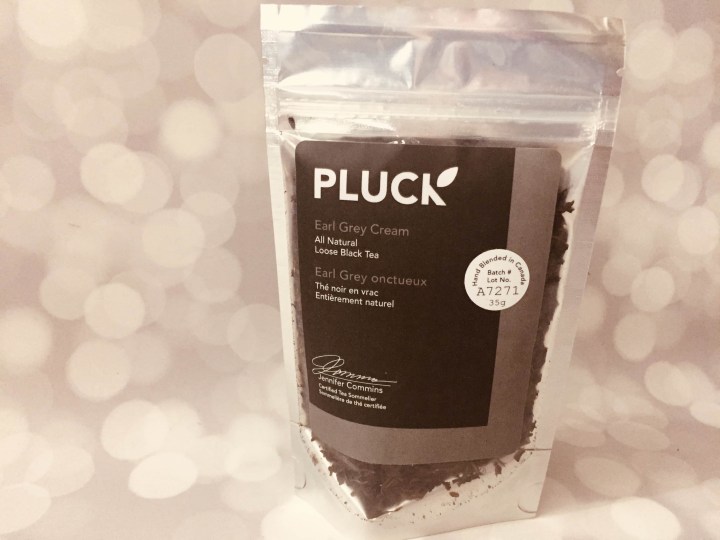 Pluck Earl Grey Cream — Of course, it wouldn't be an English themed box (or a book box!) without some tea. Earl Grey Cream softens the intense bergamot of this classic tea with vanilla cream. It's great!
Sewing Kit — Be prepared for any emergency with this handy little sewing kit. It's by Kikkeland, and I already carry their pocket survival kit from an earlier Sweet Reads box in my purse. This one will definitely find its home there, too.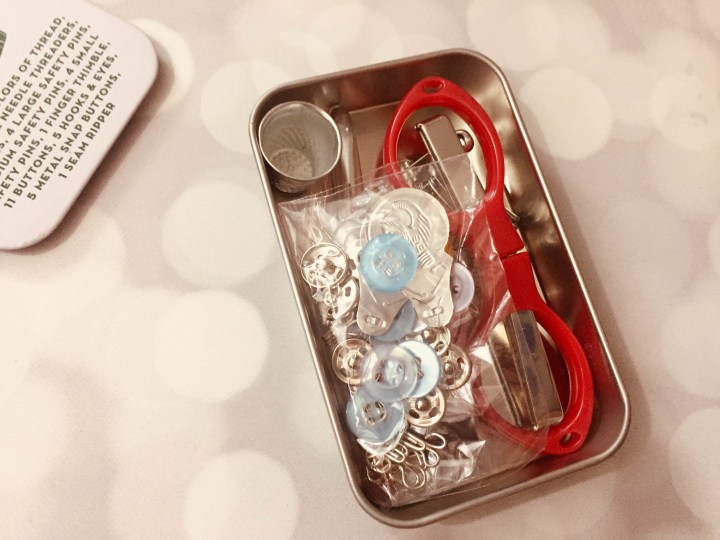 Everything is packed in here, from collapsible scissors to buttons of all sizes, and even a thimble!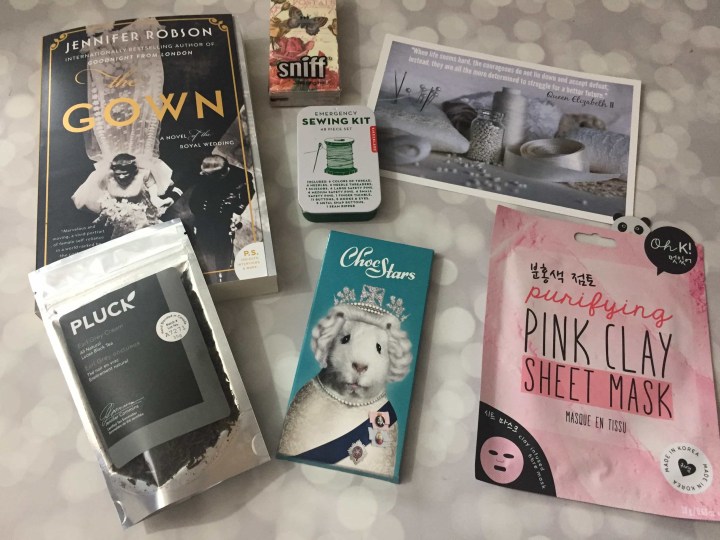 Sweet Reads' February box is right up my alley! A historical fiction novel, tea, chocolate. a sheet mask… yep, it doesn't get better than this for a quiet night in with a book! Their curation is once again spot-on!
What did you think of this month's book selection?