SinglesSwag is a fun, stylish monthly surprise designed exclusively for single women. Each month, receive full-sized products hand-selected for fabulous single women. These include organic bath and beauty products, trending fashion accessories, delicious artisan-crafted foods, best-selling books, and exciting surprises just for you. Choose between the regular (5-7 products) and petite (3-4 products) sized boxes. Month-to-month subscriptions start at $39.99 and $24.99, respectively, but rates are reduced for 3 and 6-month subscriptions (longer term = more savings). This is a review of the regular SinglesSwag box.
DEAL: Use coupon code HELLO20 to receive 20% off your entire subscription!
We Love Single Women

At SinglesSwag, we do not subscribe to any societal or cultural expectations on women. We believe a woman's happiness is determined by her outlook and attitude, not by her relationship status. We love to make single women look and feel beautiful, while empowering and inspiring them. We hope that our monthly package, created with love and delivered right to your doorstep will contribute to your happiness and well being. Never settle.
Kicking off the new year, here's January's SinglesSwag box! That beanie is super cute. Can't wait for the cold to hit Florida.
The information card contains a brief description of each item and its value. This month's quote is, "New Year's Resolution: Love Yourself More." Sounds like a resolution that I can definitely keep past February. LOL!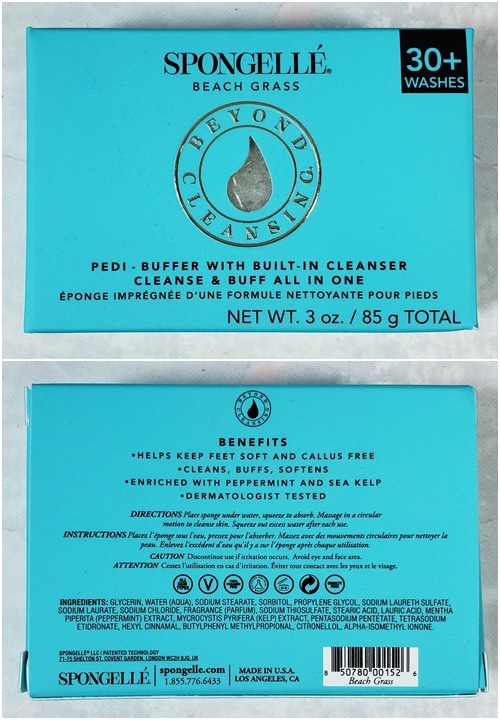 Spongelle | Pedi Buffer – Beach Grass ($16): Slough away dry skin with this peppermint and sea kelp extract enriched body wash that is infused within a buffer. The scent is amazing too! The clean fragrance has the following notes:
Top notes – spicy, fruity, and green
Middle notes – jasmine, rose, and powdery
Base notes – aquatic, woody, and musk
Specially formulated for feet, one side of the buffer is textured for exfoliating.
purlisse | 6-pc Blue Lotus + White Tea Sheet Mask Set ($38): This retails for $36 on purlisse.com. These natural fiber masks are loaded with a nourishing and renewing serum. Some key ingredients include Blue Lotus (anti-inflammatory to soothe irritated skin and reduce redness), White Tea (antioxidant; UV protectant), White Mulberry (brighten skin), and Anise (firm skin). I like using these once a week to refresh my skin after exfoliating.
The 6 pack is nice because you either get multiple uses for yourself, or you can host a girls' night and have enough to share.
n!co New York | Silver Bar Necklace ($64): I wasn't able to find a website for this brand, so I'm not sure if the price is in line with n!co's other pieces. However, I was able to find some of their other jewelry on Amazon.com. This silver-tone necklace has a simple, elegant bar pendant on an 18″ chain with 2″ extender.
The clean style is perfect for everyday wear and layering.
Socado | Milk Chocolate Bar ($5): A premium, Italian chocolate bar made with high-quality cocoa beans and extra cocoa butter. The bar was yummy and creamy. Based on similar Socado items found on Amazon.com, the SinglesSwag listed price should be half of what is noted.
Headbands of Hope | Black Confetti Beanie ($32): This is a stylish, slouchy-style knit beanie with colorful embellishments. It can be worn laid back for a boho look or pulled tight to block out cold winter winds. I was excited when I saw this in my box. Unfortunately, winter has not been cold enough in Florida to wear this yet.
Feel good about your purchase. For every product sold, Headbands of Hope donates a headband to a child with cancer. Use code SWAGHOPE for 25% off your purchase at headbandsofhope.com.
Real Her | Matte Liquid Lipstick – I Am Ambitious ($18): I Am Ambitious is described as a bright red. This color works for me because it has a blue undertone and works with the cooler tones in my skin. The lipstick is vegan, cruelty-free, and paraben-free. I really like that all of Real Her's products feature empowering and inspiring affirmations on them (either as the product name or shade name).
The doe foot wand allows for precise color application.
The creamy formula is highly pigmented and has an ultra-matte finish. I didn't feel that it dried my lips. However, it did take longer than 30 seconds for the color to dry.
Bonus, 20% of all Real Her profits go towards programs that empower women and girls in the Orange County (Calif.) area!
Zoë Ayla | Classy Rose Gold Eyelash Curler ($40): This is described as a "best-selling eyelash curler…designed by professional makeup artists and is ergonomically designed for effortless and precise application and results." I wasn't able to find this among the beauty tools available at ZoeAyla.com, but I did see a line of rose gold brushes.
Honestly, this curler didn't work for me. It as too round to fit my eyes correctly, and the upper portion of the curler didn't line up to meet the bottom pad. For $40, I was expecting more from this. It won't be replacing my Shiseido eyelash curler any time soon.
A new year, and a free gift! Yes!!! SinglesSwag showing some gratitude and kicking off 2019 with thanks. So, let's get to the gift.
FRINGE | Lemon Verbena Hand Cream (Full Size Gift):  If you haven't read any of my other reviews, then you won't know how much I appreciate hand lotions/creams. This tube is massive! I love the scent of lemon verbena; it is clean, fruity, and slightly sweet. Between the dry, cold winter air and my obsessive hand washing (um, it's cold and flu season), this will absolutely come in handy (pun intended). Question is, do I leave it at home or take it to the office? Decisions, decisions…
The January SinglesSwag box has a listed value of $213. However, I question the prices for the necklace and eyelash curler since I can't seem to find them anywhere except on resale sites. Apart from those two items, I was satisfied with the rest of my box and my subscriber gift. I will definitely make good use of the cosmetics products and will rock the beanie if temps ever drop below 60°. What did you think of this month's box? Let me know your thoughts by leaving a comment below.
Whether you're single or attached, I think you can enjoy this box. Plus, what a great monthly box if you're searching for something to replace your monthly POPSUGAR Must Have Box!
What about you? Did you have a favorite in this month's box? Let me know with a comment below.