SinglesSwag is a fun, stylish monthly surprise designed exclusively for single women. Each month, receive full-sized products hand-selected for fabulous single women. These include organic bath and beauty products, trending fashion accessories, delicious artisan-crafted foods, best-selling books, and exciting surprises just for you. Choose between the regular (5-7 products) and petite (3-4 products) sized boxes. Month-to-month subscriptions start at $39.99 and $24.99, respectively, but rates are reduced for 3 and 6-month subscriptions (longer term = more savings). This is a review of the regular SinglesSwag box.
DEAL: Use coupon code HELLO20 to receive 20% off your entire subscription!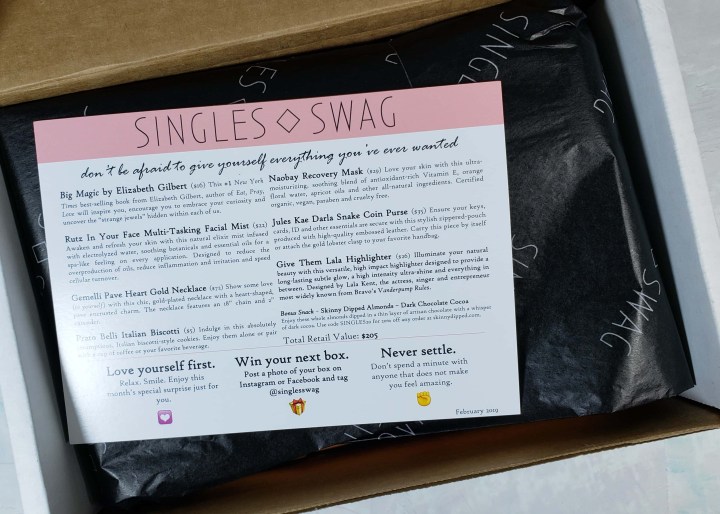 We Love Single Women

At SinglesSwag, we do not subscribe to any societal or cultural expectations on women. We believe a woman's happiness is determined by her outlook and attitude, not by her relationship status. We love to make single women look and feel beautiful, while empowering and inspiring them. We hope that our monthly package, created with love and delivered right to your doorstep will contribute to your happiness and well being. Never settle.
The February SinglesSwag box revealed! Is it bad that I'm most excited for the biscotti at the moment?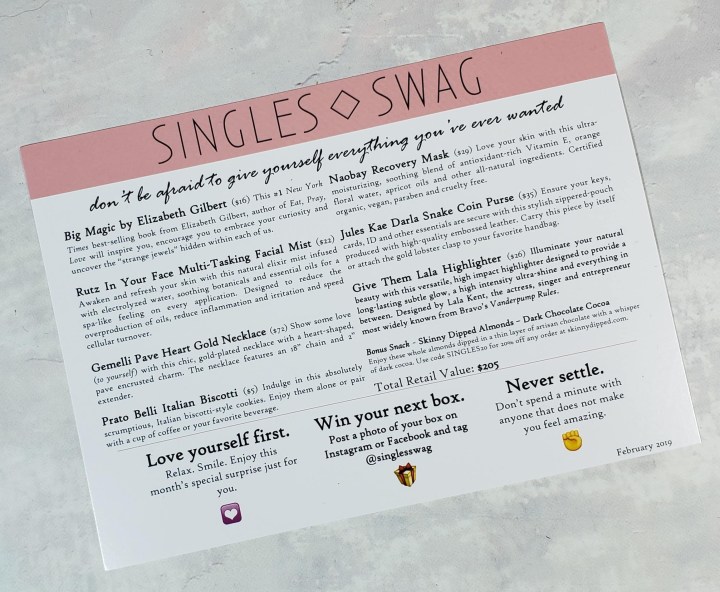 The information card contains a brief description of each item and its value. This month's quote is, "don't be afraid to give yourself everything you've ever wanted." You might never get the things you want if you wait for someone to give them to you. It's OK to invest in yourself. You deserve it.
Big Magic by Elizabeth Gilbert ($16):  This is currently available at Amazon.com for $12. As a fan of Elizabeth Gilbert's Eat Pray Love, I was thrilled to see this in my box. In this book, Gilbert discusses creativity and allows you to tap into your curiosity to find the hidden gems within yourself.
The instant #1 NEW YORK TIMES Bestseller

"A must read for anyone hoping to live a creative life… I dare you not to be inspired to be brave, to be free, and to be curious." —PopSugar

From the worldwide bestselling author of Eat Pray Love and City of Girls: the path to the vibrant, fulfilling life you've dreamed of.

Readers of all ages and walks of life have drawn inspiration and empowerment from Elizabeth Gilbert's books for years. Now this beloved author digs deep into her own generative process to share her wisdom and unique perspective about creativity. With profound empathy and radiant generosity, she offers potent insights into the mysterious nature of inspiration. She asks us to embrace our curiosity and let go of needless suffering. She shows us how to tackle what we most love, and how to face down what we most fear. She discusses the attitudes, approaches, and habits we need in order to live our most creative lives. Balancing between soulful spirituality and cheerful pragmatism, Gilbert encourages us to uncover the "strange jewels" that are hidden within each of us. Whether we are looking to write a book, make art, find new ways to address challenges in our work,  embark on a dream long deferred, or simply infuse our everyday lives with more mindfulness and passion, Big Magic cracks open a world of wonder and joy.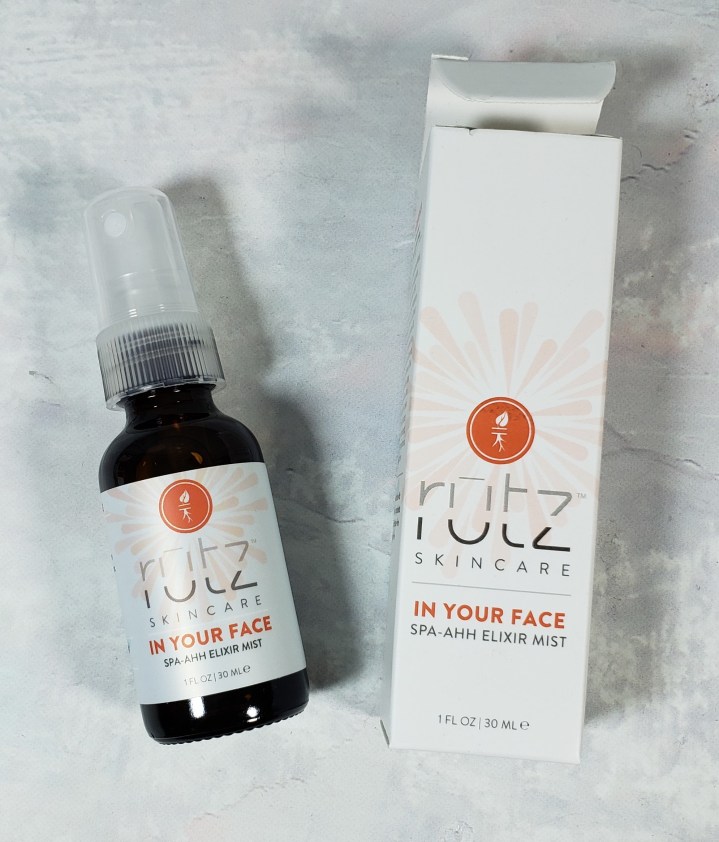 rutz Naturals | In Your Face Multi-Tasking Facial Mist ($22):  There is a lot going on within this little bottle. I don't think I can cover everything this toner is promising. The formula contains a host of botanicals and fatty acids to heal and energize skin. There are also essentials oils for both aromatherapy and antibacterial benefits.
Like I said before, a lot of goodness in a compact package. I like the way this felt on my skin after showering. My face felt hydrated and soft. The fragrance wasn't overwhelming at all.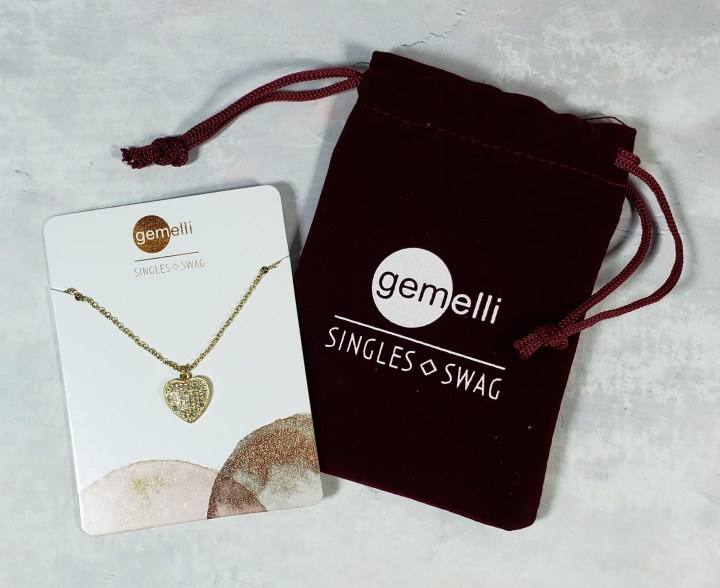 Gemelli | Pavé Heart Gold Necklace ($72):  I love that SinglesSwag included a jewelry piece! Again, it fits in with the Valentines' vibe this month even down to the wine colored pouch. The 16″ necklace is gold plated with a 2″ extender. It features a delicate pavé encrusted heart pendant.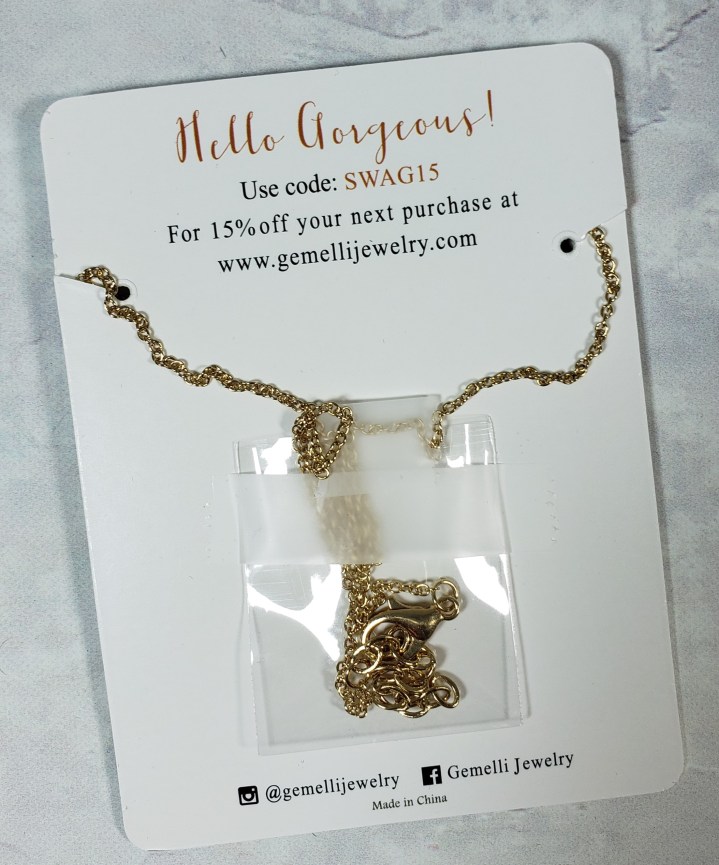 If you like this piece, or some of the other Gemelli jewelry featured in previous SinglesSwag boxes, use code SWAG15 to get 15% off your next purchase at Gemelli.com.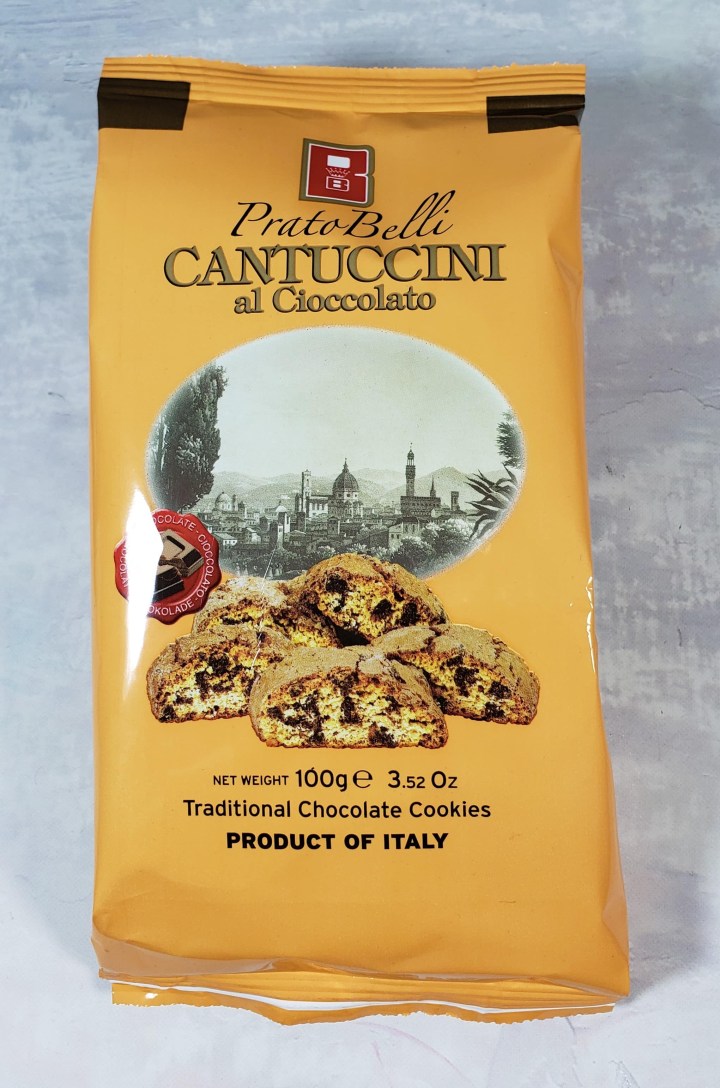 Prato Belli | Italian Biscotti ($5):  These are classic Tuscan-style biscotti made with chocolate chips. The slightly dry, crunchy texture of these makes them a perfect pairing with a cup of coffee. The aroma of chocolate was so amazing when I opened the bag. Sorry, I ate all of these before I realized that I didn't take any pictures of the actual biscotti. Seriously, they were that good.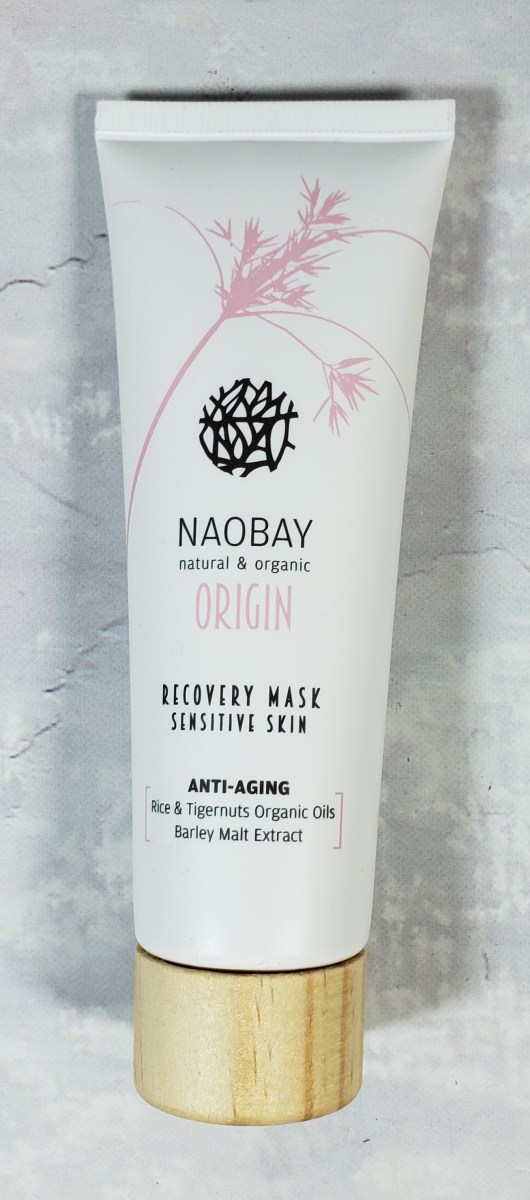 Naobay | Recovery Mask Sensitive Skin ($29):  This mask confused me but in a good way. After looking at the ingredients list, I was expecting this to be like a regular clay mask (bentonite and perlite). Um, not so much. This feels like a lotion or sleeping pack and goes on very thin. Your skin immediately feels cooler. I felt that this was a little difficult to rinse off, but that's the only negative I have. My skin simply felt amazing afterwards. It was very hydrated; like I had applied a moisturizer. It was also soft and felt smoother.
From Naobay:

Face mask for sensitive skin. Contains softening and refreshing Orange floral water*, antioxidant vitamin E and a combination of moisturizing Rice*, Poppy*, Tigernuts* and Apricot* oils to restore fatty acids. Marshmallow *, Lemon*, Chamomile* and Everlasting* extracts provide a cocktail of vitamins and minerals with antioxidant and moisturizing properties.
Offering excellent soothing properties, the special Barley Malt extract contained in the formula improves the expression of genes involved in the skin's barrier function as well as its stress response and regenerating mechanisms. Reduces skin redness, burning and stinging sensations.
It also contains mineral zinc oxide, which is not absorbed by the skin but has the ability to adhere to its surface, forming a thin film that offers protection from potentially harmful external factors.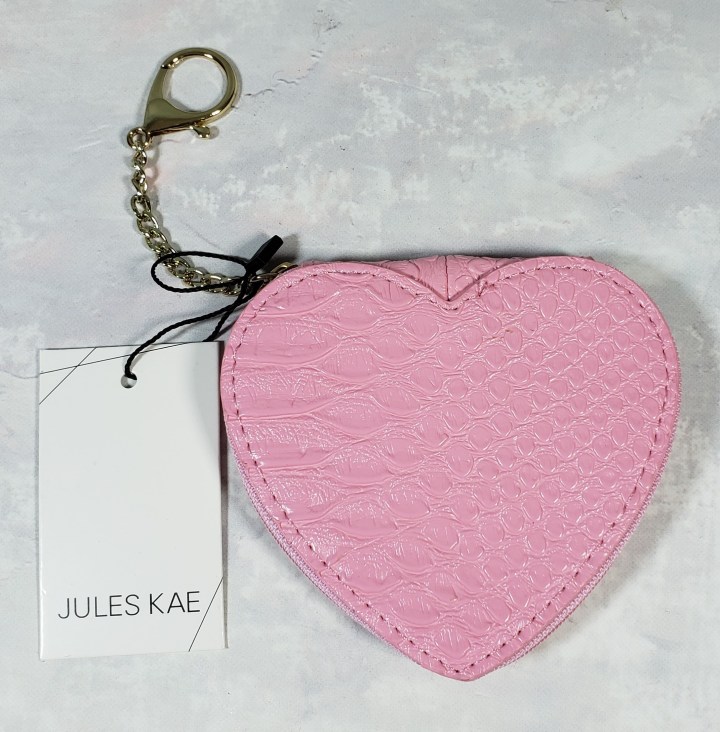 Jules Kae | Darla Snake Coin Purse – Pink ($35):  A big pink heart just in time for Valentines' Day. This coin purse is snake-embossed leather and features a gold chain with lobster claw attachment.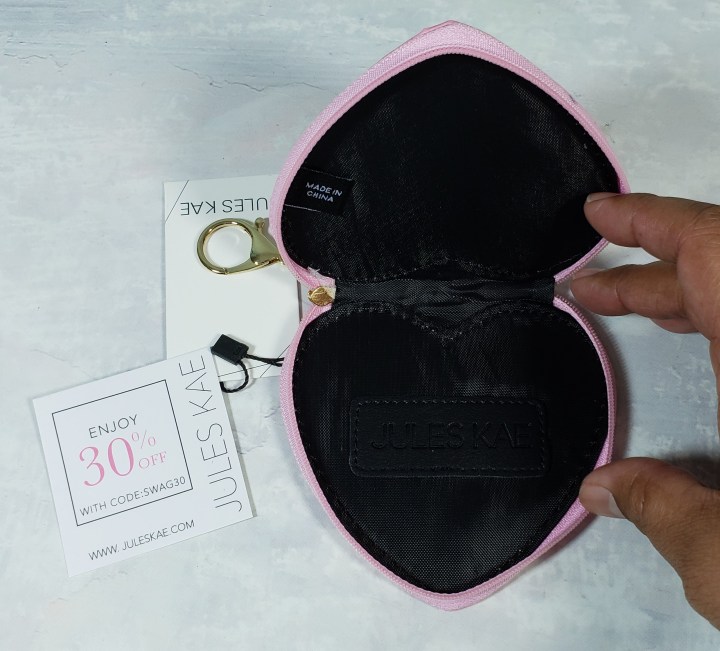 Personally, I felt the $35 price point was a bit high for this item.  If you feel the same way, have no fear. Use code SWAG30 to receive 30% off your purchase at JulesKae.com.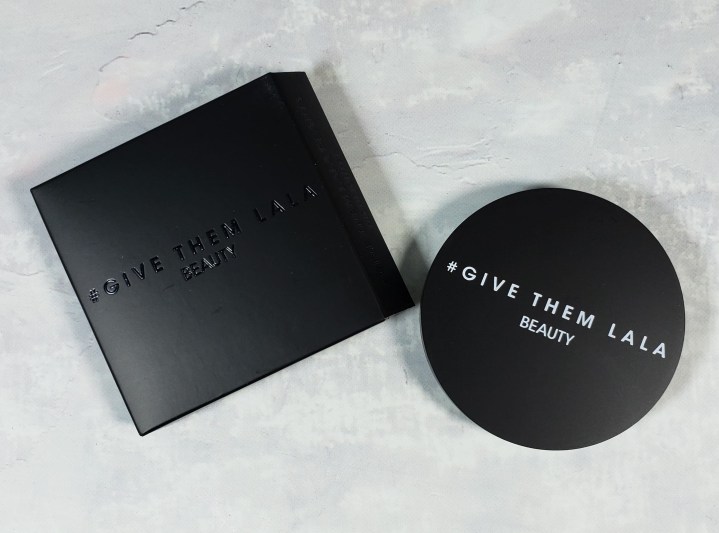 #Give Them Lala | Highlighter – Promiscuous ($26):  TBH, I'd never heard of this brand before or watched an episode of "Vanderpump Rules", so I didn't know who Lala Kent was. Yes, I need to brush up on my pop culture. This highlighter has a baked formula that is designed to be buildable so you can go from a subtle glow to megawatt shine.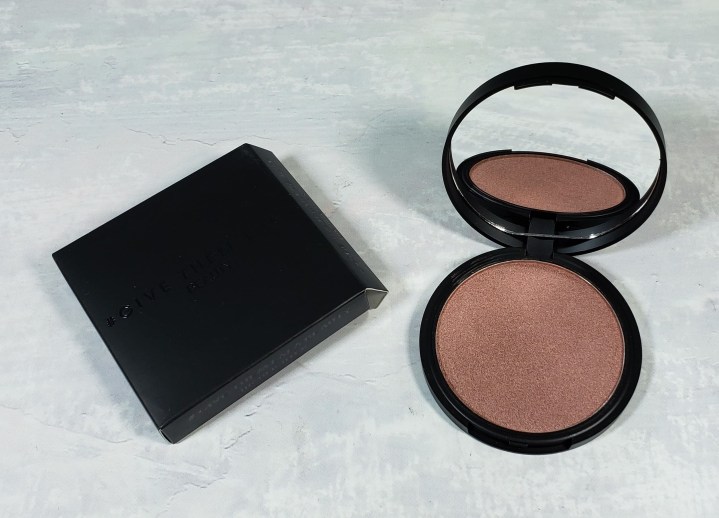 Promiscuous is a bronzy mauve shade. The product feels silky to the touch. Bonus, the compact comes with a mirror. Even if I never use the mirror, there's something comforting about having one. Am I the only one that feel this way???
Here's a swatch of Promiscuous. I would use this more as an illuminator rather than a highlighter. The color added warmth to my tone, but required too many layers to really get a full highlighter effect.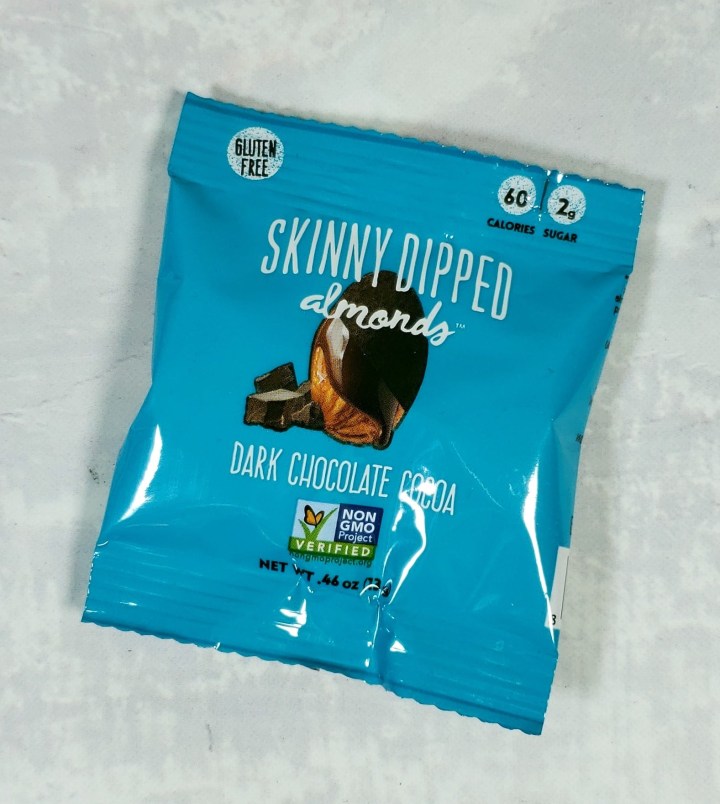 Skinny | Dipped Almonds – Dark Chocolate Cocoa (Bonus Snack – $1.46 value):  More chocolate… Yes, please! The only complaint I have with these almonds was the 60 cal. bag. I guess it's good that I didn't get more, as I'd probably binge on them! The almonds are covered in a thin layer of dark chocolate that's followed by a layer of rich cocoa. There's also a hint of sea salt which gives balance to the sweetness. Yum!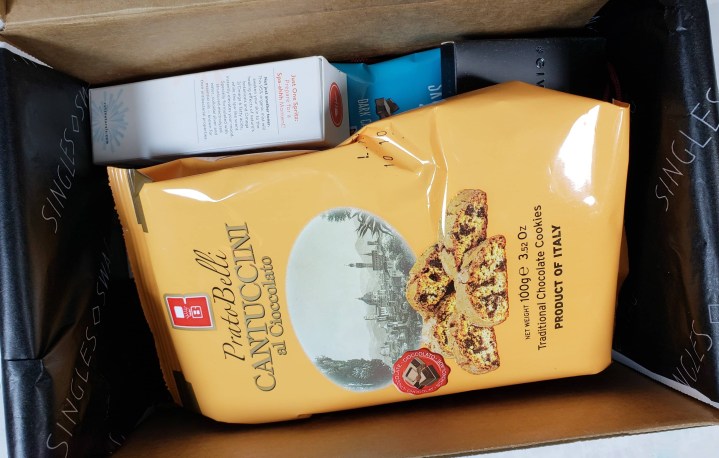 I was super excited this month because I could find all of the items online! Not to be funny, but that has been rare lately. So, yay! Our February SinglesSwag box came in with a listed value of $205. While prices were in line with their brand sites, the perceived value isn't as high as the retail. Regardless, I enjoyed my box and am getting a lot of use out of the products. What items were you excited to try? Let me know your thoughts by leaving a comment below.
Whether you're single or attached, I think you can enjoy this box. Plus, what a great monthly box if you're searching for something to replace your monthly POPSUGAR Must Have Box!
What about you? Did you have a favorite in this month's box? Let me know with a comment below.