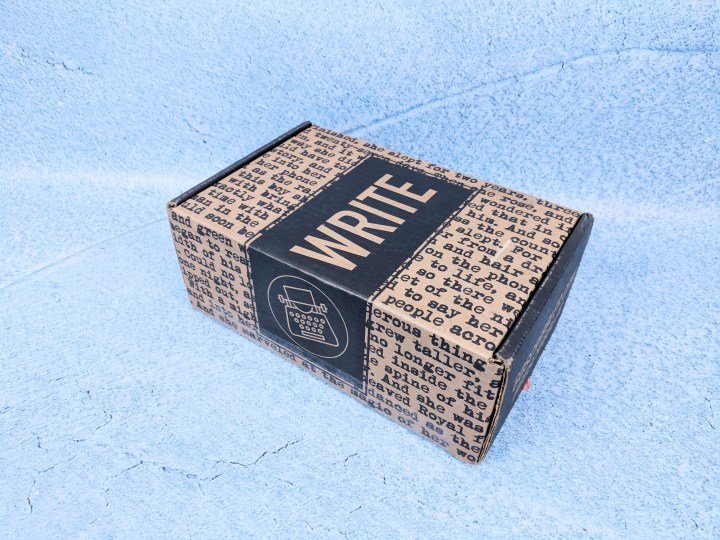 Scribbler is a monthly subscription box for novelists, created by authors, for authors. Scribbler is committed to helping writers improve their craft and reach their publishing goals, month after month.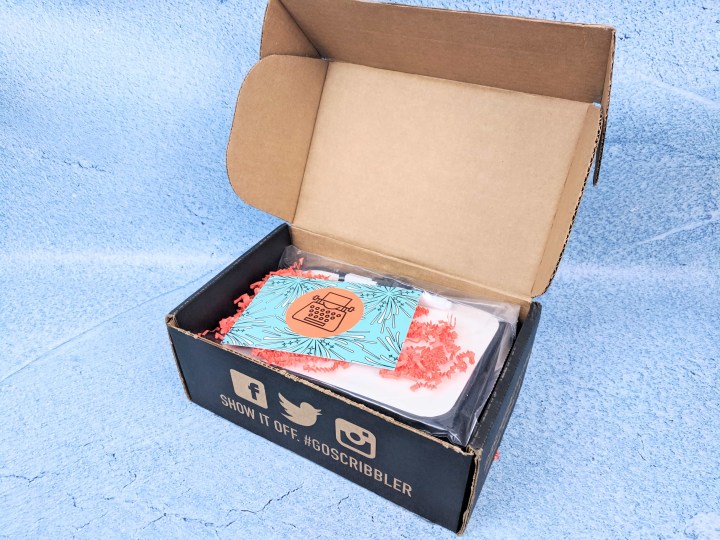 For $29.99 a month, you'll get a newly released fiction, a "Writing Passport" from the featured author to help you master the monthly theme, curated writerly gifts, and an invitation to communicate with a publishing professional.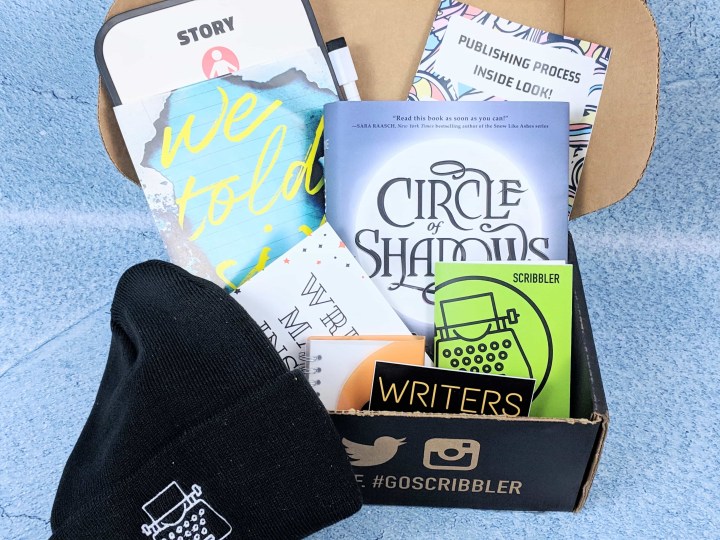 Everything in the box!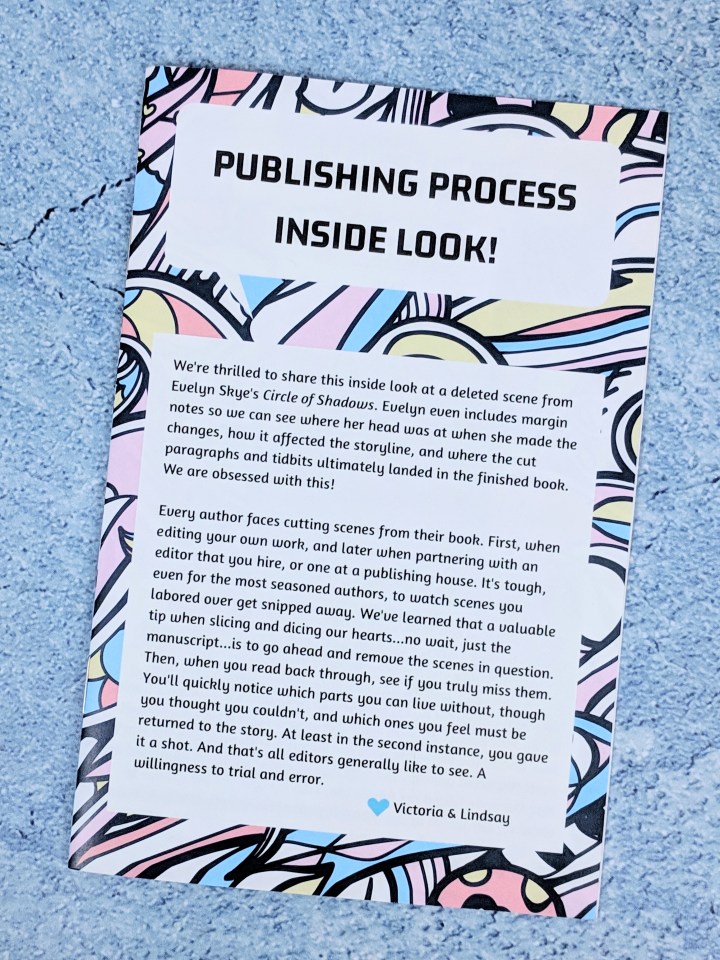 Every month, we are welcomed with a Publishing Process Inside Look.
For January, we have an insight on a Deleted Scene by the author Evelyn Skye and why it was deleted as well as what was kept in other scenes.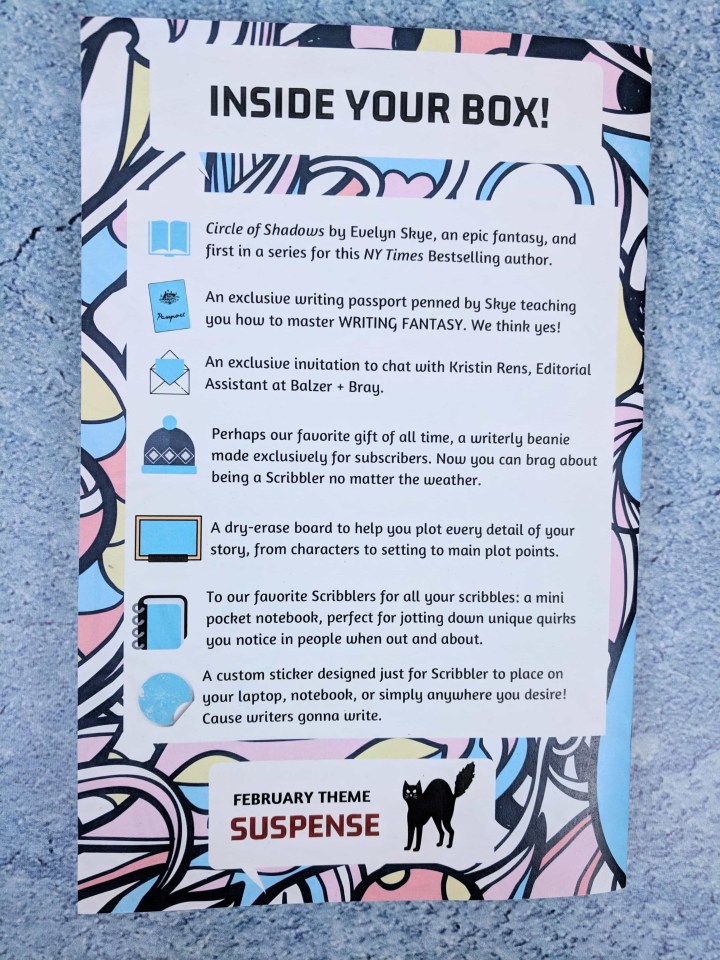 At the back of the booklet, we have a list of the items in the box.
On the back of the welcoming postcard there's a little writing challenge and you can share it on social media using #goScribbler to find a community of like-minded writer! My Three biggest writing goals for 2019 is to write a chapter a week on my main project, edit at least one of my previous Christmas Tale, and of course writing an other Christmas Story in December (it'll be my 8th one!) So, a big year!
This month's theme is Writing Fantasy.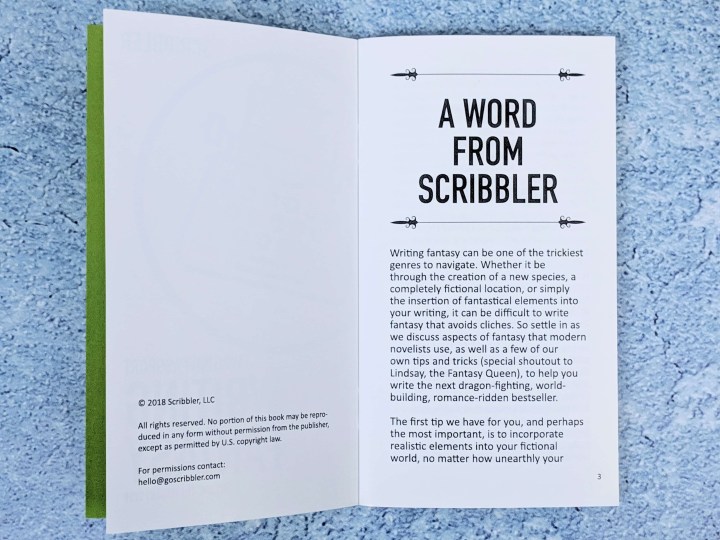 There's a quick introduction in the booklet about why the featured book was chosen.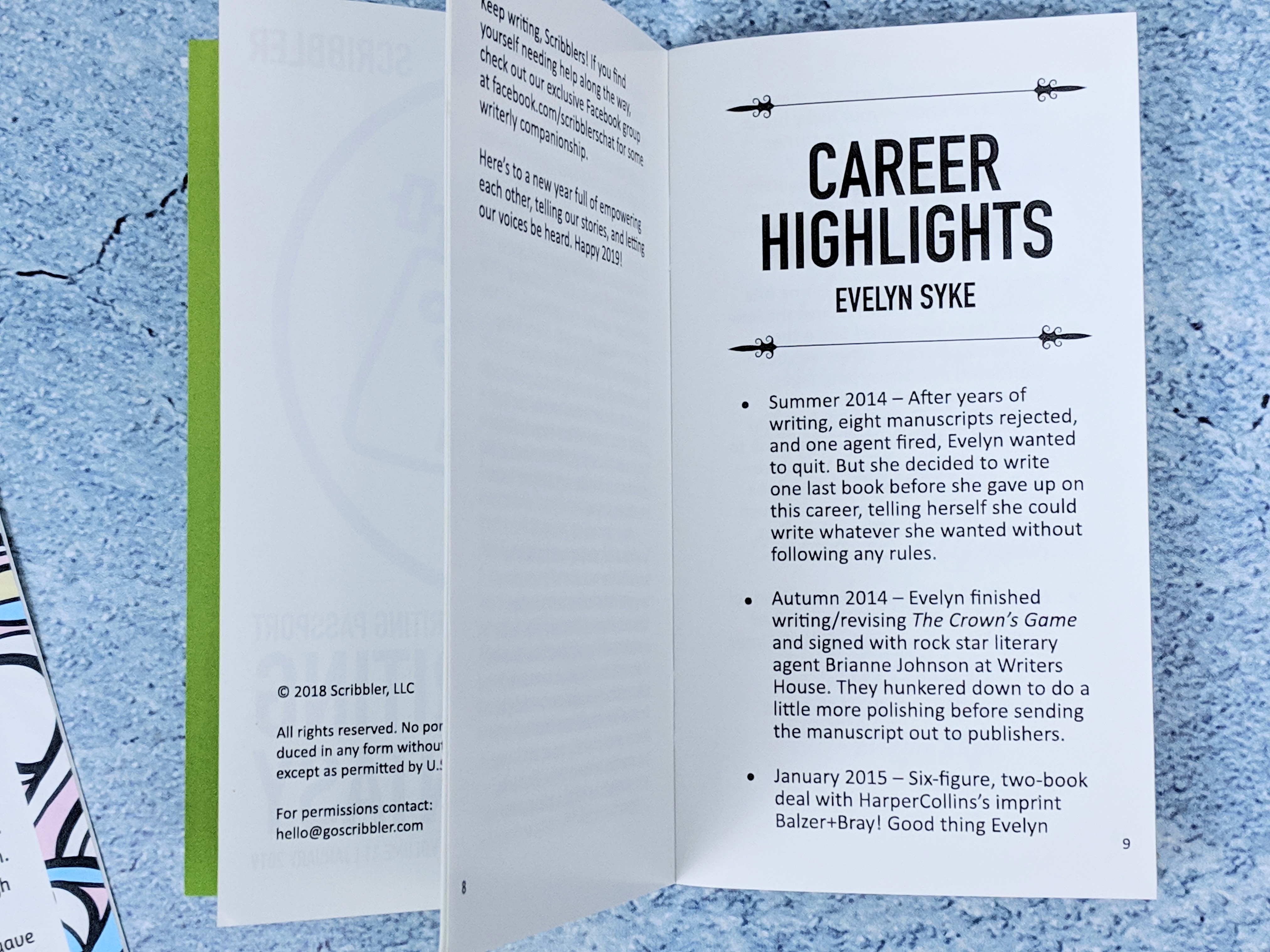 We are also introduced to this month's author : Evelyn Skye.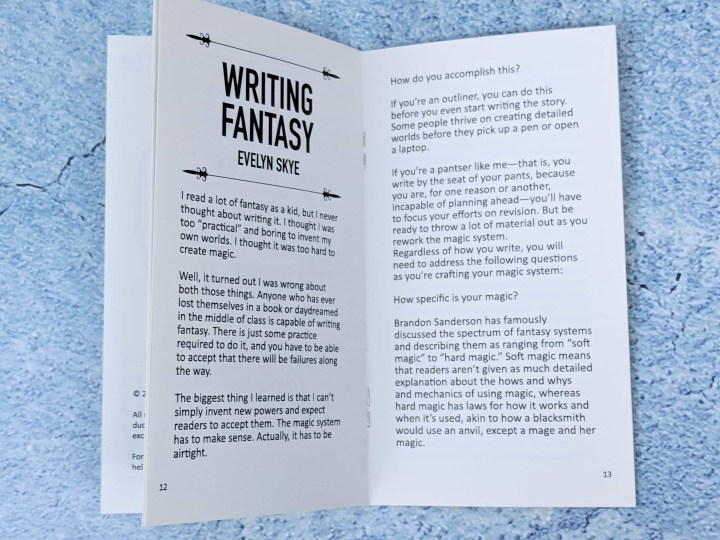 There are no exercises in the booklet to improve our skills, it's more about the theory behind Writing Fantasy, from this month's author viewpoint. I prefer that way as I like to play with my own story and characters instead of doing an exercise that has nothing to do with what I'm doing.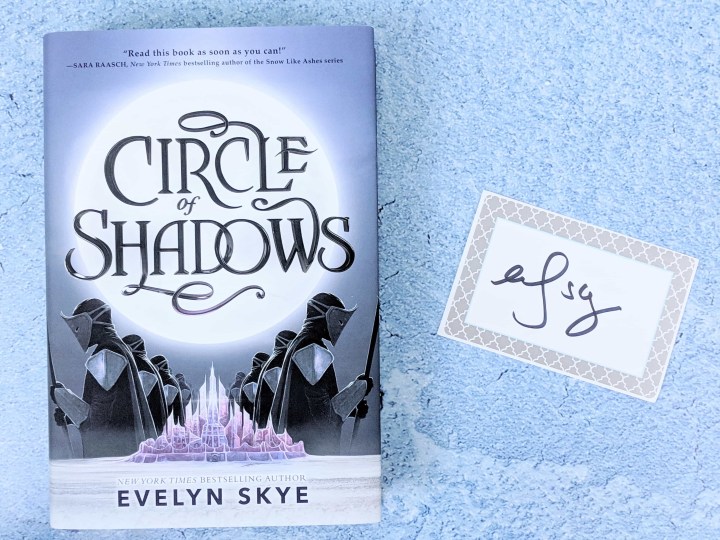 The book this month is a hardcover copy of Circle of Shadows by Evelyn Skye. From Amazon :
Sora can move as silently as a ghost and hurl throwing stars with lethal accuracy. Her gemina, Daemon, can win any physical fight blindfolded and with an arm tied around his back. They are apprentice warriors of the Society of Taigas—marked by the gods to be trained in magic and the fighting arts to protect the kingdom of Kichona.

As their graduation approaches, Sora and Daemon look forward to proving themselves worthy of belonging in the elite group—but in a kingdom free of violence since the Blood Rift Rebellion many years ago, it's been difficult to make their mark.

So when Sora and Daemon encounter a strange camp of mysterious soldiers while on a standard scouting mission, they decide the only thing to do to help their kingdom is to infiltrate the group. Taking this risk will change Sora's life forever—and lead her on a mission of deception that may fool everyone she's ever loved.

Love, spies, and adventure abound as Sora and Daemon unravel a complex web of magic and secrets that might tear them—and the entire kingdom—apart forever.
This is right up my alley! I love spies and fantasy!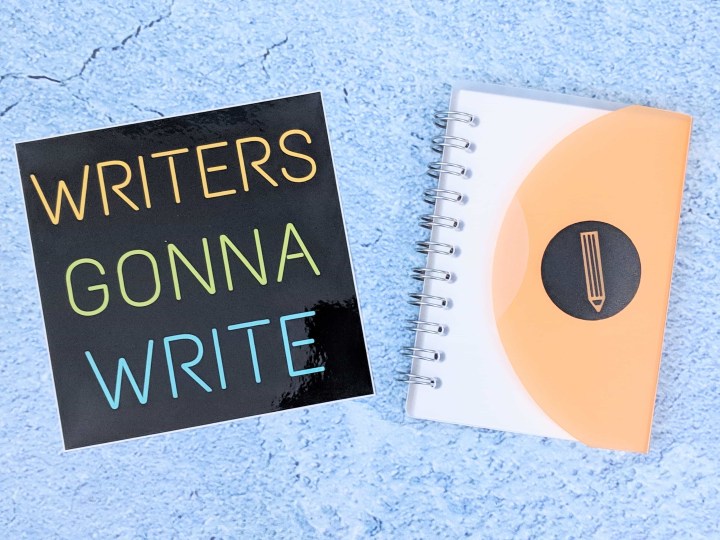 Goodies!!! This month, we received a custom made for Scribbler "Writers Gonna Write" sticker for laptops or notebook and a mini pocket notebook.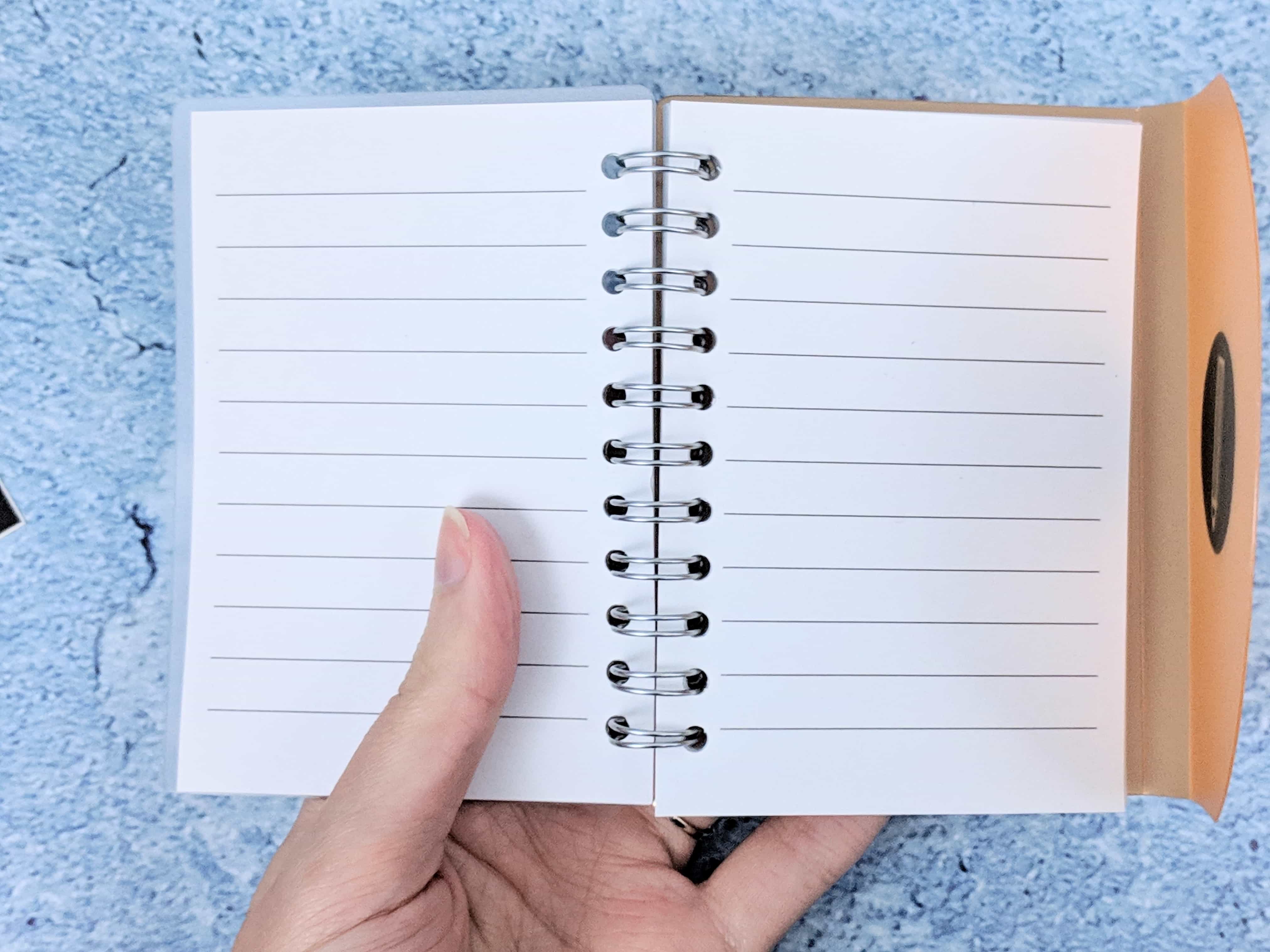 It's a cute little notebook, big enough to be able to write things down, but small enough to fit in a pocket or a small purse. The cover is made of a sturdy plastic so it won't get destroyed if stuff are thrown on top of it!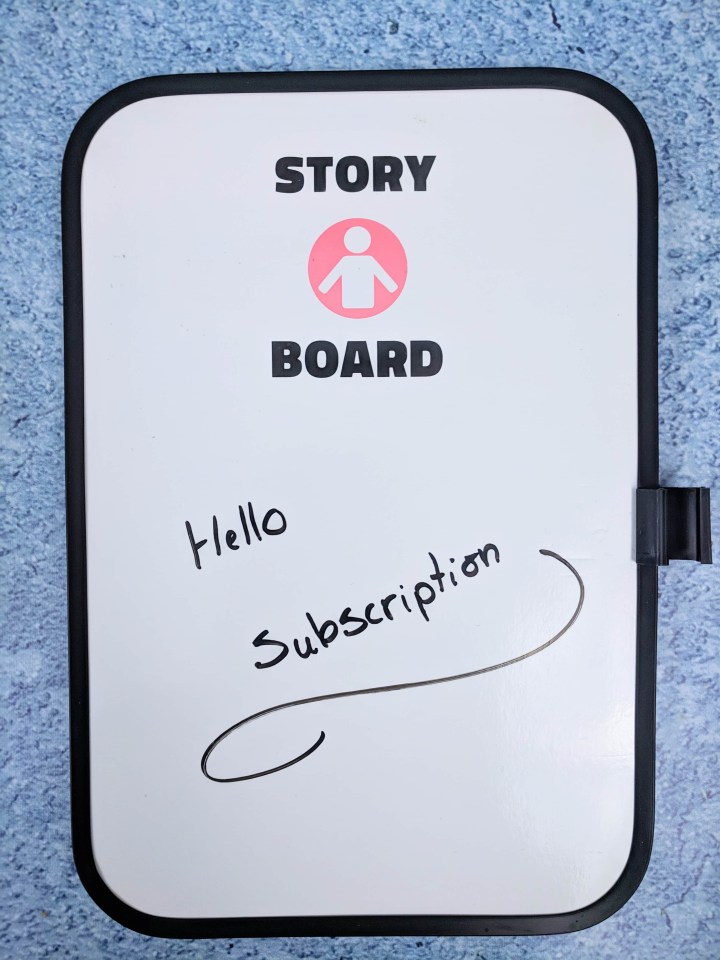 Story Board. This cute little white board is about the size of a sheet of paper and feels like it's made with cardboard. But it's easy to write on it and to erase without leaving any trace of the black marker.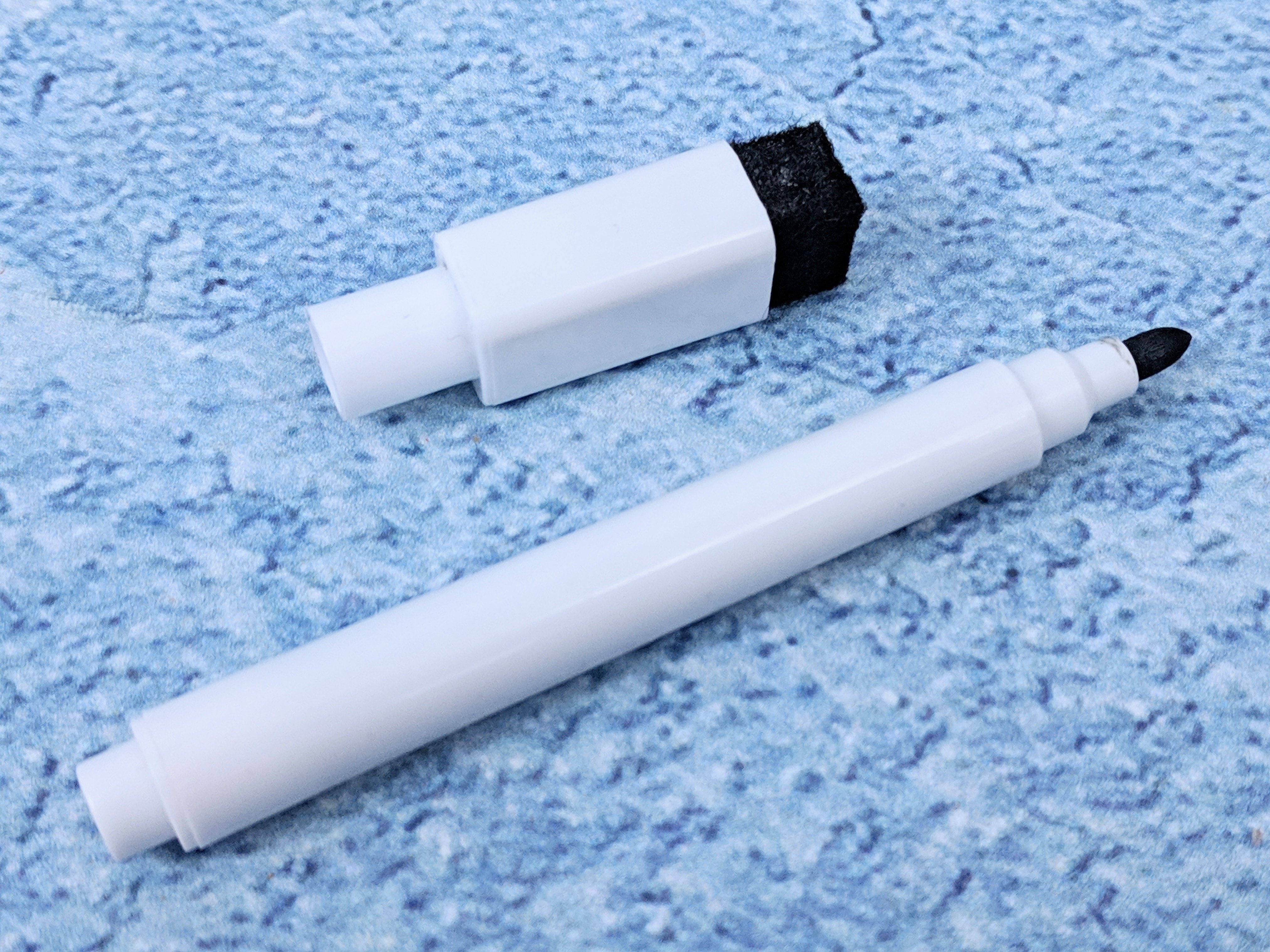 It comes with its own black pen with eraser. It also has magnets at the back so you can use it on your fridge or mirror.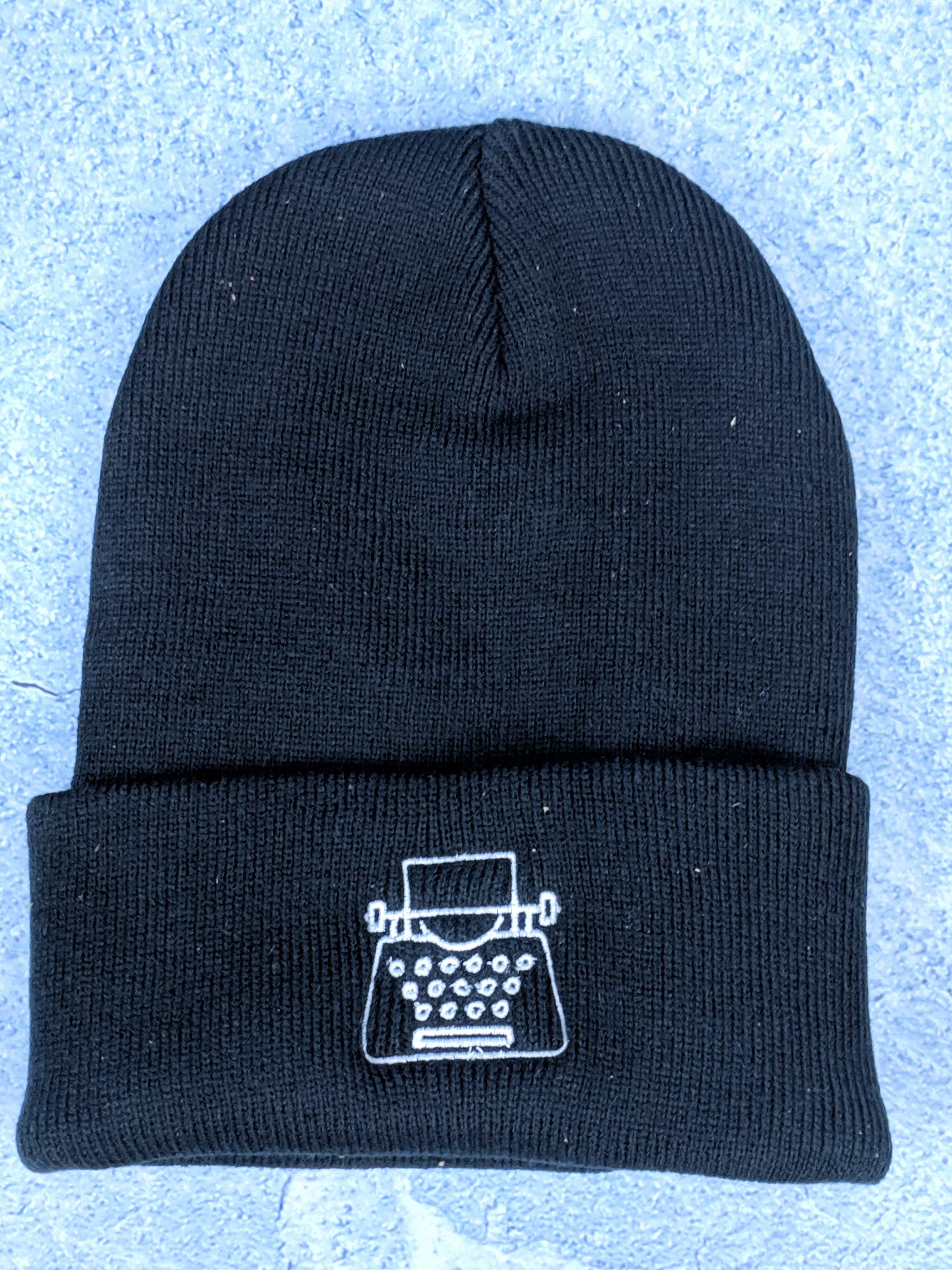 And then, we received this awesome Writerly Beanie! I love love love the simple little typewriter on it! It's not branded and display one of my favorite thing in the world, a typewriter! It was comfortable enough, and quite warm, for a trip in our latest cold snowstorm. This is a fun way to show the world you are a writer, without screaming it, and while staying warm. I love it!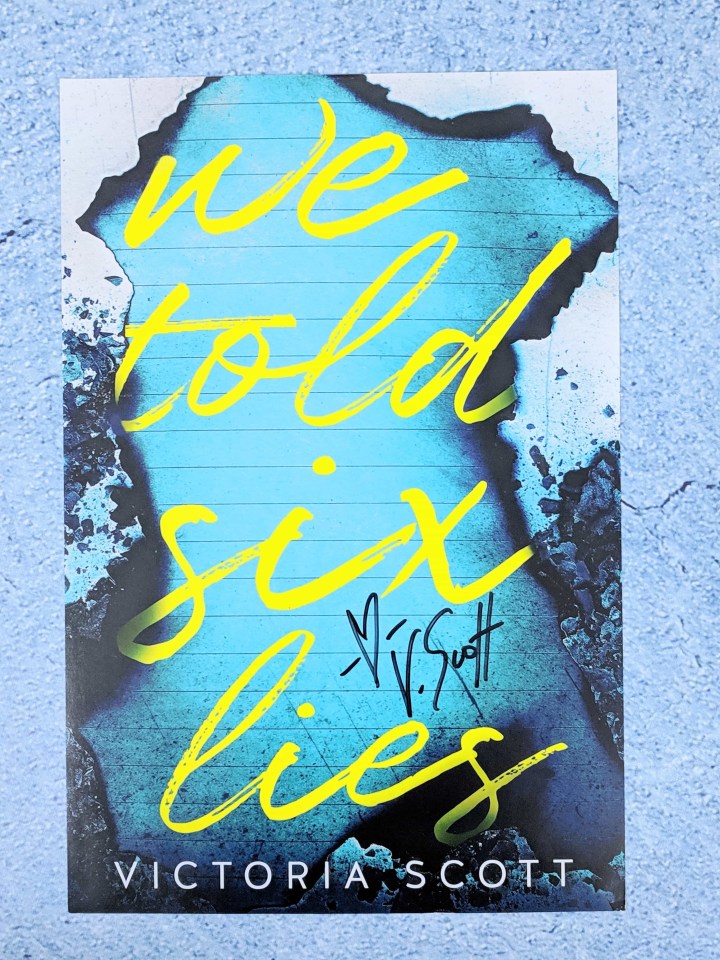 This small poster is for the upcoming novel We Told Six Lies by Victoria Scott, who also happens to be one of the two founders of Scribbler!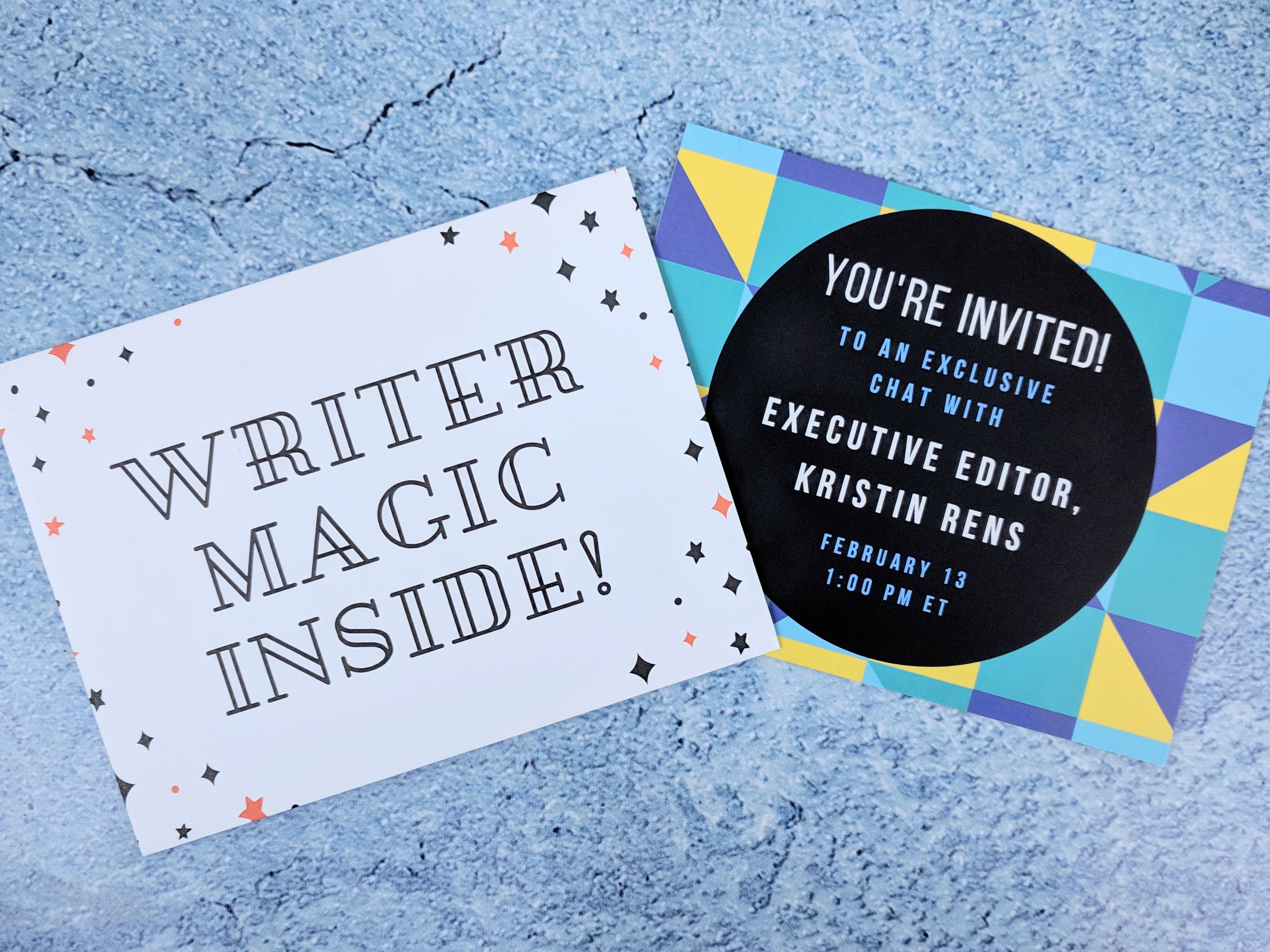 Writer Magic Inside!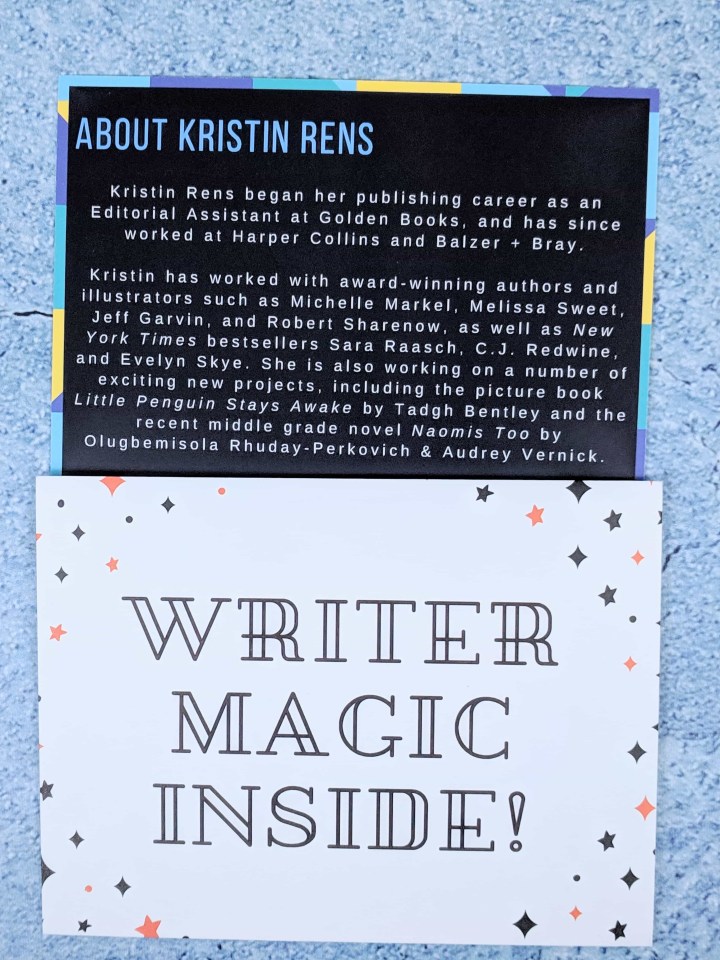 This is an invitation to an exclusive chat with Kristin Rens, an executive editor at Balzer + Bray / Harper Collins. on February 13. Knowing that this is the January box and that I live in Canada (so I get my box quite late), I still had plenty of time to get ready for this event! I really appreciate how far ahead of the event we get the box! Good job!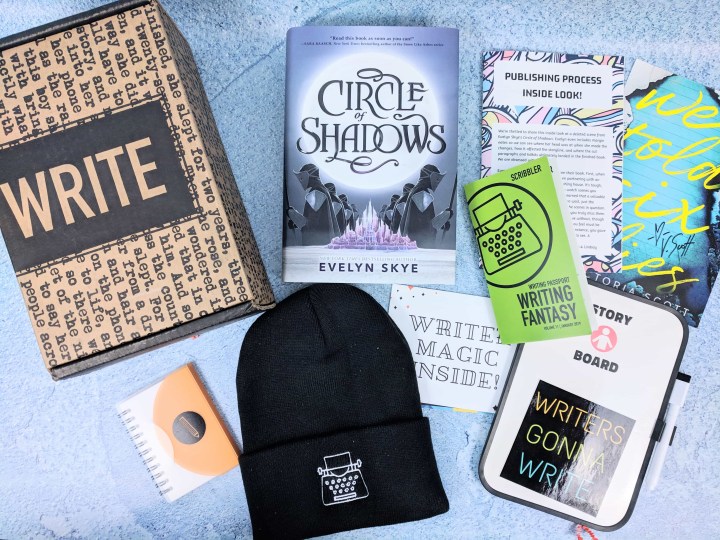 I love this month's box with the theme (Fantasy) and of course the awesome Scribbler Beanie! The booklet is always a nice read to remind us of different aspect of writing a book, making use more mindful when we write. It's also amazing to have the opportunity to connect with people in the industry and have insights from published authors!
What do you think of this month's box?