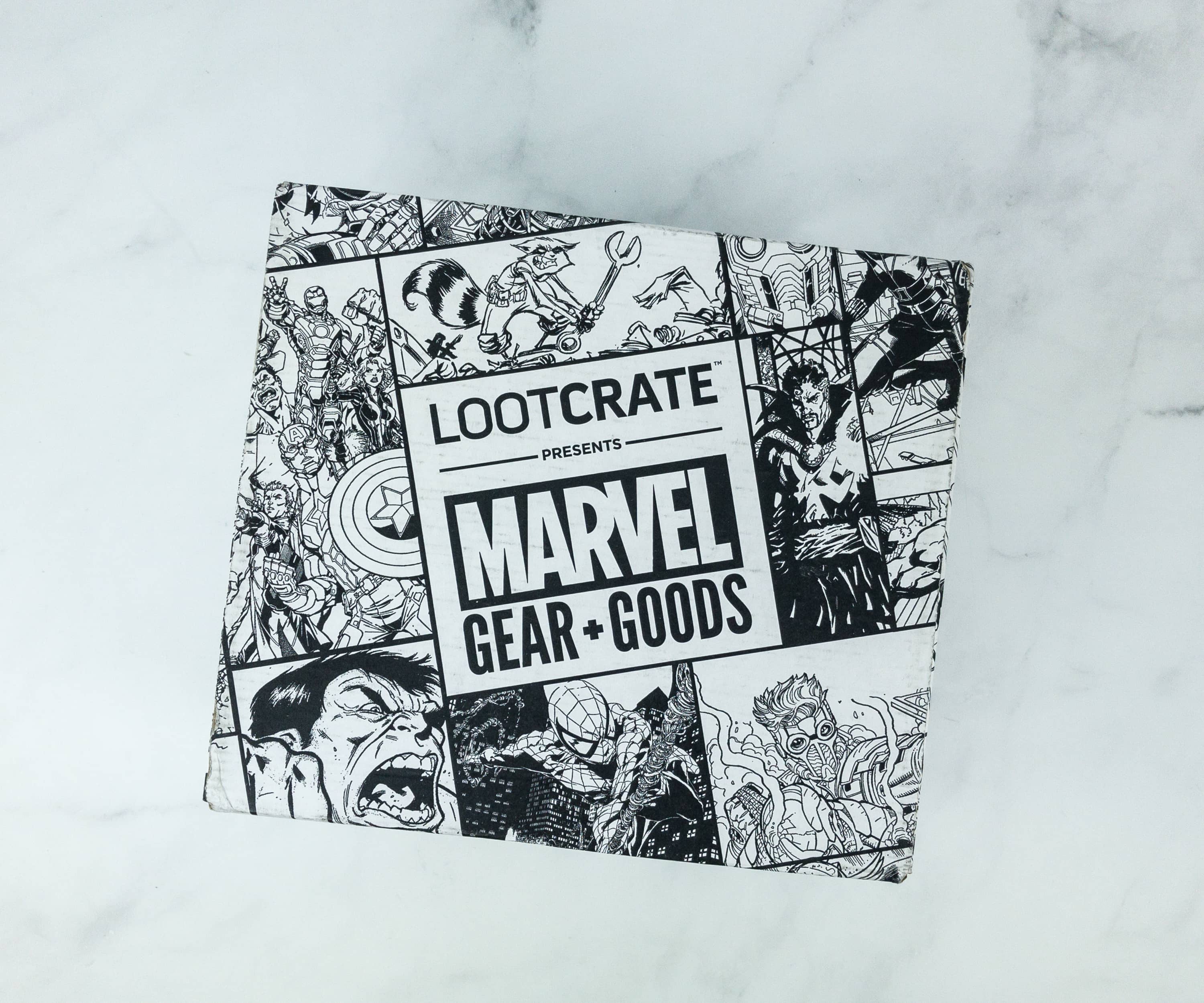 Loot Crate's Marvel Gear + Goods subscription is the ultimate subscription for Marvel fans! This bimonthly box comes loaded with completely exclusive Marvel items including wearables and home goods for $36.99 per box. Every box has a new theme based on the Marvel Universe and is valued for at least $75.
DEAL: Save 15% on any subscription when you use this link and coupon code HELLOSUBSCRIPTION15.
This month's theme is HEADQUARTERS!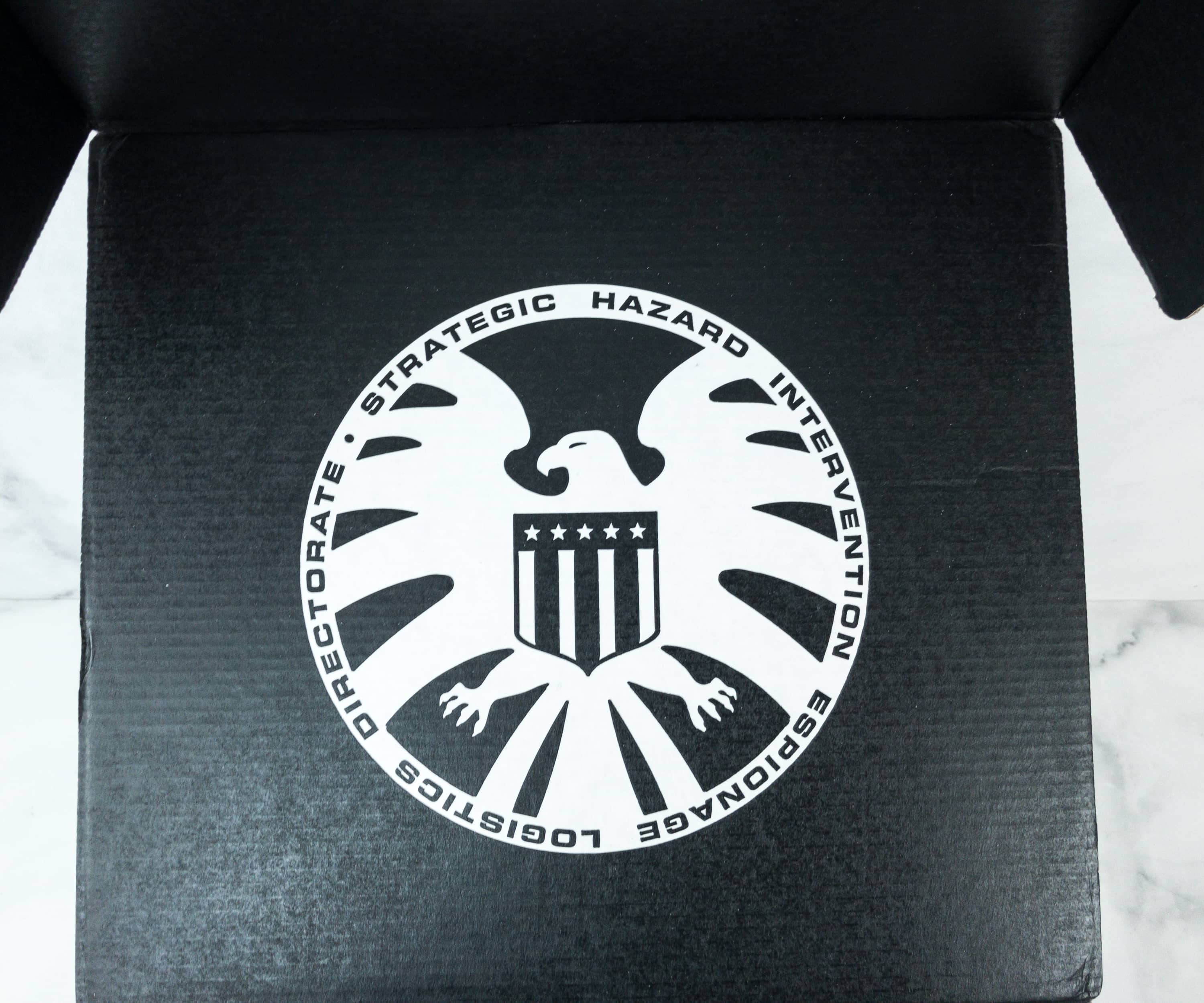 When you open the box, there's the symbol for S.H.I.E.L.D. which is the logo we mostly see at the headquarters.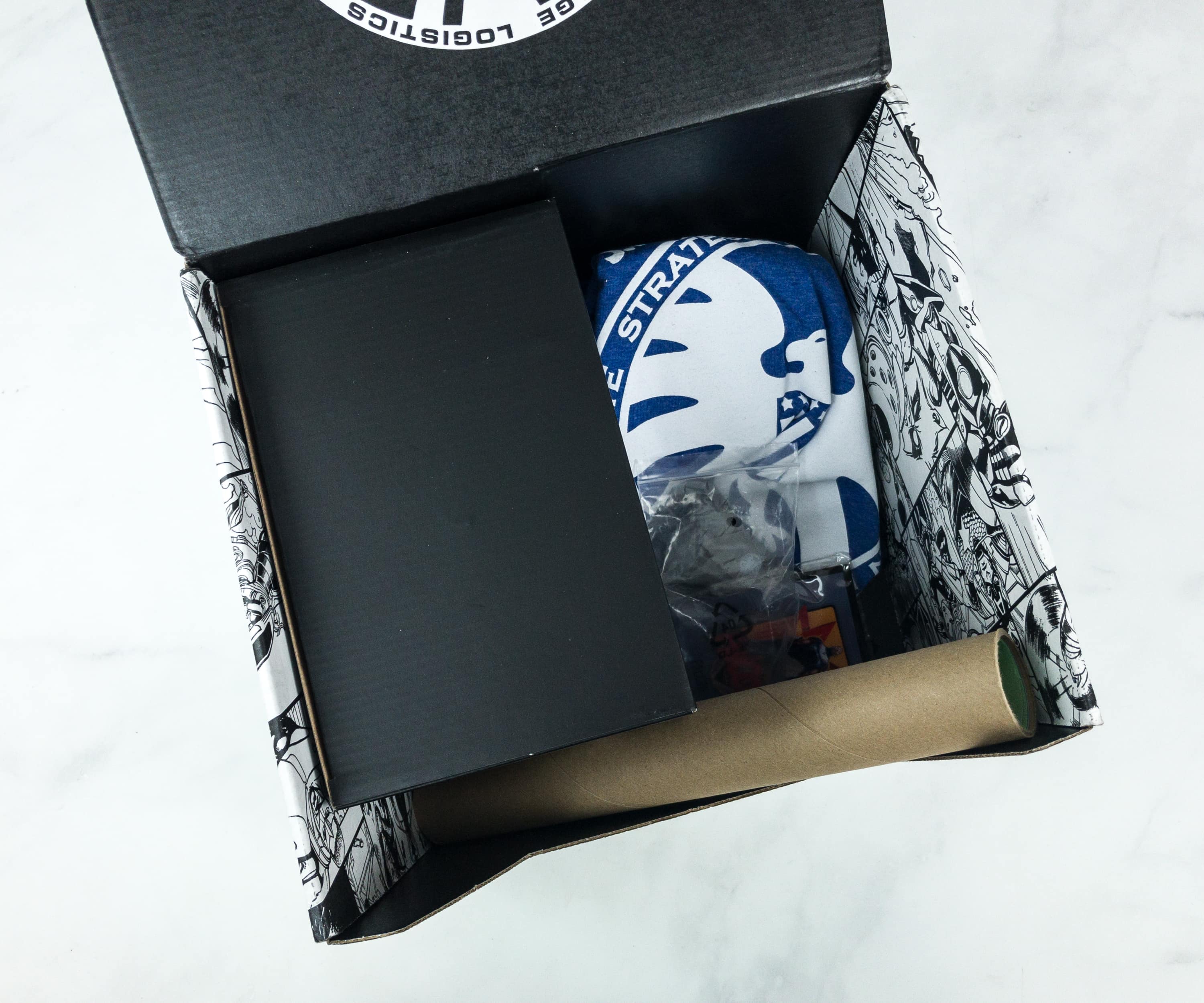 I am so excited about what's inside this box!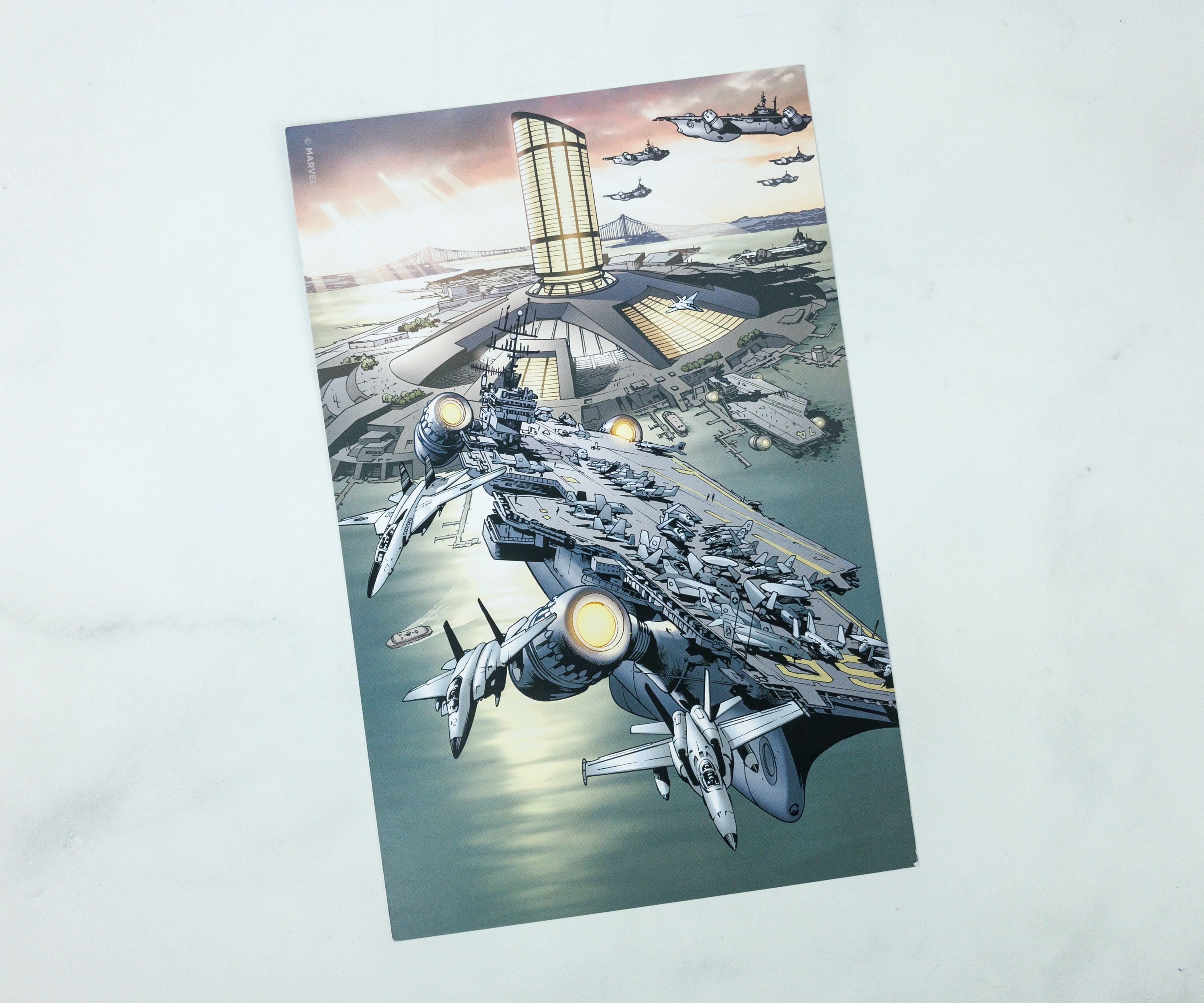 I love that this info card is basically a mini poster this month.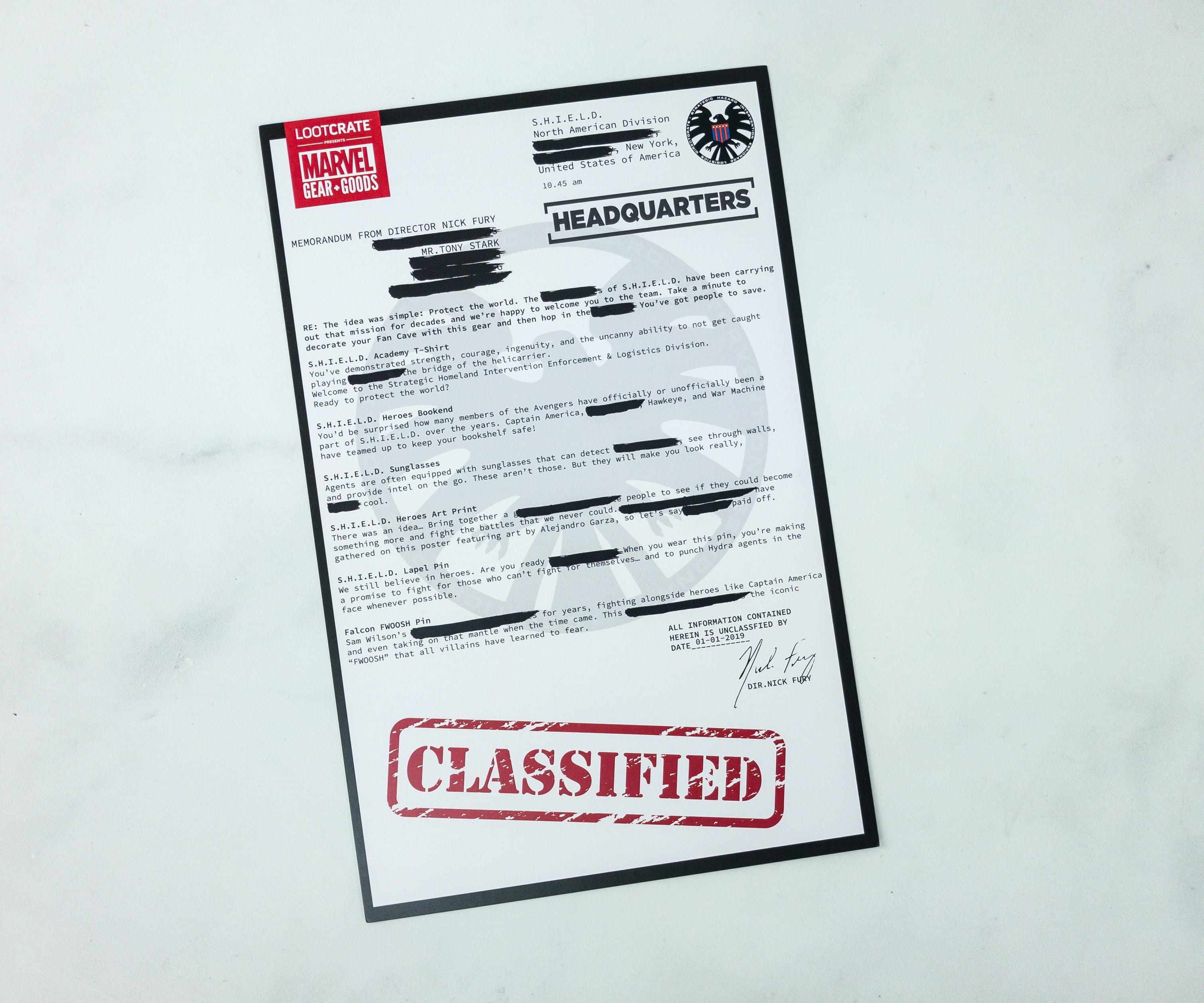 There's a card containing information about the items in the box.
Everything in my January 2019 box!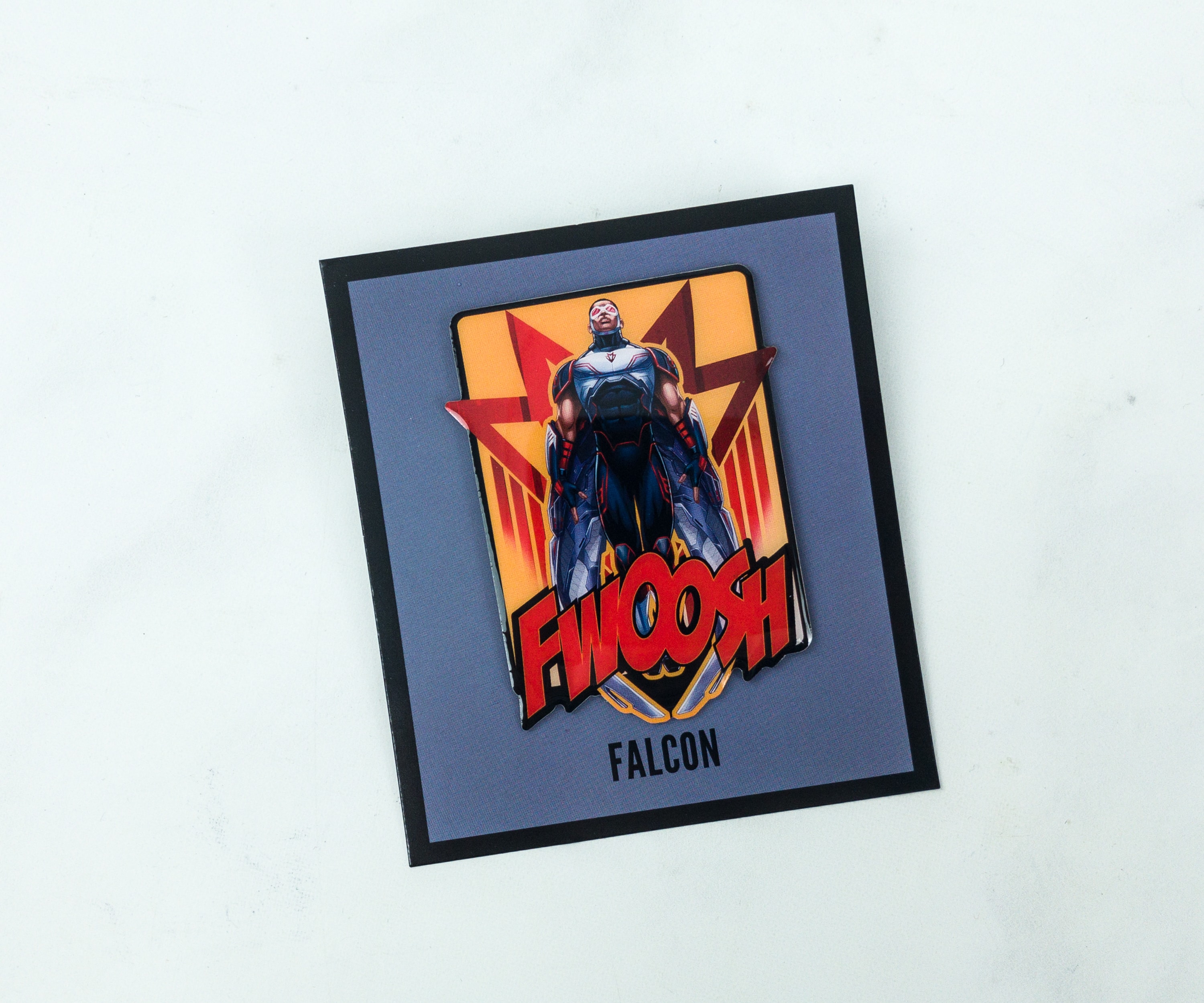 Falcon FWOOSH Pin. To continue with the box's SFX pins, here's Falcon ready for take-off! FWOOSH!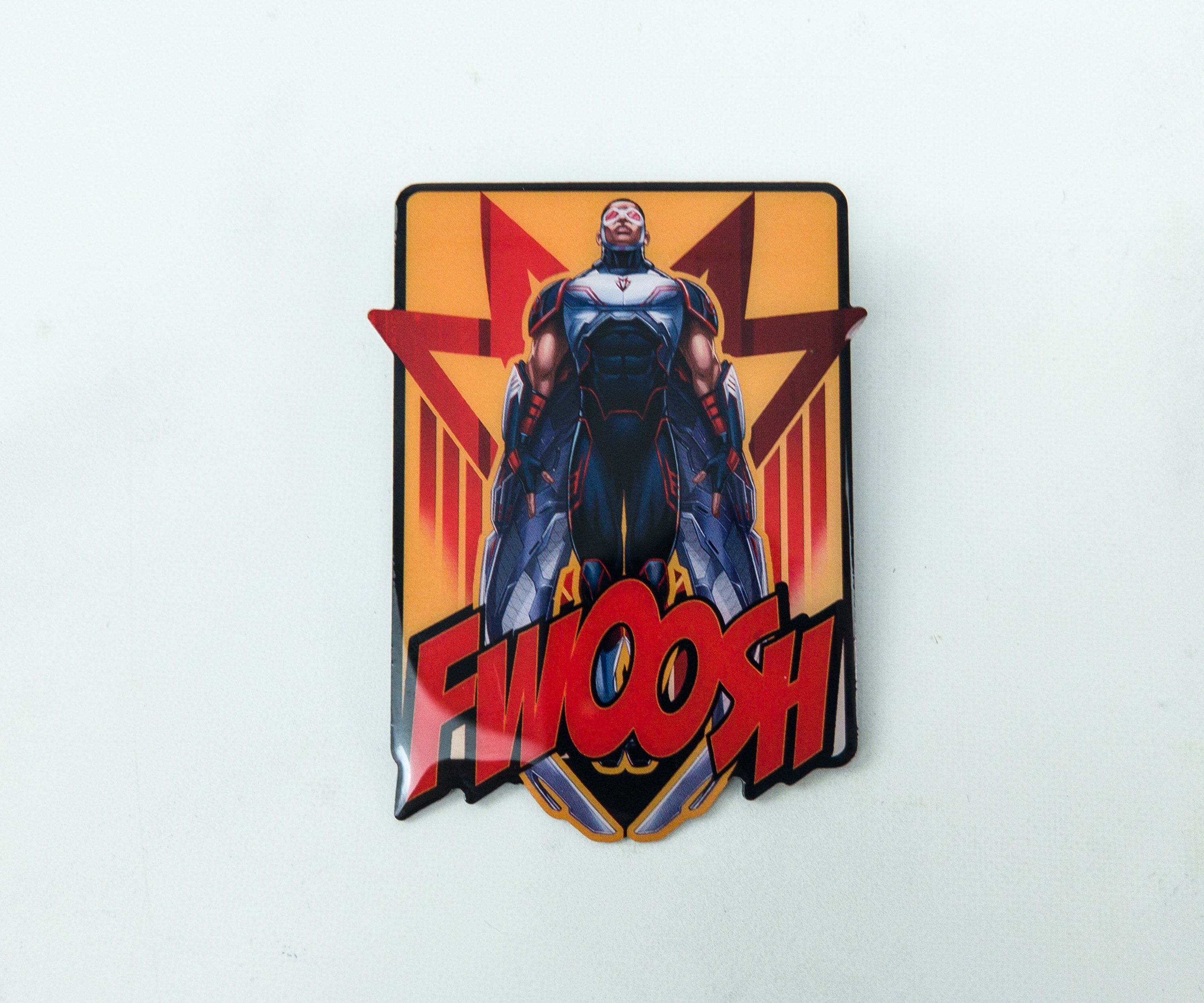 Sam Wilson, or popularly known as Falcon, was a former US Air Force pararescue airman who left his active duty when his wing-man died in combat. He became an ally of Captain America during the beginning of the HYDRA uprising and remained by his side for future missions.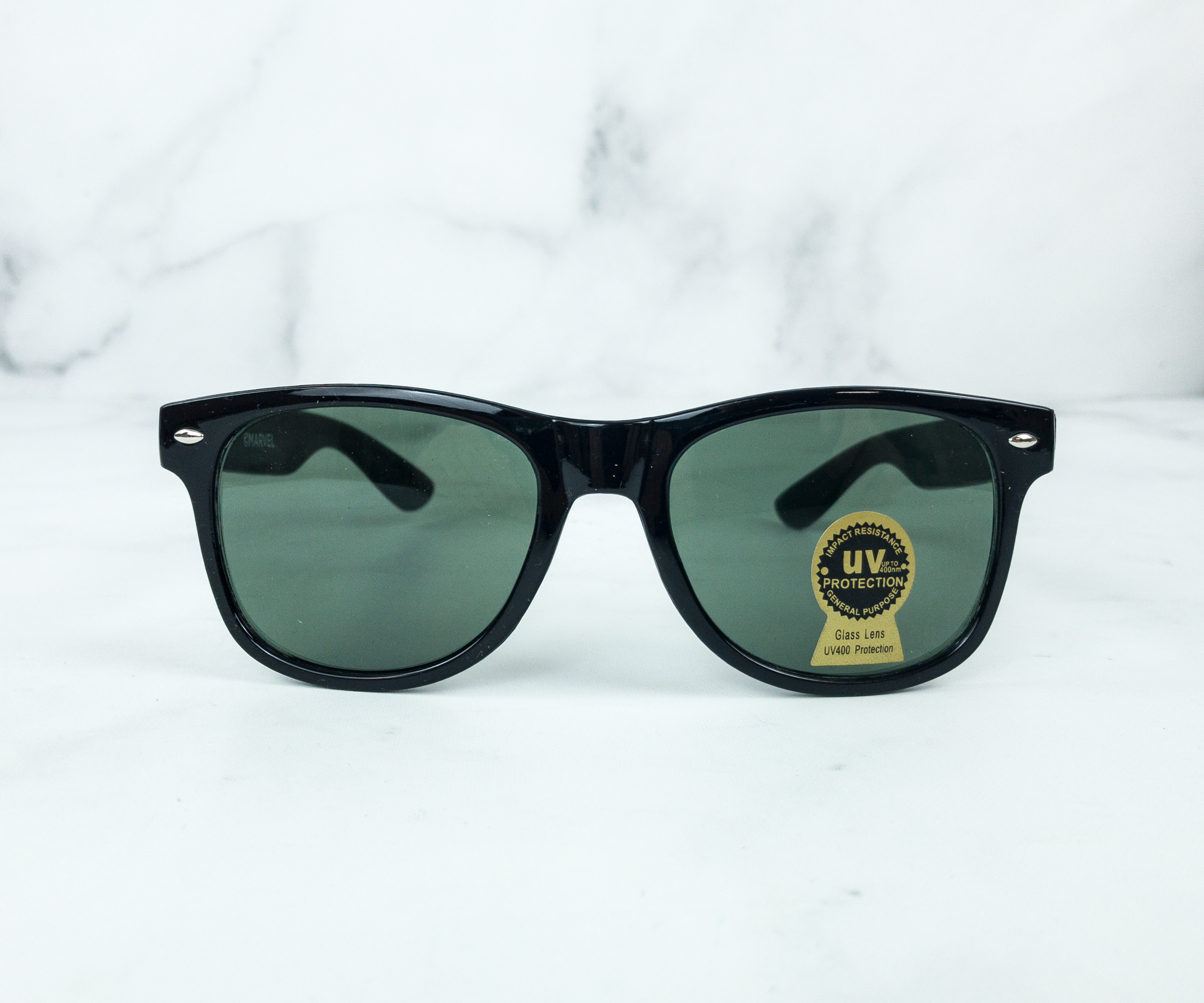 S.H.I.E.L.D. Sunglasses. Agents are usually seen donning a stylish pair, and behind each is a function that can aid them on their job (like hidden cameras, x-ray vision, etc.). While this one does not come with those high tech features, it's enough to make you look cool!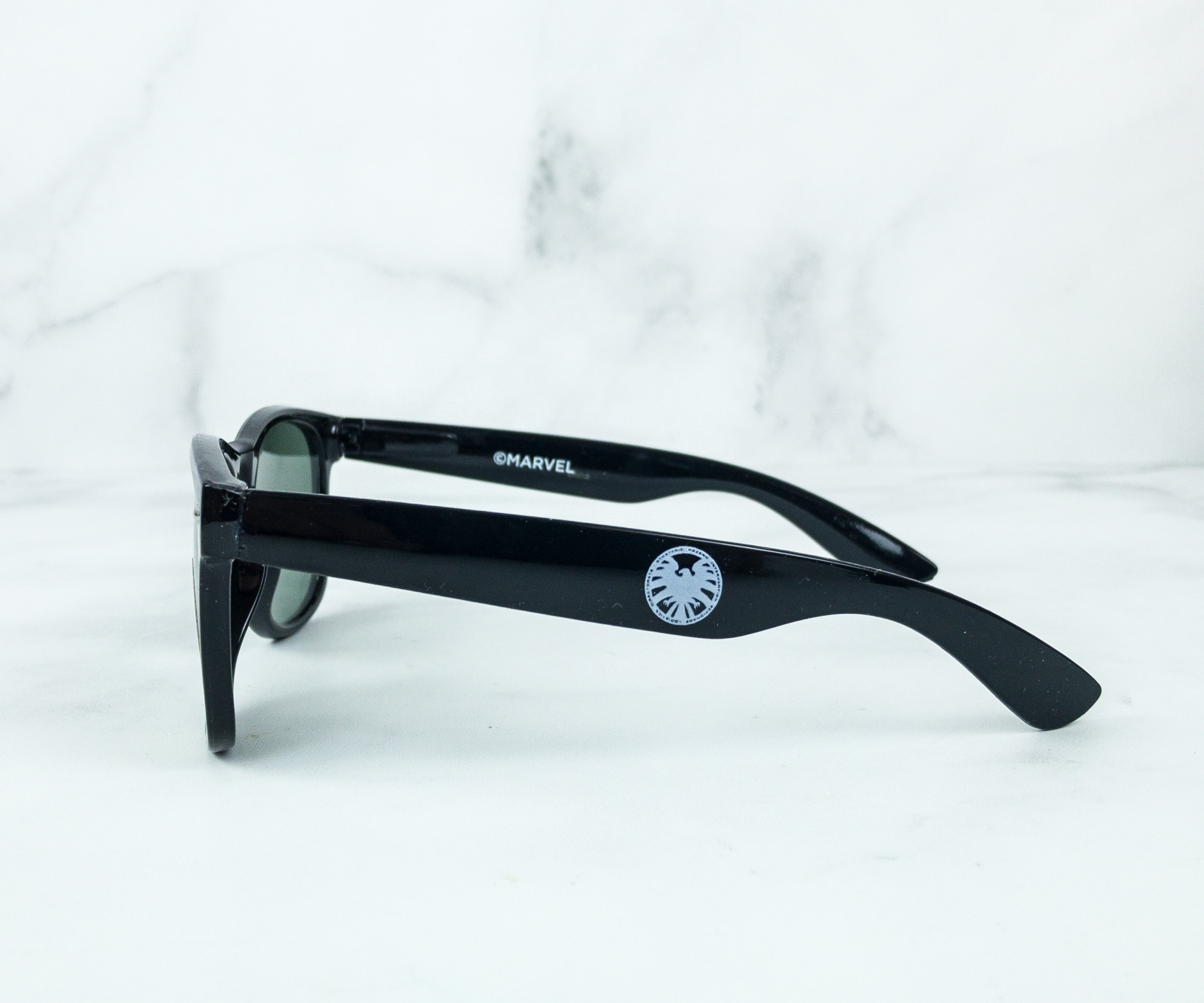 Printed on the outside of one of the temples is the HQ symbol for S.H.I.E.L.D., so anyone who sees it will suspect that you're an agent!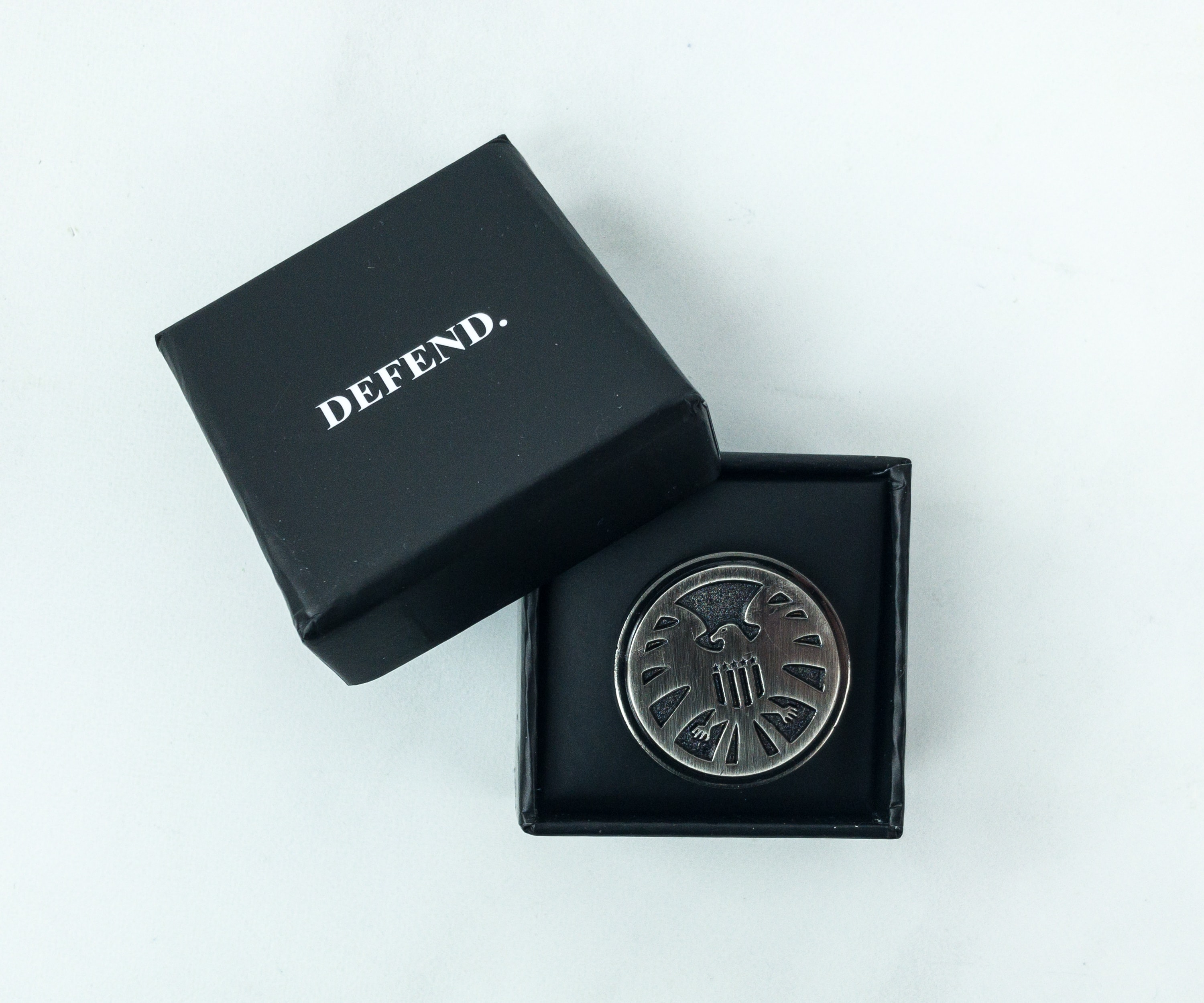 S.H.I.E.L.D. Lapel Pin. Lapel pins actually are cool accessories, and they definitely look good attached on a suit (you know, a James Bond-ish look), and this lapel pin of S.H.I.E.L.D. actually has all the elements to make you look like a top agent!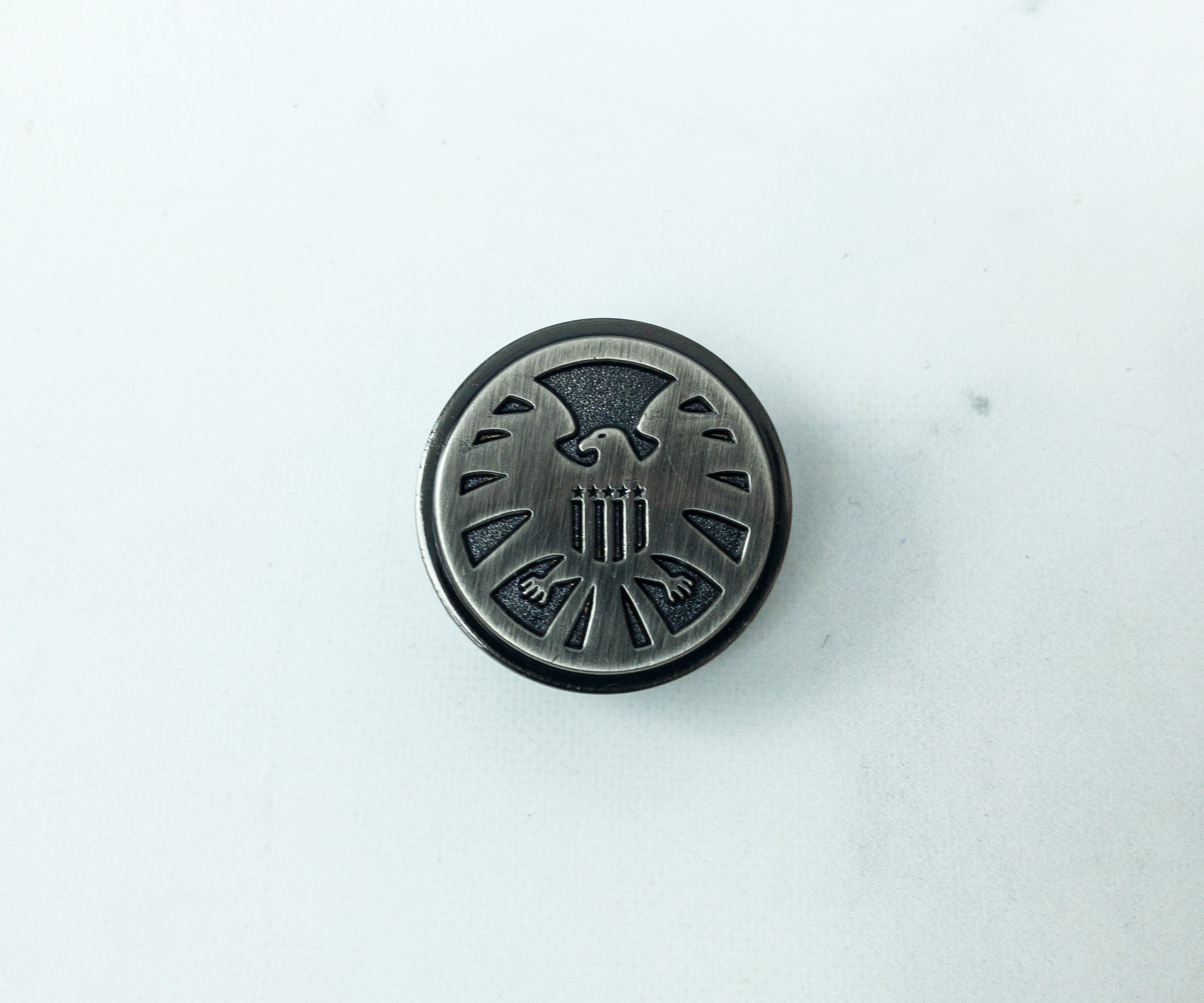 Just watch out as HYDRA will be after your back! It has the same make as the HYDRA pin I received last time, they have the same sophisticated and coin-like look.
The lapel pin is encased inside an elegant black ring box. On the inside of the top lid, inscribed are the meaning of S.H.I.E.L.D., which stands for Strategic, Homeland, Intervention, Enforcement, and Logistics Division.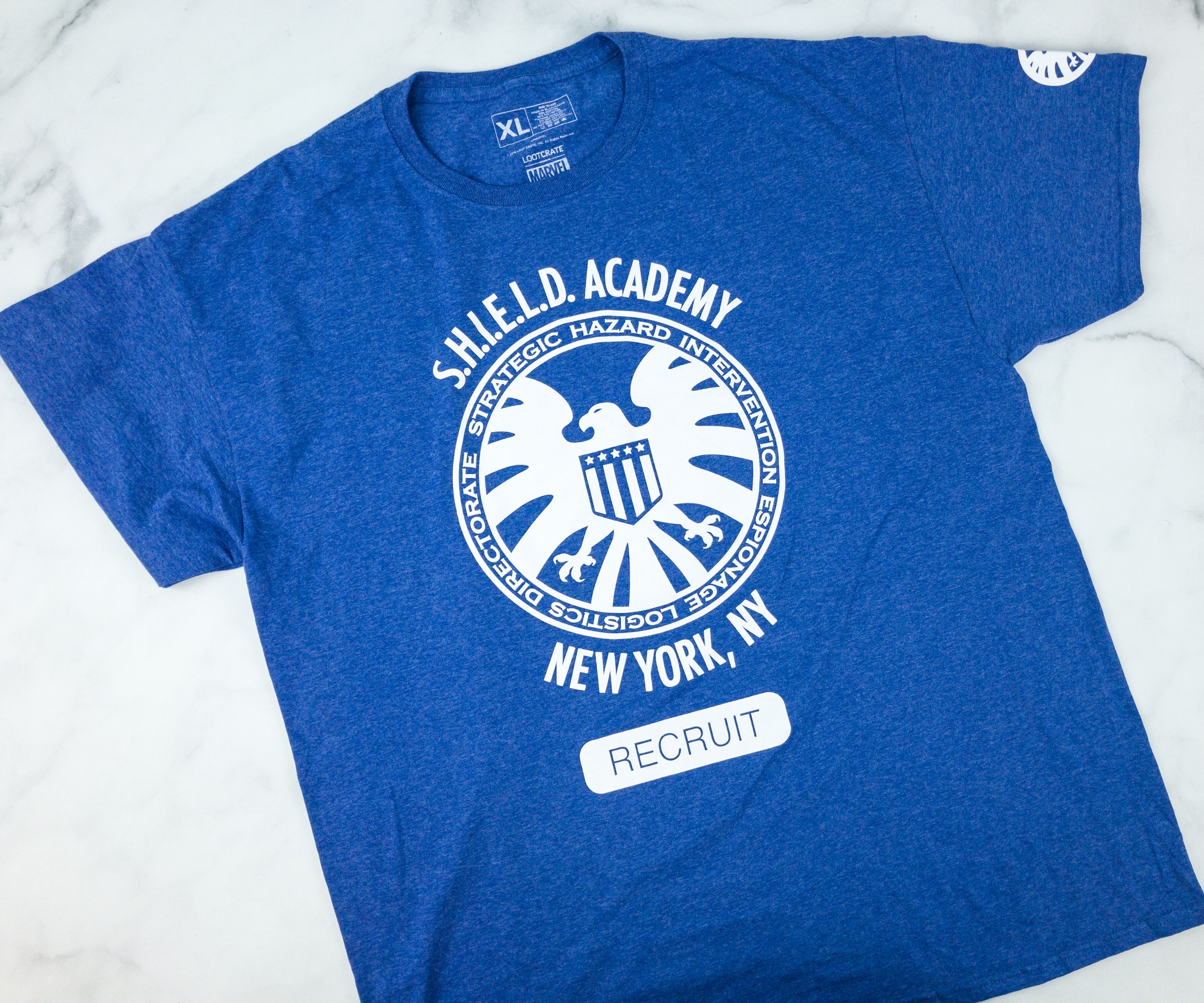 S.H.I.E.L.D. Heroes Academy T-Shirt. The box also includes a shirt that you can wear with pride, as a recruit of the intelligence agency.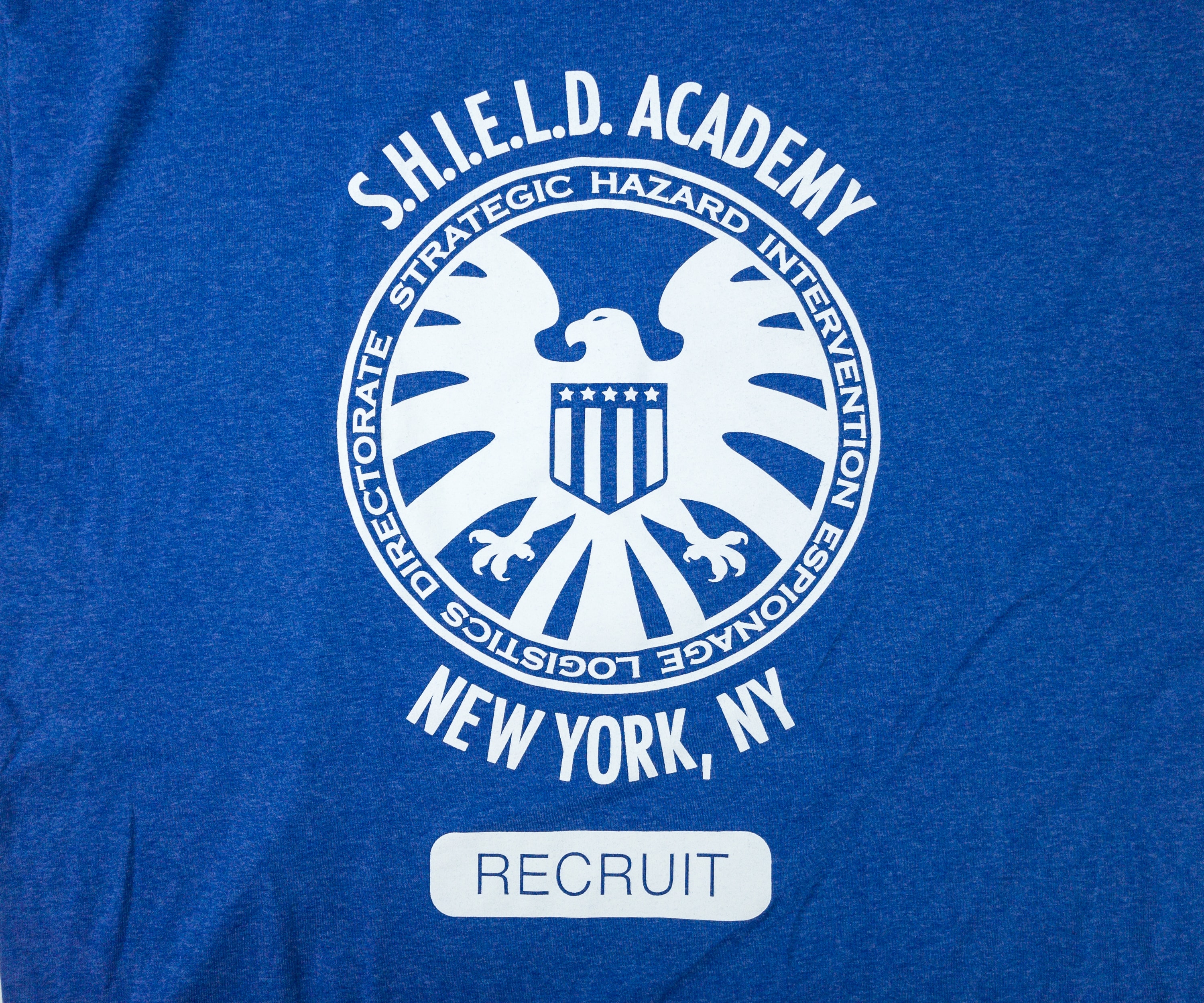 Like most of the items in this box, the shirt features the HQ logo of the agency. The symbol has variations, and most of the items included in this box had the full eagle symbol with a banner of stars and stripes at the center, which is the agency's first insignia before its fall on 2014.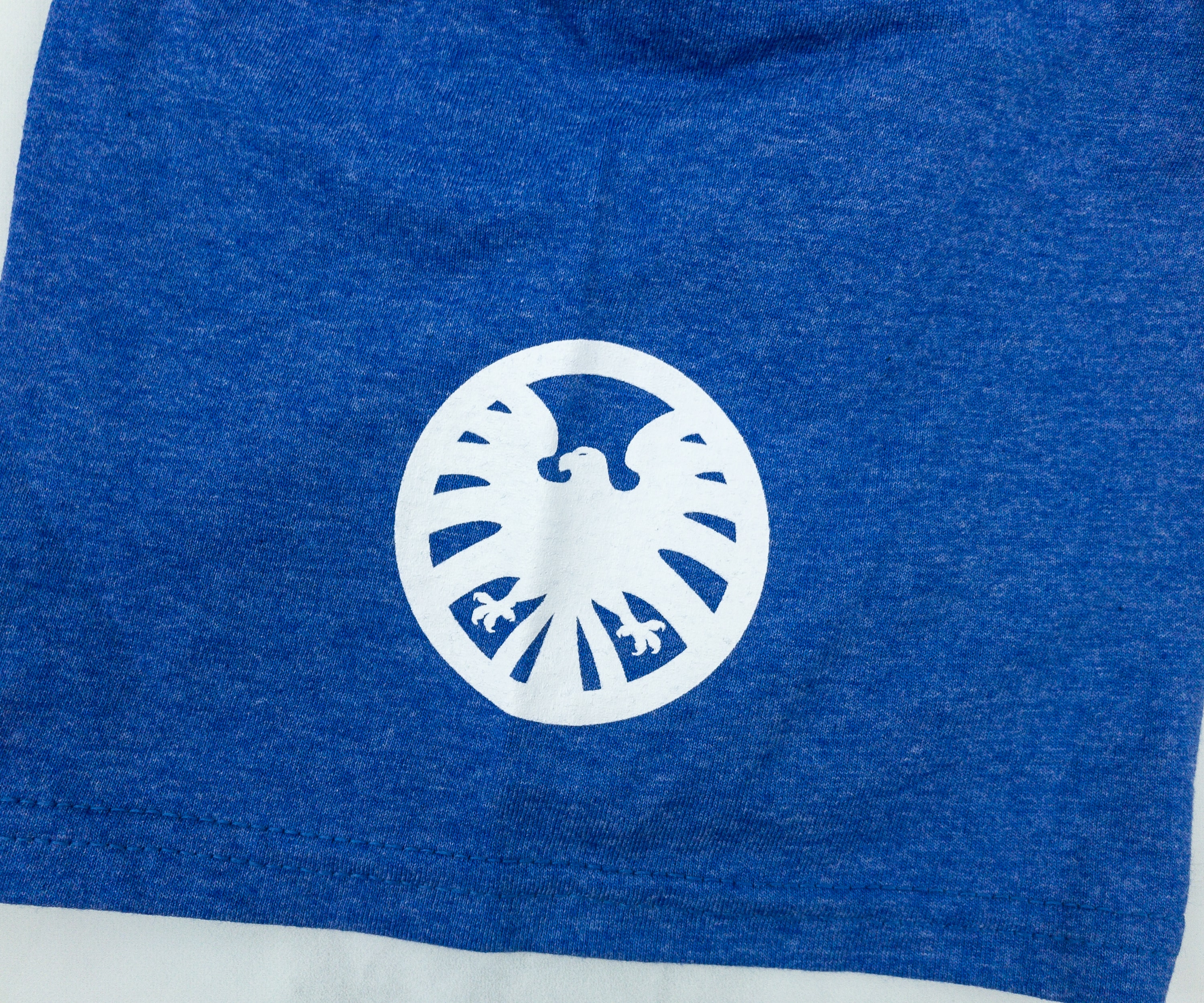 Another symbol is printed at one of the shirt's sleeve. The shirt is really comfy, and I also like its overall color.
S.H.I.E.L.D. Heroes Book End. I believe, this bookend is the other end to the Thanos bookend I got from the previous box! I'm so pumped – I thought one bookend was weird, but this is perfect!
Like the Thanos bookend, it also shows the shadows of the Avengers (some who were also agents of S.H.I.E.L.D.). Among them are Captain America, Thor, Hulk, Hawkeye, and Ironman!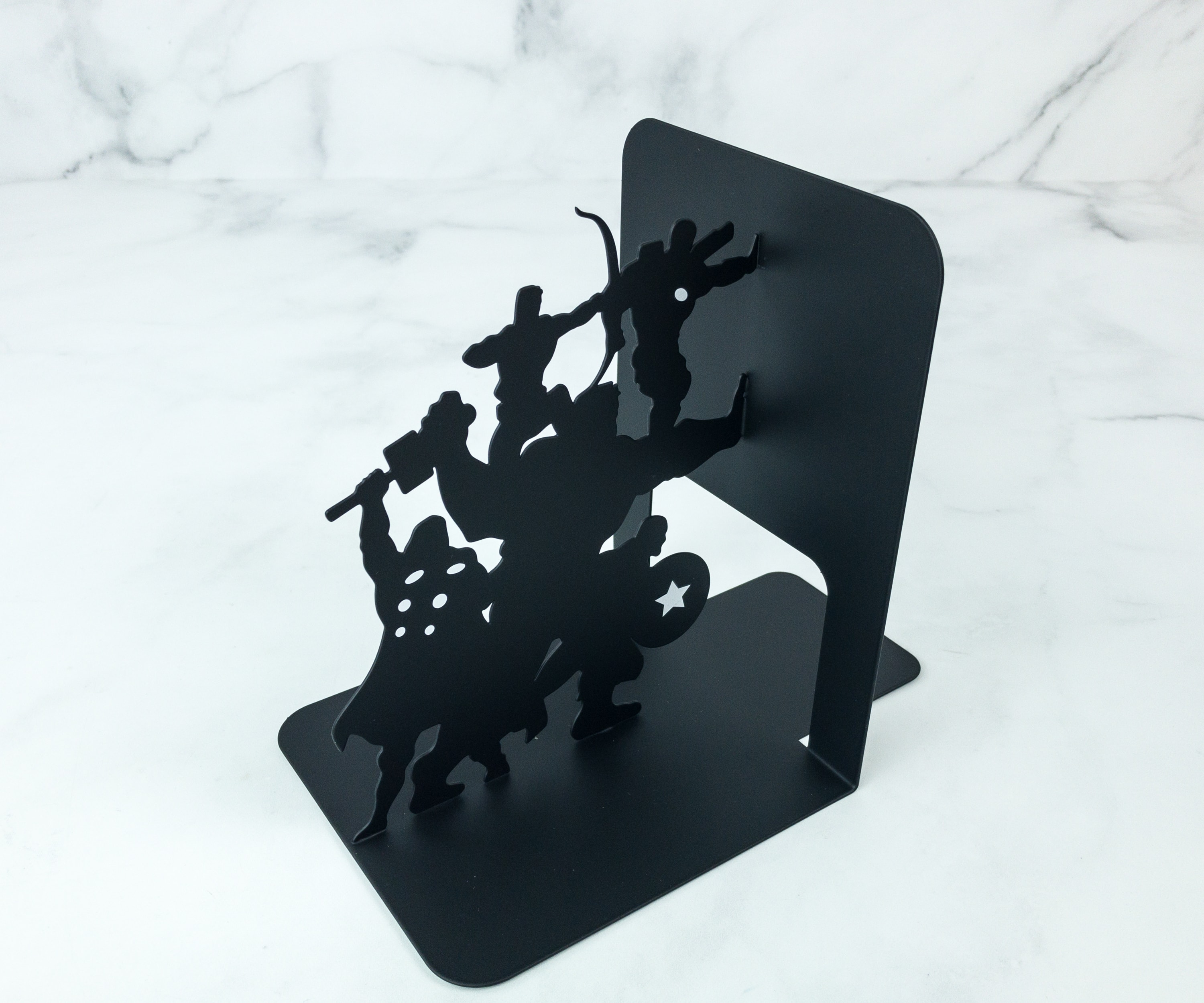 I know this will look good with the other end, it's like they're pushing the books to each other. While it shows how powerful Thanos is as he's the only one on one end, both are really cool items to have!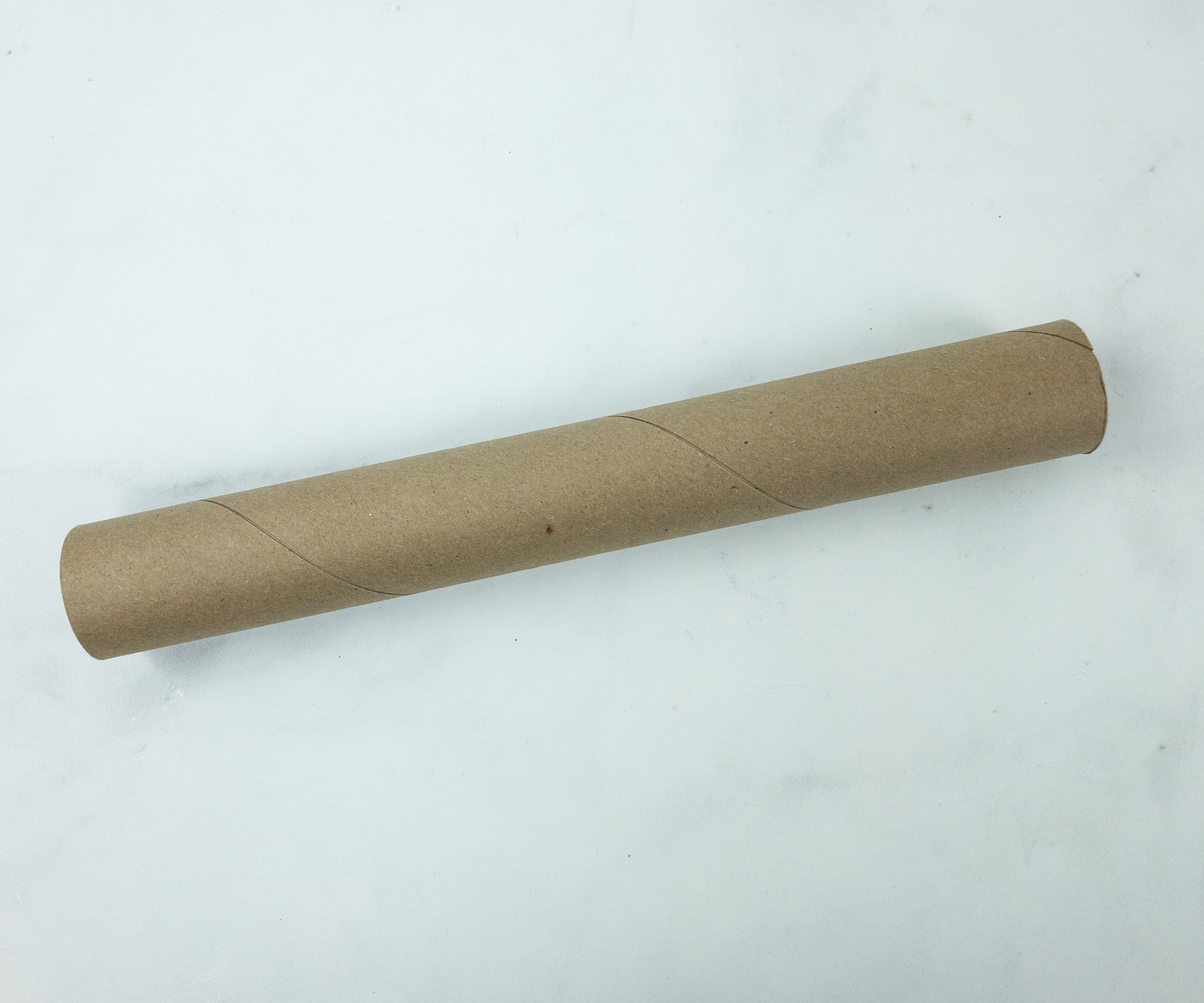 S.H.I.E.L.D. Heroes Art Print. The posters from this box come nicely rolled and packaged.
The poster features the agents of S.H.I.E.L.D., in a comic book art style.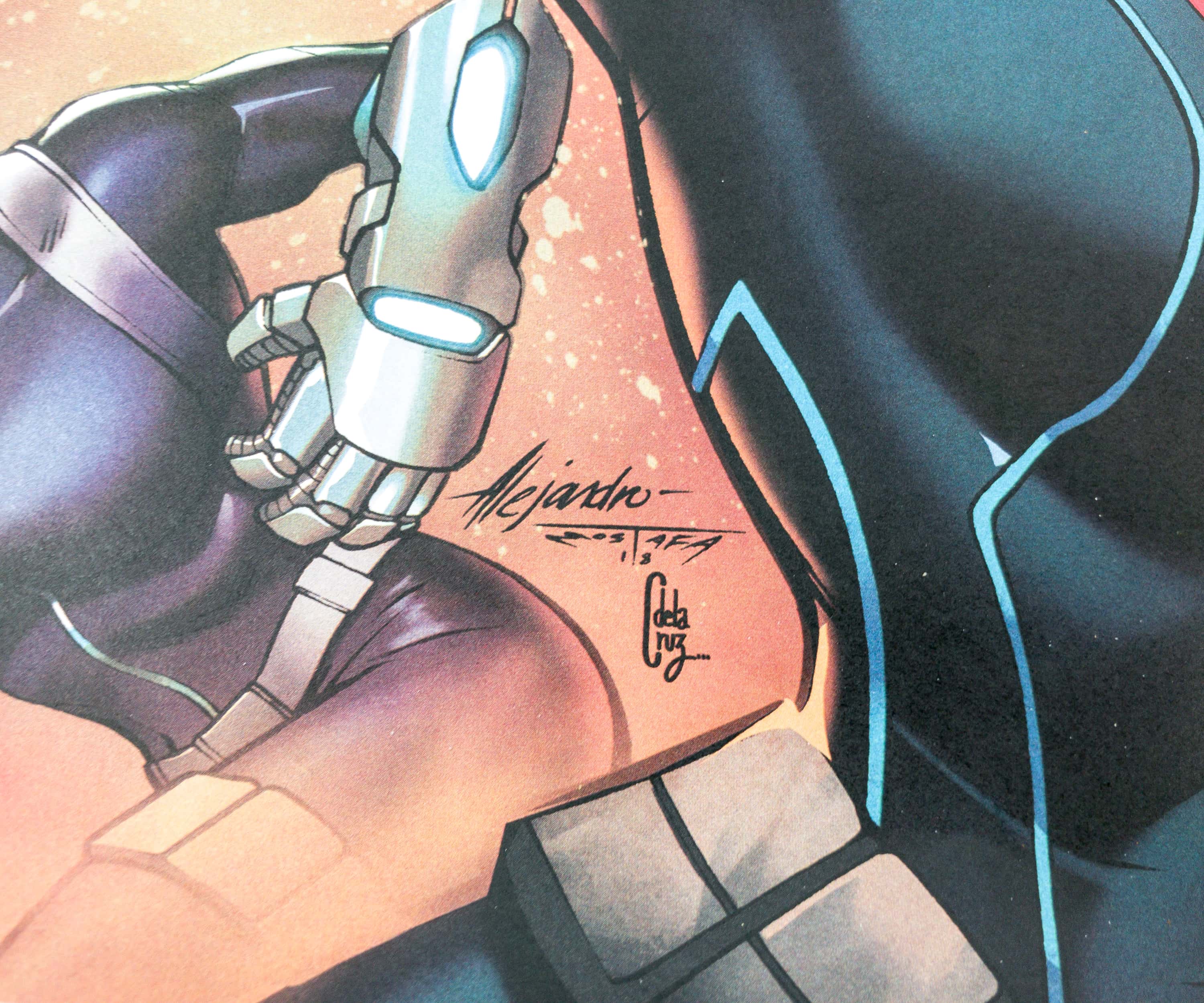 The beautiful art is made by Alejandro Garza.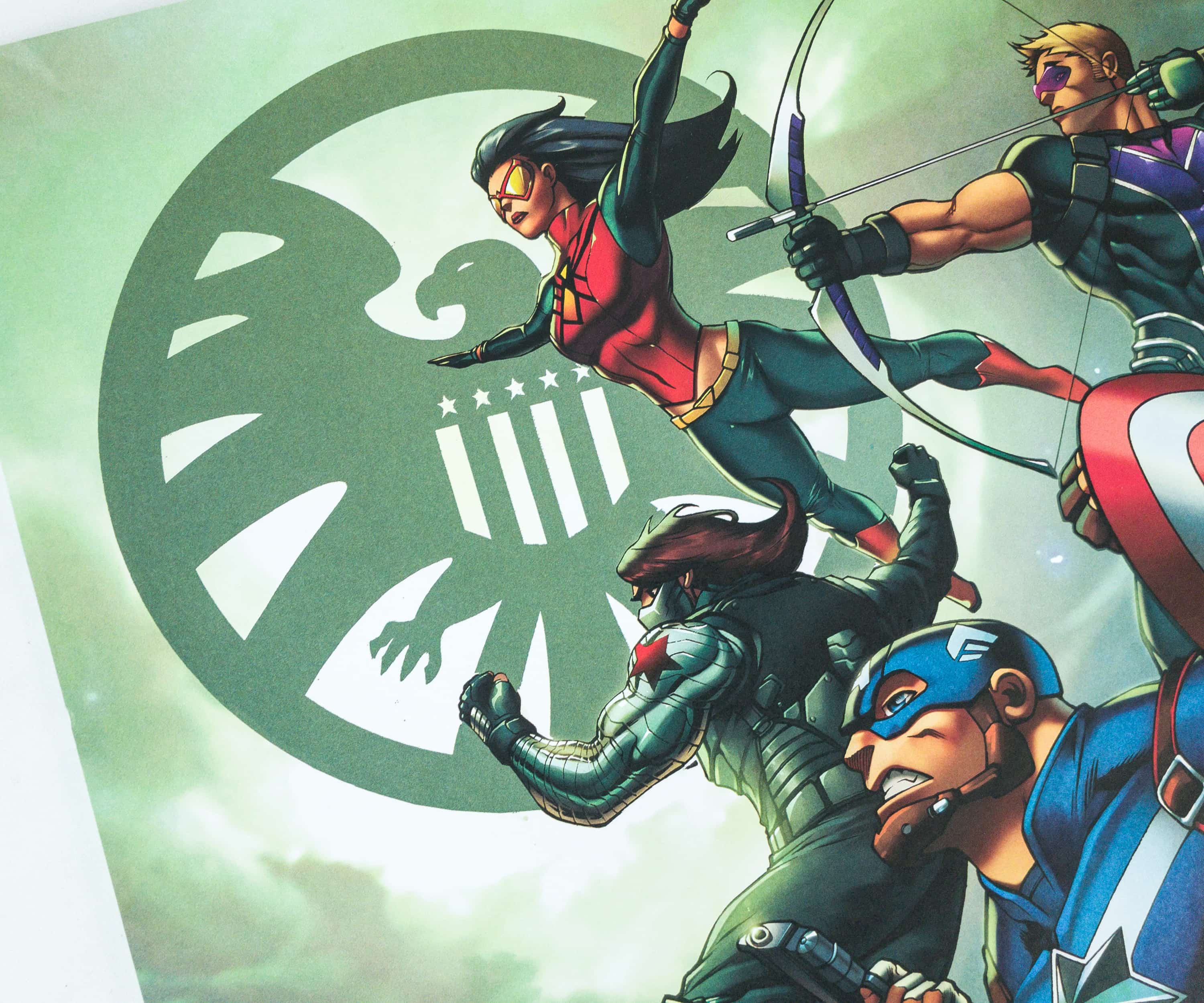 I love this cool artwork, and I can't wait to frame and hang this one up. This will look good beside the bad guys' poster I got last time!
This time, the box honors the agency that brought together a group of exceptional individuals. All of the items in this box features the HQ symbol for S.H.I.E.L.D., which is its first insignia that features an American flag decal at the center. I love the recruit T-shirt and the sunglasses, it feels like I'm a real agent, plus the lapel pin. I also love the bookend, it completes the look of my new desk decor with books in between! I also love the art print! Overall, it's another awesome box, and it made me excited for the movies that are coming out this year!
What do you think of this month's Marvel goodies?