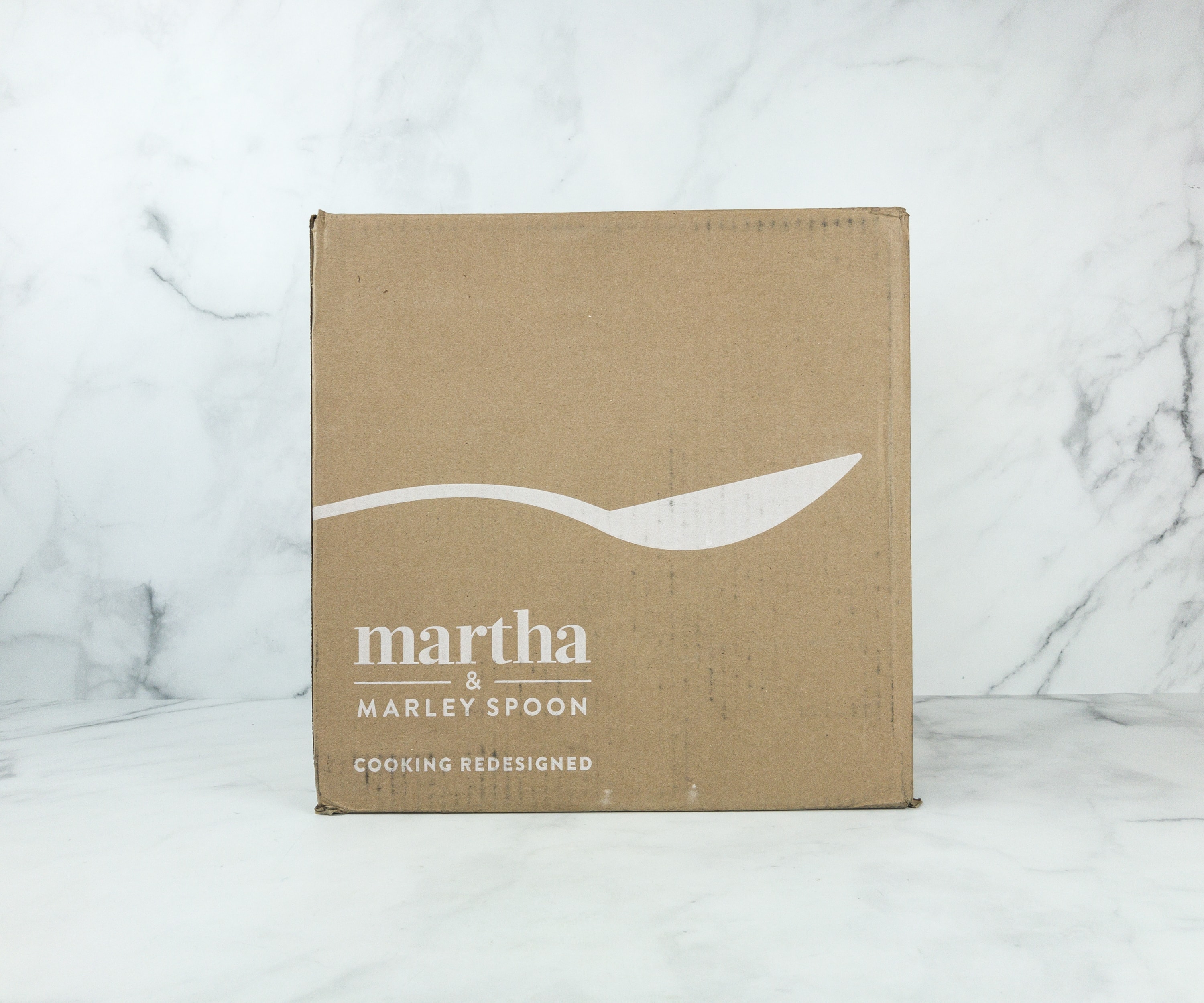 Marley Spoon delivers delicious recipes and fresh, seasonal ingredients straight to your door. You can choose from a weekly menu featuring 10 chef-created recipes, including recurring customer favorites, vegetarian meals, and kid-friendly recipes. Each option is clearly marked to note whether it features meat, fish, or just veggies, plus other characteristics of concern to diners with diets restricted by necessity or preference — they note gluten free, dairy free, kid-friendly, quick to prepare, vegetarian, and spicy meals to help you pick the best meals for you. Each recipe serves two people (there is a minimum four portion requirement per box), and shipping is free!
DEAL: Save $15 on your first box. USE THIS LINK to get the deal. Valid to USA subscribers only.
The ingredients were well-packed.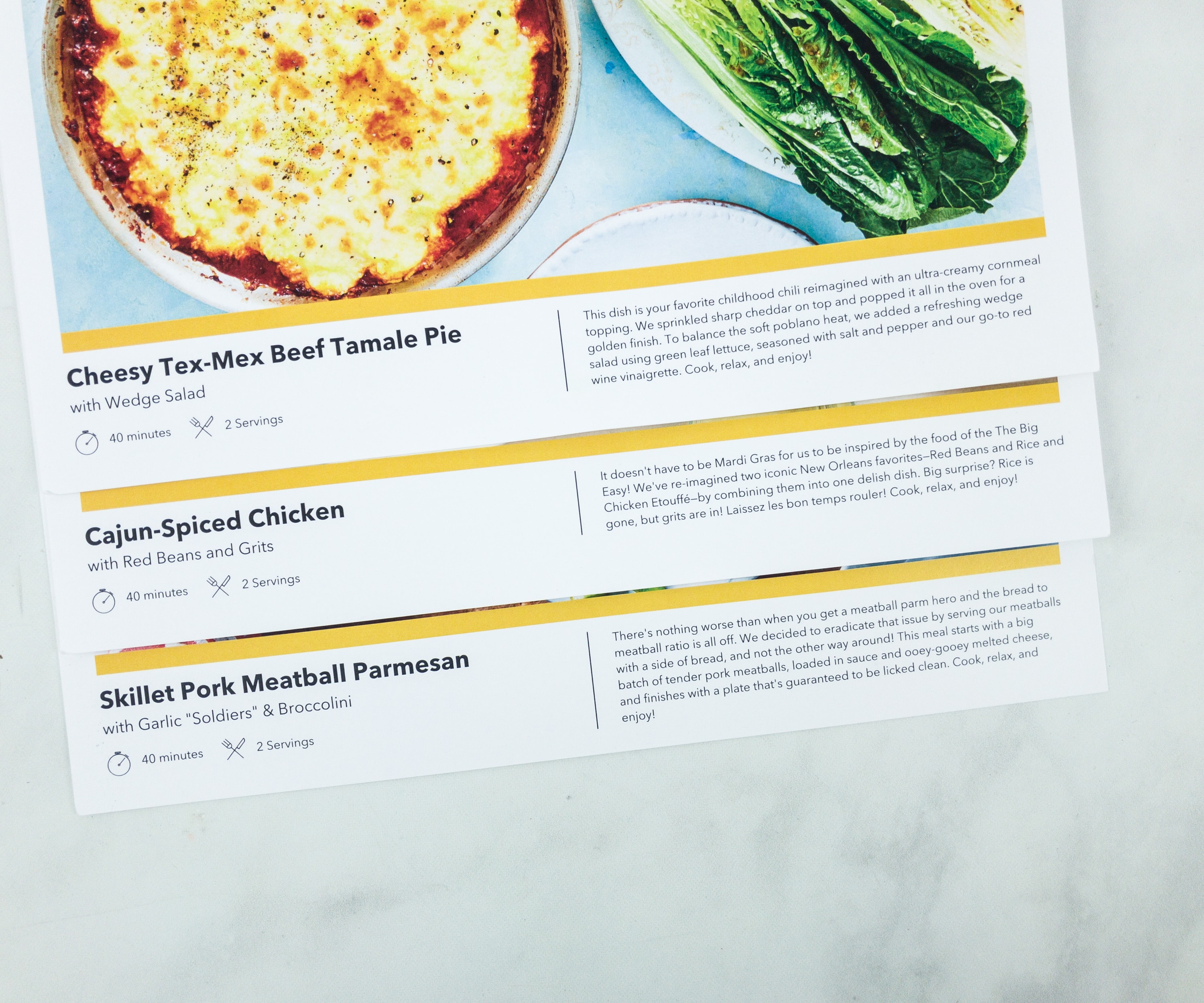 Each Martha & Marley Spoon recipe card includes a full-color picture of the plated dish, prep time and a number of servings. The dishes are elegantly plated in the pics, and you can use them as inspiration for setting out your own food.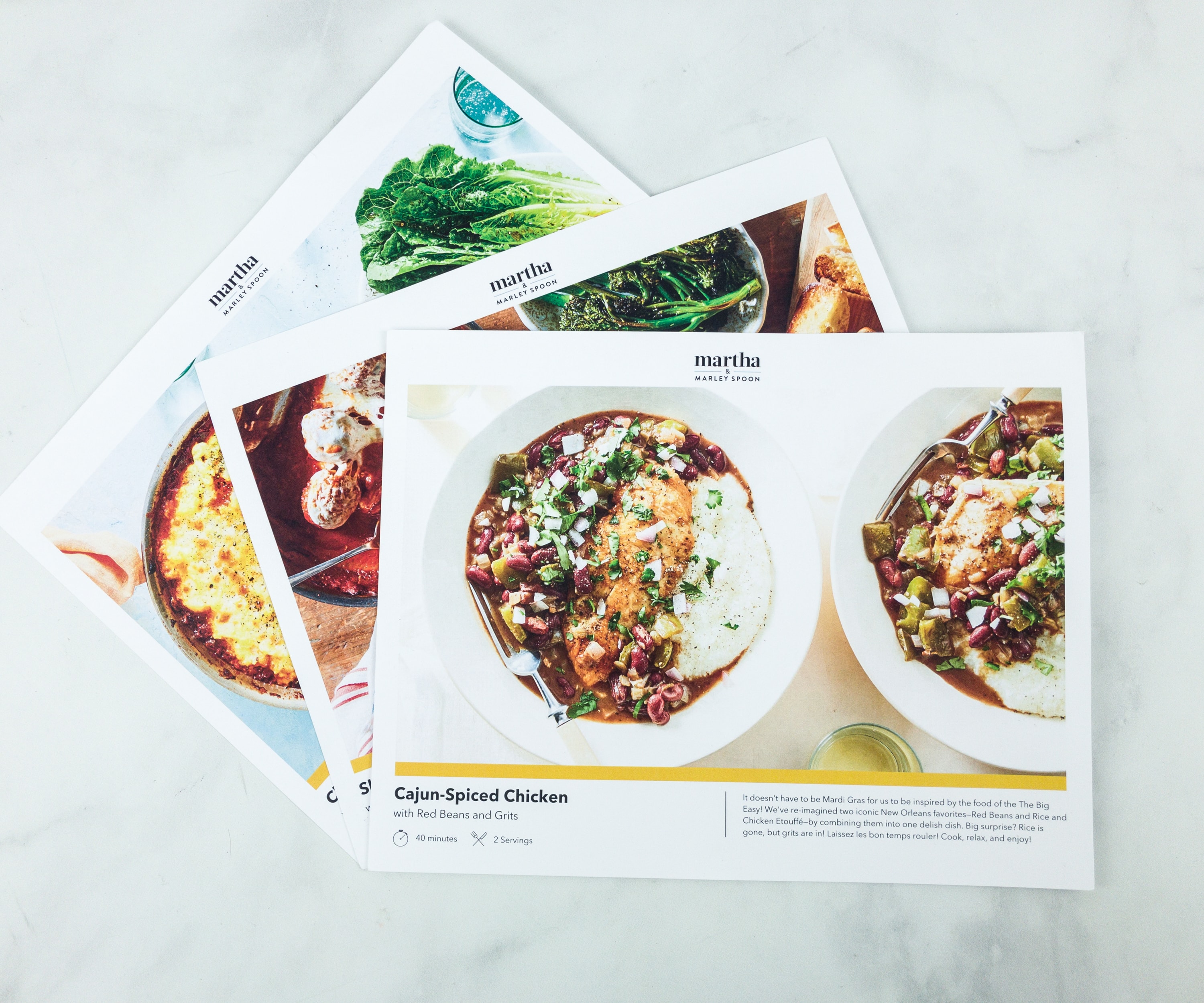 Here are the three recipes for i picked for my box! I like having the prep time estimate provided, and I often choose the order in which to make my meals based on that and perishability of ingredients. Typically, I'd start with any seafood dish, then do anything with fresh greens next.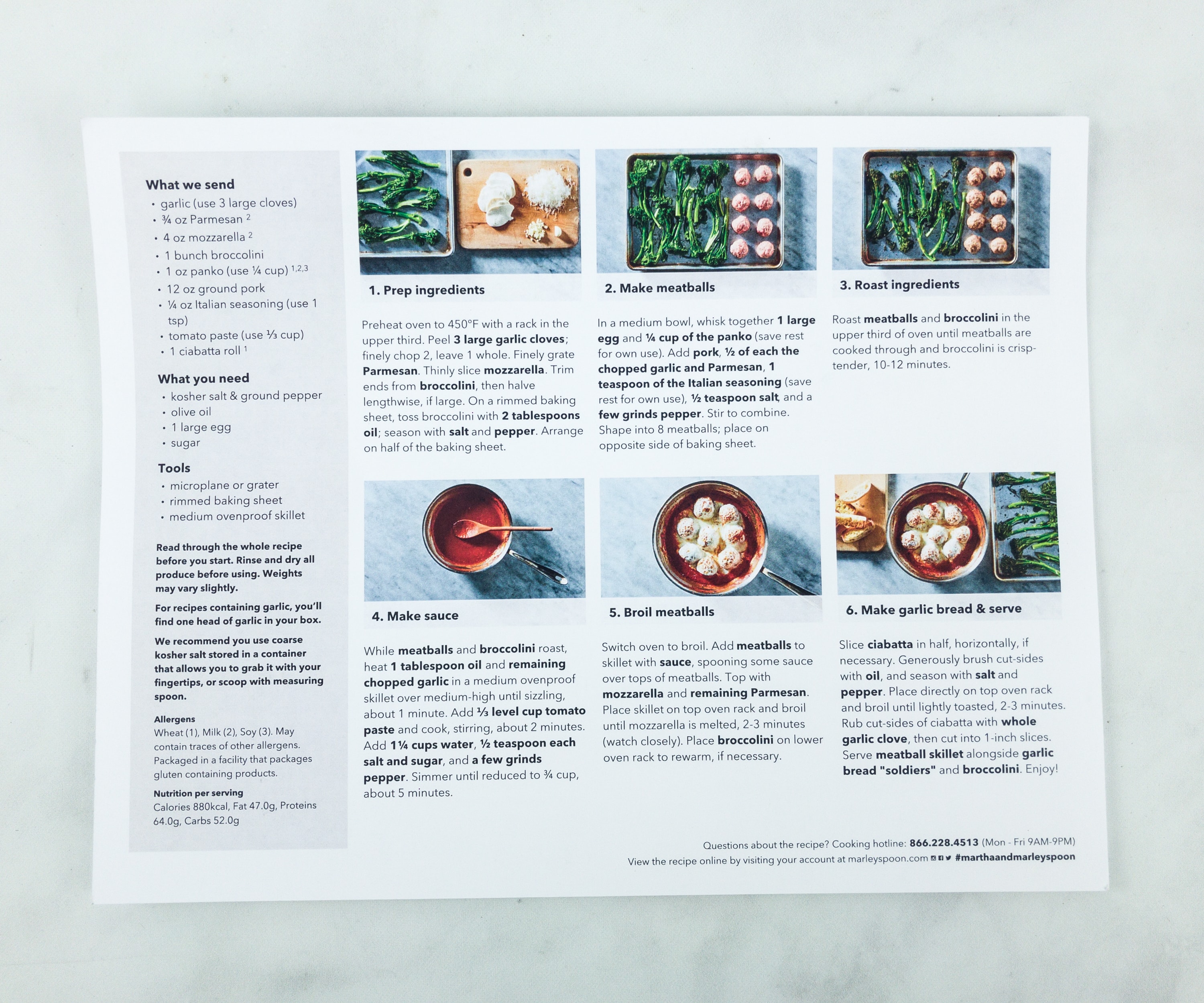 The back includes the full recipe (with pictures!) and allergen and nutrition info. The instructions are easy to follow, whether you are a novice or pro. Usually, you start by washing and prepping all the ingredients before cooking. Within the detailed, step-by-step instructions, ingredients are set in bold type for ease of recognition. Info panes in the sidebar list any ingredients and tools you'll need from home (pans, cooking oil, etc).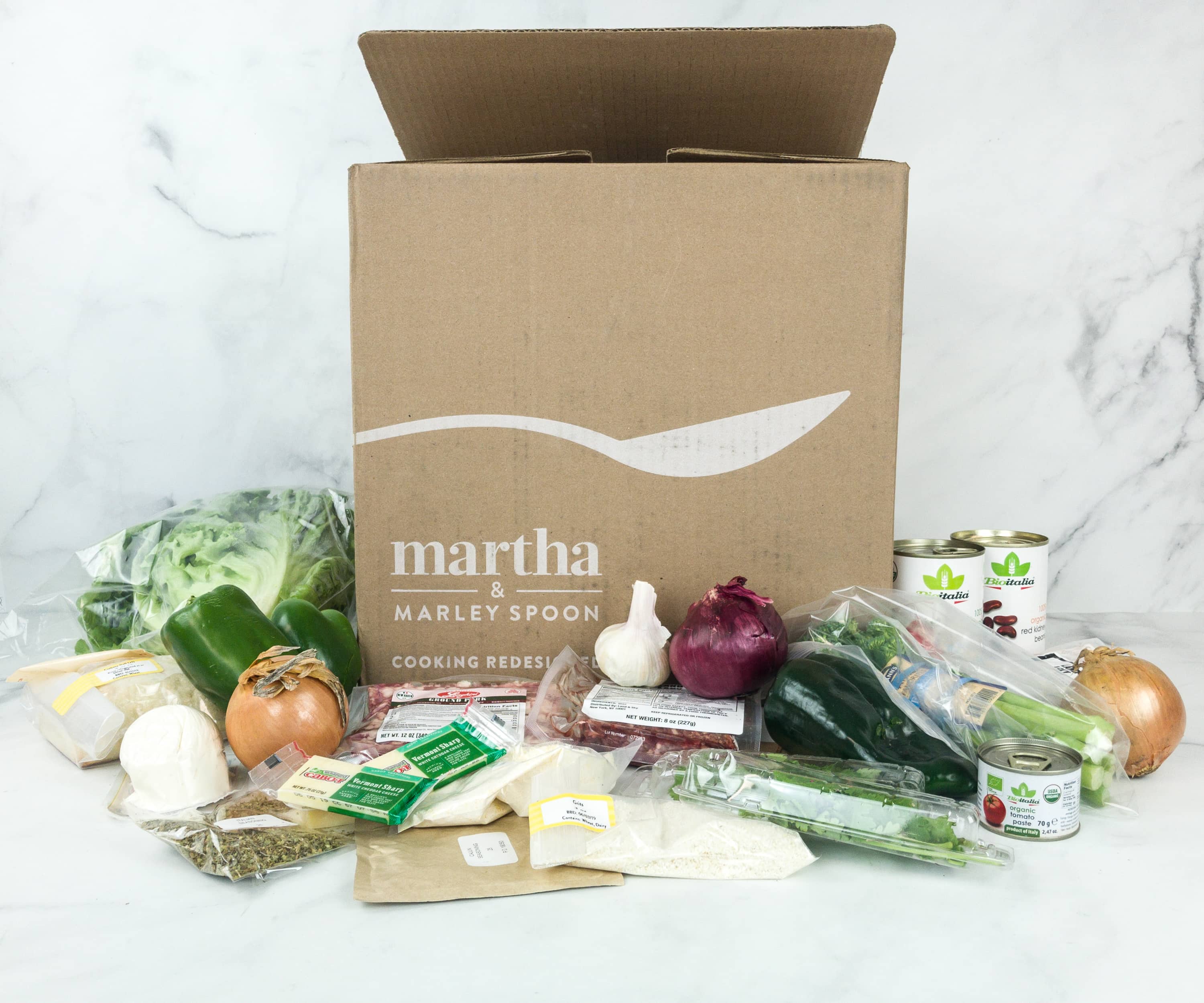 Everything in my January 2019 box!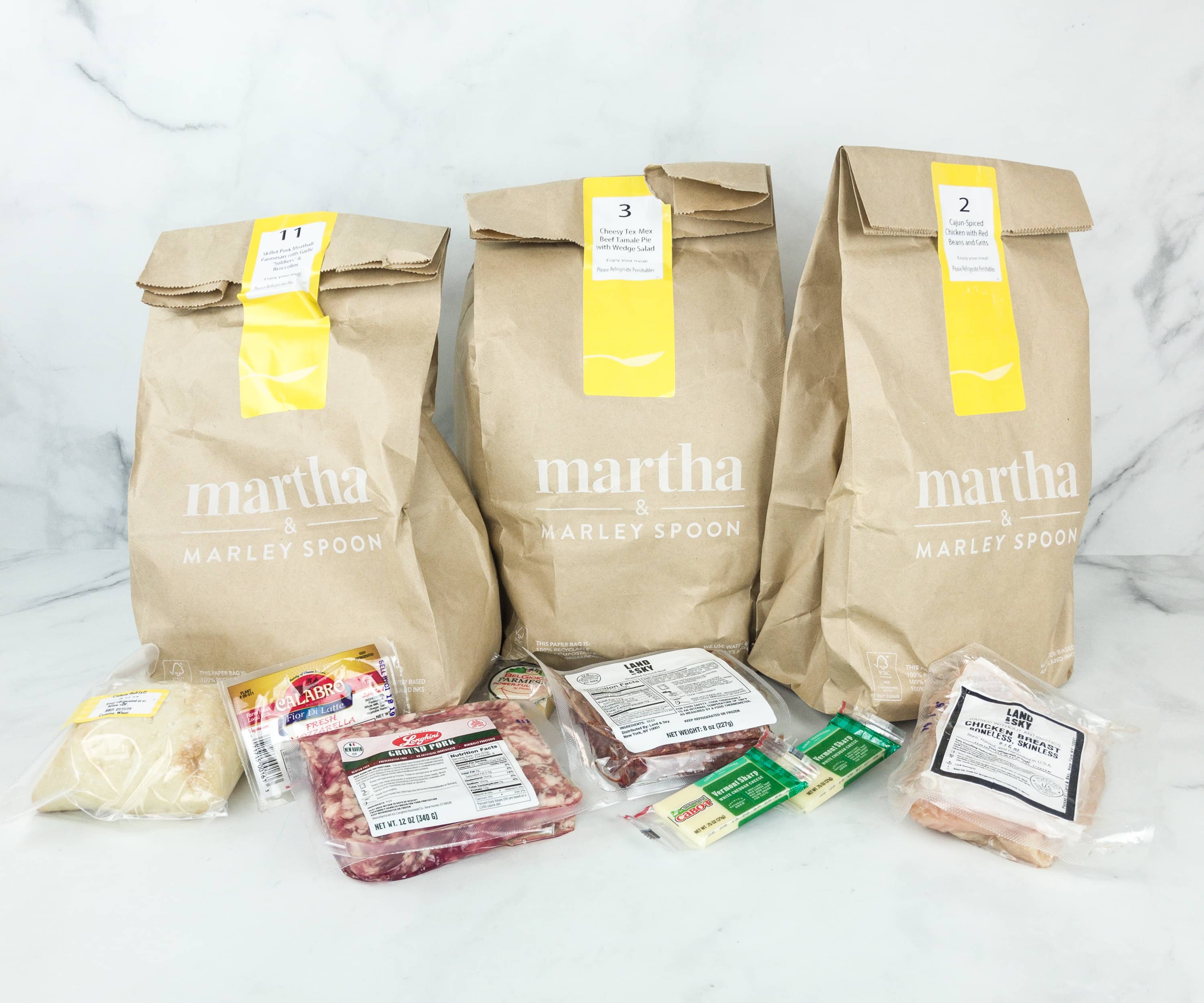 The ingredients for each meal are packed in a paper bag separately, except for the meat and items needing refrigeration — they are tucked between ice packs in the bottom of the box.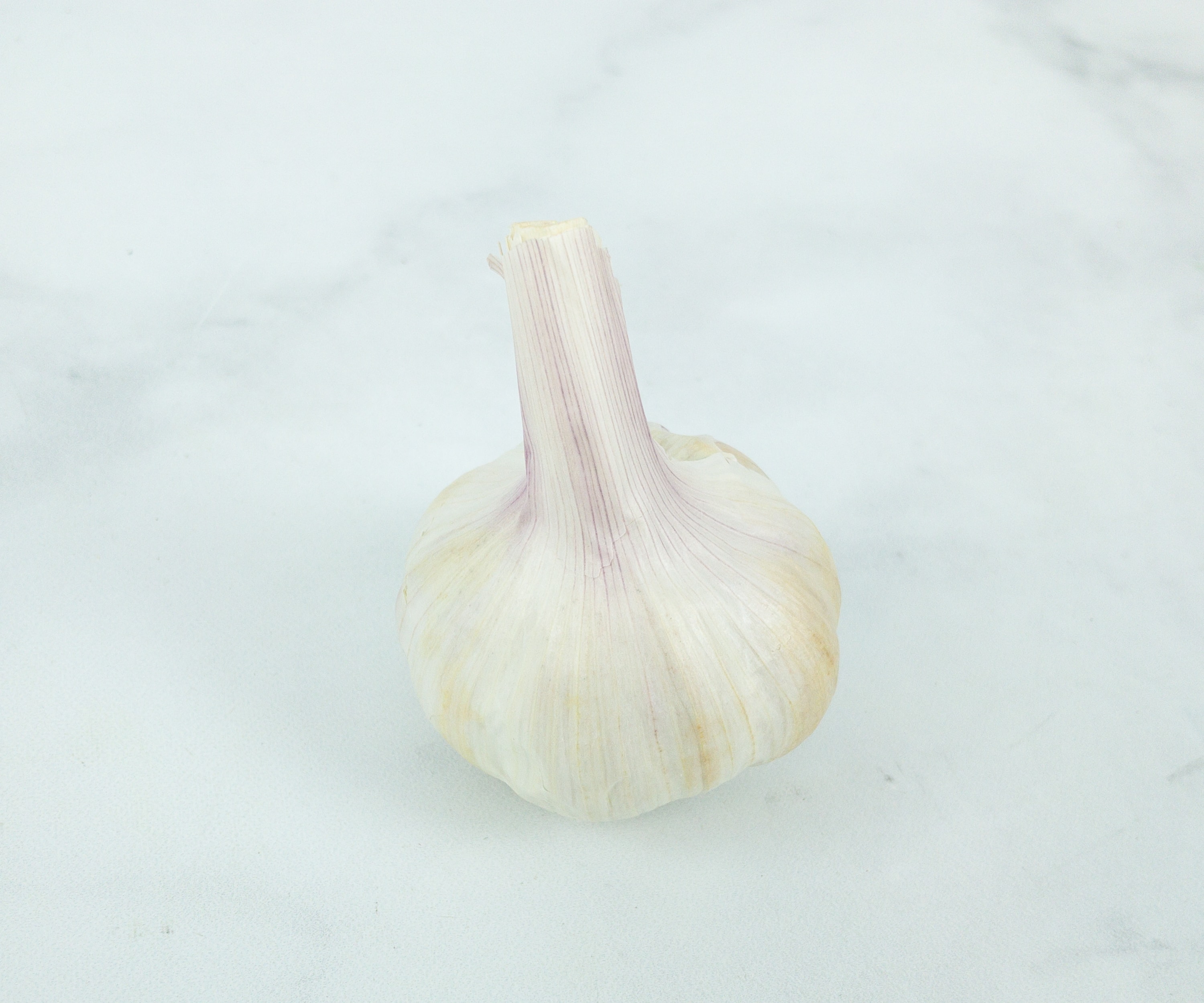 Martha & Marley Spoon always throws a bulb of garlic to use in any recipes for which it may be needed. We've even gotten one before when none of our recipes called for it! Even when we use lots in the recipe, we always have some leftover for our own dishes.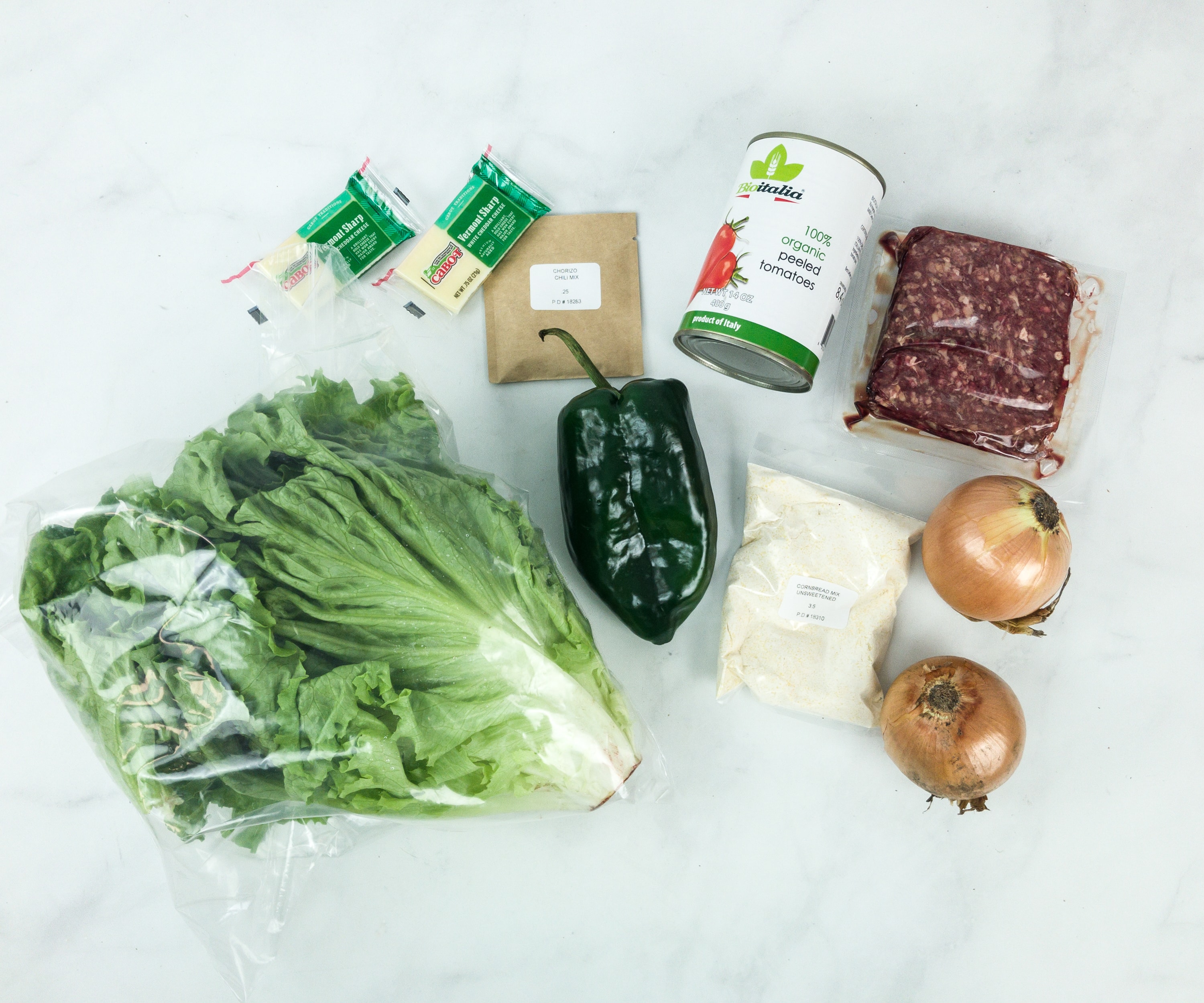 Cheesy Tex-Mex Beef Tamale Pie – 40 minutes, Easy, 930 calories per serving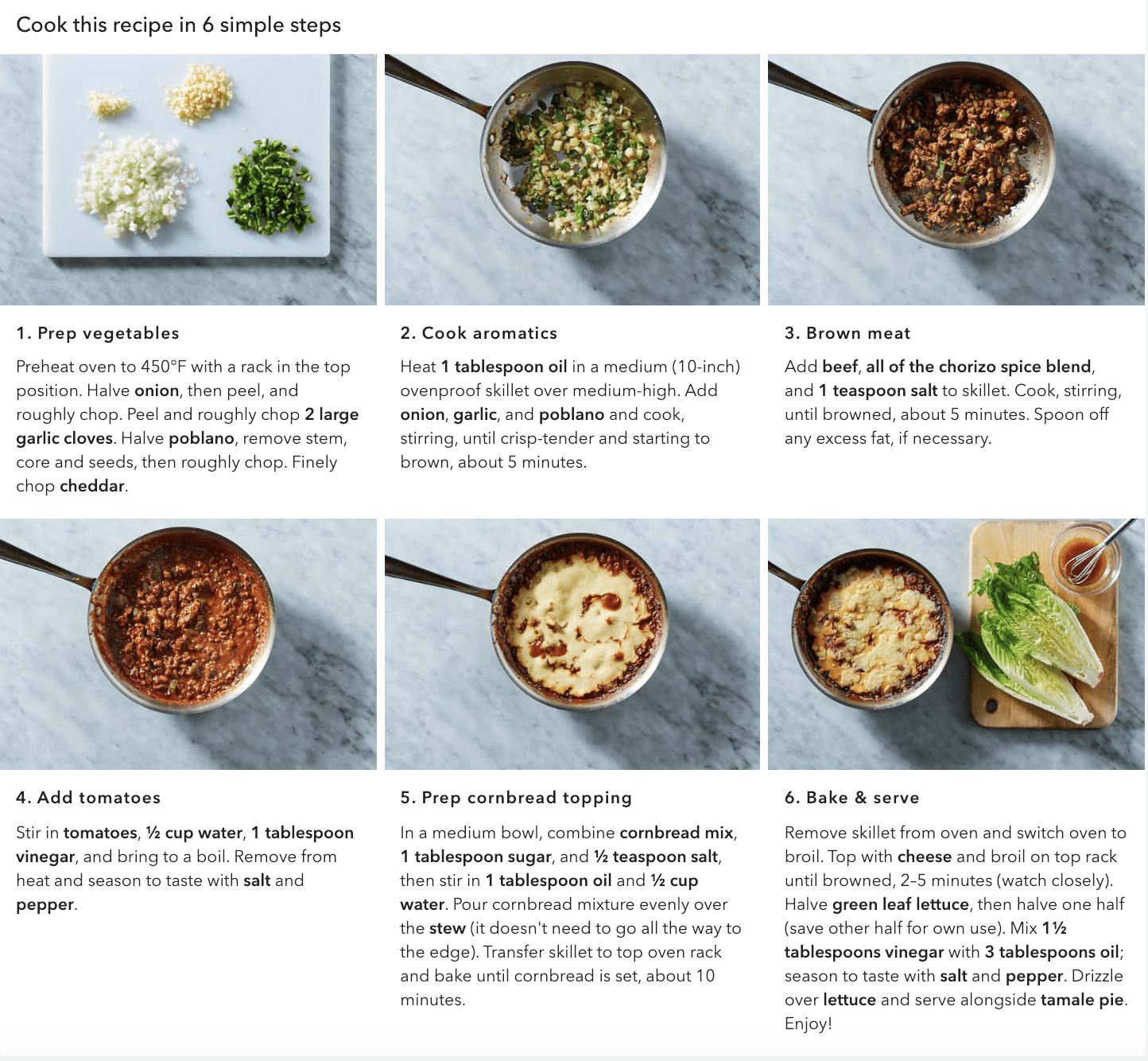 According to Martha & Marley, you can make the green leaf lettuce taste better by topping it with a mixture of 1 1/2 tablespoon of vinegar with 3 tablespoons oil seasoned with salt and pepper!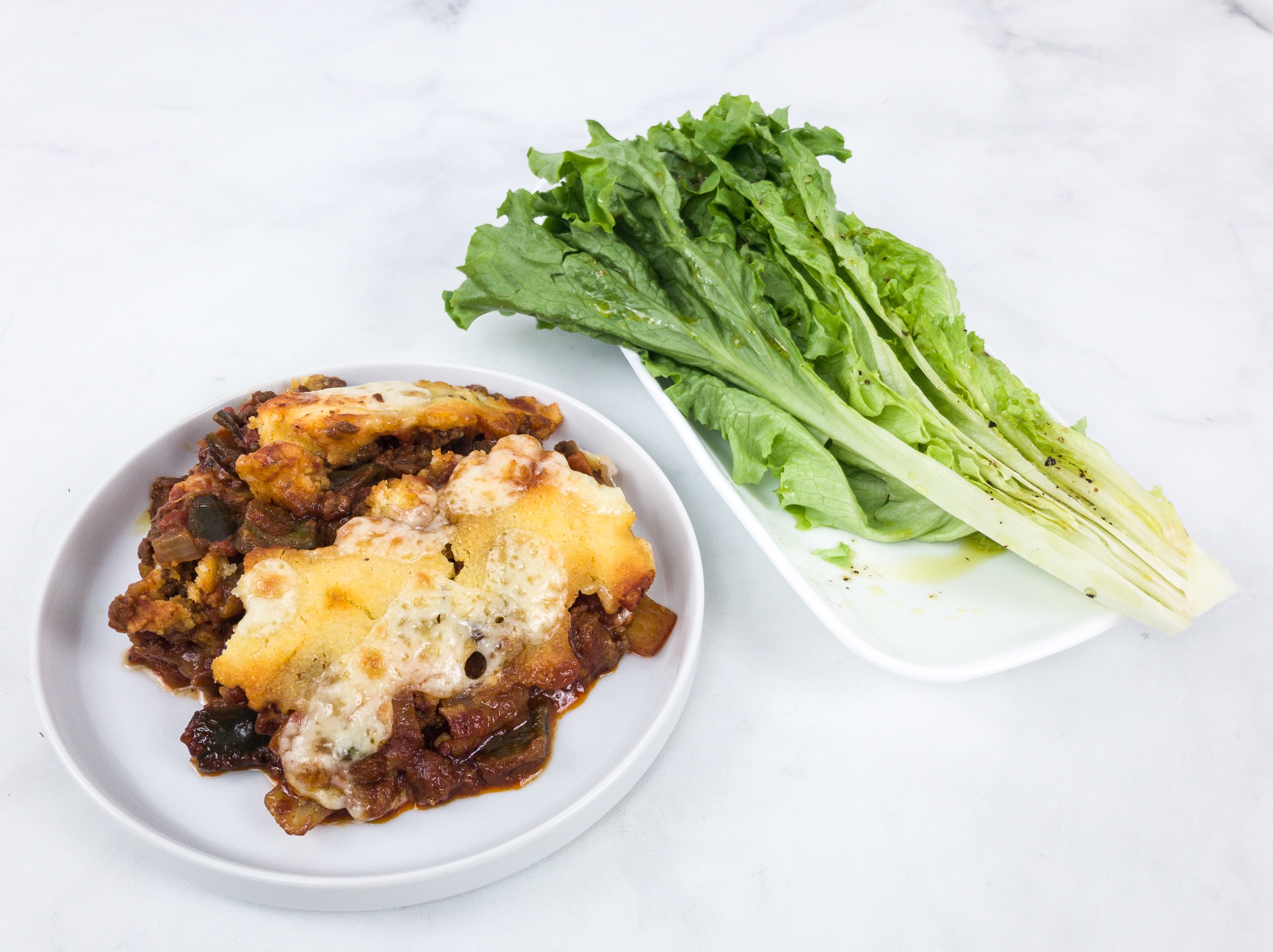 This first recipe we got is a well-known Mexican dish made from ground beef, tomato sauce, onion, cheese, bell pepper, and other flavorful seasonings paired with crunchy green leaf lettuce. It's so quick and easy to make. If you are a busy person and you're looking for a delicious yet easy meal, this dish is perfect!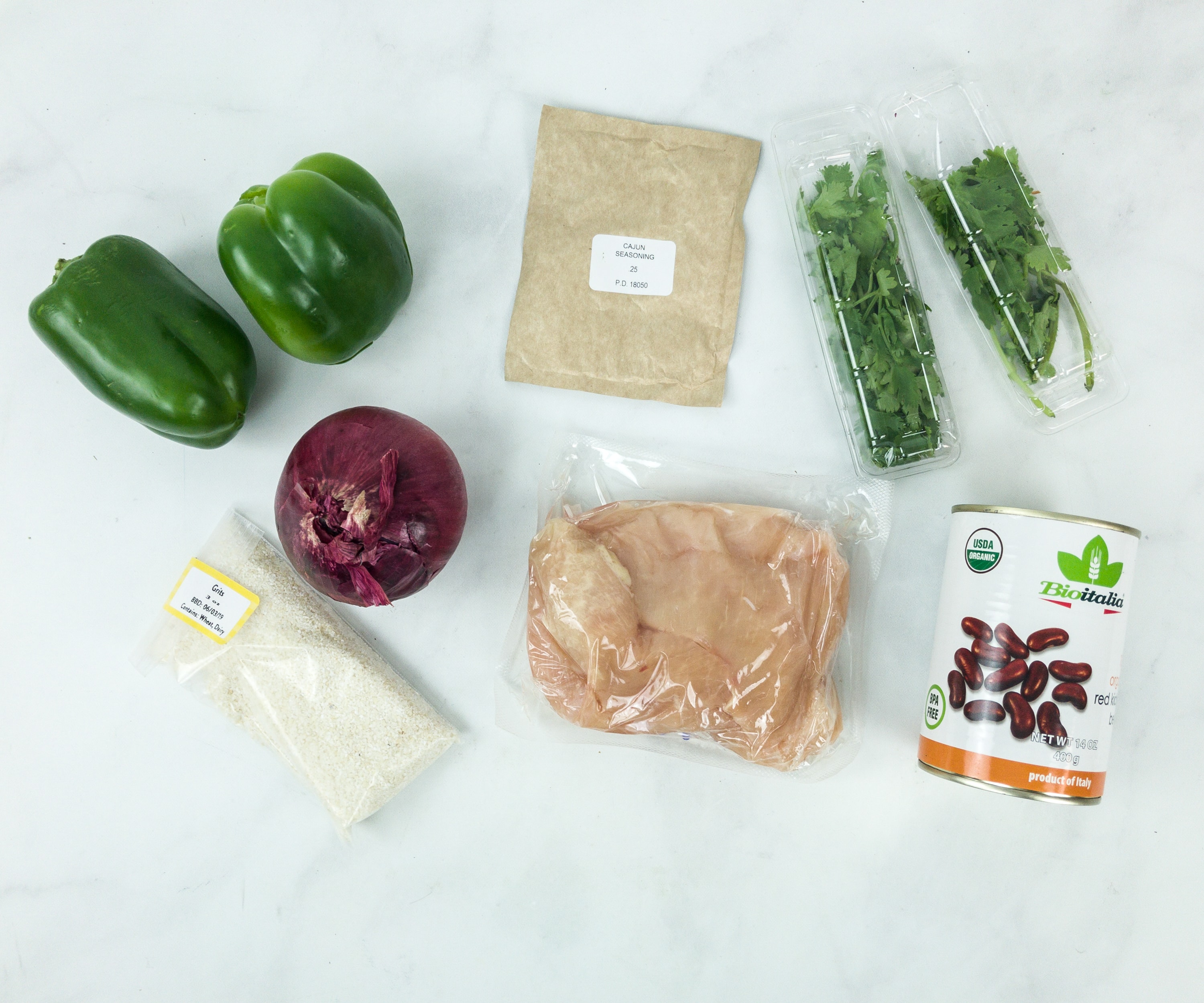 Cajun-Spiced Chicken with Red Beans and Grits – 40 minutes, Easy, 819 calories per serving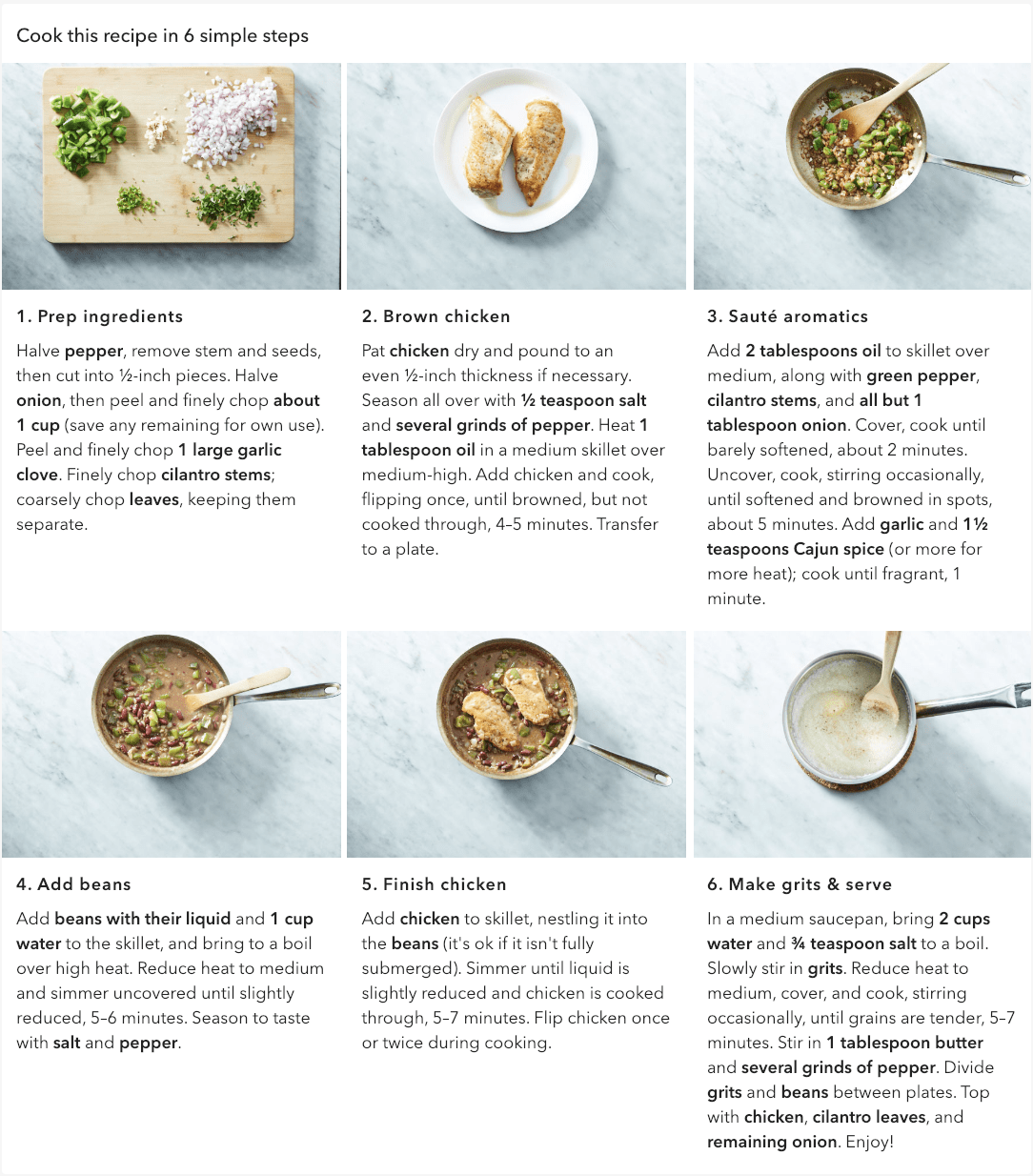 For faster cooking, you can prepare the chicken ahead of time and just leave them in an airtight container in the fridge until you're ready to make the dinner.
Rice is out and grits are in! This dish is truly amazing, it's the total recreation of two iconic dishes from New Orleans: Red Beans and Rice Chicken Etouffé, all combined in one plate. This dish is traditionally flavored and tasty.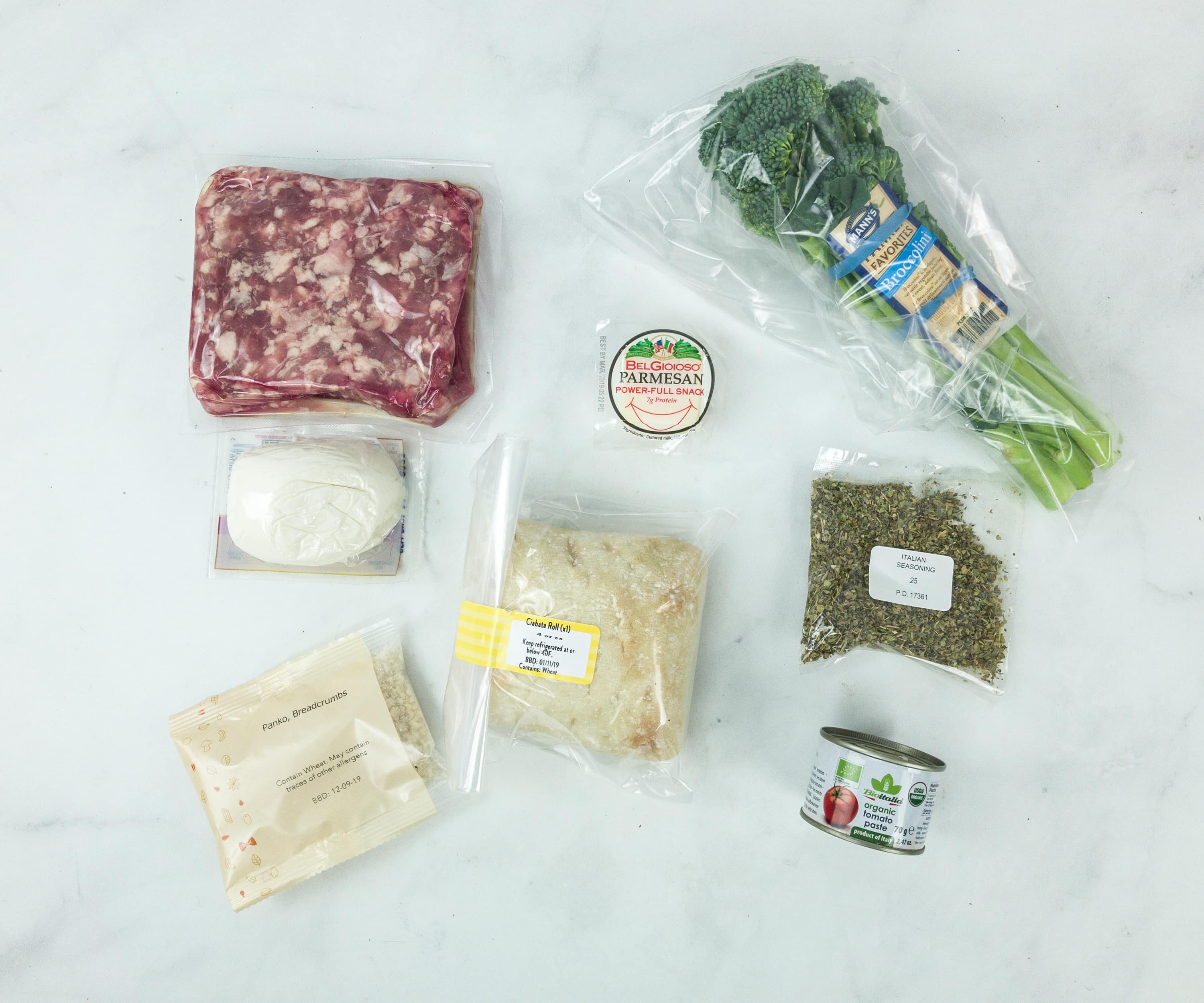 Skillet Pork Meatball Parmesan – 40 minutes, Easy, 880 calories per serving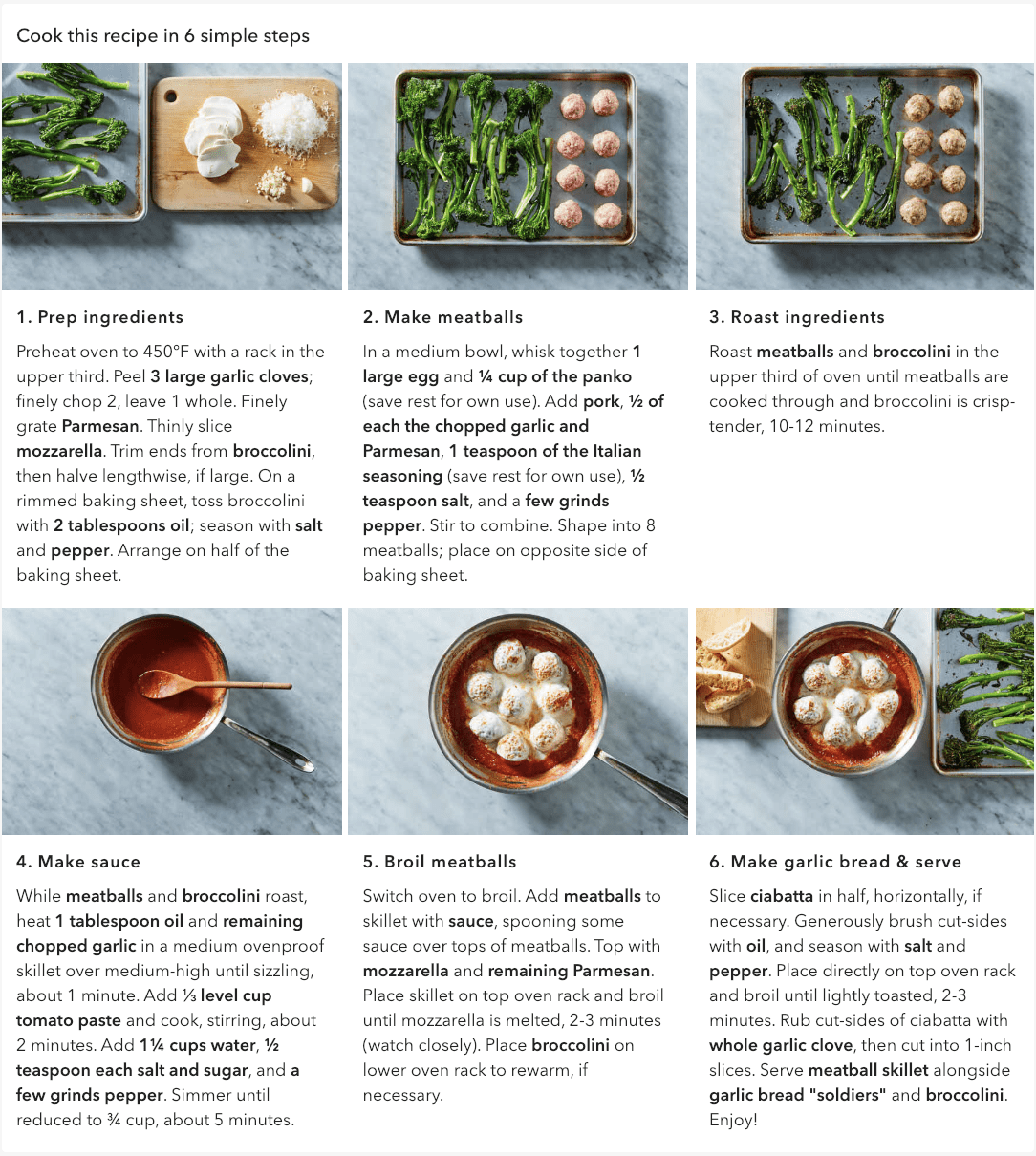 You can roast the meatballs and broccoli together, on the upper level of the oven. Cook until the meatballs are cooked through and the broccoli is crisp-tender.
These meatballs are so delectable in their own unique way. All the meatballs are loaded with a delicious sauce made creamier by melted mozzarella cheese. Paired with crunchy garlic bread and crispy broccoli, the dish is really satisfying. Every bite is oozing with flavors and I couldn't ask for more!
As expected, Martha & Marley Spoon gave us an impressive line-up of delicious and easy-to-cook dinner recipes. All the dishes this week didn't disappoint. The instruction cards are really helpful too. I love how they cut down the cooking instruction into just 6 simple steps. If you love cooking but don't have enough time to buy, prepare, and cook, this meal subscription box is an excellent choice!
Have you tried Martha & Marley Spoon? What do you think?