Marley Spoon delivers delicious recipes and fresh, seasonal ingredients straight to your door. You can choose from a weekly menu featuring 10 chef-created recipes, including recurring customer favorites, vegetarian meals, and kid-friendly recipes. Each option is clearly marked to note whether it features meat, fish, or just veggies, plus other characteristics of concern to diners with diets restricted by necessity or preference — they note gluten free, dairy free, kid-friendly, quick to prepare, vegetarian, and spicy meals to help you pick the best meals for you. Each recipe serves two people (there is a minimum four portion requirement per box), and shipping is free!
DEAL: Save $15 on your first box. USE THIS LINK to get the deal. Valid to USA subscribers only.
The ingredients were well-packed.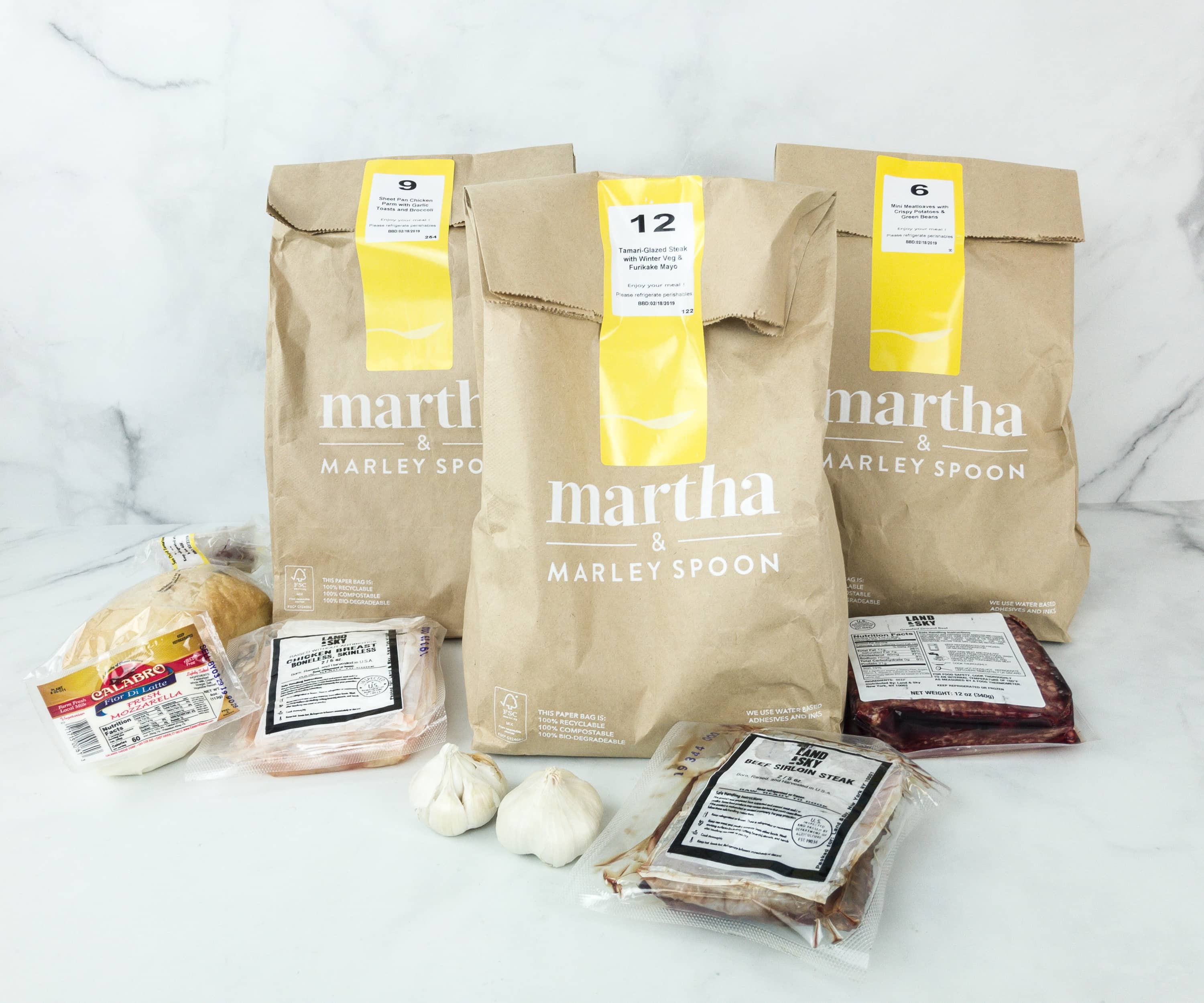 The ingredients for each meal are packed in a paper bag separately, except for the meat and items needing refrigeration — they are tucked between ice packs in the bottom of the box.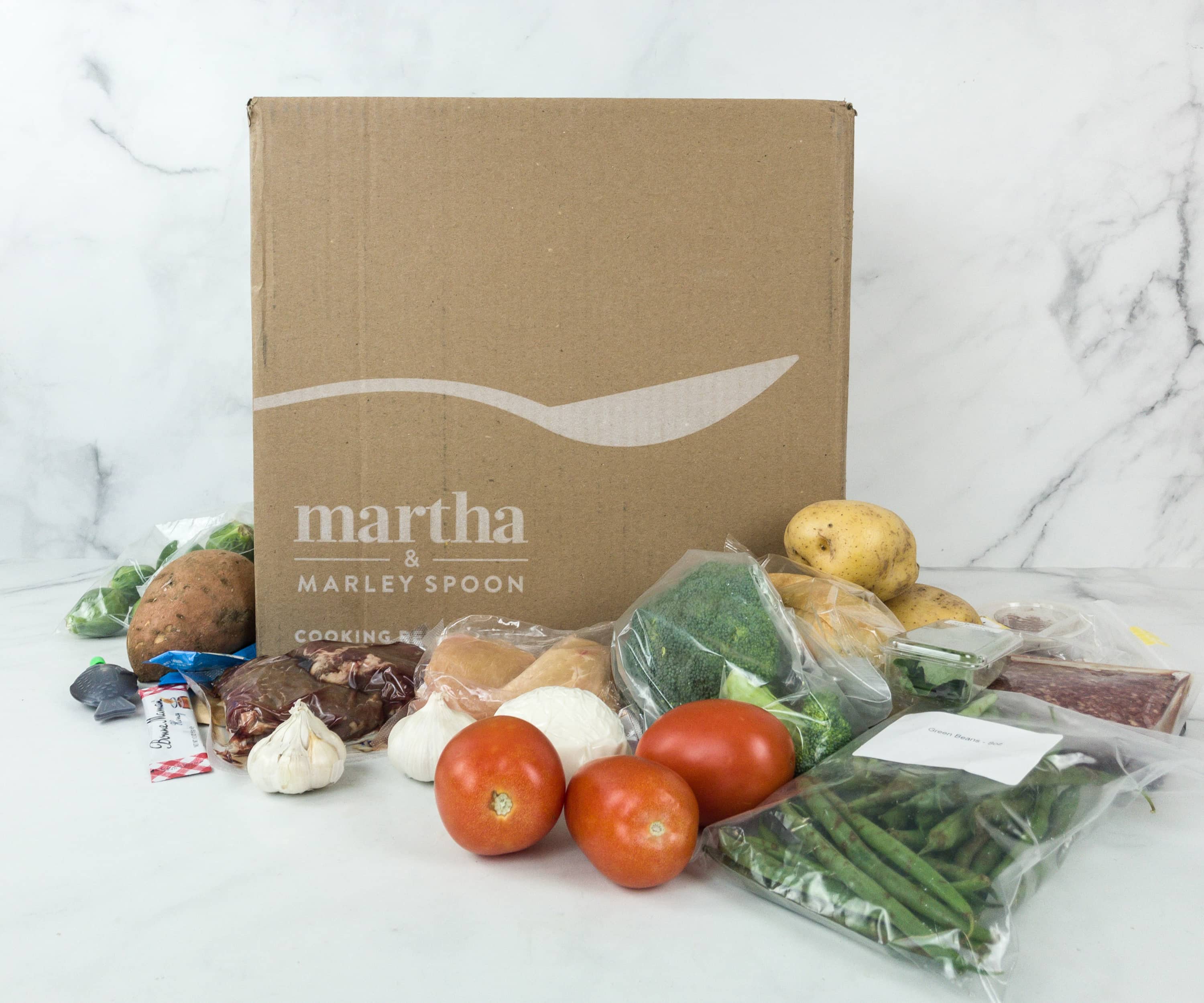 Everything in my February 2019 box!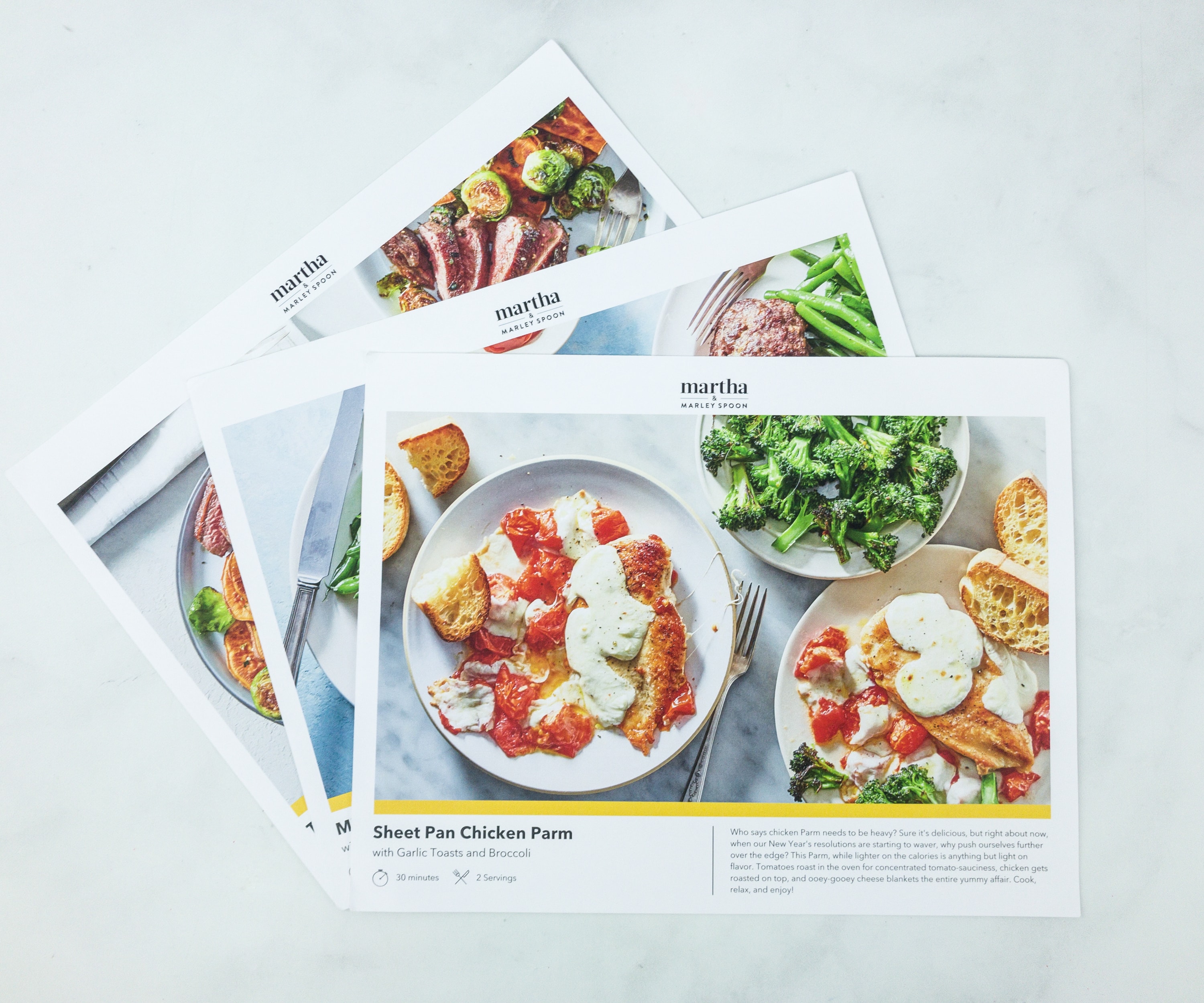 Each Martha & Marley Spoon recipe card includes a full-color picture of the plated dish, prep time and a number of servings. The dishes are elegantly plated in the pics, and you can use them as inspiration for setting out your own food.
Here are the three recipes in my box! I like having the prep time estimate provided, and I often choose the order in which to make my meals based on that and perishability of ingredients. Typically, I'd start with any seafood dish, then do anything with fresh greens next.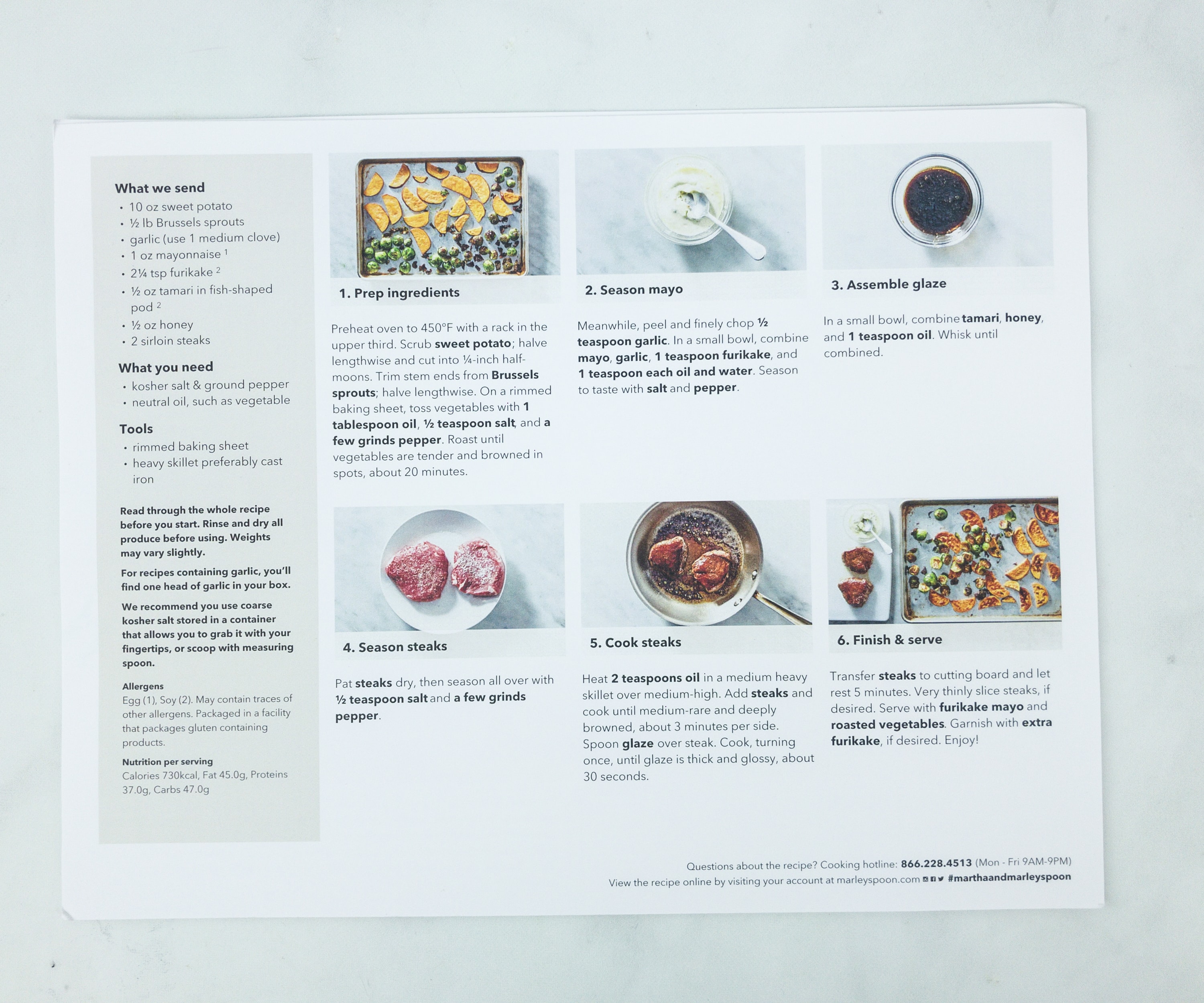 The back includes the full recipe (with pictures!) and allergen and nutrition info. The instructions are easy to follow, whether you are a novice or pro. Usually, you start by washing and prepping all the ingredients before cooking. Within the detailed, step-by-step instructions, ingredients are set in bold type for ease of recognition. Info panes in the sidebar list any ingredients and tools you'll need from home (pans, cooking oil, etc).
Martha & Marley Spoon always throws a bulb of garlic to use in any recipes for which it may be needed. We've even gotten one before when none of our recipes called for it! Even when we use lots in the recipe, we always have some leftover for our own dishes.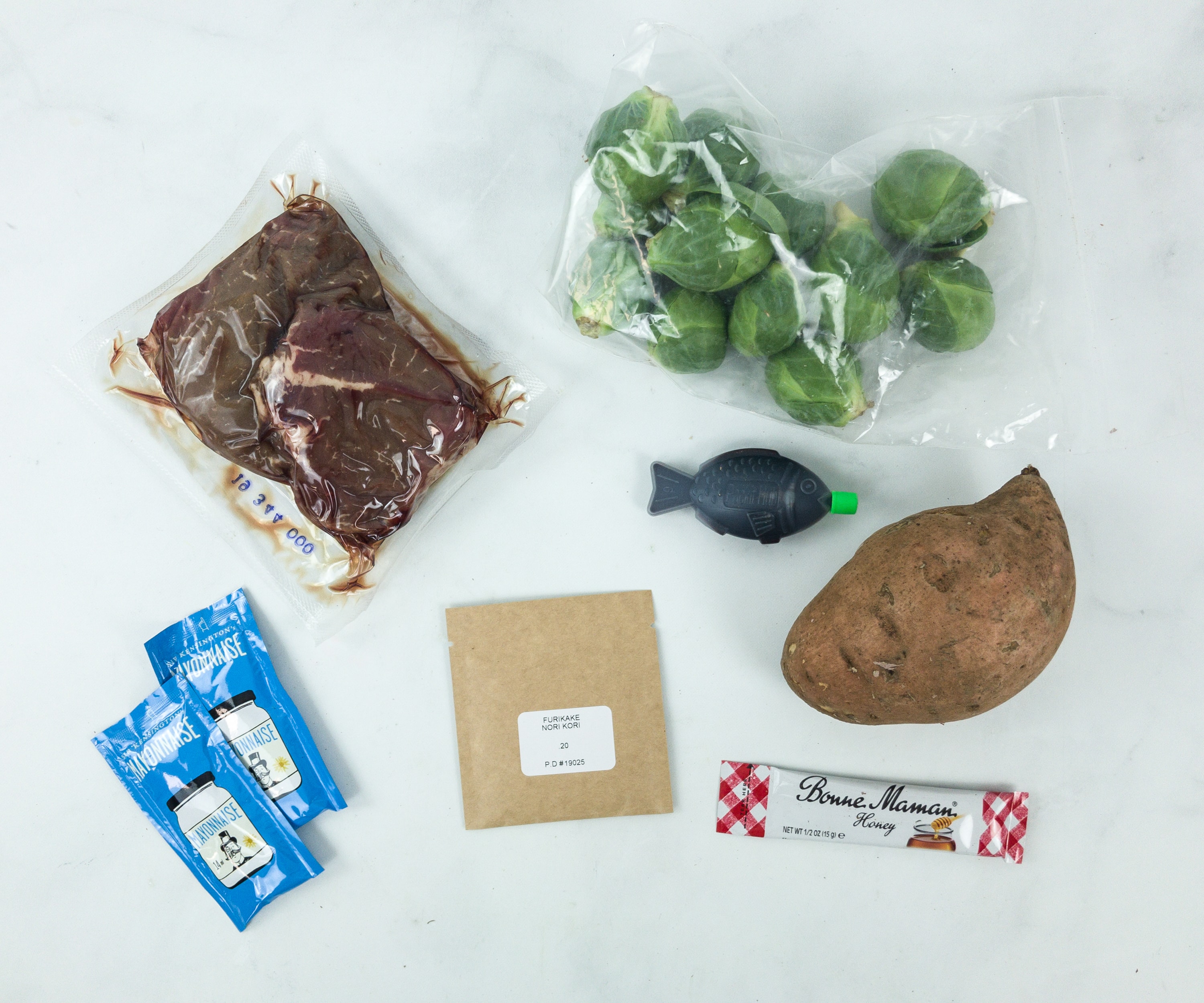 Tamari-Glazed Steak with Winter Veg & Furikake Mayo – 30 minutes, Easy, 730 calories per serving
This steak is made with tamari, which has a slightly thicker, more complex, and less salty flavor than soy sauce. The meat is packed securely so the flavor was sealed in. All the other ingredients came in sachets and stashed separately so measuring wasn't a problem. You may think that it's hard to prepare, but it's actually the opposite. The steak turned out so nice when glazed with the sauce and it was so tender that you can actually cut it with a fork.
I have to admit, the result is pretty fantastic! I love the rich flavor of tamari glaze combined with the firm texture of the steaks which were sliced nicely to ensure juiciness. As you can see, the meat is pink which means it was cooked just right. The winter veggie mix and furikake mayo tandem was also a knockout!
Mini Meatloaves with Crispy Potatoes & Green Beans – 40 minutes, Easy, 680 calories per serving
This healthy meatloaf recipe and side dishes are all made in the oven in two separate sheet pans. This way, it's easy to serve on the dinner table. First in the oven are the potatoes because they needed time to roast. While waiting, I started prepping the green beans and the mini meatloaves then let them join the potatoes in the oven partway through. The next time I cook this dish, maybe I'll try adding a bit of Parmesan cheese into the meatloaf for extra flavor.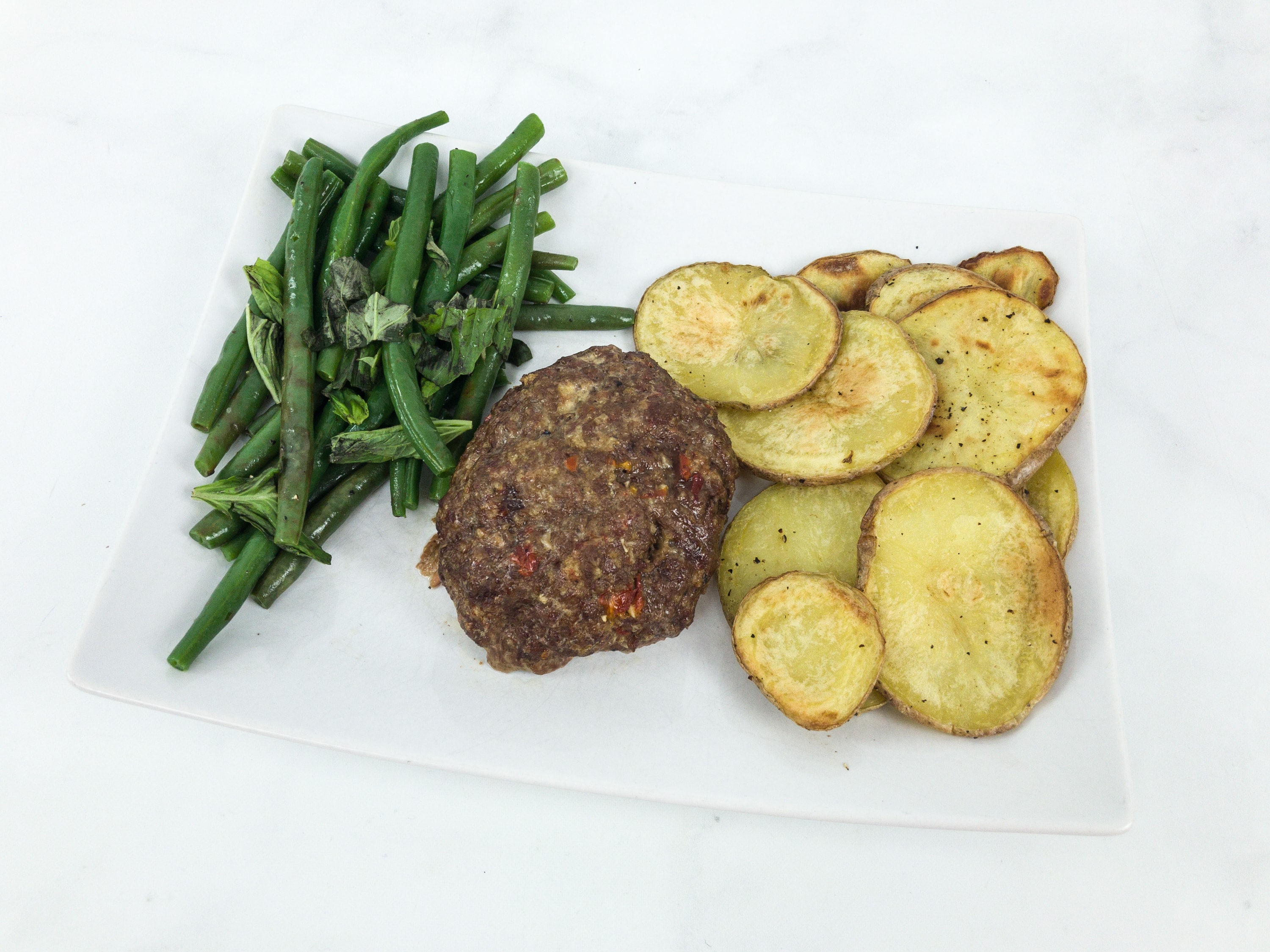 The meatloaf was cooked through and the flavors exploded in my mouth. As for the veggies, I think the potatoes have the crispiness I was looking for. Also, the green beans were perfectly seasoned. All in all, I think I pulled this one off!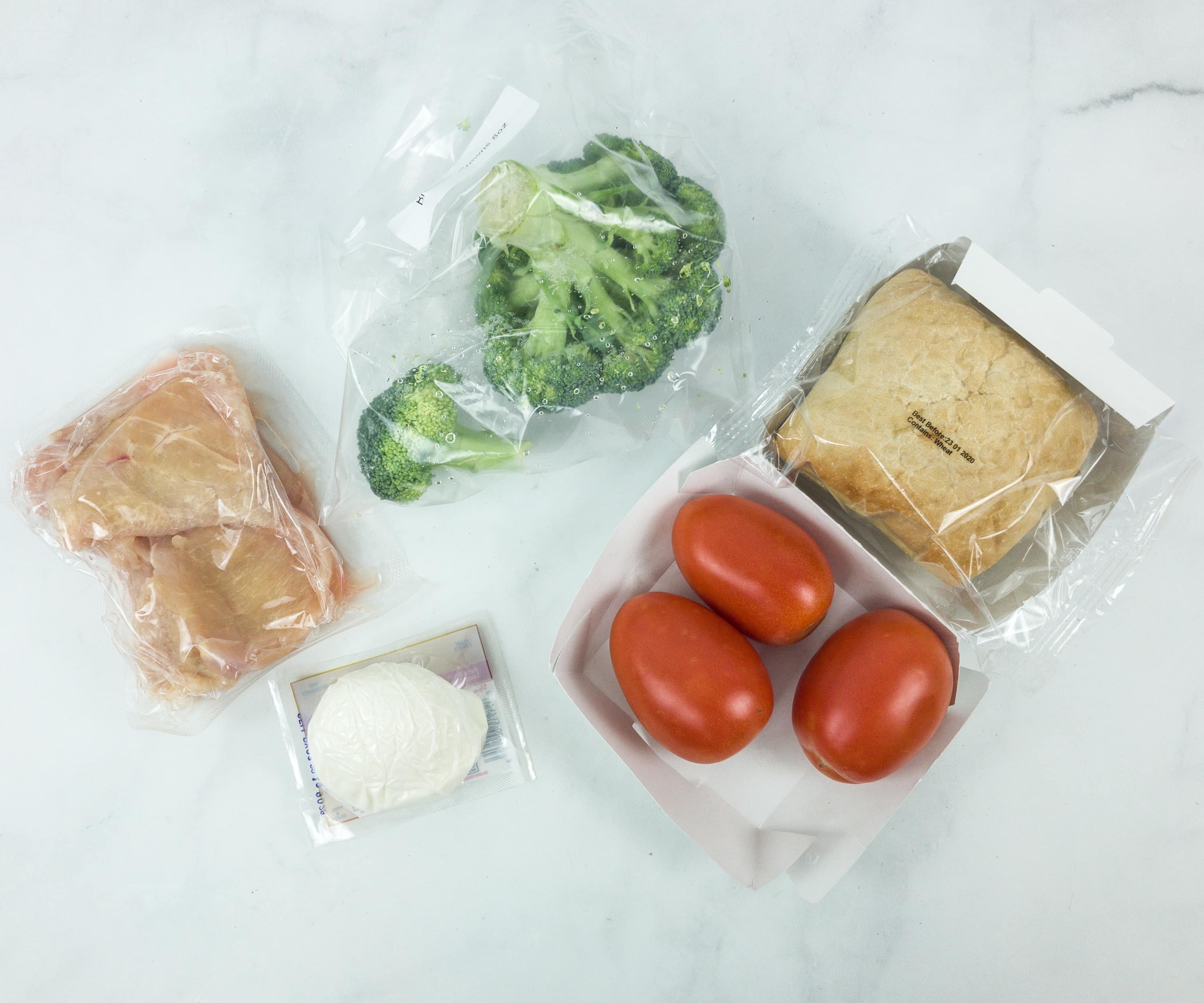 Sheet Pan Chicken Parm – 30 minutes, Easy, 790 calories per serving
Simplicity meets comfort in this sheet pan chicken parm recipe. Saucy chicken, melty mozzarella and crisp-tender broccoli all in one pan. What could be better? It's probably the best meal for busy nights because it just requires one dish for clean up plus it includes a side.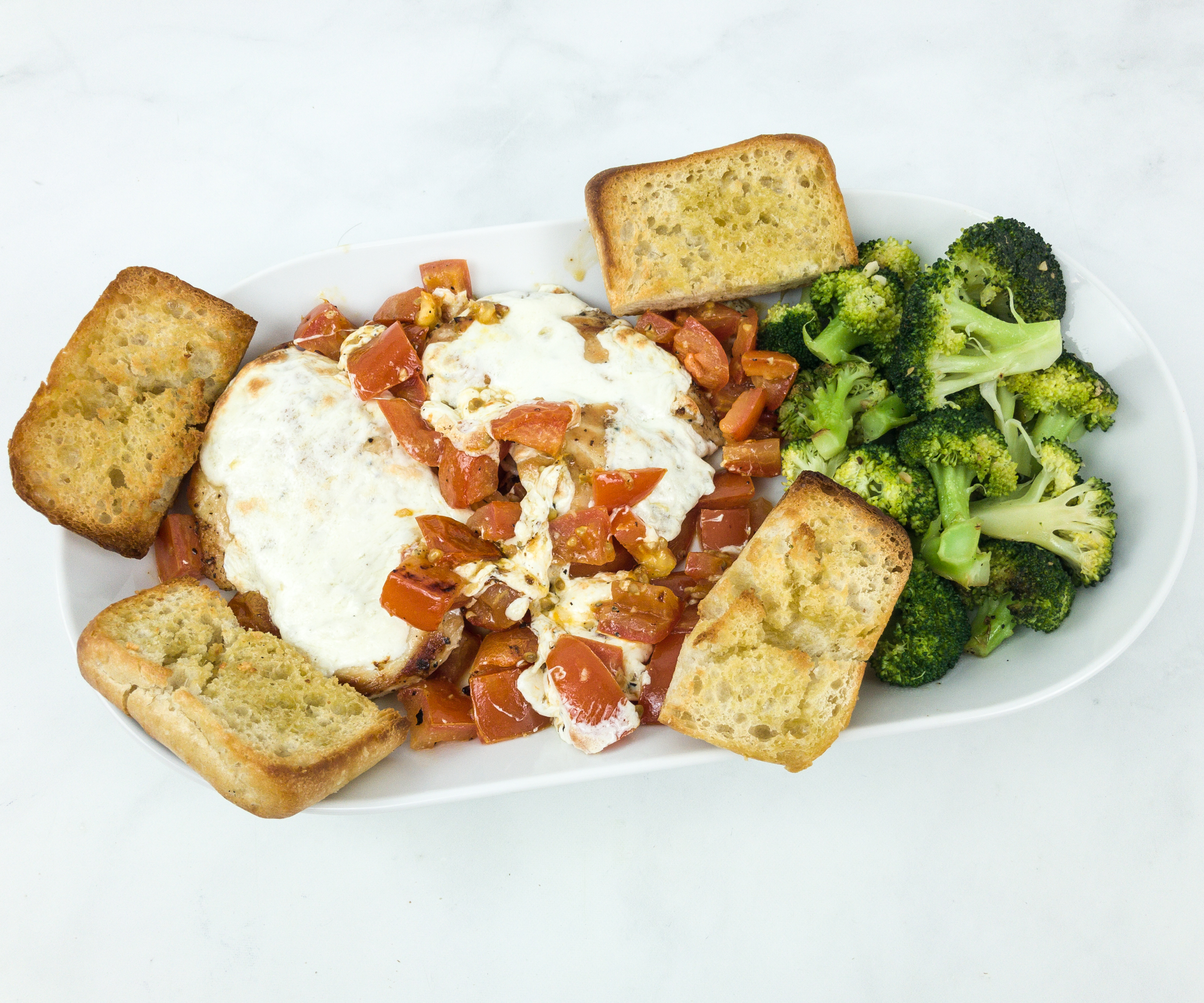 Don't you just love the appetizing colors on this plate? There's green and there's red, they're a feast for the eyes and of course, the palate! I must say that the chicken was tender and the mozzarella gave it an extra creamy taste. The bread and tomatoes also go well together while the crisp broccoli was a joyful munch!
Nothing is more satisfying than a warm home-cooked meal. Thank heavens for subscriptions like Martha and Marley Spoon, even when I'm busy I can still prepare healthy, world-class dishes in no time. All the ingredients came in a good condition and the recipes are so easy to throw together and don't require too much time. The best part is the effortless clean-up! Now that I've got another week covered, I have more time to go hustlin' again!
Have you tried Martha & Marley Spoon? What do you think?