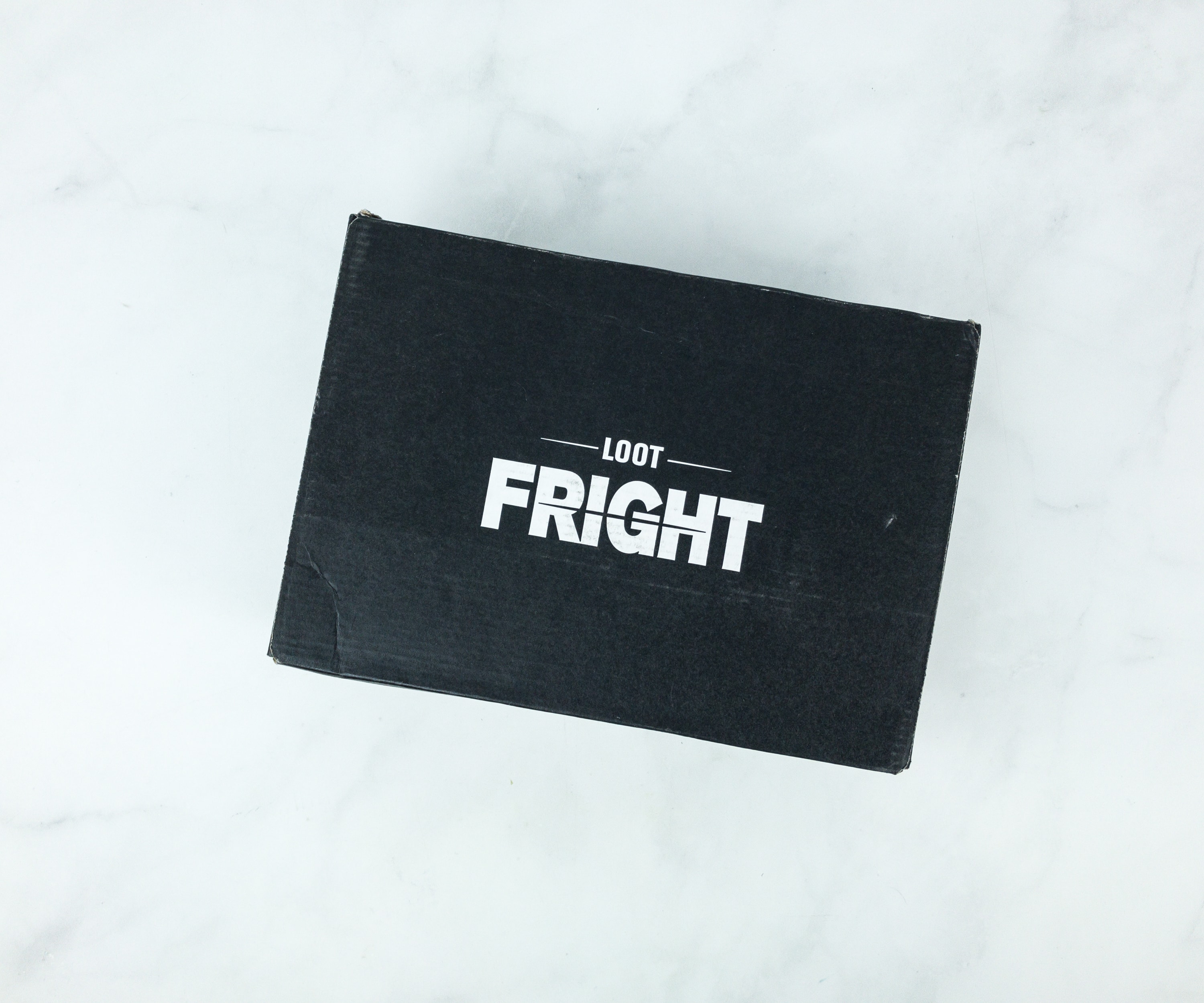 Loot Fright is a bimonthly mystery crate subscription packed full of horror items featuring scary movie franchises, characters and more – like zombies, slashers, and other frightful delights! Boxes include $50+ in merchandise.
DEAL: Save 15% on any subscription plan when you use this link and coupon code HELLOSUBSCRIPTION15.
The box is full!
The bottom of the box features a heart image with zombies hiding behind it.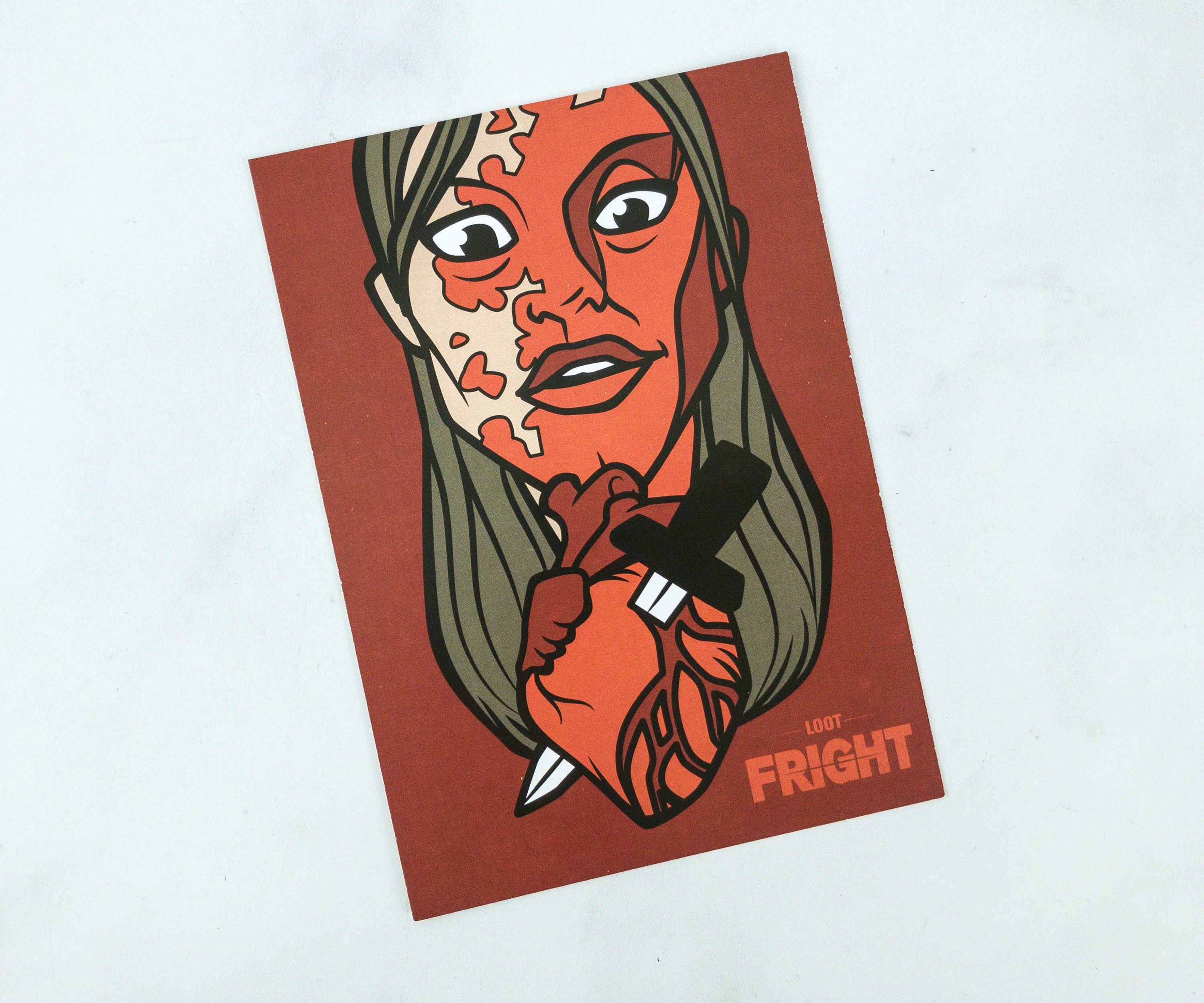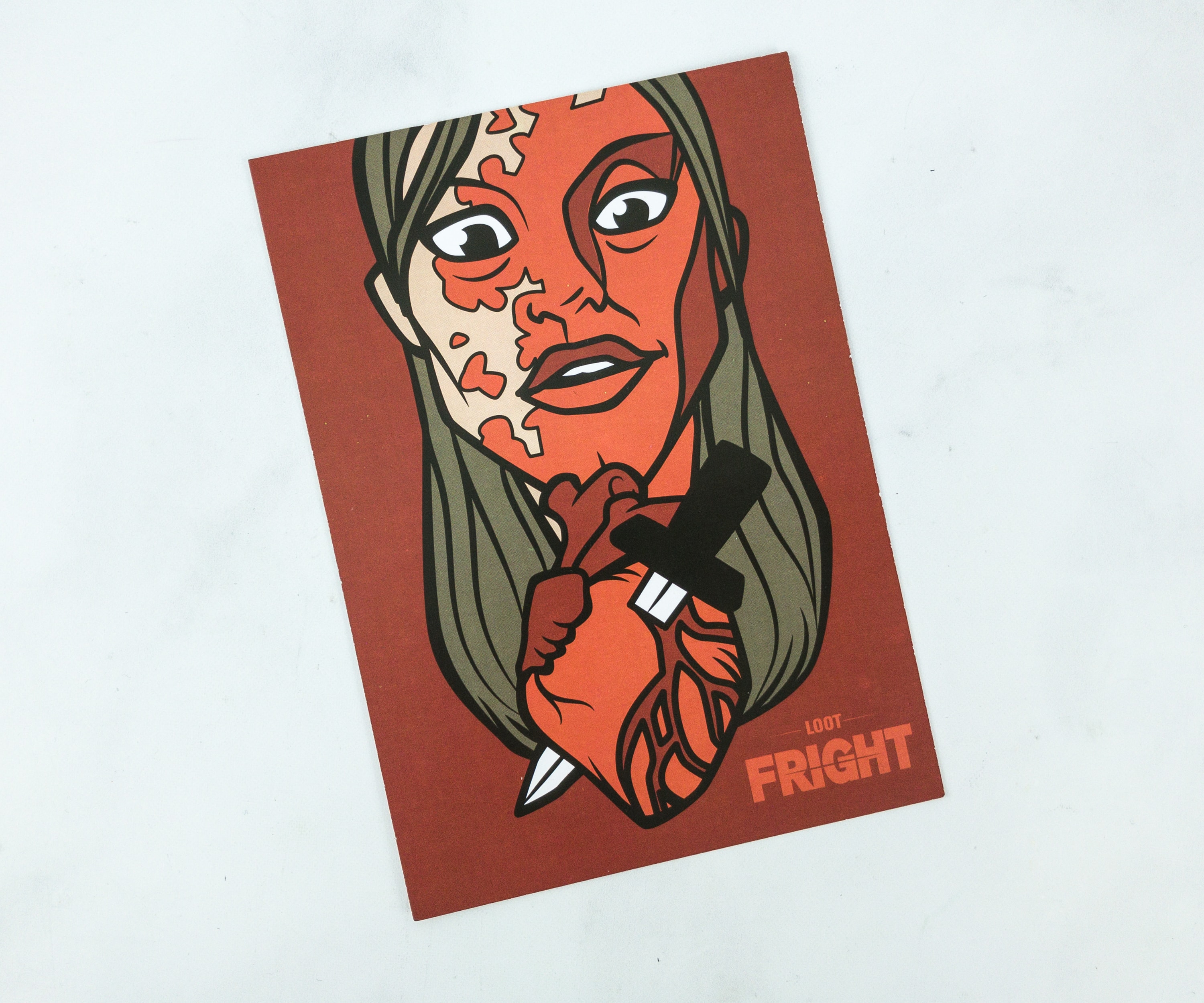 The January 2019 Loot Fright theme is LOVE SUCKS!
Your pulse quickens, your heart races. You are powerless to stop it. What's more frightening than Dracula, Frankenstein, and Wolf Man combined? Love! Unbox the horrors of heartbreak and fall dead over heels with LOVE SUCKS!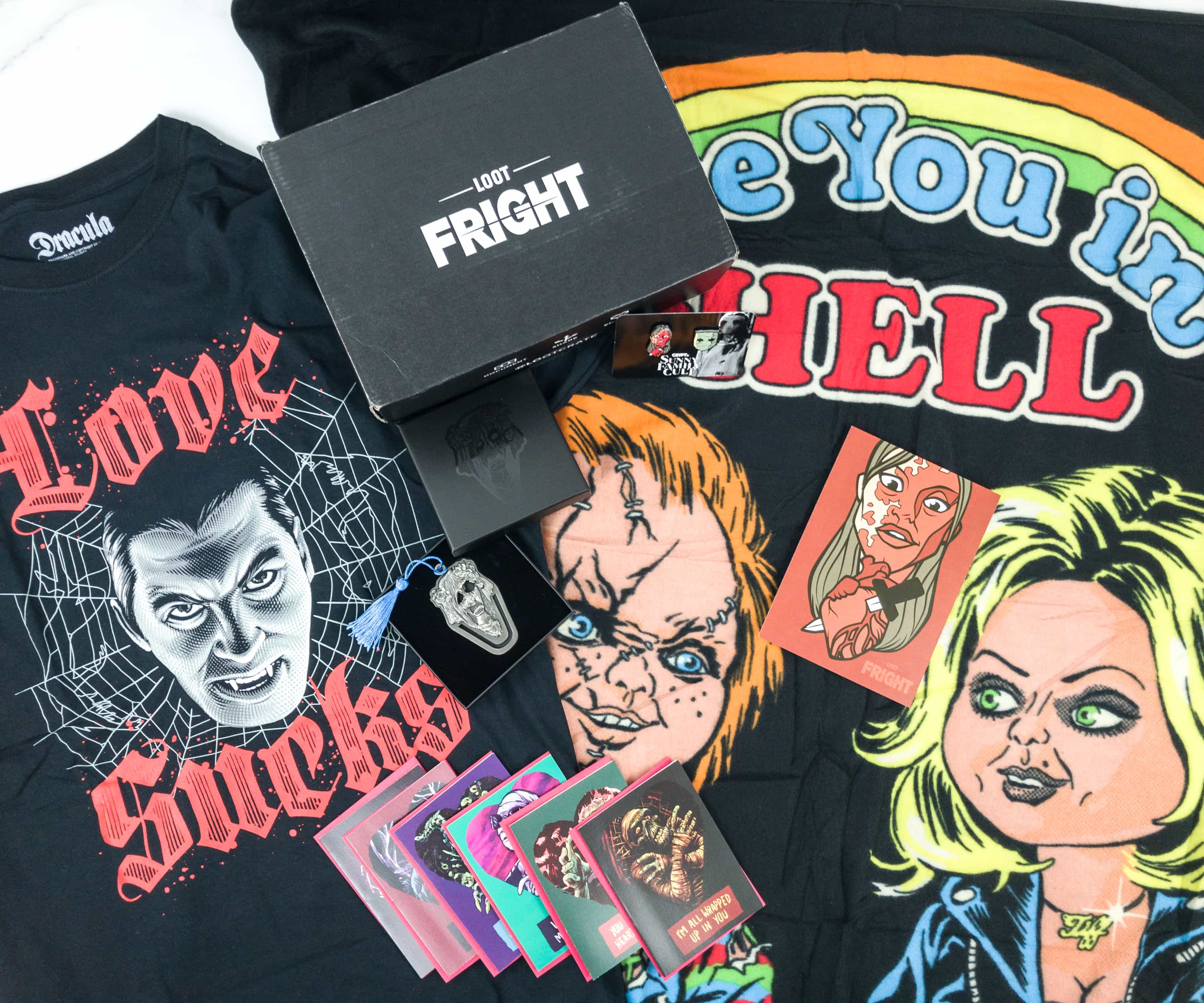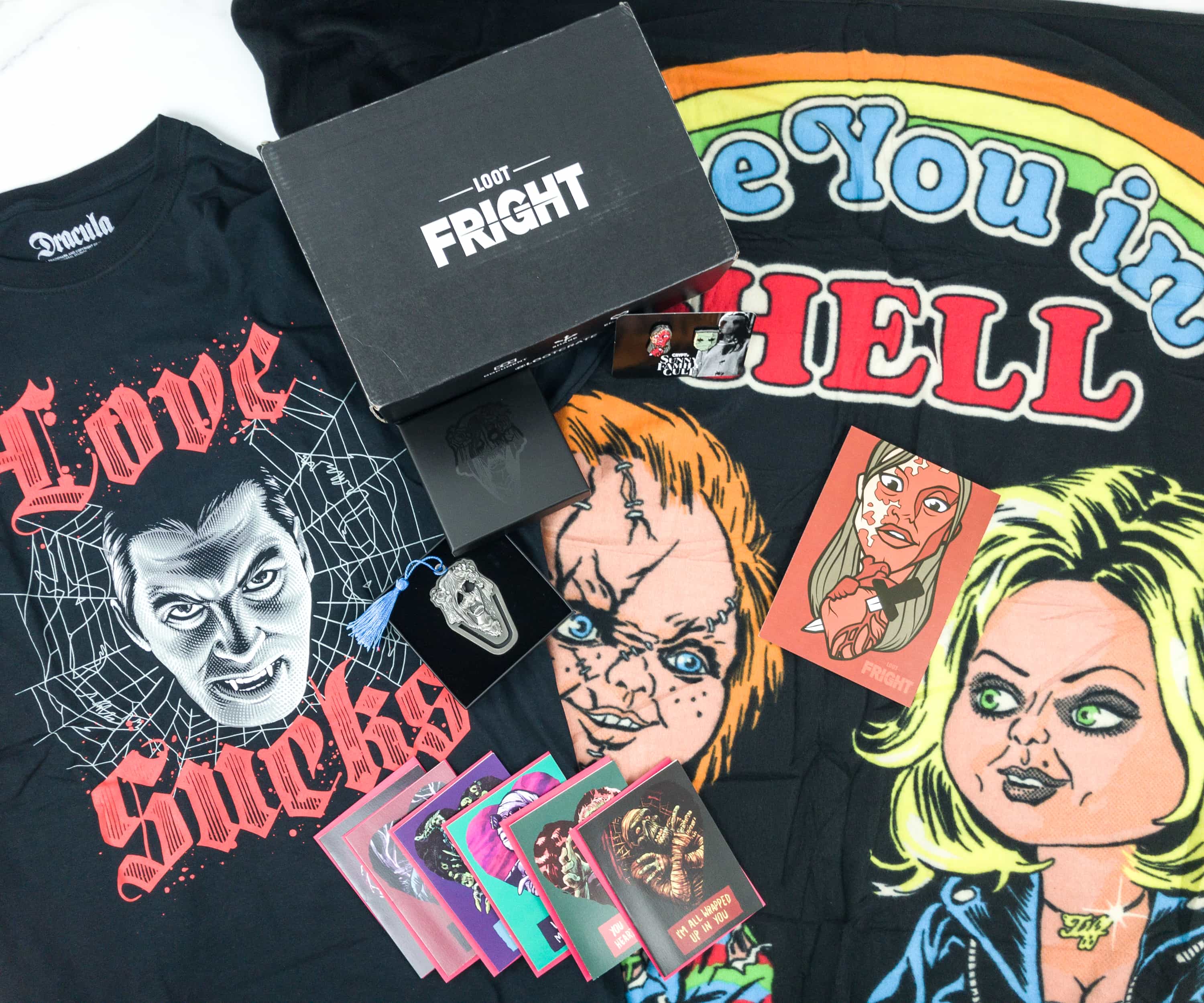 Everything in my January 2019 box!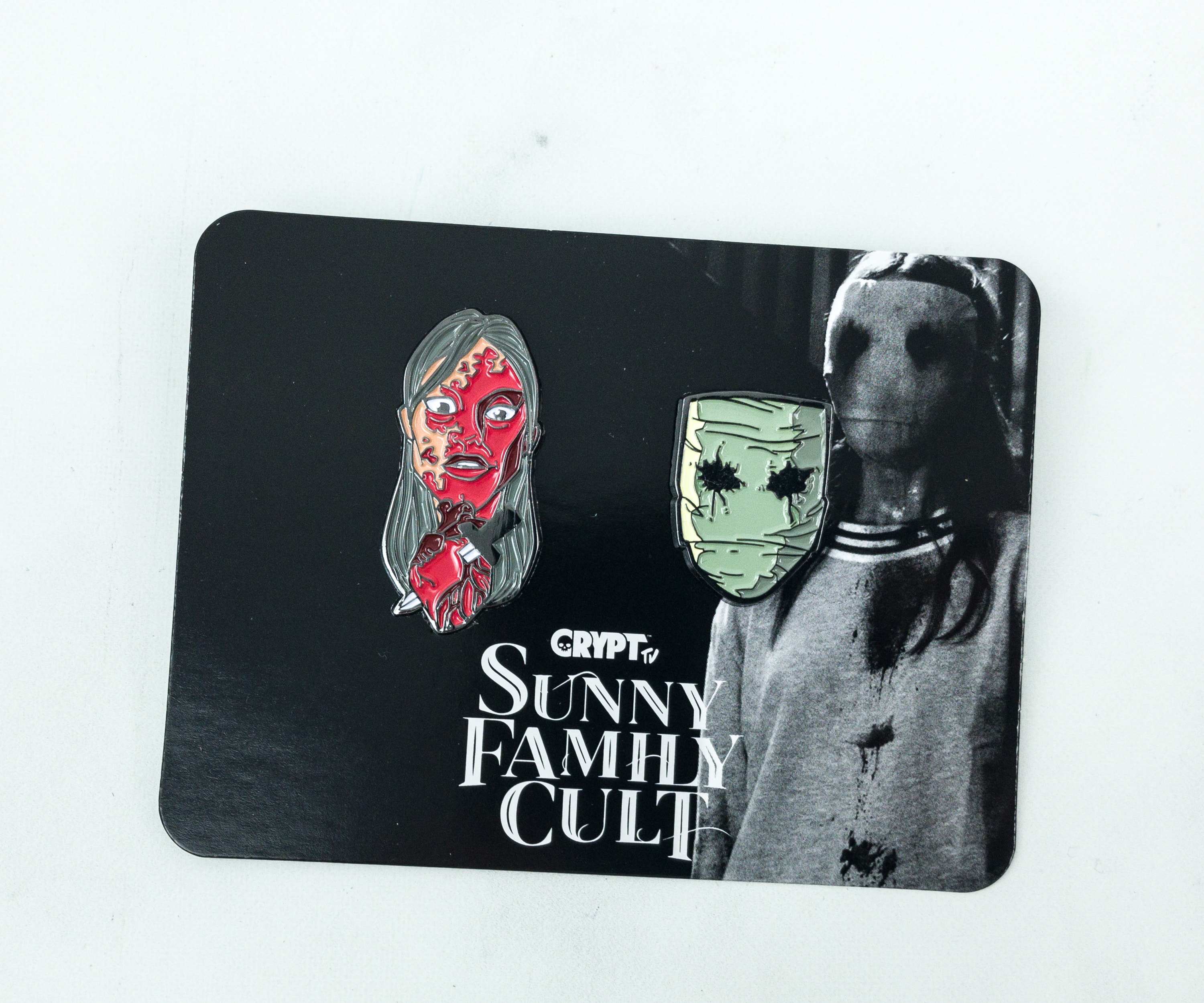 Sunny Family Cult Pin Set. This pin set features Sunny Family Cult, a popular horror drama web series by Crypt TV. The show centers around a teenager named Taylor who strives for a normal life while juggling her not-so-normal serial killing cult family.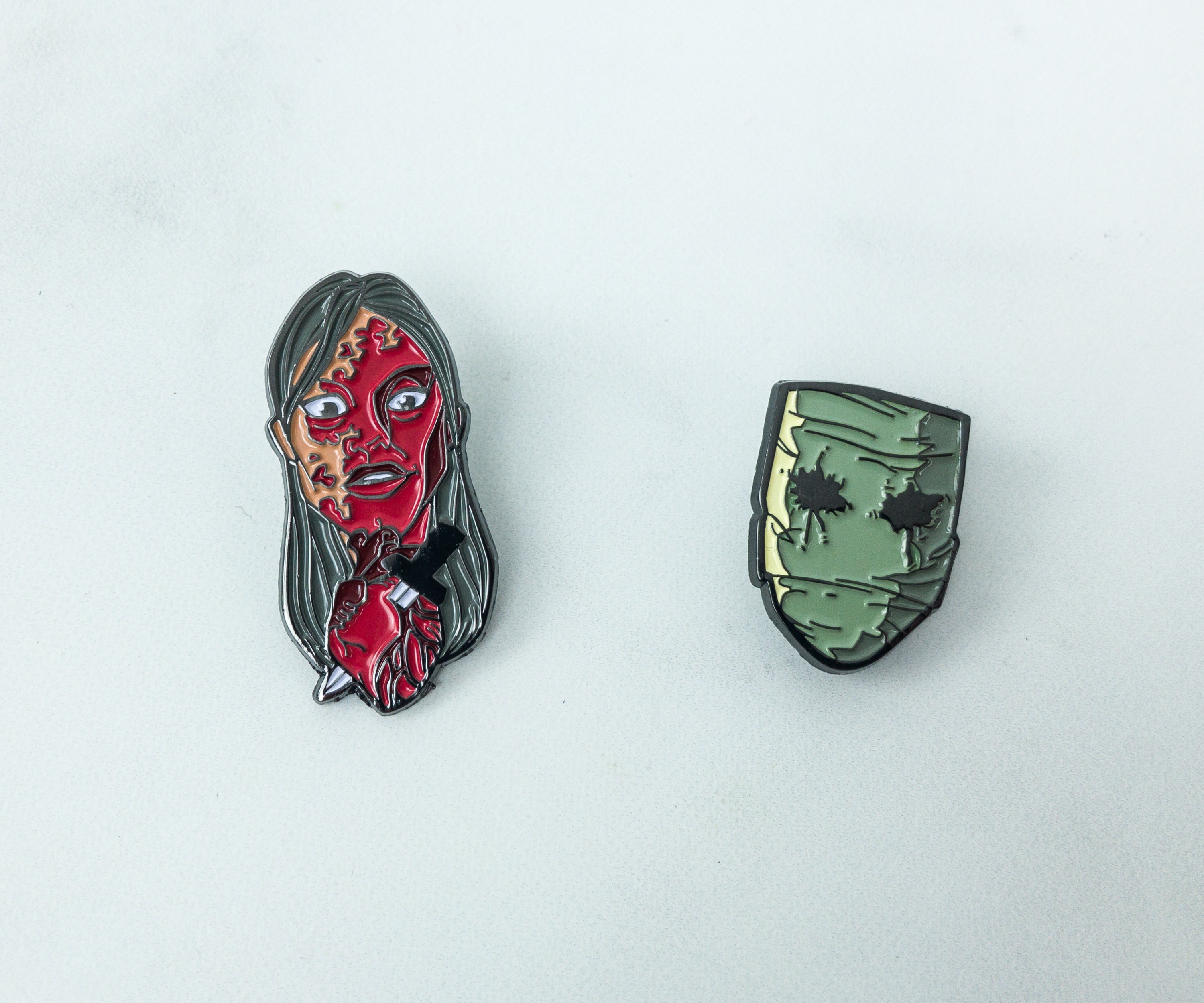 We got Taylor with knife-pierced heart pin and the Sunny Family Cult Mask pin. The details are awesome and they both look creepy!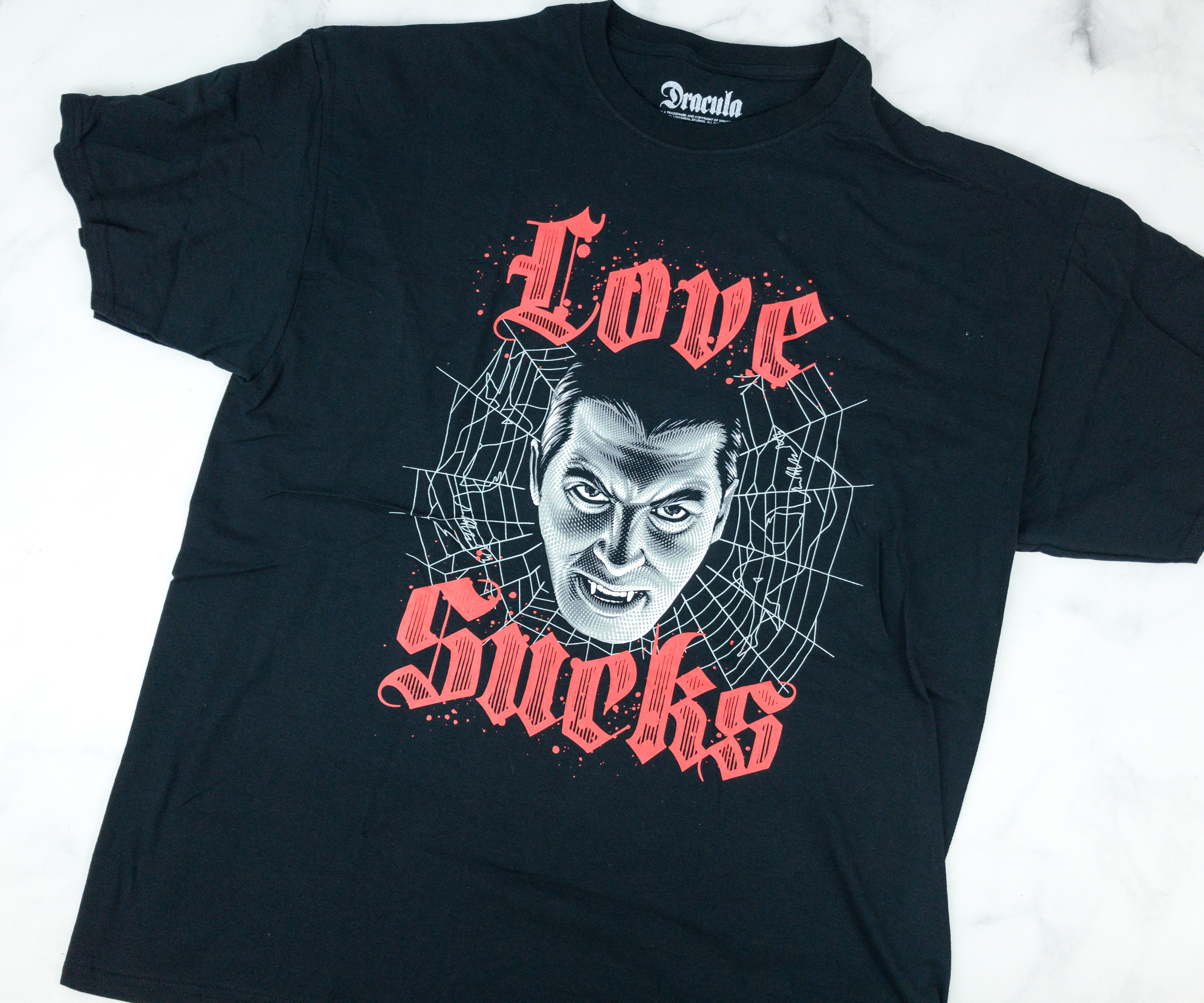 Dracula T-Shirt. This month's exclusive Loot Fright shirt features Dracula. It's a soft black tee with comfortable fit.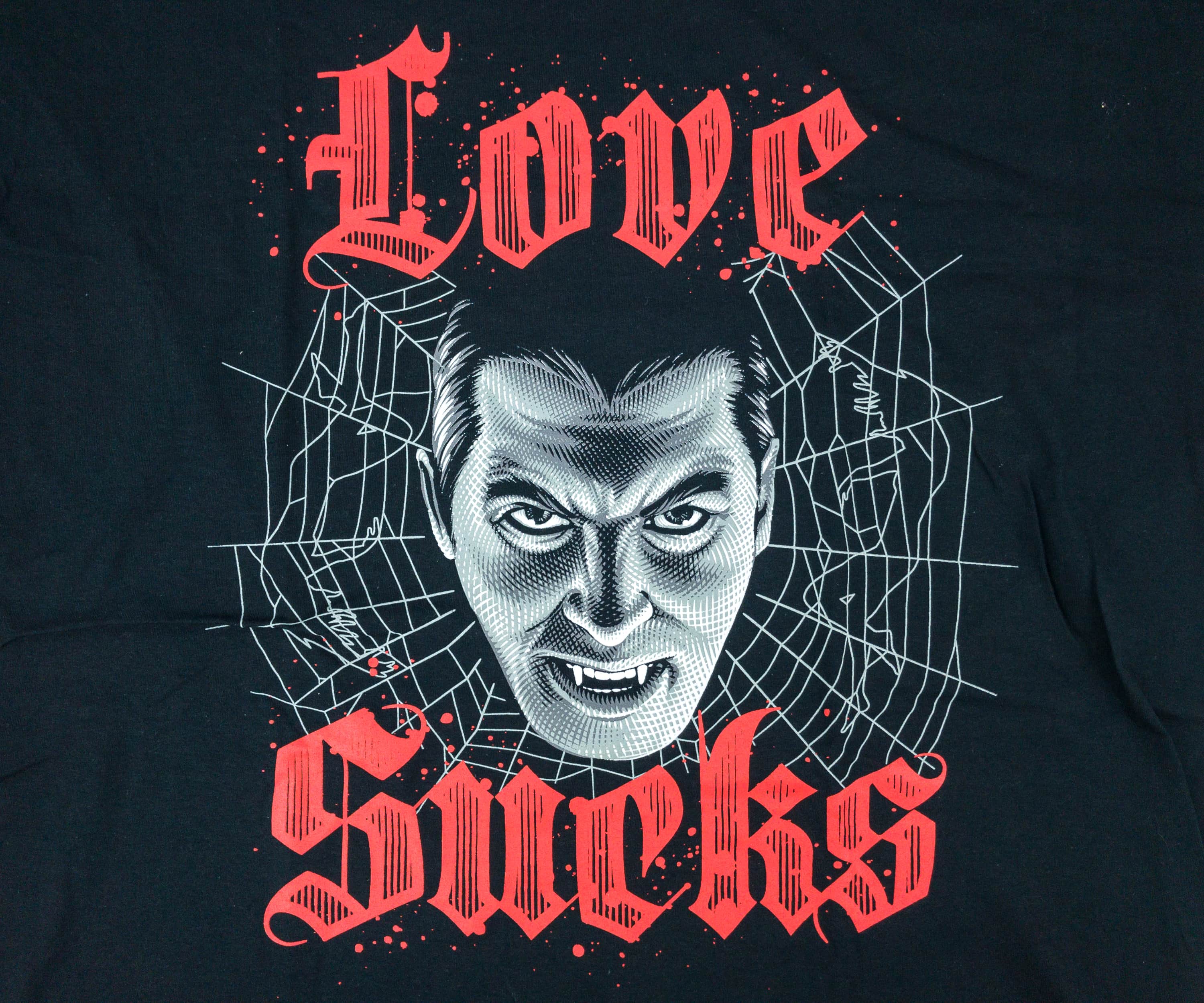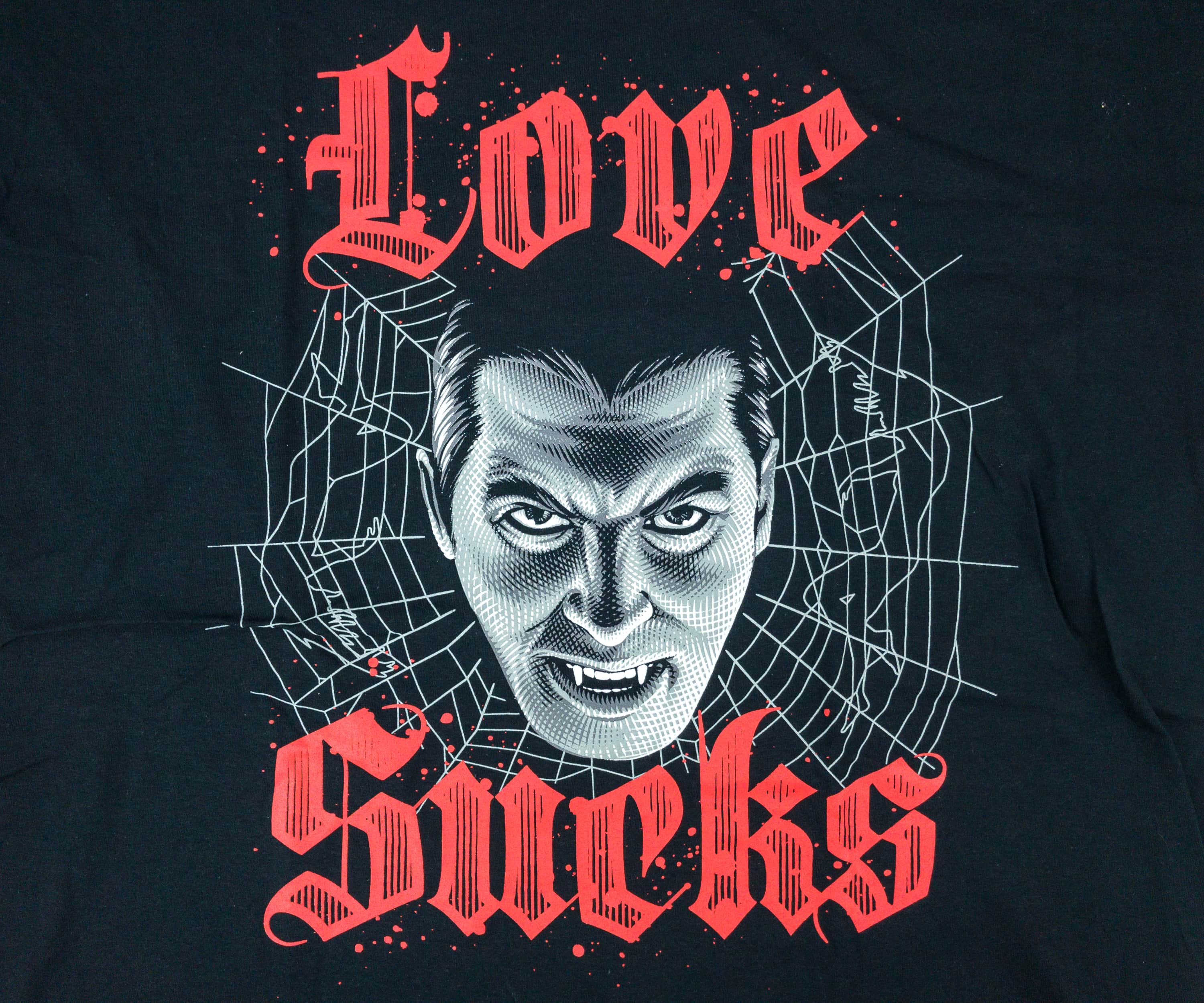 This is how Dracula looks after being denied of love. The shirt's design is supposed to be scary, but I really find it to be a little funny because of the double meaning on the message Love Sucks!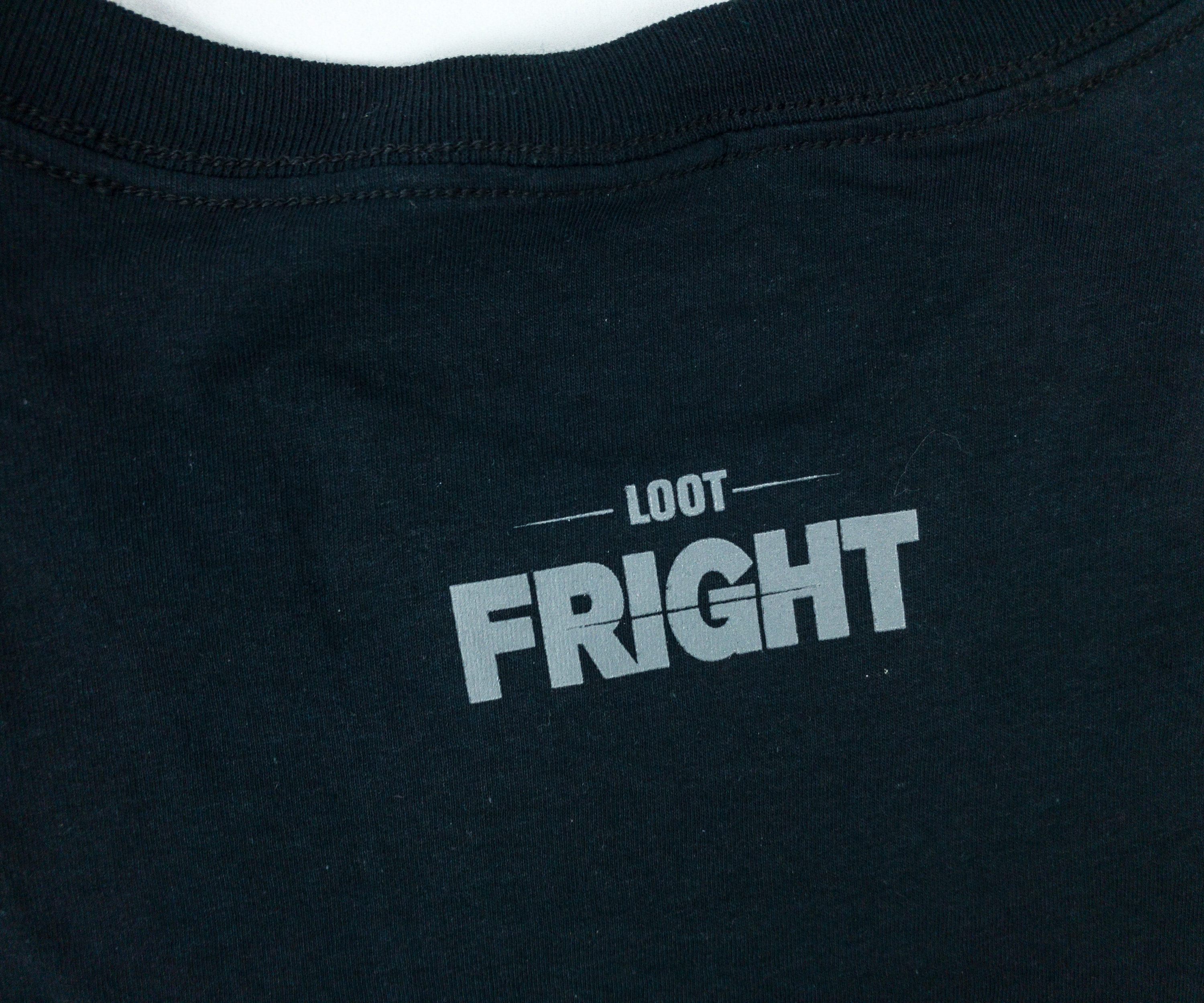 Like any other exclusive tee, it also comes with the logo of Loot Fright printed at the back of the shirt.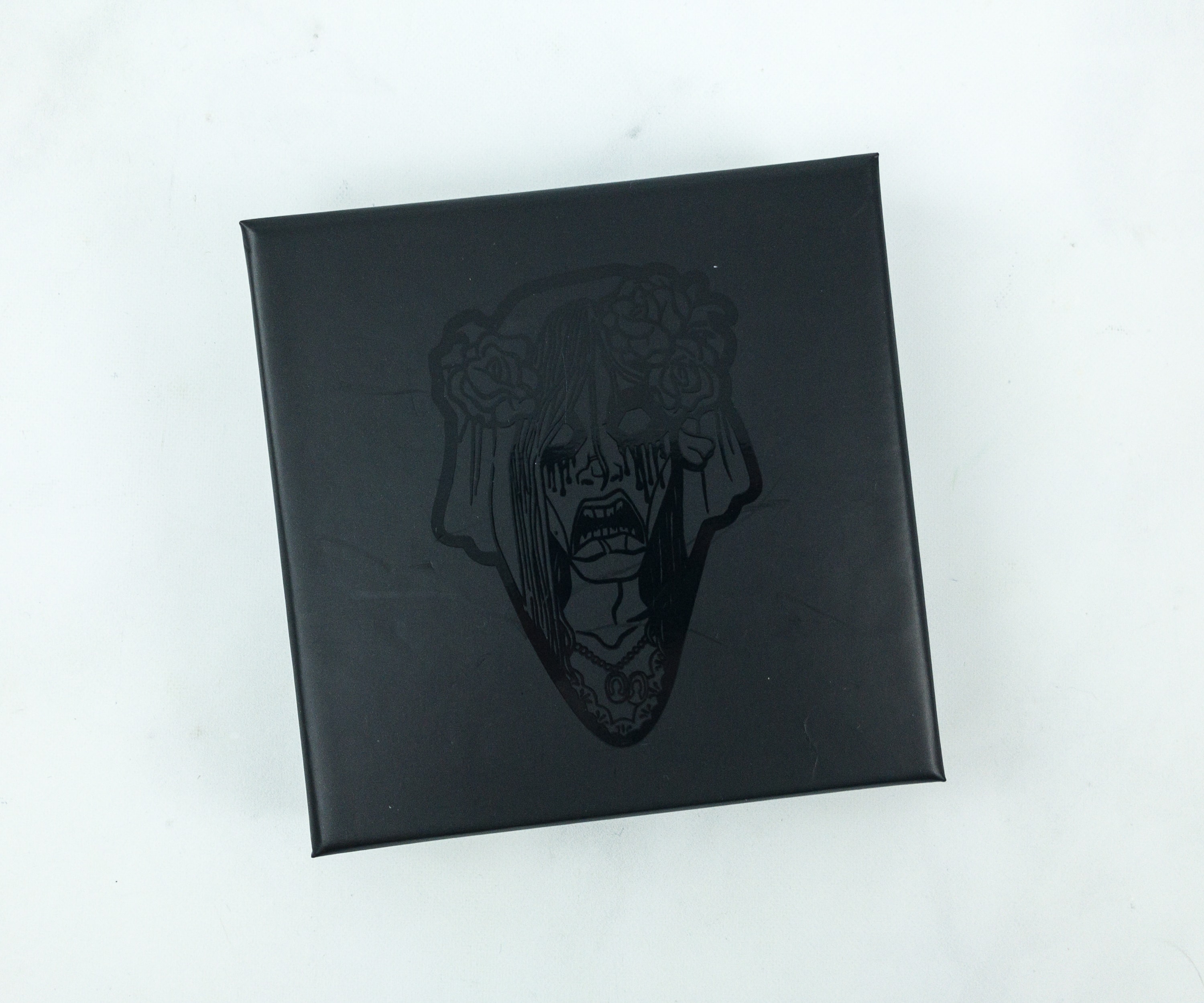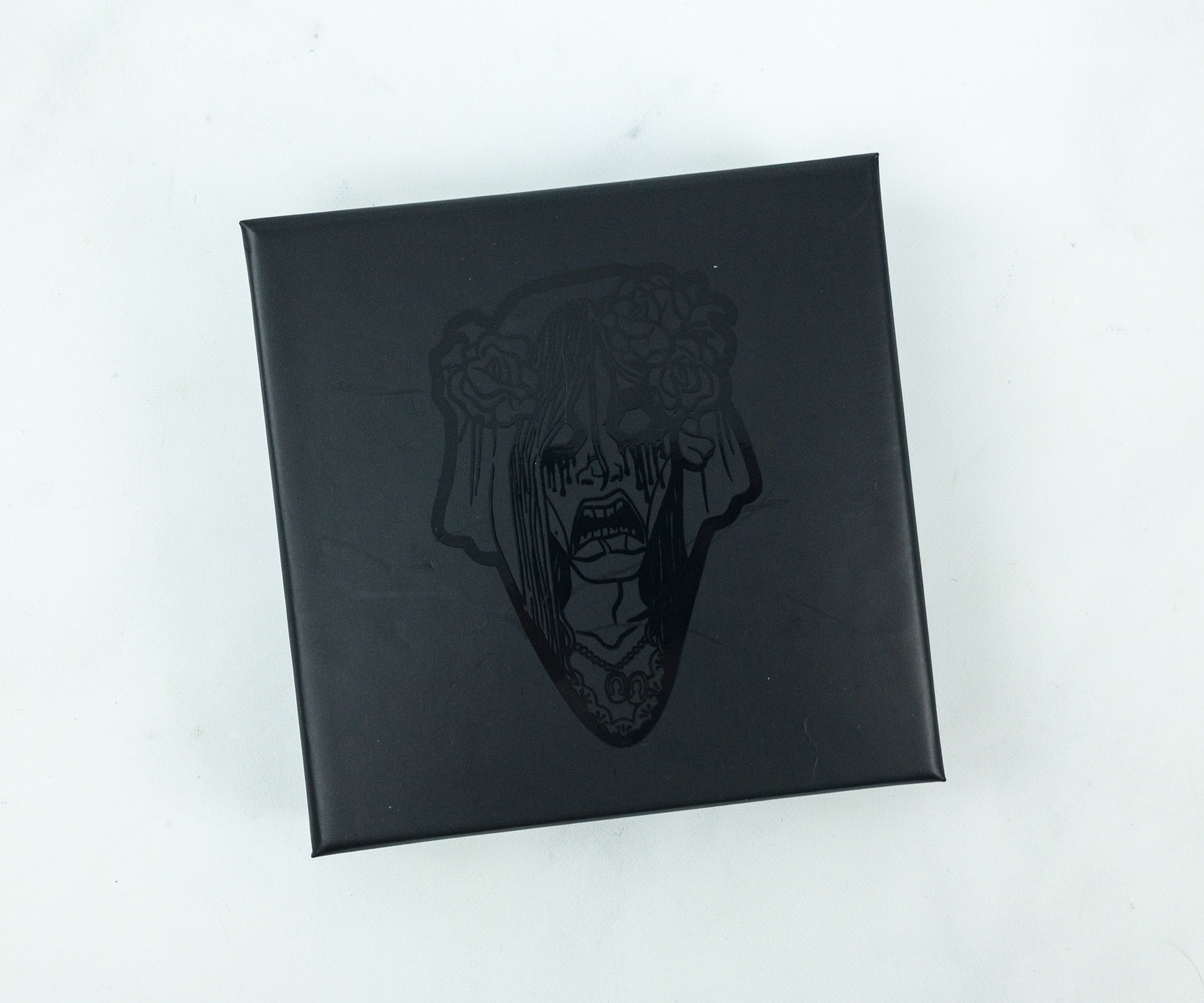 La Llorona Ornamental Bookmark. Also known as the weeping woman or Moaning in English, La Llorona is a Latin American folklore of a ghost of a woman who lost her children and cries while looking for them in a river. This bookmark is inspired by that story.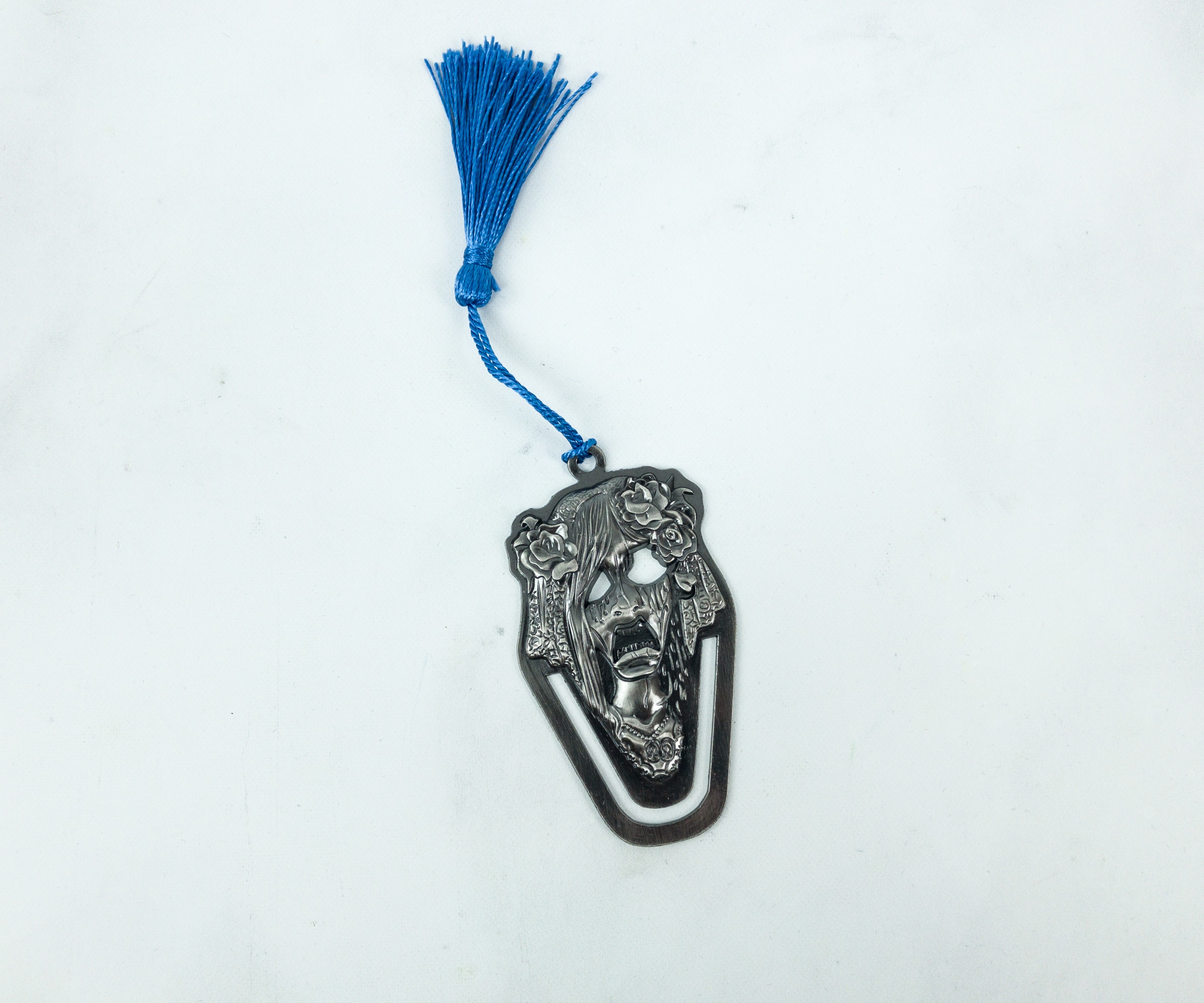 This bookmark is undeniably scary. It's attached to a blue tassel.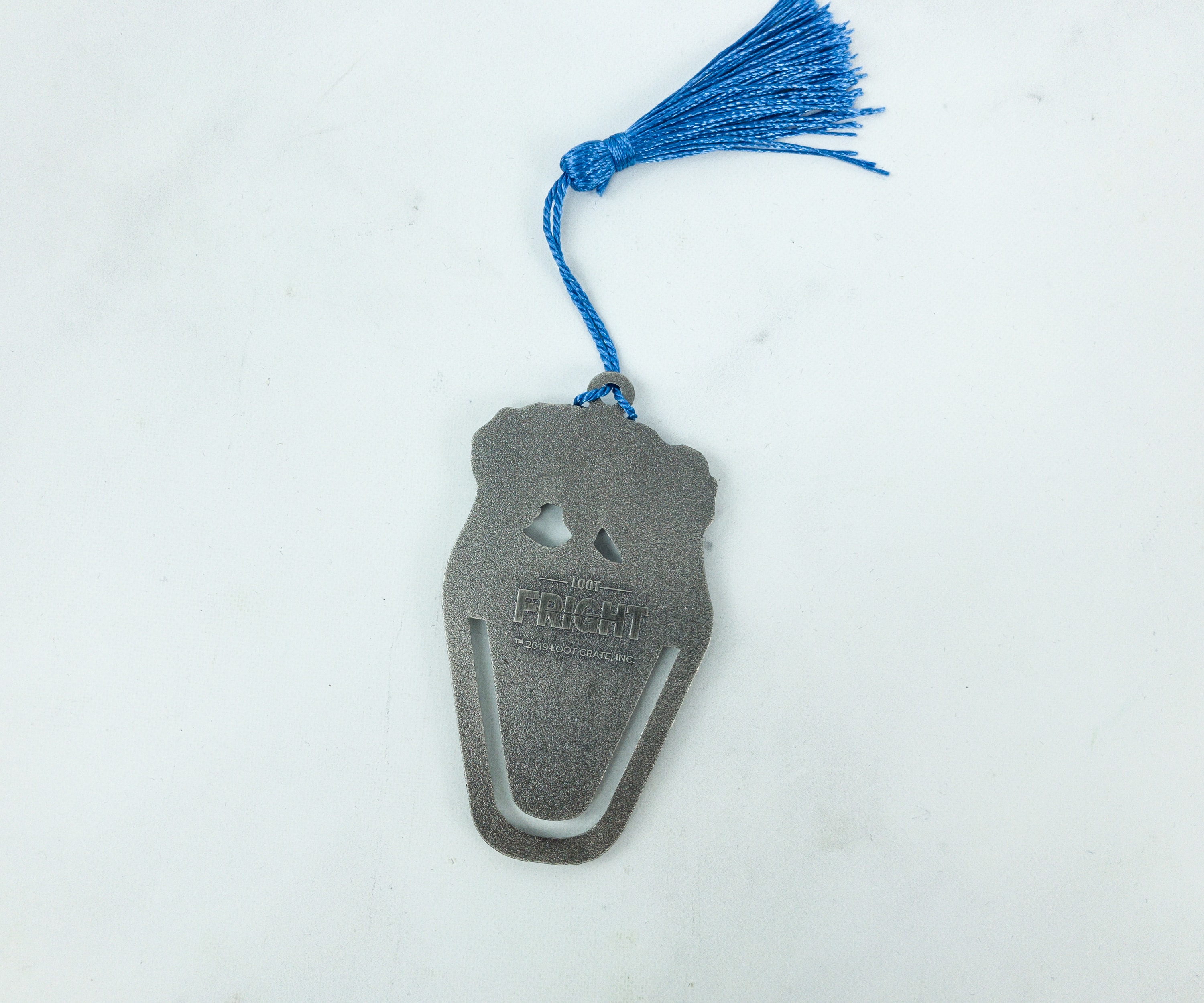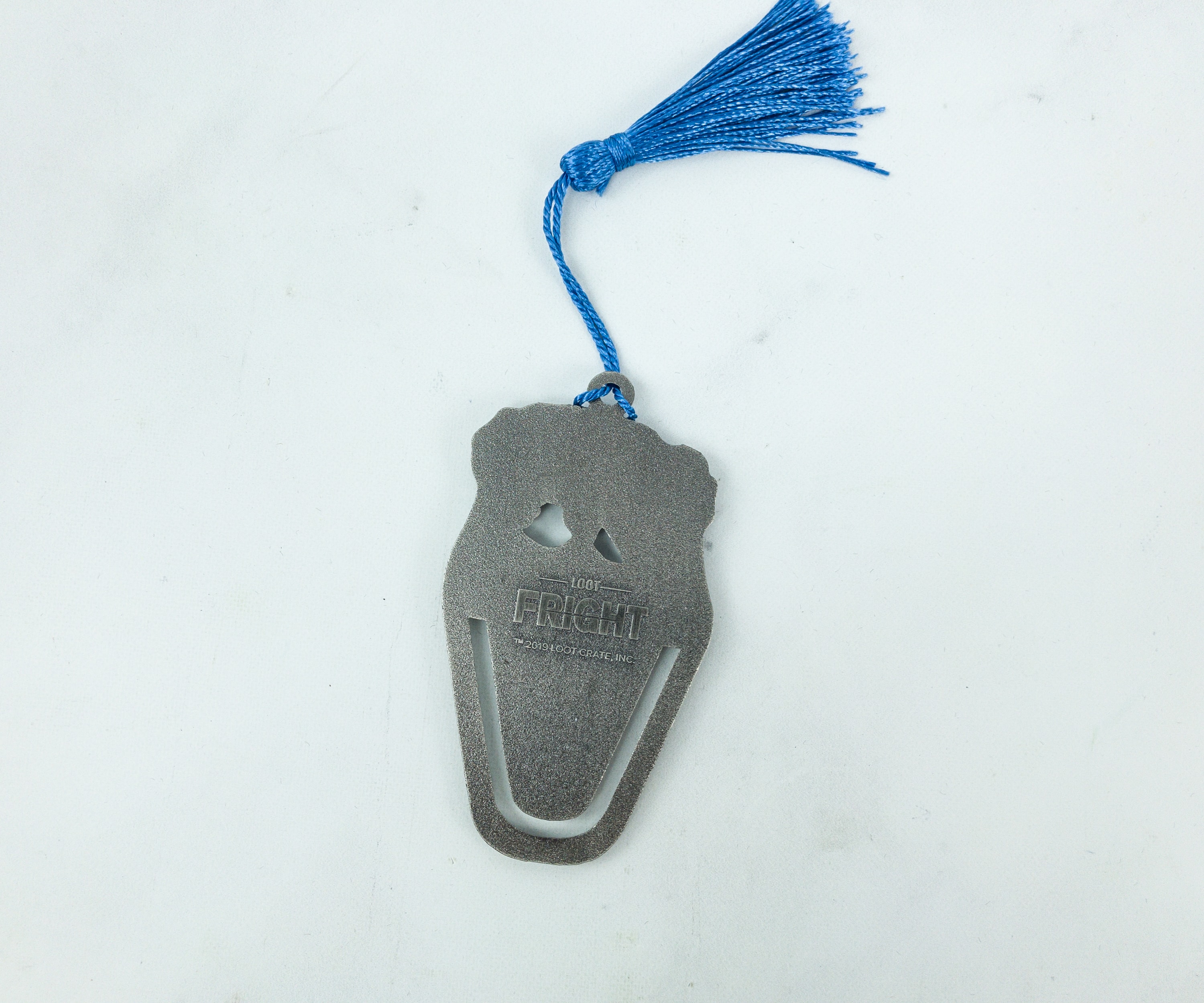 It is primarily made with stainless steel metal. At the back is Loot Fright logo.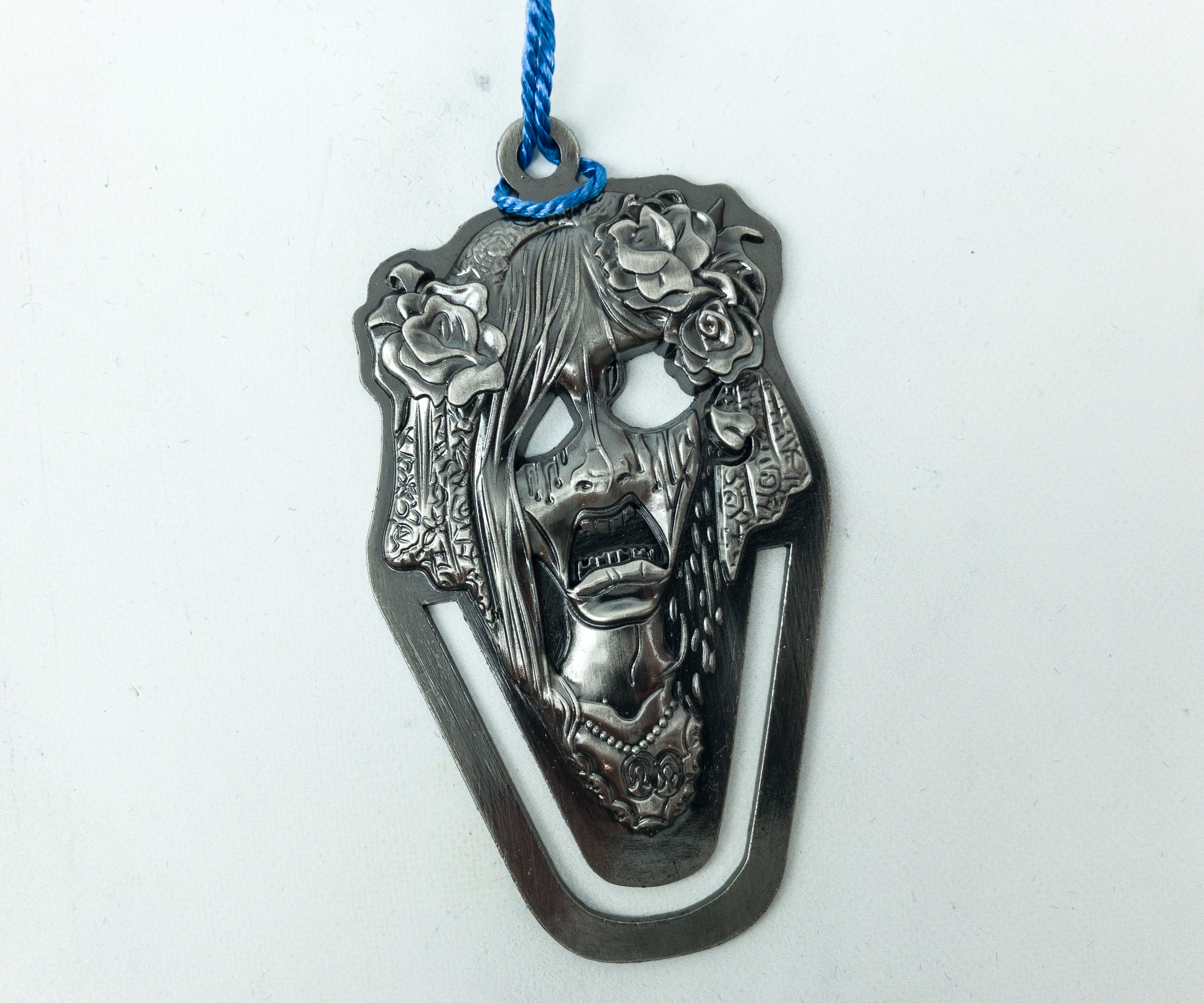 This bookmark is truly a collectible for any horror fan. It's greatly detailed, making it look more scary.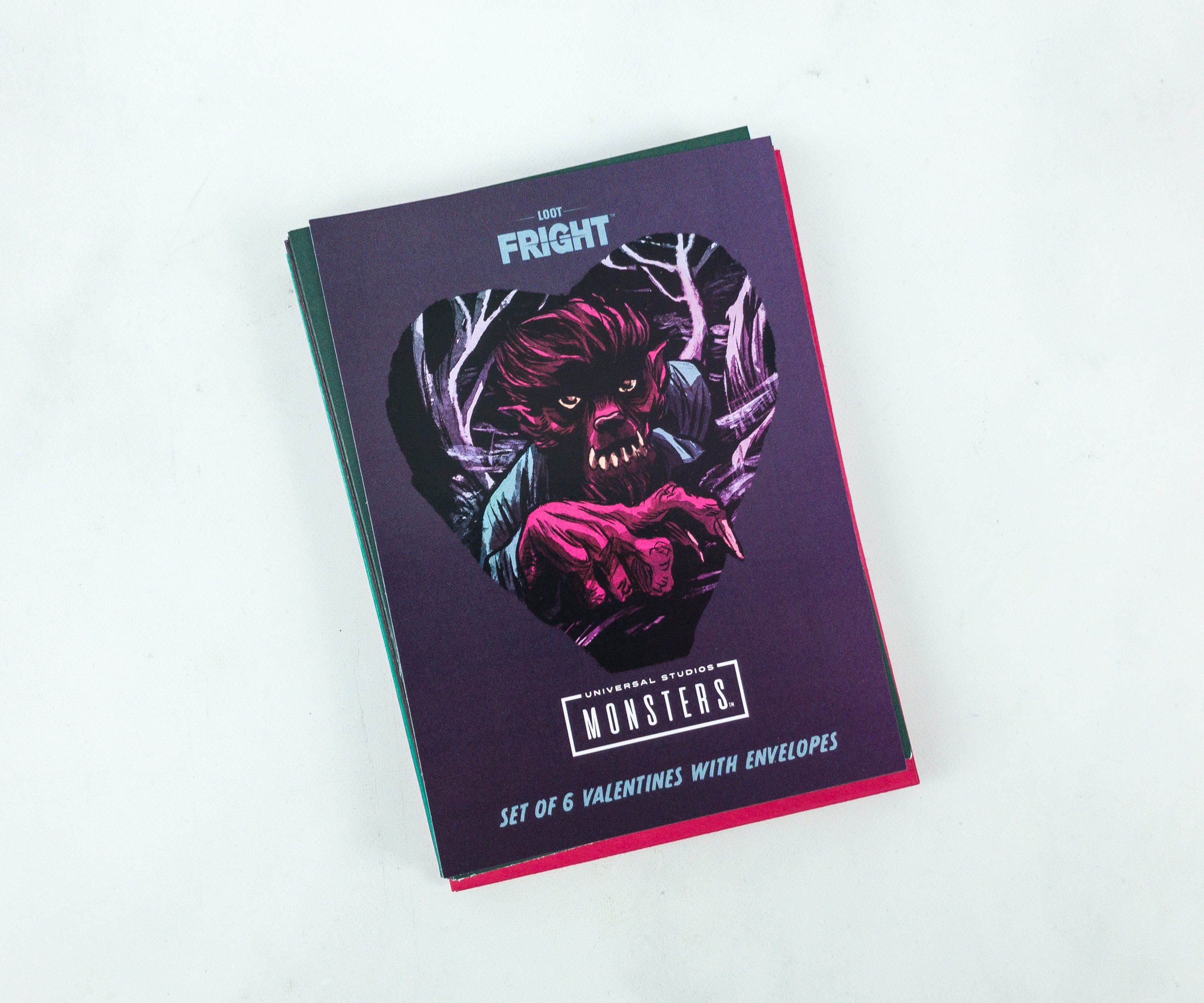 Universal Studios MONSTERS Valentines Card. If you want a unique way to greet your loved one this Valentine's Day, this set of cards is what you need.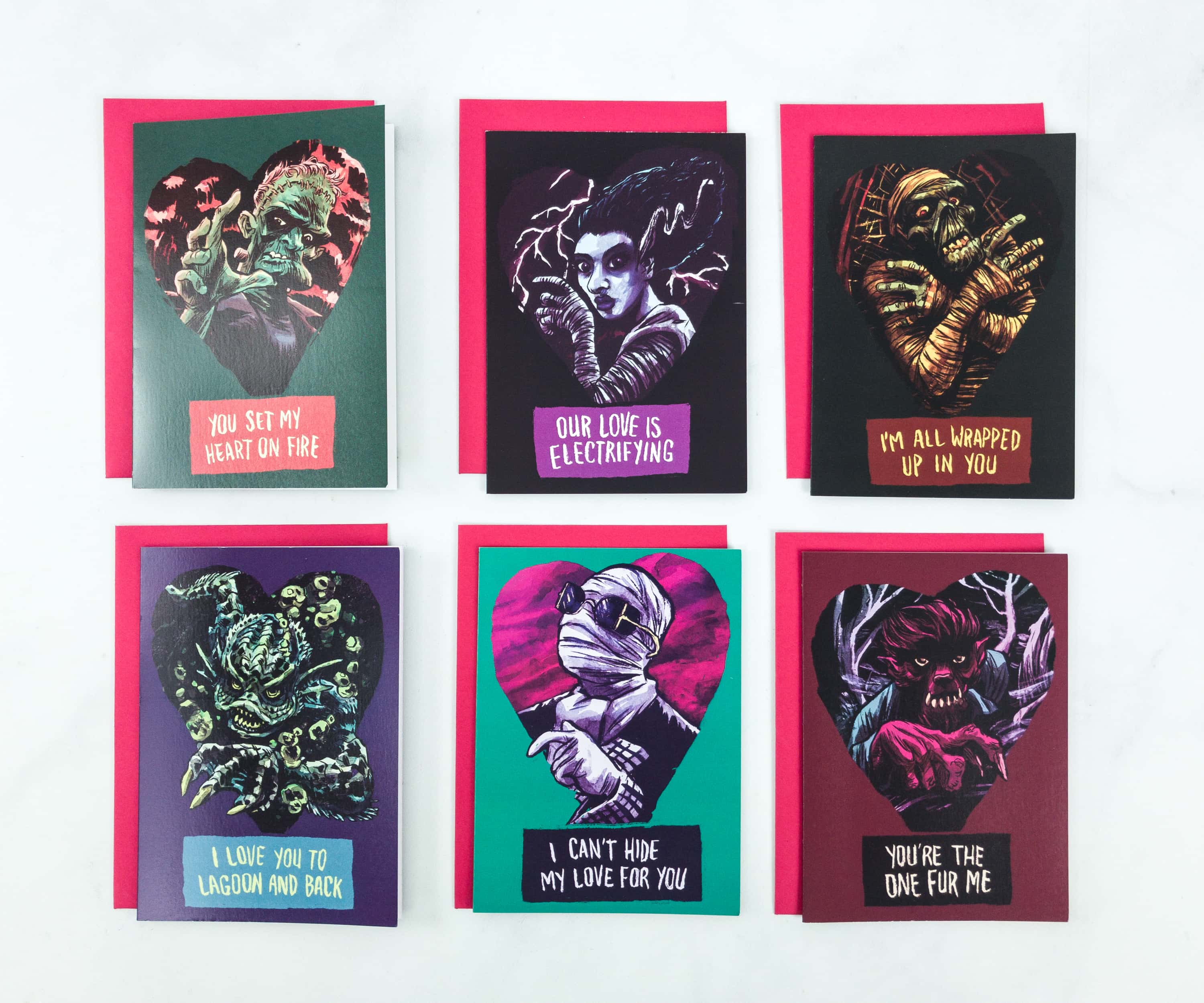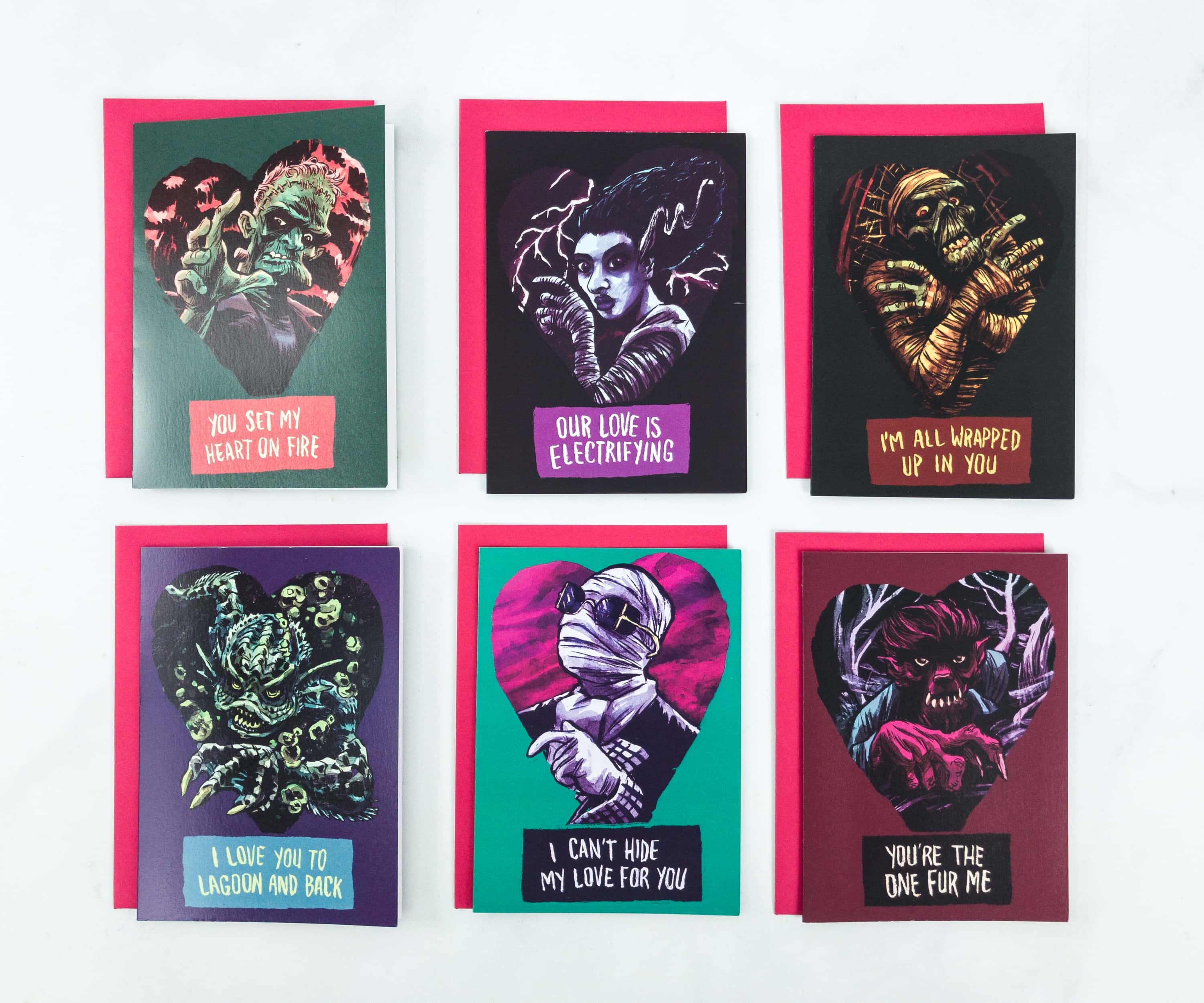 These set of cards features the famous Universal Studios monsters with their Valentines tag-lines. They sure are creepy, but we can't deny the fact that the illustrations are all amazing!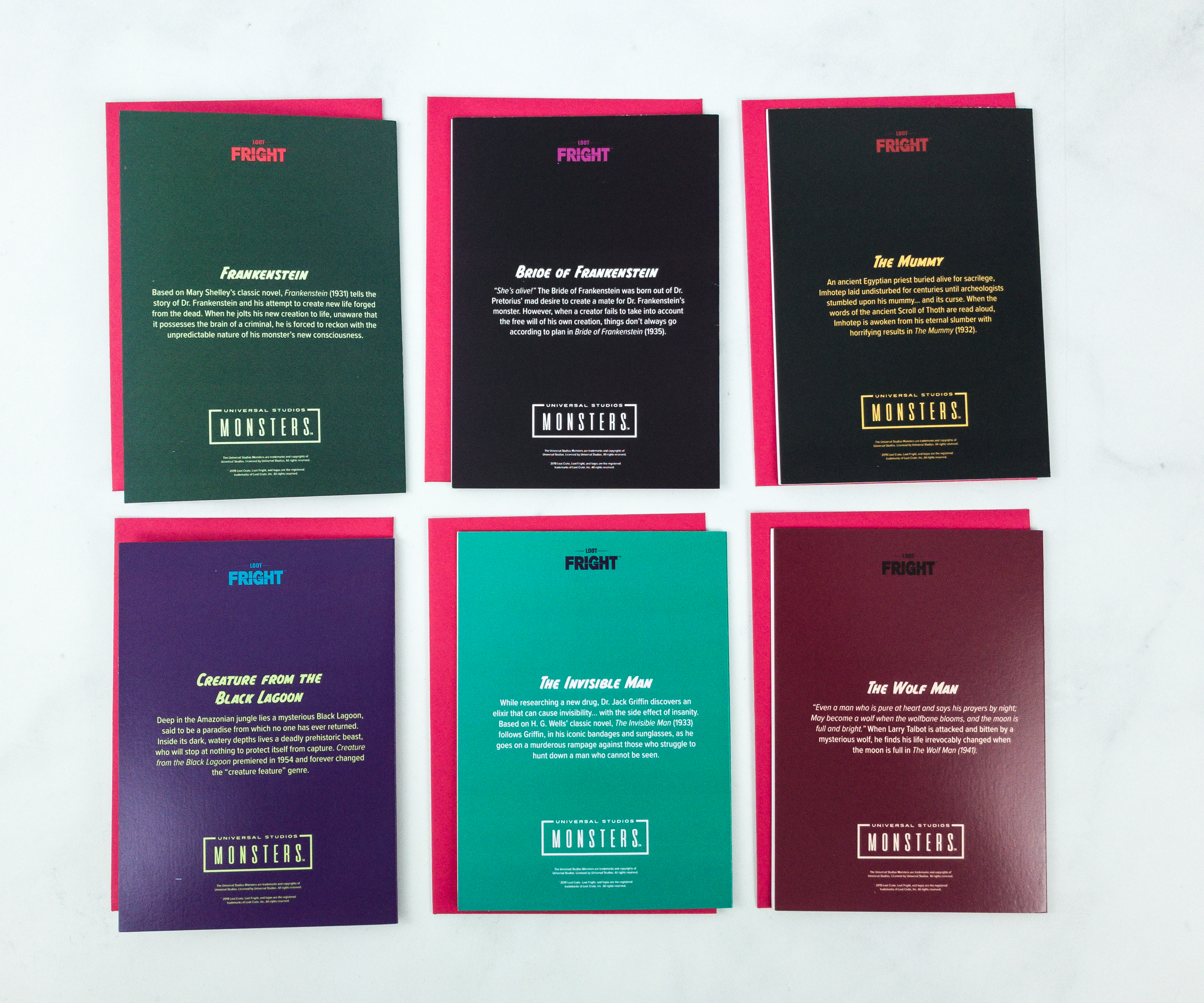 It includes Frankenstein, The Bride of Frankenstein, The Mummy, Creature from Black Lagoon, The Invisible Man, and The Wolf Man.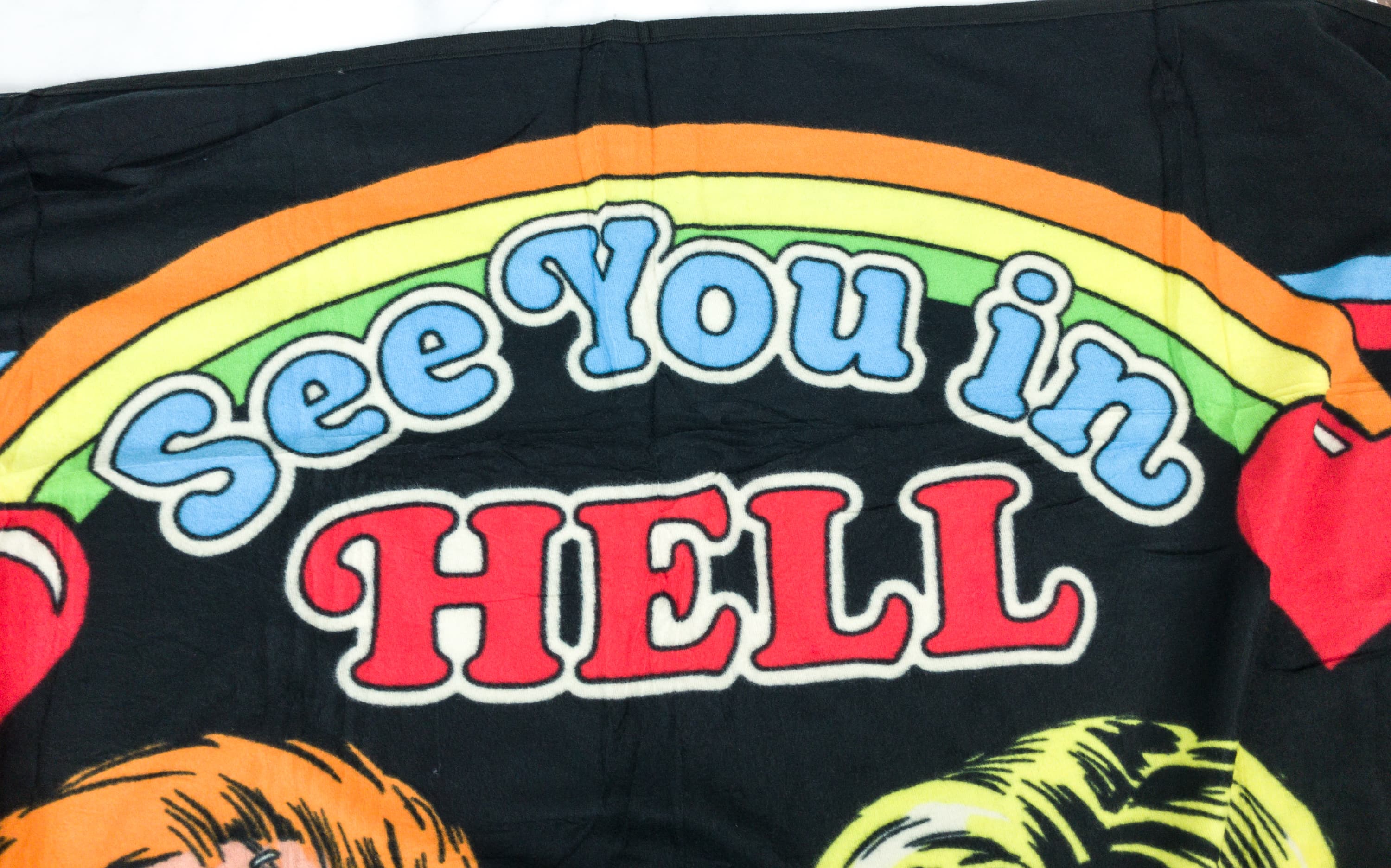 Bride of Chucky Blanket. See You in Hell! The famous tag-line of one of the most hated characters yet the most loyal partners I've seen in any horror movies I watched.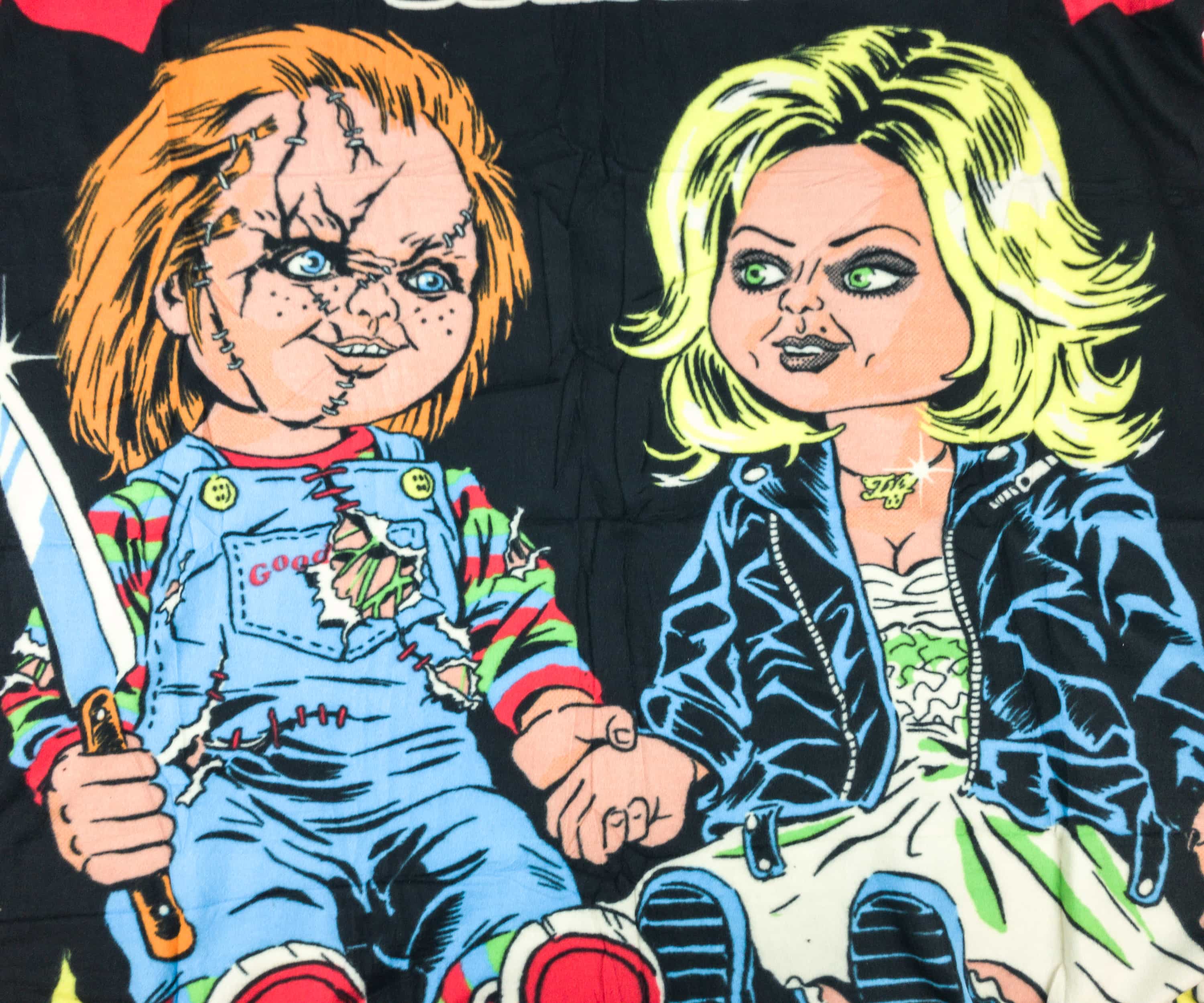 Yes! It's Chucky and his ex-girlfriend, Tiffany!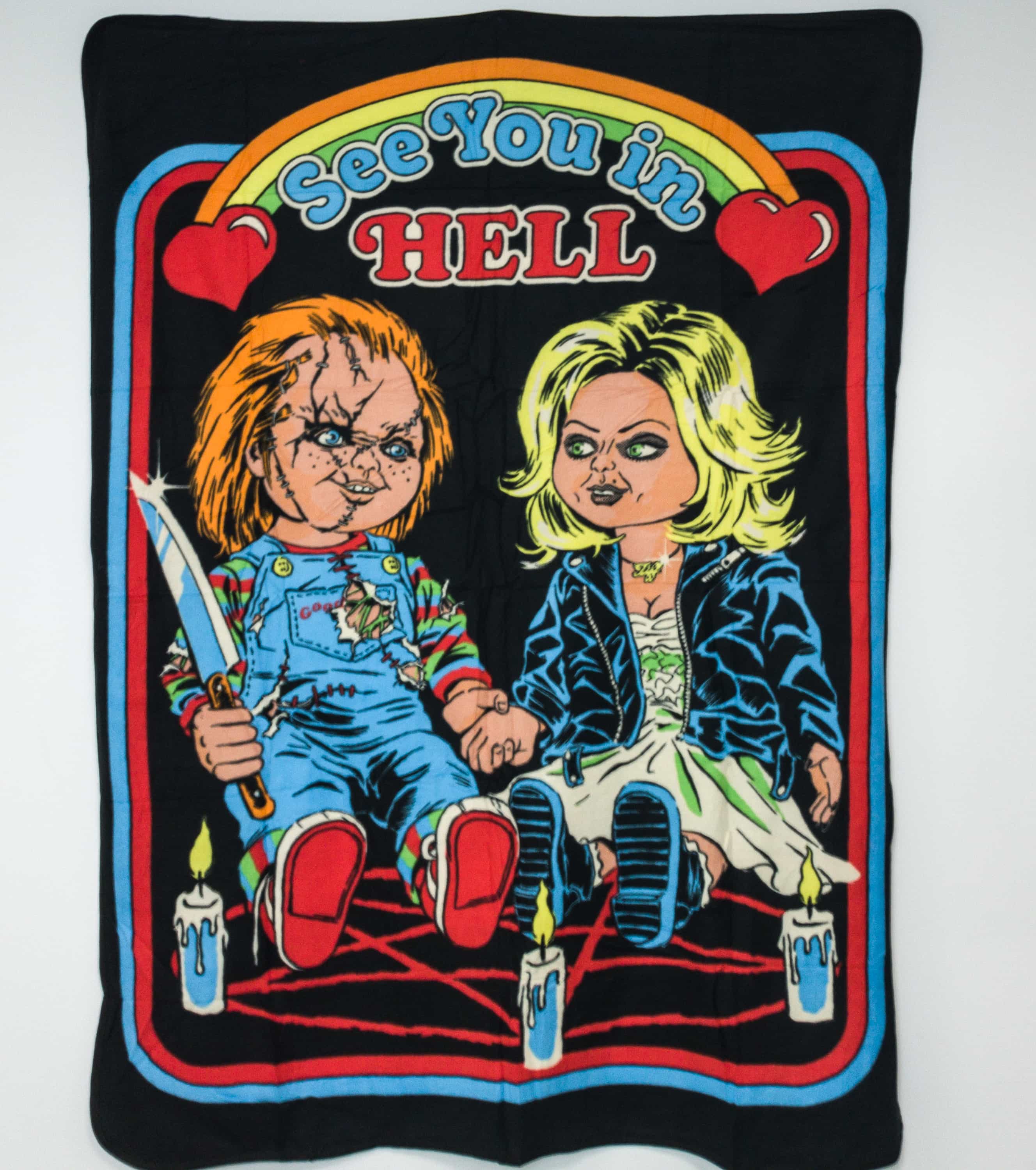 Despite the horror-themed design, it was very colorful. It's also soft and thick enough to provide warmth during cold nights.
Creepy, terrifying, and spine-chilling items are in this month's Loot Fright box! From pins to shirts, bookmarks, blanket, and even the Valentine cards, they all are so spooky. I love everything inside this month's box, but what stands out the most for me is the set of Valentines Cards we received. The illustrations are really creative. Plus, you can't beat the Chucky blanket! Overall, I'm really satisfied with this month's box. If you're a horror fan or collector, this subscription is what you need to grow your horror items collection!
What do you think of Loot Fright?