Literati is a monthly book subscription box for children that works similar to Stitch Fix. For a monthly fee of $9.95, you'll receive 5 books to try out for a week. You can purchase the ones you love and return the rest (in totally new condition) in the enclosed prepaid mailer (shipping is free in both directions).
You can get 5% off when you decide to keep all the books! There are also categories for each age bracket: Club Neo is for newborn to 1 year; Club Sprout is for children ages 2-3; Club Nova is for kids 4-6, and Club Sage is for those 7-8 years old.
This is a review of the Club Nova box for kids 4-6.
DEAL: Get $25 in account credit to put towards books when you sign up! USE THIS LINK to get the deal.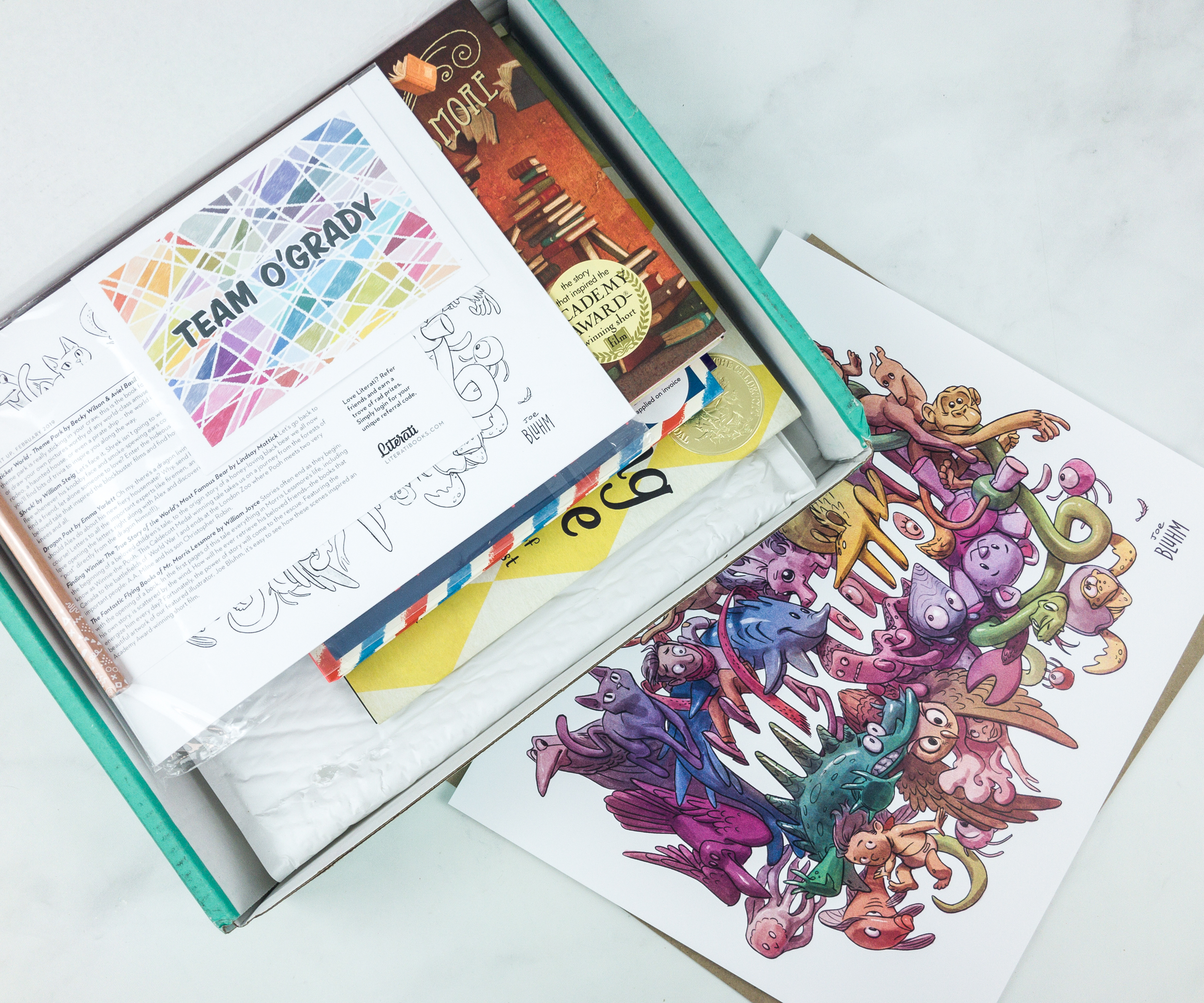 There are lots of books in store for us!
There's also a padded mailer if you want to return some of the books. You can also return your own gently read books (up to five total in the mailer) for donation.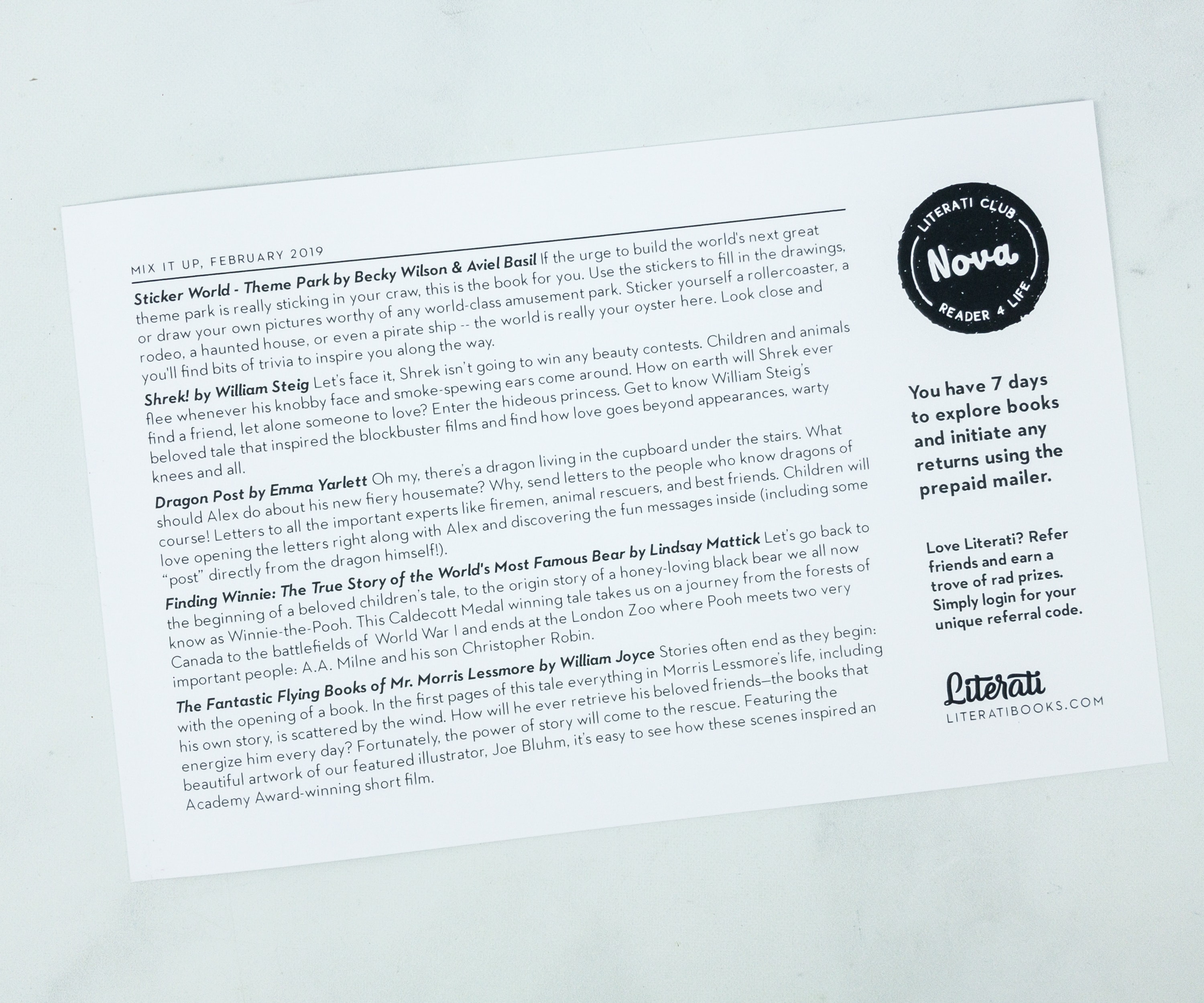 There's also an info card about the five books sent to us this month. The card lists the titles with a brief description for each.
A full-size print comes with the box, along with free shipping. Although I don't love that the fee doesn't apply to a full box purchase, this high-quality print makes it more worth it. Also, the theme for this month is Mix It Up!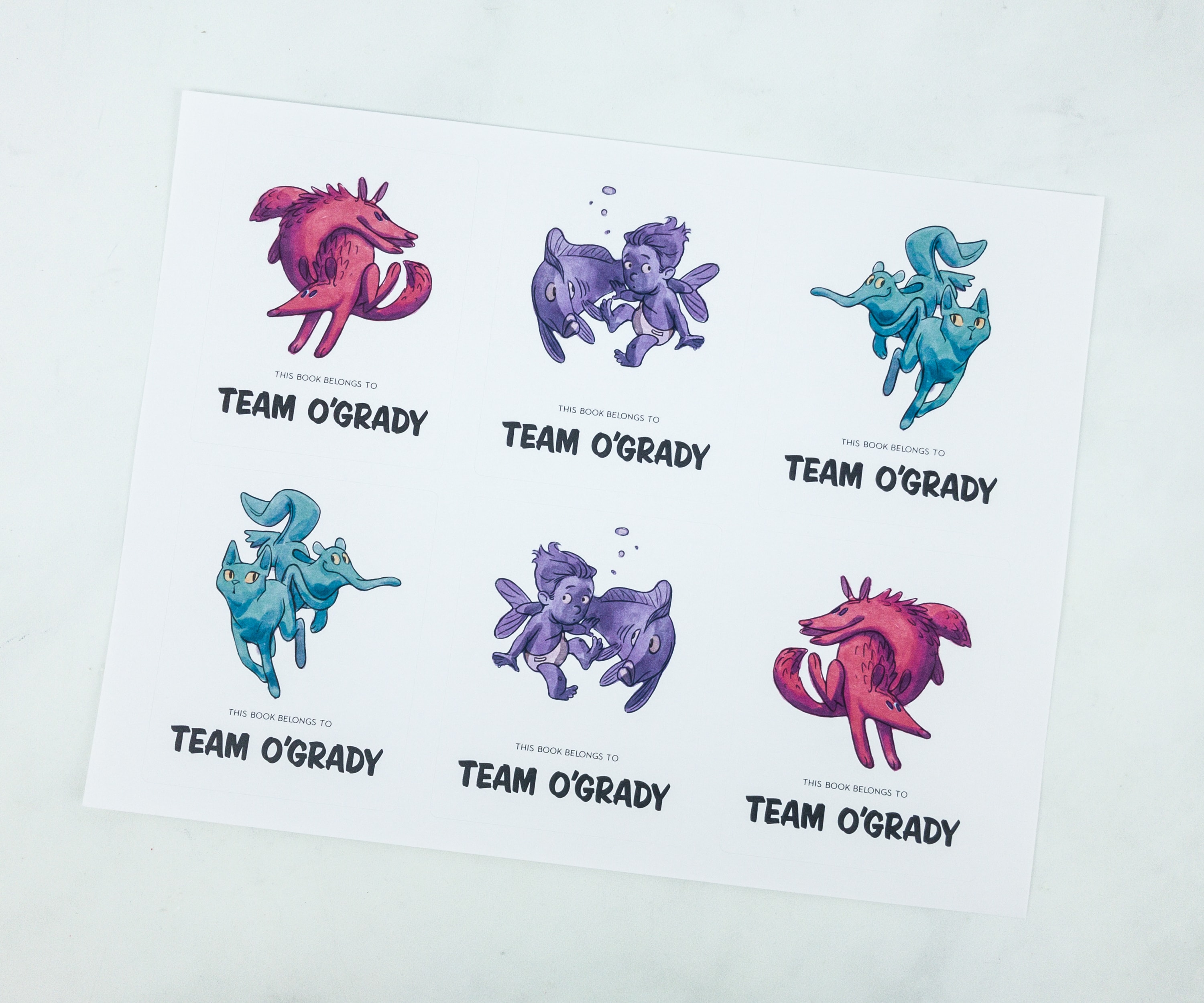 They included a sheet to help us label the books, and let others know that they're ours when we decide to keep them. They're really adorable!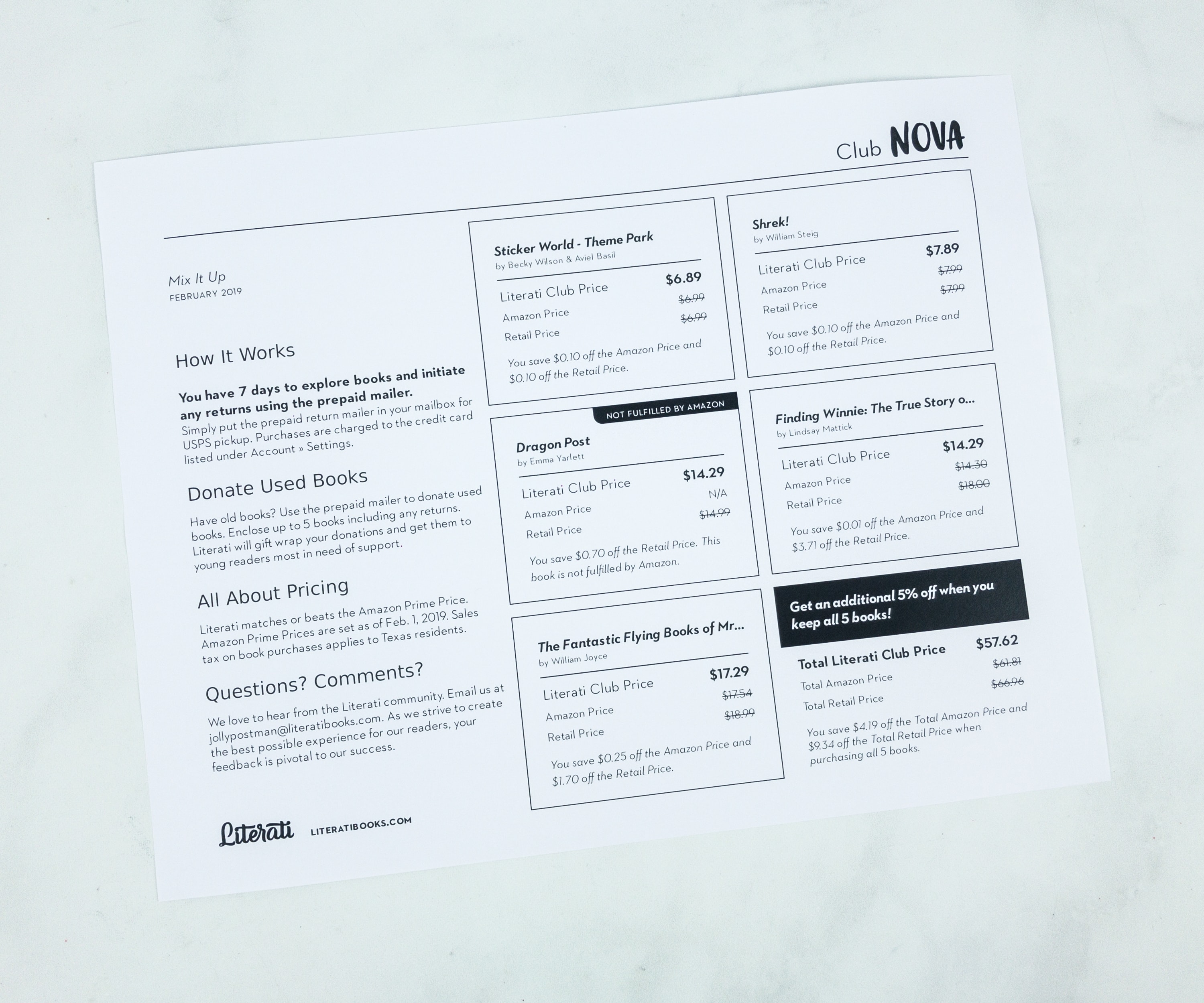 There's also a listing of the book prices. If you decide to keep everything, you'll get 5% off. The subscription has a $9.95 non-refundable fee. According to Literati "it covers shipping both ways, allows the curators to invite a new world-renowned illustrator each month to draw personalized bookplates and a unique print for members, and covers other themed surprises that are included in the box." Since the print is now full size and high quality, we are digging that change. It includes the shipping back and forth too.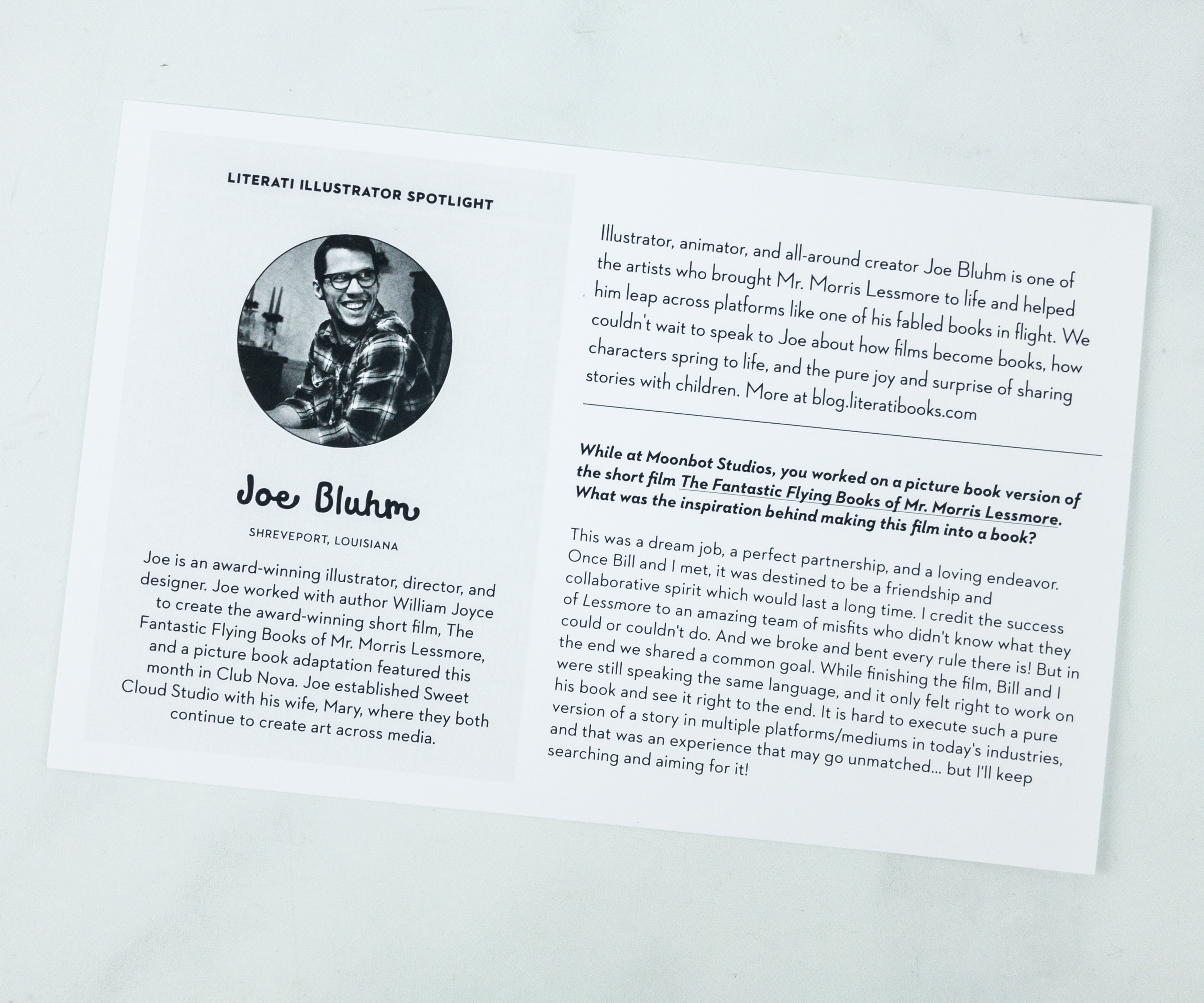 The featured illustrator creates new artwork for the monthly themes. This month's illustrator is Joe Bluhm.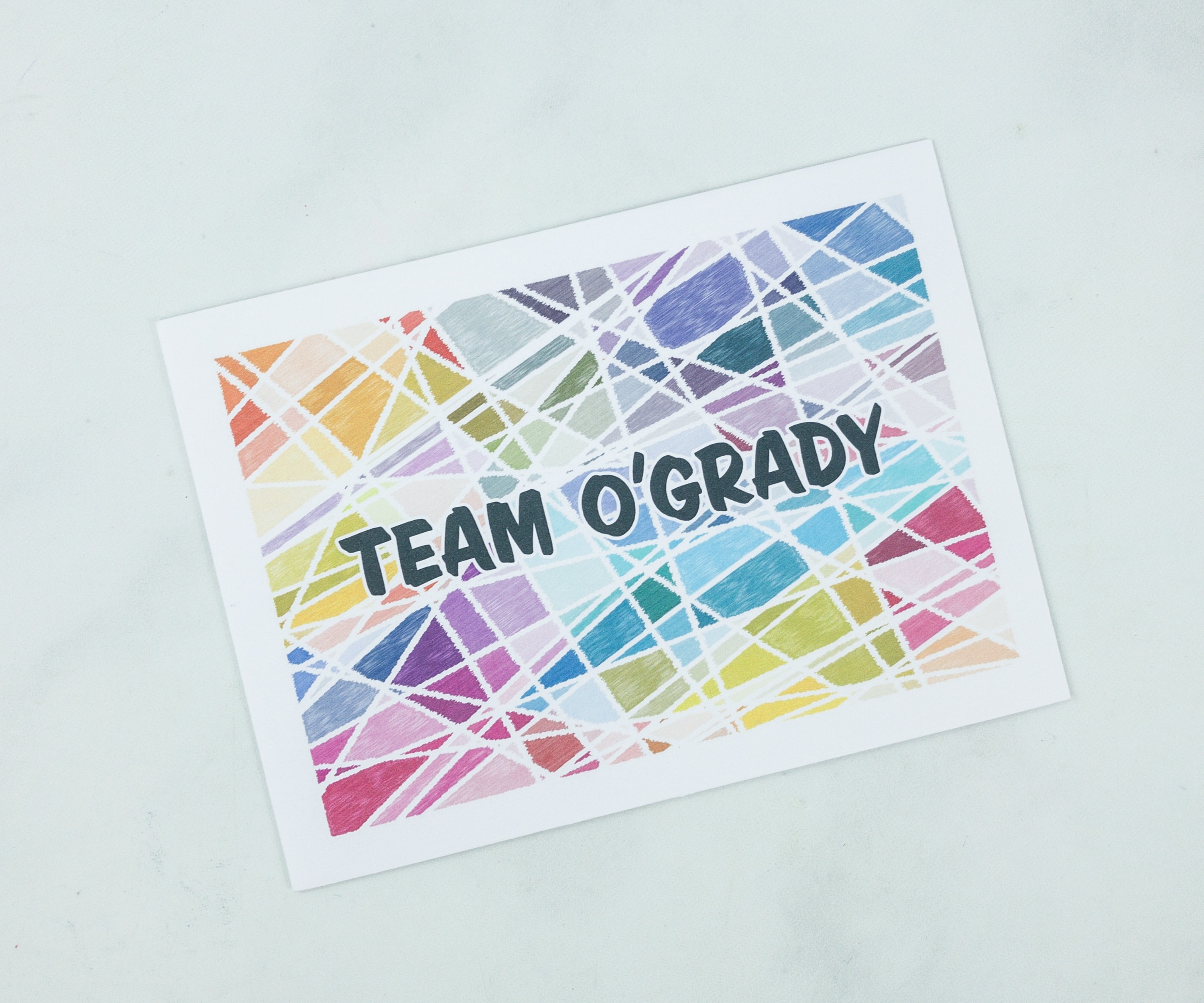 There's a cute note from Team Literati.
The poetic approach on the note makes us feel special!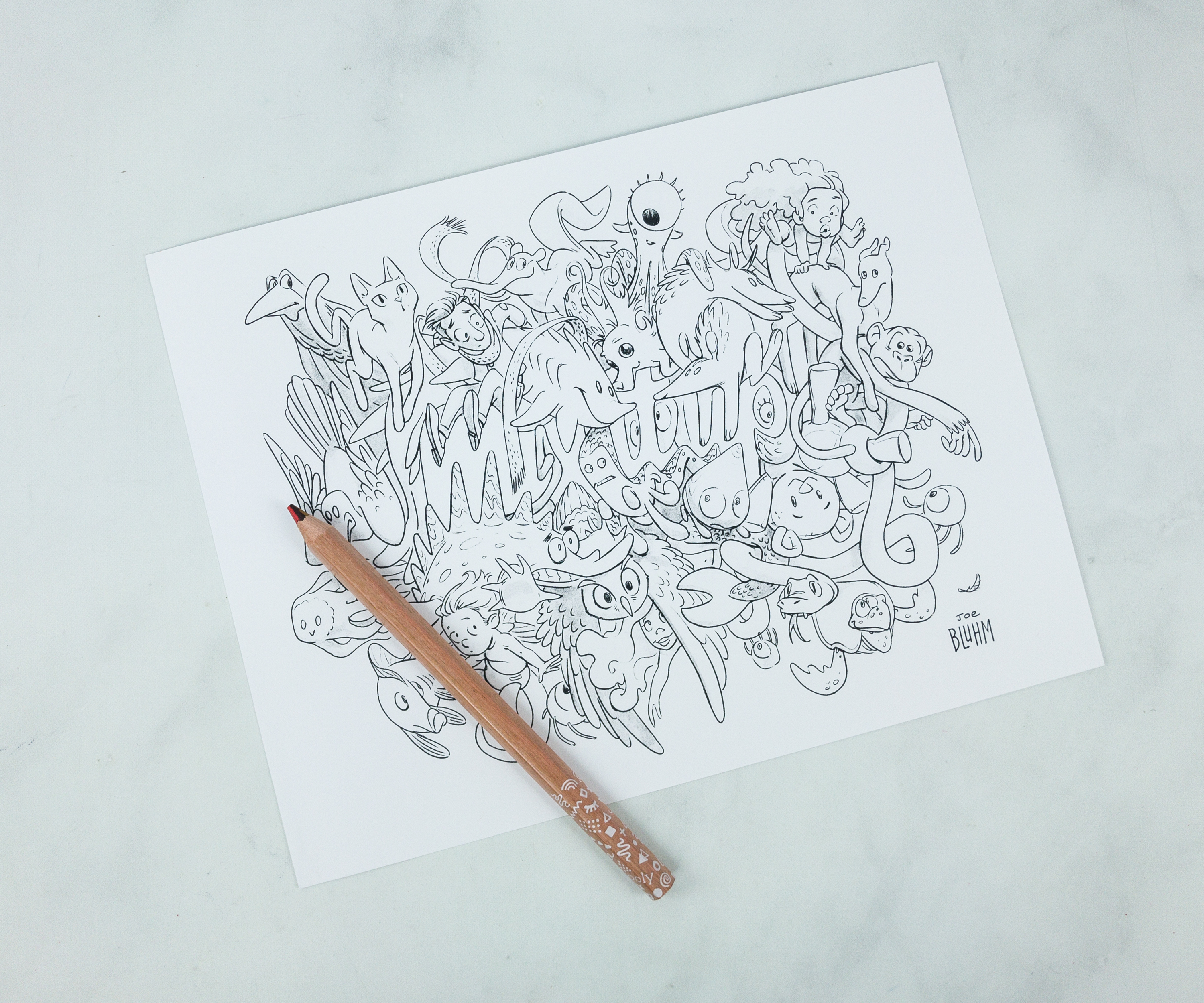 There's a black and white recreation of the print that shows the box's theme, and the kids can color it!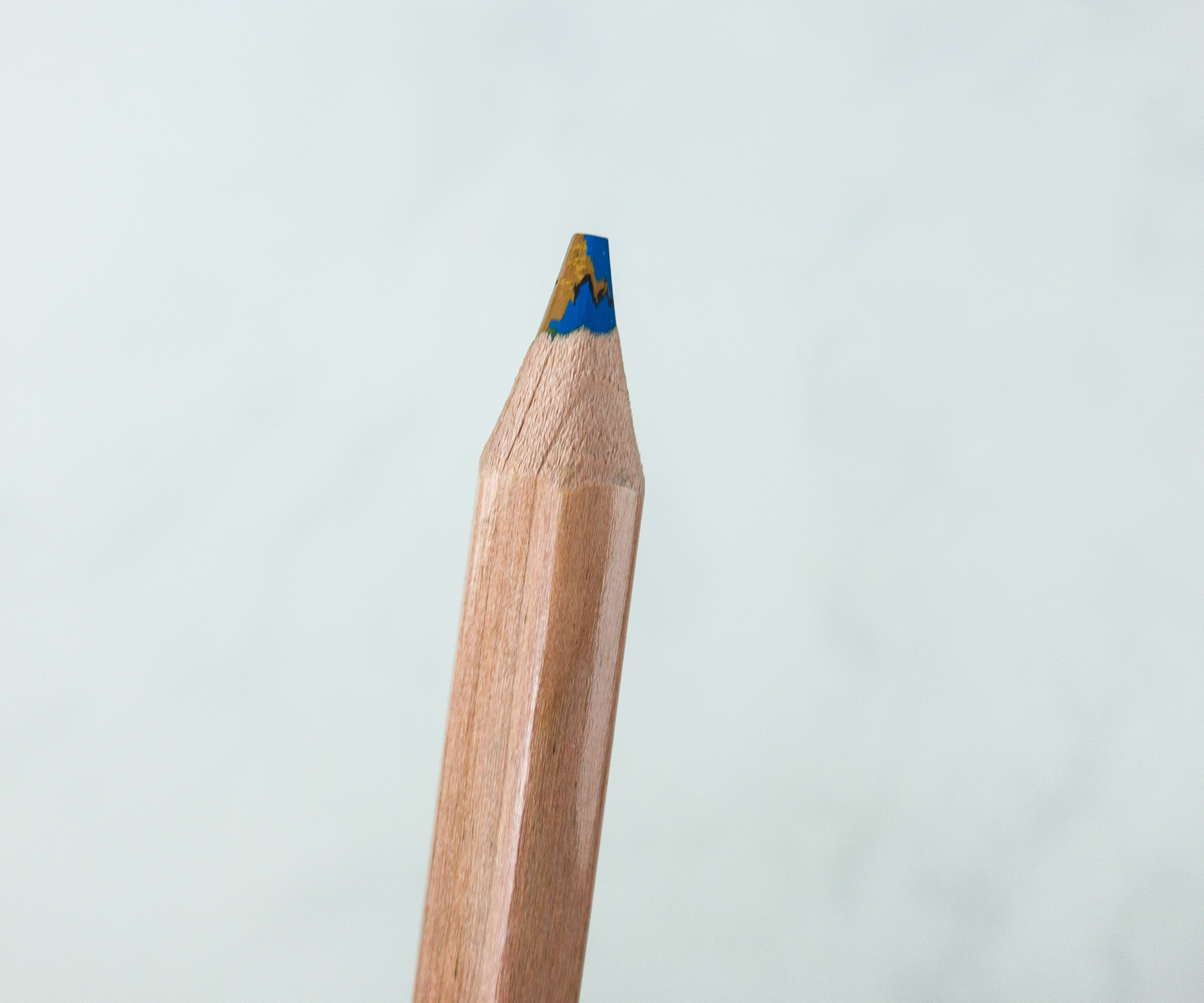 They also included a multi-colored pencil that the kids can use to add colors to the print.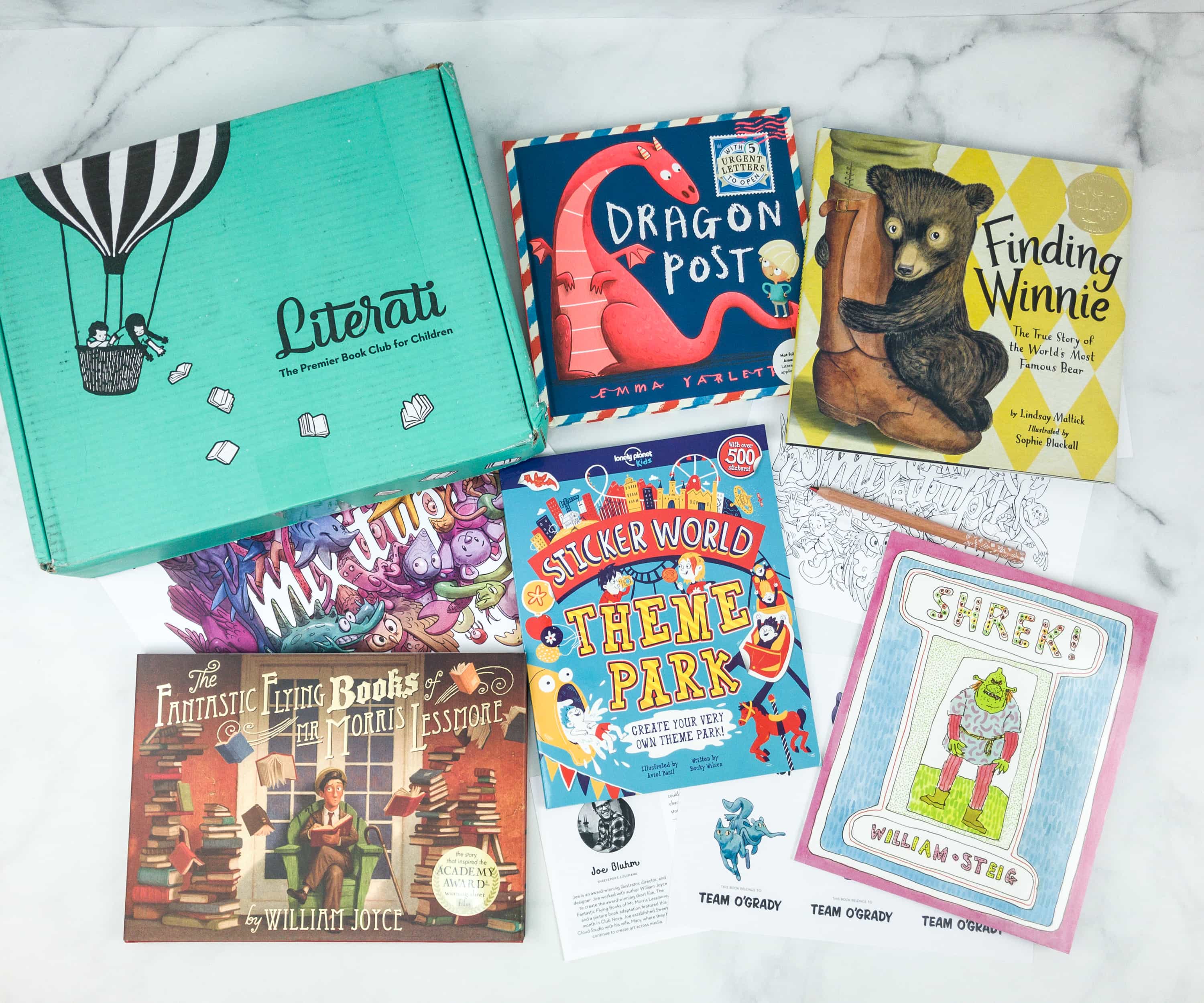 Everything in the box!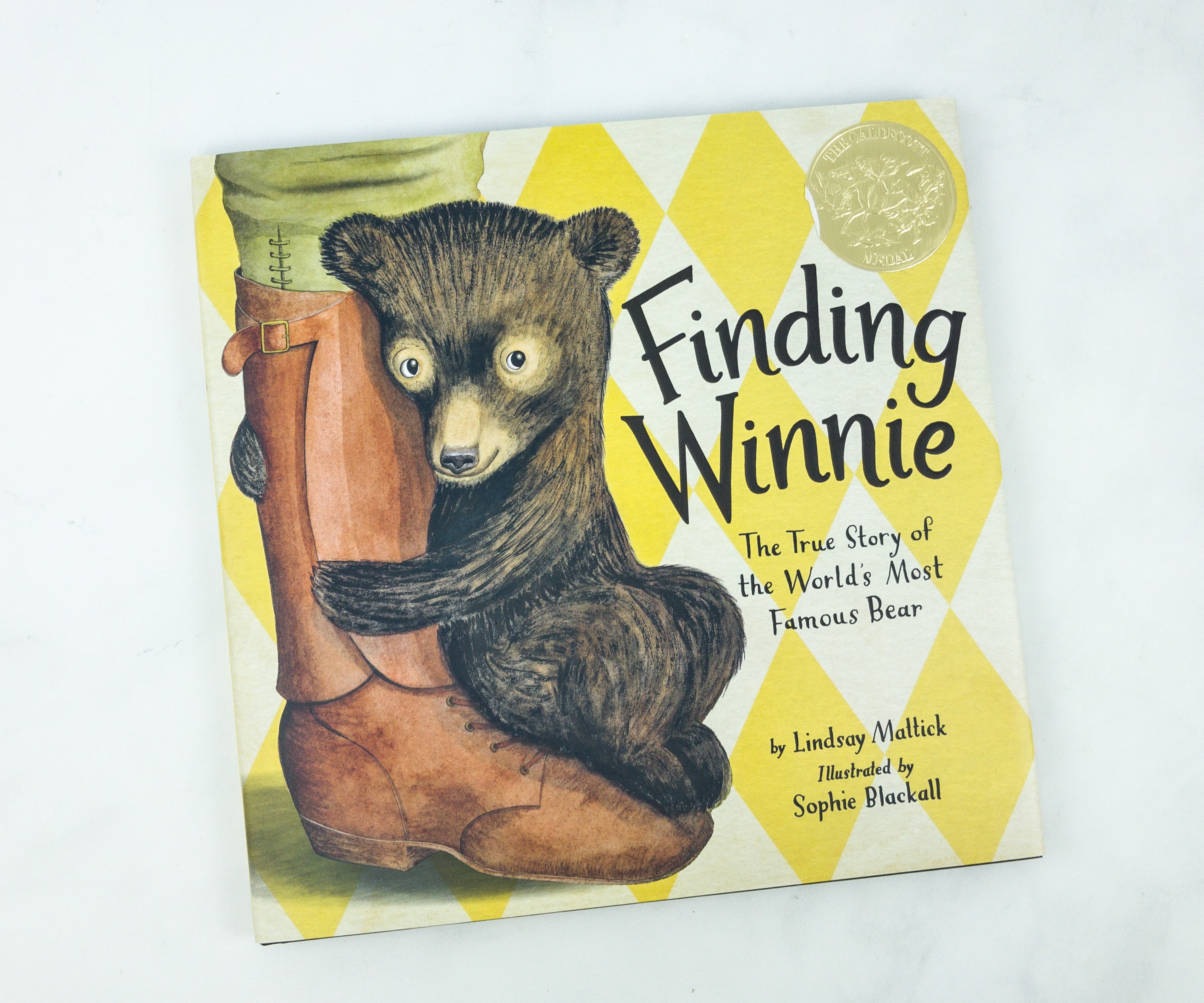 Finding Winnie by Lindsay Mattick ($14.30)
"Finding Winnie introduces young readers to the fascinating world of nonfiction with a Caldecott Medal winning story of the bear that inspired Winnie-the-Pooh. " – Seira Wilson, Amazon Editor
A #1 New York Times Bestseller and Winner of the Caldecott Medal about the remarkable true story of the bear who inspired Winnie-the-Pooh.

In 1914, Harry Colebourn, a veterinarian on his way to tend horses in World War I, followed his heart and rescued a baby bear. He named her Winnie, after his hometown of Winnipeg, and he took the bear to war.

Harry Colebourn's real-life great-granddaughter tells the true story of a remarkable friendship and an even more remarkable journey–from the fields of Canada to a convoy across the ocean to an army base in England…

And finally to the London Zoo, where Winnie made another new friend: a real boy named Christopher Robin.
Before Winnie-the-Pooh, there was a real bear named Winnie. And she was a girl!
The back of the book features a stuffed bear and a boy in pajamas.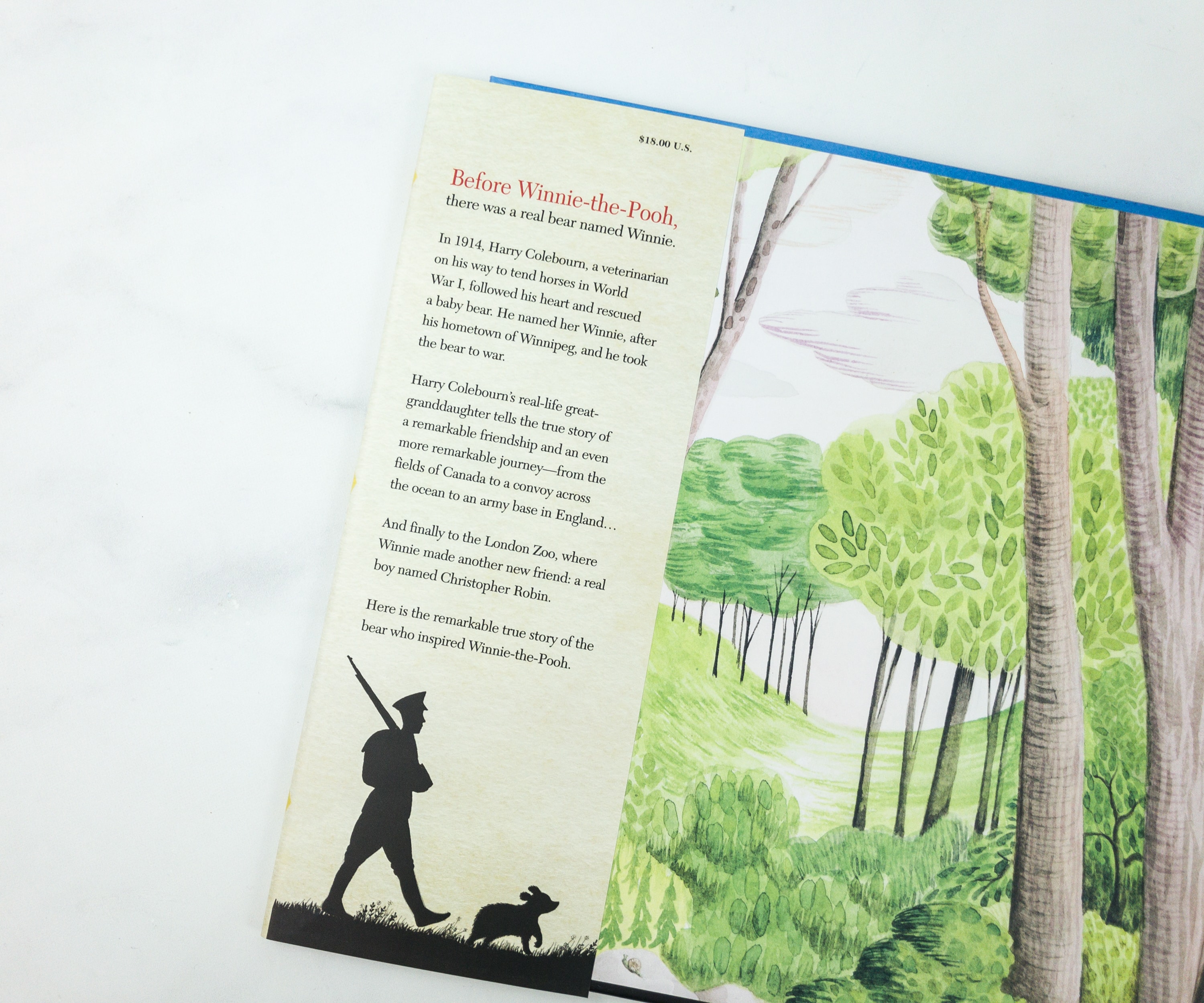 The story is about Winnie, a bear that was saved when he's still a cub, and his journey to the London Zoo where he met his friend Christopher Robin.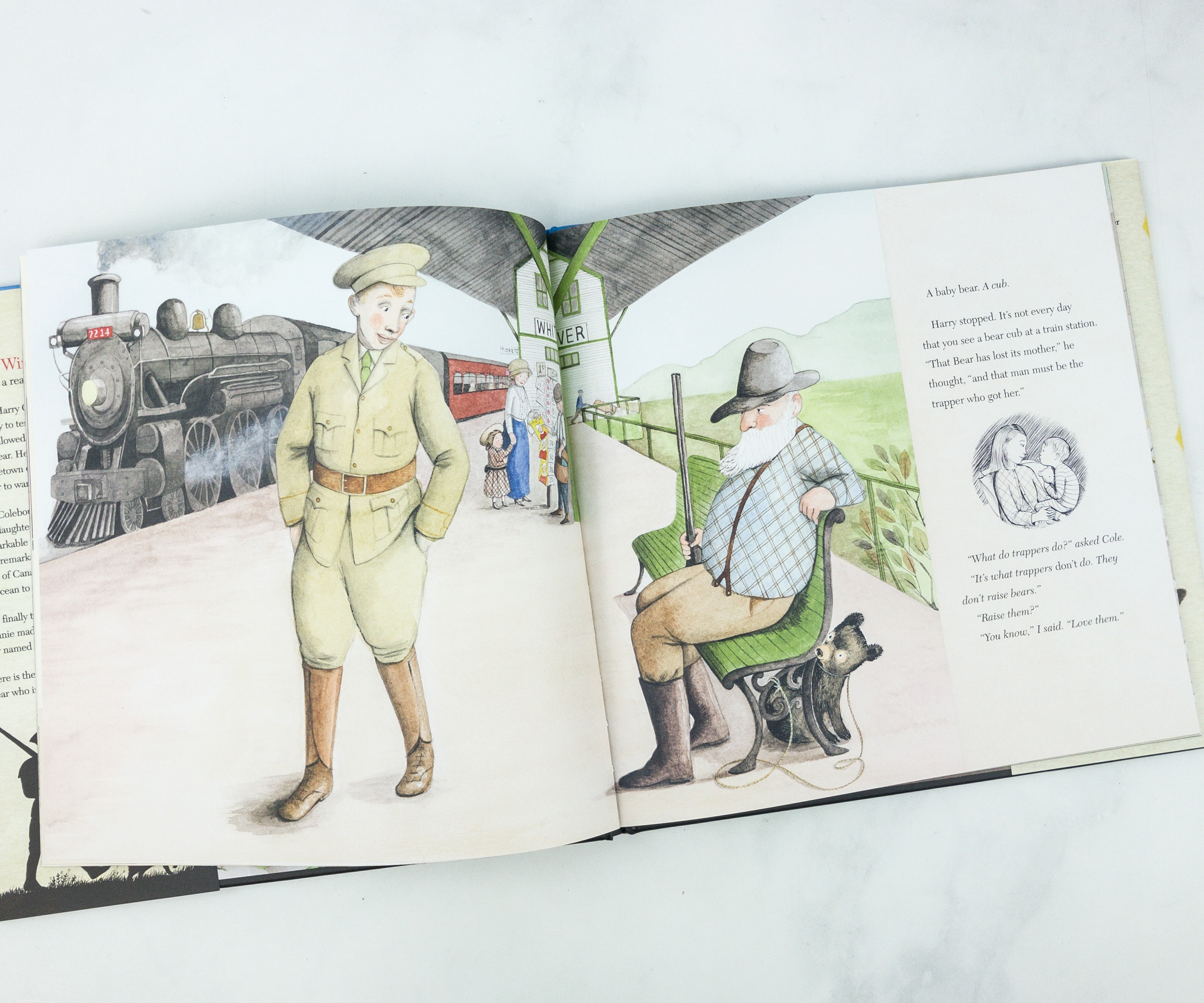 Aside from the engaging story, the illustrations by Sophie Blackall are really outstanding.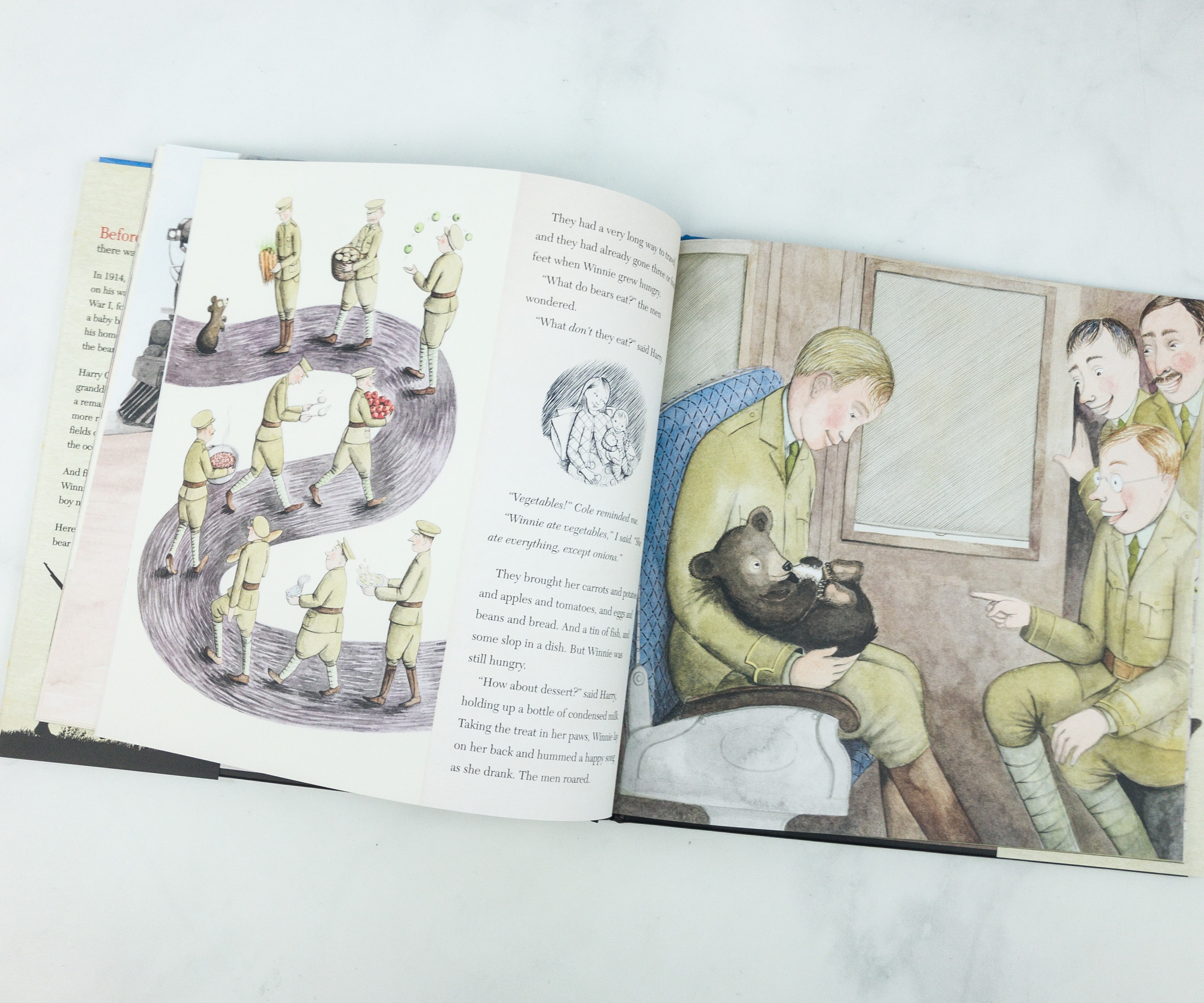 The book pictures the journey of the cub on his way to the zoo, and at the end of the book are some ephemera and photographs from the Colebourn archives that shows us the real-life story of the bear who inspired one of the most popular bears, Winnie the Pooh.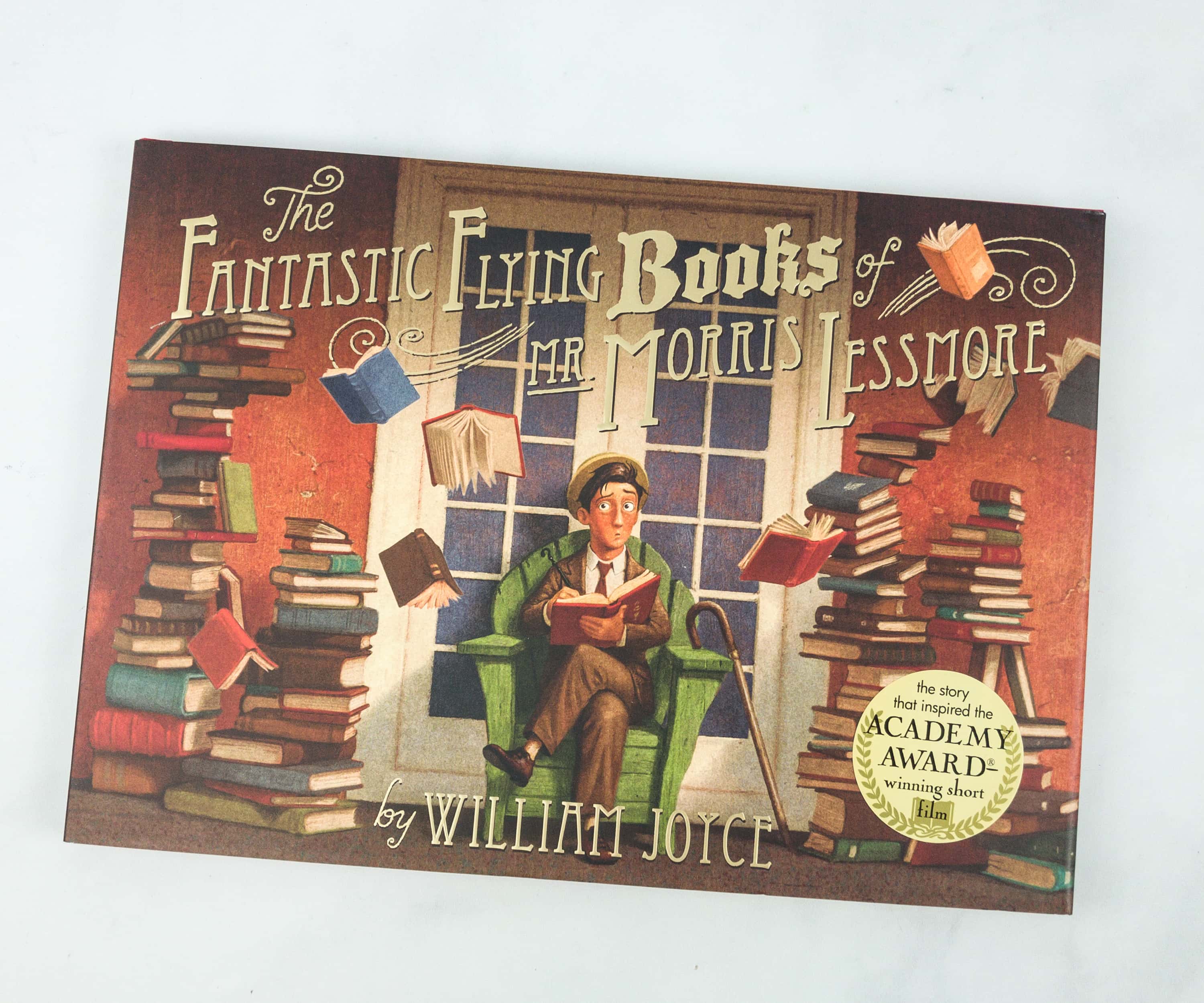 The Fantastic Flying Books Of Mr. Morris Lessmore by William Joyce ($17.88)
The book that inspired the Academy Award–winning short film, from New York Times bestselling author and beloved visionary William Joyce.

Morris Lessmore loved words.
He loved stories.
He loved books.
But every story has its upsets.
Everything in Morris Lessmore's life, including his own story, is scattered to the winds.
But the power of story will save the day.
Stunningly brought to life by William Joyce, one of the preeminent creators in children's literature, The Fantastic Flying Books of Mr. Morris Lessmore is a modern masterpiece, showing that in today's world of traditional books, eBooks, and apps, it's story that we truly celebrate—and this story, no matter how you tell it, begs to be read again and again.
A book for book lovers, the story tells us that no matter how hard life is, grabbing and reading a good book will make you feel better!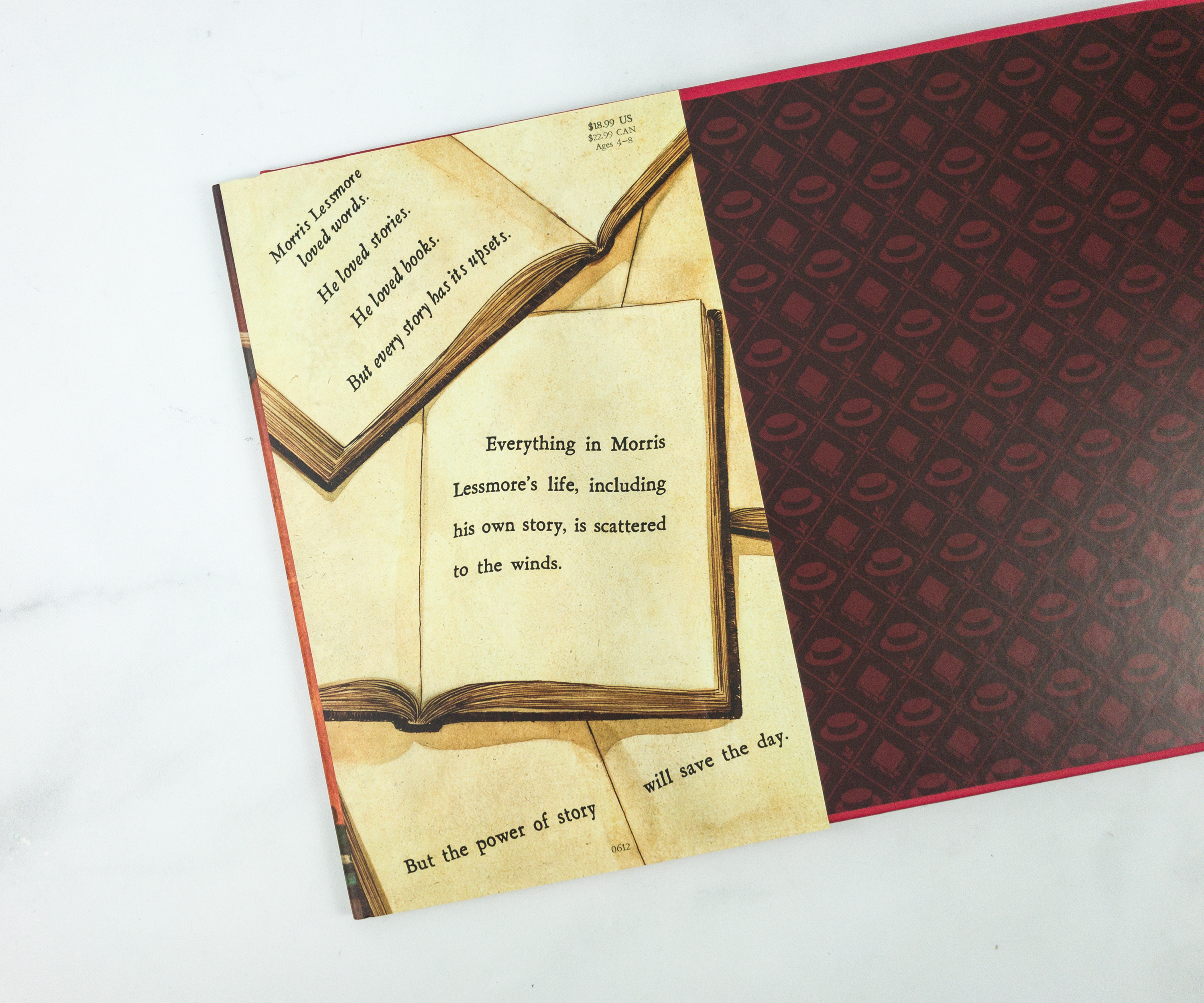 Like most books, they included a sneak peek of the story on one of the jacket's inside flaps. This one is really cool as the design includes books as well! Book-ception!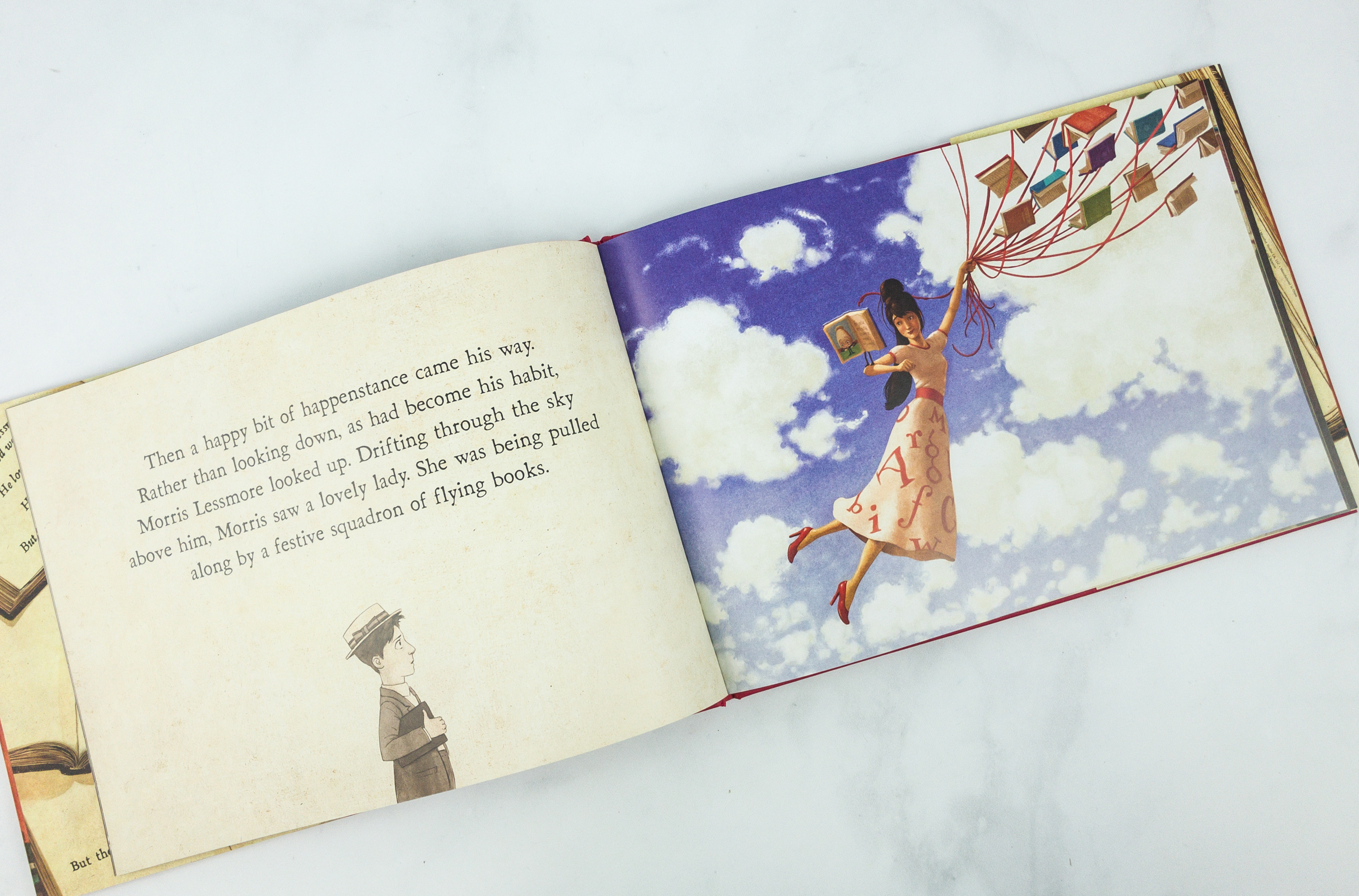 I like the beautiful and classic illustrations. It makes the story easier for younger kids to understand.
No matter how disappointing some stories are, there are always takeaways from them. This book is another one that made the kids think about life. It tells us that every day is not sunny but still, we need to go on and seize the day!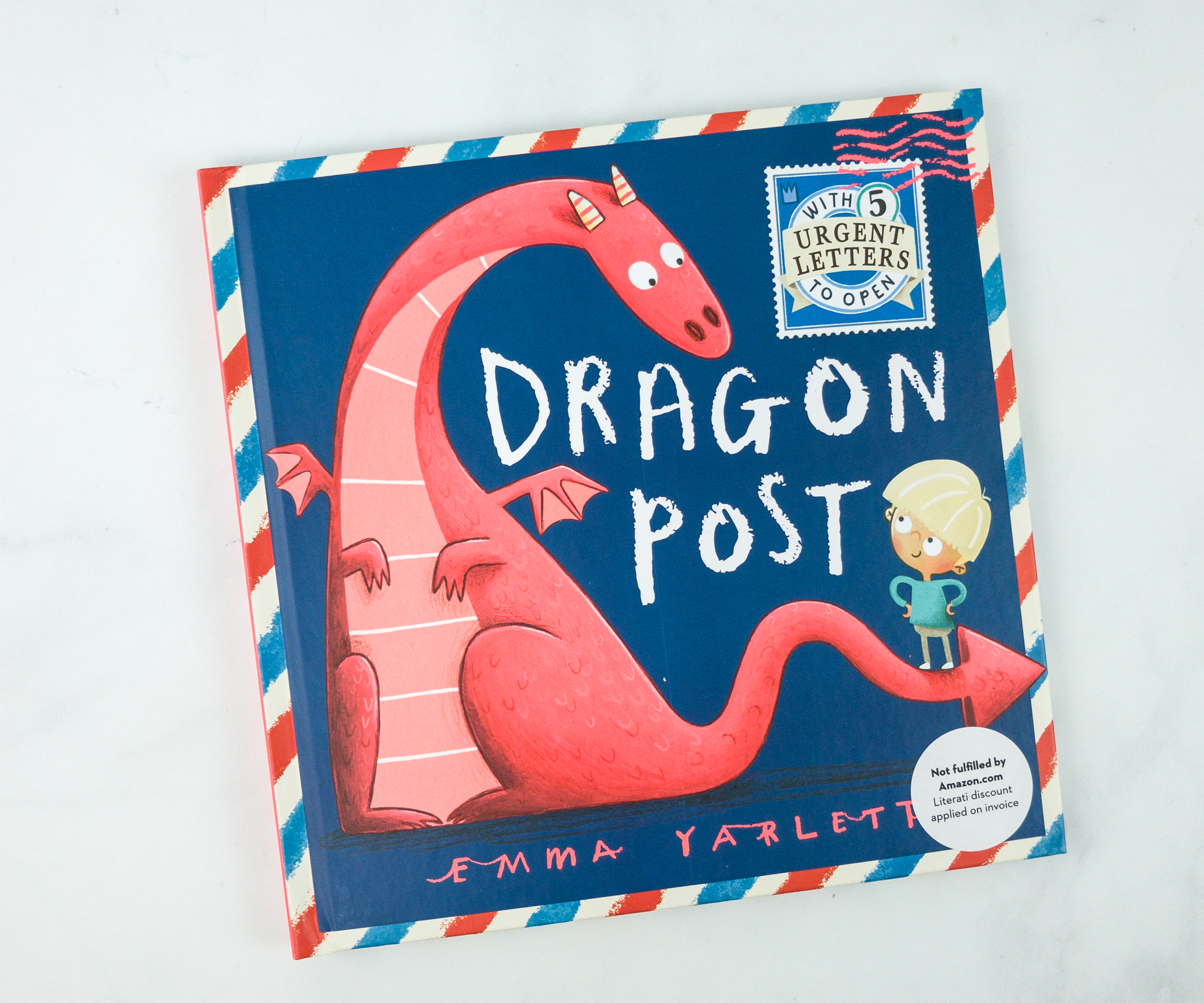 Dragon Post by Emma Yarlett ($13.63)
A fiery story about friendship and asking for help from award-winning author-illustrator Emma Yarlett.

One day Alex finds a dragon living under his stairs. He isn't sure what to do – but luckily he knows just who to ask for help. Open the envelopes and read the hilarious letters Alex receives from the fire brigade, the butcher and more as he tries to take care of his new friend. Who would have thought having a dragon for a pet would be so tricky? A joyful, touching and vibrantly-illustrated interactive book.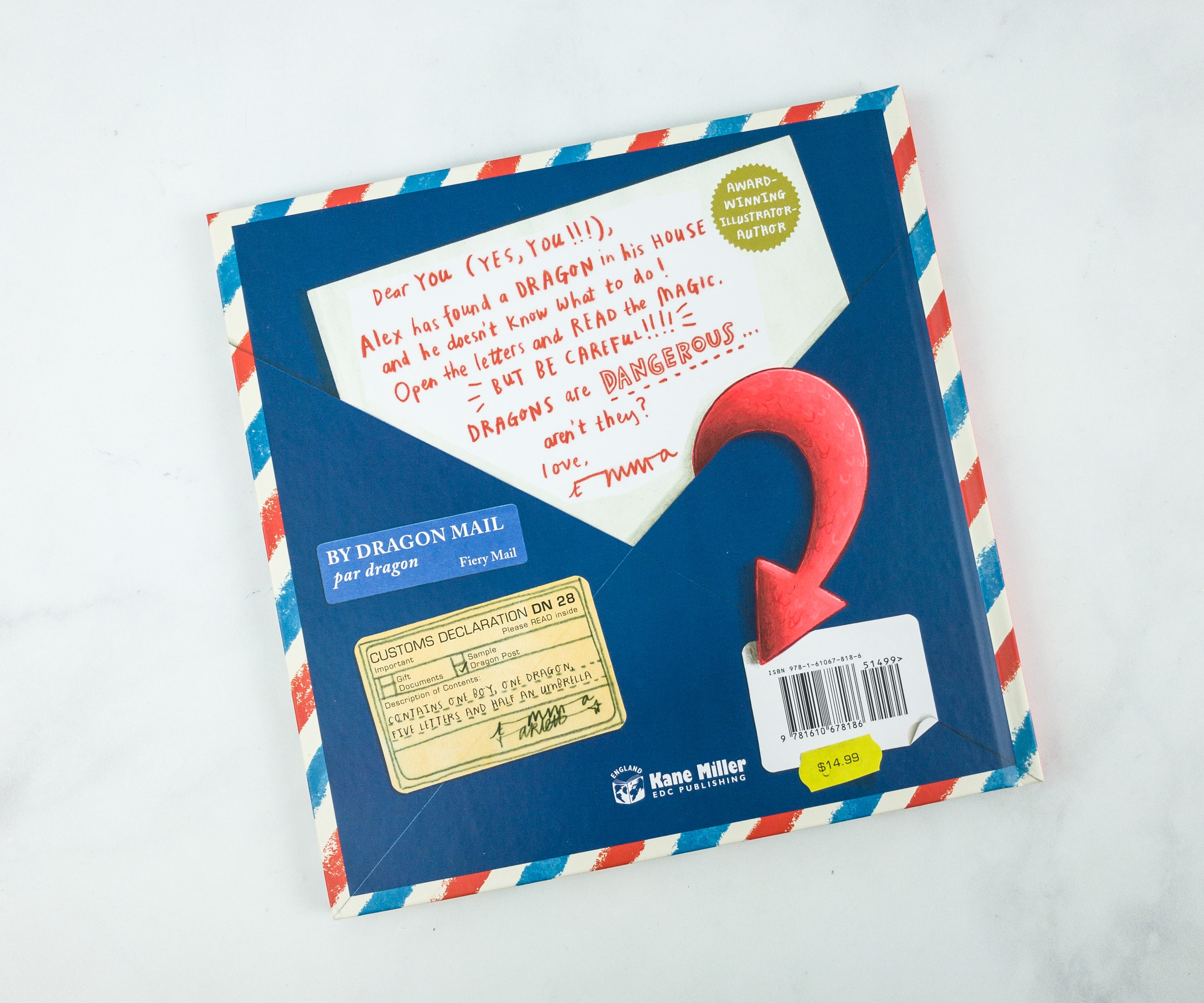 It's an interactive book which makes the kids will feel that they are part of the story. The kids need to take out the letters from the envelopes that are addressed to them (as Alex).
Alex found out about a dragon living under his stairs, and instead of being afraid of it, he decided to take care of it!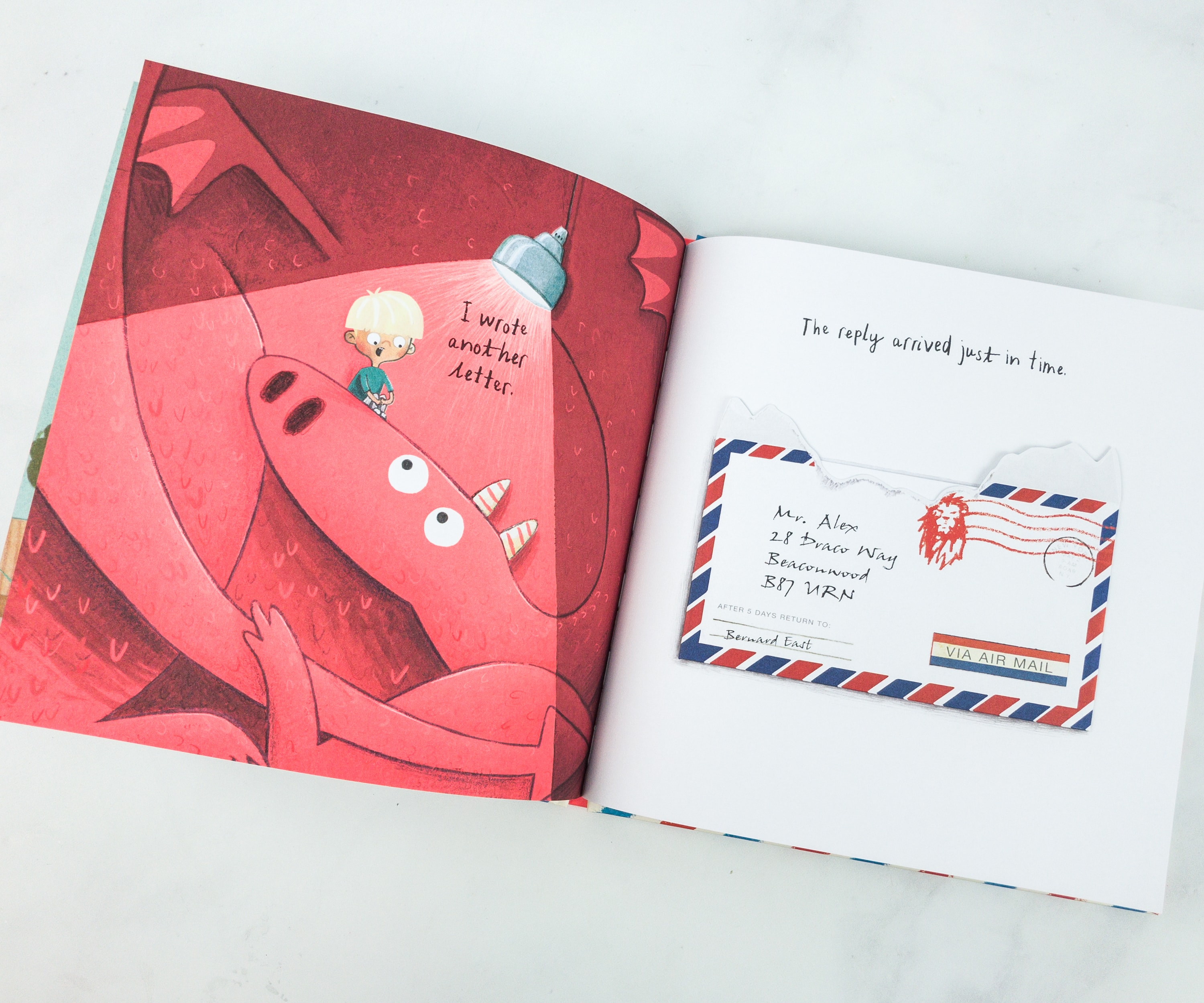 There's one envelope on this page, and the kids are really excited to read what's written on the letter. The contents are hilarious and the kids had so much fun reading each of them!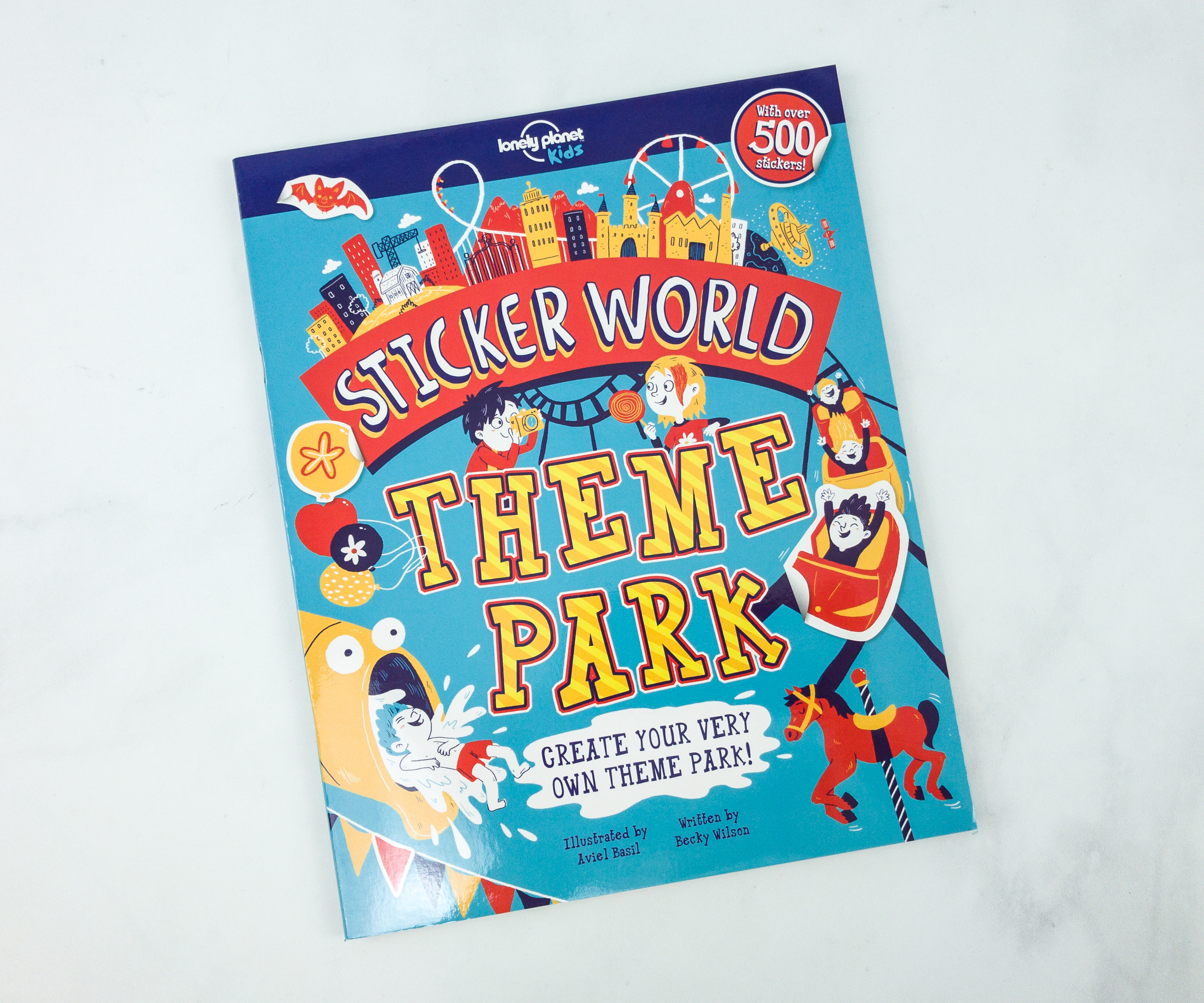 Sticker World Theme Park by Becky Wilson ($6.99)
It's time for children to get creative with Lonely Planet Kids' Sticker World – Theme Park.

From designing death-defying roller coasters and choosing what candy is sold, to picking the park's mascot, kids can create the theme park of their dreams in this fun and interactive book. As chief planner, architect and builder, they can add colorful stickers, doodles and drawings to each page and bring their construction to life.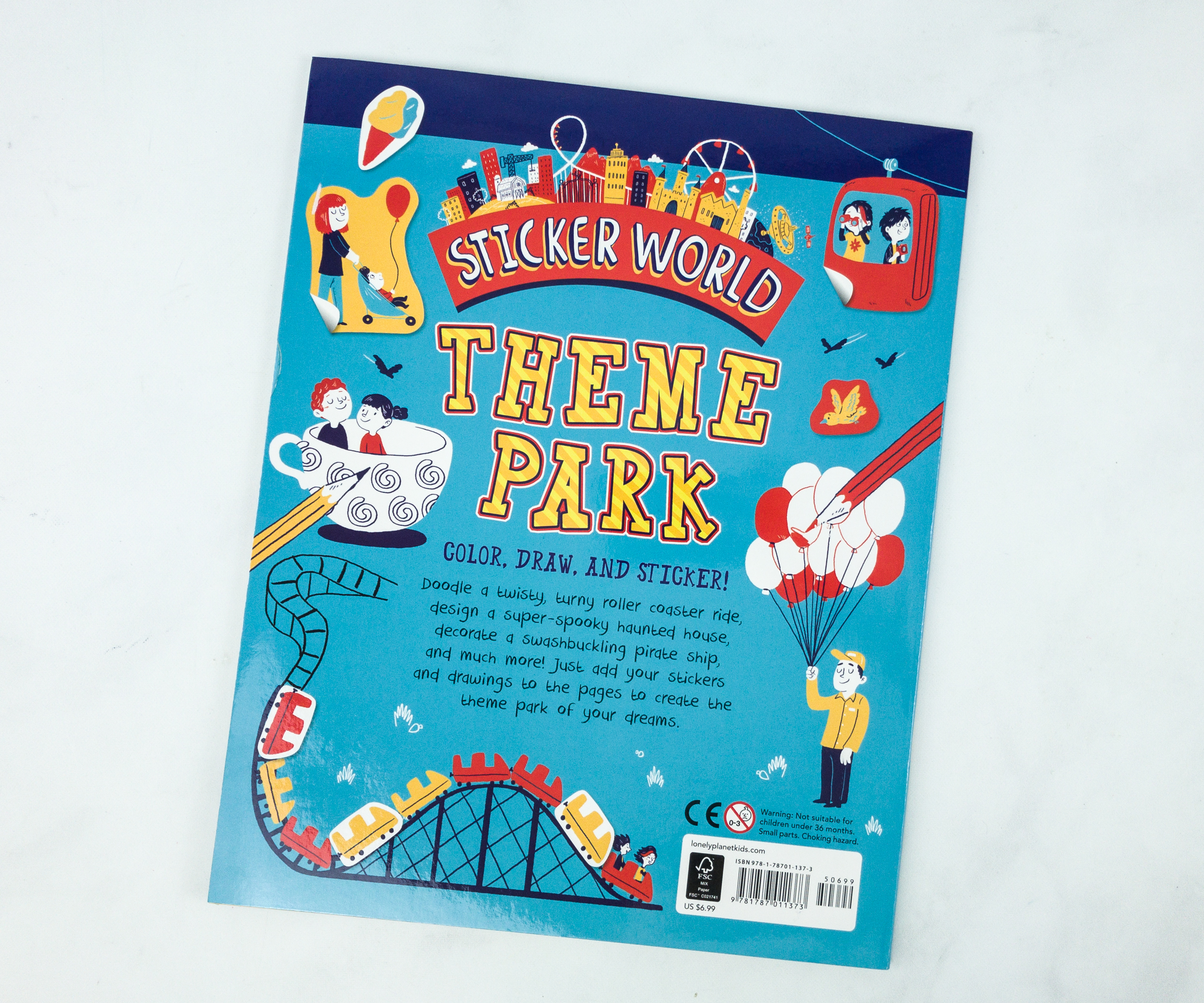 It's an activity book that will let the kids design and make their own Theme Park!
They can draw, add color, or stick some designs on the book's pages.
There are plenty of stickers to choose from, so they can personalize it however they want!
Here, they can design their own Haunted House by adding some illustrations of scary looking creatures. The kids really had fun with this book.
Shrek! by William Steig ($7.48)
Before Shrek made it big on the silver screen, there was William Steig's SHREK!, a book about an ordinary ogre who leaves his swampy childhood home to go out and see the world. Ordinary, that is, if a foul and hideous being who ends up marrying the most stunningly ugly princess on the planet is what you consider ordinary.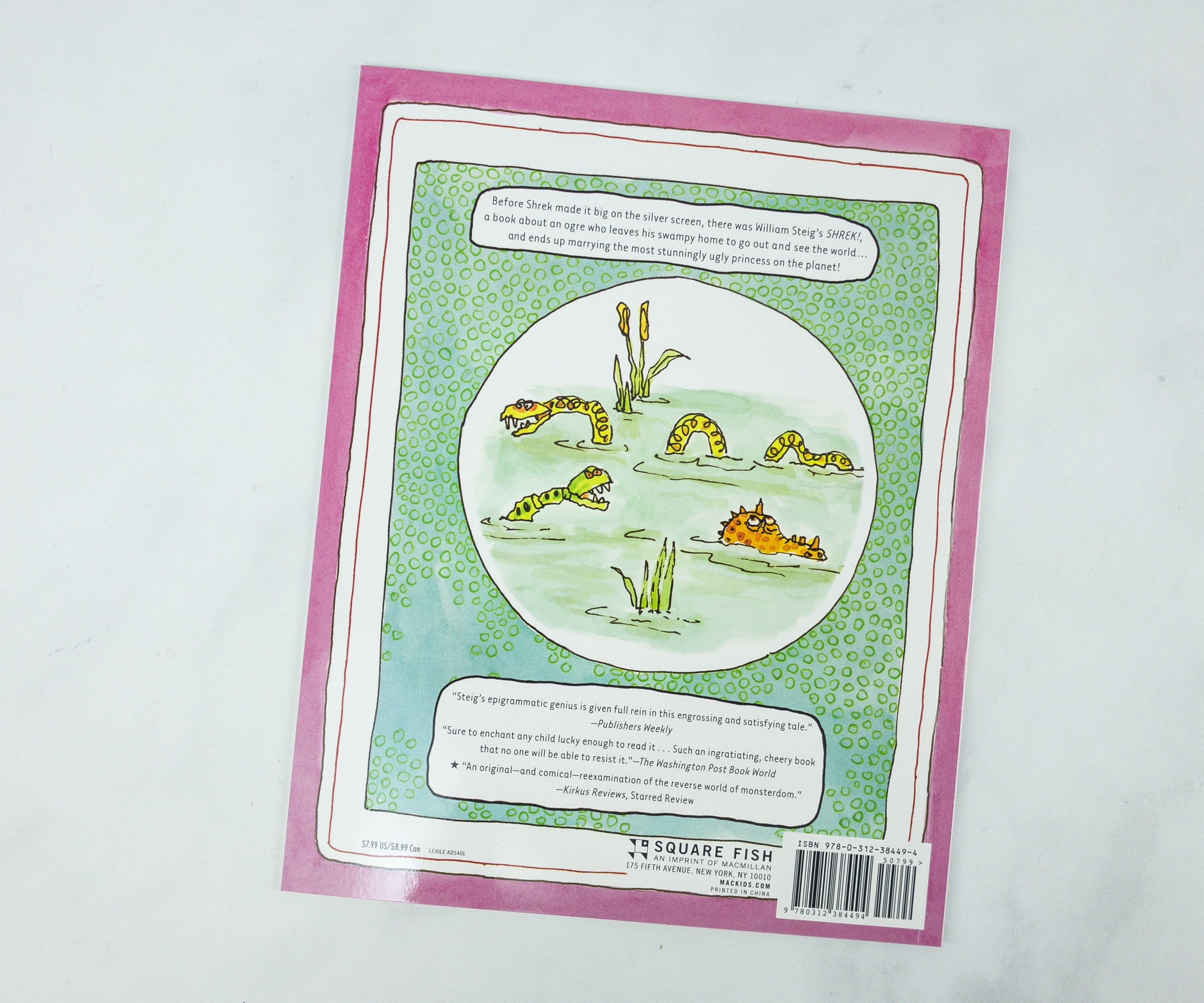 Just like the Shrek that we know from the movies, this story is about a simple-living Ogre who goes out to explore and see the world.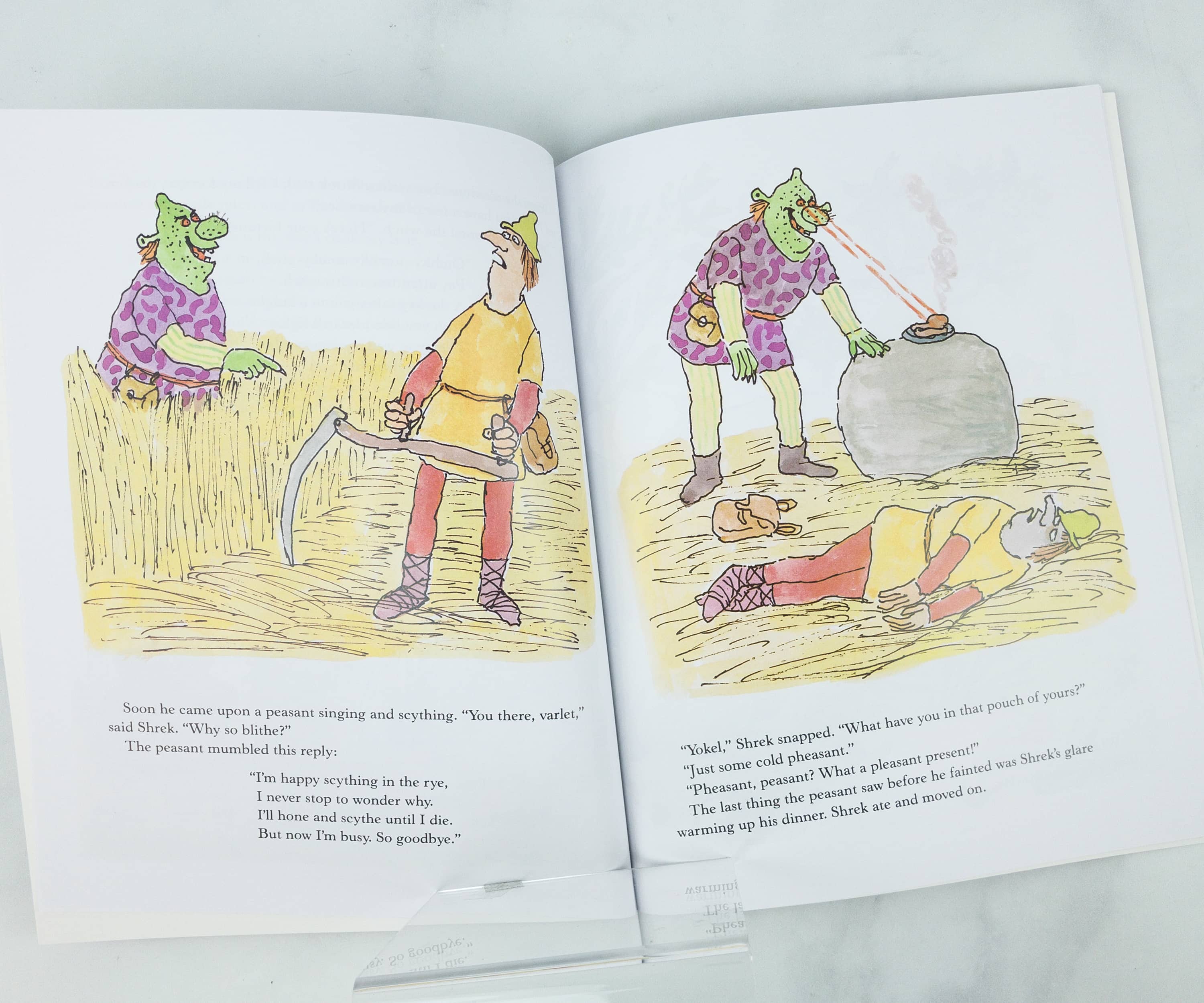 Honestly, the movie version of Shrek is more pleasant, compared to the illustrations of him in this book. That being said, I liked the level of vocabulary in this book. It's very lyrical, and very unexpected!
It's colorful and, of course, the story is a good story of love, friendship, and adventure!
This month's Literati Club Nova included a bunch of new titles that enticed my kids. From this set, they were excited about the real story of Winnie the bear, as they love the Disney bear based on it. Also, the sticker book is fun as they get to make, decorate, and personalize their own theme park, while some of the stickers ended up on their other belongings. Dragon Post is really interactive and the way they presented the responses is awesome as the kids felt like they're Alex receiving responses from different people! This is a fun set and we're looking forward to more brand new and fantastic titles making their way to our shelves!
Any thoughts on Literati?