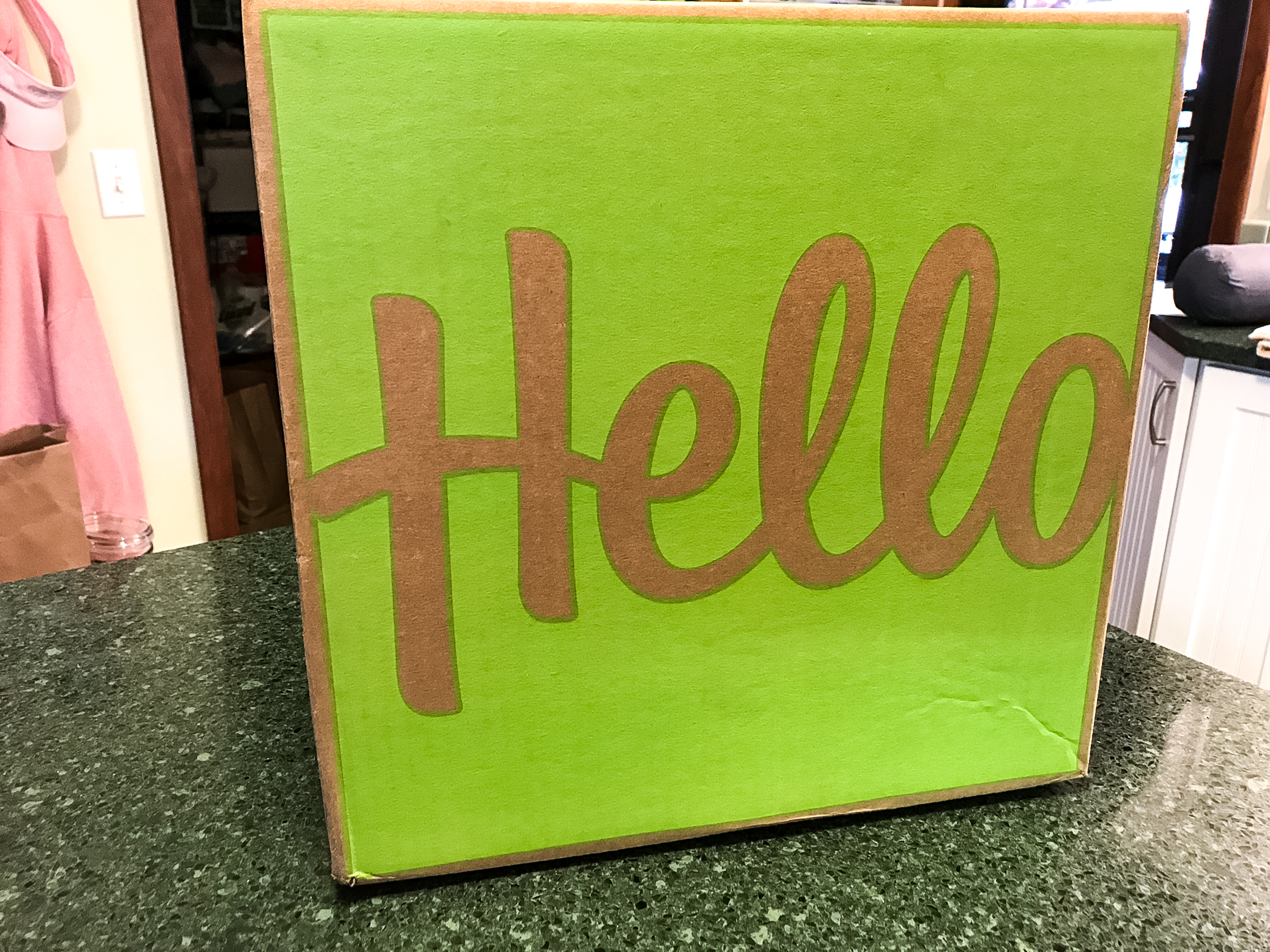 Hello Fresh is a meal kit subscription box with complete recipes and ingredients to make 3 meals every week, with each meal feeding either two or four people, depending on the plan you choose.
Though it is a subscription, you can pause your deliveries when needed – whether you are out of town, have other dinner plans, or just aren't in love with that week's selections. The standard subscription provides high-quality meats (free-range chicken, antibiotic meats, etc.) to use in the recipes.
This review covers the Vegetarian box! Though we do eat meat, we cook vegetarian three times a week. Thankfully, Hello Fresh has a vegetarian subscription for both casual and dedicated vegetarians.
DEAL: Get $60 off your first 3 boxes, $20 each box schedule. Deal applies automatically, just VISIT AND SUBSCRIBE.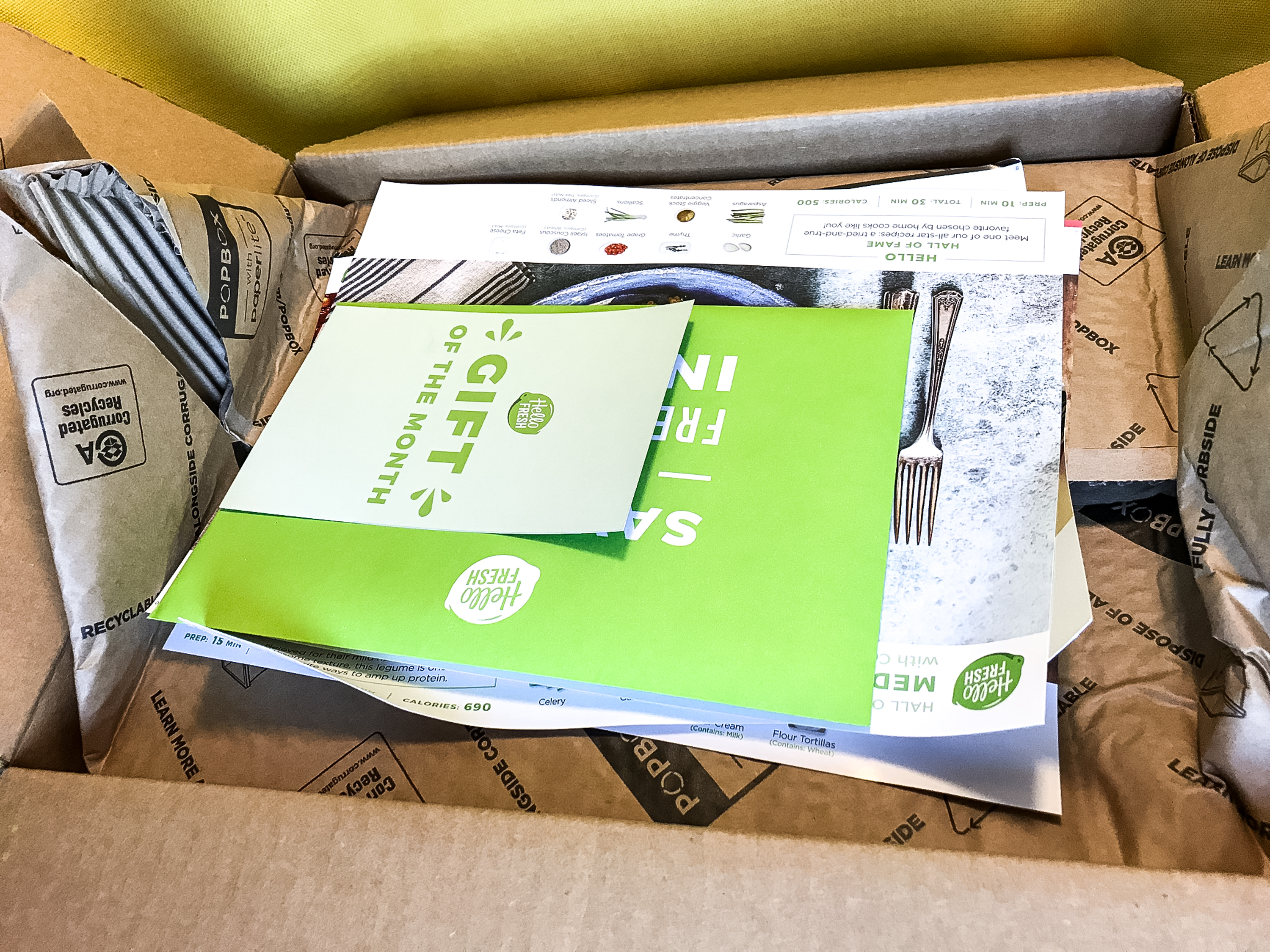 When you receive a box from Hello Fresh, they almost always place the recipe cards on top along with other "goodies." I love the leaflets, they are normally packed with food information and ideas.
Hello Fresh is very good about packing your food with a great layer of insulation. I've never had any issues with the packaging. As a matter of fact, on several occasions, we've used the insulation (after removing the outer plastic cover) for mulching or as a liner for our plant pots before filling with dirt.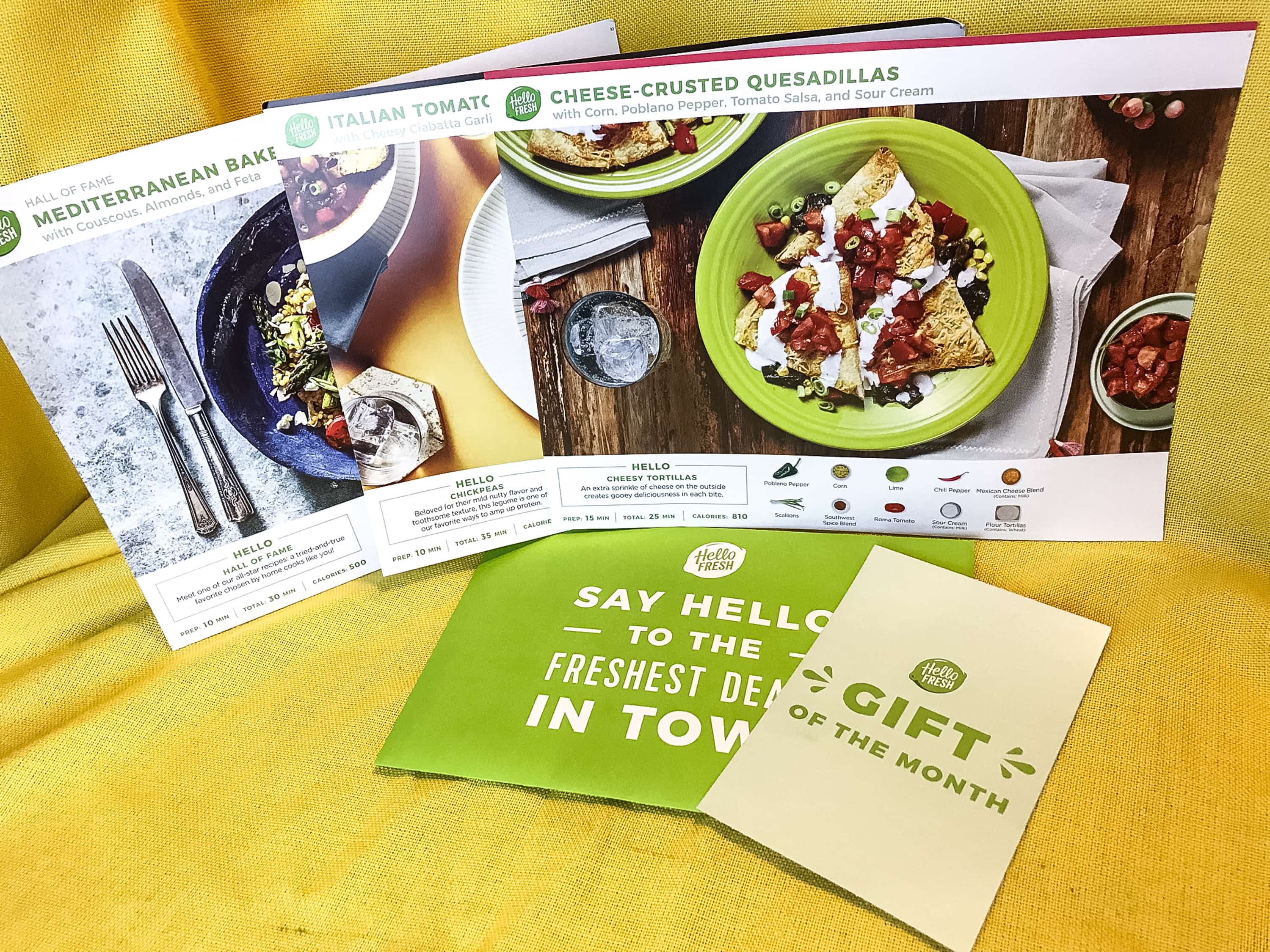 Hello Fresh has great instructions, and they are easy to follow even if you are an inexperienced cook. Each recipe includes several pictures so you maintain a sense of how the dish should look as you go along.
Promotional materials and other deals are enclosed in envelopes.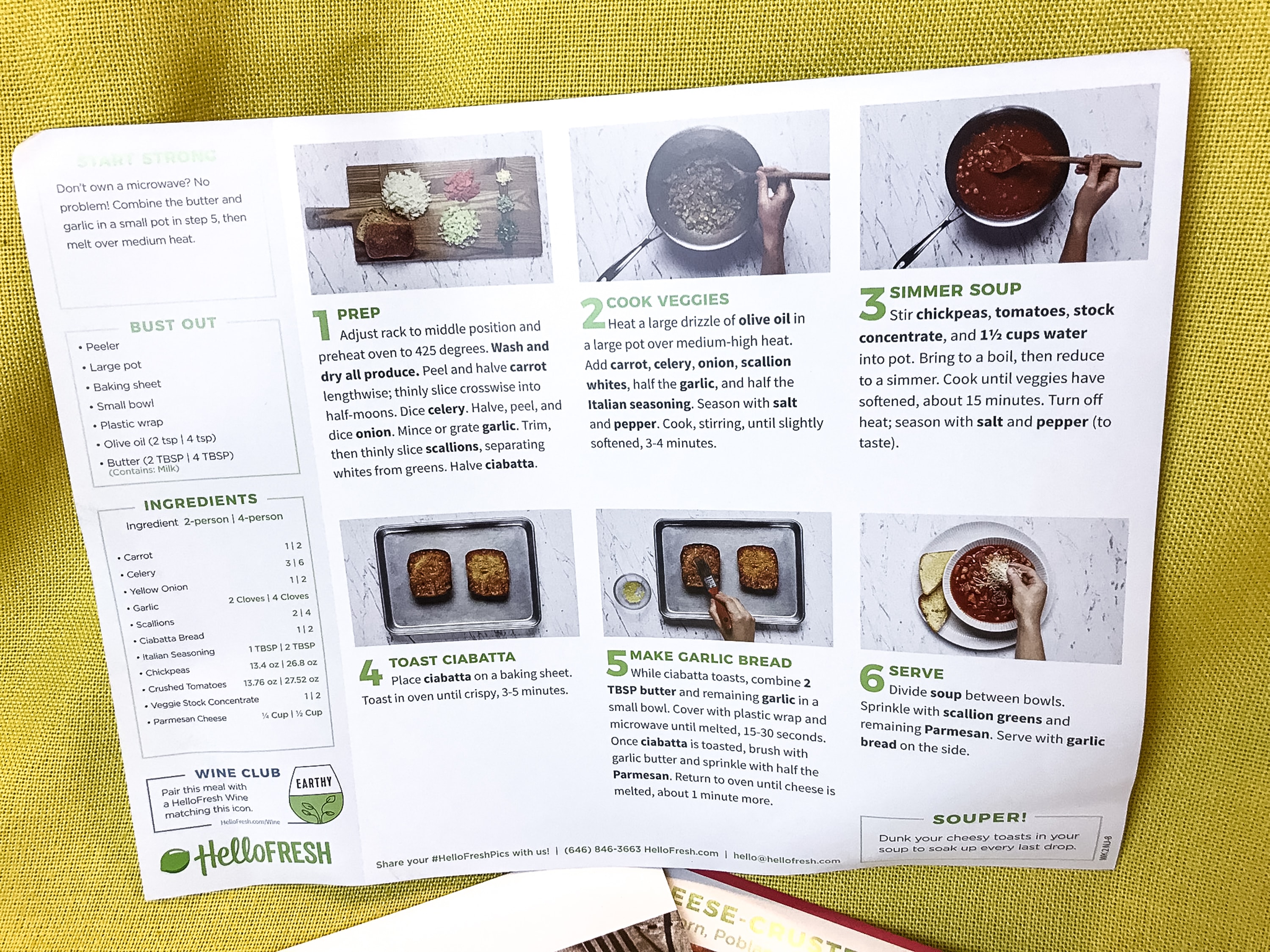 There are even some kitchen tips included in the information card.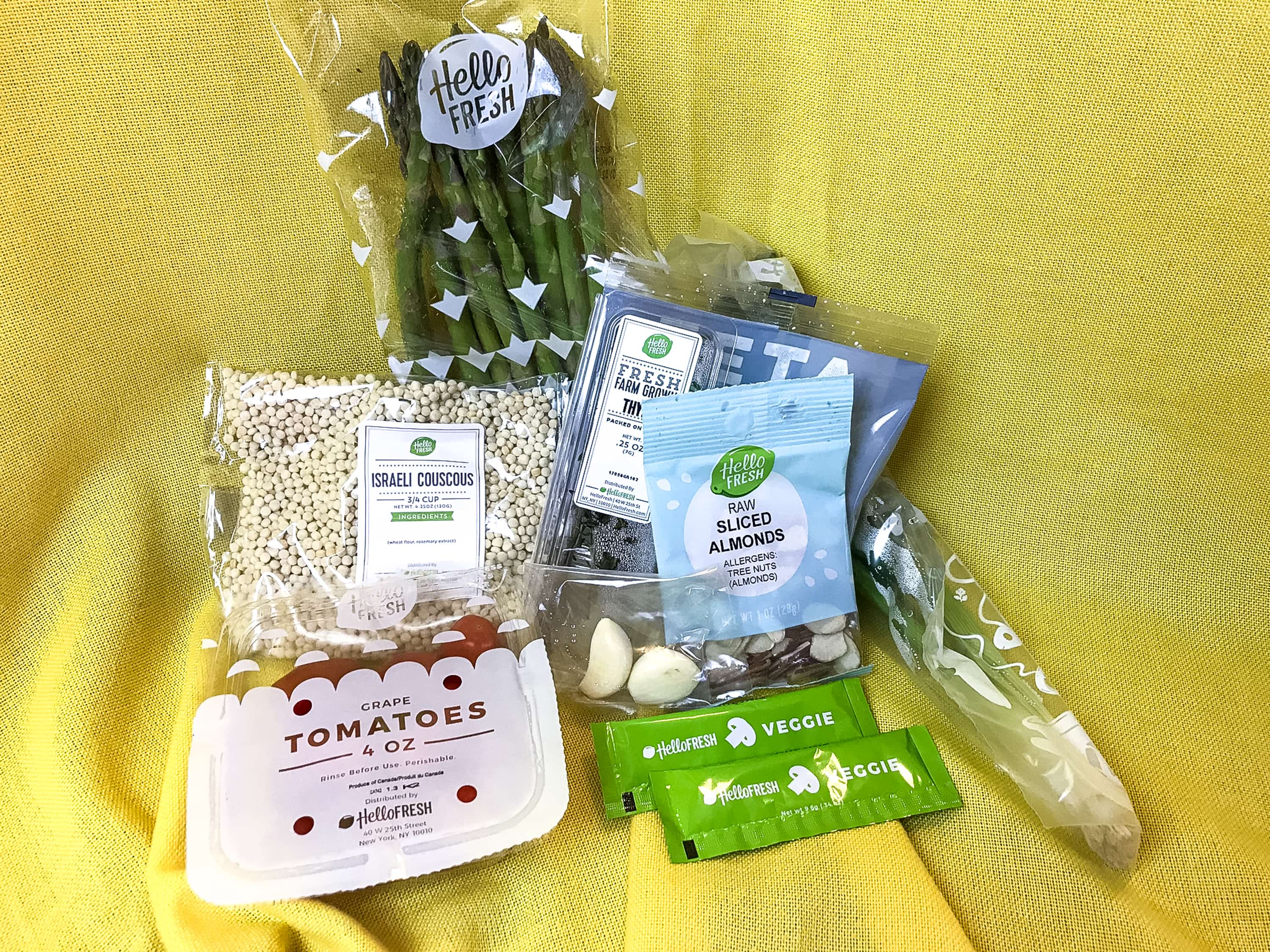 Mediterranean Baked Veggies – 30 minutes, Level 1, 540 calories per serving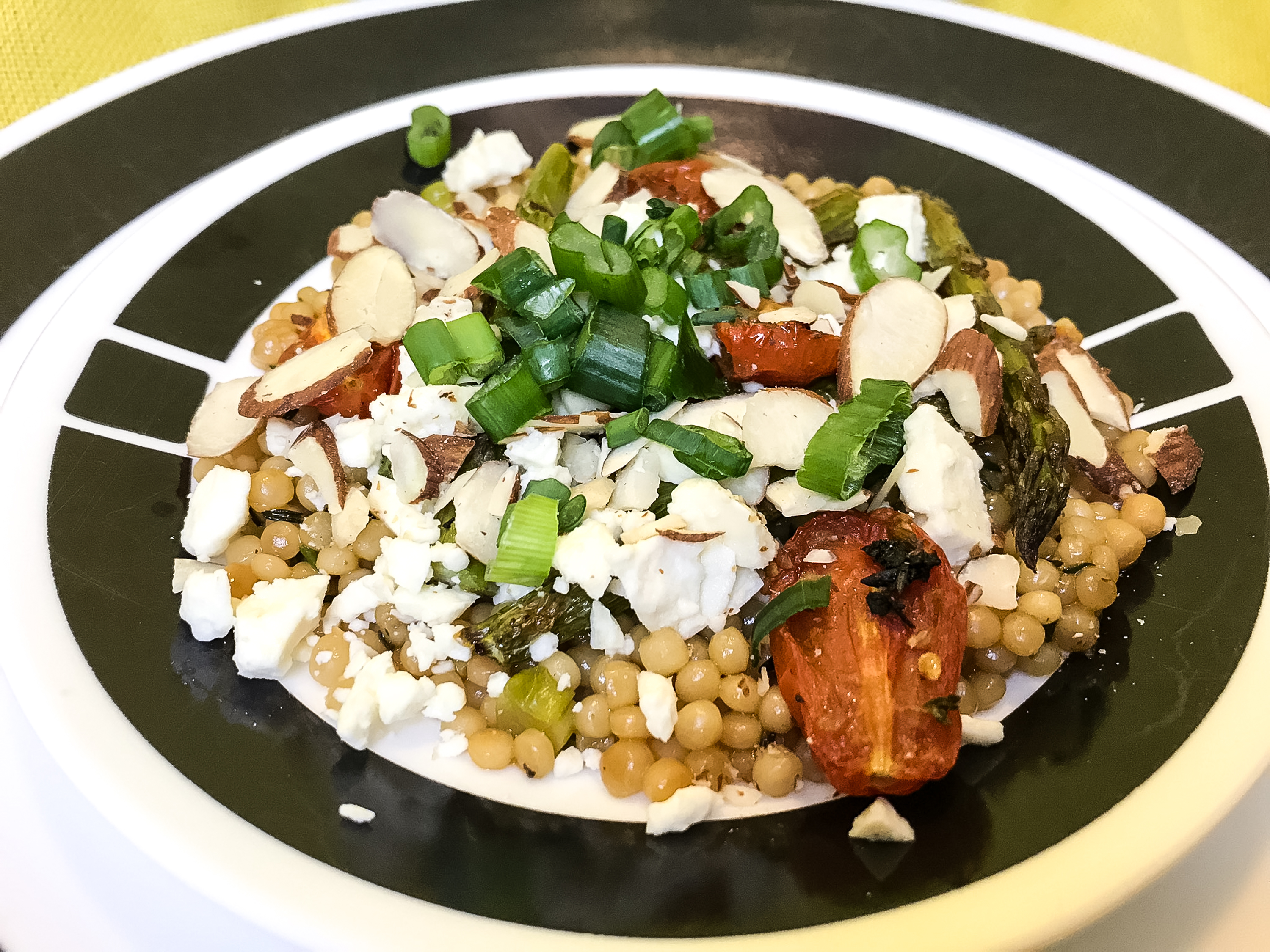 This dish is listed in the Hall of Fame! And rightly so, it's pleasing to the eye with a combination of colors, palate for great taste and nose for the thyme aroma. It's a regular in the dinner rotation schedule of Hello Fresh Vegetarian meals.
I've made this meal many times and I've never changed anything but you could easily switch items if you prefer. That's the beauty of Hello Fresh meals. If you're not a fan of some vegetable, herb or spice switch it with something you like.  The few meals they send with mint, I switch and use basil.
This meal is named Mediterranean after the couscous, almonds and feta, a wonderful blend. Keep it coming Hello Fresh, it's delicious.
Cheese Crusted Quesadillas – 25 minutes, Level 1, 690 calories per serving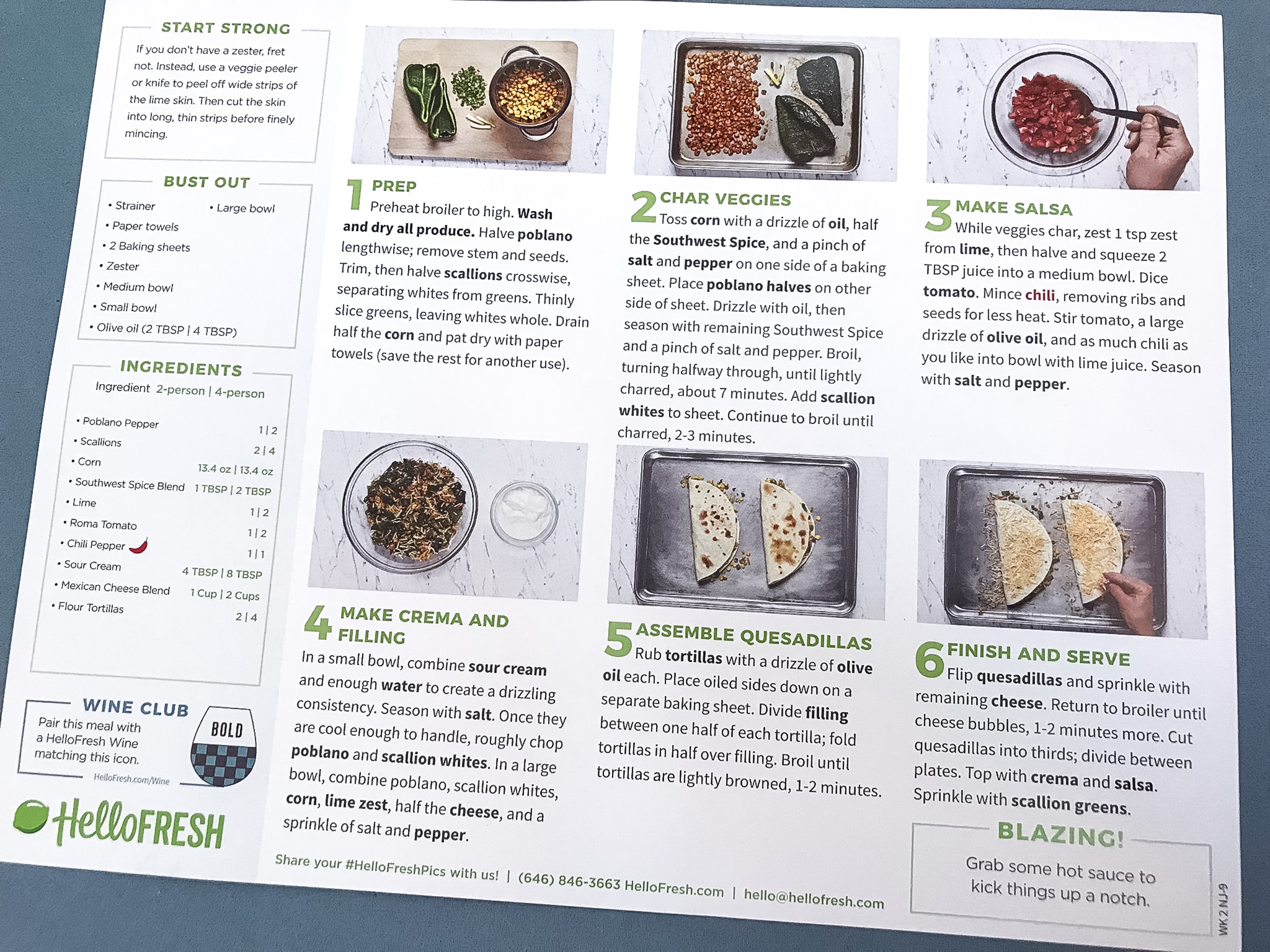 Wow! This was a new one to me and it was delicious! Before I started receiving Hello Fresh I wasn't too big on peppers, they're hot and I'm more of a mild person. But, I've certainly learned to enjoy the peppers in the meals Hello Fresh has sent. This meal was no exception. You broil the poblano pepper making it just right. There was also a chili pepper, mince it and then add only what you want. I only added a pinch but gave the rest to my husband, he loves the heat.  Makes us both happy.

In the meals for 2, you often get an ingredient that you only need to use half of.  So they tell you to save the rest for some other time.  What I've learned over the course of about 2 years of receiving Hello Fresh is to just use it all.  The recipe is still pretty much the same, scrumptious.  In this meal it was the corn, you're supposed to use only half, I love corn and used it all.
I invited my folks over to share these Cheese-Crusted Quesadillas with my husband and I. We're all older and don't need as much food. So this meal for 2 was served to 4, my mom brought over chocolate pudding for dessert. What a feast!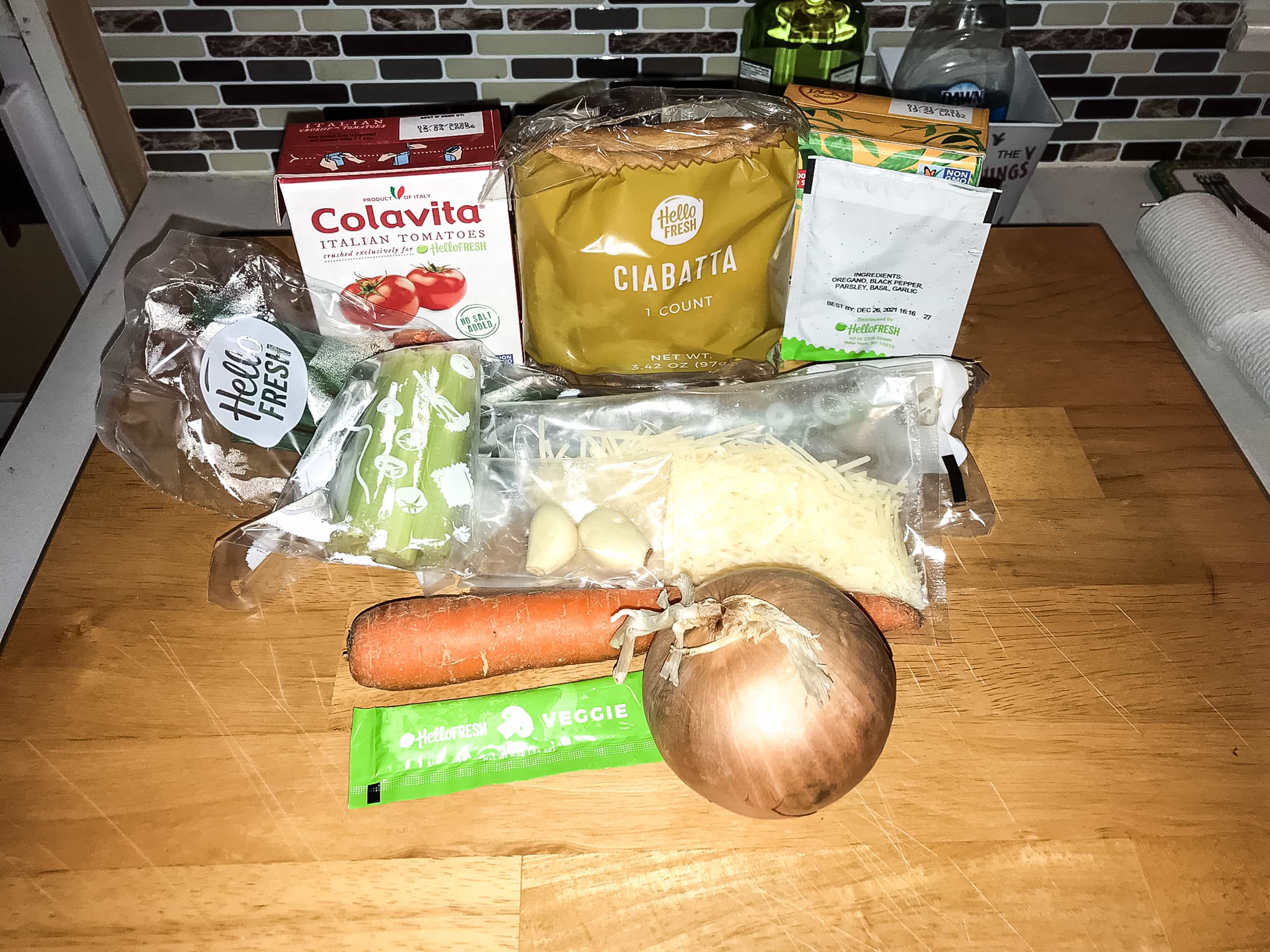 Italian Tomato Chickpea Soup – 35 minutes, Level 1, 690 calories per serving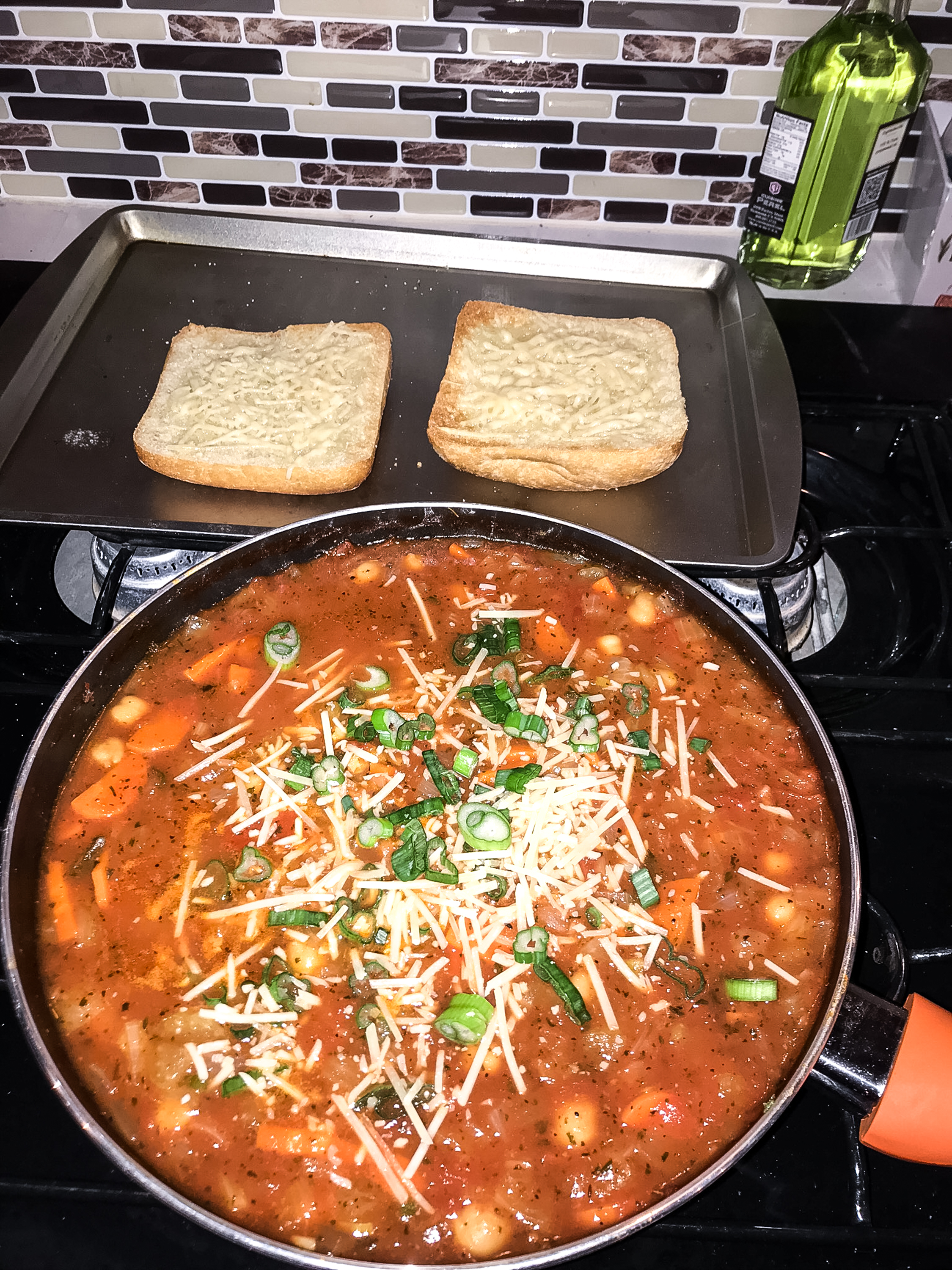 We're now RVing which is a little different than camping. We have most amenities, microwave, stove, and oven, they are just on a smaller scale. Hello Fresh is a perfect compliment to RVing. And tonight's dinner was fitting for northern Florida weather. A nice hot soup with the perfect bread.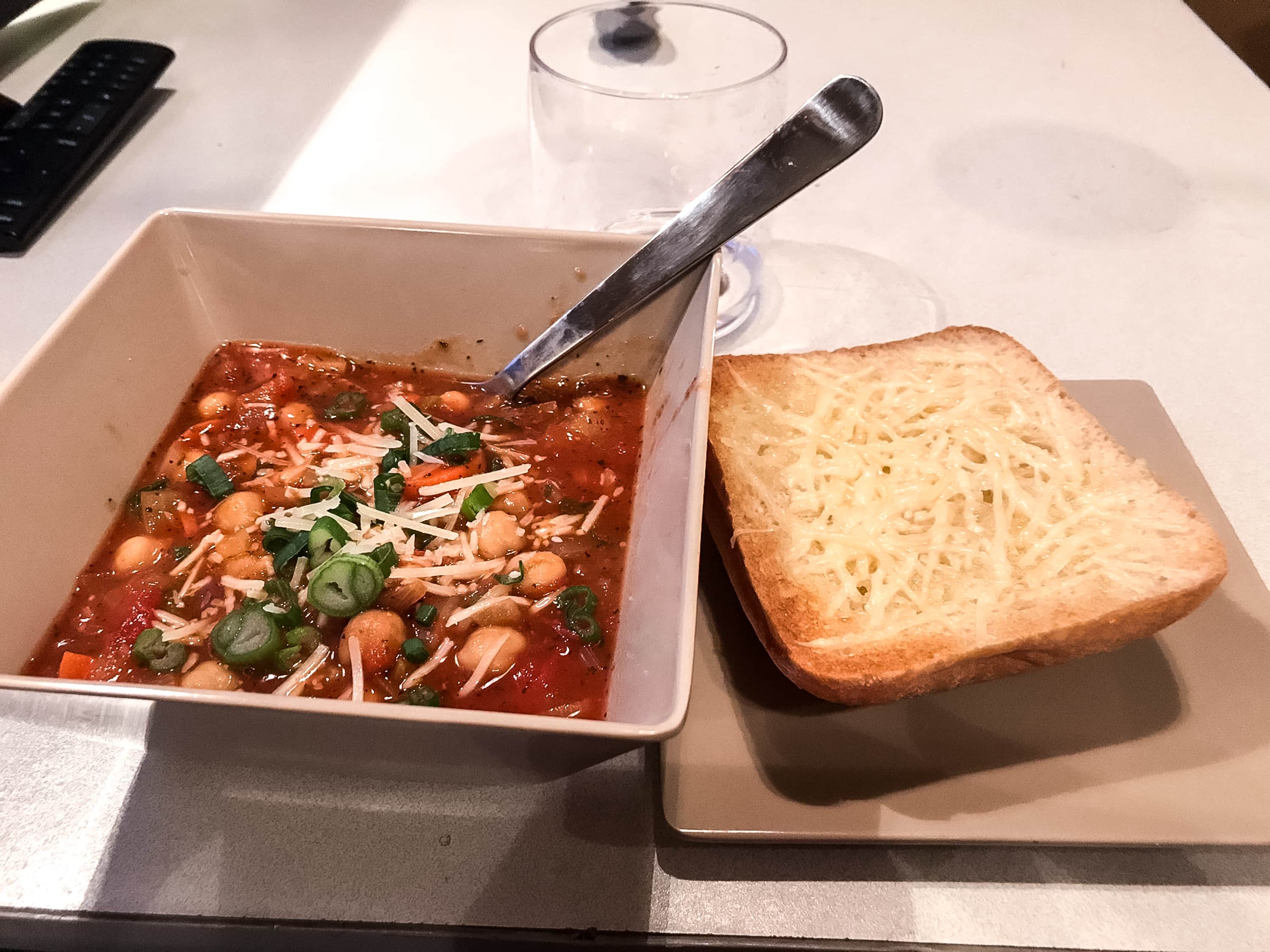 Easy to make tomato soup with lots of vegetables which I love. Sure beats a canned soup! Ciabatta bread toasted and then topped with garlic butter completes this hearty down-home meal.
Hello Fresh always sends us fresh ingredients and easy to follow recipes. It's really hard not to like this subscription. If you follow a vegetarian diet, this is a good choice. They have offerings for non-vegetarians too, like the Classic Box and the Family Box. They really make meal preparation way much easier!
What can you say about the vegetarian recipes in our box?