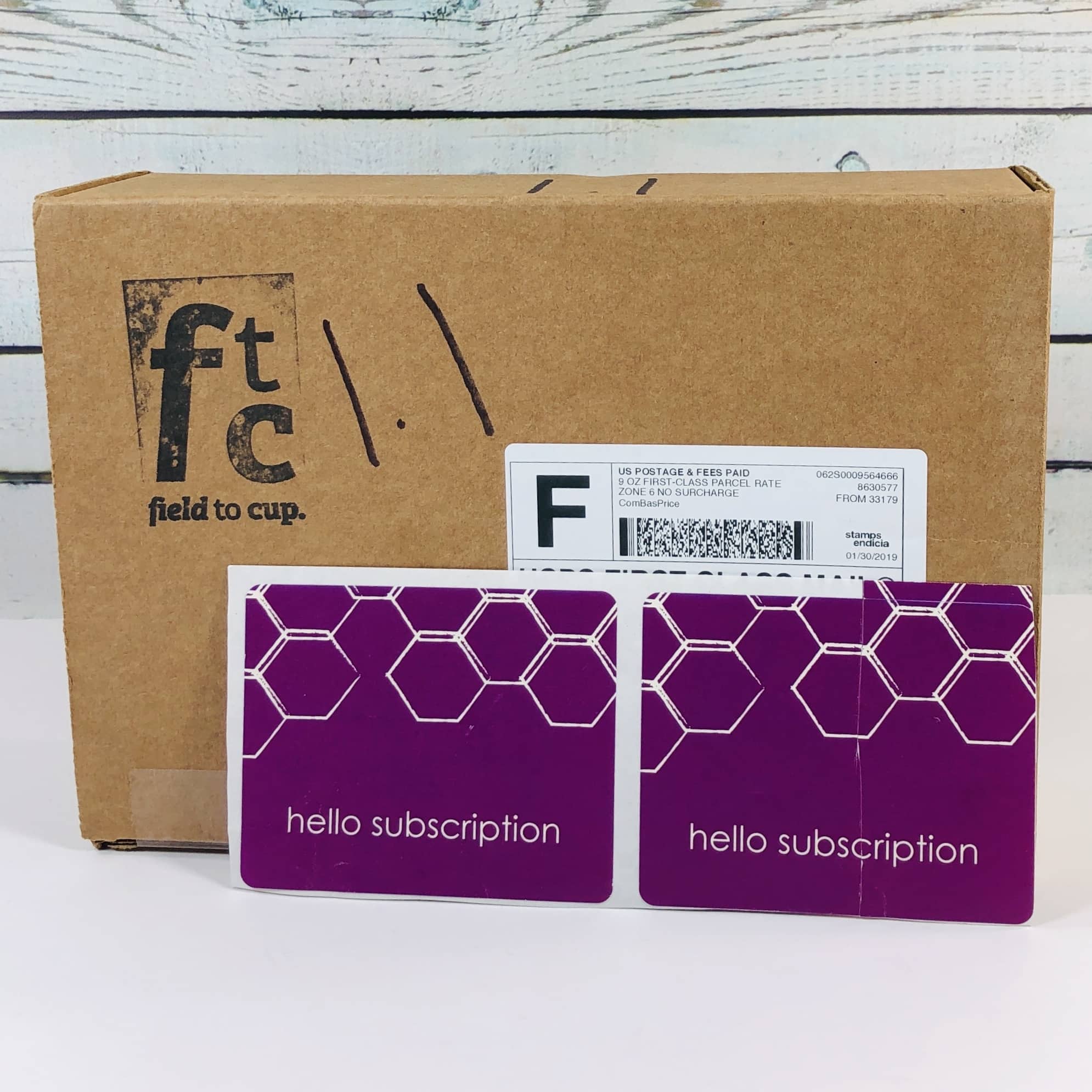 Field to Cup is a monthly tea subscription that lets you try several wonderful teas and provides a steeping guide so you can get the best cuppa. They have 3 different subscription options available at varying price points and with different amounts of tea, and in some cases you can even choose low-caffeine or black.
If you enjoy teas that are orthodox, and un-blended, you'll enjoy our Adventurer. We still send two seasonal teas,  so you get a taste of the season.

Our Discoverer gives you more of a tea type you love, and four other teas to enjoy throughout the month.

If you enjoy just a taste of tea, or maybe like exploring new teas periodically, you'll enjoy the Explorer. It's just enough tea to try something new, but not too much to overwhelm you.
DEAL: Get 10% off any tea subscriptions! Use coupon code HELLO10.
The first thing to do is pick which of the subscriptions you would like to receive! Two of the subscriptions give you the choice of black or low-caffeine, giving you 5 different subscription options. I am reviewing the Discoverer Black Box, which is $27.97 and includes a large pouch of black tea plus 4 other teas. This box sends enough for 60-96 cups of tea, depending on whether or not you re-steep your leaves.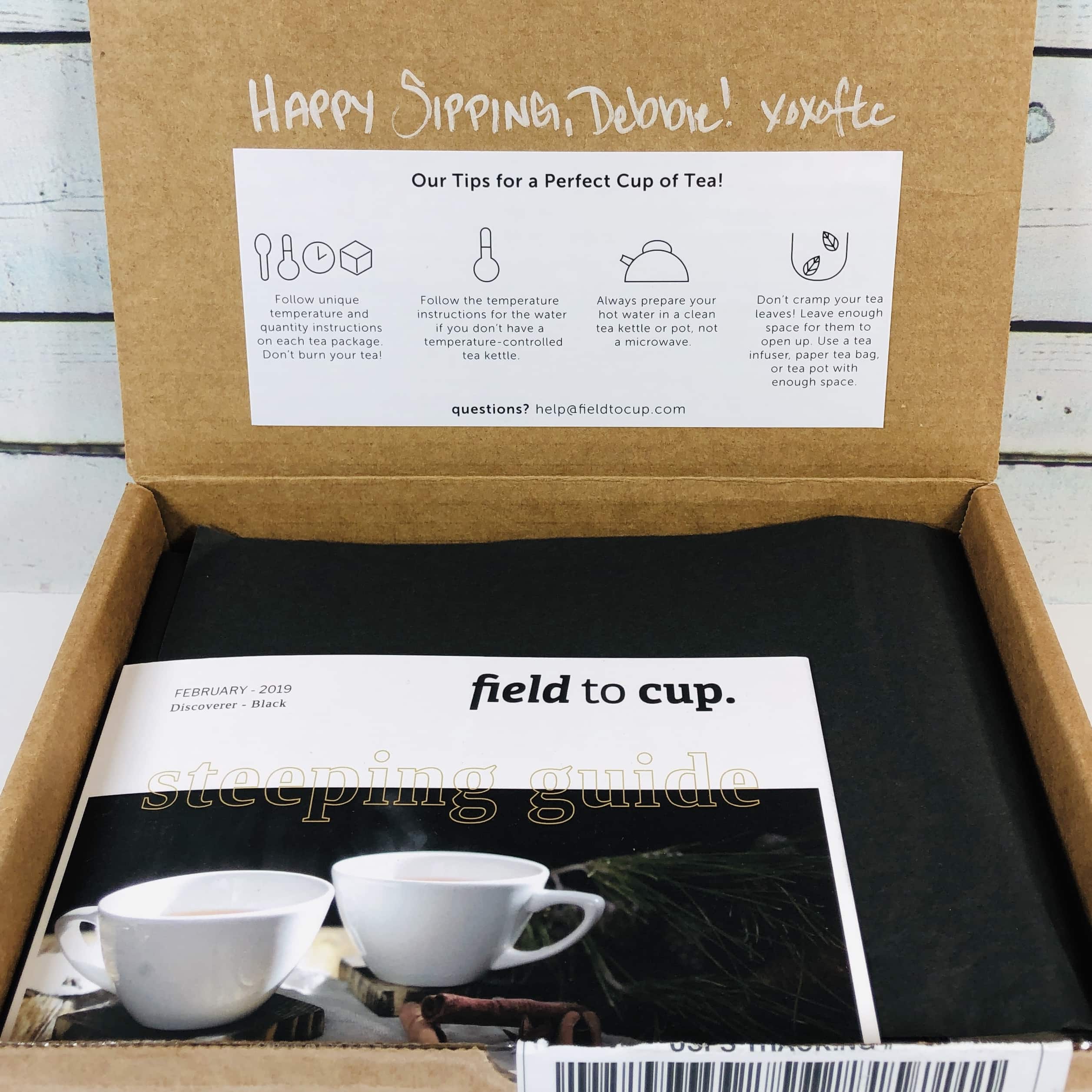 First look! There was a quick guide to the perfect cup on the inside of the lid.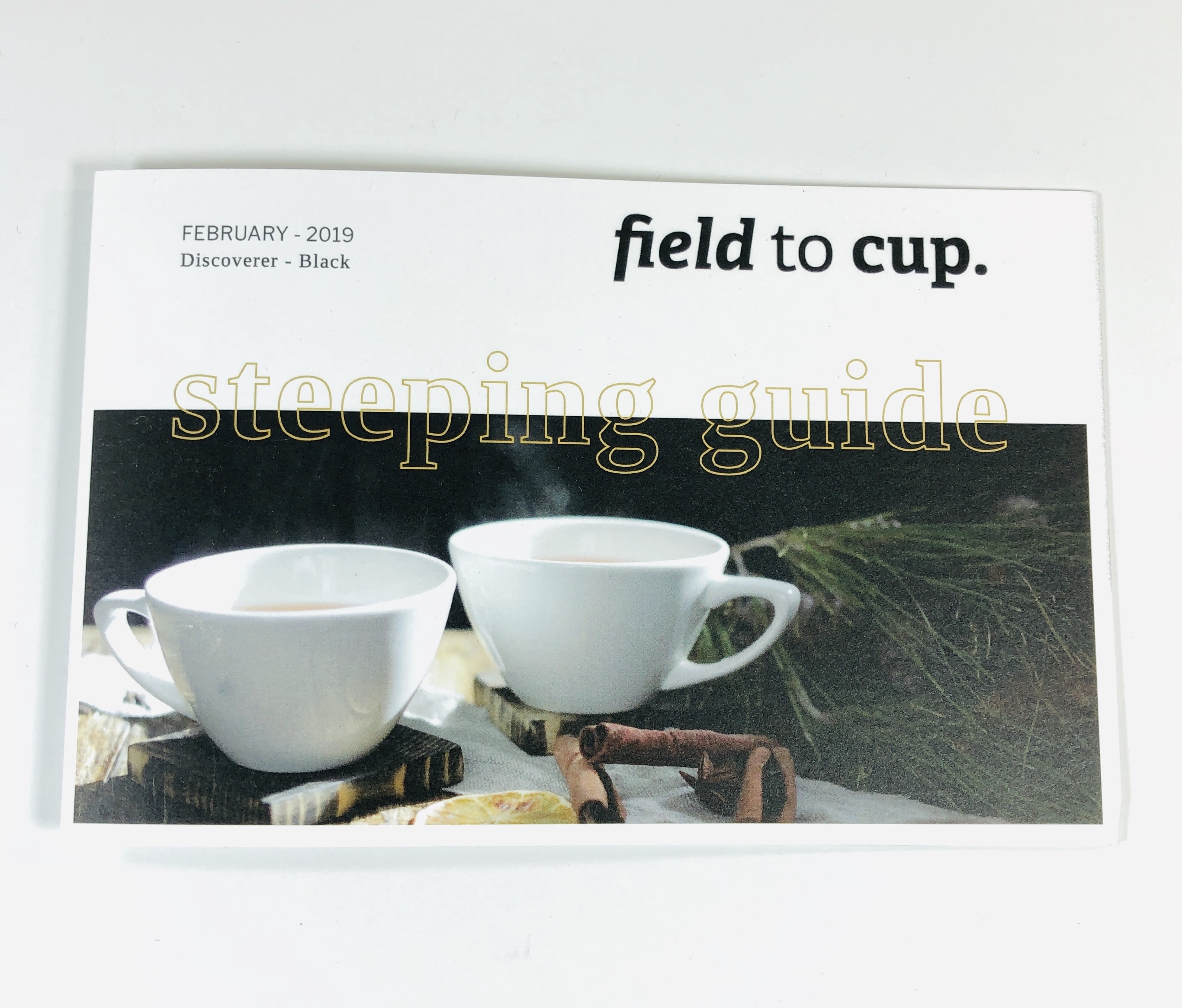 I received a steeping guide.
Each tea was listed, along with flavor notes, amount of caffeine, and steeping tips.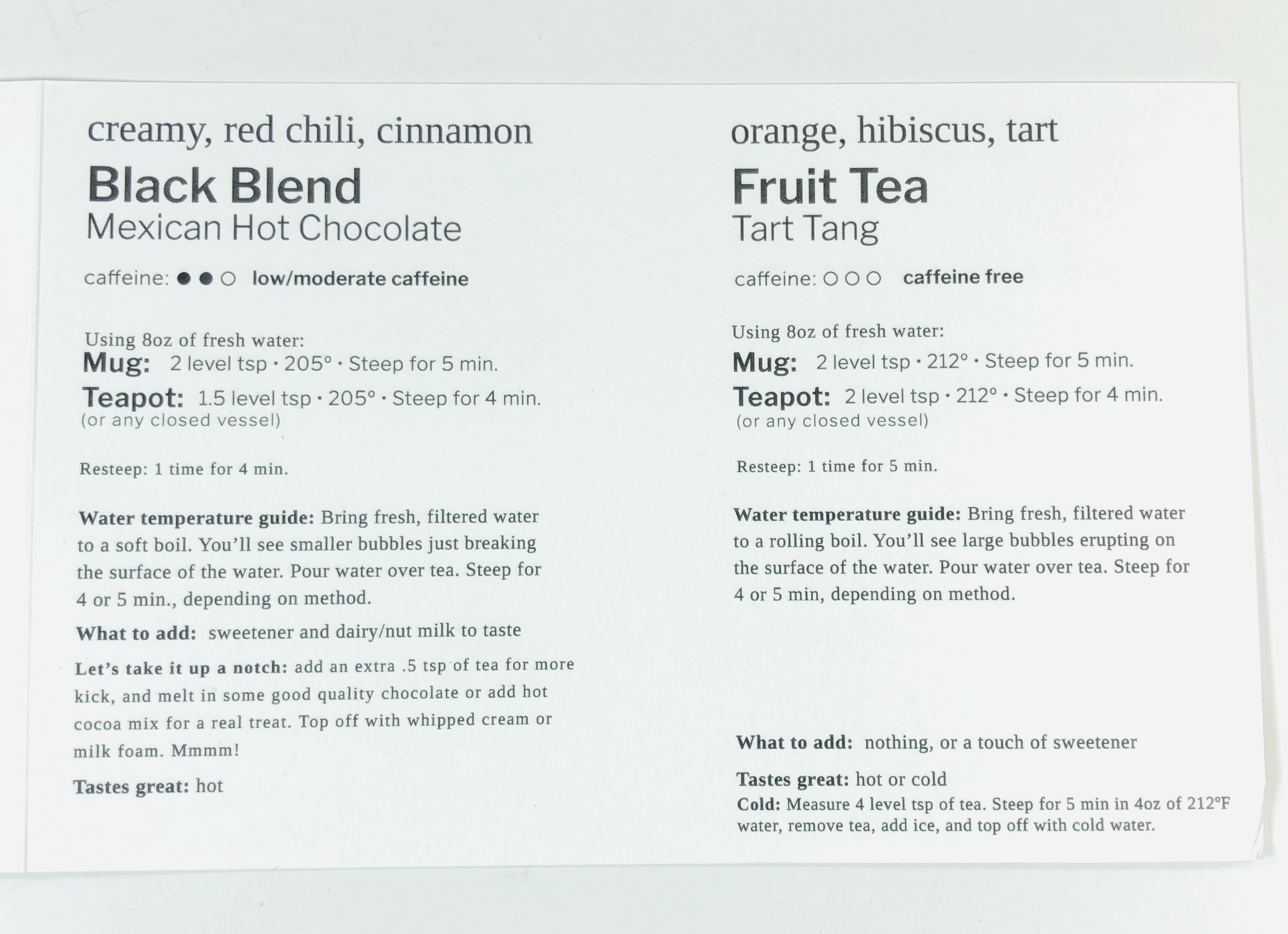 The back of the guide had a place for me to jot my own tasting notes. They have also listed the price for both a 10g sample or 3oz full-sized pack, which makes valuing the teas in the box a little hard, since most of them are 20g and the large bag is 40g.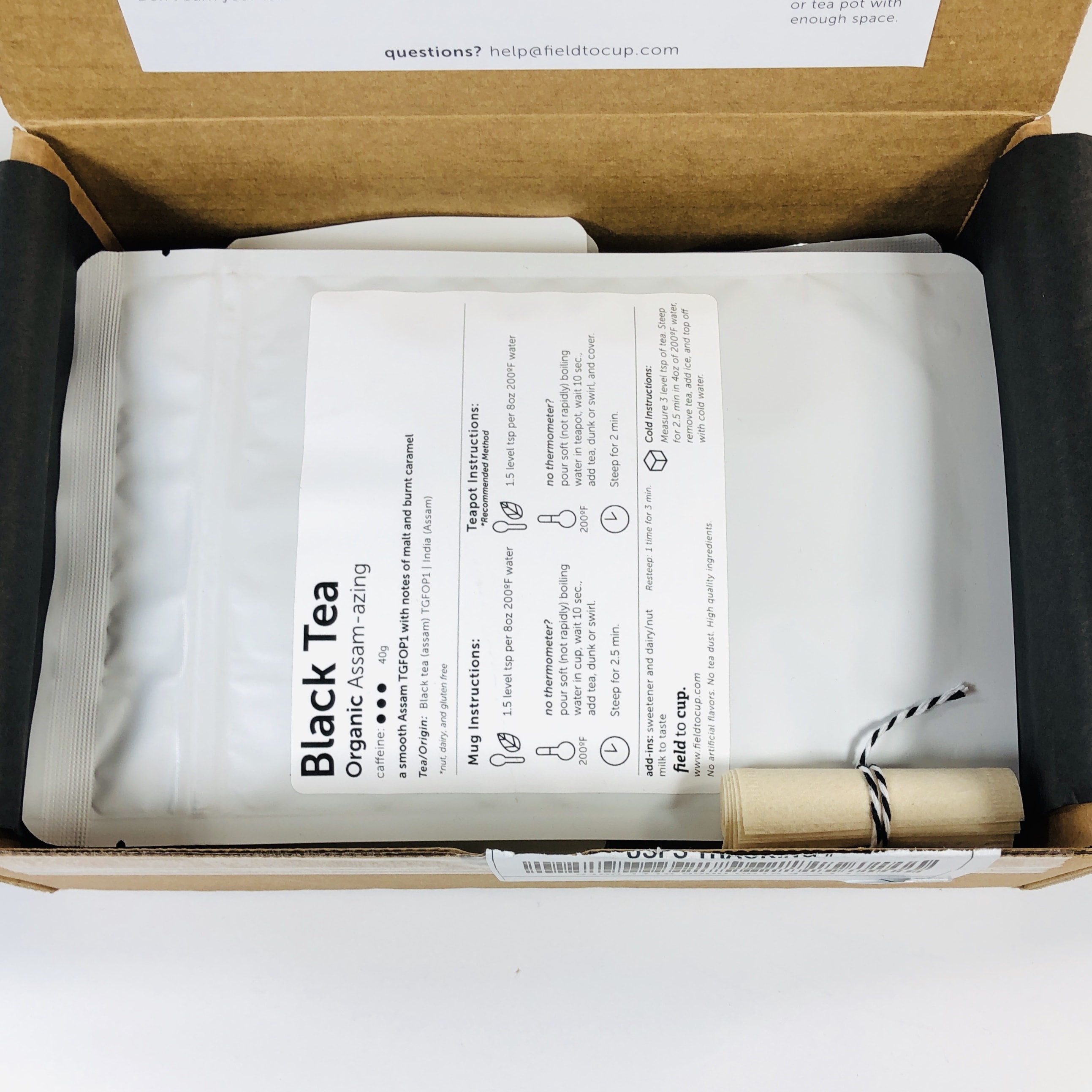 The presentation was simple. I found 5 bags snuggled in black tissue paper and each bag featured all of the pertinent information. The bags are resealable and will keep the tea fresh for a while.
I am loving this assortment – I especially love black tea and found 4 bags of it, along with an herbal.
All of my teas! Steeping instructions are found on all of the bags, along with hints on getting the water temperature right in case you don't have a thermometer or programmable kettle (I don't own either one of those).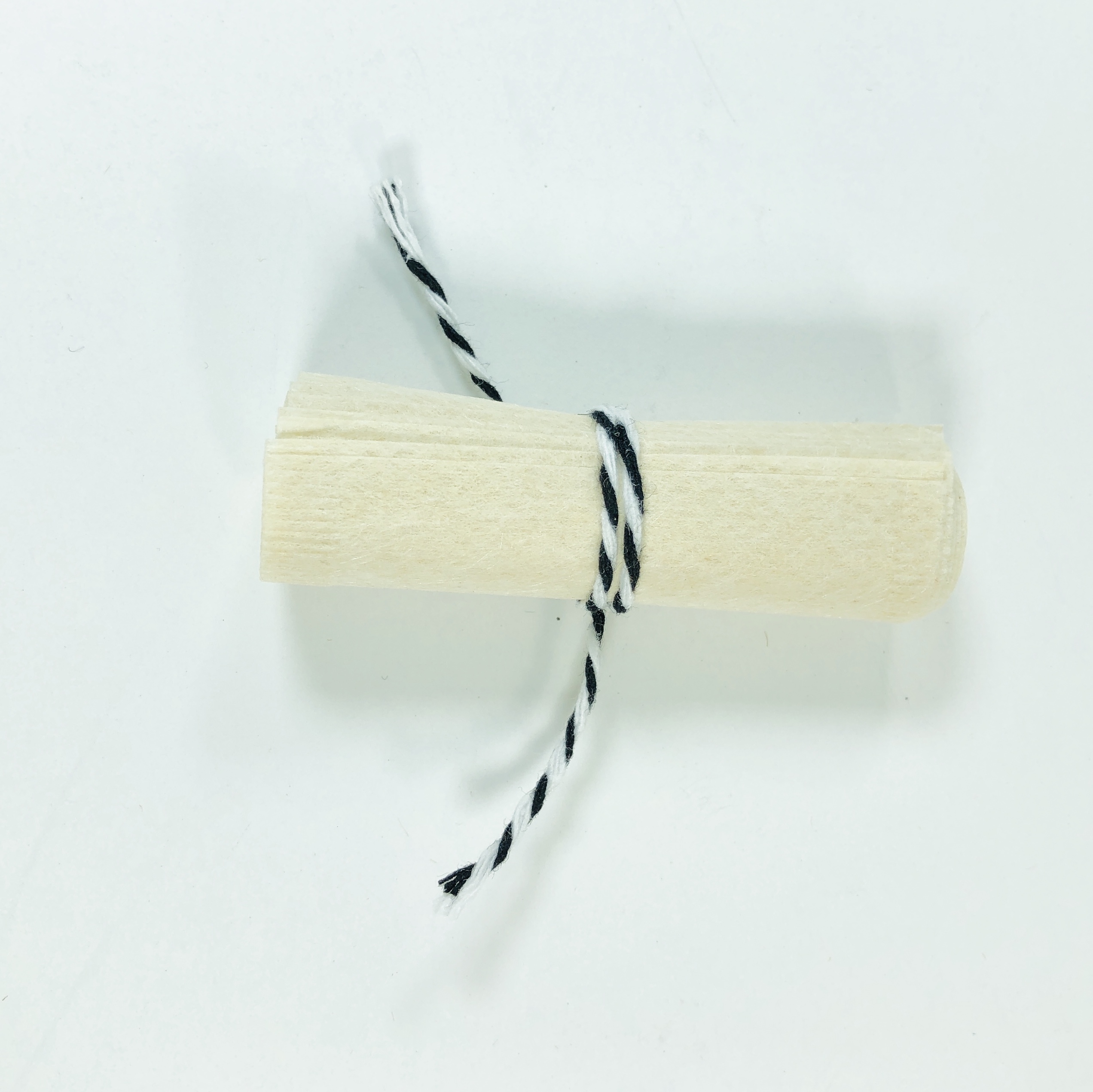 I received some disposable filter bags, similar to the ones found here. Field To Cup only sends loose leaf teas so you need a way to steep your teas effectively. I use a Teavana Perfecttea maker, but you can always use more disposable bags, a strainer, a stainless steel tea ball, or a French press.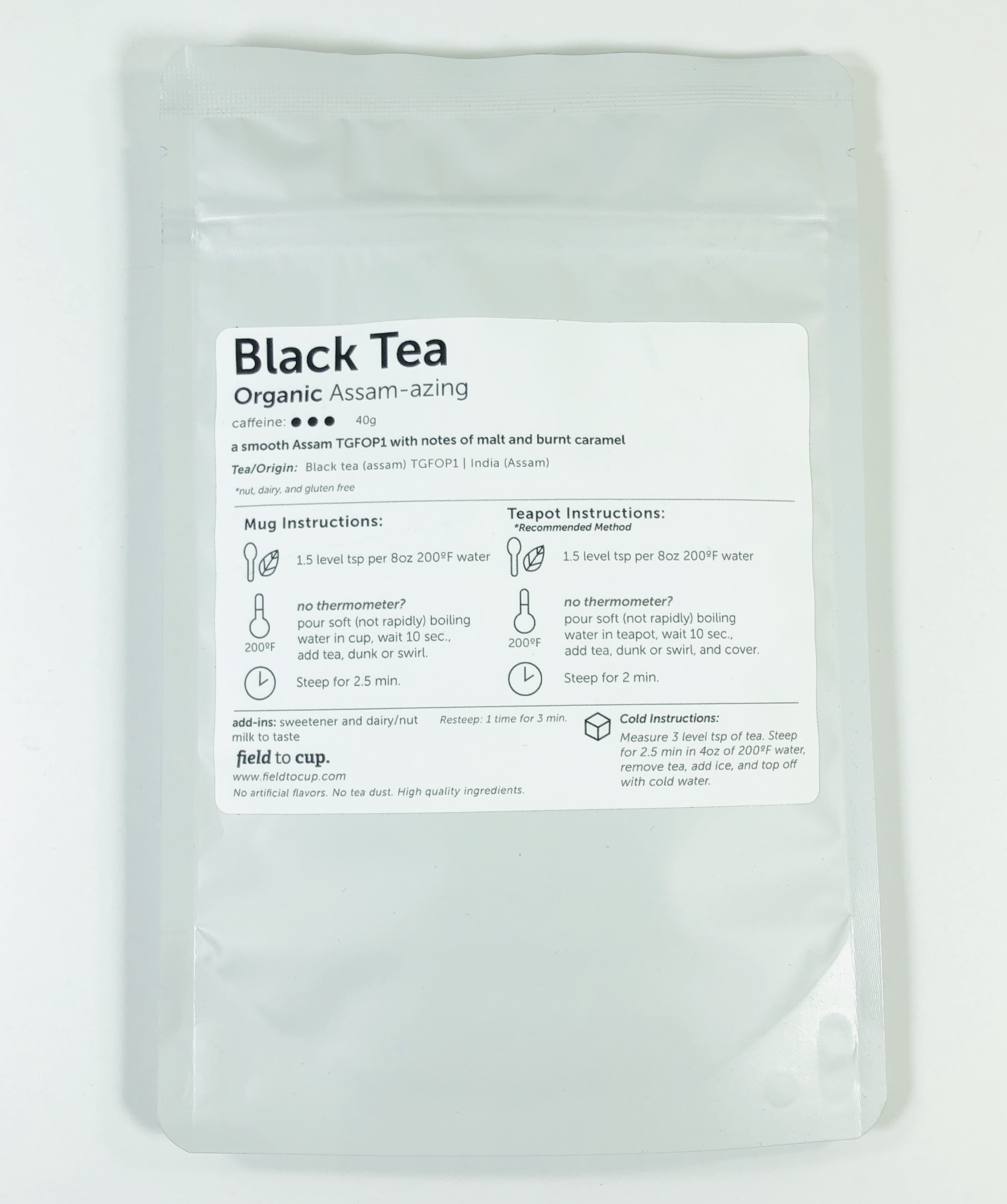 Field To Cup Black Tea Organic Assam-azing ($5.06) Ahh, a basic black tea to get my motor running in the morning!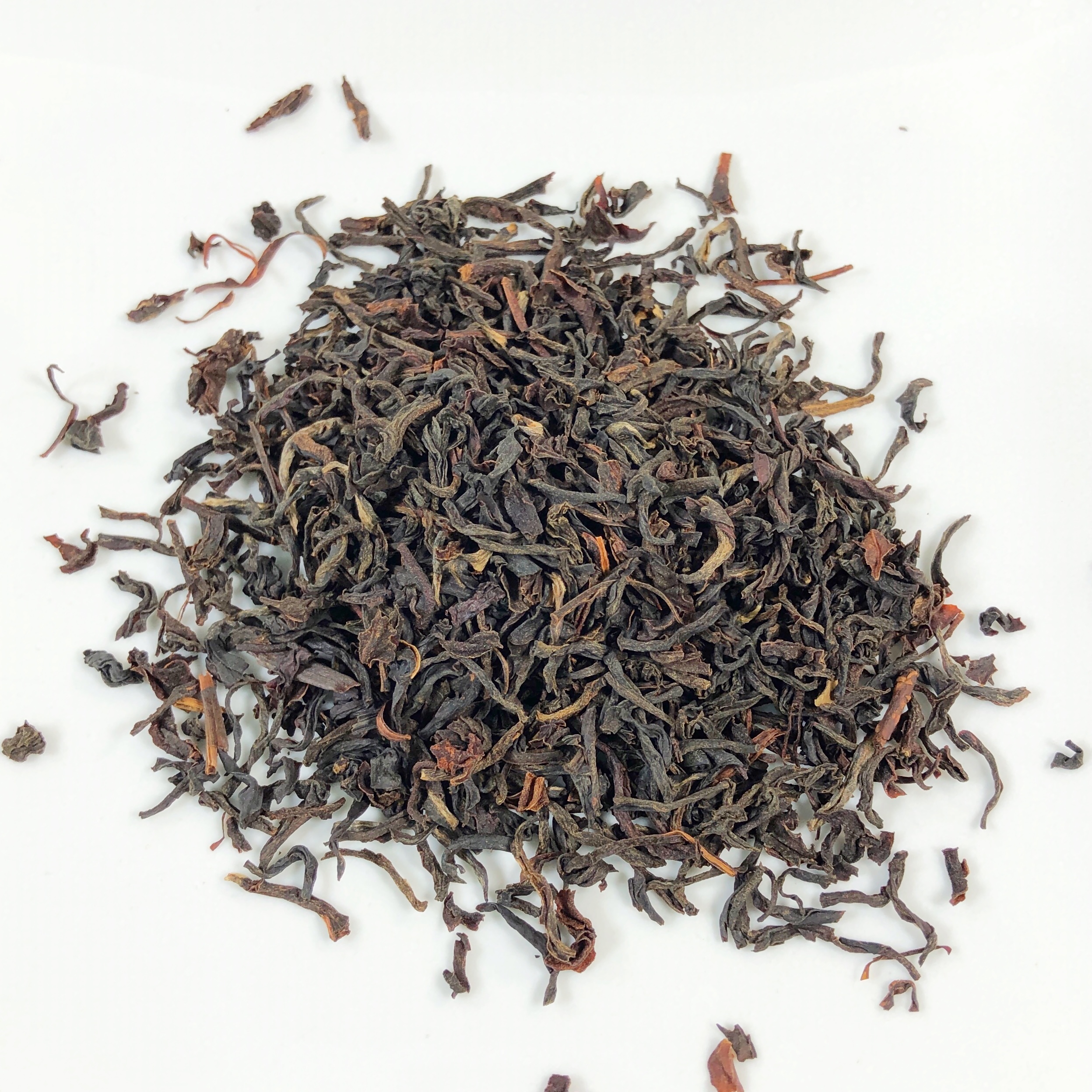 My tea steeped into a lovely red color and it had that classic tannic tang, although not overly so. I added milk to tame it but it overwhelmed it instead, so next time I will make sure to keep a closer eye on my water and make sure I don't get it too hot.
Field To Cup Fruit Tea Tart Tang ($4.03) I'm not sure I had ever heard of fruit tea until I tried Field To Cup, and now I find it is the perfect way to end the day!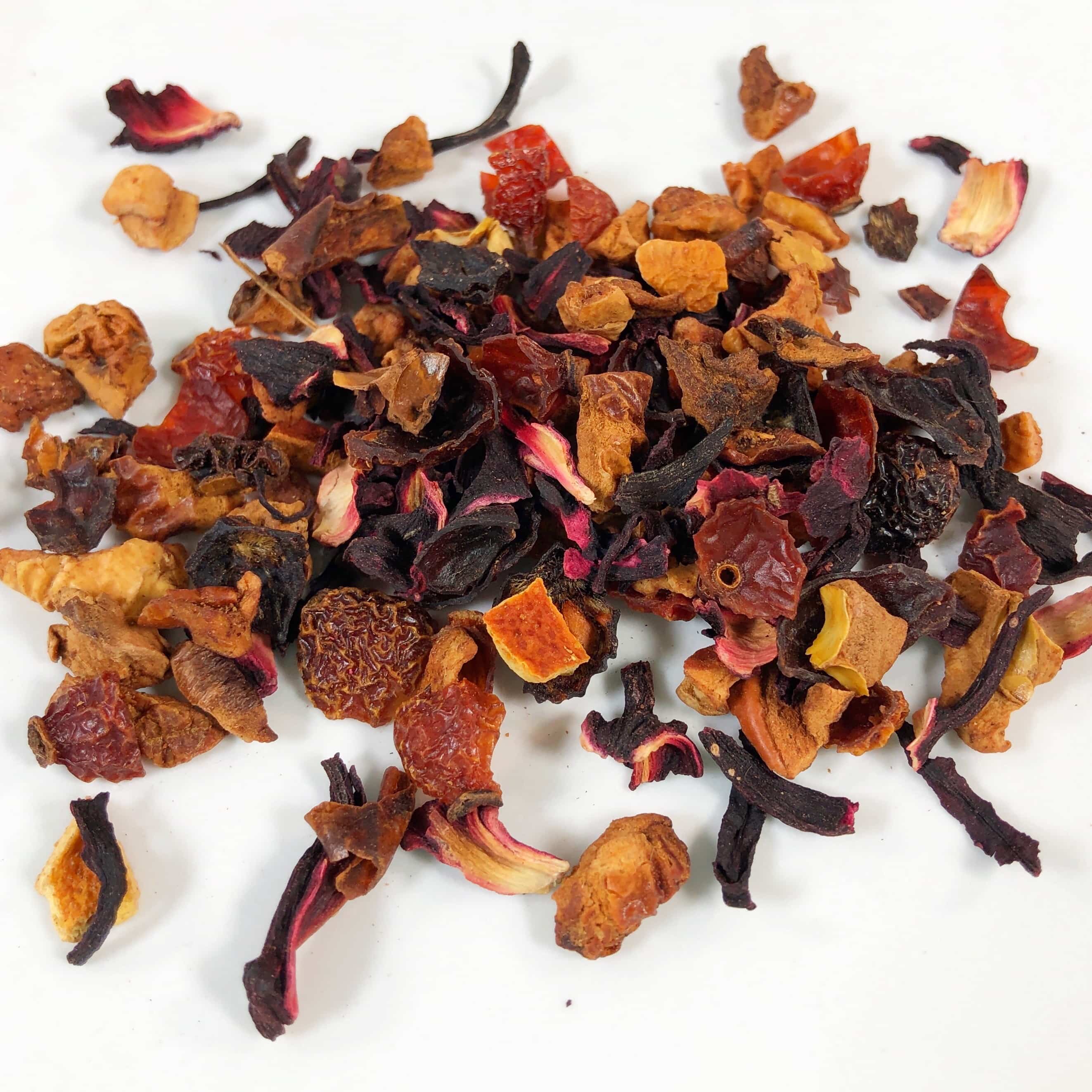 Orange peel, apple, hibiscus, rosehips, and natural orange flavoring are in here and it smells great, like oranges. It was tart, thanks to hibiscus. It steeped into a beautiful color and when I let it get too cold it was still tasty, like punch or juice.
Field To Cup Black Blend Mexican Hot Chocolate ($2.24) Rooibos was the first ingredient here and it keeps the cup light, good for an afternoon tea.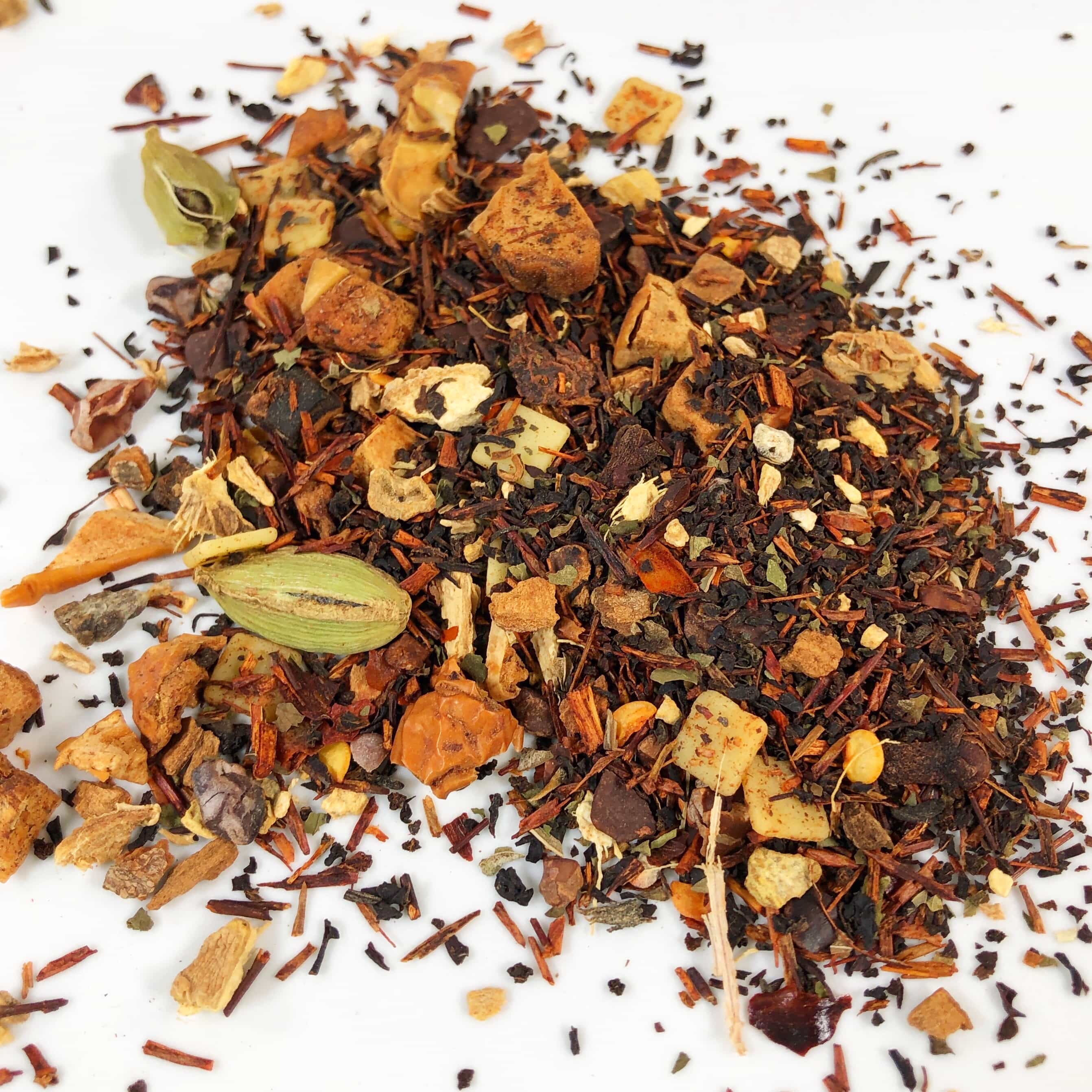 Black tea is included too, along with lots of spices. It really had some bite, the chili was quite prominent. I like the suggestion to add some to hot cocoa mix – I think adding milk will help tame the fire!
Field To Cup Black Tea Blackened Heart ($4.44) Pu-erh is a type of black tea that goes through a fermentation process that gives it a unique flavor.
Here it is mixed with rose petals and pressed into a cute little cake. It breaks apart during steeping and looks like coffee in the cup. It had a bit of tannins and a gentle rose scent and flavor. Milk + sugar makes it extra special.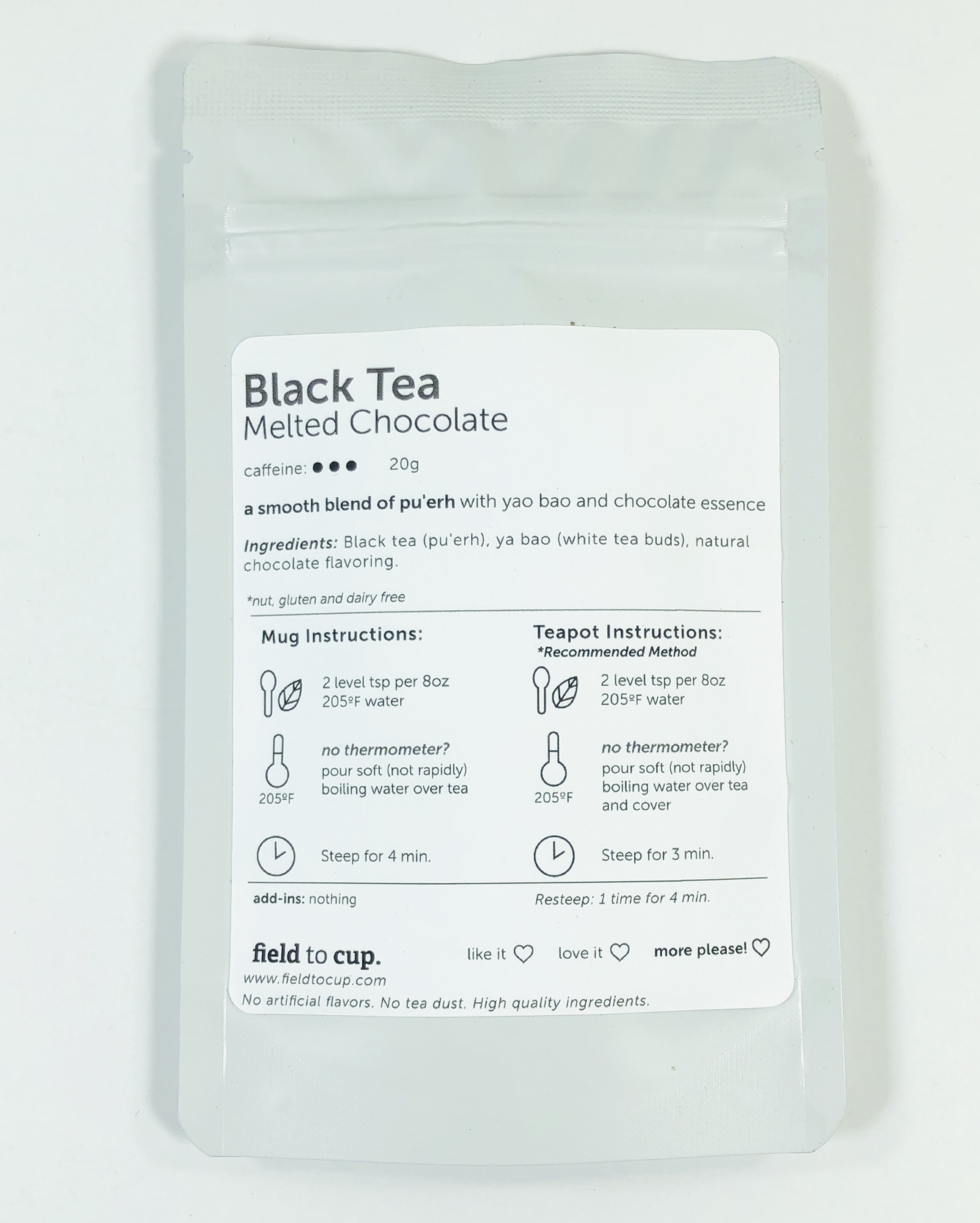 Field To Cup Black Tea Melted Chocolate ($4.03) I went and saved the best for last! This is another pu-erh tea, but with white tea and chocolate essence added.
After steeping I discovered that my tea looked like coffee in the cup, so I knew it would be robust. It was rich, with no bitterness. It was sweet too, even before I added sugar. It turns out that it was a mistake to add sugar anyways, it was altogether exquisite on its own.
Field To Cup is always a fun box to receive, I love trying new teas and the flavors are amazing. I was happy to find a single leaf tea and a fruit tea among the blends, and pu-erh is one of my favorite teas so to receive two kinds in one box was a wonderful surprise. I love that Field To Cup gives such thorough instructions on how to steep the perfect cup, and everything I need to know is printed directly on the envelope. There was even a heart shaped tea, what a sweet touch in this month full of love!
What do you think of this month's box? Let me know which tea want to steep!
Visit Field to Cup Tea Discovery Box to subscribe or find out more!