Disney Treasures is a bi-monthly official Disney collectible box produced by Funko in partnership with Disney. Disney Treasures features the most memorable Disney movie and parks moments and every box is filled with 100% exclusive Disney collectibles and accessories created by Funko for Disney fans and collectors. It's the Happiest Box on Earth! Disney Treasures is now a one-time-only box for $32.90 + $4.99 shipping, and their new retail partner is Hot Topic! You can also have the box sent to your local Hot Topic for FREE.
This box is still available!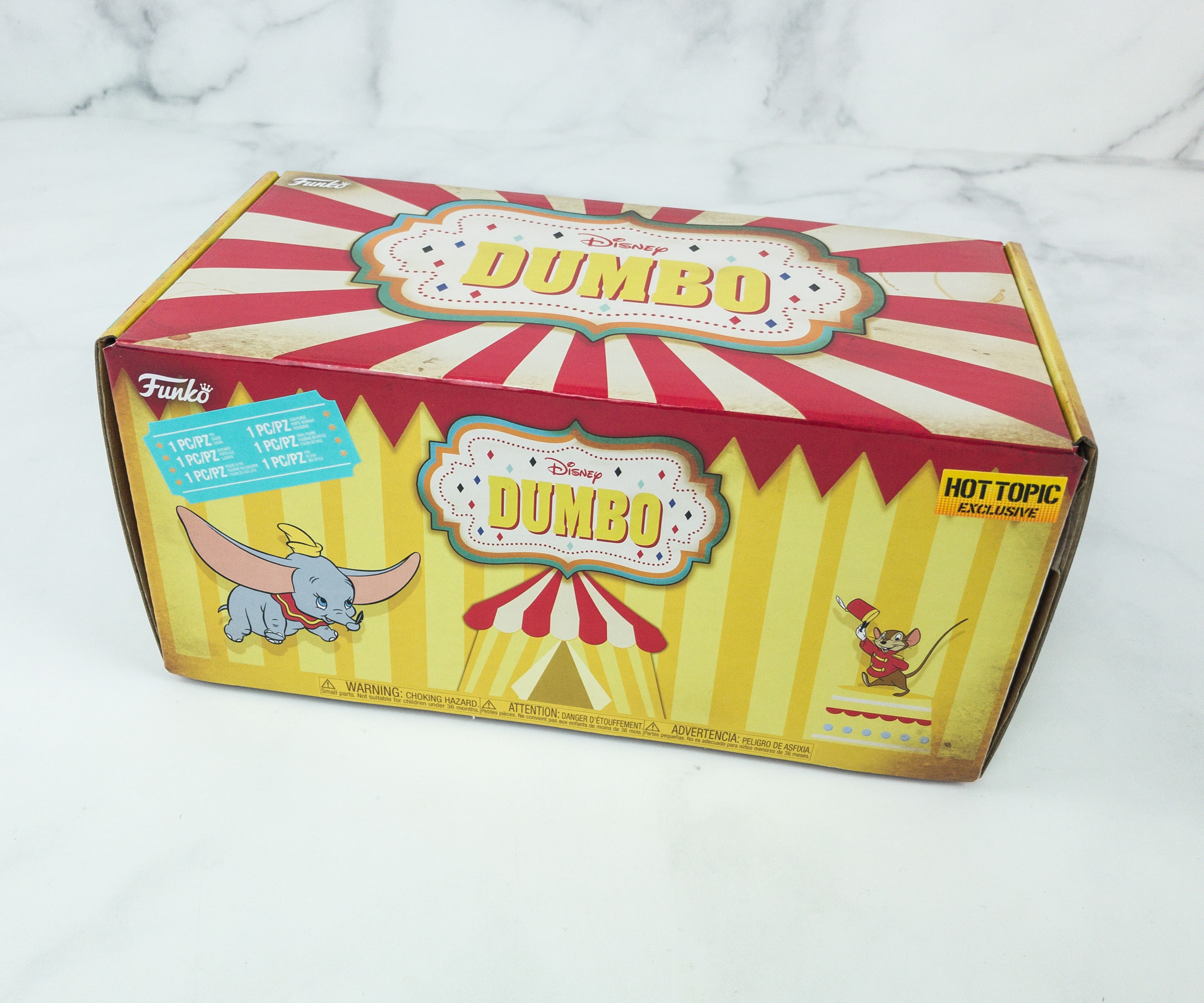 The box is substantially more compact than the previous boxes (but a whole new design for every theme!). It's definitely designed for retail (this box is sold in stores and online).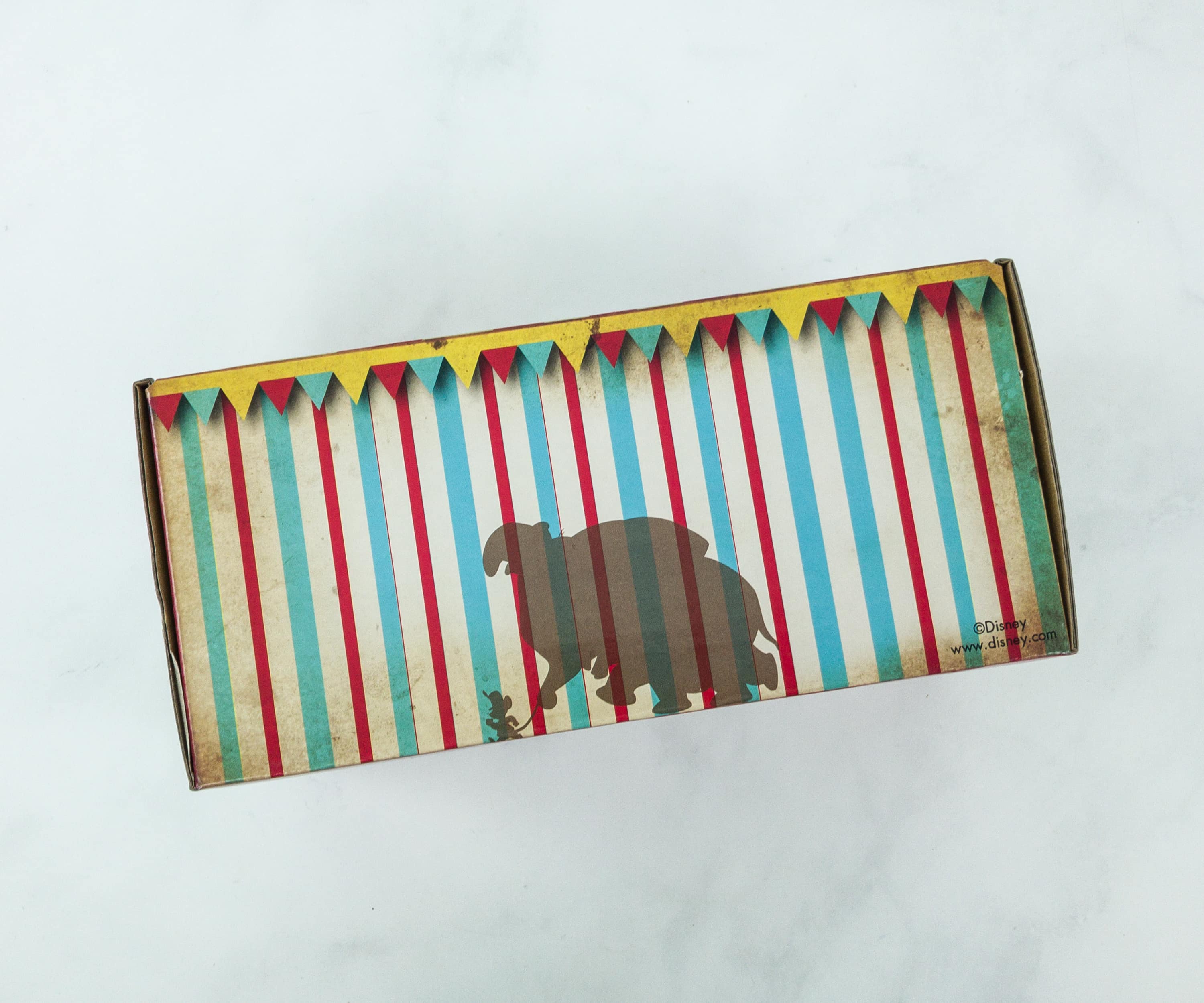 These are the silhouettes of Timothy and Dumbo. I instantly remember some scenes in the cartoon where they only show the characters' silhouettes and I've always thought it's an artful way of storytelling.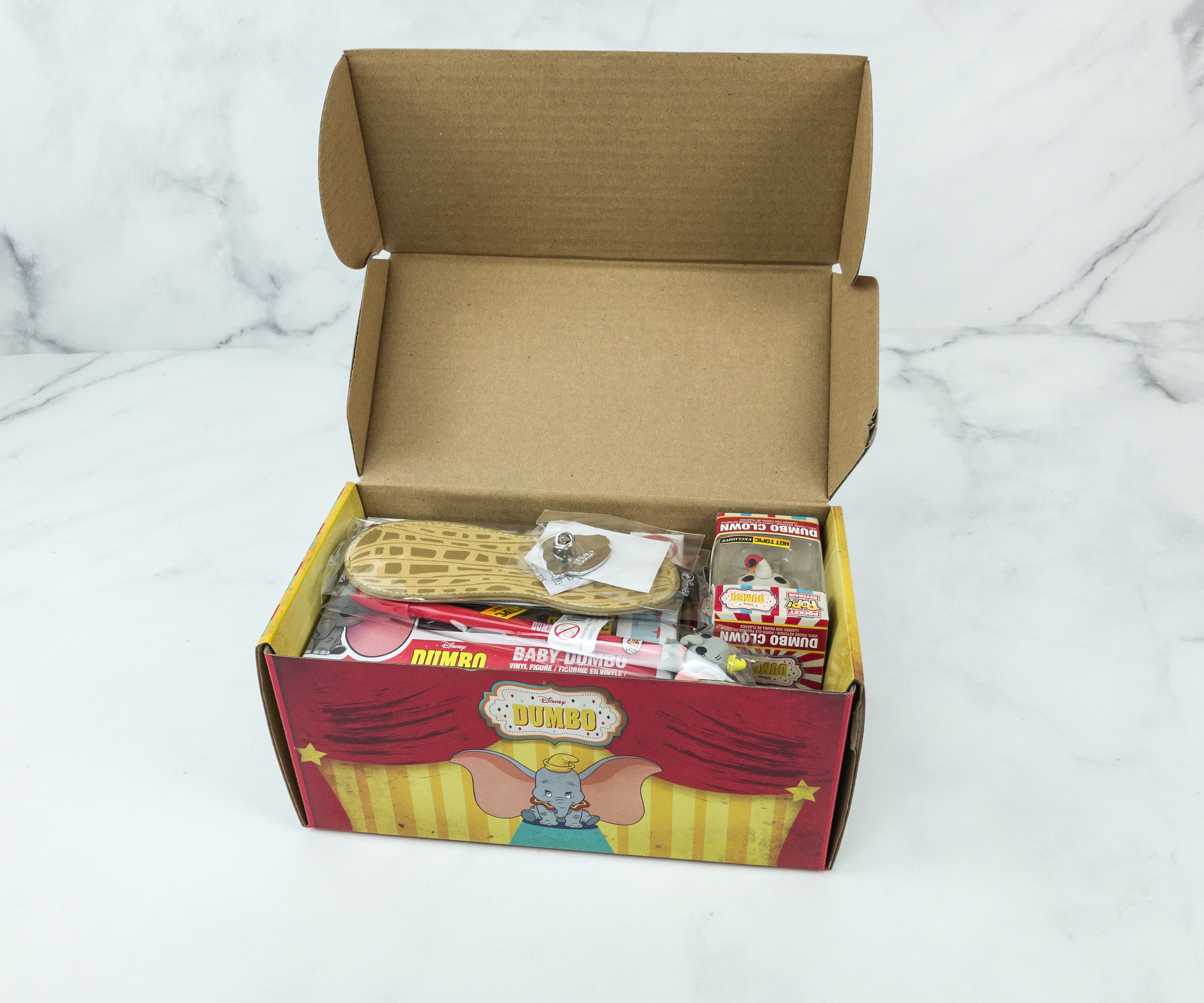 We bought ours online, it arrived in an outer cardboard box for shipping.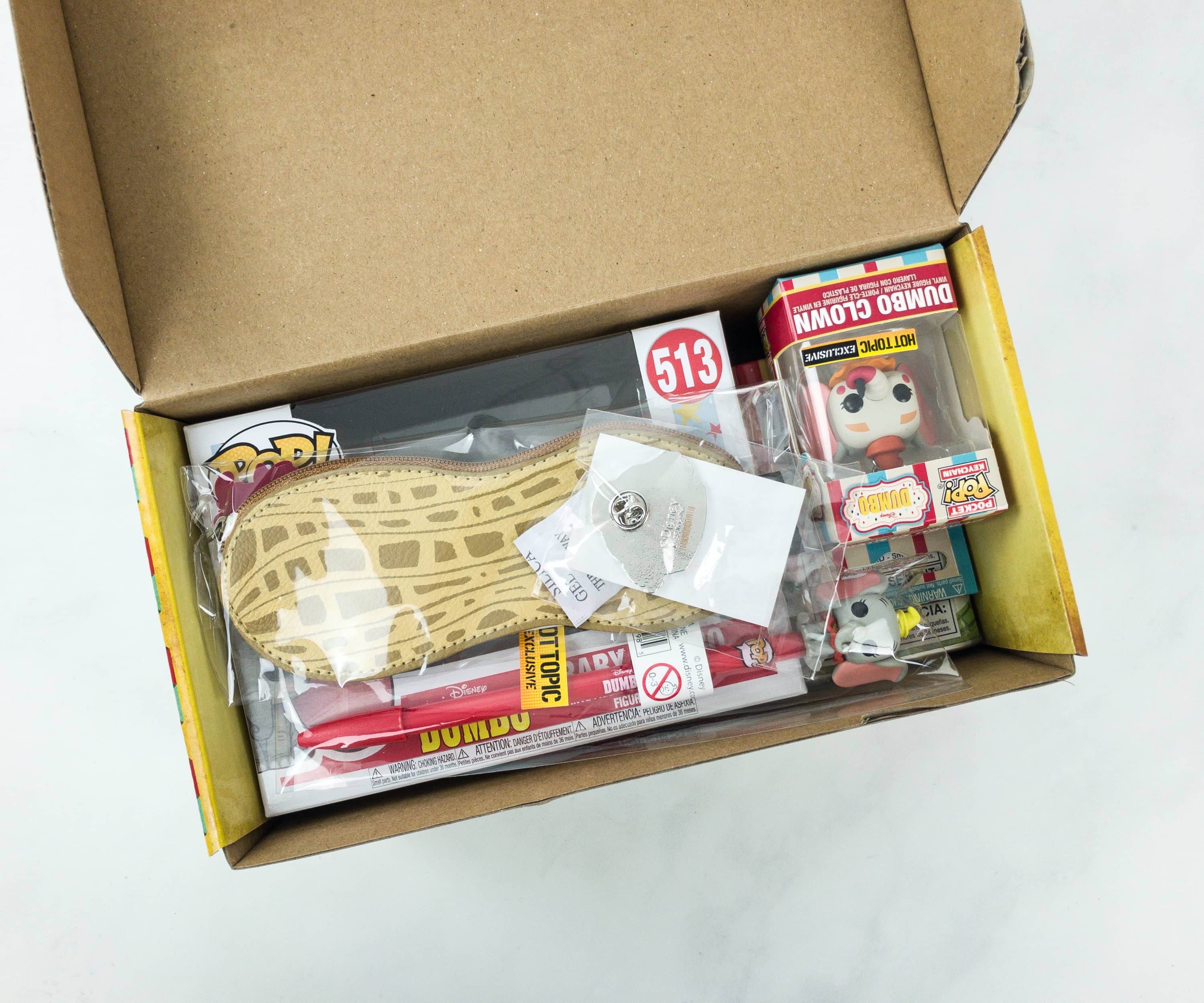 There's no info card in the box anymore, which is a bummer because it was so beautifully done with information from the Disney archives.
Everything in my box!
Pencil. It's a Hot Topic exclusive pen which can inspire your writing!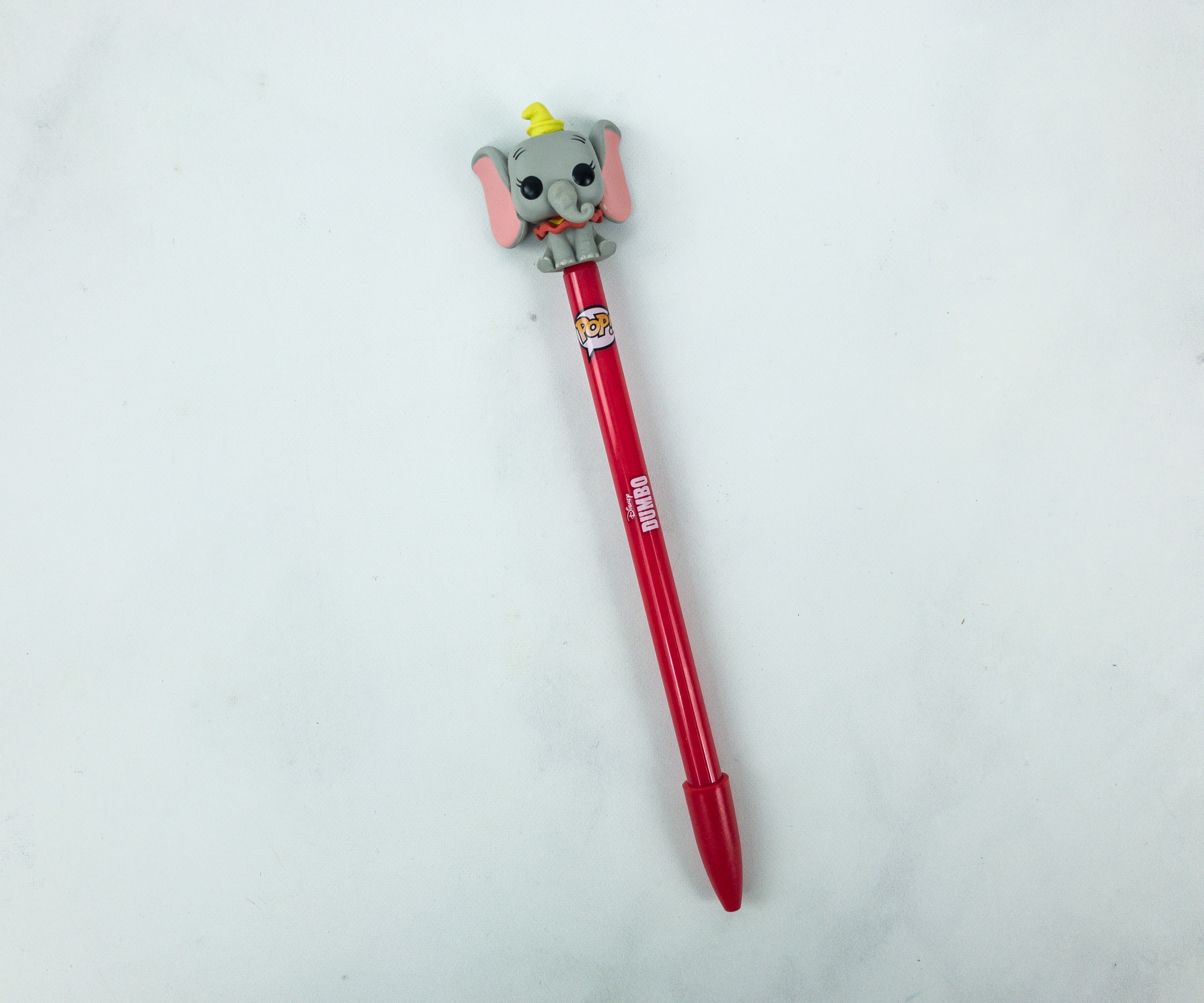 Well, the box always sends us pens that write well and has good quality. The cap makes it easier to store.
It has a cute baby Dumbo pen topper wearing a circus costume.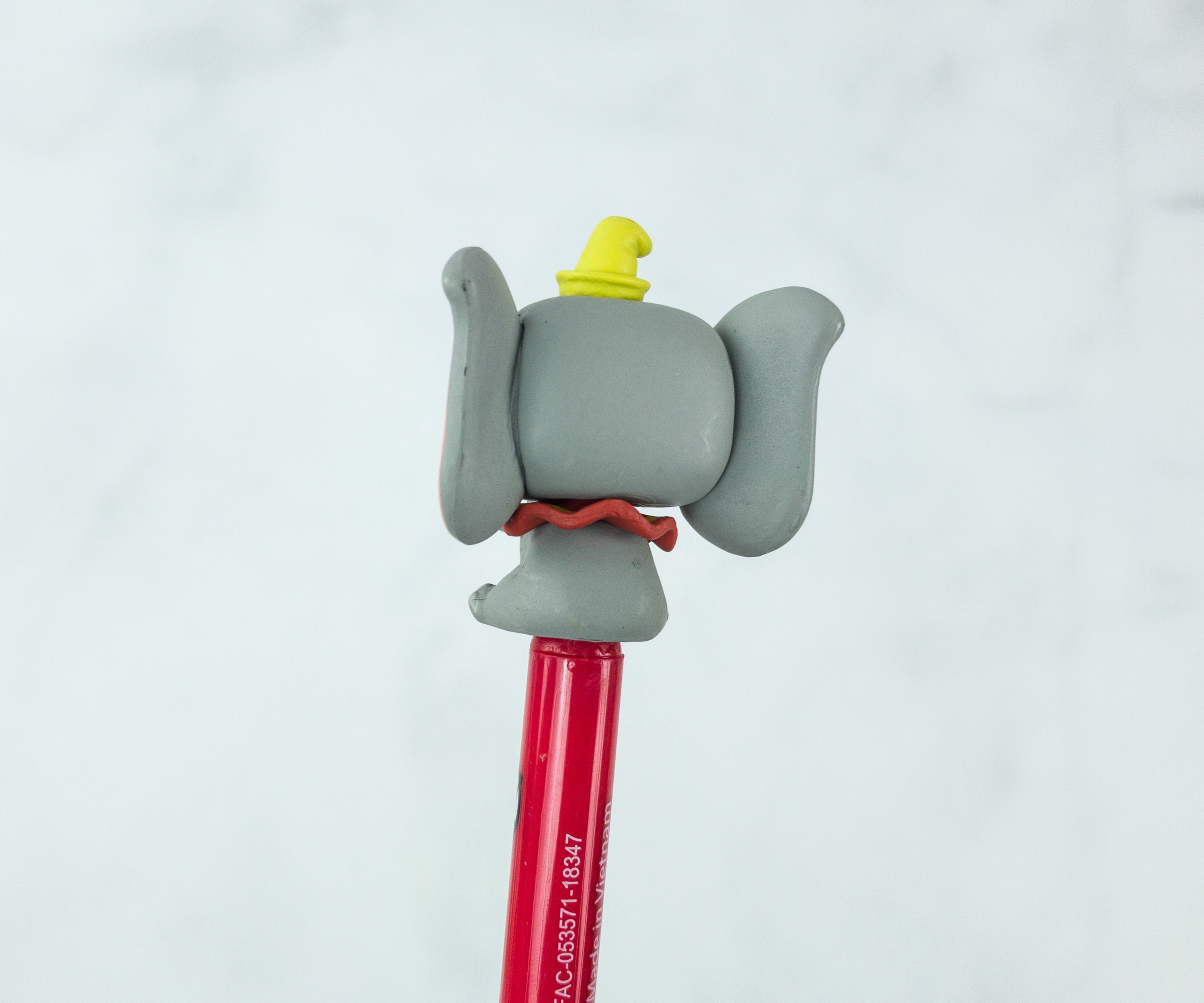 The form of the topper is perfectly shaped and the details are maintained at the back. It does resemble his costume in the movie.
Dumbo Pin. This is the smallest item in the box but can't be overlooked. Total cuteness overload! A Disney box will never be complete without a pin. Disney is always generous in giving out high-quality pins and this is no exception.  Pins will be coming in most future Disney Treasures boxes!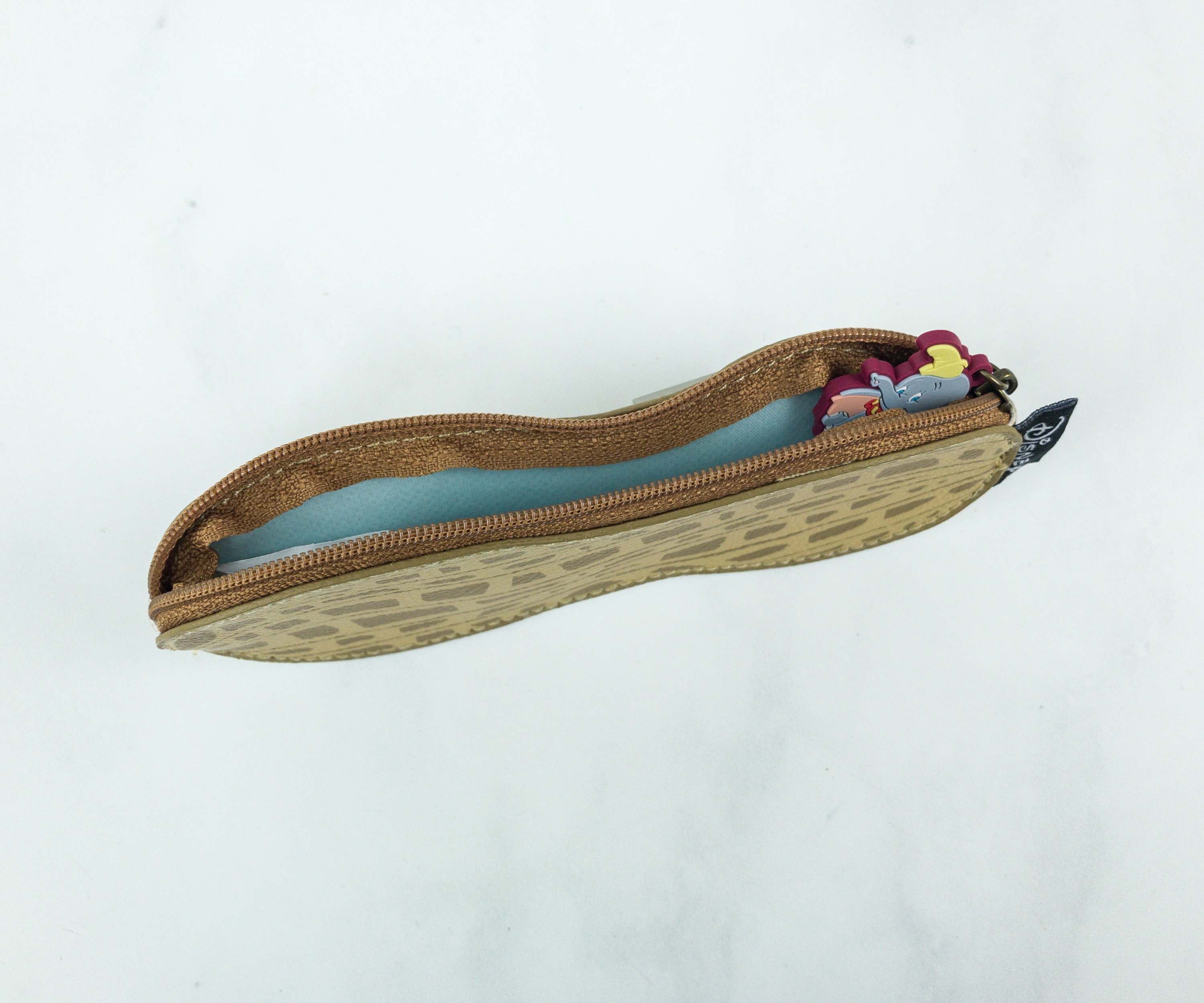 Peanut Coin Purse w/ Dumbo Pull. I don't think they ever gave us a purse or pouch before, so I would give them a plus for adding this collectible to the box. It's a cute peanut purse! It's not spacious but it's sleek so you can fit it to any bag. You probably can fit a few coins and trinkets there.
It's Dumbo's fave snack. I remember the scene in the movie where Dumbo was embarrassed at a performance and Timothy, his mouse best friend, tries to cheer him up by giving him a peanut.
I also like the detail of baby Dumbo in an adorable pose as the purse's pull tab.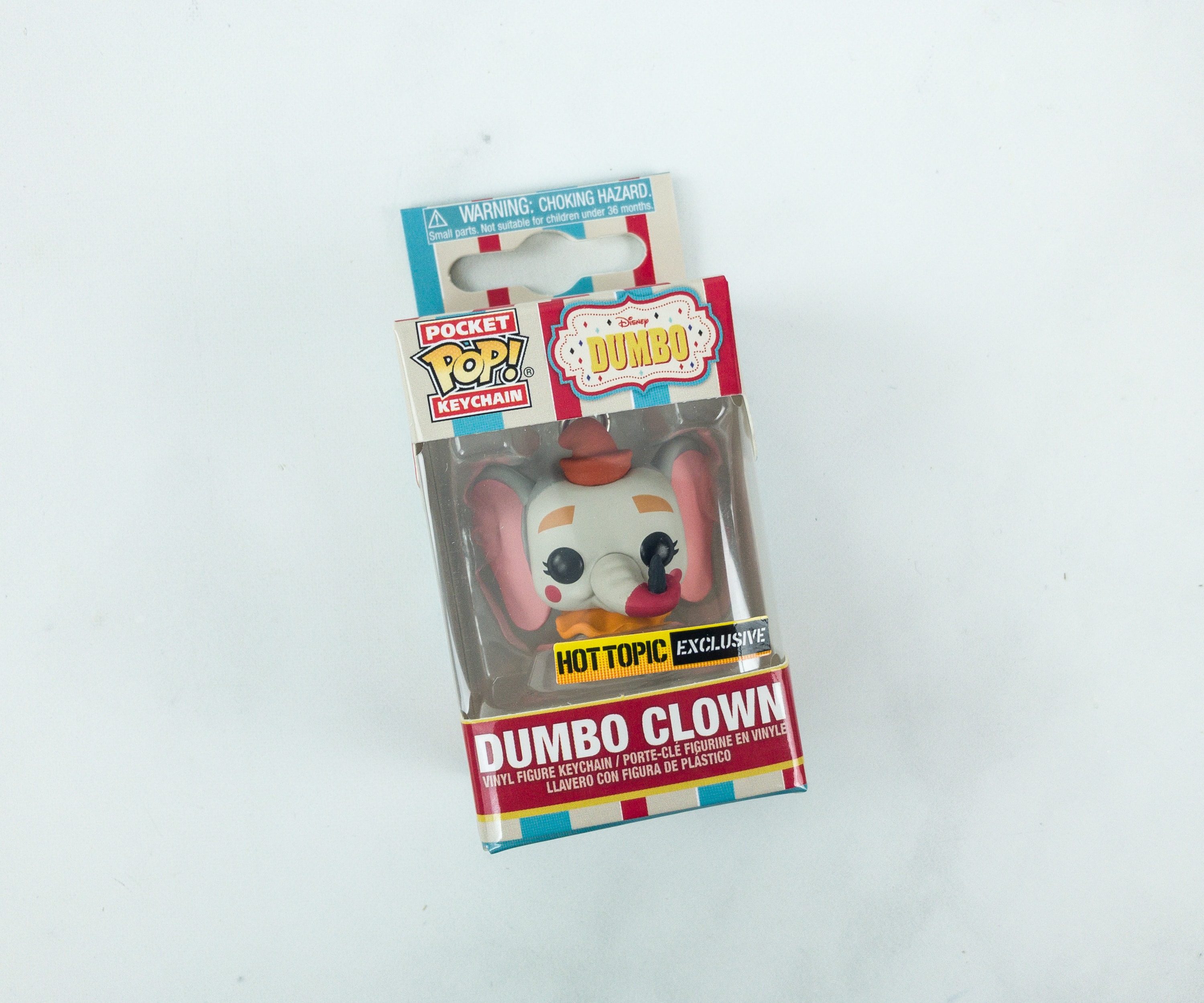 Dumbo Clown Keychain. In the movie, Dumbo was sad when he started performing for the circus because they were always humiliating him and he missed his mom. Now, he's making us happy with this keychain!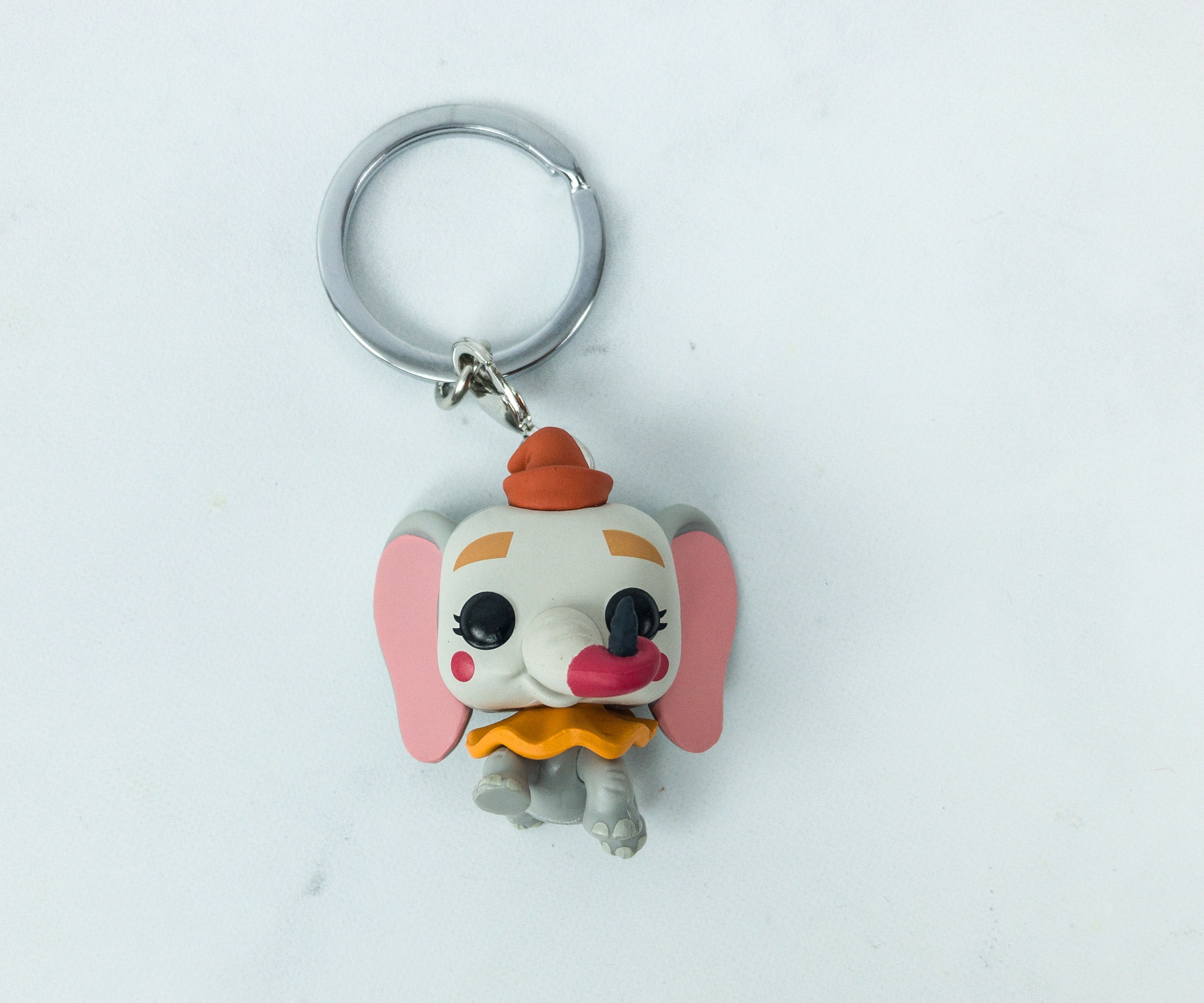 It's a rare thing to have a Dumbo clown so collectors must be so happy to receive this.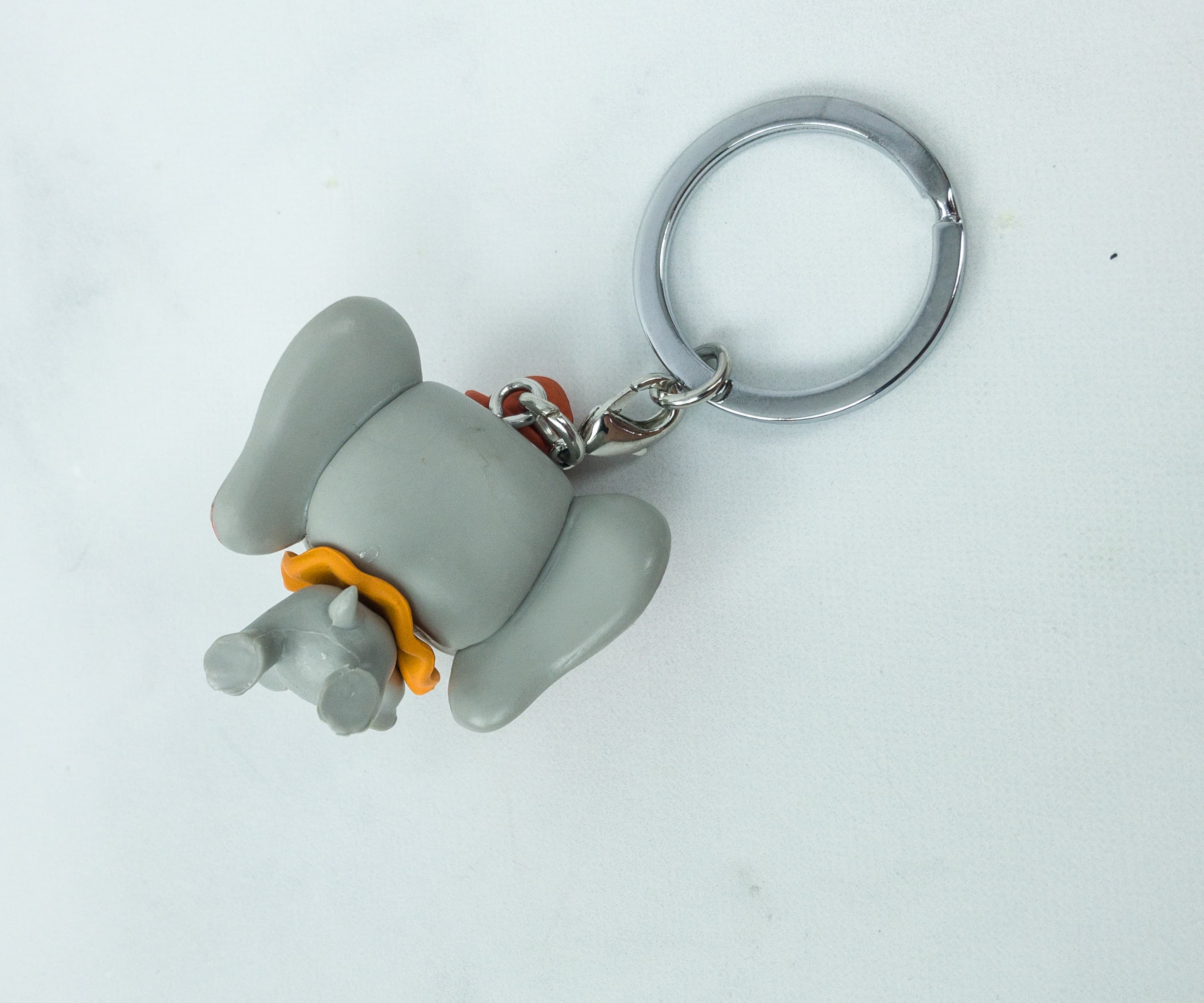 It's high-quality and has a lobster clasp hook that adds to its versatility if ever you want it to be something else other than a keychain.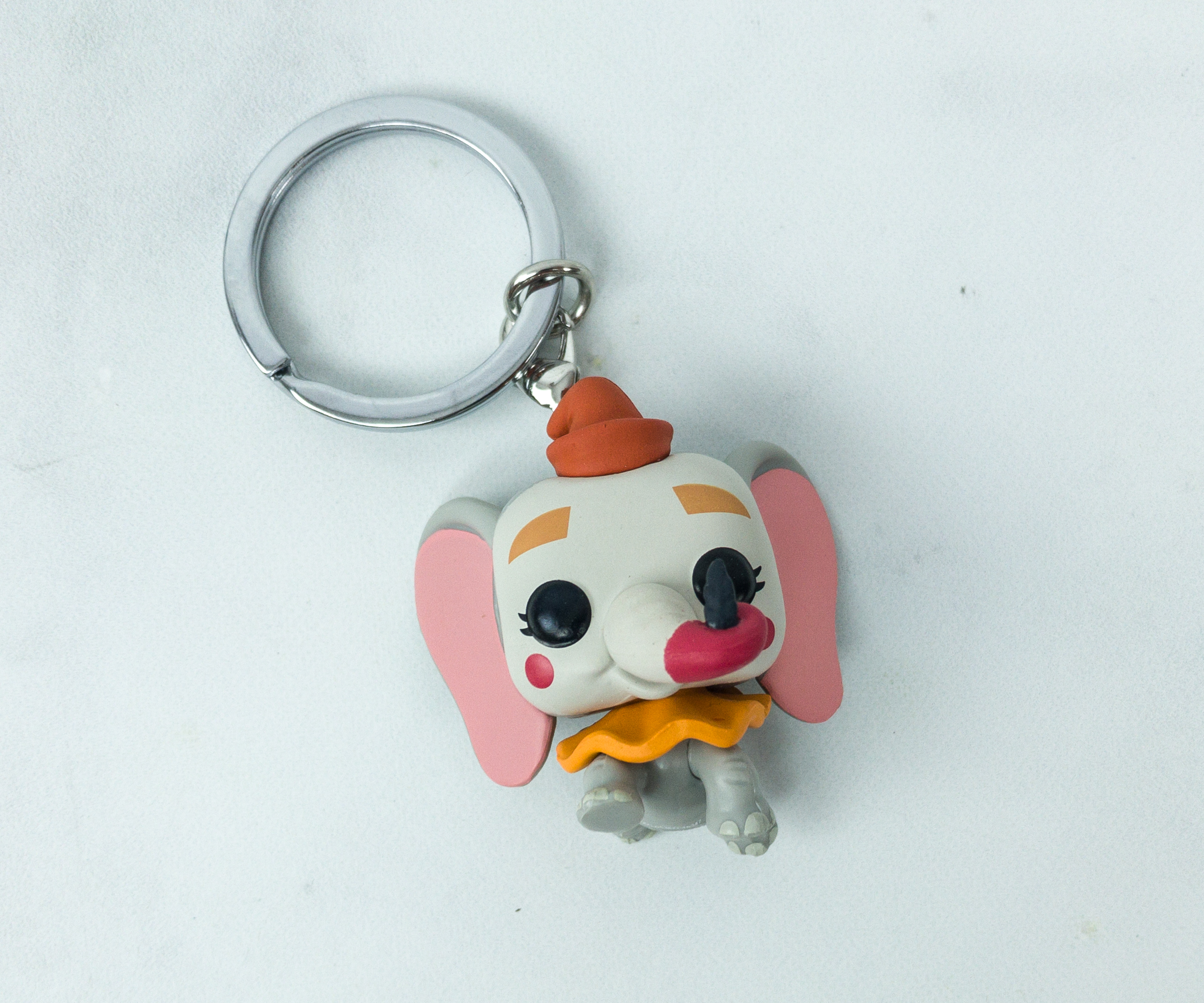 I love that he's in an animated position and his legs are not looking stiff. The colors are vibrant and the detailing is spot on.
Timothy Mouse Mini w/ Tin. It's all about the little details. Even though this box is centered around Dumbo, the tin details remind us of Casey Junior ( the train) and his bird friends that taught him how to fly.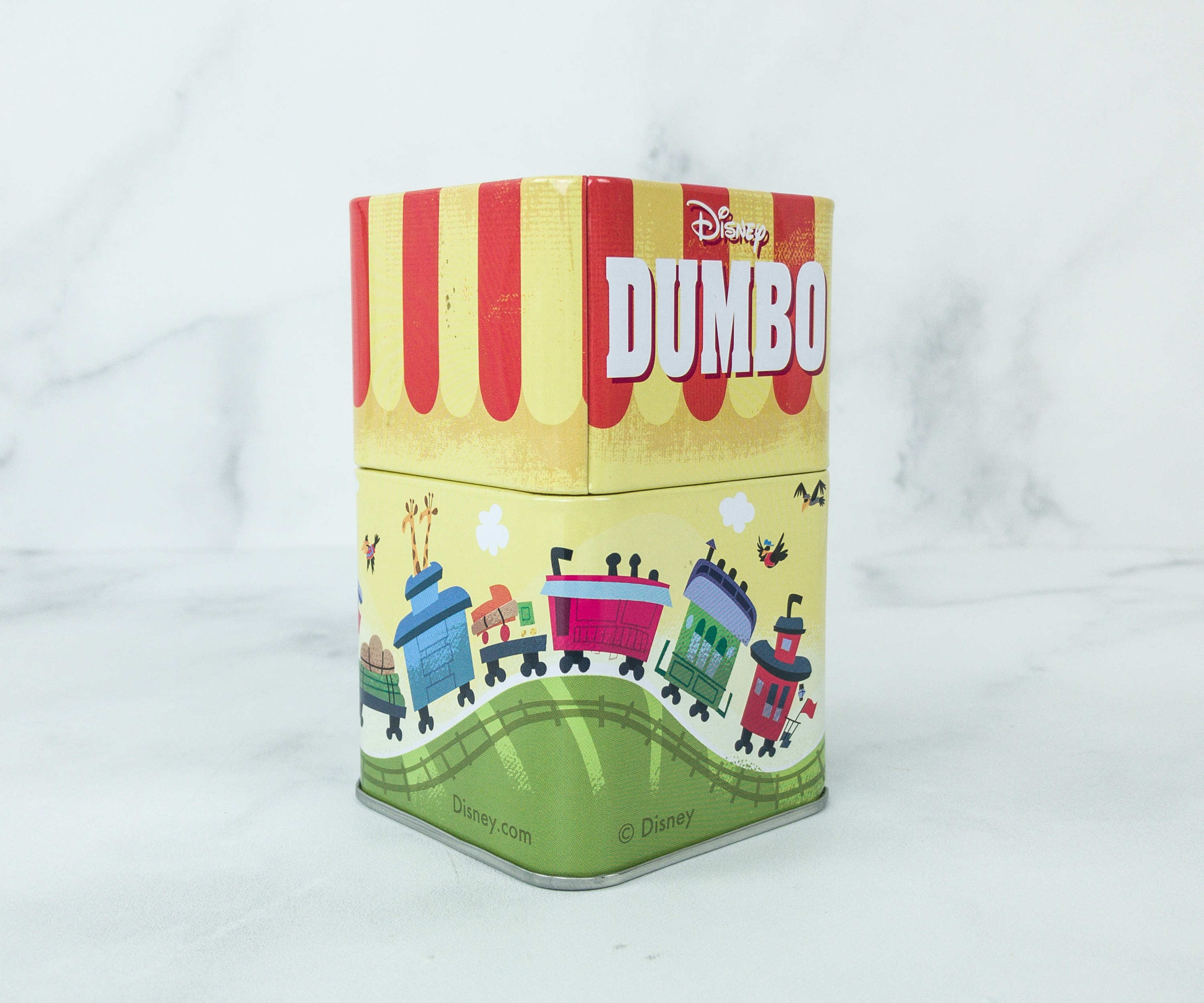 The tin is a collectible in itself. It's a perfect representation of the cartoon. I remember that the illustration on the tin can was the opening scene when all the animals and characters are introduced in the movie as they embark the train.
All the colors are vibrant and the design just envelopes the whole tin.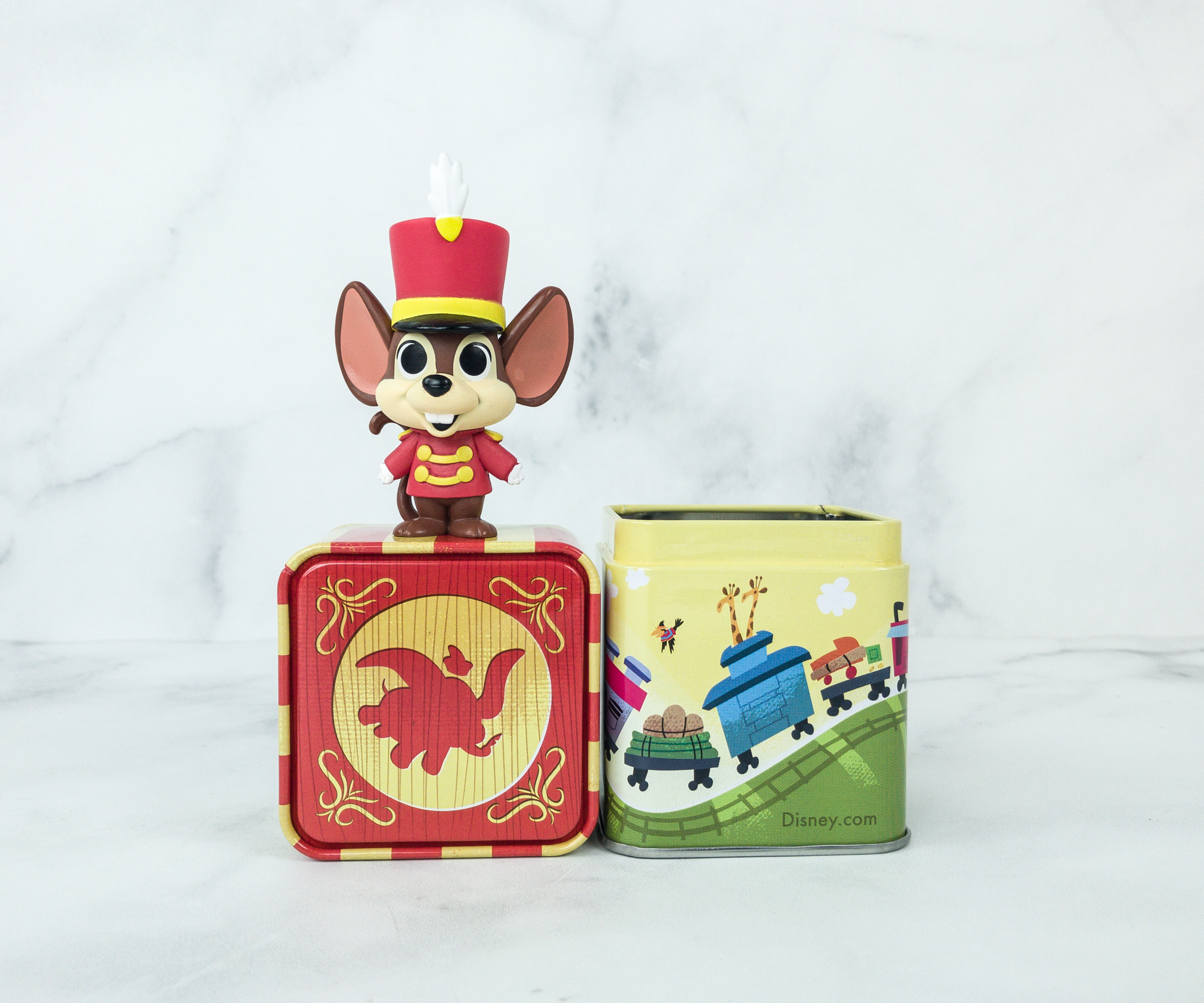 Inside the tin is another surprise! It's Timothy! They went all out in the design of the tin. It can be a good display too or container for your extra Disney pins and trinkets.
The resemblance is perfect. He's always been a true friend to Dumbo and always cheers him up. Now, even as a toy, Timothy never fails to make us smile. His character is always full of positivity that it also translates to this toy.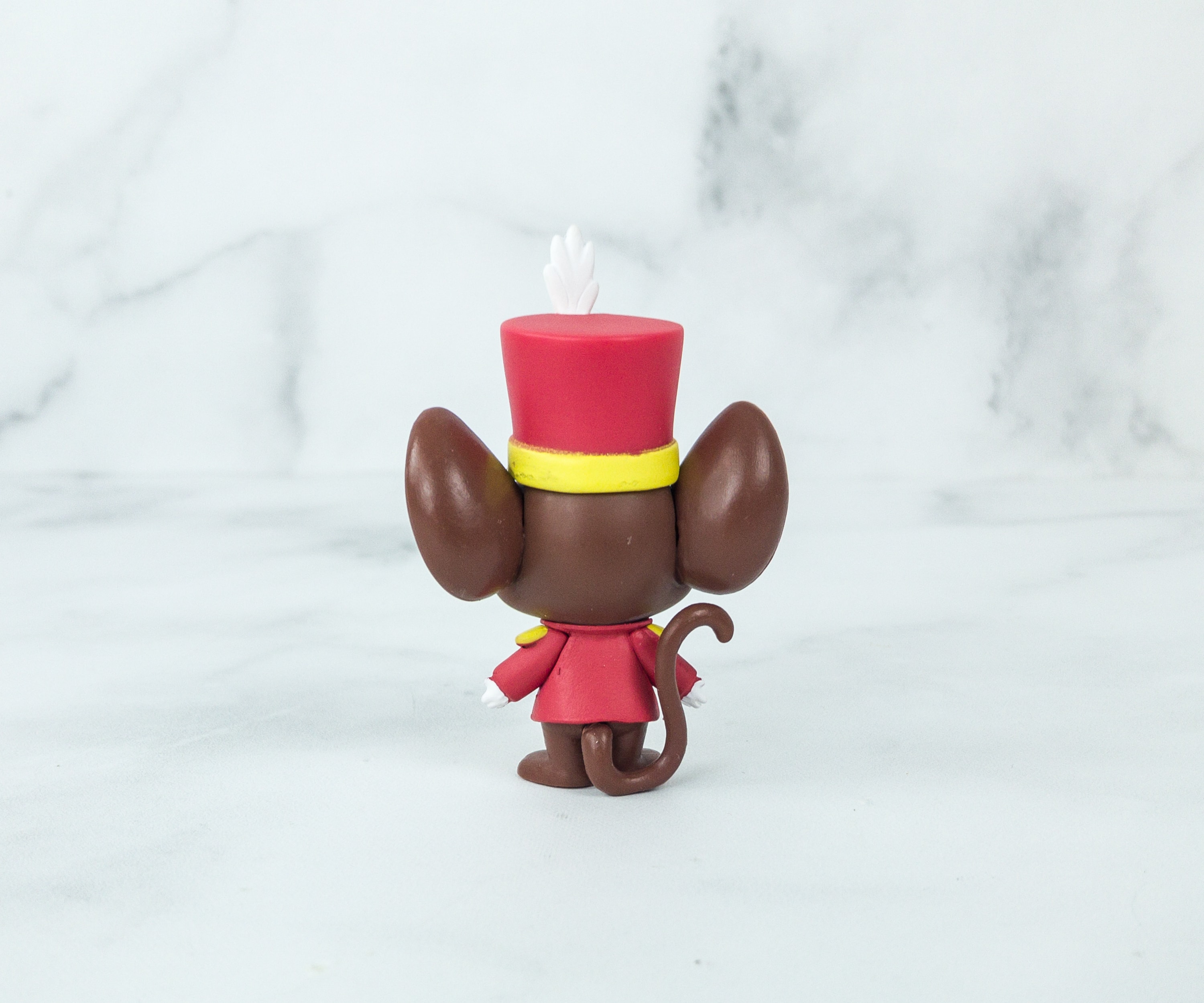 The inviting and welcoming character of Timothy is also seen on this toy's position. The tail looks great too and not stiff at all.
Hot Topic Exclusive Baby Dumbo Vinyl Pop Figure!. The Pop figure almost took up the whole space of the box leaving just enough space for the other items. This is the belle of the box of course and another Hot Topic exclusive!
The box is colorful and circus-themed like the movie.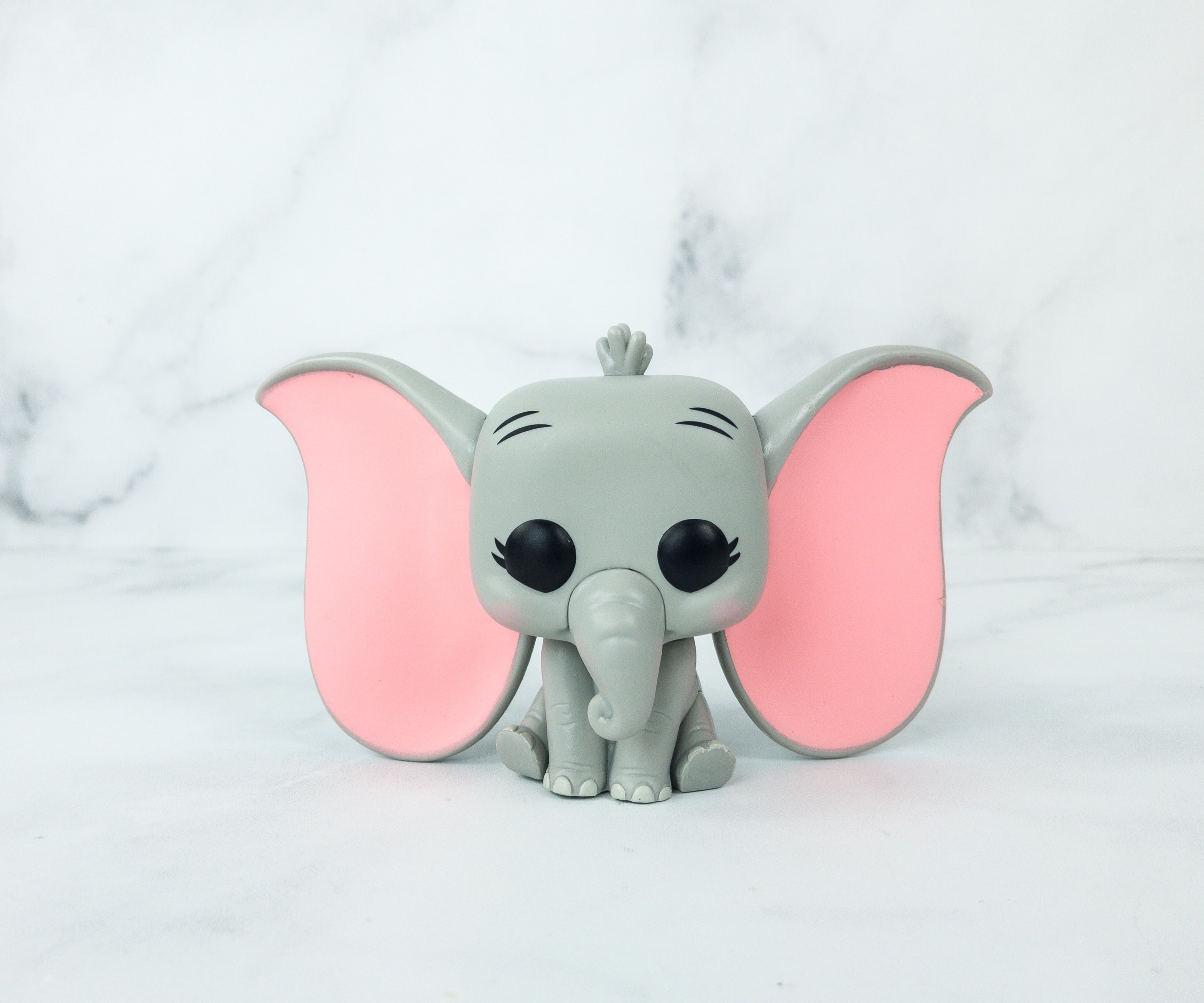 Here's Baby Dumbo Pop figure flaunting its big lovable ears that became its curse and redemption in the movie.
Look at that cute little tail at the back!
This toy is just the perfect display. Now I can't wait to see the live action movie. I think Dumbo's story is still very relevant today.
This is a good way to start a year! They gave us a variety of Dumbo figures that referenced different scenes from the cartoon and the upcoming live action movie. My favorite besides the Pop figure is the Dumbo Clown keychain because of its rarity and detailing. I thought Dumbo couldn't be any cuter until I saw the pin. The pen has good quality and always handy. Timothy and the tin are good collectibles for display. Dumbo as the pull tab on the coin purse is perfect because the peanut itself would've been confusing. II love that Disney Treasures is always thinking of ways to explore and surprise us. That being said, having a second Dumbo from Disney Treasures seemed like a bit of an odd choice – he was also in the June 2017 Disney Treasures box!
FYI – See previous pre-Hot Topic boxes (including the previous box with Dumbo) in the Funko past collectible boxes section. Get 10% off your Funko Purchase with coupon code SHOP10 at Funko!
What did you think of this month's Disney Treasures box?