Charm With Me Club is a monthly subscription box that brings the most amazing fandom charms! With your first month, you'll be sent a starter bracelet, and then you can build your own bracelet with themed fandom charms that fit on Pandora bracelets each month. The subscription costs $19.99 per month and ships in a cute little mailer box.
Note: once you're a member you'll need to watch for the theme announcements. If you don't like the theme you can switch your subscription to "surprise me!" Also note – this subscription sells out!
DEAL: Save 10% on your subscription! Use coupon code HELLO10.
This month we could choose between Buffy and Snow White! They sent an email for us to select which one we wanted however if someone signed up with your link you and your friend were both sent both collections!
Let's start with Snow White. With this theme, we got two charms.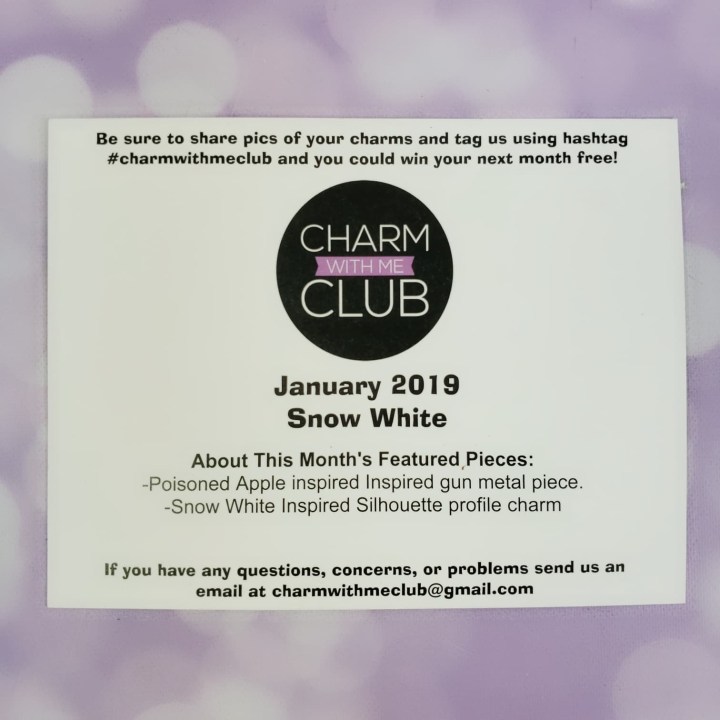 The back of the theme card gives info on the included charms.
First up is a Poisoned Apple-inspired gunmetal piece. I'm loving the look of this one. It isn't just what I normally think of as a red apple with some green on it but the gunmetal skeleton over the top really makes the whole piece pop.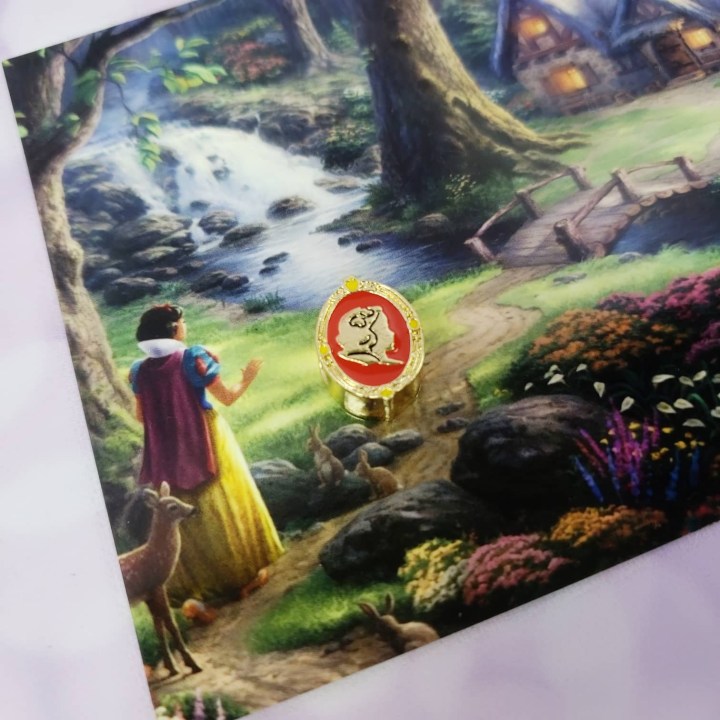 Next up is a Snow White inspired Silhouette profile charm. This is a standard Charm with me Club charm that they send with many of the princesses and I love the consistency. The all coordinate and go so great together. It really shows the princess and is a great representation to create a full bracelet.
The second theme this month is Buffy! With this theme, we also got two charms.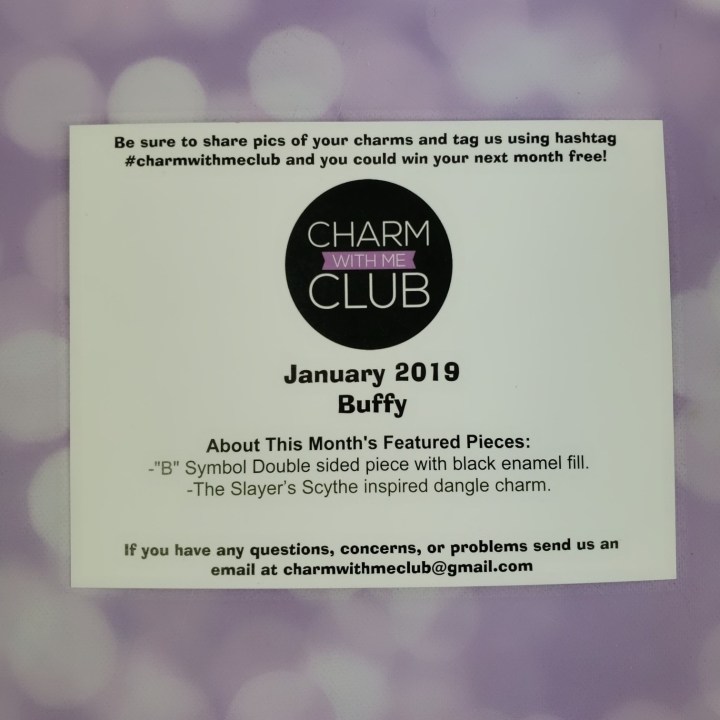 Again the back of the theme card has the information on the charms.
The first charm is the "B" symbol on this double-sided piece with black enamel fill. I'm a HUGE Buffy fan and I couldn't be more excited for these charms. Oh my, did Charm with me Club not disappoint.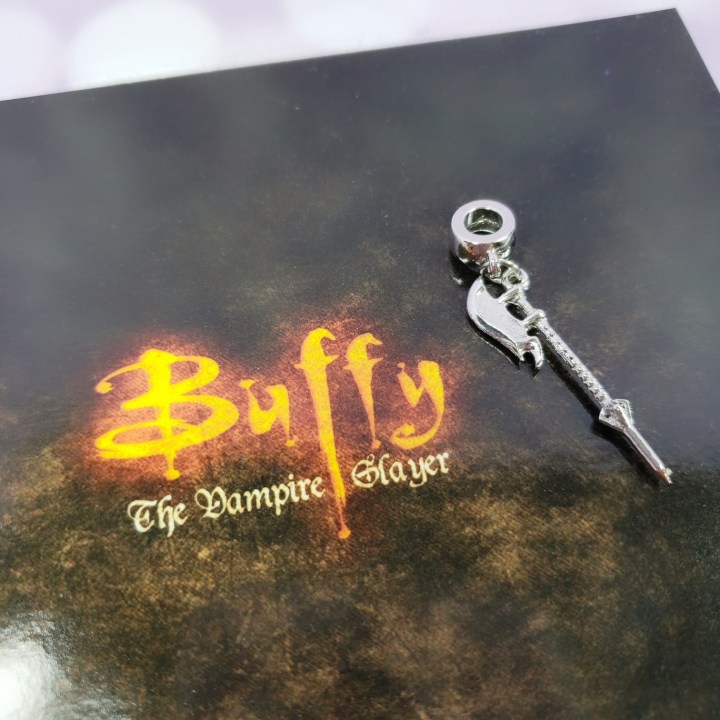 The second charm is the Slayer's Scythe inspired dangle charm. I love a good dangle charm and to add it to my Buffy collection is freakin' fantastic. The details are amazing and I can't wait to share this with my friends and show them how awesome it is
Another Amazing Charm With Me Club box this month. The two themes are so spot on for me and I'm glad I did not have to choose between them. When she announced Buffy I was so excited and they didn't disappoint. I'm pretty sure you could do months and months of Buffy and I would still be so excited each time and jump to open my box. The charms are always so well inspired and created and fit my bracelet perfectly.
After the subscription has shipped, you can go on their site and normally order the beads themselves. However, the monthly sets go for about $29.99, so getting the subscription is the better deal. You can always go and check out the past months and see if there are any that you missed and want to add to your collection.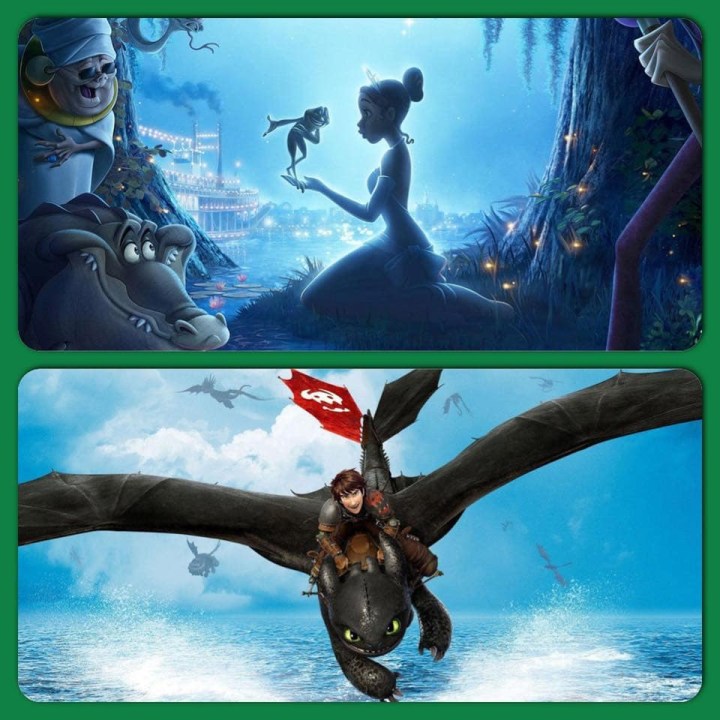 There is another double theme for February! you get to choose between the Princess and the Frog and How to Train your Dragon. And again if you refer someone new to the subscription both of you gets both themes. They make it so hard to choose between the themes!
What did you think of the Charm With Me Club charms this month? Are you a fan? What fandoms would you like them to feature? Are you still obsessed with Buffy too?