Blue Bottle Coffee is a whole-bean coffee subscription with multiple options to suit your coffee needs. Generally, you'll get 12 oz of beans every other week for $17, or double your bag for an extra $11. They also offer half bag and triple bag subscriptions. The prices vary by a dollar or so depending on your coffee selections.
DEAL: Get a free trial when you use this link, no coupon code needed!
Subscribers can choose from among Origins, Blend, Espresso, or one of the 8 specialty subscriptions available, as well as change the frequency and amount of coffee to be received in each shipment.
Each pack is produced from high-quality beans – it's just a matter of what your taste preference is.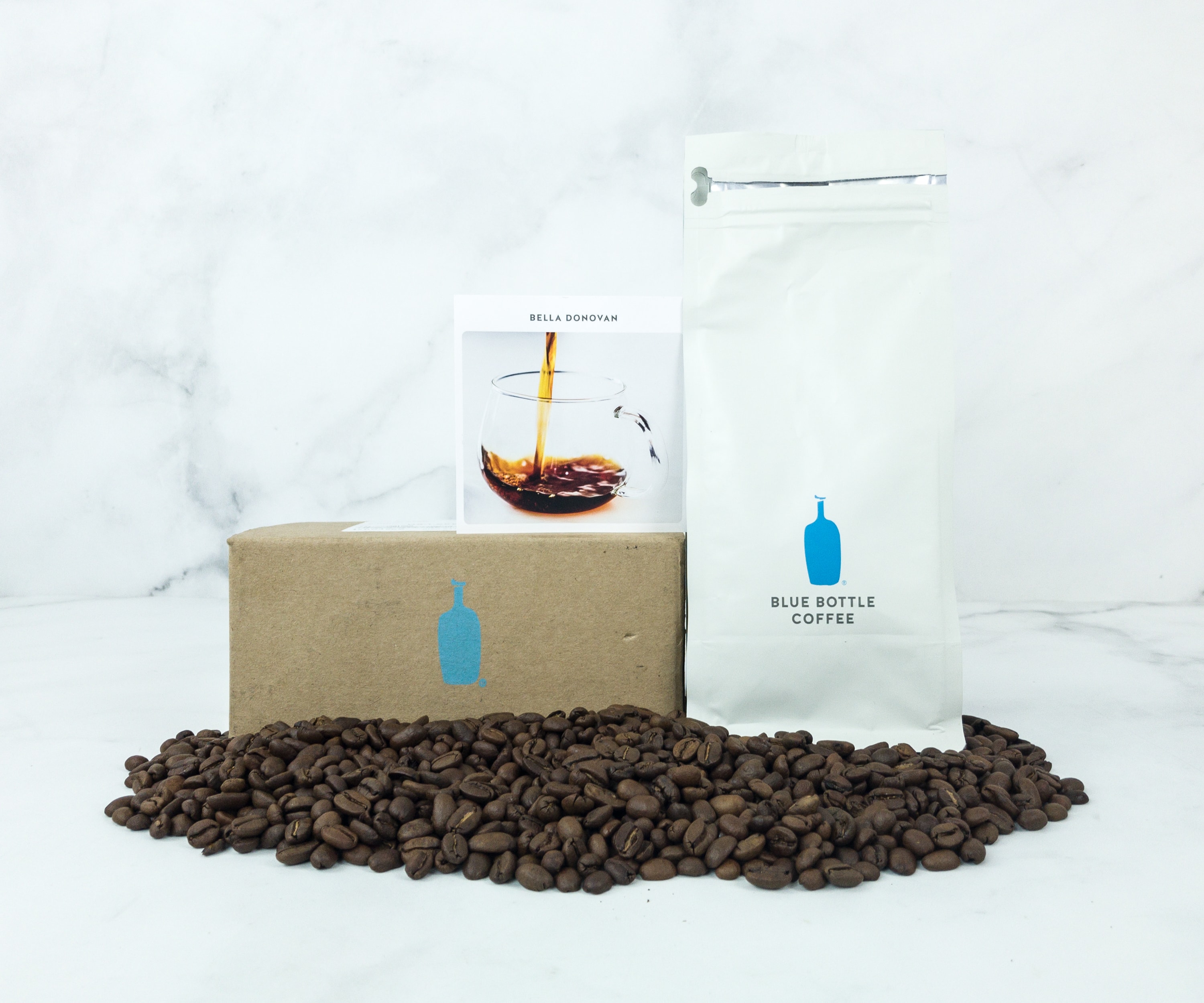 Everything in my February 2019 box!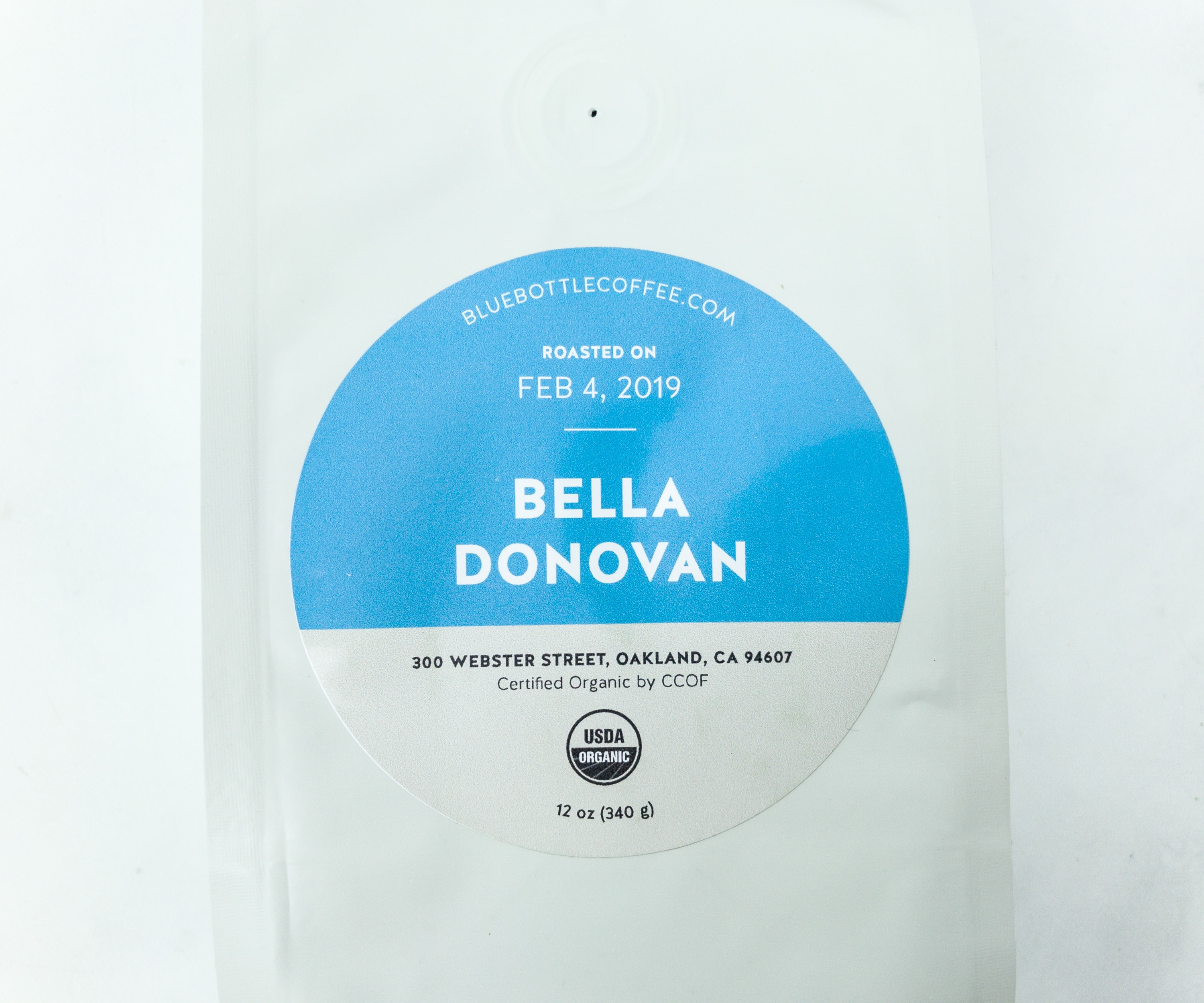 As always, this month's blue bottle coffee comes in a simple white packaging with blue bottle label. Included in the label is the name of the featured coffee and the date the beans were roasted.
All Blue Bottle Coffee comes in a resealable packaging, so you can maintain the freshness of the coffee beans for a long time, even without transferring them to another container.
Included also inside the box is a card containing a picture of this month's featured coffee.
Blue Bottle Coffee's notes do a great job of laying out the growing conditions and peculiarities of each coffee. More than any other coffee subscription, Blue Bottle tries to capture the feel and essence of its coffees rather than declaring flavor notes with absolute authority, but they do give you a good place to start. The tasting notes are usually dialed in pretty well.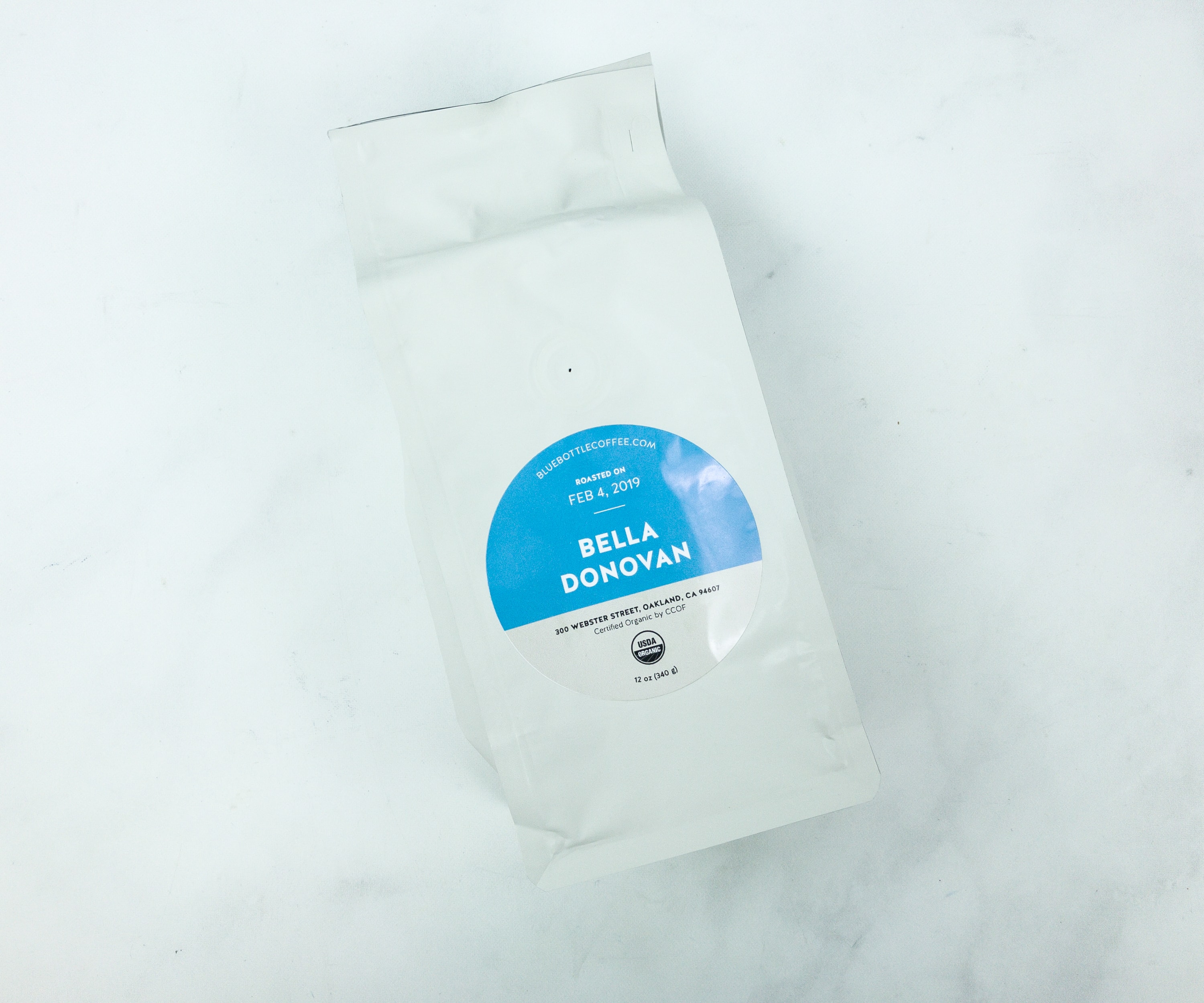 Bella Donovan Blend. This month's featured coffee is one of Blue Bottle's flagship blends, Bella Donovan. Though they mix up the specific coffees that go into the blend depending on the season and the character of the current year's coffee crops, it typically combines the earthy tones of a Sumatran bean with the bright fruitiness of an Ethiopian.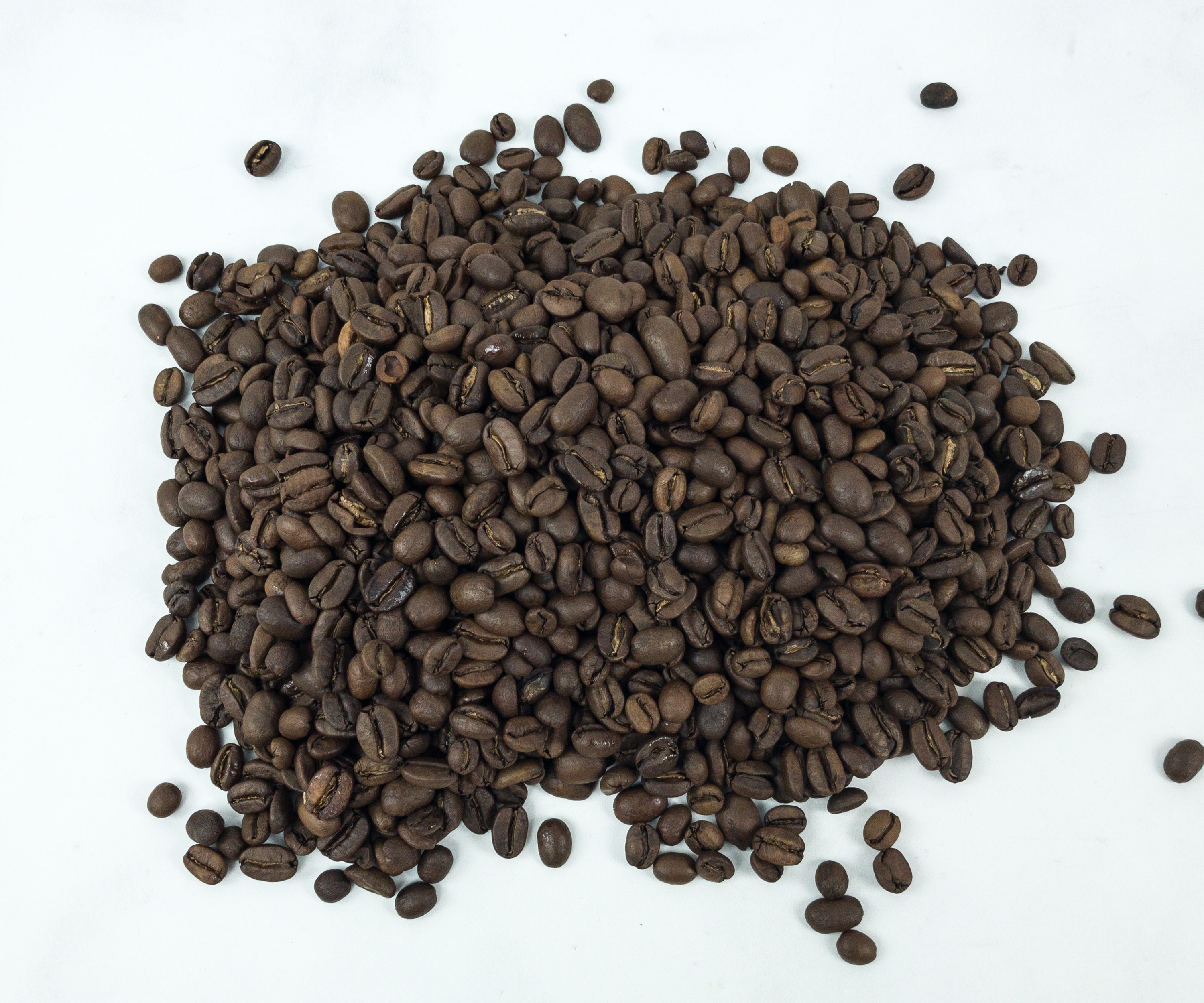 The roast on this blend is just past medium, with the beans showing the slightest bit of glossiness.
You can see a bit of heterogeneity in the size, shape, and color of the beans. I love getting whole beans, because they seem to keep their flavor better than pre-ground, and you can grind on-demand to suit your tastes — with the proper grind, this blend is good for all brew methods — pour over, French press, coffee maker, AeroPress, Chemex, espresso, cold brew, etc. I use an adjustable electric burr grinder, and then I make my coffee Americano style with an Aeropress.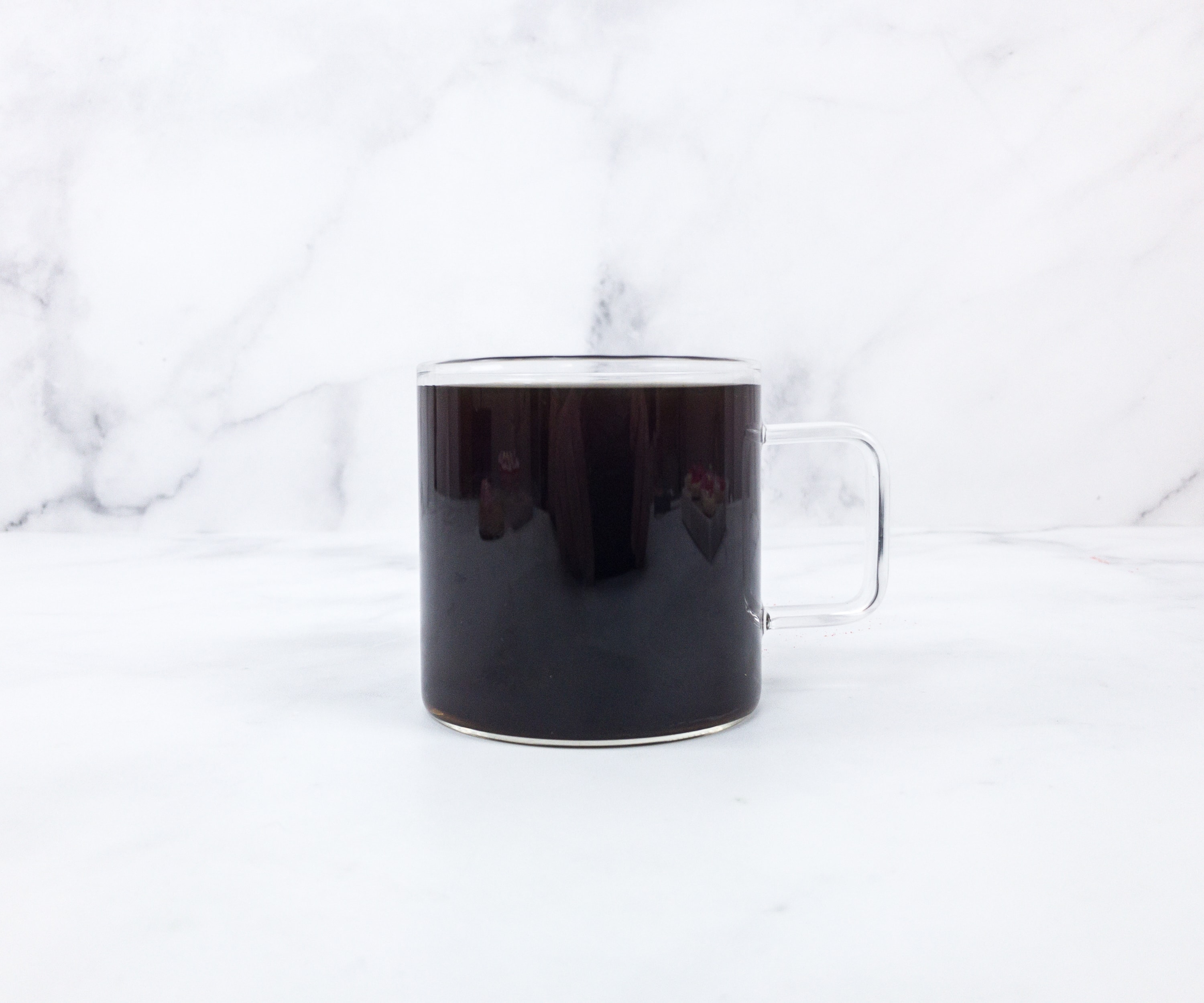 This blend brews up very dark, with a bit of a mahogany tone. It puts out a nice warm, almost peaty aroma.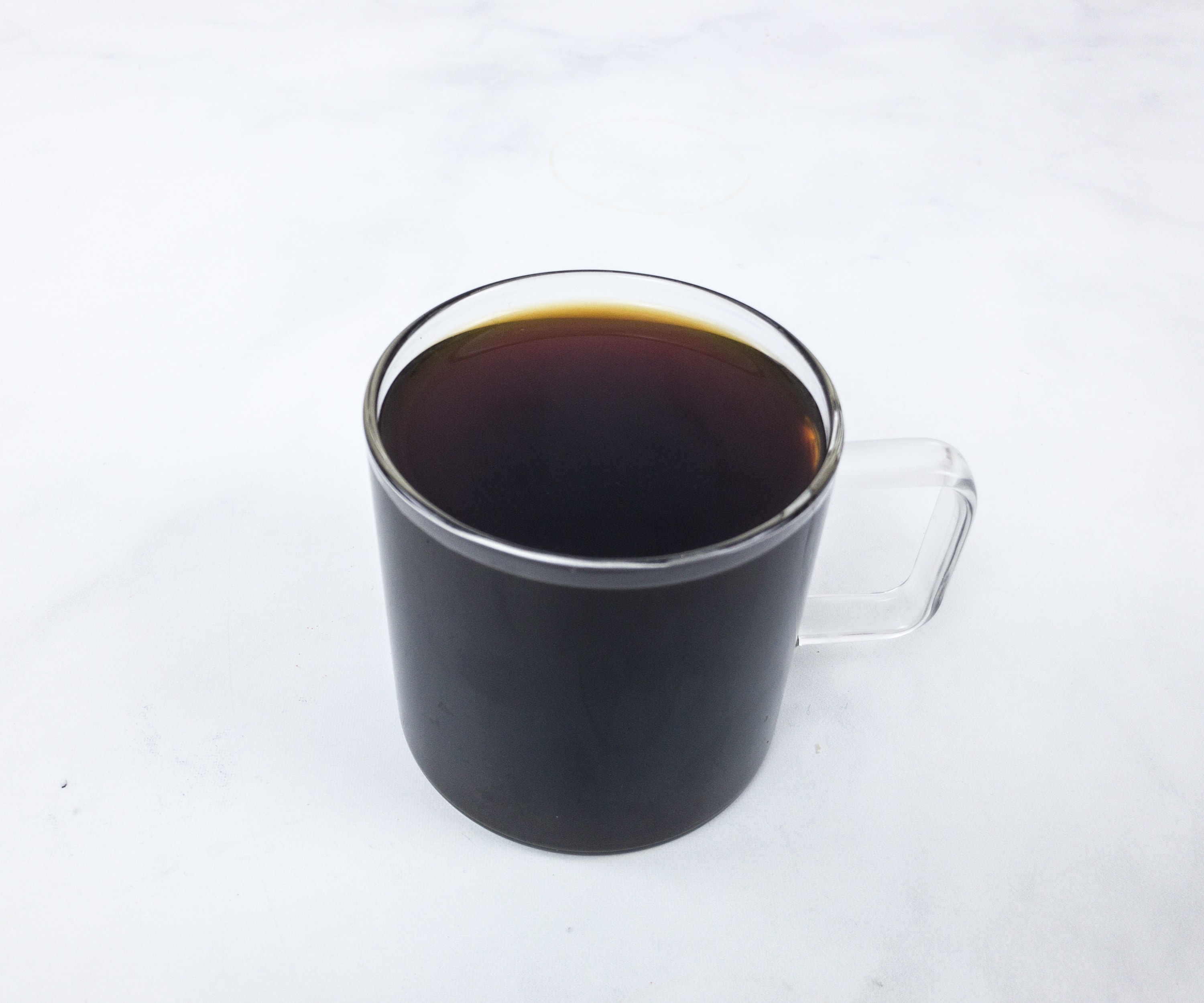 Bella Donovan features a pleasant balance of rich and bright flavors. The base is a smooth milk chocolate — I say milk instead of dark or cocoa, because it has a mellow, earthy quality rather than a dark, powerful chocolate flavor. There is a gentle, caramel-like sweetness and some currant-like accents. It tastes really great, and there is no bitterness or even burnt flavors — just a well-balanced cup of coffee. I use a touch of sweetener in my coffee, but I find this blend to be fine without any lightener.  It's a very pleasant and comforting cup, and it's an ideal all-around coffee. This subscription is definitely the perfect box for a coffee lover like me!
Are you getting Blue Bottle Coffee?