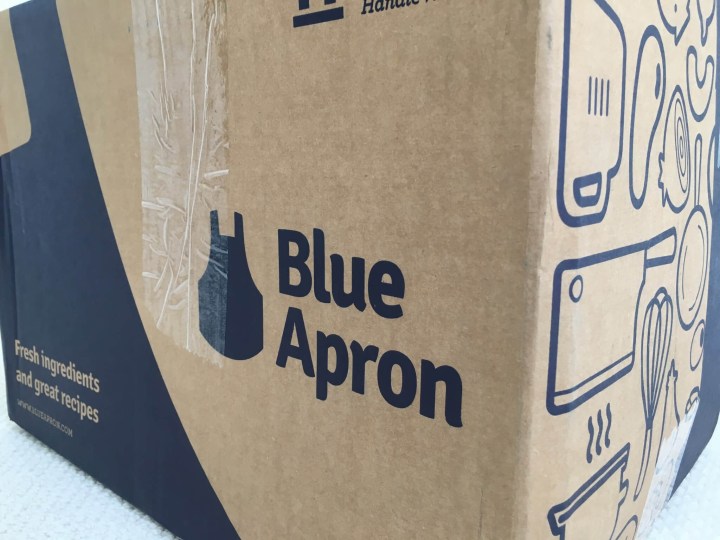 Blue Apron is a subscription box for making great meals at home. If you're like me, you periodically find yourself in a serious cooking rut. You make the same things every week, but the thought of researching a recipe and acquiring all of the ingredients is just too much work. Blue Apron is the solution! Each week, Blue Apron sends you a refrigerated box with all the fresh ingredients you need to make the included recipes. You can select the 2-person plan – 3 meals a week of 2 portions each – or the family plan – 2 to 4 meals a week of 4 portions each. The menus are set, but you can ask Blue Apron to avoid ingredients you don't eat – shellfish and lamb, in my case.
Right now, Blue Apron is partnering with WW (formerly Weight Watchers) to provide WW Freestyle meals for you to cook at home.  This is a great way for people watching their diets to know they're eating well.  Even if you aren't a WW-adherent, these are healthy, fresh meals that you can feel good about.  Normally, we get the Family Plan (serves 4), but the WW meals come just with the 2-person plan, so we gave it a whirl this month.
Pricing: 2-Person Plan – $59.94 for 3 recipes. Family Plan (serves 4) – $69.92 for 2 recipes, $139.84 for 4 recipes. 
DEAL: Save $50 over your first two boxes! Use this link – no coupon code required!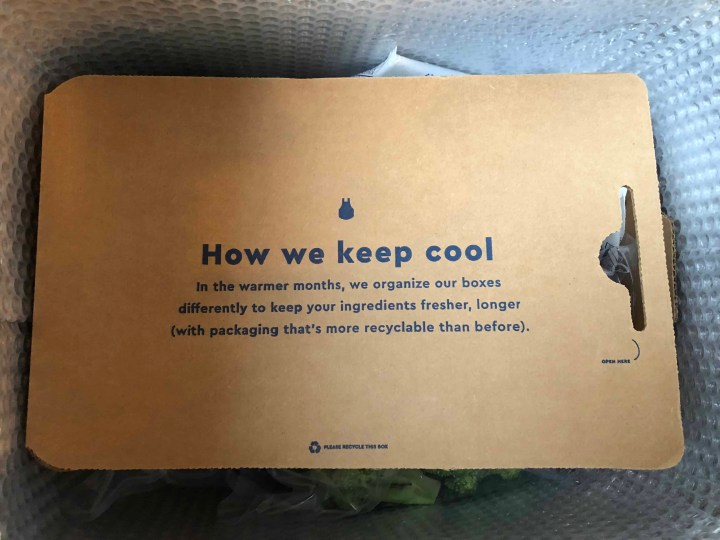 The meat is at the bottom, surrounded by still-frozen gel ice packs. The new double-sealed meat packaging is great and keeps errant meat juice out of your box.
Since we have 4 in our family and the WW Freestyle are designed to serve 2, we went a little crazy and made everything at once on a Saturday night.  Obviously, you won't do this, but it was kind of fun!  The two meals we'll feature here are the Seared Salmon with Zucchini, Date, and Pepper Farro and the Vadouvan-Spiced Chicken and Kale Salad with Creamy Lime Dressing.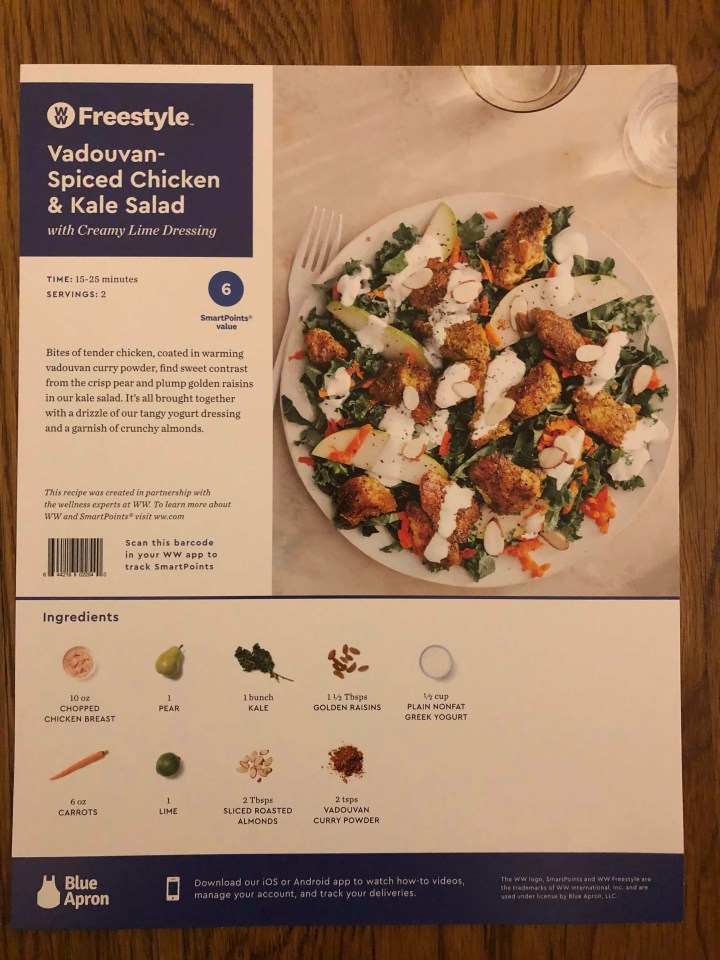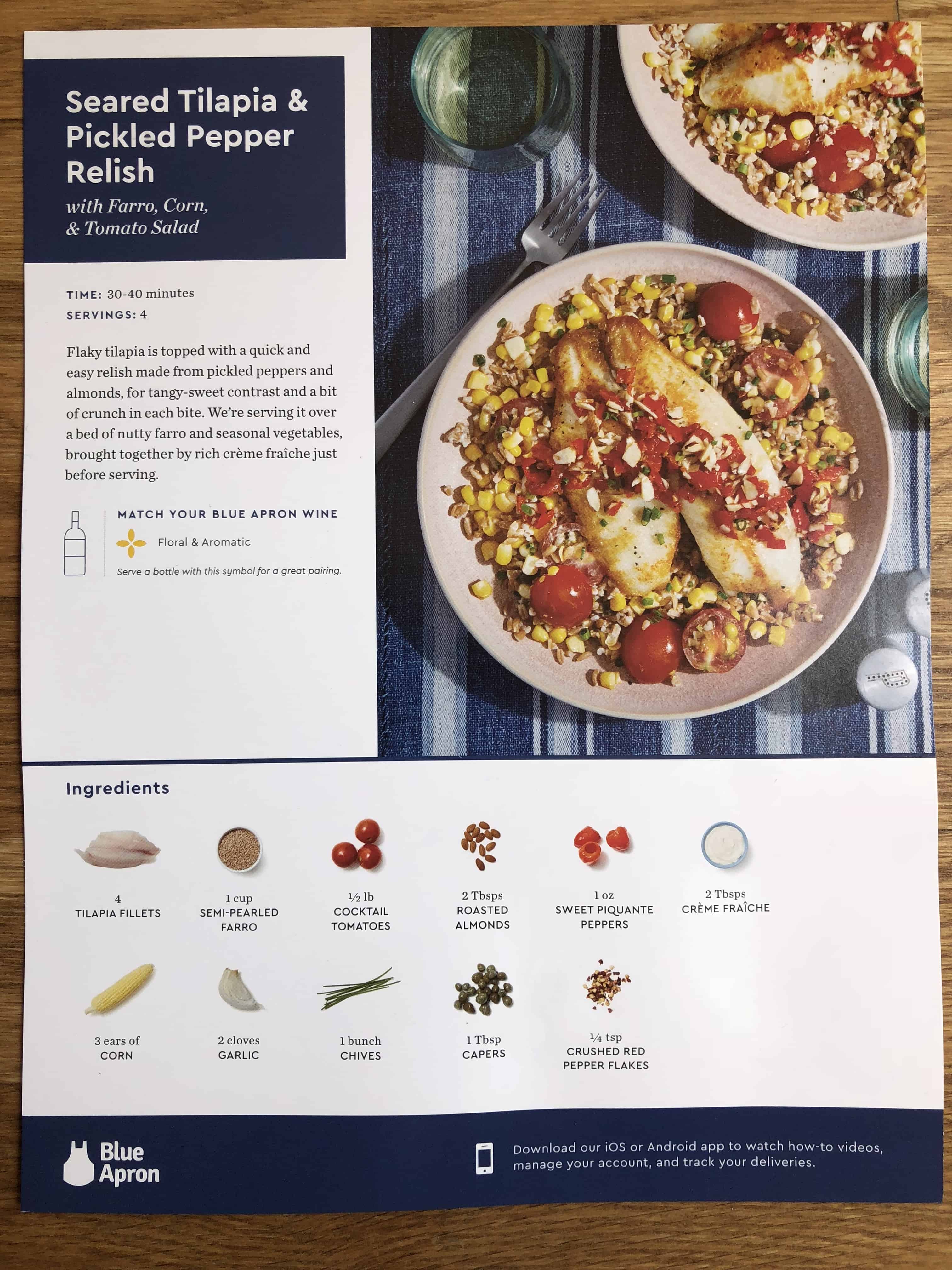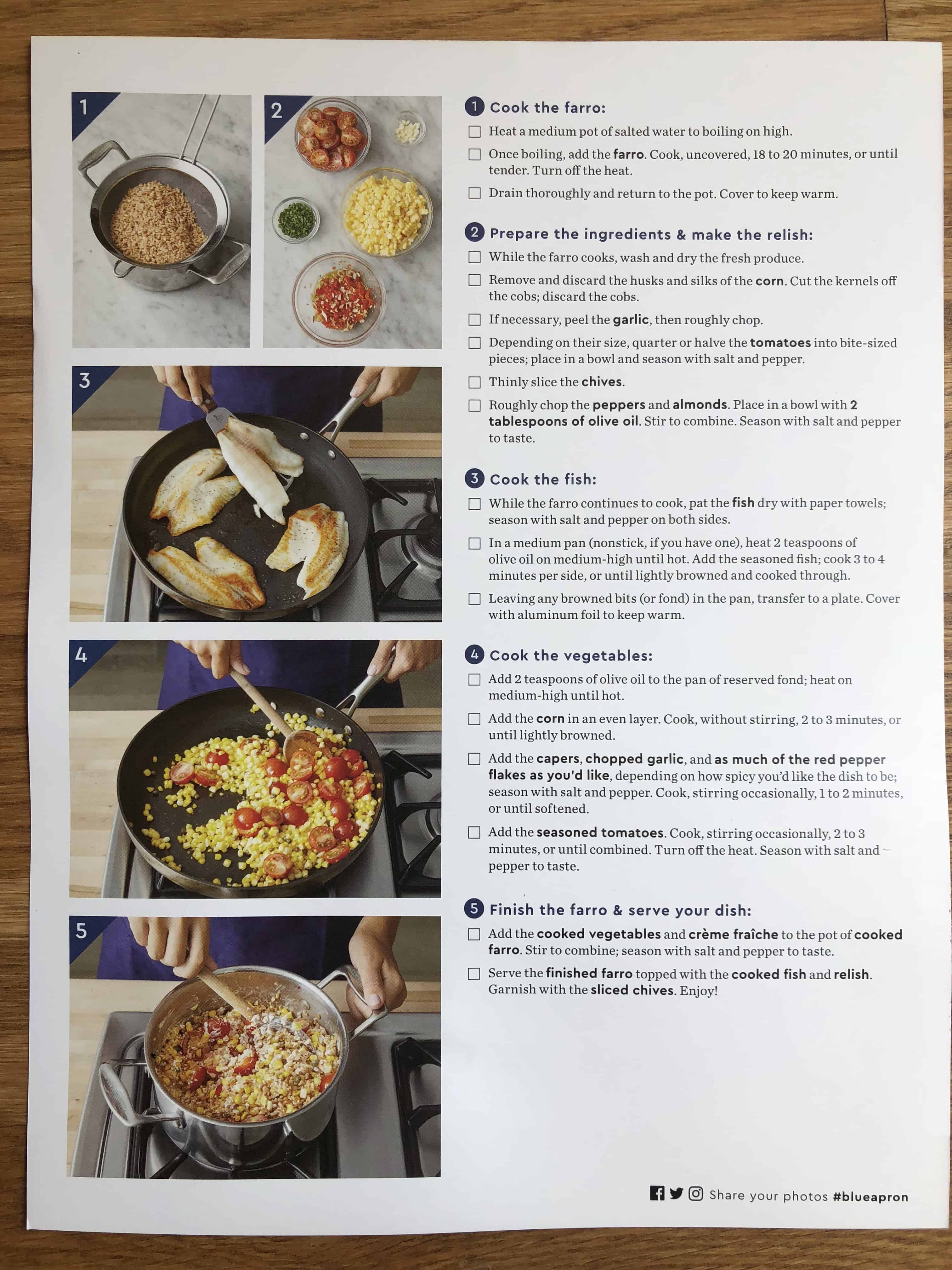 As usual, all of the ingredients were included. The produce was all in great shape.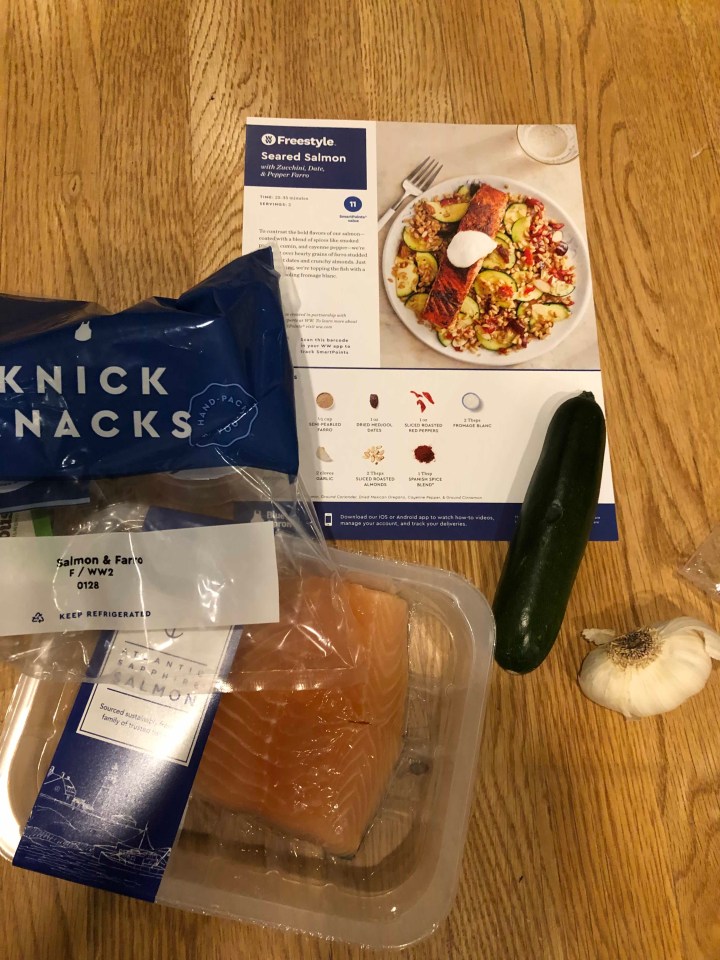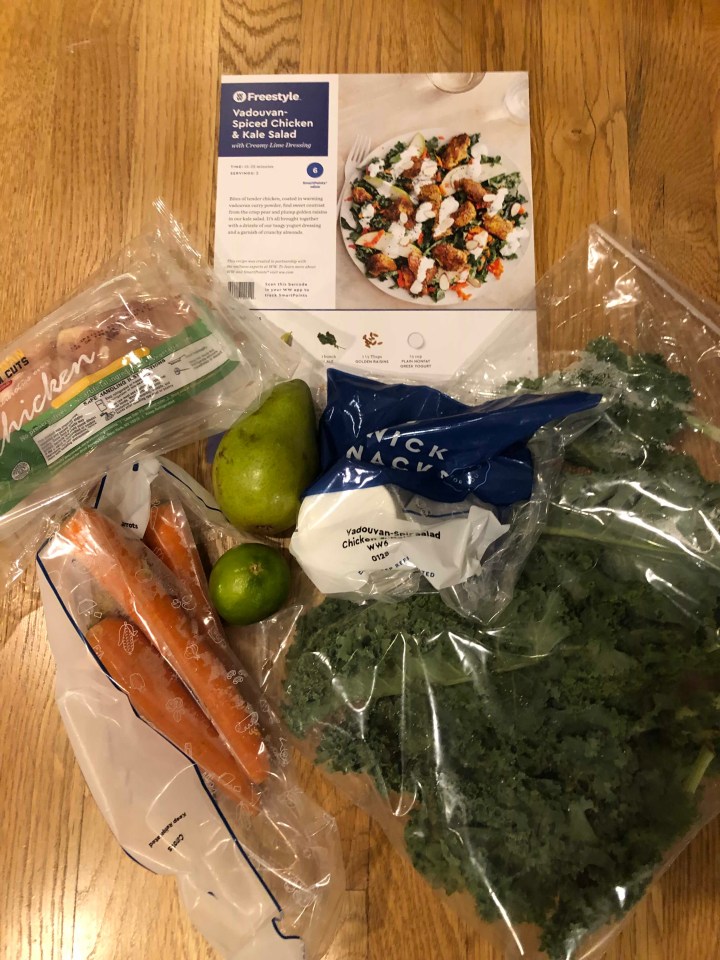 So much kale. Loyal readers will know it's not really my thing, but it is certainly sturdy, which I suppose is important for mail-order food.
The directions are straightforward. Other than making sure you start the water boiling for the farro, there's nothing complicated here. Farro is so good, by the way. The semi-pearled kind cooks in about 20 minutes unattended.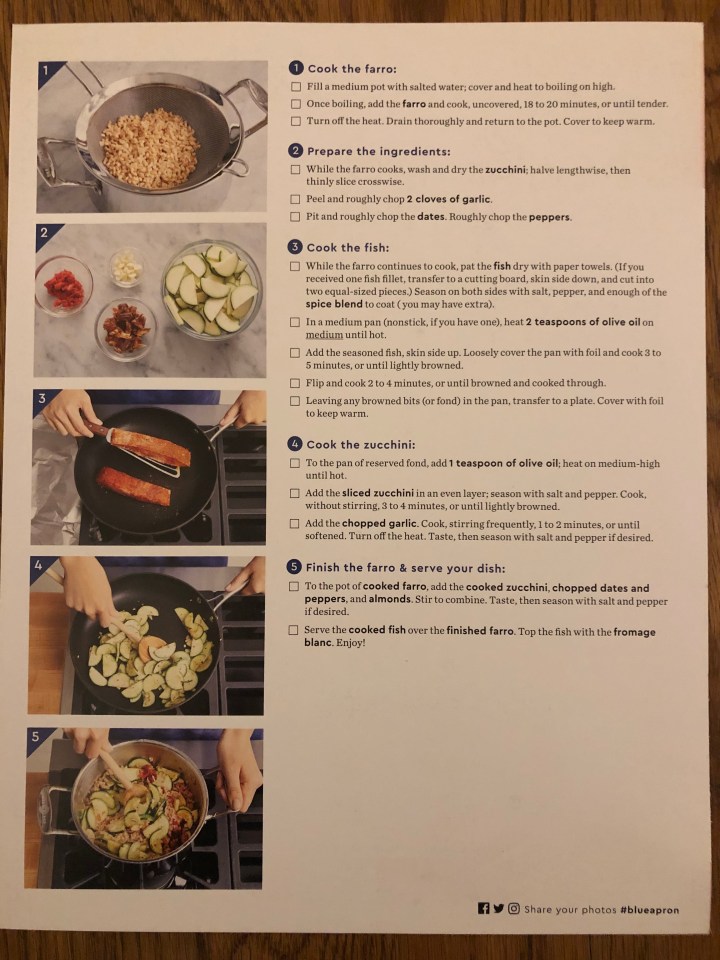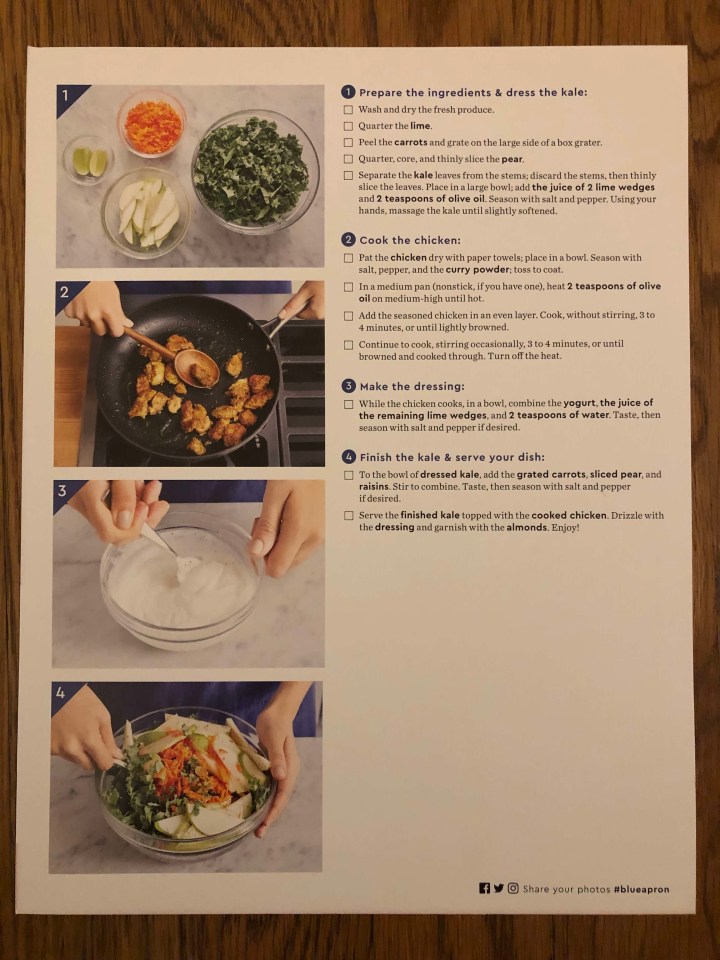 There's a lot of mis-en-place when making two recipes at the same time. And, yes, that's a Blue Apron wine subscription bottle over there.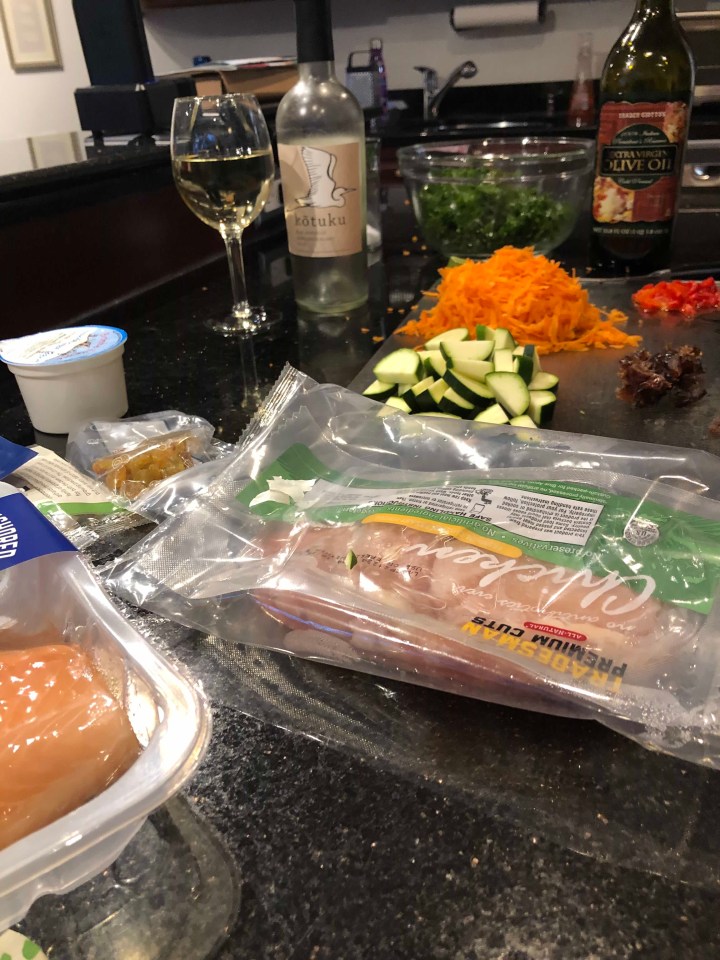 The recipe calls the lime/yogurt dressing to be plain, but I thought it needed a little something. I added a bit of the curry seasoning to it, and also some honey. You wouldn't do that if you're strictly following the WW-Freestyle plan, but I'm not, so I did. Improvisation is the spice of life.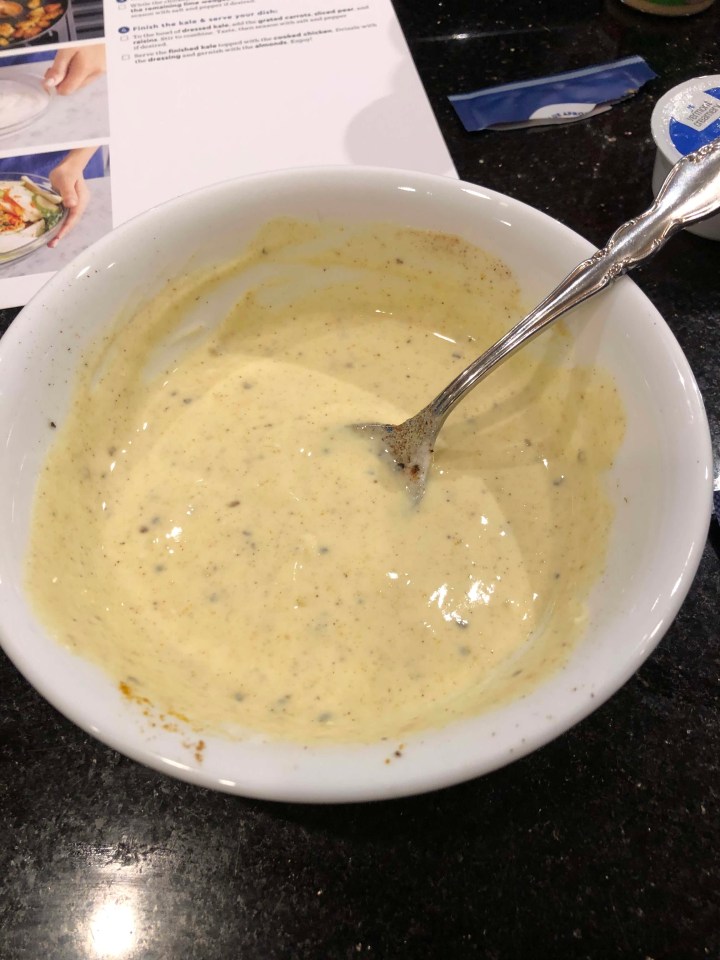 I cooked a lot of things at once! The zucchini can be cooked in the same pan as the fish if you lack space or pans.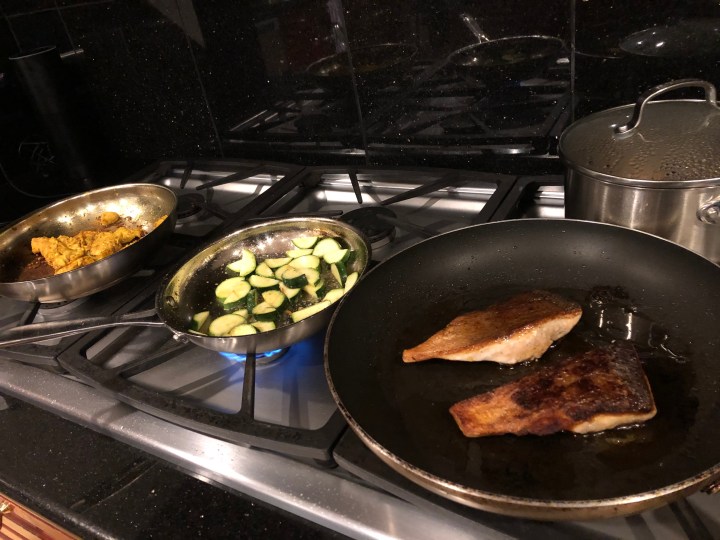 These turned out pretty nicely! The farro was straight-up delicious, and the kale salad was about as tasty as you could hope for in a kale salad! We all liked the flavor of the curry spice packet.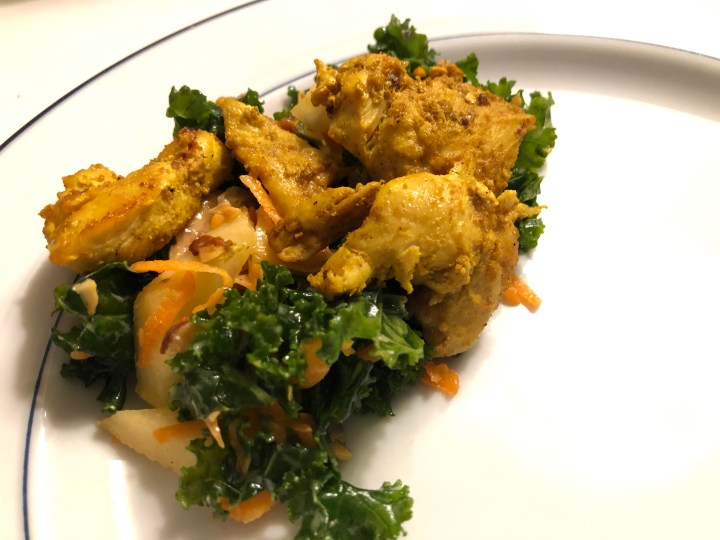 Since we did a buffet of meals, there was plenty leftover for lunch the next day.
Hey, did you know that Blue Apron has a wine program now? It's super easy to match your wine to your meal, like the delicious Sauvignon Blanc we had with our dinner(s).
If you're looking for an easy and fun way to meet your health goals in 2019, you should definitely give the WW Freestyle/Blue Apron meals a try. We can't wait to see what we get next time!
Have you tried the WW Freestyle meals? Let us know in the comments below!