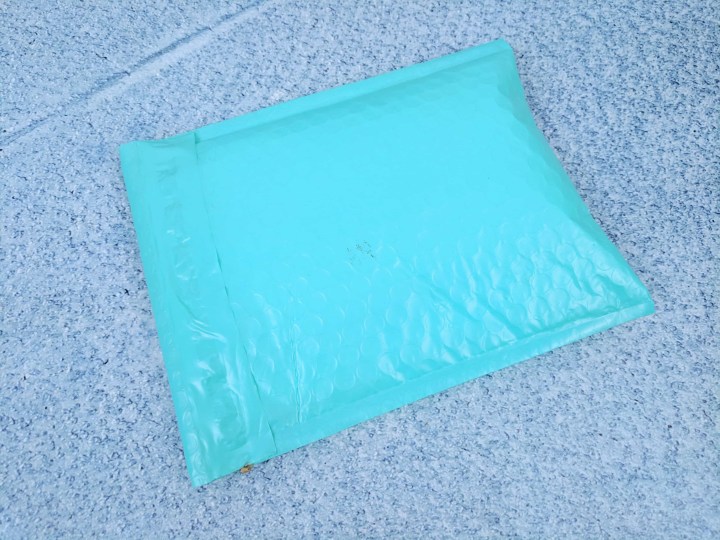 Bargain Bead Box is a monthly bead subscription service. Each month, you'll receive over $40 worth of top-quality jewelry supplies. It can be a mix of loose beads, bead strings, findings, and pendants. You can share your creation on their social media for a chance to win a $25 gift certificate for their sister store Bead Box Bargain. Boxes are $15.95 per month. Shipping is free in the US and $7.50 to Canada. Even if it's technically a subscription box, it comes in a mailer, which is less expensive than a box so they can send more beads! And more beads is more fun!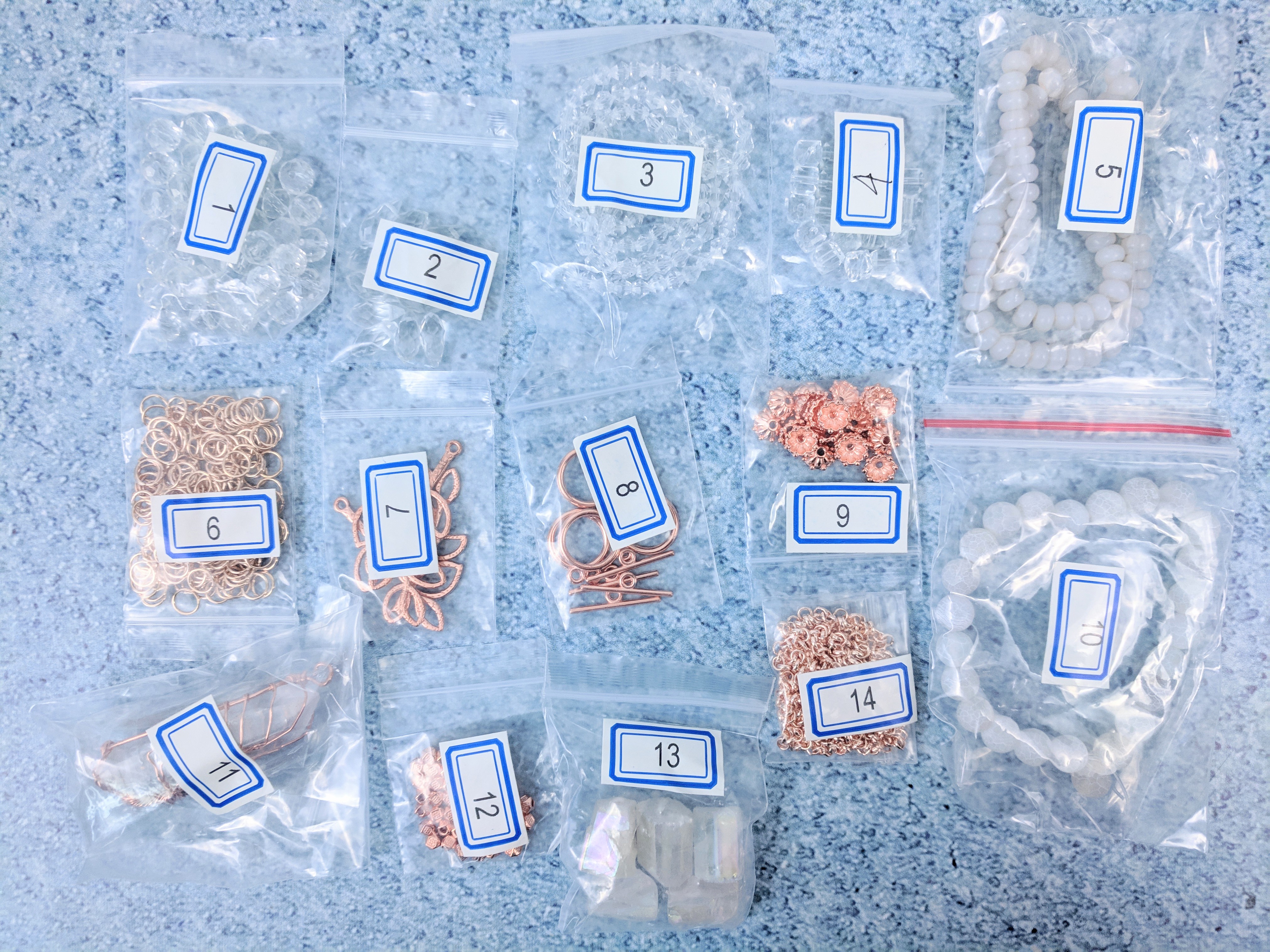 All the beads are packed in well-labeled plastic bags and tucked inside an organza bag.
Each month is curated around a different theme and all the beads and findings are coordinated. This month's theme is Winter Wonderland, with all white beads and rose gold accent. You also receive a discount code to their online store and it's amazing the amount of beads you can get for a very low price! You can also share your design to have a chance to win a $25 gift certificate to their online store.
On the reverse of the introduction letter, we get a description of all the items in this month's box!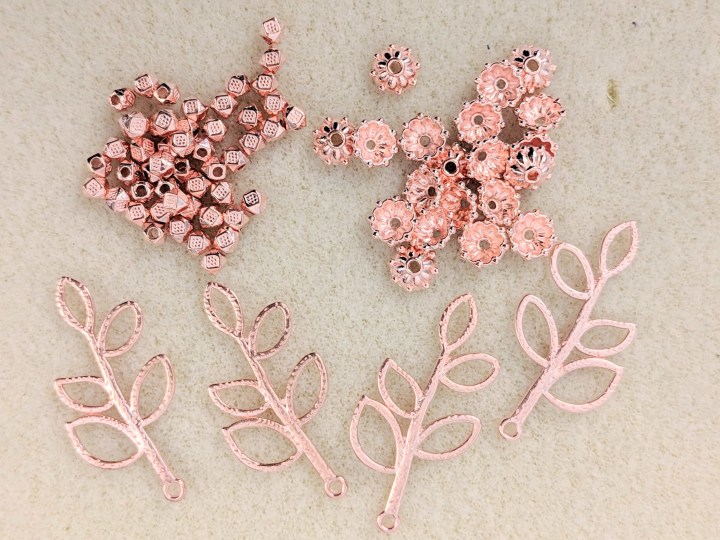 3.5mm tribal-style spacer beads. Every month, we received a couple of staples in the metal color of the month, such as spacer beads. They are great to add texture to a beaded design.
8mm dotted round bead caps. Bead caps are another staple of this box. These are quite round so I think they would work better with round 8-10mm beads instead of rondelles.
38x19mm branch pendant links. I loved the delicate hammered look they have. I use one to make a simple pendant this month, and I wish we would have gotten rose gold ear hooks to make a matching pair of earrings.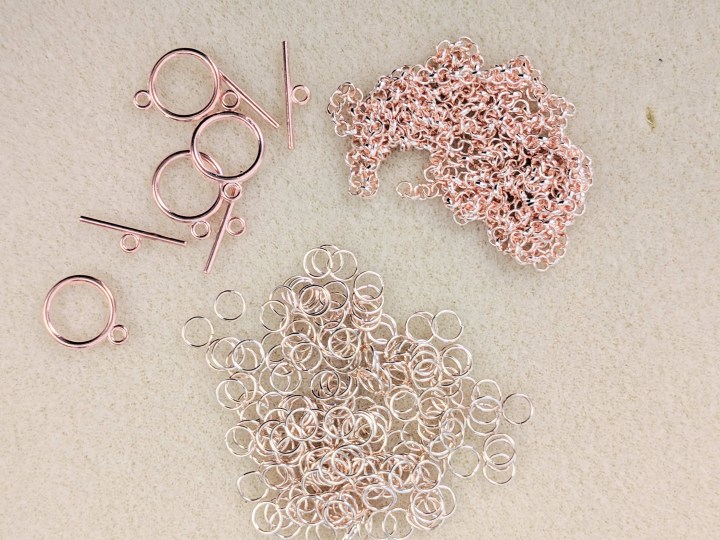 1metre steel rolo jewelry chain. Another staple! Even with a beaded design, chains are always nice to have around to make an extender chain on a bracelet or necklace. I like to mix different type of chains together for a more chunky look. These are quite delicate, so they were perfect for a simple design.
Round Toggle Clasps. A staple in this box. Clasps are a great way to finish up a design, and I like that we get some in every single box so we don't have to run to the store or wait for an online order when you run out of them.
21-gauge 6mm steel jump rings. I love that we get some simple, yet so useful findings in the color of the month as not everyone starts with basic findings in all metal colors! They are not as pink as the other findings, but they work well anyway. They are delicate and easy to open and close.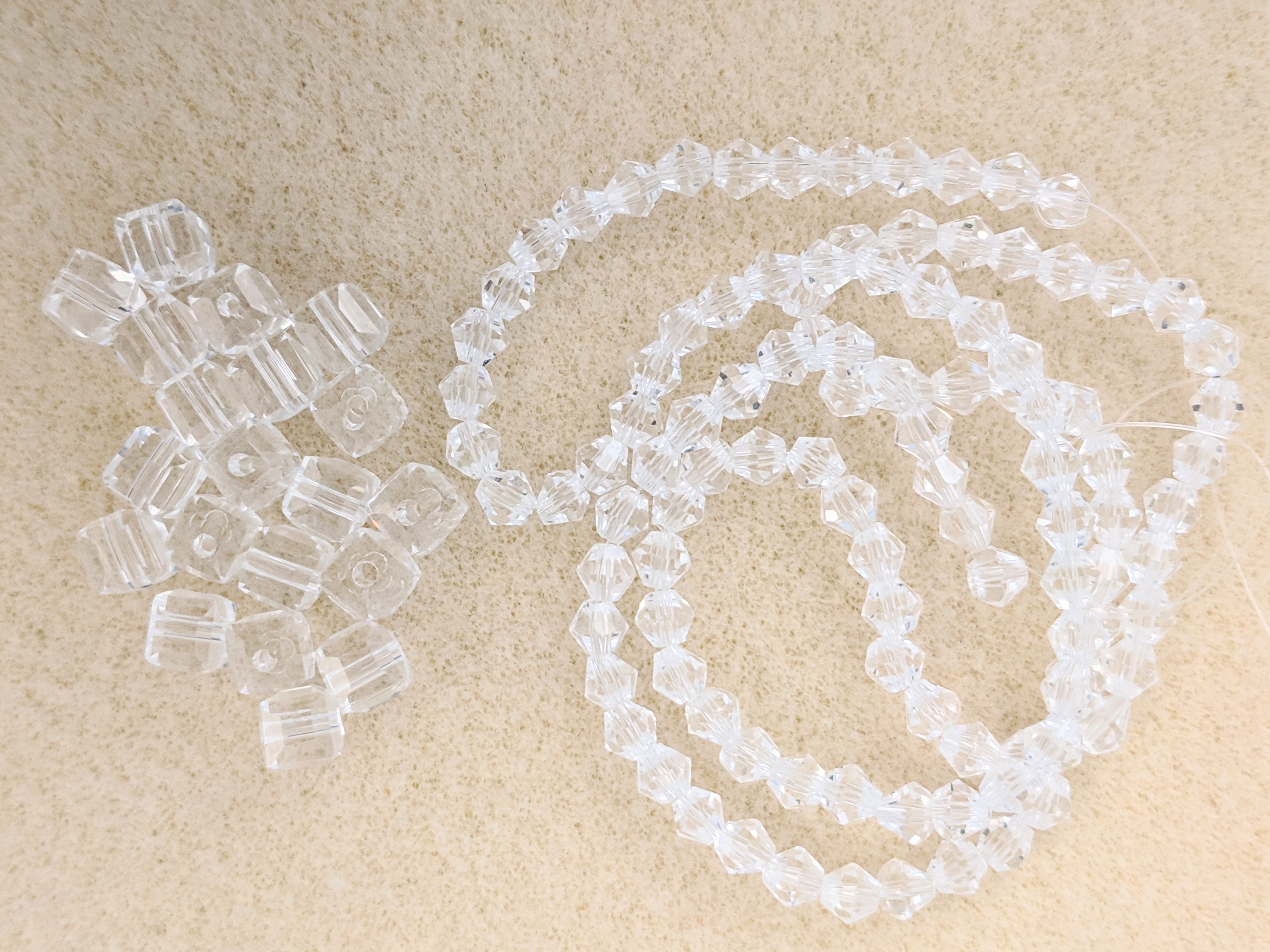 6mm crystal cube beads. Cute little translucent cube, they are lovely stacked on top of each other for some geometric accent.
4mm crystal bicone beads. These are an other staple in this box, we always gets some bicones fitting with the color of the month. They are great to add little sparkly accent to metal or cord design. They are small enough to not be too much when paired with other beads, while perfect by themselves on delicate design.
12x6mm crystal teardrop briolette beads. After some work, I managed to get the jump rings to fit in the holes as I had no rose gold wire or rose gold head pins.
8×6 crystal rondelle beads. Rondelle beads, because they are flatter, look great with bead caps. They are also the perfect size to add accent to design using 6mm or 8mm round beads.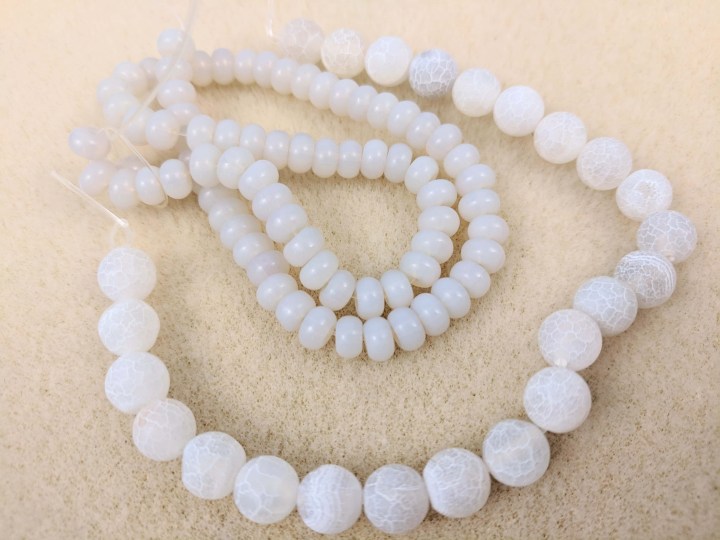 6x4mm sea "opal" glass rondelle beads. These have an interesting soft shine, and as any other rondelles, I really like how they look with bead caps.
8mm matte crackle agate round beads. They have a very nice pattern on them, and they are slightly translucent so you have to be careful of your choice of thread or wire if you want a pure white look.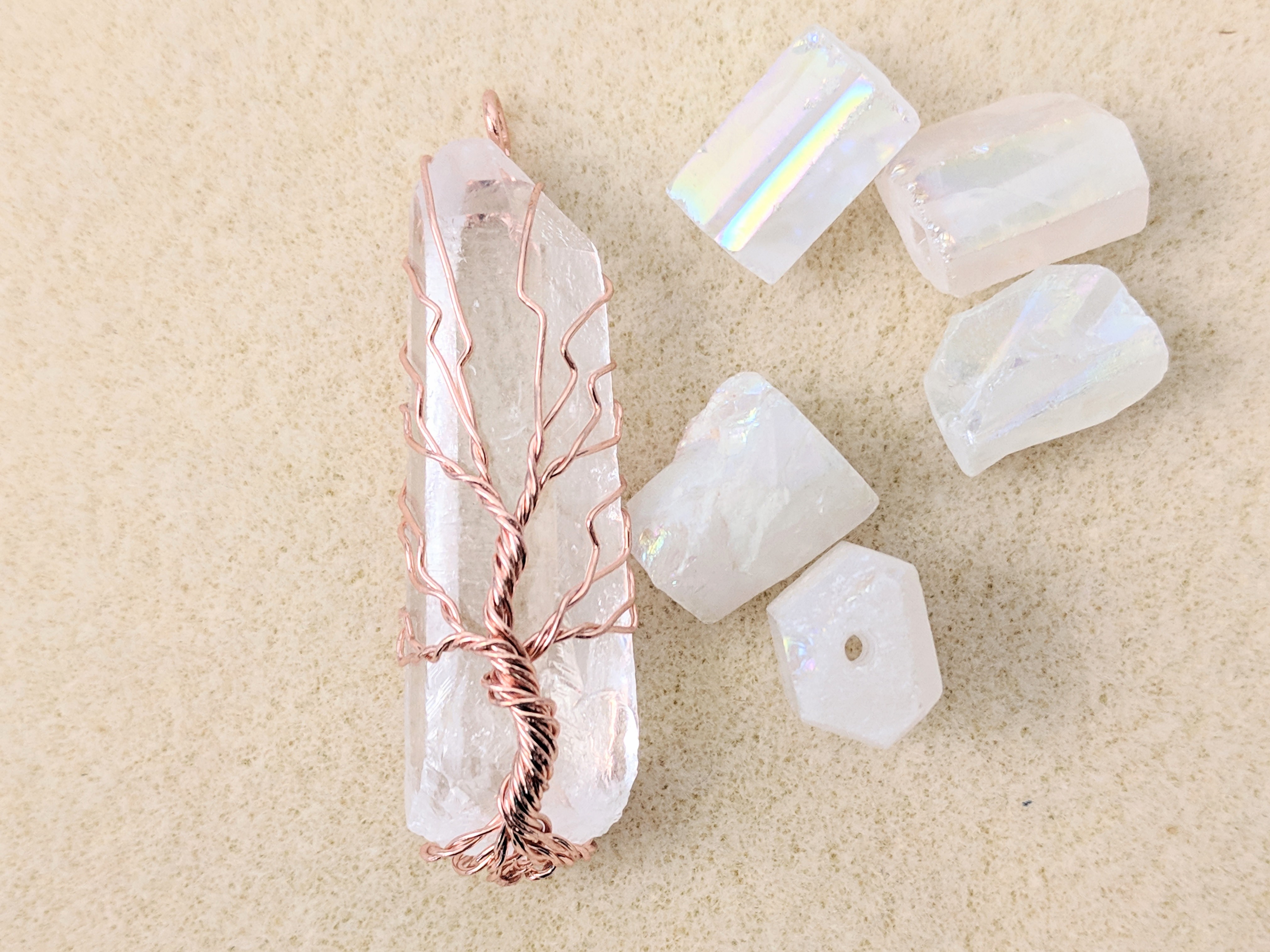 Electroplated natural quartz crystal rough nugget beads. Nice chunks of quartz with some rainbow effect. The hole is big enough to thread cord or even chain.
Hand-wrapped natural quartz crystal tree of life pendant. I love the look of the rose gold wire on top of the crystal point! It would look great on a pink suede cord!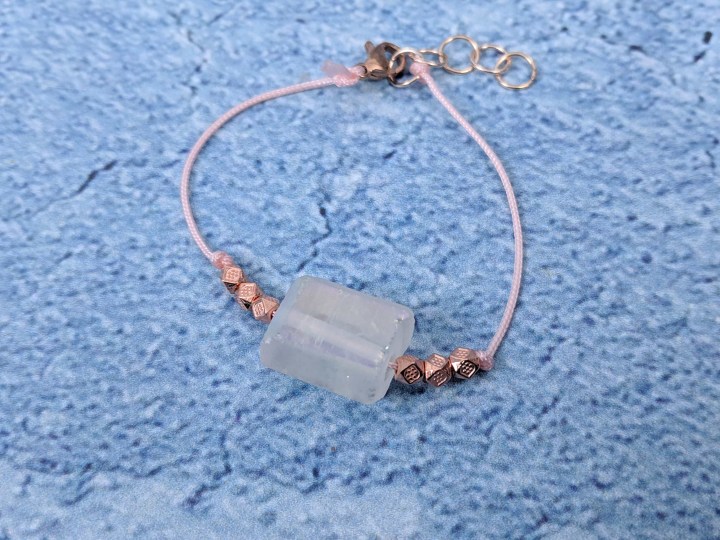 I made a couple of simple design with this month's box, starting with this bracelet featuring one of the electroplated quartz crystal paired with spacer beads.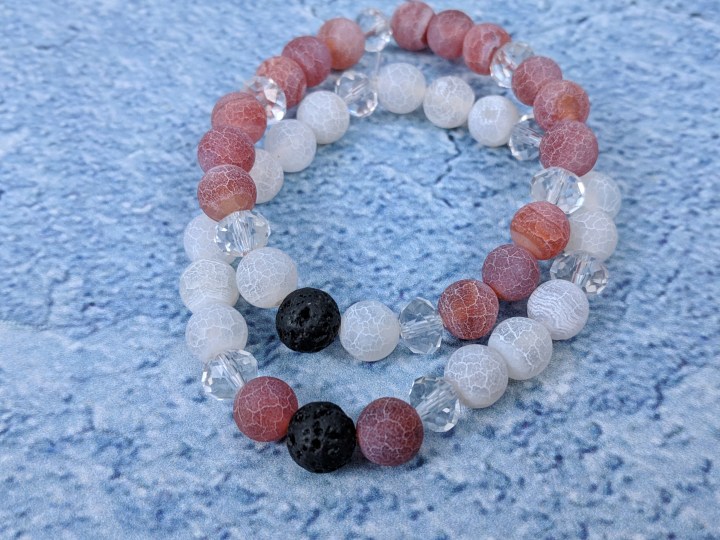 I love bracelet, and the crackle agate round were calling out to me. I made a set with red crackle agate round that we had received in a previous box, with the rondelles and added lava beads.
I like how they look all together.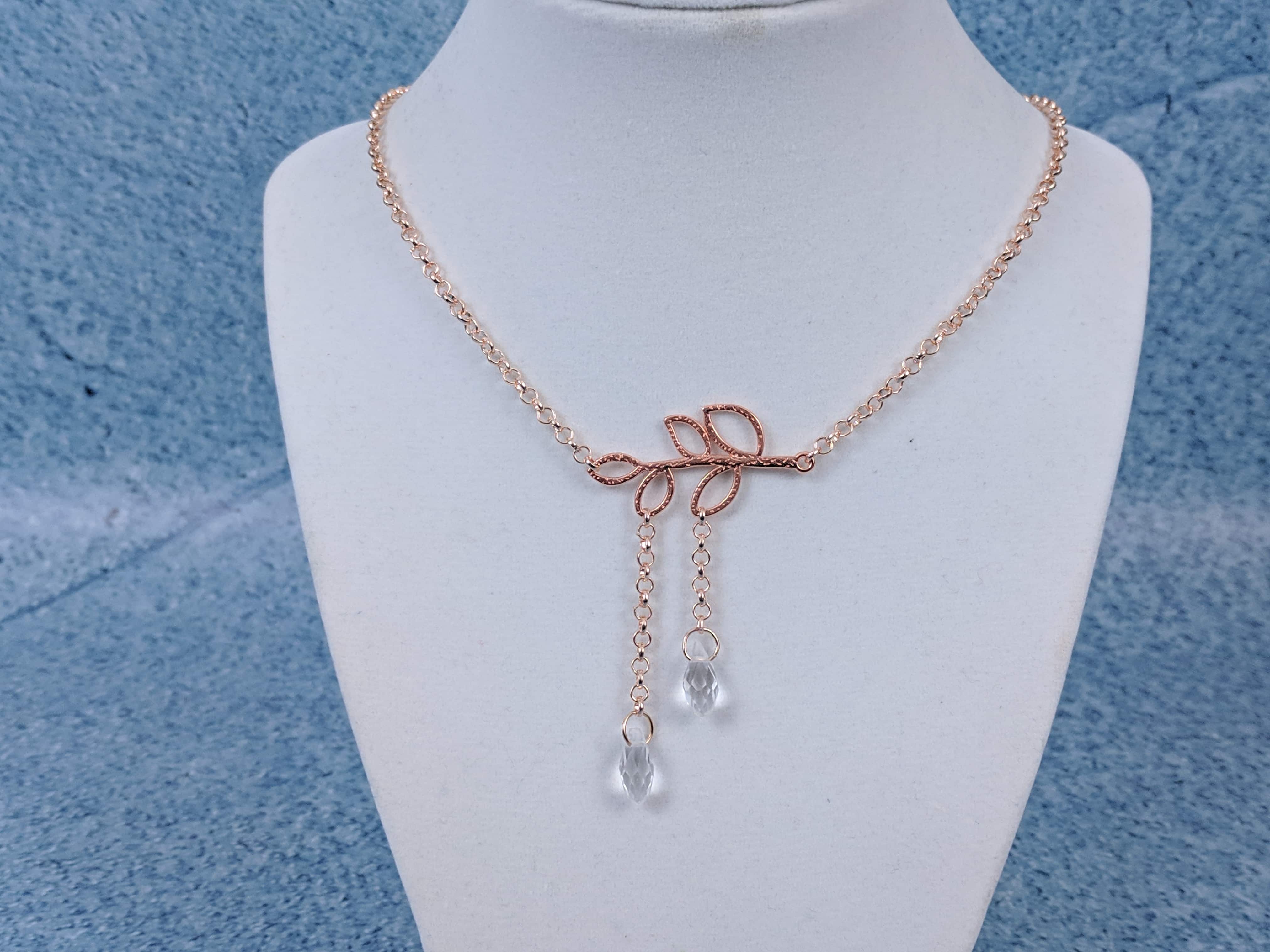 Then I made a necklace with the leaf link and the teardrop briolettes.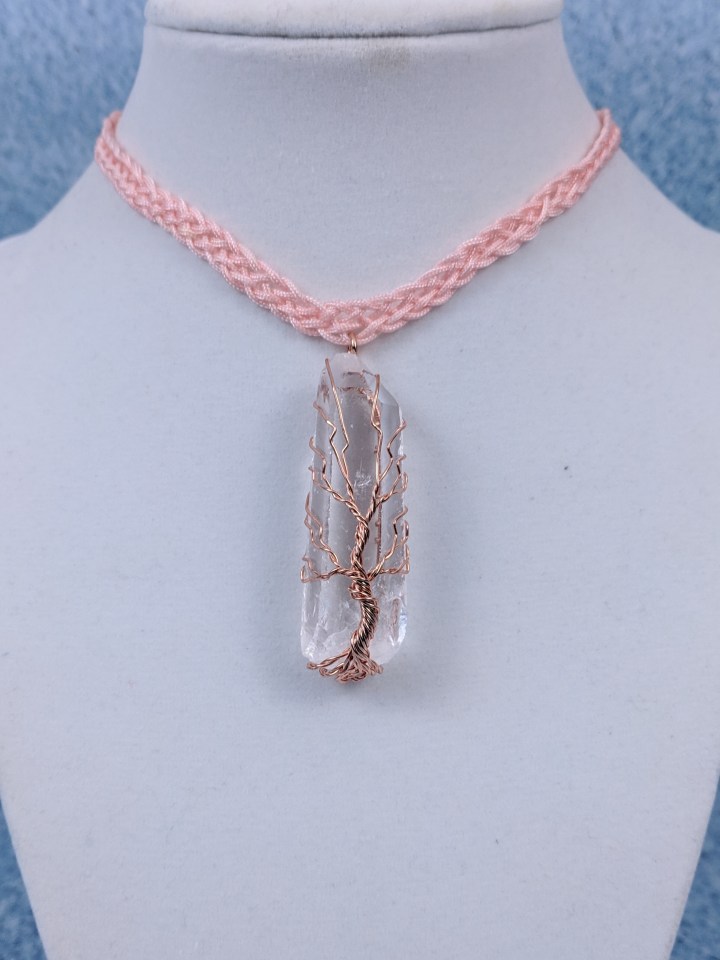 And finally, I braided pink cords to showcase the lovely tree of life pendant.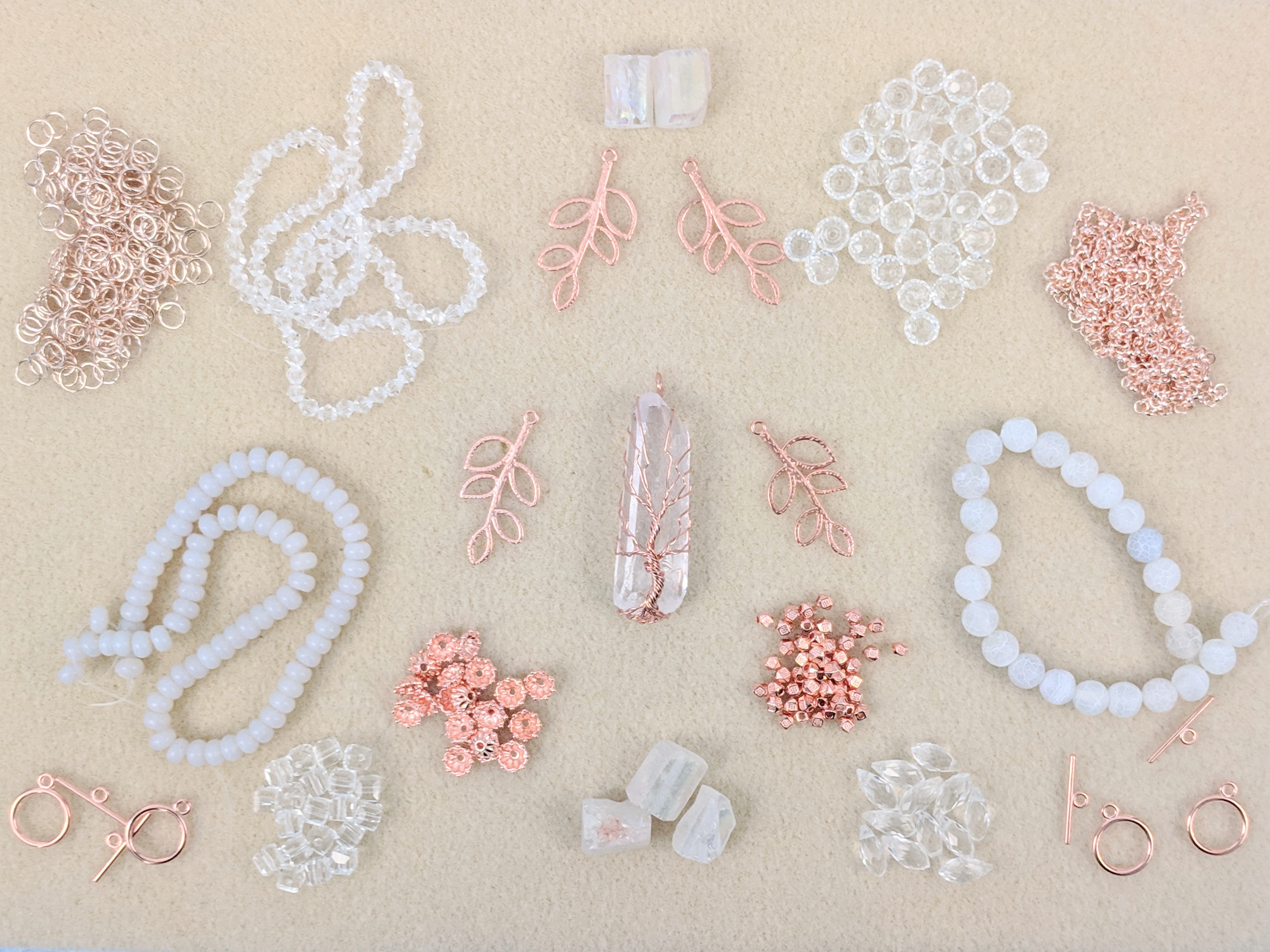 I really like the mix of rose gold findings with the white beads. Even though I made more than one project with this month's selection, I still have quite a lot of beads to go through! I like that even when we don't like a certain type of beads, there is enough variety to make it worth it. And knowing that my stash of findings in the monthly color will be refilled is a nice bonus!
What did you think of this month's Bargain Bead Box?